Getting to know Catskills Region, New York
Whether you are looking for a quick weekend getaway from the city or a week-long vacation with the friends or family, the Catskills is the ultimate destination for travelers. Just a few miles north of New York City a delightful vacation region to forget about your worries and enjoy some peaceful time away from home. Full of relaxing activities to choose from like, spending your time along with the stream or river, enjoying hiking adventure, mountain biking, fishing, hunting, canoeing, or enjoying local cuisine and much more.
The Catskill Park is in the Catskill mountains in New York, offers five of the 10 highest peaks, backcountry and family-friendly campgrounds, incredible winter hiking and ice-fishing, skiing and wildlife viewing. Unlike state and national parks, there's no fee to enter, no gate that closes at night, just lakes, mountains and lot's of adventure waiting for you.
Best Time to Visit Catskills Region
Peak Season:
July – October: Summer in the Catskills are a very good period for visitors. Summer weather in this region is comfortable and full of outdoor activities. The temperature is warm during the day and cools at night. Early October is considered Prime Time for leaf-peeping. The colors are generally at the pick of their most colorful state. Hotels often sold out and trails and campgrounds are packed. So considering planning ahead.
January – March: Winter in the Catskills could be stunningly beautiful. Especially if you enjoy being outdoors not only for skiing but also for other winter outdoor sports in the Catskills.
Off Season:
April – June: This period of the year also called as Mud-season the only less than perfect time when snow-melt comes down the mountains and creates the holiday activities little uncomfortable.
How Do I Get to the Catskills?
The Catskills are easily reachable from most major east coast cities. If you are within driving distance, traveling to the Catskills region by car is recommended. Self-driving will enable you to explore while you are there. However, this region is easily accessible via train and bus as well.
Top Things To Do In Catskills
Here are the pins on the map where we have been during our weekend gateway.
Visit Beautiful Mountain Town of Windham
Windham is a beautiful small town in the Catskill Mountains of upstate New York. It's also known for Windham Mountain Resort, with ski trails, terrain parks, and a mountain bike park. Not far away from the Bed and Breakfast place, we were staying. The main street is one of the cool places to have your lunch or dinner and experience the hospitality the local people have to offer. Both side of the main street (Route 23) was filled with great restaurants, a bakery, gift shops, and family-owned businesses. Just visit and experience for yourself you won't be disappointed.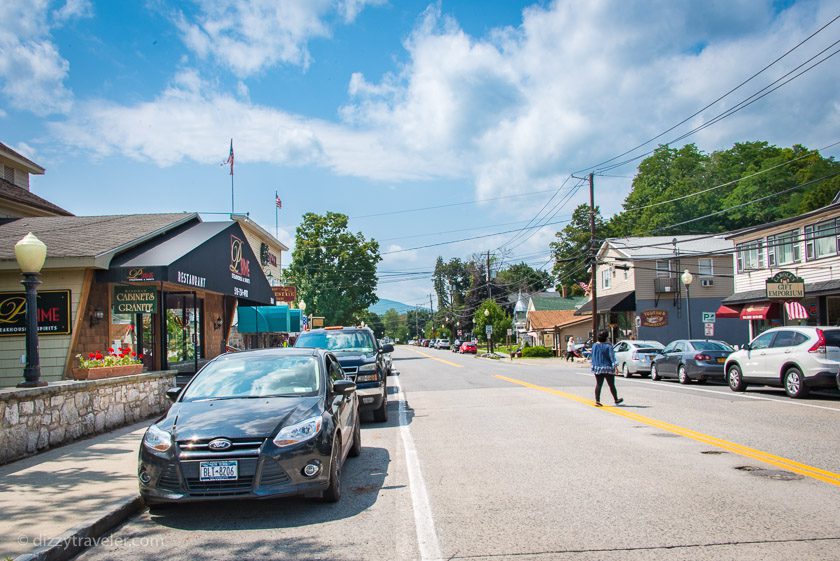 Windham Mountain Resort
Windham Mountain is more than a ski resort – it's a year-round destination (and the official winter destination of the New York Yankees!). Renowned for its family-friendly alpine atmosphere in winter. We visited in summer still there were so many activities going on especially we got lucky to be able to enjoy the Pro GRT/XCT Downhill and Cross Country Mountain Bike racing participated by professional and amateur athletes from around the world.
Taking the lift all the way to the summit was also fun, we enjoyed the fresh air and the scenic view on our way up. Once you are at the summit you will be rewarded with a spectacular view of the surrounding.
Hudson-Athens Lighthouse
We drove from Hunter Mountain to the town of Athens by the Hudson River. It's a beautiful town and the people are friendly and nice. We had lunch at a restaurant next to the Hudson river bank. While having our lunch at Happy Jake's, Athens NY, we enjoyed the beautiful view of Hudson river also saw the historical lighthouse in the middle of the river. It was noon so the sun was against me but still able to get an okay shot from the Riverfront Park. It's a great place to visit and spend an evening by the river at the restaurant with a glass of local beer.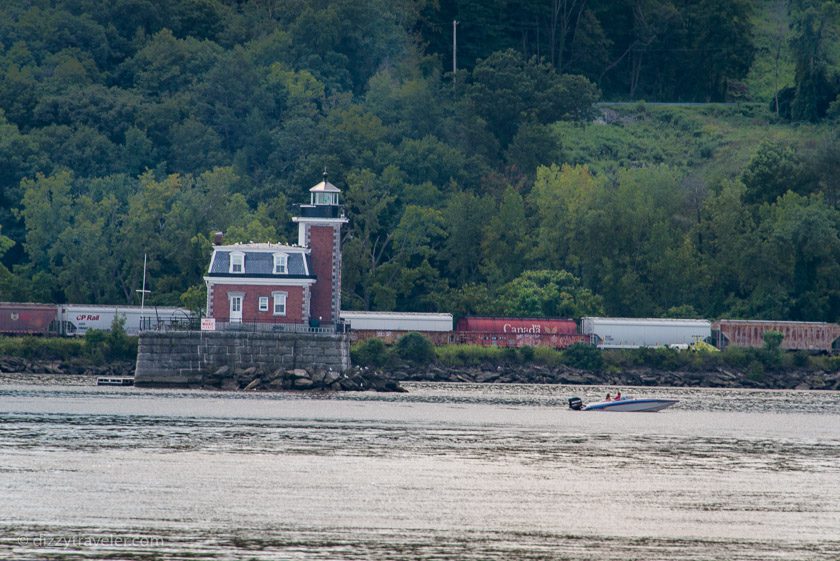 Hunter Mountain Scenic Skyride
Well known for its winter sports resorts but don't plenty of activities to do in Summer as well. we enjoyed a scenic and breathtaking long ride to the summit of Hunter Mountain once on the summit enjoying the spectacular views of the Northern Catskill Mountains, the Berkshires in MA and VT's Green Mountains.
Visiting Kaaterskill Falls
A trip to Catskills is not complete without a visit to the beautiful perhaps is the highest cascading waterfall in New York State – Kaaterskill Falls. Towering over 260 feet – that's about 90 feet higher than Niagara Falls, this has been one of the region's most popular destinations for centuries. There is a much stunning natural beauty of the landscape in the great northern Catskills and this is one of them.
Parking is available on Route 23A just east of Haines Falls, can't miss it as it's well marked. We lost cellular service around the area so Google Map or Waze did not work. It's definitely a better idea to use GPS if you have one.
Alongside its beauty, Kaaterskill falls can be extremely dangerous for hikers. When hiking this popular waterfall, it's important to always take precautions. Never attempt to hike beyond the end of the designated hiking trail (even it's tempting) and do not try to hike any portion of the waterfall itself on either tier.
We saw few hikers slipped and got hurt even trying to take just a little shortcut. Park rangers are actively making sure that no one is making any dangerous move and jeopardizing their own safety.
A Quick Stop at Bastion Falls
Bastion Falls is a great place to see, a beautiful cascading fall that does not get much attention due to the more famous Kaaterskill falls in the area. It is right along the route 23A. The parking lot is about .2 miles up the road from the falls and the path to get there is kind of narrow and dangerous. By no means do not try to park illegally for a quick solution.
We visited the falls at the very low water so missed the great photo opportunity, higher water would have been lovely. This falls has many great photo opportunities and is a great lead into Kaaterskill Falls.
North-South Lake Campground Worth a Visit
North-South Lake Campground is the biggest and most popular state campground in the Catskill region, offering superb scenic beauty. The campground is surrounded by lush green mountains contain numerous hiking trails and several beautiful lakes within the location for water activities.
The Summer season it gets crowded with visitors from surroundings, as it offers swimming, Hiking, camping, fishing, and non-motorized boating. There are also rentals available for Canoe, kayak, paddle boat, and rowboat.
The park's campsites are heavily wooded and have tables and fireplaces. There are swimming beaches and picnic areas, with tables and fireplaces or charcoal grills. Restrooms with showers, a boat launch, boat rentals, firewood sales, a trailer dump station, and a recycling center round out the amenities.
A Quick Tour of Thomas Cole National Historic Site
The Thomas Cole National Historic Site is a great place for a quick stop, it is the former home of Hudson River School of Art founder, Thomas Cole. Located in the village of Catskill, the house, called Cedar Grove, and Cole's studio is open for tours, events, and workshops throughout the year.
Here is the cool place where I stayed in Catskills
Mountain Treasure Bed and Breakfast, 408 Country Route 40, Maplecrest, New York
I am absolutely sure that we were not the only satisfied guests who really enjoyed their stay in this B&B homely environment run by the friendly family of Agnes. This place is in a great location between Windham Mountain Resorts and Hunter Mountain Resort. It's only about 2 hours drive from New York / New Jersey area. This hotel is 122 miles north of Belleville NJ, about 2+ hours of driving.
Our room was so homely did not feel like I was sleeping in a different bed than I am used to, and of course, it was spotlessly clean. The bathroom was special and can't get cleaner that. We got all the amenities in the bathroom including a hairdryer.
I will always remember the delicious breakfast homemade crepes prepared by Agnes, the picture below is one of the many items we had during breakfast.
Try Local Restaurants
Neapolis Pizzaria & Grille, 5330 State Route 23, Windham, NY
Superb Pizza, can't believe two of us finished the entire Grand Mother's Pizza. Doesn't it tell how delicious it was? They serve not only delicious Pizza but also Italian and Greek cuisine. They are well known for their Authentic Old World recipes that have been passed down for many generations. Specializing in Italian and Greek cuisine.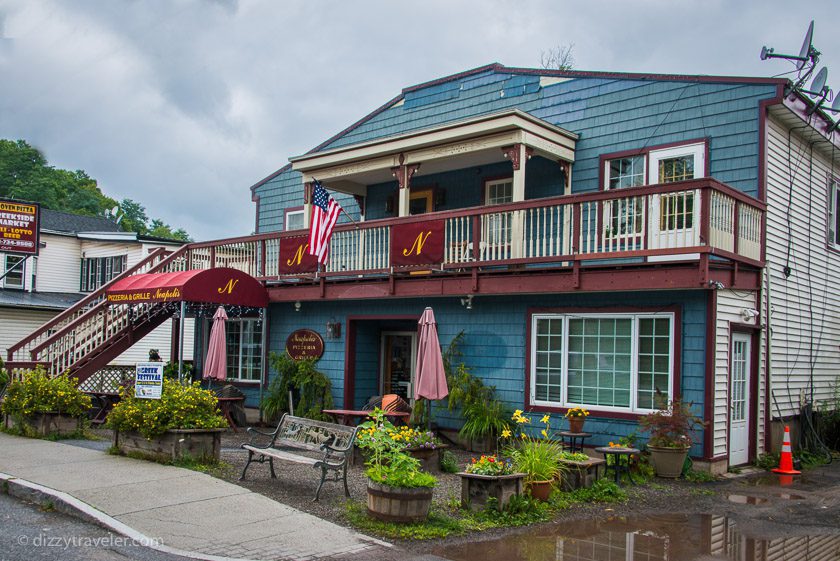 Vesuvio Restaurant, 49 County Road 65 Hensonville, NY 12439
This is another restaurant need to give it a try, located in a small town of Hensonville not that far away from our Bed and Breakfast place.
Happy Jake's, Athens NY, 2 North Water Street, Athens, New York 12015
It's no doubt that Happy Jake's is one of the great restaurants of the Hudson River Valley is located in the river town of Athens. The atmosphere we were having our lunch definitely induces pure joy. This restaurant owned by the historical Stewart House located across the street. We tried one of New York's famous and delicious burger here.
My Opinion and Tips
Have you been to the Catskills, New York? Any additional tips to share?
Please leave a comment below! I'd love to hear from you to improve my knowledge.
Was this travel guide helpful for you?
If you'd like to help me continue making free guides, here is one way you can help:
Share This Guide – If you have a friend that would benefit from this guide, share it with them. Or post this guide on Facebook, Twitter or Google+
Your help would definitely help me making more free guides like this. Thank you in advance!
Here are few pictures that will tell the trip story of Dizzy Traveler.
Please Click Here For Slideshow: