Having explored numerous National Parks in the USA, I must say that Arches National Park stands out as one of the most breathtaking destinations I've encountered. Situated at an elevation of approximately 4868 feet (1484 m), this park boasts an impressive array of natural wonders, including sandstone arches, rock formations, and salt domes. With the highest density of natural arches in the world, shaped over 100 million years through erosion, the park offers a truly awe-inspiring sight. As I embarked on an early morning drive through the park, I was immediately captivated by the magnificent panorama of rock formations stretching as far as the eye could see. Each twist and turn of the road revealed another breathtaking view, making it a paradise for photography enthusiasts like myself. Arches National Park is a must-visit for world travelers seeking to witness nature's incredible artistry firsthand..
Helpful Information
Best Things To See and Do
There is one road that travels through the National Park and that is Arches Scenic Drive and all the attractions are based surrounding it.
Cruise On The Arches Scenic Drive
The 19 miles Arches Scenic Drive running through the Park starts from the highway 191 to Devils Garden trailhead in the back of the park. The total drive would take about half an hour to cover the entire distance, but actually, it will take much longer than that as you would definitely stop in between, take detours to various viewpoints, and hiking the trails.
You will definitely enjoy the breathtaking scenic surroundings. Take beautiful shots of what the park has to offer and the snow-capped La Sal Mountains in the backdrop. Therefore get ready to make frequent stops on your way.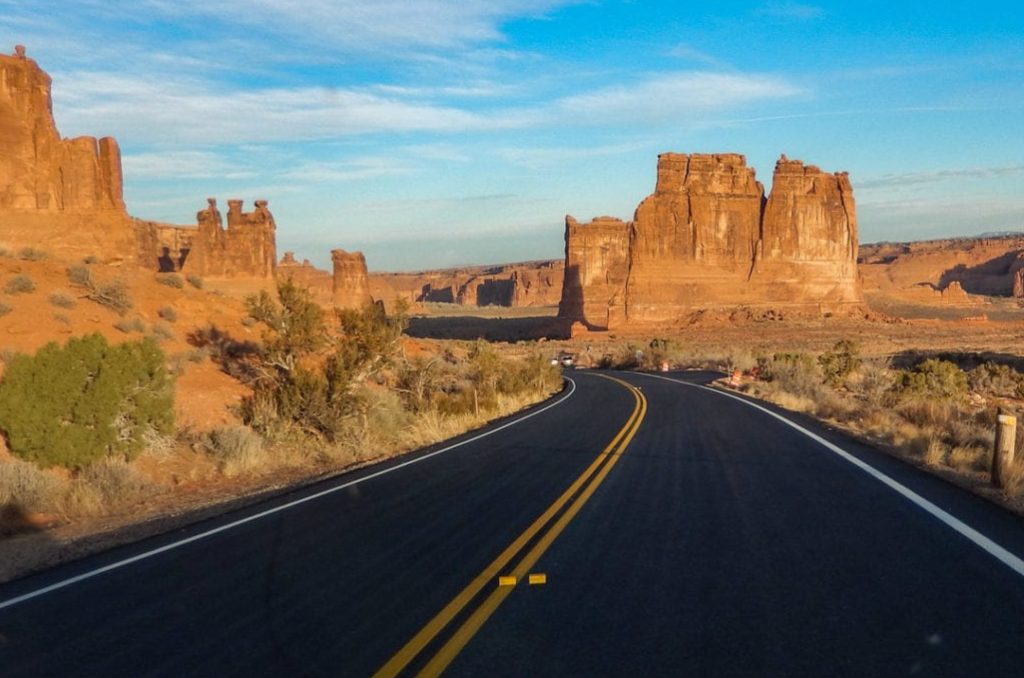 Stop at Park Avenue
The first major stop after the visitor center that you should not miss is checking out the Park Avenue and Courthouse Towers area. Past the viewpoint, the steep one mile (1.6 km) trail descends into the spectacular canyon to Courthouse Towers.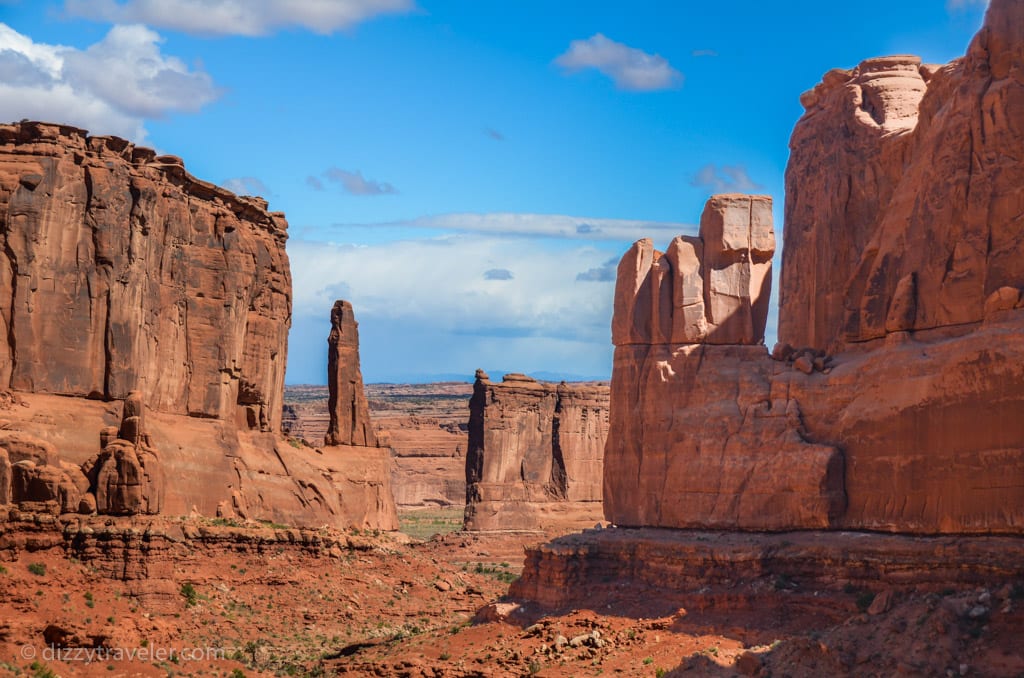 Take Pictures from La Sal Mountain Viewpoint
La Sal Mountains viewpoint is the second overlook you come across after entering the park. Outlook offers an excellent overview of red rock scenery with the snow-capped La Sal Mountains in the backdrop, an ideal sunrise and sunset spot. From here, visitors can also view the Courthouse Towers, impressive sandstone called the Organ, Sheep Rock, Three Gossips, the iconic Balanced Rock, and the Sand Dunes.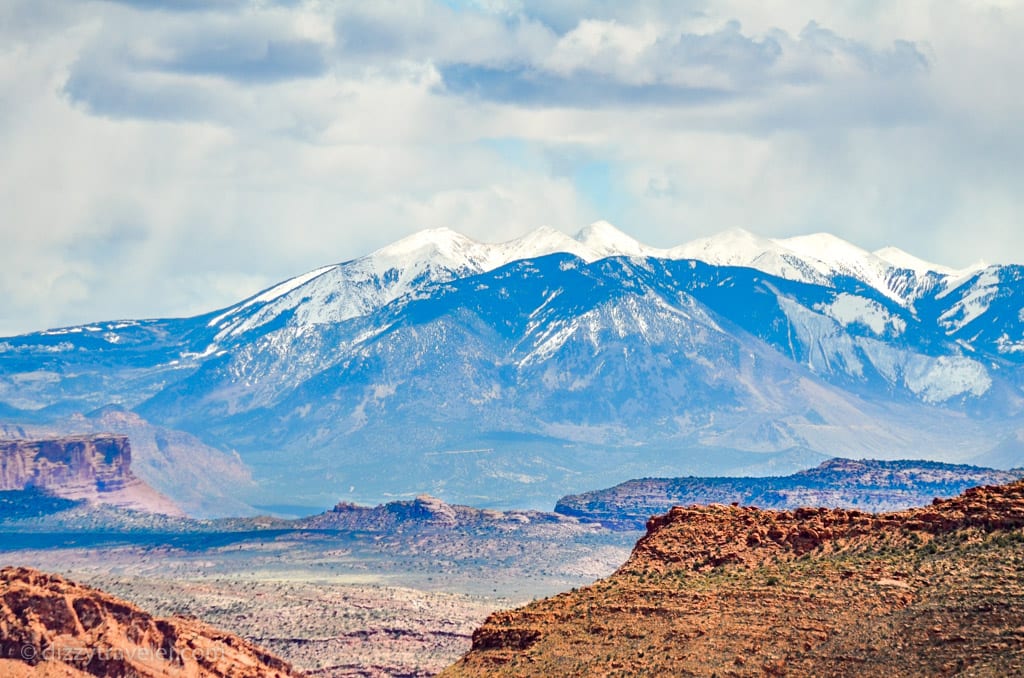 Visit Balanced Rock
Balanced Rock is located next to the park's main road, about 9.2 miles from the park entrance. To sum up, It is one of only a few prominent features visible from the road.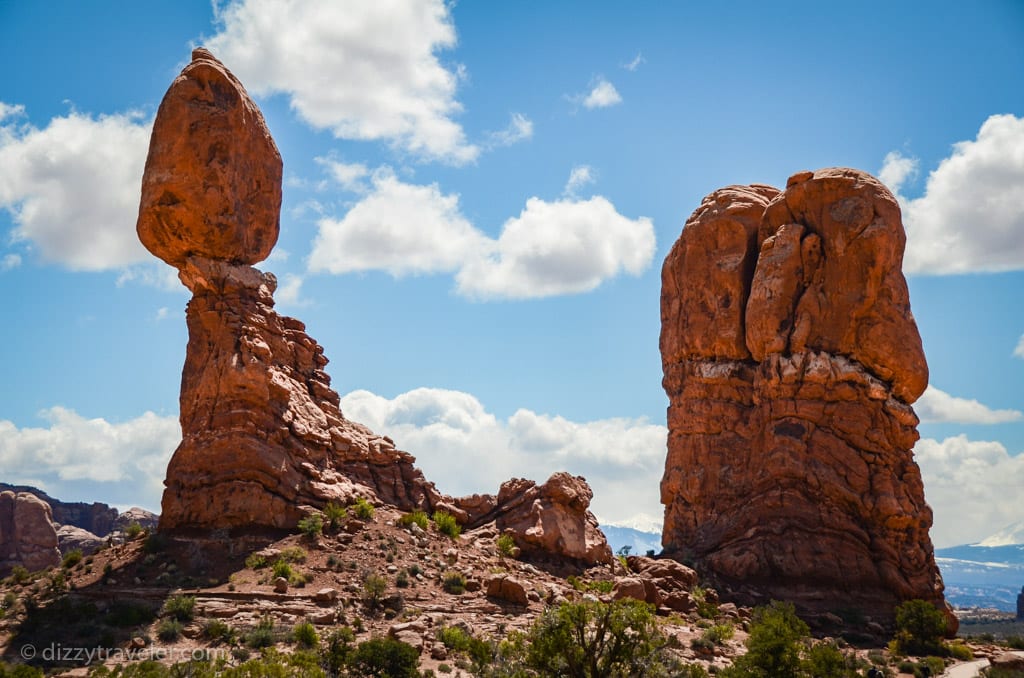 Hiking The Windows Loop
The Windows Section includes a large collection of arches and is one of the park's most spectacular sections. As a result, it is one of the most visited loops that you should not miss while visiting Arches National Park. By doing so, you'll enjoy the magnificent arches, the North and South Windows, Turret Arch, and the Double Arches.
Windows and Double Arches Trail
North Window and South Window trail, and Turret Arch trail are connected by one hiking trail is an easy hike of 1 mile from the parking area.
[wpgmza id="20″]
1St Stop North and South Windows Arches
The North and South Window arches were developed over the years by weathering and erosion from the same gigantic sandstone fin. The spectacular view is created with two iconic holes look like eyeglass lenses, and a nose like rock pokes out between them. Getting up close to the massive North Window is not only enjoying the colorful desert's fantastic views but also a great photo opportunity for many park visitors.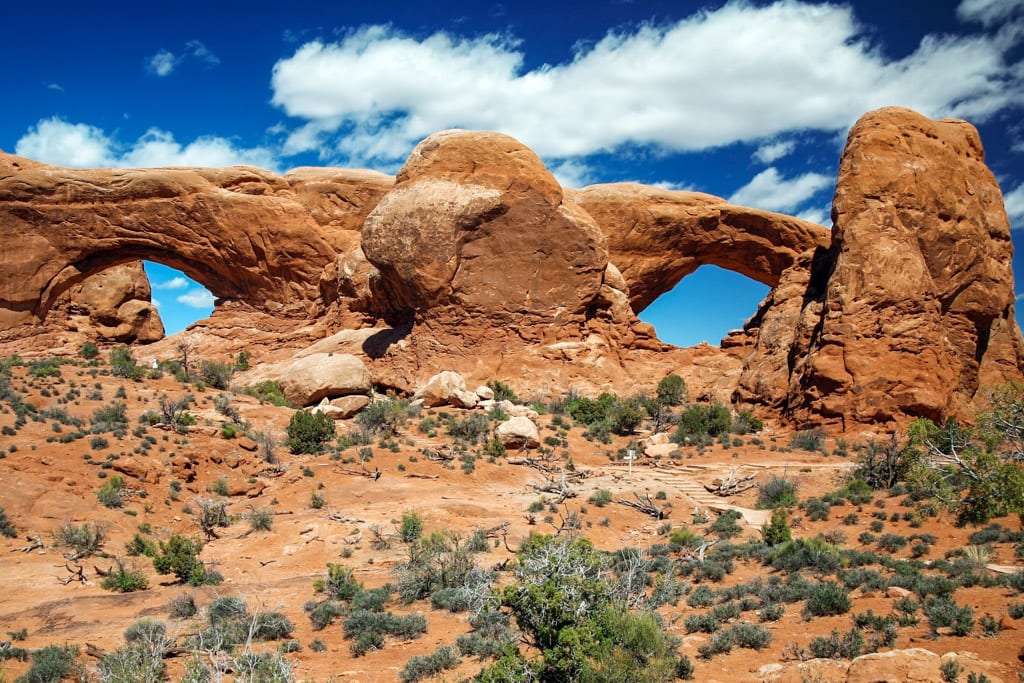 To avoid crowds, I would recommend to visit early or late afternoon. In short, late afternoon is the best time to snap North and South Windows for the best colorful pictures.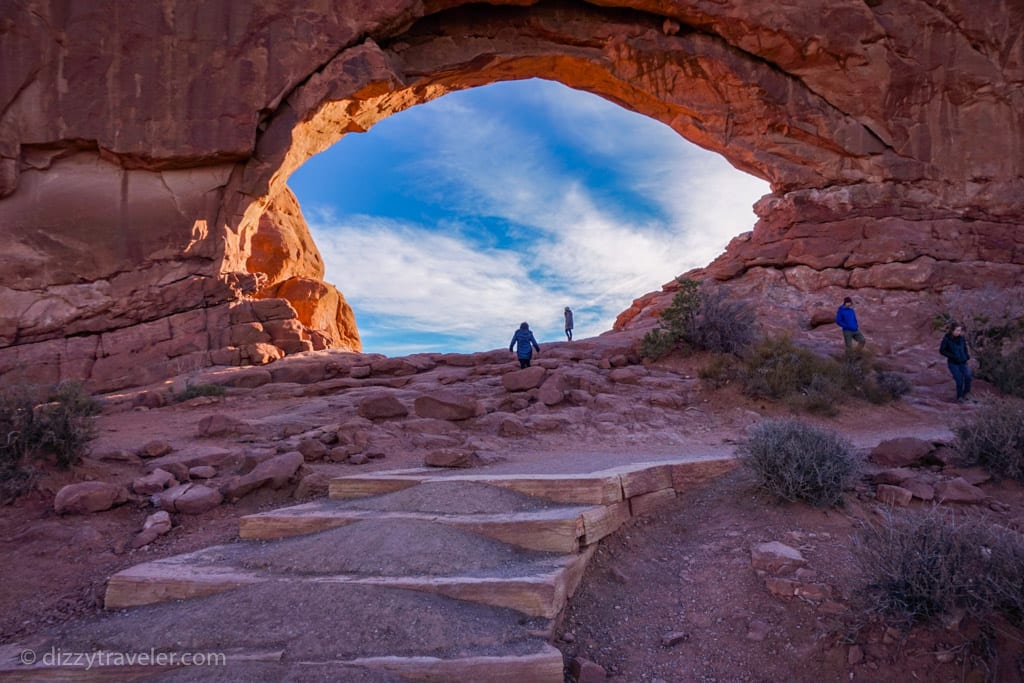 2nd Stop Turret Arch
If you continue on the Widows Trail, you can't miss the castle-like Turret Arch, which is a little further down. Certainly, it is one of the smallest of the three arches lined up in the Windows Trail.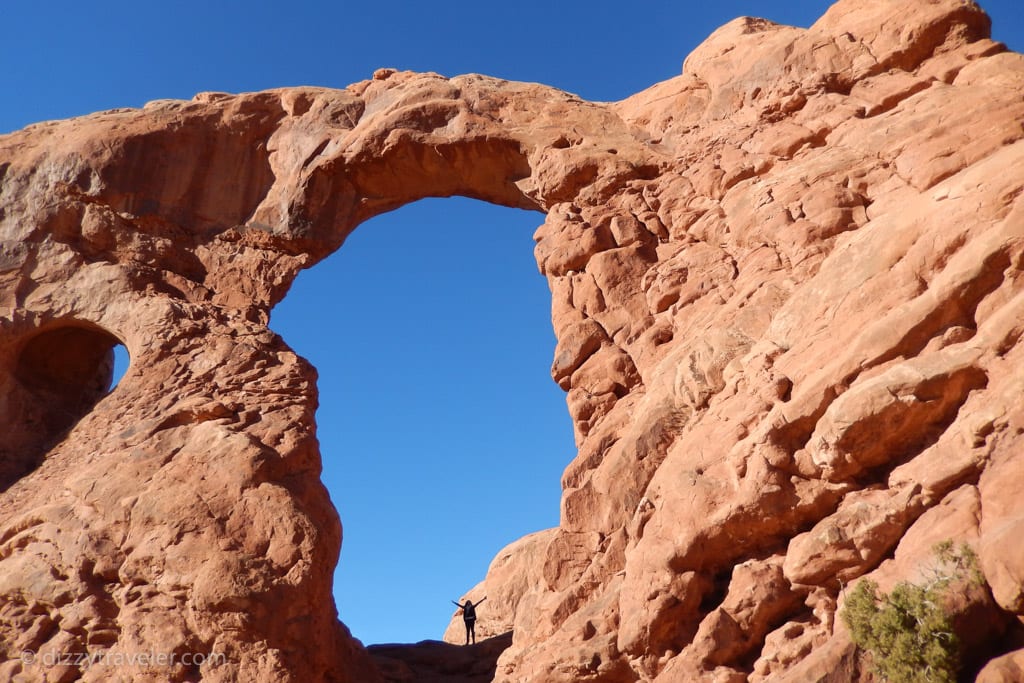 Finally At Double Arch
The Double Arch is another incredible formation of arches that you should not miss to visit in the Windows area. For instance, it is an easy walk, only 0.6 miles from the parking. After all double arch is well known for its two arches that are joined at the end. The 122 feet high spans were developed by downward water erosion from atop the sandstone.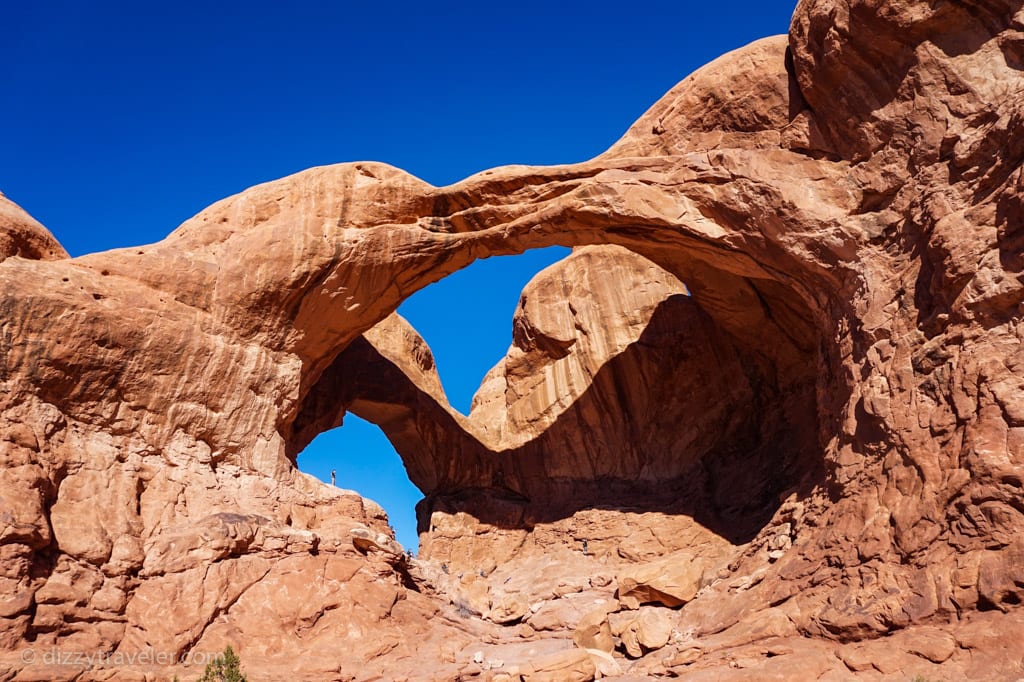 Hike To The Famous Delicate Arch
Delicate Arch Trail is incredible and the most famous arch globally. The trail to Delicate Arch begins with the Wolfe Ranch and a long uphill hike. It is considered as difficult, about 3 miles round trip that takes about 2.5 hours. But visitors get rewarded with the beautiful view of the delicate arch and the snowcapped La Sal Mountains in the backdrop.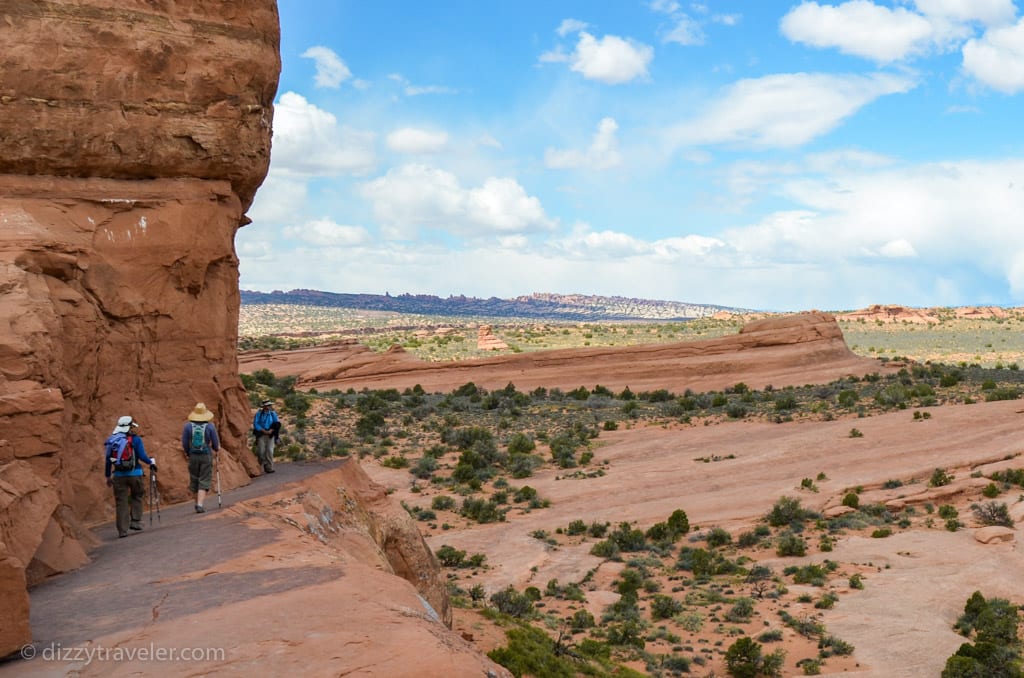 It is a photographers dream to take a shot of a lifetime; the best time to visit Delicate Arch is sunrise and Sunset.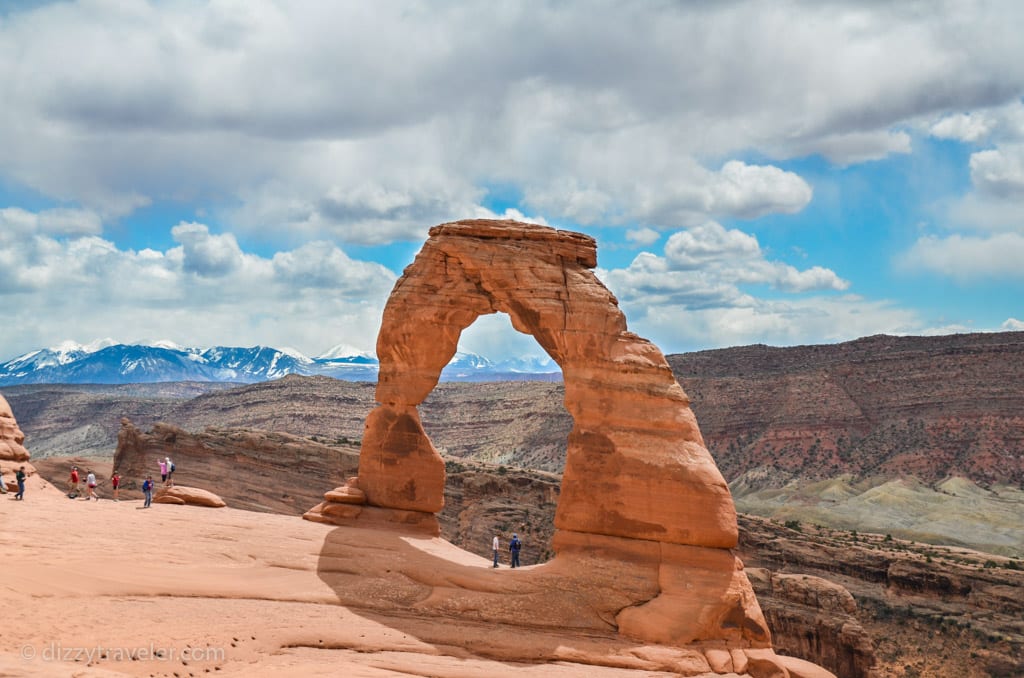 Visit Upper Delicate Arch Viewpoint
This is an alternate viewpoint for those who have difficulties taking the 3 miles roundtrip and climbs 480 feet. The upper Delicate Arch viewpoint is about a 15 minutes hike in addition to the short and easy trail. Then another (medium strenuous) hiking trail climbs a half-mile towards Arch that ends at the rim of a steep canyon that separates the viewpoint from the arch. Finally from the viewpoint, you can enjoy the Delicate Arch's view from a different perspective and enjoy the beautiful canyon below.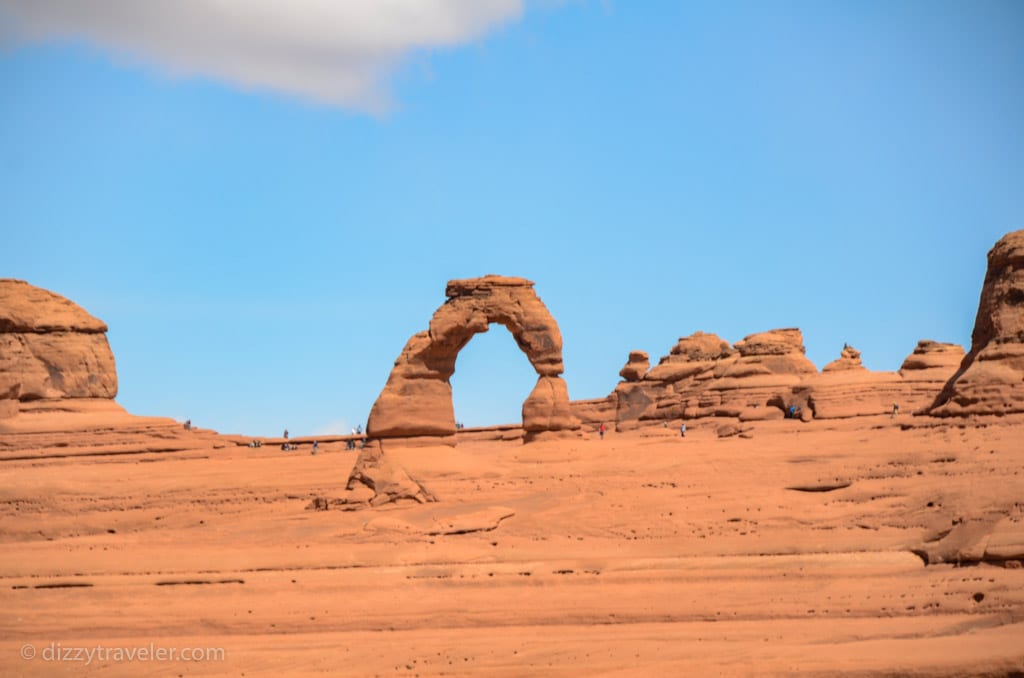 Hiking in The Devils Garden
Devils Garden is located at the end of the park, about 18 miles north of the entrance. There is a vast collection of narrow rocks wall called 'fins' and plenty of arches and spires. Fins eventually erode and give way to the formation of arches. Here are a few arches that stand out in Devils Garden such as Landscape Arch, Tunnel Arch, Pine Tree Arch, Navajo Arch, Partition Arch, Double O Arch, Private Arch,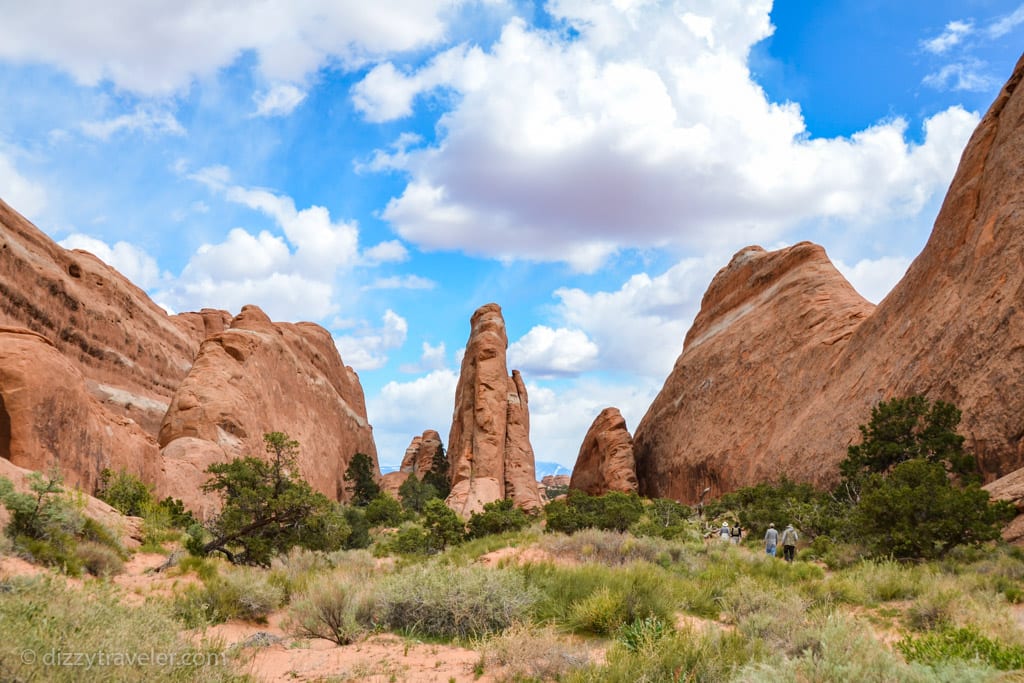 See Landscape Arch
The landscape arch is one of the prominent arches in Deevils Garden. Whether you hike just a short area of the Devils Garden Trail or the complete loop, you are in for a surprise.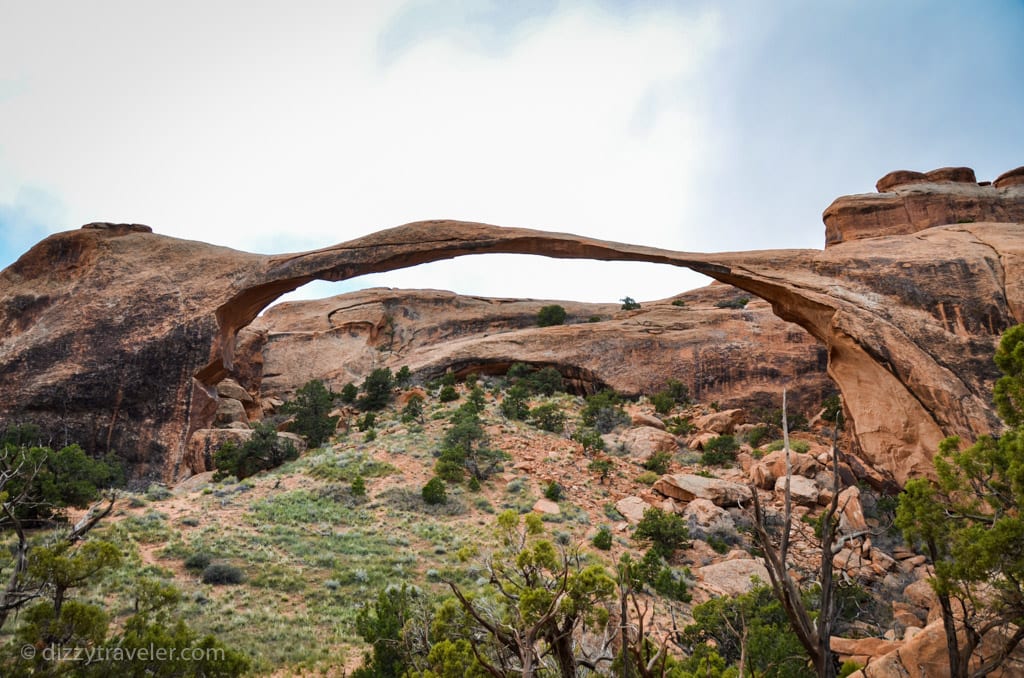 Take The Trail to Skyline Arch
The Skyline Arch Trail a short hike and the arch span is the second largest arch in the park. At 144 feet across, and rises 112 feet above the ground level. However, it worth a visit to enjoy the arch's or climb the rocks and get a better close up view.
Where to stay in Arches National Park
Red Cliffs Lodge is on Scenic by Way 128 along the Colorado River and 15 miles from Arches National Park. It features a horse corral, Western film museum, and Castle Creek Winery. Rooms got private patios with a creek, or river views are featured in every suite.
Moab Gateway Inn at Arches Nat'l Park
Located in Moab, within 12 miles of Mesa Arch and 14 miles of Landscape Arch, Moab Gateway Inn at Arches Nat'l Park provides accommodations with a seasonal outdoor swimming pool as well as free private parking for guests who drive. The property is around 16 miles from Delicate Arch, 16 miles from North Window, and 23 miles from La Sal Mountain Loop. 
My Opinion and Last Word
Have you been to Arches National Park? Any cool tips to share?
I loved being to this breathtaking National Park and want to go back again. Hope my story has motivated you to visit Arches NP. 
Please leave a comment below! I'd love to hear from you to improve my knowledge. 
Was this travel guide helpful for you?
If you'd like to help me continue making free guides, here is one way you can help:
Share This Guide – If you have a friend that would benefit from this guide, share it with them. Or post this guide on Facebook, Twitter or Google+
Your Support would definitely help me making more free guides like this. Thank you in advance!
Affiliate Link – This post in Dizzy Traveler contains affiliate links, which means I receive a referral commission if you purchase after clicking at no additional cost to you. These funds go to maintain the site. Thank you for your support.
Here is a few affiliate links that may help plan a perfect trip while staying within budget.
Book Your Sightseeing Trip
With a multitude of beautiful places to visit and a range of exciting sightseeing activities, you are sure to create unforgettable memories. To explore your options, simply click on the affiliate link below.