Getting to know Grand Canyon
The Grand Canyon is one of the seven natural wonders of the world, attracting nearly 5 million visitors every year. The Park stretches 277 miles along the Colorado River. 90% of the Grand Canyon visitors choose to see the Park from the overlooks along the South Rim. The South Rim, which is the most accessible part of the park, includes historic Grand Canyon Village, Hermit Road, and the scenic Desert View Drive.
The North Rim of the park is less visited part of Grand Canyon even it's only 10 miles across the canyon from the South Rim, but it is 220 miles, or approximately 4.5 hours drive by car, all the way around the canyon.
Best Time to Visit
Grand Canyon is always beautiful but depends on what you are interested in, as the conditions vary significantly all through the year.
Spring between the months of March-May is the best time of the year to visit Grand Canyon's, South Rim. If you are looking for mild temperatures, comfortable hiking, light precipitation and fewer crowds then this could be the ideal season.
Summer between June – August is the picking season, they are most popular months but crowded and temperatures hot and regular thunderstorm may not be the best.
Fall between September – November is also great months to visit Grand Canyon's South Rim as the crowds drop significantly after the Labor Day along with the temperature.
Winter between December – February is having freezing temperatures and that definitely scares many visitors away, but Grand Canyon covered in snow is a gorgeous sight. Note that in winter South Rim's gets about five feet of snow on average.
How Did I Get There
Over the years I was fortunate to make a couple of trips to Grand Canyon and each time I discover something new. There are several ways to arrive at Grand Canyon National Park. Many visitors take a day trip from Las Vegas, many flies out of Phoenix, and Las Vegas. There are also daily flights arriving in Flagstaff which is only about 73 miles away from the Park. You will need to rent a car from these airports or reserve a shuttle to the park. Below are a few examples of how I traveled during my previous trips.
Flying to Flagstaff then a road trip to Tusayan, Grand Canyon
Flying to Grand Canyon from Boulder City Airport
From Las Vegas, we took this exciting 10 hours tour by Grand Canyon Airlines. We were picked up from our hotel in Las Vegas and transported to Boulder City Airport. Then our unforgettable scenic experience started with 1 hour 10-minute thrilling air journey by a small plane. Thanks to the large glass windows on both side of the plane, perfect for tourists and that allowed me to take some breathtaking pictures of Hoover Dam, Lake Mead, and Grand Canyon from the air.
Grand Canyon National Park Airport was only 7 miles from the Canyon's village and upon arrival, we were transferred to Grand Canyon's rim by a guided bus. Visited few most popular viewpoints for photo ops and had our box lunch that was provided by our tour guide. After the end of the tour, we returned the same way and dropped off at our hotel in Las Vegas. It was a great experience but the drawback was that you may miss out a lot of exciting activities due to limited time.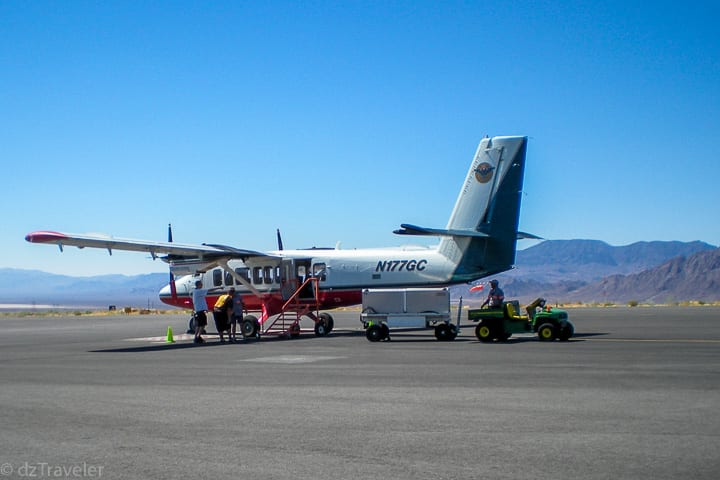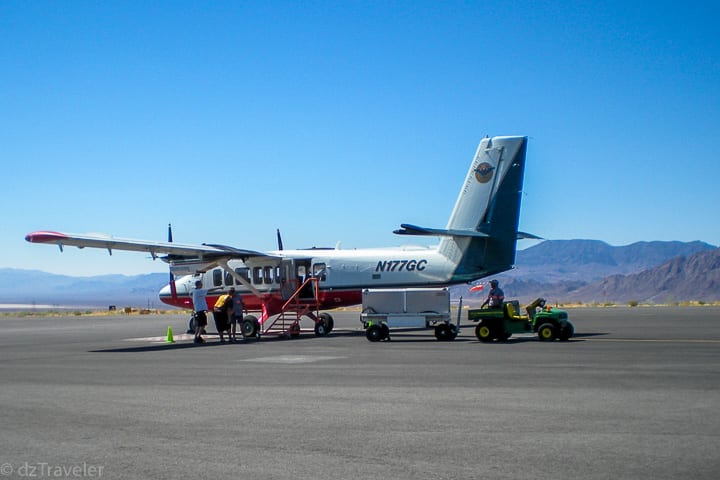 Driving from Las Vegas, Nevada to Grand Canyon
From Las Vegas to Grand Canyon South Rim is another popular drive among day trippers. The drive via Hoover dam is about 4+ hours and doable in a day. We did from Vegas hotel – Grand Canyon South Rim – back to Hotel trip in about 12 hours but was little hectic despite shared driving. It's recommended only if you are in a tight vacation schedule in Las Vegas.
Top Things To Do In
My 1st Stop and Top Things To Do In Grand Canyon, Arizona
The South Rim includes historic Grand Canyon Village, The Scenic and Historic Hermit Road, and Desert
View Drive. The South Rim is open all year long, even on holidays.
A Must Do – The Desert View Drive
The less crowded Desert View Drive with many breathtaking overlooks and un-named pullouts will give you the chance to experience the ever-changing moods of Grand Canyon. The scenic route is to the east of Grand Canyon Village on the South Rim which follows the rim for 25 miles (40 km) out to the Desert View Watchtower and East Entrance. The Drive is well maintained and pulling out to lookouts is easy as signs are well marked.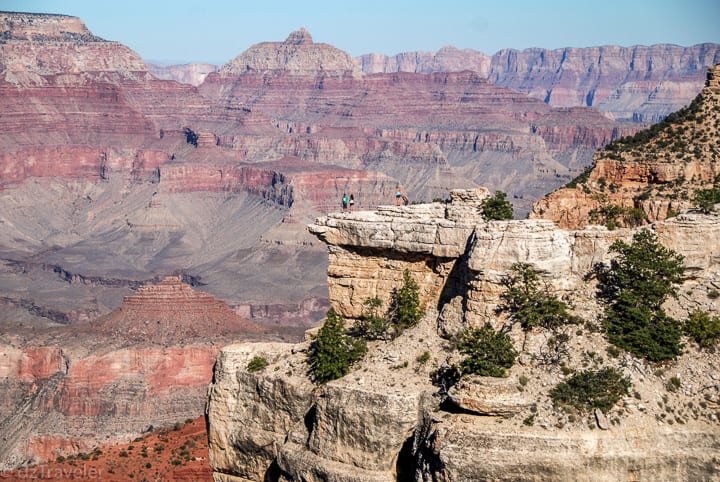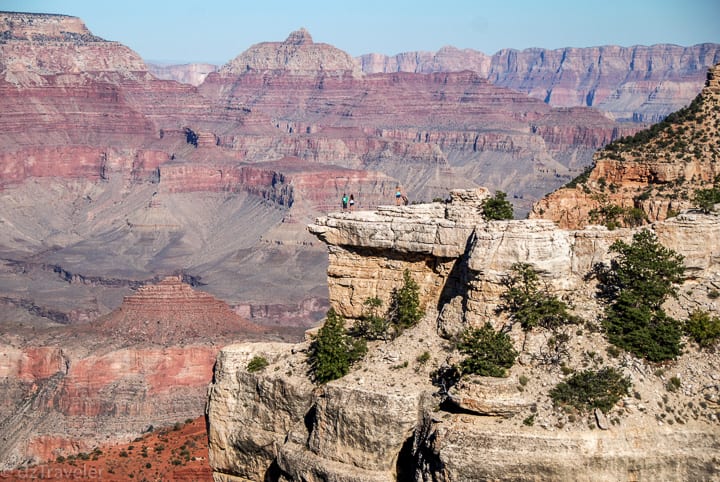 This below map shows the location of many breathtaking overlooks and un-named pullouts on the Desert View Drive and will give you the chance to experience the ever-changing moods of Grand Canyon.
The map displays the scenic Desert view Drive with marked outlooks. It's about 23 miles long toward the east from Grand Canyon Village or Information Plaza to Desert View Tower. If you have a self-driven car then this is a must do. Equally beautiful no matter what time of the day you are visiting, each has its own unique beauty. Sunrise in the east of Desert View Tower and Sunset towards the Grand Canyon village will bring home some beautiful shots. Also, the George and the valley will be bright when the sun is in the higher position.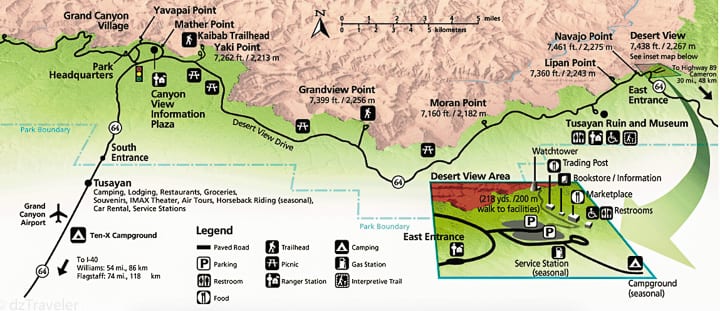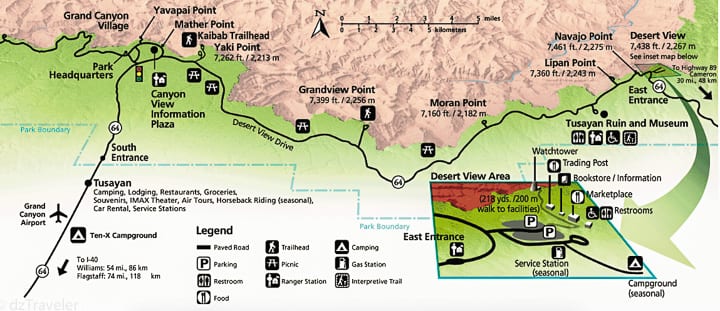 Pull Over At Pipe Creek Vista
This pullout can be accessed by private vehicle or by using the free Kaibab Rim Route (Orange) Shuttle Bus, departing from the Grand Canyon Visitor Center.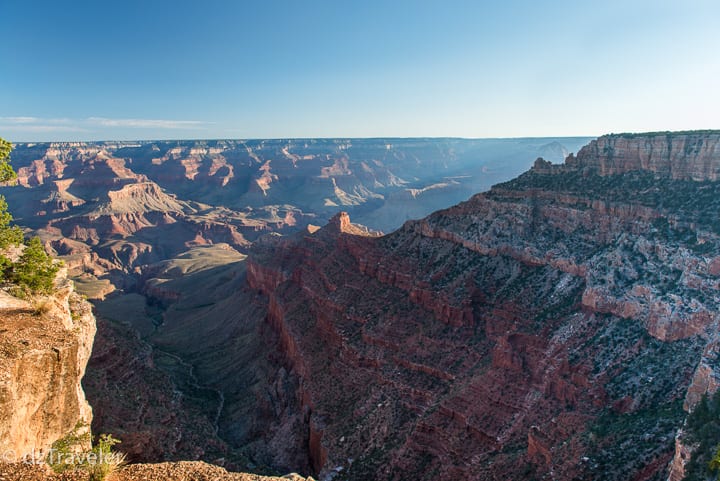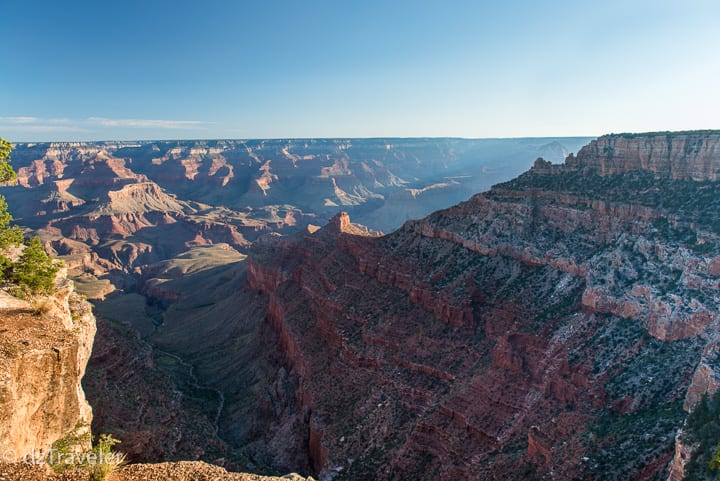 A Quick Stop At Yaki Point (Elevation: 7262 feet / 2213 meters)
If you like to enjoy the sunset or sunrise then the quiet Yaki Point is your best bet. This is the only viewpoint on Desert View Drive that is not accessible with a private vehicle. It can be reached using the free Kaibab Rim Route (Orange) Shuttle Bus departing from the Grand Canyon Visitor Center.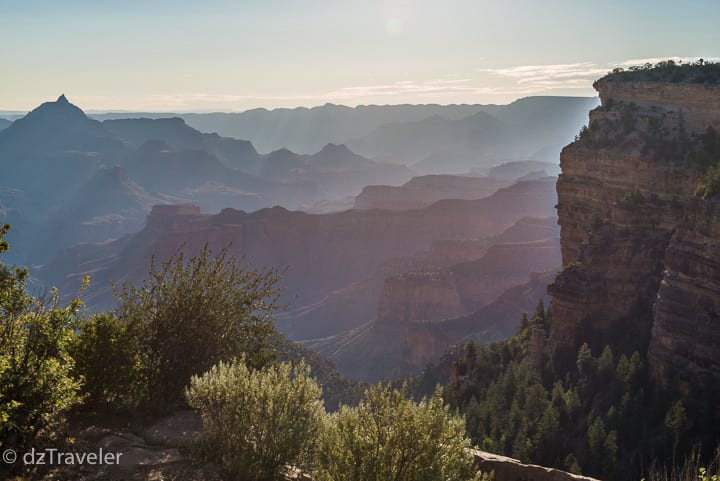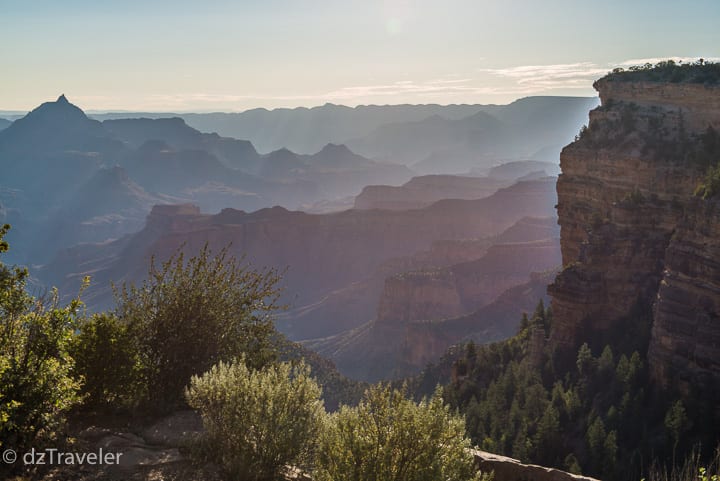 Another Stop At Grandview Point (Elevation: 7399 feet / 2256 meters)
This popular viewpoint offers panoramic views of Grand Canyon from east to west, including several bends of the Colorado River to the east.
The historic Grandview Trail begins here. This trail is very steep! In the summer much of the trail is in full sun. In the winter ice and snow can make hiking treacherous. Always use caution on the Grandview Trail.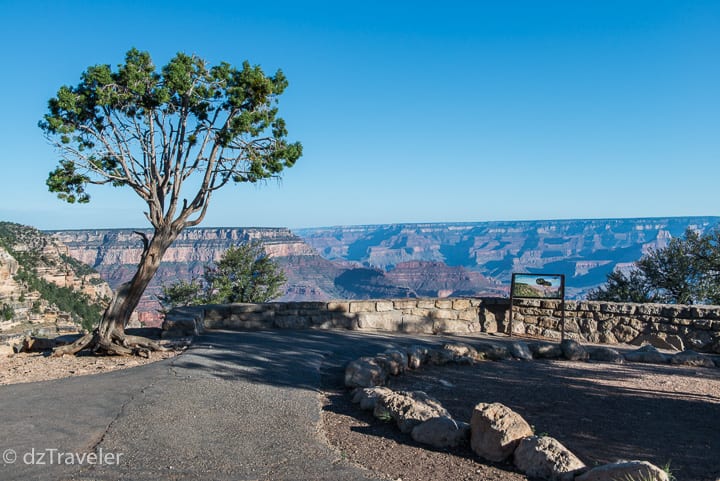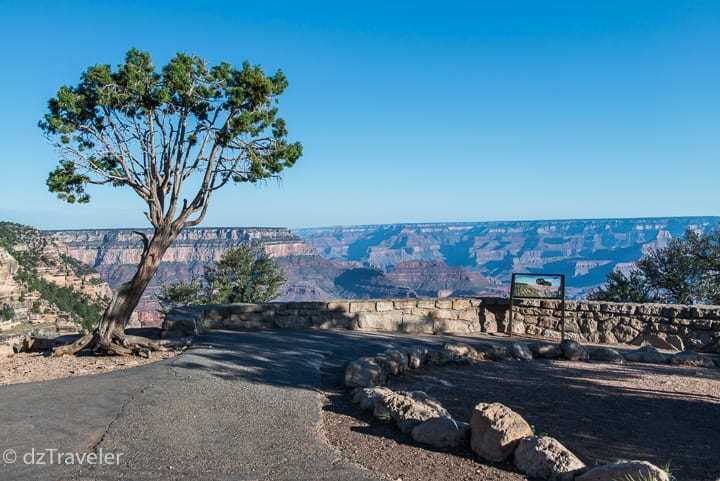 Don't Miss Moran Point (Elevation: 7160 feet / 2182 meters)
This is one of the most colorful spots in Desert View Drive, you must stop here and enjoy the scenic view of the rocks, the sediment colors are varied and the lights reflect off the rocks to provide beautiful views.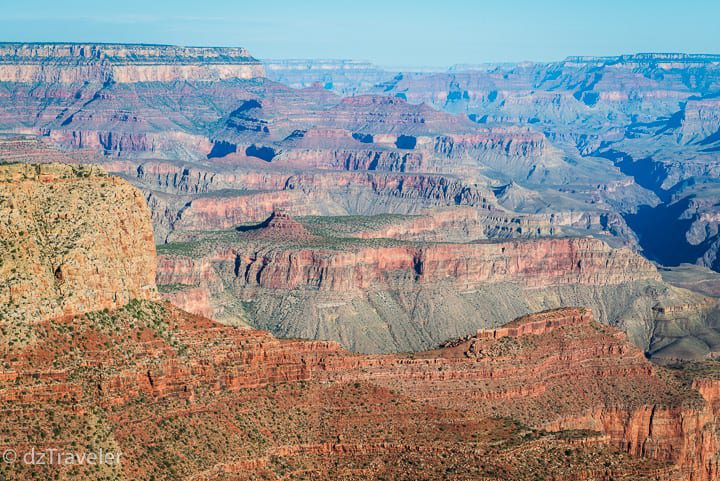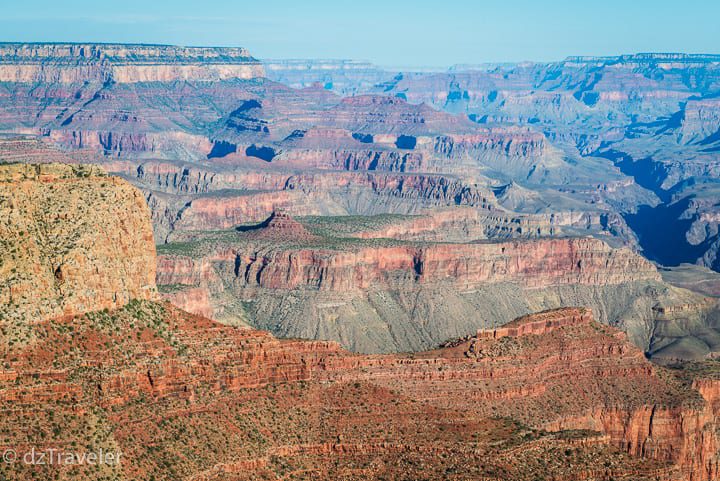 Tusayan Ruin and Museum
The Tusayan Ruin is off the Desert View Drive (Route 64 ). This Ruin is the remains of a small ancestral Puebloan village. A relatively flat 0.1 mile (200 meters) trail wraps around the ruin and offers the opportunity to learn more about the place and the people who once called this home.
Another Stop At Lipan Point (Elevation: 7360 feet / 2243 meters)
This viewpoint is also along the route 64 (Desert View Drive) worth stopping to embrace the beautiful nature. From this viewpoint, you will be witness several points of interest.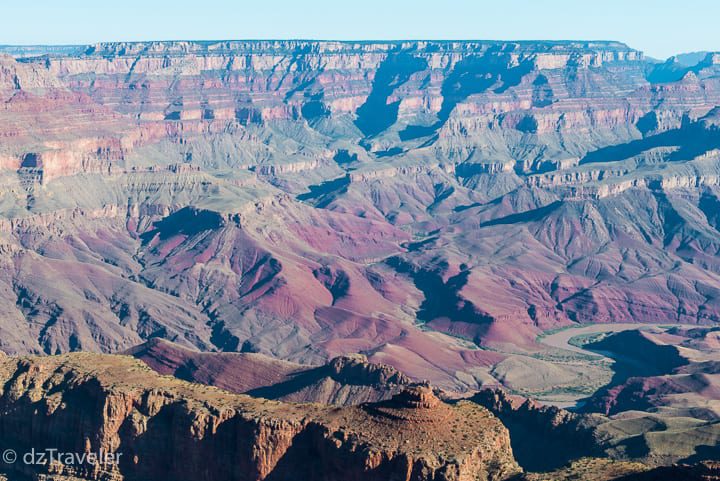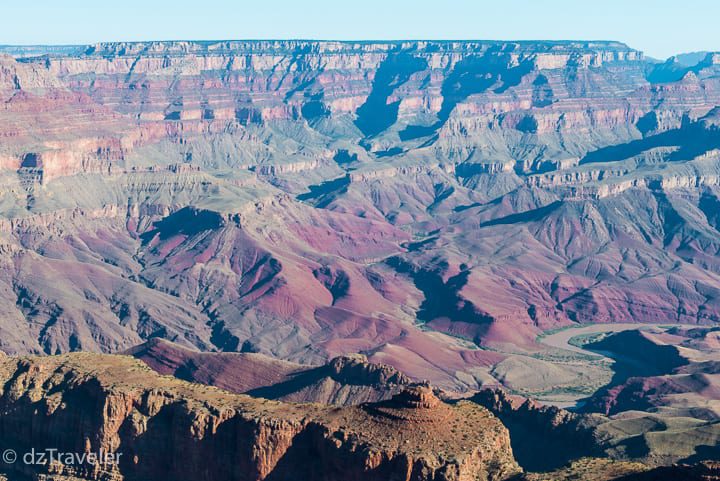 Must Stop At Navajo Point (Elevation: 7461 feet / 2275 meters)
Just a few minutes west of the Desert View Watchtower, this viewpoint offers a great view of the watchtower as well as panoramic vistas to the west and a view north up the Colorado River.
Navajo Point is the highest overlook on the South Rim – unless one is standing on the top observation deck of the Watchtower itself. The top of the tower measures slightly higher.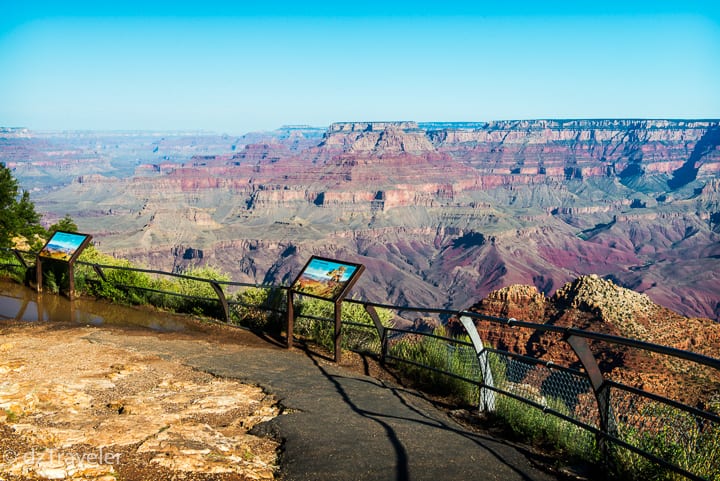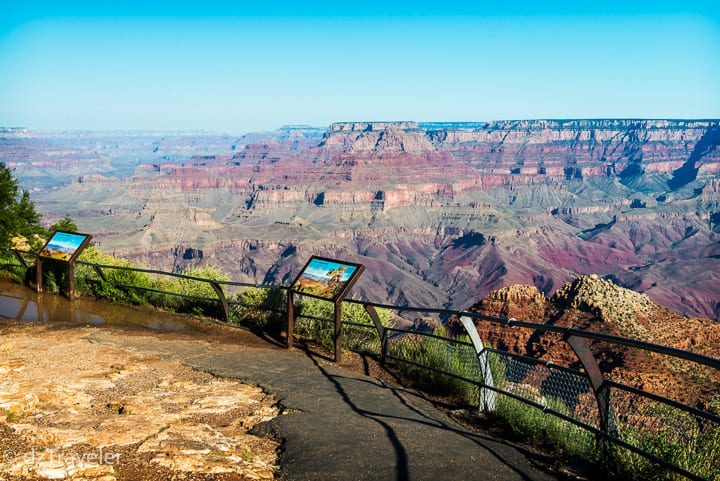 Stretch Out At Desert View Watchtower (Elevation: 7438 feet / 2267 meters)
Along the Desert View Drive, you will find a parking area, and a short ¼-mile (½-km) walk will lead you to this historic buildings, to the rim. From Desert View Point you will be able to enjoy the Colorado River make a big bend to the west. You can climb the stairs to the top of the watchtower for outstanding views of the canyon. A great photo opportunity for photographers.
At this location will find a bookstore, snack bar, general store, service station, restrooms and seasonal campground.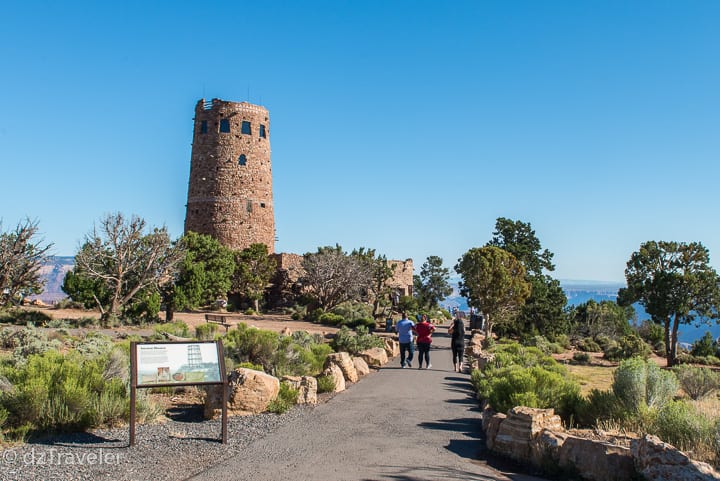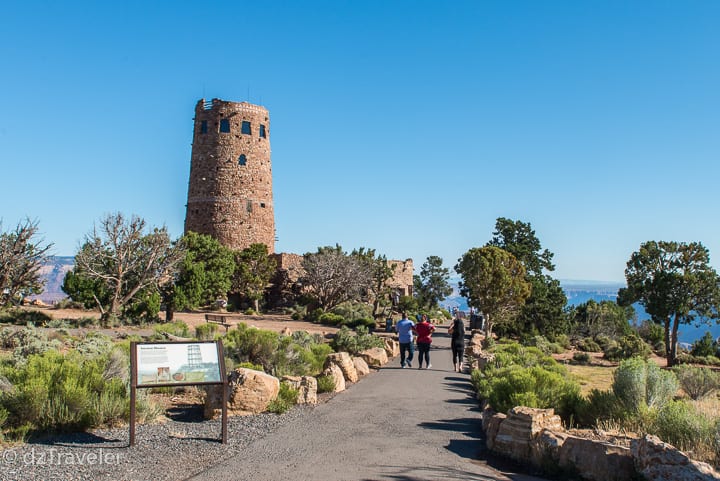 Are you looking for a nice place to stay, here is where I stayed
There are a number of options for lodging near but not in Grand Canyon National Park. Tusayan, 7 miles south of Grand Canyon Village, has a number of hotels and is a great place to stay. I stayed in Red Feather Lodge since all the in-park lodging was full.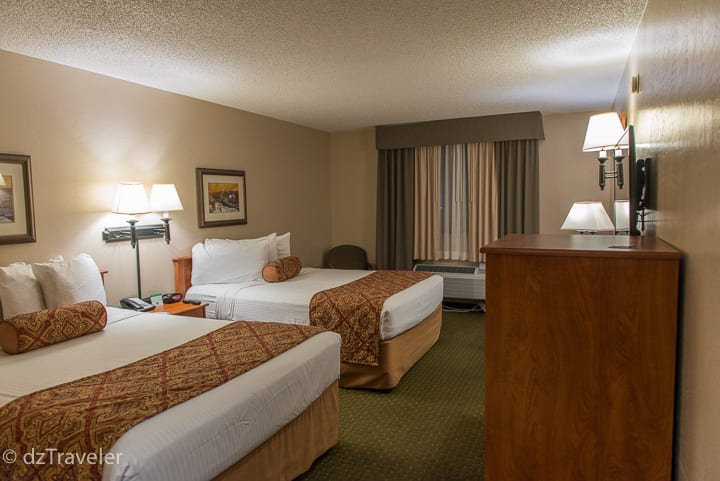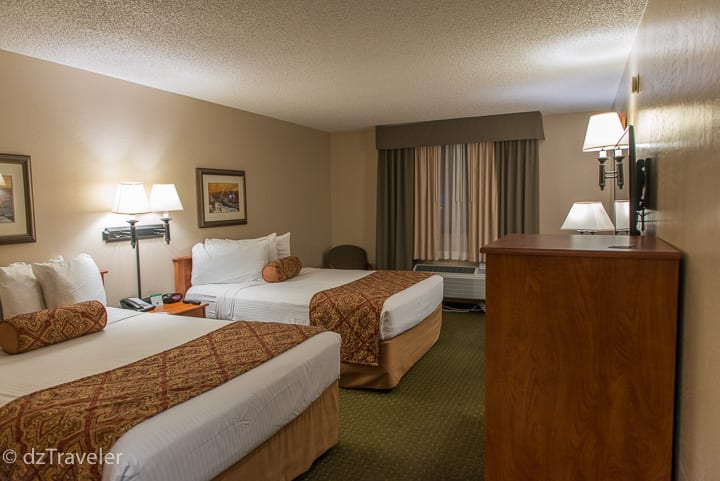 My Favorite Local Food
Fast food but the BBQ chicken with healthy greens were delicious!
My Opinion and Tips
Have you been to Grand Canyon? Any additional tips to share?
Please leave a comment below! I'd love to hear from you to improve my knowledge.
Was this travel guide helpful for you?
If you'd like to help me continue making free guides, here is one way you can help:
Share This Guide – If you have a friend that would benefit from this guide, share it with them. Or post this guide on Facebook, Twitter or Google+
Your help would definitely help me making more free guides like this. Thank you in advance!
Here are few pictures that will tell the travel stories of Dizzy Traveler.
Please Click Here For Slideshow: