New England is known for its rich history and for its even richer foliage in the fall. No amount of photoshop can match the vivid beauty you experience with your own eyes. The famous poem, The Road Not Taken, by Robert Frost inspired me to take this journey throughout New England as he so eloquently describes an existentialist dilemma represented by two roads diverged in a yellow wood. Too often we look back at our lives and ponder the choices we made asking ourselves, "what if I made a different decision?" I have been wanting to take this trip for many years, and realized the choice to go vs. not was clear. My family and I decided to take a road trip through Vermont, New Hampshire, Maine, and parts of Massachusetts in order to take in the tapestry of colors that New England has to offer. Beyond leaf-peeping and the occasional hike, there are plenty of ways to enjoy New England's topography during the fall. Planning ahead is one of the keys to getting the most out of the short season that doesn't last as long as you may think.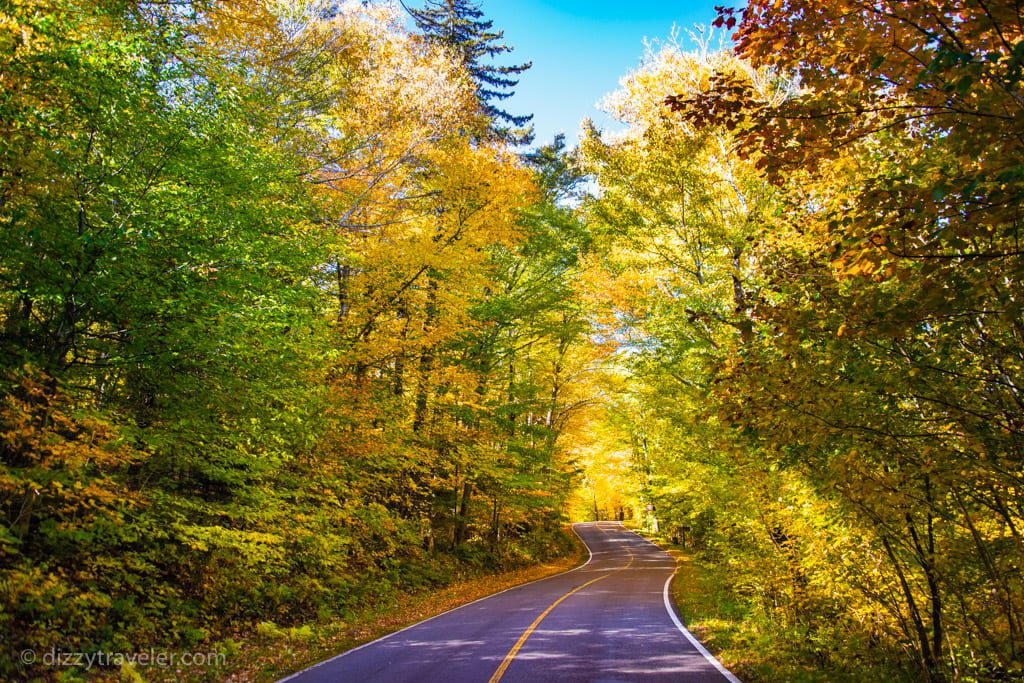 Best Time To Visit
While every year is different, Vermont, New Hampshire, and Maine typically see its best fall color, moving from north to south, starting in mid-to-late September and extending through mid-October.
Helpful Tips
In case you don't know, New England consists of six states; Connecticut, Maine, Massachusetts, New Hampshire, Rhode Island, and Vermont.
Choose a well-known drive. Classic New England foliage routes include Maine's Golden Road, New Hampshire's Kancamagus Highway, Vermont's Route 7, and Massachusetts' Route 2 along the Mohawk Trail.
Trip Itinerary
New England Foliage Trip Itinerary
---
A few pictures from the trip
Where to stay in New England for Foliage Trip
Mount Royal Inn is located in Adams, only about 5 miles away from Mount Greylock State Reservation. So it was perfect for us to spend the night over there as we planned to visit Mt. Greylock the next morning. The hotel is 24 miles from Lenox, while Lee is 28 miles from the property. The nearest airport is Albany International Airport, 48 miles from the accommodation.
Smugglers Notch Resort offers a king-size bed and a new sleeper sofa with a comfortable memory foam mattress. Sleeps 4 comfortably. It is located in a great location, only a few miles away from the historic Smugglers notch bypass, walking distance to a creek, bike path, hiking area, ski lift, restaurants, swimming pool, Fun Zone, playground, and more. Great place to stay if you are visiting Stowe, Vermont
Village of Loon Mountain is located in Lincoln, New Hampshire is about one mile from skiing on Loon Mountain. The accommodation is fully furnished with a kitchen. Free shuttle service to the ski area is available from the village resort. The rooms were spacious with modern, clean restrooms. We enjoyed our stay here.
Bar Harbor motel is just 1 mile from the main entrance to Acadia National Park. Facilities include an outdoor pool. Guests can directly access Acadia National Park through the property's hiking and biking trails. Bicycle and kayak storage are available on site. The Motel Bar Harbor has laundry facilities and a gift shop.
This hotel is located adjacent to the Portland International Jetport, 2.2 mi from the Maine Mall and 5 mi from the Old Port District, this all-suite hotel in Portland, Maine offers accommodations and easy access to historic sites and outdoor recreations. The two-room suites at Embassy Suites by Hilton Portland Maine feature a separate living room with a sofa bed and a private bedroom. Start the day with a free made-to-order breakfast including omelets & pancakes or grab a bagel & coffee on the go.
This historic, Essex Street Inn, is located on Highway 1 in Newburyport, Massachusetts city center. The inn offers a daily continental breakfast with homemade muffins and pastries and free Wi-Fi. All rooms have a private bath and individual temperature control and certain rooms feature a microwave and a refrigerator. The Custom House Maritime Museum is a 4-minute walk from the Inn Essex Street, while Plum Island is 1.9 miles away. Black Swan Country Club is a 22-minute drive from the inn. Free Parking.
My Opinion and Last Word
Have you been to New England? Any cool tips to share?
I loved enjoying the colorful fall in New England area and want to go back again. Hope my story has motivated you to plan a fall trip. 
Please leave a comment below! I'd love to hear from you to improve my knowledge. 
Was this travel guide helpful for you?
If you'd like to help me continue making free guides, here is one way you can help:
Share This Guide – If you have a friend that would benefit from this guide, share it with them. Or post this guide on Facebook, Twitter or Google+
Your Support would definitely help me making more free guides like this. Thank you in advance!
Affiliate Link – This post in Dizzy Traveler contains affiliate links, which means I receive a referral commission if you purchase after clicking at no additional cost to you. These funds go to maintain the site. Thank you for your support.
Here is a few affiliate links that may help plan a perfect trip while staying within budget.