Yellowstone National Park is one of the most popular parks in America, established back in 1872. Ninety-six percent of Yellowstone NP is located within Wyoming; a portion of the park spreads into Montana and Idaho too. There are entrance from Teton National Park in the south and Cody in the east. Many visitors stay just outside of the park in West Yellowstone, Montana, and enter through the west gate. The National park is nearly 3,500-sq miles wilderness recreation area atop a volcanic hot spot, an exceptional blend of natural beauty, grand peaks, dramatic canyons, alpine rivers, lush forests, hot springs, plentiful wildlife, and the world's most great collection of geysers.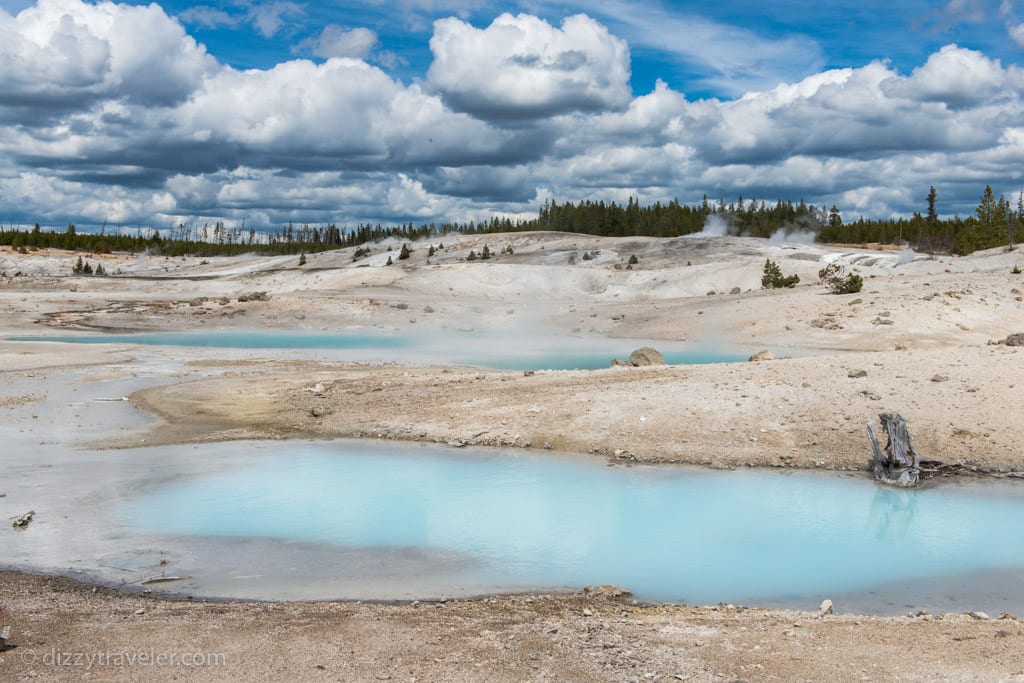 Yellowstone has plentiful wildlife as famous as its geysers, in the northern range, they have more than 7500 square km (3000 square miles) of habitat.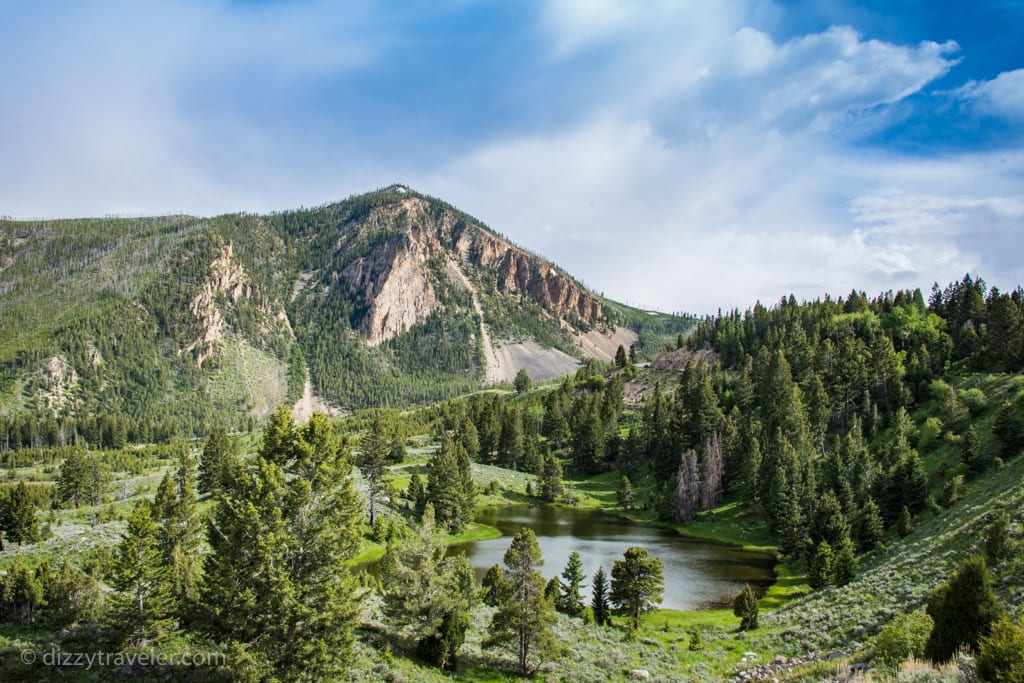 Places To Visit
Most of Yellowstone Park has something for everyone as it offers a variety of activities for visitors to experience. From exploding geysers, boiling mud holes, many colorful hot springs, steaming sulfur pits, grand canyons filled with waterfalls, and plenty of wildlife roaming around the magnificent landscape, and your experience will definitely exceed your expectations.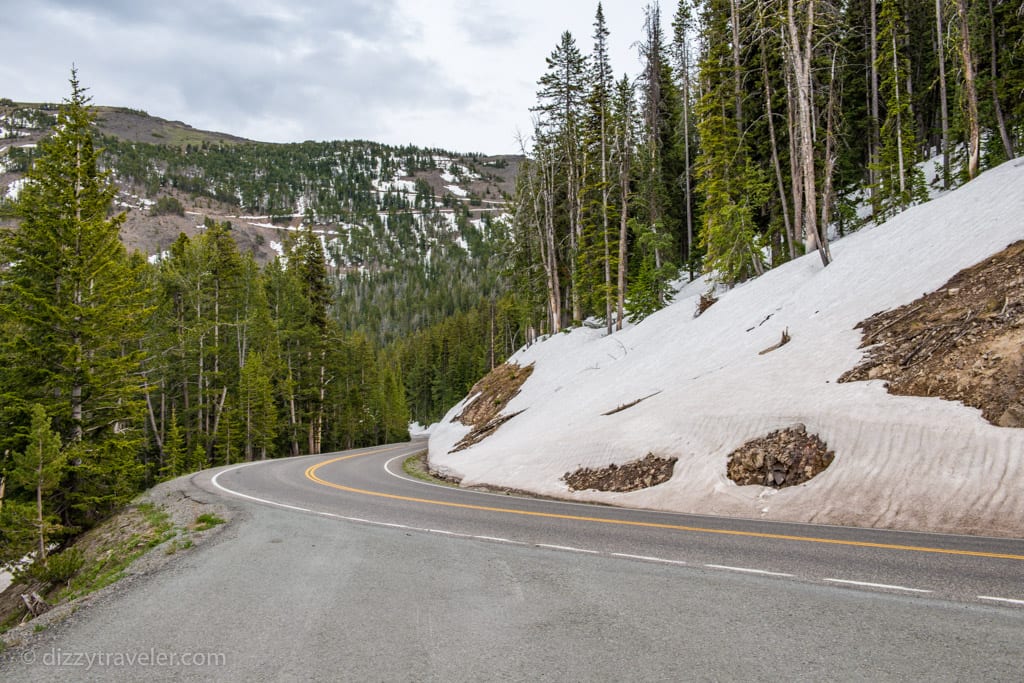 Visit Mammoth Hot Springs
Mammoth Hot Springs is a must-see site of Yellowstone National Park in part because they're so different from other thermal features in the area. It is located just south of the North Entrance to the National Park. This area is accessible by car year-round. The upper and lower terraces can be explored using the 1.75 miles of boardwalks around them.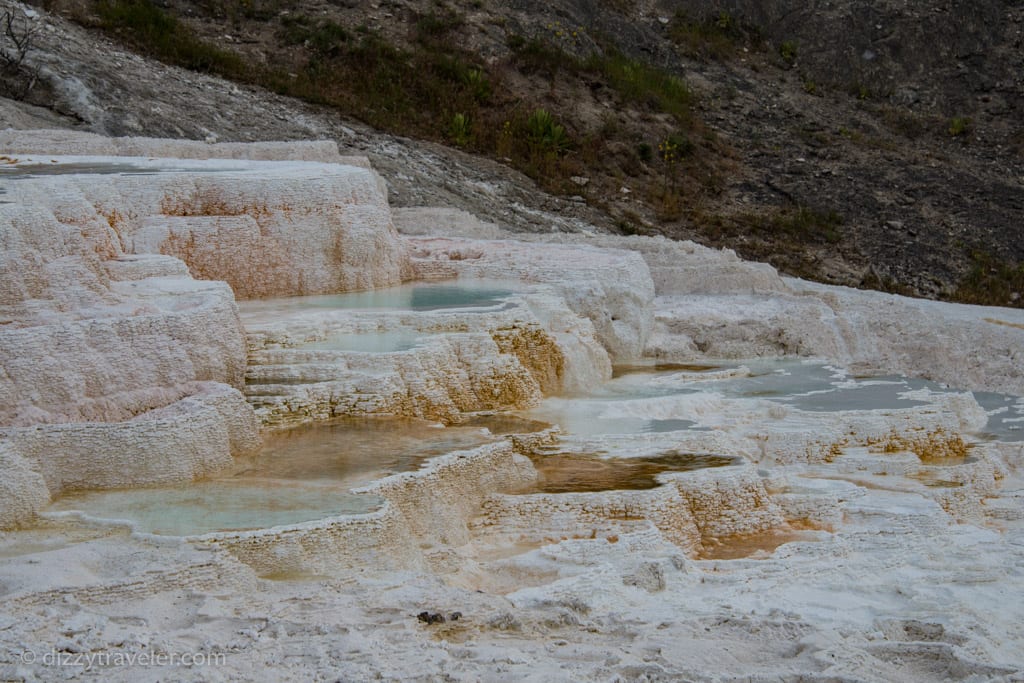 Liberty Cap, A dormant hot spring cone
Liberty Cap is the best-known rock formation created by the hot spring in the lower terrace of Mammoth Spring. The 37 feet hight hot spring cone was named in 1871 for its similarity to the pointed caps worn during the French Revolution.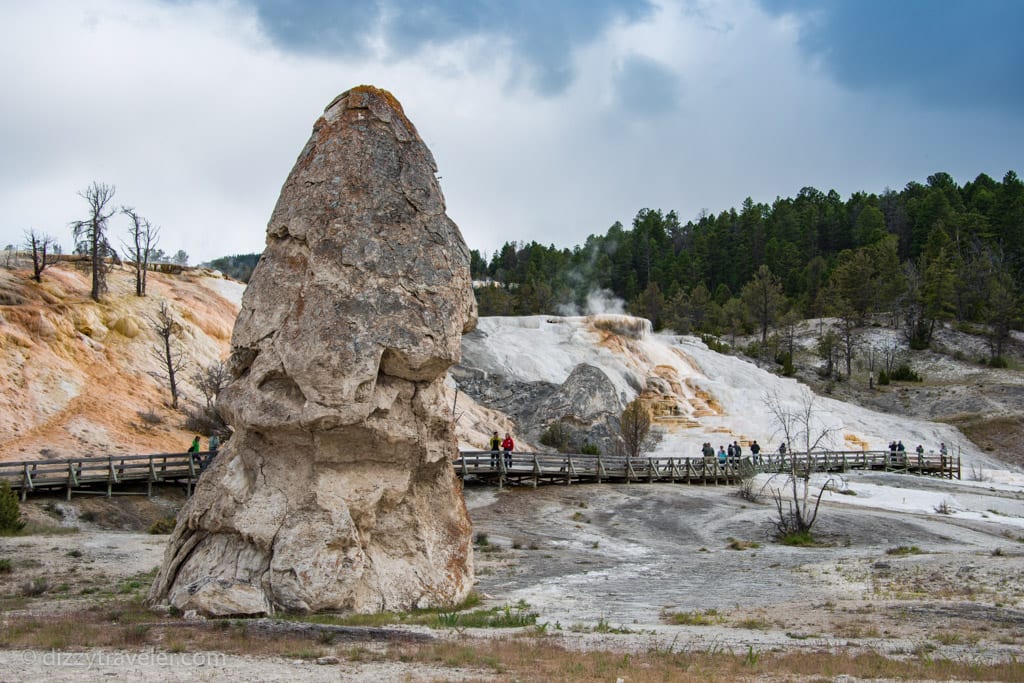 Cistern Spring
Hot springs create different water temperature environments for living things. Cistern Spring's brown, orange, and green colors represent species of visible algae and bacteria, each requiring a different temperature environment.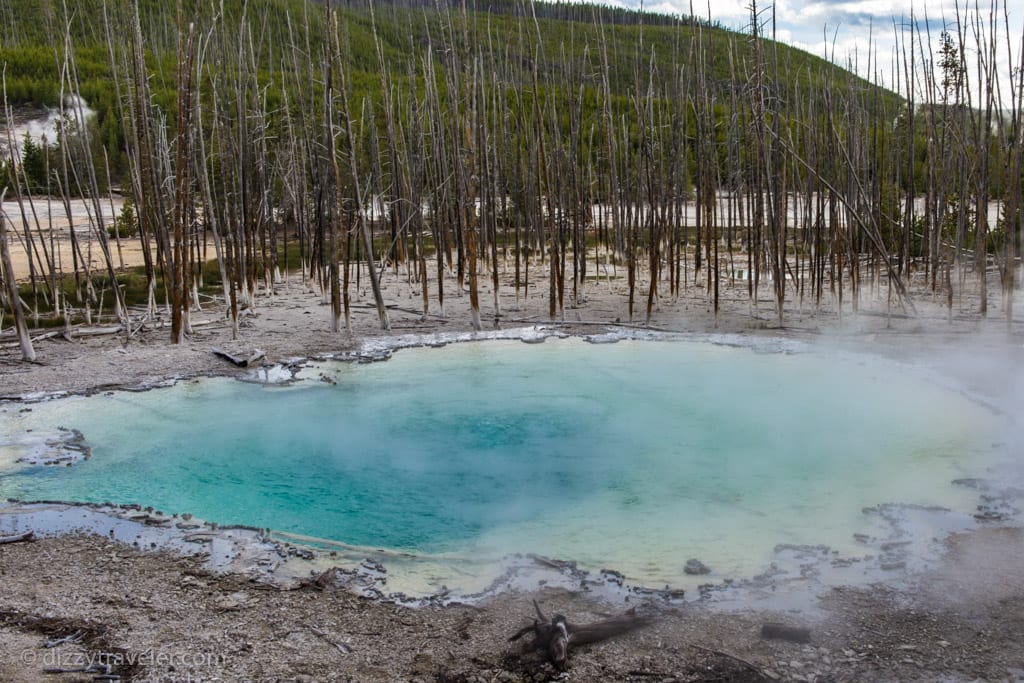 Wildlife Watching
I saw few bison along the way, in addition to a bear family up close, a few deer and elk. As I passed by the Tower Junction, I decided to pull over my car to watch a few baby bears playing right along the road! They were climbing up and down a tree and jumping around with their parents watching them closely.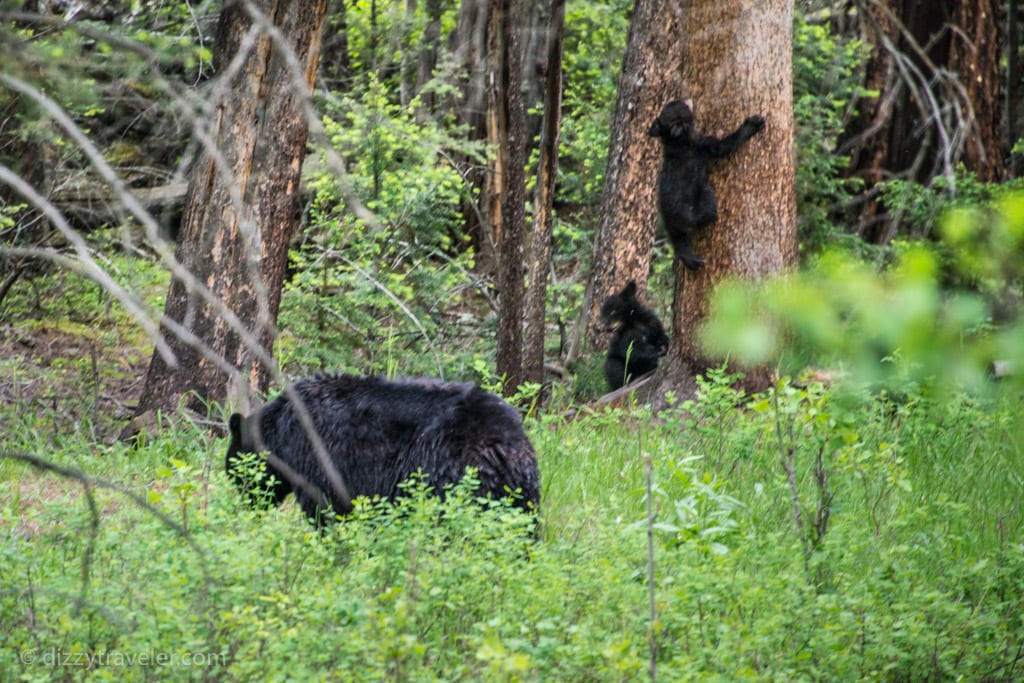 Watch Old Faithful Geyser
It's a tradition to watch Old Faithful Geyser erupt in Yellowstone National Park. Tourists from all over the world visit the park to view this famous geyser. The park rangers predict the timing of the geyser eruptions. Old Faithful may stop erupting someday as the thermal features change constantly, but Yellowstone conserves the natural geologic processes so that tourists continue to enjoy this natural system.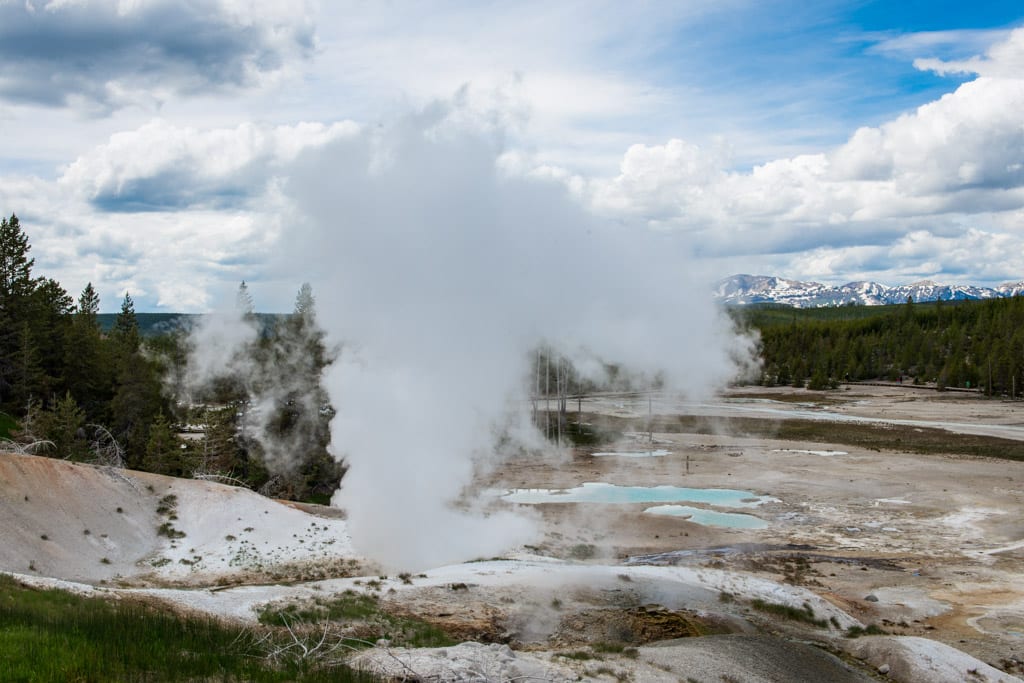 Stroll Through Norris Geyser Basin
Norris Geyser Basin is the oldest, hottest, and most efficient of Yellowstone's thermal areas. The features in the basin change daily, with frequent disturbances from seismic activity and water fluctuations. The vast majority of the water at Norris is acidic, including very rare acid geysers. Steamboat geyser is the tallest in the world, goes as high as 300-400 feet (91-122 m), and Echinus Geyser (pH 3.4 or so) are the most popular features. Take the boardwalk from the parking lot. In summer, you may end up parking in one of those overflow parking sites than walk about half a mile to the site.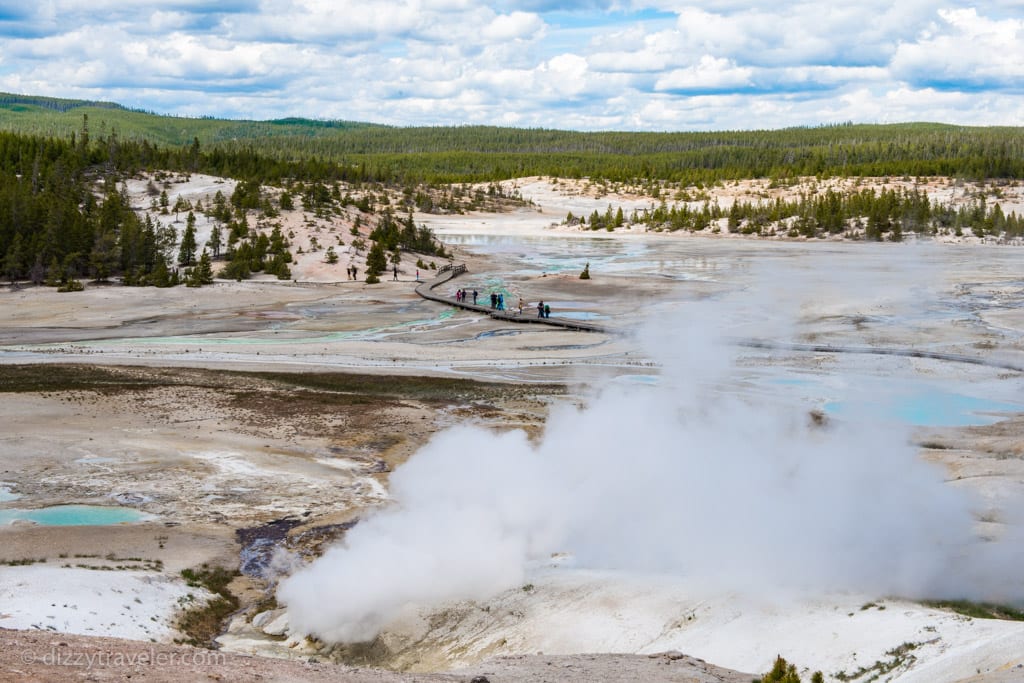 Hayden Valley
Hayden Valley is about 50 square miles of the valley in National Park located around Yellowstone River between Yellowstone Falls and Yellowstone Lake. The valley is truly beautiful, particularly the scenic drive that crosses Grand Loop Road south between Canyon Village and Yellowstone lake. To enjoy it to its fullest, just take your time, as there are loads of pullouts along the road to stop and use your camera to take pictures of bison, wolves, bears, deers, elks, and other animals in the wide-open meadows. You will undoubtedly face traffic due to bison crossing the road or just roaming alongside the way.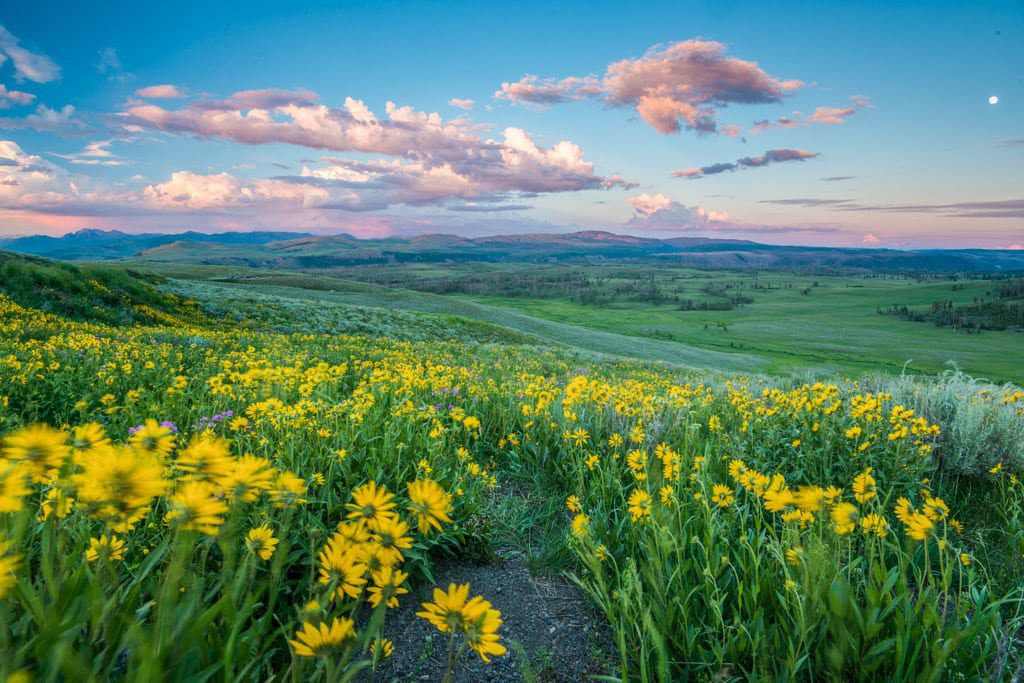 Grand Prismatic Spring
Grand Prismatic Hot Spring in Midway Geyser Basin is one of the most photographed thermal features in Yellowstone. Definitely due to its crazy-bright colors and gigantic size. The third-largest spring in the world is larger than a football field at 360 feet long and 160 feet wide. Boiling water jets 121 feet from a crack in the Earth to reach the spring's surface. The hot spring has bright bands of orange, yellow, and green ring the deep blue waters in the spring.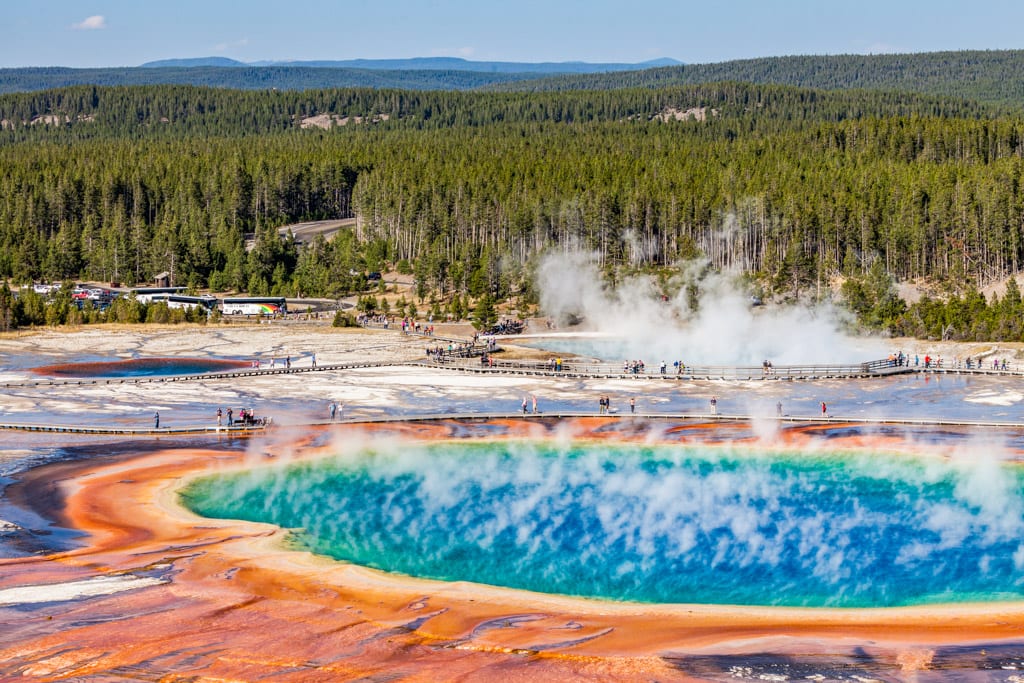 Gibbon Falls
Gibbon Falls is located on the Gibbon River in the northwestern part of Yellowstone National Park. You can't miss it should be on your way between Norris Geyser Basin and Madison Junction when traveling on Grand Loop Road. Make a quick roadside stop to view Gibbon falls that plunge about 84 feet to create a great view.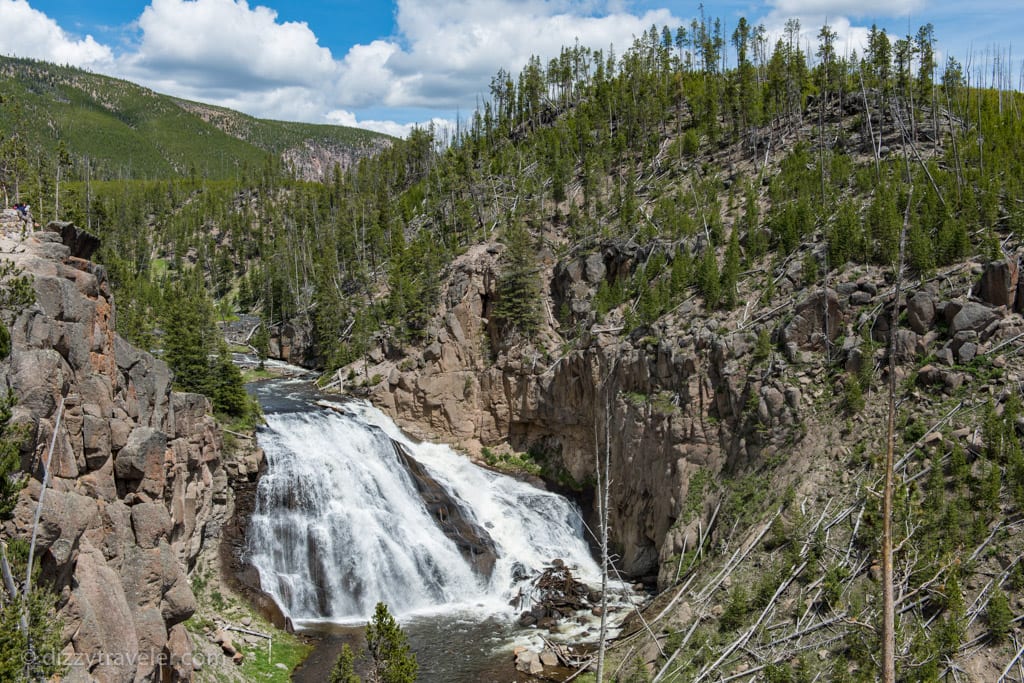 Tower Falls
Tower Fall, one of the most famous falls in the park, is located in the northeastern region of Yellowstone National Park. The viewpoint is roughly 100 yards from the parking area from where visitors can enjoy the 132 feet plunges that create a spectacular scene. The fall was named after the rock pinnacles at the top of the fall.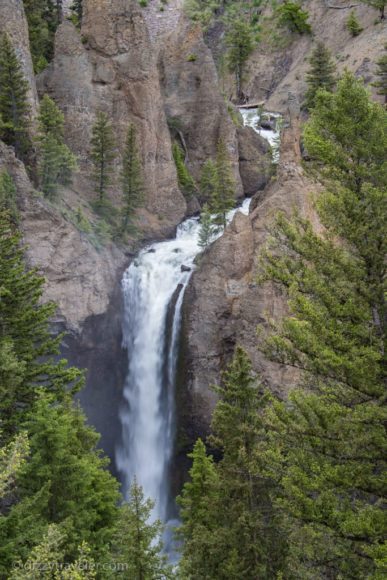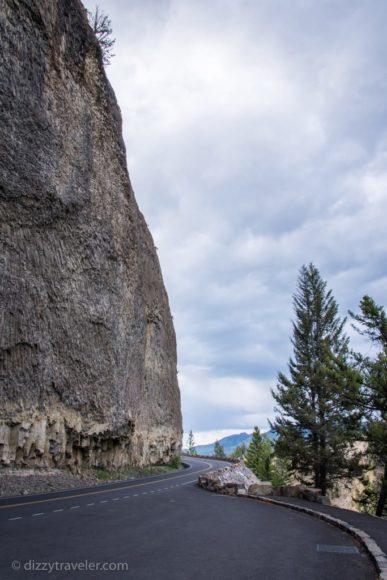 Lewis Falls
The Lewis Fall is located halfway between the south entrance and the grant village. The falls drop approximately 30 feet and are easily seen from the road or easily accessible from parking lots on each side of the lewis river bridge.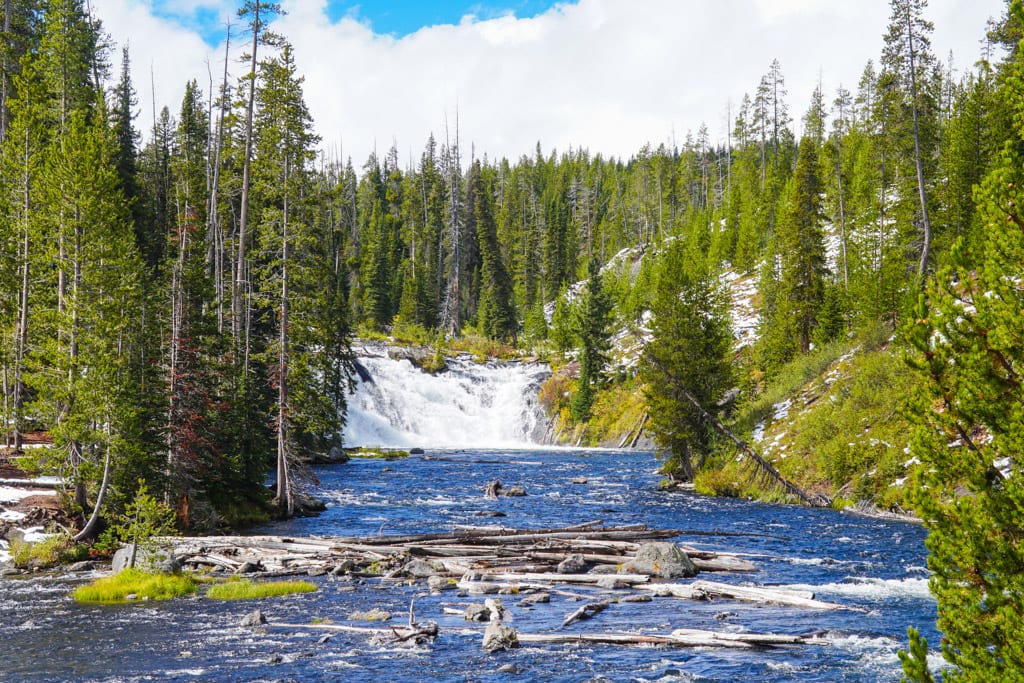 What Else to do in Yellowstone
Day Hikes in the Canyon Area
There are many trails suitable for short and extended hikes into Yellowstone's backcountry begin in the canyon area.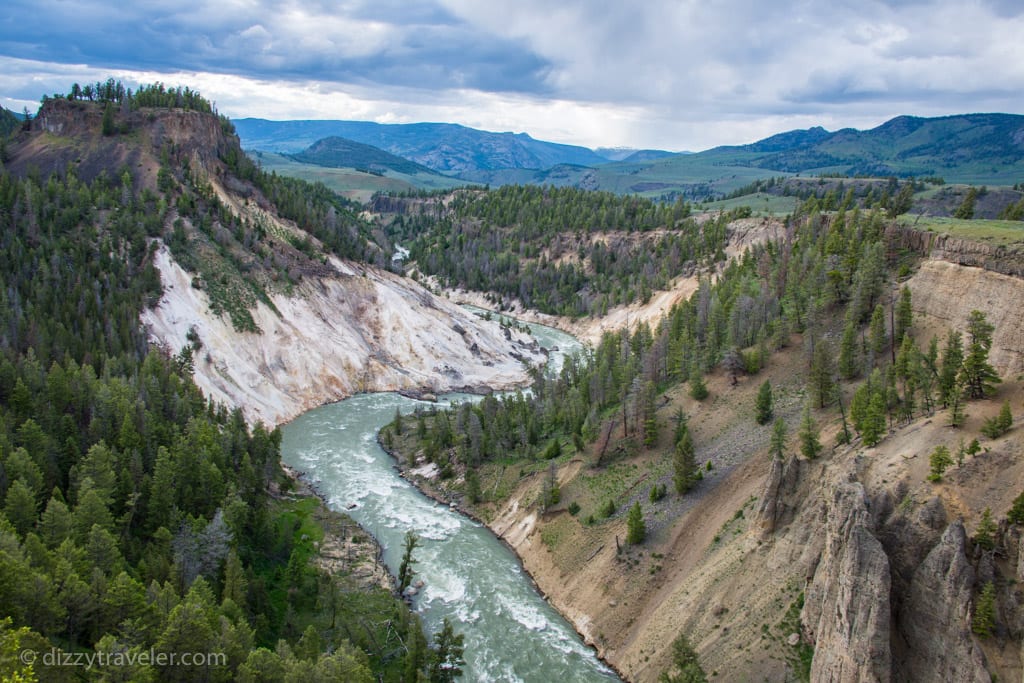 Ribbon Lake Loop
Park at the Uncle Tom's Point Parking Area. The trail beings across the road to the south at the Clear Lake trailhead. The total loop distance is 5.8 miles (9 km), estimated time about 3-4 hours, and the difficulty level is moderately easy.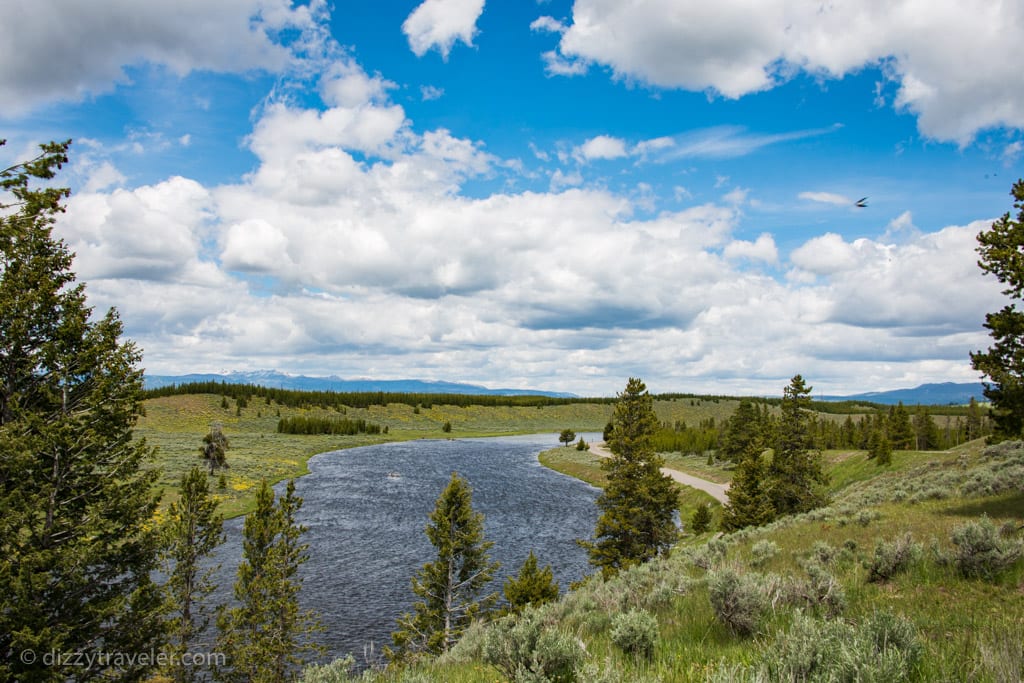 Howard Eaton Trail
Howard Eaton Trail covers Cascade, Grebe, Wolf, and Ice lakes, the total distance, a one-way trip is 10.7 miles (17.5 km). Estimated time 5-6 hours. The level of difficulty is moderately easy.
Grebe Lake Trail
A more direct route than the Howard Eaton Trail, this trail follows an old fire road through meadows and forest. Distance 6.2 miles (9.8 km), estimated time: 3-4 hours and the difficulty level is Moderately easy.
Observation Peak
This is a hike to a high mountain peak for an outstanding view of the Yellowstone wilderness. The trail passes through open meadows to Cascade Lake where wildflowers abound, and wildlife is often seen. Beyond the lake, the trail climbs 1,400 feet in 2.6 miles through the whitebark pine forest. Total roundtrip distance is 9.6 miles (15 km), estimated time about 5 hours, and the difficulty level is strenuous, 1400 foot (425 m) vertical rise in 2.6 miles (4.1 km).
Seven Mile Hole
Seven mile Hole trail passes both dormant and active hot springs. The only reliable water source on the trail is the Yellowstone River. Total round trip distance is 10 miles (16 km), estimated time about 5-8 hours, and the difficulty level is strenuous.
Mt. Washburn Dunraven Pass
Starting at the Dunraven Pass Trailhead, you ascend Mt. Washburn on a trail with spectacular views. Look for bighorn sheep and wildflowers. Stay on the trail to avoid destroying fragile alpine vegetation. Total roundtrip from Dunraven Pass is 6.0 miles (9.6 km), estimated time 3-6 hours, and the difficulty level is strenuous. Be aware of lightning above the treeline. There is no access to water along this trail.
Guided Tours
---
Where to stay in Yellowstone National Park
Under Canvas Yellowstone is nestled at the west entrance of Yellowstone National Park, this charming resort offers easy access to hiking and fishing. A restaurant and bar are located on-site. All tents and teepees offer views of wildlife and nature.
Without electricity, Yellowstone Under Canvas offers teepees as well as luxury tents. Select tents feature a wood stove and private bathroom equipped with a shower, flushing toilet, and spa products.
Crosswinds Inn is located within walking distance of numerous restaurants and shops, Crosswinds Inn is located in the center of West Yellowstone, Montana. The West Entrance to Yellowstone National Park is 0.9 miles away and 30 miles from Old Faithful Geyser. Bozeman Yellowstone International Airport is 91 mi away.
My Opinion and Last Word
Have you been to Yellowstone National Park? Any cool tips to share?
I loved being to this breathtaking National Park and want to go back again. Hope my story has motivated you to visit Yellowstone NP. 
Please leave a comment below! I'd love to hear from you to improve my knowledge. 
Was this travel guide helpful for you?
If you'd like to help me continue making free guides, here is one way you can help:
Share This Guide – If you have a friend that would benefit from this guide, share it with them. Or post this guide on Facebook, Twitter or Google+
Your Support would definitely help me making more free guides like this. Thank you in advance!
Affiliate Link – This post in Dizzy Traveler contains affiliate links, which means I receive a referral commission if you purchase after clicking at no additional cost to you. These funds go to maintain the site. Thank you for your support.
Here is a few affiliate links that may help plan a perfect trip while staying within budget.