New York City, a global icon and a melting pot of cultures, beckons world travelers with its irresistible allure. The city's magnetic energy, towering skyscrapers, and vibrant streets captivate the senses, immersing visitors in a dynamic blend of art, history, and diversity. From the majestic Statue of Liberty and the iconic Times Square to the serene Central Park and the world-renowned Museum of Modern Art, New York City offers a never-ending feast for the wanderlust soul. Indulge in culinary adventures, exploring a kaleidoscope of flavors in the city's diverse neighborhoods, or lose yourself in the bustling markets and eclectic shops. For world travelers seeking an unforgettable adventure, New York City is a must-visit destination that will leave an indelible imprint on your heart and ignite your passion for exploration.
Best Time To Visit
The best time to visit New York City largely depends on your preferences and what you want to experience. Each season in the city offers its own unique charm and attractions. The best time to visit New York City in terms of pleasant weather and comfortable temperatures is during the spring and fall seasons.
Spring (March to May) brings mild temperatures with an average high ranging from 12°C to 19°C (54°F to 66°F). It's a great time to explore Central Park, visit museums, and enjoy outdoor activities like walking tours and boat rides.
Summer (June to August) can be hot and humid, with average highs ranging from 26°C to 30°C (79°F to 86°F). However, if you don't mind the heat, you can take advantage of the vibrant energy, outdoor events, and longer daylight hours. The city comes alive with street festivals, outdoor concerts, and events. You can enjoy picnics in parks, visit rooftop bars, and take advantage of longer daylight hours.
Fall (September to November) showcases the beauty of fall foliage, especially in Central Park. Also offers pleasant temperatures, with average highs ranging from 17°C to 23°C (63°F to 73°F). You can enjoy events like the Macy's Thanksgiving Day Parade and the New York City Marathon. It's also a great time to explore neighborhoods and indulge in seasonal treats.
Winter (December to February) transforms New York City into a magical wonderland. The city is adorned with holiday decorations, ice-skating rinks, and festive markets. You can experience the iconic Times Square New Year's Eve celebration and enjoy indoor attractions like museums and Broadway shows. Winter in NYC can be cold, with average highs ranging from 2°C to 6°C (36°F to 43°F).
It's important to note that New York City can be crowded throughout the year, so consider factors like hotel availability and ticket prices when planning your visit. Additionally, it's worth checking the weather forecast and considering any specific events or activities you wish to participate in.
Ultimately, the best time to visit New York City is subjective and depends on your personal preferences and interests. Whether you're captivated by the beauty of spring blooms, the excitement of summer events, the colors of autumn, or the enchantment of winter festivities, New York City is sure to offer an unforgettable experience year-round.
Keep in mind that these are average temperatures, and weather conditions can vary. It's always a good idea to check the forecast closer to your travel dates and pack accordingly. Additionally, note that New York City can be crowded during popular events and holidays, so plan ahead and book accommodations and attractions in advance to ensure a smooth visit.
Getting Around in NYC
Getting around in New York City is relatively easy thanks to its extensive public transportation system and other convenient options. Here are some ways to navigate the city:
Subway
The subway is the most popular and efficient mode of transportation in NYC. It covers all five boroughs and operates 24/7. You can purchase a MetroCard to pay for fares and easily access different subway lines to reach your desired destinations. Costs is $2.75 for a single trip or $33 for a seven-day MetroCard, which gives you unlimited subway and bus journeys. Download NYC subway map.  Or visit MTA Site of current fare.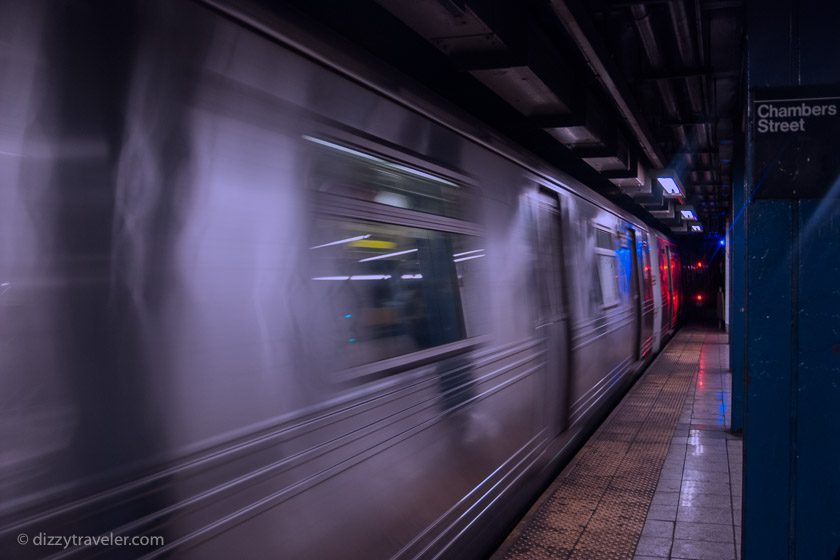 City Bus
New York City buses provide service between LaGuardia Airport and Manhattan and Queens, connecting to New York City subways for the destination beyond. Subway and bus service cost $3.00 (exact change required) when purchasing a single ride and $2.75 per ride when purchasing a MetroCard; vending machines are located throughout the terminal facilities.
Taxis and Rideshares
Taxis are a common sight in NYC, and you can hail them on the street or find them at designated taxi stands. Ridesharing services like Uber, Lyft and Zipcar are also widely available and can be accessed through smartphone apps. 
Walking
New York City is a pedestrian-friendly city, and walking can be a great way to explore shorter distances. Many neighborhoods, especially in Manhattan, are easily walkable, and you can enjoy the vibrant streetscapes while getting to your destination.
Biking
NYC has implemented bike lanes and a bike-sharing program called Citi Bike, making cycling a popular and eco-friendly option. You can rent a bike for a short ride or use it for longer trips across the city.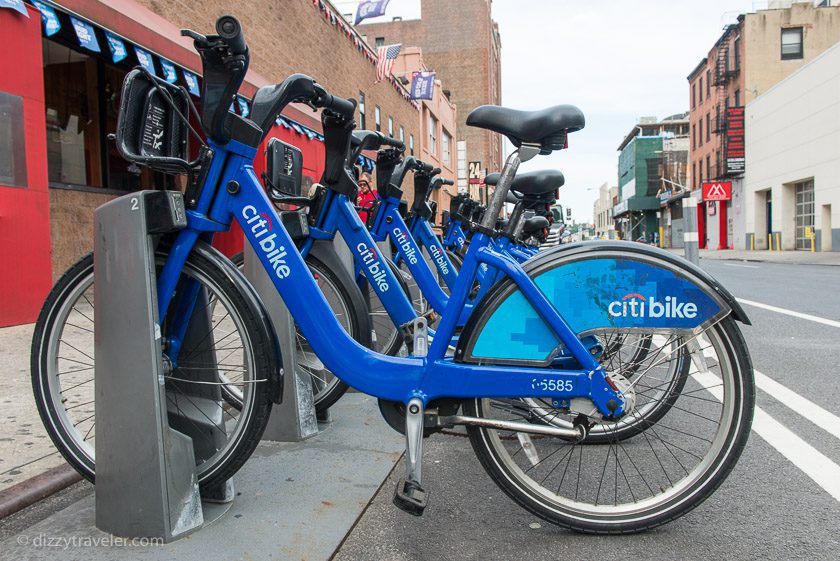 Ferries
The city is surrounded by water, and ferries provide a scenic way to travel, especially to areas like Staten Island, Governors Island, or even to parts of Brooklyn and Queens along the East River.
Car Rentals
While driving in NYC can be challenging due to traffic and limited parking, you can still rent a car if you prefer the flexibility of having your own vehicle. Just be aware of parking regulations and availability.
When navigating NYC, it's helpful to use smartphone apps like Google Maps or the official MTA app for real-time updates on public transportation routes, schedules, and delays. Familiarize yourself with the city's street grid, landmarks, and major avenues to make navigation easier. Lastly, be prepared for some walking and don't be afraid to ask locals or seek assistance from MTA staff if you need help.
How To Get There
New York City is a major transportation hub, and there are several ways to get there depending on your location and preference. Here are some common methods of reaching New York City:
By Air: If you're traveling from a distant location, flying into one of NYC's airports is a popular option. The city is served by three major airports: John F. Kennedy International Airport (JFK), LaGuardia Airport (LGA), and Newark Liberty International Airport (EWR). These airports have connections to numerous domestic and international destinations.
By Train: Amtrak operates train services to New York City from various cities across the United States. Penn Station, located in Midtown Manhattan, is the main train station in NYC. It is served by Amtrak and commuter rail lines such as NJ Transit and Long Island Rail Road (LIRR).
By Bus: Many bus companies offer affordable and convenient transportation to New York City. Companies like Greyhound, Megabus, and BoltBus operate routes from various cities in the United States and Canada. The main bus terminals in NYC are Port Authority Bus Terminal and Chinatown Bus services.
Getting to the City from Airports
For Airport connections between JFK – LGA – EWR make sure you have plenty of time in between your flights.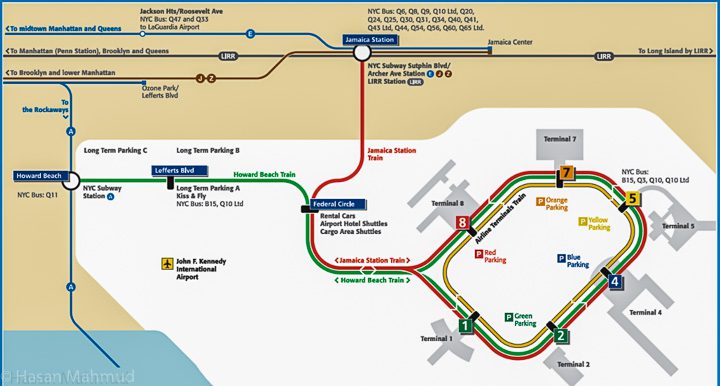 From Kennedy Airport (JFK)
AirTrain is the easiest and cheapest way to travel from JFK. Take the Train to Jamaica Station, and from there, take the Subway E line all the way to the downtown World Trade Center. Here are a few major stops on the way, 42 St. Port Authority Bus Terminal, Penn Station, Canal Street, etc. The estimated cost would be $7.75 ( $ 5 AirTrain fee and $2.75 Subway fare), and takes about 50 minutes. NYC Subway Map
From Newark Airport (EWR)
To NYC Penn Station
Take the AirTrain to Newark Airport Train Station. Then transfer to an NJ Transit Train to NYC Penn Station (the last stop). Trains run 7 days a week, 21 hours/day (no service between 2:00 – 5:00 am) at least every 15 minutes and more frequently during the day. The cost is $12:50, and the total travel time, including waiting at the airport transfer, should be about 30-45 minutes.
To World Trade Center / 33rd Street / Jersey City
Take the AirTrain to Newark Airport Train Station. Then transfer to NJ Transit Train to Newark Penn Station. Trains run 7 days a week, 21 hours/day (no service between 2:00 – 5:00 am). Get off the train at Newark Penn Station and go to the PATH train at the same station. PATH is the subway that runs between NJ and NY. Cost $2.75. PATH has three lines connecting: one to WTC, one to Hoboken, and one to 33rd Street (close to Penn Station); for Jersey City, get off at Journal Square, Grove Street, or Exchange Place, depending on where you are going.
From La Guardia Airpot (LGA)
To NYC
New York City buses provide service between LaGuardia Airport and Manhattan and Queens, connecting to New York City subways for the destination beyond. Subway and bus service costs $3.00 (exact change required) for a single ride and $2.75 per ride for a MetroCard. Vending machines are located throughout the terminal facilities.
For Airport connections between JFK – LGA – EWR, make sure you have plenty of time in between your flights.
New York City offers a wide range of hotels catering to various budgets and preferences. Whether you're looking for luxury accommodations, boutique hotels, or budget-friendly options, you'll find plenty of choices. Here are some popular hotels in different categories:
Luxury Hotels:
1. The Plaza Hotel: Iconic and luxurious, located near Central Park and Fifth Avenue.
2. The Ritz-Carlton New York, Central Park: Offers elegant rooms with views of Central Park.
3. The St. Regis New York: Known for its impeccable service and luxurious amenities.
Boutique Hotels:
1. The Standard High Line: Trendy hotel in the Meatpacking District with a rooftop bar and stunning views.
2. The Ludlow Hotel: Located in the vibrant Lower East Side, featuring stylish rooms and a rooftop garden.
3. The Roxy Hotel Tribeca: Combines retro-chic design with modern amenities and live music events.
Mid-Range Hotels:
1. The Pod Hotel: Offers affordable, compact rooms in convenient locations in Midtown and Brooklyn.
2. YOTEL New York: Known for its high-tech rooms and convenient location near Times Square.
3. The Watson Hotel: Midtown hotel with comfortable rooms and easy access to attractions.
Budget Hotels:
1. The Jane Hotel: A budget-friendly option with compact cabins and a trendy atmosphere in the West Village.
2. The Pod 51 Hotel: Affordable rooms with a communal atmosphere and rooftop garden in Midtown East.
3. The Bowery House: Offers budget-friendly shared and private rooms with a retro design in Lower East Side.
These are just a few examples, and there are numerous other hotels throughout the city to suit different tastes and budgets. It's advisable to research and compare prices, read reviews, and consider factors like location and amenities when choosing a hotel in New York City.
Search Hotels in New York City
Useful Tips
Travel Insurance – Bad thing can happen any time, especially when you are doing activities that you are not used to it. Believe me, I have practical experience in this. So travel insurance is an option that you can consider. That will protect you from unexpected surprises for travelers like you and your families. Don't think about all the things that might go wrong on your trip, but these things can and do happen.
How Many Days is Enough to visit New York City
The number of days needed to visit New York City depends on various factors, including your interests, the attractions you want to see, and the pace at which you prefer to explore. However, to get a well-rounded experience of the city, it is generally recommended to allocate at least 4-5 days.
During this time, you can visit iconic landmarks like Times Square, Central Park, the Statue of Liberty, and the Empire State Building. Explore diverse neighborhoods such as SoHo, Greenwich Village, and Williamsburg. Immerse yourself in the cultural offerings of museums like the Metropolitan Museum of Art and the Museum of Modern Art. Enjoy Broadway shows, indulge in culinary delights, and take leisurely strolls through the city streets.
Check out iVisa for visa services
How Safe is NYC for Travelers
New York City is generally considered a safe destination for international travelers. As a major global city, it attracts millions of visitors each year, and authorities take various measures to ensure the safety and security of residents and tourists alike.
However, it's important to exercise caution and take typical safety precautions while traveling in any large city. Here are some tips to help ensure a safe experience in New York City:
1. Be aware of your surroundings: Stay vigilant and aware of your surroundings, especially in crowded tourist areas. Keep an eye on your belongings and be cautious of pickpockets.
2. Use reliable transportation: Stick to licensed taxis, rideshare services, or public transportation options like the subway or buses. Avoid using unlicensed taxis or accepting rides from strangers.
3. Secure your belongings: Keep your valuables secure and avoid displaying expensive items openly. Use hotel safes to store passports, cash, and other important documents.
4. Stay in well-lit and populated areas: Stick to well-lit streets and avoid walking alone late at night, especially in unfamiliar or isolated areas.
5. Stay connected and informed: Carry a charged mobile phone with emergency contact numbers saved. Stay informed about any travel advisories or updates from your embassy or consulate.
Top Tourist Attractions in New York
New York City offers a mix of big-city excitement and small-town charm. Explore diverse neighborhoods like the Upper East Side, Soho, Chinatown, Harlem, West Village, and the fashion district. The city is a hub of food, fashion, and the arts, with endless activities to keep you busy.
There are various walking and cycling tours run by Free Tours by Foot which is a great way to explore NYC. The Grand Central Partnership offers a free, award-winning 90-minute walking tour of the Grand Central neighborhood at 11:30 pm every Friday, covering the Chrysler Building, Grand Central Terminal, itself, and Pershing Square. Consider the New York City Pass for discounted entry to major attractions. Enjoy the vibrant energy of NYC!
Walk On The Brooklyn Bridge
The iconic Brooklyn Bridge opened in 1883 to carry traffic between Manhattan and Brooklyn. One of the most recognizable parts of the New York City skyline, the bridge has been featured in movies and on television shows and is a masterpiece of New York City history. In addition, you can do a self-guided tour – a walk across the Brooklyn Bridge. Start your tour from City Hall Park, on the Manhattan side of the bridge, and it will end on the Brooklyn Side. Also, Free Tours By Foot offers a 3-hour free walking trip that begins from the fountain in the center of City Hall Park at 10:00 am daily (reservation required).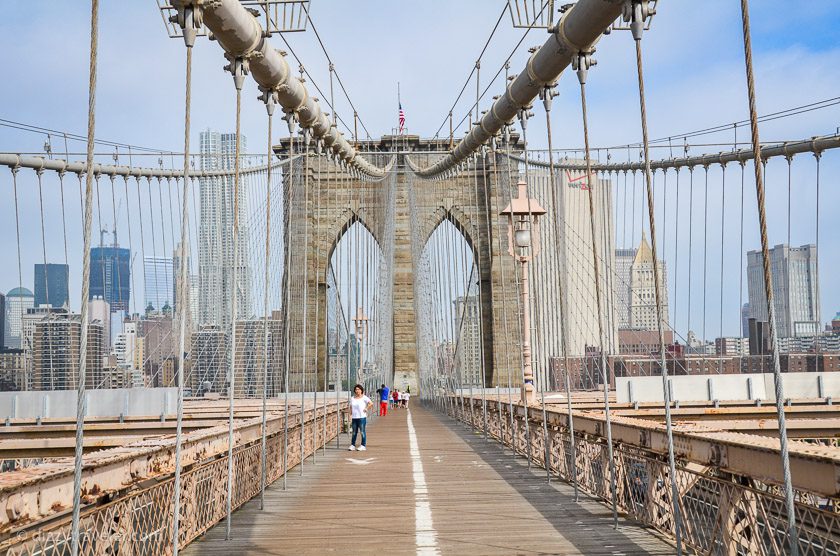 Explore Brooklyn Heights
Brooklyn Heights is one of Brooklyn's oldest neighborhoods and is often referred to as America's first suburb. Enjoy a stroll through its tree-lined streets, visit its historic churches and synagogues, and enjoy one of the best postcard-ready views of lower Manhattan, the Brooklyn Bridge, and the Statue of Liberty from the neighborhood's popular promenade.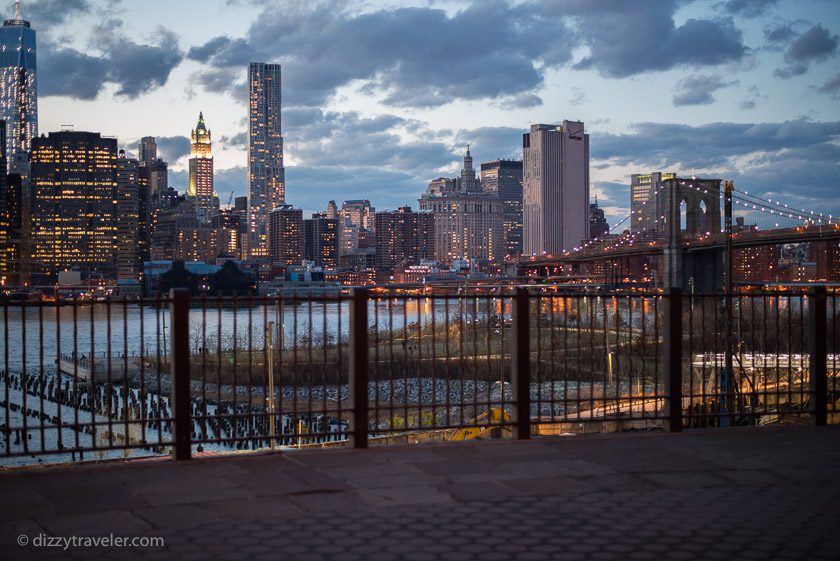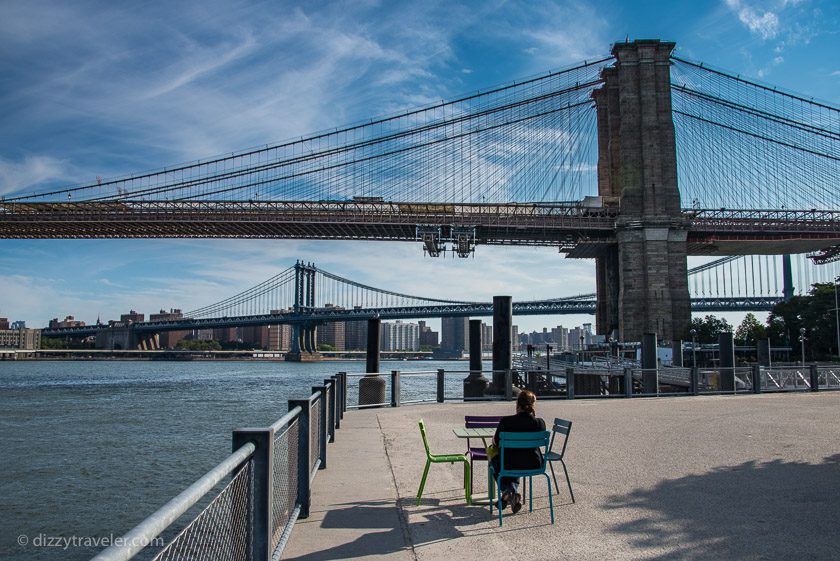 Visit South Street Sea Port
The South Street Seaport is a place that you should not miss. It's between Brooklyn Bridge and Wall Street. Experience exciting seasonal entertainment, unique shopping and dining, cultural activities, harbor cruises, and much more.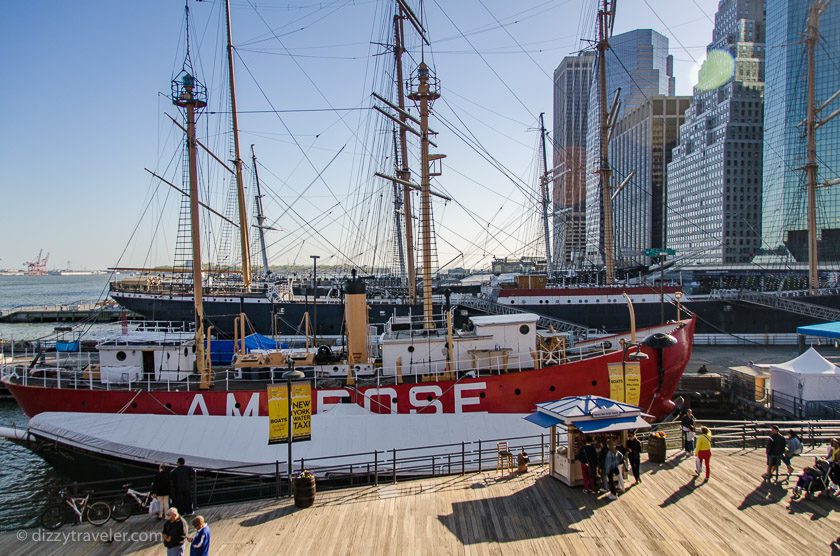 Take a Ferry to Governors Island
Governors Island is a 172-acre island, a 10-minute ferry ride from Lower Manhattan and Brooklyn in New York City. It offers unique views of the Statue of Liberty, the Lower Manhattan skyline, the Brooklyn Bridge, and the Brooklyn waterfront. It also offers miles of car-free biking. Of course, you can bring your own bike or rent one. Citi Bike is also available at the ferry landings. While on the island, don't forget to visit Fort Jay and Castle Williams. Take Subway 1 to South Ferry or the R train to Whitehall Street and walk over to Battery Maritime Building (10 South Street) for the ferry.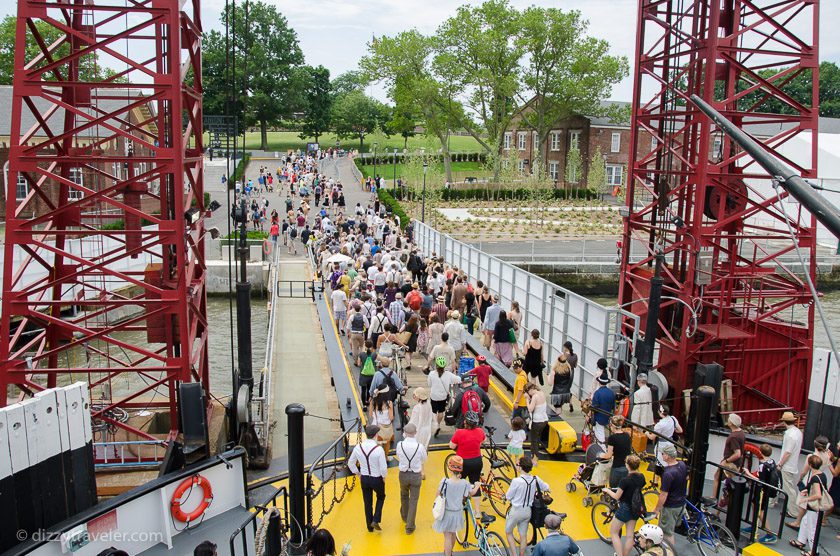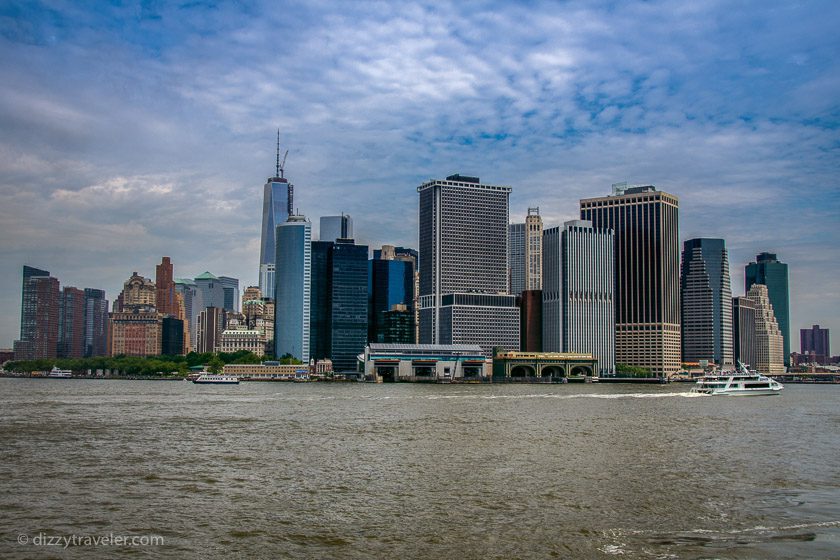 Ride The Ferry to Staten Island
Nothing is more exciting than getting on the free ferry service between Lower Manhattan and Staten Island. But, it is more than a means of transportation; it's a perfect way to enjoy the beautiful view of the Statue of Liberty, the stunning vistas of New York Harbor, or the Manhattan skyline. The ferry departs Manhattan from the Staten Island Ferry Whitehall Terminal at South Ferry, at the southernmost tip of Manhattan near Battery Park. On Staten Island, the ferry arrives and departs from the St. George Ferry Terminal. The 25-minute trip (5 miles) ferry is free of charge, though riders must disembark at each terminal and reenter through the terminal building for a round trip. For more information visit Staten Island Ferry website.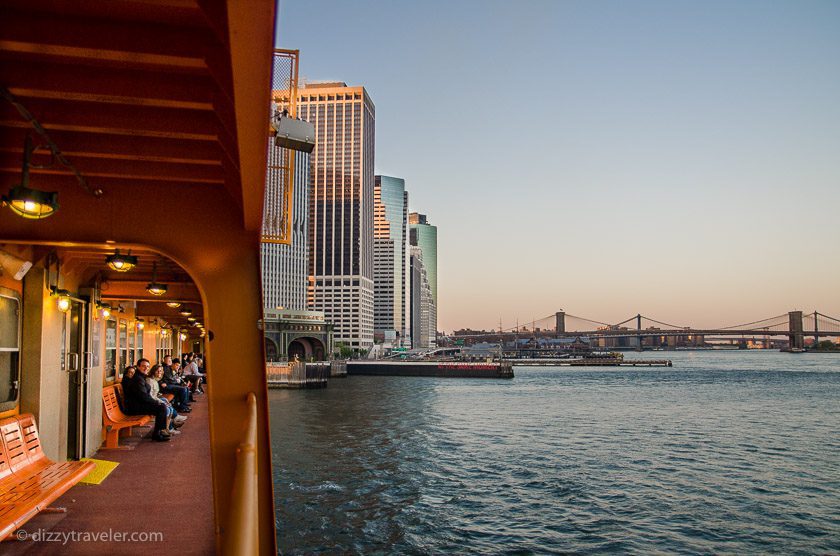 Birds Eye View From World Trade Center
There are many things to experience in the Big Apple and the only one way to truly see them all is from the tallest building of the Western Hemisphere The observation deck can be reached in just 60 seconds; look toward the horizon and feel the City's invincible spirit. Explore three levels filled with innovation and inspiration at One World Observatory, located in the top three floors of One World Trade Center. Tickets are currently available at oneworldobservatory.com current ticket price is Adults $34, seniors $32 and children $28). Most visitors spend an hour or two taking in the views. Note: there are three restaurants on the 101st floor, one of which offers snacks and lighter fare.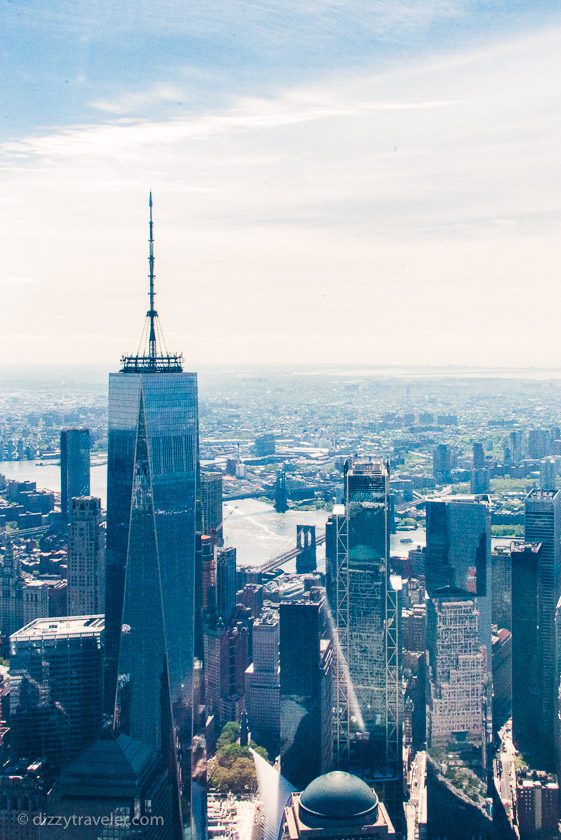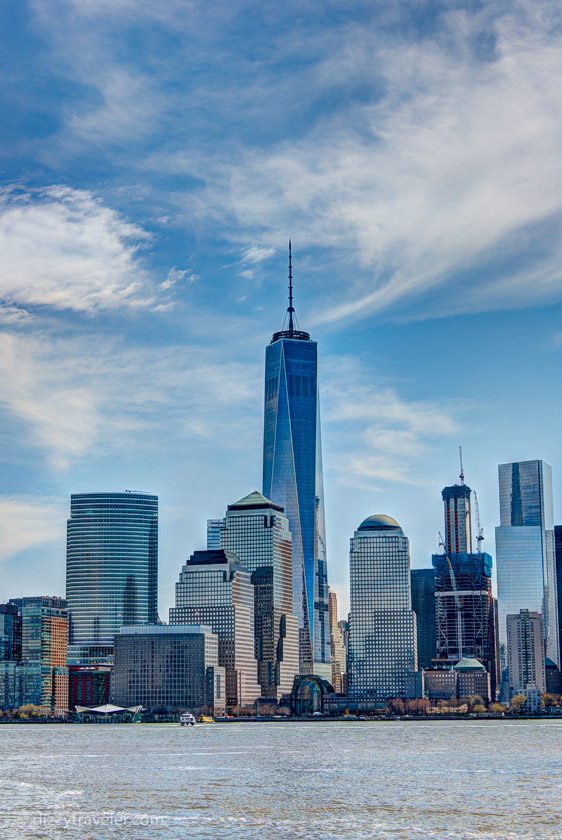 Visit Wall Street
In Addition to WTC, Lower Manhattan is also most famous for Wall Street, but the neighborhood is about much more than just finance. This area has seen some of New York City's, and the nation's, greatest triumphs- the inauguration of the country's first president, the founding of its first bank—and some of its greatest heartaches. Unfortunately, the New York Stock Exchange trading floor hasn't been open to public tours since 9/11, but you shouldn't let that stop you from snapping photos of the exchange's prominent facade or the bronze bull at the nearby Bowling Green.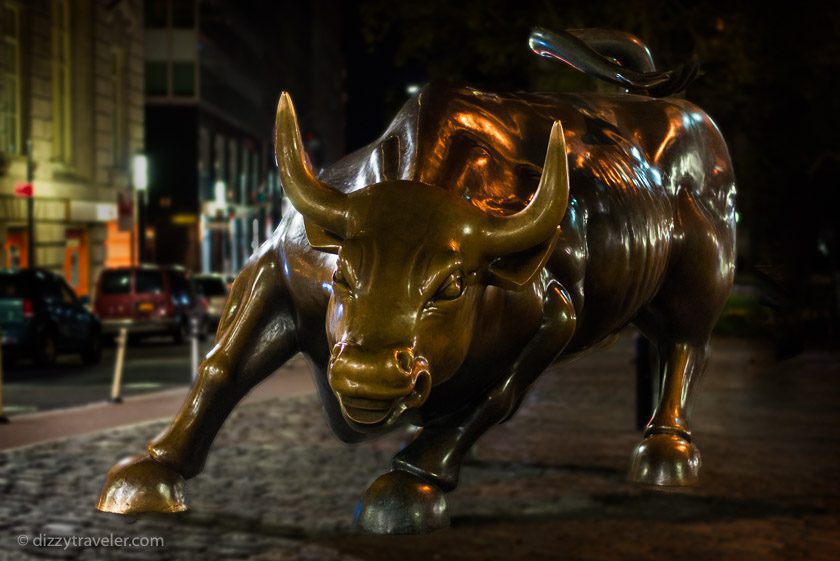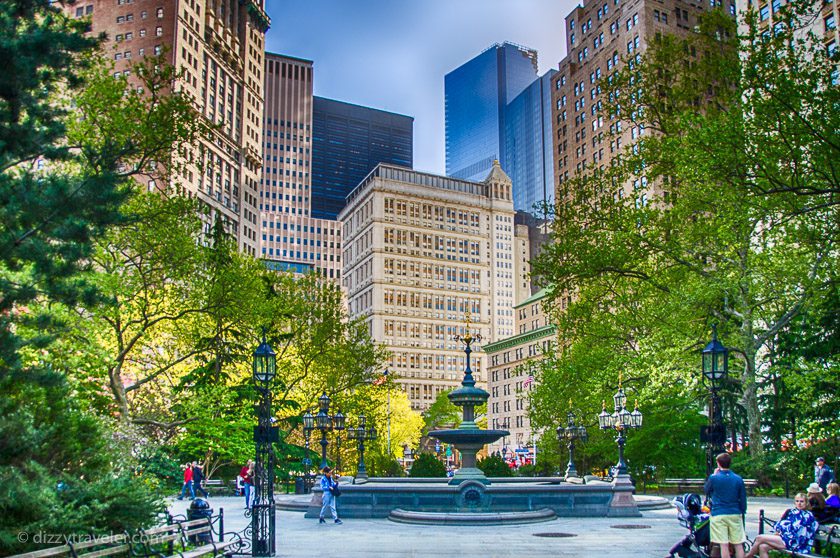 Cable Car Ride to Roosevelt Island
The Roosevelt Island Tramway is an aerial tramway in New York City that spans the East River and connects Roosevelt Island to Manhattan's Upper East Side. The brief 4-minute journey not only provides convenient transportation but also treats passengers to breathtaking panoramic views. Renowned by the New York Times as "the most thrilling vista in New York City!" it offers an exhilarating experience. The fare is $2.25 for a one-way trip ($4 for a round trip), while senior citizens and disabled individuals enjoy a discounted rate of $1.00 each way.
Where to get the Tram? Tram Plaza is located at 59th Street and Second Avenue in Manhattan. On the island, a red minibus meets the tram and takes you throughout the island for 25 cents!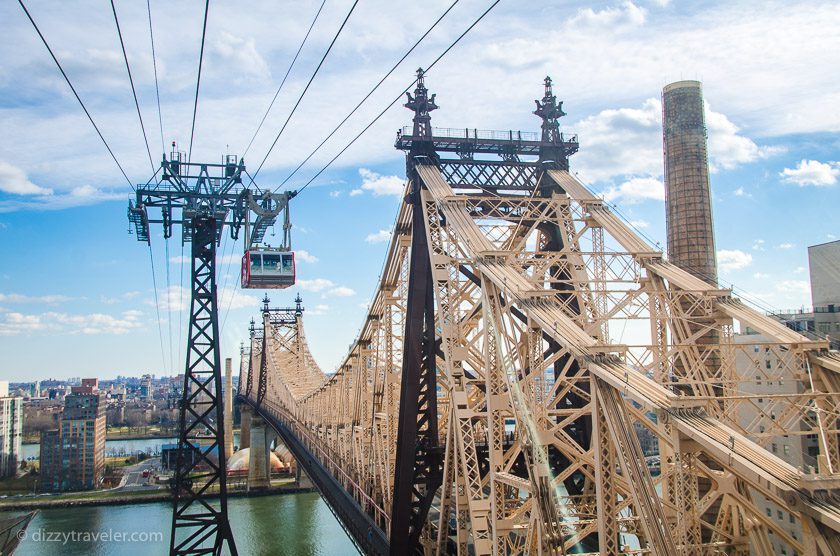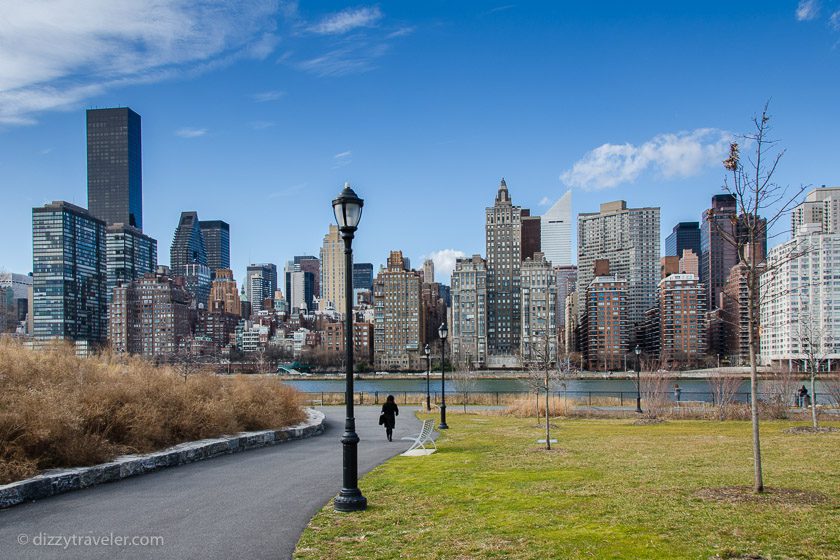 Explore Harlem and Randall's Island
Randall's Island Park offers miles of waterfront pathways, a great variety of attractions and events, including entertainment and learning opportunities for both children and adults. Families often come to the park together to enjoy the outdoor movie nights, fun runs at Icahn Stadium, and a plethora of other festivals and events. The island is an amazing resource for New Yorkers of all ages and a wonderful place to spend a day.
How to get there from Manhattan? The M35 bus runs to the Island from the Northeast corner of 125th Street and Lexington Avenue. The transfer is available from the Lexington Avenue 4, 5 or 6 subway at 125th Street. The 103rd Street Footbridge in Manhattan is open to pedestrians and cyclists 365 days per year, 24 hours per day, and connects the East River Esplanade/FDR Drive at 103rd Street with the southern end of Randall's Island Park.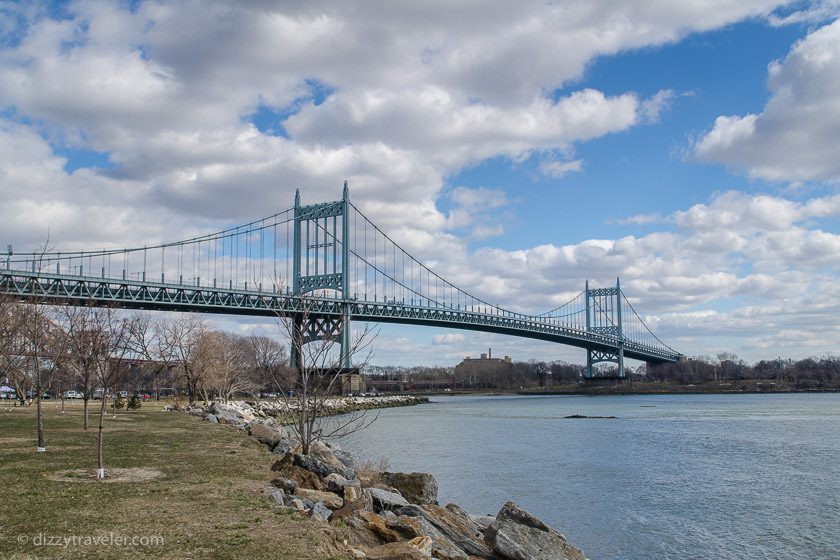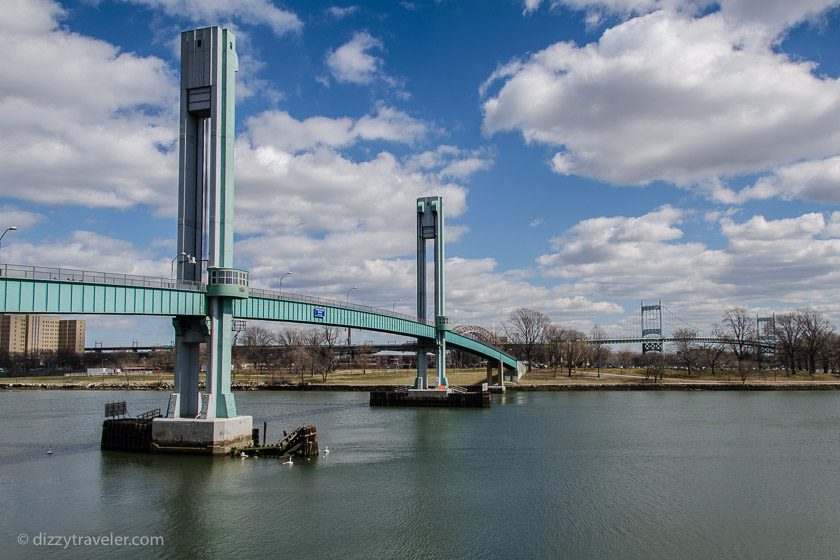 Ferry to Statue of Liberty the National Monument
No visit to the New York City area is complete without a trip to the world's most famous landmarks – the Statue of Liberty and Ellis Island.
The Statue of Liberty is one of the great symbols of American liberty. It is also a National Park. The Statue is on Liberty Island, where you can walk around, climb the crown, and have some fast food at the food court. You can also get a great view of Lower Manhattan, the Verrazano-Narrows Bridge from the Island.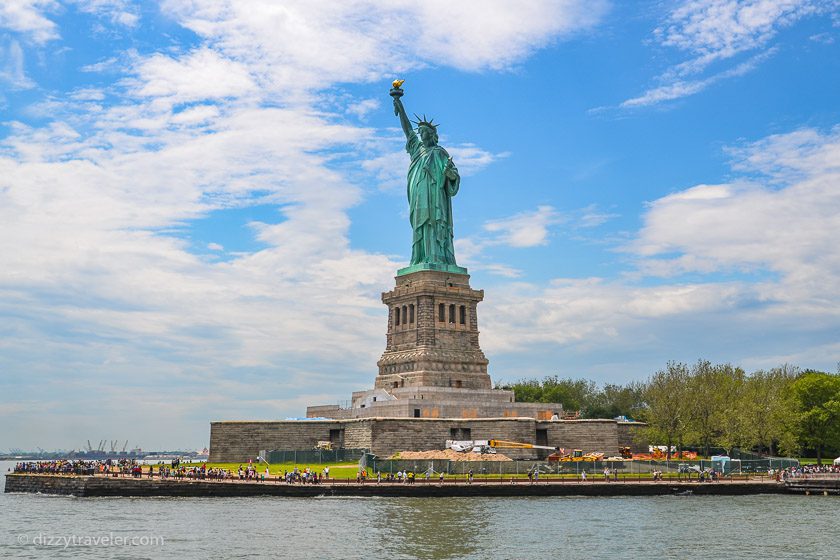 How to Get There – State Cruises runs the official ferry as well as access to the crown. You can choose the departure from Liberty State Park, New Jersey, where you may find ample parking for cars and buses. Easy access from New Jersey Turnpike and Interstate 78. Or from Battery Park, Lower Manhattan, there is easy access via public transportation, including subway lines and bus routes. You may depart from one and return to a different location.
Due to its extreme popularity, access to the crown is by advanced reservation only. All reservations must be made online or by telephone. Plan your purchase at least 2+ months in advance. Unfortunately, you can't purchase crown tickets at the ticket office or on Liberty Island.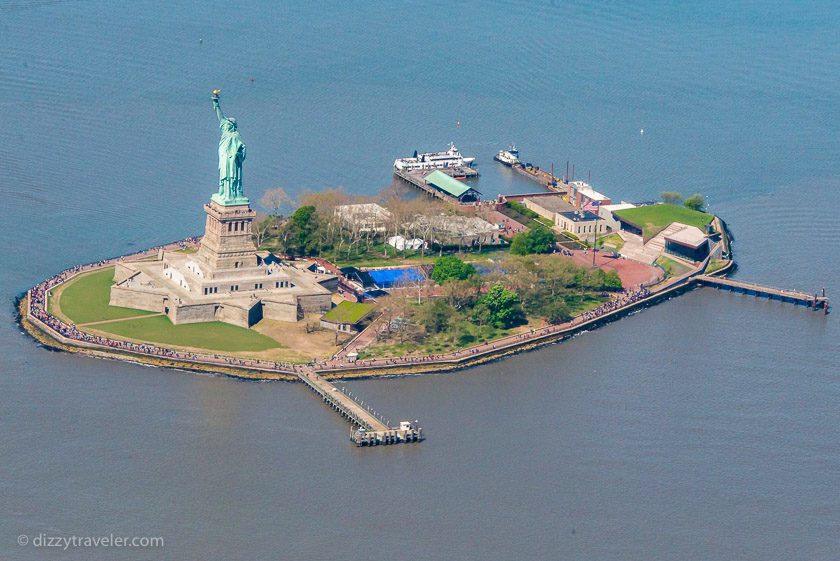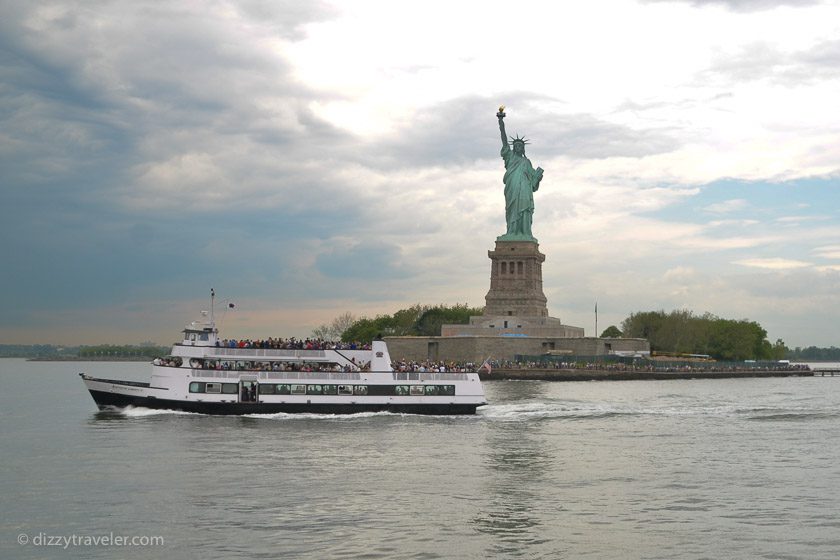 Cross the Williamsburg Bridge
On a nice day, nothing is more wonderful than to walk over The Williamsburg Bridge from the Lower East Side of Manhattan to South Williamsburg, Brooklyn. You can enter from Clinton Street and Delancey from Manhattan and follow the walkway. There is a fantastic photo op at the top of the bridge. Looking downtown, you can see the Brooklyn Bridge; looking uptown, you can see all of the midtown, and you've got yourself a great way to remember the day.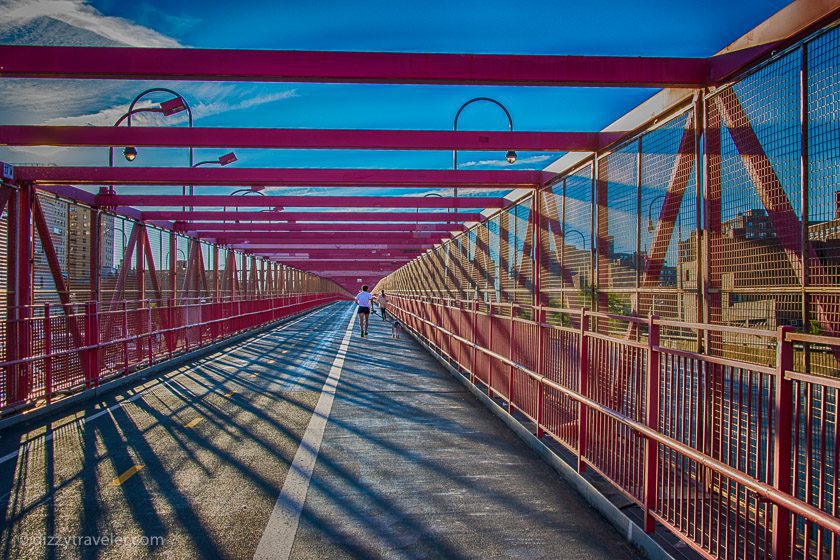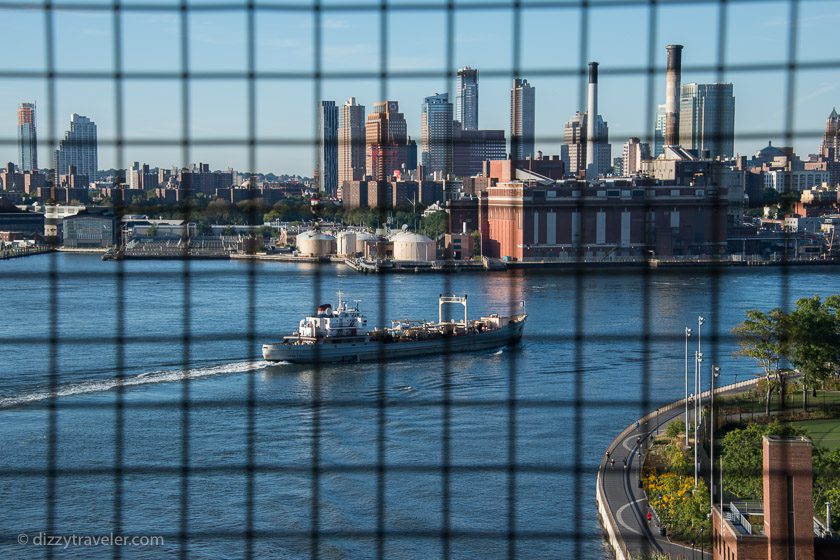 Spend Some Time in Washington Square Park
This park may be small, but it is one of the most easily recognizable spots in all of New York City. The Washington Arch is the predominant feature of the park, and both locals and tourists often visit it. Located right in the heart of one of New York's great neighborhoods, Greenwich Village. The easiest way to get there is by subway; get off at West 4th. Street Station is served by A, C, E, B, D, F, and M trains.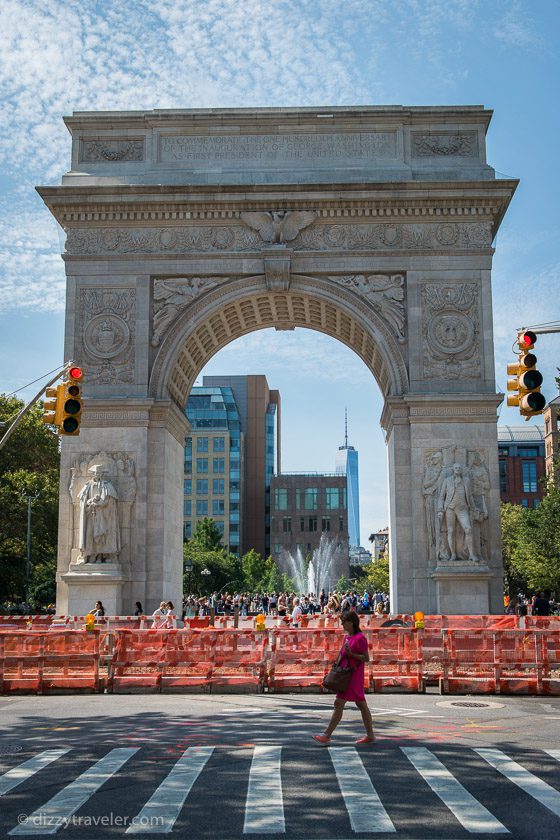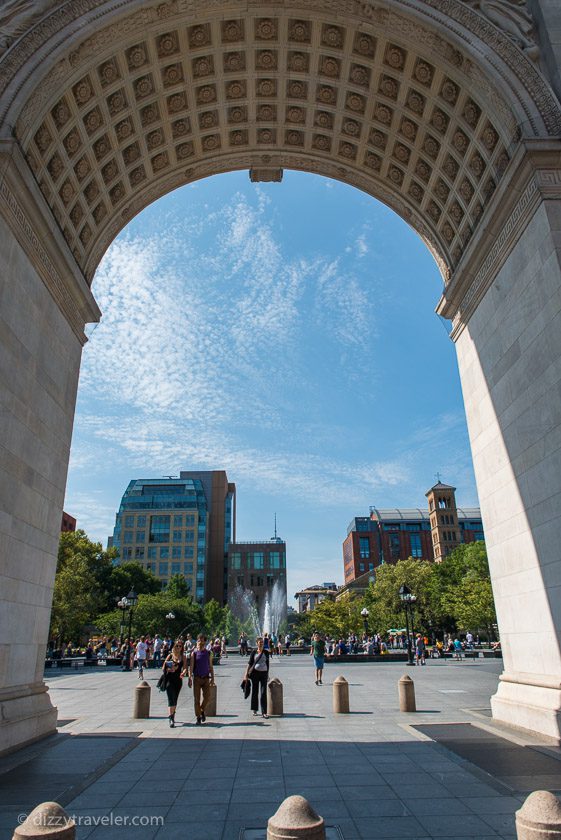 Union Squire
It's a great place to visit while in NYC. The park captures much of the City's diversity and has its own energy – in some way, this is downtown's Time Square. Historically, its landmark certainly has a long tradition as a gathering place. Union Square Park stretches from 14th. Street to 17th. Street, and from Fourth Avenue/Park Avenue to University Place. Take the 4, 5, 6, L, N, Q, or R subway line to Union Square-14th Street station.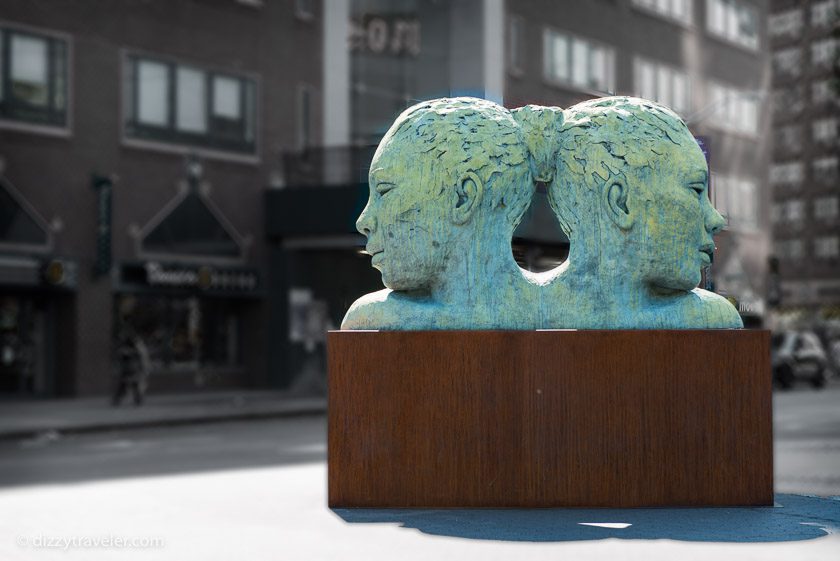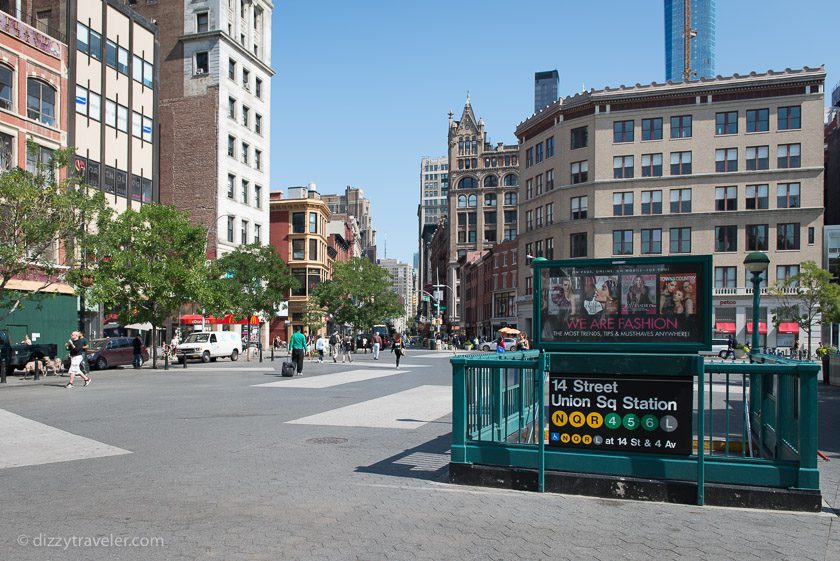 See NYC From Empire State Building
The 102-storied Empire State Building is New York's most recognizable landmark, and visiting the Empire State Building is a must for anyone traveling to NYC. It was the world's tallest building for a record of 41 years. The building's height, including the 203-foot pinnacle, is 1,453 feet (443 meters). From the open-air observatory deck, you can enjoy the most breathtaking views. See New York's world-famous skyline, which was meant to be seen until 2 am every night. The best time to visit is in the morning, around 8 am, in the afternoon after 3 pm, or after 11 pm.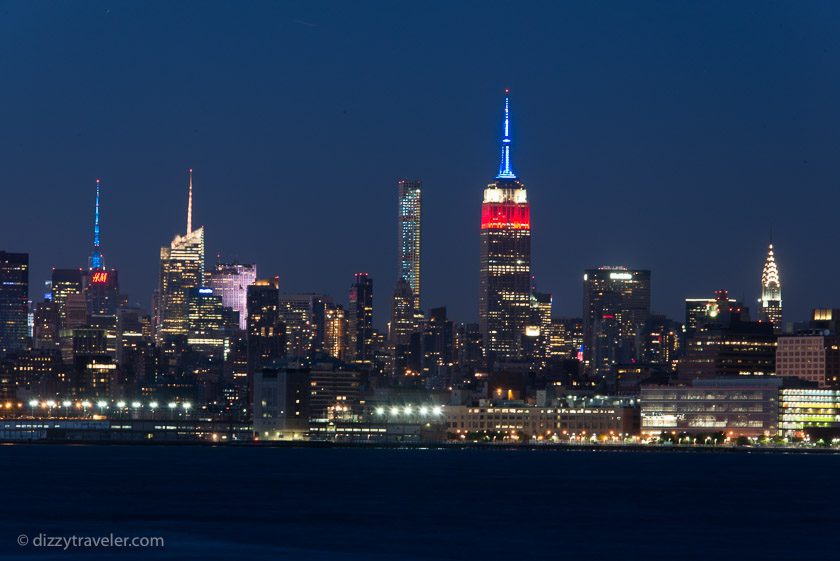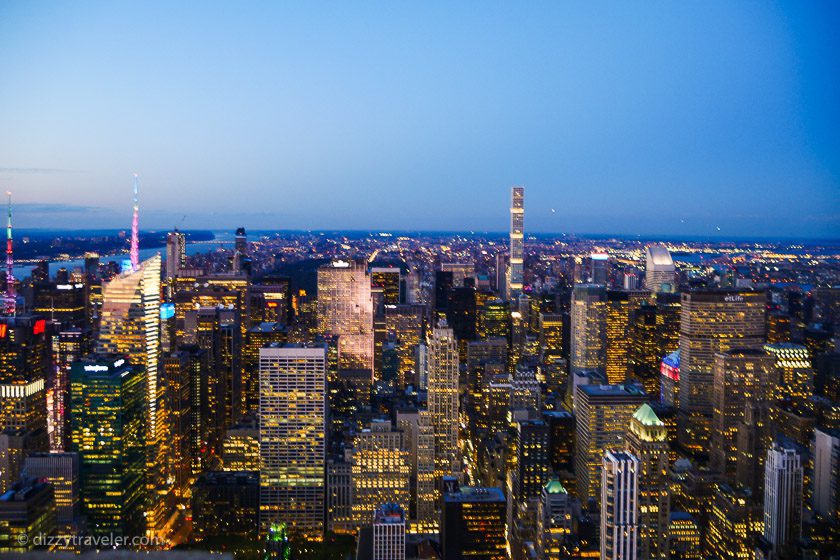 Can't Miss Times Square
The heartbeat of New York is obviously Times Square; the New York City trip is incomplete without seeing the square. It is big, bright, and unforgettable. Its main junction is filled with popular retailers-Plus the TKTS discount booth offers up to 50 percent off theater tickets. If you have seen the "Empire State of Mind" video, then you must walk to the top of the red steps to enjoy the sweeping view of the area, including One Times Square, the building from which the ball drops on New Year's Eve.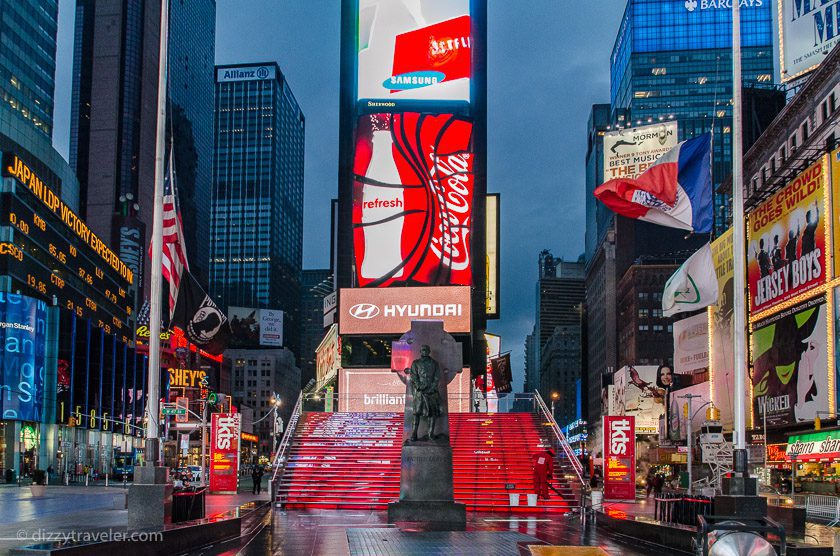 Try The Circle Line Sightseeing Cruises
Whether you are exploring New York for the first time, rediscovering your hometown, or seeking a mini-vacation, a Circle Line Cruise is a relaxing and fun way to see the world's most famous skyline. WiFi is available on board, and Circle Line now offers a multilingual cruise companion app, the Circle Line Skyline Navigator, with narration available in seven languages. An onboard cafe offers a freshly prepared menu of sandwiches, salads, snacks and a full bar serving hot and cold beverages, beer, wine, and cocktails.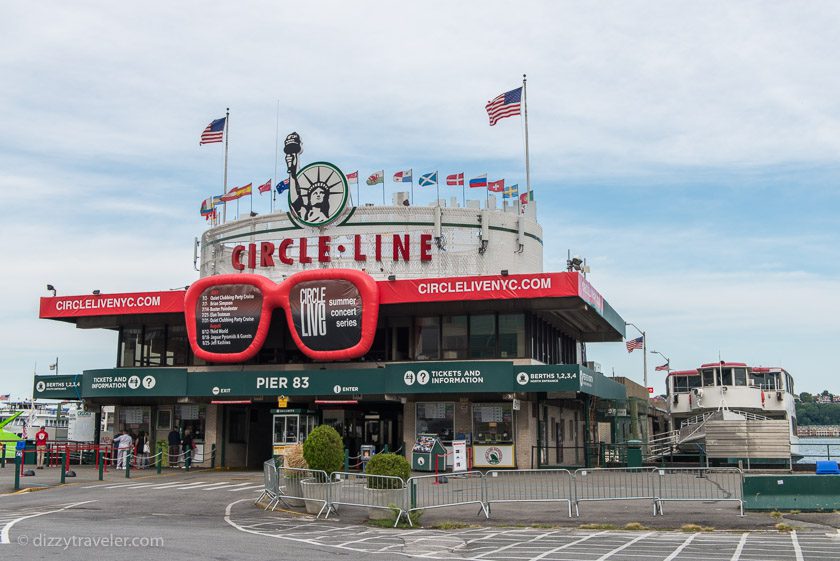 Visit American Museum of Natural History
The American Museum of Natural History is a New York icon. Packed with exhibitions representing people and animals throughout the ages, the museum also has a planetarium, an IMAX theater, special visiting exhibitions, and plenty of places to eat and shop. Of course, the dinosaur wing is a must-see, and if you have time, lie down under the life-size model of a blue whale in the Milstein Hall of Ocean Life.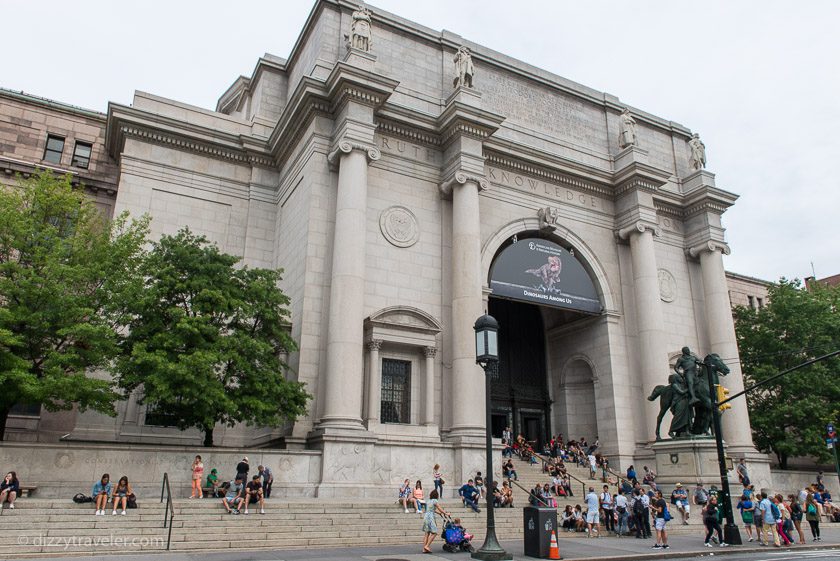 Top of the Rock Observatory Deck
This is one of the dreams for NYC visitors to make it to the top, and the fastest way there is the elevator – to the 67th, 69th, or 70th floors at 30 Rockefeller Plaza. The three 360-degree view observation decks at the Top of the Rock showcase the City's spectacular skyline. All three decks have outdoor viewing areas, and the uppermost deck is completely open-air. So although you won't be able to see the skating rink or Christmas tree from up high, you can visit these seasonal attractions when you come back down to the street level.
You can buy tickets for the top of the Rock in advance, for adults $32 and children $26. Then, for an additional $15 per ticket, you can upgrade to visit the top of the Rock twice within 24 hours. Then, visit during the sunset to see the city in a whole new light.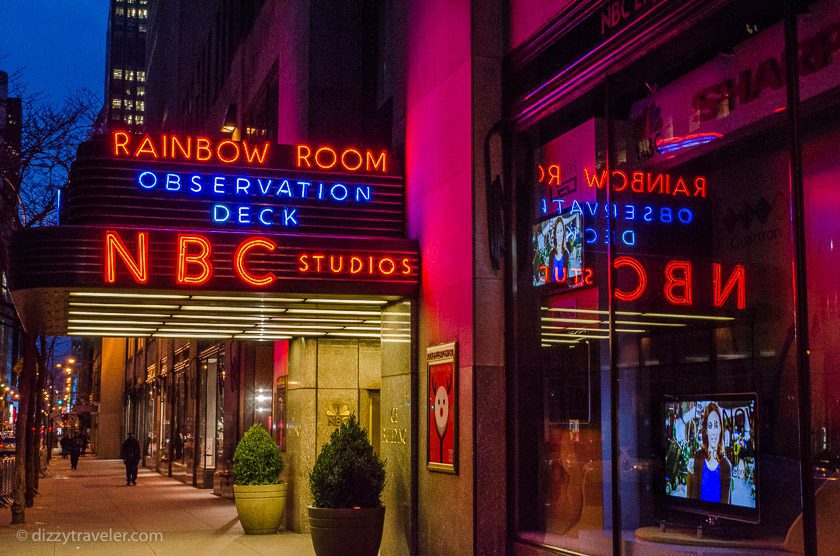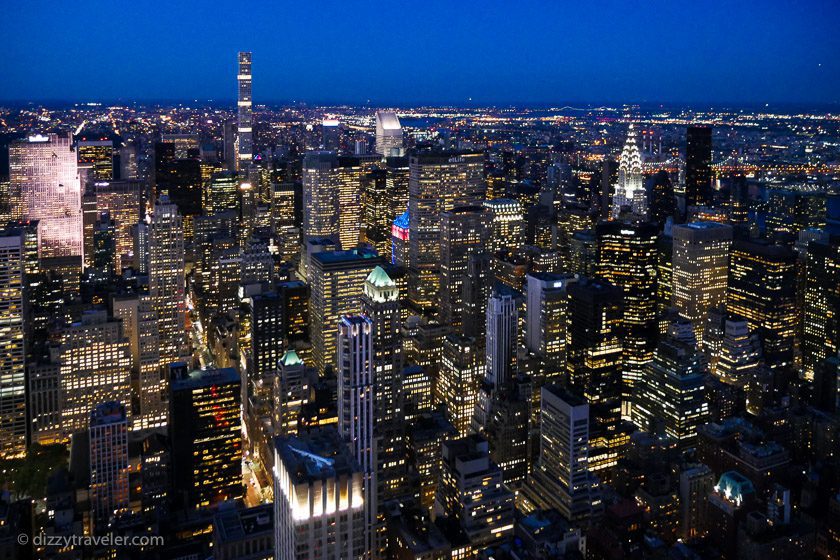 Hike in Central Park, New York
Things to do in Central Park was designed as an urban oasis to give New Yorkers an escape from the crowded city. Once described as the city's lungs, Central Park brings fresh air to New York's crowded urban terrain. It is among the world's most famous and beloved public parks. With over 834 acres of meadows, hills, ball fields, and bodies of water, it's impossible not to find something to enjoy in Central Park.
Take a walking tour through Central Park Lower Section
Grand Army Plaza
The Plaza Hotel
Central Park Zoo
The Pond
The Dairy
The Mall and Literary Walk
Bethesda Terrace and Fountain
Sheep Meadow
Strawberry Fields
The Dakota Apartments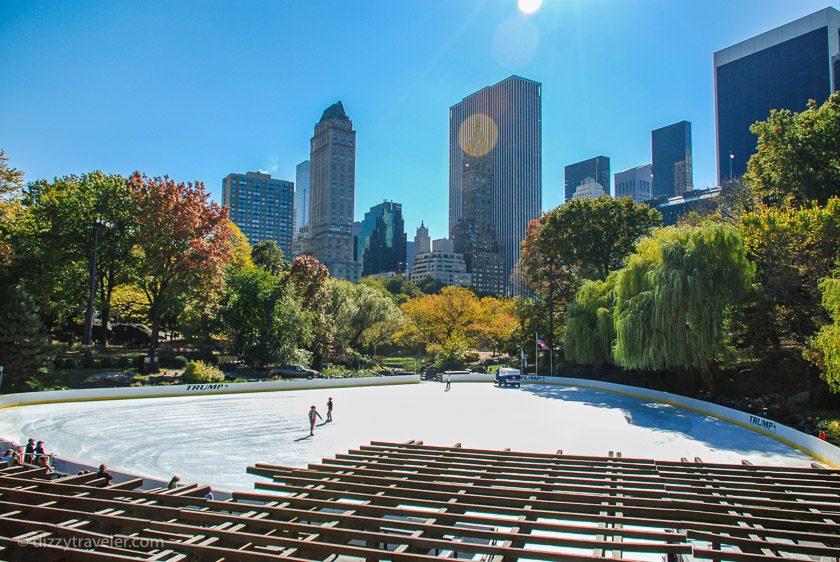 Walking tour through the Middle Central Park
American Museum of Natural History
The Swedish Cottage
Shakespeare Garden
Belvedere Castle
Turtle Pond
The Delacorte Theatre
The Great Lawn
Cleopatra's Needle
The Ramble
The Lake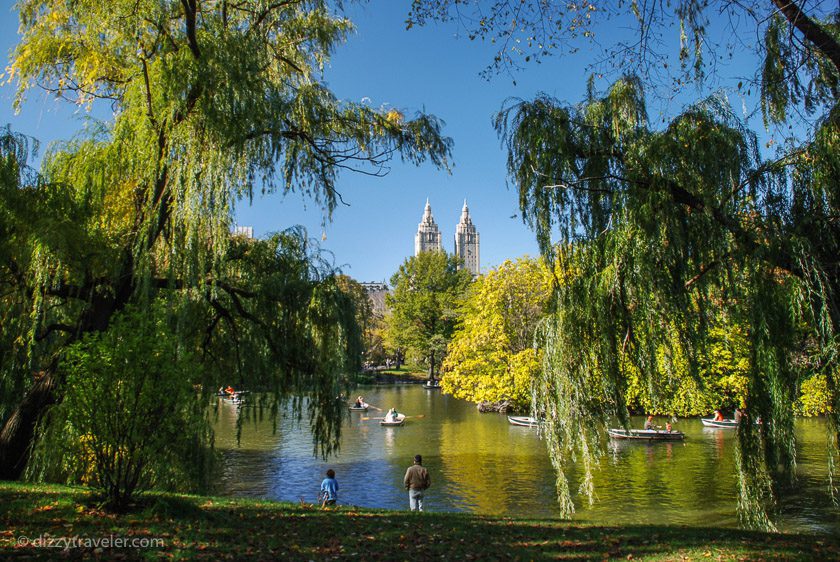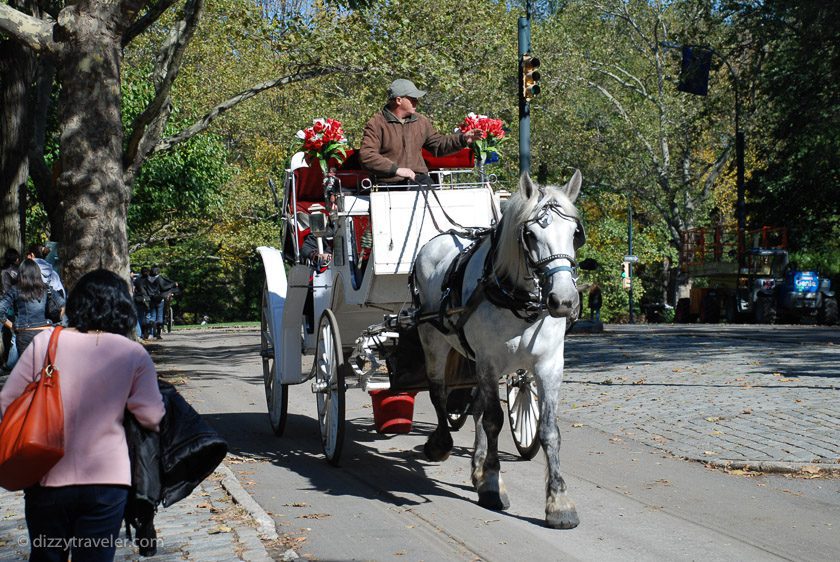 Walking Tour in Harlem
Harlem has some of New York's most interesting architecture, food, music, and people. Over the past 400 years, it has undergone many ethnic, cultural, and socioeconomic changes. Additionally Harlem has many movies and documentaries, so visiting this historic area is not a bad idea.
Places of interest:
Apollo Theater
Abyssinian Baptist Church
Site Related to Malcolm X Headquarters
Headquarters of William J. Clinton Foundation
Schomberg Center
Sylvia's Soul-food Restaurant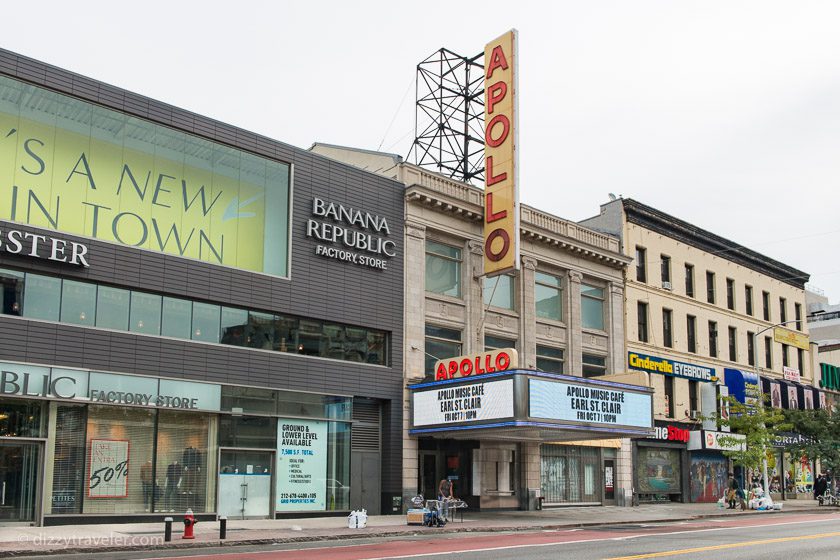 Follow the High Line
The High Line is a public park built on a historic freight rail line elevated above Manhattan's West Side streets. It runs from Gansevoort Street in the Meatpacking District to West 34th. Street, between 10th. and 12th. Avenue is about 2 miles. It's beautiful to walk in the only elevated park in New York, especially on a sunny afternoon, and enjoy the view of the Hudson River.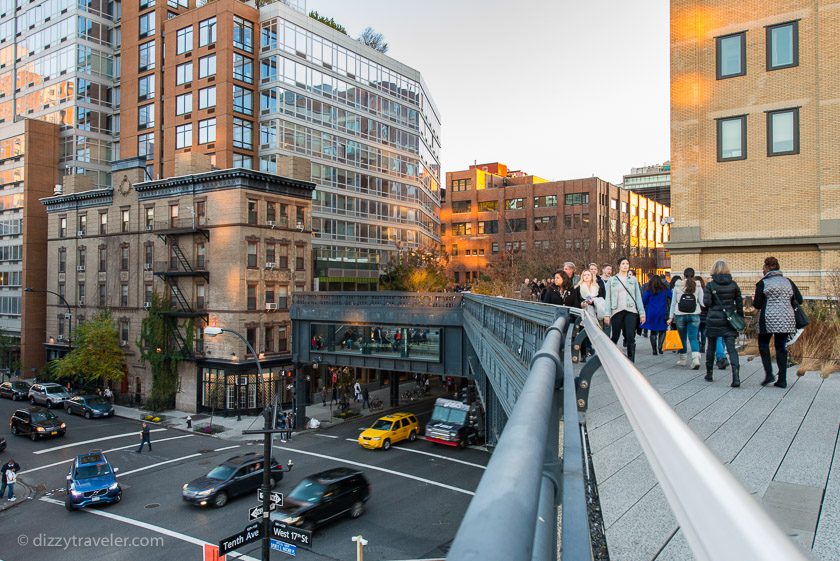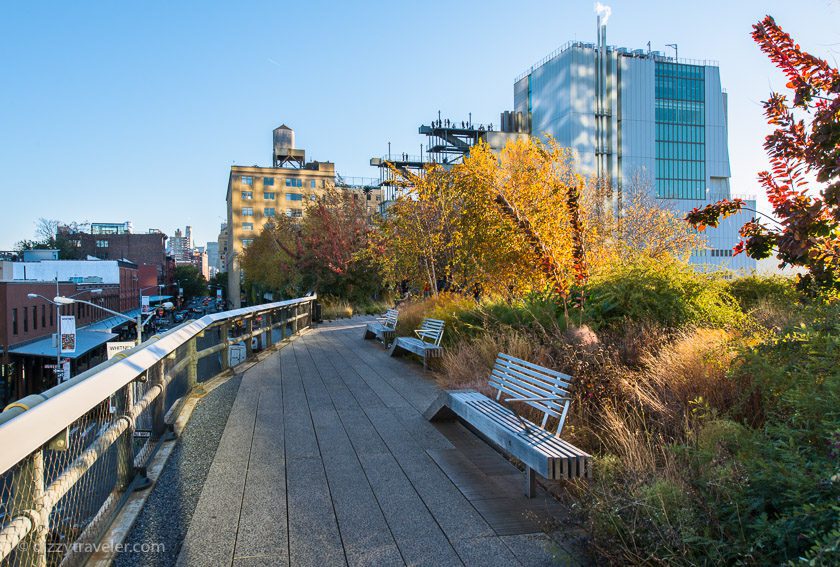 Sports Fan – Visit Yankee Stadium
Yankee Stadium was constructed from 1921 to 1923 and is the original home of the New York Yankees, 27 times World Series champions. The Yankees played all of their home games at this stadium in the Bronx until 2008, when a new stadium was completed across the street. Now, the Yankees inhabit a deluxe new stadium (where they won their most recent World Series), and the old Yankee Stadium was deconstructed and turned into a park.It takes about 25 minutes on the D train from 42nd Street or 20 minutes on the 4 train from Grand Central Terminal. The stop for both is 161st St./Yankee Stadium.
Explore SoHo and Little Italy Walking Tour
Well-known for its popular hip art galleries, restaurants, trendy shops, and tourism, the Manhattan neighborhoods of SoHo and Little Italy boasts some of New York City's richest history. There is a free 2-hour SoHo and Little Italy walking tour offered by Free Tours by Foot; check out their website for more details. SoHo refers to "South of Houston Street," is well known for event venues S.O.B's and City Winery and, as well as New York restaurants that are good for any budget. However, little Italy has its one charm and traditional restaurants that are famous.
Walk The Streets of NY Chinatown
New York's Chinatown is located right next to Little Italy and is one of the oldest and largest Chinatowns outside of Asia. Take a walk in the area south of Broome Street and east of Lafayette, and you'll feel as if you have entered not just a different country but a different continent. Mott and Grand streets are lined with stands selling exotic foodstuffs and many traditional Chinese restaurants that are very famous for the authentic cuisine of virtually every province of mainland China.
How to get there: From Manhattan's east side, take the 6 train to Canal Street station and the 4 or 5 train to Brooklyn Bridge. Take the B or the D train to Grand Street station from Manhattan's west side. From Queens, take the Z train to Canal Street. From Brooklyn, the D, B, N, Q, R, J, M, and 6 trains all stop at the Grand Street or Canal Street stations.
Visit Intrepid Museum
The museum is a captivating destination, housing the aircraft carrier USS Intrepid, which played a pivotal role in both World War II and the Vietnam War. Step aboard and venture onto the expansive flight deck, where an array of remarkable historic aircraft awaits—imagine yourself in the presence of fighter jets, helicopters, and even the illustrious Concorde. Moreover, within the museum's walls, you'll find the iconic space shuttle Enterprise, an emblem of NASA's pioneering space program. Positioned along the Hudson River, the Intrepid Museum presents an awe-inspiring panorama of the Manhattan skyline, adding an extra layer of grandeur to your visit. Whether you're absorbed in the captivating exhibits or seeking a serene moment, take advantage of the museum's observation deck to bask in the breathtaking surroundings.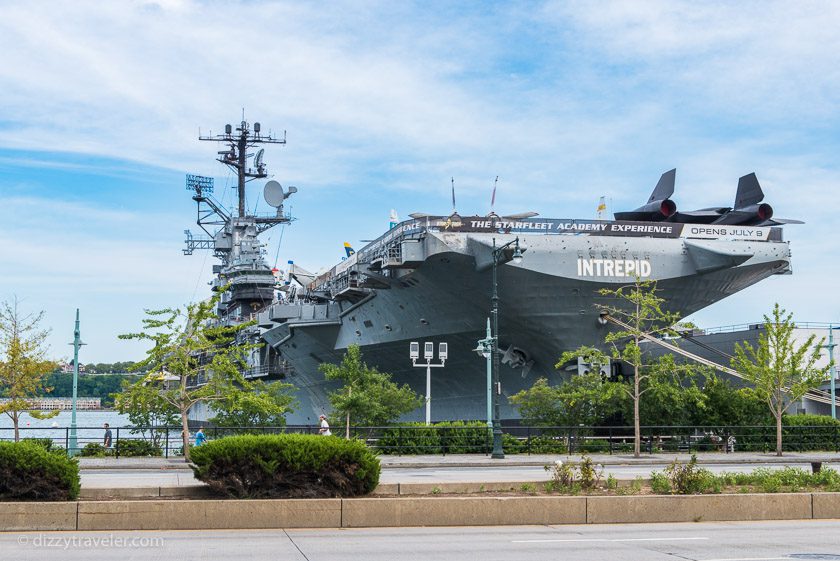 Recommended Food in New York City
Best Bagels in NYC
New York, renowned for its bagels, is a destination that beckons you to indulge in this iconic treat. Whether you prefer them toasted with butter or cream cheese or topped with delectable ingredients such as lox, sable, white fish, or a tantalizing tuna melt, the options are plentiful. In particular, an NY Bagel adorned with luscious lox, accompanied by the perfect blend of onions, tomato, capers, and a generous schmear of cream cheese, stands as an all-time favorite. To embark on this flavorful journey, allow us to guide you to some of the city's most popular bagel establishments.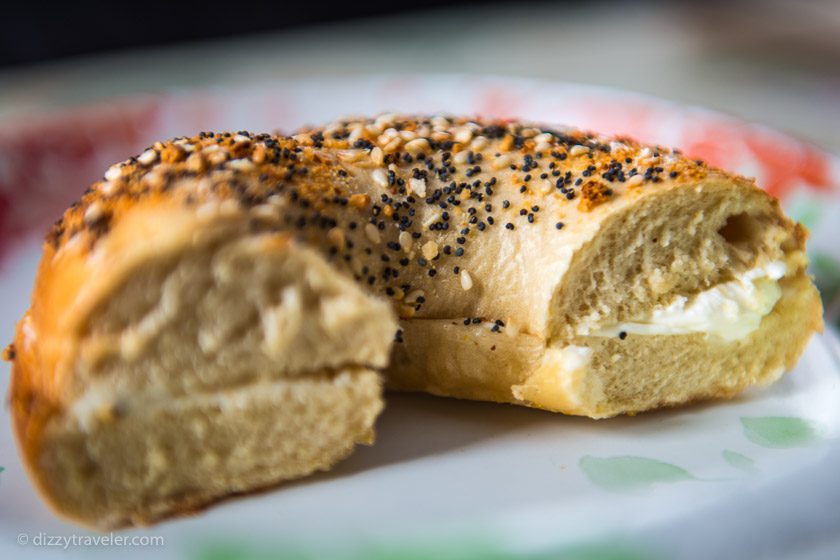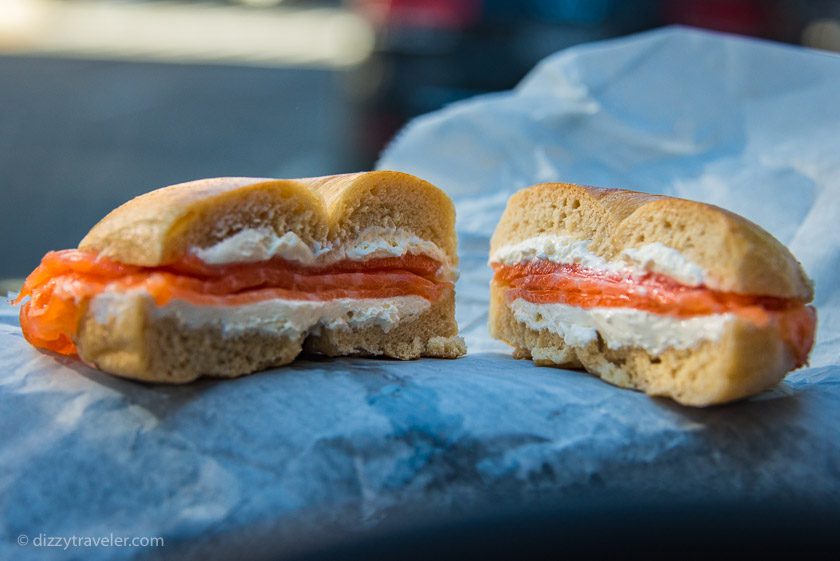 For Beer Enthusiast
If you're a beer enthusiast and visiting New York City, a trip to The Brooklyn Brewery is a must. They offer free tours of the brewery every weekend, providing an opportunity to learn about the beer-making process. In any case, tours run regularly from 1 pm to 5 pm, with half-hour intervals, providing ample opportunities for visitors to explore and experience the attractions. After the tour, you can head to the bar area and indulge in a variety of beer samples. Each beer costs $5, or you can opt for a package of five beers for $20. These tours delve deeper into the brewing process and cost $15 per person. Along with the tour, you'll receive four tasting samples and a souvenir glass to take home. It's a fantastic opportunity to immerse yourself in the world of craft beer and enjoy the flavors of The Brooklyn Brewery.
How to get there by subway from Manhattan? Take any Uptown/Downtown line to 14th Street, change to the L train for Brooklyn, exit first stop in Brooklyn, Bedford Avenue (stay at rear of train), walk from North 7th Street to North 11th Street, turn left (towards the water) and walk a block and a half to the brewery.
New York's Special Katz's Delicatessen
If you like pastrami or corned beef, then this is it; this restaurant should be on your to-do list if you are visiting New York City. I have been to Katz's Delicatessen a few times over the years and left satisfied every time. The food and taste were so unique that they made you want to return and try it again. The iconic restaurant that has been serving up delicious deli food since 1888. Located on the Lower East Side, Katz's is renowned for its classic Jewish delicacies and vibrant atmosphere.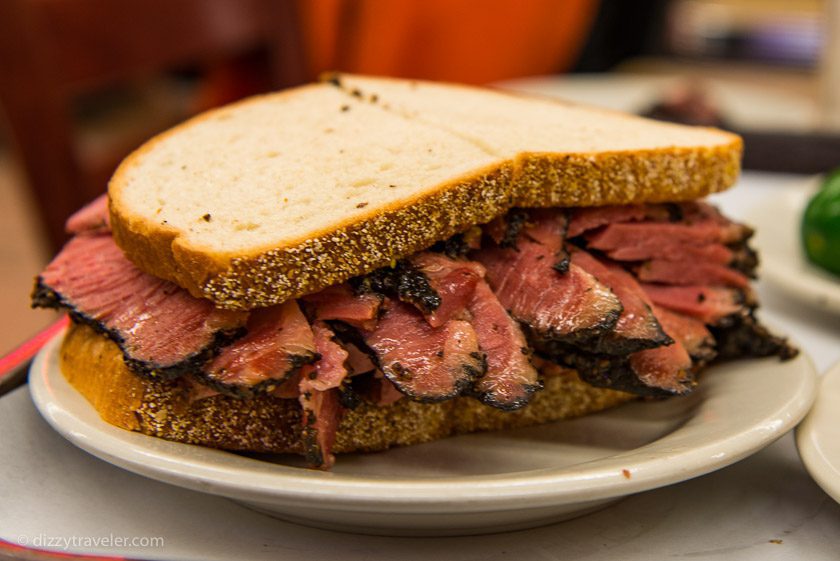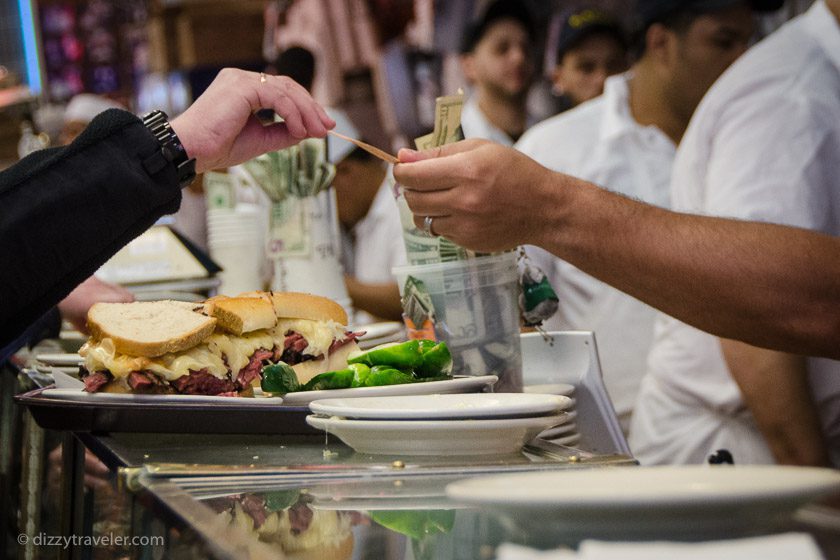 Peter Luger Steakhouse, Brooklyn NY
For steak lovers, indulging in the finest cuts of meat is a must, and there's no better place than Peter Luger. Located in the Williamsburg section of Brooklyn, New York City, with an additional location in Great Neck, Long Island, this iconic steakhouse has been serving patrons since 1887. Therefore, it is not only the original but also the best choice for an exceptional steak experience. This restaurant has been named the best steakhouse in New York City by Zagat Survey for 30 years in a row. Address – 178 Broadway, Brooklyn, NY 11211. Not to mention, they don't accept any credit cards, so have enough cash with you before heading that way.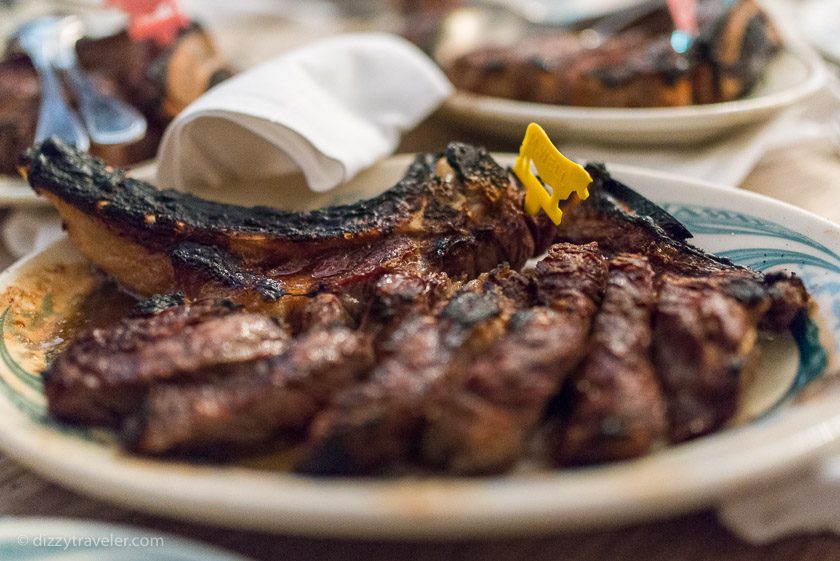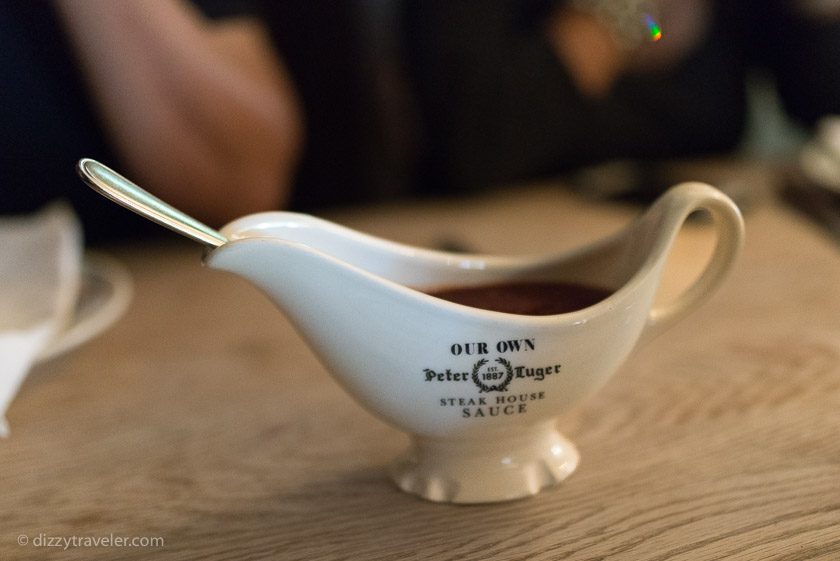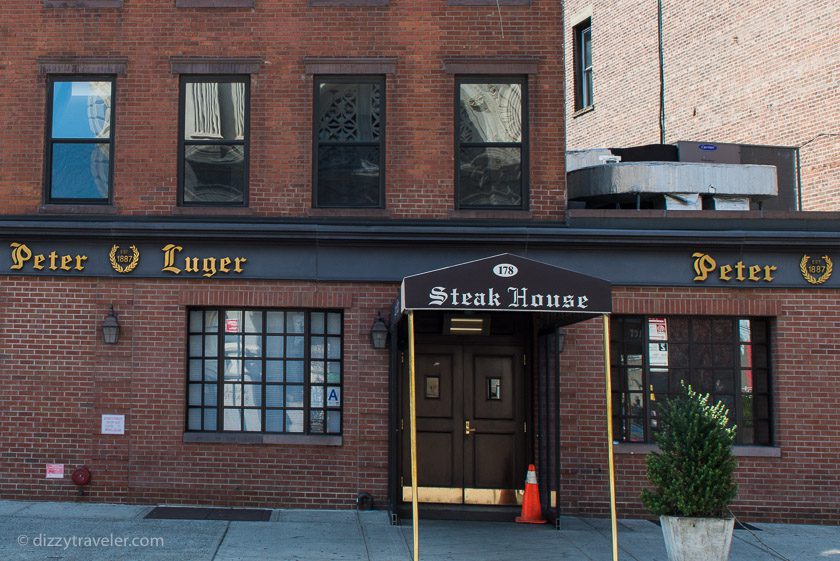 Street Food
Chicken & Rice, without a doubt, is one of the best street foods to experience while in New York City. Moreover, you can find them conveniently located at the corner of 6th Avenue and 53 Street.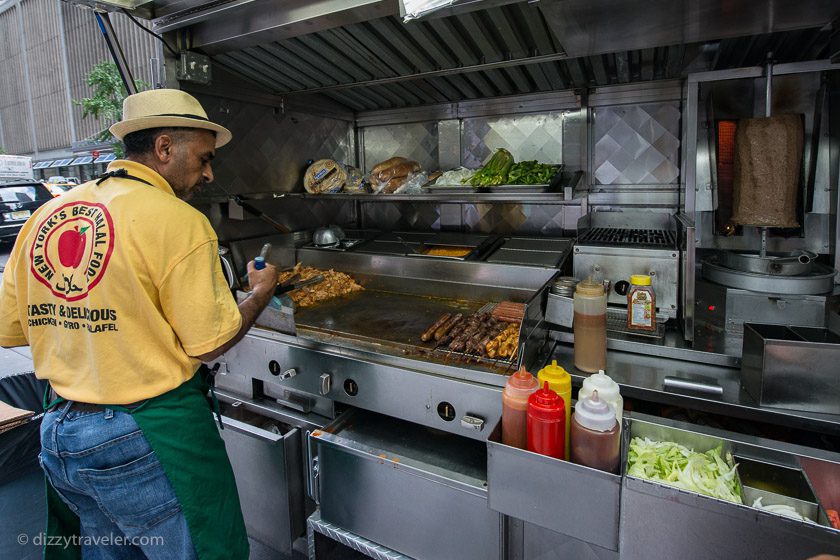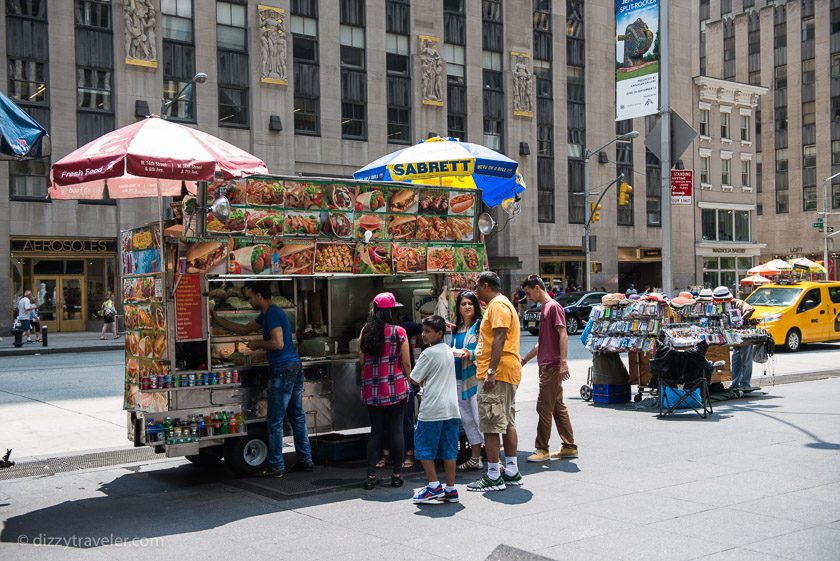 Where to stay in NYC, New York
Motto by Hilton New York City Chelsea, situated in New York, offers a range of amenities, including free bikes, a fitness center, a terrace, and a restaurant. This 5-star hotel boasts air-conditioned rooms with private bathrooms and complimentary WiFi. The well-appointed rooms feature a flat-screen TV with cable channels and a safety deposit box. The attentive staff at Motto by Hilton New York City Chelsea are available at the reception to offer assistance and guidance. Key attractions such as Madison Square Garden, Penn Station, and the Empire State Building are within close proximity. For travelers, LaGuardia Airport is the nearest airport, located 7.5 miles away from the hotel.
Located in the heart of Greenwich Village and housed in a restored historic building, this Manhattan boutique hotel features free WiFi access and on-site dining, including a complimentary daily breakfast. It is 528 feet from Washington Square Park. A flat-screen cable TV is included in the guest rooms at The Marlton Hotel, which feature herringbone wood floors, crown moldings, and brass fixtures. Guests can dine at a 100-seat restaurant on the ground floor. In addition to meals, a coffee bar is provided at the restaurant. Laundry facilities are provided at the NYC Marlton Hotel. The front desk is available 24 hours. Two subway stations can be found within 1640 feet of the property. New York University (NYU) is 1056 feet from the property.
My Opinion and Last Word
Have you been to New York City, NY? Any cool tips to share?
I loved being in New York City, New York, and want to go back again. I hope my story has motivated you to visit New York.
Please leave a comment below! I'd love to hear from you to improve my knowledge. 
Was this travel guide helpful for you?
If you'd like to help me continue making free guides, here is one way you can help:
Share This Guide 

– If you have a friend that would benefit from this guide, share it with them. Or post this guide on Facebook, Twitter, or Instagram.
Your Support would definitely help me make more free guides like this. Thank you in advance!
Affiliate Link – This post in Dizzy Traveler contains affiliate links, which means I receive a referral commission if you purchase after clicking at no additional cost to you. These funds go to maintain the site. Thank you for your support.
Photo and Slide Show
I have no words or photos that can come close to expressing how much I genuinely enjoy experiencing this remarkable destination. Although words and photographs may fall short, I have made an attempt to capture the breathtaking essence of my journey. Moreover, I am thrilled to share a selection of these captivating images with you. For the best view, simply click the arrow key located in the bottom right corner of the slideshow.
Default Gallery Type Template
This is the default gallery type template, located in:
/var/www/vhosts/dztraveler.com/httpdocs/wp-content/plugins/nextgen-gallery/products/photocrati_nextgen/modules/nextgen_gallery_display/templates/index.php.
If you're seeing this, it's because the gallery type you selected has not provided a template of it's own.
Book Your Sightseeing Trip
There are a lot of beautiful places to visit and some exciting sightseeing activities to bring unforgettable memories back home. Please click on our below affiliate link to see your options.