Zanzibar is thousands of miles away from New Jersey, USA but my decision to visit this beautiful East African island was not only because it is a paradise for beach-goers and food lovers but also because it's the birthplace of Freddie Mercury the songwriter, record producer and lead vocalist of my all time favorite rock band Queen.
The distance between Dar es Salaam and Zanzibar is only 46 miles (74 km) so it's easily accessible by ferry and by air. The semi-autonomous territory of Zanzibar along with various island like Pemba maintains a political union with Tanzania but has its own parliament and president. Therefore you need to go through the immigration formalities at arrival and of course need to have a Yellow Fever vaccination certificate when arriving from a country with risk.
Best Time to Visit
Best Time To Visit: Weather-wise between June and October is the best time to visit Zanzibar. High season is from June to mid-October and again from January to mid-February.
Rainy Season: People tends to avoid the long rainy seasons between March and June.
How To Get There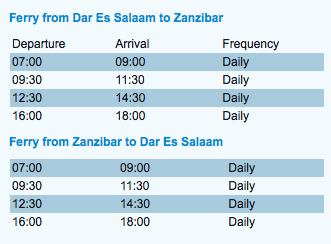 In recent days getting to Zanzibar has never been easier as this beautiful island is gaining much-needed popularity among local and international travelers alike. The International airport brings in thousands of guest from around the world. There are also daily flights from Dar Es Salaam to Zanzibar International Airport. A taxi from the airport to the Stone Town is about 15 – 20 minutes and will cost about 20,000 TZS (US$ 9.00 – 10.00).
The ferry terminal in Dar Es Salaam is about 12km from the Julius Nyerere International Airport, 30 to 35 min drive depending on traffic. If you are heading to Zanzibar from Dar es Salaam by ferry then click here for ferry schedule, it's smart to purchase your ticket a day ahead of time especially on weekends and in the high travel season. Tickets can't be bought online, therefore you need to purchase it from the ferry terminal located on the waterfront in downtown. It is important to know that they only accept cash plus you need a photo ID ( my driver's license worked for me) at the ticketing counter. One way VIP Class ticket was US$ 50.00.
By Ferry from Dar Es Salaam to Zanzibar: I took a beautiful ferry called Kilimanjaro on a two hours journey to Zanzibar, the trip was very comfortable, air-conditioned with individual monitors for movies and complimentary refreshments.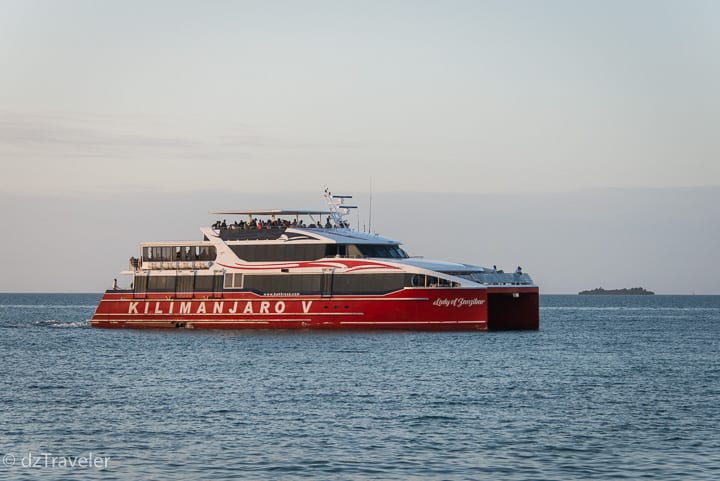 By Air from Zanzibar to Nairobi: On my way back from Zanzibar to Wilson International Airport, Nairobi, I have taken Safarilink flight then connecting to Masai Mara National Park. The plane was really small. I felt like I am flying my own private jet. The flight time to Wilson International Airpot wan an hour and ninety minutes.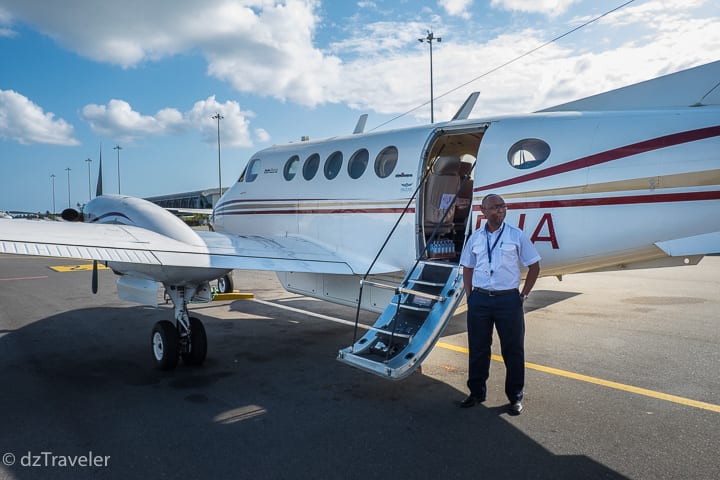 Helpful Travel Tips
Health: Take paludrine and chloroquine against malaria. For Diarrhea my doctor prescribed Azithromycin 500mg but got lucky never had to use it. The mosquitoes are particularly bad after dark. Also, take insect repellent. Buy a can of Doom insect repellent from a local market and spray your room if need. Always drink bottled water and absolutely no ice.
Wear long sleeves and long trousers after dark as mosquitoes primarily feed between dusk and dawn.
How To Get Around
Taxis
The easiest way to get around the island is via a taxi. They can be found at the airport and all major hotels and restaurants. If you are staying in a guest house, most provide a list of telephone numbers. Taxis in Zanzibar are not metered and the price needs to be negotiated before the trip. Renting a care with a drive is common and cheaper when you rent for a full day.
Bike & Scooters
Renting a motorbike or Scooter is a great way to explore the traditional villages, remote beaches by yourself. Renting a scooter will run from US$ 30/day. The roads are flat and just following the coastline will do. It will be definitely an unforgettable experience. For motorcycle Vespa or scooter you must have an endorsement when you don't have an international driver's license.
Visa Requirement
Visa on arrival is available for US citizens, the current fee is $100 (Multiple entries) for one year.
Top Things To Do In Zanzibar
The main island, Unguja (Zanzibar), is home to a UNESCO World Heritage Site, Stone Town. It has so much to see and do. Colorful culture, amazing nature and most of all a peaceful and harmonic atmosphere.
Visit Anglican Cathedral and the Slave Market
The huge Anglican Cathedral in Stone Town is located on the grounds of the island's largest former slave market that was closed down in 1873.
The construction of Gothic and Arabic style Cathedral began in 1873 to celebrate the end of the slave trade.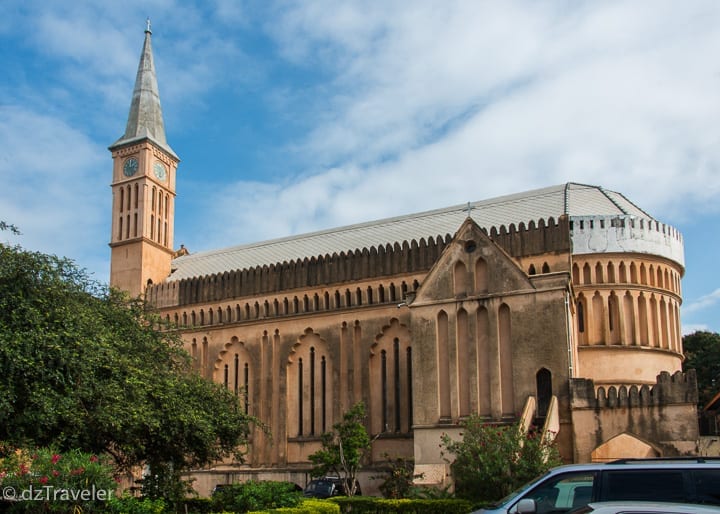 Visiting Darajani Market in Stone Town, Zanzibar
This place is the heartbeat of Zanzibar, regardless of where you travel, this is one of the best places to experience the local lifestyle. This is not only just a marketplace but also where locals gather to meet friends after a morning walk or have breakfast.
Opened in 1904 as the Seyyedeh Market, the numerous stalls Foodies will definitely enjoy sampling the rare fruits and local specialties. After sunset, this historical neighborhood of Zanzibar's Stone Town transforms into a culinary playground.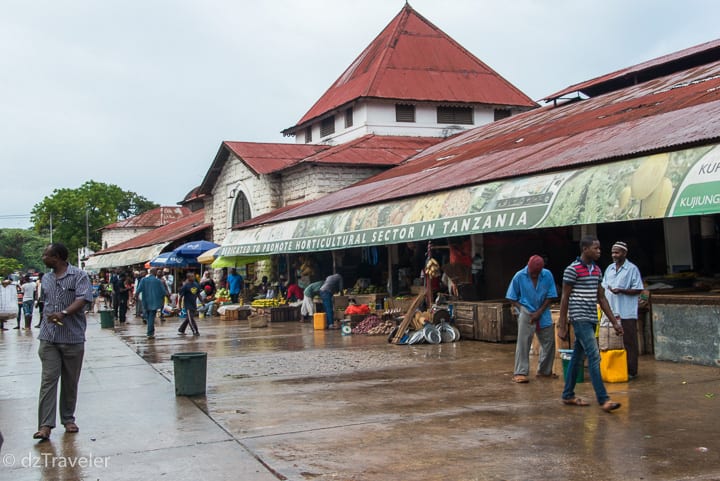 House of Wonders (Beit el-Ajaib)
Best el-Ajaib (which translates to House of wonders) was the former ceremonial palace of Sultan Barghash and was built in 1883. The first building to have electricity and the first building in East Africa to have an elevator housed many influential tenants.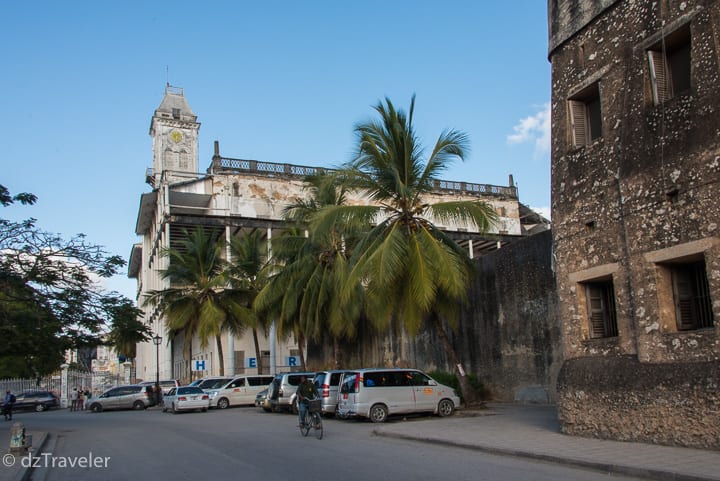 Visit Jozani Chwaka Bay National Park
Jozani Chwaka Bay National Park is only 23 miles (37 km) south of Stone Town and a great day trip location for nature lovers and for a break from the beaches. The protected forest coverage about 19 sq mi (50 sq km) and the only remaining natural mangrove forest on the island. It is renowned for its hairy red colobus monkey.
Northern Beaches of Zanzibar
There are many terrific white beaches and picturesque villages around Zanzibar ideal for those wish to get away from the bustling town life, particularly along the northeast coast. Miles of pristine beaches in Kendwa and the fishing village of Nungwi are spectacular. You will find nice hotels, guest houses, and restaurant along this beautiful isolated beach. A great place to relax for a couple of days.
Visit Old Fort
The fort was built at the turn of the 17th. the century on the remains of a Portuguese church and crumbling Arab garrison, the old fort was constructed to defend 'Spice Islands' from invaders.
Nowadays the Old Fort houses shops and henna painting stores and the Cultural Centre. In the evening the open-air theatre comes alive with local music and dancing.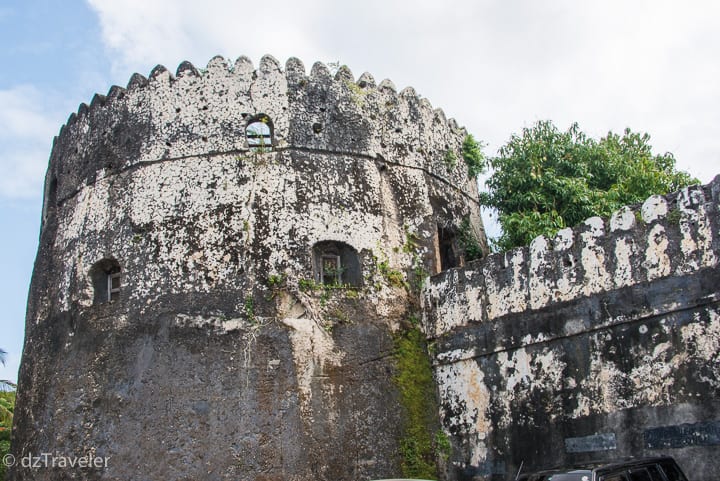 Palace Museum (Bait As-Sahel)
The Sultan's Palace, Bait As-Sahel is one of the main historical buildings of Stone Town. The Palace Museum got an impressive collection of the Sultans furniture and possessions as well as a room dedicated to the life of Sultan Sayyid Said's daughter, Princess Salme.
For those interested in the lavish lives of Zanzibar's Sultans this is a fascinating attraction.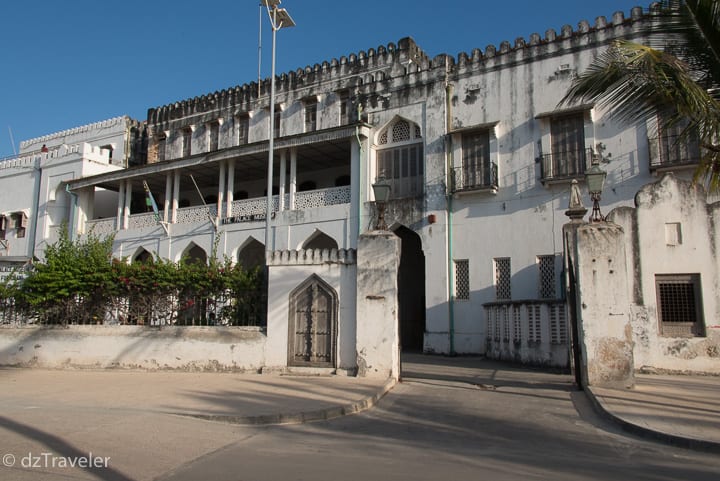 Night Market at Zanzibar's Forodhani Gardens
The best place for a sampling of traditional street food is the night market by the waterfront of the Forodhani garden. Each evening as the sun sets, this neighborhood of Stone Town transforms into an open-air food market.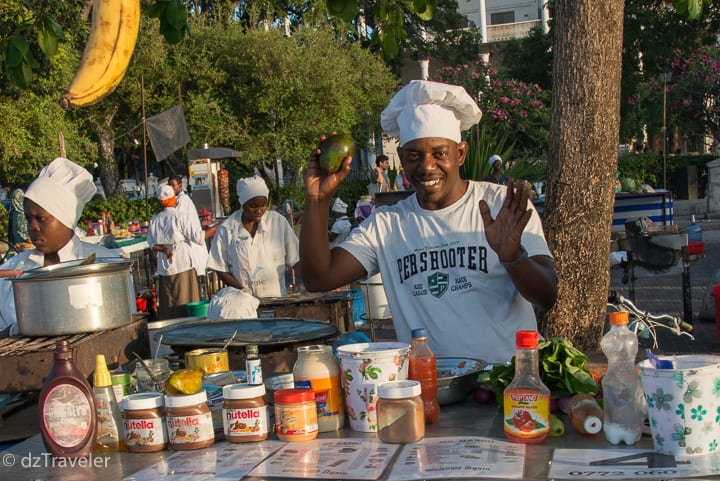 In the afternoon the waterfront gets busy with hundreds of local kids steam to the beach, playing with the football, diving off the boat, screaming, laughing and doing all kind of water activities.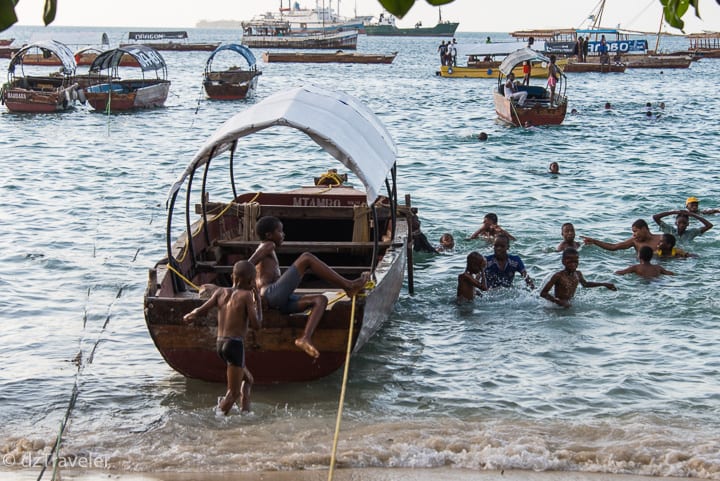 Enjoy the Spectacular Sunset in Zanzibar
Zanzibar sunset is spectacular and very popular event among local and tourist alike, so as the glamor hour approaches, locals pour onto the Stone Town beach and the restaurants along the beach becomes one of the most desired places to be. Nothing could beat the experience of sitting by the beach, listening to Freddie Mercury and Queen songs while having an ice cold local beer and watching the sun goes down in the horizon.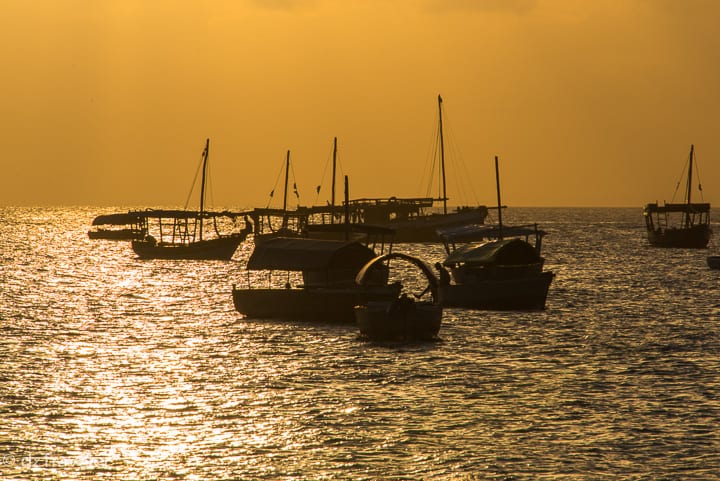 Are you looking for a nice hotel, here is where I stayed
Kendwa Rocks Hotel, Kendwa Beach, 3939 Kendwa, Tanzania
Mizingani Seafront Hotel, Zanzibar Town, Mizingani Road, Malindi district, Zanzibar
This hotel is located less than 5 minutes walk from Zanzibar ferry terminal. I enjoyed the magnificent sunset from the hotel. The beach is right across the street. Rooms with balcony were nice and clean, the restaurant on the 1st floor got a great view too.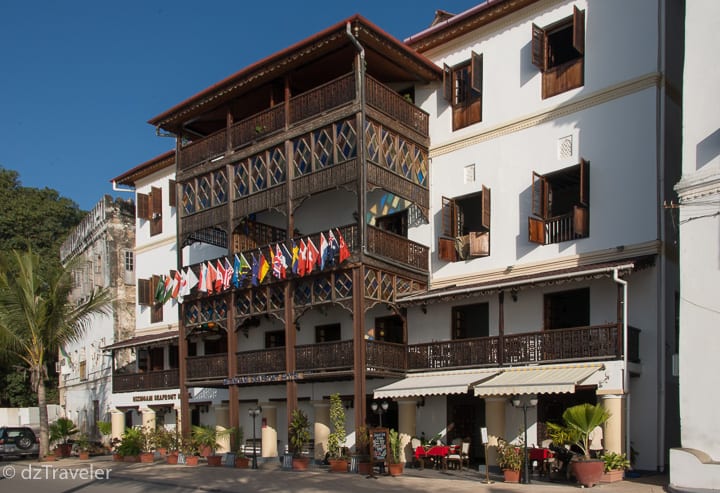 Tembo House Hotel And Apartments, Forodhani Street, Stone Town, Zanzibar City
Traditional Food and Culture
I have tried Ugali one of the typical dish made of maize flour, millet flour, or sorghum flour cooked in boiling liquid to a stiff or firm dough-like consistency and served with salad, meat, fish or bean sauce. I have also tried Nyama Choma (grilled meat). Few of the local restaurants worth trying when you are in Zanzibar.
Lukmaan Restaurant, New Mkunazini Rd, Zanzibar Town
Popular with locals and tourists alike, Lukmaan Restaurant serves delicious local food. I have tried fish biryani, and chicken curry they were definitely rich in flavor. It is located close to Darajani Market in Stone Town.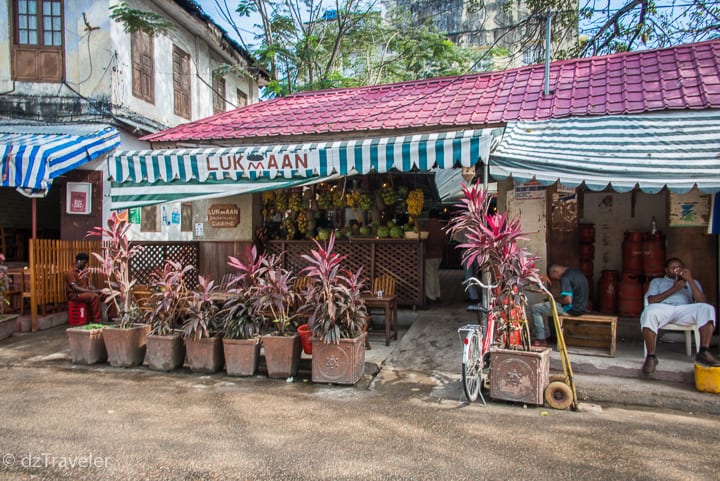 Mercury's Restaurant, Stone Town, Zanzibar
This landmark restaurant is right by the beach and next to the Zanzibar ferry terminal. This Restaurant is a tribute to Freddie Mercury of Queen. Great location best place to have a beer and watching sunset right from your table.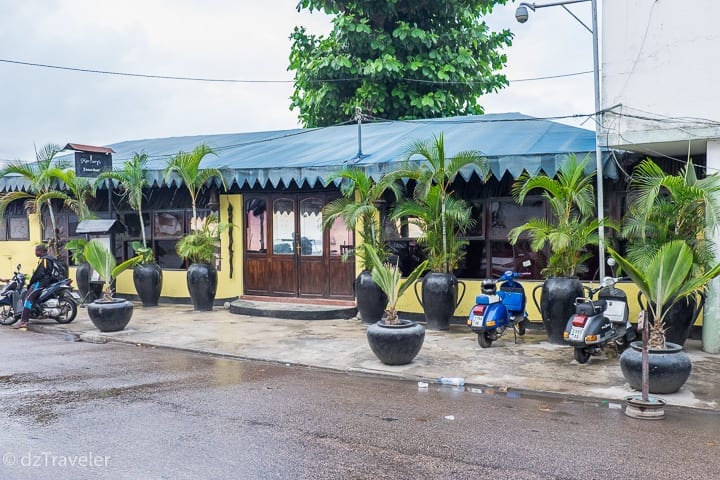 House of Spices, Kiponda Street, Stone Town, Zanzibar
House of Spices offers the fusion of Indian and Italian dishes, such as pasta with squid and sand lobster in coconut sauce. The restaurant got a romantic and relaxing atmosphere, definitely worthy of spending an evening and enjoying delicious dishes.
My Opinion and Tips
Buying SIM Card
It is simple to buy a SIM Card at the airport at a small kiosk just outside the arrival hall. You can also buy in Stone Town. The service provider with the most coverage on Zanzibar is "Zantel".
Currency and ATM:
US$ 1 = 2234.00 Tanzanian Shilling (TZS), withdrawing local currency from ATM is not a problem as long as the care got Visa or MasterCard logo. ATM is available at the airport just outside the arrival hall, and you will find a few more in Stone Town.
Have you been to Zanzibar? Any additional tips to share?
Please leave a comment below! I'd love to hear from you to improve my knowledge.
Was this travel guide helpful for you?
If you'd like to help me continue making free guides, here is one way you can help:
Share This Guide – If you have a friend that would benefit from this guide, share it with them. Or post this guide on Facebook, Twitter or Google+
Affiliate Link – This post in

Dizzy Traveler

contains affiliate links, which means I receive a referral commission if you purchase after clicking at no additional cost to you. These funds go to maintain the site. Thank you for your support.
Your help would definitely help me making more free guides like this. Thank you in advance!
Here are few pictures that will tell travel stories of Dizzy Traveler.
Please Click Here For Slideshow:
Local Sightseeing Trips