Getting to know
The nearest town to the magnificent Victoria Fall is called Victoria Falls in Zimbabwe side and in Zambian Side called Livingstone, and they are only 5 to 10 minutes driving distance away. So no matter where you are staying it's not going to be challenging to visit the falls and the cross-border crossing is very easy for day trippers. Both sides of the border town have its own international airport makes it easy for tourists around the world.
With a width of 5540 ft (1688 m) and height of 355 ft. (108 m), in its high season, millions of cubic feet of water plunging over the edge each minute with sprays visible for miles reaching up to 1300 ft (400 m) or higher creates a spectacular view. No wonder why it is often called 'the smoke that thunders'.
While visiting on the Zambian side of the falls, you need to walk along the cliff opposite the waterfalls and can get completely soaked. The views of the waterfalls are little different on the Zimbabwe side than Zambian side since you could see the front of the falls from a distance without getting soaked.
Best Time to Visit
If you want to enjoy the world's massive falling water to it's highest volume then February to May, right after the region's summer rains would be an ideal time to visit.
I was visiting in October knowing that the falls is less attractive, but I had no other choice. October through November at the end of the dry winter period – the water level is lowest, and the weather is hot and humid. But the advantage is that low water levels ensure that you will have unobstructed charming views without mist on both sides of the Falls, but the Zambian side dries up, and like me, you may end up seeing the bare rock face. On the other hand water flow on the Zimbabwean side is permanent but recedes in volume with the seasons.
Perhaps the most popular and optimal time to visit Victoria Falls (from the standpoint of good views and best weather) would be around the July through September time frame. The falls is said to be gradually in transition from a flooded state to a low flow state so you might have fewer problems with mist while still having an acceptable volume of water so as to not feel underwhelmed.
In October – November:
October average temperature in Livingstone is hot about 79 ºF (26 °C).
Afternoons can be very hot with average high temperatures reaching above 93º F (34°C ).
Overnight temperatures are generally somewhat warm with an average low of 65ºf (18 °C).
In February – May
February average temperature in Livingstone is fairly hot about 74 ºF (23 °C).
Afternoons can be very hot with average high temperatures reaching above 85º F (23°C ).
Overnight temperatures are generally somewhat warm with an average low of 65ºf (189°C).
How to Get There
By Air:
There are daily flights from cities like Harare (HRE), Zimbabwe or Johannesburg (JNB), South Africa to below airports which are very close to Victoria falls.
Livingstone Airport (LVI), Zambia
Victoria Falls Airport (VFA), Zimbabwe
Visa – No Visa Required
Zambia Visa:
For US Passport holders, a single-entry visa, valid for up to 90 days, may be obtained at a port of entry. Day visitors from neighboring countries can obtain day-trip visas at the border.
Visitors can apply for the visa on arrival or at your Zambian embassy or you can also apply e-Visa online or click here to see if your nationality require a visa.
Daytripper visa; US$ 20, Transit or Single entry visa; US$ 50; double or multiple entry visas; US$ 80
Zimbabwe Visa:
If you are traveling to Zimbabwe for tourism, business, or transit, you may obtain a visa at the airports or other border ports-of-entry. There is currently no option of getting a Zimbabwean tourist visa in advance through the Zimbabwean Embassy in Washington. You can expect to pay 30 USD for a 30-day/single-entry visa or 60 USD for a 60-day/multiple entry visas. Check visa requirements for your nationality here.
3 Days in Victoria Falls – Top Things To Do
Johannesburg –> Livingstone, Zambia –> Victoria Falls, Zimbabwe –> Johannesburg
Day 1: Friday October 13, 2017
Soon I arrived at Livingstone Airport (LVI, Harry Mwaanga Nkumbula International Airport), Zambia at 12:20 pm, obtained multiple entry visas on arrival. My hotel was located in the city center only 3 miles away from the airport. Took a pre-arranged airport to hotel shuttle service, which is available 24 hours with a charge of US$ 10 per vehicle (one way). After checked in to the hotel, I planned to a couple of activities:
My 1st. Stop Was To Visit Victoria Falls
A taxi to Victoria Falls from Livingstone town costs around $10, also good idea check with the hotel if they provide a free shuttle bus.
The cost of enter the park is $20 in Zambian side of the falls. A guide is usually $20, but exploring on your own is easy so you don't really need a guide.
Devil's Pool is on Everyones Wish List
At the Zambian side of the falls, a must do activity is to swim in Devil's Pool. Best time to visit there is during the drier months of August to October when the water level of the Zambezi River drops significantly, and likely to walk around the very tip of the falls.
Good to be aware that it's not possible to get to the Devil's Pool year round. Besides, when the tour is permissible you'll have to take a guided tour only from Livingstone Island to the Pool.
The view from the edge is totally exciting as you sense the strength of the Zambezi rushing past you and smashing down over the cliff; a hundred meter descent.
Zambezi River Sunset – Victoria Falls – Livingstone
The Zambezi River Boat Cruise at Victoria Falls in Zambia is a great way to experience the most amazing sunsets in victory falls. The 2½ hours cruise circles along the river boundary of Mosi-Oa-Tunya National Park circling along the river boundary of the nearby Islands and returning to the pier.
During the cruse I was able to see elephants crossing the river, buffalo, and waterbucks coming down to the river to drink. There are also abundant hippos, crocodiles, and birds for viewing during the relaxing cruise. I was picked up from my hotel and the trip started around 4.00 PM. Check with Wild Side Tours and Safaris for reservation.
Onboard the cruise they served all you can drink alcoholic and non-alcoholic drinks and delicious food. The sunset was spectacular so was the environment.
Day 2: Saturday October 14, 2017
In the morning my plan was to cross the border from Zambia to Zimbabwe, obtain a single entry visa on arrival and head directly to my hotel. During my travel a single entry on arrival visa (for US citizens) was US$ 30.00, double entry US$ 45.00 and multiple entry US$ 55.00. Click here for visa requirements of any specific country.
Game Drive in Zambezi National Park, Victoria Falls, Zimbabwe
Early morning game drive is a good way to start the day to escape the the mid day heat, also a great opportunity to see the Big 5 in Victoria Falls. Victoria Falls Game Drive in the Zambezi National Park in Zimbabwe will cost you about US$ 70.00 and up and the tour starts at 06:00 am and again in the afternoon at 3:00 pm.
Lunch Time Wanted to Have Something Local
There are plenty of nice restaurants in the town of Victoria Falls, Zimbabwe and you definitely need to try few. I could not miss my lunch despite our full day activities. It was remarkable to have local fish from Zambezi River along with a local Zambezi beer.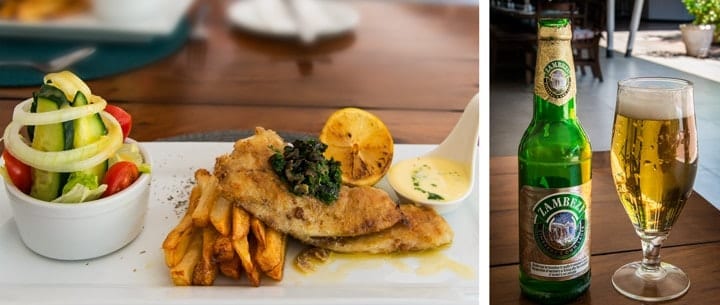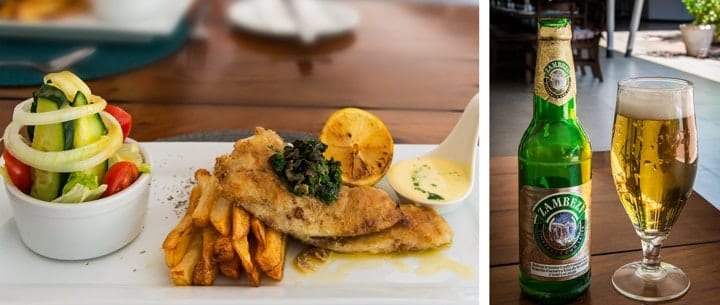 Visit Victoria Falls from from Zimbabwe side
In Zimbabwe side the trails opposite a vast stretch of the waterfall that extends for more than one kilometer with a variety of 16 viewpoints. The opportunity to enjoy the spectacular view of the falls varies based on the season you are visiting. During peak flow, you can see few of the several sections of falls on this side like The Devil's Cataract, Main Falls, Rainbow Falls and Horseshoe Falls.
Dinner at Three Monkeys, Victoria Falls, Zimbabwe
Three Monkeys features a full service cocktail bar, and a wood-fired and flame-grilled menu. The Chef was trained in Cape Town at the Zevenwacht Chefs College and Wine Estate, and he holds an advanced diploma in Culinary Arts. The food there got quality taste and the best of local cuisine. I tried something exotic grilled meat of Kudu, Impala and buffalo but definitely feel bad thinking about it.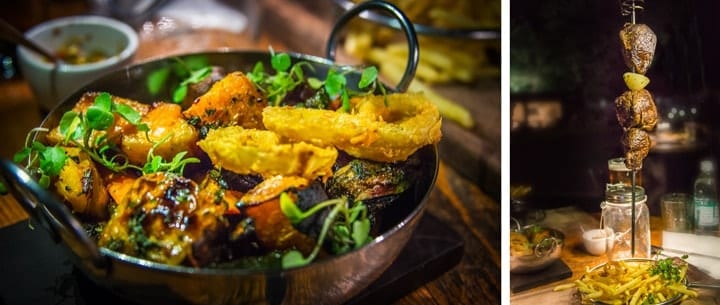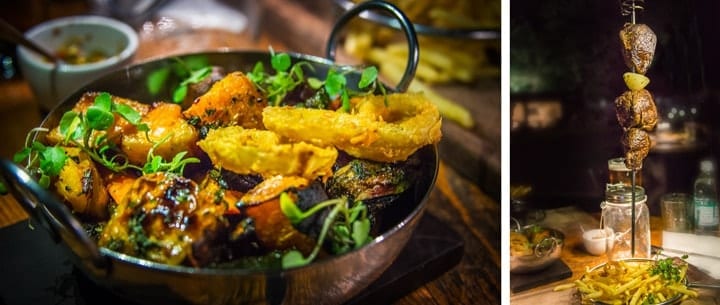 Day 3: Sunday October 15, 2017
After an overnight trip to the town of Victoria Falls in Zimbabwe side, I returned back to Livingstone, Zambia by crossing the border by road.
Activities For Rest of The Day
Half-Day Nature Walk in Mosi-oa-Tunya National Park from Livingstone
The beautiful Mosi Oa Tunya National Park is a small gem of a Park which includes the Zambian side of the Victoria Falls and stretches about 8 miles upstream from the Falls, along with the North bank of the Zambezi river. It is just 26 square miles, but excellent for thrilling wildlife experience it offers, especially for enthusiastic photographers.
The Park is divided into two separate regions, the falls area, and the wildlife area. In the wildlife area, you will be able to drive around the boundary of the park in a few hours. Since this park runs along the picturesque Zambezi river, so it attracts many sorts of antelope, zebra, buffalo, giraffe, elephants, and monkeys, also it draws vast numbers of small mammals and birds.
Since there are no big cats in this park, the animals are very relaxed and excellent closeup photo opportunity for the photographers.
Visit the Local Market
Visiting the market in Livingstone is a great way to enjoy local tradition and culture. Like many developing countries, you will constantly be called to buy products but like locals, experience bargaining and make sure to settle for something when you get it at the local price.
Dinner at Cafe Zambezi, Livingstone
Day 4: Monday October 16, 2017
Returning to Johannesburg
My South African Airways flight departed from Livingstone Airport at 1:00 pm, so got plenty of time to discover more of what Livingstone town has to offer. I rented a taxi for few hours to visit different part of the town before heading to the airport.
Other Activities to Consider
Zambezi River white water rafting
Rafting the Zambezi River is truly a blast and an awesome experience. This river is acclaimed as the "wildest one-day whitewater run in the World" highly regarded by whitewater rafting enthusiasts as one of the top ten paddling rivers on the planet! The one-day low water trip is considered to be the best one-day whitewater experience available in the world.
The Royal Livingstone Express Steam Train Dinner
Take a trip back in time on this 5.5-hour steam train dinner tour to the Victoria Falls Bridge. Experience all the luxury and grandeur of a bygone era, as you'll enjoy 5-star service, while savoring a silver service dinner, marveling at the surrounding beauty of Victoria Falls at sunset. This is the ultimate Victoria Falls gourmet dining experience.
Bungee Jump from Victoria Falls Bridge
Experience Africa's biggest adrenaline rush with this bungee jumping, bridge swing or biplane adventure at the Victoria Falls Bridge. Take a dive into open air surrounded by epic landscapes, rushing waterfalls and the roaring Zambezi River. It's the thrill of a lifetime and it only takes place here!
Experience the Microlight Flights
Try the 30 minute flight over the Victoria Falls, the Batoka Gorge, the Zambezi River and the Most-Oa-Tunya National Park and capture the breathtaking views from the sky.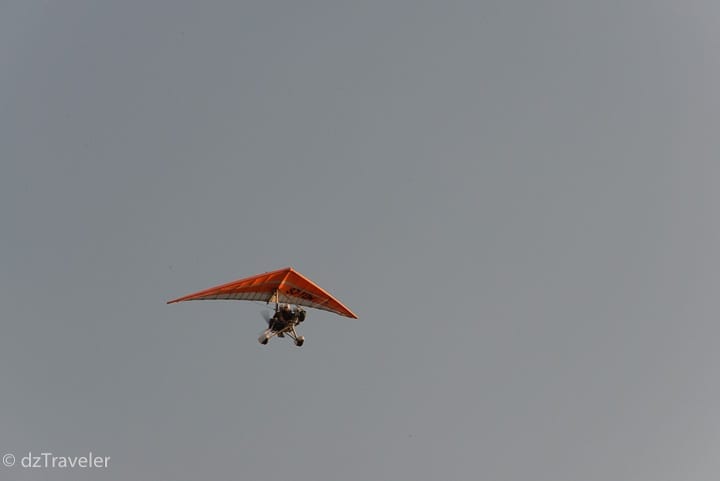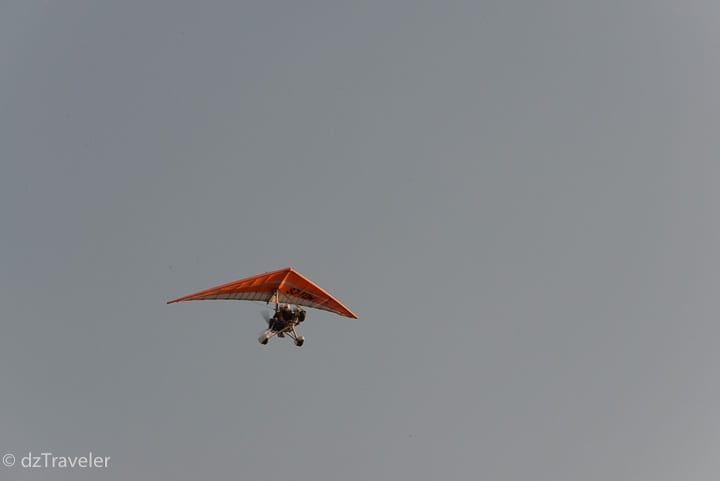 How To Get Around
Livingstone, Zambia:
Getting around Livingstone is quite easy. It's a small town so very much walkable as long as you can handle the heat.
Taxis are available for a fare of $5 – $10, hotel reception will call them for you or you will find them in and around town.
Bicycles are also available for hire in the town center. Those cost $5 for one hour, $10 for half a day or $20 for a full day.
Victoria Falls, Zimbabwe:
If traveling by air, the first thing you need to think about is getting from the Victoria Falls airport to town (a distance of about 22kms). Airport transfers to any of the hotels in town are relatively cheap about US$ 14 per person. If you are in a group then Taxi will be a better option as the cost from the airport to the hotel may cost you between US$ 25 – 35.
Getting around Victoria Falls town is easy as this is also a small town and relatively easy to cover on foot.
Local Food & Drink in Livingstone
A great place for having local food is Heritage Site on John Hunt Way between Airport road and Obote Ave. Little local restaurant in Livingstone for delicious Nshima made from maize flour, fish, meat and local vegetables.
Are you looking for a cool place to stay in Livingstone, Zambia
Ngoma Zanga Lodge, Livingstone, 963 Kariba Crescent, 217 Area, Livingstone, Zambia
Ngoma Zanga Lodge is a family owned upmarket lodge which brings about a symbiosis of Western and African flares of hospitality. This hotel provide delicious cuisine and safari excursions into the wilderness of Victoria Falls National Park, exploration of the mighty Falls, Mukuni Big Five Zoo
Are you looking for a nice place to stay in Victoria Falls, Zimbabwe
Cresta Sprayview Hotel, Victoria Falls, Corner Livingstone Way & Reinhard Rd, Victoria Falls, Zimbabwe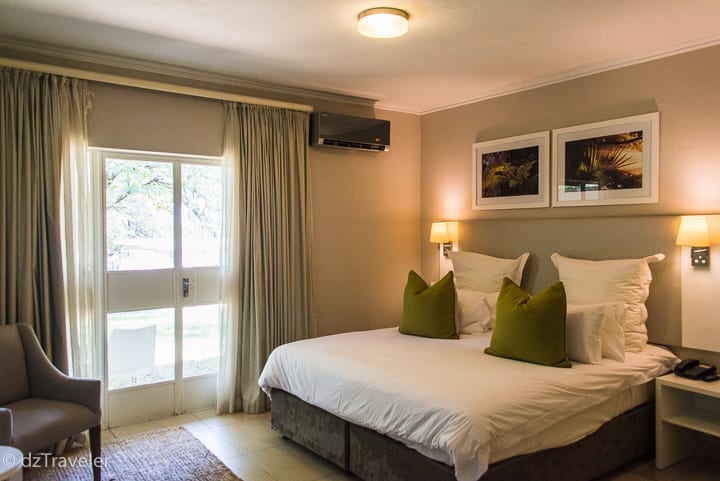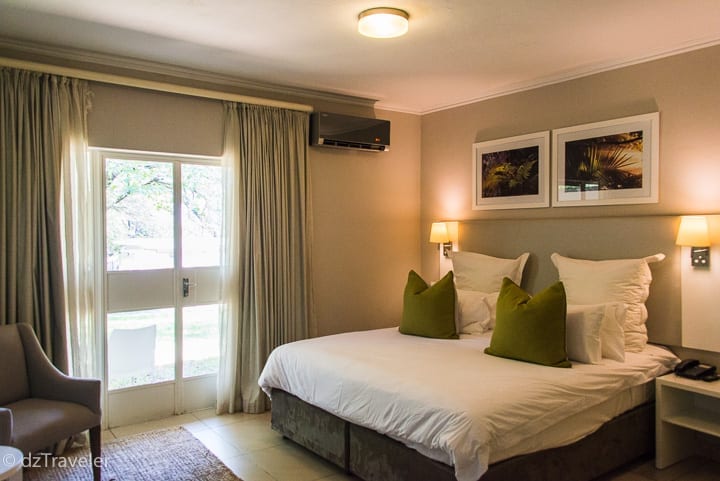 My Opinion and Tips
Currency Zambia: Zambian Kwacha, in Zimbabwe, 1 US$ = 9.50 ZMW (Zambian Kwacha), ATM is available at Livingstone Airport.
Capital of Zambia: Lusaka, about 6 – 7 hours drive from Livingstone.
Currency Zimbabwe: Zimbabwean Dollar, 1 US$ = 361.90 ZWD
Capital of Zimbabwe: Harare
Credit Cards & ATM: Credit cards are widely accepted. There are ATMs at the airport where you can get local currency upon arrival (but you need to notify your bank before your departure so that transactions does not raise any alert).
October Sunrise & Sunset: The sunrise in Livingstone, Zambia at 5:49 and sunset at 6:15pm. Click the link to see current timetable.
Electricity: 220-240 volt– Square 3pin 13 amp plugs – same as the UK. Even you may get lucky to borrow an adaptor from your hotel receptions but it is advisable to carry of your own international adaptor.
Have you been to Victoria Falls? Any additional tips to share?
Please leave a comment below! I'd love to hear from you to improve my knowledge.
Was this travel guide helpful for you?
If you'd like to help me continue making free guides, here is one way you can help:
Share This Guide – If you have a friend that would benefit from this guide, share it with them. Or post this guide on Facebook, Twitter or Google+
Your help would definitely help me making more free guides like this. Thank you in advance!
Have you been to Victoria Falls, here are few pictures that will tell the trip stories of Dizzy Traveler:
Please Click Here For Slideshow: