Cape Town offers breathtaking sights like the fog over the Table Mountains and the stunning Table Bay. It is one of the most popular and sought-after tourist destinations in the world. A week here won't be enough to experience it all, but you'll be thoroughly impressed with the city. You'll understand why it's called Mother City by the end of your trip.
Day 1: Arrival at Cape Town
Upon landing in Cape Town at 9:00 am, I found a modern airport, slightly smaller than Johannesburg's, but with convenient amenities like ATMs, coffee shops, restaurants, and helpful tourist information desks in the arrival hall. After withdrawing some money and getting maps and travel guides from the information desk, I headed to the rental car area right across from the main terminal, following the sign for "Rental Car." I opted for a Hyundai Accent rental, but it came with a slight challenge – driving a stick shift on the opposite side of the road. It took a couple of hours of driving to get used to it, but it turned out to be a manageable adventure for the next four days.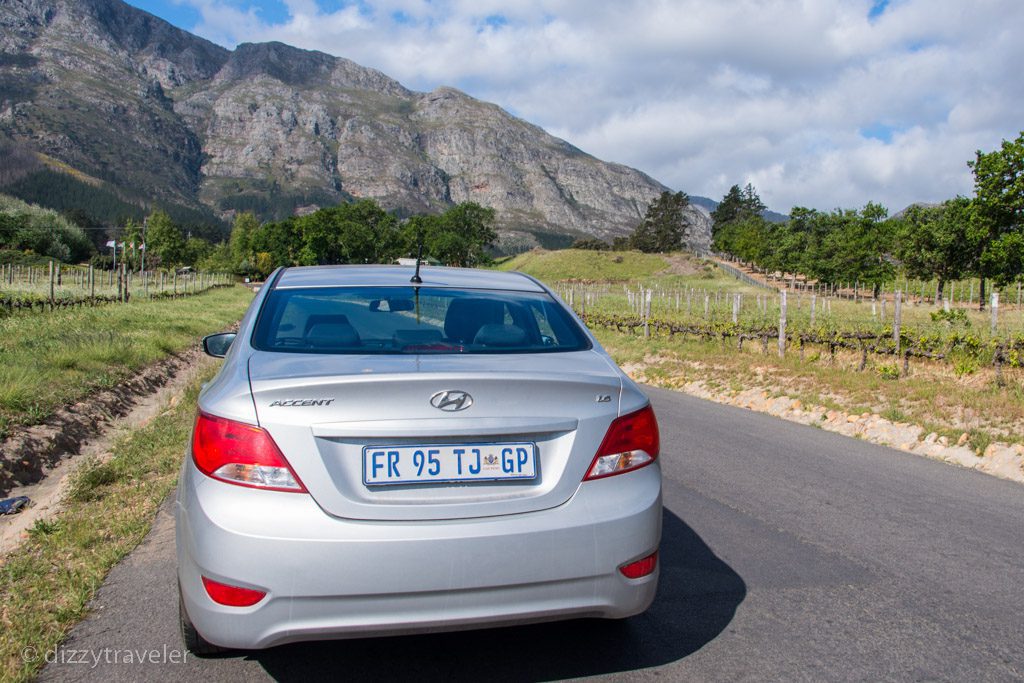 Hotel Check-in
It took me only 30 minutes from the airport to reach Icon Luxury Apartments in the city center. The highway was just as good as any American highway. Fortunately, early check-in was smooth, and I even got complimentary parking in the hotel's basement. With plenty of time left, I decided to explore some of the activities listed below, starting with soaking up the sun at Signal Hill and catching the beautiful sunset around 6:55 pm. Here's my plan for the rest of the day: Hotel Icon Luxury Apartments → Bo-Kaap Area → Camps Bay Beach → Signal Hill → V&A Waterfront → Gold Restaurant.
1st Stop at Bo-Kaap
Before heading to Signal Hill, my plan included a visit to The Bo-Kaap, also known as the Malay Quarter. This charming area is perched on the slopes of Signal Hill, overlooking the city center. The colorful houses, the historic Auwal Masjeed mosque (built-in 1794), the old Tailors House, the Biesmiellah Cape Malay Restaurant, and the enchanting cobbled streets will leave a lasting impression. Plus, you can indulge in local beer and more delightful experiences. The best part? It's just a mile away from my hotel, making it easily accessible. This historical gem is a must-visit, and you can even join Neilsen Tours' free daily walking tours – just check their schedule.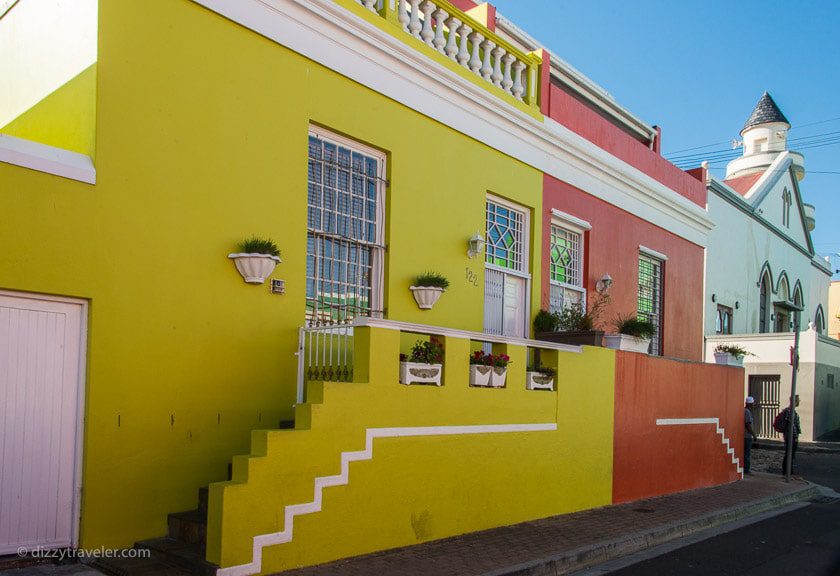 2nd Stop at Beautiful Camps Bay Beach
From Bo-Kaap, the beautiful Camps Bay beach is about 4 miles one of the most popular tourist attractions in Cape Town. It is located in the wealthiest suburbs, well known for its high-end luxury apartments, trendy restaurants, cafes, and bars along the beach. The white sandy beach is perfect for sun tanners. The stunning backdrop of the Twelve Apostles mountains range and the clear blue ocean between Lions Head and Table Mountain is worth the visit.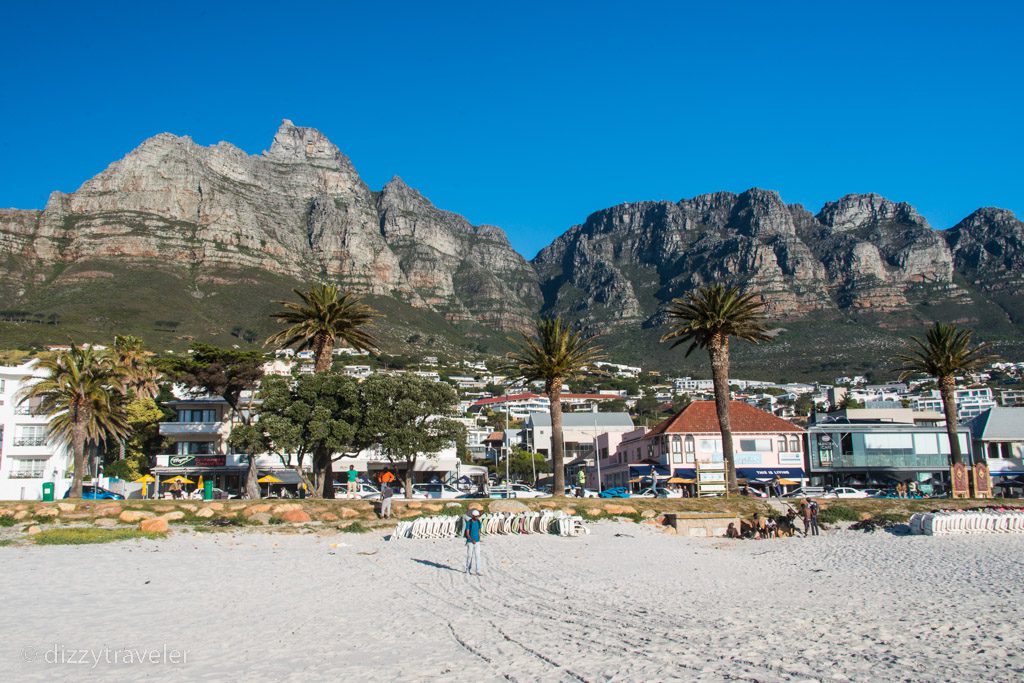 If you are traveling by car, then it's definitely convenient to drive all the way up to the top of Signal Hill just by following Signal Hill Rd. To secure parking, you need to be there a little early, at least an hour before sunset, to secure a convenient parking spot. On your way up, you may find several lookouts. Therefore, consider pulling over for a photo opportunity. This is a perfect sunset drive, and absolutely nothing can beat witnessing the breathtaking scenery of the Sun going down on the horizon. Moreover, it's a truly magnificent spot to sit quietly at 985 ft (300 m) elevation and enjoy the city skyline after sunset. It's important to know that Signal Hill is not considered a safe place for hangout late at night; therefore, I suggest you make your way back down right after sunset.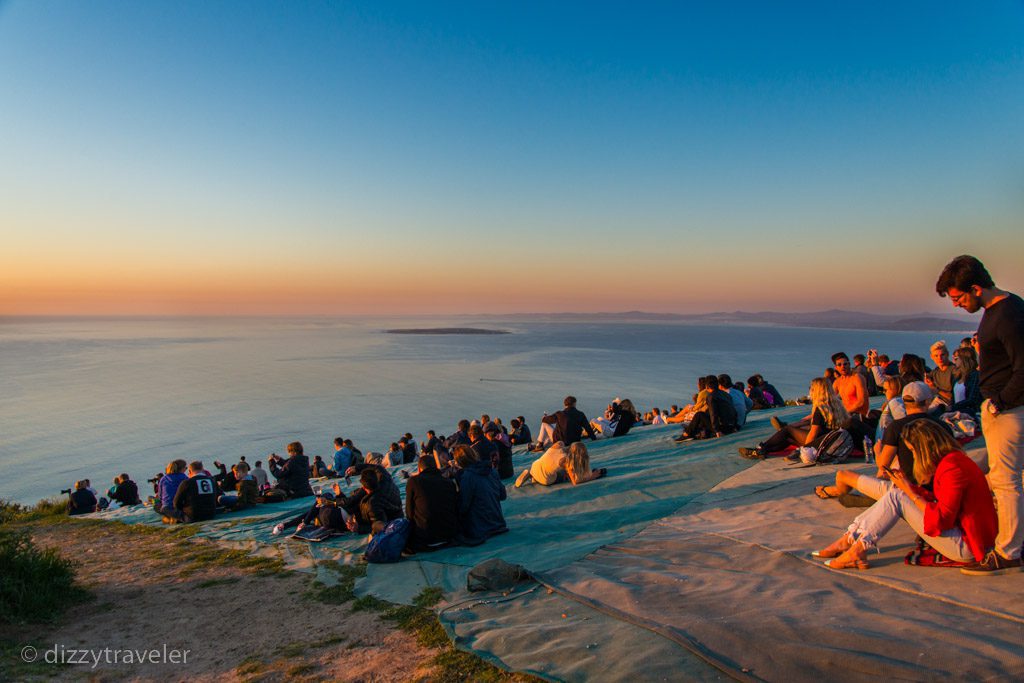 Next Stop at V&A (Victoria and Alfred) Waterfront
The beautiful waterfront of Cape Town is located in the heart of the city between Robben Island and Table Mountain. The V&A Waterfront has become South Africa's most visited destination. It is also one of the most preferred tourist attractions, with plenty of pubs, bars, restaurants, specialty shops, malls, and theaters to explore. You can conveniently park your car at an underground garage and come right out in front of the iconic clock tower and Mandela Gateway from where the ferry to Robben Island departs. Definitely worth a visit.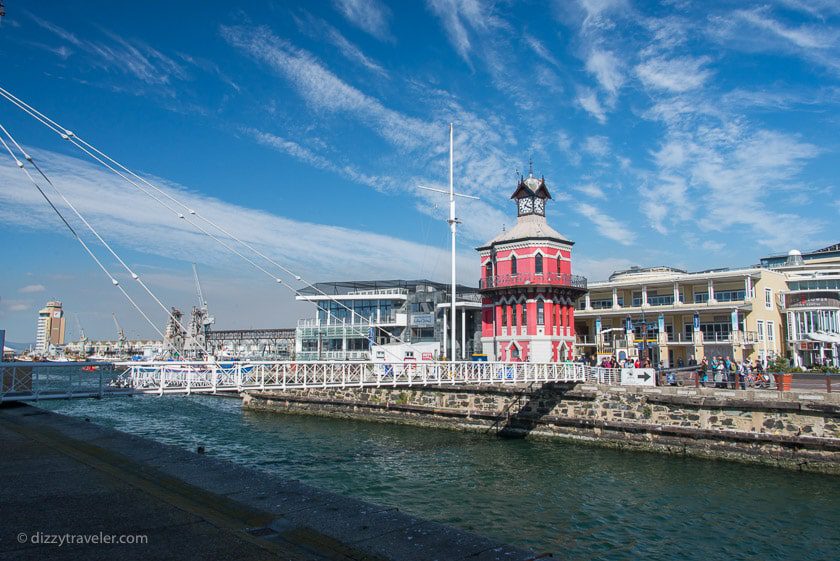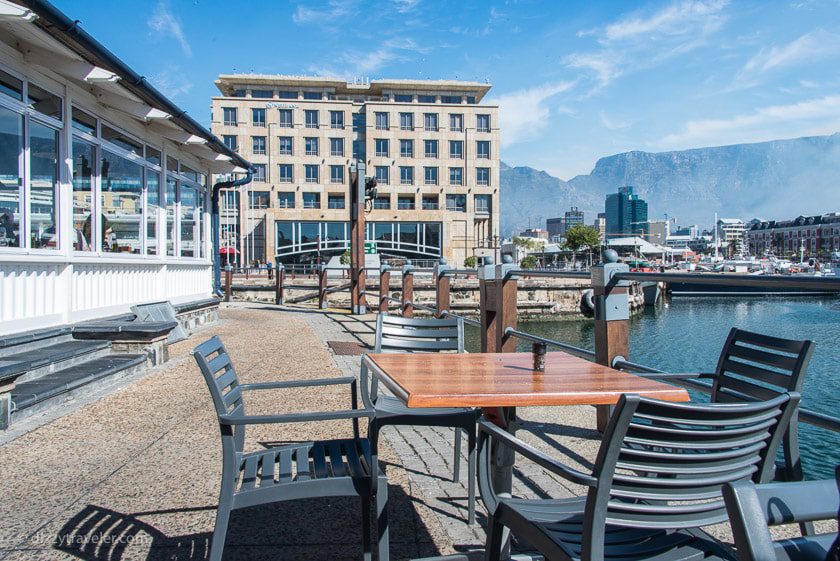 The Final Stop for The Today is at GOLD Restaurant
The drive from V&A Waterfront to GOLD, a remarkable African Restaurant, was a breeze with my cellphone map navigation. Thanks to my reservation made a month ago, getting a table was a breeze. They offer a delightful 14-course Cape Malay and African menu, including unique treats like South African Ostrich biltong and Tanzanian dried fish with spinach. Stepping into GOLD, visitors are transported into an enchanting world of African culture, where every aspect of the restaurant is designed to celebrate the continent's heritage. The interactive traditional entertainment during the culinary experience was truly awesome and added to the unforgettable dining adventure.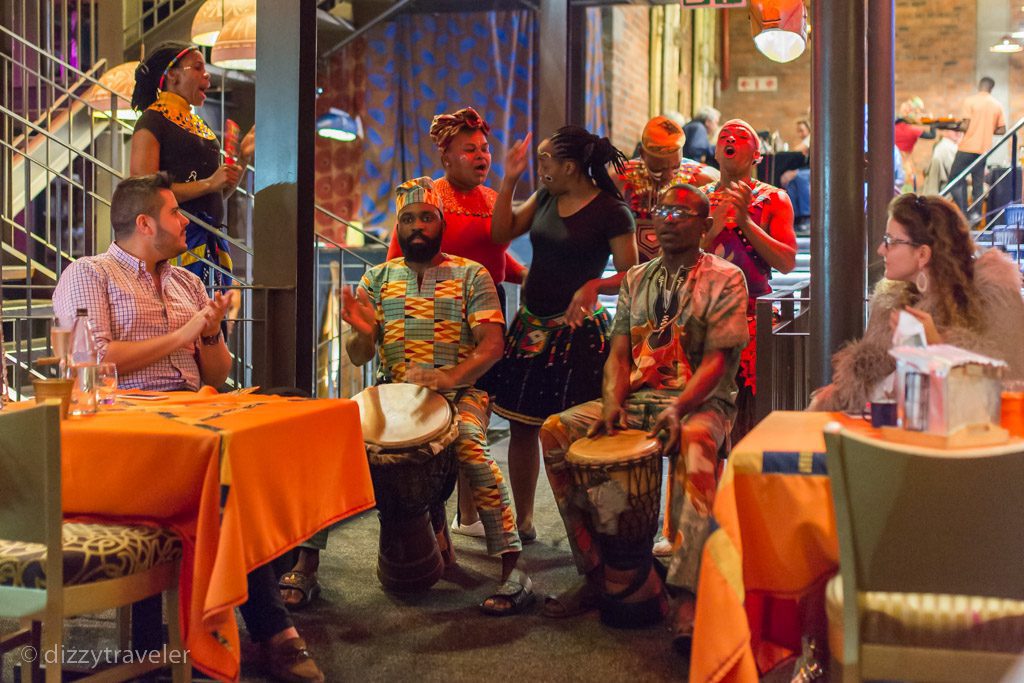 Day 2: Wednesday October 11, 2017
My Plan For The Day: Hotel Icon Luxury Apartments –> Sunrise in Lion's Head –> Visit Table Mountain Early in the morning –> Lunch at V&A Waterfront –> Take an Afternoon Ferry to Robben Island.
Getting from the hotel to Lion's Head parking takes around 15 minutes by car (4 miles). From there, it's a 45+ minute hike to reach the peak of Lion's Head, standing at an altitude of 2,195 ft (669 m). To catch the sunrise at 6:09 am, I needed to leave the hotel by 4:30 AM. The hike is approximately 1.5 hours round trip, covering 2.1 miles up and back down. It's essential to prepare accordingly for the trek. Located between Table Mountain and Signal Hill, Lion's Head offers a spectacular panoramic view, making it a must-visit spot in Cape Town. Remember to bring a flashlight and water along for the hike to ensure a safe and enjoyable experience. The breathtaking sights from the top of Lion's Head will make the effort more than worthwhile.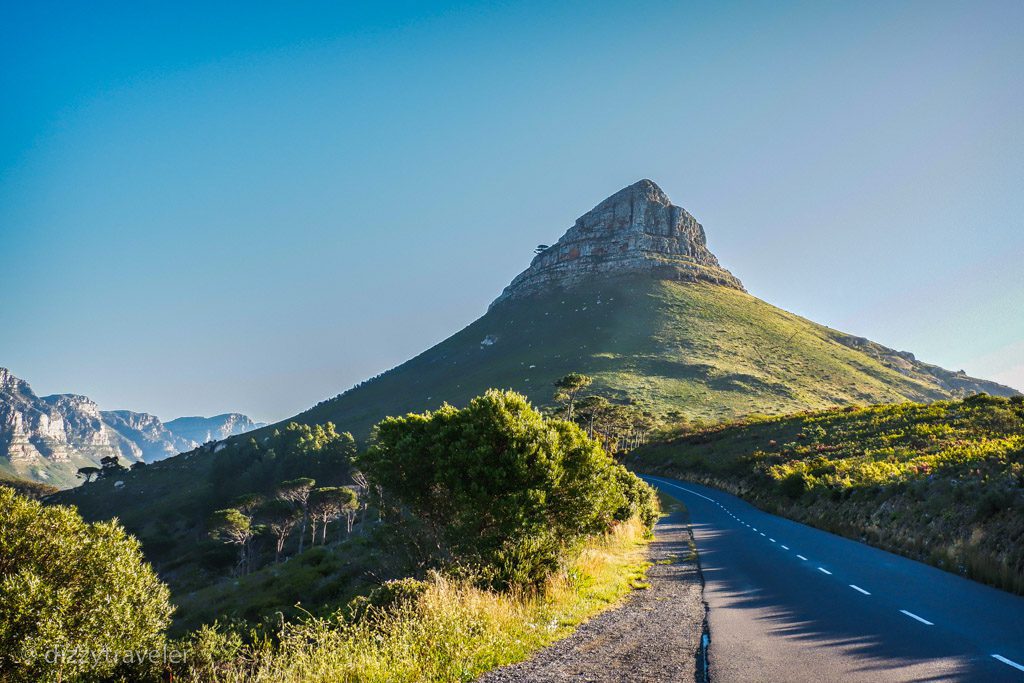 Table Mountain One of The 7th. Natural Wonder of the world
Having relished the sunrise atop Lion's Head, the drive to Table Mountain was conveniently short. Arriving at 9 o'clock in the morning ensured avoiding crowds of tourists. Roadside parking is free, but expect an attendant who will watch over your car in exchange for a tip. Table Mountain boasts an impressive age, being at least six times older than the Himalayas, making it one of the world's oldest mountains.
At the summit, you can bask in the stunning 360-degree views of Cape Town, Table Bay, and neighboring peaks like Lion's Head, Signal Hill, and Robben Island. This iconic flat-topped mountain is a cherished gem, captivating both locals and visitors alike, and it stands as one of Cape Town's major attractions.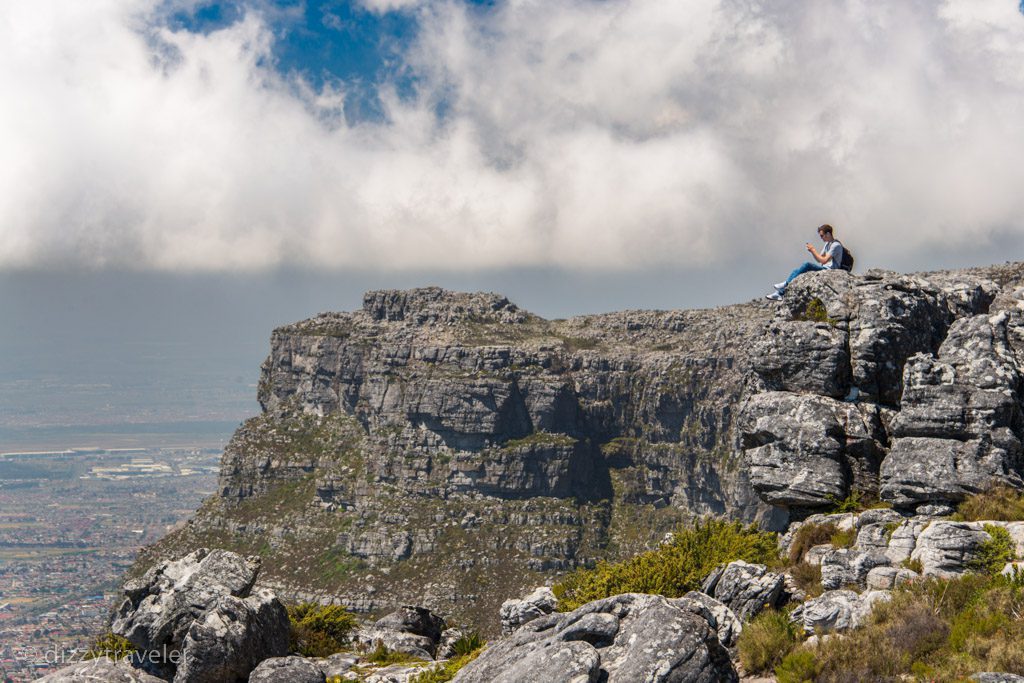 Explore Robben Island from Nelson Mandela Gateway by Ferry
After an awe-inspiring adventure on Table Mountains, my exploration continued to the vibrant V&A Waterfront, where a delightful lunch awaited at Den Anker (see the mouthwatering food picture below). But the day's real thrill was yet to come as I embarked on a 3:00 pm ferry from The Nelson Mandela Gateway, bound for the historic Robben Island – a UNESCO World Heritage Site.
The ferry ride was a breeze, lasting only 30 minutes aboard a spacious double-decker boat that offered splendid views of the Cape Town coast. Robben Island, located about 5.5 miles (9 km) offshore, beckoned with its fascinating history. The ferries run daily at 9:00, 11:00, 1:00, and 3:00, giving ample options for exploration. With tickets priced at 340 (around US$ 24), this enriching journey was an absolute steal. Upon arrival on the island, an immersive guided bus tour and a captivating walking tour awaited, all seamlessly included with the trip. The complete tour, including ferry rides, spans around 3.5 hours, ensuring ample time to soak in every aspect of this remarkable site.
The pinnacle of the excursion was undoubtedly the chance to glimpse the isolated prison that once held Nelson Mandela captive for an astounding 27 years. Standing in those historic halls, the weight of history bore down on me, leaving an indelible impression of resilience and courage. Robben Island is a place of deep significance, and this journey allowed me to connect with a pivotal chapter of South Africa's past. It was an experience that transcended mere sightseeing, leaving me with a profound appreciation for the sacrifices and triumphs of a remarkable leader.
Next – Late Afternoon Drive to Franschhoek – Winelands of South Africa
Nestled in the Western Cape, the Franschhoek valley stands as one of the oldest and most picturesque towns in the region. It's a scenic 80 km journey from the Robben Island Ferry terminal, taking approximately an hour to reach this culinary haven. Known as the food and wine capital of South Africa, Franschhoek boasts a plethora of exquisite restaurants, some even earning the prestigious title of the world's best.
I had the pleasure of indulging in a delectable dining experience at Roca Restaurant, nestled within the charming Dieu Donné Vineyards. For fellow food enthusiasts, I wholeheartedly recommend this gem for its extraordinary specialty dishes and exceptional wine selection. The Merlot I sampled, straight from their own vineyards, was truly one of the best I've ever tasted. Franschhoek's irresistible blend of exquisite cuisine, fine wines, and breathtaking scenery makes it an absolute must-visit destination for anyone seeking a gastronomic adventure in the Western Cape.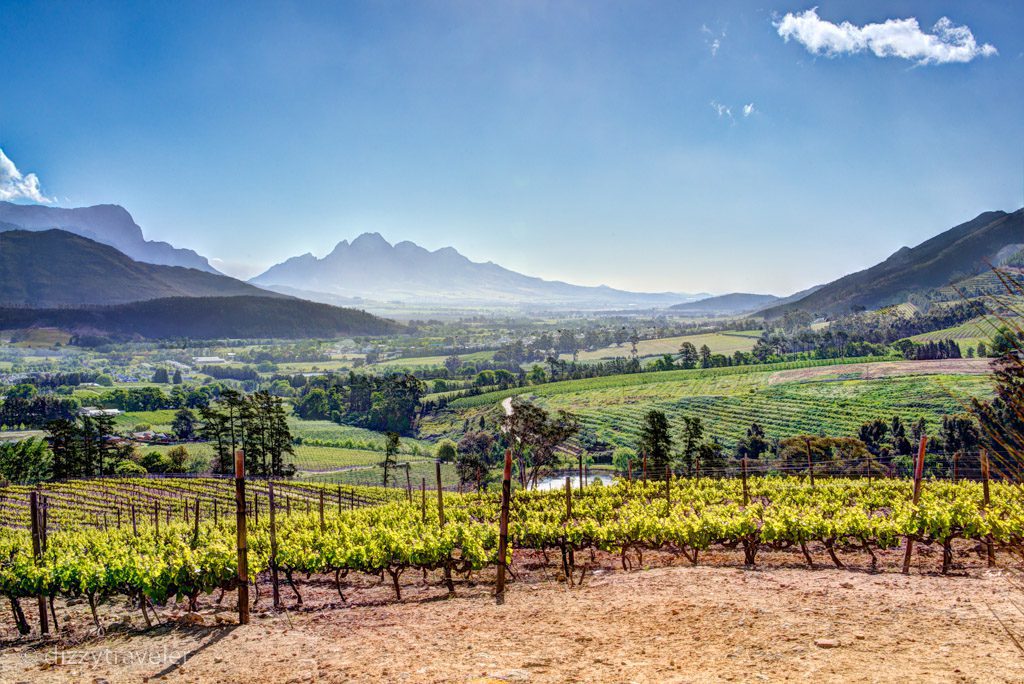 How About Wine Tasting
Wine tasting is so prevalent in that part of the world it is almost like a national event to them. You will absolutely love the quality of their wine. There are so many wineries & vineyards in the valley, and the best way to visit most of them is by taking one of those hop-on hop-off tram and bus tours that take you through the heart of Franschhoek valley. Just hop off at the best places for wine tasting, cellar tours, lunches, and stroll through the vineyard.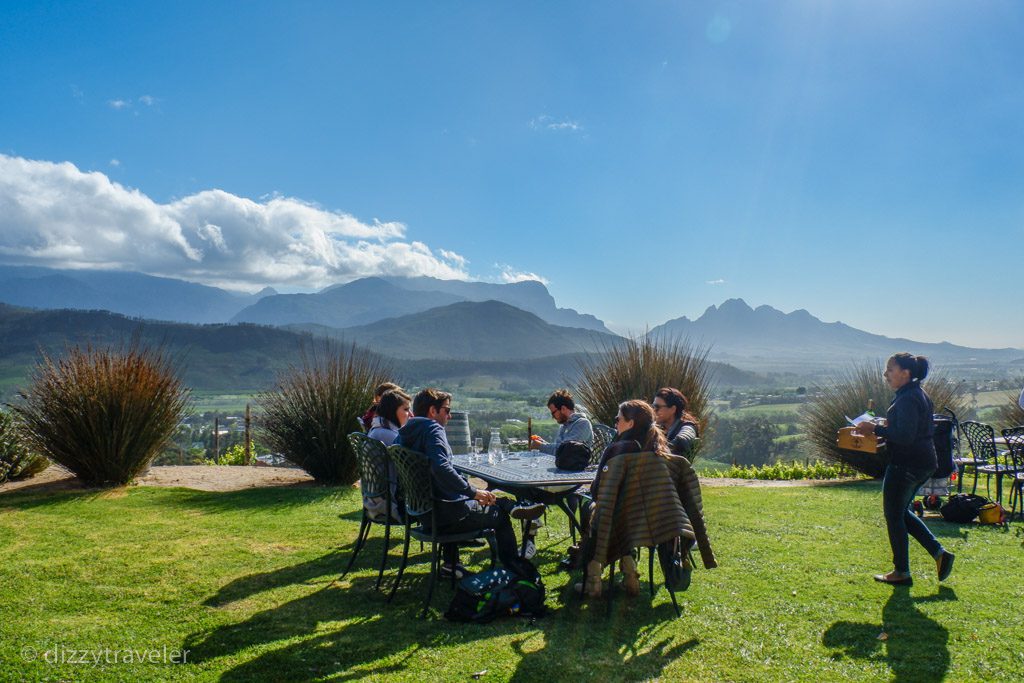 Day 3: Thursday October 12, 2017
Scenic Cape Peninsula Drive. This will take a day to cover the drive around the peninsula. The following is a circular route of about 87 miles ( 140 km) in total. We will be driving an anti-clockwise scenic drive around the peninsula, exploring the below attractions. Note – The trip could be made in reverse order as well. From Cape Town Icon Luxury Apartments –> Llandudno –> Hout Bay –> Chapmans Peak Drive –> Noordhoek –> Scarborough –> Slangkop Lighthouse –> Cape Point –> Boulders Beach –> Simons Town –> Kalk Bay –>
Visit Llandudno Beach
Llandudno Beach is one of those beautiful beaches that seem to have it all. Unfortunately, parking is limited near the beach, so plan accordingly. The white crescent-shaped beach lies at the base of the steep slopes of the Twelve Apostles and is flanked by massive granite boulders. It is one of the most popular chilling and romantic sundown picnic spots in Cape Town. Llandudno Beach is also the haunt of photographers, surfers, surf skiers, and an active, lifesaving crowd.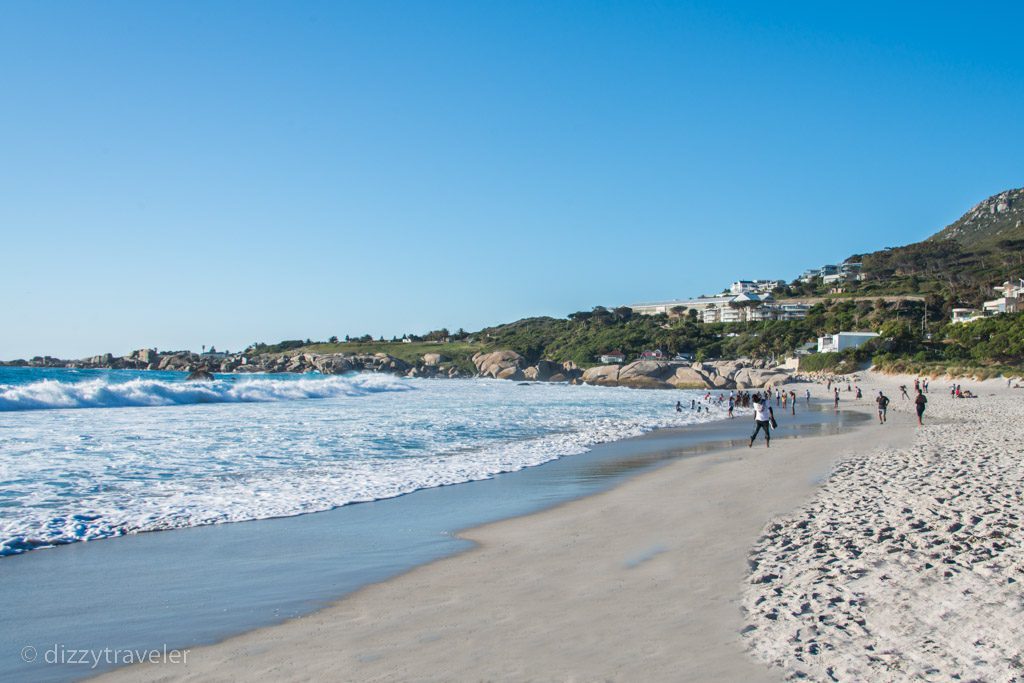 Have Fish & Chips at Hout Bay
Hout Bay is a fantastic seaside fishing village, only twenty kilometers south of Cape Town city center, that offers something for everyone. If you want the freshest fish and chips around, you are in the right place. Mariner's Wharf is right at the edge of the most active fishing Harbour. This restaurant has been around since 1984. Here not only can you buy great food, but you can also find marine artifacts, souvenirs, and antiques.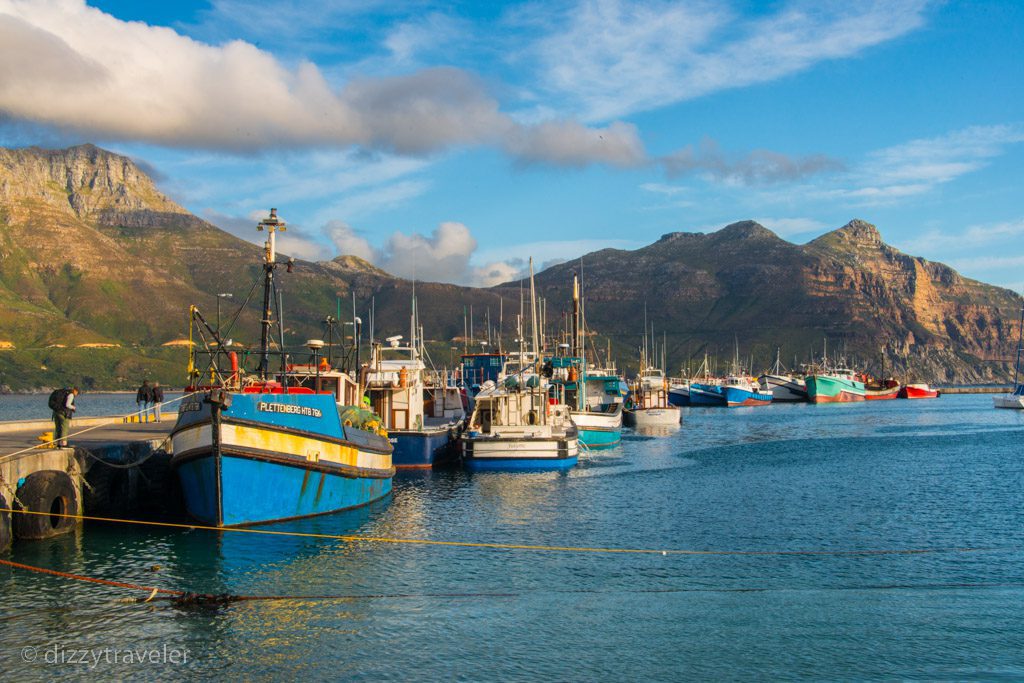 Scenic Chapman's Peak Drive
Definitely, one of South Africa's most scenic drives, Chapman's Peak Drive is one of those road trips you must take when visiting the western Cape. The Atlantic Ocean is on the one side, with the picturesque mountains on the other. Chapman's Peak Drive is a scenic toll road in Cape Town and one of the top destinations in the city. The trip is nine kilometers, zig-zagging through various twists and turns, each opening up an ocean of panoramic beauty. There are several lookout points on the way where one could pull over just to absorb the wonder or take photographs.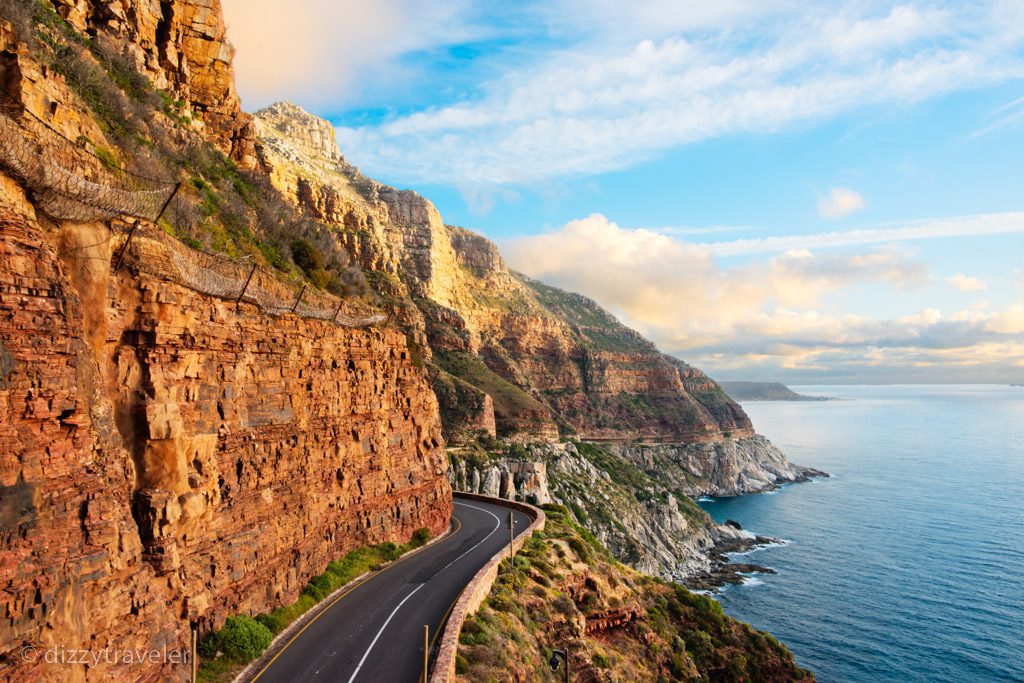 Visit Noordhoek Beach
Noordhoek beach is an absolute beauty with its white sands and surrounding wetlands. It is situated in a quiet and peaceful location. This beach is over 5 miles (8 km) long, most unspoiled, and best protected. Horse riding in Noordhoek is a must-do among many tourists.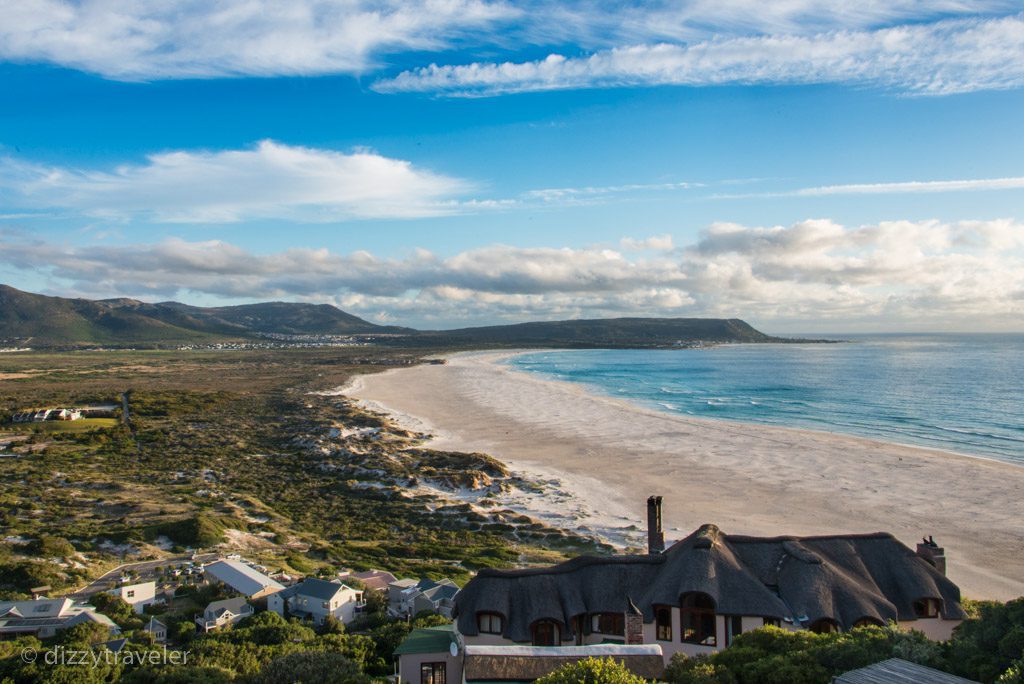 Slangkop Lighthouse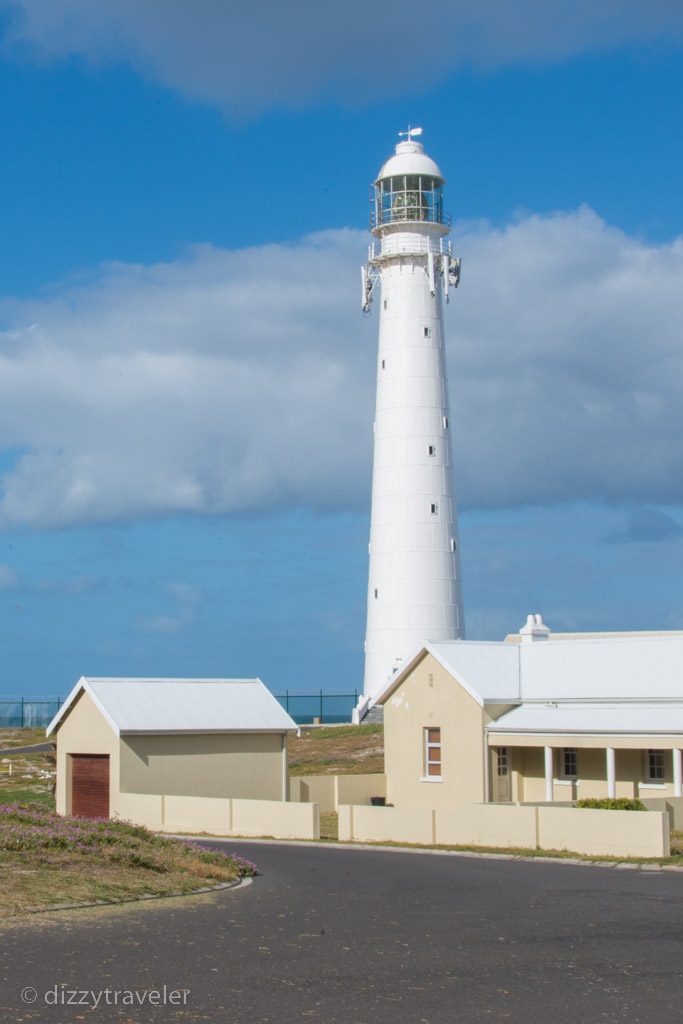 Slangkop Point lighthouse, Kommetjie – 30km south of Cape Town
Slangkop Point lighthouse near Kommetjie in Cape Town is the tallest cast-iron lighthouse along South African shores. It is approx. 30km south of Cape Town on Chapman's Peak road past Hout Bay. When visiting Kommetjie for the Slangkop Lighthouse tour, take time out to visit Imhoff Farm for a variety of family activities, including horseback rides on the incredible Noordhoek beach. This provides an alternative opportunity to experience this vast stretch of surf and sand. A guided tour is available that includes a climb up the spiral staircase inside the lighthouse that will take you to the wire mesh lookout at the top. It stands 100 ft (30 m) from its base to the lookout.
Important Safety Tips to Tourists and Hikers
If you are hiking the popular route from Noordhoek to Kommetjie through the long beach, then you need to be aware of the risk of robbery, especially along the remote stretches of the beach. Tourists and hikers to the beach are advised by local authorities to walk in groups of 4 or more adults and not to carry valuables. Call +27 (0) 21 783 1717 to get the latest entry fee and update on opening hours.
Cape of Good Hope and Cape Point
On the way to Cape Point, we passed through the beautiful Scarborough town situated on the Cape Peninsula to the South of Cape Town. The sights and scenery surrounding Scarborough beach are something to be admired. Finally, I reached my destination, the Cape of Good Hope National Reserve. I paid the entry fee and drove through the two lanes along the Atlantic ocean. After a few miles of driving, I reached the southwestern point of the African continent. The Cape of Good Hope is a rocky headland on the Atlantic coast of the Cape Peninsula. It is known as the meeting point for the Atlantic and Indian oceans. The cliffs tower is more than 7,874 feet above sea level, and you can see three clearly defined promontories- Cape of Good Hope, Cape Maclear, and Cape Point.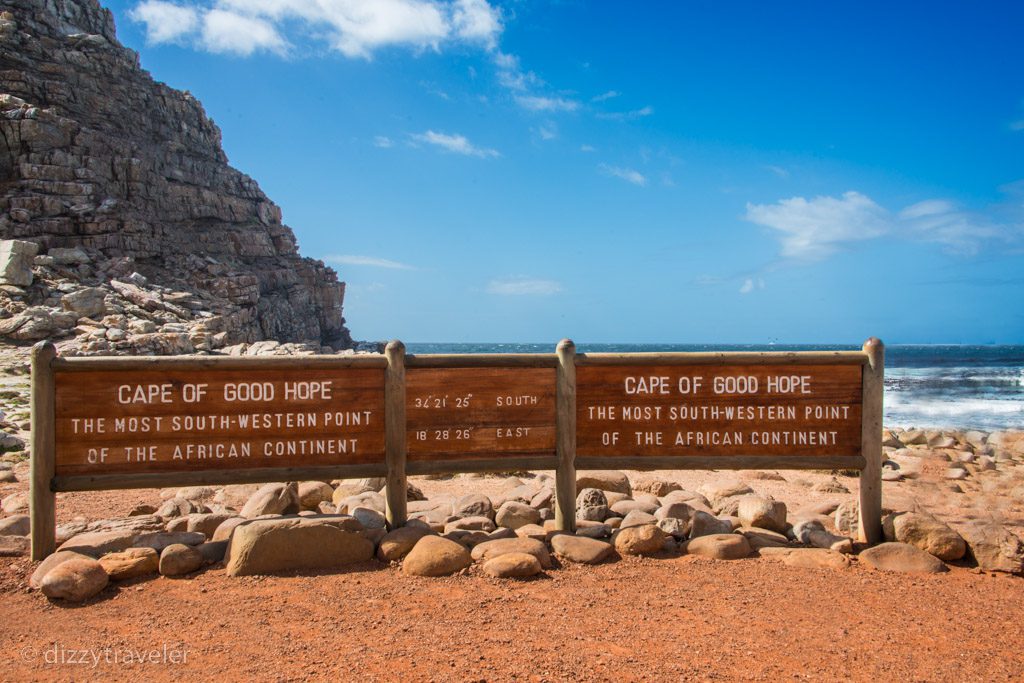 Next Stop Cape Point which is still part of the Cape of Good Hope and offers the same scenic magnificence that one would experience at the Table Mountain National Park. There are attractions like angling and diving sites, tidal pools, a shop, a restaurant, Flying Dutchman Funicular, and two lighthouses. The entrance fee to Cape Point is R135 (Adult), R30 (Child), and the Flying Dutchman Funicular ticket is R65 for return (Adult) and R25 for return (child).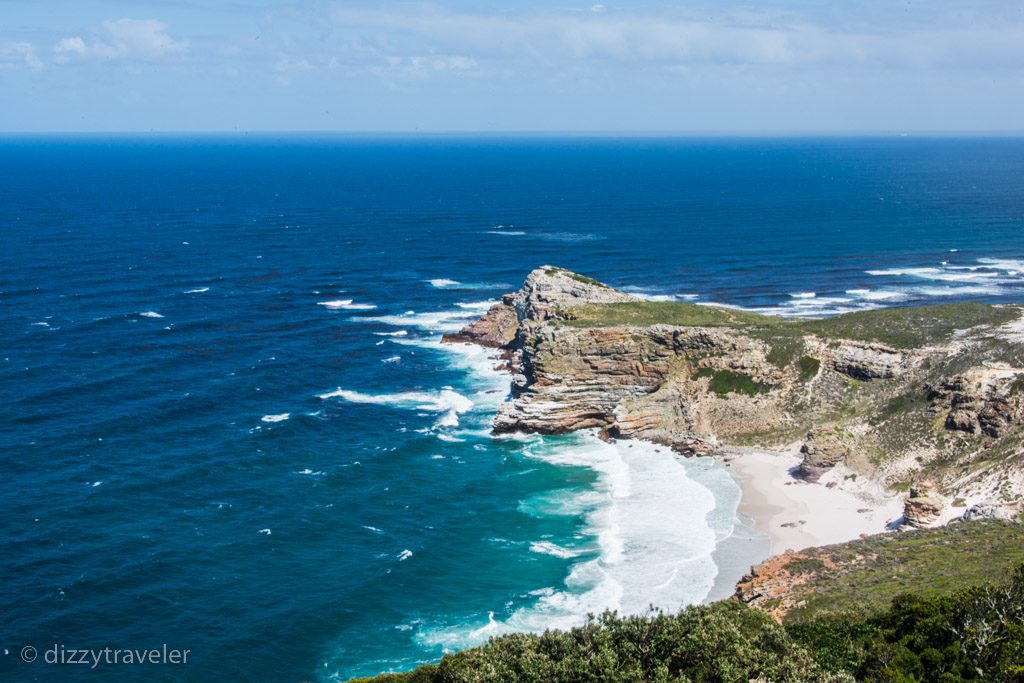 Boulders Beach (for penguin walk)
Nestled in a sheltered cove between Simon's Town and Cape Point, Boulders has become world famous for its thriving colony of African Penguins and magnificent wind-sheltered, safe beaches. There is a 70 Rand entrance fee to the beach.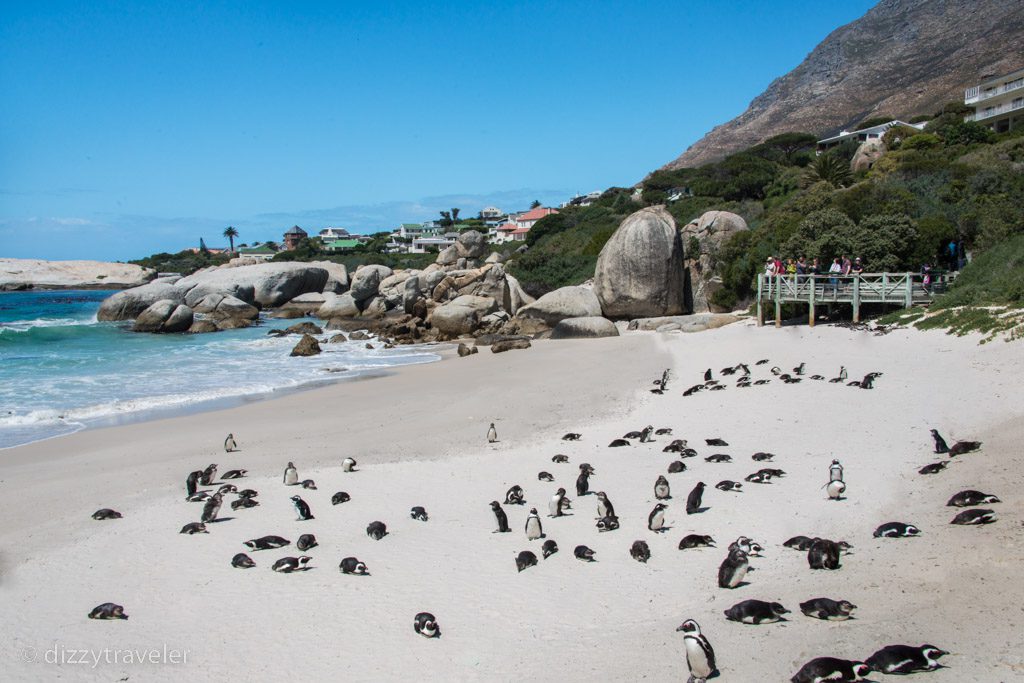 Visiting Kalk Bay
From Bolder's beach, I drove through beautiful Simon's Town, home of South Africa's naval base. The charming little coastal town is beautifully decorated with Victorian-style houses. Drive through the seaside village and plan to make a short stop before heading to Boulder Beach. This town is home to a large colony of endangered African Penguins. Our next stop is the charming fishing village of Kalk Bay which is one of the last surviving functioning ports in South Africa. This place is known for its stunning views, interesting shops, and a vast selection of restaurants. Distance from Cape Town to Kalk Bay is 20 miles (31 km), about 35 minutes drive. Kalk Bay is known for its natural beauty, exciting shops, and a huge selection of restaurants.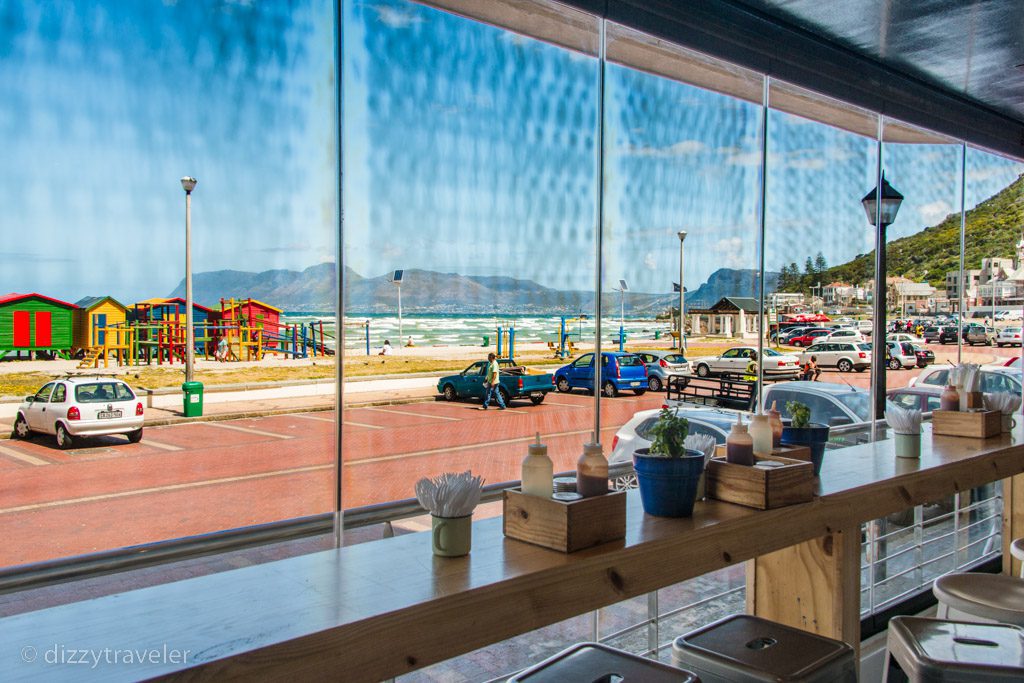 Muizenberg Beach
From Cape Town need to drive down the picturesque M3 and then M4, passing Constantia and Tokai, the wine-producing suburb of Cape Town, to the nicest Muizenberg beach. The beach is full of brightly colored beach cabins lined up along the beach.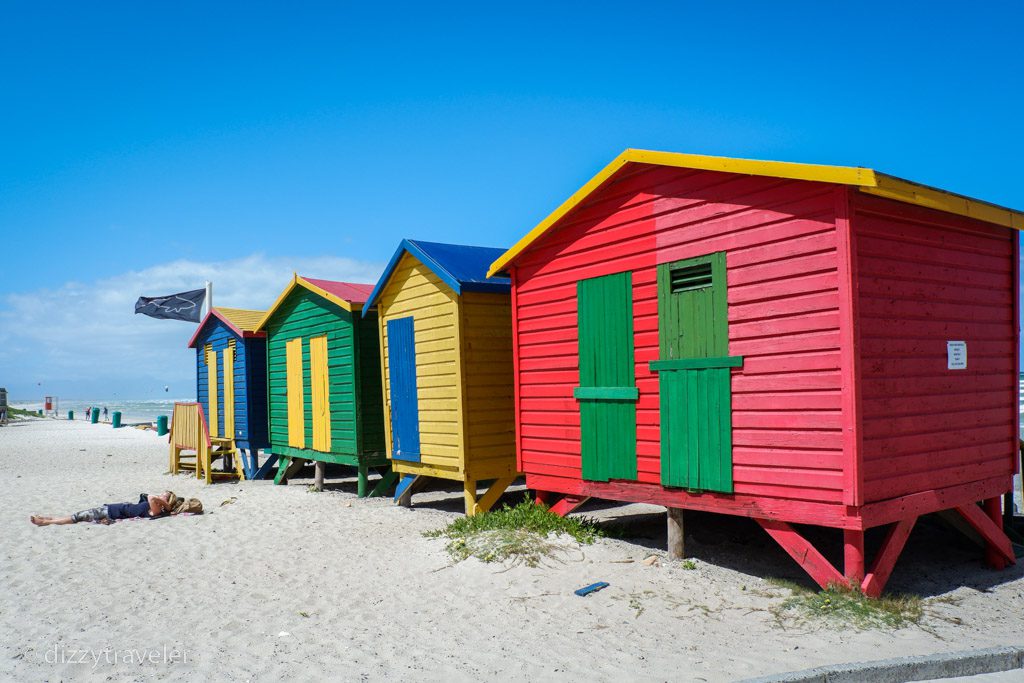 Day 4: Friday October 13, 2017
Check-out from Icon Luxury Apartment very early in the morning. Return the rental car to Budget at Cape Town Airport (CPT). FlySafair flight FA100 departs at 5:45 am.
How To Get Around
In Capetown, we planned to use the hop-on hop-off bus for a day or two as it is one of the cheapest ways to move around from place to place in the city. Also, renting a car from the airport to cover the scenic peninsula drive and a trip to Franschhoek valley. There is other continent ways to get around the city like:
Rental Car
Renting a car from the airport is the easiest way to drive around Cape Town as long as you have a working GPS and comfortable driving on the left side of the road. By renting a car, you can ensure that you get to see all of the major attractions at your leisure. It also means that you can afford to be more relaxed about your holiday planning. You can save up to 30% on Car Rentals Worldwide – Search Now at espanalibido.com.
City Sightseeing double decker bus
Hop-On Hop-Off bus is a great way to explore Cape Town at your own pace. Tickets are available for 24 or 48 hours, and during the service hours, you could get off at any designated stops and explore the surrounding areas. Once done, get on to the next available bus. It's a safe and affordable option for tourists with limited travel windows. Click here to Book tours, attractions, and activities online.
Uber
Uber is probably one of the safest and easiest ways to get around in Cape Town. There is no need to pay cash as the ride is shared with your credit card, and fares are affordable.
Minibus taxi
Minibus taxis are available on the dedicated routes, and it's another inexpensive way of moving around the city. It is ideal for locals but difficult for travelers visiting the city for the first time. Also, you need to deal with cash with the driver, and the fare is based on the distance traveled. While on the street, you simply flag down a minibus taxi, and when you need to get off, just tell the driver to stop.
On foot
Whether you have a rental car in Cape Town or get around in a taxi or by Uber, it is absolutely fun to walk around the city, especially in the city center and the riverfront. Free walking tours are also available, covering many landmarks of Cape Town. The Historical Tour, The Bo-Kaap, and District Six Tour are definitely easily walkable.
By bicycle
There are places where you can rent reliable bikes, and it's also one of the easy ways to move around in the City. A bike tour led by experienced local guides is safer than going solo, and these guided tours are one of the popular events in Cape Town.
Meter taxi
There are reputed taxi companies in Cape Town like Unicab, Excite, Cabco, etc., these companies use the taxi meter, and fares are displayed. Taxis service should be pre-arranged, or they could be found in designated taxi stands. Actually, they are not supposed to stop customers on the streets.
MyCiTi bus
MyCiTi bus is Cape Town's public transportation system. It is a safer and cheaper way to get around the city. You need to have my connect card to travel because MyCiTi does not accept cash on the buses. You can buy the card from MyCiTi stations or from selected retailers and top up when necessary.
Best Time to Visit Cape Town
Summer – December to February
The weather is warm but not overwhelming, with an average daytime temperature ranging from the mid to high 70s. However, during summer, City beaches get crowded, and hotel rates increase hard-to-find bargains.
Autumn – March to May
Autumn in Cape Town is the perfect time for wine lovers. Many of the wineries offer interesting activities. However, the daytime temperature remains on the cooler side between the high 60s to mid-70s; as a result, hotels begin to offer discounts to attract tourists.
Winter – June to August
Cape Town is relatively quiet and experiences fewer tourists in winter. Therefore, you can save big on accommodation as long as the cold wind does not bother you much. Daytime winter temperature is usually in the low 60s.
Spring – September to November
Spring is the best time to visit Cape Town when the city and surrounding mountains become colorful. Expect a slight rise in hotel rates, but they still remain reasonably low. Daytime temperatures remain comfortable between the mid-60s to mid-70s.
Where to stay in Cape Town
Harbour Bridge Luxury Apartments, Anchorway, Roggebaai Canal Cape Town. Road Lodge Cape Town International Airport, at Cape Town International Airport Cape Town Icon Luxury Apartments, Corner Hans Strijdom and Lower Long Street, Cape Town City Center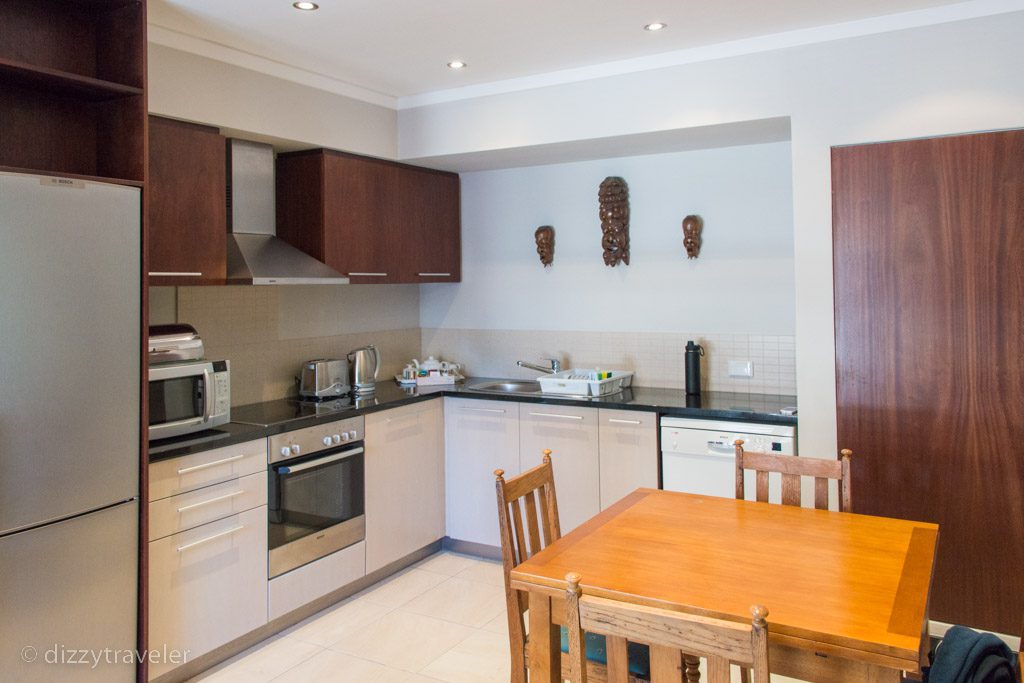 Favorite Local Restaurants and Food
Cape Town is well known for its vibrant culinary scene. Whether you spice up your chicken thighs in a South African curry, like sitting in a sushi joint or feel like a tapas bar, the choices are endless. Cape Town has been at a crossroads of cultures for centuries; as a result, many local recipes reflect global influence.
Den Anker Belgian Restaurant & Bar, V&A Waterfront, Cape Town
This restaurant is located next to the waterfront, with a great outdoor seating arrangement. Although the food is delicious, so is the service.

Tigers Milk Kitchen & Bar, Cape Town
I had lunch here, next to my hotel in the city center. Great location and excellent food.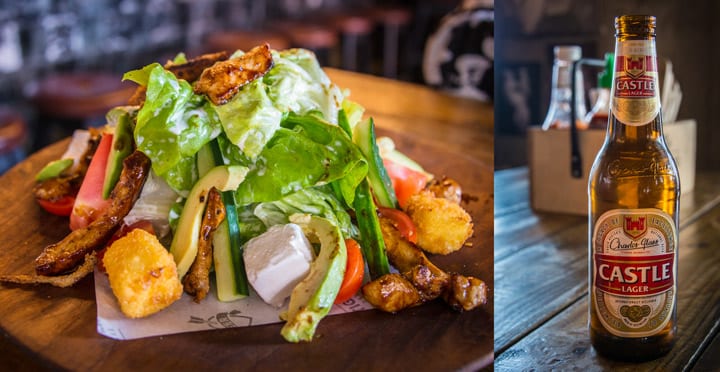 The Test Kitchen, Cape Town
Luke Dale-Roberts' The Test Kitchen, which opened in November 2010, has the celebrated chef cooking at his most creative in a distinctive contemporary space. Since coming to Cape Town in 2006, Luke has consistently proven his world-class standing with a string of awards and accolades. So you definitely need to make a reservation a few weeks ahead.
Gold Restaurant, Cape Town
It is definitely a unique African restaurant in the heart of Cape Town. Famous for its Cape Malay and African dishes. GOLD Restaurant offers three unique performances during the dinner.
My Opinion and Tips
Local Airlines :
Few budget airlines operate out of Cape Town to domestic and International destinations. However, I found great deals without a dent in my wallet, check hear for great deals on FlySafair and Mango Airlines.
Buying SIM Card
It is simple to buy one at the airport. There are a couple of phone shops there, you only need to show your passport, but you could buy one cheaper at a supermarket or other retail shop elsewhere. The equivalent of 10 pounds sterling for 100 minutes and 250 mb data. Had to show passports and the address where we were staying, but not proof. I used most of the data as I was using Google maps for navigation.
Currency and ATM:
1 US$ = 13.15 ZAR, South African Rand. ATM is available at the airport.
Have you been to Cape Town? Any additional tips to share?
Please leave a comment below! I'd love to hear from you to improve my knowledge.
Was this travel guide helpful for you?
If you'd like to help me continue making free guides, here is one way you can help:
Share This Guide – If you have a friend that would benefit from this guide, share it with them. Or post this guide on Facebook, Twitter or Google+

Most of my post in

Dizzy Traveler Around The World

contains affiliate links. If you make a purchase through these links, I will earn a commission at

no extra cost to you. These commissions will help reduce the costs of keeping this site active. Appreciate for reading by post !
Your help would definitely help me making more free guides like this. Thank you in advance!

Book your Sightseeing Trip
There are a lot of beautiful places to visit and some exciting sightseeing activities to bring unforgettable memories back home. Please click below affiliate link to see more options.