---
Victoria Falls is a UNESCO World Heritage Site located on the border of Zimbabwe and Zambia, converting the quiet Zambezi River into what is perhaps the most magnificent waterfall in the world.
The closest town is also called Victoria Falls in Zimbabwe side only less than 2 miles or 5 minutes driving distance from the town center. So no matter where you are staying it's not going to be challenging to visit the falls and the border crossing is very easy for day trippers.
The views of the waterfalls is great on the Zimbabwe side since you could see the front of the falls from a distance without getting soaked.
Plan Your Trip
How To Get There
By Air:
There are daily flights from cities like Harare (HRE), Zimbabwe or Johannesburg (JNB), South Africa to Victoria Falls Airport (VFA), Zimbabwe.
How To Get Around
A small town with loads of charms, Victoria Falls is not at all challenging to get around, and you can experience all that is offered under budget.
Private Taxi: You can pre arrange airport pickup with your hotel. Vistoria Falls Airport is about 22 km from the town so good idea to have someone waiting for you with your name and it's not expensive.
Bicycle Rental: You can rent a bicycle on your own from the town and explore what it has to offer at your own leisure. During the day it gets too hot so, the best time for cycling is very early in the morning of in the late afternoon.
Where To Stay in Victoria Falls, Zimbabwe
Cresta Sprayview Hotel, Reynard Rd, Victoria Falls, Zimbabwe
This hotel is located in the heart of the town, a great place to stay, only 2 km from the falls. It got an outdoor pool and great restaurant. Rooms are equipped with modern furniture, very clean bathroom and comfortable bed.
Best Time To Visit
If you want to enjoy the world's massive falling water to it's highest volume then February to May, right after the region's summer rains would be an ideal time to visit.
I was visiting in October knowing that the falls is less attractive, but I had no other choice. October through November at the end of the dry winter period – the water level is lowest, and the weather is hot and humid. But the advantage is that low water levels ensure that you will have unobstructed charming views without mist on both sides of the Falls, but the Zambian side dries up, and like me, you may end up seeing the bare rock face. On the other hand water flow on the Zimbabwean side is permanent but recedes in volume with the seasons.
Perhaps the most popular and optimal time to visit Victoria Falls (from the standpoint of good views and best weather) would be around the July through September time frame. The falls is said to be gradually in transition from a flooded state to a low flow state so you might have fewer problems with mist while still having an acceptable volume of water so as to not feel underwhelmed.
In October – November:
October average temperature in Livingstone is hot about 79 ºF (26 °C).
Afternoons can be very hot with average high temperatures reaching above 93º F (34°C ).
Overnight temperatures are generally somewhat warm with an average low of 65ºf (18 °C).
In February – May
February average temperature in Livingstone is fairly hot about 74 ºF (23 °C).
Afternoons can be very hot with average high temperatures reaching above 85º F (23°C ).
Overnight temperatures are generally somewhat warm with an average low of 65ºf (189°C).
Useful Information
Zimbabwe Visa:
If you are traveling to Zimbabwe for tourism, business, or transit, you may obtain a visa at the airports or other border ports-of-entry. There is currently no option of getting a Zimbabwean tourist visa in advance through the Zimbabwean Embassy in Washington.
During my travel a single entry on arrival visa (for US citizens) was US$ 30.00, double entry US$ 45.00 and multiple entry US$ 55.00. Click here for visa requirements of any specific country
Top Things To Do In Victoria Falls
Game Drive in Zambezi National Park, Victoria Falls
Early morning game drive is a good way to start the day to escape the the mid day heat, also a great opportunity to see the Big 5 in Victoria Falls. Victoria Falls Game Drive in the Zambezi National Park in Zimbabwe will cost you about US$ 70.00 and up and the tour starts at 06:00 am and again in the afternoon at 3:00 pm.
Enjoy Lunch – Have Something Local
There are plenty of nice restaurants in the town of Victoria Falls, Zimbabwe and you definitely need to try few. I could not miss my lunch despite our full day activities. It was remarkable to have local fish from Zambezi River along with a local Zambezi beer.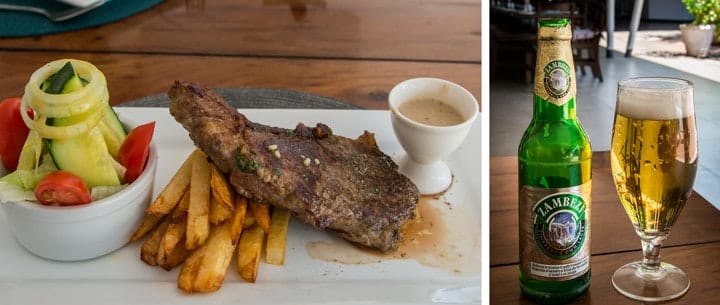 Visit Victoria Falls from from Zimbabwe side
In Zimbabwe side the trails opposite a vast stretch of the waterfall that extends for more than one kilometer with a variety of 16 viewpoints. The opportunity to enjoy the spectacular view of the falls varies based on the season you are visiting. During peak flow, you can see few of the several sections of falls on this side like The Devil's Cataract, Main Falls, Rainbow Falls and Horseshoe Falls.
Take Helicopter Flight over the Victoria Falls
Helicopter flight over the falls is one of the most popular activities in Victoria Falls. There is nothing better than a birds eye view of the falls from both the Zimbabwe and Zambian sides.
Take The Sunset Cruise in Zambezi River
Viewing sunset from a boat in Zambezi river is absolutely the best thing to do in Victoria Falls.
The 3 hours sunset cruise could be once in a lifetime experience, nothing can be more enjoyable than sitting by the edge of the boat with uninterrupted view of the river, the sunset and the wildlife viewing such as hippos, crocodiles – and if your lucky like us then elephants crossing the river at the end of the day and of coarse the giraffes in the distance.
During the sunset cruise you will be served unlimited drinks (alcoholic and non alcoholic) and variety of delicious food to make it more enjoyable. This was one of my favorite experience in Victoria Falls.
Day Trip to Chobe National Park in Botswana
Safari in Chobe National Park is do able as a day trip from Victoria Falls but if time permits then I would definitely recommend a multi day or overnight trip to maximize the chances of seeing all the animals. That will also enabled you to enjoy the Chobe River sunset cruise.
It was a great experience to view wildlife from the river and later an exciting game drive through the park.
Try Bungee Jump from Victoria Falls Bridge
The coolest experience is bungee jumping from the Victoria Falls bridge. This is a thrilling adventure of a lifetime right at the border of Zimbabwe and Zambia.
Experience the Microlight Flights
The 30 minute flight over the mighty Victoria Falls, the Beautiful Zambezi river, the Most-Oa-Tunya National Park, and the Batoka Gorge is the best activity for photography. You will be amazed by the breathtaking views of the nature from the sky.
Dinner at Three Monkeys, Victoria Falls, Zimbabwe
Three Monkeys features a full service cocktail bar, and a wood-fired and flame-grilled menu. The Chef was trained in Cape Town at the Zevenwacht Chefs College and Wine Estate, and he holds an advanced diploma in Culinary Arts. The food there got quality taste and the best of local cuisine. I tried something exotic grilled meat of Kudu, Impala and buffalo but definitely feel bad thinking about it.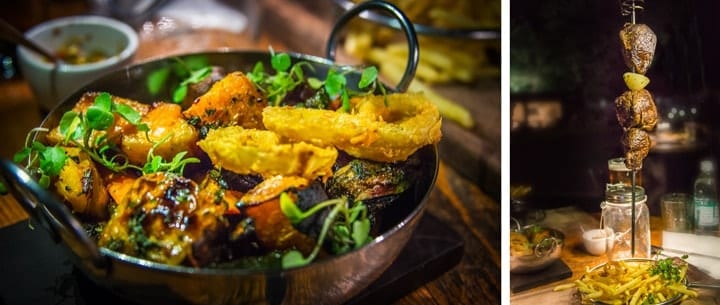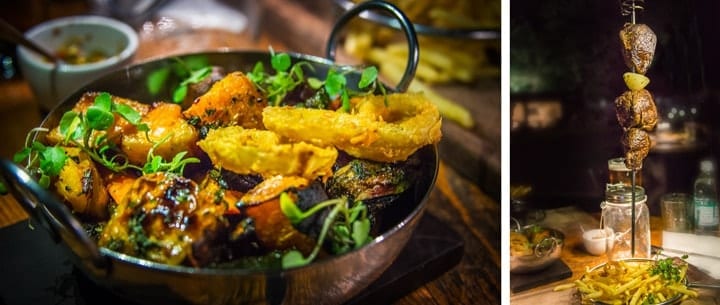 Traditional Food and Drinks
Have you been to Victoria Falls, Zimbabwe? Any additional tips to share?
Please leave a comment below! I'd love to hear from you to improve my knowledge.
Was this travel guide helpful for you?
If you'd like to help me continue making free guides, here is one way you can help:
Share This Guide – If you have a friend that would benefit from this guide, share it with them. Or post this guide on Facebook, Twitter or Google+
Your Support would definitely help me making more free guides like this. Thank you in advance!
Affiliate Link – This post in Dizzy Traveler contains affiliate links, which means I receive a referral commission if you purchase after clicking at no additional cost to you. These funds go to maintain the site. Thank you for your support.
Here are few pictures that will tell the trip stories of Dizzy Traveler.
Please Click Here For Slideshow:

Did you find this post helpful? Pin it to your favourite travel Pinterest boards: