Moscow is one of the biggest cities in Europe that should be on the top of your must-see list. Not because it's big but for a once in a lifetime experience, the historic world-class architecture, culture, and ancient historical places such as Red Square, Kremlin, St. Basil's Cathedral is among the many things to see in the capital city of Russia.
Over the years as a world traveler, I had the opportunity to visit Moscow more than half a dozen times and finally taking the liberty to share my experience through this post.
Top Things To Do In Moscow
Visit Red Square
Red Square, a UNESCO World Heritage Site, is the main square and the heart of Russia. A trip to Moscow is incomplete without visiting this most famous landmark in Russia. This huge open space is a meeting place for locals and tourists alike, surrounded by most of the historical sites Moscow has to offer.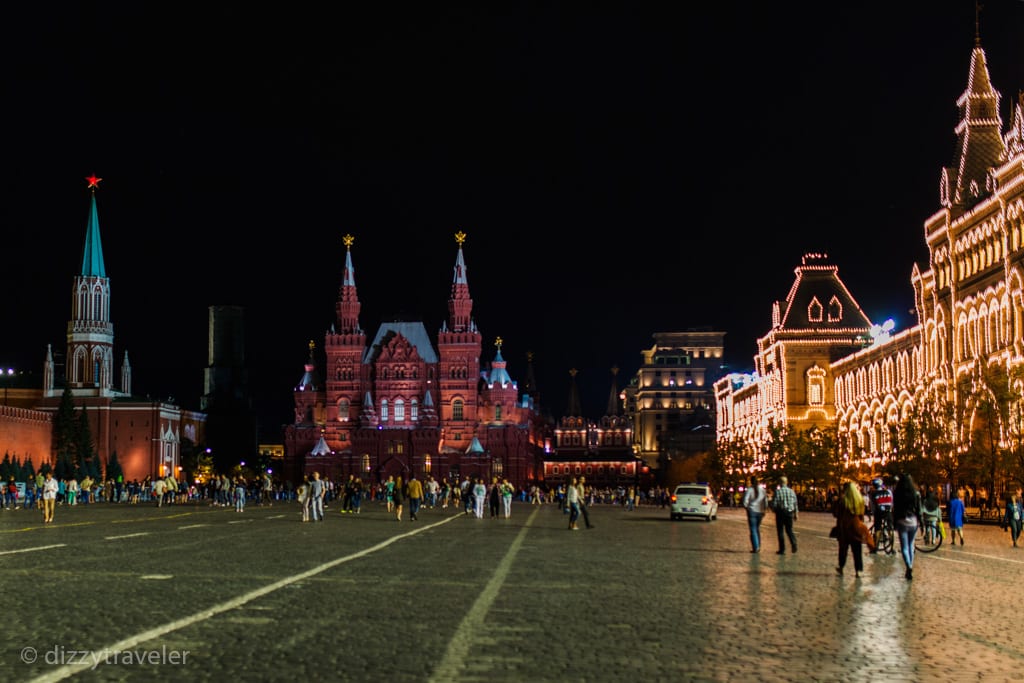 Beautiful Saint Basil's Cathedral
St. Basil's Cathedral is one of the iconic churches in Moscow located at the center of Red Square by the Moskva River. The 16th-century cathedral is well known for its beautiful architecture, nine chapels, colorful onion domes, and tenacious legend that the chief architect was blinded by Ivan the Terrible so that he can no longer design anything as beautiful as St. Basil's.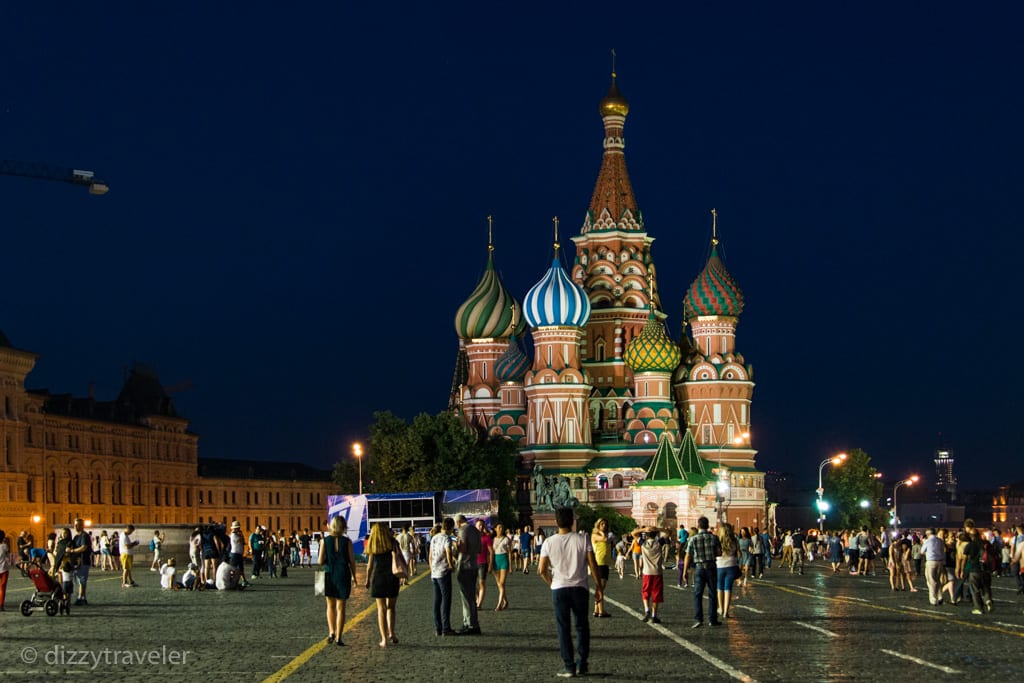 Check-out Kazan Cathedral
Kazan Cathedral is located in Red Square next to the resurrection gate, one of the most famous Russian Orthodox churches in Russia. It is a beautiful pink-and-white gold-domed structure church that was initially built in 1636, but again it was reconstructed and re-opened in 1993 after Stalin destroyed it during the Soviet era.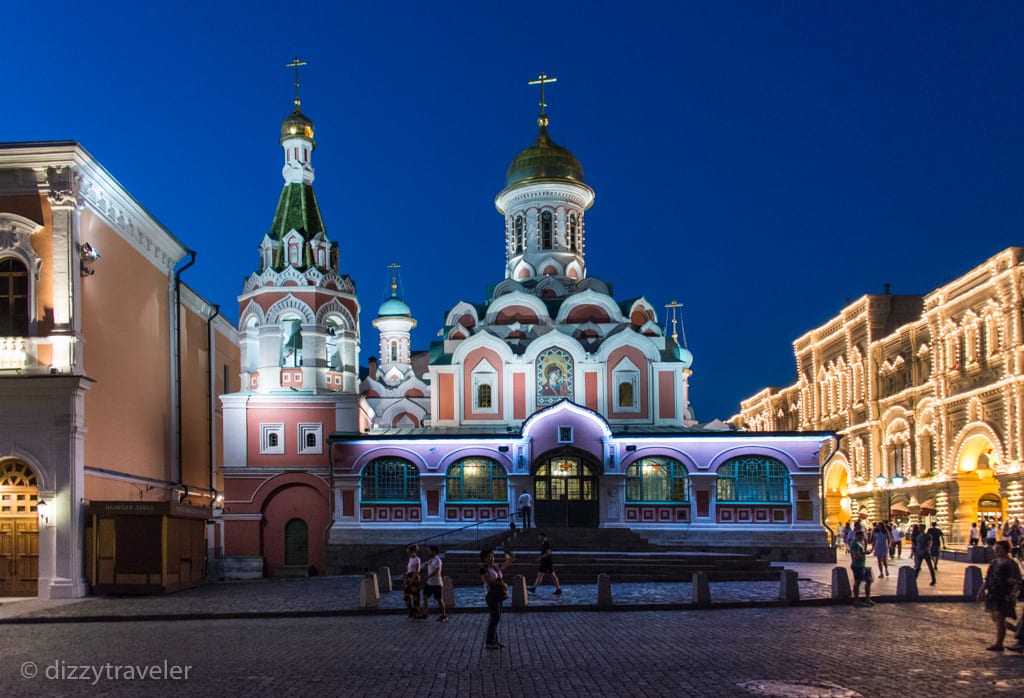 Visit Lenin's Mausoleum
While in Red Square, Lenin's Mausoleum is another attraction you could consider visiting where Vladimir Lenin's body is preserved for almost a century. Visitors are allowed on Tuesday through Thursday and Saturday only from 10 am to 1 pm, and it's free of charge.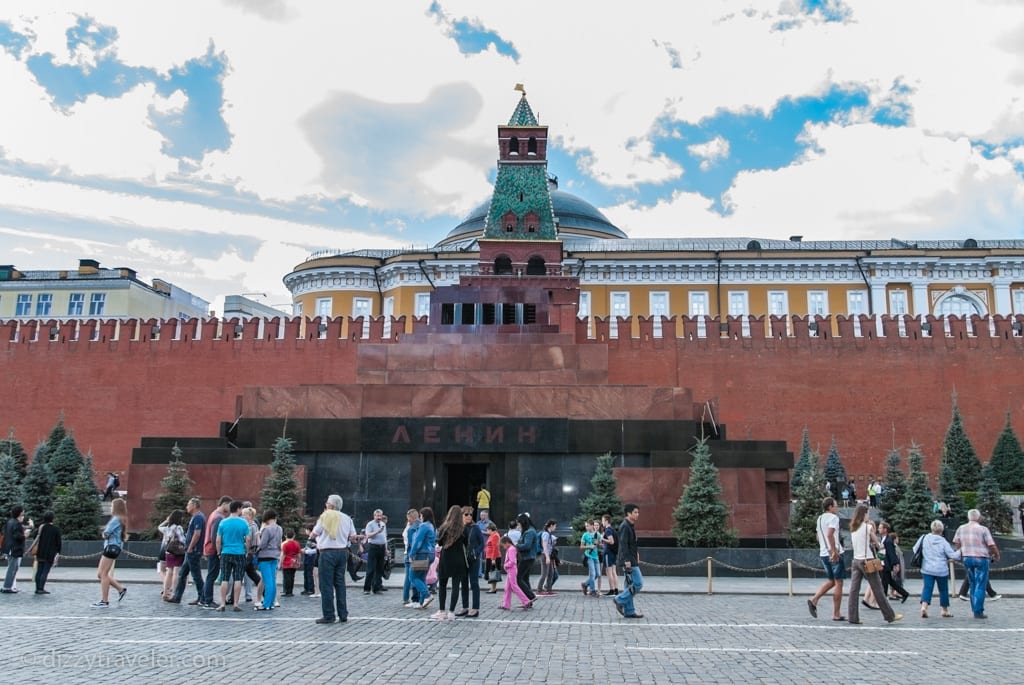 Lunch At GUM Department Store
GUM is one of the leading department stores in Russia, and while in Red Square, it worth paying a visit. Once state-owned during the Soviet era now is privately owned with several hundred stores, the majority of them selling high-end products.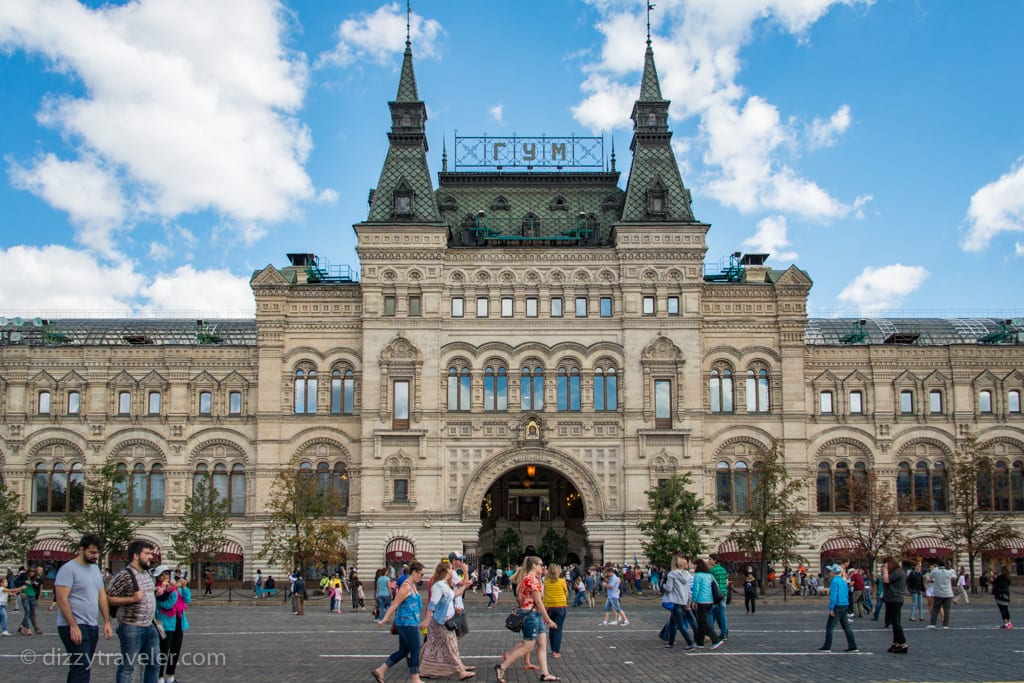 There are guided tours available in Moscow, they usually combine sightseeing, lunch and a few sightseeing stops on the way. Get Your Guide is the one I recommend.
Walk to Cathedral Of Christ The Saviour
The Cathedral of Christ The Saviour is famous and the largest Orthodox church in the World. A walkable distance from the Red Square a few hundred meters on the northern bank of Moskva River.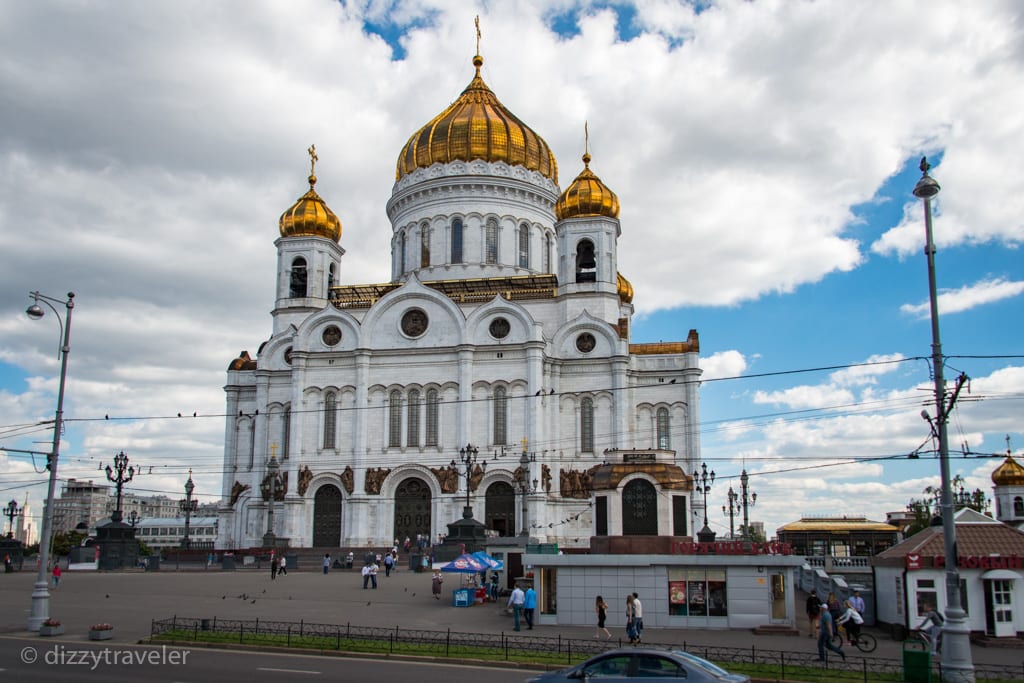 Kremlin From Other Side of Moskva River
Originally the Kremlin one of Moscow's UNESCO World Heritage Site was first constructed in the 13th-century later; the 700 room huge Kremlin we see today was built as home to Russian Tsars, fortified by thick red-brick walls as tall as 26 to 60 feet. Later as the official residence of President of the Russian Federation.
The numerous important churches of the Moscow Kremlin are situated on the Cathedral Square; they are the Dormition Cathedral, Church of the Annunciation, the bell tower of Ivan Veliki, and Church of the Archangel.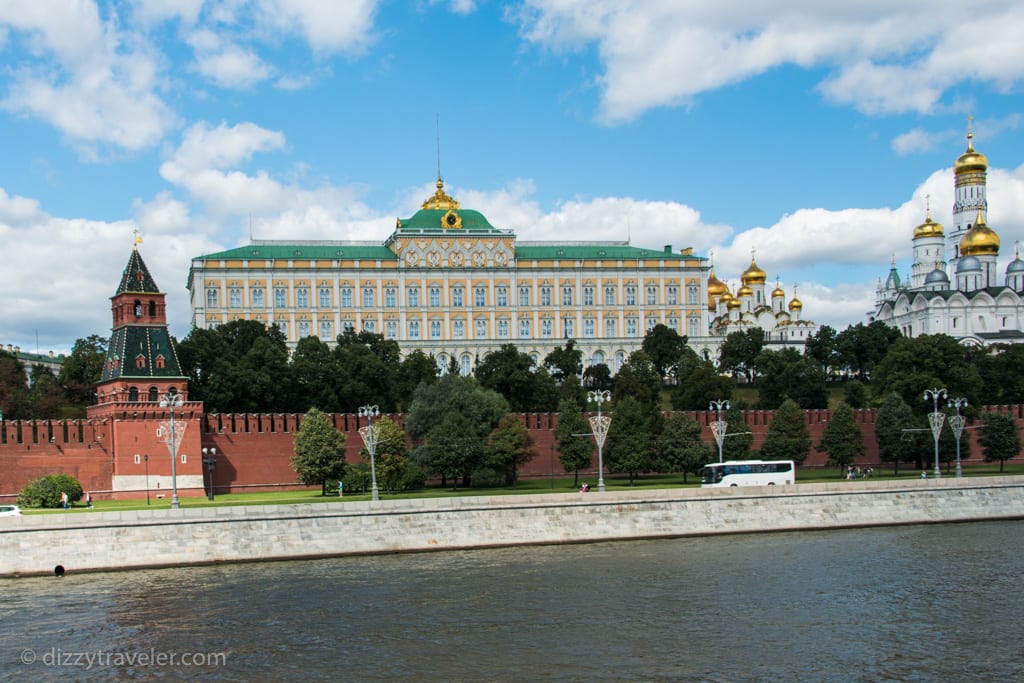 Visit Armoury Chamber
Kremlin Armoury is a fantastic treasure house museum that displays unique collections located inside the Kremlin wall. But long ago, this place was used as a royal workshop for gunsmiths and icon painters. If you are interested in royal artifacts, belongings of Russian tsars, valuable gifts, carriages, ancient weapons, etc. then visiting Armoury is a great place to visit.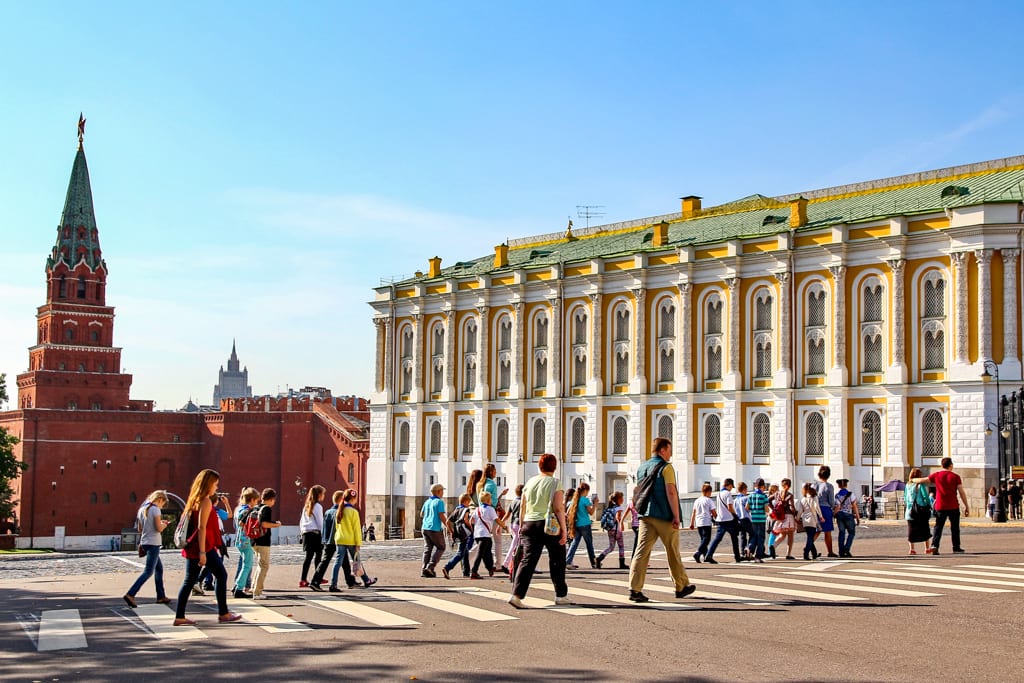 Take Guided Cathedral Square Tour
Throughout history, the Kremlin remains the symbol of both Russia and Soviet power and influence. Cathedral Square is around the center of Kremlin, where a group of three majestic cathedrals is located. The Cathedrals are perfect illustrations of Russian Church architecture at its rise between the late 15th and early 16th centuries.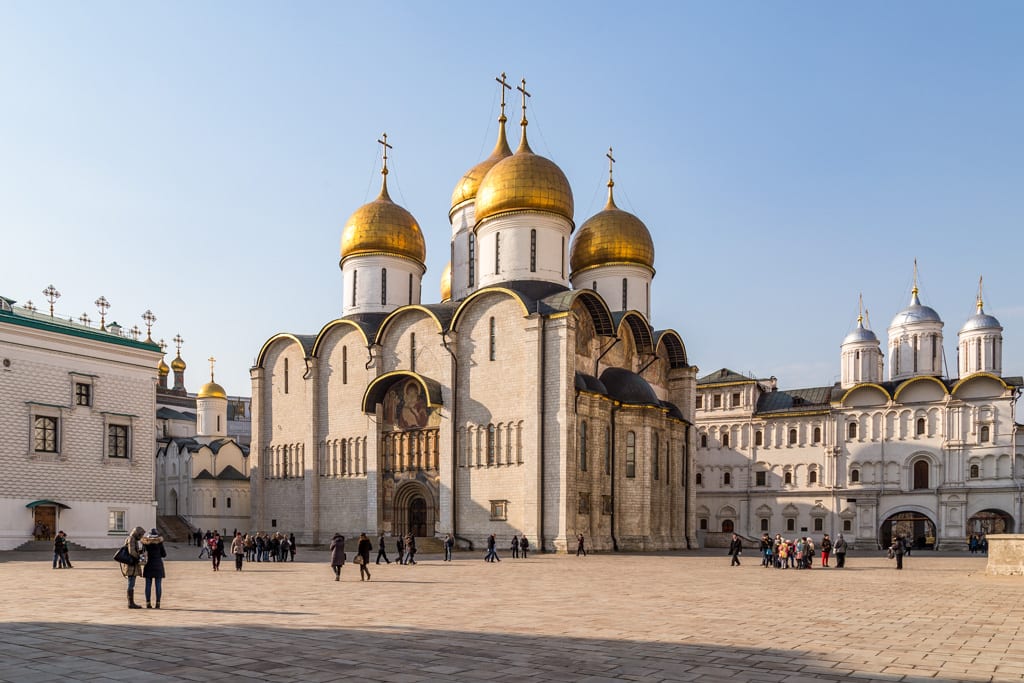 The Great Bell Tower of Ivan The Terrible
The highlight of the Kremlin tour is to climb the 265 feet (81 m) tall historic bell tower and see the fantastic birdseye scene from the top. The tower is the tallest building in the Kremlin once; it was forbidden to build anything taller than this structure. You will find the most photographed huge Tsar Bell at the base of the tower. This is considered as the world's largest bell over 20 feet high and weighing over 440,000 lbs (200,000 kg).
The ground floor of Bell Tower is converted as an exhibition hall, which showcases how the Kremlin has evolved and transformed since the 12th-century.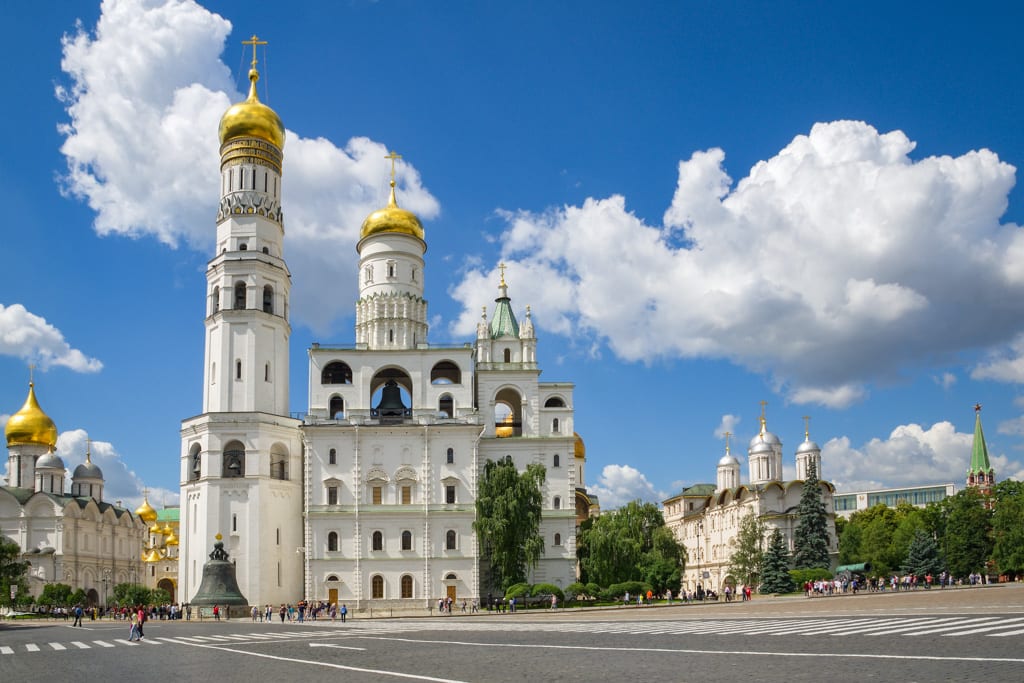 Enjoy Moscow River Cruise
Taking a Moskva river cruise is the best way to see Moscow without spending much time in traffic jams and walking miles after miles. The tour usually lasts 3 or 5 hours, depending on the route and river cruise company. During the cruise, you will be able to witness the beautiful historic architecture of Moscow from a different perspective. The boat will pass by Kotelnicheskaya embankment building, St Basil's Cathedral, The Kremlin, House of Embankment, Christ the Savior Cathedral, Monument to Peter I, Gorky Park, Moscow State University, Luzhniki Stadium, Kiev railway station, Moscow City Hall, Expocentre Moscow and much more.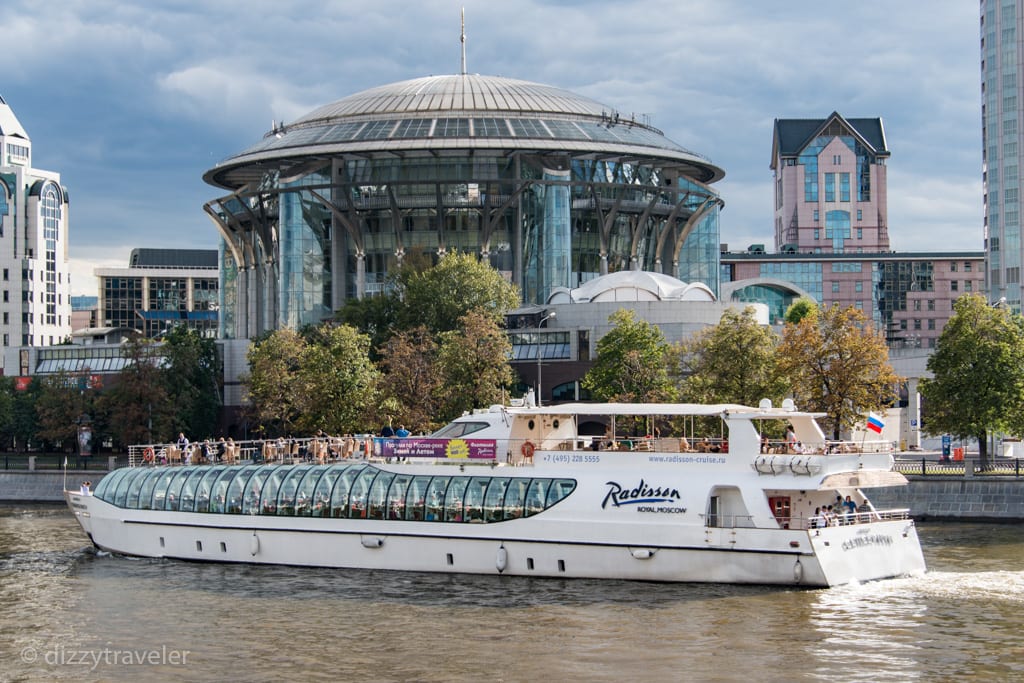 Discover Moscow Metro
Moscow metro does not only get you from place to place faster and cheaper but also will definitely surprise you with its fascinating architecture. Every station looks like a museum, has its uncommon design, a theme, and an engaging story behind it. The best time to visit and take a closer look without the crowds is during midday and again early in the morning or late at night.
I would definitely worth visiting Kievskaya, Mayakovskaya, Kurskaya, Ploshad Revolutsii, Komsomolskaya, Kropotkinskaya, Novoslobodskaya, etc.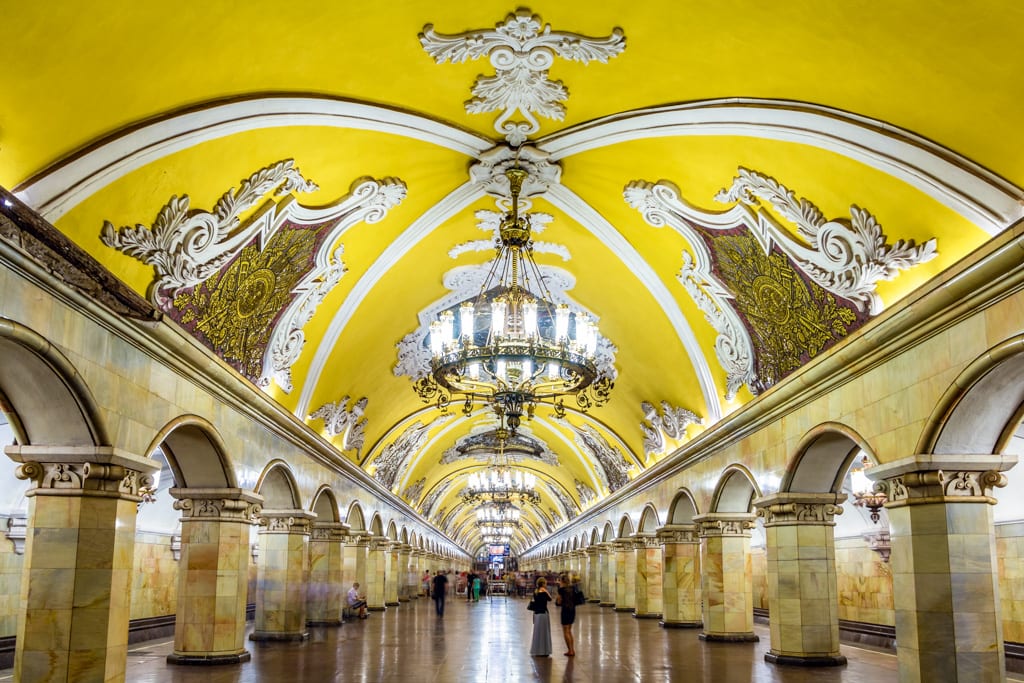 Explore What VDNKh Has To Offer
The All Russian Exhibition Center is also called as VDHKh by the locals in short. It was built during the Soviet Union era. In current days it is a place for an open-air museum, shopping complexes, park, skating area, and many other exciting spots of recreation.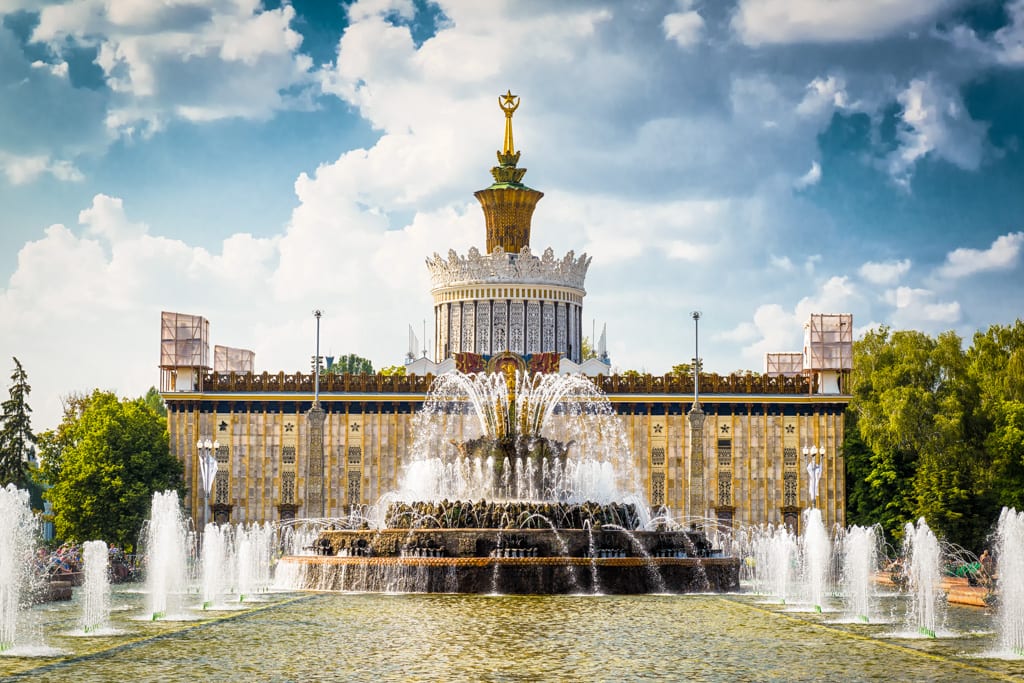 Relax in Zaryadye Park
Newly opened Zaryadye Park is a great place to visit located close to the Red Square with an area of 94,000 Square Yard (78,000 m2). Fabulous place for photographers to enjoy a magnificent view of Moskva River, Moscow skyline, Moscow Kremlin, from the newly built floating bridge. A great place to visit during the sunset.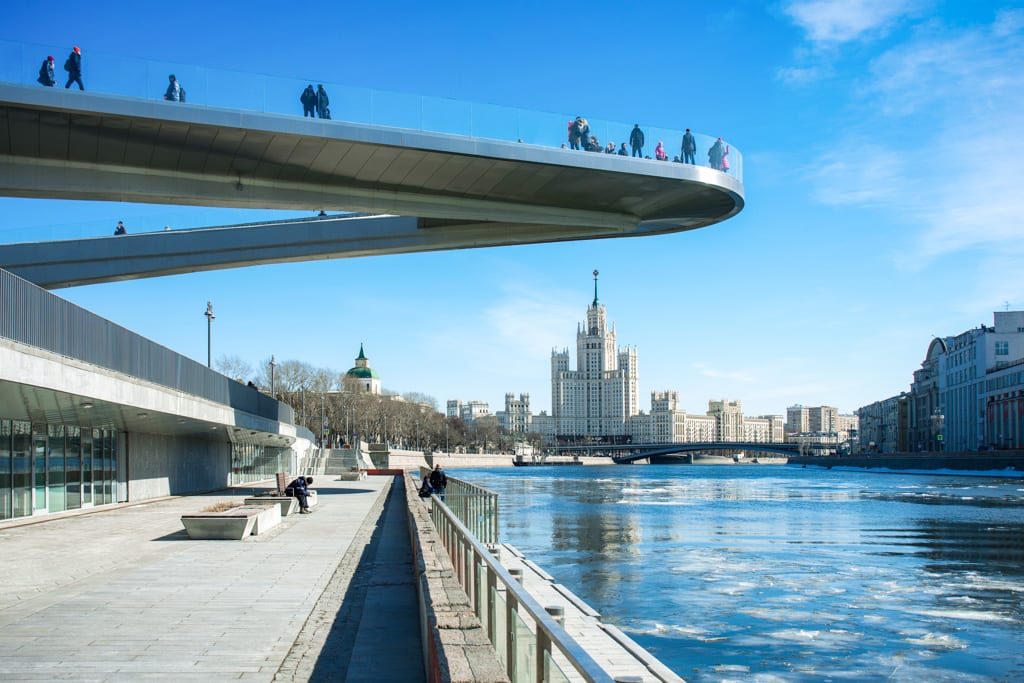 Visit Bolshoi Theatre
Bolshoi Theatre is widely admired not only for its opera and ballet performance but also for its artistic architecture. So even though I am not a huge fan of this show, but still wanted to visit this place.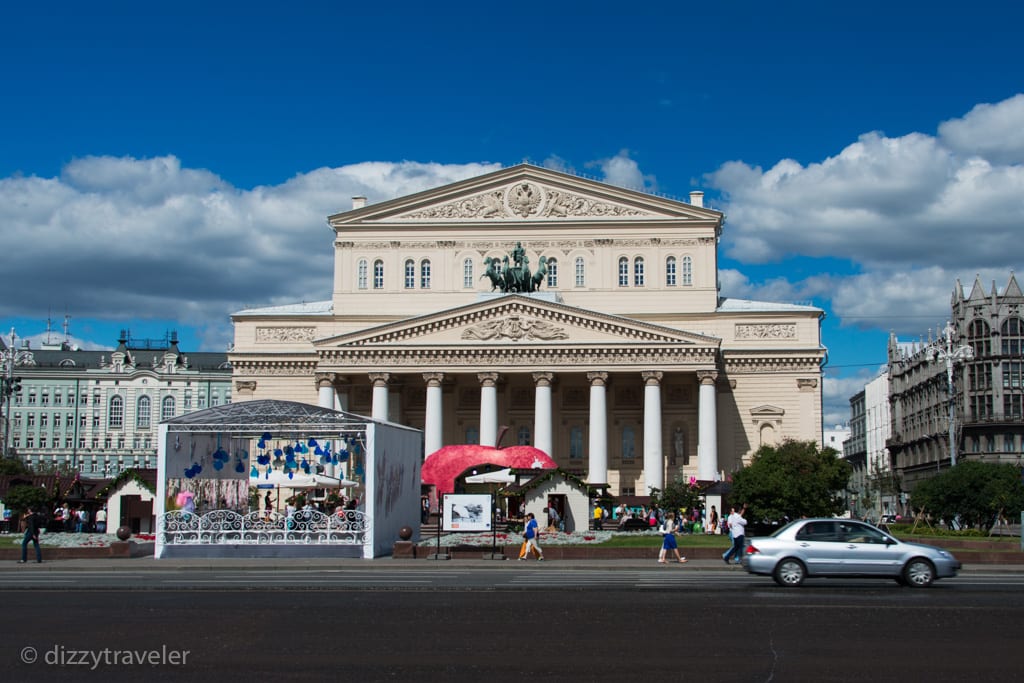 Birdseye View From Sparrow Hills
Sparrow Hills is located about 8 km southwest of the Kremlin by the Moskva River. From its elevation of 720 feet (220 m), one of the highest spots in Moscow, you will have a stunning panoramic view of the city. MSU (Moscow State University) is only a short walk from here.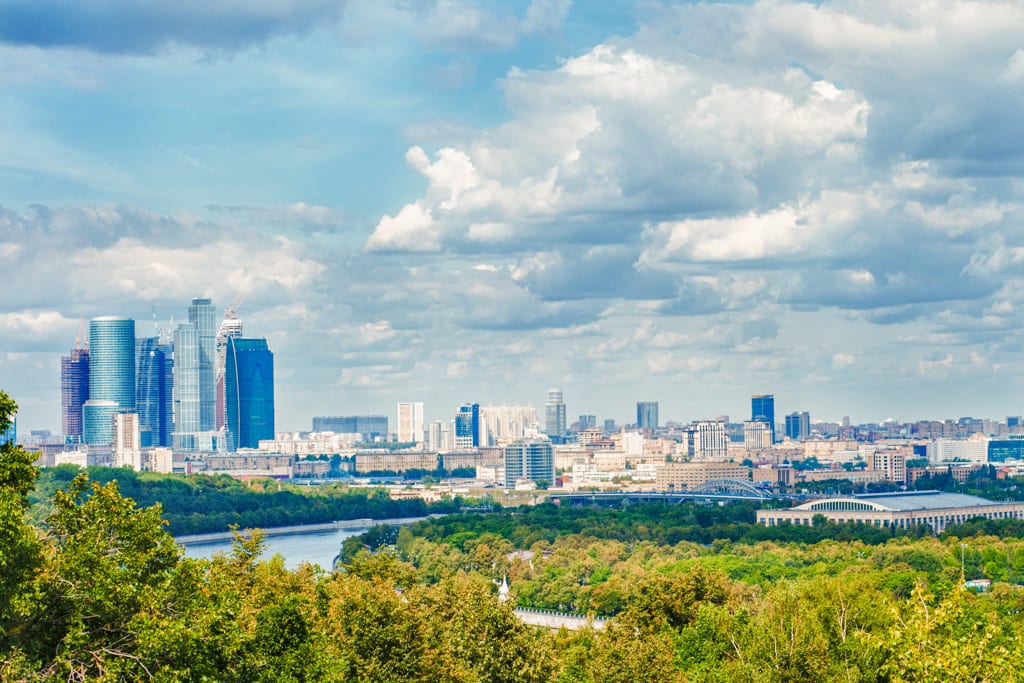 Shopping in Old Arbat Streets
Arbat Street is one of the oldest streets in Moscow. A great place for shopping souvenirs, street performances, people watching, restaurants, street vendors, and much more.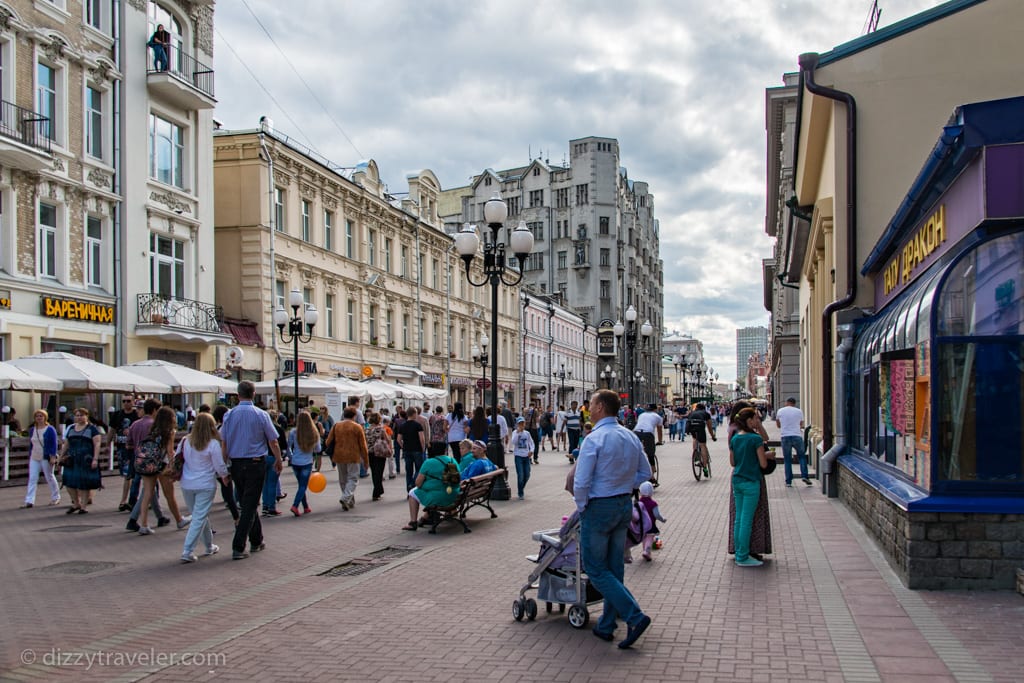 Where Did I Stay In Moscow, Russia
Hotel Cosmos, is located across the street from VDNKh Metro station. This Hotel is a short walking distance from All Russian Exhibition Center.  
I loved staying in Holiday Inn Moscow Lesnaya hotel. I liked the location of this hotel, tram station right infant. And definitely the clean and spacious rooms with one queen size bed for a solo traveler. The breakfast was excellent. 
Have Local Food in Moscow
This beautiful modern glass dome restaurant is located on a 16th floor with a beautiful view. They serve delicious veal tongue, fried crucians fish, baked beans, and turnip crisps.
Matryoshka is a stylish modern restaurant of authentic Russian cuisine motivated by old traditions. A well-known restaurant for Beetroot soups, sour cabbage soup, lamb meat, Pelmeni – Russian dumplings, and more.
This is a great place to have traditional Russian cuisine. Delicious Pozharsky cutlet prepared with breaded ground chicken or veal patty, Halibut fillets from Murmansk, and many other mouth-watering dishes, to name a few. The Restaurant has a beautiful interior design and a fantastic panoramic view from the restaurant.
A few of the local dishes I recommend to try:
Borsh (red beetroot soup with sour cream), Pelmeni (Russian dumplings), Piorgi (with different fillings), Blini (Russian Pancakes), Solyanka (mixed soup), Russian Salad, Golubtsy (stuffed cabbage with meat and rice), Amul Soup, Smoked Amul, etc.
My Opinion and Last Word
Have you been to Moscow, Russia? Any cool tips to share?
I loved being to this country down under and want to go back again. Hope my story has motivated you to visit. 
Please leave a comment below! I'd love to hear from you to improve my knowledge. 
Was this travel guide helpful for you?
If you'd like to help me continue making free guides, here is one way you can help:
Share This Guide – If you have a friend that would benefit from this guide, share it with them. Or post this guide on Facebook, Twitter or Google+
Your Support would definitely help me making more free guides like this. Thank you in advance!
Affiliate Link – This post in Dizzy Traveler contains affiliate links, which means I receive a referral commission if you purchase after clicking at no additional cost to you. These funds go to maintain the site. Thank you for your support.
Here are few affiliates link that may help planning a perfect trip while staying within budget