Saint Petersburg is the second-largest city in Russia that should be on the top of your must-see list. Not because it's big, but surely for a once in a lifetime experience, for its amazingly historic world-class architecture, culture, and ancient historical places that recognized them as the UNESCO cultural heritage.
Most of the sightseeing places such as Palace Square, Winter Palace, Peter and Paul Fortress, Summer Garden, Kazan Cathedral, and Church of the Savior on Spilled Blood and many others are easily walkable. No doubt it is one of the most beautiful cities in the world. 
Top Things To Do In Moscow
Visit Palace Square
Undoubtedly, St Petersburg Palace Square is one of the most beautiful places in Russia. The vast square is in the center of most of the historic sites and the most favorite tourist attraction similar to Moscow Red Square. It is located right across the Hermitage Museum and a 47.5m tall Alexander Column right in the center of the square, hard to miss it. This huge open space is a meeting place for locals and tourists alike, surrounded by most of the historical sites St. Petersburg has to offer. A trip to St Petersburg is incomplete without visiting this most famous landmark in Russia.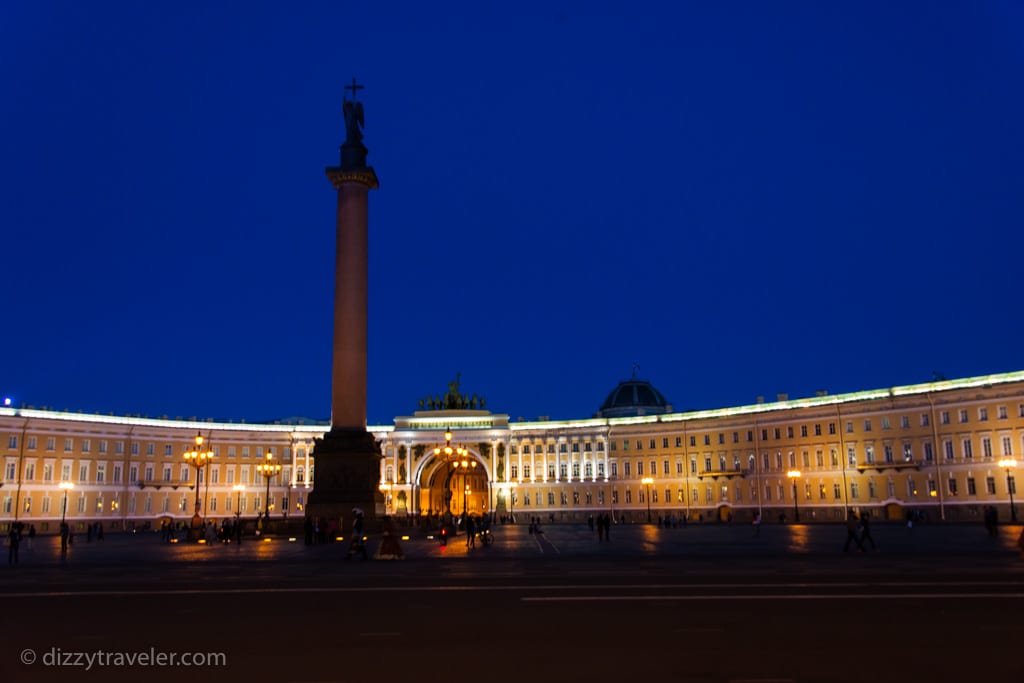 Kazan Cathedral in St. Petersburg
Kazan Cathedral is a cathedral of the Russian Orthodox Church on one of the famous street call Nevsky Prospekt in St. Petersburg.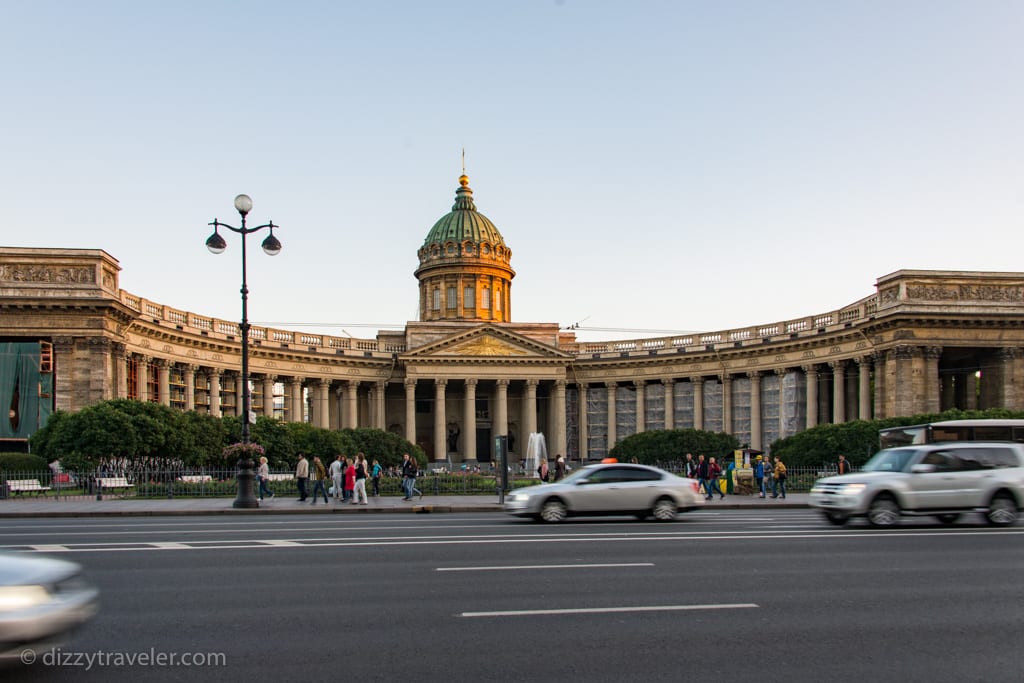 Saint Isaac Cathedral in St Petersburg
The iconic landmark St. Isaac's Cathedral is the largest in the city that currently operates as a museum. It was built between 1818 and 1858 still dominates the St. Petersburg skyline. It worth a visit not only for it's impressive inside and outside beauty but also for a gorgeous view of the city once you climb up the tower leading to the balcony.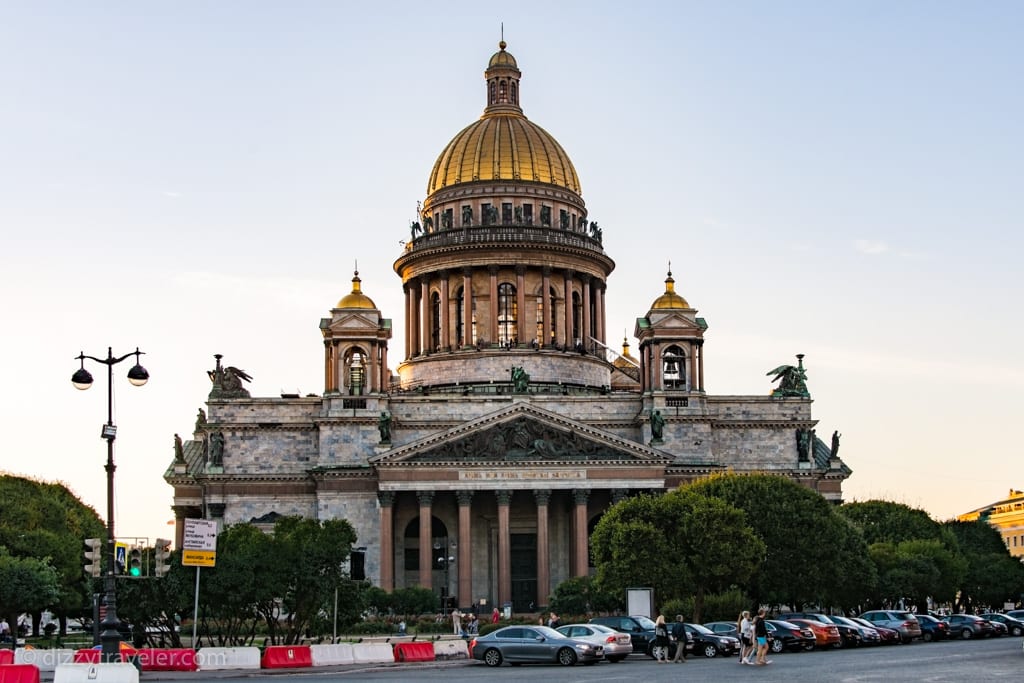 Visit Church of the Savior on Spilled Blood
This colorful Russian style church is one of the iconic landmarks of St. Petersburg. It is located right next to the beautiful Griboyedov Canal, built to the honor of Czar Alexander II, who was assassinated at the same place.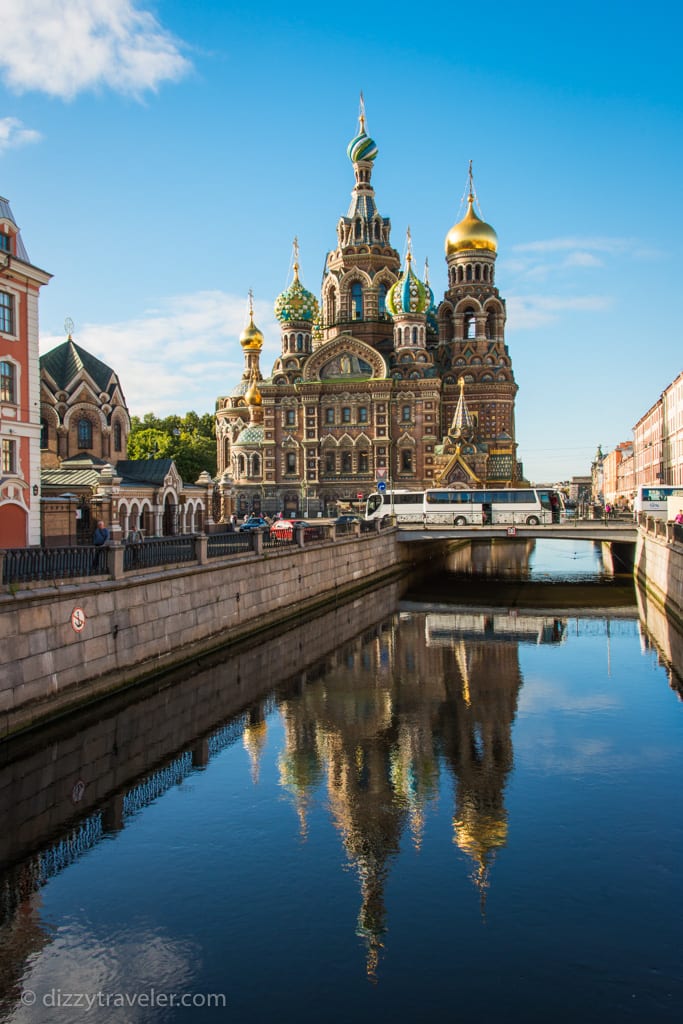 Hermitage Museum (Winter Palace)
Hermitage Museum is the second-largest art museum in the world. It is located in Palace Square in the center of St Petersburg. It usually gets crowded in the first half of the day due to cruise ship passengers, therefore plan a visit later in the day. You can buy the online ticket to skip the long lines at the ticket counter.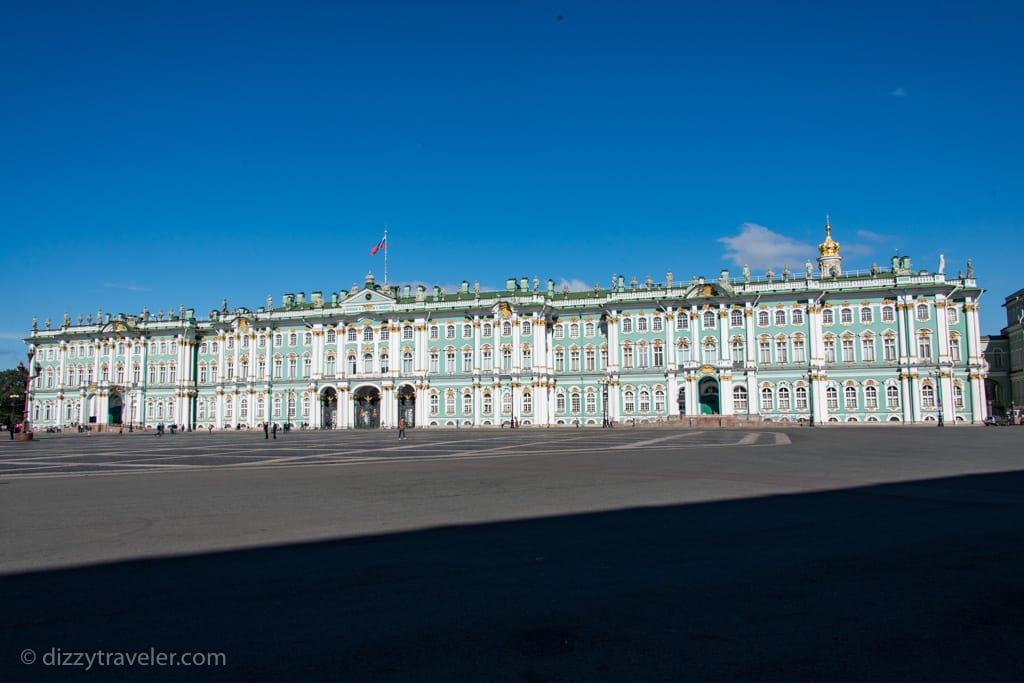 Summer garden in Saint Petersburg
The Summer Garden is the oldest in Saint Petersburg, located on an island between the Moika, Fontanka, and the Swan Canal. Once it was the summer residence of Peter the Great in the new Russian capital was founded in 1704. A great place to visit when the weather is nice.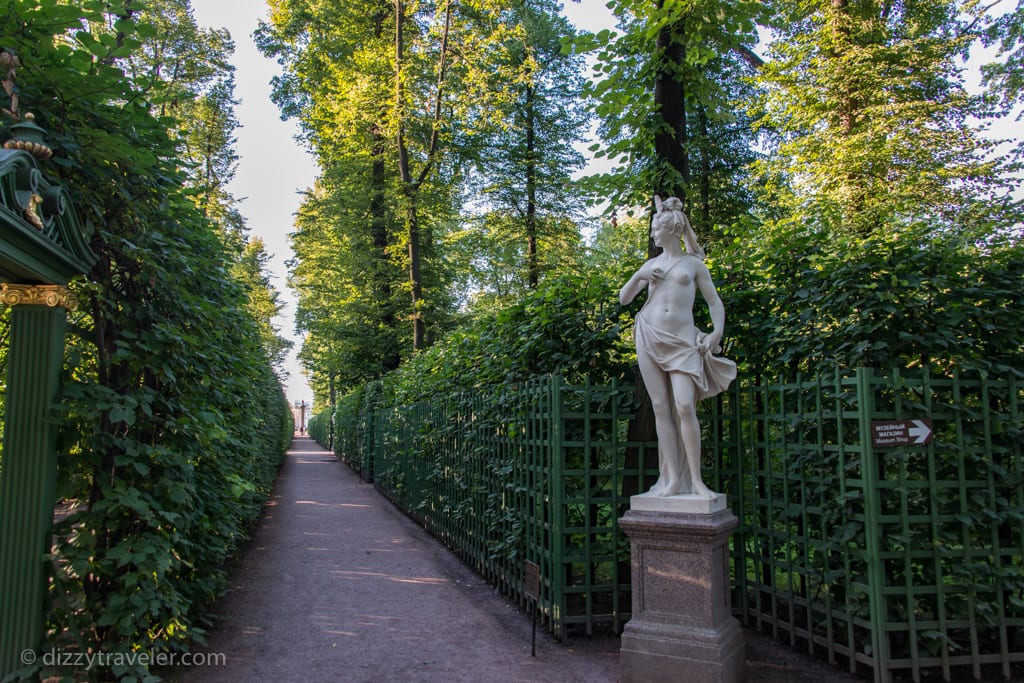 River Cruise in St Petersburg
Saint Petersburg is often called Venice of the North due to the widespread network of canals and rivers crossing through the city. And the best way to explore the city is by taking a cruise through the canals and rivers.
If you wanted to do something different and capture once in a lifetime experience, then I would suggest taking the midnight cruise to enjoy the marvelous night views of this romantic city, and its bridges. Taking the boat journey past midnight and watching the bridges opening up one by one is an everlasting memory.
There are guided tours available in Saint Petersburg, they usually combine sightseeing, lunch and a few sightseeing stops on the way. Get Your Guide is the one I recommend.
Visit Peterhof Palace, St Petersburg, Russia
Another great place you should not miss visiting is the magnificent Peterhof imperial palace. It is located on the outskirts of Saint Petersburg, about 19 miles (30 km) from the city center. The majestic palaces surrounded by beautiful water fountains and gardens illustrate how powerful the Tsar once was.
It's easy to get there, and the scenic one is a 35 minutes cruise from the city, cost about RUB 750 (US$ 11.00 approx.). The second option is to take the minivan (marshrutka) from Leninskiy Prospect or Avtovo metro station, which takes about an hour, and the cost is about RUB 50. 
Otherwise, if you book your trip through GetYourGuide.com, then you can skip the long lines for the Grand Palace of Peterhof, and discover the former residence of the Russian royals on a 5-hour tour from St. Petersburg.
Go To Naval Cathedral of Saint Nicholas in Kronstadt
Cathedral of Saint Nicholas is a Russian Orthodox cathedral located in Kronstadt. It was built between 1903 to 1913 and dedicated to the fallen seamen of the Russian navy. It is located on Kotlin Island, about 19 miles (30 km) from Saint Petersburg city center.
You can take a 5 hours day trip to explore the city of Kronstad with a stop at Vladimir Cathedral, the Italian Palace, and the Cathedral of St. Nicholas by boat from St. Petersburg.
Explore Peter and Paul Fortress
The Peter and Paul Fortress is locating on Zayachy island by the Neva River in St. Petersburg. Peter, the great first built it in 1703 to protect the territories that were captured by Russia in Sweden. It's great to walk around the island, visit the historical fortress, Petropavlovsk Cathedral, and get into the museums if you are interested.
Where To Stay In St Petersburg
3 MostA, is a boutique hotel ideally located near to the world-famous Hermitage Museum and close to bridges over Griboedova Canal and Moyka River. From the 5th. Floor restaurant, you will get the best panoramic view of the church of the Savior on Spilled Blood. Moreover, they have free parking for hotel guests. Should you require Russian visa support, they do issue invitation letters visit the hotel website for more information.
Located in the heart of Saint Petersburg, Nomera na Nevskom 111 hotel, just 7 to 8 minutes walking distance from Moscowvisky train station. Historical places such as the State Russian Museum, Church of the Savior on Spilled Blood is also within a mile and a half. If you are interested, ask for a room with a kitchenette with a microwave, stovetop, and fridge.
Recommended Restaurants in St. Petersburg
This beautiful cozy restaurant is located close to Summar Garden in St. Petersburg. They serve delicious Seafood, International, and Fusion, and Vegetarian-friendly food. Click here to make a reservation.
Skazki Shakherezady is a stylish modern restaurant of authentic cuisines of Middle Eastern, Georgian, European, and Eastern Europen. It is located close to Moskovskaya Square. All meals are reasonably priced. Click here to make a reservation.
Troika is a popular restaurant among locals and tourists alike. Based on carefully refined cuisine and only high-quality products, the kitchen offers authentic Russian, European, Eastern, and Central European cuisines. Click here to make a reservation.
A few of the local dishes I recommend to try:
Borsh (red beetroot soup with sour cream), Pelmeni (Russian dumplings), Piorgi (with different fillings), Blini (Russian Pancakes), Solyanka (mixed soup), Russian Salad, Golubtsy (stuffed cabbage with meat and rice), Amul Soup, Smoked Amul, etc.
My Opinion and Last Word
Have you been to St. Petersburg, Russia? Any cool tips to share?
I loved being to this country down under and want to go back again. Hope my story has motivated you to visit. 
Please leave a comment below! I'd love to hear from you to improve my knowledge. 
Was this travel guide helpful for you?
If you'd like to help me continue making free guides, here is one way you can help:
Share This Guide – If you have a friend that would benefit from this guide, share it with them. Or post this guide on Facebook, Twitter or Google+
Your Support would definitely help me making more free guides like this. Thank you in advance!
Affiliate Link – This post in Dizzy Traveler contains affiliate links, which means I receive a referral commission if you purchase after clicking at no additional cost to you. These funds go to maintain the site. Thank you for your support.
Here are few affiliates link that may help planning a perfect trip while staying within budget