Nowhere do massive, monstrously huge trees grow than in the High Sierras of California. In the Sequoia National Park in Three Rivers, California, those magnificent Sequoia trees will leave you in awe, not only about their size but also their age! The enormous Sequoia trees can live 3,000 years or even longer. The park itself is considerably vast, about 500,000 acres in the land area. I have visited the park on more than ten occasions, and each time, I find the offered outdoor activities and travel spots exciting and novel.
Plan Your Trip
How To Get there
By Road – Driving from Los Angeles or San Francisco is about four to five hours. Greyhound bus service is also available from Los Angeles and Las Vegas to Visalia and Fresno (the two closest towns to Sequoia National Park)
By air – The closest airport is Fresno Yosemite International Airport; from the airport, the distance to Sequoia National Park is 81 miles/130 kilometers. Car rental is available at the airport.
By Train – from Los Angeles, you can take the Amtrak Train to Hanford (hey, that's my town) with bus connections to Visalia and Fresno.
Shuttle Service – The Sequoia Shuttle runs from the city of Visalia to all the way up to Giant Forest Museum inside the park with pickup/drop off stops at Exeter and Three Rivers.
Here is a few affiliate links that may help plan a perfect trip while staying within budget.
Best Time to Visit
No matter what time of the year you visit the park, there is always a beautiful setting awaiting you and a myriad of fun for a wide variety of interests. Each season offers its unique charm, as the beauty of nature blends magnificently in every season.
Spring Season – April to June is considered spring at Sequoia, one of the best seasons to visit the park. In springtime, the foothills are like majestic carpets of colorful wildflowers, and the meadows are velvety greens. Rivers are at their highest flows, making it perfect for river rafting.
Summer – July to mid-September is summertime. It is when all must-see sights are open to the public. Hence, the park is densely populated both with tourists and wild animals. The temperature during daytime reaches to high 90s Fahrenheit and high in humidity. The park becomes more relaxing in the evening.
Fall – September to October is also another choice as the summer crowds disappear and the weather is comfortable with warm days and cool nights. Personally, I love visiting the park in autumn because of the nippy weather, the laid-back feel, and of course, the golden foliage colors around you.
Winter – And finally winter does not disappoint either, the park turns into a magical winter wonderland in December to March. Most hiking trails are not accessible during this time, but who wants to increase agility when you can rollover the powdery snowy ground and rekindle that child in every one of us!
Top Things To Do In Sequoia National Park
There is so much to see and do in Sequoia National Park, the below map has pined with few of the highlighted spots that shouldn't be missed.
1. Get Acquainted with The Park Visitor Center
I would visit the visitor center first, and not just for the apparent reason. Aside from a visitor center and look for souvenir items, you will find a free mini-museum with interactive exhibits that are not only educational but also quirky and fascinating. A high-density video is on every 20 minutes. This building is your stop to obtain permits for hiking backcountry, ranger information, maps, and other helpful literature. The staff is also always ready to help. There are restrooms here if you need it before you embarked on your exploration.
2. Let Those Jaw Drop On The Ground In Front Of The General Sherman Tree
The General Sherman Tree is considered the largest (in volume) on the planet Earth weighing an estimated 1,385 tons! Its height is nearly 300 feet, and its circumference at ground level is 102.6 feet, it's about the same height as the Statue of Liberty! A jaw-dropping sight indeed! As I stood up there gazing up the towering tree, I was humbled and lost a little of my self-centeredness or self-arrogance because I was in the middle of a tree one hundred times my size, height, and age. This tree is 2, 000 years old, by the way! The one-mile trail roundtrip hike to see the General Sherman Tree is one of the most beautiful spots in the Sequoias.
3. Go For A Joy-Ride Through An Arched Tree
Drive your car through the Tunnel Log on Crescent Meadow, a fallen tree that is shaped like an arch. The Tunnel Log is one of the last "novelty" sites in the park. It collapsed in the year 1937, measures 21 feet in diameter at its base, and stood about 275 feet tall! Let someone take a picture of your vehicle while driving through the tunnel log to offer your friends a perspective of the colossal size of the trees.
4. Take a Pic Of The Gigantic Sentinel Tree
Strike a pose in front of the Sentinel Tree. Considered average in size compared to its brothers Sherman, Grant, and Grizzly its weight is comparable to a two-fully loaded jumbo jet! Sentinel Tree is proudly standing in front of the Giant Forest Museum and Visitor Center.
5. Indulge Your Lungs With Fresh Air
For its breathtaking mountain vista, Morro Rock rocks! It requires a moderate climb (400 steps) following a spiral path around the cliff. As you ascend this barren granite dome, bask in the spectacular views of both sides of the canyons and the Great Western Divide. Once you reach the top, take time to relax, and take deep gulps of fresh air. To get to the trailhead, take the free shuttle bus from the Giant Forest Museum. (Shuttles available only in the summer.)
6. Enjoy Some Moments Of Romance
The Beetle Rock Lookout is the place to be for that few quiet moments. When visiting in the wintertime, the snow cloud (if it's snowing) adds a dramatic backdrop for a romantic photo op with the love of your life. Likewise, this is the best spot to watch the folding of another day.
7. Travel Back In Time At The Petroglyph Remnants
A few miles northeast of the Foothills Visitor Center, those ancient-art fans can find some fantastic petroglyphs at the "Hospital Rock." There are also remnants of bedrock mortars, proof of early American Indian settlement. Opposite side of the Hospital Rock are a few picnic tables, barbecue grills, restrooms, and parking.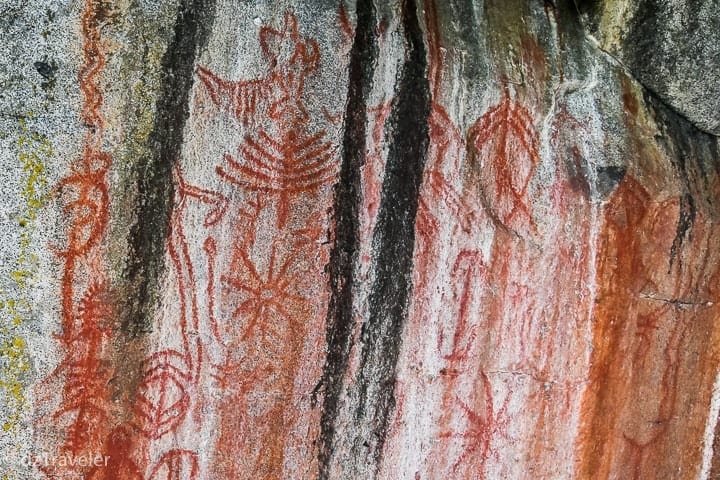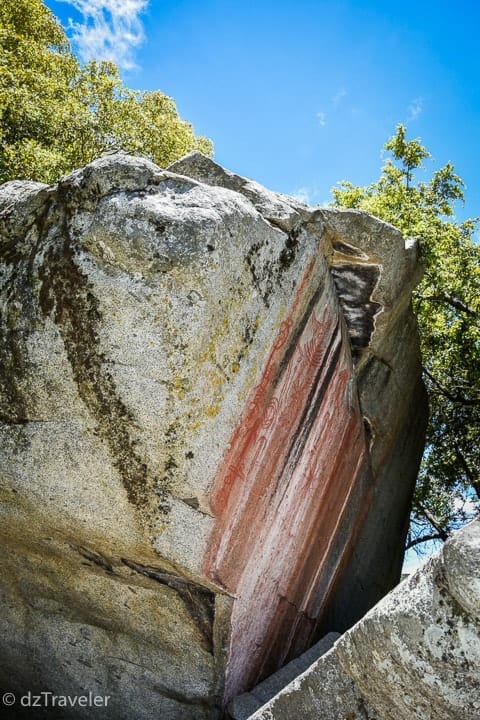 8. Appreciate The Park Trivia
Read those interactive signages found all over the park. They offer a lot of information about the significance that enriches our knowledge and appreciation for things that we might otherwise take for granted.
I hope this blog serves to whet your interest in the park and guide you in your planning a visit. Have fun! ~
Where To Stay
Three Rivers, Lemon Cove, and Exeter are the closest towns to the park where all types of accommodations are spread out and easily found. There are no hostels operating here but Airbnb lodgings are quite popular. Inside the park, there is the Wuksachi Lodge, an upscale type of accommodation, and is perfect for couples' weekend getaway. Early booking is encouraged during high season. For a mid-range hotel with a complimentary breakfast, I recommend Comfort Inn located in Three Rivers. Camping inside the park is another option especially for those wanting to sleep under the stars!
Where to Eat
Restaurants Outside The Park
The town of Three Rivers is the gateway to the park and is the spot for your dining needs.
The Gateway Restaurant – Nestled along the river's edge with a spectacular view is where you may enjoy a medium-well, one-third pound ground sirloin burger with cheese and served with potato salad or French fries.
Ol' Buckaroo – A local-owned restaurant overlooking the mountains and the river offers anything from sandwiches to tacos. Quench your thirst with their exotic Cara-Cara Orange Basil Juice.
Sequoia Cider Mill Restaurant – For generous servings of grilled meats, plates of seafood, and Mexican specialties, this lovely eatery is your best bet!
The Pizza Factory – For inexpensive and mouth and tummy-filling pizzas. Your patience is tested here, but as soon as that aromatic pizza is served to you, you'll exclaim "the waiting is worth it!"
Limited Food Availability Inside the park:
The Peaks Restaurant – Break the fast from last night with a delectable breakfast meal. The life-size glass windows will give you a glance at the stunning mountain views outside, making your breakfast time extra pleasurable.
The Lodgepole Market – A convenient store located along the General Highway where you can pick anything from ready-made sandwiches to grab-to-go hotdog delis to freshly packed veggie salads.
Things You Need To Know Before Visiting
Bring snow tire chains in the winter. Park authorities require every vehicle to have snow tires at a specific elevation before proceeding to the central part of the park. You can also, rent from Totem Store in Three Rivers along Highway 198.
There are no gas service stations in the park so consider filling up gas in Three Rivers. For emergency services call 559-565-4070.
Have enough cash on hand. The only ATM located at Lodgepole Market Center is 21 miles north of the Giant Forest Museum and Visitor Center, which is a bit out of the way. Major credit cards accepted, but you'll never know when it is offline.
Entrance fees to the park are $30.00 per vehicle or $15.00 per person for pedestrians or cyclists and good for seven days. The park is open 24 hours a day, but the numbers of areas in the park are inaccessible during the winter season.
Cell phones rarely get a signal. Wi-Fi location is at the Foothills Visitor Center, one mile east of the main entrance.
If you are staying for the night in Wuksachi Lodge in the winter season, be sure to arrive at the hotel while it is still daylight. Otherwise, it is difficult driving and finding your way amid a dark and snowy road.
There are only two eateries in the entire park. It is advisable to bring as many food items as you can, and it is always fun to fix lunch on those picnic tables located on campgrounds.
For campers, keep those foods in bear-proof food storage; it is the law! Bears are sometimes unstoppable from snatching foods, and the only way to stop them is by killing them. That is why you pay a fine when found storing food improperly. Delight in those wild animals that shows on you, but do not touch or feed them. They may carry disease.
There are many sharp turns and twists on the road throughout the park so be prepared. Carry disposable bags and medicine for those prone to motion sickness.
Protect our parks. Don't litter and "take only pictures, leave only footprints."
Have you been to Sequoia NP, California? Any additional tips to share?
Please leave a comment below! I'd love to hear from you to improve my knowledge.
Was this travel guide helpful for you?
If you'd like to help me continue making free guides, here is one way you can help:
Share This Guide – If you have a friend that would benefit from this guide, share it with them. Or post this guide on Facebook, Twitter or Google+
Your Support would definitely help me making more free guides like this. Thank you in advance!
Affiliate Link – This post in Dizzy Traveler contains affiliate links, which means I receive a referral commission if you purchase after clicking at no additional cost to you. These funds go to maintain the site. Thank you for your support.
Here are a few pictures that will tell the trip stories of Dizzy Traveler.
Please Click Here For Slideshow: