Connecting Yoho, Banff, and Kootenay national parks, this UNESCO World Heritage Site Jasper National Park is one of the most beautiful and largest in the Canadian Rockies. Well known for its huge wilderness, majestic mountains, plentiful wildlife, amazing aqua-colored lakes, and marvelous natural views, so visitors from all over North America and around the world travel here to endure this very remarkable place.
Here are few affiliates link that may help planning a perfect trip while staying within budget
Helpful Information
Best Time To Visit
It's a tough question to answer as there are many circumstances that need to be considered. Furthermore, Jasper National Park is a year-round destination so you will have a different enjoyable experience depending on the time of the year.
Summer – July, and August is the peak season. You will have the best opportunity of great weather, warmer temperatures, and open hiking trails. Expect expensive accommodation, attractions are crowded, tours, fun rides, and cruises required in advance bookings. Wildflowers can be seen in the lower elevations and it's a good time to spot grizzly bears and other wildlife as they feed on the lower valley grasses.
Winter – Between December to Mid April is the winter in Jasper National Park. Winter changes the landscape into a winter fairyland starting up opportunities not possible in the warmer months. Jasper is a paradise for winter lovers and easy to fall in love with the limitless activities Jasper has to offer and a white Christmas for sure.
Fall – I have visited between mid-September to mid-October and I loved it. The temperature was relatively mild stayed around 45º F during the day and went down to 32º F (7º C to 0º C) at night. It was sunny most of the time but occasionally scratted clouds moved in with a short rainfall or snowfall in higher altitudes in case you get bored with the Sun. Best of all you will find fewer crowds around so, the accommodation and airfare will be moderately lower compared to the summer months.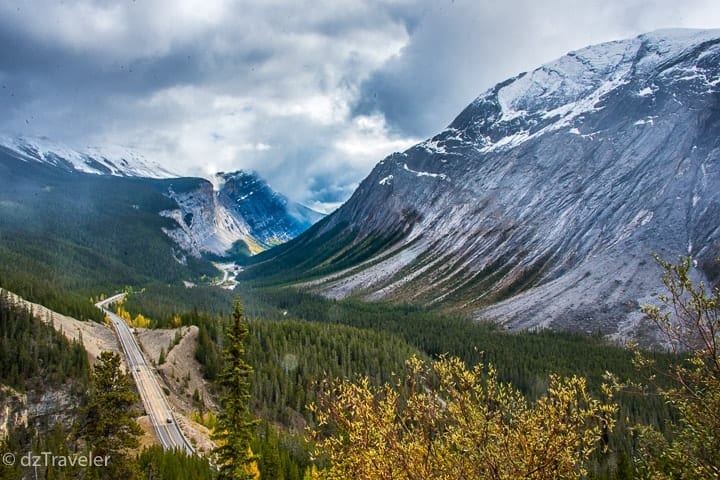 How To Get There
Jasper is located 256 miles (404 km) northwest of Calgary, 192 miles (370 km) west of Edmonton and 500 miles (805 km) northeast of Vancouver. Getting there driving through the heart of the Canadian Rockies is alone one of the best things you can do. The beautiful view of Icefields Parkway (Highway 93) will take your breath away.
By Self Driven Car – The main route to get to Jasper from Edmonton is by taking the Trans-Canada Highway #16 (Yellowhead Highway). From Calgary and Banff the Trans-Canada Highway #1 and switching over to Icefields Parkway will take you to Jasper. Regardless of which way you are taking the drive is absolutely scenic.
By Bus – Both Edmonton and Vancouver have daily Greyhound bus service to Jasper. You can also take Brewster Transportation and Tours they offer tour buses to and from Jasper via Banff along the panoramic Icefields Parkway.
By Air – Nearest International airports are in Calgary, Edmonton, and Vancouver all can be accessed by major domestic and international flights.
Getting Around in Jasper National Park
Jasper is a small town easily walkable from one end to the other but a self-driven car is the best way to move around and visit all the park attractions in your own time.
Guided Tour – There are few tour companies who offer guided sightseeing tours in Jasper National park. Checkout Brewster Sightseeing as well for day trips attractions.
How Many Days is Enough to Visit
It well worth to plan a few extra days in the Rockies as there are so many attractions to see which will surely make it difficult to narrow down your list. Moreover, on your way from one point to another, the landscape is so fascinating that it will be difficult for you not to make frequent unplanned stops resulting in going way over your scheduled plan.
Of course, place of interest is subject to individual opinion but regardless of the interest, it is good to allocate at least two to three days in Jasper, and surroundings. Four to Five days at least to see real Jasper and enjoy what it has to offer without rushing. No matter how many days you plan, at the end of your trip, you will be thinking that you need to go back again.
Useful Tips
Rent a car – I highly recommend to research before booking your rent a car. You are better off sticking with multinational companies especially if you are a foreign visitor. There are local companies may quote you cheap price but you will end up purchasing mandatory car insurance during car pickup as they are not in a position to honor international insurance. As a result, you may end up paying extra C$ 25+ per day.
Feeding wild animals – Feeding a bear or wolf cannot only endanger the animal, but also the people involved or other visitors. If you see someone feeding a bear, officials ask that you write down their license plate and, if it's safe to do so, take a photo or video of the unlawful feeding and the person or vehicle involved. It can then be reported to 1-888-WARDENS (927-3367).
Travel Insurance – Bad thing can happen any time, especially when you are doing activities that you are not used to it. I have practical experience in this. A travel insurance will protect you and your family from surprises. Don't think about all the things that might go wrong on your trip, but these things can and do happen.


Best Thing To Do
Driving to Jasper From Banff
From Banff, we drove 180 miles (288 km) northwest on one of the most scenic highways in the world to get to our accommodation in Jasper. If you drive non stop then it shouldn't take more than 3 hours but for us, we spent the entire day on the road. Made frequent sightseeing stops on the way before making the final stop at our hotel.
Whether your plan is visiting Jasper in winter to take advantage of limitless winter activities or enjoy the summer activities at a warmer temperature you will find plenty of things to do all year long. Here are few that I have enjoyed during my trip in the fall between mid-September and mid-October.
Our Trip Map for Jasper and Banff National Park
Quick Stop at Waterfowl Lake

There are lots of popular scenic spots along the Icefields Parkway that gives an ample opportunity for a photo shoot. In fact, every additional moment spent on the way is rewarded. Waterfowl Lake was one of them, even though that was not in our plan but one can't resist stopping for a fun.
About 55 km north of Lake Louise, these two upper and lower Waterfowl Lake is perfect not only for enthusiastic photographers but also for hikers.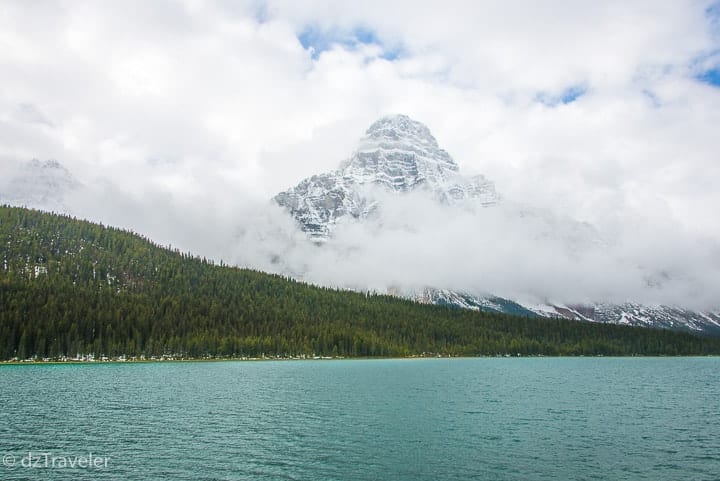 Hiking Around Chephren Lake

If you are not a seasoned hiker and looking for a short and easy hike then Chephren Lake is the right one for you. The hike contains two parts of 1 mile (1.7 km) from the parking lot to the trail junction by the footbridge over the Mistaya River and then 2 miles (3.2 km) from the trail junction to Chephren Lake for a total round trip of 6 miles (9.5 km).
We did not have a clear view of glaciated mountain peak due to the low cloud but it was well worth if we consider the magnificent rewards at the end.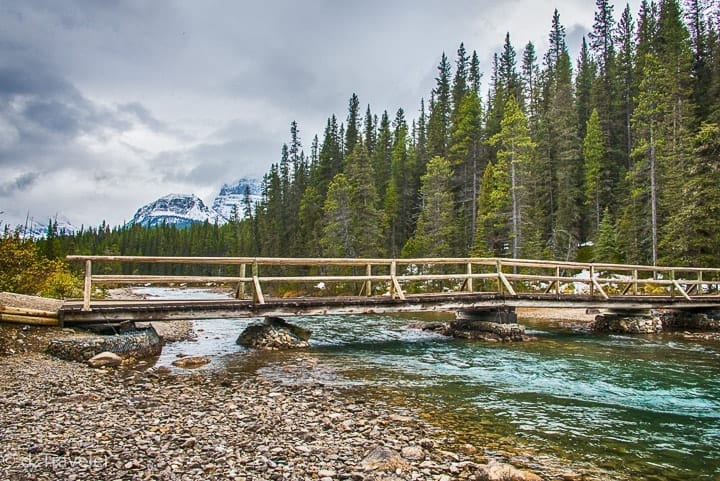 Columbia Icefield Discovery Center

Columbia Icefield Glacier Discovery Centre is about 3 hours (195 km) of driving on the scenic Icefield Parkway from Banff or if you are coming from Jasper as a day tripper then it's only an hour and a half (130 km).
This is a great place to plan a break and stretch out your legs. For an absolutely unique experience have your lunch at the Altitude Restaurant overlooking Athabasca Glacier. Or take the Glacier Skyway trip to enjoy the stunning view of the wilderness, or take a unique Glacier Adventure trip on a huge Ice Explorer vehicle.
Glacier Adventure Trip
Once you are at Columbia Icefield Glacier Discovery Center how about buying a trip to Glacier Adventure. Nothing can match the experience of taking an adventure walk over 85,000+ years old Athabasca Glacier or a thrilling ride onto that massive glacier on a massive vehicle specially designed for glacier travel, in addition, knowing the history of the glacier from the knowledgeable guide. I would not miss this once in a lifetime opportunity if I am visiting Jasper National Park.
Glacier Skywalk
After being on the thousands of years old glacier you can also head over the thrilling Glacier Skywalk to experience the walk on a glass-bottom extended pathway installed on the side of a mountain!
The views from there were astounding and the experience of walking out and looking straight down 100s of feet was definitely courageous.
Athabasca falls in Jasper National Park
This beautiful place was not under our radar but wanted to check out after hearing from our Glacier Adventure tour guide. Over the years Lake Louise became world famous for its turquoise water, beautiful jaw-dropping Victoria Glacier, soaring mountain backdrop, the magnificent hotel, and also for its incredible hiking and skiing.
Medicine Lake in Jasper National Park
Medicine Lake is located in the Maligne Valley is just 30 miles (50 km) east of Jasper about 45 minutes drive. This lake is formed by the Maligne River one of the beautiful scenic places for encaustic photographers one of the best lakes to enjoy the sunset and reflection on the water from the beautiful mountains in the backdrop
Maligne Lake Cruise in Jasper National Park
Maligne Lake is only 45 minutes from downtown Jasper and one of the most recommended attractions in Jasper National Park. The drive is not only extremely scenic but also will give you an opportunity for spotting wildlife.
Maligne Lake highlight is taking a Cruise to Spirit Island one of those picturesque places and witness such an iconic picture of Jasper National Park and glaciers in the distance.
Take the SkyTram to Mountain Top
The SkyTram is an excellent place to start your Jasper Trip, as you will have the opportunity to see a bird's eye view of J shaped town of Jasper and discover the endless view of mountain range, turquoise lakes, and glacial-fed rivers. There are multiple viewpoints at the top, gift shop, and restaurants for the mountaintop experience.
The Whistlers Mountain summit is one of Jasper's most accessible alpine environments. The 8 minutes sky tram ride will take you to the summit restaurant & upper station at the elevation of 7425 feet (2263 m). If you choose to stroll along the boardwalks around the summit or decide to take advantage of hiking up the trail to Whistlers Mountain summit at the elevation of 8080 ft (2463 m), just keep your eyes open for possible wildlife.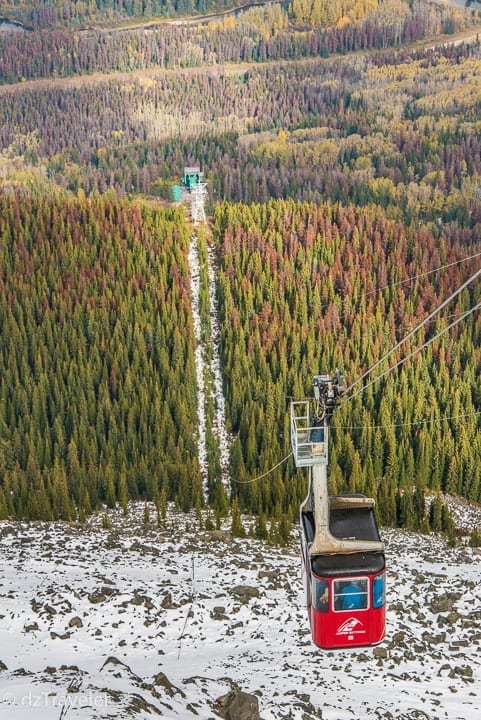 Jasper Wildlife Tour
Jasper is, by far, the best area in the Canadian Rockies to spot wildlife. The wildlife in Jasper is abundant, therefore a drive through the inhabitable valleys will give you greater chance to see Alberta's most fascinating local wildlife. Sprint and Fall is the best time to spot elk, moose, caribou, bighorn sheep, mountain goats, bears, and wolves in their natural habitats.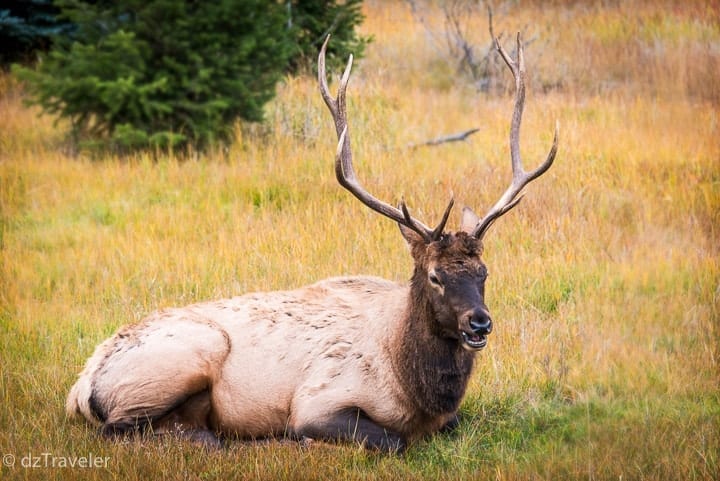 Recommended Hotels
Maligne Lodge, 912 Connaught Drive, Jasper, Canada
During our visit, we stayed at Maginle Lodge. It is located on the main street, only minutes away from downtown. Our room was spacious, with a kitchen and a balcony. There are plenty of restaurants close by.
Recommended Restaurants
Evil Dave's Grill, 622 Patricia St Jasper
Don't get fooled by the name, just try their delicious food, truly a nicer local restaurant.
The Jasper Brewing Co., 624 Connaught Drive, Jasper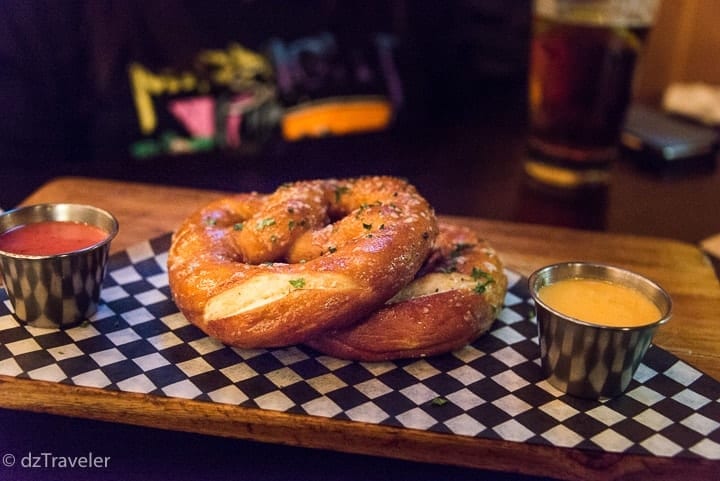 The Jasper Brewing Co – Over the years since this place opened, it's door in 2005 became quite favorite among the locals and tourists alike. It was packed when we went there. Definitely, a perfect place to spend quality time with your friends while having the local beer and delicious food. Located in the center of the town right next to the historical Jasper train station. . Just give it a try!
I had warm Buttered Soft Pretzel V with jalapeño cheese fondue, dark cherry beer mustard on the side as appetizer
And I had a delicious JBC house burgers for the main course. It was 6 oz Alberta Bison chuck, lettuce, tomato, sliced onion, dill pickle, JBC burger sauce, mustard on a gluten-free sesame bun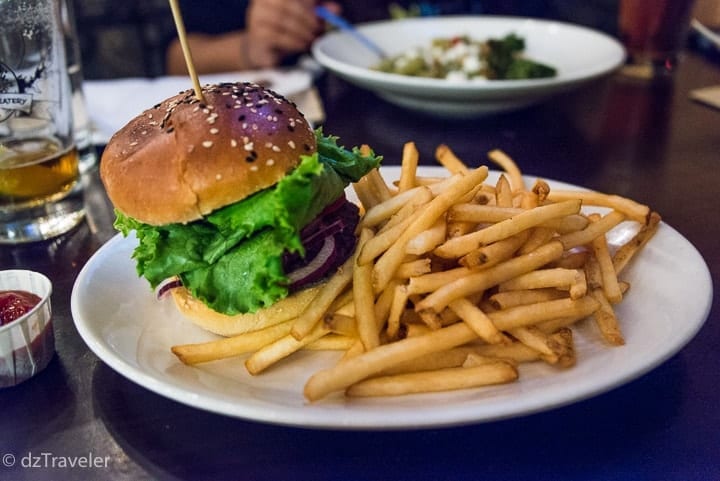 Featured Travel Pictures
My Opinion and Last Word
Have you been to Jasper National Park? Any cool tips to share?
What I have noticed in the Canadian Rockies is that the weather changes so drastically based on where you are. We saw sunshine and moment later moving to other location had to deal with snow falls or even rain. So, just be prepared for anything that may surprise you.
Please leave a comment below! I'd love to hear from you to improve my knowledge.
Was this travel guide helpful for you?
If you'd like to help me continue making free guides, here is one way you can help:
Share This Guide – If you have a friend that would benefit from this guide, share it with them. Or post this guide on Facebook, Twitter or Google+
Your Support would definitely help me making more free guides like this. Thank you in advance!
Affiliate Link – This post in Dizzy Traveler contains affiliate links, which means I receive a referral commission if you purchase after clicking at no additional cost to you. These funds go to maintain the site. Thank you for your support.