For some reason, there is something about a road trip that brings profound excitement to my travel desire. Maybe it's because of the freedom to make my timing of going places, stopping anywhere that interests me, meeting locals, seeing the countryside, or discovering those unique places off the beaten path. However, for me taking the driver's seat is somewhat more fascinating.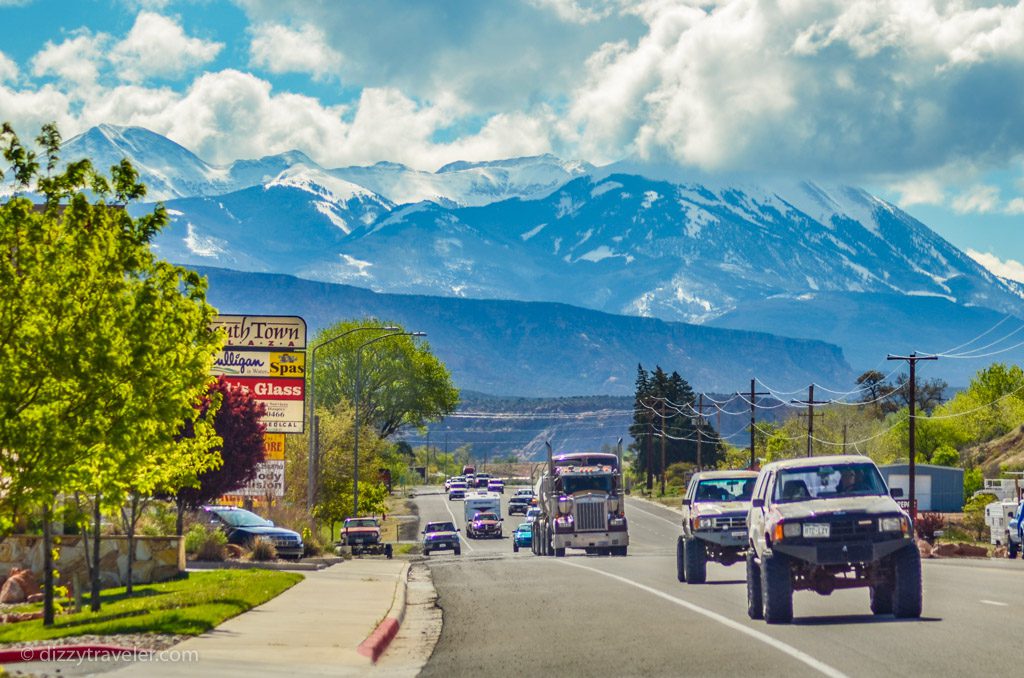 Over the years, I've been lucky enough to be able to take numerous road trips. Asia, Eastern Europe, Canada, Australia, Central, South America, and the USA, to name a few of the places to experience that liberty.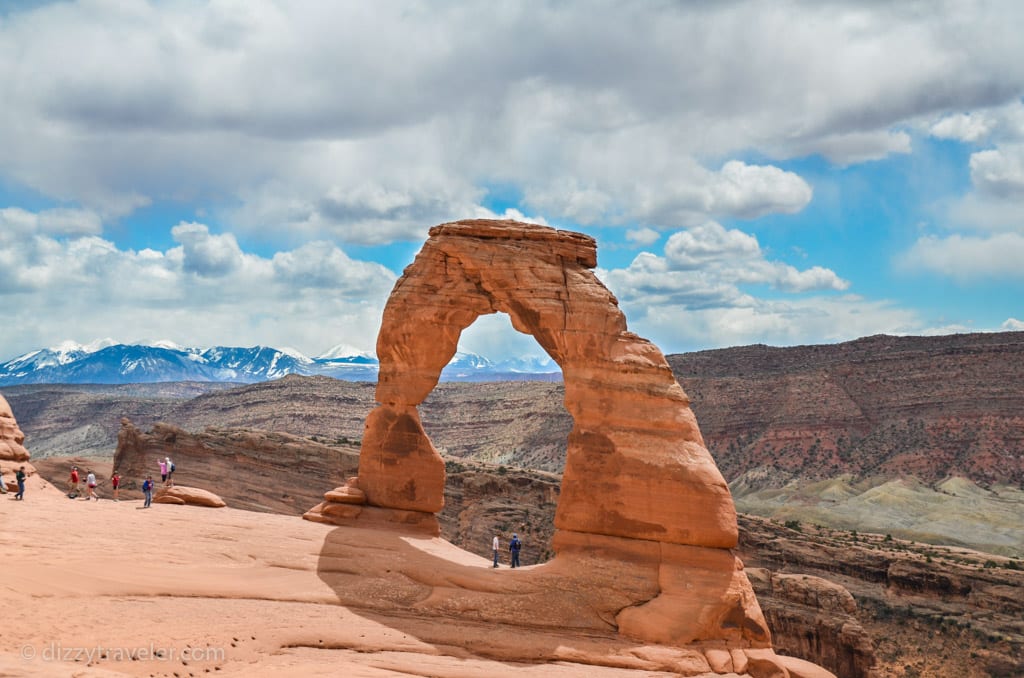 Once in a lifetime road trip experience
This exciting 3200 miles (5150 km) cross-country road trip from coast to coast includes 13 states, a few national parks, National Monuments, and major cities on the way. I drove through hot deserts, cool valleys surrounded by mile-high mountains, snowstorms up in the Rocky Mountain, through the green farmland in Kansas, and rain in Missouri.
Places I stopped during the 3200 miles journey
What is the Best Time of Year to Drive Across the USA
My road trip experience was in the spring (late April) when I enjoyed the mild weather and summer crowds even though I had to go through a snowstorm in Aspen, Colorado. However, in my opinion, fall is equally beautiful and weatherwise a perfect option.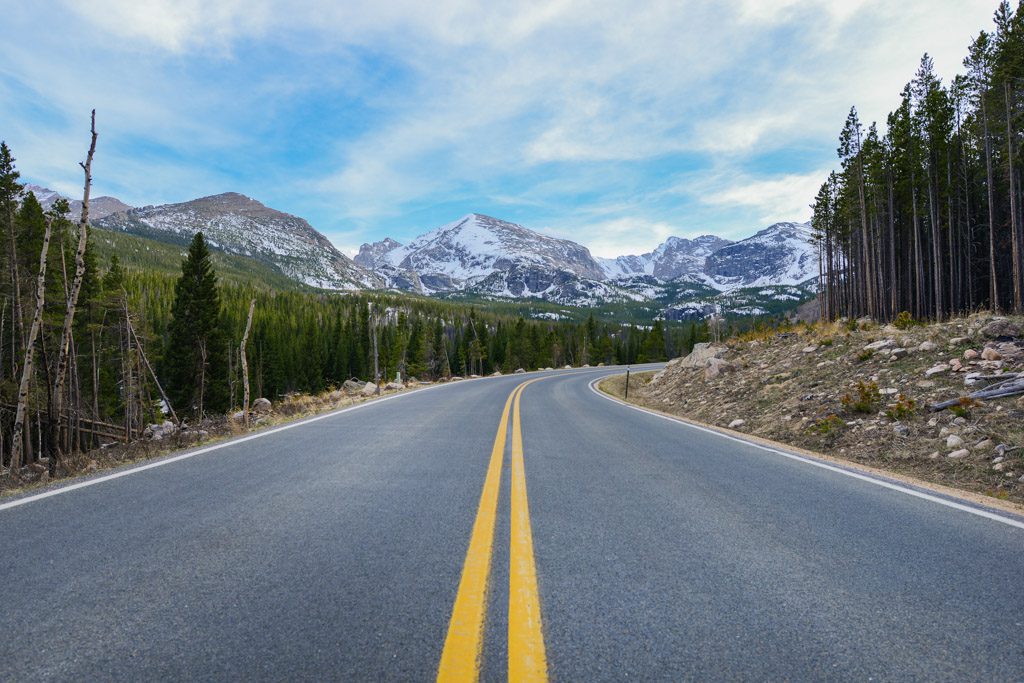 Driving Cross Country West Coast to East in The USA;
Here is the list of states I crossed California to Nevada, Arizona, Utah, Colorado, Kansas, Missouri, Illinois, Indiana, Ohio, West Virginia, Pennsylvania, and finally arrived home in New Jersey.
Cross USA Road Trip from West to East Coast
Day 1 - Driving from Los Angels to Las Vegas
Day 1 – Driving from Los Angels to Las Vegas 
It was a beautiful sunny day in Los Angeles when I left the city for Las Vegas. Usually, it takes about 5 hours of driving to cover 280 miles, but I spent close to 12 hours on the road due to a few additional sightseeing stops on the way. My first stop was at Calico ghost town located off route 15, a quick stop for lunch at Peggy Sue's Diner, and then to Yermo town in the Mojave Desert.
Finally arrived at Las Vegas at 6 pm. I checked in to Westgate Las Vegas Resort & Casino and later explored what Las Vegas offers at night.  
First Stop at Calico ghost town
Calico is a typical Old West silver mining town located in San Bernandino country in the mountains of the Mojave Desert. It was founded in 1881 and later abandoned since silver lost its value in the mid-1890s. 
Currently converted into a park called Calico Ghost Town with historical landmarks, shops, restaurants, hiking, and much more. A great place to visit for people who want to experience how the wild West once looked.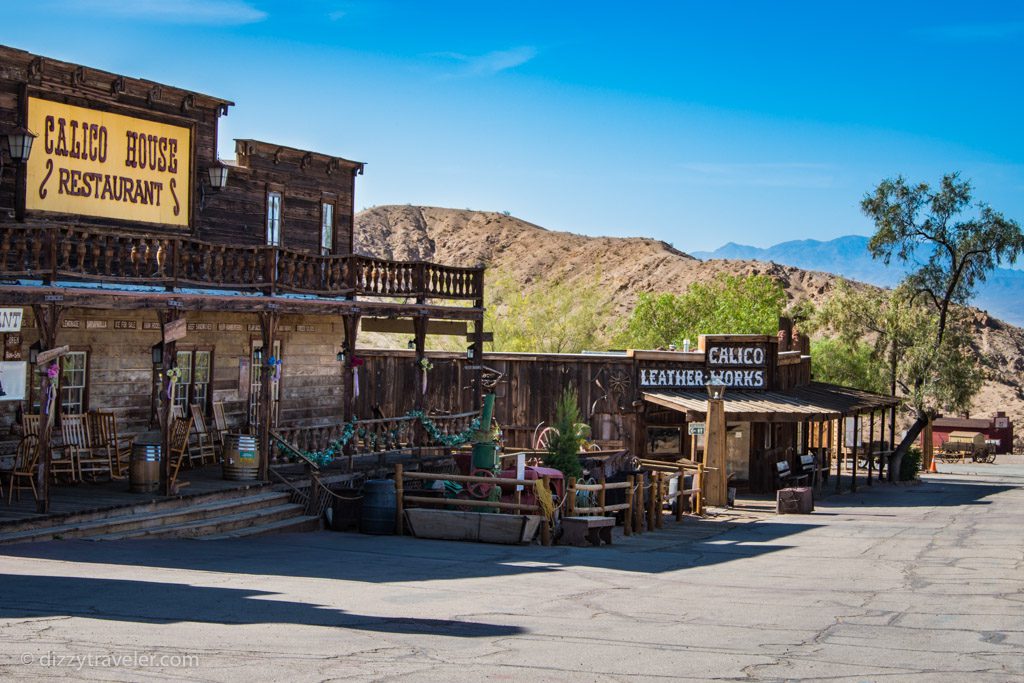 Next Adventure in the Mojave Desert
Mojave desert is not that far away from Calico Ghost Town, located just minutes off US Route 15. All you need is a swing to the side road. At first sight, the famous Mojave Desert may look like a harsh and deserted place. But the never-ending region reveals the true beauty of nature. There are quite a few places of interest to enjoy despite the severe heat during the day, and it will definitely surprise you every moment.
Calico Loop Drive, Mojave Desert.
I would highly recommend the loop covering the following places. Arch Rock, Twentynine Palms ⇒ Barber Peak Loop ⇒ Rings Loop Trail ⇒ Hole-in-the-Wall Campground ⇒ Desert Studies Center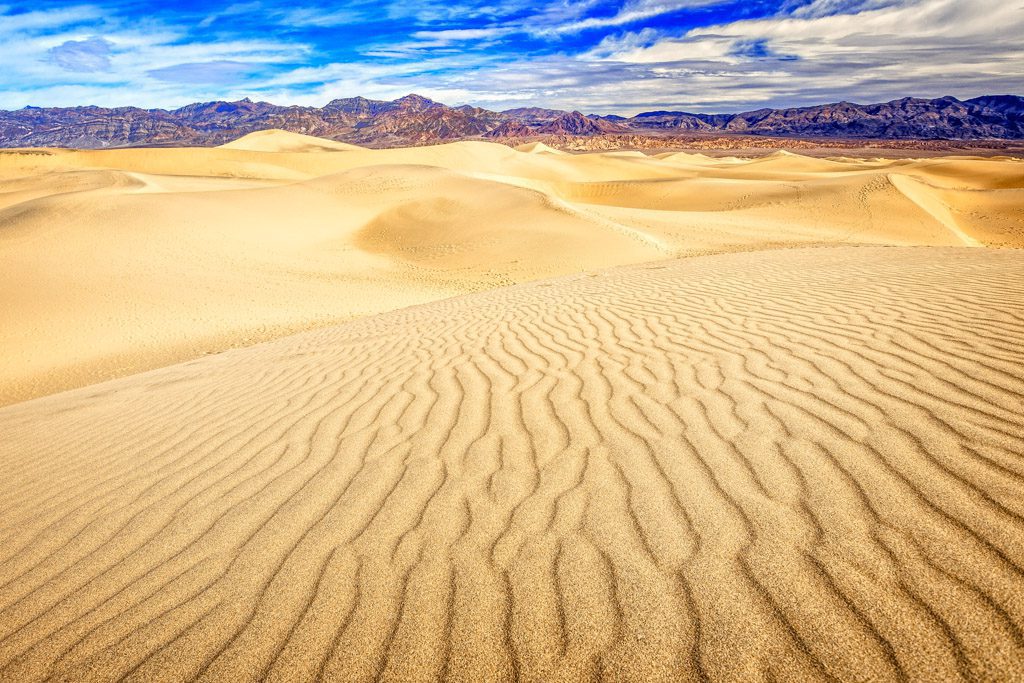 ---
Where to Stay in Las Vegas, NV
Day 2 - Sightseeing in and around Las Vegas
Day 2 – Sightseeing in and around Las Vegas 
First Stop Hoover Dam
The best time to visit the Hoover Dam is early morning or late afternoon to avoid crowds and the mid-day heat. It is located approximately 35 miles southeast of Las Vegas, on the Nevada-Arizona border. The driving distance is about 45 minutes. 
For me, it was amazing to see and walk over the arch type 726ft high dam and the surrounding breathtaking scenery of Lake Mead. I stayed there until afternoon and returned to the hotel in preparation for my next Las Vegas adventure in the evening.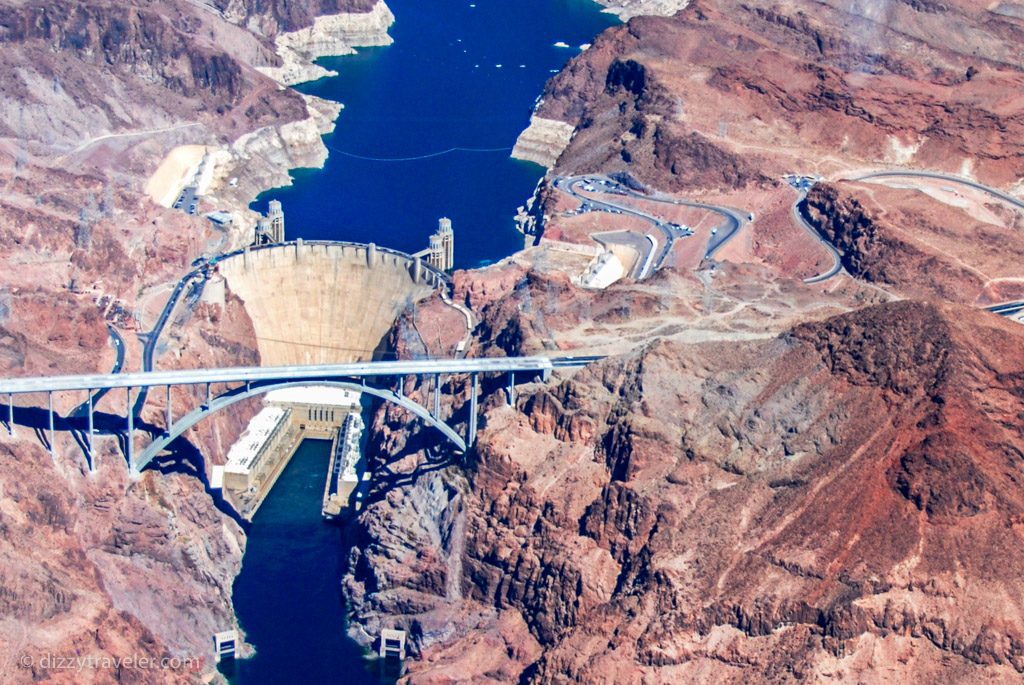 Evening Trip to Red Rock Canyon
If you are looking for something special to do away from the Las Vegas crowd and be close to nature, then the Red Rock Canyon National Conservation area is a beautiful place to visit. The park is only 13 miles away from the city, and the 13 miles scenic drive is perfect for photographers and hikers. Especially the area becomes picturesque during the sunset.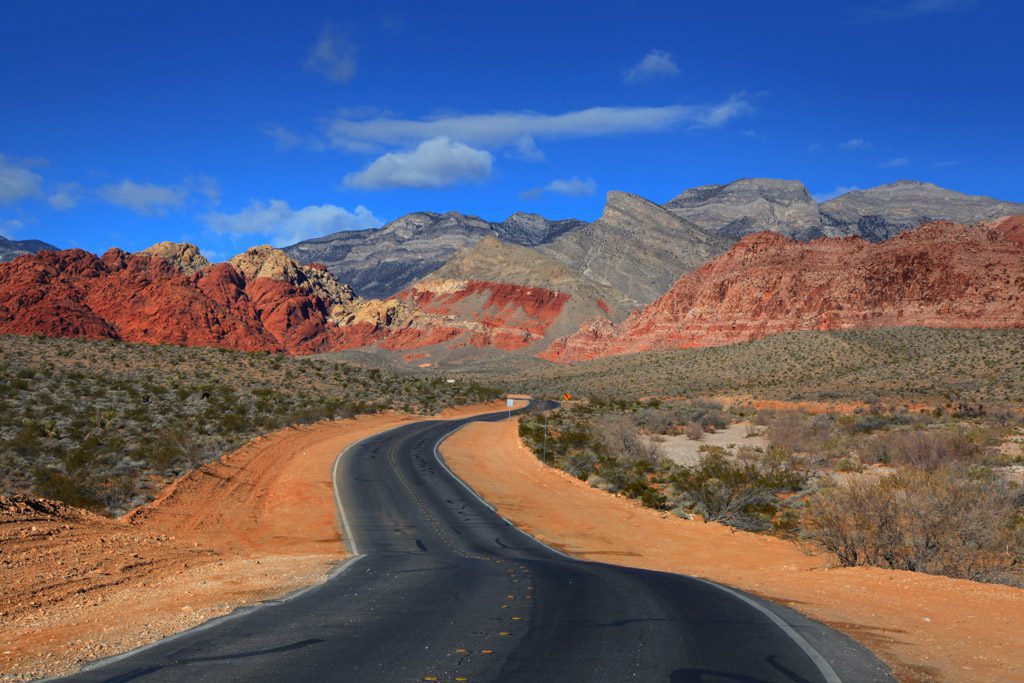 Casino Hopping in Las Vegas
Later in the evening, I walked along the strip hopping from one casino to the other and checked out as many free shows as possible. The casinos decorated with lights were terrific, particularly the fountain show at the Bellagio was spectacular.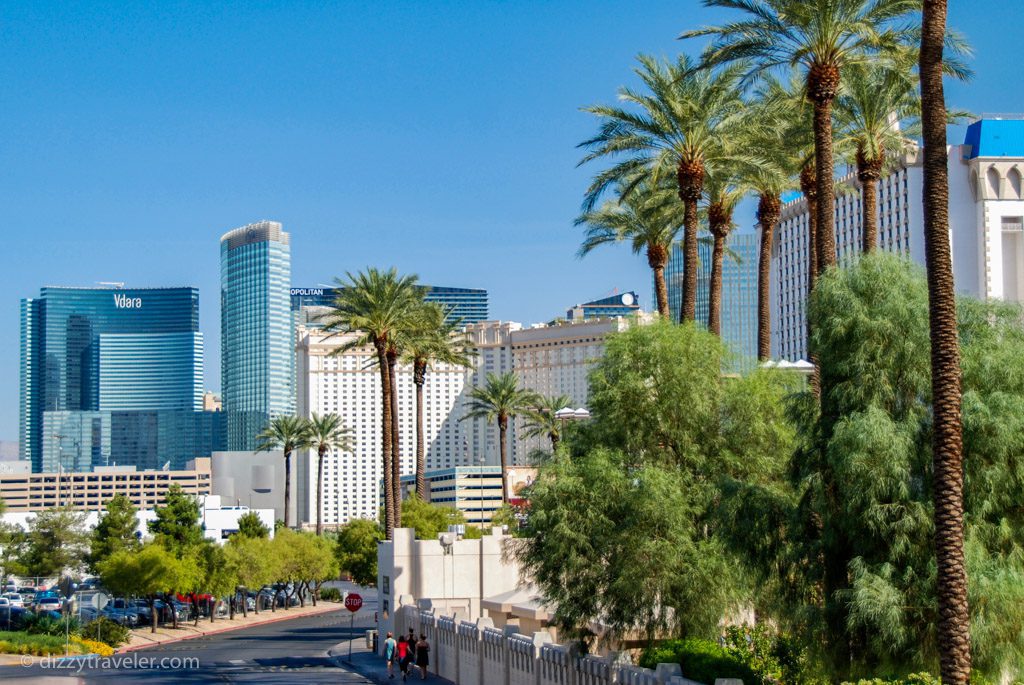 Day 3 - Road to Moab, Utah From Las Vegas
Day 3 – Road to Moab, Utah From Las Vegas
After spending two incredible days in Las Vegas, it was time for me to hit the road again. My next stop was Zion National Park, Utah. Soon I crossed the Utah state line gradually encountered dramatic and epic landscapes. No wonder why landscape photographers from all over the world travel to southern Utah for the chance to capture their signature shot.
Quick Stop in Zion National Park
After around a 2 1/2 hour drive from Las Vegas, I entered the park from the south entrance. It was a drive-through National Park on my cross country road trip, but it was so stunning and picturesque that it blew my mind away; therefore, I decided to spend a little more time taking some easy hikes and making my breathtaking takeaway shots. So I quickly stopped by at the Visitors Center to pick up maps and get trail information and tips before heading north.
It is undoubtedly one of the most popular National Parks in Southern Utah. Its red and white sandstone formations, narrow slot canyons, and the virgin river make the park a magnificent place to explore.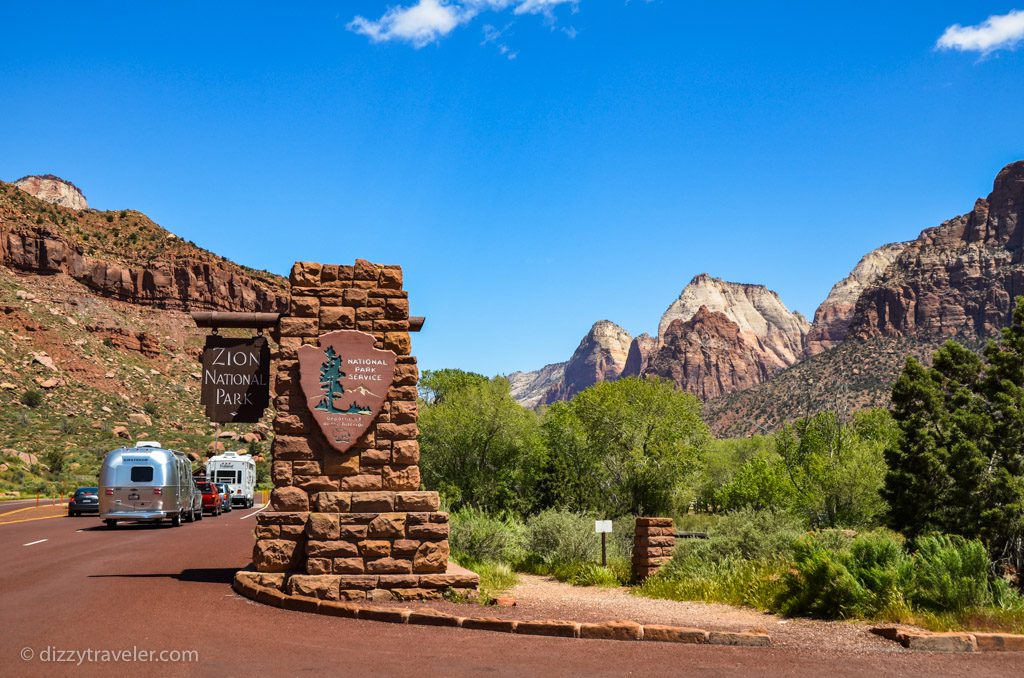 The Zion Narrows Riverside Walk
At the very end of the Zion Canyon Scenic Drive, I started a relatively easier hike to the Zion Narrows from the bottom up that begins with a paved walkway called the Riverside Walk.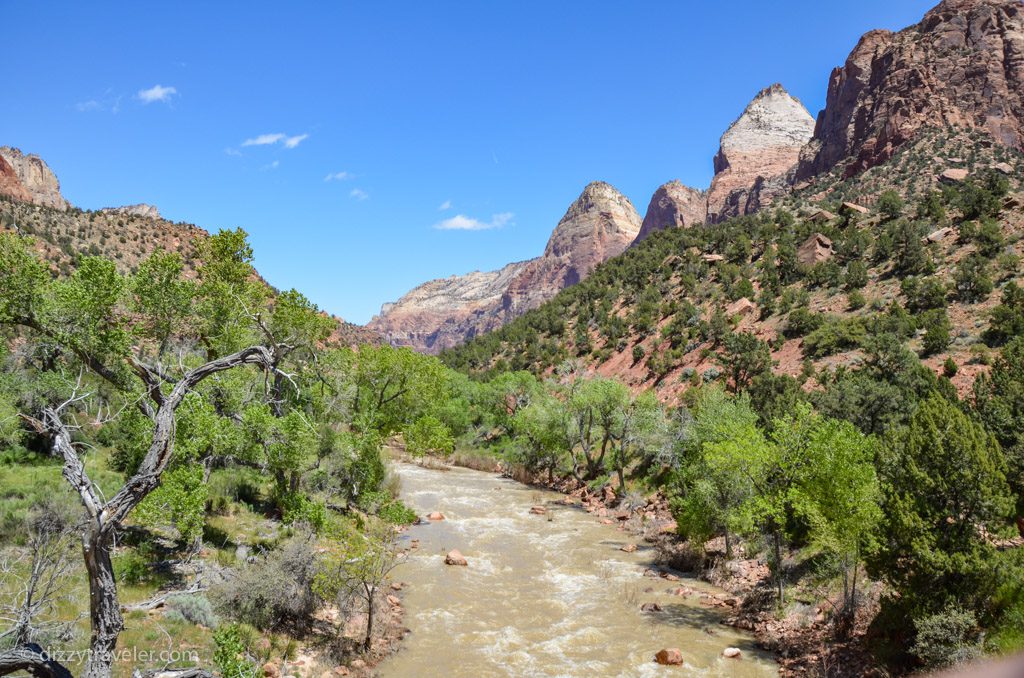 Final Stop at Moab Hotel
It was a long day; after 8+ hours of driving, including a stop in Zion National Park finally arrived at Moab, the home of Arches. It is also one of the favorite stops among road trippers. On arrival, I first checked in to my hotel and then took advantage of the daylight to explore around the Colorado River.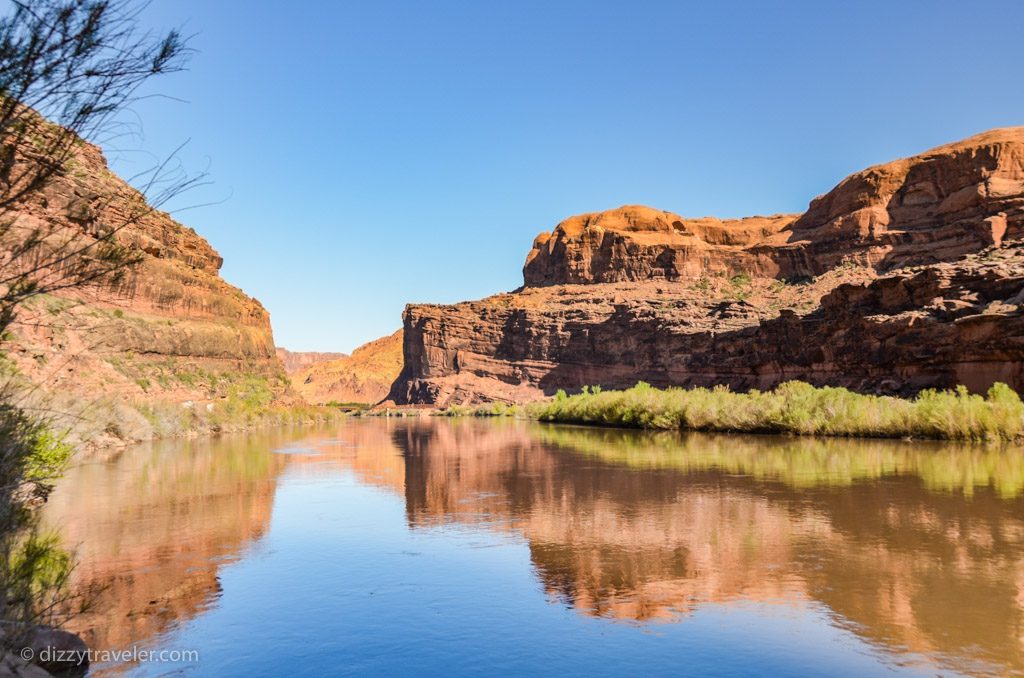 Where to stay in Moab, Utah
This Moab hotel is located near the Colorado River, a 10-minute drive to Arches National Park. Nearby activities include mountain biking, river rafting, and hiking. 
The River Canyon Lodge motel is ideally located in the center of the lovely town of Moab. It has easy access to many recreational activities, including cycling, hiking, jeep tours, or sightseeing. The River Canyon Lodge also allows guests easy access to restaurants, shops, and galleries.
In addition to restaurants and shops, this Lodge provides access to local attractions, including Canyonlands National Park, the Colorado River, and the famous Slick Rock Bike Trail.
Day 4 - Exploring Arches National Park in Utah
Day 4 – Exploring Arches National Park in Utah
I woke up early morning with the excitement of visiting the Arches National Park, located only 5 miles west of the Moab hotel where I was staying. Home to natural sandstone arches, rocks, and salt domes at an average elevation of 4868 feet (1484 m).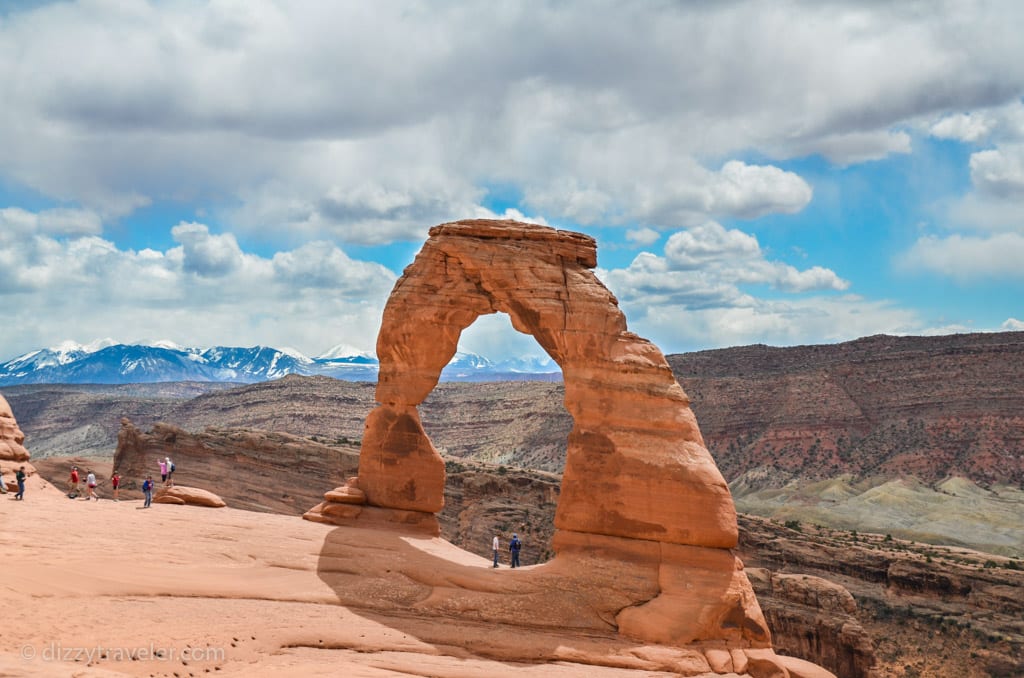 While taking an early morning drive through the park, my first impression was terrific; as far as my eyes went, there was a fantastic scene of rock formations. Every turn brought a stunning view, a perfect place for an amateur photographer like me.
Arches was definitely an excellent addition to my cross-country road trip.
I have visited many National Parks in the USA, and above all, I found Arches, one of the most beautiful ones I have seen.
I spent almost the entire day there, covered all the major trails, and called it off at the end of the day.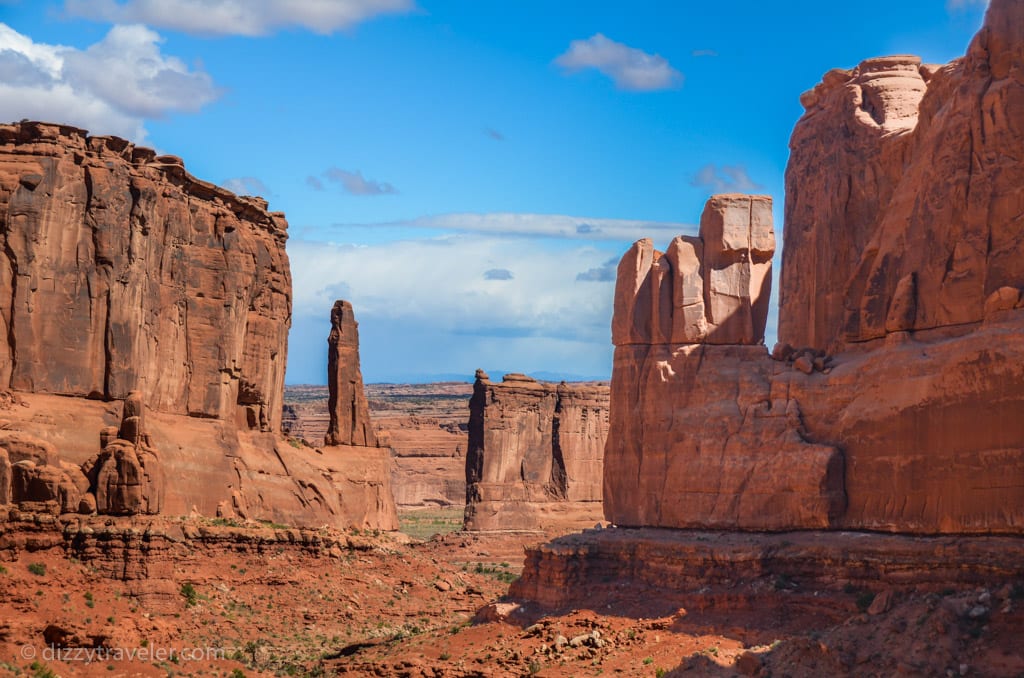 Day 5 - Road to Aspen, CO from Moab, UT
Day 5 – Road to Aspen, CO from Moab, UT
After spending two exciting nights in Moab, I was back on the road heading east on route 70 towards Colorado, leaving behind all the beautiful places around the Colorado River.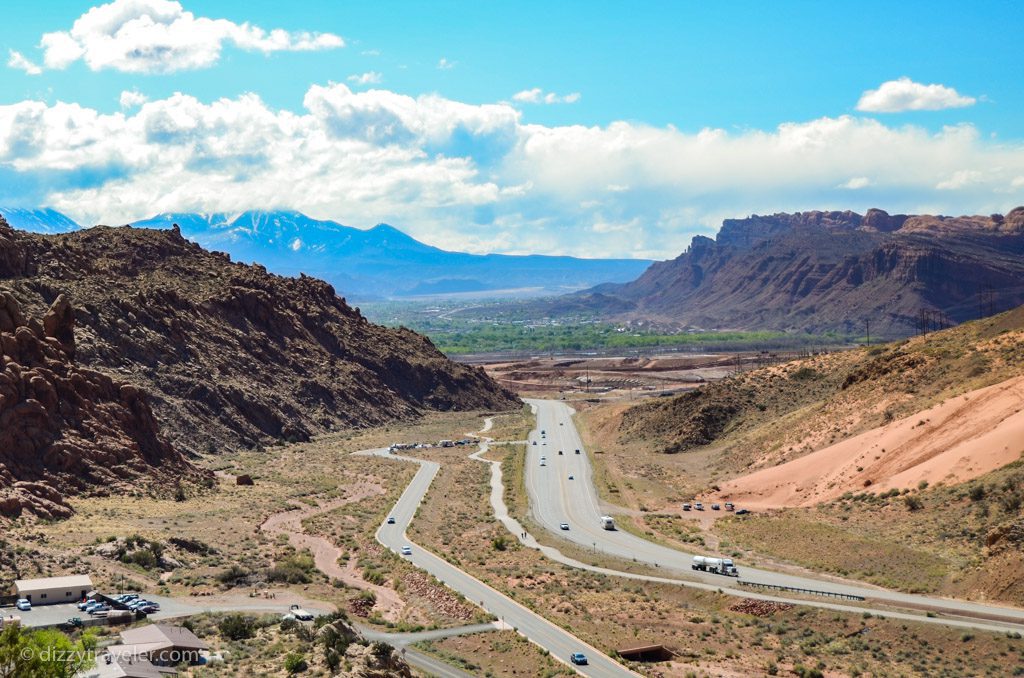 The distance between Moab and Aspen is about 240 miles, and it took me about 7 hours, a couple of hours extra than usual, as I had to make a few stops to enjoy and capture some of the beautiful scenery along the highway.  
By the time I arrived at the Aspen hotel, it was already dark outside, didn't even have a chance to explore. Finally, after a long day, I found myself exhausted, so I just went to bed.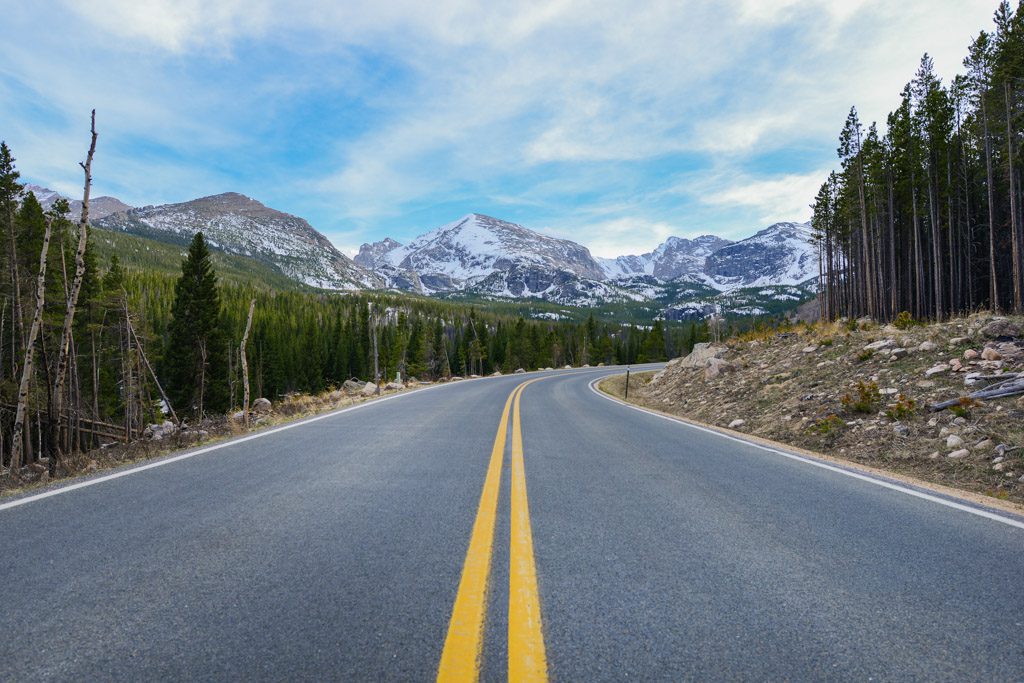 Where to stay in Aspen, Colorado
Aspen Square Condominium is a minute's walk away from the Silver Queen Gondola at Aspen Mountain. It features an outdoor swimming pool, a fully-equipped kitchen, and a spacious seating area with a fireplace is also provided among many others.
Aspen Airport is a 10-minute drive away from Aspen Square Condominium Hotel. Gunnison National Park is 80 miles away from the hotel.
Surrounded by the stunning Colorado Rocky Mountains and offering easy access to endless recreational activities, this resort features on-site gourmet dining, a bar, an outdoor swimming pool, and a local transport service.
Aspen Meadows Resort is close to downtown shops, restaurants, and top-rated ski trails.
Day 6 - Driving from Aspen through The Rocky Mountains to Denver
Day 6 – Driving from Aspen through The Rocky Mountains to Denver
Aspen, Colorado, is well known for world-class skiing, exciting nightlife, luxury retail, insanely beautiful landscape, and many more.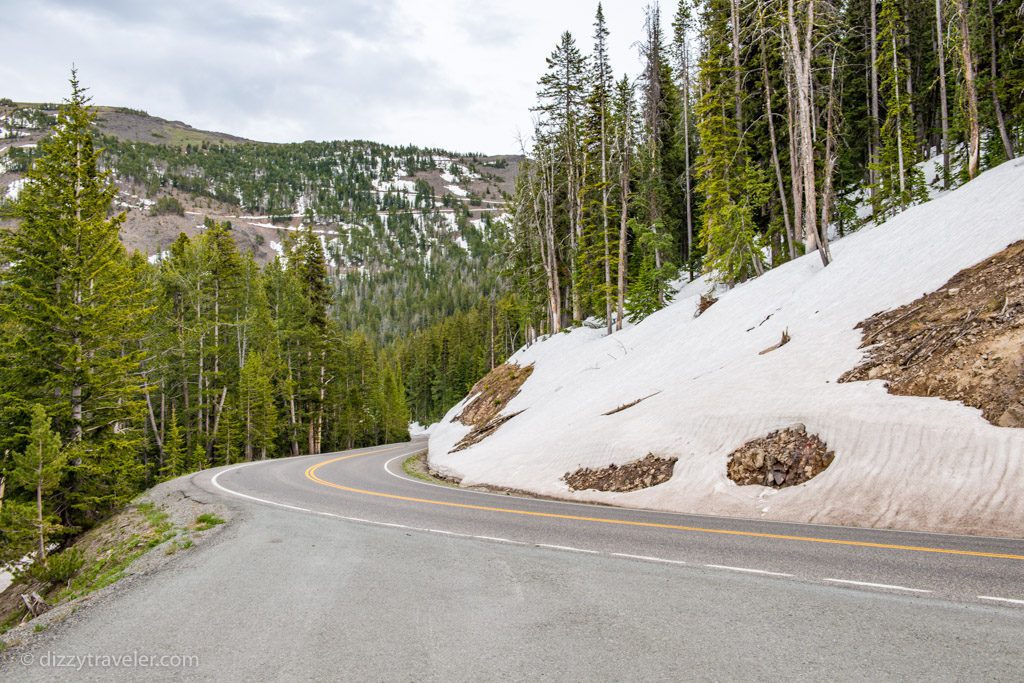 I wanted to spend most of the day sightseeing in Aspen so, I began my day as early as possible. I was amazed by the beautiful scenic view all around the city and could not stop taking pictures. After lunch, I started heading back on my planned trip to Denver, about a four-hour drive from Aspen. It took me longer as I could not cover much due to the snowstorm in the Rocky Mountains area, and it was pretty intense around Vail. However, once I crossed the Eisenhower Memorial Tunnel, the Strome seemed to clear up at an average elevation of 11,112 feet.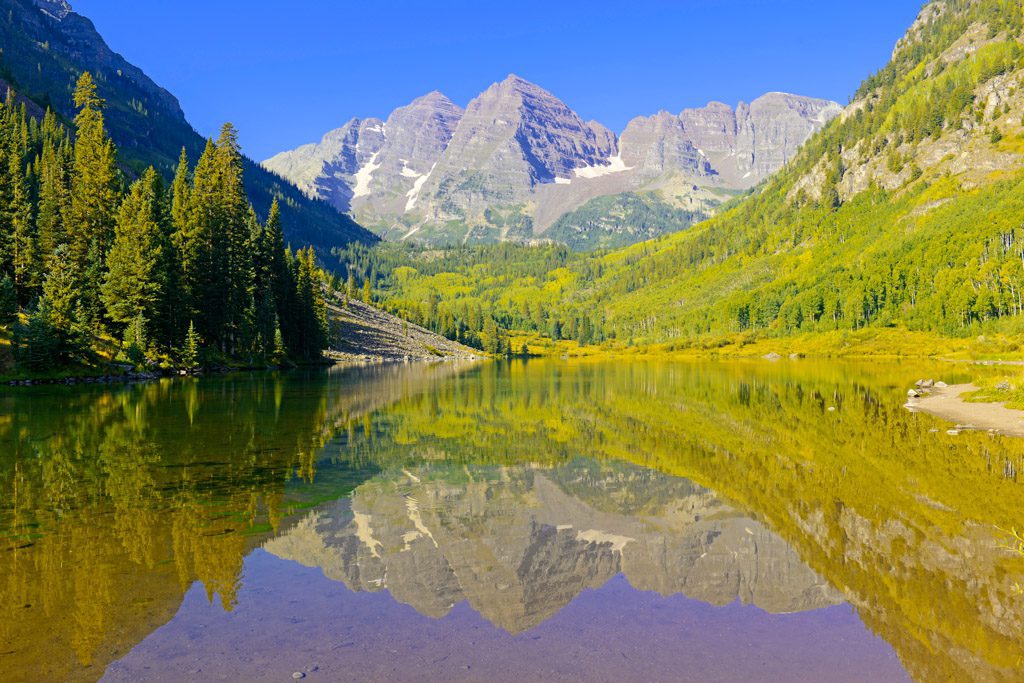 So after driving for about 5+ hours had to take a break in Denver for the rest of the day.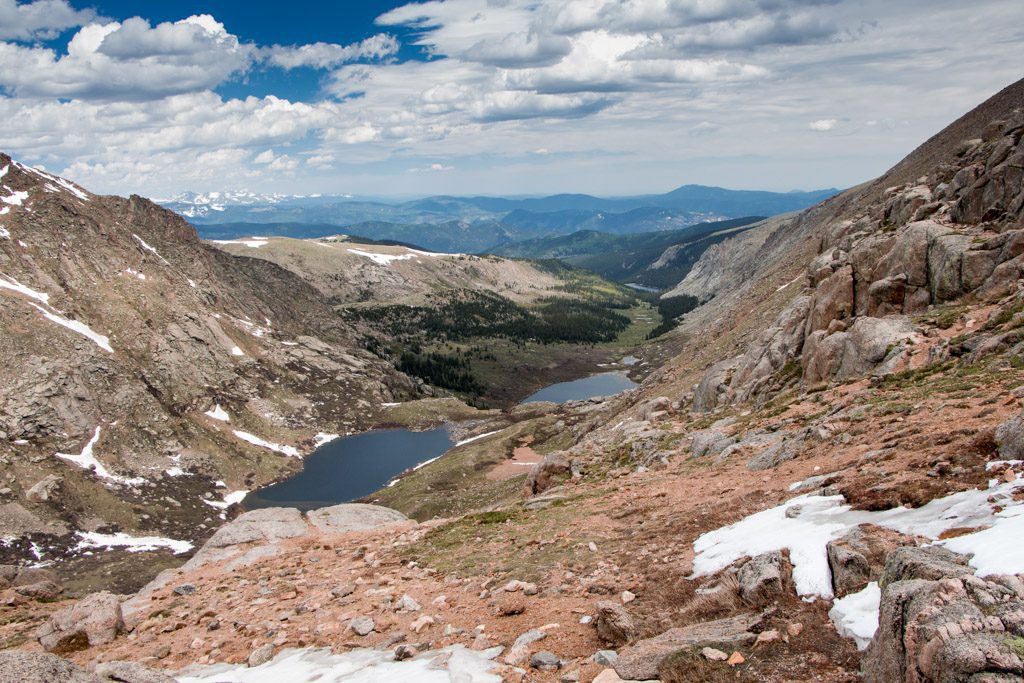 Where to stay in Denver, Colorado
The Westin Denver Downtown is located less than one mile from the Colorado Convention Center and Coors Field, also features a rooftop swimming pool with stunning city views. Shopping at the16th Street Malls is just a 3-minute walk from Westin Denver. In addition, lower Downtown and Larimer Square are both only 2 blocks away.
Warwick Denver features a restaurant, outdoor swimming pool, fitness center, and bar in Denver. This 4-star hotel offers room service and a concierge service
Get Your Guide – Find unforgettable experiences
Day 7 - Driving from Denver to Kansas City, Missouri
Day 7 – Driving from Denver to Kansas City, Missouri 
After a few relaxing days, today was when I planned to drive and cover as much as possible. So guess what I drove almost 600 miles in 8+ hours of driving—starting from Denver, Colorado to Kansas City, Missouri. The legal speed limit was 75 miles/hr (120 km/hr) on this leg of interstate 70, but most vehicles were cruising way over the limit.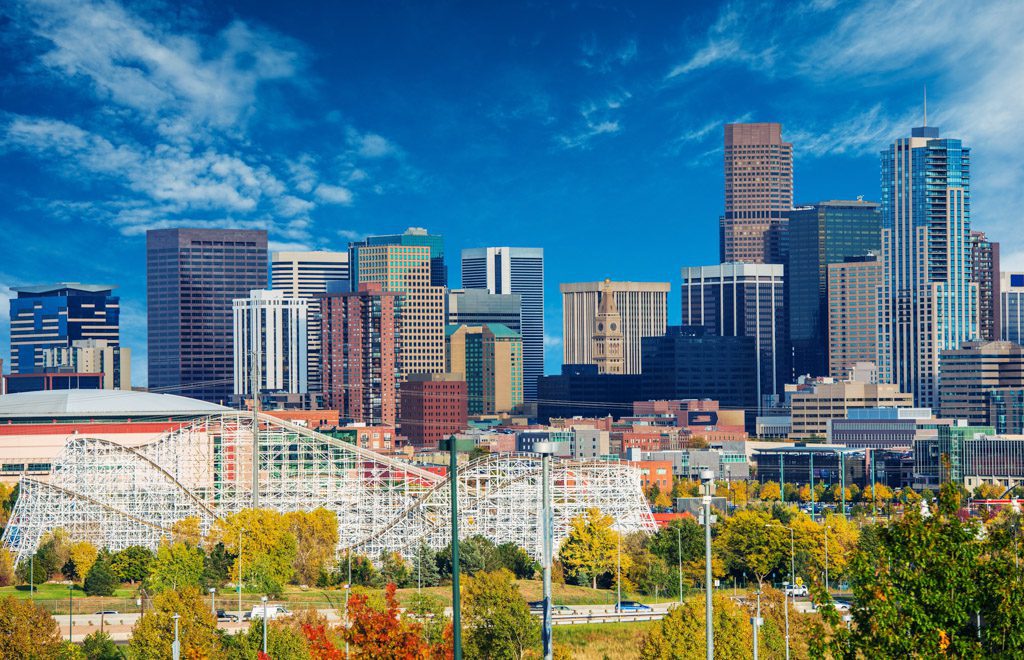 The most impressive part of the dring was miles after miles of corn, soybean, and sunflowers fields that stretched as far as my eye could see. It was an impressive spring scene, and I imagined how beautiful it would be when it was close to harvesting, or the flowers started blooming in August.
If you have time, then venturing out off I-70 is highly recommended at any fabulous towns and attractions on the way that are also an ideal reason to stretch out your legs.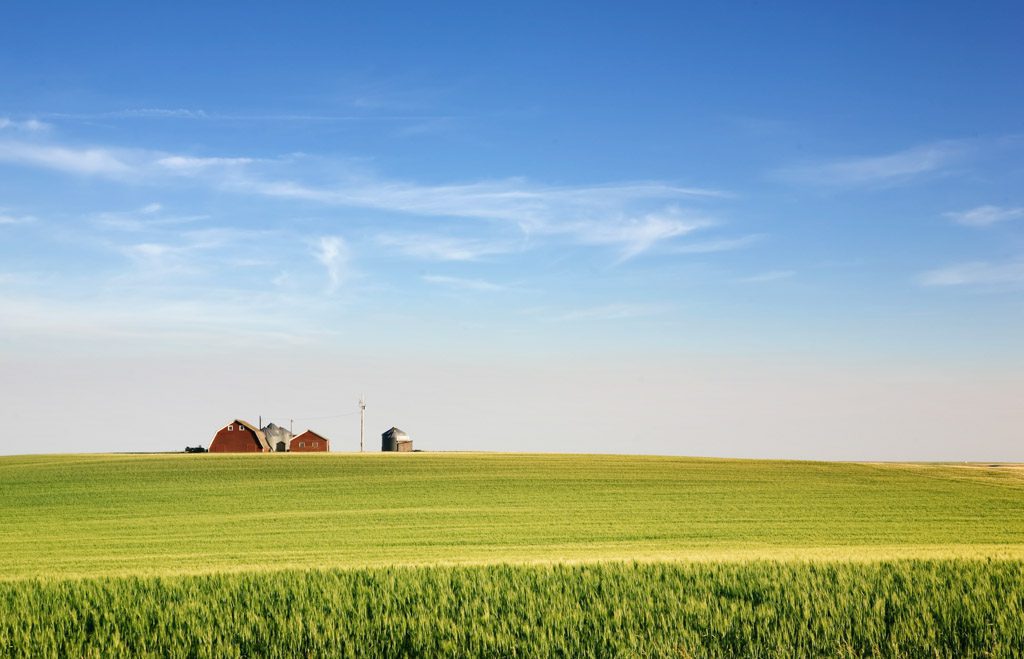 At the end of the long drive arrived at the hotel in Kansas City. Next, I treated myself to a delicious dinner (Pan-Roasted Faroe Island Salmon – Braised fennel, Yukon gold potatoes, black olive & caper tapenade)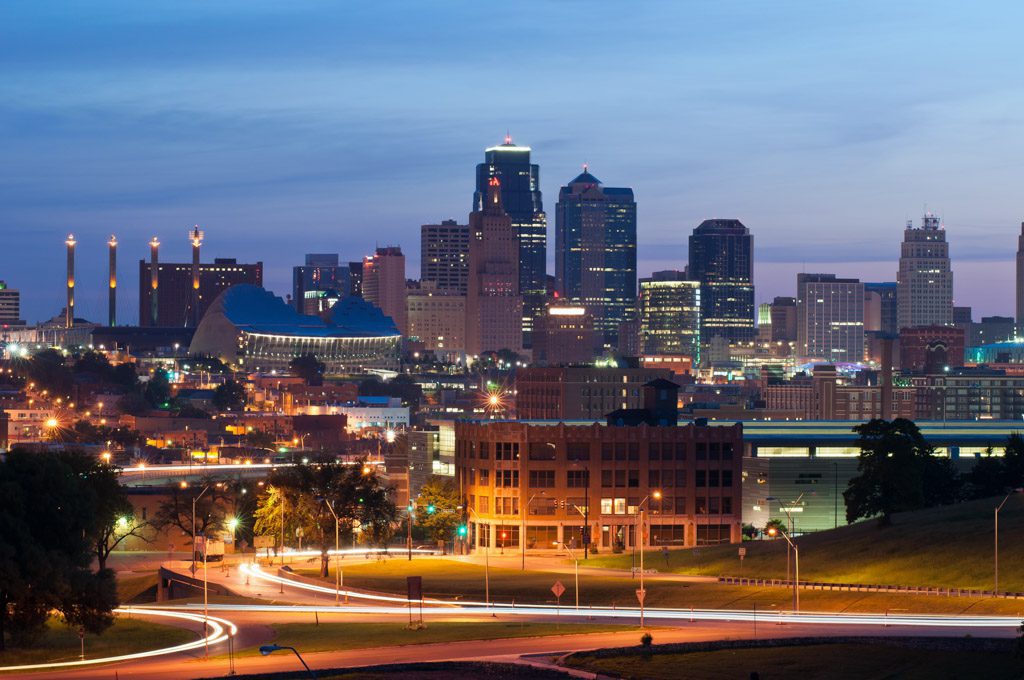 Where to stay in Kansas City, 
Missouri
Holiday Inn Express – Kansas City Downtown is located about 1,000 feet from Sprint Center and 2,650 feet from Kansas City Convention Center. The City Hall is within a 3-minute walk. Kauffman Center for Performing Arts is 0.7 mi, while the Legoland at Discovery Center is within a 5-minute drive. The nearest airport is Kansas City International Airport, 21 mi from the property.
This Kansas City Hampton Inn offers rooms with free Wi-Fi and cable TV, just steps away from the shops and restaurants of the historic Country Club Plaza. Facilities include an indoor pool. In addition, guests can work out at the Country Club Plaza's fitness room. The hotel also offers a 24-hour reception and a clothing store.
Get Your Guide – Find unforgettable experiences
Day 8 - Next Stop St. Luise- Driving from Kansas City to St. Luise
Day 8 –
Next Stop St. Luise- Driving from Kansas City to St. Luise
St. Luise is located about 250 miles east of Kansas City off I-70 in Missouri. I planned to drive about 3+ hours to explore St. Luise from Kansas City. And spend a day resting and discovering one of the Midwest cities that was on my must-do list for years now. St. Louis is home to National Park, many attractions, and a culinary experience. And yes, absolutely not to miss the iconic 630-foot arch that made this city famous among local and international travelers alike.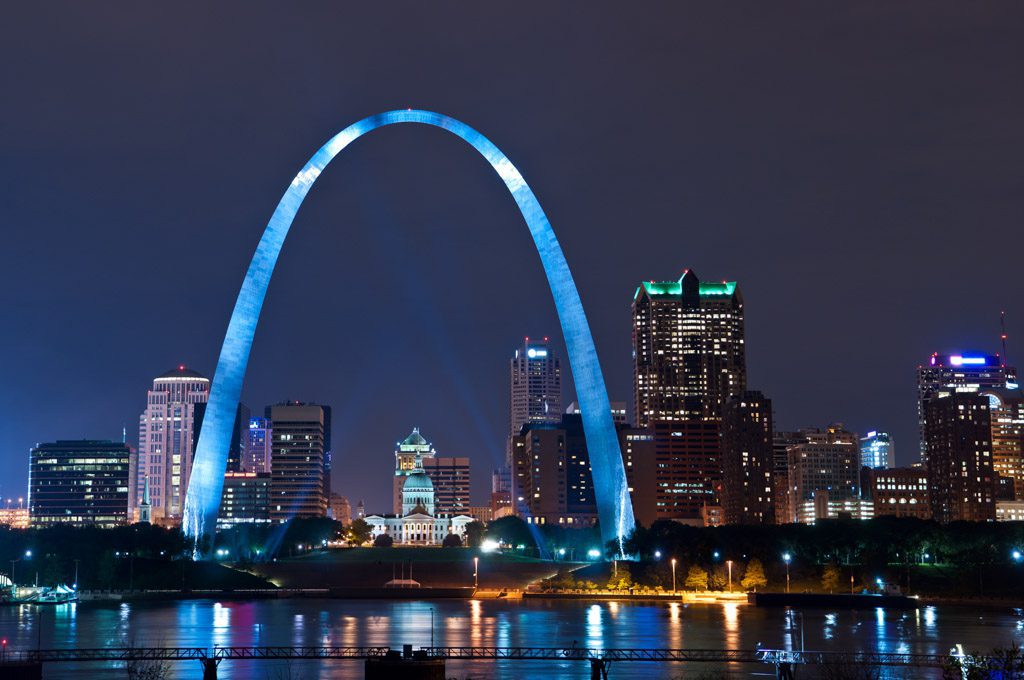 Upon arrival, I did an early check-in to the hotel and grabbed lunch at Songbird restaurant before heading out to visit some of the places on my must-see list.
First Stop The Arch and Downtown attractions. Next, A Walk Through The Forest Park, and finally, spent the rest of the evening at The Grove.
Where to Stay in St. Louise, MO
Day 9 - Short Drive from St. Louis to Indianapolis
Day 9 –
Short Drive from St. Louis to Indianapolis 
Today I will be driving about 245 miles (555 km) from St. Louis to Indianapolis; usually, it takes about 4 hours to get to my hotel. As I will have most of the afternoon free so planned to explore some of the places in the city, particularly the canal walks, including the White River State Park, Indianapolis City Market, Scottish Rite Cathedral, and the central canal.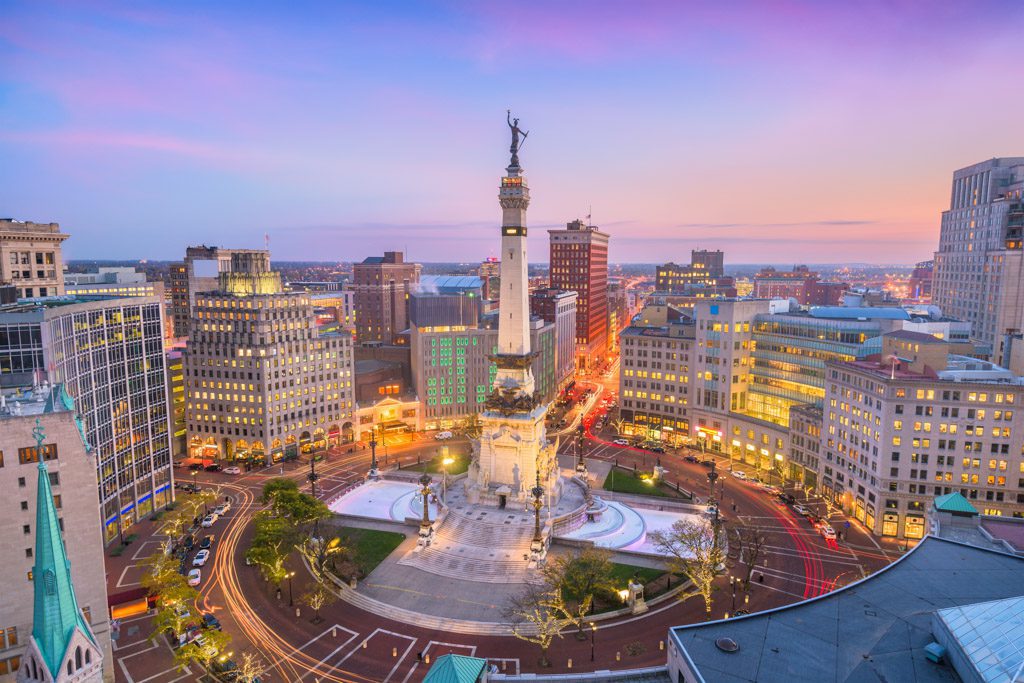 Downtown Indy Canal Walk 
The downtown Canal walk is a beautiful 3 miles loop is one of the main attractions in Indianapolis, which is dotted with pedal boats, gondolas, bicycles, fitness lovers, and tourists like me.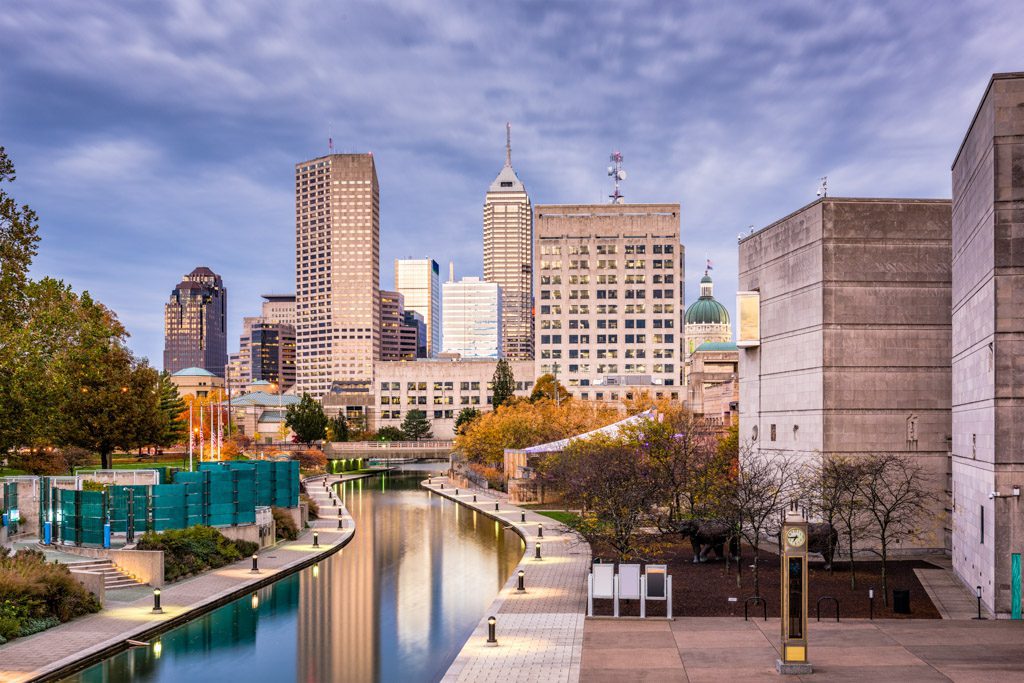 White River State Park
White River State Park is in Downtown Indianapolis, situated along the eastern and western banks of White River. There are a few attractions located in the park include the scenic canal Indiana State Museum, Eiteljorg Museum of American Indians and Western Art, Indianapolis Zoo, Medal of Honor Memorial, NCAA Hall of Champions, Victory Field, Monument Circle, and a few more.
Scottish Rite Cathedral
It is worth visiting the historic Scottish Rite Cathedral in Indianapolis, one of the most significant Masonic buildings in the world. 
Massachusetts Avenue
Massachusetts Avenue is a popular cultural and commercial district that served trolley passengers between the late 19th and early 20th centuries. The district includes unique architectural buildings where you will find theaters, art galleries, shops, and restaurants—a great place to visit. 
Indianapolis City Market
The Indianapolis City Market is a historic public market, once a farmer's market and now a food court. It houses more than 30 merchants, where you will find traditional products, fresh flowers, coffees, and amazing authentic ethnic foods. It is an excellent place to have your lunch for a great Indiana experience.  
The Soldiers and Sailors Monument 
In the center of the city, on the circle, The Soldiers and Sailors Monument is one of the most iconic structures in Indianapolis. If you are interested in climbing to the top of the 284 feet tall monument for a 360-degree view of the city, then there are options either take the 331 stairs (free) or take the elevator (cost $2 adults).  The Monument circle is surrounded by shops and restaurants, a great place for sitting on the steps and people watching. 
Indianapolis Motor Speedway
It is the home to the Indianapolis 500 and the Verizon 200 and was formerly the home of the Grand Prix. With a seating capacity of 257,325, it is one of the largest sports venues in the world. 
Where to Stay in Indianapolis, IN
Day 10 - Driving from Indianapolis to Pittsburgh
Day 10 –
Driving from Indianapolis to Pittsburgh
Indianapolis to Pittsburgh is about 360 miles (578 km), approximately 6 hours driving in regular traffic. There are many great stops along interstate 70, such as Columbus, Dayton, Logan, and Wheeling. A road trip is a great way to visit these beautiful places. However, I would have stopped or detoured to explore if I had more vacation time. I just passed through only made a couple of stops for gas, food, and stretching along the highway.
Finally arrived at Pittsburgh in the afternoon and checked in to the hotel. After settling in, I had plenty of time to explore the city. Here are a few of the activities I was able to accomplish during my stay.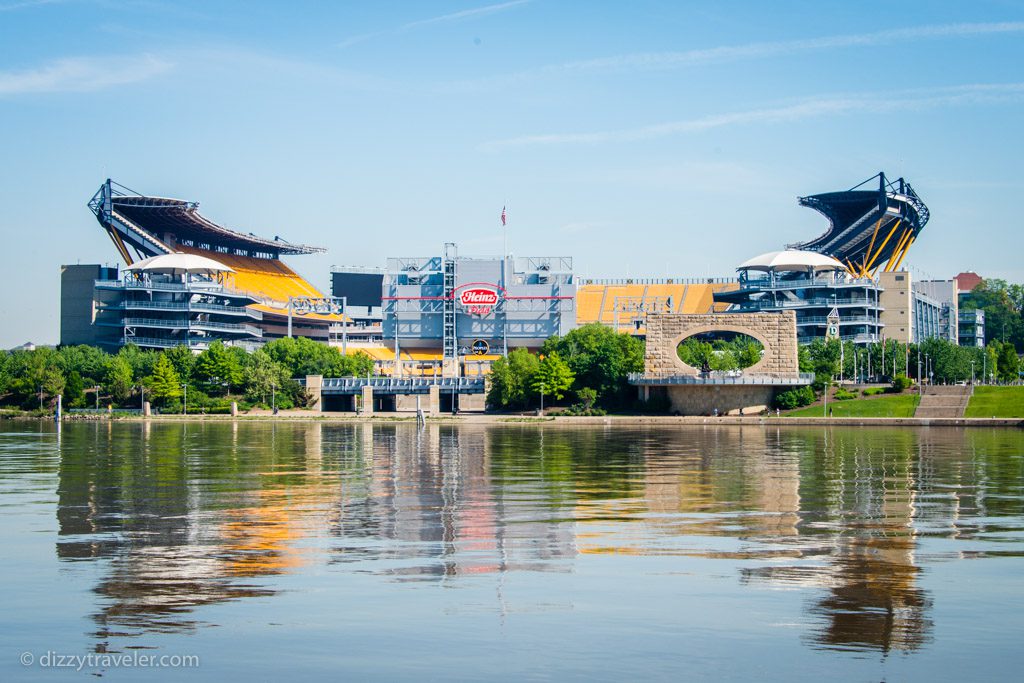 Pittsburgh is quite an old city with a history reflected in its old districts, buildings, streets, and famous for once being the country's leading glass and steel-producing city. Pittsburgh is well known for its bridges, and they play an important role in the transportation system. In addition, the city has a unique skyline best viewed when you walk down the river bank or take a river cruise.
River Cruise
One of the most fun things to do in Pittsburgh is taking a sightseeing cruise along the Allegheny, Ohio, and Monongahela Rivers.
Station Square
The old Pittsburgh Terminal Station is redeveloped into Station Square, a shopping and entertainment complex. A trip to Pittsburgh isn't complete without visiting these Historic Sites.
Duquesne Incline
One of Pittsburgh's most popular tourist attractions is riding up the historic Duquesne Incline, a red trolley car to the top of Mt. Washington for an excellent bird's-eye view of the city and the surrounding area.
Self Guided Walking Tour
It is worth exploring the popular North Shore, home to baseball's Pirates, football's Steelers, and many recreation locations. And cross one of the famous bridges over the Allegany River for an experience.
Guided Bike Tour
For those travelers staying longer in Pittsburgh, one of the fun things to do is take a guided bike tour. You will have the opportunity to ride across bridges and along the waterfront with frequent stops for pictures and learn about the history.
Where to stay in 
Pittsburgh, Pennsylvania
Pittsburgh Hampton Inn & Suites is surrounded by museums, gardens, and entertainment in downtown Pittsburgh. This hotel offers a convenient location near a variety of attractions such as Frick Art & Historical Center and vintage amusement park.
Located between the U.S. Steel Tower and PPG Paints Arena in the center of Pittsburgh's business district, this hotel offers spacious guestrooms and suites as well as comfortable amenities. In addition, DoubleTree by Hilton Hotel & Suites Pittsburgh Downtown features a free shuttle service throughout downtown Pittsburgh.
Get Your Guide – Find unforgettable experiences
Day 11 - Sightseeing in Pittsburg and Lancaster
Day 11 –
Sightseeing in Pittsburg and Lancaster
I woke up early and did an early morning self-guided walking tour in downtown Pittsburgh and around the waterfront, and later at 10 AM got back on the road towards Lancaster. A 240 miles ( 386 km) drive took me about 4 hours to get there. I could have made it to New Jersey on the same day, but I have decided to spend a night in Lancaster to tour the Amish settlement there.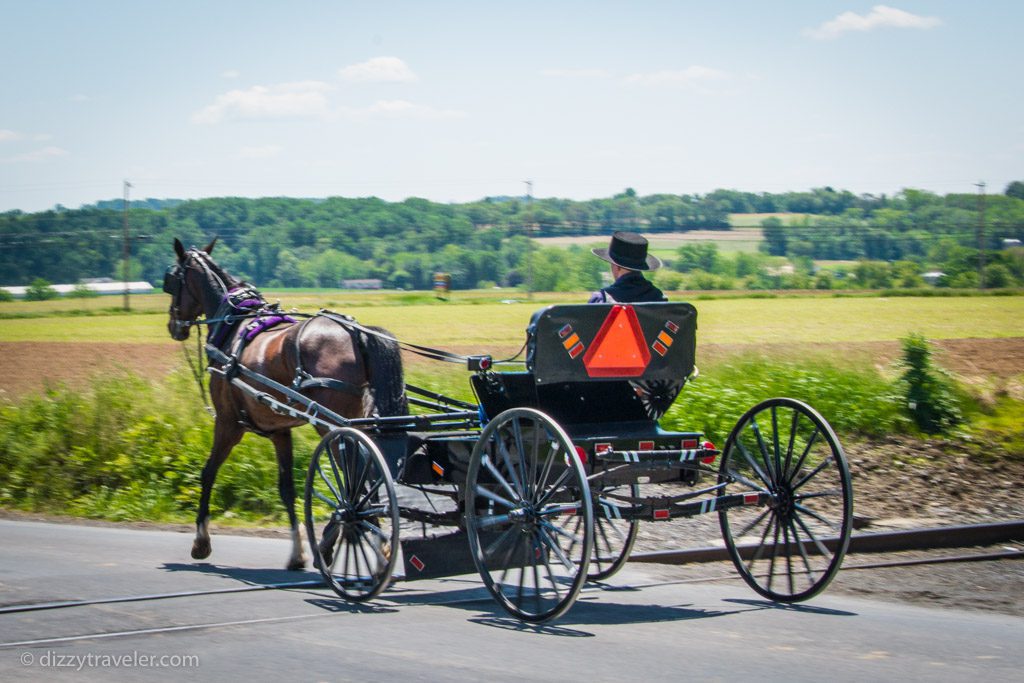 Upon arrival at Lancaster, I checked into the hotel and headed to Strasburg Rail Road for an authentic steam train ride through picturesque Lancaster County's famous Amish Country.
The regular excursion train rides are 45 minutes long (4.5 miles towards east and 4.5 miles returning west on the same track). There are different preferences first class, dinner, open-air, or coach. I definitely recommend this historical train ride through the countryside.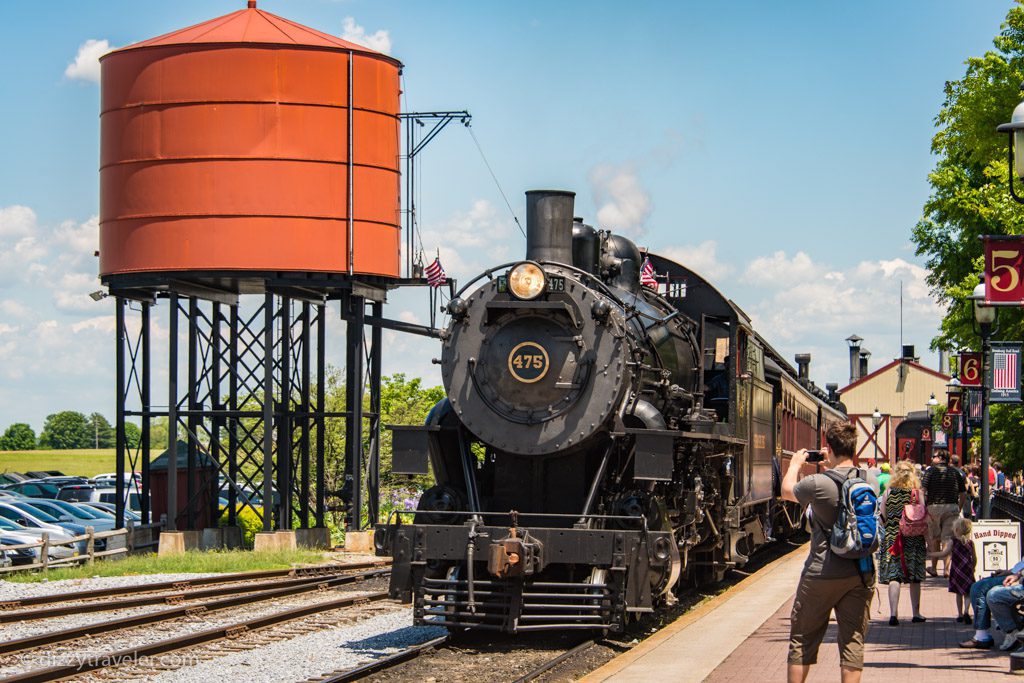 Amish Village & Backroad Bus Tours
There are guided tours available in Lancaster for a first-hand look at the Amish culture. I have taken the Bus Tours that took me to inside an authentic Amish farmhouse, saw farm animals, and was able to experience the Amish buggy. Later visited an Amish village and explored the schoolhouse, blacksmith shop, and Amish market. 
Where to Stay in Lancaster, PA
Day 12 - At Last My Final Road Trip to New Jersey
Day 12 – At Last My Final Road Trip to New Jersey
Today is the final leg of 12 days road trip from Los Angeles to New Jersey, total driving distance of 3,200 miles ( 5,150 km ), including some additional off-route sightseeing trips.
I enjoyed staying and experiencing a few activities in Amish country yesterday. This morning nothing was planned; relax and drive from Lancaster to my hometown Belleville, NJ.
All around me looked so familiar to me, known highways, towns, and natural beauty that I missed for a while. Driving a little over 2.5 hours and covering 163 miles ( 262 km) I finally arrived home.
Things to do before your road trip
Make sure to do a mechanic check up your car for oil, tire balance and air pressure and rotate your tires.
Check windshield washer fluids, break oil and coolent for the planned long drive
In advance plan all the stops along the way and book your hotels accordingly
Don't forget to pack blankets, extra jacket, flashlighhts, bottled water and snacks
Make sure if your auto insurance has the roadside assitance coverage in the areas you will driving, otherwise signup membership with AAA if you don't have it already.
Pictures that will tell the story of my road trip