The Moche Empire is the oldest civilization in Peru, not the Incas! These were the group of people who thrived in the northern coast of the country in 100 A.D. until 800 A.D., seven centuries before the Inca rose in the uplands. Their works of engineering and art were brilliant and can still be seen today despite being in a state of decay. Their story is mystifying. Not a skeleton in the cupboard for sure, but only a few know them much less extend a trip to visit the Moche's former dwellings. So, here I am writing about my journey with the goal that I might tempt you to visit it as well.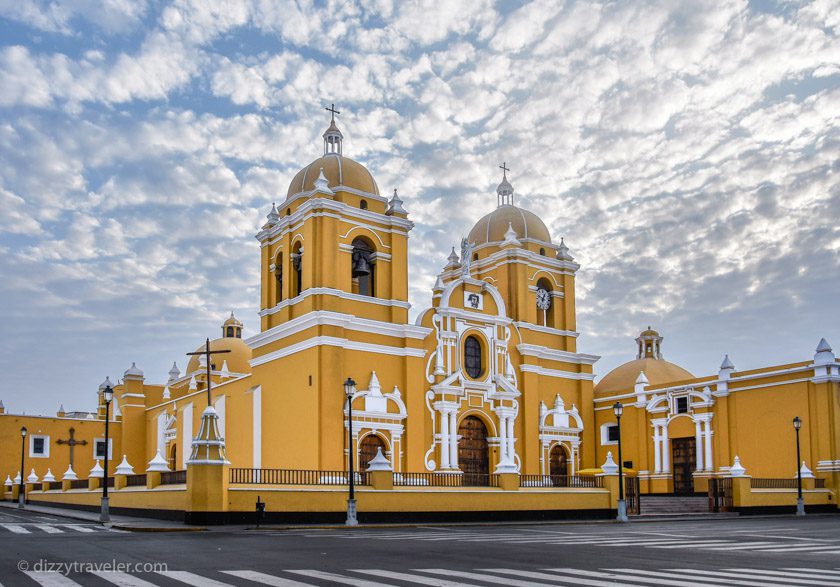 How to Get There
By Air
From Lima, flying in is the best option for those who don't have much time or don't want to spend eight hours on the bus. LATAM has three flights daily from Jorge Chavez International Airport Lima to Trujillo. The other airlines operating this route are LAN Peru, Star Peru, and Taca Peru. Flight duration is one hour and 13 minutes.
By Bus
By bus is the cheapest way to get to Trujillo, but the longest for sure. Bus fare is from $9.00, and it takes eight hours of journey from Lima. Bus services leave hourly and operate every day. One of the bus companies is called American Express. It departs from Lima Central Bus Station and stops at Trujillo Central Bus Station.
By Rental Car
It is doable to rent a car and drive your own from Lima to Trujillo. Fuel cost is around $4.55 per gallon. The distance between the two cities is 346 miles or 557 kilometers. When renting a car; it is best to go to a reputable company. Have your international driver's license, proof of travel insurance, and your passport ready.
Getting Around
By Taxi
Taxis are inexpensive to use in getting around. From the airport to the town square should not cost more than US$20. Better yet ask the hotel staff to call a taxi on your behalf or let them arrange a pick-up service when you arrived at the airport.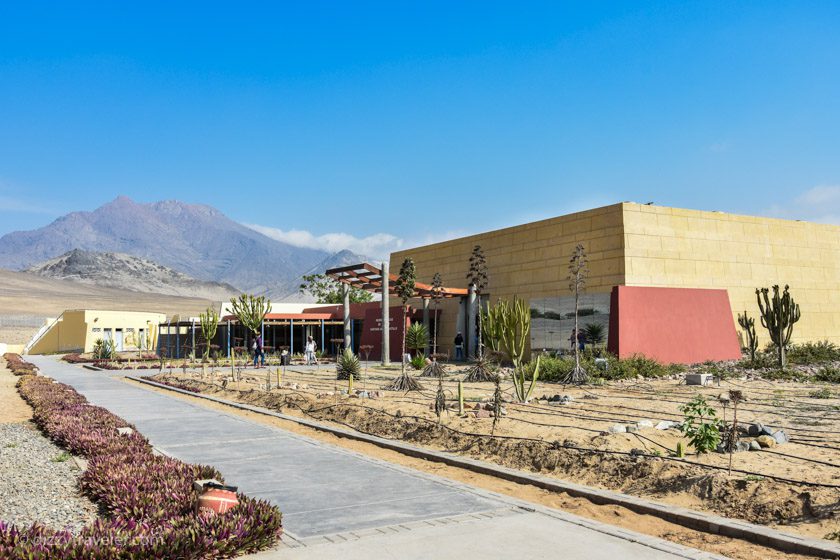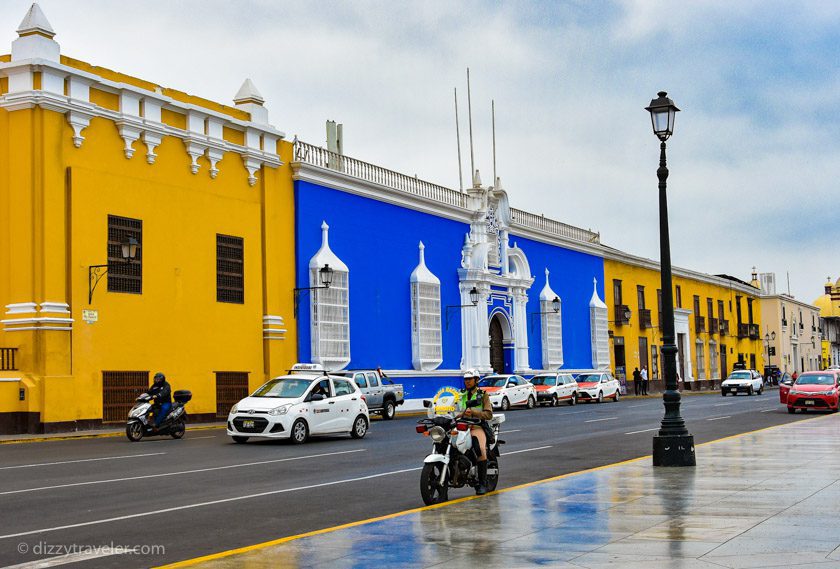 By Bus
Trujillo has plenty of buses and combis. Perfect option especially for those who want to get a feel of a local. They cover all the main routes in and outside the city.
On Foot
The historic town of Trujillo is pedestrian-friendly! Therefore, by foot is one of the best ways to explore the town's historic landmarks.
Best Time to Visit
Winter: — November to December is mostly cold, but the temperature never drops below 10 °C (50 °F). Bring light jackets to wear at night time.
Spring: — January to April is the best time to visit Trujillo. The average temperatures are between 20°C (68.0°F) and 30°C (86.0°F.) It rains in January or February but should not ruin your time and visit. It is always a good idea to pack that raincoat.
Summer: — May to August is when the temperature is averaging to 26.2°C (68.0°F) in the evenings. During the day it rarely reaches 30 °C (86 °F) in the summer months. Bring sunscreen and hats, nonetheless.
Autumn: — September to October is like Spring weather. Also, a pleasant time to visit.
Useful Information
Safety
Trujillo is the "Sicily" of Peru when it comes to crime rate according to most Peruvians in Lima. You need to be careful and exercise common sense. Use your judgment and listen to your instinct when dealing with the locals. It is safer to book tours or taxi rides through your hotel. (And don't even try to do it yourself.) It is true, hotels charge a bit more, but what you'll save is not worth it if security is your concern.
Photography
If you want to photograph the town square (Plaza de Armas,) in its splendor, do that in early morning not just for the perfect light. But also to avoid the crowd, making it difficult to stay on your subject. I took pictures at 6:00 am, but the square was already full of people. However, if you like including the entire town's residents in the frame, so be it.
Things to See and Do
Huaca Arco Iris (Temple of the Dragon)
Also known as the Temple of the Golden Wall. This site is on the way to the ancient city of Chan Chan. The only remains of the temple are high walls of 60 x 54 meters in each side. There are prominent carving images of arch much like a rainbow. Under each rainbow are images of weird looking snakes. The rainbow arch is a symbol of fertility and rain. On top of the temple is a platform where fourteen storerooms are still intact. Objects for offerings were found and currently displayed in the Chan Chan Museum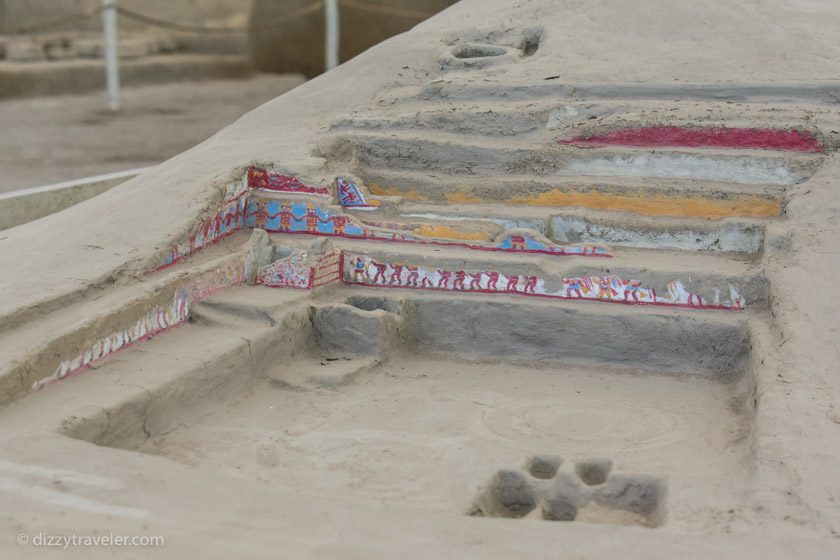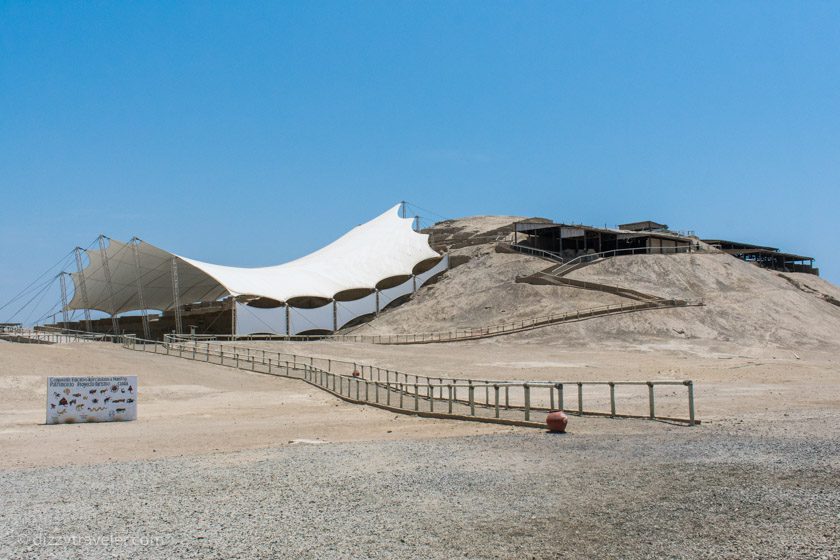 La Esmeralda Palace
Huaca La Esmeralda is now an archaeological site but believed to be the very first adobe temple built by the Chimu people. It is a small structure that lies only on a 2,000 sq. meter land. Compared to the other temples, La Esmeralda is tiny but has one of the most charming relics. The walls are with diamond shaped carvings. Interestingly, archaeologists do believe this was a palace for a Chimu king. Or a ceremonial ground of a queen named Esmeralda.
Visit Museo Huacas de Moche
This museum is huge. It contains thousands of beautiful potteries. Find these collections: the "warrior duck," the "blind priest," and "feline mantel." These items are intriguing and are valuable in Moche culture. The museum is only 500 meters from the Pyramid of the Moon, so you can go there next. It was a very educational and fun visit; but the sad part is you cannot take photographs. Visiting hours are from Monday to Sunday from 09:00 to 14:00.
Visit the Lady of Cao Museum
Sixty miles away from the city center is The Lady de Cao Museum. Since it is out of the mainstream tourist spots, hire a taxi through your hotel concierge to get there. This museum houses one of the most controversial finds in the history of archaeology– a female mummy. Her hands and feet were not only intact but also tattooed. She was adorned with beautiful pieces of jewelry. Beside her are ceremonial objects and weapons. These items indicate that she was a member of a royal family. Based on forensic studies, the lady was in her twenties when she passed away, and complications in childbirth were the cause of her death. Entrance ticket is S11.00 (US$3.30). Opening hours are from 09:00 to 17:00. After visiting the museum, head next door to the El Brujo burial site.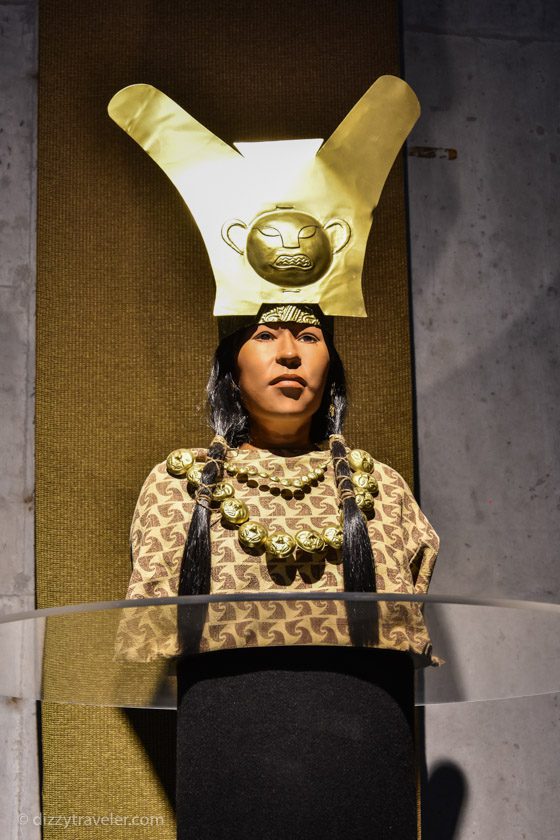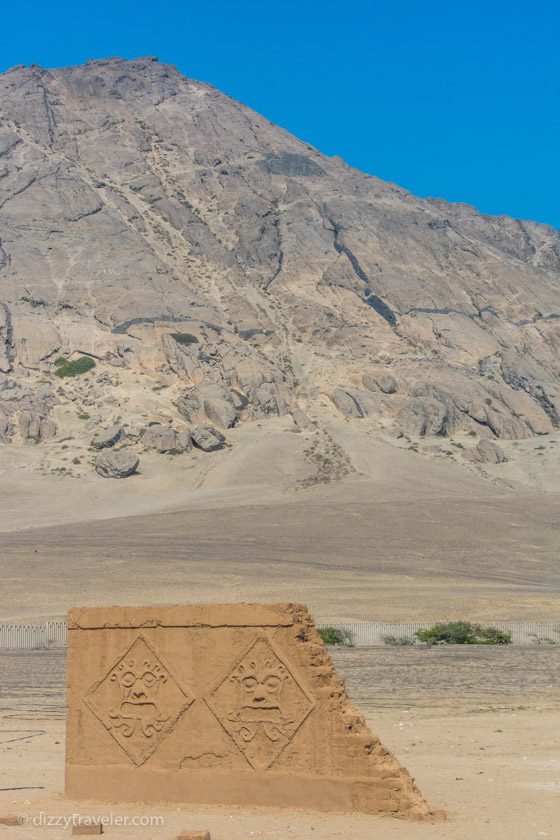 Explore the Chan Chan Archaeological Site
Chan Chan is the largest and oldest adobe city in the world! Occupying the twenty-square kilometers in the desert of Trujillo, one can get easily lost in the maze-like site. So, stick with your tour guide.
The most convenient way to get there is to join an organized tour, and your hotel can help you with that. For a DIY method, take a combi or the public bus headed to the town of Huanchaco from Espana Avenue. Inform the bus driver that you are visiting Chan Chan so that he will stop and get you off at the entrance of the site. Then walk on a dirt road for about less than a mile until you reach the ruin site.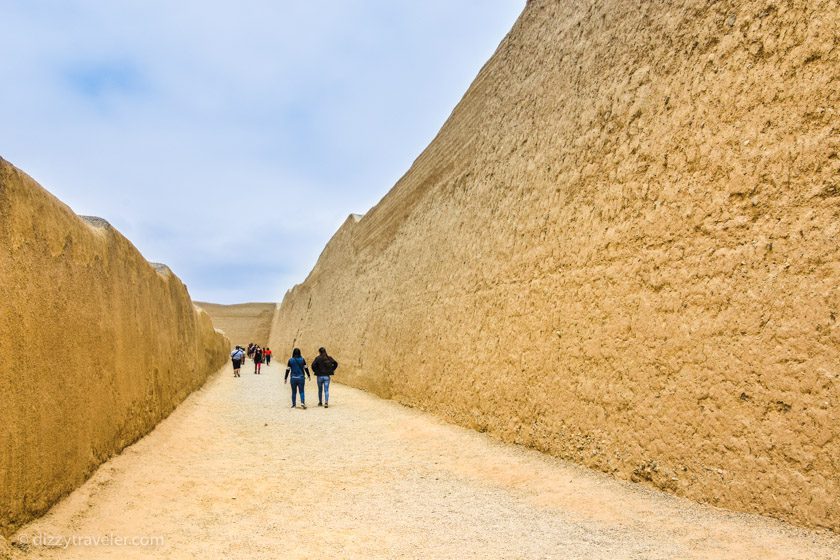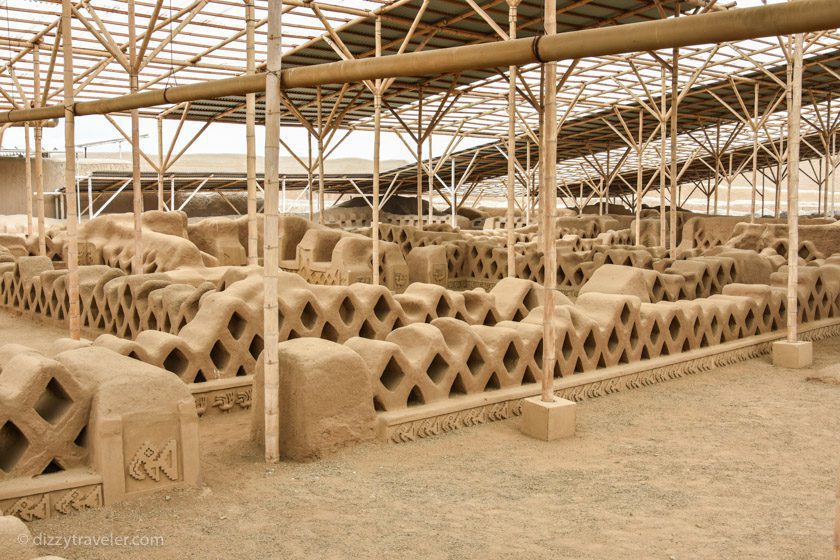 Explore El Brujo Archaeological Complex
Located in the town of Magdalena de Cao, is El Brujo Archaeological Complex. It is best to hire a taxi to go there. The drive is a bit long but, you'll enjoy the scenic route. As far back the year 100 BC, El Brujo was once a burial site for the Moche people. They built pyramids and molded its walls with horrific images of human sacrifices and slaughtering rituals. No wonder it's called El Brujo! The Spanish word "brujo" means "sorcerer!" The Moche people were paganistic. In contrast to the stark images, though, if you climb to the top, you'll see breathtaking views of the ocean and the Andean mountains. The archaeological site is open daily. Entrance fee is S11.50 (US$3.30.)
Moche Pyramids: Huaca de la Luna (Temple of the Sun) and Huaca del Sol (Temple of the Moon)
These pyramids are two of the many religious architectures built by the Moche people seven centuries earlier before the city of Chan Chan. When they abandoned the town due to famine caused by drought and climate change, the adobe structures were buried over time. It was only until recently that these pyramids resurfaced again. Thanks to those archaeologists who unearthed them.
Huaca de la Luna is where you can find one of the most dazzling (but eerie) and extensive murals not only in Trujillo but in all of Peru. Its carvings and paintings give a clue about the culture of the Moche people.
Huaca del Sol is inaccessible because the excavation did not even start yet. From the way it looks, it is even more significant due to its size. It is bigger than the Huaca de la Luna. The truth is when you see a tall mound in that area, it is likely a Moche temple that was piled in heaps of sands from thousands of years ago.

So, do you love visiting archaeological sites? Huaca Moche should be on your bucket list. Its opening hours are from 9:00 a.m. to 4:00 p.m. Admission fees for the temples and museum are separate. There is a sprawling on-site parking lot for those driving their car. Or join a tour group to go there.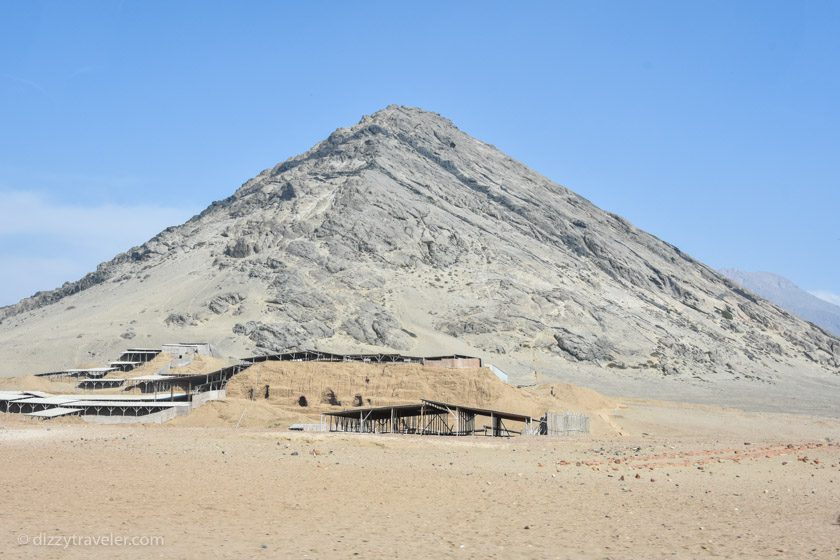 Visit Huanchaco
Huanchaco is a small coastal town, 15 kilometers (11 miles) away from Trujillo. Head to this town for a meal; you'll find fantastic seafood options year-round. For ceviche or whatever you are in the mood for, yes, you can be sure of it was caught fresh that morning!
After eating (and drinking pisco sour) to your heart's content, go for a walk on the town's boardwalk. Enjoy the sound of the sea waves and the scent of the ocean. Wait till sunset to watch the local surfers' breaks using the native "caballitos de totora." This surfboard is made of grass reed grown locally; and said to be the original inspiration for the surfboard. And speaking of surfing…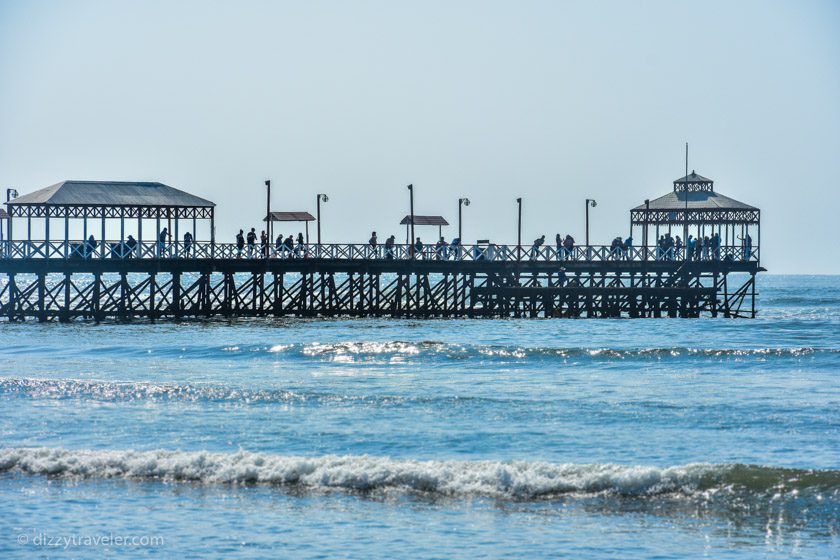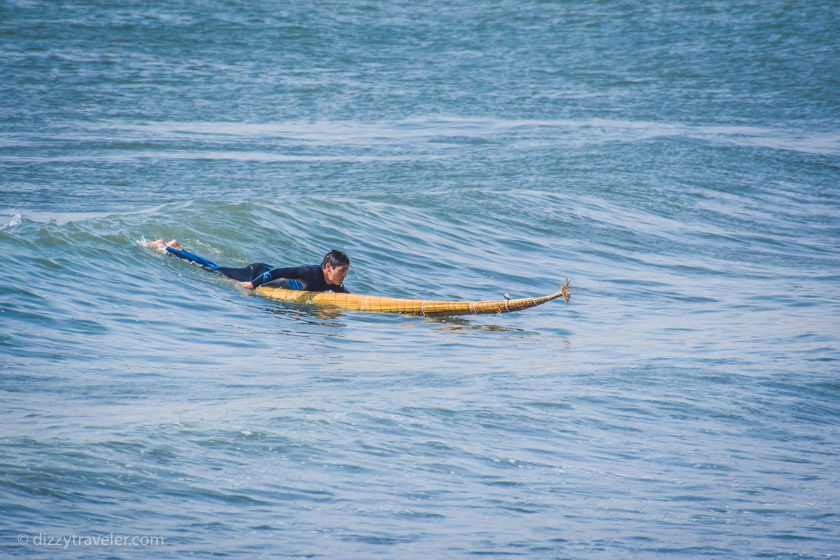 Did you know that Huanchaco hosts surfing competitions? So, surfers out there, this town is for you! To get there, hire a taxi with your hotel receptionist's help or take the bus from Avenida Espana.
Shopping
Head down into the shopping district around Pizzaro Road, Ayacucho Road, and Avenida Espana. If I haven't mentioned yet, Trujillo has a sizeable local shoemaking industry. That's what they are famous for besides the archaeological sites of course. Their beautiful hand-made leather shoes are so cheap that I purchased not just two pairs but… Three? Wrong! Five pairs! I bought five pairs of hand-made leather shoes! They're more than a half price of what you find here in the States. You can't blame me for going crazy shopping for shoes, can you?
Where to Stay
Hotel Libertador Trujillo – This hotel is a grand one that is facing the lively town square. They offer a daily complimentary buffet breakfast. The teams of staff are all English-speaking thus, made it easy to communicate.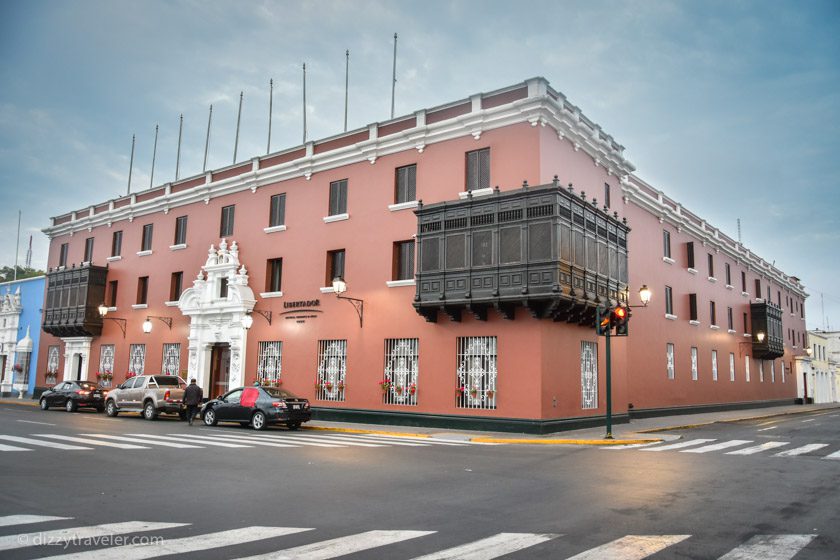 Where to Eat
El Sombrero Restaurant in Huanchaco – They make ceviche so good that once you had it here, you'll never want to eat it elsewhere. Also, Sombrero's Palta Salad is to die for! You will have the best sea view here while feasting on your meal.
El Rincon de Vallejo – This restaurant offers affordable meals. It is also a perfect pick for meat-lovers! Try their "Churrasco de Res," a thinly sliced beef steak marinated in Peruvian spices, lime, and then fried tenderly. Served with mouthwatering veggie salad, fried plantain, and french fries; oh, boy, you can skip several meals after that!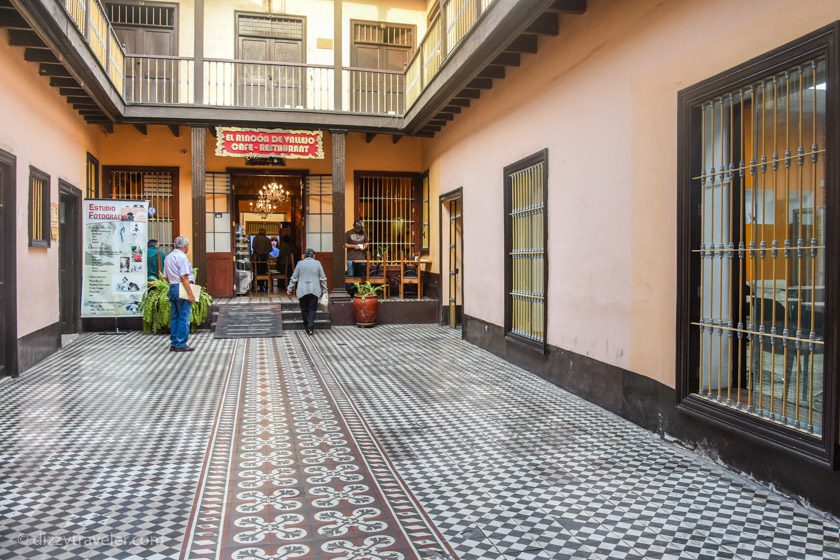 Las Bóvedas Restaurant Hotel Libertador – Located inside Hotel Libertador, it has a cozy ambiance. Try Shambard Soup here, an authentic Trujillian delicacy made of wheat, green peas, dried beans, beef, salted pork meat & skin; and spiced up with aromatic herbs.
---
Featured Travel Pictures
---
My Opinions and Tips
Trujillo is the third-largest city in Peru, and yet, not a popular destination. Unless you are into ancient sites and archaeology, then chances are, you will not even consider continuing your trip to this town.
Have you been to Trujillo? Any cool tips to share?
Please leave a comment below! I'd love to hear from you to improve my knowledge.
"Is Trujillo worth a visit?" "Or worth skipping?"

When I visited, I didn't set high expectations except to tick off the Moche archaeological sites in this little coastal town. Nevertheless, Trujillo has smitten me and caught me by surprise—pleasant surprise that is.
Plaza de Armas is bustling with life no matter what time of the day. You hear resounding waves of laughter from the crowd. And each person in that plaza is like he or she is greeting a new visitor "welcome to our beloved town!"
Then in the next three days, as I visited all the archaeological sites, I found myself falling more in love with the area. Well, this town is not the Giza, but the pyramids here do make a statement too! It is astonishing. Bewildering. Disturbing. Shocking. Fascinating.
So, back to the question, "Is Trujillo worth a visit?" "Or worth skipping?" Well, you know my answer to that!
If you'd like to help me continue making free guides, here is one way you can help:
Share This Guide – If you have a friend that would benefit from this guide, share it with them. Or post this guide on Facebook, Twitter or Google+
Your Support would definitely help me making more free guides like this. Thank you in advance!
Affiliate Link – This post in Dizzy Traveler contains affiliate links, which means I receive a referral commission if you purchase after clicking at no additional cost to you. These funds go to maintain the site. Thank you for your support.