Banff National Park a UNESCO World Heritage Site, is a magnificent place to visit in the Canadian Rockies, easily accessible from Calgary, Alberta. This park covers over 6641 sq miles and definitely if you love nature then this fascinating place should be on the top of your bucket list destination.
The National Park is a dreamland for travel photographers and is recommended by all-season travelers for its breathtaking heavenly-colored glacial lakes, snow-capped mountains, spectacular reflections on the water, abundant wildlife, and great winter and summer activities.
The Banff National Park is well connected by the Icefields Parkway (Highway 93), easily accessible from Calgary to Lake Louise and all the way to Jasper in the north.
Here is a few affiliate links that may help plan a perfect trip while staying within budget.
Best Time to Visit
It's a tough question to answer as there are many circumstances that need to be considered. Furthermore, Banff National Park is a year-round destination so you will have different enjoyable experiences depending on the time of the year.
Summer – July, and August is the peak season. You will have the best opportunity for great weather and warmer temperatures and open hiking trails. Expect expensive accommodations, attractions are crowded and tours and fun rides cruise required in advance bookings. Wildflowers can be seen in the lower elevations and it's a good time to spot grizzly bears and other wildlife as they feed on the lower valley grasses.
Winter – Between December to Mid April is the winter in Banff National Park. Winter strikingly changes the landscape into a winter fairyland starting up opportunities not possible in the warmer months. Banff is a paradise for winter lovers and will definitely fall in love with the limitless activities Banff has to offer and a white Christmas for sure. 
Fall – I visited between mid-September to mid-October and I loved it. The temperature was relatively mild staying around 45º F during the day and going down to 32º F (7º C to 0º C) at night. It was sunny most of the time but occasionally scratted clouds moved in with a short rail fall or snowfalls in higher altitudes in case you get bored with the Sun. No wonder why it is also called shoulder season. Surely no doubt in my mind that you will be speechless looking at the colorful landscape in fall along with the snow cap mountains everywhere your eyes go. Best of all you will find fewer crowds around so, the accommodation and airfare will be moderately lower compared to the summer months.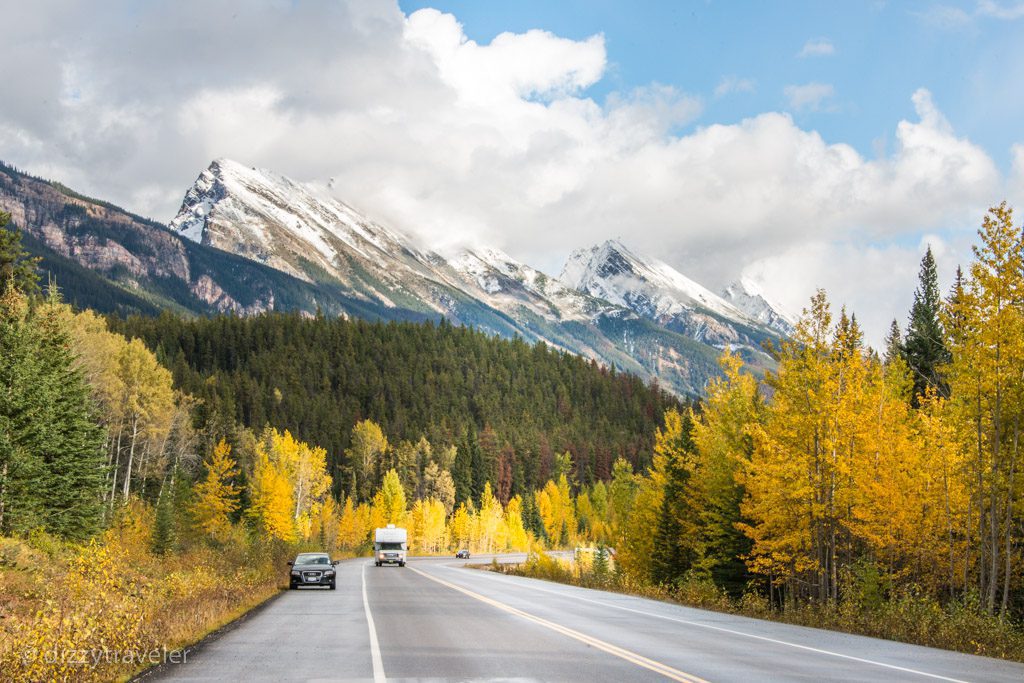 How To Get There
Rent a car to explore the park, grab a bus from Calgary, take an organized tour, or catch the sightseeing train between Vancouver and Banff. Many love to take the beautiful drive from Vancouver to Banff. We took a flight to Calgary the nearest city and for me, it was a convenient way to rent a car and drive from Calgary to the town of Banff, which takes no more than 1.5 hours (130 km/80 miles).
Bus – Banff Airporter offers services between Calgary International Airport and Banff, check their website for current cost and schedule. You can also take a Greyhound bus from Vancouver or from Calgary city to Banff which is also a convenient way to get there.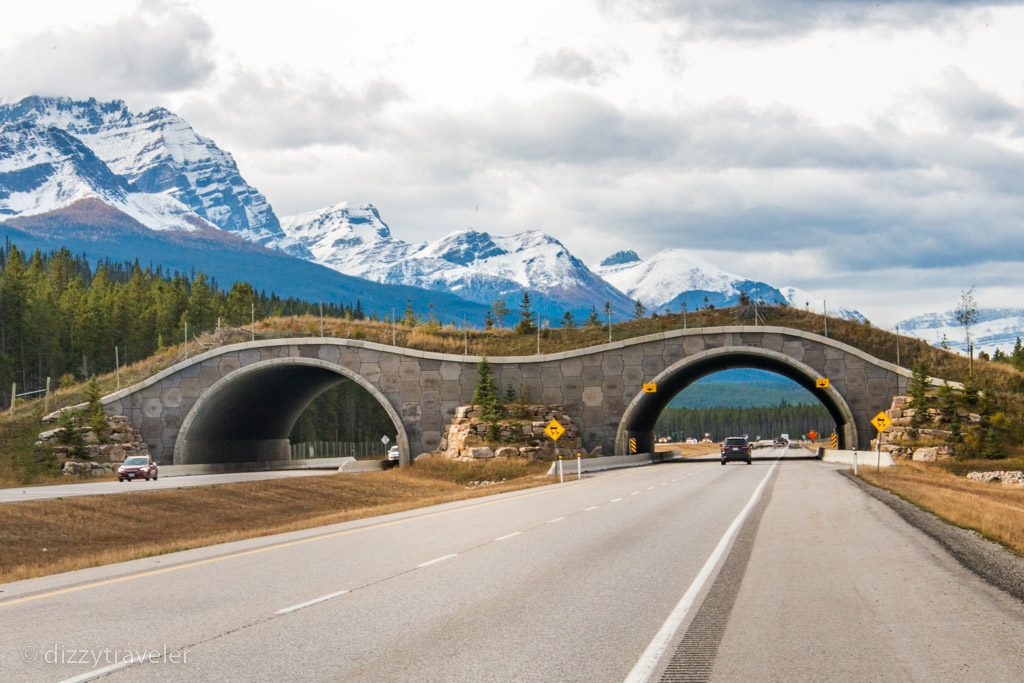 Getting Around in Banff National Park
A self-driven car is the best way to move around and visit all attractions in your own time. Parking may be a little difficult in downtown Banff or at major attractions, especially during the peak season. To avoid the summer crowd, timing your trip is important.
Guided Tour – There are many companies in Calgary and in Banff that offer guided sightseeing tours in Banff National park. From Banff a company called HopOnBanff goes everywhere you want to go easily and without the hassle of parking or traffic. First Bus from Banff Train Station starts early at 7:50 am and makes stops at Johnston Canyon, Lake Louise Gondola, Lake Louise, Moraine Lake
How Many Days is Enough to visit
It is well worth planning a few extra days in the Rockies as there are so many attractions to see which will surely make it difficult to narrow down your list. Moreover, on your way from one point to another, the landscape is so fascinating that it will be difficult for you not to make frequent unplanned stops resulting in going way over your scheduled plan.
Of course, the place of interest is subject to individual opinion but regardless of the interest, it is good to allocate at least two days in Banff, Lake Louise, and the surroundings. Four to Five days at least to see real Banff and enjoy what it has to offer without rushing. No matter how many days you plan at the end of your trip you will be thinking that you need to go back again.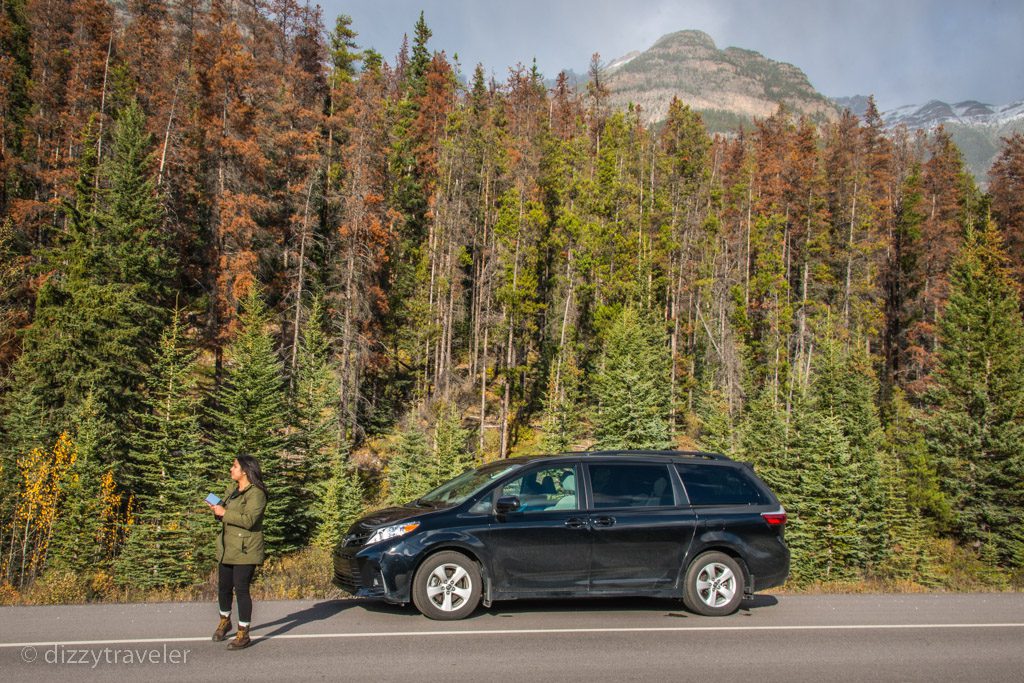 Useful Information
Rent a car – I highly recommend researching before booking your rental car. You are better off sticking with multinational companies especially if you are a foreign visitor. There are local companies may quote you cheap prices but you may end up purchasing mandatory car insurance during car pickup as they are not in a position to honor international insurance. As a result, your insurance can go as high as C$ 25+. 
Feeding wild animals – Feeding a bear or wolf cannot only endanger the animal, but also the people involved or other visitors. If you see someone feeding a bear, officials ask that you write down their license plate and, if it's safe to do so, take a photo or video of the unlawful feeding and the person or vehicle involved. It can then be reported to 1-888-WARDENS (927-3367).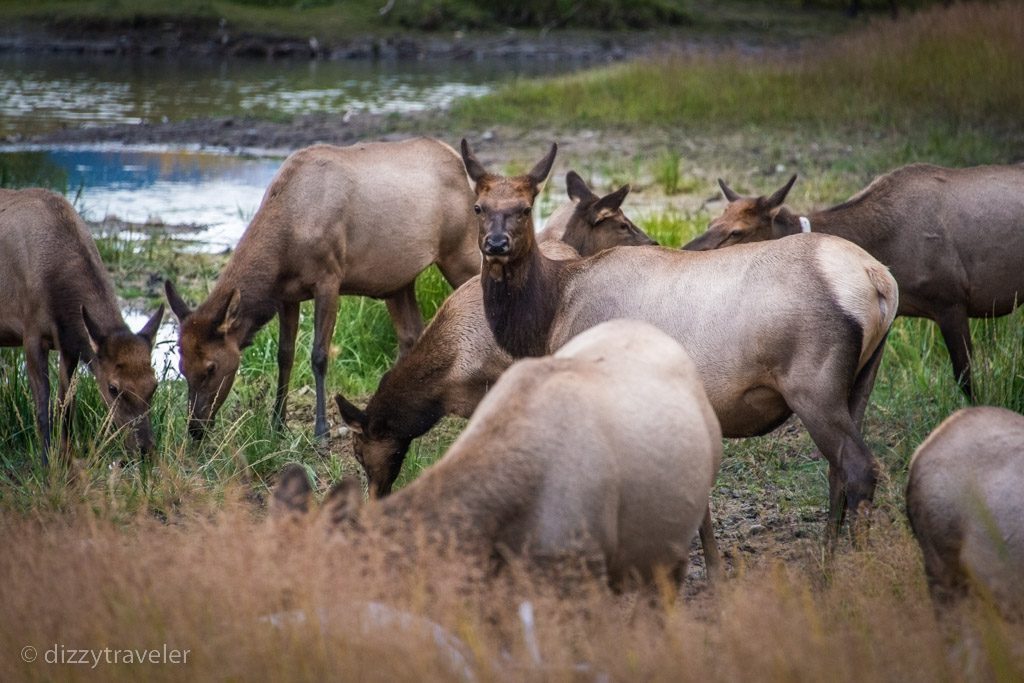 Things We Have Done During Our Trip
Driving to Banff From Calgary Airport

We flew into Calgary, picked up the Rented car, and headed towards Banff, the driving distance to our hotel at Tunnel Mountain Resort was about 80 miles (128 km), and Banff, took us about 90+ minutes. Luckily rooms were available for early check-in which gave us the entire afternoon to explore Banff National park around the Hotel.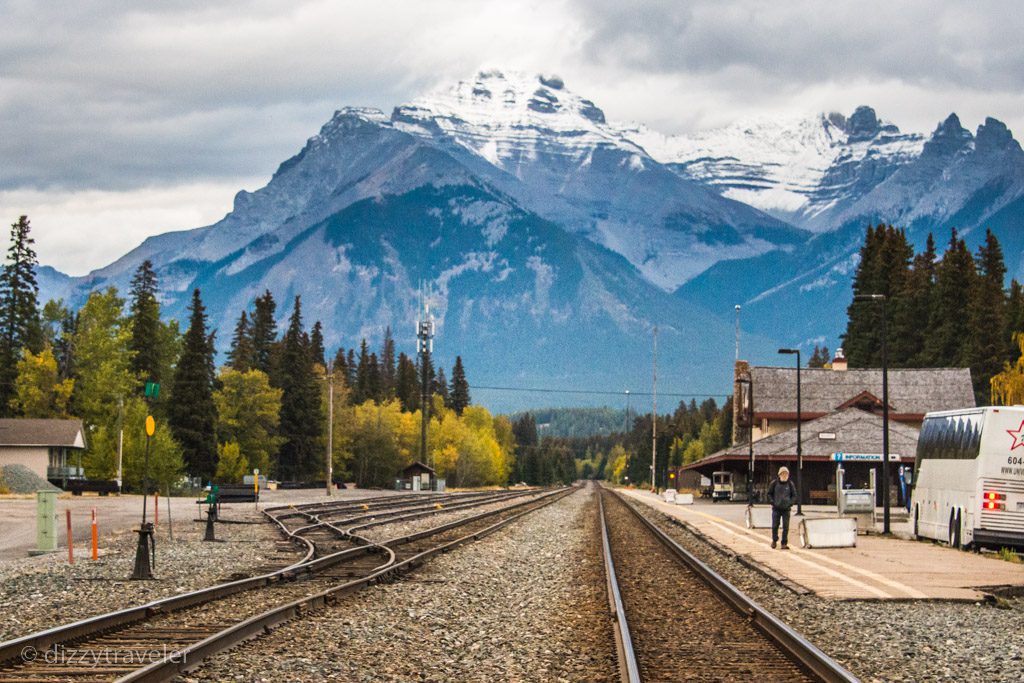 Whether your plan is to visit Banff in winter to take advantage of limitless winter activities or enjoy the summer activities at a warmer temperature you will find plenty of things to do all year long. Here are a few that I enjoyed during my trip in the fall between mid-September and mid-October.
From the Calgary International Airport, we drove 78 miles west on Trans Canada Highway to our hotel in Banff town within Banff National Park in Alberta where we stayed three nights and explored the park.
Our First Stop of The Afternoon – Lake Louise
Over the years Lake Louise became world famous for its turquoise water, beautiful jaw-dropping Victoria Glacier, soaring mountain backdrop, magnificent hotel, and also for its incredible hiking and skiing.
The word is out so during peak seasons the lake is overcrowded and the lake parking fills up very quickly. Therefore why not plan your visit to Lake Louise very early morning to avoid the gold rush? I would say before 7:30 am. Moreover, if photography is in your mind then, the early morning view of the lake is unbelievably breathtaking especially the beautiful reflection on the turquoise blue water exactly like the way you saw in the picture.
Once the parking lot is full then you may need to park your car at the nearest overflow parking lot (located on Highway 1, about 3.5 miles east of the Lake Louise exit), or at Lake Louise Sightseeing Gondola Parking. From there you have the access to a free Lake Louise shuttle.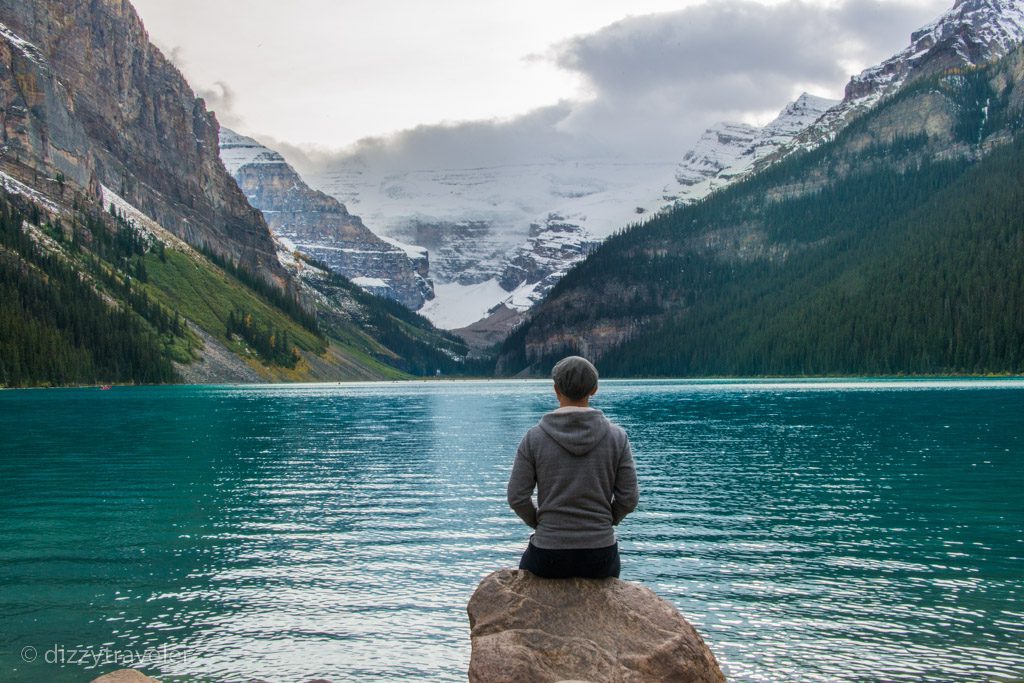 Picture Perfect Moraine Lake Close to Lake Louise
Moraine Lake is one of the most beautiful lakes in the Canadian Rockies. Under no circumstances, you should miss visiting this stunning lake especially if you are traveling to Banff National Park. Just 7 miles (12 km) south of Lake Louise.
If you are a photographer and looking for a picturesque view of snow-capped mountains, dense forest, and lively turquoise-colored water with photogenic reflection on it then this is the place you want to be. Especially early in the morning is perfect for the best pictures. Lake Louise is also an extremely popular lake among tourists. So adjacent parking lots do get filled up as early as 8 am therefore you should be there before 7:30 am at least.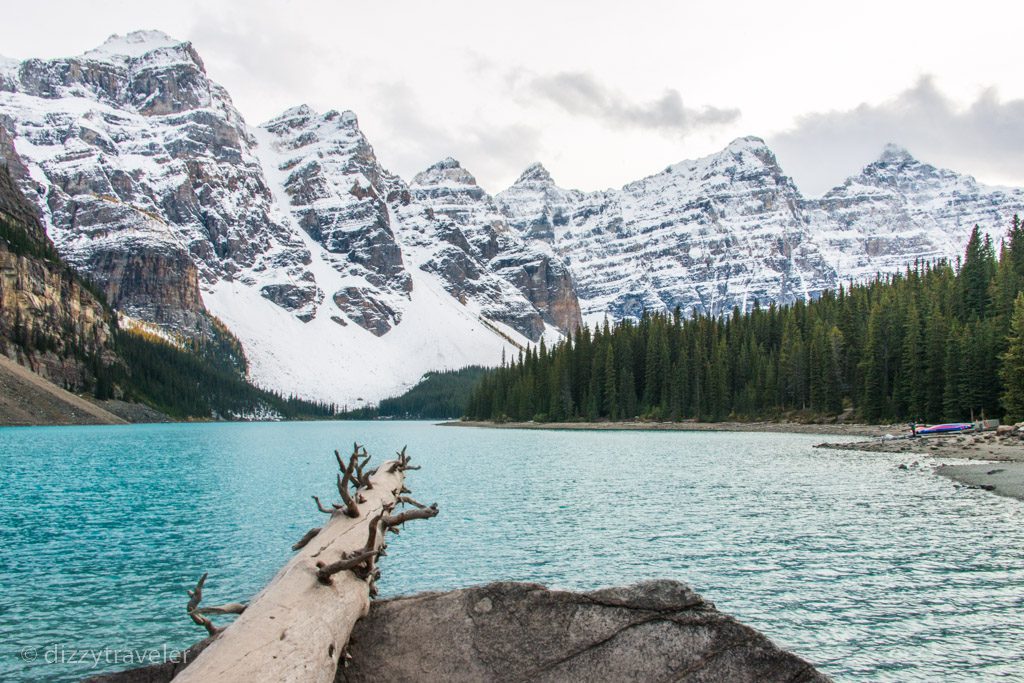 Visit Marble Canyon Early in The Morning

The Marble Canyon is a canyon surrounding Tokumm Creek just above its meeting with the Vermilion River, at the north end of Kootenay National Park in the Canadian Rockies of British Columbia
This beautiful Canyon is a moderate trek of 1.4 kilometers that offers scenic landscapes and is good for all skill levels. The walk is super easy, it's not even a hike. The turquoise glacial waters flowing through the narrow gorge look fantastic from the bridges over it.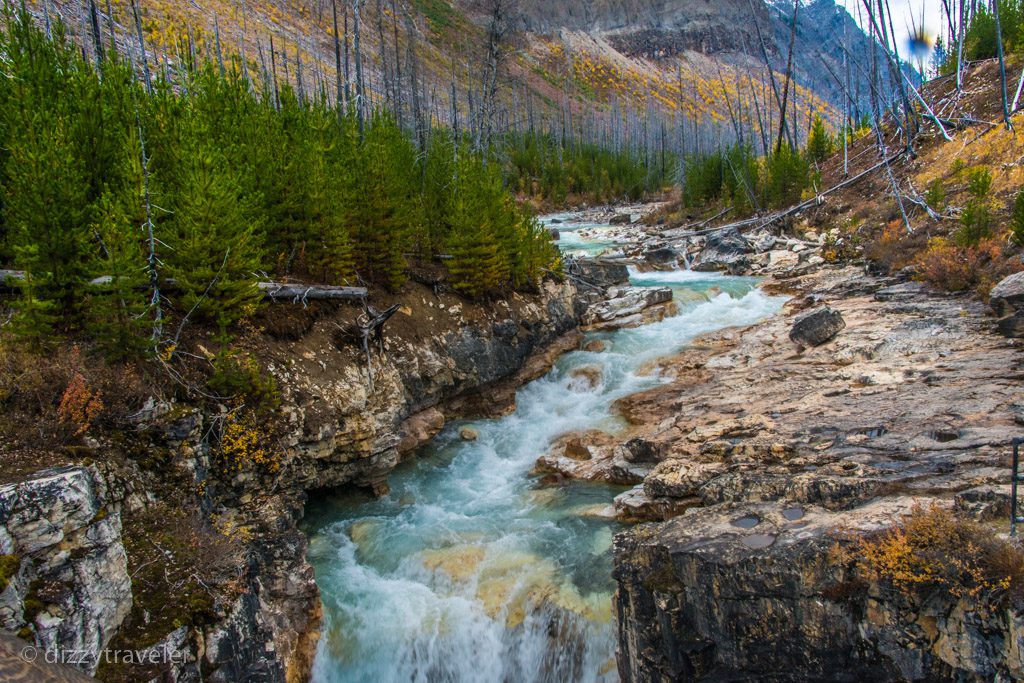 Lake Minnewanka
If you are staying in Banff then the first thing you could do is visit Lake Minnewanka very early in the morning. It's only 3 miles (5 km) northeast of Banff town center.
In the early morning, this glacial lake forms a beautiful soft reflection on the mysterious turquoise clear water. The 13 miles long (21 km) is a beautiful relaxing place by the water, famous for hiking, mountain biking, picnicking, and much more.
There are scenic boat cruises to Devil's Gap, Boat rentals, canoeing or kayaking are also famous activities at Lake Minnewanka.
Tunnel Mountain
If you are staying in Banff then the Tunnel Mountain trail is accessible right from there. There are several 180° bends in the tracks to get to the low summit of Tunnel Mountain. Once you are at the top, you can enjoy the 360 panoramic views overlooking Banff, Mt Rundle, and the Bow Valley. The trail could be icy between mid-October to April.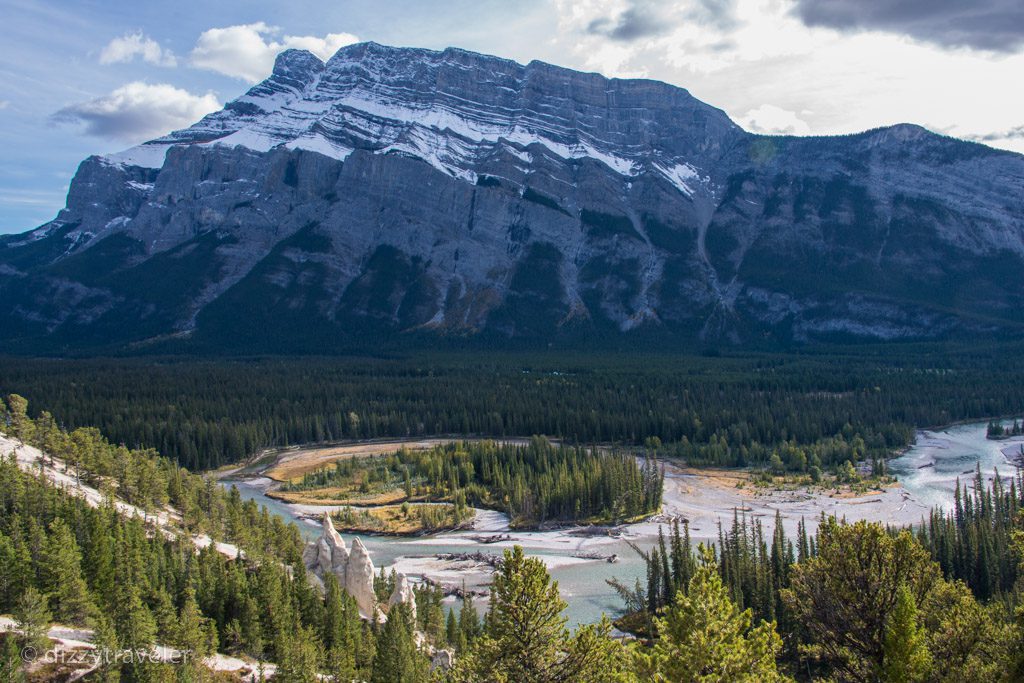 Beautiful Ride to Takakkaw Falls
The beautiful Takakkaw Falls is located about 44 miles (72 km) north of Banff in Yoho National park, British Colombia. It is a little deep inside the wilderness because I had to drive another 10 miles (15 km ) from Trans-Canada Hwy to get there.
The scenery along the drive was amazingly stunning and awesome. At 833 feet, Takakkaw Falls are the second-highest waterfall in Canada and it was surely my choice of the waterfall that I visited on this road tour. This road is usually closed from Oct to June so check before planning a trip.
Our 15 minutes walk from the parking lot through nature to its base was easy and picturesque. The visibility of the surrounding mountains was impaired by the low clouds. But the towering fall could be seen from the far distance. The bridge crossing on our way over the waterway was beautiful for photo ops.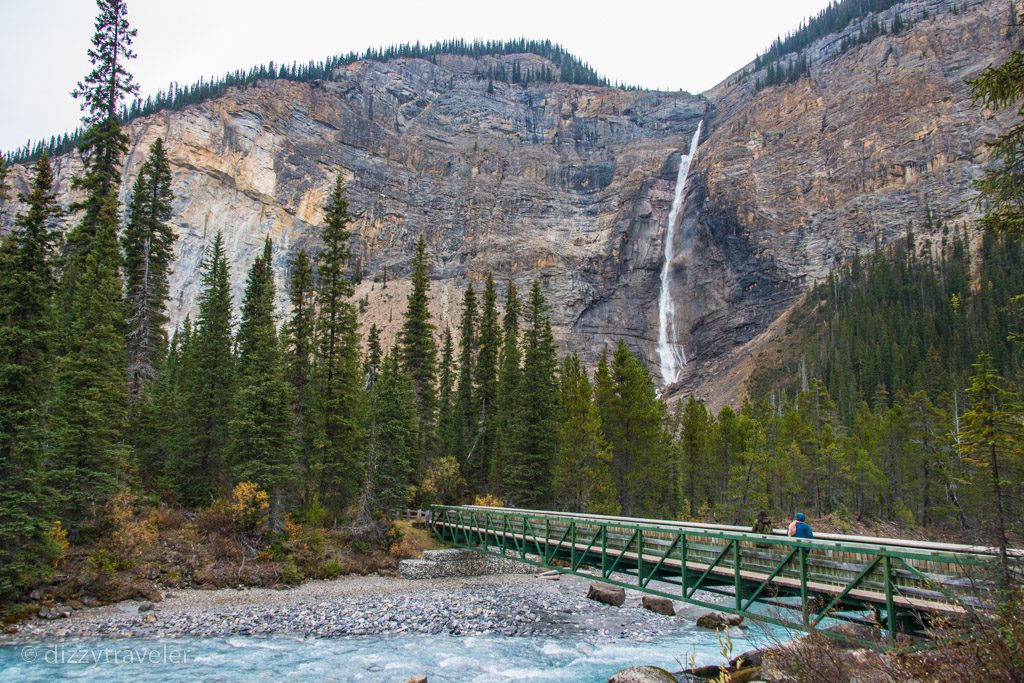 Visit Bow Lake

On your way to Jasper, Bow Lake can be seen from the Icefields Parkway. It's located below the Bow Glacier and Crowfoot Glacier. A popular place for photographers because the water is usually calm to gain the reflections of the surrounding mountains. Wildflowers can be seen in the neighboring grasslands in late summer. This high-elevation lake gets frozen in early winter and remains frozen until mid to late June.
The lake is a short walk away from the parking lot. And the beautiful Nim Ti Jah Lodge looks beautiful sandwiched between towering mountains and the lake.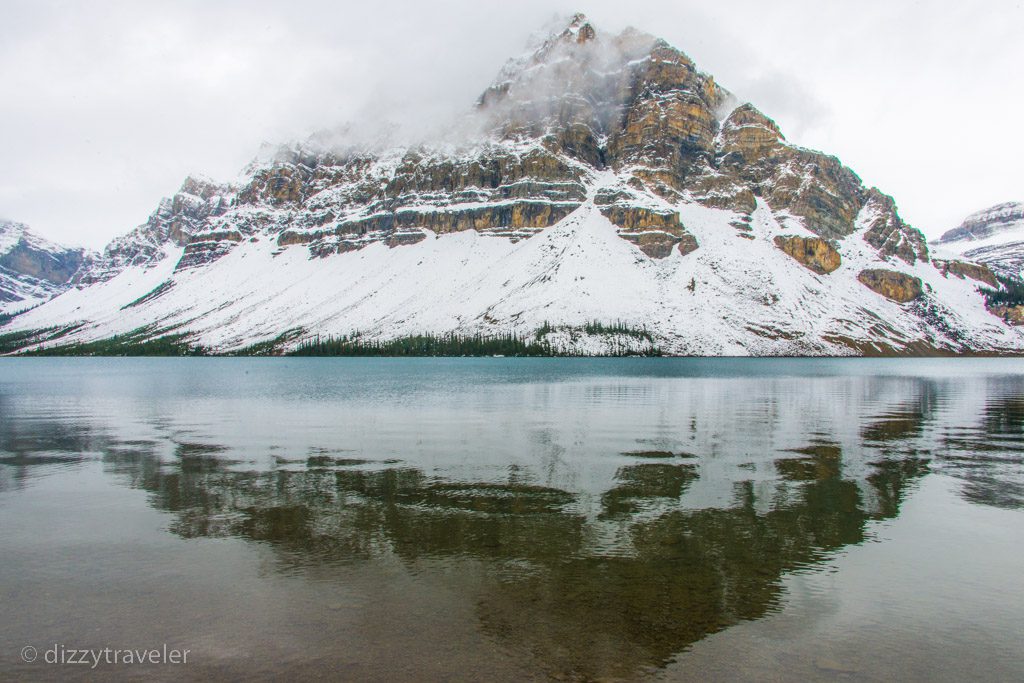 Turquoise Color Peyto Lake
Driving on scenic Icefields Parkway is one of the best things I have done in my life, and Bow Summit is among the many spectacular places to visit along the parkway. It is located about 56 miles (90 km) from Banff. The elevation at Bow Summit is 6,969 feet (2125 meters). While hiking the 15 – 20 minutes pathway to the viewpoint you will see snow all around you. Once on the top, you will be awarded the spectacular views of Glacier and picturesque Peyto Lake.
Believe me, I did not touch up the color, the beautiful turquoise-blue color of the lake is real but the glow may look different based on the weather and time of the day.
Actually, this lake is fed by melted water from the glacier that usually starts during the spring season. Glacier water carries sand or rock power created when rocks beneath the surface of the ice are scrapped from the movement of the glacier. The rock power is very light and stays floating in the lake water for a while. The sunlight that reflects off the rock power is what gives the lake its magnificent turquoise blue color.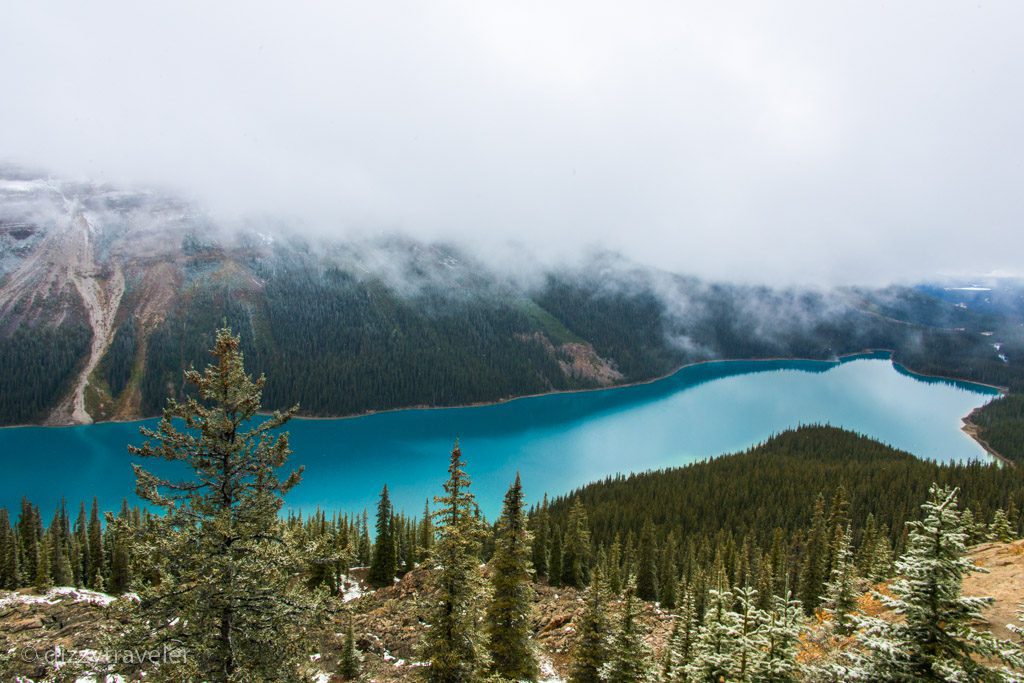 Recommended Hotels
My Opinion and Tips
What I have noticed in the Canadian Rockies is that the weather changes so drastically based on where you are. We saw sunshine and a moment later moving to another location had to deal with snowfalls or even rain. So, just be prepared for anything that may surprise you. A perfect example is below: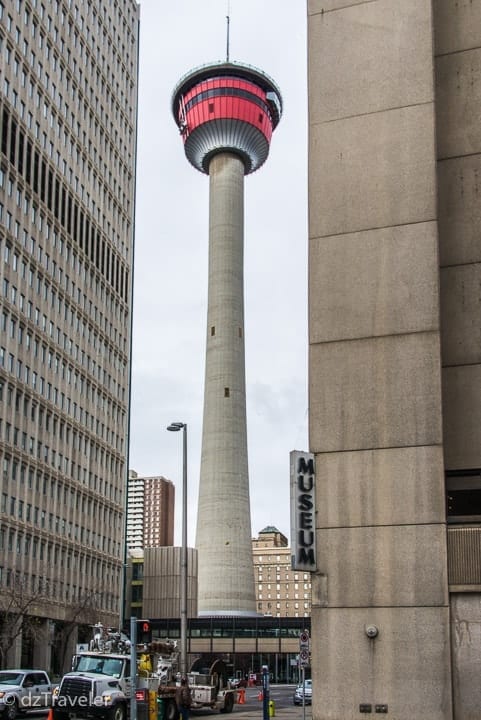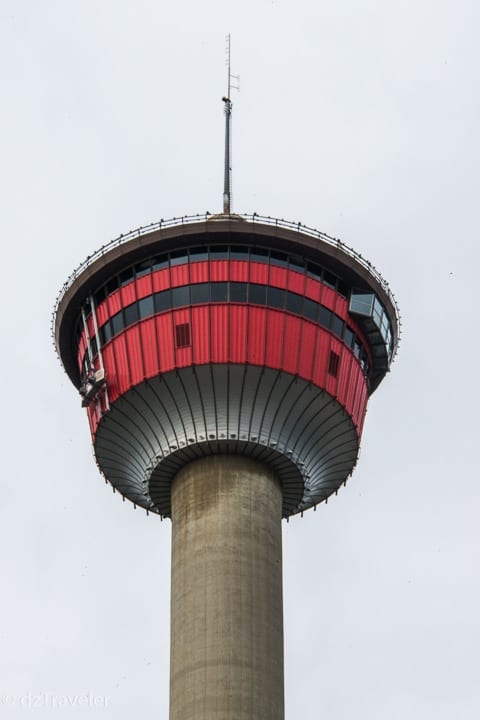 Have you been to Banff National Park? Any cool tips to share?
Please leave a comment below! I'd love to hear from you to improve my knowledge.
Was this travel guide helpful for you?
If you'd like to help me continue making free guides, here is one way you can help:
Share This Guide – If you have a friend that would benefit from this guide, share it with them. Or post this guide on Facebook, Twitter or Google+
Your Support would definitely help me make more free guides like this. Thank you in advance!
Affiliate Link – This post in Dizzy Traveler contains affiliate links, which means I receive a referral commission if you purchase after clicking at no additional cost to you. These funds go to maintain the site. Thank you for your support.
Here are a few pictures that will tell the trip stories of Dizzy Traveler.
Travel Insurance
A bad thing can happen at any time, especially when you are doing activities that you are not used to it. Because I have practical experience in this. So travel insurance is recommended that will protect you from surprises for independent travelers like you and your families. Don't think about all the things that might go wrong on your trip, but these things can and do happen.