Irkutsk is the most popular stop for Trans – Siberian travelers. In this fascinating city, which was once known as the "Paris of Siberia," you will find people relatively more friendly and relaxed than those in Moscow and other major cities on the west. The city is relatively small, laid back, and most of the points of interest are easily walkable. Along many of the streets, you can see historical cozy – looking log cabins with decorated windows with detailed woodwork, which is typical Siberian architecture. Irkutsk is conveniently located about an hour away (by car or bus) from the southern shores of Lake Baikal – the oldest and deepest freshwater lake on our planet.
How We Got There
Even though a journey on the Trans-Siberian Express # 002 is the longest train ride in the world but for us, it's only 48 hours from Yekaterinburg to Irkutsk.
Our Itinerary By Trans Siberian
| From City | Arrival Moscow/Local Time | Stop in Min. | Departure | Dist km/miles |
| --- | --- | --- | --- | --- |
| Yekaterinburg | | | 15;39/17:39 – June 28 | 0 |
| Barabinsk | 06:53 | 30 Min | 05;37 | |
| Irkutsk | 25:59/20:59 – Thu June 30 | | | 3375/2100 |
By Air An Alternet Option
There are a couple of major airlines flying to Irkutsk International Airport (IKT) such as S7, Aeroflot, China Southern, Korean Air, Uzbekistan Airways, and more. Check out Priceline.com or CheapOair.com for a bargain.
The airport is about 5 miles (7 km) from the Irkutsk Angara hotel and about 40 miles (64 km) from Listavyanka or Lake Baikal. There are many taxies available at the airport; all you need to do is negotiate the price. You can also use Uber or Yandex taxi if you have their app and access to wifi.
---
Top Things To Do In Irkutsk
The Traditional Siberian Wooden Homes
You can spend an entire afternoon walking the streets of Irkutsk and not come across two homes that are alike. This city is comprised almost entirely of old, traditional Siberian houses, and each one is entirely unique. They often have bright, carved shutters that contrast sharply with the dark wooden exterior. Something unique.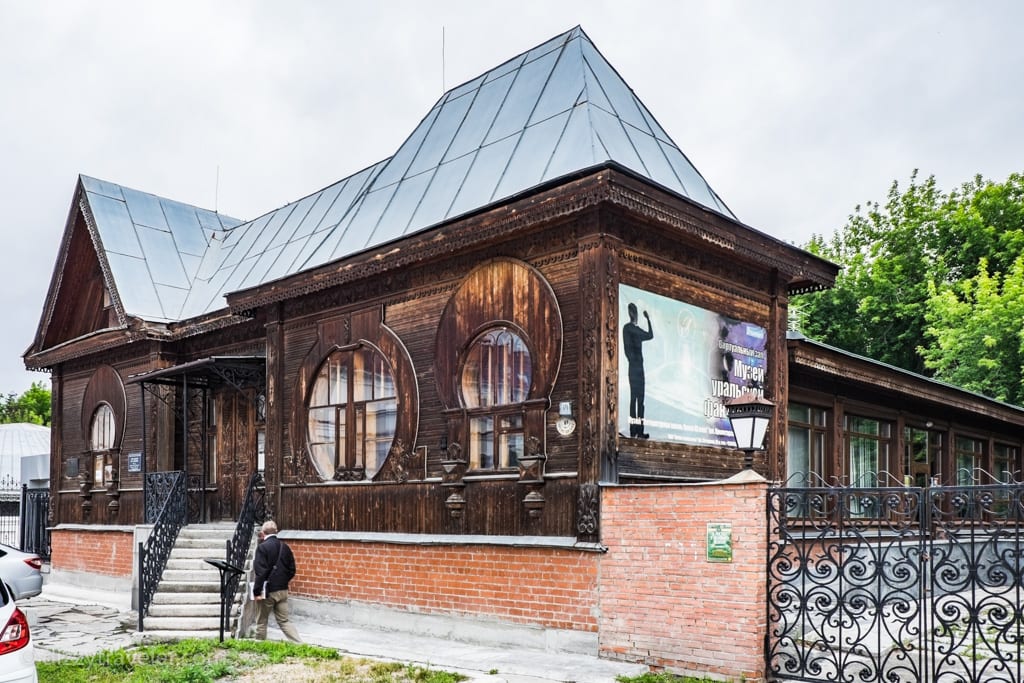 Visit The Bogoyavlensky Cathedral
The Bogoyavlensky Cathedral the main cathedral of the Irkutsk diocese is The Bogoyavlensky Cathedral is the main cathedral of the Irkutsk, it is located right next to the Angara River. Initially built in 1693, our of wood, but a devastating fire destroyed it. In the early 18th century, instead of a small wooden church that existed, they built a great stone Orthodox Cathedral.
The beautiful exterior of the Bogoyavlensky Cathedral is impressive, it has red brick exterior walls decorated with old Russian designs with many extravagant elements.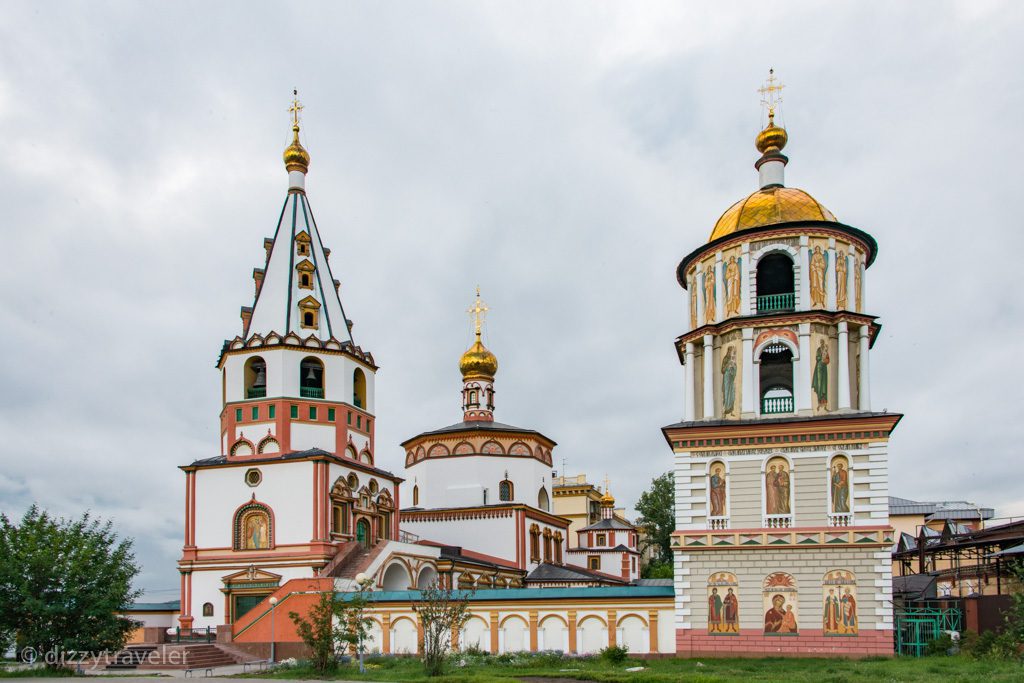 ---
Guided Tour In Irkutsk
There are guided tours available in Irkutsk, they usually combine sightseeing, lunch and a few sightseeing stops on the way. Get Your Guide is the one I recommend.
---
Visit The Spasskaya Church
This beautiful church is the oldest stone building in Irkutsk, not far from Bogoyavlensky Cathedral and the famous Angara River. It was built in 1710 and the stone church because of the fortress wall that defended Irkutsk from the raids.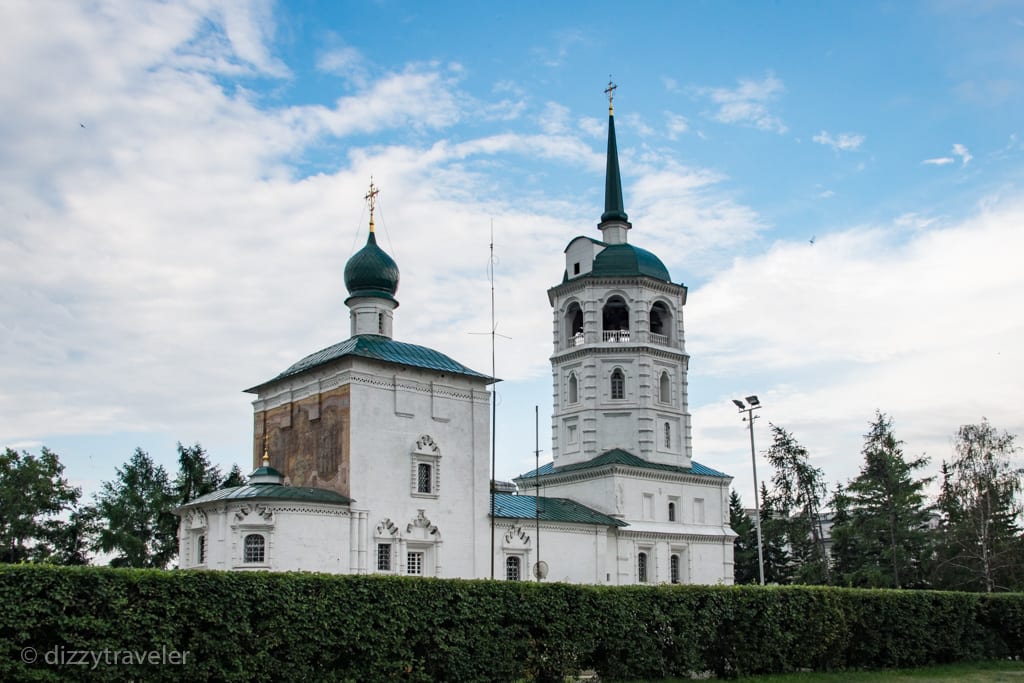 Check Out Huge Kirov Square
The The Kirov Squire is located just in front of our hotel (Angara Hotel) we were staying within the boundaries of Lelin, Zhelyabov and Sukhe-Batora streets. It is the center of many major events, such as the Victory Day parade and New Year celebrations. Nice place to visit while you are in Irkutsk.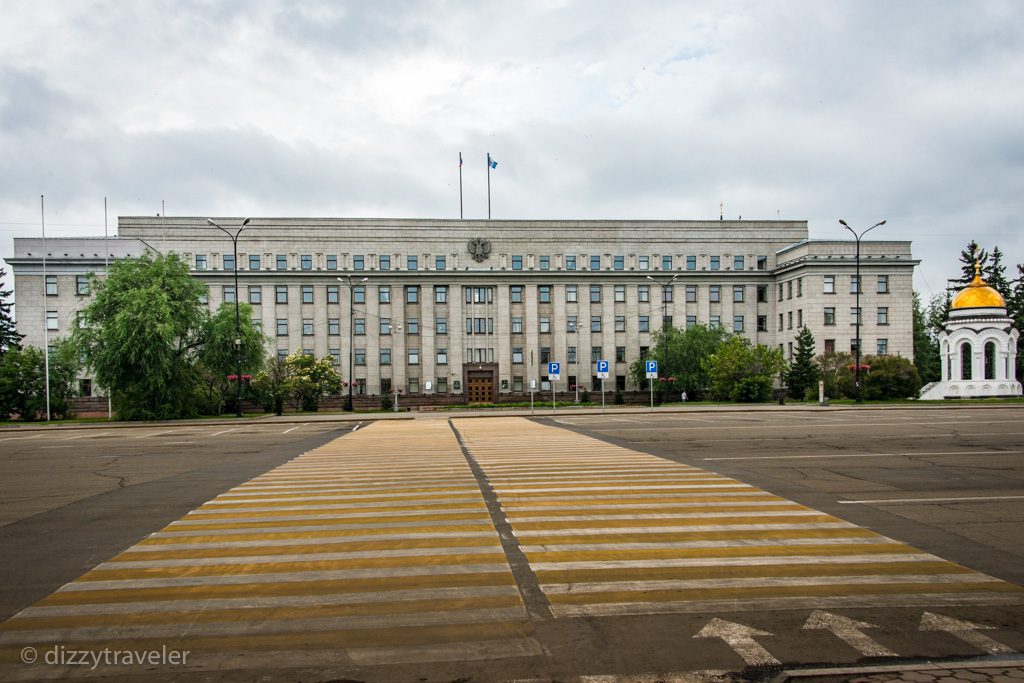 The Monument to the founders of Irkutsk
It was unveiled on the 350 anniversary of Irkutsk in 2011. The monument is located on the banks of the River Angara, near the Cathedral of the Epiphany. The bronze monument represents a generalized character of Cossack – a pioneer of Siberia.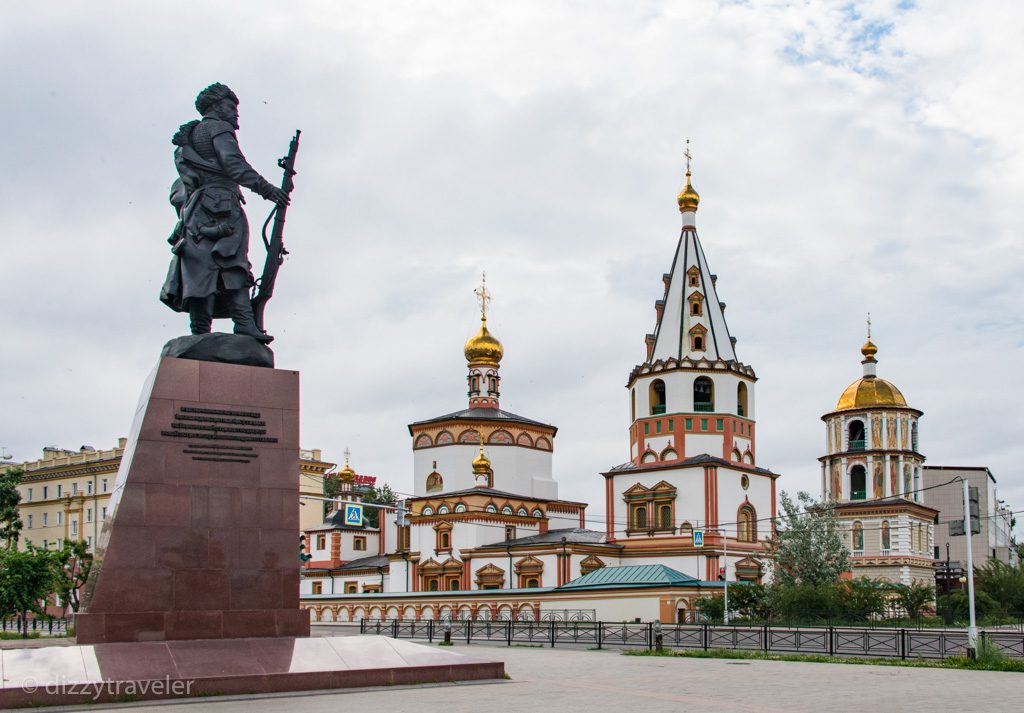 Tsar Alexander the third
The statue of Alexander III located right on the waterfront promenade by the Angara River a beautiful place to visit on your way to Listvayanka.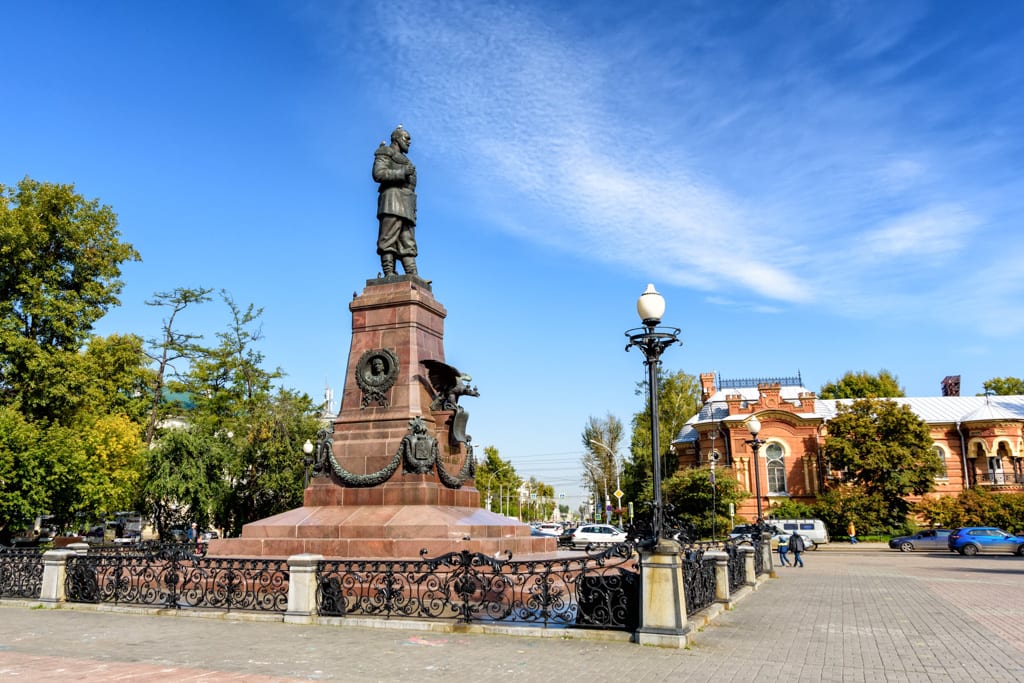 Our Lady of Kazan
Kazan Church (Barrikad St., 34) could absolutely be the highlight of your time in Irkutsk. The people refer to it as the 'Red Church', noting the beautiful color of its walls. The foundation for this stone building was laid in 1835, and the construction took 57 years. The church, opened on Easter 1892, is magnificent.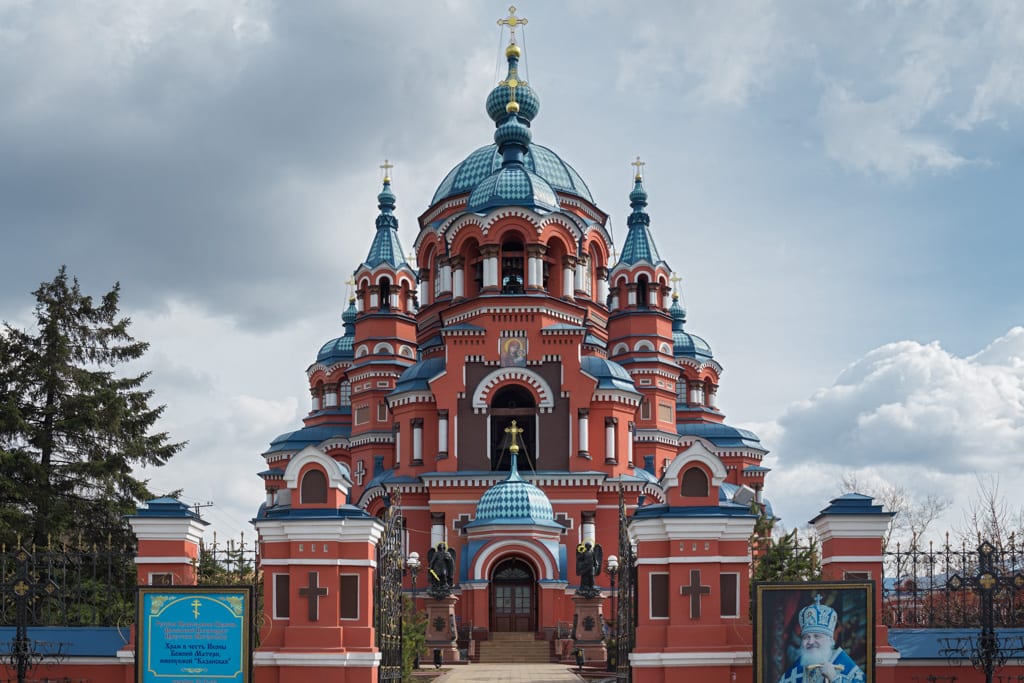 130 Quarter (Kvartal)
Must see the place in Irkutsk one of the famous tourist destinations. The This is a must-see the place in Irkutsk, one of the famous tourist destinations. The historical quarter is located in the center of Irkutsk, at the intersection of Kozhov, Sedovand 3rd Lyulya streets. Easily accessible by public transportation such as a bus. This historical place got Museums, souvenir shops, cafes, restaurants, hotels and a mall all coexist in peach behind old walls. Old historical buildings and lovely sculptures surround those buildings are beautiful, a great please for spending an evening there.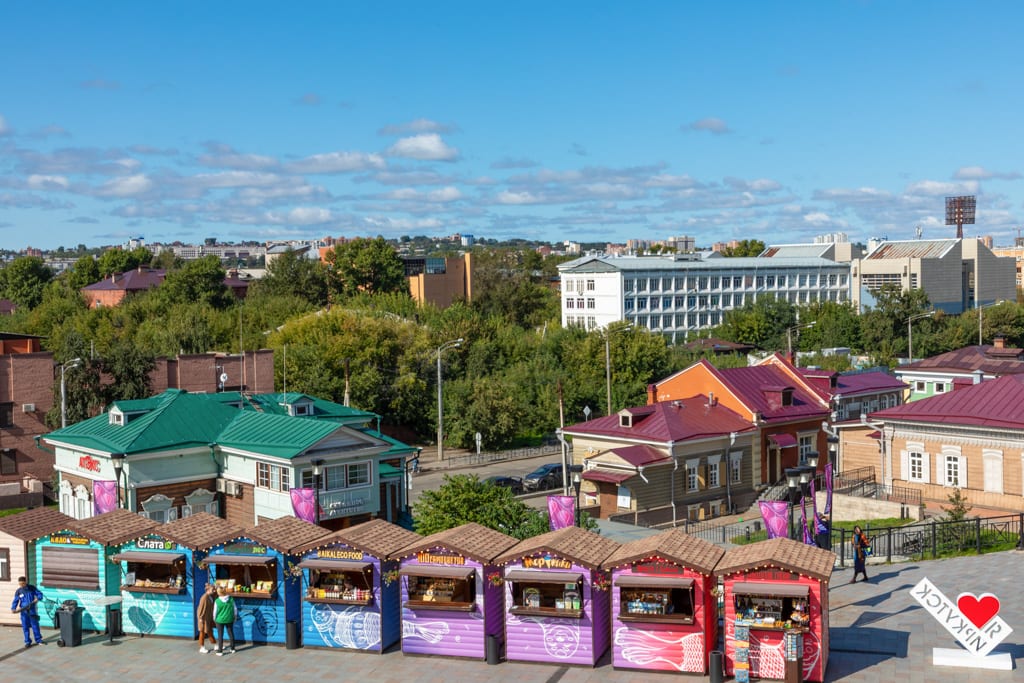 Check Out Znamensky Monastery
Znamensky Monastery is one of the most famous places of worship in Irkutsk. It was like ay other old Russian church but was interesting to see. Nice stopover if you are interested to see a typical monastery and nice paintings.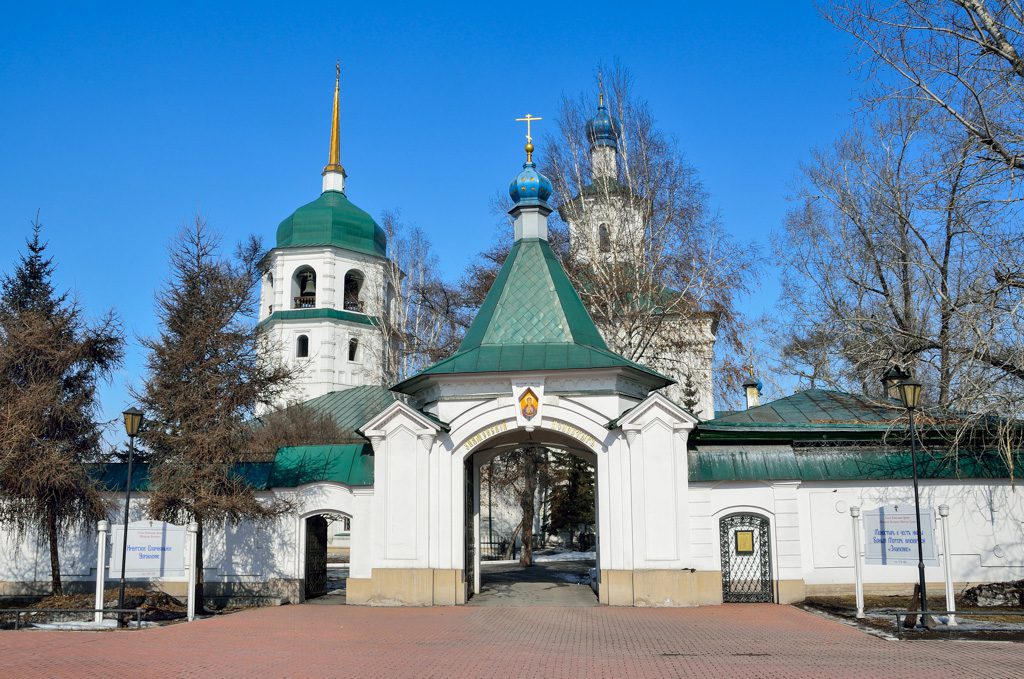 Beautiful Prince Vladimir Temple
This monastery was founded in 1888 in honor of the 900th. Anniversary of the Christianization of Russia. Like any other place of worship in Irkutsk was built with private funds. A great place to visit based on your priority.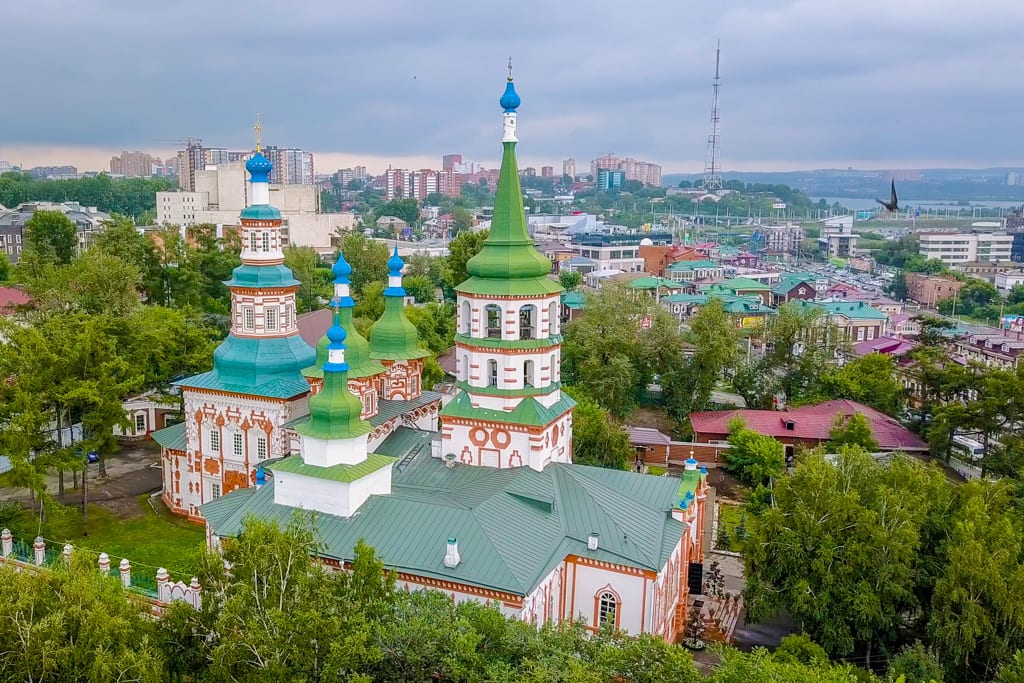 Visit Taltsy Museum
The open-air museum displays the lifestyle and typical architecture, mostly wooden houses of Siberia. Taltsy Museum is located on the bank of Angora river, about 29 miles (47 km) south of Irkutsk. Since this is on the way to Listvyanka. Therefore, many tourists add this spot as part of their Listvyanka and Lake Baikal trip. We took a guided tour and pact with a lot of activities, including a stop to Taltsy, Port Baikal, boat ride in Lake Baikal, Shaman Stone, Listvyanka, cable car to Chesky Stone Hill Lookout, Listvyanka market and a visit to St. Nicholas church.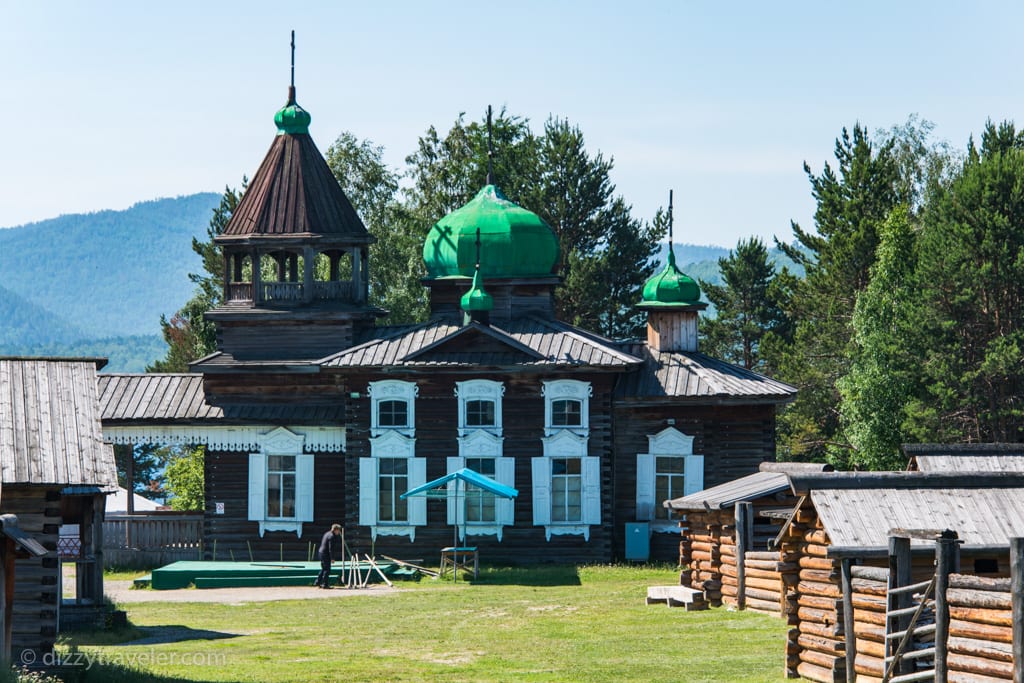 Day Trip to Listvyanka & Port Baikal
Listvyanka is an urban locality in Irkutsk District of Irkutsk Oblast, Russia, located 70 kilometers south of Irkutsk, near the point where the Angara River meets Lake Baikal. The village of wooden houses beside Lake Baikal is the most popular tourist destination on the lake. The village is easily accessible by bus, minivans, and even ferries from Irkutsk city.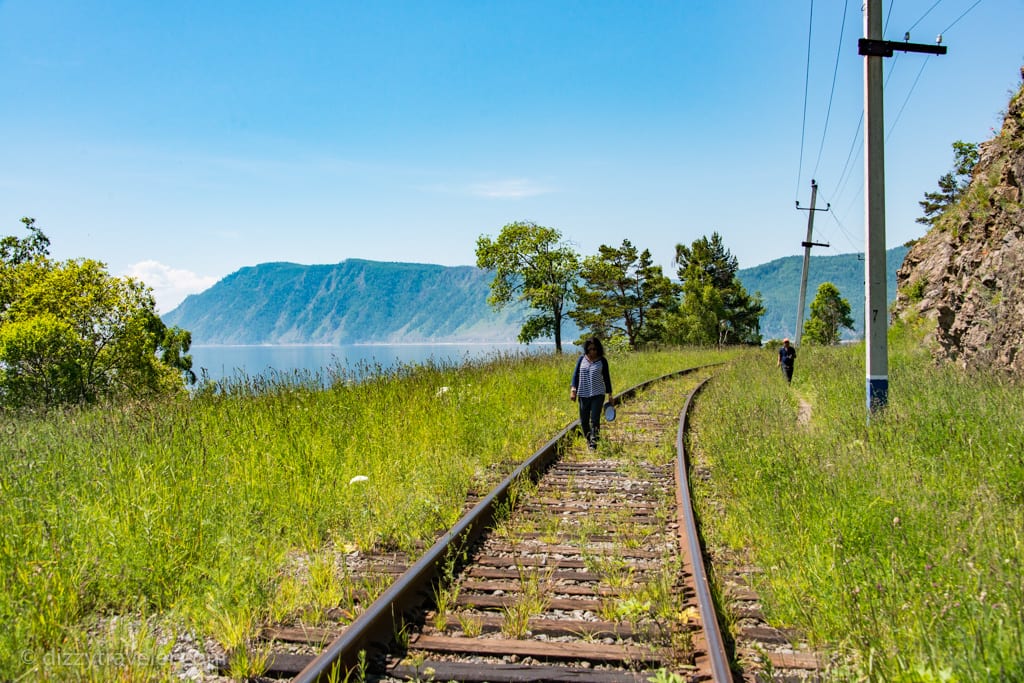 It is doable as a day trip from Irkutsk, or many stay there a day or two. There are so many things to do that will definitely not disappoint you. We enjoyed a speed boat ride in the lake later, visited the shaman stone in the middle of the Angara River, where it meets Baikal lake, toured a village market, and had some delicious smoked Amul fish a fresh catch right out of the lake. We took a ferry to Port Baikal and walked for miles following the famous Circum-Baikal train track. In the afternoon, At the end of our day trip, we took a cable car to the Chesky Stone Hilltop and watched one of the magnificent sunsets of all time from the lookout. The memories I gathered is priceless.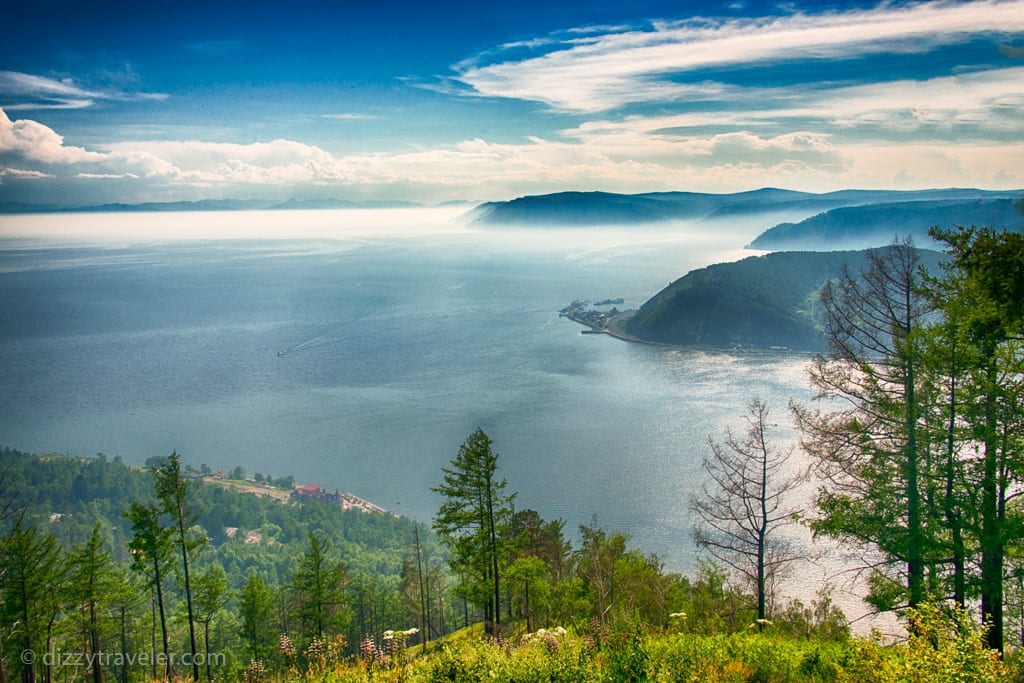 Ride The Circum-Baikal Train
One of the best picturesque day trips from Irkutsk is by taking the historic Circum-Baikal railway that runs from Slyudyanka to Port Baikal. The rail route is about 52 miles (84 km), and it takes about 5 hours by Circum-Baikal railway.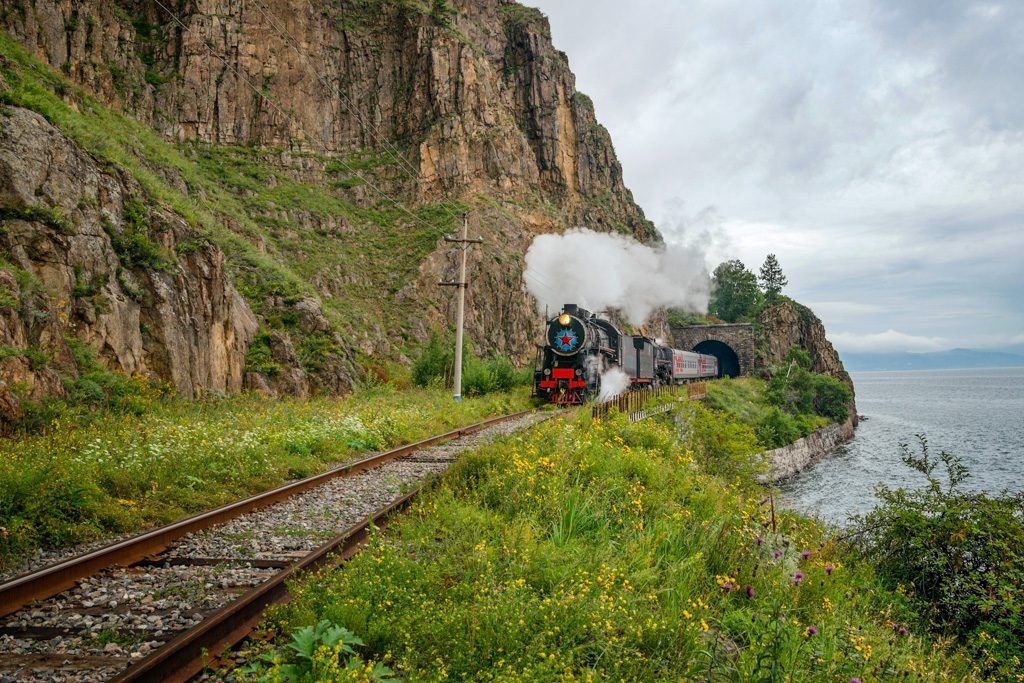 To get to Slyudyanka the starting point of the historic Circus-Baikal train trip you may need to get 2+ hours of a taxi or train journey from Irkutsk that's another 68 miles (110 km) to cover.
Once you are at the end of your Circus-Baikal train trip at Port Baikal, you need to get the last ferry to get to Listvyanka, then an option to stay overnight at the beautiful lake side town or go back to Irkutsk.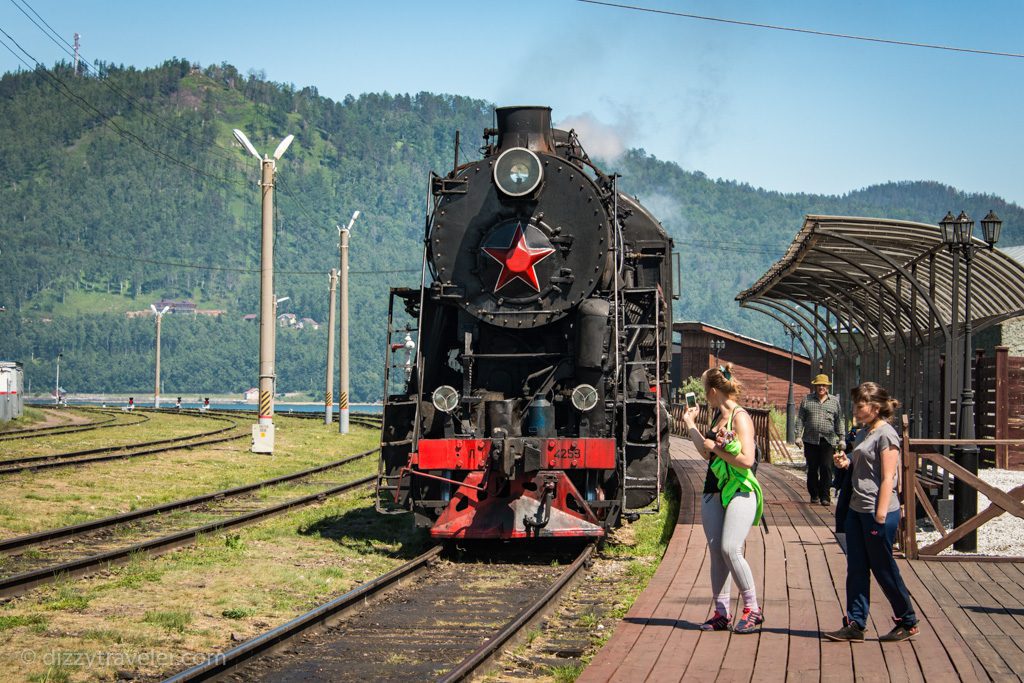 Try Local Food in Irkutsk
Clermont Restaurant, Polskikh Povstancev st., 1, Irkutsk
Just a few minutes' walk from Angora Hotel. We, in fact, liked the food we ordered. All we wanted to eat was salad, fish, and pelmeni. So we got Omul Fish soup, smoked Omul, and of course, Pelmeni and the traditional Russian salad was delicious.
Kochevnik, Gorkogo St., 19, Irkutsk
This is an excellent restaurant serving mainly delicious Mongolian food. Only about 7 minutes' walk from the Angara hotel. It is one of the most loved restaurants by locals and tourists alike. Most of the food is delicious, and I would definitely recommend this restaurant. You will not be disappointed.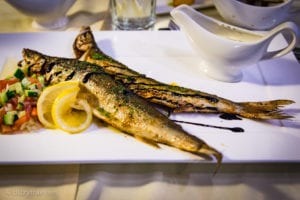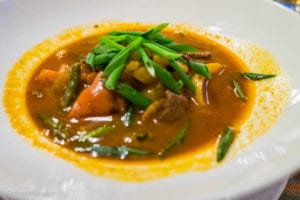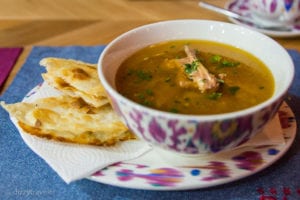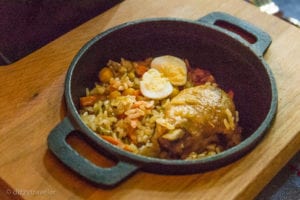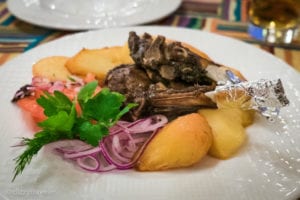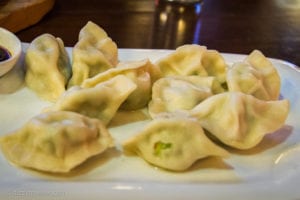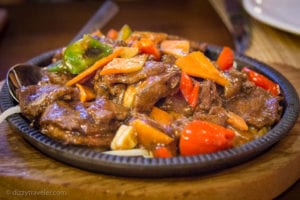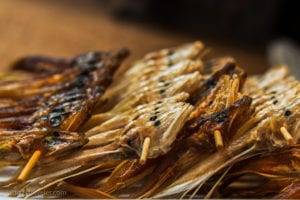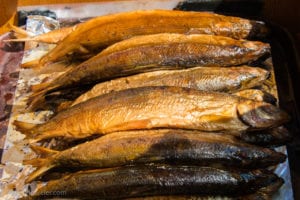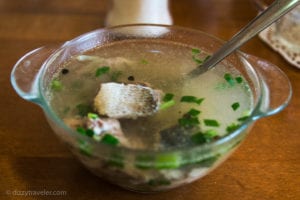 Where Did I Stay in Irkutsk
Angara Hotel, Sukhe-Bator Street 7, Irkutsk
This hotel is at Kirov square, this downtown hotel is a 9-minute walk from a tram stop, a 6-minute walk from the landmark Cathedral of the Epiphany and 3.1 km from regional art at the V.P.Sukachev manor museum. The famous Angara river is just a few blocks away.
Apartament on Marata 31, 31 ulitsa Marata, Irkutsk
If you are looking for a more extended stay or just to experience your trip from a different perspective, then I would suggest booking an apartment. The apartment on Marata 31 is a great option, with 1 bedroom, an equipped kitchen, with microwave, fridge, washing machine, and a stove. You can even rent a bicycle from them.
My Opinion and Last Word
Have you been to Irkutsk, Russia? Any cool tips to share?
I loved being in Irkutsk Oblast and want to go back again. I hope my story has motivated you to plan your visit.
Please leave a comment below! I would love to hear from you to improve my knowledge.
Was this travel guide helpful for you?
If you would like to help me continue making free guides, here is one way you can help:
Share This Guide – If you have a friend that would benefit from this guide, share it with them. Or post this guide on Facebook, Twitter, or Instagram.
Your support would definitely help me making more free guides like this. Thank you in advance!
Affiliate Link – This post in Dizzy Traveler contains affiliate links, which means I receive a referral commission if you purchase after clicking at no additional cost to you. These funds go to maintain the site. Thank you for your support.