Amalfi Coast is arguably one of the best destinations in Italy and the most popular among local and international visitors alike. Tucked in between the Gulf of Salerno and the Gulf of Naples, only an hour and a half drive from Naples, the nearest big city. The 34 miles long coastal winding road with the turquoise waters of the Mediterranean on one side and a stiff sky-high cliff on the other, surrounded by charming towns with multicolored houses, and UNESCO World Heritage Sites, Amalfi Coast has definitely something for everyone.
However, planning a trip to this picturesque region might be a bit overwhelming. Therefore, I am covering most of the questions you may have, such as the best time to visit weatherwise, How many days is enough for the trip, what to see, where to stay, and more.
Picture Gallery
Helpful Information
Things to do and places to visit
There are over 10 small towns around Amalfi Coast, however here are a few you definitely need to explore.
Guided Tours in Amalfi Coast
---
Day 1: Drive through Positano -> Praiano -> Amalfi -> Ravello
Explore Ravello
Ravello is the furthest town and the only one not on the water. This town is perched above the cliffs overlooking the coast. The alpine town of Ravello may not be for the faint of heart, but its ancient villas and stunning ocean views will be etched in your memory for years to come. It is a lot less crowded than Positano or Amalfi, making it a great place to stay if you don't want to avoid the summer crowd.
In Revello, Villa Cimbrone and Villa Rufolo are the two most famous villas on the Amalfi Coast other than those on Capri that worth a visit. Particularly Villa Cimbrone is most famous for 'Infinity Terrace' (Terrazzo dell'lnfinito); from its balcony, you can get a gorgeous panoramic view of the Amalfi Coast.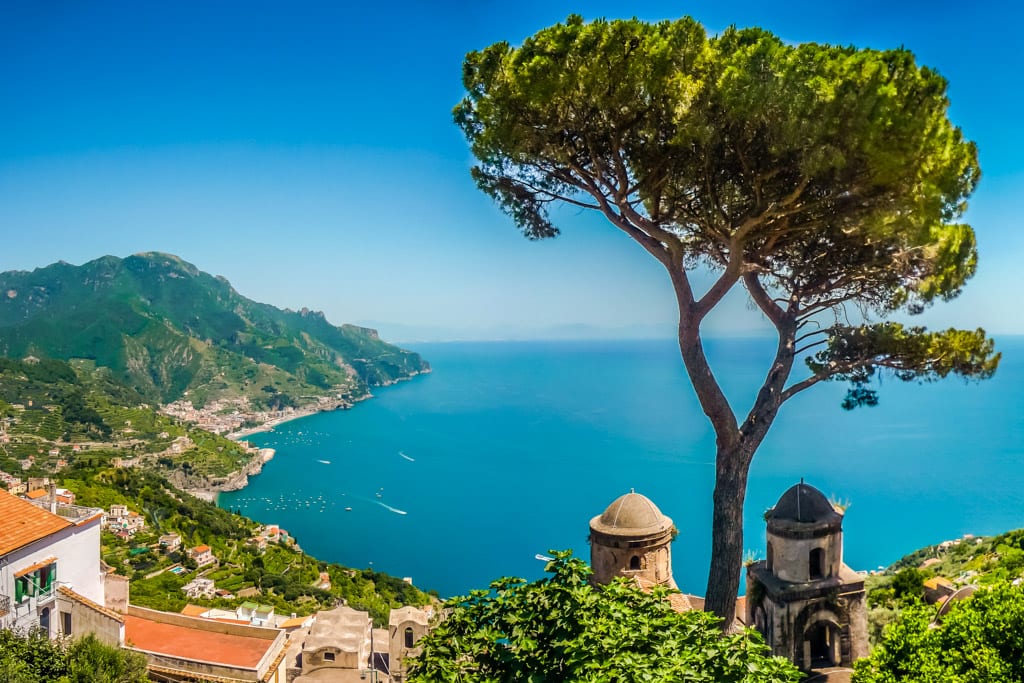 Spend Some Time in Amalfi
Don't get confused; it's not Amalfi Coast, but yes, there is actually a town called Amalfi as well. Known for its historic cathedral, a must-visit sight the towering Duomo di Sant'Andrea which dominates the man piazza of the town. Amalfi was once the center point for trading that goes back to the medieval age. In Amalfi will find plenty of private beaches and places to grab a drink in the shade.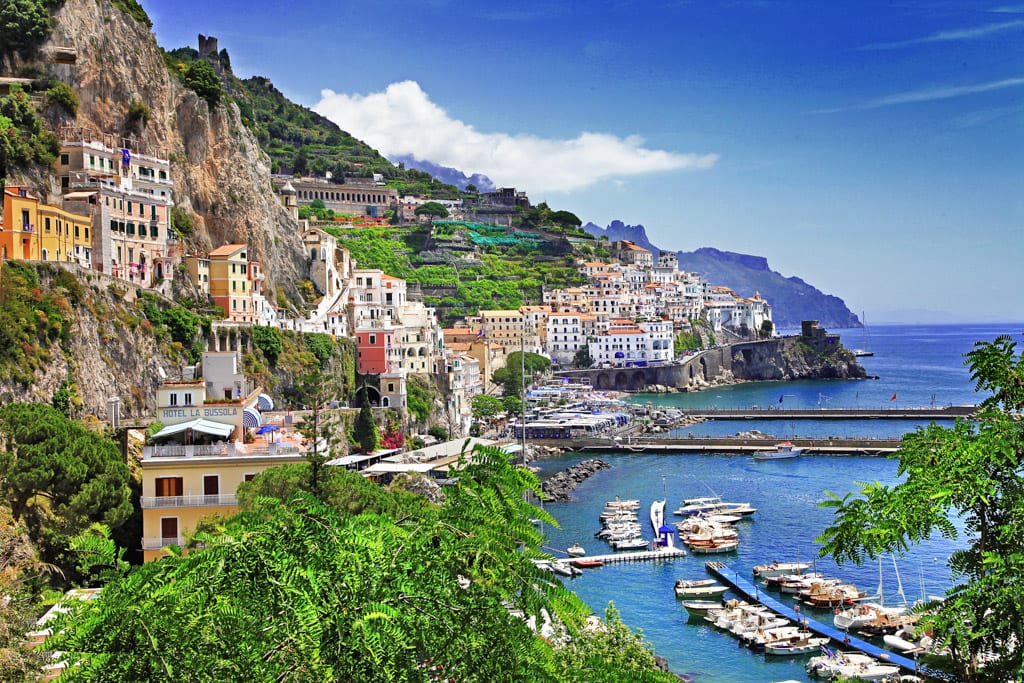 A Quick Stop at Praiano
Praiano is much quieter than Positano, a small town located on the rocky cliffs of the picturesque Amalfi Coast that offers vistas of exceptional beauty and a leisurely pace of life. The views are incredible from here, whether you hike the ancient Path of Gods trail or wander the streets or climb the endless staircases of the village to find centuries-old churches and cliffside restaurants. In addition, Praiano is a perfect hub to explore magnificent islands, the Blue Grotto sea cave, hidden coves, and pristine beaches of the area by boat.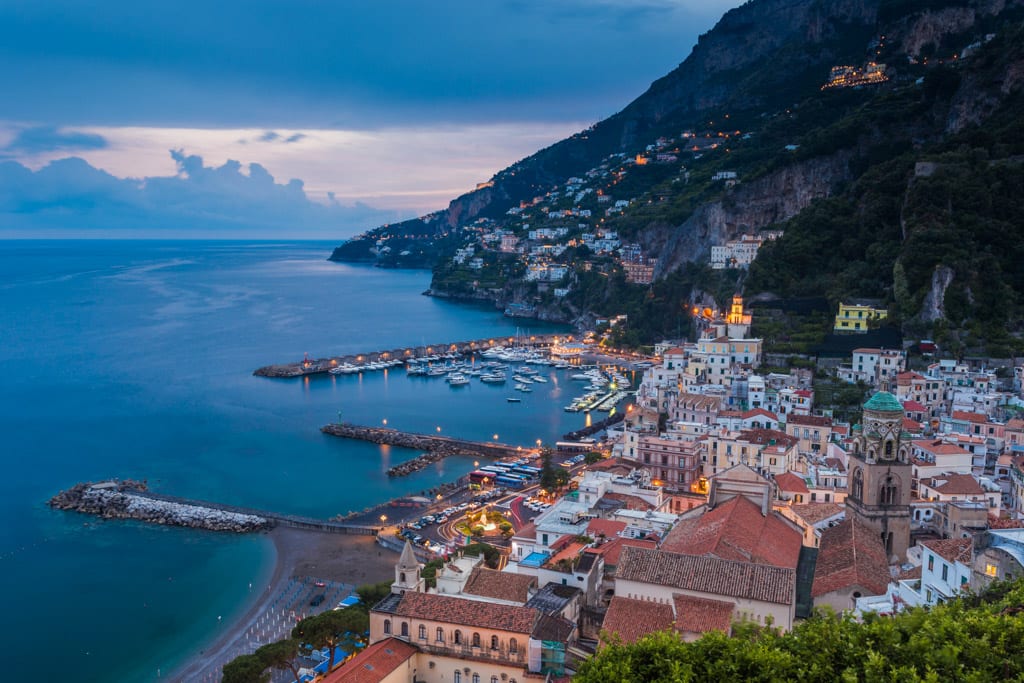 ---
Day 2: Visit Positano and Boat Trip to Emerald Grotto
Positano Most Famous in Amalfi Coast
The Amalfi Coast officially starts from Positano. It is the first town you will find next to Sorrento. So start your trip with Positano, the perfect beach with its moving backdrop of houses sticking to a mountainside, to the series of boutique shops offering some genuinely unique fashions. An excellent place for beach enthusiasts.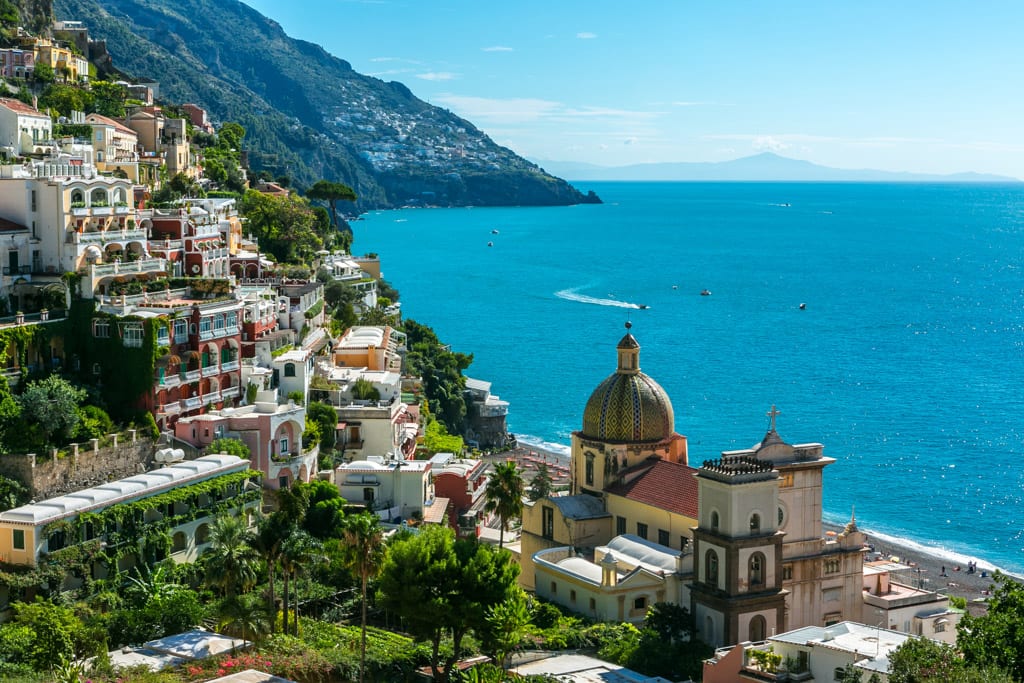 Here are some of the cool things to do while you visit Positano, one of the most scenic towns on the Amalfi Coast.
Take a Private Boat Tour
I highly recommend taking a half-day private boat trip, it is not only one of the best ways to see the beautiful view of the coastline but also a few exceptional sites like Fiordo Di Furore and the Grotta Dello Smeraldo.
Soak Up Sun in The Best Beaches of Positano
The most famous beaches in Positano are the Mornillo Beach and the Spiaggia Grande (Mariina Grande).
If You Are Hiking Enthusiastic
Hike the Path of the Gods (Sentiero Degli Dei) is considered one of the most breathtaking hiking trails on the Amalfi Coast. Depart from Sorrento, and the hike takes about 4 hours. An opportunity to see Amalfi Coast from a different perspective which most tourists never get to see. If you are traveling solo, for this hike I will recommend to get a guide. Check here for price and schedule a small-group hiking guide.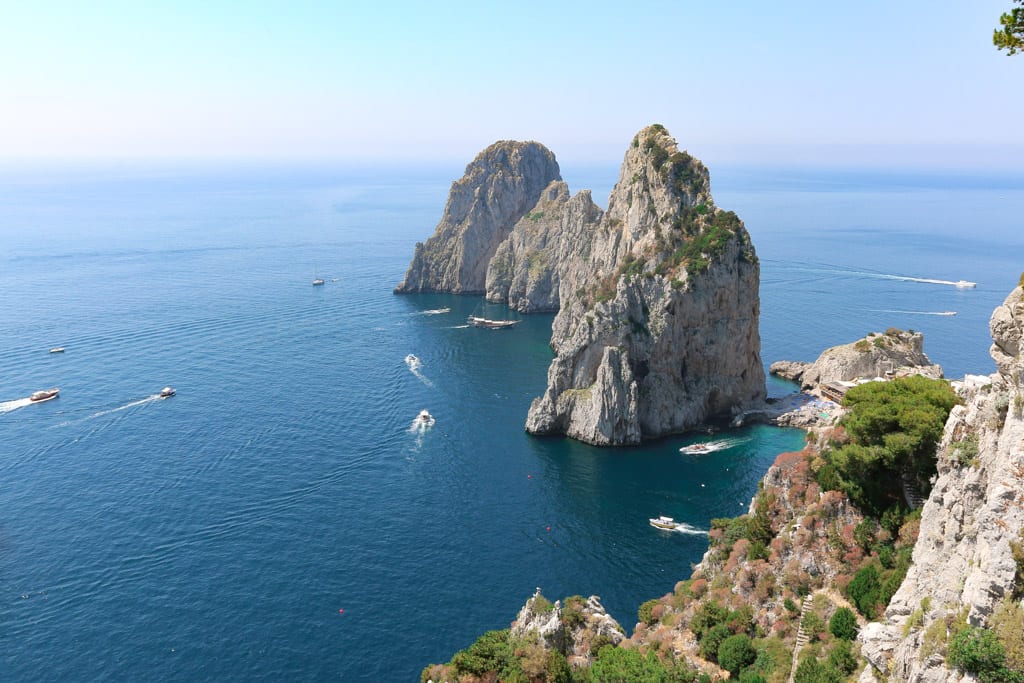 ---
Day 3: Sightseeing in Sorrento and Pompeii
Sorrento
One of the reasons to visit Sorrento is for the amazing scenic views along the cliffs overlooking the Bay of Naples and it's centrally located for traveling the region. For the popular tourist "photo op", you need to hike up from the town square to the top of the cliffs overlooking the Marina Grande. Sorrento is the ideal blend of a preferred resort town and a tourist-friendly old Italian city. It is easily accessible from Naples via rail and bus.
A ferry leaves from here to the isle of Capri, and it is a great starting point for Pompeii. However, Sorrento is also well known for world-class gourmet cuisine, stunning cliff houses (though no beaches), and marvelous views of Mt Vesuvius. Apart from shipping, just wander around Piazza Tasso (main town square) and have lunch or visit the Church of St. Francesco, look out over the marina. I would definitely recommend staying in Sorrento; you can find more details on the hotel and rental properties below.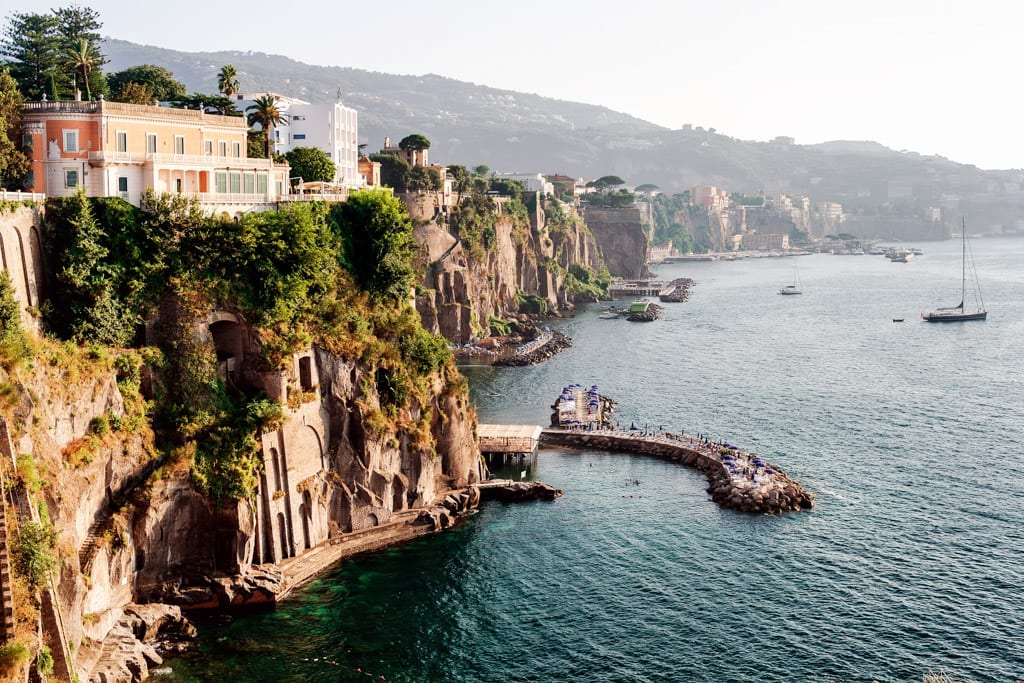 A Trip to Archaeological Park of Pompeii
Along the shadow of volcanic Mt Vesuvius sit several Roman towns that were destroyed by a sudden eruption in AD 79. The most famous of these is Pompeii, whose ruins can be viewed extensively. Archaeologists found the remains from 3,000 holdouts from this town of 20,000 who had refused to flee and paid the price.
The ash buried the town, but in many ways preserved a day in the life of Roman times. Nearby is the wealthier, smaller town of Herculaneum, who suffered a similar fate. The population was smaller, around three hundred, but the homes are a better example of how the wealthy once lived, and are worth seeing. Getting there is easy from Sorrento by Circumvesuviana train takes about 30+ minutes to Pompeii Scavi stop.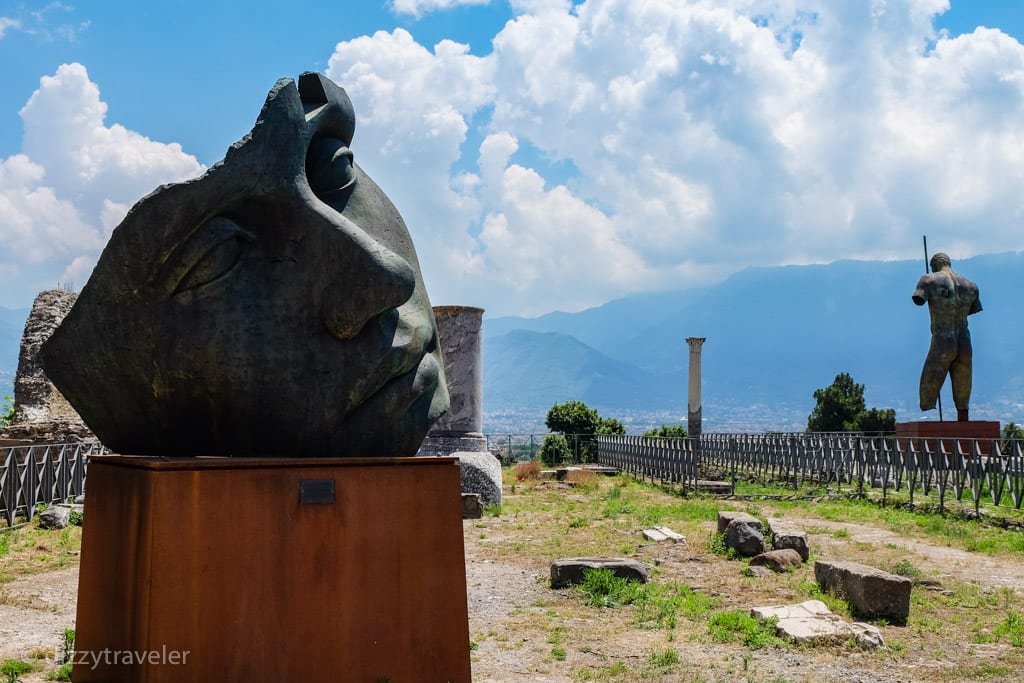 ---
Day 4: Day Trip to Capri
Boat to Capri
Probably the most beautiful island in Italy, in my opinion. Since it is an island, the only way to get there, of course, is by ferry or private boat. The island is famous for its rugged landscape, upscale hotels, and shopping, from designer fashions to limoncello and handmade leather products. There are many ferries daily between Sorrento and Capri, and they are more frequent during the summer. The ferry takes about an hour and is not cheap, it can cost about 40 Euros round trip for adults
One of its best-known natural sites is the Blue Grotto, a dark cavern where the sea glows electric blue, the result of sunlight passing through an underwater cave. During summer yields fantastic sunbathing and beach opportunities, but ferries packed with daytrippers swarm the island and cause prices to increase in July and August.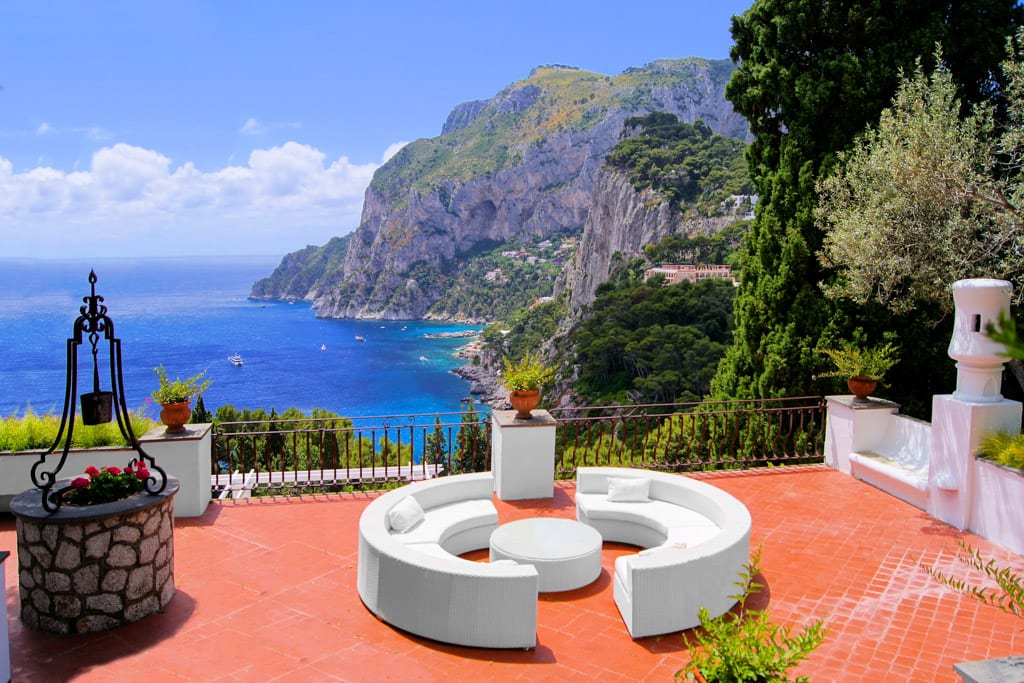 ---
Day 5: Day Trip to Naples
Explore Naples
Naples, or Napoli, is the third largest city in Italy. To some it is huge, filthy, crime-ridden and falling apart, to others it is edgy and atmospheric. This coastal Southern city definitely has its own personality.
Many favorite Italian foods originated in Naples and its surrounding area such as pizza, and spaghetti. These dishes are taken seriously here and usually feature fresh, locally grown ingredients. Tourist attractions in Naples include a huge Medieval castle, Castel Nuovo, as well as the seaside fortress of Castel del'Ovo. The city is also next to the Vesuvius, the only active volcano on the European continent.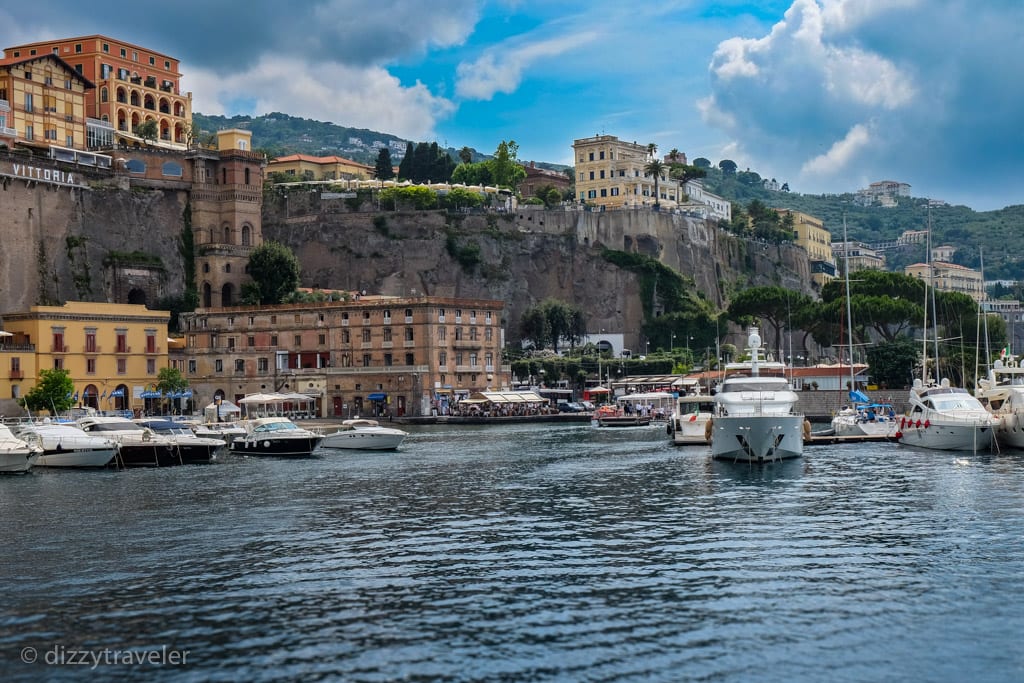 Find a Vacation Rental
Where to stay in Sorrento, Amalfi Coast
Featuring panoramic views of the Bay of Naples and Mount Vesuvius, the 4-star Hotel Continental is 150 feet from Sorrento's seafront and has an outdoor pool. Most rooms also have a balcony, and some overlook the Mediterranean Sea. Restaurant La Terrazza serves Italian and international cuisines, plus fresh fish specialties. At the bar, you can enjoy classic cocktails.
Private elevators take guests down to a well-equipped beach, and you can also use the hotel's gym or book a massage. The property is just a 10-minute walk from the main square, Piazza Tasso, and Sorrento Train Station, where guests can catch trains to Naples. 
Villa Claudia is a gorgeous two-storey villa with three annexes attached for 21 people, in a quiet location, situated on a hill by the sea. From Villa Claudia you will admire a beautiful view of the sea and the green countryside. Villa Claudia is around 4000 square foot in size and features a garden, external Jacuzzi, a small gym, private terraces, private swimming pool, parking, Wi-Fi, air conditioning, and heating.
Just 60 feet from the villa you will find a brilliant local restaurant and about 1200 ft away there is a grocery store. Less than 10 minutes away by foot you'll find Sant'Agata Sui Due Golfi with its restaurants, supermarket, shops, and public transport. The closest beach (Marina del Cantone) is around 5 miles away.
My Opinion and Last Word
Have you been to Amalfi Coast, Italy? Any cool tips to share?
I loved being on the Amalfi Coast region, and want to go back again. I hope my story has motivated you to visit Amalfi Coast.
Please leave a comment below! I'd love to hear from you to improve my knowledge. 
Was this travel guide helpful for you?
If you'd like to help me continue making free guides, here is one way you can help:
Share This Guide 

– If you have a friend that would benefit from this guide, share it with them. Or post this guide on Facebook, Twitter or Google+
Your Support would definitely help me making more free guides like this. Thank you in advance!
Affiliate Link – This post in Dizzy Traveler contains affiliate links, which means I receive a referral commission if you purchase after clicking at no additional cost to you. These funds go to maintain the site. Thank you for your support.
Here is a few affiliate links that may help plan a perfect trip while staying within budget.