Getting to know Hoi An
This city on the central Vietnamese coast is a well-preserved example of the important Southeast Asian trading port it was from the 15th-19th centuries. Right in The Ancient Town of Hoi An Japanese, Chinese, Dutch, Indian traders set up their emporiums or established their own quarters for permanent habitation. On the 14th day of each lunar month, the town trades its electric lights for traditional colored lanterns.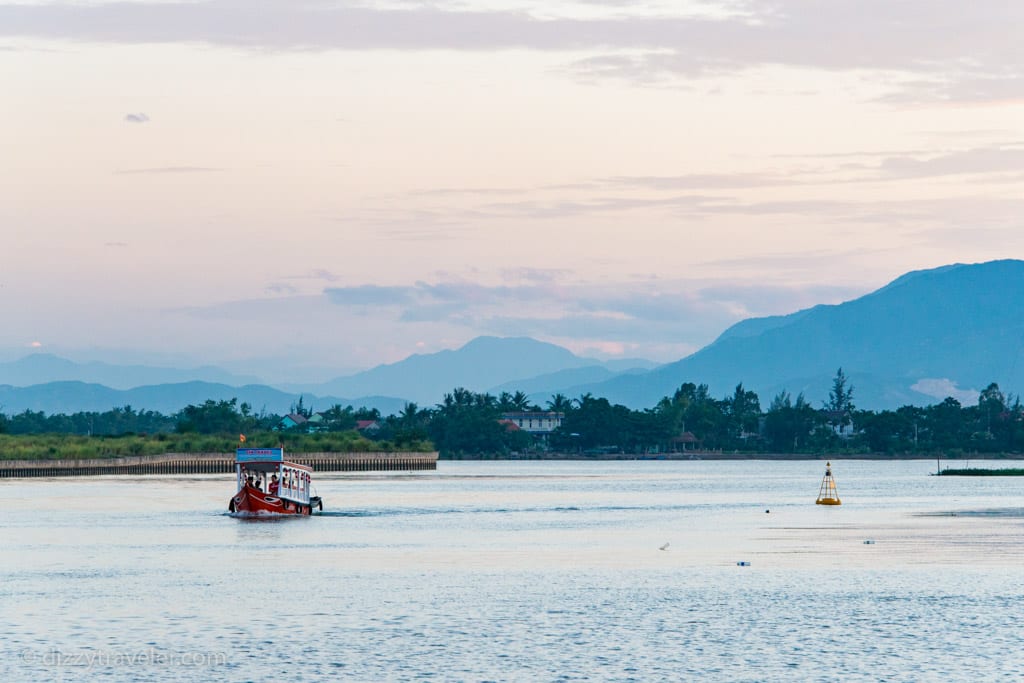 UNESCO World Heritage Site
Historic Hoi An was granted UNESCO World Heritage status in 1999 and is one of Vietnam's most atmospheric and charming destinations. Hoi An is a little paradise for every traveler. A common stop for backpackers, it is also becoming better known to tourists. I was impressed by its beautiful scenery, delicious food, history, unique shopping, and much, much more. You will definitely fall in love with this place, feel like extending your trip or like me immediately start thinking of coming back again.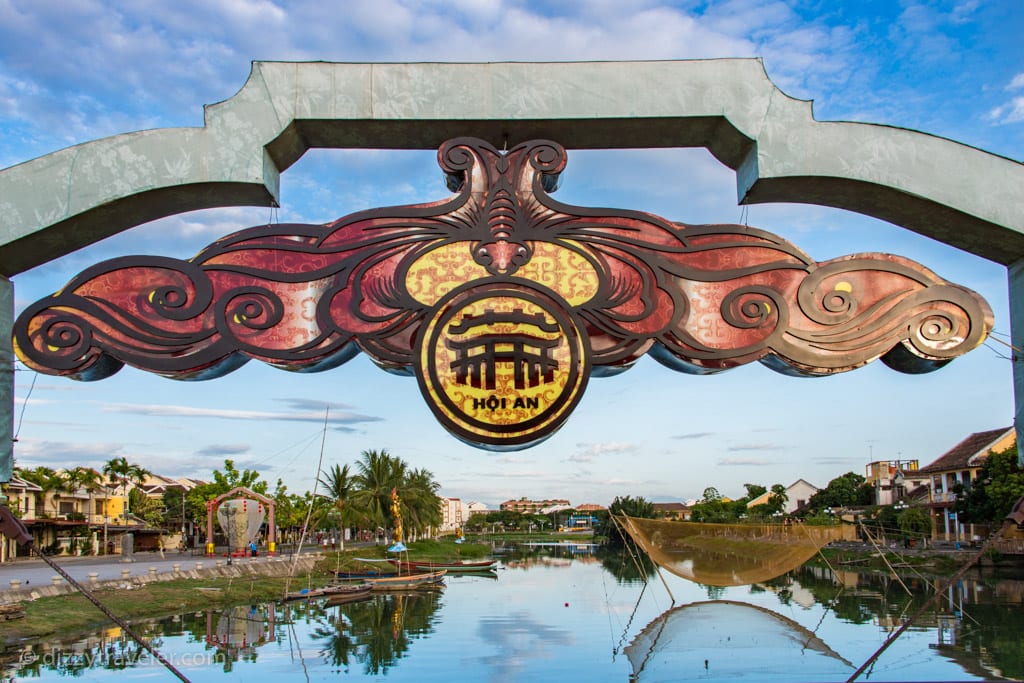 Once a major port, it boasts grand architecture and scenic riverside views, along with a whole host of things to see and do. Staying indoors is not an option in Hoi An, so here's your guide to the best outdoor activities to keep you occupied during your trip.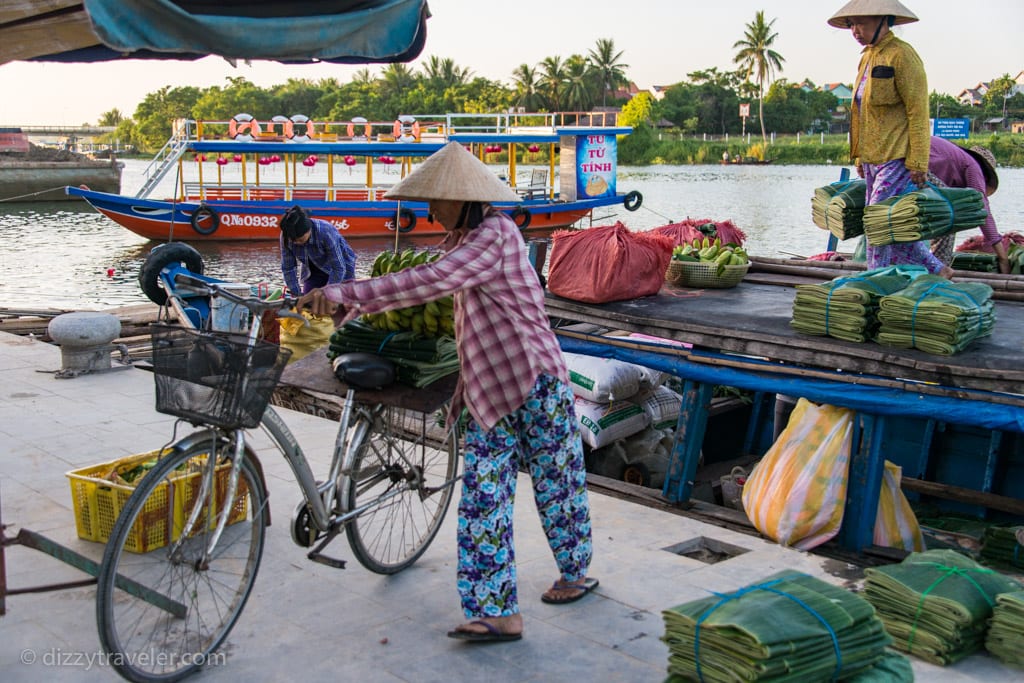 Entry to Hoi An's historical attractions is via a coupon system, where a set fee gets you into five sites. Tickets are sold at various points in the Ancient Town. As a foreigner it costed me 120,000 dong (1 US$ = 22500 dong)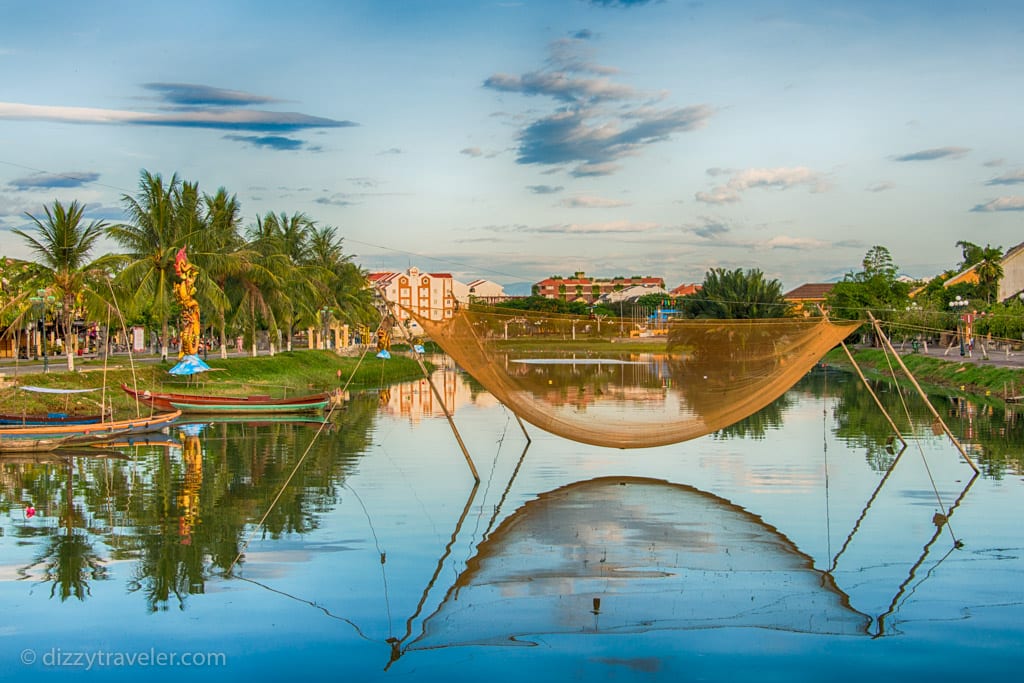 The center of Hoi An is compact and pedestrianized, meaning you can walk around to most of the attractions.
Best Time to Travel Hoi An
Typical for the tropical climate of Vietnam, Hoi An City possesses warm weather the whole year. The city only has two main seasons; rainy and dry seasons instead of four seasons like in Northern Vietnam.
In my opinion, the best time to visit Hoi An is between February – May since the weather becomes very mild and beautiful with moderate temperate, low humidity, less rain and warm sunshine.
Many avoid visiting Hoi An between September – January when it rains constantly also may have typhoon and flood that may disrupt your planned trip.
November – January daily average temperature is between 19 – 24 degree Celsius ( 66 – 75 deg F)
June – August when the highest temperate may hit 38 degree Celsius ( 100 deg F) during the day.
How To Get There
The nearest airport is Da Nang International Airport, the 3rd largest airport after Hanoi and Ho Chi Minh City (HCMC), so I found it most convenient to fly from HCMC to Da Nang and enjoy beautiful Da Nang beach for a day or two then drive to Hoi-An. Which is only 30 km about 45 – 50 minutes away.
---
From Da Nang Airport to Hoi An
If you are not staying in Da Nang then I found it convenient to take a taxi or pre-arranged private taxi from the airport straight to Hoi An. It may cost you about US$ 20 – 30 but that will eliminate all the hassle of finding the bus stop and language barriers. Also if you are traveling in a group then the shared taxi fare is reasonable in my opinion.
Great Things to do in Hoi An
From wandering around the town and exploring the countryside — including rice fields, traditional fishing villages, and a beautiful sandy beach — to sporting activities and cooking tours; there's plenty to do in Hoi An to satisfy every member of the family.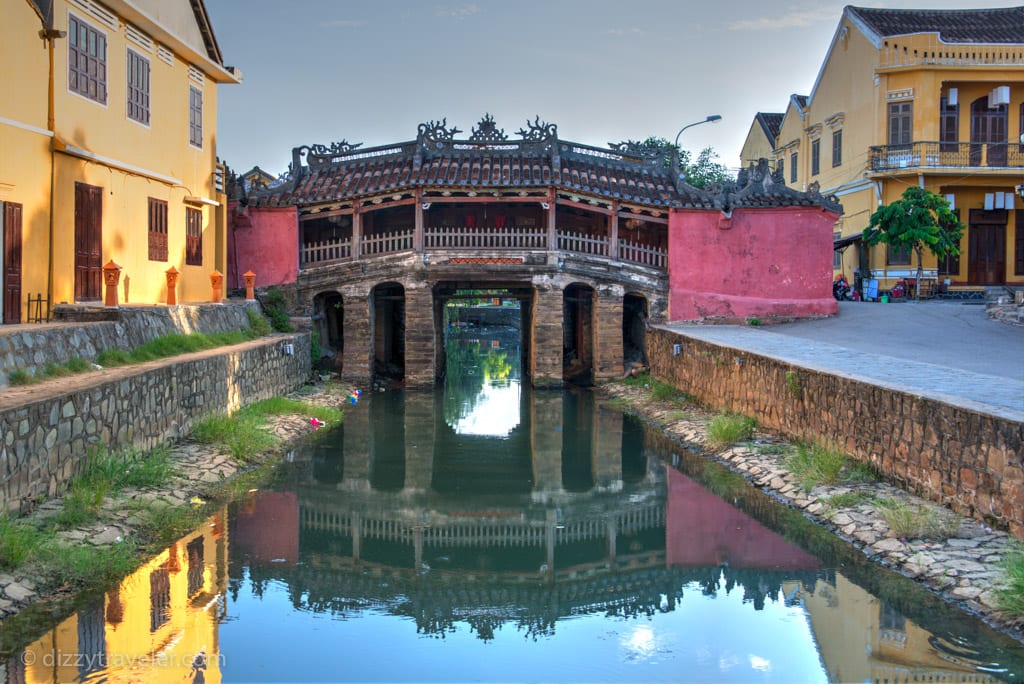 One of the best ways of exploring Hoi An is by bike. Any bicycle Tours will take you off the beaten track and into the heart of traditional Vietnam. With so much to see and experience beyond the main town, getting out into the countryside is a real must-do experience. Visit local businesses and learn about trades like rice making, mat weaving, and furniture engraving. You'll also be treated to some delicious home-cooked food at a local family's home.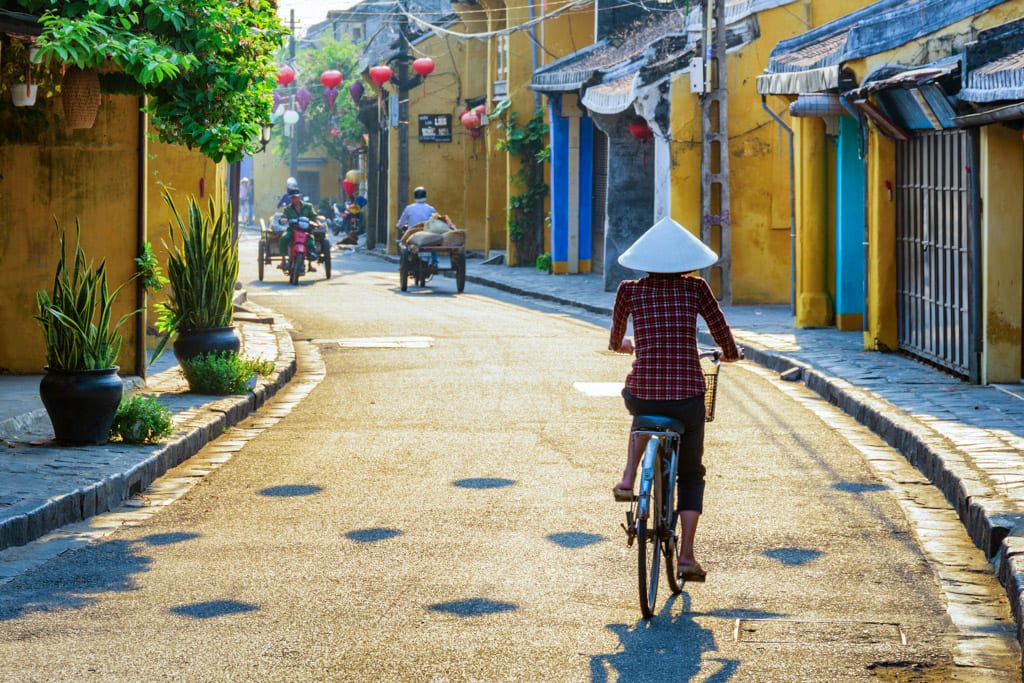 If you are looking for something fun to do in Hoi An and connect with nature try kayaking through Hoi An's waterway. You will experience another side to Hoi An at the same time meet local people. The views of the Ancient Town from the river are fantastic, but the real rewards come when you begin to venture further out, where palm groves line the smaller backwaters and friendly fisherman wave as they go about their daily business. This is also a great way to escape the crowds and get an insight into local riverside life.
Take a Photo Tour in Hoi An
There are a few interesting tours available if you are interested in photography. Morning Sunrise with the Fishermen and afternoon Sunset on the river is most interesting. You will have the opportunity to capture some amazing sceneries, river landscape, portraits of local people for sure.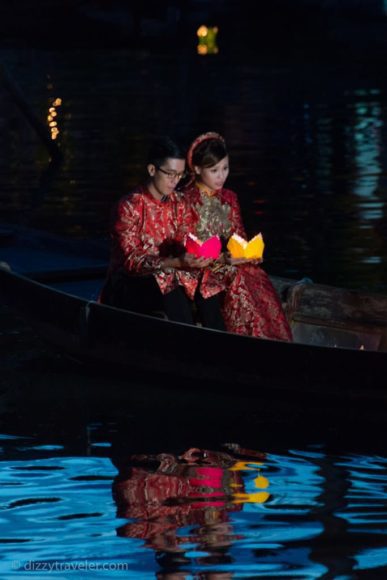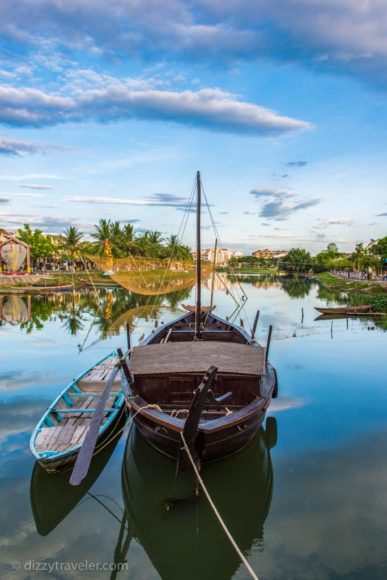 Try Street Food in Night Market
When it comes to open-air eating, pick street food stalls where you can see the food being prepared and cooked. Also, eat where the locals eat!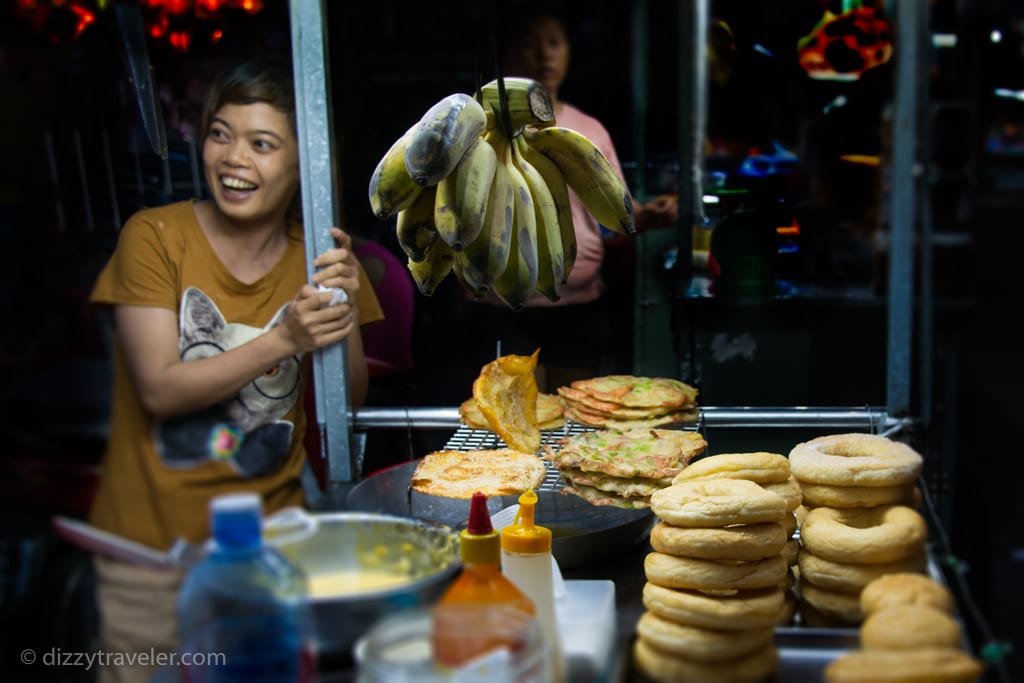 Day Tour to Cham Island for snorkeling
A great way to spend a day or two enjoying beautiful Cham Island beach, Snorkeling, Scuba diving, Beach camping overnight homestay or some private speedboat tour then this is it for you.
email: info@chamislanddiving.com
Sunbathing in An-Bang Beach
An-Bang Beach provides a fantastic day out by the sea. It's family-friendly, with clean sand, a gentle slope into the ocean, and numerous places to have lunch and a refreshing drink or two. Less popular than Cua Dai Beach, An Bang is one of the few remaining stretches of beach that remains largely unspoiled by commercial development. Buy a drink or meal at one of the bohemian beachside restaurants here and you'll invariably get a sun lounger and an umbrella for free.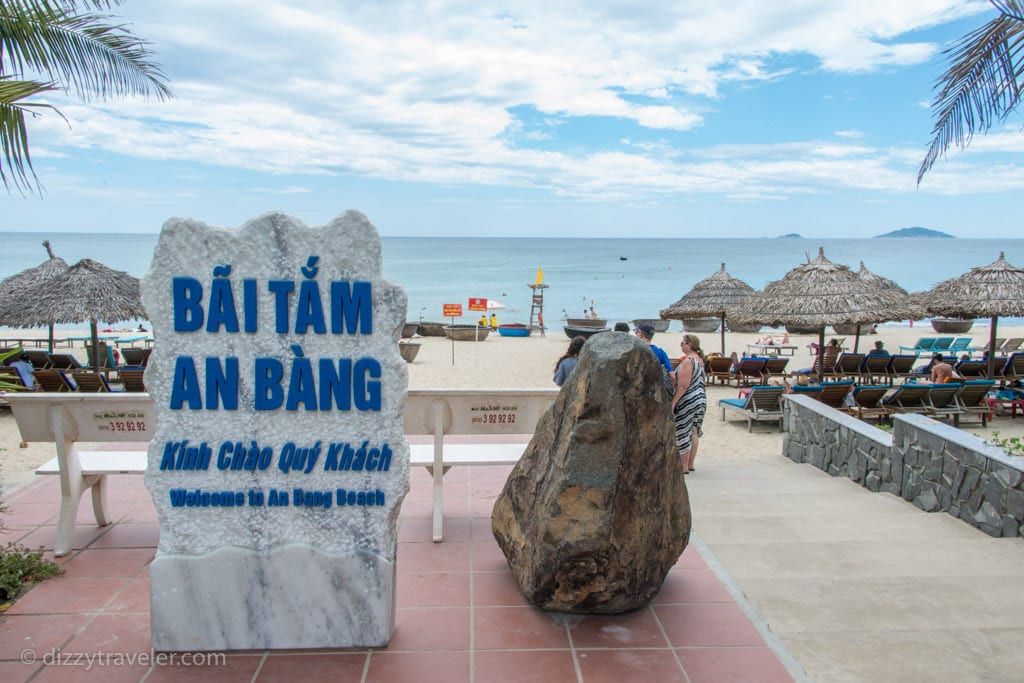 Visit Tan Thanh Beach
Tan Thanh Beach in Hoi-An is quiet and not so crowded – you will definitely have a private beach-like experience. There are a few nice restaurants near the beach which was very convenient. The Lantana Boutique Hotel where I was staying offers a complimentary shuttle service to this beach so it was perfect for us to enjoy the beautiful sunny day on this quiet and clean beach.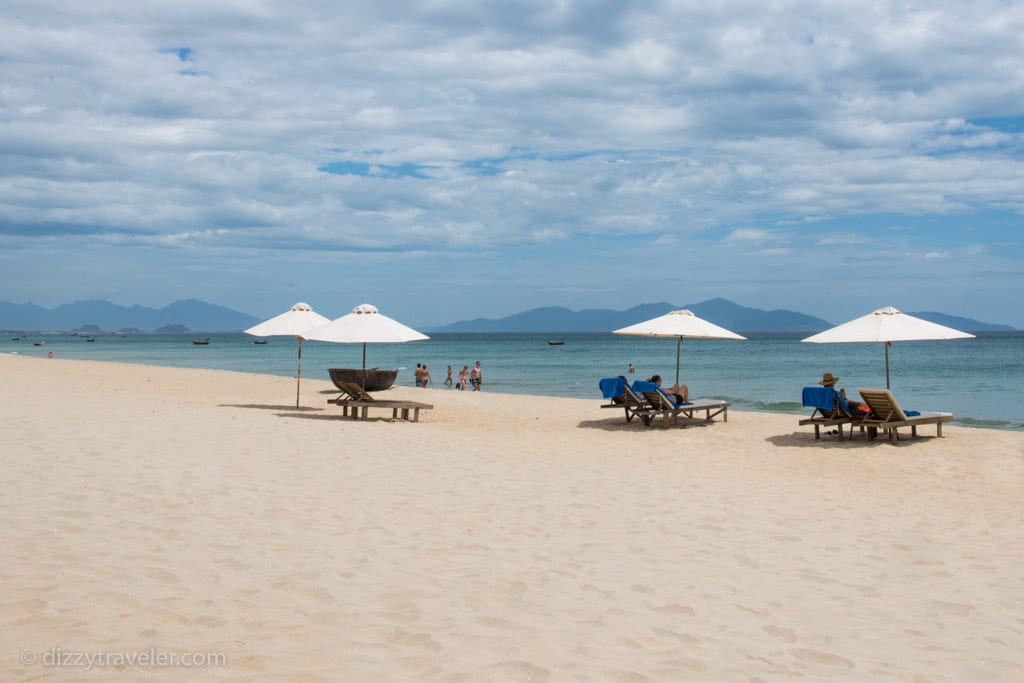 Cua Dai is one of the Best Beach in Hoi An
Cua Dai Beach, 4 km from Hoi An city, is one of the best beaches in Central Vietnam. The blue water and soft white sand, it makes an ideal venue for sun-seekers and seafood lovers and definitely impresses you with its open-air and cool breeze.
Ancient Town is the 1st thing you should visit
Located on the banks of the Thu Bon River, the Ancient Town is what people tend to conjure up when they think of Hoi An. The UNESCO World Heritage site is a captivating and historic area that's home to some truly remarkable buildings, including temples, old houses and of course, the famous Japanese Covered Bridge. Despite being a well-known tourist spot, the Ancient Town hasn't lost its charm. The architecture and the streets are small and narrow so it's fun to spend hours simply wandering the streets in and out of shops and cafes.
I would personally devote a day at least too simply exploring the town on foot or bicycle.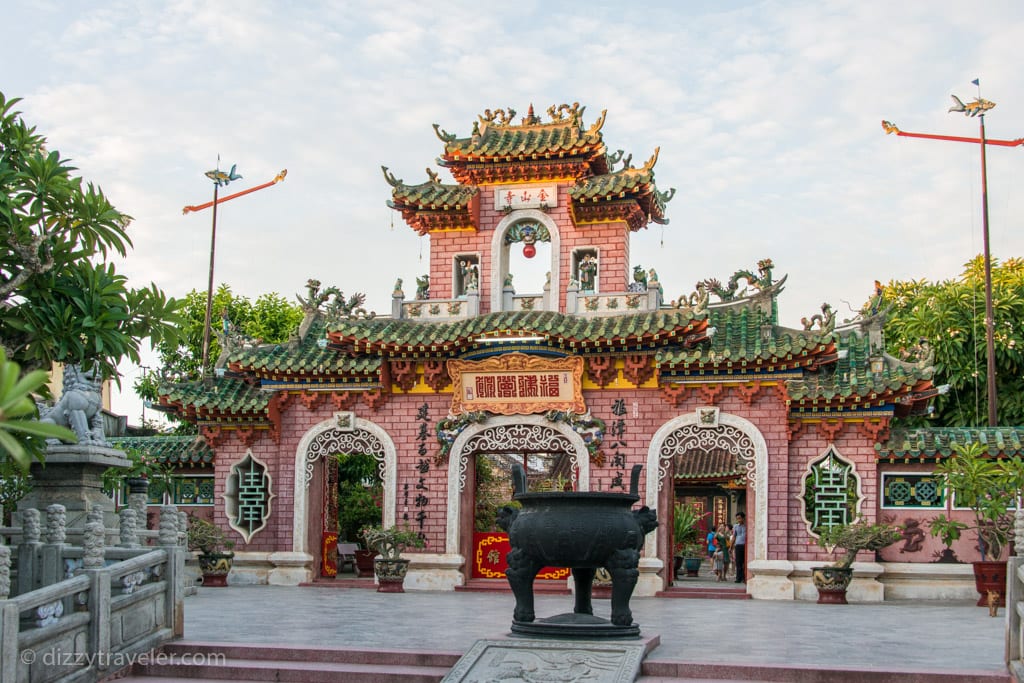 At night, the Ancient Town is lit up by hundreds of twinkling lanterns. These illuminate the riverside, offering superb views and creating an almost magical atmosphere.
Good Idea to try out Dinner Cruise
If you like your evening meal with a view, hop on a Dinner Cruise down the Thu Bon River and enjoy scenes of Hoi An's waterways as you glide along. The cruise offers six set menus and a full bar, plus friendly and attentive waiting staff. The food matches up to the experience and the atmosphere is always fun and friendly.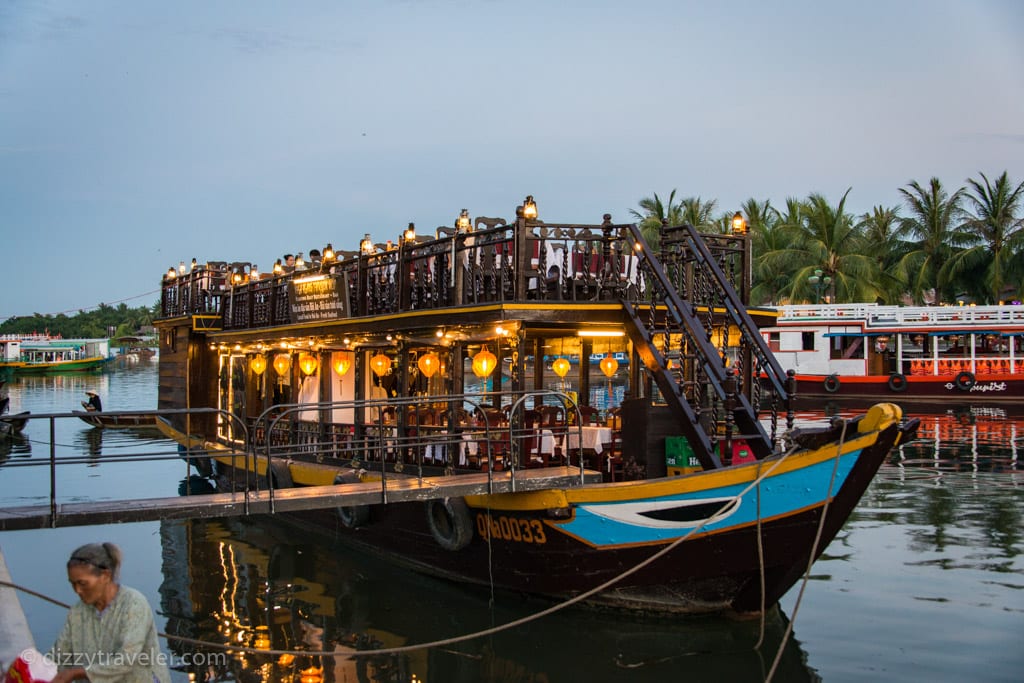 Hoi An Central Market
By the banks of the Thu Bon River, bustling Hoi An Central Market is certainly worth a look for its authentic slice of Vietnamese life. The best time to visit is in the early morning even though the market is busy throughout the entire day. I was able to experience the negotiation of a fishing auction as the fishermen drop their catch off and the market vendors and locals buyers dive in to get the best fish. Bargaining is one of the art and widely exercised in the wet market.
Even though inside the market is little messy but regardless it's certainly a sight not to be missed. It's a good idea to wear closed shoes as the floor in the market can get damp and sticky, especially if you are visiting the fish section.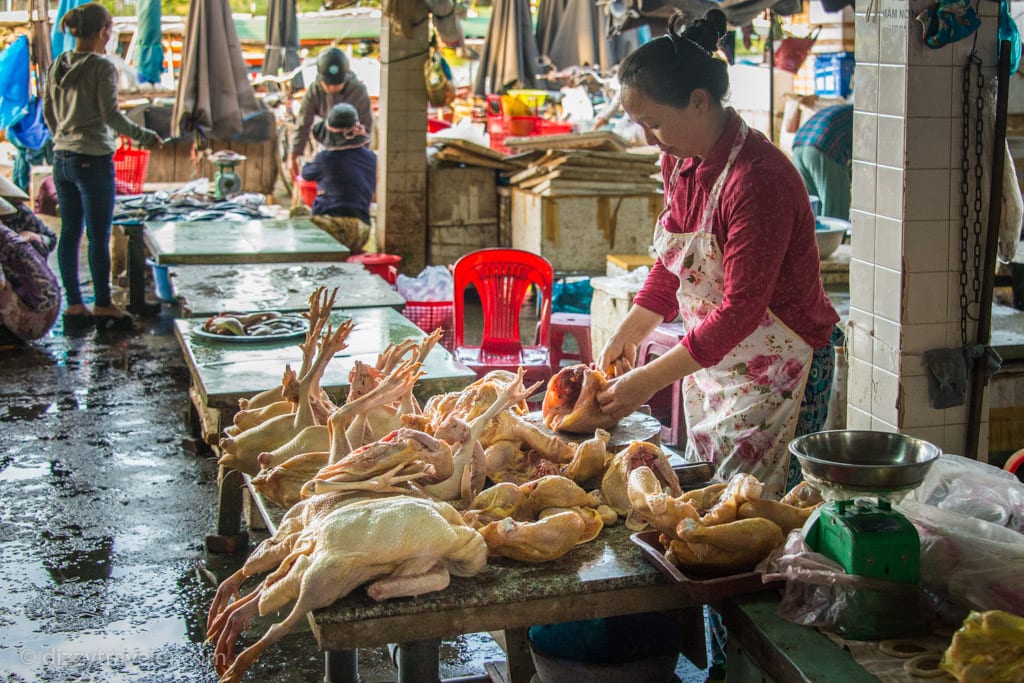 Try Local Food
The best Hoi An dishes are exclusively available within the UNESCO World Heritage Site which is this remarkable city, utilizing fresh greens, herbs, fish, meat, and even water from the neighboring Tra Que Vegetable Village, Cham Island, Ba Le Well, and Cam Nam Village.
The streets of Hoi An Ancient Town are filled with an array of dining choices, ranging from glitzy Vietnamese restaurants to riverside food stalls. Noodles and rice dishes are typically priced between VND 10,000 and VND 50,000 while appetizers such as Banh Xeo and banh mi should cost no more than VND 25,000.
Cao Lau – Rice Noodles With Barbecued Pork
Cao Lau in Hoi An's definitive dish, comprising chewy udon-like rice noodles, Chinese barbecued pork slices, bean sprouts, croutons, and fresh herbs in a pork-based gravy.
Banh Bao Vac – (White Rose Dumplings)
Banh bao vac is a local appetizer that resembles delicate white roses displayed on a platter. Each dumpling is made by wrapping shrimp or pork filling in flattened rice dough before cooking it in a steamer.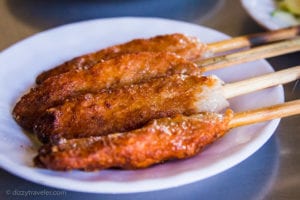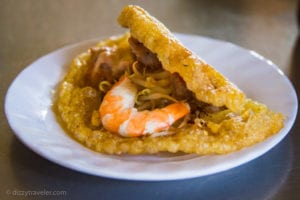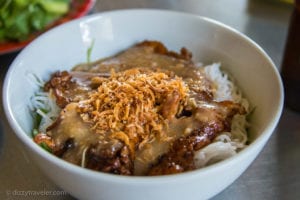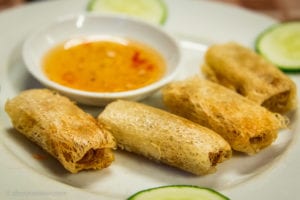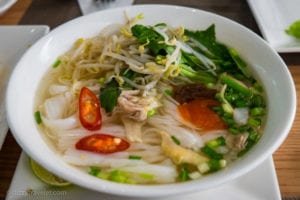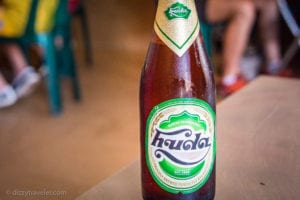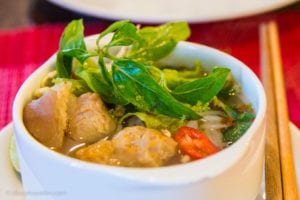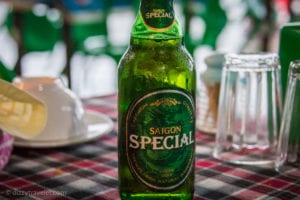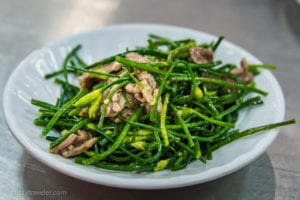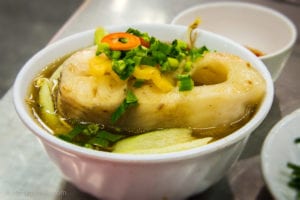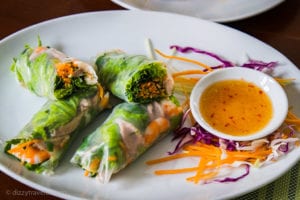 Hotel in Hoi-An
Where I Stayed
Lantana Boutique Hotel Hoi-An, 09 Thai Ngoc Hau Street, Hoi An City
Featuring an indoor pool, Lantana Boutique Hoi An Hotel is just 1,950 feet from Hoi An Ancient Town. Located 5 minutes walk from Japanese Covered Bridge and 0.6 mi from Assembly Hall of the Fujian Chinese Congregation. Danang Airport is approximately 19 mi away.
Places where friends stayed
Hoi An Beach Resort, 01 Cua Dai Street, Cua Dai Beach Hoi An Quang Nam
Nestled between Cua Dai Beach and De Vong River, Hoi An Beach Resort features 2 outdoor pools. Only 45-minute drive from Danang International Airport and 2.5 mi from Hoi An's town center.
Have you been to Hoi-An? Any additional tips to share?
Please leave a comment below! I'd love to hear from you to improve my knowledge.
Was this travel guide helpful for you?
If you'd like to help me continue making free guides, here is one way you can help:
Share This Guide – If you have a friend that would benefit from this guide, share it with them. Or post this guide on Facebook, Twitter or Google+
Your help would definitely help me making more free guides like this. Thank you in advance!
---
---