If you are thinking of a tour through Thailand but not certain where to begin and having difficulties making up your mind on where to visit and what to skip during your short vacation, then you are not alone. We definitely have to choose between Bangkok nightlife, beautiful beaches, attractions, historical places, delicious Thai food, neighborhood, but that should not derail us from going forward. To make our planning process easier, I have put together a Thai travel plan to begin with.
Few Words on Thailand
Thailand is the most attractive traveler destination in Southeast Asia, and for a reason. You name it, and sure enough, you got it there almost anything a perfect tropical country has to offer. Crystal clear blue beaches, thick forest, excellent cuisine, good beachfront cottages, and some of the best luxury resorts in the world are there in Thailand. There is something for every interest and all budget.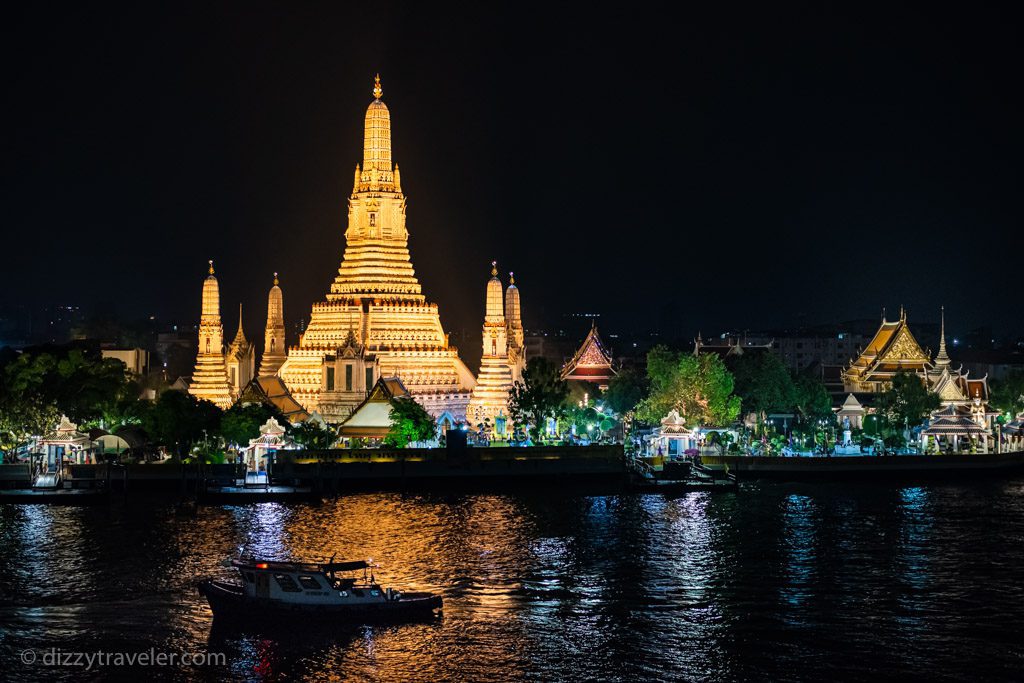 The Capital Bangkok
Bangkok, the capital of Thailand, has two international airports, Suvarnabhumi (BKK) and Don Muang (DMK). Like Singapore and Kuala Lumpur, Bangkok also leads as a global air-travel hub. So it's easy to find bargain air tickets to Bangkok from the major international destination. Also, tourists use Bangkok as a hub to travel to neighboring countries like Malaysia, Cambodia, Laos, Myanmar, Vietnam, and many more.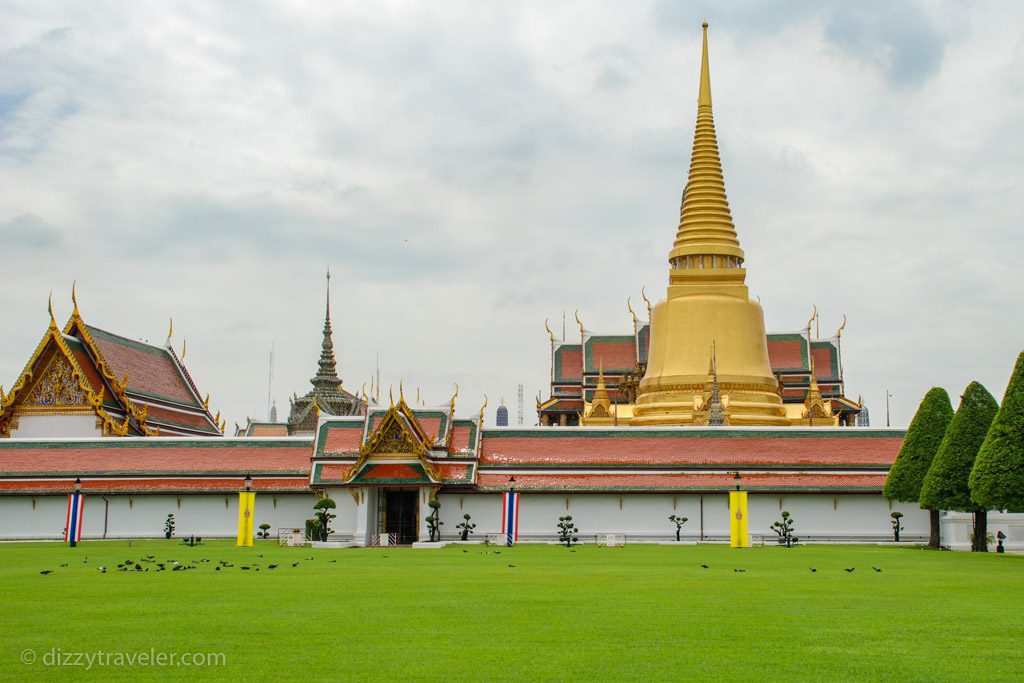 Getting to City Center From Bangkok Airport
The Bangkok Airport Rail Link that connects Suvarnabhumi International Airport to downtown Bangkok is a smart alternative to the airport's express buses or taxis. The station is inside the main terminal. The ticket is maximum 45 baht (single trip per person) depending on where you are getting off and can be purchased from the machine or the ticket counter. The ride to Makkasan station (close to the Sukhumvit area) will take 25 minutes.
Metered taxi is also a reliable way to get to the city center from the airport. Just follow the sign to the taxi stand on the ground floor—a taxi ride from the airport to the city costs around 200 Baht. Sometimes I go to the departure level to flag down a taxi that saves me 50 Baht Airport fee.
Getting Around In the City
Getting around the city is pretty cheap. There are plenty of metered taxis available almost everywhere. They are pretty reliable and affordable; all you need to do is make sure that the meter is turned on. This elevated rapid transit is very popular among locals and foreigners alike.
BTS (Sky Train) is a great way to avoid Bangkok's traffic and move around the city. But's trains could be very crowded during office hours.
The MRT (Metropolitan Rapid Transit), Bangkok's subway consist of two lines. Tickets are purchased in the form of tokens from machines at the stations. The subway is connected to the BTS (the sky trains) at Asok station.
For those willing to take a risk, there are Motorbike taxis available for hire. Often seen at each street corner, locals use them to go up and down the Soi (streets).
The iconic Tuk Tuks are widely seen in the city's designated area, especially in the evening. They are very popular among tourists, so watch out for a tourist trap. Since the ride is exciting and the tuk-tuks are open, so it is good to secure your valuables at all times.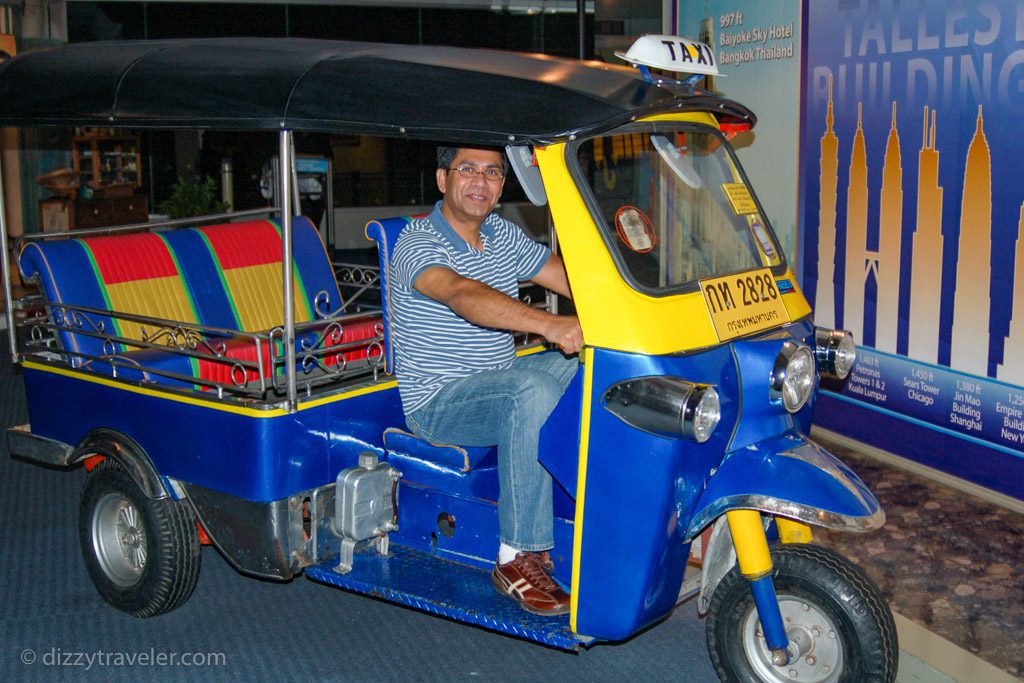 Best Time to Visit
While planning a trip to Bangkok, the weather is possibly the most important thing to consider. Visiting during the wrong season could ruin your vacation. The best time to visit Bangkok is between November and February when the temperature and humidity are lowest. However, Thailand is a tropical country, so expect temperature around 90 deg C on any given day regardless of the time of the year. Irrespective of the weather, good or bad, it's always a wise idea to protect your trip by getting good travel insurance.
Useful Information
Visa – No Visa Required – Foreigners from major countries entering Thailand falls under the Tourist Visa Exemption category so, 30 days visa-free stay is stamped at the port of entry. Provided your passport must be valid for at least six months beyond the date of your entry into Thailand. Thai immigration officials may ask for your onward/return ticket. Check with the Royal Thai Embassy if your country of citizenship falls under visa exemption.
Buying a SIM Card for Phone – Purchasing a SIM card is easy in Thailand if you are arriving at Suvarnabhumi Aiport (BKK). There are multiple places, including 7-Eleven, to buy a Thai SIM card. Note that your phone should be unlocked to be able to use a Thai SIM card. It's cheap, only 299 baht (less than US$ 10) for a card with 1.5GB of data, plus 100 bath call credit valid for a month.
ATM – You will find ATMs all over the city, including Suvarnabhumi and Don Muang airport. Currently, the exchange rate is 1US$ = 32.75 Baht at this writing. 
How to Spend 7 Days in Thailand
First 3 Days Itinerary in Bangkok
Next Stop Phuket Island
Phuket is Thailand's largest island, and often it is called the Pearl of the Andaman. Over the years, it has positioned itself as one of the top destinations in Southeast Asia and gained popularity among foreigners and locals alike.
How to Get to Phuket
Phuket International Airport (HKT) is the second busiest airport in Thailand. Many domestic and international passengers fly to Phuket from Malaysia, Australia, New Zealand, China, Indonesia, Japan, India, and other countries, making this paradise one of the major getaways to famous beaches and fascinating tourist attractions.
There are buses to Phuket from just about everywhere in Thailand throughout the day and night. This island is also reached by boat from the surrounding islands of Koh Lanta plus from Koh Phi Phi, Ao Nang, and Krabi on the mainland.
Best Time to Visit Phuket
Jan-Feb is the peak season. If you are not an enthusiast of crowds, then try to avoid this period. Hotels are sold out, and pricy so are all other activities.
Apr-Oct is the Rainy season, and the weather is hot and humid or raining heavily most of the time. As a result, you may find great hotel deals, and beaches will be less crowded.
Nov-Dec is the best time to visit in my opinion in terms of beautiful weather, usually sunny and pleasant. But Hotels will still be pricey, and beaches will be crowded.
Getting to City Center from Phuket Airport 
Phuket International airport offers two main transportation options to the town of Phuket. The most popular and trustworthy choice is to hire one of the airport taxis, which are usually available 24/7 in front of the airport. The second option is the airport bus which is available every 1 to 3 hours, depending on the time of the day. A trip with a Phuket airport taxi usually takes around 45 minutes and costs about 600 Bath (US$ 20). The bus, on the other hand, takes 1 hour and 30 minutes for the same trip and costs about 120 Bath (US$ 4).
Next 4 Days Itinerary in Phuket
Where to stay in Phuket, Thailand
If you like to be in the City Center, and don't mind dealing with the traffic jam, and like to experience the look and feel of any other metropolitan city in the world then the Sukhumvit area is right for you. It is a little touristy and pricey though. Here are a few hotels where I stayed and recommend based on my experience.
This is a service apartments facility in the Sukhumvit area. They have Studio, 1 bedroom with a living room, 2-bedrooms with a living room available for rent. Most rooms are available with complimentary breakfast. 
This hotel is in a great location, only a 5-minute walk from Saphan Taksin BTS Station. Beautiful views of the Chao Phraya River. Just a 10-minute drive from MBK Shopping Mall and 16 miles from Suvarnabhumi International Airport. A great on-site restaurant serves a wide variety of traditional Thai and International dishes. 
Where to stay in Phuket, Thailand
Katathani is an ocean-front resort is located near the beautiful Kata Noi Beach, one of the quietest beaches in Phuket. It is only 20 minutes ride to Patong and other touristy beaches and nightlife. All of the rooms and pools are very close to the beach. Although hiring a sun lounge is inexpensive, only 200 Baht for the day, few of them are available for resort guests complimentary. The rooms were spacious with modern, clean restrooms. We enjoyed our stay here especially the spectacular sunset scene was unforgettable.
Happy Holiday Resort & Apartments is located near Patong Beach, not far from Bangla Road and within walking distance of the largest shopping mall (Jungceylon) in Patong. The hotel offers an outdoor swimming pool and a garden, terrace, air-conditioned, and has a dining area and a seating area with a cable flat-screen TV. There's also a kitchen in some of the units equipped with a microwave. I enjoyed staying there.
My Opinion and Last Word
Best viewpoints in Phuket 
Promthep Cape –  until the end of the day and enjoy a beautiful view over Phuket. Phromthep Cape is a popular and often busy tourist hub–but this shouldn't distract from the incredible sunset views from Phuket's southernmost point.
Karon Viewpoint – Confusingly named Karon Viewpoint, this viewpoint is in fact in Kata. Those who climb the steps to the top of the pavilion here on a clear day will be rewarded with sweeping views across Kata Noi Beach, Kata Beach, and Karon Beach in the north.
Food & Drinks
Natural Restaurant is located in the heart of Phuket town, serves delicious Thai and international food.
Mom Tri's Kitchen is located in Kuta beach for the best dining experiences during your visit to Phuket.
Have you been to Thailand? Any cool tips to share?
Over the years I have visited Thailand multiple times, during this trip I had only 7 days to spend and decided to stay in Bangkok for a couple of days and then fly down to Phuket for a few days. It was a great experience and definitely loved it. Hope my story has given you some idea and motivated you to plan a fall trip. 
Please leave a comment below! I'd love to hear from you to improve my knowledge. 
Was this travel guide helpful for you?
If you'd like to help me continue making free guides, here is one way you can help:
Share This Guide – If you have a friend that would benefit from this guide, share it with them. Or post this guide on Facebook, Twitter or Google+
Your Support would definitely help me make more free guides like this. Thank you in advance!
Affiliate Link – This post in Dizzy Traveler contains affiliate links, which means I receive a referral commission if you purchase after clicking at no additional cost to you. These funds go to maintain the site. Thank you for your support.