Getting To Know Hue
Hue, located in central Vietnam, is clustered around the Perfume River, was home to the Nguyen dynasty and the capital of Vietnam until 1945. There are endless must-see historic sites, especially those that are UNESCO World Heritage designated, which has attracted visitors to the city of Hue.
As part of my August 2016 travel, we spent several days in Hue. We enjoyed our trip very much, especially touring the Citadel, Perfume River cruise, walking over the ancient bridges, and hoping pagodas and, of course, local food and Vietnamese hospitality.
---
---
Helpful Information
Sightseeing in Hue
Hue's ancient bridge of Truong Tien
I was thrilled to cross the historic bridge which has become part of the history of Hue city. Over 100 years have gone by, the graceful bridge still reflects on the Perfume River to witness all the ups and downs of history and countless 'scars of time' and becomes a romantic symbol of the ancient capital.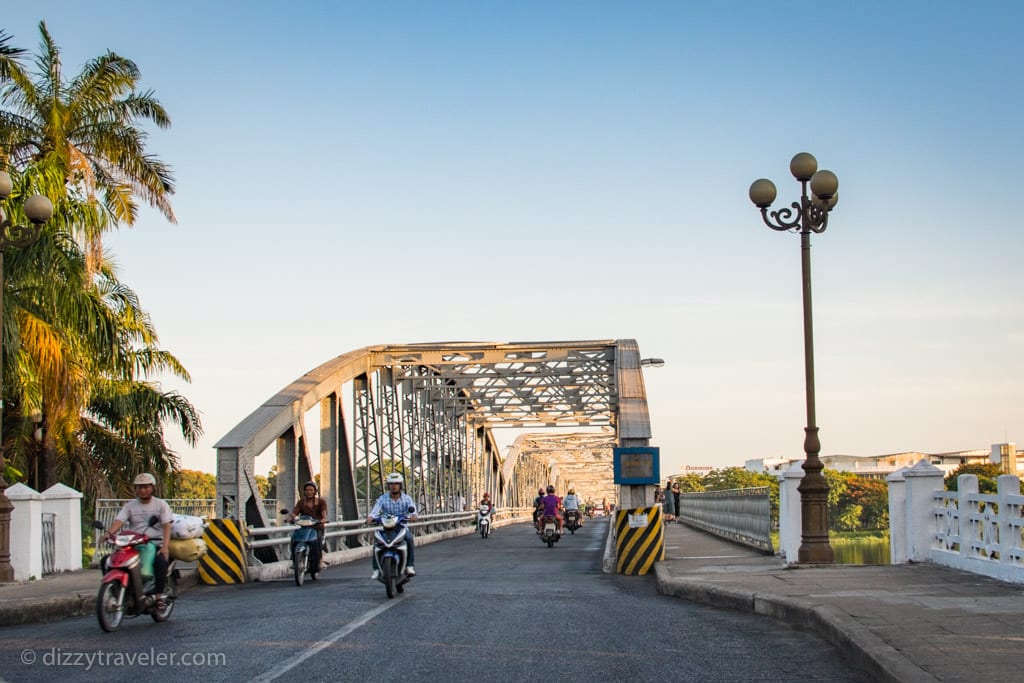 Thanh Toan Bridge
Thanh Toan Bridge is one of the most famous attractions in Hue. The 17-meter tile-roofed wooden bridge spans the Nhu Y River. It is located in Thanh Toan Village about 10 km from the city. It is similar to the famous Japanese bridge we saw in Hoi An. Easy to get there just rent a motorbike or car or explore by bicycle.
Perfume River Boat Ride
Despite the uncomfortable hot and humid weather the boat trip eventually became an enjoyable one. The view at the dusk especially the rolling mountains in the horizon and the sunset behind the Truing Tien Bridge from the Perfume river was priceless.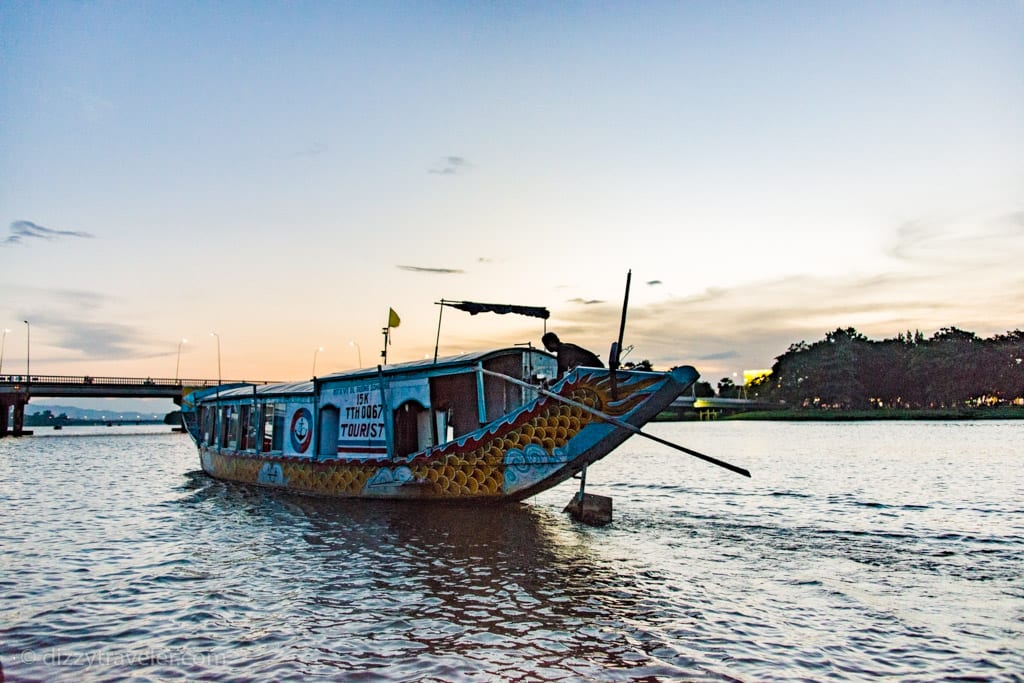 Thien Mu Pagoda
This pagoda was built in 1601 located at Ha Khe hill, on the left bank of the Perfume River, in Huong Long village, 5 km from Hue city.
You could have a beautiful view of the Hue city and the perfume river from this place. The pagoda is surrounded by flowers and ornamental plants. At the far end of the garden stretches a calm and romantic pine-tree forest.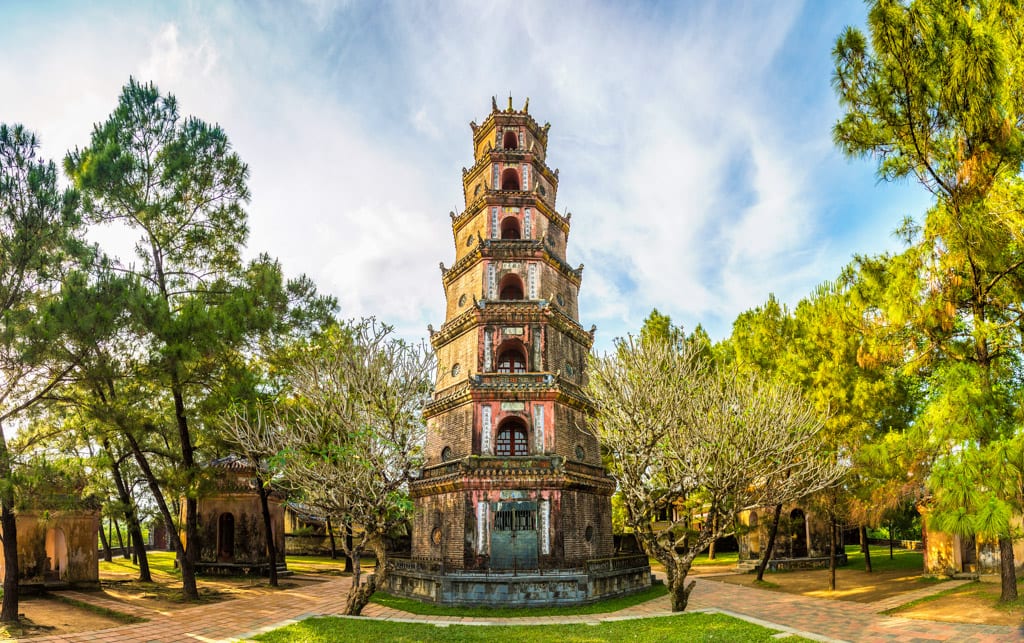 Visit The Tomb of Khai Dinh, Hue
Khai Dinh, original name Nguyen Bun Dao was the 12th Emperor of the Nguyen Dynasty in Vietnam, ruling from 1916 to 1925. The Emperor started building his tomb in 1920 and took about 11 years to complete. He died in 1925 before it was finished, so his son, the Emperor of Vietnam Bao Dai, finally completed the tomb in 1931. I highly recommend visiting this tomb.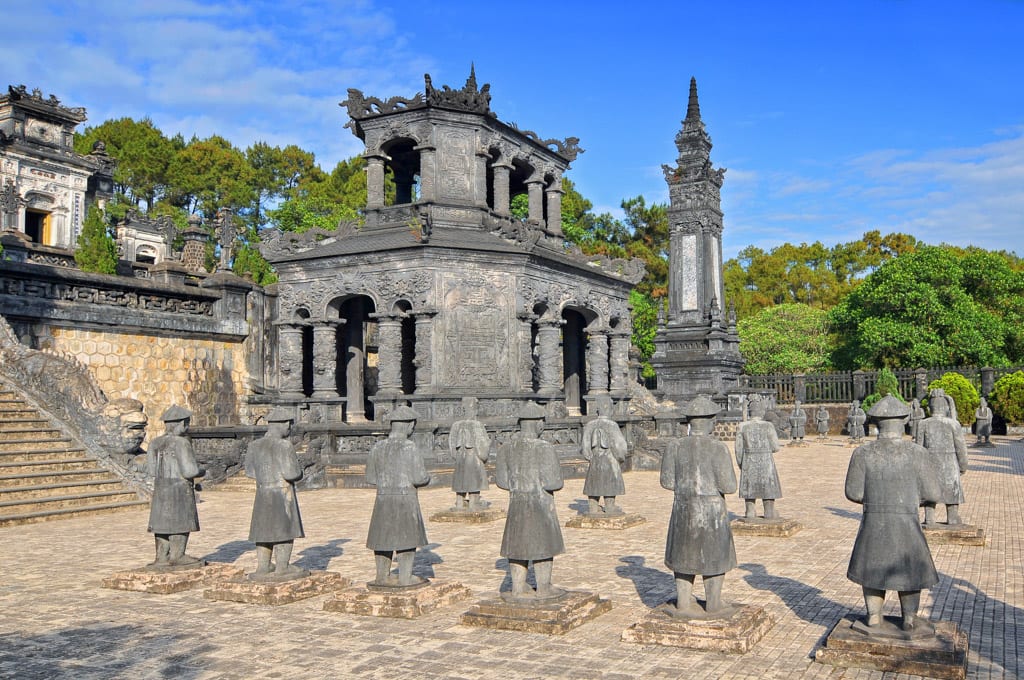 Imperial Citadel
This sprawling complex in Hue was where the Emperors of old would have lived and conducted all their business. There was even a part of the citadel known as "The Forbidden Purple City," which, much like China's Forbidden City, was reserved for only the most important people in Vietnam.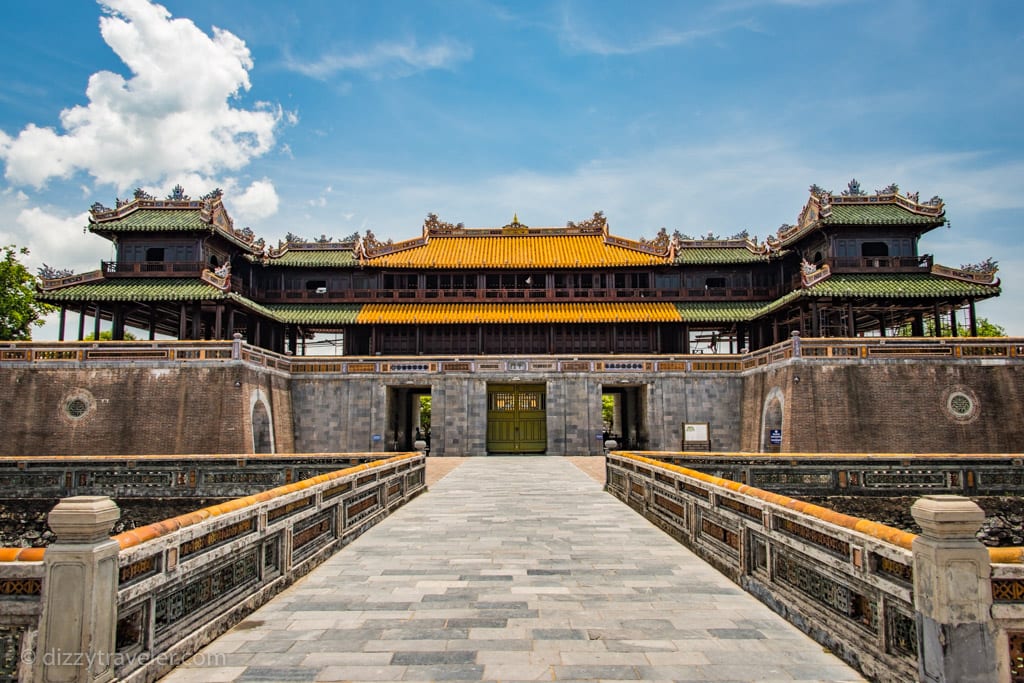 Stroll along the Perfume River
The waterfront hike along the famous Perfume River is one of the best things to do in Hue. Early morning is perfect for jogging and watching the scenic beauty along the way; whereas, the evening is best to enjoy the sunset, scenic dragon boat ride, renting a paddleboat, or taking a dinner cruise among a wide verity of activities.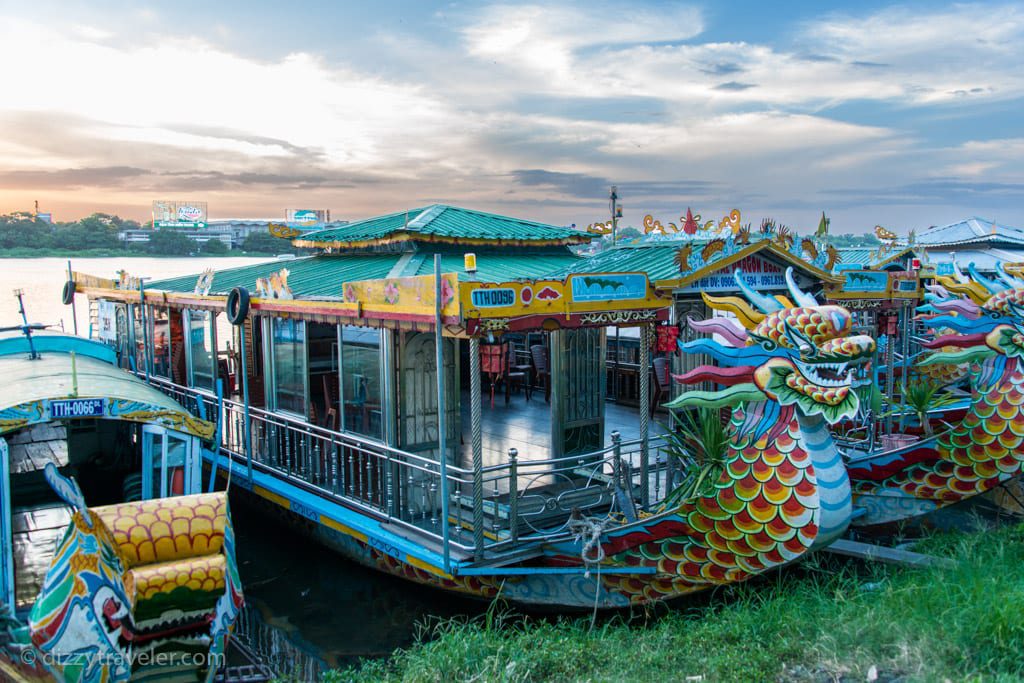 Day Trip to Bach Ma National Park
Bach Ma National Park is about 1 hr. 20 mins (52 km) driving distance from Hue, located at 1,450 meters above sea level, surrounds beautiful landscape. An excellent place for hiking, mountain biking, camping, swimming, and filled with gorgeous waterfalls. That makes it a perfect day trip location from Hue.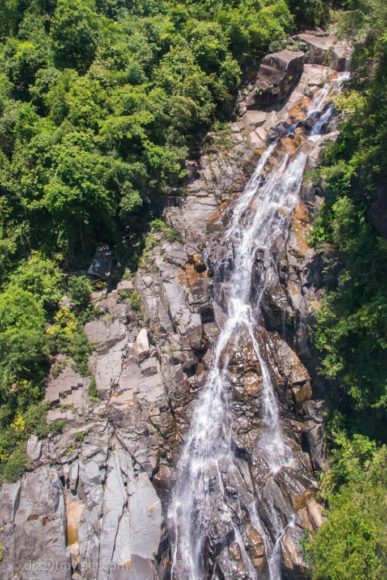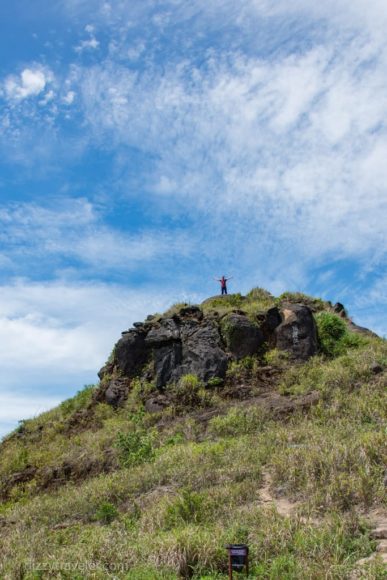 Enjoy The Sun On Thuan An Beach
It is definitely worth visiting one of the best beaches located about 14 km outside of Hue. The beautiful beach on a long strip of white sand is best for sunbathing, swimming, and enjoying local food and drinks at the beachside restaurants.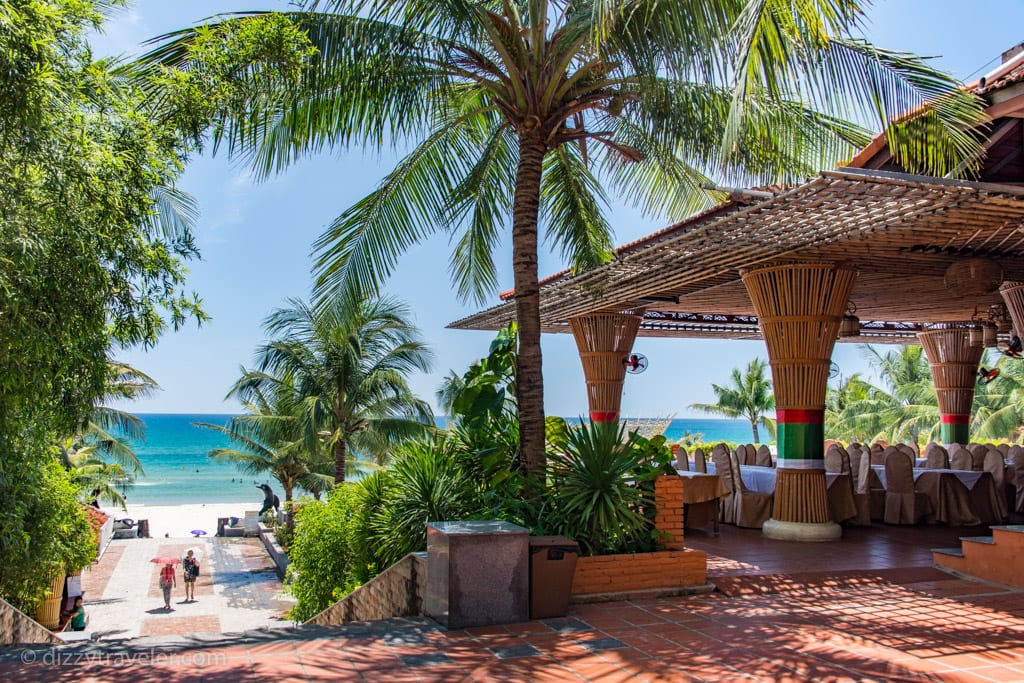 Check Out Dong Ba Market
Dong Ba Market is one of the main shopping centers in Hue most popular among locals. It became even more famous when an episode of 'No Reservations' was filmed here by Anthony Bourdain. Dong Ba Market is a must-visit spot to learn more about the local lifestyle.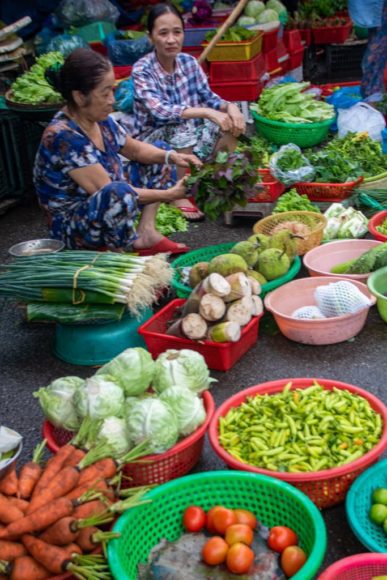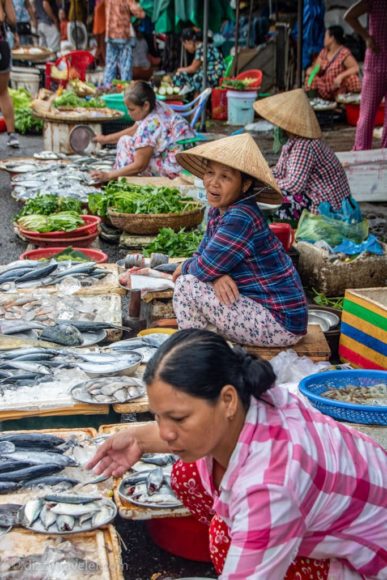 My Favorite Local Food
Hue is often considered as food heaven of Vietnam for it's best authentic regional food. If you are looking for a delicious royal Vietnamese food in the city, then make sure to check out.
Hue Pancake One of the famous street food in Hue Vietnam.
Delicious Nem Lui – Grilled chopped meat – popular Hue street food.
When we talk about Hue food, it would be a crime not to acknowledge Bun Bo Hue.
Local Beer Huda that I have tried in Hue.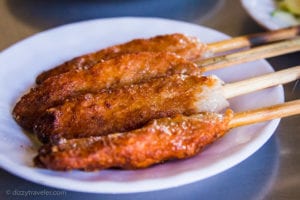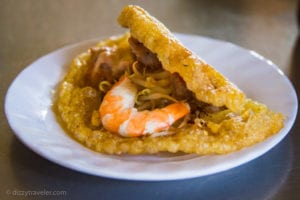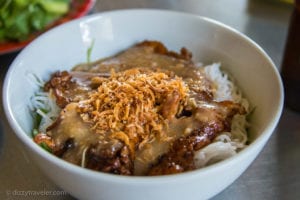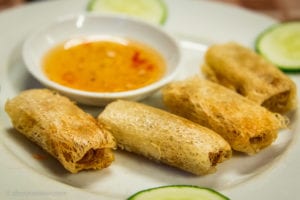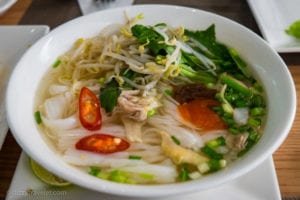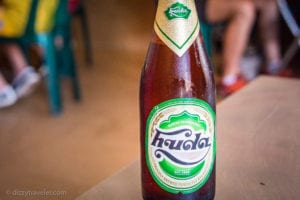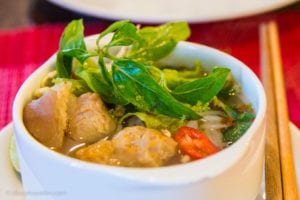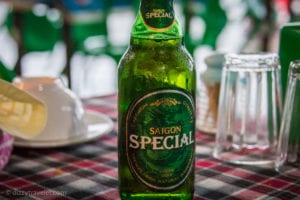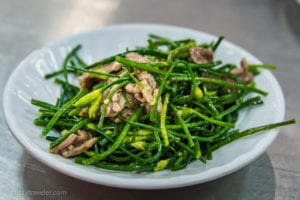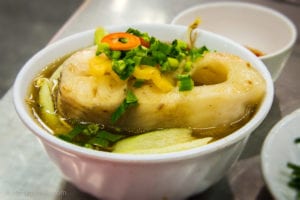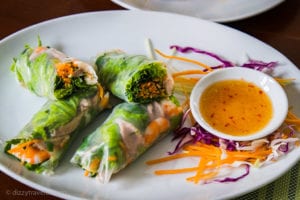 Where To Stay In
Finding a accommodation is easy in Hue, I got a lot of recommendations to stay somewhere within the boundary of four roads Le Loi, Nguyen Chong Tru, Le Quy Don, and Hung Vuong. Most of the actions such as Esplanade, restaurants, shops, Truing Tien Bridge, and the Citadel of Hue is in a walkable distance from that area.
Where Did I Stay?
Muong Thanh Holiday Hue Hotel, No. 38, Le Loi Street, Hui
This hotel is right next to the Perfume river and since I was staying on the 8th. floor room with a window and open balcony overlooking the city skyline and the amazing view of the Perfume River and the mountain range so it was as perfect as it could get.
Saigon Morin Hotel, 30 Le Loi Street, Hue
Centrally located in Hue, Saigon Morin Hotel overlooks the Perfume River and the historic Truong Tien Bridge. Featuring French colonial architecture, the hotel has an outdoor swimming pool and three dining options. The property has a garden and provides free public parking at a site nearby.
My Opinion and Tips
Have you been to Hue? Any additional tips to share?
Please leave a comment below! I'd love to hear from you to improve my knowledge.
Was this travel guide helpful for you?
If you'd like to help me continue making free guides, here is one way you can help:
Share This Guide – If you have a friend that would benefit from this guide, share it with them. Or post this guide on Facebook, Twitter or Google+
Your help would definitely help me making more free guides like this. Thank you in advance!
Affiliate Link – This post in Dizzy Traveler contains affiliate links, which means I receive a referral commission if you purchase after clicking at no additional cost to you. These funds go to maintain the site. Thank you for your support.