Chefchaouen, Morocco, famous blue city, also called the Blue Pearl, is a lovely town with appropriately blue walls and majestic mountains overlooking the characterful town I have wanted to visit for a long time. A town as rich in history as it is beautiful, Chefchaaouen was established in 1471 when Moorish and Jewish people fled here to escape the Reconquista of Spain.
Helpful Information
Getting There
By Bus – This is the easiest and cheapest way to get to Chefchaouen. Either Supertours or CTM will be able to take you straight to Chefchaouen and is well serviced by buses originating in Fes (4+ hr.; 75dh-100dh; 1 US$ = 9.xx dh) about 123 miles (198 km) and Tangier (3 hr.; 40dh-50dh) about 68 miles (110 km). In addition, buses from Tangier will often pass through Tetouan, where buses travel directly to Chefchaouen (1 1/2 hr.; 20dh-35dh).
By Air – The closest airport is in Tetouan, about 42 miles (68 km) north, only 1.5 hours driving distance from Chefchaouen. Another option is to take a flight from Casablanca to Tangier and then transfer to the CTM bus.
How To Get Around
Chefchaouen is quite a small town, so tourists will spend most of their time wandering the streets inside the Medina on foot and get lost in the maze. Most likely, the only time you will be needed a taxi is when getting to one of the main entrances to the Medina El Makhzen or Bab El Ain from the bus station.
Best Time to Visit
The best time to visit Chefchaouen is around spring, between March-May and autumn between September – November. Year-round weather in Chefchaouen is relatively better than in other parts of the country since it's in the mountains. In addition, the climate is good since it's in the mountains. In summer, people from the very hot part of Morocco will vacation in this area because of the pleasant temperature.
Top Things To Do In Chefchaouen
If you can get a chance to eat a meal at Aladdin and sit on their rooftop overlooking the entire blue city, you will not be disappointed. I had a fantastic eggplant dish called Moroccan Zaalouk, cooked with spiced tomatoes. Eating this delicious meal with pita bread or kesa bread is best.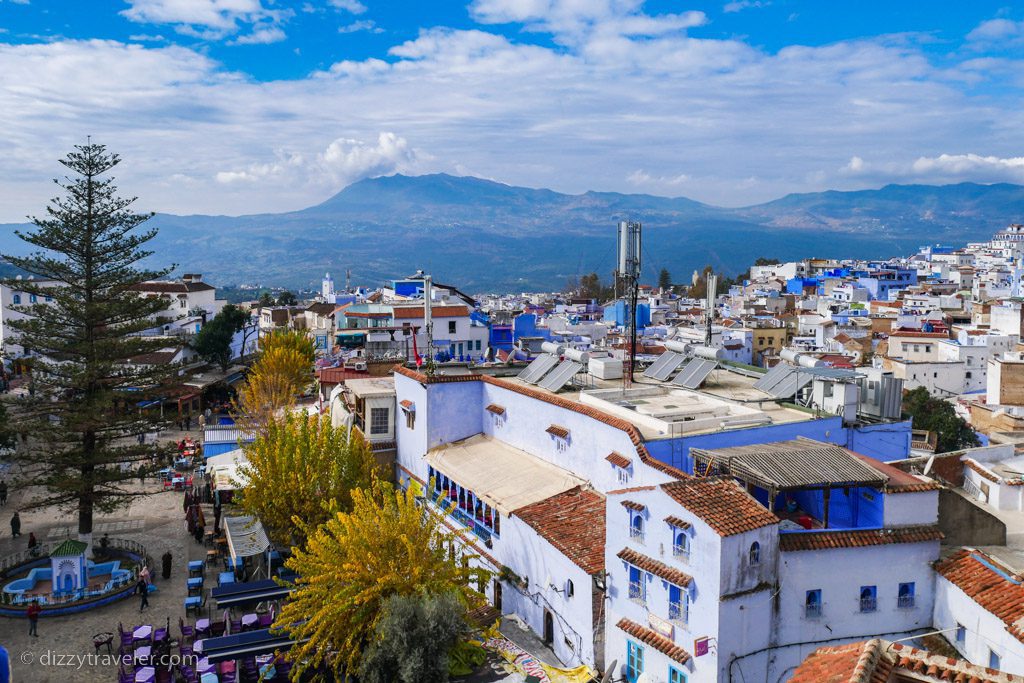 Enjoy the Sunset from the rooftop.
Watching the sunset from the hotel rooftop is pretty breathtaking. So have a cup of mint tea and enjoy the blue city from the top; it's a breathtaking scene of colorful sky, the blue city, sunset, and mountains in the background.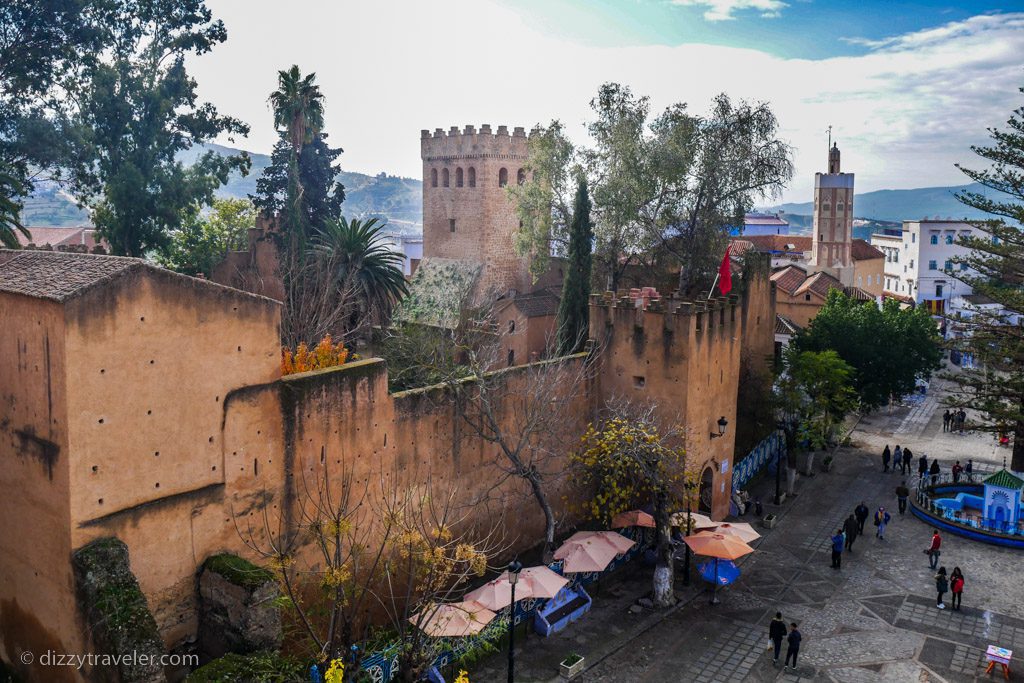 Shopping inside the Medina
The medina is filled with colorful shops and stores lined with textiles, handcrafts, clothing, and food. Chef would be the place to be if you aren't good at haggling. Most shop owners are not aggressive and will leave you at peace while you peruse their store.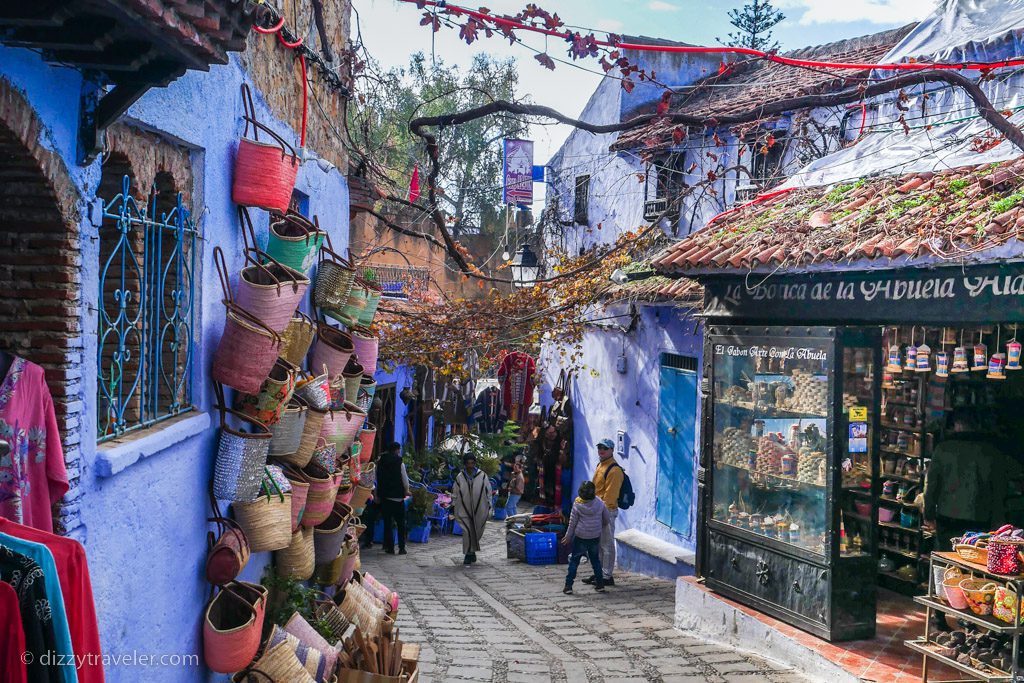 Shops all over Inside the narrow alley of Madina of Chefchaouen
On the way to the grand mosque, there are many restaurants on both sides of the street.
Get a henna tattoo from a local
The henna lasts about 1-2 weeks, and the detail they put on your hand will be mesmerizing.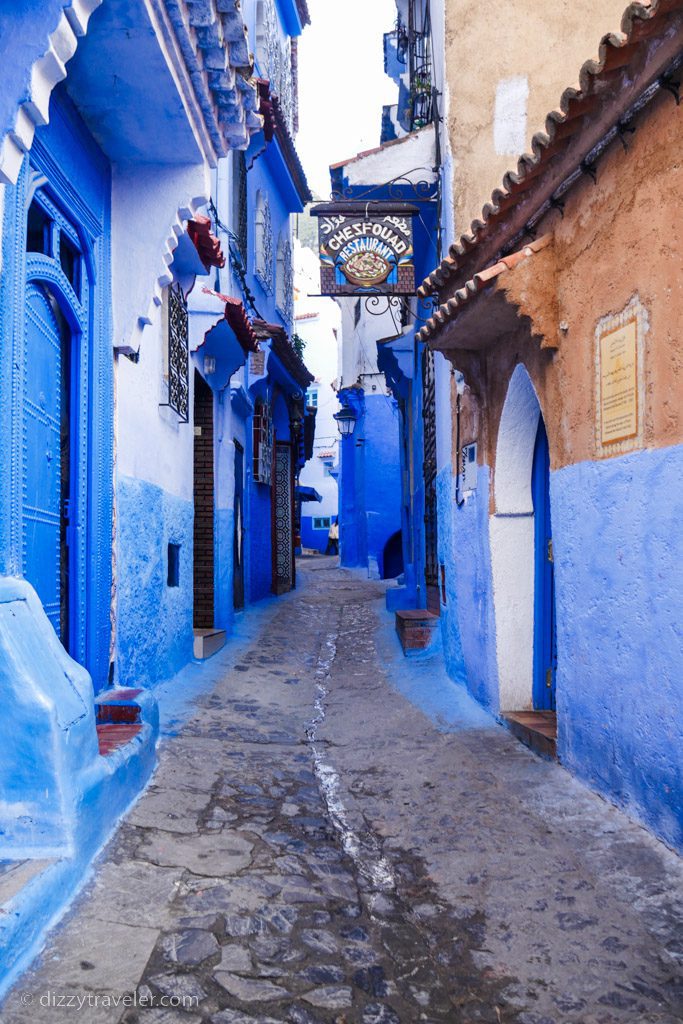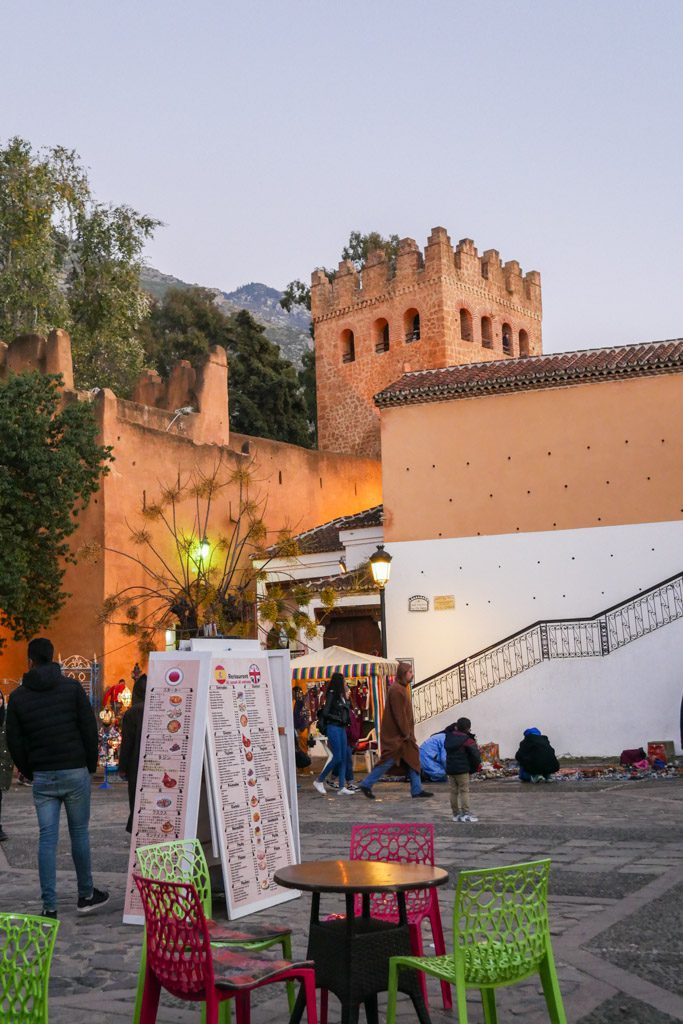 Treat yourself to a Hammam Spa.
These spas will scrub you from head to toe and make you feel like a new person. The spas usually will charge 100-200 Dirhams depending on the services you request.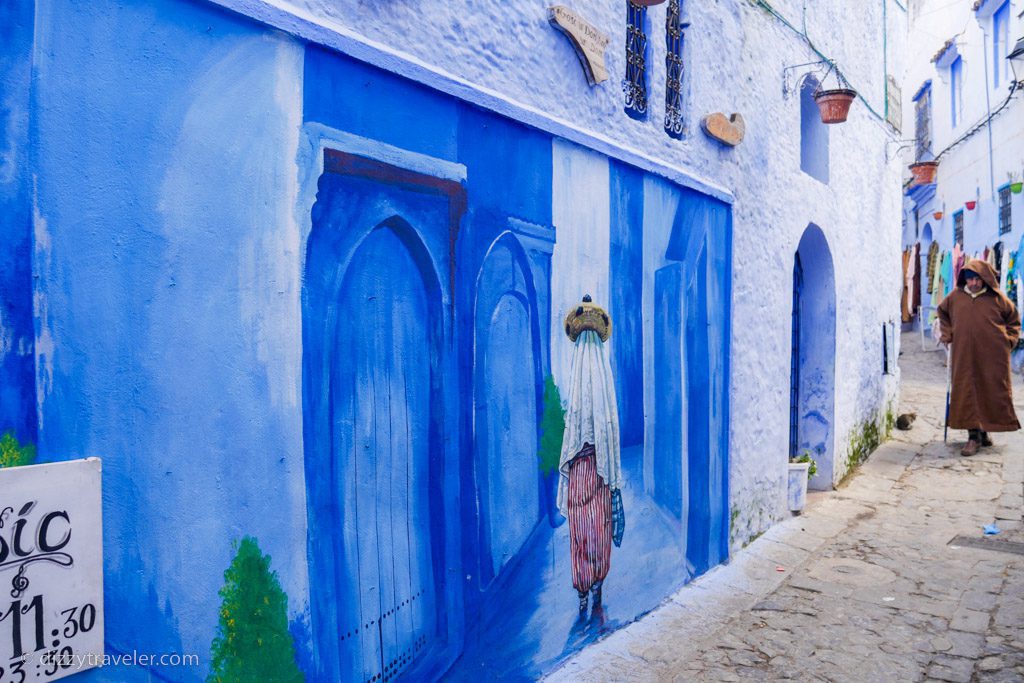 Visit the Grand Mosque
The call to prayer can be heard throughout the day in Chefchaouen, and the 15th-century mosque has some stunning architecture. Keep in mind you must be a Muslim to enter.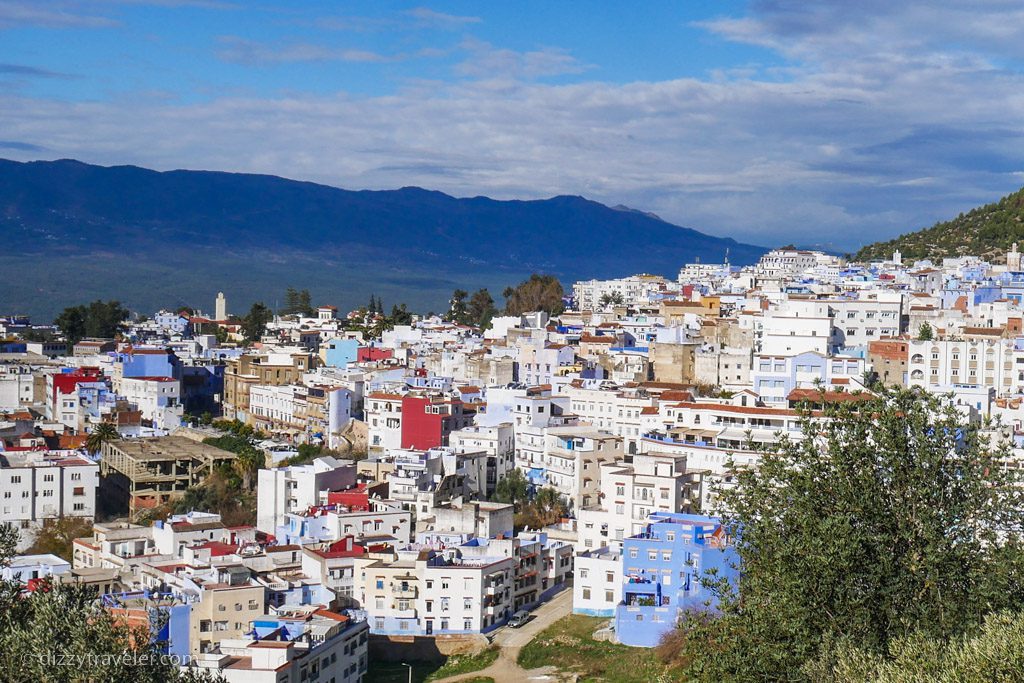 Hike the Rif Mountains
These peaks rise to 6500 feet above the Mediterranean and boast some of the best panoramic views in Africa. Chefchaouen is the perfect access point for a mountain trek, ideal for both short and long treks.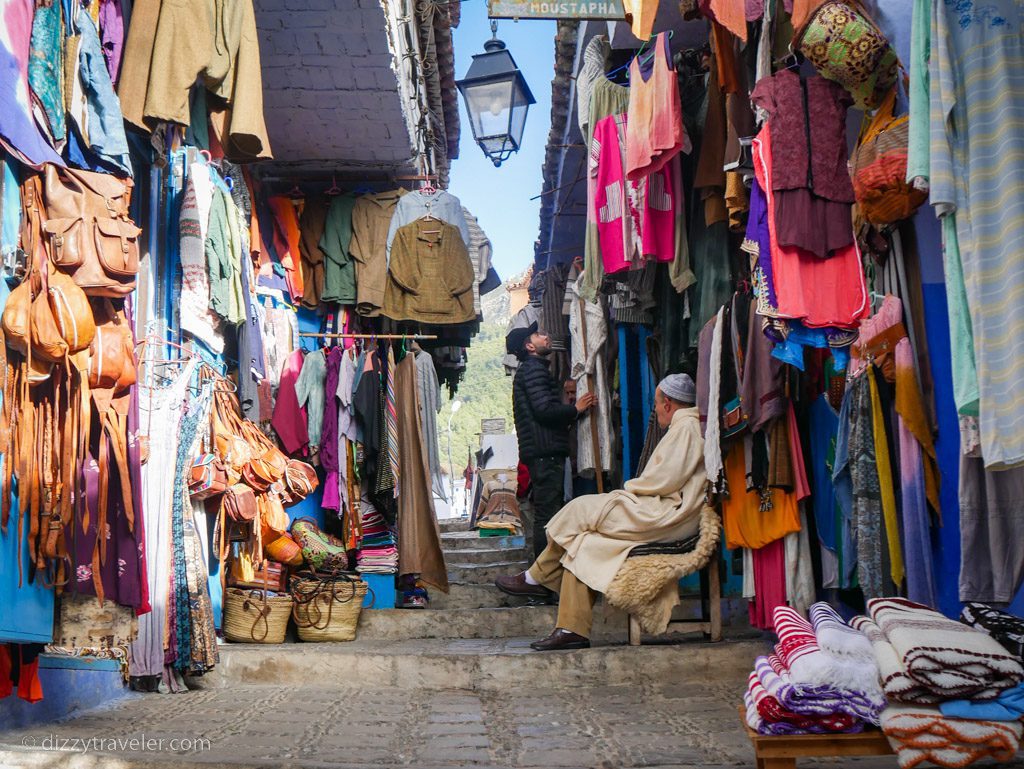 A few things to note
The only way to get to the medina from the bus stop is up a long and cobbly hill, which is not easy with luggage. My best recommendation is to hop in a cab (tons are waiting at the bus stop) but do not pay more than 50 Dirhams for the ride.
Make sure to buy your bus tickets in advance. Most of the time, the tickets are sold out because of the limited seating.
Do not fall trap to any of the restaurants located in the city square at Uta el-Hammam. It is better to eat at restaurants within the medina's walls as they will not be overpriced and will be more authentic.
Don't feel shy to say 'No Thank You' as the haggling can be frustrating or time times feel unbelievable.
Don't be afraid of getting lost in Medina's narrow streets; instead, enjoy the surrounding. Eventually, you will get there for sure.
Taxis are not metered, so settle the fare with the driver before jumping in a taxi.
I would take toilet paper, moist wipes, and hand sanitizer everywhere.
Where to stay in Chefchaouen, Morocco
Set in Chefchaouene and with Outa El Hammam Square reachable within 1.6 mi, Casa Sabila offers express check-in and check-out, a shared lounge, free WiFi, and a terrace. The property is around 1.6 mi from Mohammed 5 Square, 2.2 mi from Khandak Seminar, and 1.6 mi from Kasba. Casa Sabila offers a continental or buffet breakfast. Popular points of interest near the accommodations include Ras Elma Water Source, Viewpoint, and Mnt, J. Missoula. The nearest airport is Sania Ramel, 43 mi from Casa Sabila, and the property offers a paid airport shuttle service.
Located in Chefchaouen, a 7-minute walk from Kasba and 0.6 miles from Mohammed 5 Square, Puerta Azul provides accommodations with free WiFi, air conditioning, a shared lounge, and a terrace. In addition, a continental, vegetarian or vegan breakfast is available every morning at the property. Outa El Hammam Square is an 8-minute walk from the bed and breakfast, while Khandak Seminar is 1.2 miles away. The nearest airport is Sania Ramel, 43 miles from Puerta Azul, and the property offers a paid airport shuttle service.
My Opinion and Last Word
Have you been to Chefchaouen
, Morocco

? Any cool tips to share?

I loved being in Chefchaouen, Morocco, and want to go back again. I hope my story has motivated you to visit Morocco.

Please leave a comment below! I'd love to hear from you to improve my knowledge. 
Was this travel guide helpful for you?
If you'd like to help me continue making free guides, here is one way you can help:
Share This Guide 

– If you have a friend that would benefit from this guide, share it with them. Or post this guide on Facebook, Twitter, or Instagram.
Your Support would definitely help me make more free guides like this. Thank you in advance!
Affiliate Link – This post in Dizzy Traveler contains affiliate links, which means I receive a referral commission if you purchase after clicking at no additional cost to you. These funds go to maintain the site. Thank you for your support.
Book your Sightseeing Trip
There are a lot of beautiful places to visit and do some exciting sightseeing activities to bring unforgettable memories back home. Please click on our below affiliate link to see your options.