If you are planning a road trip to the Balkans, then you are in the right place. When I started planning, I had a lot of questions and no definite answers. Keeping that in mind, I put together this post so that you get some benefit out of my own experience and plan your trip accordingly.
I love driving, so for me, the 18 days driving trip through 7 countries in the Balkan Peninsula was exciting and fun. Driving in those countries is not as smooth as in the USA or Western Europe, and that is acceptable but definitely not as hard as people may say.
I began my road trip from Sofia, Bulgaria to Greece – Albania – Macedonia – Montenegro – Croatia – Montenegro – Albania – Kosovo – Macedonia – Bulgaria – Romania and finally departed from Sofia, Bulgaria. I know it sounds crazy but believe me, it was adventurous and once in a lifetime experience for me.
Here is the Itinerary for my 18 days trip
Day 1 – Arrival in Sofia, Bulgaria
1st day of my long road trip through the Balkans, with all the excitement I landed at Sofia airport around noon. The immigration and customs were smooth. I had a prior rental reservation so getting a nice car was not an issue but since I was driving through 7 different countries so the paperwork took a while.
Driving to Hotel From The Airport
Picked up the car from the airport but there was no GPS available also SIM card was not available at the airport so I had to drive to a close-by mall to get a SIM card so that I could access Google map for direction. Once I was all set with my smartphone getting to the Hotel was not difficult.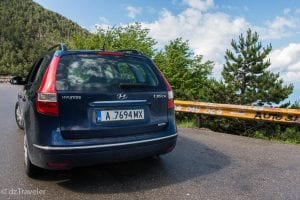 Check in to Sofia Hotel
This hotel is located only miles from the airport so took me no longer than 20 minutes to get here. I loved the hotel location at 6 Stara Planina Str., only 5 – 7 minutes from the top attractions in Sofia such as Alexander Nevsky Cathedral, St. Sofia Church, the parliament of Sofia and more. There are also a few great restaurants around the hotel, and public transportation is right around the corner. Hotel has private parking at the costs EUR 10 per day and its very safe.
Late Afternoon Sightseeing in Sofia
1st Stop at St. Alexander Nevsky Cathedral
St Alexander Nevsky Cathedral is only 5 minutes walk from the hotel I was staying. It was great to visit this gigantic Orthodox cathedral a symbol of Sofia and one of the most favored sites among the tourists. The beautiful early 20th-century gold-domed cathedral is about 45 m high with the bell tower reaching as high as 51m can be seen from a far distance and represents the pride of Sofia.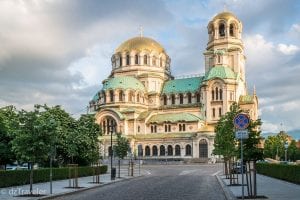 St. Sofia Church, the 2nd. Oldest Church in Bulgaria
My next stop is to see the church of St. Sofia God's Wisdom), the second oldest church in Sofia. Located in the city center very close to the iconic Alexander Nevski cathedral.
The historical 6th-century church was built during the time of Byzantine Emperor Justinian. Currently, the temple is considered one of the symbols of Sofia. You can visit this church and see the remains of tombs and building foundation goes back about 1500 years.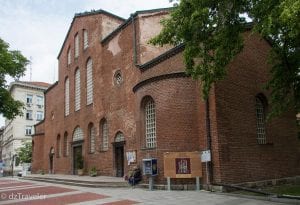 The Church of St George
The Church of St George among ruins of ancient Roman city Serdica stands a 4th-century church known to be the oldest church in Sofia. The beautiful early Christian red brick rotunda with a coned roof is magnificent to look at and surrounded by the residency building.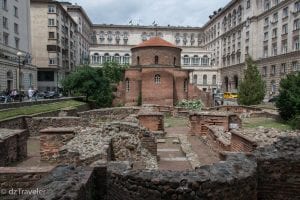 Explore Vitosha Boulevard
Vitosha is one of the main commercial streets in the city center extends from the St Nedelya Square to the Southern Park with plenty of elegant stores, restaurants, and bars. It is a semi-pedestrianized area definitely worth checking it out even I had no plan to buy anything.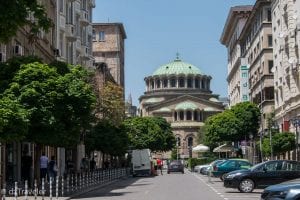 1st Dinner in Sofia at Staria Chinar Restaurant
Nice place to have your candlelight dinner, located very close to St. Alexander Nevsky Cathedral. Price was reasonable and service will surely make you impressed. The food was so delicious that I wanted to go back to try something similar. If you plan a visit then definitely need to try Lamb meat, roasted after an old traditional Bulgarian recipe. And don't miss the Bulgarian local drink Rakia for a kick, I tried the one made from plum and grape.
Day 2 – Road Trip to Thessaloniki, Greece From Sofia
2nd day of my long road trip through the Balkans, driving 300 km from Sofia to The Thessaloniki, Greece. Going to loop through Greece exploring amazing highlights in Northern Greece like Polzar Springs, Meteora, Ioannina, and Vikos George before entering to Albania.
Early Morning Road Trip to Thessaloniki
The early morning driving is the fastest way to get to Thessaloniki from Sofia, takes no more than 3.5 to 4.0 hours including the border crossing. Since I was renting a car from Bulgaria and driving through 7 different countries so I had to make sure that renting company knows the list of countries I am taking the car to and I have the proper paperwork to enter those countries. Mostly insurance and Green Card is the main two papers required at the border crossing.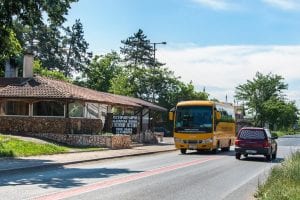 Crossing the Border to Greece from Bulgaria
Before hitting Kulata border crossing between Bulgaria and Greece it is worth making a short stop at Melnik a small beautiful town. One of the major wine-producing area in Bulgaria along the Thracian Valley. If you are not in a rush then overnight stay is also recommended and trying out local wine and enjoy the beautiful landscape.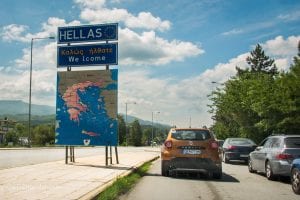 Where Did I Stay in Thessaloniki
El Greco is centrally located at 23 Egnatia Street, Thessaloniki Downtown, just a 5-minute walk from Aristotelous Square and a 20-minute walk from the famous White Tower.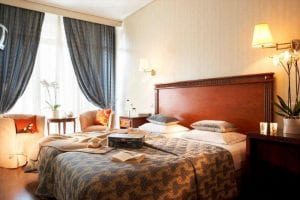 Sightseeing in Thessaloniki
Thessaloniki is a historical port city in Northern Greece by the Thermaic Gulf of Aegean sea. The city has interesting remains of Roman, Byzantine, and Ottoman era. After settling down at the hotel I am still going to have the entire afternoon to explore. So the best place to start the adventure is at Aristelous Square and then strolling down the waterfront towards the White Tower.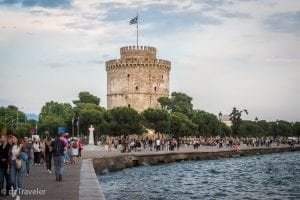 Road Trip from Sofa, Bulgaria to Thessaloniki, Greece
Day 3 – Road Trip To Ioannina From Thessaloniki
My plan was to take an early morning self-guided walking tour through the historic Ano Poli area in Thessaloniki. Then after late breakfast start heading towards my next destination, Pozar Springs which is about 110 km north at the base of Voras Mountains. A beautiful remote location rich with natural beauties such as Waterfalls, Hot Sprints, Geysers, even the road to get there is one of the great experience.
1st Stop Pozar Springs
Loutra Pozar also known as Pozar Springs, popular day trip location among people of Thessaloniki. Not just that it's also a great destination for the tourist driving in the Balkans peninsula. It is about an hour and a half from Thessaloniki though the beautiful rural landscape where you will truly have a great countryside driving experience.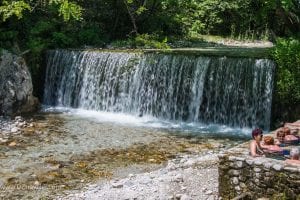 2nd Stop – Great Meteora Monastery
The UNESCO World Heritage Site Meteora Monastery is 2.5 hours drive from Pozar Springs (230 km about 3 hours drive if driving straight from Thessaloniki). This picturesque site will definitely take your breath away. I highly recommend staying here overnight, I will do that next time I visit that part of the world.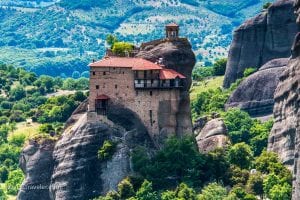 Final Stop For The Day – Ioannina
Initially, I planned a visit to historic Kipina Monastery on my way from Meteora to Ioannina but could not make it because spent well worth additional time at Meteora. So at the end of the sightseeing and a great lunch, drove straight to Ioannina. The distance is only 110 km and takes about 2 hours.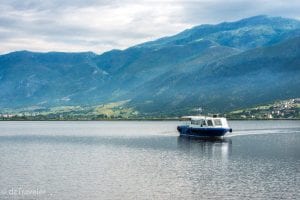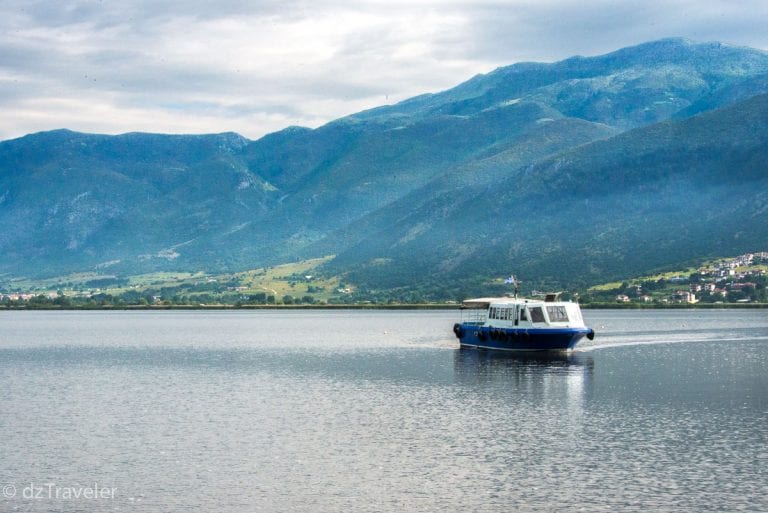 Where I Stayed in Ioannina, Greece
Considering all options like facility, location, and cost I have decided to stay at the Palladion Hotel, located at Noti Botsari right in the center of the town with free parking. The city is beautiful, and one of the highlights is to have your dinner at one of the many lakeside restaurants.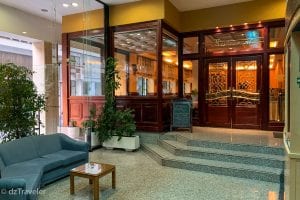 Day 4 – Road Trip To Gjirokaster, Albania From Ioannina
The Distance between Ioannina, Greece, and Gjirokaster, Albania is only 90 km and border crossing is simple so before heading to Albania my plan is to make few stops to enjoy some beautiful places on the Greece side of the border. It's going to be an entire day activities before hitting the border.
1st Stop – Explore Lake Pamvotida
One of the main attractions of Ioannina is the lake Pamvotida commonly known as Lake of Ioannina, and the town is full of art and history. This place is also known as the city of silversmiths and as gastronomical paradise. I would recommend renting a boat in the lake and visit the islet within the lake, which is home to beautiful monasteries and restaurants.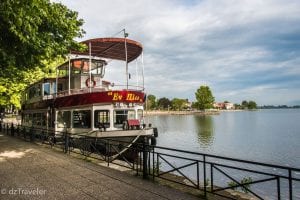 2nd Stop – Ioannina Castle in Historic Old Town
The castle town of Ioannina is the oldest Byzantine fortress in Greece and is one of the few castles that is still populated. The Fetiche Mosque inside the castle is where visitors can learn about the story of Ali Pasha. Somehow my nickname is Pasha, so I got interest knowing more about the ambiguous figure of Ottoman time, who lived here. During his rule, Ioannina evolved into a significant educational, administrative and cultural hub.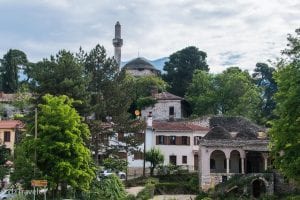 3rd Stop – Stop at Vikos Gorge
About 45 minutes driving distance from Ioannina through the breathtaking mountainous hairpin-like winding roads you will reach at Vikos Gorge UNESCO World Heritage List as a Greek cultural landscape. Perhaps the deepest in the world in some parts as deep as 5200 ft (1600 m). Driving through the Pindus mountains (about 15 km long) was breathtaking and courageous.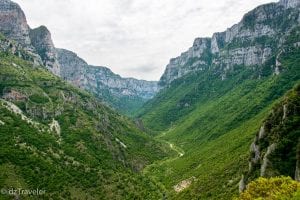 4th Stop – Lunch at Vikos Gorge
My first stop was in Monodendri village part of central Zagoria at an elevation of 3477 ft (1,060 m). This beautiful tiny village with a couple of bars, taverns a few small stores and a few great hotels. While still in the town I tried original Greek dishes in a lovely environment. Seirios is one of the famous restaurants for a great home style lunch.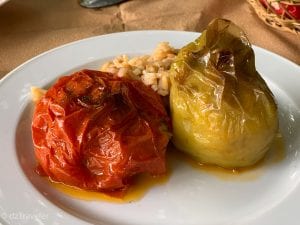 Birdseye View from Convent of Agia Paraskevi
From the parking lot in Monodendri, 15 – 20 minutes easy walk down to the Agia Paraskevi Monastery will reward you a beautiful view of the Vikos gorge. A good 20 – 25 minutes hike back up to the village parking is worth it.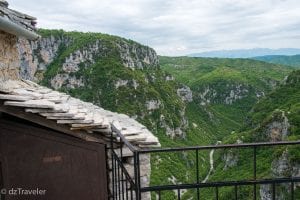 The Oxia Viewpoint
The Oxia viewpoint is amazingly spectacular, particularly in the afternoon. About 10 minutes drive from Monodendri village then from the parking lot only a very short walk that I needed to visit as well. On your way you will go through the beautiful Stone Forest, you definitely need to stop and check it out.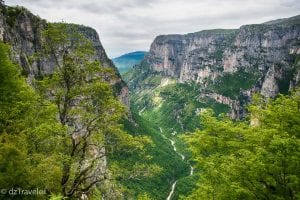 Drive Down to Kipoi Village
From Oxya viewpoint, I drove down a couple of miles to Kipoi Village to explore few Stone Bridges. There are some beautiful grey stone bridges that worth visiting. The village is at the base of Vikos Gorge, and sites of multiple steep arched bridges. I saw single, double and triple arch grey stone bridges there.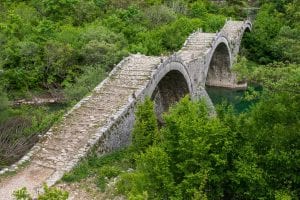 Finally Border Crossing Kakavia – Ktismata to Gjirokaster, Albania
After crossing over the border, the town of Gjirokaster, Albania is not that far away. It will be dark by the time I arrive at my hotel in Gjirokaster, Albania. After a long day of sightseeing activities won't have much energy to do anything else but to hit the bed.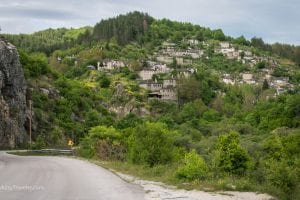 Where To Stay in Gjirokaster
located at Rr. Tahir Kadare, 6000 Gjirokastër. The accommodation offers a continental or buffet breakfast. My onsite parking was free.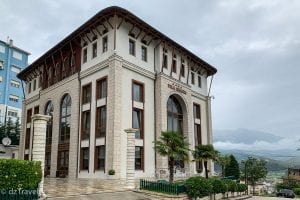 Day 5 – Early Morning Sightseeing the Road Trip To Ohrid, Macedonia
I started the day 5 with an early morning sightseeing of Gjirocaster rich with ancient history, magnificent fortress, striking Ottoman-era houses, old town and old bazaar is undoubtedly one of the best places to visit in Albania. Then in the early afternoon head towards Ohrid, Macedonia with a stop in Berat a UNESCO World Heritage Site.
The distance is about 200 miles (320 km) between Gjirokaster, Albania to Ohrid, Macedonia with a stop in Berat since I wanted to explore this UNESCO World Heritage Site on the way. Berat is about 2.5 – 3.0 hours drive from Gjirokaster even though the distance is only 100 miles (160 km). 
1st Stop – Old Bazaar of Gjirokaster
Gjirocaster is rich with ancient history, magnificent fortress, striking Ottoman-era houses, old town and old bazaar is undoubtedly one of the best places to visit in Albania. The Ottoman-era bazaar is one of the highlights of Gjirocater, and charming Woodend houses around will make you feel like a travel back in the 17th and 19th centuries. This UNESCO World Heritage Site was on my must-do list during the Balkan road trip, and I had a memorable striking experience of a lifetime.
I recommend visiting the only mosque in the old bazaar as well as the majestic Zekate House now converted to a museum. There are also a few local restaurants that worth giving it a try.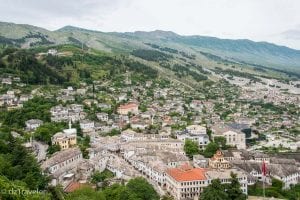 Explore The Old Town
The most attractive thing to enjoy in Gjirokastër is its historic old town, which is listed as a UNESCO's world heritage sites. Beautiful cobblestone streets surrounded by ancient Ottoman-era houses, shops, hotels, and great restaurants.
Since the old town sat on the hill, and the narrow streets are pretty steep, so I needed to do some uphill and downhill walking. But that didn't prevent me from exploring the beautiful neighborhood surrounded by unique little houses.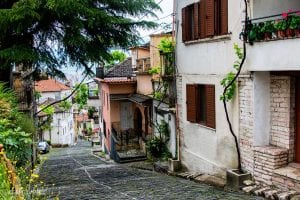 Visit Gjirokaster Castle
One of the most visited landmarks of the city is the beautiful Castle on the top of a hill can be viewed from all over the city. If you are looking for the best view of Gjirocater, then get up there and enjoy the excellent view from the top.
It is the second-largest Castle in the Balkan Peninsula. I had to climb many steppe stairs and sweat a lot to get up there on foot. But there is an alternate way to get up there, hire a taxi from the bottom of the hill (the main square) and you can enjoy the luxury to avoid all the pain at the cost of 4 Euro.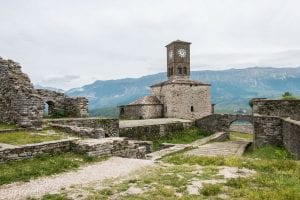 Explore The Cold War Tunnel
Deep under the castle, the communist leaders built a massive bunker with 80 rooms. Which were built in the 60s during the cold war, and its existence remained unknown to the locals until the 1990s. You can't miss it if you are visiting the Castle, there are also personal guided tours available.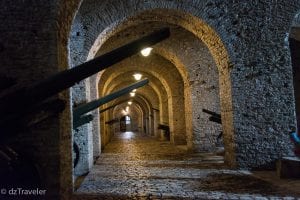 The Way To Ohrid A Quick Stop at UNESCO World Heritage Site of Berat
Albania is well known for its beautiful sites that justify a visit during the Balkan road trip. The UNESCO World Heritage Site of Berat is no difference. It was on my way to Ohrid, Macedonia only 2.5 – 3.0 hours of driving distance (98 miles / 160 km) from Gjirocaster.
Berat is a charming old town; it is well maintained, beautiful landscapes, great restaurants, narrow streets, and unique Ottoman-era houses. No wonder why it was on the top of my must-visit wishlist.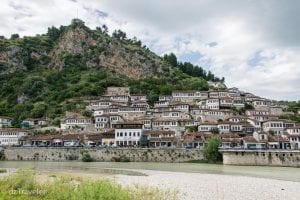 Drive up the Steep hill to Berat Castle
Berat is the biggest castle in Albania, inside the wall you will find cobbled stone streets, private houses, restaurants, souvenir shops, Byzantine churches and many ruins. Getting up to the top of the hill is a challenge even I was driving, but in the end, I was rewarded with a beautiful view of the Osum river valley and the old city. 
Watching the sunset from 14th-century Church of Saint Trinity is one of the coolest things I did in Berat.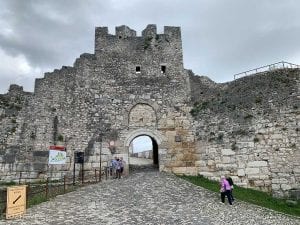 Back to Road Again – Heading towards Ohrid, Macedonia
After a few hours in Berat, I was back on the road again to my next destinations. Berat to Ohrid is another 3 hours (100 miles/160 km) drive including the border crossing. So it's another exciting driving experience including a few sightseeing stops on the way.
It was a picturesque journey through the valley along the beautiful Shkumbin river. I drove through Elbasan the 3rd largest city in Albania. If you have time, I would recommend making a stop. Visiting the 15th-century fortress the King mosque also called Sultan Bayezid Mosque and the Sinan Pasha's Turkish bath inside the Castle worth a visit.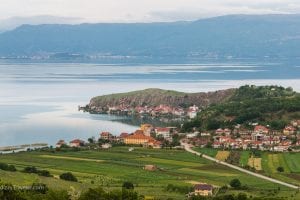 Final Stop Border Crossing to Ohrid, Macedonia
At about 7:00 pm arrived at the border crossing, was still not quite dark. The immigration and customs formalities were as smooth with no waiting time both at Qaf Thane Albanian and Kjafasan Macedonian side. From the border drove 30+ minutes along the Ohrid Lake to get to City Palace Hotel in the city center.
Finally after a long day of driving and sightseeing on the way arrived safely in Lake Ohrid another UNESCO World Heritage Site. Therefore decided to do nothing just relax and have a delicious dinner at the hotel.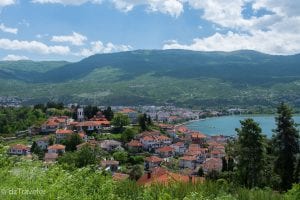 Where to Stay in Ohrid, Macedonia
City Palace Hotel, Ohrid, 
Kej Makedonija, Ohrid, North Macedonia
It is a newly built 4 star hotel, located at Kej Makedonija road alongside Ohrid Lake, only about 200 meters from the city square and the old part of the city. I got a room with a balcony overlooking the beautiful lake and had one of the best moments of my life spending hours sitting there and enjoying the surrounding views.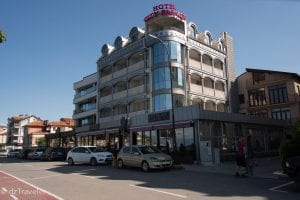 Day 6 – Sightseeing in Ohrid, Macedonia
Wake up very early in the morning and complete an early morning sightseeing before breakfast. Later during the morning do another round so cover that was missed earlier. I don't mind visiting places at night in order to experience places in a different prospective. I noticed even the night scene is beautiful in Ohrid.  
Church of St. John at Kaneo (Sveti Jovan at Keneo)
The beautiful postcard-perfect Macedonian orthodox 13th-century church is located on a rocky cliff above the Kaneo Beach overlooking Lake Ohrid, about a 15-minute walk from Ohrid's port area, and is perhaps North Macedonia's most fabulous photographed location. Particularly during sunset, the stunning view of the church, Lake Ohrid, and the surrounding rolling mountains are picturesque.
If you want to see the iconic church from a different perspective, then take a 20 minutes boat from the Ohrid to the pier below St. John at Kaneo.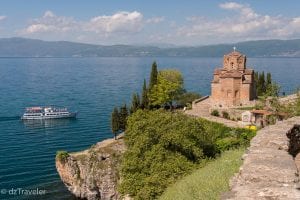 Ancient Theatre of Ohrid (Amphitheater)
This place is on your way to/from St. John at Kaneo, can't miss it. The ancient amphitheater is the largest in Balkans — Built-In the 200 BC during the Hellenistic period. It was once used by the Romans and buried after the fall of the Roman Empire. Currently is comes to life during summertime with live music and Ohrid's summer festival.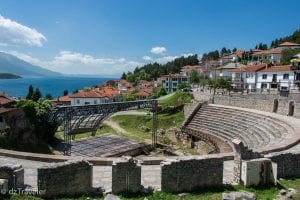 The Church of Saints Clement and Panteleimon
Only a few minutes walk from King Samuel's Fortress is located on a very picturesque setting at the edge of Lake Ohrid. This Byzantine church believed to be built when St. Clement arrived in Ohrid 893 A.D, where he taught and further spread the word of Christianity.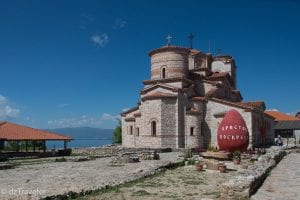 Ohrid's Car Samoil's Castle
From the Monastery of Saint Naum, I walked a few minutes through a wooded area and arrived at this historic fortress of Samoil. Tsar Samoil built the enormous walls of the turreted fortress on the top of a small peninsula stretching into Lake Ohrid. Once you climb the steep steps to the top of the wall, you will be rewarded with fantastic 360 views of the town, Lake Ohrid and the rolling mountains in the far distance.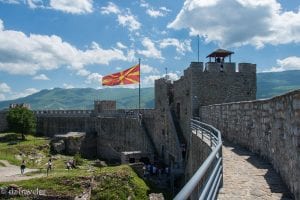 St. Sophia Church in Ohrid

St. Sophia Church worth a visit. If you are strolling through the old town, you will definitely see a few signs pointing to this historic church. It is one of the most important iconic monuments of Macedonia home of a few priceless architecture and art from the Middle Ages. There are a couple of great restaurants surrounding the curch so, feel free to try them out.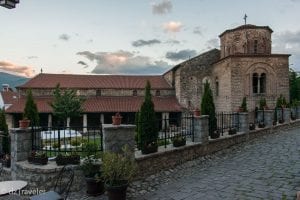 Boat Ride in Lake Ohrid 
Nothing can be more enjoyable in Ohrid then taking a boat trip in the crystal clear blue water of Lake Ohrid and watching the sun goes down behind those mountains in the horizon. You can also take the boat trips from the town to the Monastery of St. John of Kaneo.
I recommend to take a boat ride from Ohrid main pier to the beautiful beaches such as Beach Labino, Kaneo Beach and Beach Potpesh and have a great view of the old  town from the lake.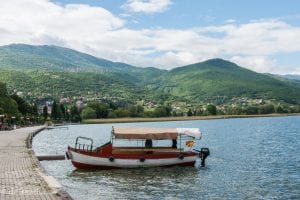 Day Trip to The Monastery of St. Naum  
The Monastery of St. Naum is one of the most desirable tourist destinations from Ohrid. A great day trip location I definitely recommend if time permits because it's about 29 km from Ohrid close to the Albanian border. Best way to get there is by taking a boat from Ohrid Pier. The first boat starts at 10 am and returns at 3:00 pm, sailing time one direction is about 1 hour 20 mins. The return trip is about 10 euro.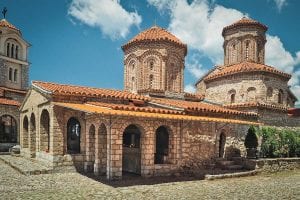 Unforgetable Experiences
There are a few great places that will give you once in a lifetime experience. The most enjoyable one is taking a walk to the small sandy cove of Kaneo beach. From St Sophia Church in oldtown take a stroll along the lake and follow the wooden walkway. Get a table at Restaurant Kaj Kanevche or try Kaneo Letna Bavca lake side restaurants for a delicious smoked fish, local beer and enjoy the magnificent view of the lake while having your dinner.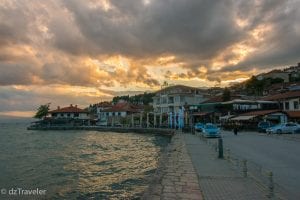 Have Local Food at Lakeside Restaurants
Aleksandrija Restaurant, Orhid, Macedonia
This restaurant is right at the center of the town, along the Ohrid Lake, outdoor sitting is with a beautiful view of the lake and the port. I have tried smoked trout and a few slices of their famous wood-fired oven pizza.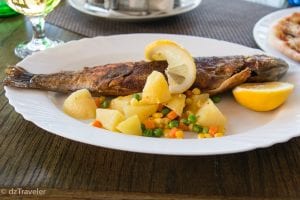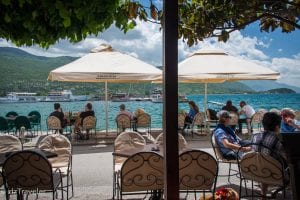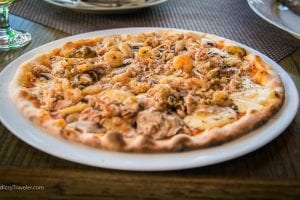 Day 7 – Road Trip to Kotor, Montenegro from Ohrid, Macedonia
From Ohrid, Macedonia to Kotor, Montenegro is 330 km and cross border driving takes about 6h. I planned to stay in Montenegro for a few extra days since its a very picturesque and relaxing place. During my stay in Kotor, I will visit a few interesting places such as:
Quick Stop at Tirana
After a long drive of 2 hr and 30 minutes, I arrived at Tirana capital of Albania. I parked my car close to Skanderberg Square, the heart of the city. I spend a couple of hours strolling around the city center than headed back to my next destinations Kruja and Kruja Castle.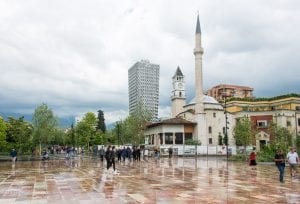 Stop at Kruja Castle albania
After a short stop in Tirana, I started to my next destination Kruja is home to the iconic medieval Kruja Castle, a real symbol in Albania. Only 20 miles (32 km) north of Tirana takes about an hour of driving. It is where Albanian national hero defended the nation against an invasion by the Ottomans. While in Kruja, the best thing you can do is drive up or hike up to the top of Mount Kruja for spectacular views of the entire area. Also exploring the old bazaar ( a typical Ottoman market) is one of the most popular tourist destinations in Albania.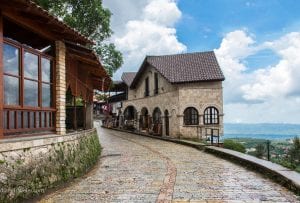 Arrival at Kotor, Montenegro
The medieval old town of Kotor is fortified on Adriatic coast, at the end of Boka bay near the limestone cliffs of Mt. Lovcen. Well known for its unique natural attractions, historic churches particularly Kotor Cathedral, winding streets, and squares. One of the 25 most beautiful bays in the world.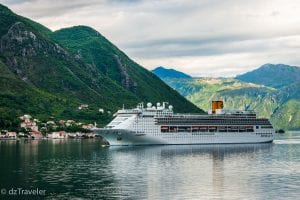 Where to Stay in Kotor
It is located right at the Kotor bay and only 2 miles away from Kotor Clock Tower. Free parking. My room had a balcony with a beautiful view of the bay from where I could enjoy the beautiful sunset on the horizon. The room had an electric stove and all other kitchen utensils necessary for cooking on your own. I enjoyed my stay there.
Late Afternoon Sightseeing in Kotor
The medieval old town of Kotor is fortified on Adriatic coast, at the end of Boka bay at the base of Mr. Lovcen. I walked from my guesthouse to the old town. It was early evening, and soon I entered the gate, I noticed the clock tower right in front of me. Inside the fairytale-like old town, I walked through narrow cobblestone alleyways. Saw St Tryphon's Cathedral, Sveti Nikola Church, Sveti Luka, and many other impressive buildings almost every one of them has some fascinating history.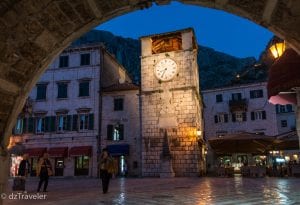 Dinner in Kotor at Portun Konoba Restaurant
After a long day of cross country driving I definitely needed a delicious dinner at a great location. And Portun Konoba Restaurant is exactly what I was looking for. Perfect location right by the river with a great view of Kotor Bay and delicious food. 
My Driving Route from Ohrid to Kotor With Two Stops on The Way
Day 8 – Kotor, Montenegro Sightseeing
From Ohrid, Macedonia to Kotor, Montenegro is 330 km and cross border driving takes about 6h. I planned to stay in Montenegro for a few extra days since its a very picturesque and relaxing place. During my stay in Kotor, I will visit a few interesting places such as:
Kotor's farmers market
Visiting Kotor Farmer's market is one of the best things I did this morning. I didn't plan this specifically, but I happened to be there in Montenegro on Saturday so lucky enough taking advantage of visiting the famous morning market in Kotor. The market gets its fullest form on Saturday morning.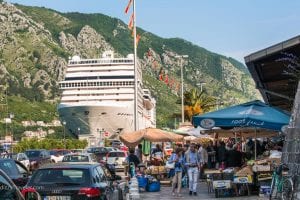 Lovcen National Park
It was definitely challenging driving through and climbing up to the Lovcen Mountain chain which raises steep uphill from the edge of the Adriatic range, above coastal Montenegro. There is quite a lot of hairpin-like turns to get to some of the viewpoints, but once you are up there, you can enjoy the magnificent view of Boka Kotorska bay. In fact, the view from the top was so breathtaking that I had to make frequent stops at multiple viewpoints for a birds-eye view.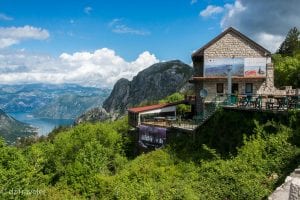 Visit Njegos Mausoleum
One of the main attraction of Lovcen National Park is the most visited monument of Petar Petrovic Njegos a famous poet and philosoper. The beautiful Njegos memorial is located at the second-highest peak, Jezierski Vrh (5440 ft /1657 m). Getting to the tomb of Montenegro's most significant writer is a little difficult task, particularly for those who have health conditions. Just keep in mind that from the parking lot, people need to climb a total of 461 steps to get to the top.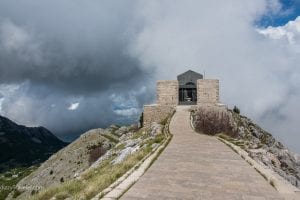 Take a Bay Side Walk
Kotor Bay is considered one of the best breathtaking coastal areas in Europe, and taking a walk along the coastal sidewalk is no different. The stunning scenery of the Bay of Kotor (Boka Kotorska) is the best thing you can do in the evening. There are a lot of excellent restaurants along the sidewalk choose anyone, and you will be not disappointed, food is delicious, so is the local wine.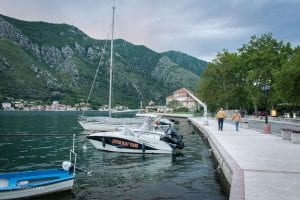 Late Lunch at Restaurant Galeria
It was late afternoon by the time I returned from the Lovcen Mountain trip, kind of hungry. The Galeria Restaurant is right by the water, next to the Kotor Old Town wall. It was packed with tourist, but getting a table was not difficult. The late lunch was delicious and affordable.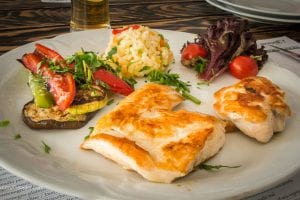 Day 9 – Day

Trip to Dubrovnik, Croatia from Kotor, Montenegro
Croatia from Kotor, Montenegro
Dubrovnik is one of the most popular day trips locations from Kotor, and definitely for a good reason. Not that it's easy to get there, but also for the famous old town and the city walls. A self-driven car will give you ample freedom on your day trip. A scenic drive of only 2 .5 hours of driving will bring you there from Kotor. Definitely a must to if you are in Kotor. 
1st Stop at Perast, Montenegro
On my way to Dubrovnik, I made an early morning stop at Perast a beautiful small old town on the Kotor Bay, only 10 miles (16 km) from Kotor. Many tourists prefer to staying here for its natural beauty. I saw a few great restaurants, hotels, guest houses, and medieval churches surrounding one main road along the Bay. There are two beautiful islets makes the area more attractive among the tourists. Our Lady of the Rock and the other one is Sveti Dorde (St. George) houses a Benedictine monastery.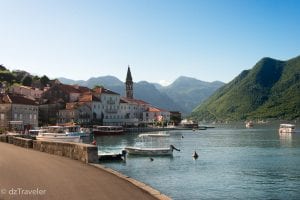 Next Stop Herceg Novi, Montenegro
From Perast started heading to my next destination, Herceg Novi. Driving the scenic highway along the Kotor Bay was a great experience, on the way I passed a few beautiful little towns such as Risan, Lipci and Zelenika.
Made a quick stop in Herceg Novi a coastal town, which is located at the foot of Mount Orne and the entrance of the Bay of Kotor. It is a historic town and blends of the diverse and beautiful ancient building from the different ancestral origin. I wish I would have spent more time here as this place deserve an extended stay to explore all it has to offer.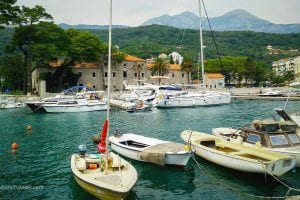 Border Crossing Debeli Brijeg, Montenegro
From Kotor to the Border Crossing on the Adriatic Highway that connects Croatia is only 33 miles (54 km) and should not take more than 1.5 hours. My story is different as I made multiple stops on the way, so took me way longer. It was May 31 early morning and took me less than 15 minutes at the border, definitely not as long as you hear stories about it taking hours. On the Croatian side of the border control is Karasovići about 3 miles ( 5 km) from Montenegro border control. From the Croatian side of the border to Dubrovnik is only 24 miles (38 km) and takes about an hour to get there by car.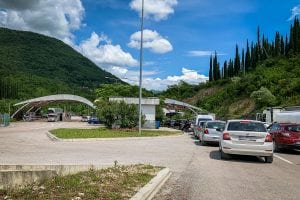 Things to do in Dubrovnik
Dubrovnik is one of the most popular day trips locations from Kotor, and definitely for a good reason. Not that it's easy to get there, but also for the famous old town and the city walls. Its popularity skyrocketed since the airing of Game of Thrones series. The architecture inside the old town is fabulous you can see 'King's Landing,' 'Qarth' and the gardens of the 'Red Keep' in realtime.
I had the opportunity to walk along the top of the city's walls and narrow alleys to see some of the many architectural masterpieces. Not to mention clock tower, Franciscan Monastery, Dubrovnik Cathedral, Church of St. Blaise are among the many.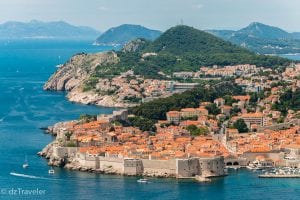 Late Lunch at Risan Restaurant, Risan​
This restaurant is lovely, right by the Kotor Bay with a beautiful view from the restaurant. Along the road I to drive to Dubrovnik, Croatia. The local grilled squid was delicious. Little expensive but worth trying for the beautiful view and delicious food.
Day 10 – Road Trip To Kotor, Montenegro to Shkoder, Albania

Today is the 10th day of my Balkans road trip. I am heading from Kotor to Albania this morning. From my guesthouse in Kotor to Hotel in Shkoder is about 2 hrs 30 min drive the distance is about 68 miles (110 km ). But I plan to make few additional stops in between so the entire trip will take the whole day.
First Stop in Budva, Montenegro
On my way back to Albania, I stopped a beautiful Adriatic coastal town of Budva. If you like beaches, then this is the place you need to head. By the way, not only the beach I am talking about, but there are also historical monuments that will make your trip a memorable one. I would recommend visiting the main attraction is the old town. It is a small town but well known for it's great sandy beaches and nightlife. I would also recommend to check out great restaurants with breathtaking coastal view famous among the visitore around the world.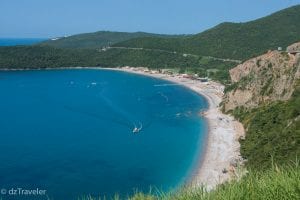 2nd Stop in Sveti Stefan, Montenegro
Another picturesque place lined up glorious along the coast of the Adriatic Sea that I recommend to visit is Sveti Stefan in Montenegro. The Tiny fortified island home to 15th-century houses with beautiful architectural treasures. It is located only about 6 km from Budva. I made a quick stop here before heading toward the Albanian border. What a great experience!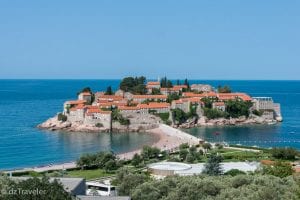 Next Stop Lake Skadar, Montenegro
The lake Skadar is located between the border of Albania and Montenegro. Two-thirds of the lake belongs to Montenegro and the rest on the Albanian side. The largest lake in the Balkans Peninsula. It is one of the best places for bird watching or even taking a boat ride and enjoying the wildlife is one of the best attractions here. Cruising through the lily pads, see ruins and fishing communities that can't be accessed from land. And I had the most memorable experience in Montenegro.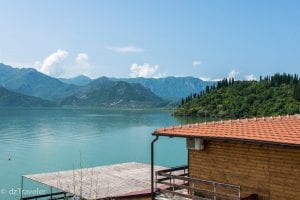 Border Crossing – Hani I Hotit – Bozhaj to Albania
Finally, after driving a while on a narrow country road and through the small towns and villages, I arrived at the border crossing called Hani I Hotit – Bozhaj between Montenegro and Albania. It was June 1st on a Saturday morning, and surprisingly, I spent no longer than 15 – 20 minutes at the border.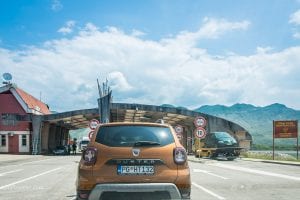 Finally at Beautiful Tamarë, Albania
After crossing the Montenegrin-Albanian border I drove on a scenic road, looks like newly built from the border Hani i Hotit all the way to Vermosh. It was exciting driving uphill hairpins like a zigzag road with thrilling turns and at the end a majestic viewpoint from the top of the world with a breathtaking view of Cijevna canyon and the surrounding mountains.
While going downhill, I felt like it was out of the world a place so unique. I drove a few miles along the Cijevna River with a magnificent view and come to a village called Tamare.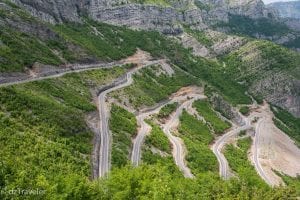 Heading Back to Shkoder from Tamarë
While getting back to Shkoder from Tamarë, I drove 40 miles (65 km) on a most picturesque road in northern Albania. I pass through scenic valleys, small villages, farmland and of course many surprises along the way. I could not resist not to make frequent stops to capture some beautiful, spectacular landscape and roadside activities. Finally at late evening arrived at Shokoder.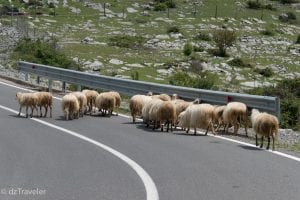 Final Stop at Old Mes Bridge – Ura e Mesit
It was late afternoon by the time I came to Shkoder from Tamarë, so I drove another 3 to 4 miles to the village of Mes before it gets dark. Wanted to see the 18th century Mes Bridge built by Kara Mahmud Bashati, the local Ottoman Pasha over the Kir River. The place was beautiful during the sunset. After this headed back to my hotel in Shkoder City Center.
Where Did I stay in Shkoder
This hotel is centrally located at Rruga Shtjefen Gjecovi, walking distance to the city center and other attractions and great restaurants. I stayed there only for a night but had to opportunity to explore close by places. The best part of staying here is the parking right in front of the hotel. Rooms were quite clean and spacious. I would definitely recommend this hotel.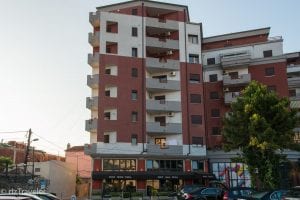 Day 11 – Road Trip to Prishtina, Kosovo From

Shkoder

via Komani Lake Ferry
Start the day very early to cross the border and cover a few beautiful places in and around Shkoder, Albania.
Taking the Koman Ferry to Fierza
Distance from Shkoder to Koman is only 35 miles (55 km), but considering the road conditions I left my hotel at 6:00 am. Started my day eleven at 6:00 am even the distance between Shkoder and Koman is only 35 miles (55 km). Since the first ferry from Koman to Fierza Ferry Terminal is at 9:00 am, so considering the road condition I kept enough time in case something goes wrong on the road.
One of the most attractions in Albania is to take the Kumani Lake Ferrey. The hour ferry ride on the lake is one of the most scenic in Europe.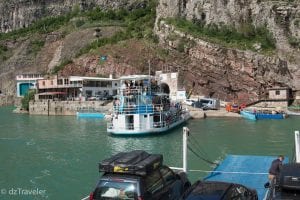 Cross the Kosovo border to Prishtina
From Fierza Ferry Terminal, Albania I drove towards the Kosovo border crossing for about 45 minutes (20 miles/30 km). Luckily no waiting at the border, but to enter Kosovo, I had to buy additional car insurance for 15 days at the cost of 15 Euro.
Finally arrived at my hotel in Prishtina, Kosovo after 2 hours of driving from the border crossing (the distance was about 70 miles).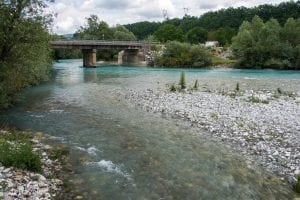 Lunch At Bar Restaurant Avdi Rexha
I made a lunch stop in a small town called Bujan, a couple of miles north of Fierz Ferry Terminal. The Bar Restaurant Avdi Rexha is located right by the bank of Valbona River. A beautiful location. I had wood fire-grilled lamb and fried local Trout fish.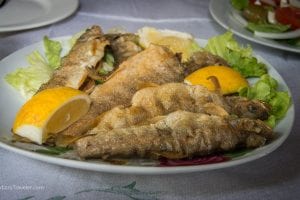 Where To Stay in Prishtina, Kosovo
Rruga Maliq Pashë Gjinolli 8, 10000 Prishtinë, Kosovo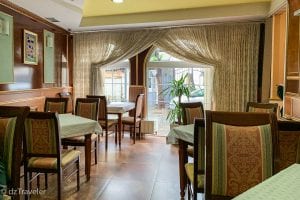 Day 12 – Road Trip to Skopje, Macedonia From Pristine, Kosovo
Today I am in Prishtina is the 12th day of my Bakan road trip. Wake up early, finished breakfast at the hotel, loaded the car with the luggage, and then started my day with city sightseeing. Next plan in the afternoon is to drive down to Skopje, Macedonia. A brand new highway, so it is not going to take more than 90 minutes to cover about 60 miles (95 km).
1st Stop – Early Morning Sightseeing in Pristine, Kosovo
The first half of the day I planned to explore Pristina, have some local good food, visit places and get to know people, and take a few good pictures.
Visting the capital of the youngest country in Europe was exciting and interesting. It's a small city with a population of 210,000, mostly Albanian and a few Bosniaks, Romani and other ethnic groups. Most of the historical and interesting places in the city can be explored on foot.​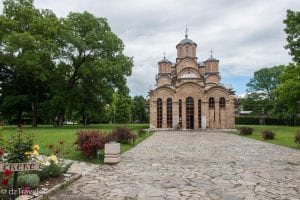 Highway to Skopje, Macedonia from Pristine, Kosovo
Newly built 38 miles long (60 km) highway from Pristina to the border of North Macedonia is excellent. From Pristina, I was at the Macedonian border crossing in 30+ minutes, but on the other side, it was the typical eastern Europian highway. I made it in two hours including border crossing to my hotel in Skopje.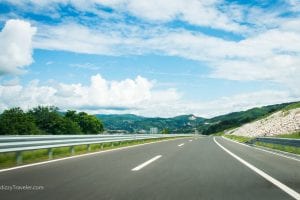 Arrived in Skopje and Check in to Hotel
Late afternoon, can't believe I have just arrived here from another country but still have the enter afternoon on my disposal. It's a big city, but nothing compares to where I came from. Found the hotel in the center of the city and quickly checked in so that I have enough time to go out to explore surrounding attractions like old bazaar.
I loved the location of this hotel and definitely the clean and specious rooms with 3 single bed for a solo traveler.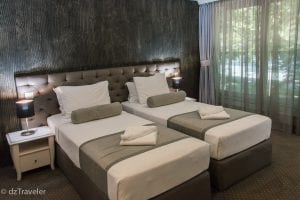 Late Afternoon Sightseeing in Skopje, Macedonia
Skopje is in the center of the Balkan Peninsula, and I am more than halfway down my Balkans road trip. The capital city has a lot of historic places that have encountered Roman, Byzantine, and Ottoman influence. I am taking a self guided walking tour through the Old Town and will cover few of the below listed attractions.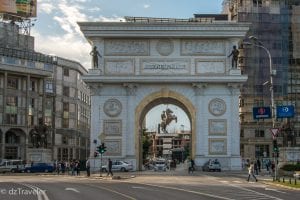 Kurshumli An
Bezisten
Cifte Amam
Kapan An
Daut Pasha Acs Amam
Mustafa Pasha Mosque
Macedonia Gate
Walk the Stone Bridge
Step Inside The Church St.Spas (Holly Savior)
Visit The Mosque of Üsküb in Old Bazaar
Alexander The Great Statue
Visit the Old Railway Station
Monument Honoring Macedonian Fallen Heroes
Civilizations in Macedonia Bridge Skopje
Photo Ops with Philip II Macedonian
Visit The Church St.Demetrius
Stroll Through The Old Bazaar
Try Local Food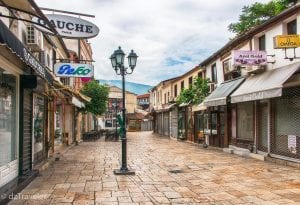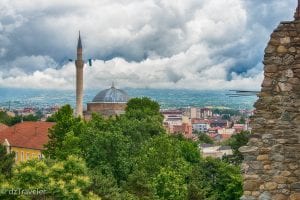 Day 13 – Sightseeing in Skopje Then Driving To Sofia
Skopje is the capital of the Republic of Macedonia, in the center of the Balkan Peninsula. Over time it has experienced Roman, Byzantine, and Ottoman rule. One of the main attraction in Skopje is to walk around the Vardar river, Mother Teresa Memorial House, exploring the Old Bazaar and the historical Kale Fortress.
Memorial House of Mother Teresa
The Memorial house of Mother Teresa is very close to Macedonia Square or from the hotel, I was staying. So I decided to start my day 13 from here. Mother Teresa was born in Skopje, Macedonia. The Nobel Prize winner's work has been recognized worldwide, to pay her respect, the memorial house of Mother Teresa is dedicated to her.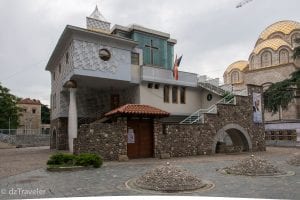 Next Stop The Historical Kale Fortress
The next stop for today is the historic Skopje Fortress also locally know as Kale is located on a top of a hill next to the Vadar River. From the fortress wall, you can have a beautiful view of the city and the surrounds. I walked uphill from the Old Bazaar to get to the fortress entrance but people can also drive all the way up. Visiting this 6th-century fortress (believed to be) is one of my must-see recommendations while visiting Skopje.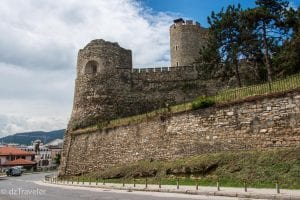 Ride the Cable Car to Millennium Cross
Next, I drove up to the cable car station parking lot from where I accessed the cabal car to get to the top of the Vodno Mountain's highest summit. It was raining when I visited this place so not able to get a clear view of the capital city of Skopje but I heard it looks beautiful on a clear day. I definitely believe that from a hight of 3497 feet (1066 feet) the view must be outstanding. I noticed the 217 feet Millennium Cross was fading away into the cloud and creating a beautiful view on a rainy day.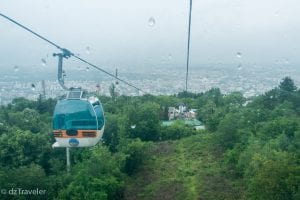 Day Trip to Matka Canyon
Matka Canyon is a great day trip location from Skopje, only 17 km from the city center. I drove there on holiday, so not much traffic on the way, and it took me only about 35 minutes. Actually, I didn't expect the canyon will be that beautiful otherwise I would have planned an overnight stay at Matka Canyon hotel. A perfect place to escape the city for a peaceful natural environment. There are a lot of fun things to do there, like boat ride, exploring caves and waterfalls, swimming, hiking and try out delicious local food.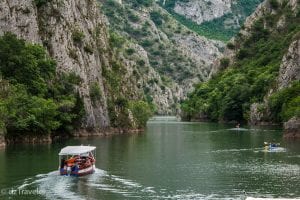 Drive from Skopje, Macedonia to Sofia, Bulgaria
From Matka Canyon later afternoon I drove directly to Sofia, Bulgaria. The distance is about 255 km and took me a little more than 3h 30 minutes. The road trip was enjoyable, made several stops on the way. And I reached my hotel in central Sofia.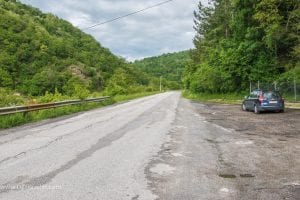 Arrival At Sofia Hotel Where I was Staying
Central Hotel Sofia 52, Hristo Botev Blvd, Sofia 1000, Bulgaria
It was late evening when I arrived at the hotel, located in the heart of Sofia. The doorman parked my car at underground parking for me. This hotel is a walkable distance from SerdikaBanya Bashi Mosque and other attractions. I enjoyed staying here.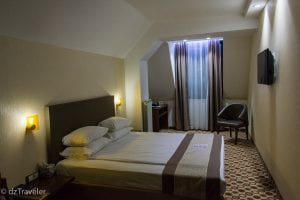 Food I Tried at Roadside Restaurant
Day 14 – Early Morning Sightseeing in Sofia then Drive to Ruse, Bulgaria
Today I planned to do a free walking tour in Sofia starting from 10:00 am and ends at 12:00 noon (duration is about 2 hours). After that, I will head towards Ruse, Bulgaria at the border of Romania for an overnight stay. It is about 4 hours drive, and the distance is 192 miles (309 km)
Walking Tour & Sightseeing in Sofia
I am going to start my next trip to Ruse, Bulgaria late afternoon. So decided to do a walking tour in Sofia. I taking the Free Walking Tour from the City Center, starts at 10 am
Palace of Justice
Ivan Vazov National Theatre
Central Mineral Baths
Visit Borisova Gradina Park
Pay a Visit to Synagogue
Visit Banya Bashi Mosque
Sveta Nedelya Church
Coat of Arms of Sofia
Statue of Sofia
Church of Sofia
Largo Square ruins
Council of Ministers
Former Communist Party Headquarters
Presidency
Rotunda of St George
National Gallery
Russian Church
St. Sophia Basilica (End)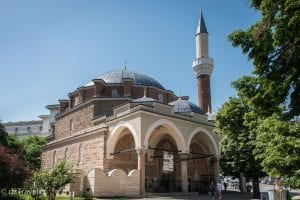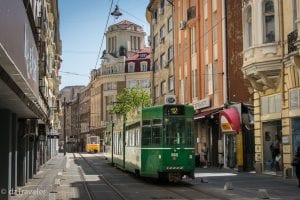 Drive from Sofia to Ruse, Bulgaria
In the late afternoon, I am driving to the north of the country and staying overnight in a border town called Ruse. Only 57 miles (95 km) from Bucharest the capital of Romania and from Sofia about 192 miles (309 km) driving takes no longer than 4 hours. It was quite an experience driving in Eastern Europe but definitely fun and I was able to stop, eat food and see many places on the way.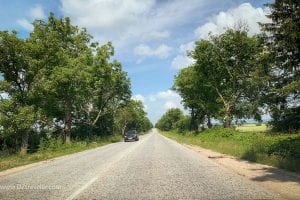 Stay Overnight at Ruse
There was still daylight when I arrived at Danube Plaza Hotel in Ruse, located right in the heart of Ruse and at Svoboda square. The hotel staffs were very helpful and the good thing about this hotel was they have free parking. I liked their open-air garden restaurant under the vines and maple trees. If you need they also offer transfers between Ruse and Bucharest. The breakfast was super and enjoyed staying there.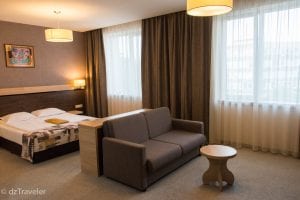 Restaurant Pod Lipite in Obnova, Bulgaria
On the highway 3 to Ruse from Sofia I stopped at this local restaurant or a late lunch. Food was delicious and the owner was very friendly.
Day 15 – Drive to Bucharest, Romania from Ruse, Bulgaria
Today is Day 15 of my Balkans Road Trip, stayed overnight in Ruse border town in Bulgaria. The 5th largest city in Bulgaria on the bank of Danube river and only 92 km south of Bucharest. Before I cross the Romanian border and head to Bucharest, I wanted to explore this historical city of Rese. Then I planned to cross the border at noon and arrive in Bucharest so that I have the entire late afternoon and evening for sightseeing in the capital city.
Sightseeing in Ruse, Bulgaria
The hotel I am staying in Ruse is right at Freedom Square, so an excellent opportunity for me to wake up very early in the morning and explore the city on foot.
I saw quite a few unique antique architectures all around the old town no wonder why it is also known as 'Little Vienna'. I heard there are hundreds of building listed as a historical and architectural heritage. Apart from Freedom Square, I have also seen Sveta Troitsa Cathedral, All Saints Orthodox Church, Pantheon of National Revival Heroes, State Opera House, Few museums and the famous Danube River.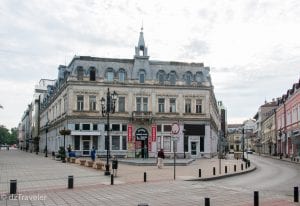 Cross The Border from Ruse to Bucharest, Romania
From Danube Plaza Hotel, the border crossing to Romania is only 4.5 miles (7 km). I started my trip to Bucharest around noon. The border crossing was smooth, no wait at all. Need to pay a toll to cross the Giurgiu – Ruse Friendship bridge over the Danube River that divides the two countries.
On the Romanian side of the highway was pretty nice but the closer I got to the capital the traffic started getting congested. Finally arrived at the hotel in the afternoon.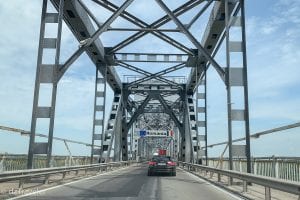 Early Check-in to Hotel in Bucharest
The Christina Hotel is located in the heart of the city and 5 minutes walk to Metro and Bus stations. Rooms are well furnished and spacious. Hotel staff is very helpful and friendly. They do not have any parking so that is going to be a challenge to find a spot on the street otherwise I would recommend this hotel if you are visiting Bucharest.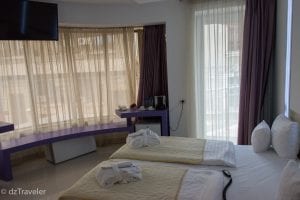 Spend Rest of the Day Exploring Bucharest
After checking in to the hotel and settling down I still had enough time to explore a few attractions such as by the way did not drive just used the Uber to go around.
The Triumphal Arch
Bucharest Park
Bucharest Old Town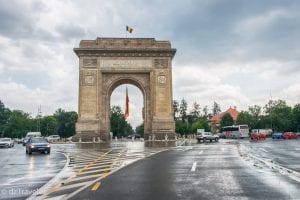 Food I have tried in Bucharest, Romania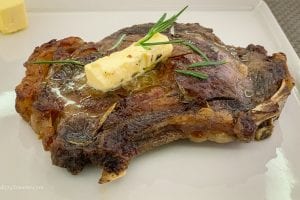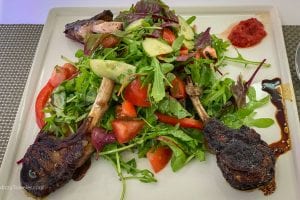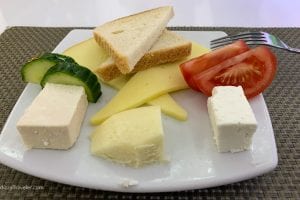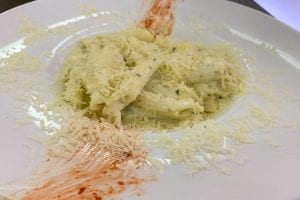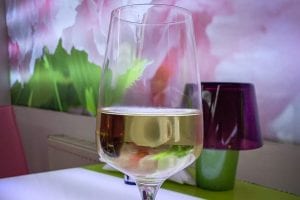 Day 16 – Morning Sightseeing Then Drive Back to Sofia from Bucharest
I have the entire day here in Skopje, so can relax a day here and doing some sightseeing activities. Food and drink should be my top priority here.
Early Morning Sightseeing in Bucharest
I am going to start my next trip to Sofia, Bulgaria late afternoon. So decided to do a Sightseeing tour in Bucharest. 
Kretzulescu Church
Monument Corneliu Coposu
Memorial of Rebirth, Bucharest
Church of Nicholas
Stavropoleos Monastery

University Square
St. Nicholas Russian Church
Stavropoleos Monastery
The National Art Museum
The Palace of Parliament
Revolution square
The Romanian Athenaeum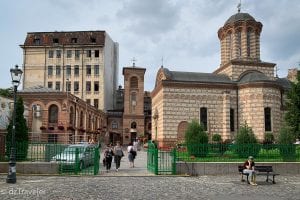 On the Way Back to Sofia 1st Stop at Basarbovo Monastery
After an early morning sightseeing in Bucharest, I drove back to Sofia, Bulgaria. On the way back I made a couple of stops and Basarbova Rock Monastery was my first stop. It is the only active rock monastery in Bulgaria. There are stone stairs to climb to get to the natural cave, beautiful green inner yard and the well. About 64 miles (103 km) from Bucharest took me little over 2 hours to get there.
Only about 6 miles (10m km) from here there is another rock monastery called Ivanovo Churches of Ivanovo a UNESCO World Heritage Site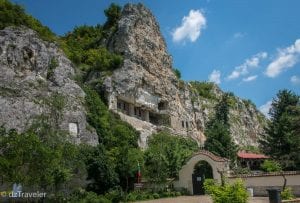 Next Stop at The Rock Hewn (Hewn Churches of Ivanovo)
The Rock-hewn Churches of Ivanovo include a combination of solid religious houses that were cut out of the solid rock and well known for their excellent and well-preserved medieval painting. This is a UNESCO World Heritage Site. During the 1320s to 17th century, the caves in this region had been resided by monks. Don't get discouraged, just climb the steps and you won't regret once you are up there.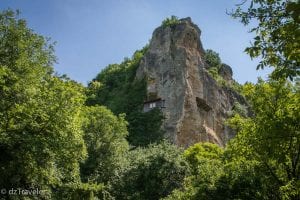 Final Stop at Veliko Tarnovo
I drove another 90 minutes about 62 miles (100 km), to get to Veliko Tarnovo. Why did I choose to visit this city, because it is one of the most charming cities in Bulgaria. The beautiful city is located on the Yantra River that pretty much surrounds the city. The building built on the hills creates a beautiful view from a far distance. The most famous historic fortress is also built on the top of a hill called Tsarevets. There are many hotels and guest houses and definitely a place you need to stay a day or two. I saw quite a few good tempting restaurants around the narrow street. I loved this place and definitely recommend to be on your must-do list.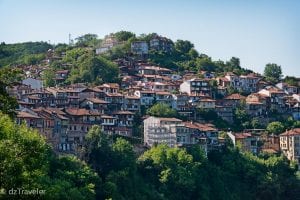 Where Did I Stay in Sofia
The Ramada Sofia is located within walking distance to tourist sights and commercial areas of the city, offering comfortable rooms in a modern building. Underground parking has direct access to the lobby Free WiFi is available in all areas.
Being 7.5 mi from Sofia International Airport, near to Central Railway and International Bus Station, the hotel enjoys a convenient location and won Bulgaria's 2009 Best Convention Hotel prize. An airport shuttle service is available on request and for a surcharge.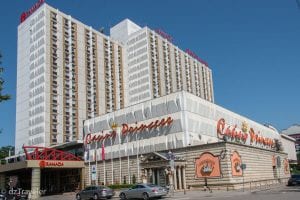 Day 17 – Day Trip to Rila Monastery & Local Sightseeing
I have the entire day here in Skopje, so can relax a day here and doing some sightseeing activities. Food and drink should be my top priority here.
1St Stop at Halite Market of Sofia
Today on the 17th day of my Balkans Road trip. Woke up early and visiting Halite. It is a covered market, also known as the Market Hall in the center of Sofia right opposite of Banya Bashi Mosque. If you are interested in finding a variety of local food, such as produce, meats, and meats products, spices, spirits, pastries, then this is the place to visit, even you are not interested in shopping.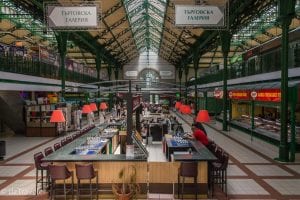 Next Stop Boyana Church
After a morning walking tour in Sofia, I drove to The Boyana Church, a medieval Bulgarian Orthodox church situated on the outskirts of Sofia. The building was added to the UNESCO World Heritage List. It is absolutely beautiful inside the church, but no one is allowed to take pictures and it is strictly enforced. It is a must-see site in Sofia.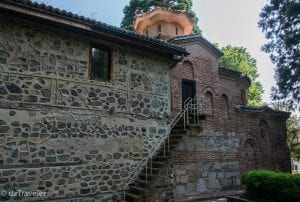 Day Trip to Rila Monastery
From the Boyana Church, I took a day trip to another UNESCO World Heritage site located about 100 km away from the capital Sofia. Rila Monastery is one of the most visited cultural sites of Bulgaria. This 10th-century historical monument is definitely worth a visit.
I drove my rental car there at my own pace, and the driving experience was one of the highlights of my Bulgaria trip. At the end of the day returned to Sofia and had a relaxing rest of the evening.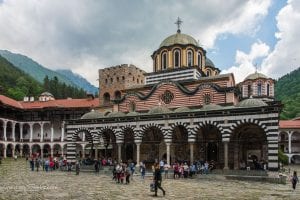 Day 18 – A Day to Relax in Sofia and try out local Food
After a long 18 days of Balkan road trip, today is the last day before I fly back to the USA. And definitely, I need a day to do nothing but relax, have food and enjoy slack.
Skaptoburger is a great place to have your lunch, located in the heart of the city. The burger is made out of fresh 100% ground beef, never frozen; buns are baked in-house, house-made sauces and spice blends was awesome. Unlike the huge burger in the picture (right) they also have smaller and larger sizes so got to try it based on our appetite if you are visiting Sofia.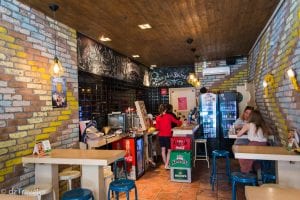 Relax at The City Garden
The City Garding is located at the heart of the city is one of the oldest parks in Sofia. The fountain right in front of the National Theatre is beautiful. The garden is popular meeting points for local citizens of all ages. Above all, street music, concerts, and outdoor exhibitions make it most visited places throughout the day.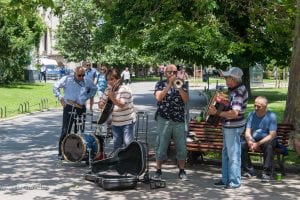 Nice place to have your candlelight dinner, located very close to St. Alexander Nevsky Cathedral. Price was reasonable and service will surely make you impressed. The food was so delicious that I wanted to go back to try something similar. If you plan a visit then definitely need to try Lamb meat, roasted after an old traditional Bulgarian recipe. And don't miss the local Bulgarian drink Rakia for a kick, I tried the one made from plum and grape.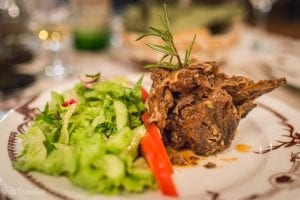 Day 19 – Depart Sofia to Newark, NJ
I am leaving Sofia this morning. After a blasting 18 days road trip through the 7 countries in the Balkans my time is up for the reality. I had to wake up very early in the morning 4:00 am to be exact, got ready, repack and drove the rental car to the airport car return location. Luckily I did not have any accident or didn't get any speeding tickets, so the dropoff was easy. 
Departing Sofia by 7:25 am a flight to Newark arrival 1:50 pm
I hope this post gave you some idea that may contribute planning yours that fits to your specific needs and interest.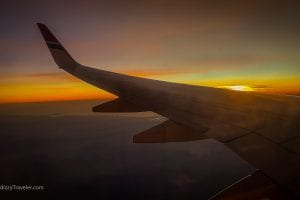 I have visited the Balkans Peninsula between late May and early June. The weather was fantastic, the mountains were lush green, and I was able to see a few snow cap mountains in a few of the countries I have passed through.
Therefore based on my experience the best time is spring and autumn to be more specific, be there between early May and the end of June for gorgeous weather while dodging the summer crowds. Not to mention that Hotels are going to be still a bargain.
I have started my road trip from Sofia Bulgaria. There are a lot of airlines fly there on a daily basis. I found it cheaper to fly there from the USA and then pick up the rental car from the airport was no hassle.
The closest airport from Kotor is Tivat Airport (TIV), There are multiple airlines fly there on a regular basis. It is only about 8 km away from Kotor and will cost you approx 20 Euro by taxi (negotiation needed).
Taxi is the most convenient way to get to Kotor or get a pre-arranged private transfer, you can also rent a car but need to book it in advance. It is important to know that there is no public bus or airport shuttle available in Tivat airport.
If you are renting a car in Balkans here is the information you need to know:
Cars are much smaller and you may end up getting a stick shift car unless you specifically requested an automatic car.
If you are planning to drive out of the country then you need to inform them during reservation. It will cost you extra also you need to buy a car green card (insurance) for this.
Not all countries are covered under this green card. In my case, I had to buy an additional 15 days of insurance (minimum) at the Kosovo border (15 Euro).
Road signs are not so great so you need to have GPS, or/and if you have a smartphone then you should be good as long as you have data service or using an offline map app for backup.
Make sure to examine all dents when picking up the car and also take pictures before drop off to be on the safe side.
How Many Days Needed for The Trip
Driving through the Balkans is exciting and there are so many things to do and if you really want to seriously explore then definitely it may take 4 to 6 weeks. But I was there only for 3 weeks but was able to accomplish a lot and see remote places thanks to my proper planning. Besides driving allowed me to make my own schedule or start my day very early in the morning and end late in the evening.  
Anyway, it's hard to tell how many days you really need to cover Balkans. It completely depends on your interest. But make no mistake regardless of how long you spend there at the end of the trip you would definitely like to go back there again.
I agree driving in the Balkans is a little chaotic, but not as dangerous as you may have heard. Most parts of the Balkans roads and highways are nice and in good conditions. It is safe to drive in Eastern Europe but driving defensive will go an extra mile. I recommend not to speed as there are speed cameras hidden in many places along the highway and also cops are more than happy to stop you if they see an opportunity. Overtaking in a no-overtaking zone is also need to be strictly obeyed. Depending on country of your origin you may need not carry an international driving license. 
Here is a few affiliate links that may help plan a perfect trip while staying within budget.