Florence is the birthplace of the Italian Renaissance and is well known for its fascinating culture of art and history. Florence is the Tuscany region's capital, and there are so many fascinating things to do and see. A walk along the river Arno, exploring UNESCO sites in piazza duomo or a city landscape from Piazzale Michelangelo, especially during the sunset, is stunning and will take your breath away. Here are a few things you should consider as you plan your vacation to Florence.
Getting There
Getting there by high-speed train is the best way from Rome or Milan, takes about 1h 30m and 2h respectively. We traveled from Naples to Florence, and the three hours journey was very relaxing. If you are flying, you will most likely be landing at Aeroporto di Firenze-Peretola (FLR), only 10 km from Florence. There are quite a few domestic and international flights connecting the city.
Getting Around
Florence is a very much walkable city; especially if you are staying around the city center, a leisurely 20-30 minute walk will take you to most of the historic and interesting attractions.
Taxis and the ATAF bus system are available throughout the city. Unfortunately, there is no Uber service so, I downloaded the itTaxi App from the App store and used it during my stay. The App was simple and easy to use, the best option to book a taxi anywhere without the hassle of finding one on the street by myself.

Things to do in Florence, Tuscany
Visit Piazza del Duomo (Historic Plaza)
You will find most historical monuments within Piazza del Duomo, for instance, Piazza San Giovanni, Cathedral of Santa Maria del Fiore and Brunelleschi's Dome, Giotto's Campanile (Bell Tower), The Baptistery of St. John, and the Opera Museum. These iconic historic religious and artistic monuments are in the UNESCO-listed historic center of Florence definitely are evidence of the vision and invention of the Italian Renaissance. You may need more than a day to cover the attractions in Duomo Piazza; therefore, planning will help.
1st Stop at Cathedral of Santa Maria del Fiore
Florence Cathedral is located in Duomo Square, is also known as the Catthedral de Santa Maria del Flore. Most importantly, is good to know that entry to the cathedral is permitted only to visitors wearing clothing appropriate for a place of worship. People with bare legs and shoulders or wearing sandals, hats, and sunglasses are not allowed inside the cathedral. Bulky backpacks and bags are not allowed.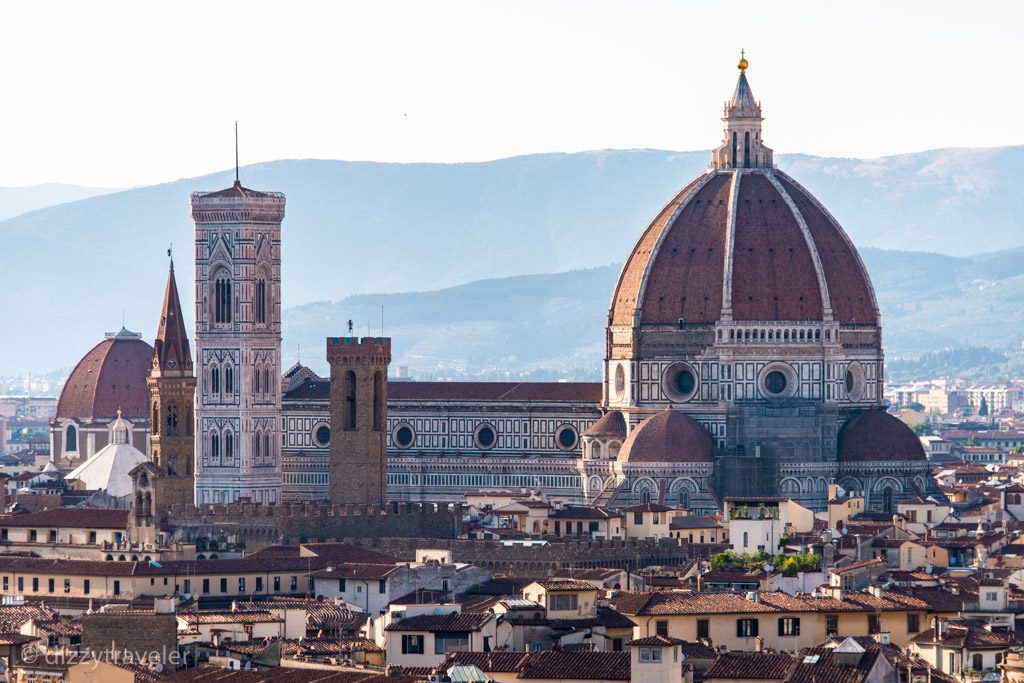 Next Climb the Brunelleschi Dome (Cupola del Brunelleschi)
The Iconic Renaissance Brunelleschi Dome is an absolute masterpiece of art, and it has enchanted the world since its creation and is the symbol of Florence. The 150 feet (45.5 m) wide and 376 feet (116m) high dome is one of the main attractions for the visitor who likes to enjoy the fantastic view of Florence. I highly recommend taking a guided climbing tour of Brunelleschi's Dome most importantly if you don't mind climbing its 463 steps.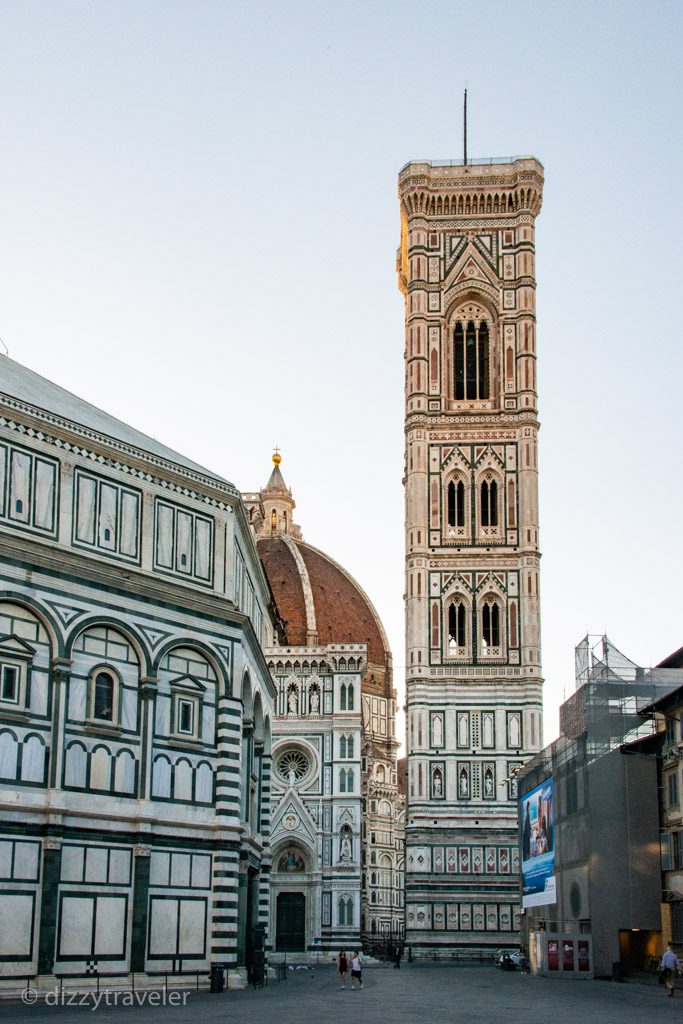 Next Enjoy the 360 View From Giotto's Bell Tower
Giotto's bell tower is part of the complex that makes up Florence cathedral and is another attraction in the Piazza del Duomo. The 278 feet (45 m approx) tall tower is worth climbing if you don't mind the 414 steps up. The view of Florence from the top of Bell Tower is stunning. At the end, you will have another closeup view of Brunelleschi Dome from a different perspective.
Visit The Baptistery of St. John in Duomo Piazza
The Baptistery, one of Florance's most important religious buildings, also known as the Baptistery of Saint John, is located in Piazza San Giovanni. It is part of the Duomo complex. Like all medieval religious structures, the Baptistery contains tombs of famous people. However, the octagon-shaped Baptistery is best known for its bronze doors.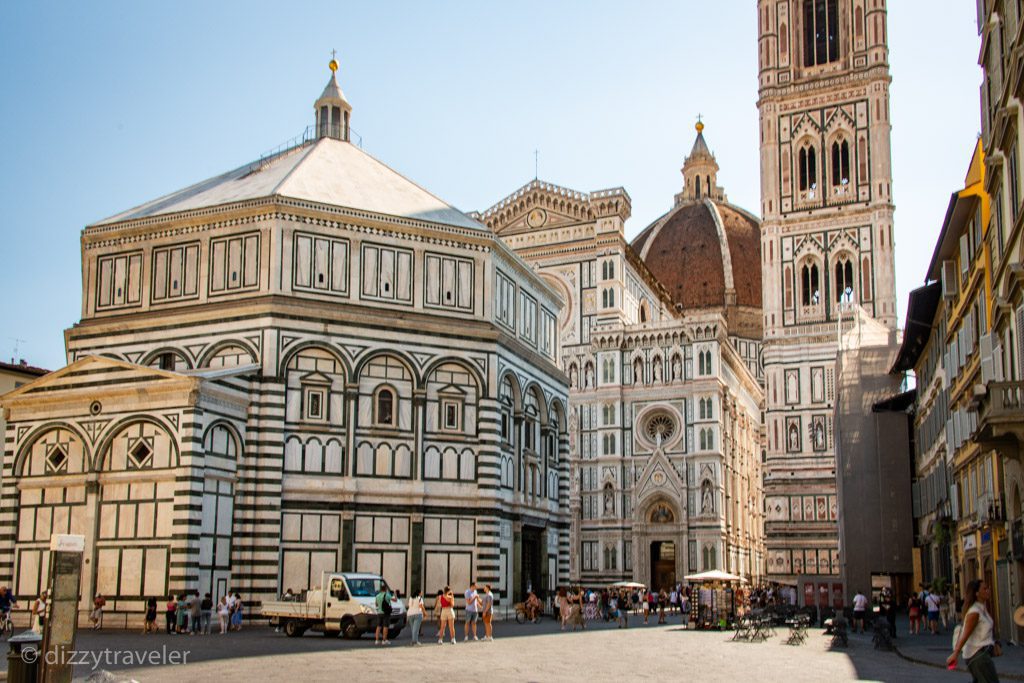 Must-Visit Accademia Museum
The Accademia Museum is one of the most visited art museums in Florence. The gallery is a must-visit stop for anyone visiting Florence since it houses the 'David' of Michelangelo. The world-famous statue is a massive masterpiece; it is one of the most visited attractions in Florence. In addition, don't skip the masterworks of Renaissance paintings by Botticelli, Ghirlandaio, and many others.
Our visit to the museum during the summer was jam-packed; therefore highly recommend that you book a guided tour way ahead to secure a comfortable time window during the day. Most importantly, skipping the line option is a must to avoid a long wait to get in or even get to the ticketing counter. Instead, try the GetYourGuide site for booking. Easy walking distance from Piazza del Duomo, combining both the sightseeing will save you time if you are in the neighborhood. Don't forget it is not a place; you just go there and expect to buy a ticket and get in. Please plan ahead to avoid frustration and eventually prevent it from giving it up. Make the most of each moment when you travel.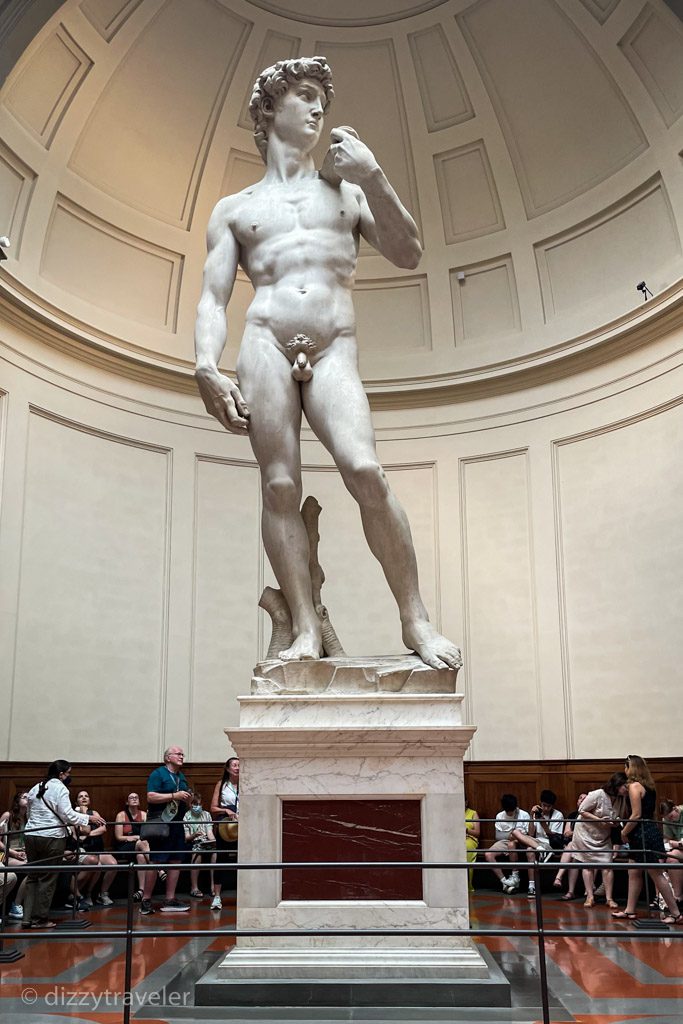 Check Out Mercato Centrale Florence
Visiting one or more of Florence's tempting local food markets is a must for visitors who like to experience the Florentine way of life. Regardless of how many days you are staying in Florence, you must try at least one meal here to have one of the best culinary experiences in Florence. Moreover, you will find some of the region's famous street food and treats in an informal dining atmosphere. The indoor market seating area is enormous, with over 500 seating capacity. Mercato Centrale is located between Piazza del Mercato Centrale, Via Sant'Antonino, Via dell'Ariento, and Via Panicale. Besides grocery and food, it's also a great place to buy leather goods, souvenirs, and much more.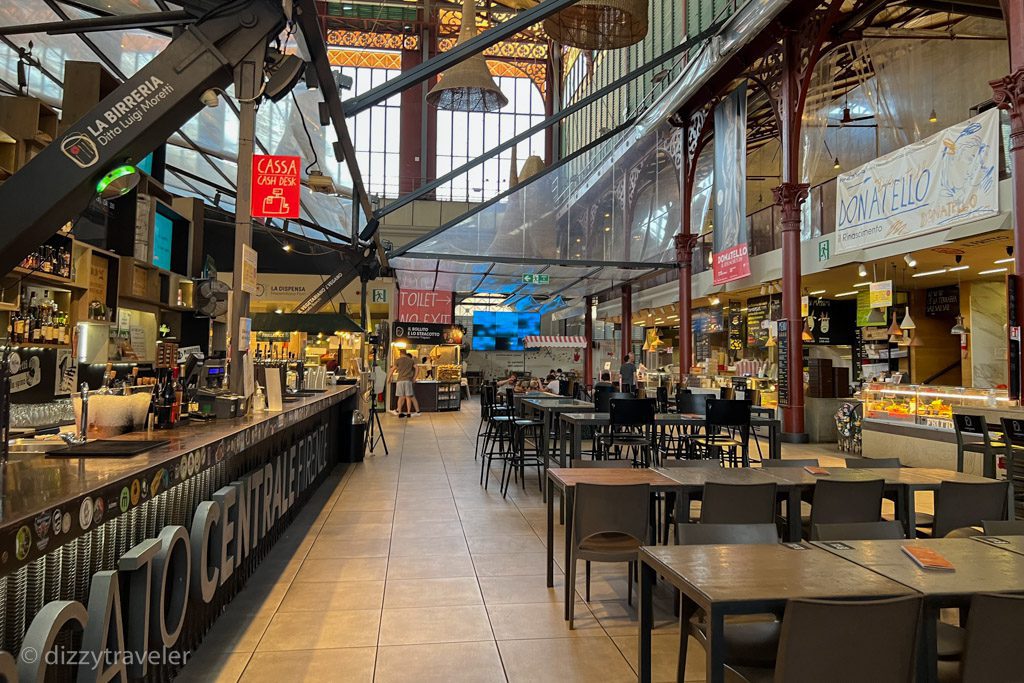 Visit Florence Leather Market
Even if you have no plan to buy leather items during your trip, visiting the leather market in Florence is a great experience. There are hundreds of different stalls and don't be surprised if you find a flurry of vendors approaching you to sell their products. As a result, the narrow path may look narrower and more crowded. However, there are many leather products for a bargain price; you only need to look around for the best deal.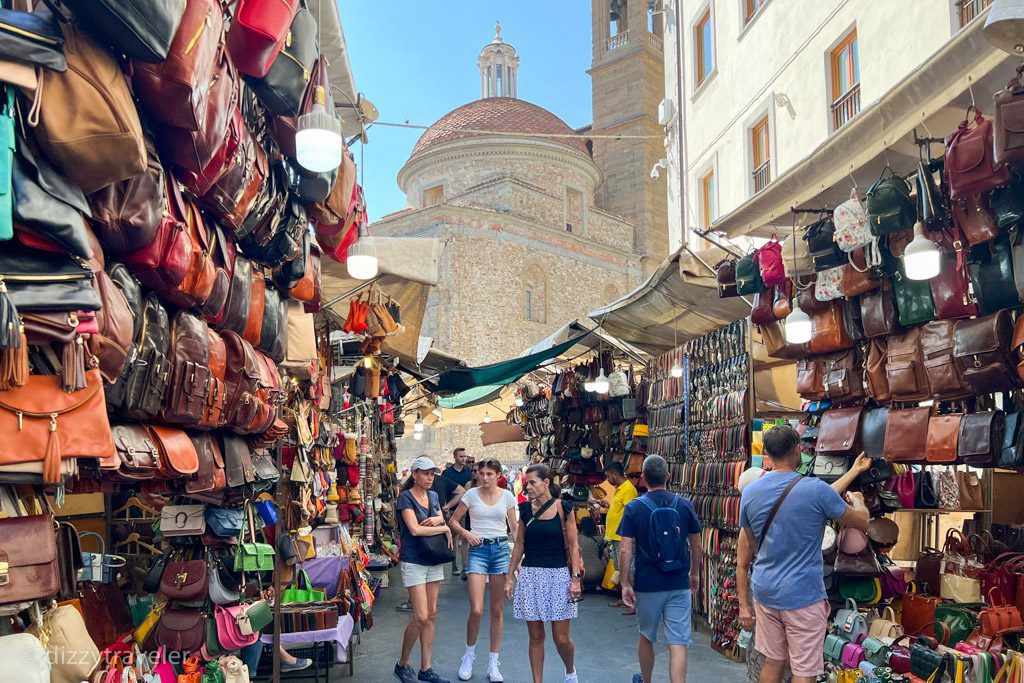 Sunset From Piazzale Michelangelo
Viewing Florence from high ground is not only just a great photo opportunity but an experience to ponder. Pizzaale Michelangelo is located in the Oltrarno district on a hilltop that offers a spectacular panoramic view of Florence. I highly recommend visiting this place during sunset. It will definitely take your breath away. Easy to get either public bus or taxi is the best option. We took a cab to Piazza Poggi at the base of the hill and climbed up on foot.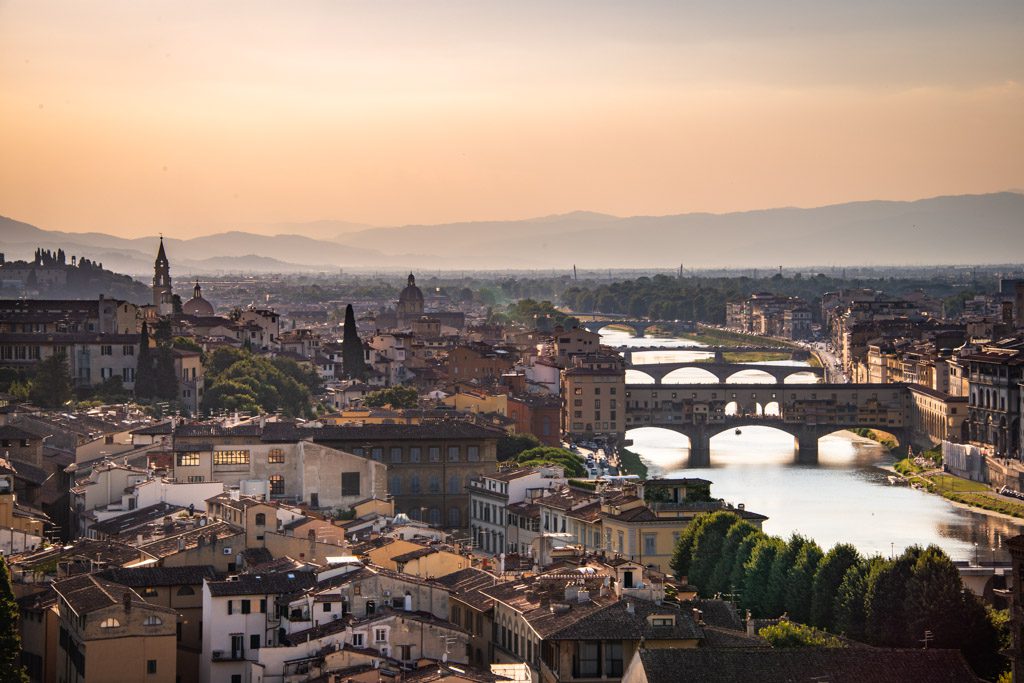 Visit Pitti Palace and Boboli Gardens
The gigantic palace is one of the largest architectural monuments in Florence. Located on the south side of the Arno river, not that far away from the famous arch bridge Ponte Vecchio. Currently, the palace houses the Palatine Gallery, the Museum of Modern Art, the Silver Museum, the Porcelain Museum, the Costume Gallery, and the Museum of Carriages.
And the beautiful Boboli gardens are just behind the Pitti Palace. The open-air museum is dotted with antique and Renaissance statues, grottoes, and fountains.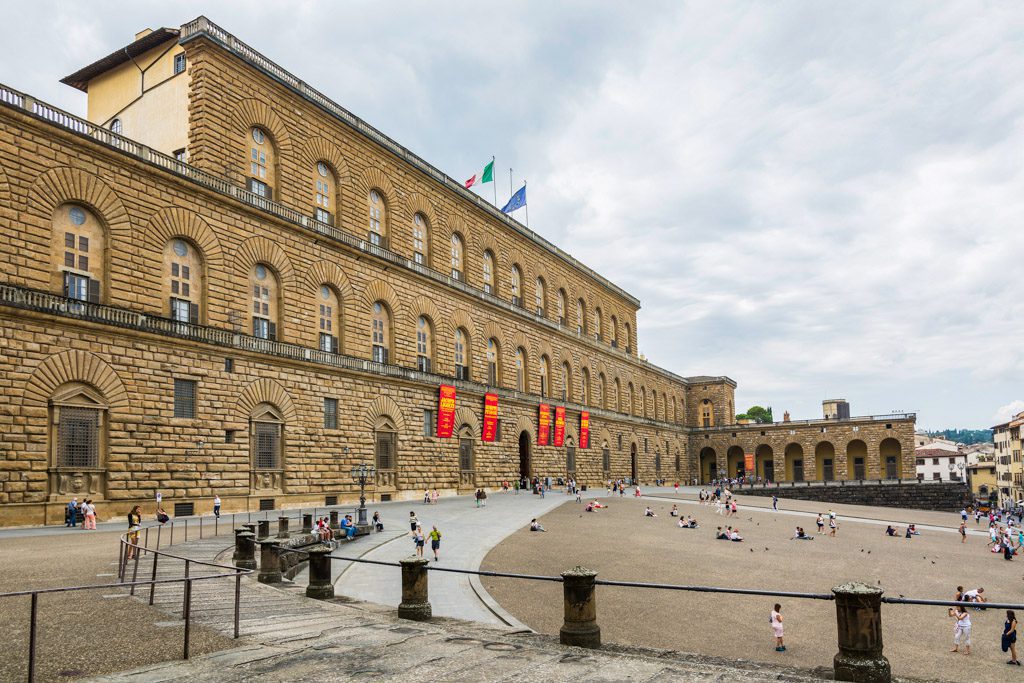 Coffee Break At Palazzo Vecchio
At the heart of Florence, the Palazzo Vecchio, also known as Palazzo Della Signoria, is one of the historic government buildings that will come to your radar during a walking tour of the city. Since 1872 the impressive fortress-like building has been used as the town hall. The square holds a replica of Michelangelo's David statue and the gallery of sculptures adjoining Loggia dei Lanzi.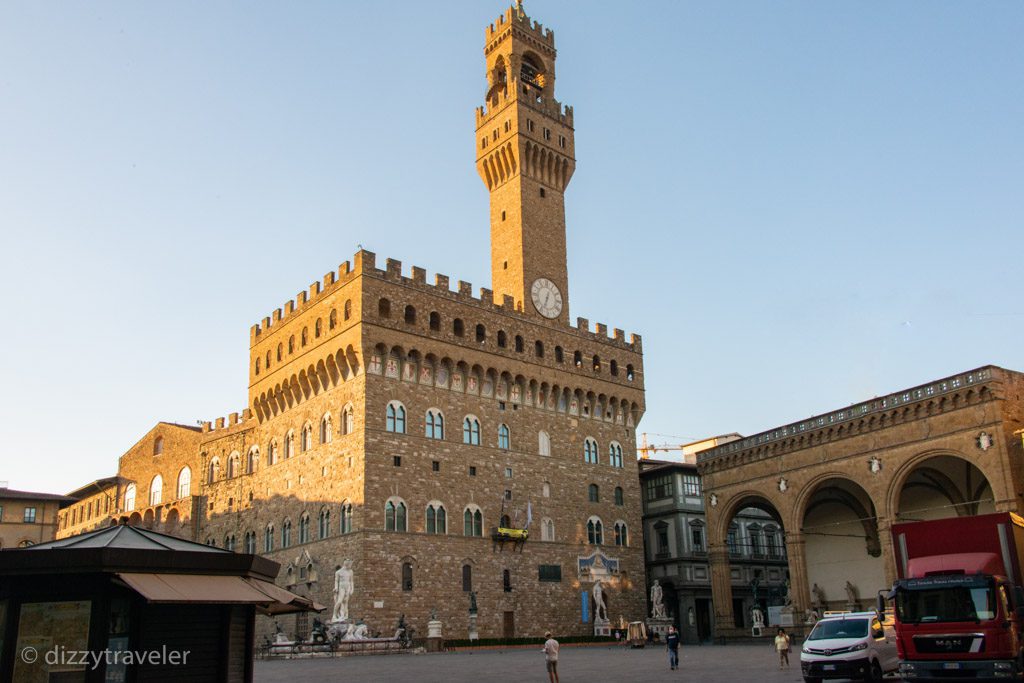 Visit Uffizi Gallery
The Uffizi Galleries is one of the world's most visited and famous museums for unique artworks and masterpieces conserved within its walls, and most are from the Renaissance era. It is located in the heart of Florence and adjacent to the Piazza della Signoria.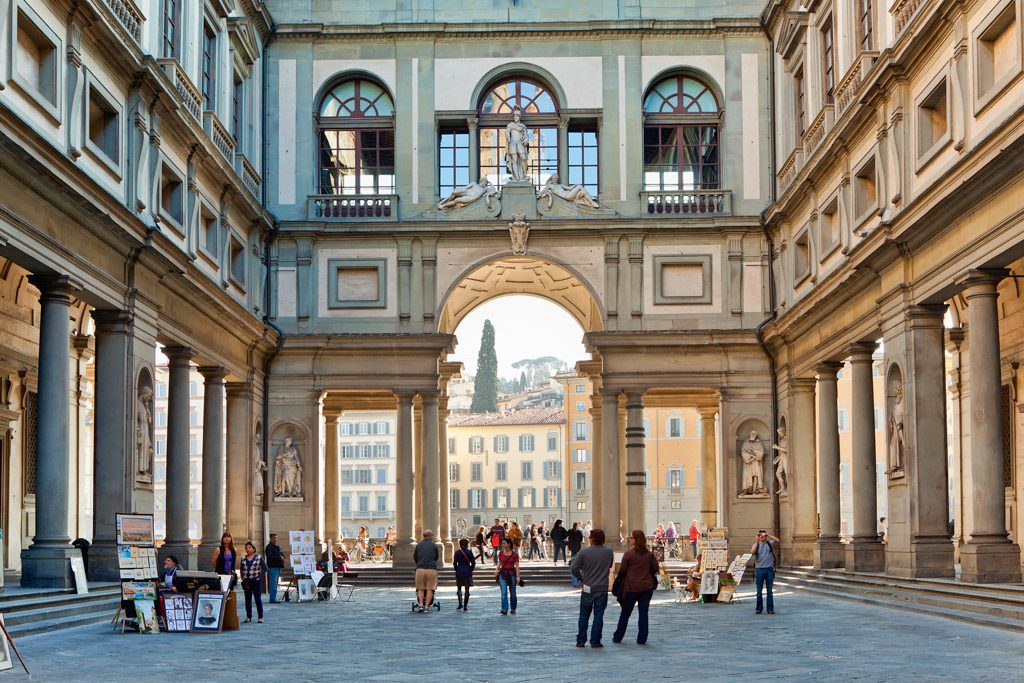 Explore Ponte Vecchio
Ponte Vecchio is the oldest and one of the famous medieval-era arch bridges in Florance that runs over the Arno River. The shops built on the bridge remind the old days' lifestyle, a major attraction for tourists.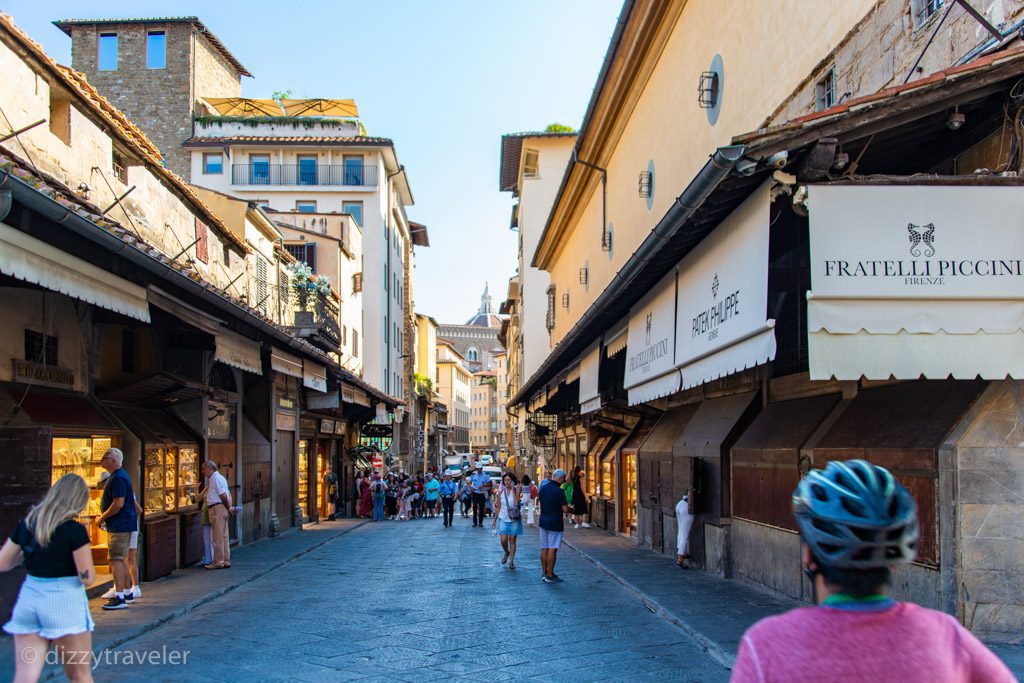 Day Trip to Tuscany Region – Siena, San Gimignano, & Pisa
The best way to experience Tuscan countryside is by taking a day trip to the towns surrounding Florence. It is worth a round trip to the Medieval city of Siena, with a stop at the middle-age hilltop town of San Gimignano, Tuscan wine tasting, next visit the famous leaning tower of Pisa, Pisa Baptistery, and the Duomo, and finally, return to Florence. Our total day trip was about 12 hours long, it was definitely worth it.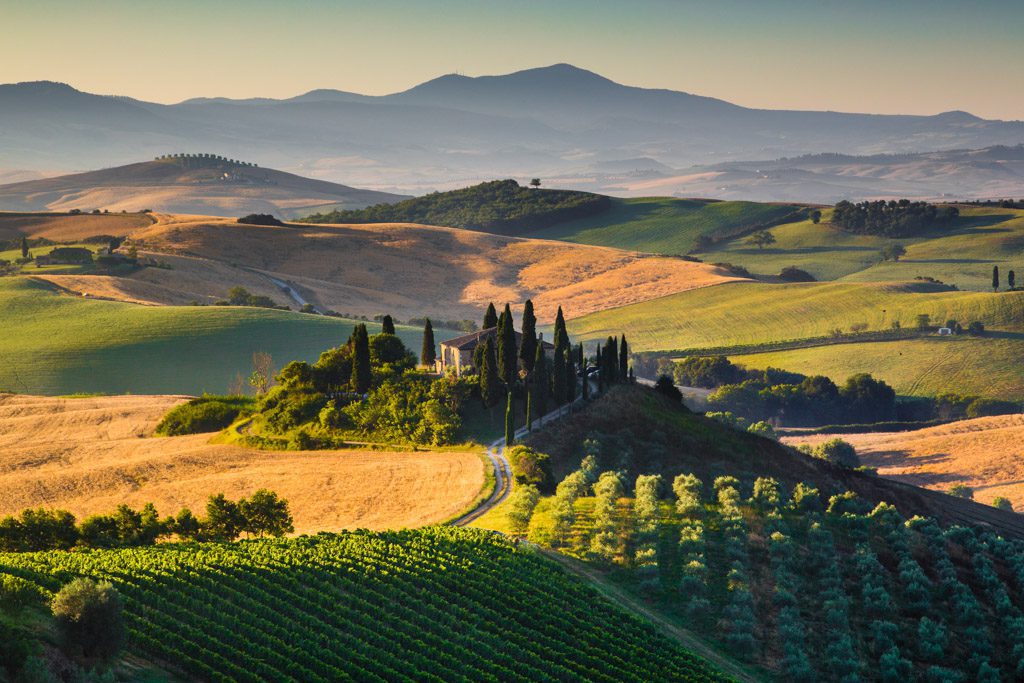 Culinary Experience in Florence
When it comes to the local food of Florence and Tuscany, certainly there are several foods and dishes you should not miss:
Florentine-Style Steak
While in Florence, our family of three tried one of the most delicious 4 lbs T-bone steaks with roast potatoes at L'Osteria di Giovanni that I indulged so much that I would like to go back there again just for the taste of it. I absolutely recommend every meat lover to go and try one of those best traditional well-known Florentin teaks. Traditionally the specific cut of meat from a typical cow is prepared in a particular way. It is by default served "rare," but we don't be afraid to ask for medium if you are not comfortable with their authentic style.
Try a Few Regional Food of Tuscany
Ragu di Cinghiale – Sample one of the main dishes travelers love while in Florence. The delicious Ragu sauce taste great with pappardelle pasta. The traditional sauce is made with wild boar meat, tomatoes, carrots, red wine, celery, onions, garlic, olive oil, and herbs and spices.
Ribollita Soup is a classic and hearty Tuscan soup with beans and vegetables. You must try for an experience.
Fiori Di Zucca Fritti – Regarding street food, nothing can beat Fried Zucchini Flower; the flowers tossed in a light batter and deep-fried it is delicious and one of the famous Italian snacks. Try mozzarella and anchovy for a different flavor. Try it for a classic Italian experience.
List of Restaurants We Tried
La Buchetta, Food & Wine, Via De' Benci 3/3a, 50122 Florence. For reservation visit restaurant's website.
Casa Trattoria, Via Santo Spirito, 36 R, 50125 Firenze, For more information visit restaurant's website.
L'Osteria di Giovanni, Via del Moro, 22r, 50123 Firenze. For more information visit restaurant's website.
Where to stay in Florence, Italy
Palazzo Guicciardini Hotel is located in central Florence, a 5-minute walk from Ponte Vecchio over the Arno River. The rooms are decorated with 16th-century frescoes. In addition, Florence Cathedral and Uffizi Gallery are only a few minutes walk from the hotel. So check it out it's a great place to stay. 
Hotel Residence La Contessina is in the center of Florence, near Santa Maria Novella Railway Station, just a few minutes from the Duomo Cathedral. La Contessina offers independent apartments and hotel rooms. Private parking is available.
My Opinion and Last Word
Have you been to Florence, Italy? Any cool tips to share?
I loved being in Florence Italy, and want to go back again. I hope my story has motivated you to visit Italy.
Please leave a comment below! I'd love to hear from you to improve my knowledge. 
Was this travel guide helpful for you?
If you'd like to help me continue making free guides, here is one way you can help:
Share This Guide 

– If you have a friend that would benefit from this guide, share it with them. Or post this guide on Facebook, Twitter or Google+
Your Support would definitely help me making more free guides like this. Thank you in advance!
Affiliate Link – This post in Dizzy Traveler contains affiliate links, which means I receive a referral commission if you purchase after clicking at no additional cost to you. These funds go to maintain the site. Thank you for your support.
Book your Sightseeing Trip
There are a lot of beautiful places to visit and some exciting sightseeing activities to bring unforgettable memories back home. Please click on our below affiliate link to see your options.