The historic Pelourinho district of the upper town in Salvador is a UNESCO World Heritage site, a place that I always wanted to visit. Afro-Brazilian culture, Portuguese influenced colorful architecture, local Bahian cuisine, spiritualism, nightlife, music and a tropical coastline influenced me to plan a visit during my last Brazilian trip.
This third largest city in Brazil and the largest black population in the world outside Africa should be under your radar as well.
Plan Your Trip
How To Get Around
UBER: Available 24/7 and very reliable. I used it without any issue and the cost is pretty reasonable. Free wi-fi available most public places including airport and restaurants so did not have any issue scheduling pickup.
Taxi: It is safe and reliable and no reason to be skeptical. Available everywhere in the city.
Where To Stay
Centro Historico (Historical Center) is one of the great areas to stay in Salvador, located in the middle of all the action of the town. You can check out Acai Hostel, an all-time favorite among the backpackers. We stayed at Fera Palace Hotel next to The Elevador Lacerda in Historic Center.
If you like to be at the beach areas, then you can stay in popular places like Barra, Rio Vermelho, or Ondina. I saw there are many hostels, hotels, and guest house (pousadas) available for a reasonable price.
Best Time to Visit
Summer: From December to March is a favorite time to visit Salvador. You will find the crowded beaches and pricey events. Temperatures rarely fall below 80ºF (26ºC) or rise beyond 95ºF (34ºC).
Winter: Between June to August, can be very wet, but some days temperature may drop a few degrees cool enough for a light jacket. Regardless during the day, it is always hot, but the ocean breeze may bring you some comfort and from my practical experience showers rarely lasted enough to spoil my travel.
Most Popular: Between January to February when there are full of activities like Carnaval, Reveillon week, Semana Santa event. During this period hotels are pricey, and the city is crowded including the beaches.
How to Get There
By Air: Salvador International Airport (SSA) is only 25 km from the Historic Center of Salvador. There are International and domestic flights to and from Salvador airport. I took a direct flight from Sao Paulo and on my return took a non-stop flight to Rio de Janeiro. Check flights from your area.
Here are the 10 Reasons to visit Salvador
1. Stroll Through The Historical Pelourinho
A trip to Salvador, Brazil won't be complete without paying a visit to the Pelourinho also known as the city within a city. In Portuguese, Pelourinho means whipping post, and in the old days, this was the location where all the slave action took place.
The colorful historical neighborhood located within the Upper City filled with colonial architecture, beautiful churches, cobble-stoned narrow streets will blow your mind away. Pelourinho became well known when Michael Jacksons popular music video was filmed there. Click the link to see Michael Jackson performing They Don't Care About Us.
There is some safety concern in the Pelourinho so I as a solo traveler booked few guided tours to avoid any incident, also at night the colonial quarter gets pretty empty, so it's recommended to be in a group. If you are staying in a guest house or a hotel, the good idea is to discuss with the hotel guests or with the front desk.
2. Take The Elevator Lacerda to Lower City
The Elevador Lacerda is one of the iconic monument that represents the city of Salvador. It was built in 1873 that connects the lower city with the upper city and riding it was a pleasant experience that you should not miss. Take a ride to explore both upper and lower neighborhoods but need to be extra careful of safety or travel in a group.
3. Visit Mercado Modelo for Souvenir
Take the Lacerda elevator down to get to the Mercado Modelo for any shopping especially for typical Salvadoran souvenirs and practice your bargaining skills. Get your ferry to Morro de Sao Paulo or Itaparica island from here.
4. Quick Stop at San Francisco Church
While strolling through the old streets of the historical center, you will definitely notice the Church and Convent of San Francisco which is one of the most impressive temples in the country. Just get a ticket and discover the richness of the church that believed to be the richest in all of Brazil.
5. Tie a knot at Church Nossa Senhor Do Bonfim
Church of Nosso Senhor do Bonfim is a very popular place for the most Christians. I saw people were tying ribbons and asking for wishes and I followed the same. Not sure my wishes will ever come true, but it was fun to tie them and to make three knots. My tour guide told me to make three knots and wish every time while doing it. The view from the hilltop was beautiful as well.
6. Visit Ponta de Humaita
If you want to experience something different in Salvador than Ponta de Humaita is the place to be, surrounded by the sea and beautiful natural beauty not far from Church of Nosso Senhor do Bonfim. Located in the Itapagipe Peninsula and is home to Nossa Senhora de Monte Serrat, the Convent, and a Lighthouse. It is one of the most beautiful places that you can't afford to miss.
Best time to visit is in the afternoon, have a drink and watch the most beautiful sunset you have ever seen.
7. Visit Dique de Tororo Park For A Break
Check out the Orisha statues at Dique do Tororo park. On our way to Penha Beaches or Ribeira Beaches located in the lower city of Salvador about 14 miles from historic City Center, we stopped here at the artificial lake houses eight statues of God and Goddess in the middle of the lake.
This place is fascinating and perfect for a break from your sightseeing activities, and do something different like Biking, skating, rowing or trying out restaurant in the park
8. Visit The Beaches in Barra
There are several beautiful beaches in Salvador, and Porto da Barra is the nearest one. This beach is the most popular and perfect place to view the sunset. Sometimes it may get overcrowded, but there is a lot of fun, with many selections of restaurants, nightclubs, and bars.
9. Barra Lighthouse, Salvador
If you are visiting Barra beach then you can't miss the lighthouse it is in the same neighborhood. The 17th-century lighthouse is also considered as one of the historical landmarks of Salvador.
Walk around the back of the fort to catch the magnificent views especially the sunset, besides, the fort also houses an attractive maritime museum. It worth to explore the artifacts and displays of Portuguese maritime, and exhibits on the slave trade
10. Day Trip to Morro de Sao Paulo
Morro de Sao Paulo is a beautiful island that will take your breath away the moment you step on the unspoiled beaches. It's a perfect day trip location from Salvador, Well known for calm and clear turquoise water fabulous for water sports. Kayaks and paddleboards are available for hourly rental. Garapua Beach is one of the most visited one often called the Caribbean of Bahia.
You can get a ferry from Mercado Modelo, and in about 2 hours you will be in a sun-soaked escaped like no other. Just keep in mind the ocean could be little rough so I would advise carrying seasickness pills with you.
No cars are allowed on the island so walking will be your best bet for going around. To get to the remote beaches or hotels in the far distance, you may find tractors which usually carry passengers.
Where to Stay in Salvador
Fera Palace Hotel, Rua Chile 20 – Centro Historico, Vitoria, Salvador
Fera Palace Hotel is located in the historical city of Salvador also close to the Pelourinho and famous San Francisco church. The iconic landmark Lacerda Elevator and Mercado Modelo are also in walking distance.
Hotel rooms are spacious and equipped with modern amenities. Bathrooms are private and clean. Rooftop pool and bar with a gorgeous view of the ocean and the lower city are unbeatable. I enjoyed staying here.
The Hostel Salvador, Tv. Prudente de Morães, 65 – Rio Vermelho, Salvador
Acai Hostel, R. do Passo, 7 – Santo Antonio, Salvador
Restaurants For Great Food
Casa de Tareza, Rua Odilon Santos, 45, Rio Vermelho, Salvador – Bahia
O Coliseu Bar and Restaurant, Rua Cruzeiro São Francisco, 9 – Loja 13 – Comercio, Salvador
Aconchego Zuzu Restaurant, R. Quintino Bocayuva, 18 – Garcia, Salvador
Moqueca fish stew, local delicacy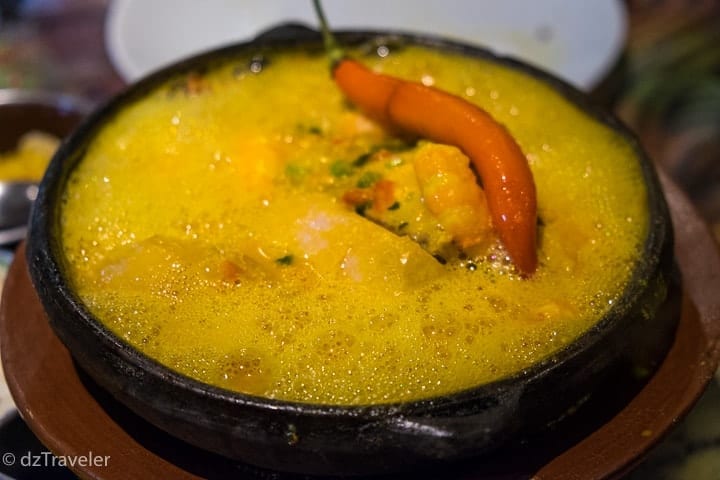 Bahian-Style Octopus in Casa de Tareza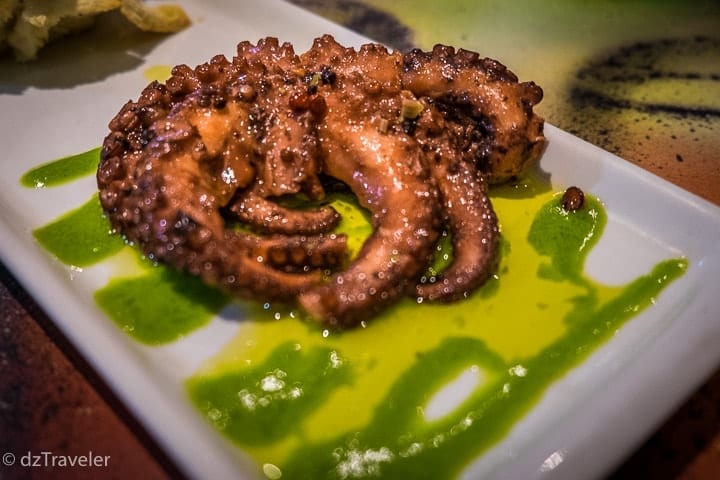 Traditional Bahian herbs and spices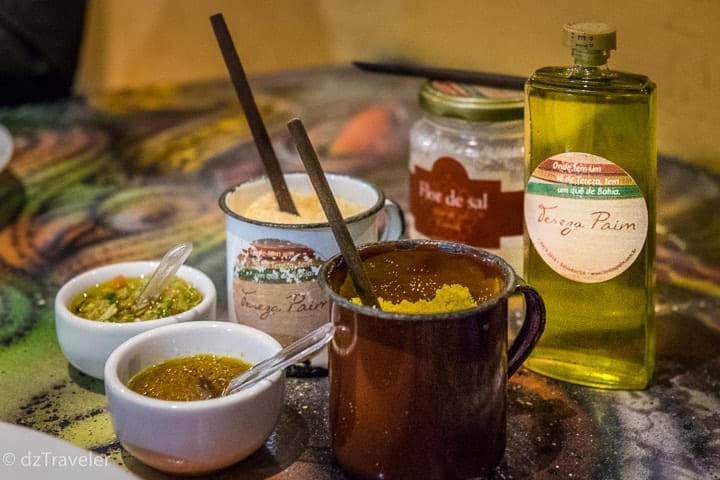 Bahian Chicken Rice with vegetables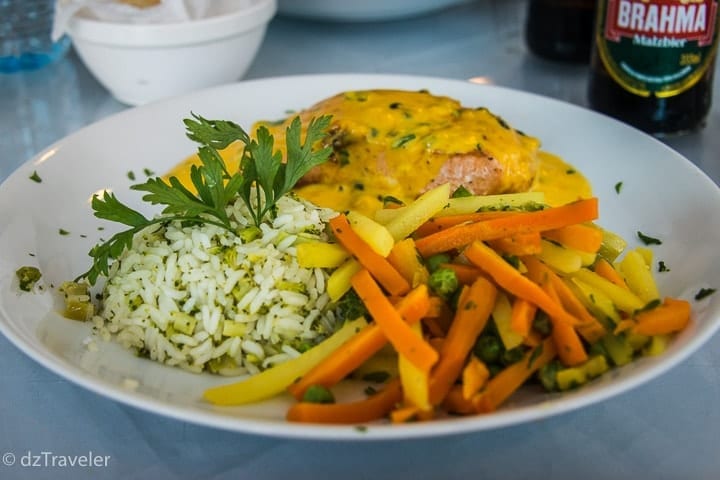 My Opinion and Tips
Like any other big cities, Salvador could be problematic for uninformed tourists. Robberies are frequent but there are always ways to prevent it. Despite having heavy police presence especially in and around Centro Historico it's easy to be a victim. I recommend taking a taxi when dark. Try to be in a group while walking in pedestrian streets. Don't wear jewelry, not even imitation. Minimize exposing your expensive camera or smartphone in public. Nothing alarming or to be scared of, just being extra careful will do.
Have you been to Salvador, Brazil? Any additional tips to share?
Please leave a comment below! I'd love to hear from you to improve my knowledge.
Was this travel guide helpful for you?
If you'd like to help me continue making free guides, here is one way you can help:
Share This Guide – If you have a friend that would benefit from this guide, share it with them. Or post this guide on Facebook, Twitter or Google+
Your Support would definitely help me making more free guides like this. Thank you in advance!
Affiliate Link – This post in Dizzy Traveler contains affiliate links, which means I receive a referral commission if you purchase after clicking at no additional cost to you. These funds go to maintain the site. Thank you for your support.
Here are a few pictures that will tell travel stories of Dizzy Traveler.
Pin it to your favorite travel Pinterest boards