I was in Buenos Aires and visiting other parts of Argentina for a few day and Uruguay as so close that not visiting the famed capital Montevideo would have been unthinkable. Montevideo has a plenty to offer, including exciting football matches, one of the best steaks in the world, delicious seafood, free walking tours.
Plan Your Trip
How Do I Get there
I traveled by Colonia Express ferry from Buenos Aires to Colonia del Sacramento, in Uruguay the cruise takes about an hour to get there and then transfer to Colonia Express bus for another hour to reach Montevideo. The ferry terminal is located at Av. Elvira Rawson de Dellepiane 155, Puerto Madero Sur, Buenos Aires.
Buquebus Ferry also has services to Colonia del Sacramento and to Montevideo. The Montevideo service takes 2h15m and arrives close to Montevideo downtown. The Ferry terminal is located at Antártida Argentina 821, Puerto Madero, Buenos Aires.

How To Get Around
Uber is the best way to get around Montevideo. Uber accepts credit and debit cards from all major providers including MasterCard, Visa, Maestro, Discover, Diners Club International & American Express. Have used my Uber account in Uruguay and paid with my US credit card many, many times. Download the app at home though, so you can enter your US credit card. It'll be accepted anywhere you go in the world that Uber services. The charge goes directly to your credit card and it's submitted by Uber, so no local issues there.
Where To Stay
Montevideo is a small city and really easy to get around. so no matter where you stay it will be close distance wise. Here are a few areas you can consider.
City Center (Centro) – This is the downtown area dominated by the main avenue, 18 de Julio, which is busy day and night. I stayed at the Presidente Hotel across Plaza del Entrevero On either side of the avenue. There are many hotels in the area.
Old City (Ciudad Viejo) – This is the Montevideo's historic center. It is also the business district so quite busy during the weekdays.
Punta Carretas – This neighborhood is located a few miles away from the historical old city, mostly residential area for the upper middle class.
Best Time to Visit
Summer – December to February. In summer, the temperature is mostly around higher 20s and early 30s. This is the high season so the hotel and other prices are on the higher side.
Winter – June to August. Winter temperature remains around 15º C during the day and remains in the single digit at night. I was there in early June. The temperature was mild during the day and remained around low teens at night. All the beaches were deserted.
Autumn and Spring are the best time to visit – Autumn – March to May and Spring – September to November. Day temperatures are mild, around 20º C.
Useful Information
Walking is the best way to explore the old town and historical area. Check out Montevideo Free walking tour.
Visa Requirement
US Citizens do not need a visa for a visit of fewer than 90 days if you are traveling on a tourist passport. Check the visa requirement for your country of citizenship.
How Safe is Montevideo
Montevideo is one of the safest cities in Latin America but like any other big cities, travelers could encounter small-scale crime too. I recommend taking a taxi when dark or avoid walking alone in the old town area. Minimize exposing your expensive camera or smartphone in public.
Top Things To Do In Montevideo
Plaza Independencia in the City Center
Plaza Independencia is the most visible and important plaza in Montevideo. The famous 18 de Julio avenue starts from here and on the other side is the beginning of Ciudad Viejo.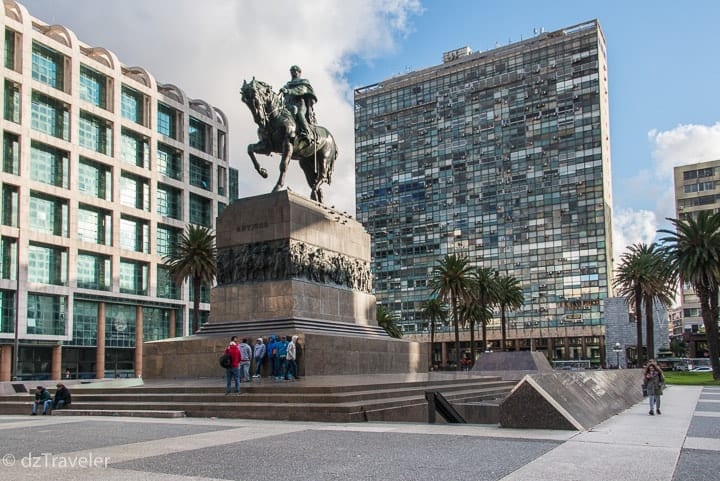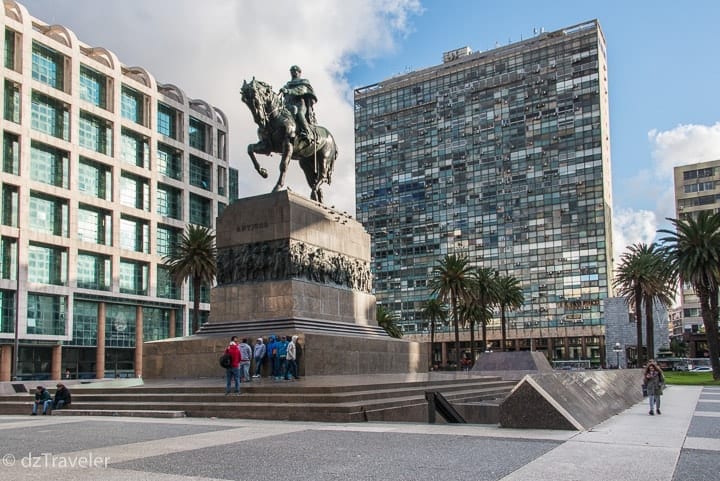 Estévez Palace
The Estévez Palace is located in Plaza Independencia. Once this place used to be working place of the President of Uruguay and has been eventually changed to a museum, housing artifacts, and souvenirs of the Uruguayan presidency.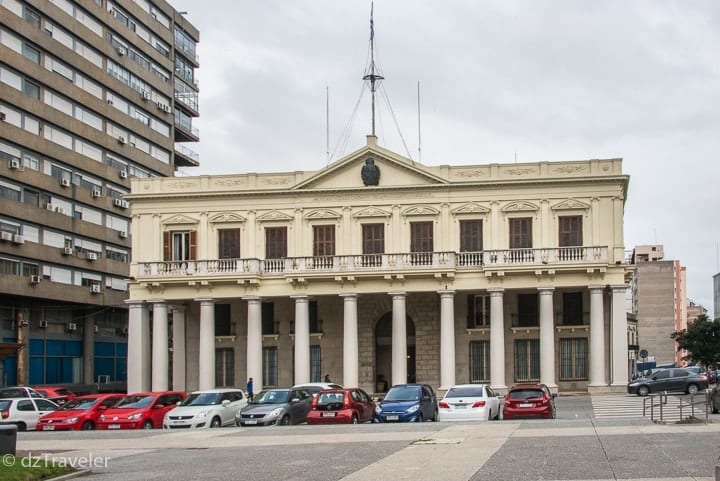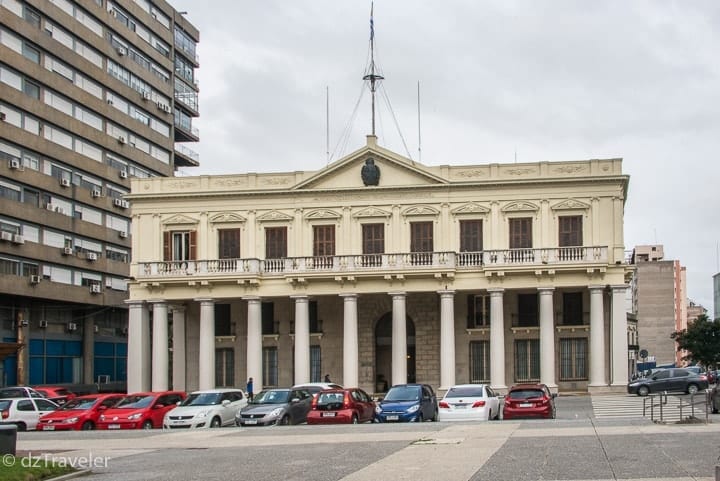 Beautiful Palacio Salvo building in Montevideo, located at the intersection of 18 de Julio Avenue and Plaza Independencia.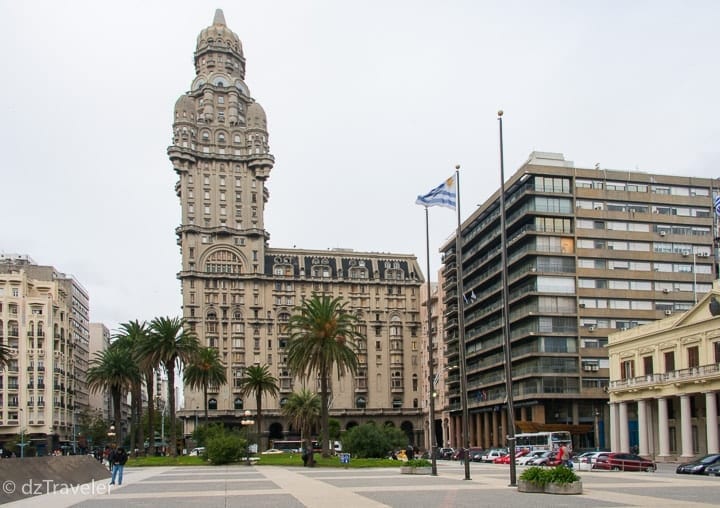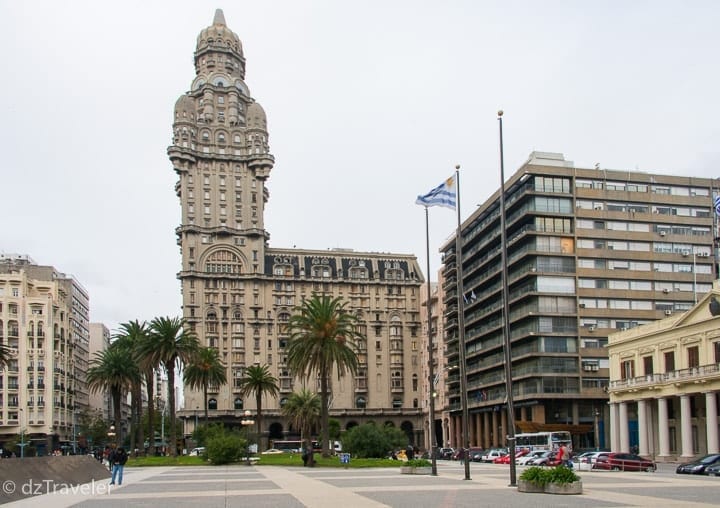 Visit Solís Theatre
The Solis Theatre is one of the most important and famous theatres in Uruguay. It is located on the boundary between the old city and the center of Montevideo. They offer guided tours of the building on a regular basis including some performances by actors.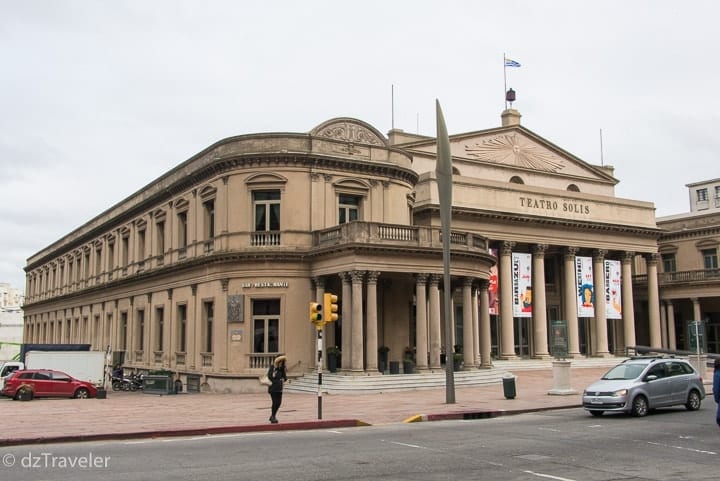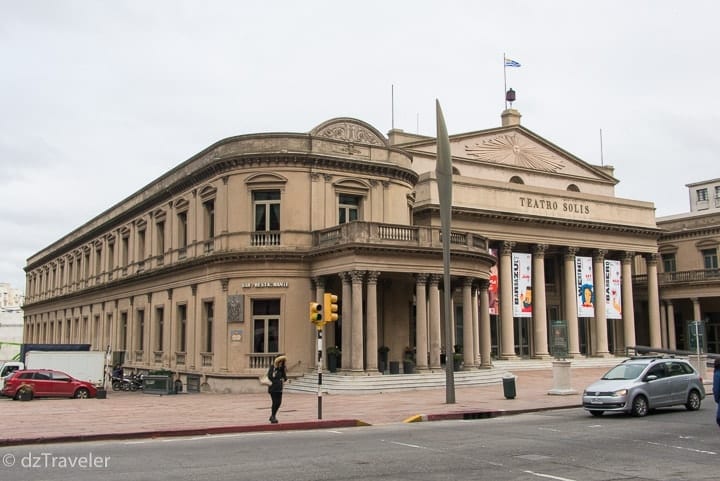 Montevideo Metropolitan Cathedral
This is the main Roman Catholic church of Montevideo. Located at the corner of Constitution Square in the center of Old Town (Ciudad Viejo).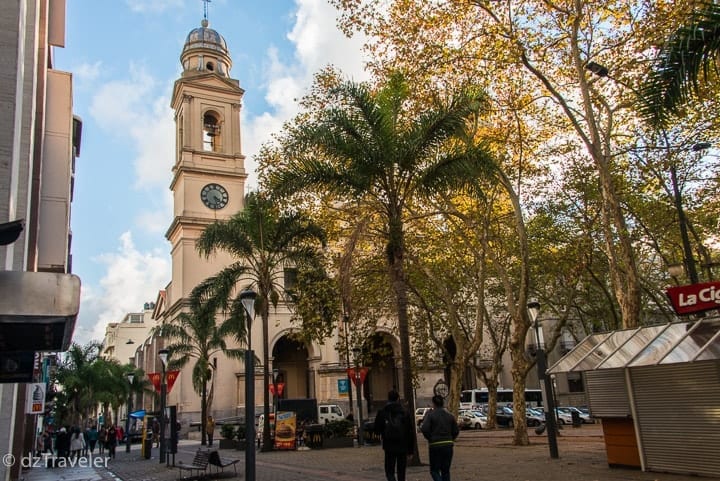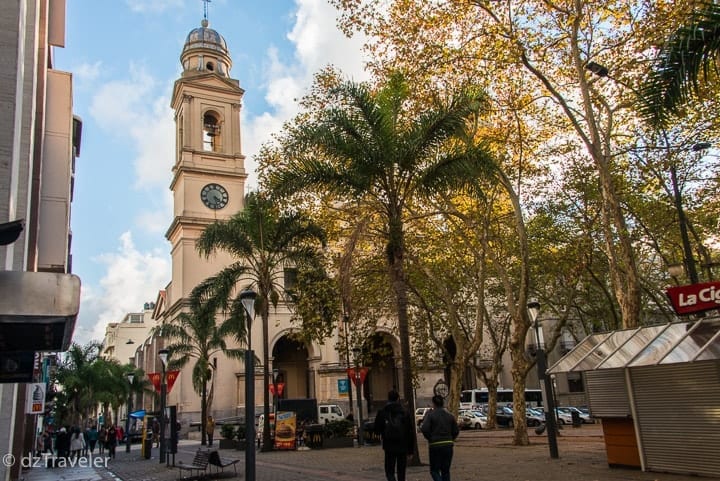 Visit Palacio Taranco
Palacio Taranco is built in the center of the Old Town (Ciudad Vieja), Located in front of Plaza Zabala. It is the home to the Museum of Decorative Arts in Montevideo which houses collections of European and Persian textiles. The palace is frequently used as a meeting point by the Uruguayan government.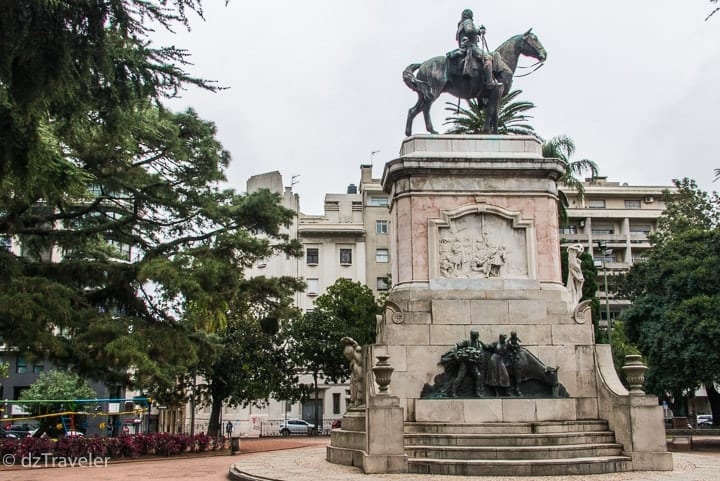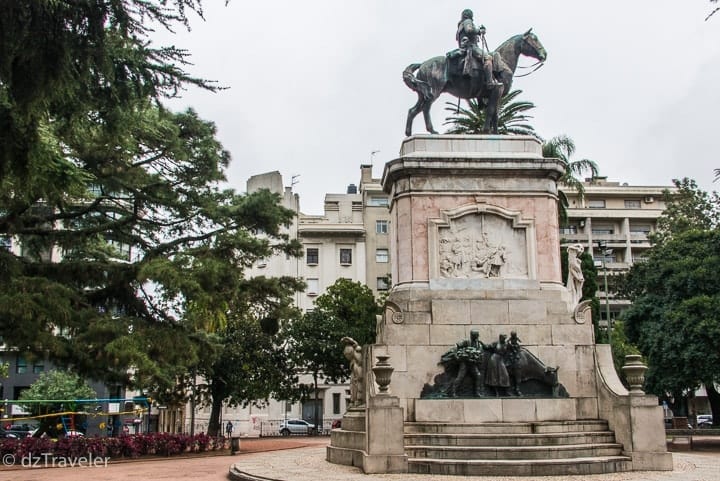 Lunch at Port Market (Mercado Del Puerto)
Historical old-fashioned market located in old city surrounded by Uruguayan barbeque restaurants. There BBQ is done right in front of you so it's difficult to make up mind which restaurant to choose from all of those great looking restaurants. It's no doubt that this place is a little touristy but it's fun to try out local meat delicacy along with great Uruguayan wine. If you are a meat lover then this the place to be.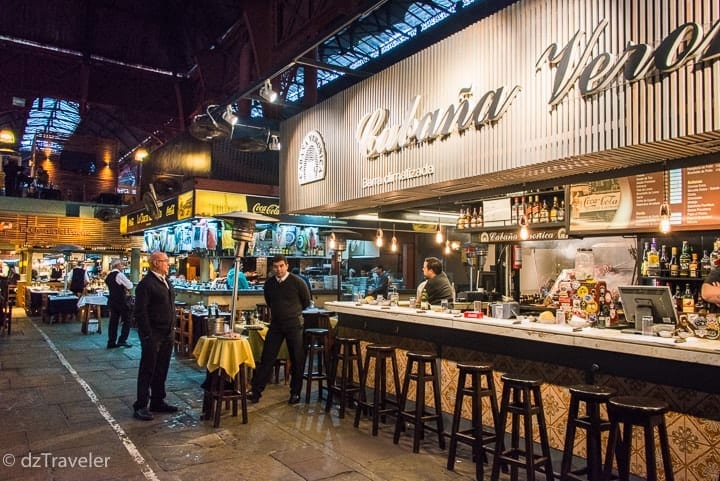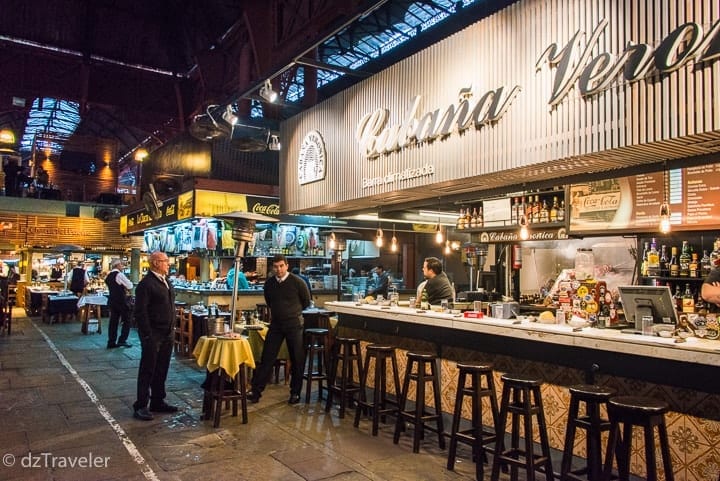 Best place to have Uruguayan beef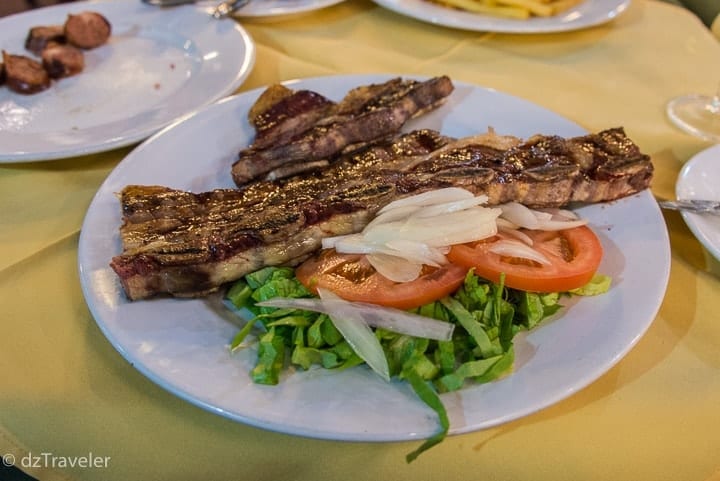 Restaurants inside Port Market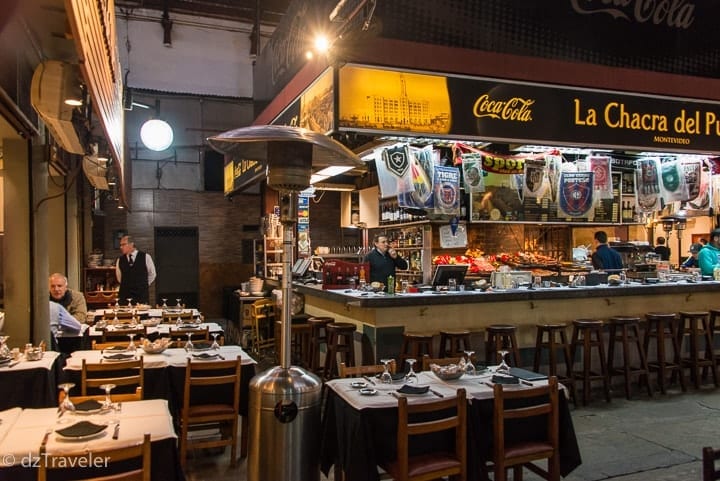 Steak from the grill taste so delicious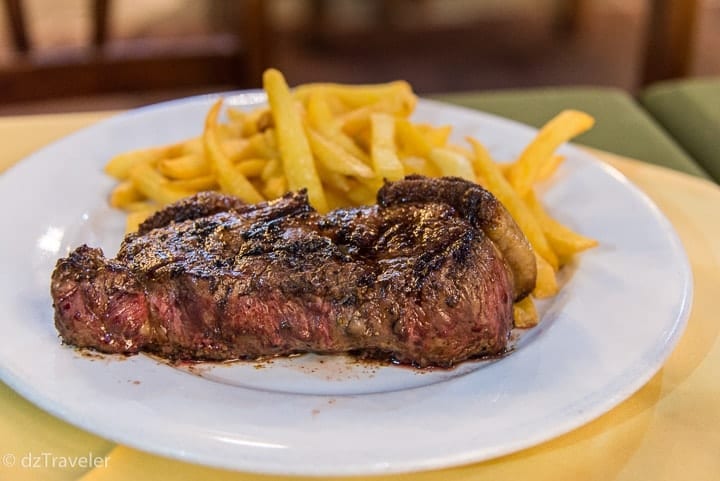 Our food was grilled right there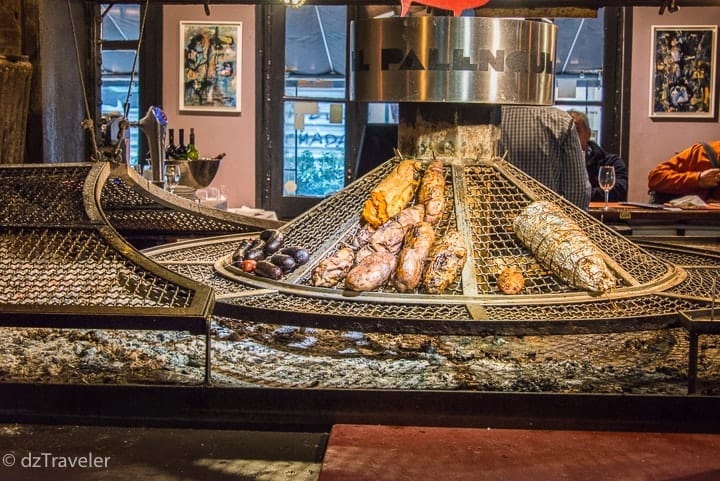 Visit Playa de Los Pocitos
Pocitos is an upscale beach barrio (neighborhood) in Montevideo. The ride from the Ferry Terminal or Port Market all the way to white sandy Pocitos Beach is picturesque. Which goes through Ramirez Beach, Punta Carretas, Punta Carretas lighthouse, De Los Pocitos Beach, and Montevideo sign.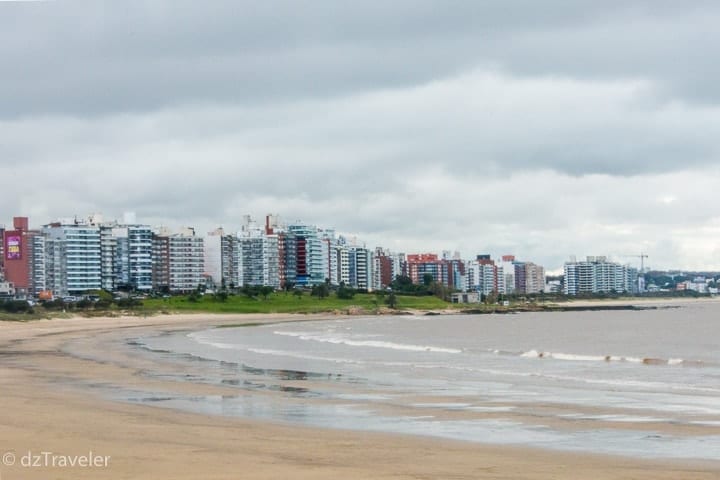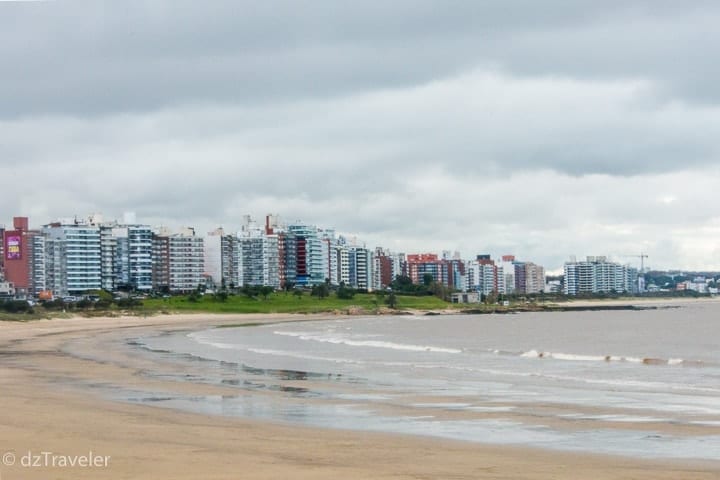 Punta Carretas Lighthouse
Punta Carretas Lighthouse also known as Punta Brava Lighthouse in Punta Carretas Montevideo. A great place to relax away from the city and enjoy the picture-perfect view of the coastline. Not that far away from Pocitos Beach.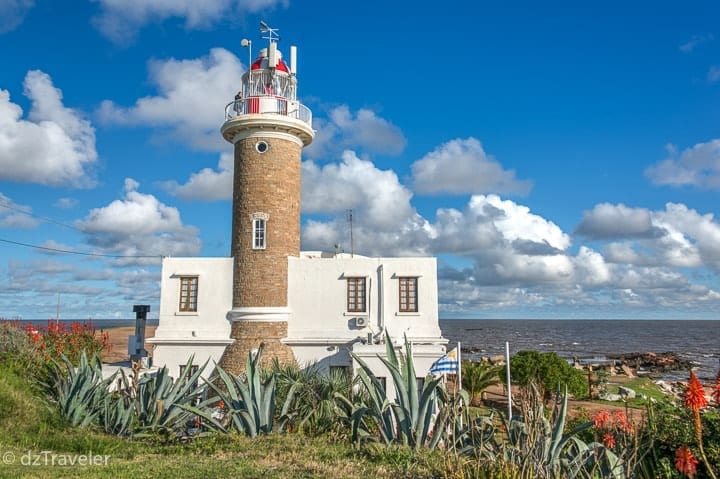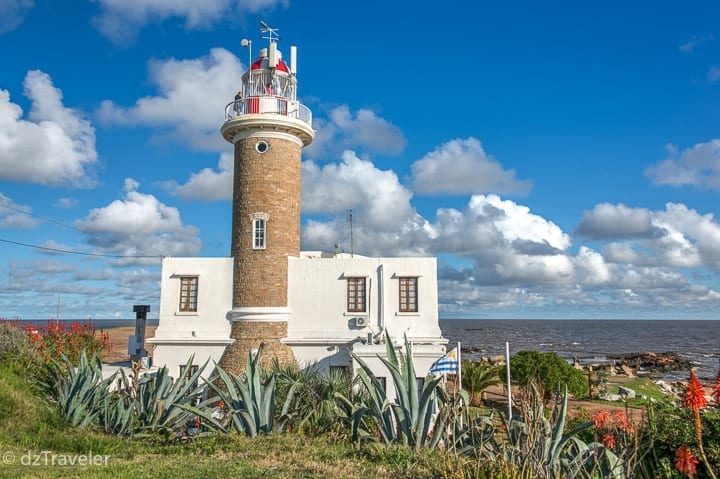 Montevideo Agricultural Market (Mercado Agricola Montevideo)
The Montevideo Agricultural Market (Mercado Agricola) is a National Heritage Site. This is a beautiful historic building, is over 100 years old building was recently renovated to offer fruit, vegetables as well as fresh products and different kinds of food. There is a food center which prepares all kinds of Uruguayan typical dishes, and shops which sell souvenirs and handicrafts.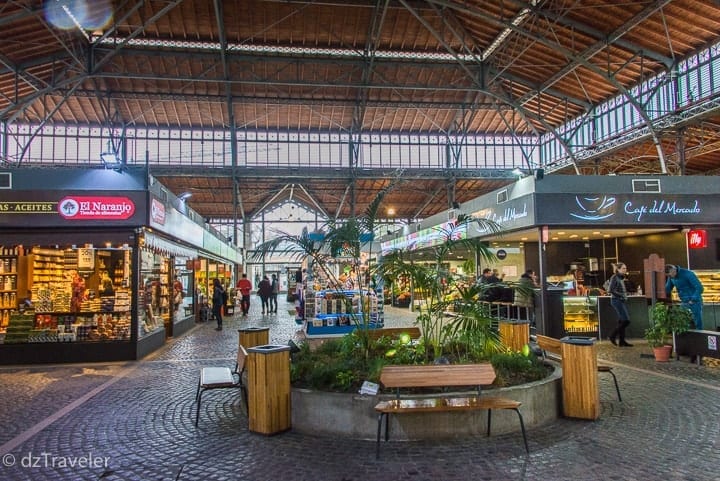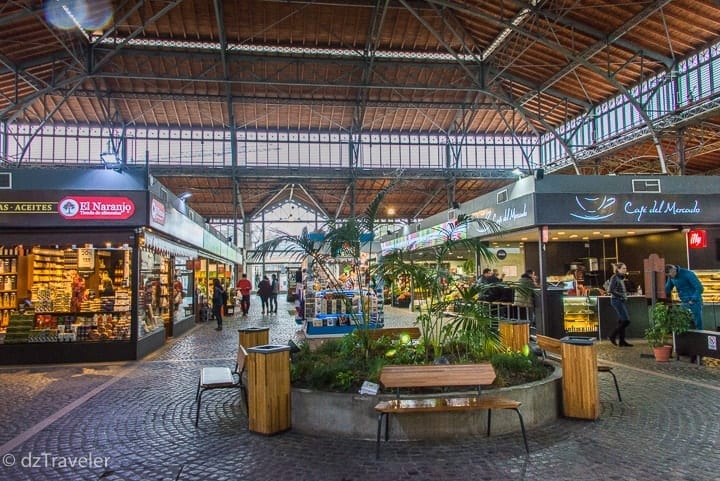 Plaza de Cagancha
Plaza de Cagancha, or Plaza Cagancha, also known as Plaza Libertad, is a square Montevideo. It is located on Montevideo's main avenue, 18 de Julio Avenue, in the city center neighborhood.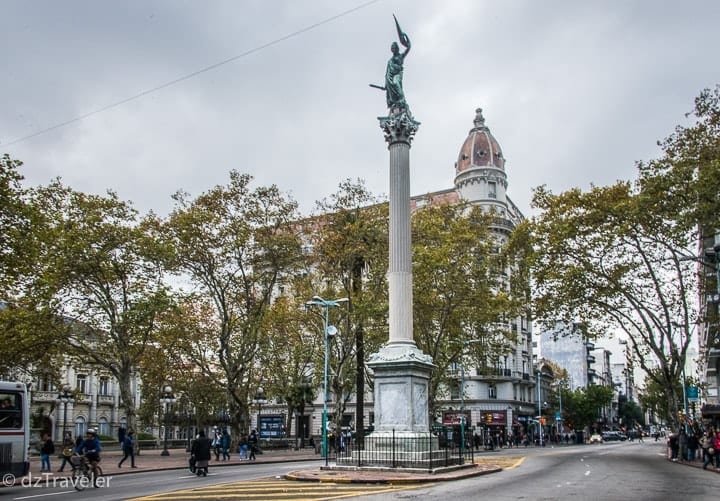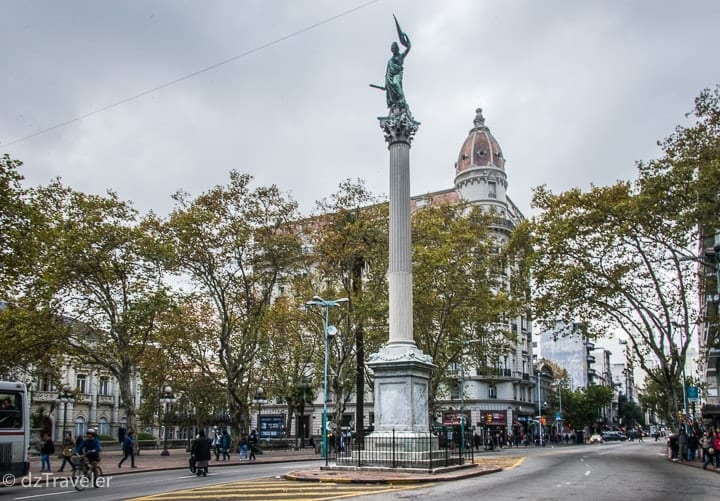 Recommended Hotels
Hotel Presidente, 18 de Julio 1038, City Center, Montevideo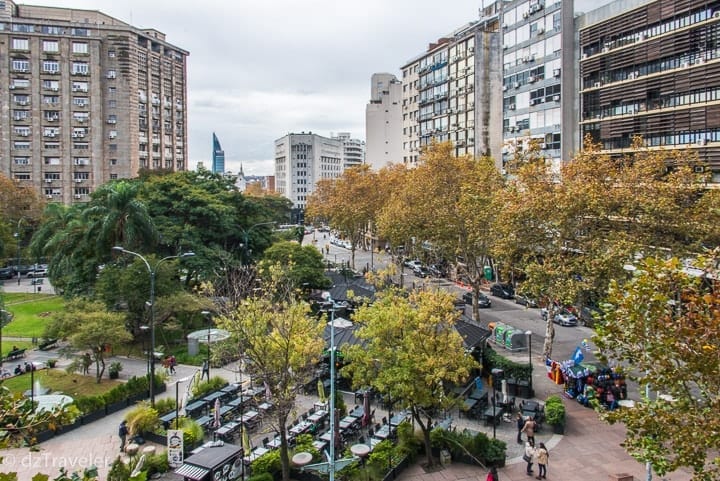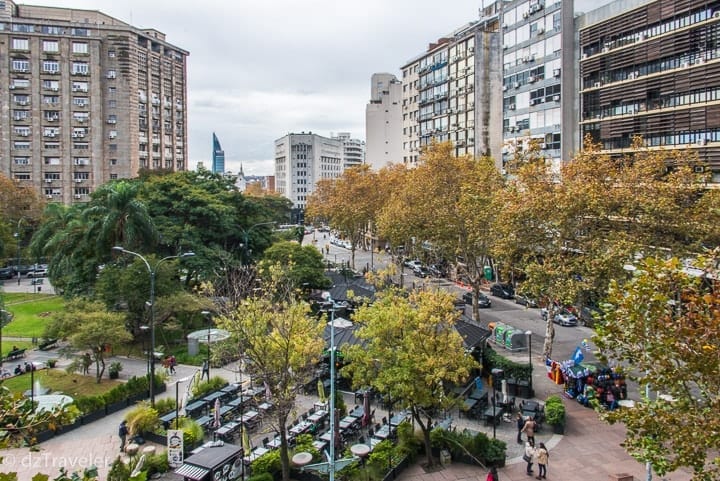 Crystal Tower Hotel – Aquiles Lanza 1323, Montevideo City Center
Recommended Restaurants
El Fogon, San José 1080, Montevideo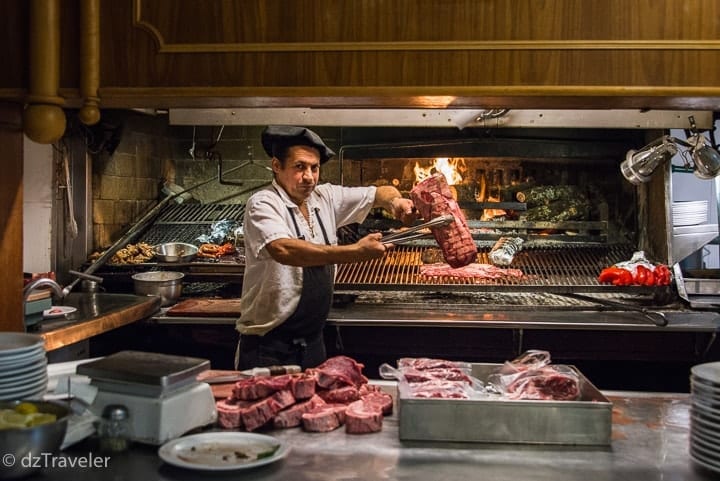 Great restaurant in the heart of Montevideo. Delicious Uruguayan steak cooked right in front of us with local red wine unbeatable. I will definitely recommend this place, just give it a try. They also have a great wine collection. Great service as well. The chef was happy to pose did not mind to pose for photo op.
If you love meat or seafood then this restaurant is a must. I was staying at the Hotel Presidente and the restaurant is an easy walk from our hotel, got recommendation from the hotel and also from our tour guide. It is one of the favorite restaurants among locals for its authenticity so we had to check it out.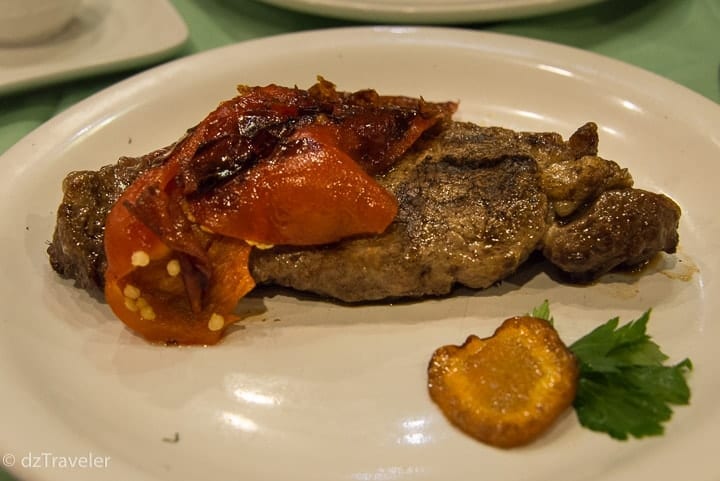 Uruguay Natural Parrilla Gourmet, Dr. Héctor Miranda 2432, 11300 Montevideo
My Opinion and Tips
Have you been to Montevideo, Uruguay? Any additional tips to share?
Please leave a comment below! I'd love to hear from you to improve my knowledge.
Was this travel guide helpful for you?
If you'd like to help me continue making free guides, here is one way you can help:
Share This Guide – If you have a friend that would benefit from this guide, share it with them. Or post this guide on Facebook, Twitter or Google+
Your Support would definitely help me making more free guides like this. Thank you in advance!
Affiliate Link – This post in Dizzy Traveler contains affiliate links, which means I receive a referral commission if you purchase after clicking at no additional cost to you. These funds go to maintain the site. Thank you for your support.
Subscribe to our mailing list