São Paulo is the capital city for the state of Sao Paulo and is definitely an enormous city, with nearly 20 million people living in the cosmopolitan area. It is one of the largest city in South America and the 7th largest city in the world. It is well known for its historical landmarks, museums, parks, shopping and dazzling cuisine.
Plan Your Trip
How To Get Around
On Foot – The best way to explore the city's different neighborhoods is on foot. Many top attractions in the Old Downtown, Vila Madalena, and Paulista Avenue is walkable between the sights.
Metro – The metro is also a fast, relatively safe, clean and efficient option, and connects travelers to many of the city's beloved sights. The city's metro serves many of the top attractions in the city, those are widely visited by tourists.
Taxi – There is a lot of meter taxi and broadly available in the city. I have used them on multiple occasions and never had a bad experience. Price is reasonable and they are reliable too.
UBER – Personally I preferred using Uber as no need to deal with cash or flag down one. It was convenient to make a reservation at the hotel, restaurants, and airports and they were relatively cheaper than metered Taxi fare.
Where To Stay
I stayed in the Paulista Avenue / Jardins Area and I think it is one of the best areas to stay. There are plenty of good restaurants, bars, shops and many choices of hotels also close to the Metro stations.
Best Time to Visit
The best time to visit São Paulo is in Fall from March to May, or in Spring October to November when the temperatures are comfortable, during this seasons megacity experience less rainfall and premier events are in full motion.
Useful Information
Visa Requirement – Visa is required for citizens from most of the countries including United States citizens. Apply your eVisa online.
SIM Card – For a smoother and smarter travel experience, I would recommend buying a local SIM card soon you land at GRU Airport in Sao Paulo. It definitely helps me finding places of interests when I am on the road and also getting directions during my walking tours. Getting it is not difficult in Brazil as long as you have an unlocked GSM phone. VIVO is widely popular among tourists. Best uses are for making local calls, receiving calls and accessing the internet.
ATM – There are Money Exchange places in Sao Paulo Guarulhos (GRU) Airport terminal but I prefer to get cash from ATMs. There are plenty located throughout the terminals on both levels. To be on the safe side call your bank before your trip or update online banking section that you will be using your ATM/Debit Card during your travel.
Day 1: Sao Paulo Old Downtown Walking Tour
Old Downtown Walking Tour at 11:30 am, for 3h. 30m tour. (Mon, Wed, Fri, and Sat)
Address for Uber/Taxi – Praca de Republica, 50 – Republica (next to the Tourist Information Center)
Republica Square
Centrally located one of the most popular areas of old downtown Sao Paulo. If you are taking the Old Downtown free walking tour then this is the starting point.
Visit Italia Building (Edifício Itália)
For one of the great view of Sao Paulo can be experienced from the 46-story skyscraper's rooftop of the Edificio Italia, located in the heart of the historical district.
Consolacao Church
The historical church of Consolacao with its single clock tower in Sao Paulo, Brazil. Site where São Paulo's original Jesuit mission was erected in 1554, with 1896 replica of its chapel.
Municipal Library
Biblioteca Mário de Andrade is the largest public library of Sao Paulo.
Municipal Theatre (Teatro Municipal)
Municipal Theatre (Teatro Municipal) was opened in 1911 is one of the prime architectural treasure and cultural attractions of the city of Sao Paulo.
Chá Bridge
This viaduct Cha Bridge ("Tea Viaduct") is located above Anhagabau Park one of the most visited sites among visitors. It is connecting the city's cultural area into the old town. Great place to have a coffee, enjoy the view of the surrounding skylines and relax at the park.
A view of Anhangabau Valley from the viaduct.
Sao Paulo Sé Cathedral
The Metropolitan Cathedral of São Paulo is the city's largest Catholic church located straight out of Se metro station. It's beautiful inside the cathedral and definitely worth a visit.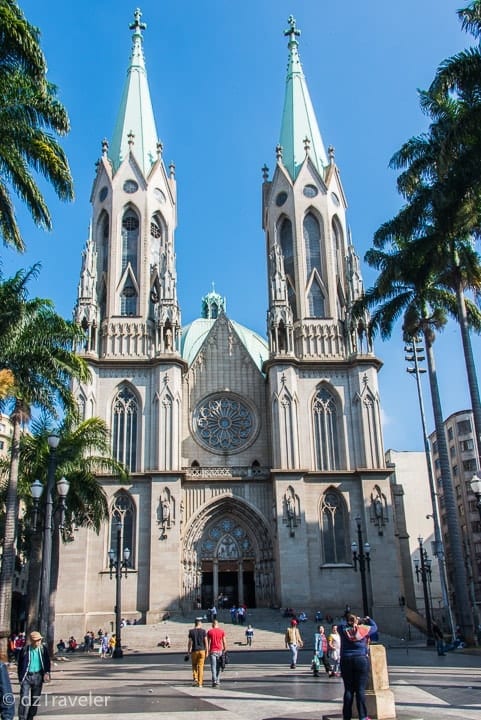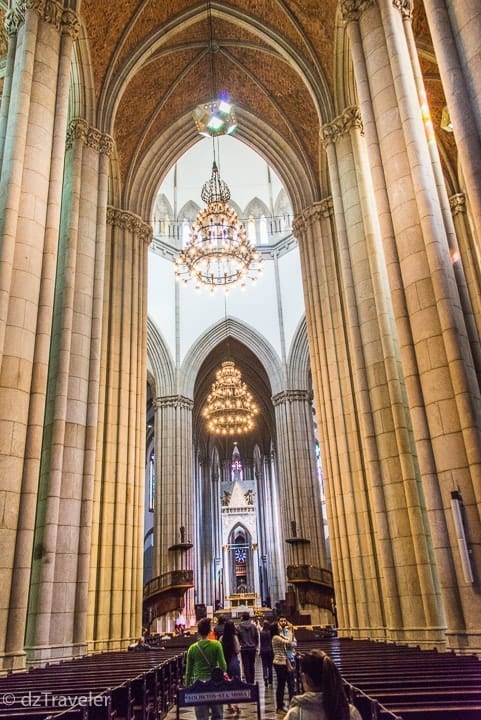 Patio do Colegio
Pateo do Collegio (also known as Patio do Colegio) is the original Jesuit mission where the city was founded in 1554. The site is home to several social and spiritual activities. It includes a museum, the church, library and social projects.
Monastery of Sao Bento
In Sao Paulo downtown you can't miss the monastery of Sao Bento. The beautiful structure was built from 1910-1922 on the original site of the 17th-century chapel but now it is surrounded by modern-day skyscrapers.
Day 2: Sao Paulo Vila Madalena Walking Tour
Pinheiros neighborhood
Pinheiros district is the coolest neighborhood in Sao Paulo. Located in between the elite district of Jardim Paulista and achingly hip Vila Madalena, the hilly area is well known for its cool cafes, live music, bistros, and gastropubs. On weekends the district hosts an open-air market vending everything from street food to antiques.
Aprendiz Alley (Graffiti Street)
In Brazil graffiti is a work of art. Walk through the Vila Madalena Graffiti street and you will hardly find a wall without colorful artistic expressions of talented artists.
Batman Alley (Beco do Batman)
One of the best thing you could do while in Sao Paulo is to take a tour to see the best graffiti and urban art in the world. There are a couple of cafes worth visiting.
Street art in Beco do Batman
Patápio staircase
The colorful Patápio staircase is only a few blocks from Beco do Batman. It's not as colorful as Rio's Selaron Steps but still it worth to visit this landmark in Sao Paulo.
FNAC Pinheiros
FNAC is a French bookstore since it opened it's door in Sao Paulo it made going to a bookstore a social event and eventually made the stores a meeting place for gatherings, discussions, and readings.
Rua Aspicuelta
Rua Aspicuelta is one of the most famous nightlife destinations in Sao Paulo. This area is full of great little bars serving excellent draft beer and food. Usually, it gets crowded in the evening.
Batata Square
If you are taking the Free Vila Madalena walking tour then this will be the last stop. From this square, you can walk to Mercado Municipal de Pinheiros.
Have Dinner at Italia Building (Edifício Itália)
If you like to enjoy panoramic view of Sao Paulo from the top then visit Italia Build, the rooftop observation deck is on 41st. floor the 360-degree view can be accessed from Terraco Italia restaurant. Get a drink and enjoy the beautiful view of Sao Paulo skyline. Even though drinks and food are pricey but definitely worth a visit.
Just to enter the restaurant and access the observation deck is going to cost you 35 real or a drink will cost you about 41 (that include the entrance fee) so why not just have the drink and enjoy the view with a couple of bucks extra.
Traditional Food and Drinks
Recommended Hotels
InterContinental Sao Paulo, 1123, Jardim Paulista, Sao Paulo
Estanplaza Berrini, Avenida Eng Luis Carlos Berrini, 853, Itaim Bibi, Sao Paulo
Recommended Restaurants
A Figueira Rubaiyat, Rua Haddock Lobo, 1738 – Jardim Paulista, São Paulo
Located in an elegant district in Sao Paulo so no wonder why it is overpriced. Food is delicious especially the beef is the best, and the service is great as well.
The restaurant is built around a huge fig tree that must be at least 100 years old. Dinner for two cost us about 400 reais, I recommend this restaurant.
Carlota, Multicultural Culinary, Rua Sergipe, 753, Higienopolis, Sao Paulo
For a Brazilian flavor, Carlota is a must in Sao Paulo
Fogo de Chao, Brazilian Steak House, Avenue Santo Amaro, 6824 | Santo Amaro, Sao Paulo
Brazilian Cooking Class in Sao Paulo
My Opinion and Tips
Have you been to Sao Paulo, Brazil? Any additional tips to share?
Before arriving in São Paulo, I had read a lot about how 'insecure' the city was- however I was pleasingly amazed by how at safe I felt. Definitely, in a big city like Sao Paulo one should be careful and be vigilant but surely you will be okay if are careful.
Be aware of your surroundings when pulling money out of your wallet to pay for the tickets, stay alert on the trains and keep an eye on your belongings.
Please leave a comment below! I'd love to hear from you to improve my knowledge.
Was this travel guide helpful for you?
If you'd like to help me continue making free guides, here is one way you can help:
Share This Guide – If you have a friend that would benefit from this guide, share it with them. Or post this guide on Facebook, Twitter or Google+
Your Support would definitely help me making more free guides like this. Thank you in advance!
Affiliate Link – This post in Dizzy Traveler contains affiliate links, which means I receive a referral commission if you purchase after clicking at no additional cost to you. These funds go to maintain the site. Thank you for your support.