If you are first time planning a trip to Iguazu Falls, I am sure you must be thinking of places you must see, the food you need to try, and also making a hard decision what to skip in case of time constraint or how many days you need to visit both sides of the falls. You may also be thinking where to stay in Puerto Iguazu, Argentian or Foz do Iguacu, Brazil and best places to dine.
I say to you that you got nothing to worry because you can plan an exciting trip, regardless of your constraint.
I landed in Cataratas del Iguazú International Airport (IGR), Argentina and departed out of Foz do Iguaçu International Airport (IGU), Brazil so I planned my trip based on my itinerary and according to my sightseeing interest. You can plan yours based on the detailed information provided below.
Since Brazilian eVisa has become a lot easier to obtain so I would recommend you to visit both sides of the Iguazu falls as the Argentinian and Brazilian side has its unique beauty.
Day 1 Activities In Argentina
Arrival at Puorto Iguazu
From Buenos Aires (AEP) to Cataratas International Airport (IGR) in Iguazu was 1h 45m flight time, about 3 pm when we landed there so decided not to visit Iguazu Falls (Argentinian side) just for less than 2 hours on the same day. Because Iguazú Falls National Park closes at 6:00 pm but the ticket sale and access are allowed only until 4:30 pm. Moreover, does not make sense to pay the entry fee of $600 Argentine pesos and not able to see all the attractions.
Next Stop To The Hotel
We took a Taxi to Grand Crucero Iguazu Hotel located towards the town of Puerto Iguazu, about 18 km away from the airport. The Hotel is in a great location close to shopping centers, main attractions, restaurants and very close to the Brazilian border crossing. Rooftop pool, bar, spa and great food was one of the desirable attractions after a long day of sightseeing activities in the park.

Dinner at El Quincho del Tío Querido, Puerto Iguazu
In addition to mouthwatering famous Argentinian steak, I still had room for wood fire BBQ and other traditional dishes. It was definitely a great way to experience local delicacy. While having my dinner I also enjoyed a fantastic tango show. This is undoubtedly a must- visit restaurant in Puerto Iguazu, Argentina.
Day 2 – Visit Iguazu National Park, Argentina
Ticket can't be purchased online so I was there a few minutes before 8 am the official opening hour. Once I entered the park had to walk few hundred yards to the Central Station from where took the Rainforest Train to Cataratas Station.
Cataratas Train Station is the intermediate stop, from where I accessed to the Upper and Lower Circuits otherwise if you continue on it ends at the Devil's Throat Train Station. From The Cataratas train station, you can also take the boat to San Martín Island.
Exploring The Upper Circuits
I decided to do the Upper Circuits first thing in the morning as the temperature was more comfortable and before it gets hot. The total length of the trail is about 1750 meters ( 1 mile), but it took me little over 2 hours to complete the trail as I could not resist stopping at every possible turn to enjoy the wonderful beauty of nature, nothing like words and photos can fully express their wonder, must be visited in person.
The entrance to this trail is about two hundred meters from the Cataratas Station and along the way there are lookouts from where you can enjoy a panoramic view of the semicircular chain that begins at Dos Hermanas Waterfalls, going through Salto Chico, Bosetti, Adán y Eva, and Bernabé Méndez Waterfalls, then finally ending at Mbiguá Waterfall lookout as the last stop, amazing.
From Mbigua falls lookout take the footbridge over the superior Iguazu river to reach the edge of the second largest fall called San Martin. It has places to rest, so sit back relax before heading back.
Take The Lower Circuits
Lower Circuits is everyone's favorite, in fact, every level of the footbridges will offer a different experience and lead you into the heart of the falls. The trail is about 1,700 meters long (1 mile) estimated time to visit is about 2 hours.
The Lower Circuit gives little extra intimate acquaintance with the landscape and extensive connection with nature. The trail runs along the Iguzau River and will lead you to major 8 different viewpoints from Salto Lanusse, Alvar Nunez, and also can enjoy the beautiful view of Dos Hermaenas, Salto Chico, Bossetti and a distant view of Adan y Eva, Salto Mbigua, and San Martin. If you are interested to take the boat trip to San Martin Island or right under the falls then just follow the sign.
The Last Activity of the Day – Visit Devil's Throat
Later in the afternoon, I took the train to Devil's Throat from the Cataratas Station, it is good to know that the Last from Cataratas station to Devil's Throat is at 16:15. from the train station, we took the footbridge over the Upper Iguazu River all the way to the viewing deck, from where you will have a partial view of the Majestic waterfall.
It was late so park ranger reminded us about the time to head back to the train station to board the last train back to the Central Station. It was a long walk and on the way spotted few colorful Toucans on the tree branch.
One of the common wildlife in the natural rainforest of Iguazu Falls is coati and I am sure it's widely noticed by the park visitors as well.
It was really dark when I got out of the park, you can definitely tell looking at the below picture so good thing is that I made an agreement with my taxi driver to pick me up when the park closes at 6 pm or earlier. Otherwise, a tourist might have difficulty getting a ride back to the hotel for a reasonable fare. Uber is available on both side of the borders as long as you have internet access.
Day 3 – Heading to Foz do Iguacu, Brazil
After staying overnight at Puerto Iguazu Grand Crucero Iguazu Hotel, early in the morning, we took a taxi ride to the Brazilian side of the border to check in to our Hotel Colonial Iguacu, in Foz do Iguacu. The border crossing was as easy as it could get. But I had to walk to the back office to get my passport stamped. At the hotel got lucky because the rooms were ready that early in the morning, so just checked in and got all the stuff that I needed for the day, especially for the falls and soaking boat trips.
First Thing In the Morning – Visit Iguaçu National Park, Brazil
Tourist buses start flocking in from Argentina, Paraguay and of course from Brazil very early in the morning so expect delays at the ticket counter unless you bought your ticket online to avoid it. Even though it will cost you an additional convenience fee of 6 reais but it still worth it. Actual adult park entry fee is 62.00 reais (1 US$ = 3.91 BRL Brazilian Real)
From the visitor center, the free shuttle bus takes you to all the necessary stops, and I went all the way to the 3rd stop called Trilha das Cataratas (trails of the falls) located across the Hotel das Cataratas.
Hike the Trail – Trilha das Cataratas
I took this trail called Trilha das Cataratas soon after I got off the bus, I was amazed to see the fantastic panoramic view from the observation decks. The Salto Bernabe Mendez viewpoint is one of the bests which is named for and dedicated to a park ranger killed by poachers in 1968. From there you'll be able to witness exquisite views of some of the smaller waterfalls.
Keep on following the trail until you get to the access footbridge to the "Devil's Throat." These places are truly amazing so definitely deserve more than just photo ops.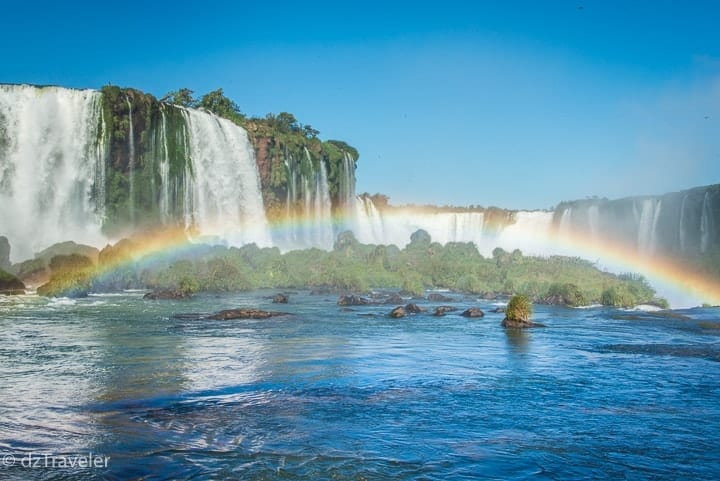 Once you are done enjoying the amazing view of Devil's Throat, take the elevator up to the viewpoint of Naipi area for a best panoramic view of the falls as well as restrooms, photo studio, kiosk, and gift shops.
Had my lunch at the station Porto Canoas before taking the bus to the next Poco Preto Trail stop. This area is only a few minutes walk from the Naipi area. There are fast food restaurants and a nice restaurant called the Porto Canoas.
2nd. Stop – Poço Preto trail
Take the bus from Porto Canoas station and get off at Poco Preto trail stop for a 9 km guided hike through the jungle on foot, by bicycle or by an electric cart. The trail ends at Taquara Island, where you can kayak or take a boat cruise to Porto Canoas. I would recommend you to take the Bananeiras trails back to Macuco Safari. From where you can embark on the exciting boat ride to the falls.
| | |
| --- | --- |
| Iguazu Falls, Brazilian Side | |
Final Stop in The Park – Macuco Safari
Once you get off at the Macuco Safari bus stop or returned from Bananeiras trails, the Macuco building is right across the road. You need to buy tickets for the Macuco Safari that includes an electric cart ride through the jungle, a short walk to a small waterfall and a boat ride to the powerful Iguazu Falls.
Macuco Safari boat ride will make you totally drenched that is why I recommend doing this boat ride at the end of your trip not only to avoid carrying your wet clothes all day long but also the lights will be in our favor for great pictures. All you need to do is secure your camera in a waterproof case.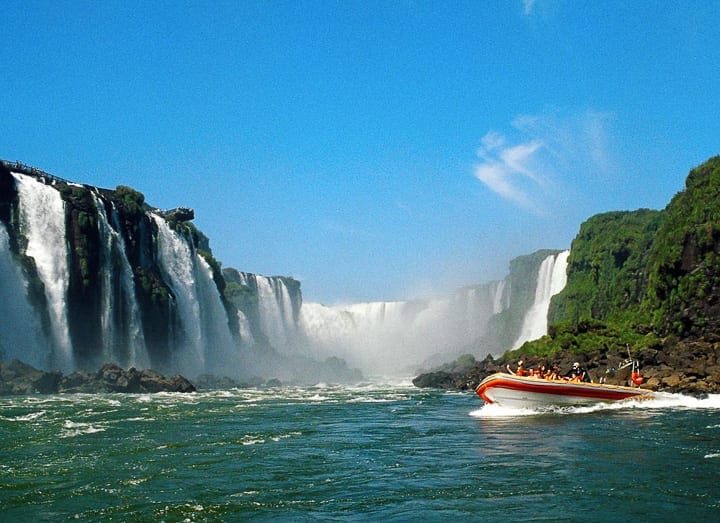 Helicopter Ride Available on Brazilian Side Only
Just before the entrance to the falls, you will find the helicopter center where you can pay 430 reais (US$ 110 approx) for about a 20-minute ride over the falls. The view of the falls and canyon from the air truly is spectacular. As long as taking the helicopter tour in the park does not bother you morally, doing something against the environment.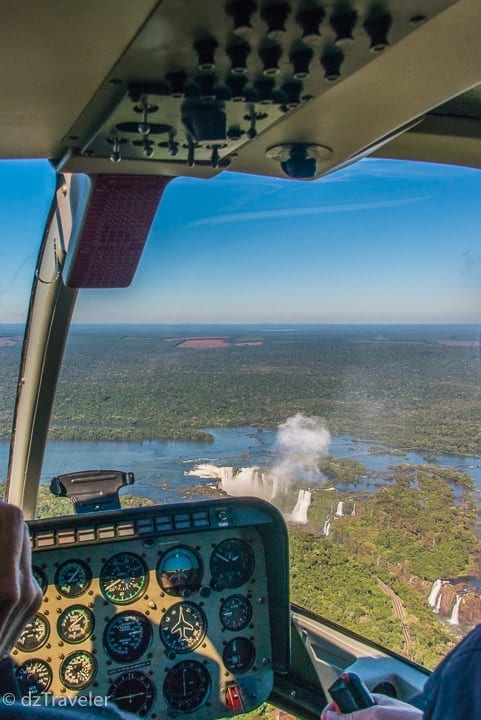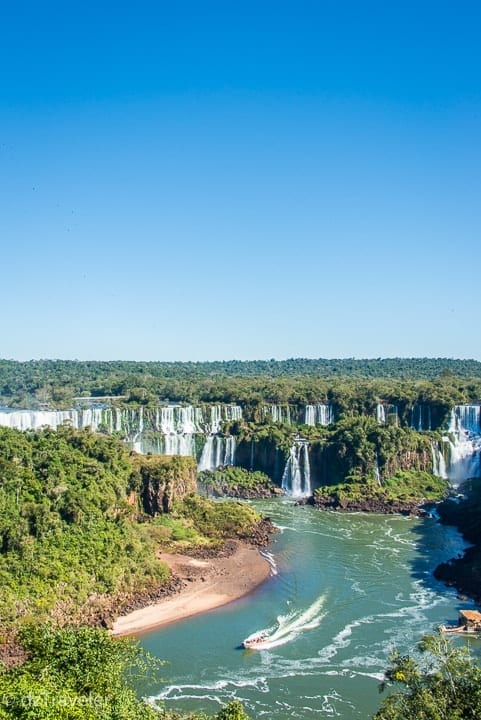 For a Change Visit Parque das Aves (Bird Park)
Located right across the entrance to the Iguazu falls the Parque das Aves is an integrated conservation center for Brazilian birds, reptiles, snakes and butterflies and the 2nd most visited attraction in Foz do Iguacu.
A great family trip location must visit if you are traveling with kids. The total tour will take not more than 2 hours. A walk through the narrow walkway surrounded by beautiful native vegetation and seeing several native species of birds in their natural habitat and listen for birds calls is definitely an amazing experience.
Hours of operation are from 8:30 am to 6:00 pm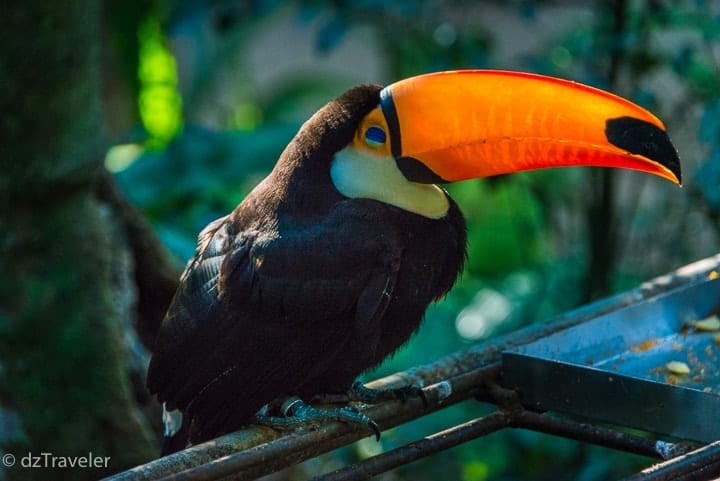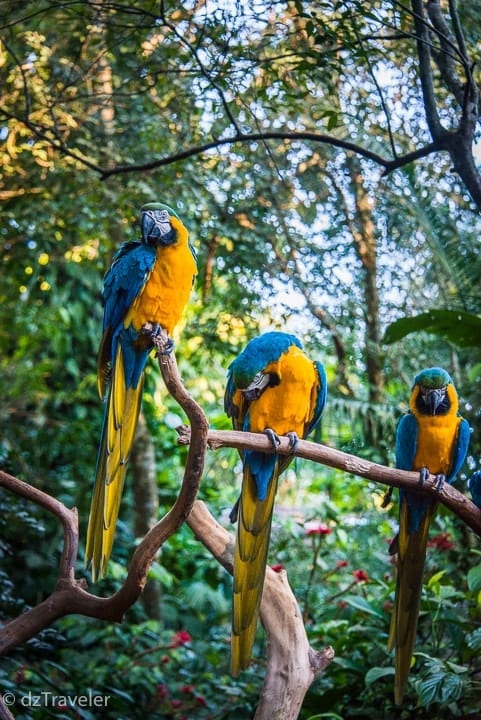 My Opinion and Tips
Recommended Hotels
Hotel Colonial Iguacu, Foz do Iguacu, Iguazu Falls, Brazil
Aguas Do Iguacu Hotel Centro, Foz do Iguaçu, Iguazu Falls, Brazil
San Martin Resort & Spa, Foz Do Iguacu, Brazil
San Juan Eco Hotel, Foz Do Iguaçu, Iguazu Falls, Brazil
Grand Crucero Iguazu Hotel, Puerto Iguazu, Argentina
Recommended Restaurants
El Quincho del Tio Querido, Avenida Pres. Juan Domingo Perón 159, 3370 Puerto Iguazú
Have you been to Iguazu Falls? Any additional tips to share?
Please leave a comment below! I'd love to hear from you to improve my knowledge.
Was this travel guide helpful for you?
If you'd like to help me continue making free guides, here is one way you can help:
Share This Guide – If you have a friend that would benefit from this guide, share it with them. Or post this guide on Facebook, Twitter or Google+
Your Support would definitely help me making more free guides like this. Thank you in advance!
Affiliate Link – This post in Dizzy Travelercontains affiliate links, which means I receive a referral commission if you purchase after clicking at no additional cost to you. These funds go to maintain the site. Thank you for your support.
Pin it to your favorite travel Pinterest boards