Getting to know
Stranger in Old Town Cartagena
Colorful coastal Cartagena is one of those cities where it's best to just forget about the map and allow yourself get lost. Believe it, you can't go too far as it's a walled city, too difficult to get lost. Also, a visit to the Walled City can turn anyone into a romantic. Stroll the cobblestone streets of the neighborhood, passing by horse-drawn carriages, lighted lanterns, and balconies covered in flowers is a beatable experience.
Whether you are coming for a romantic getaway, a family vacation, or a trip with friends, there are interesting things to do during your trip to Cartagena. Places like Getsemani, wall city, Baru and Rosario islands, San Felipe Castle, beautiful Punta Arena Beach, Bazurto Market, modern city etc should be on your to-do list.
Best Time to Visit Cartagena
When I planning any vacation, I generally pay attention to the weather, in addition to any other variables like any events going on during that time, transportation costs, and taking vacation time from work etc. Planning a trip to Cartagena is no different.
Temperatures in Colombia are based on the altitude of a location since it so close to the equator. As a result, Cartagena is a hot city and the temperature will be relatively the same at any time of the year.
Peak Season: Between December to mid-January and during the Holy Weeks (March or April – dates change annually)
Cartegena is Colombia's most popular tourist city and during the high season, accommodation prices can be almost double.
Off Season: Between May to mid-June and again between August to November
Paying attention to the rainy season will give you advantages since rainy months become absolutely humid. Usually between October and November are the wettest.
Best Time to Travel: Between Mid-January to April
The dry season is a great time to walk the colonial central city. Avoid the crowds during Holy Week (March or April – dates change annually).
How To Get Around
By Air:
Domestic air network connecting major cities is excellent in Colombia, including those in the Caribbean coastal area. The main domestic carriers are Avianca, Lan Colombia, Copa Airlines and Satena. There are also flights from most major mainland cities to the islands of San Andres and Providencia.
By Road:
Colombian roads condition varies massively. The Panamerican Highway is mostly well paved, but when you start venturing out off the beaten track the roads tends to get bumpier. Expect landslides in the more mountainous regions during the rainy season.
Rental Car:
You can pick up the rental car at the airport from any of the major international rental company, but driving int he cities is not recommended. I have tried it in big cities like Lima and Bogota but for many, it could be really difficult.
Taxi:
Taxis are cheap, convenient and plenty in major cities and most midsize towns. They are also considered fairly safe to hail in the street. You may get charged a bit more for being a non-Spanish speaking passenger; in Bogota, Cali, and Medellin they have meters (taximeters), but in smaller places, you have to negotiate the price.
I usually don't use taxis with a driver and somebody else inside regardless it's a friend or someone for security reasons, such a situation may be unsafe for me; a common tactic for robbery. Good idea to use one of the taxi apps like Uber, Tappsi, and Easy Taxi with your smartphone for a safer ride in most major cities.
Motorbike:
Some northern cities use motorbike-taxis, which is a quick way of getting around if you're solo. These may not be the safest and are even illegal in some places like Cartagena but not enforced.
You may find options for renting a motorbike in resort areas like San Andres
Sightseeing & Things You Need To Know
Visit Colorful Getsemani
Getsemani, the most classic neighborhood of the city, is full of history and color and was the location of the first protests for the independence of Cartagena in 1811. At night, the neighborhood becomes even more interesting when both locals and tourists alike gather in this bohemian and alternative neighborhood far from the glamour of the walled city.
We also recommend taking a short walk over to the Getsemani neighborhood, just outside the Old Town center. This neighborhood was originally where escaped slaves and the poorer classes lived, but today it features a cool, colorful vibe further emphasized by some terrific street art.
The Walled City
The old city is surrounded by walls which took two centuries to complete due to the continuous storms and pirate attacks that ravaged the city. In 1796, the walls were finally completed, just 25 years before the Spaniards were finally expelled from the city. The best way to explore this part of the city is on foot or by bicycle, as it gives you the freedom to move easily through the colonial streets. Don't limit yourself to only looking for the main attractions here, as there are many interesting places that you will find as you explore around all corners of the walled city.
Baru and Rosario Islands
Baru and Rosario Islands are located only 45 minutes from Cartagena. They are, without doubt, two places that you have to visit during your trip to Cartagena if you want to see what a Caribbean beach actually looks like.
Baru was a peninsula that was separated from Cartagena during the construction of the Canal del Dique. Today, it is accessible by both land and sea. Its most popular beach is Playa Blanca, a vast public space which is famous for its white sand and crystal clear blue waters.
Castillo De San Felipe
Entering San Felipe Castle in Cartagena is like going back in time. It was built by African slaves under the command of the Spanish military. Cartagena was the most important port in the Caribbean for the Spanish colonizers and they needed to protect the city from their enemies because of the treasures they kept here. For this reason, inside the castle they built a complex system of tunnels, which you can still walk through today, to allow the Spanish troops to move from one location to another.
It is magnificent to watch the sunset from the top of the castle, which also provides a beautiful view of the city. You can easily walk to the castle, as it only steps away from Getsemani and about 10 minutes from the clock tower in the old city.
Beautiful Beach at Punta Arena
Tierra Bomba island is only 10 minutes away from Cartagena by boat. From the beaches of Castillogrande, you can also see the island where you will find Punta Arena, a beautiful beach with white sand and turquoise water where you can spend an entire day trying the local food and enjoying the panoramic view of the city from the other side of the water. You can get to Punta Arena from the beach at Castillogrande, behind the hospital of Bocagrande where there are boats ready to transport tourists throughout the day. You can even coordinate your return trip with the person that takes you out to Tierra Bomba.
In Punta Arena, you will find accommodations, restaurants, and sun loungers where you can spend the day. We recommend that you go mid-week and walk towards the right side of the beach (with your back towards the city view) once you get there. After walking for 5 minutes you will find larger beach space with fewer people.
Enjoy the Sunset from the Wall City
Watching sunset is one of the best things you could do in Cartagena. Find a good spot on the top of the wall and it that is not comfortable for you then there are restaurants like Cafe del Mar from where you could get a spectacular view of the horizon where you only need to watch the sunset as you enjoy a local drink.
Visit Bazurto Market
The Bazurto Market is not a place for inexperienced travelers. However, this market is a favorite among those who know where to find the best local ingredients and how to face the chaos and crowds of the market in order to get them.
It's only 15 minutes from the city center where you can find the freshest fish, exotic fruits, and all sorts of electronic devices. You can also try the local cuisine, including turtle, shark and cow's tongue. It truly is an example of authentic Cartagena culture.
You've probably read many warnings about Bazurto Market, but there are many more good things here than bad ones, and you should not let this stop you from visiting one of the best places in Cartagena. If you are an expert traveler and want to go on your own, we recommend that you don't bring any valuables with you.
Visit the New and Modern Cartagena
Far from the walled city and Getsemani, to the southeast of the city, you will find the "new" neighborhoods where almost all of the city's hotels are located. The neighborhoods of Bocagrande and Laguito, aside from being known for their high rise buildings, are also home to the beaches inside the city. Castillogrande has an even more extensive beach than the others and shares a bay with the Manga neighborhood, which is one of the more residential areas of the city.
The best way to visit these neighborhoods is by going on an open-air city bus tour where you will get to see all the spots mentioned above, and listen while we tell you the fascinating history of each place.
Where did I stay in Cartagena
Hotel Cartagena Plaza, Cra 1a No.6-154 Bocagrande Cartagena
Just 10 minutes far from Rafael Núñez International Airport and five minutes from the Old City, and with a beautiful sea view, this hotel was perfect for me. Professional service and friendly staff will definitely make your stay comfortable.
My Favorite Local Colombian Food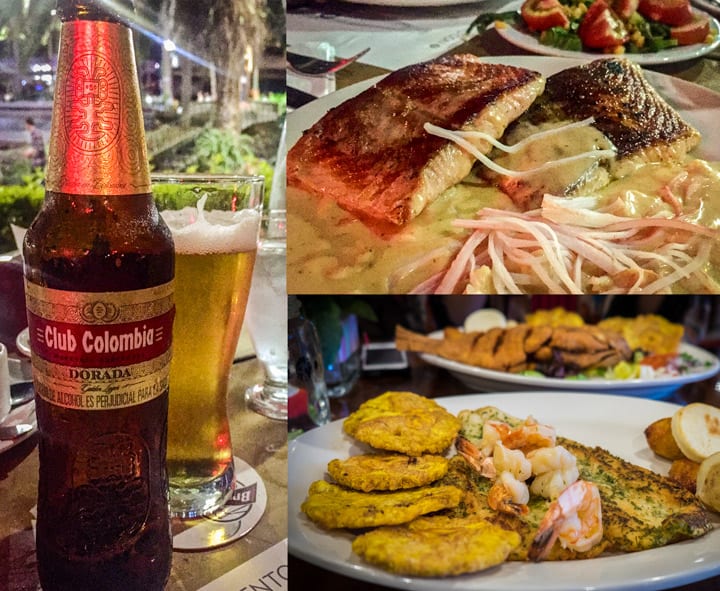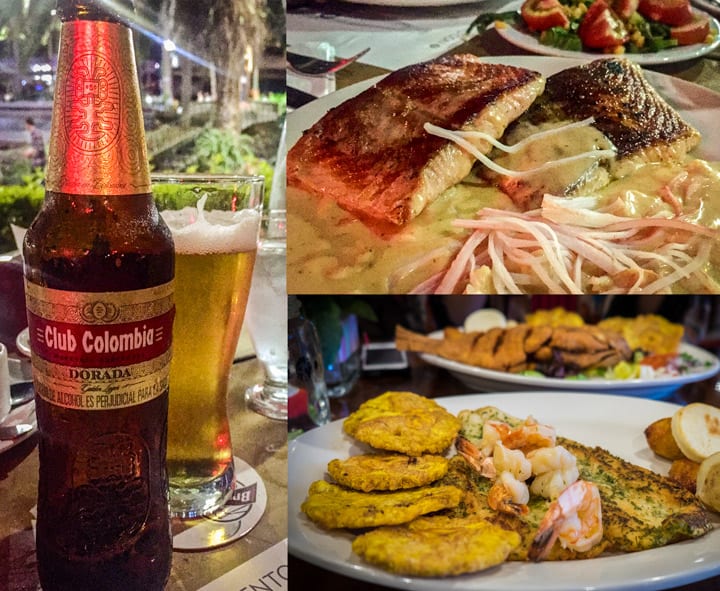 My Opinion and Tips
Have you been to Cartagena? Any additional tips to share?
Please leave a comment below! I'd love to hear from you to improve my knowledge.
Was this travel guide helpful for you?
If you'd like to help me continue making free guides, here is one way you can help:
Share This Guide – If you have a friend that would benefit from this guide, share it with them. Or post this guide on Facebook, Twitter or Google+
Your help would definitely help me making more free guides like this. Thank you in advance!
My Pictures That Will Tell My Travel Stories