If you are touring Morocco, then unquestionably, you have to make the journey to see the immense dunes of the Sahara Desert. There is absolutely nothing like the excitement of going up a soaring Sahara desert sand dunes at sunset to see the sundown sitting on camelback or hiring an ATV and cruising through the sand dunes up and down where there is no stop sign that can stop you. All you will hear is the sound of blowing wind and contemplate the magnificent view of moving sands.
Helpful Information
How To Get There
The Best way to get there from Marrakech is to hire a tour guide with a 4×4. We took a 4 days trip which was incredibly exciting. This desert trip was a highlight of our Morocco visit. I highly recommend the Eco Desert Morocco tour to anyone planning a desert trip in Morocco. CTM Bus is well-connected in Morocco, so it's an economical and comfortable way to travel between major destinations. Before embarking on your next trip, check the bus schedule, as it may change frequently.
Best Time To Visit
The best time to visit the desert is during Autumn (September to October) when temperatures are very pleasant. Spring between March to May is also a terrific season to enjoy the fantastic view of flowers and plants in the desert and around sand dunes. Unfortunately, we visited in the 3rd week of December, and it was freezing, especially in the morning and late afternoon.
Top Things To Do In Merzouga
We arrived at Merzouga at 4 pm; it's a small village at the edge of Erg Chebbi dunes, which reaches as high as 150 meters and altogether spans an area of 22 kilometers from north to south and up to 5-10 kilometers from east to west. Only about 40 kilometers southeast of Rissani, about 55 kilometers from Erfoud, and about 20 kilometers from the Algerian border.
1. Sahara ATV Quad Adventure in Erg-Chebbi Sand Dunes
We rented a Moto Quad/ATV for two hours, and the timing was perfect as we could observe the sunset from the top of the highest dunes at the end of the ride. We did not see many tourists around since it was winter season. The temperatures were slightly cold, about 10º C, and winds usually pick up pretty strong.
After going up and down through numerous dunes, our guide finally took us to the very top of a much higher one, from where we had the most spectacular view of the area. Not a single person in the area could hear the sound of the wind and shifting sands, an unforgettable experience. This exciting adventure is a must-do venture if you are in Merzouga.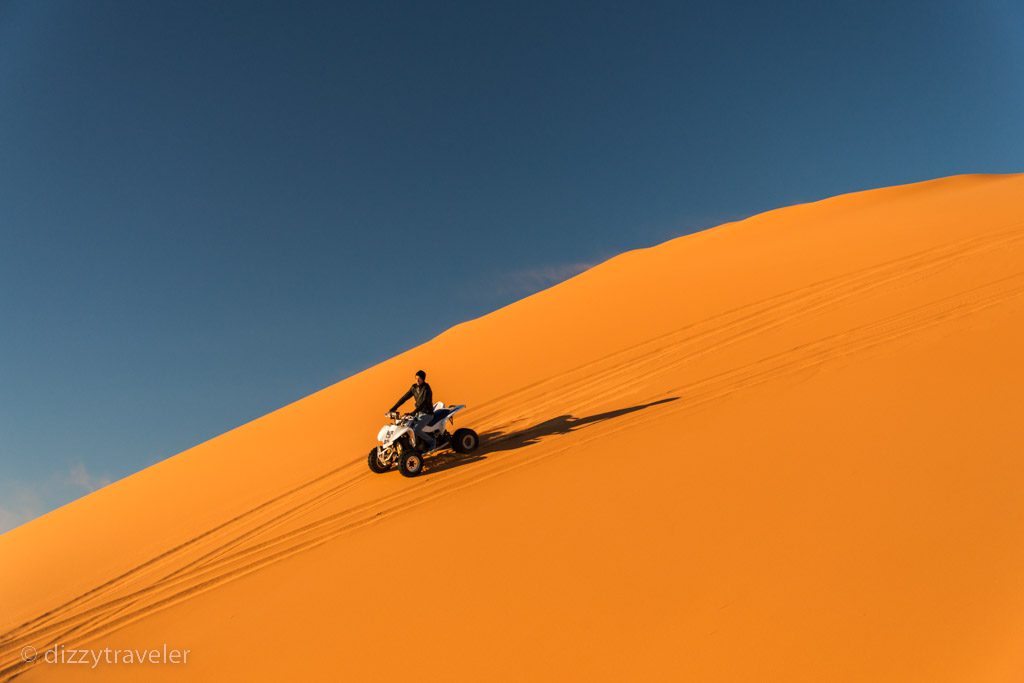 2. Visiting Nomad Tent
Our 4-wheeler crosses over rolling dunes, bounces over peaks and plunges down steep elevations. What an adventure in the heart of the Sahara desert. No trip to the Sahara desert would be complete without visiting a traditional Nomad village. Our guide stopped by a tent. We met a friendly lady, a single mother, who cooked wood-fired Berber pizza for us, along with mint tea and snacks. Sitting on the ground inside the traditional tents, I enjoyed the fantastic desert view of rolling dunes stretching as far as my eyes could reach.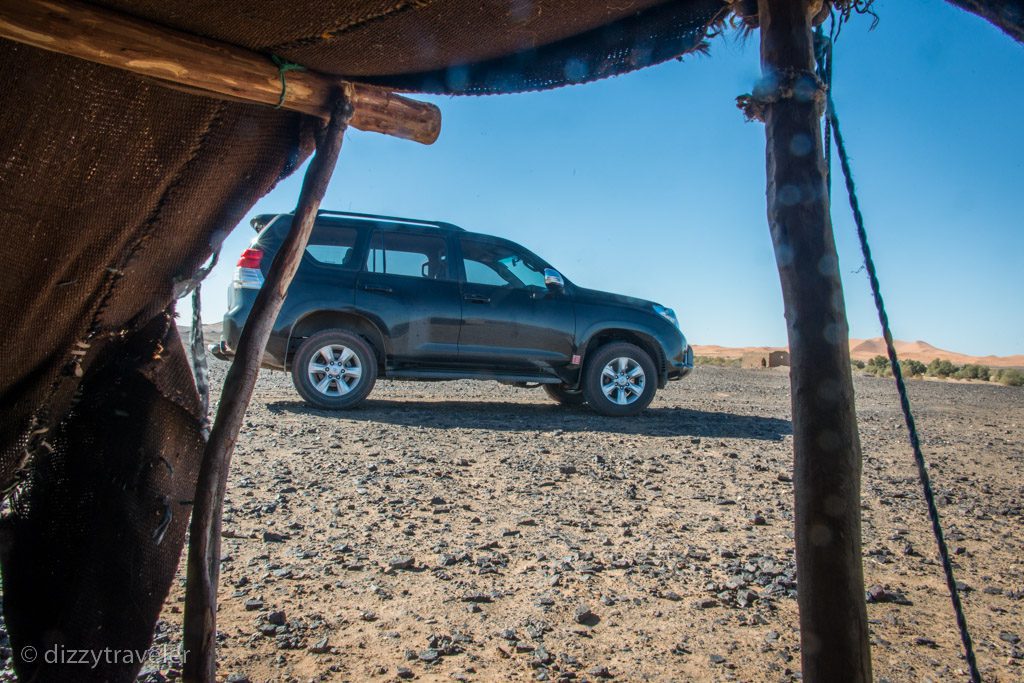 3. Visit The Village of The Blacks
The Gnaoua tribe and its music have their origins in an area in Sudan. So visiting a village just 7 km from Merzouga was exciting. Many of the black Berber still live there, where we enjoy their traditional dance and music.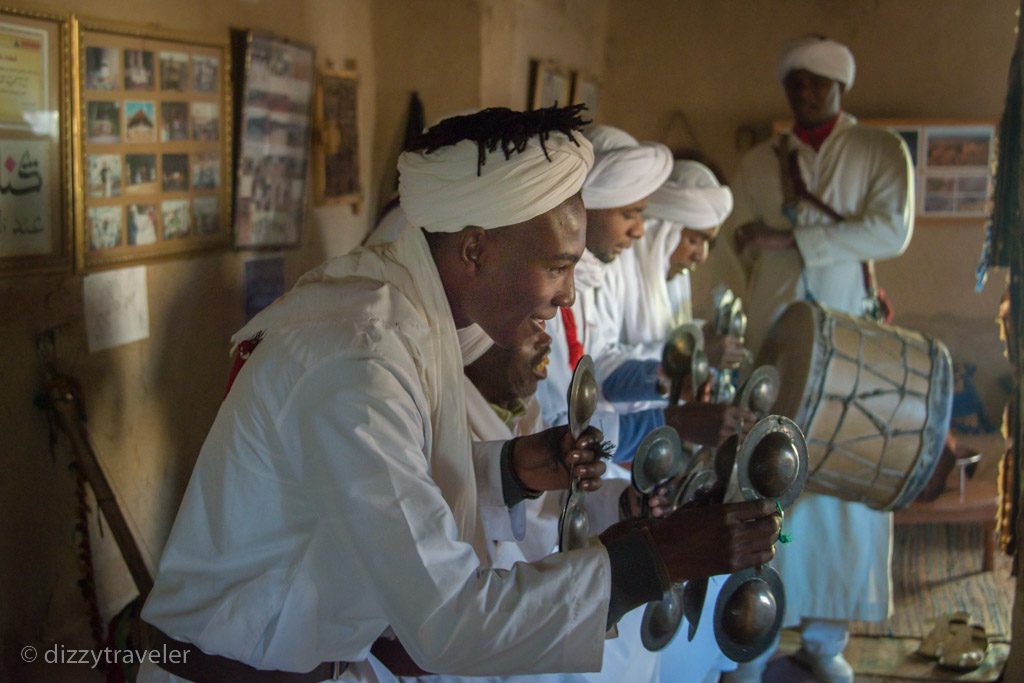 4. Visit Dayet Srji Salt Lake, Just West of Merzouga
The Dayet Srji salt lake is in Tamzgidat village, close to Merzouga. Even though there is not much rain in that area but the lake still gets water fed from the High Atlas Mountains, enough for local bird populations, including flamingos.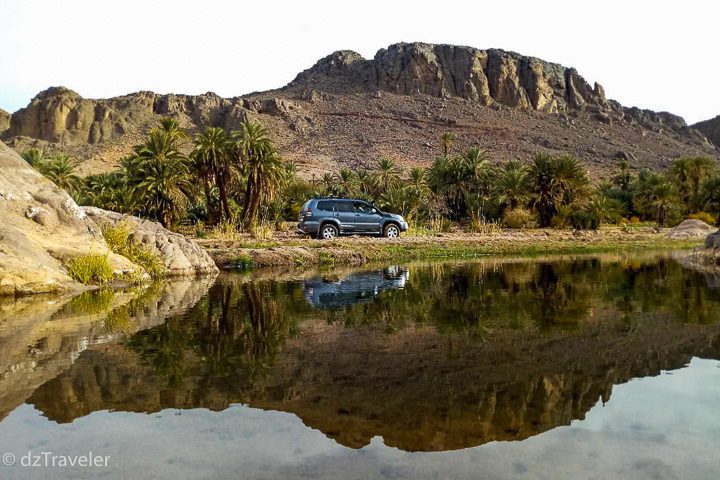 5. Camel Ride To Watch Sunset in Erg Chebbi
We started our Camel-Trek at 3:30 pm, perfect timing to watch the sunset towards the end of our 2 hours trip. Later we headed to the desert camp in the middle of the desert surrounded by dues, where we will stay overnight. Soon my camel stood up off the ground. I was a little uncomfortable sitting on a camelback high above the ground and ensuring I didn't fall. But, eventually, I got used to it. After a while, my butt started hurting, but it was a lifetime experience that I would not hesitate to do it again.
We crossed numerous dunes, ups, and downs until we arrived at the top of a much higher dune. From there, we had a spectacular view of the sunset. After watching the sunset, we continued our camel journey toward our desert camp. At the end of the day, the desert area started getting freezing cold with strong wind. We finally managed to arrive at our desert camp.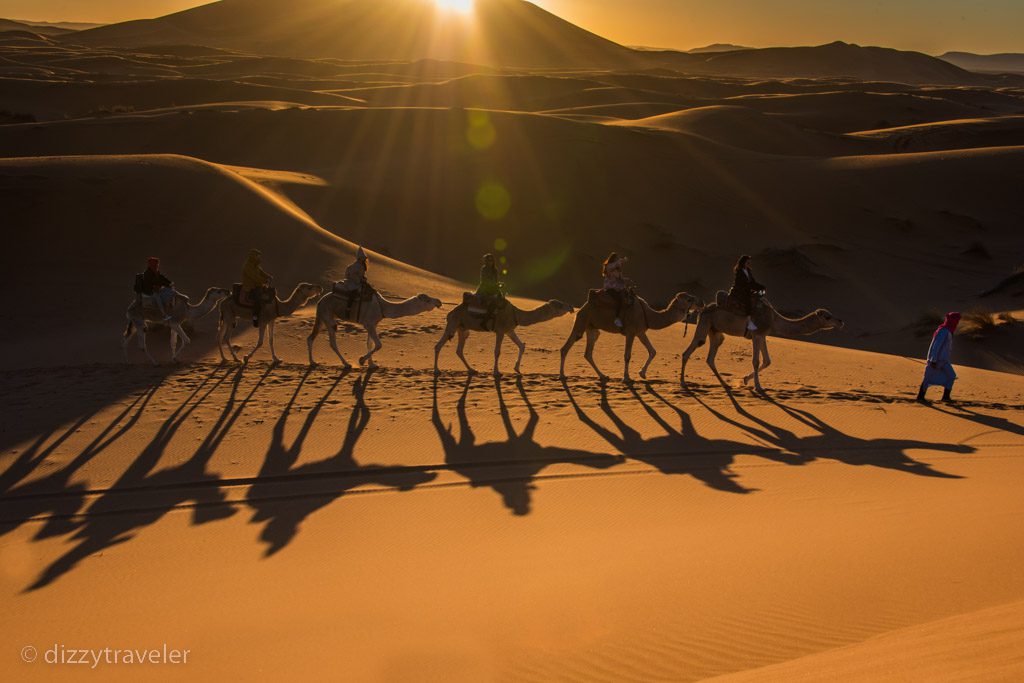 6. Sunrise Camel-Trek – Erg Chebbi Dunes
It was a cold night, I would say freezing cold. We spent much of the night in the desert, watching the stars, trekking, and sleeping inside the tent. So it was difficult for us to wake up early in the morning when the camel man knocked on our door for a wake-up call. So the early morning camel trek started at 6 am. We climbed on one of the hights dunes and watched one of the most amazing sunrises of our life.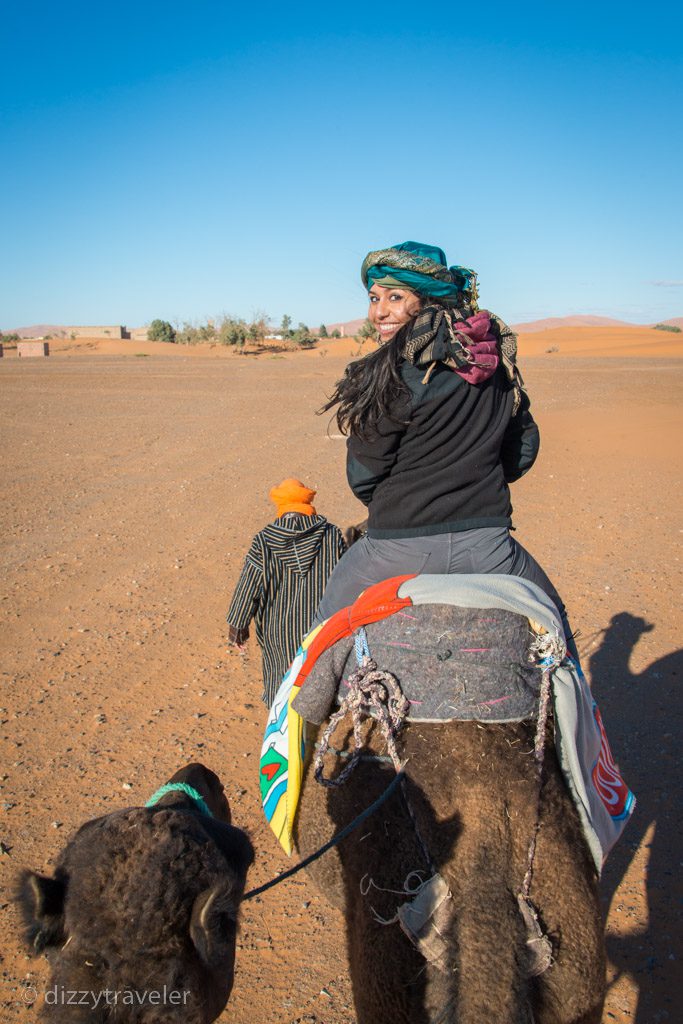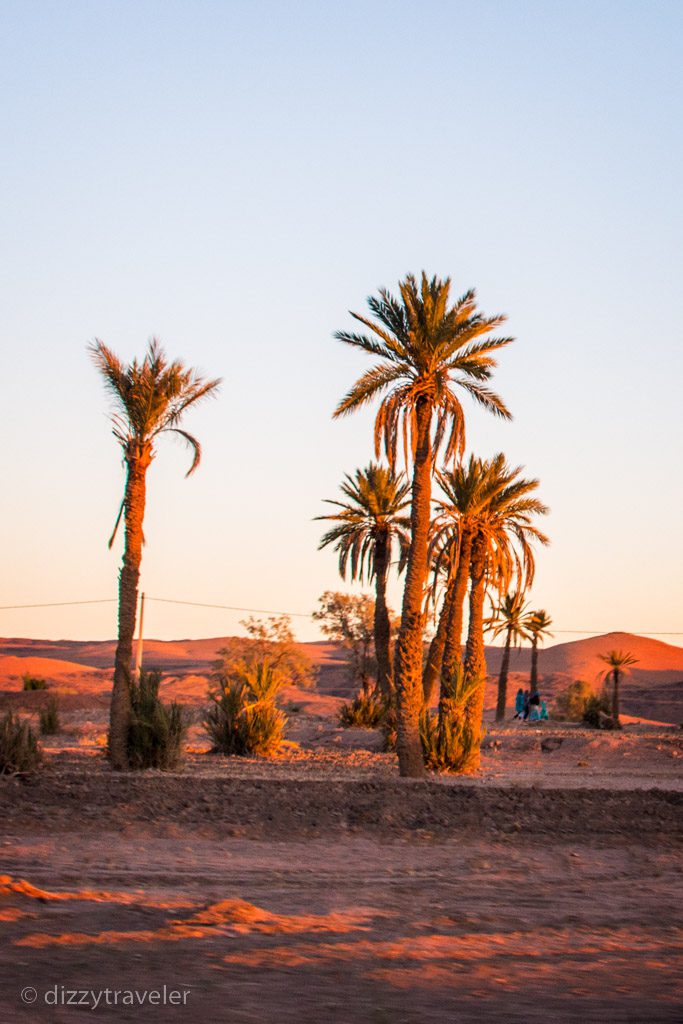 7. Visit an Oasis in Merzouga
Oasis Merzouga is located on the most beautiful dunes of Erg Chebbi. While staying in a desert camp nothing can be more exciting than visiting one of the oasis nearest you.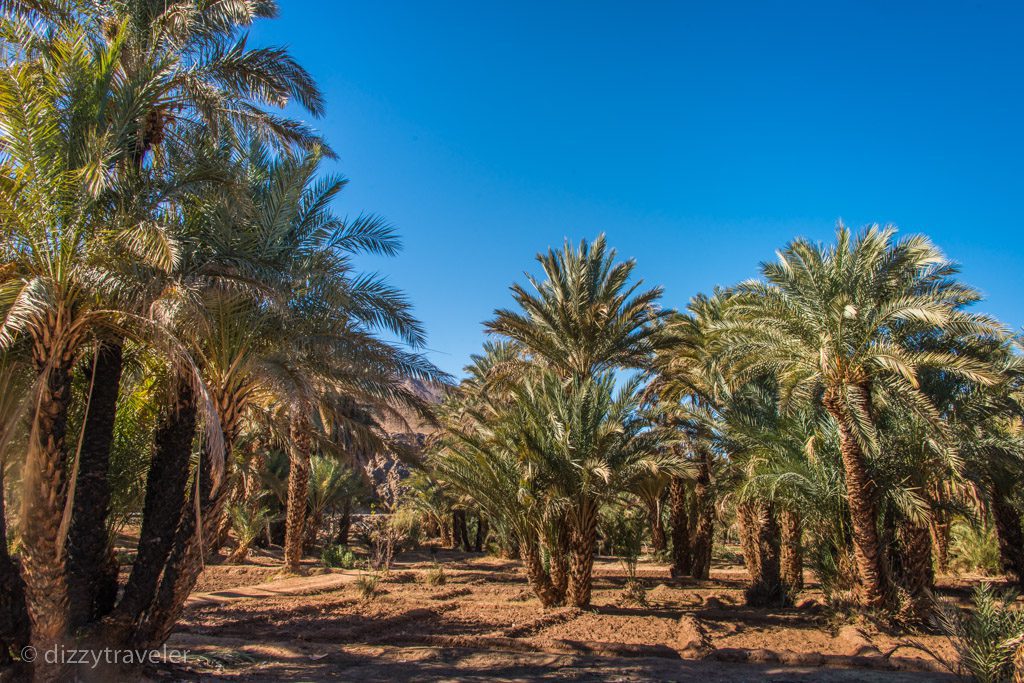 8. Quick Stop at a Local Market in Rissani
We decided to pay a visit to Rissani, a small town about 25 miles (42 km) from Merzouuga, well known for its most important markets in the region, both in terms of nature, architecture, and strategic location occupied by or given the volume of trade and craft activities.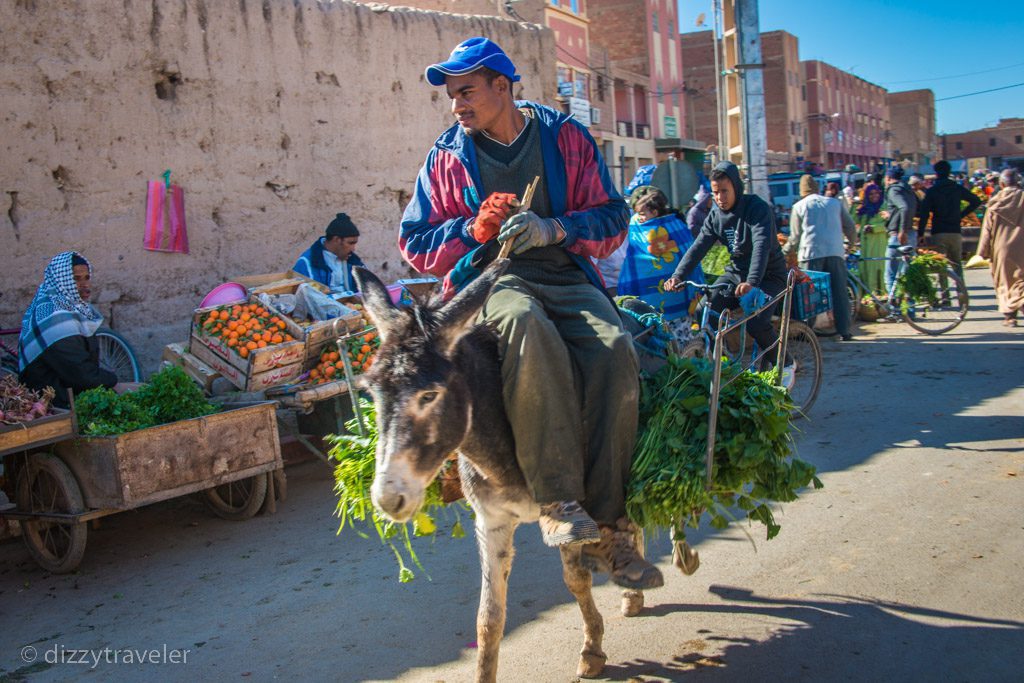 9. Step Away From Sightseeing, Just Have Some Exotic Food
We decided to pause our sightseeing activities instead to do something unique and exciting. We stopped at one of the local butcher shops and bought enough fresh Beef and Lamb meat as they were cheap, then made a quick stop at a liquor store for a local wine to stock up. Later in the afternoon headed to our desert camp for a wood fire BBQ. The camp chef marinated the meat with the local spices and prepared the grill. I tell you what, it was one of the best food I have ever had; it was so delicious.

10. Try Some Moroccan Traditional Food and Drinks
Take a break and try some Moroccan Lamb Tagine,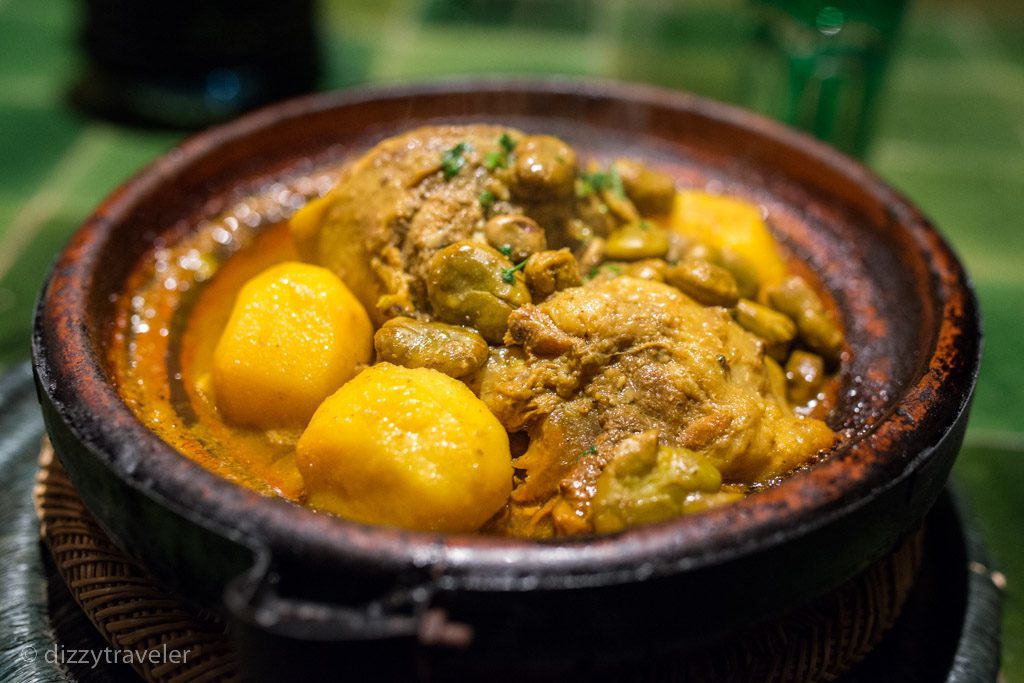 Berber wood fire pizza was delicious, definitely need to try.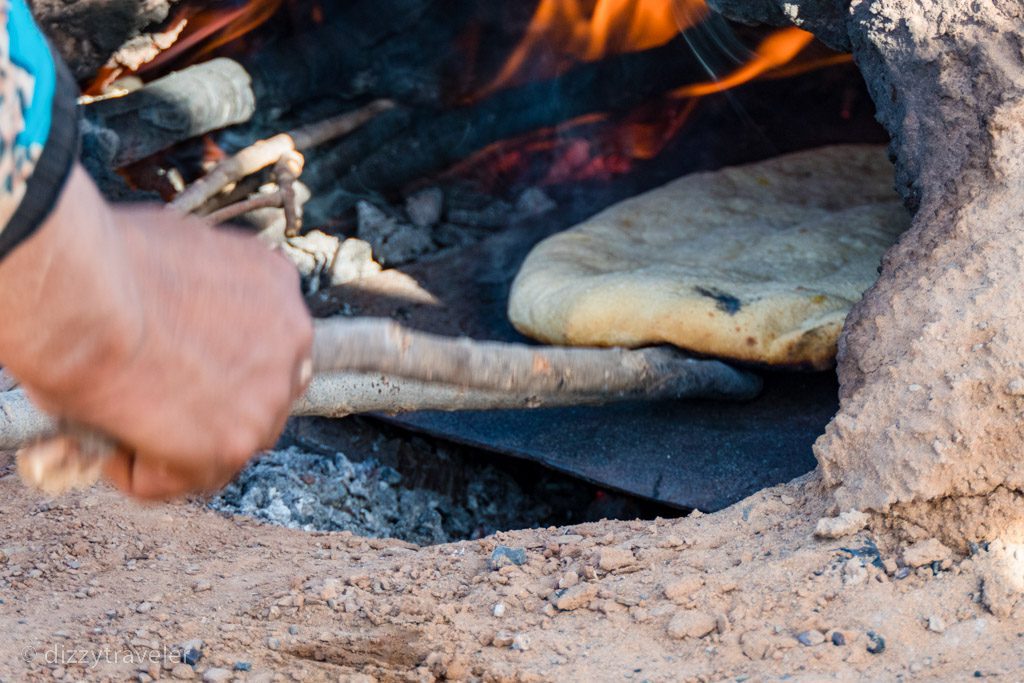 Where to stay in Merzouga, Morocco
The desert luxury camp where we stayed during our Sahara desert trip is surrounded by the rolling sand dunes of Erg Chebbi. Great location for both early morning sunrise and sunset views. Getting to this camp from Merzouga, the nearest town in Sahara, was adventurous. A camel ride of about 2 hours will take you there, which includes climbing to the top of relatively higher dunes for a better view of the sunset in the Sahara desert. The luxury camp offers free private parking and a complimentary buffet breakfast. Flamingo Birdwatching accommodation is 3.1 mi from the accommodations, while Lake Dayet Srij is 3.1 mi from the property.
Located in the heart of the desert, Nomad Palace is a great place to stay close to Erg Chebbi sand dunes. I could see the dunes from the outdoor swimming pool and bar area. The rooms were spacious and clean. The chef took extra care of our food and cooked it based on our preferences. This accommodation is only about 4 miles from Merzugua town. The hotel offers free private parking, definitely a relaxing place in the middle of the desert country.
My Opinion and Last Word
Have you been to Merzouga, Morocco? Any cool tips to share?
I loved being in Merzouga Morocco, and want to go back again. I hope my story has motivated you to visit Morocco.
Please leave a comment below! I'd love to hear from you to improve my knowledge. 
Was this travel guide helpful for you?
If you'd like to help me continue making free guides, here is one way you can help:
Share This Guide 

– If you have a friend that would benefit from this guide, share it with them. Or post this guide on Facebook, Twitter, or Instagram.
Your Support would definitely help me make more free guides like this. Thank you in advance!
Affiliate Link – This post in Dizzy Traveler contains affiliate links, which means I receive a referral commission if you purchase after clicking at no additional cost to you. These funds go to maintain the site. Thank you for your support.
Book your Sightseeing Trip
There are a lot of beautiful places to visit and some exciting sightseeing activities to bring unforgettable memories back home. Please click below affiliate link to see more options.