Lake Nakuru National Park is famous as a bird refuge with over 400 bird species, including large gatherings of pink flamingos and many other water birds. You will find beautiful tall trees, cool weather, a beautiful lake, waterfalls, vegetation, and definitely plenty of wildlife spotting opportunities and is home to many water-loving animals such as hippos and waterbucks. In addition, it is a famous safari destination in Kenya, especially because visitors will have a great chance to spot white Rhinos.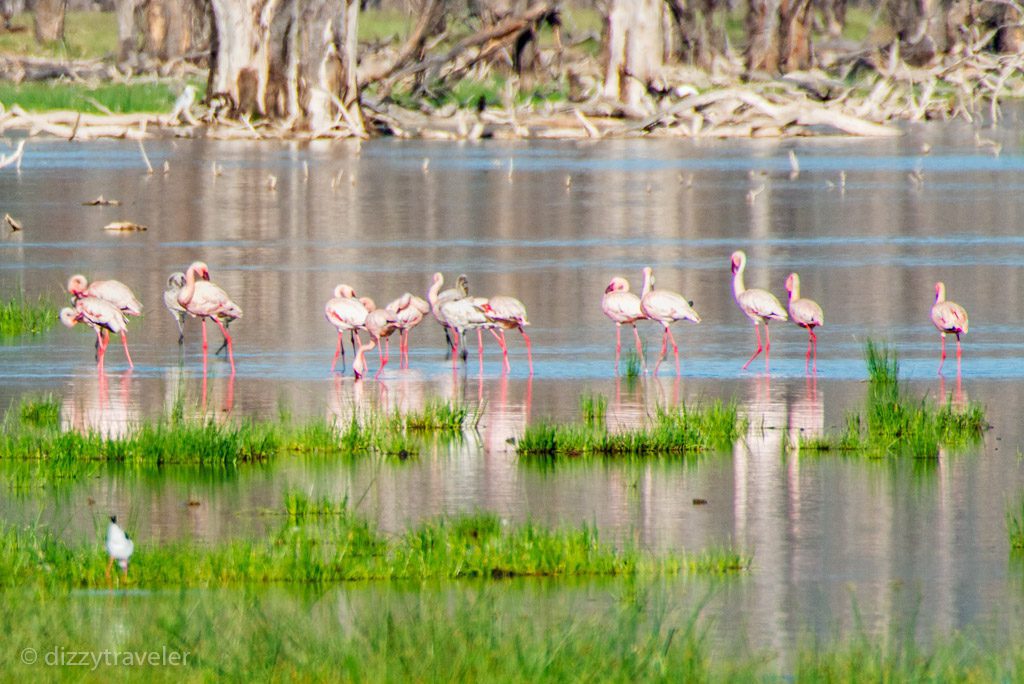 This national park is located in the Great Rift Valley – 100 miles (160 km) northwest of Nairobi in the Nakuru district of the Rift Valley Province. The highway system is nice, but the slow-moving heavy international truck may slow you down from time to time.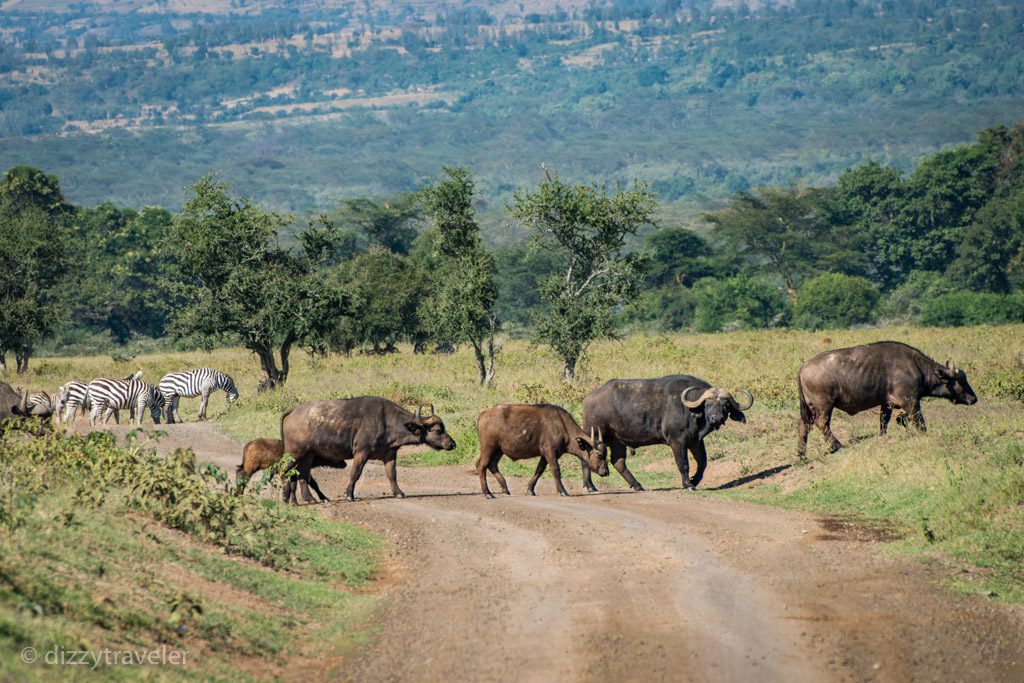 The park is about 70 square miles (180km²), and the Lake Nakuru is a large, shallow lake surrounded by marshes, woodland, and grassland. Safari in the Park can be completed in one day or combined with a visit to nearby Lake Naivasha.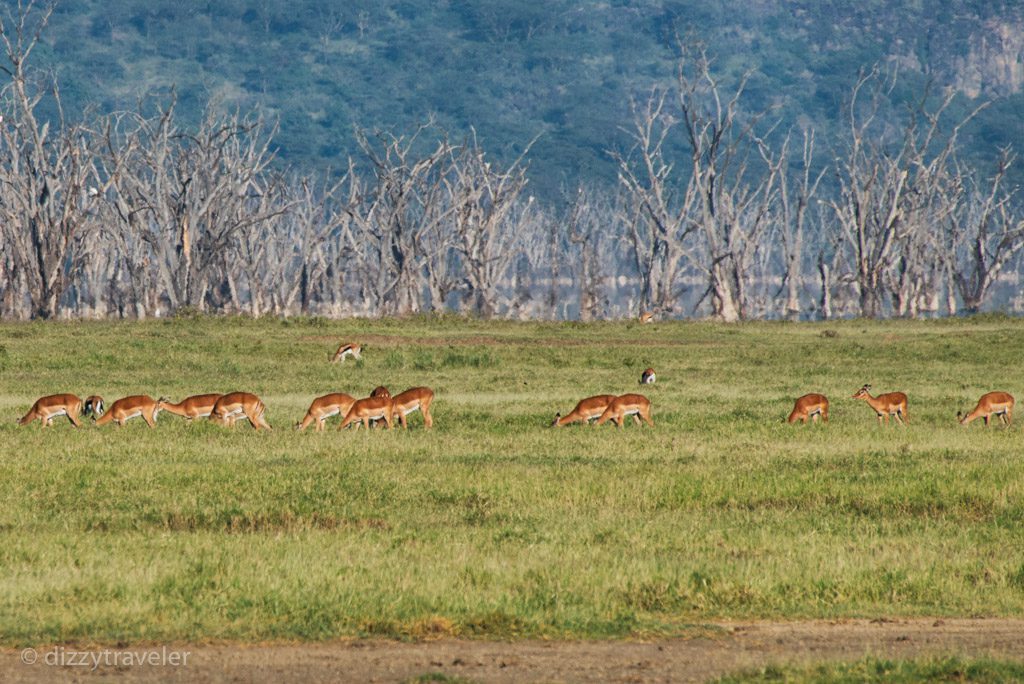 One of the main attractions of Lake Nakuru National Park is pink flamingoes. However, bird populations may change based on food availability and water level, so the good idea is to check with the national park before making a long journey to view the birds. This park is also a sanctuary of vast numbers of native African animals, including waterbucks, warthogs, impalas, buffalo, Rothschild giraffes, elands, endangered black rhinos, white rhinos, and, occasionally, leopards.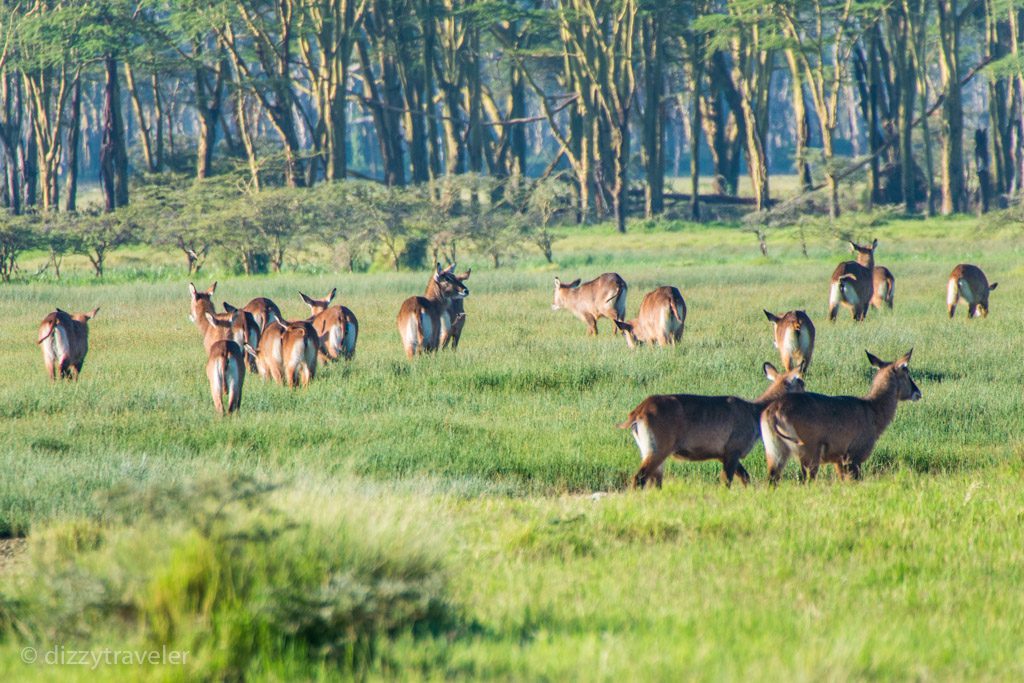 Best Time to Visit Lake Nakuru
Many foreign tourists from around the world and local visitors combine their Lake Nakuru Park trip with the Great Wildebeest Migration from August until October at Masai Mara, making this cool-dry season the busiest time of the year. The average daytime temperature is from 77º F (25º C) to 80º F (27º C), and temperatures drop at night to 55º F (13º C) to 52º F (11º C). As a result, expect to pay higher for hotels and other travel-related activities.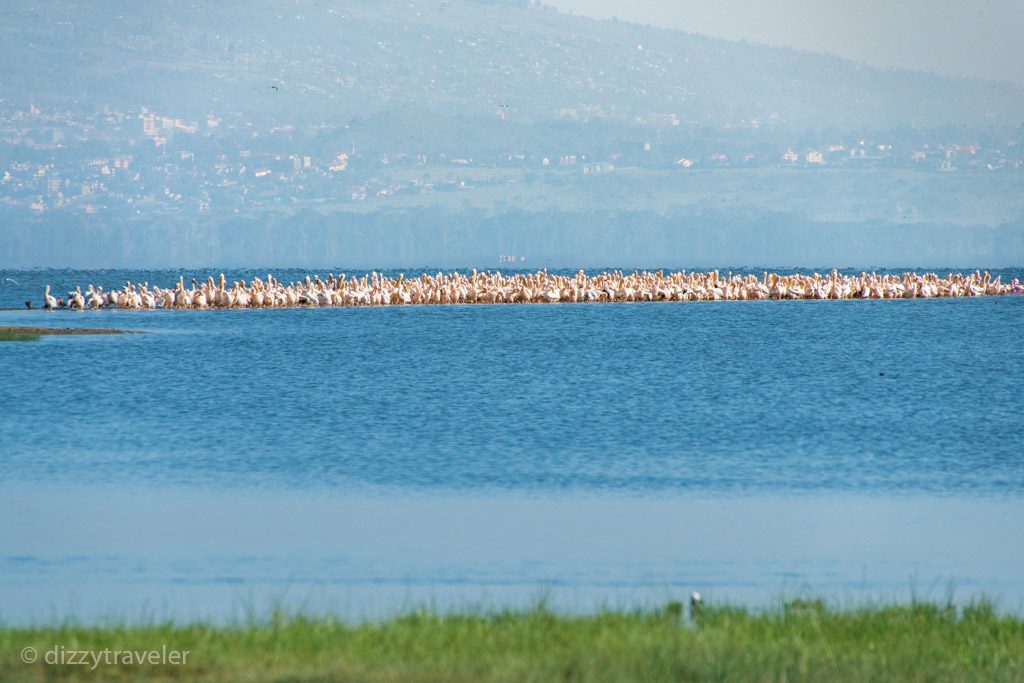 Lake Nakuru National Park Safari
We wanted to be at the park entrance by 7:00 am by the opening time because early morning is the best time to spot a few of the great wildlife scenes in Lake Nakuru National Park. Keeping that in mind, we planned our overnight stay at a nearby hotel called Lanet Matfam Resort in Nakuru city, which was close to the National Park. Woke up early, finished breakfast, and hit the road; by 7:00, we were right in front of the gate.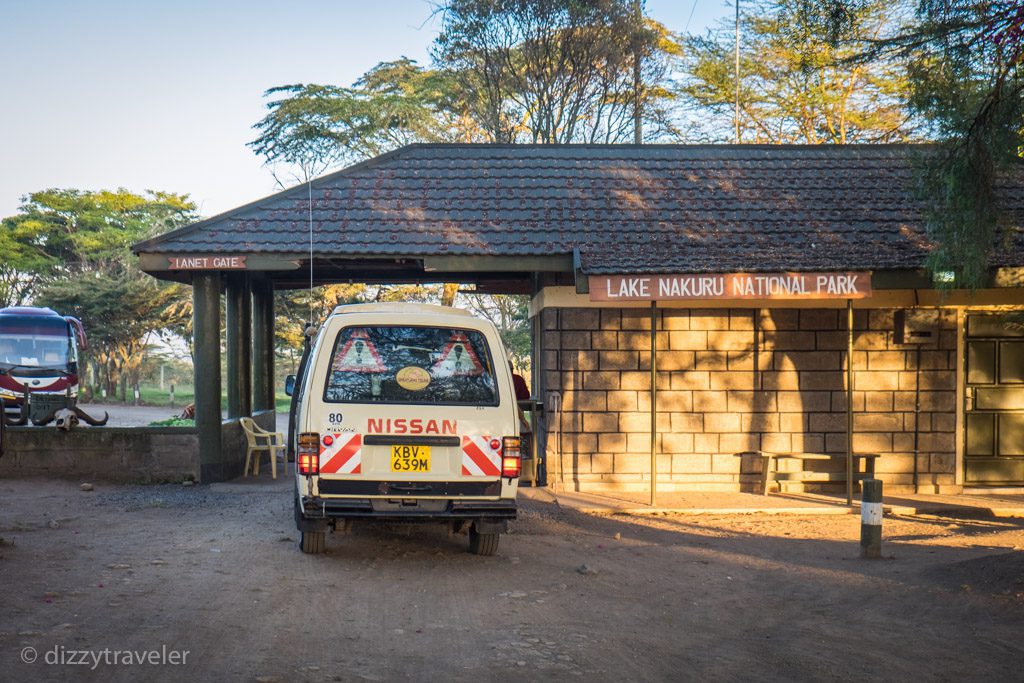 Exploring Inside The Park
Soon we entered the park we felt a wave of cool air and freshness. The narrow, unpaved road was winding down through the wooded area dominated by tall yellow barked acacia trees making the environment even cooler. I would see the beautiful soda Lake Nakuru through the breaks of dense wood.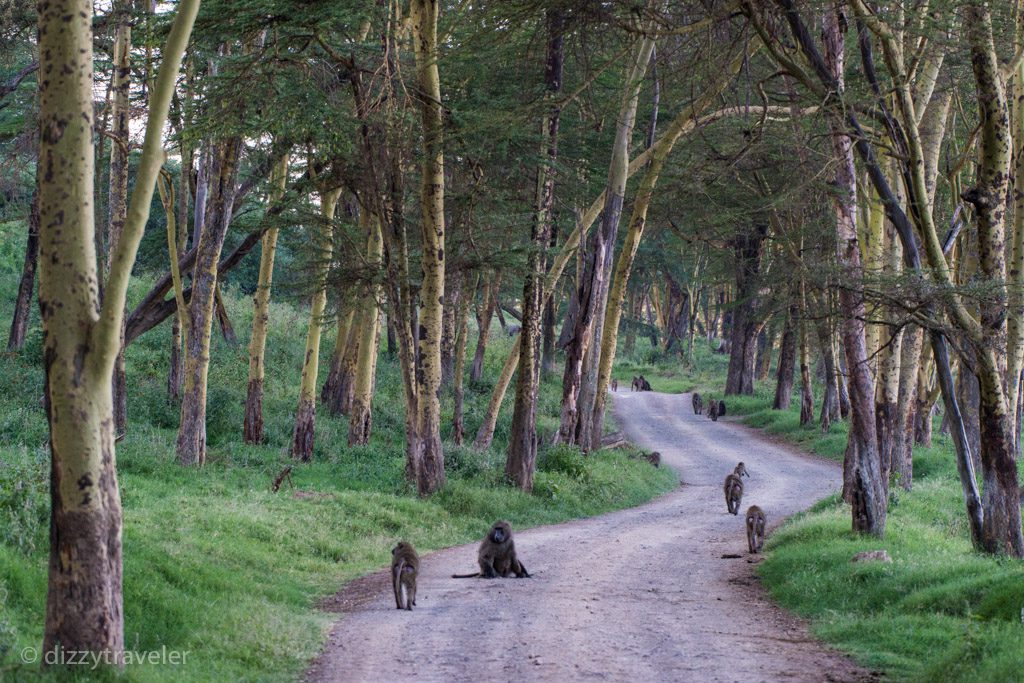 It was a cool October morning, heading deep inside the park through the unpaved road in an open-top safari van. In no time, we passed an area where we spotted a family of baboons relaxing on the street and the tree trunks.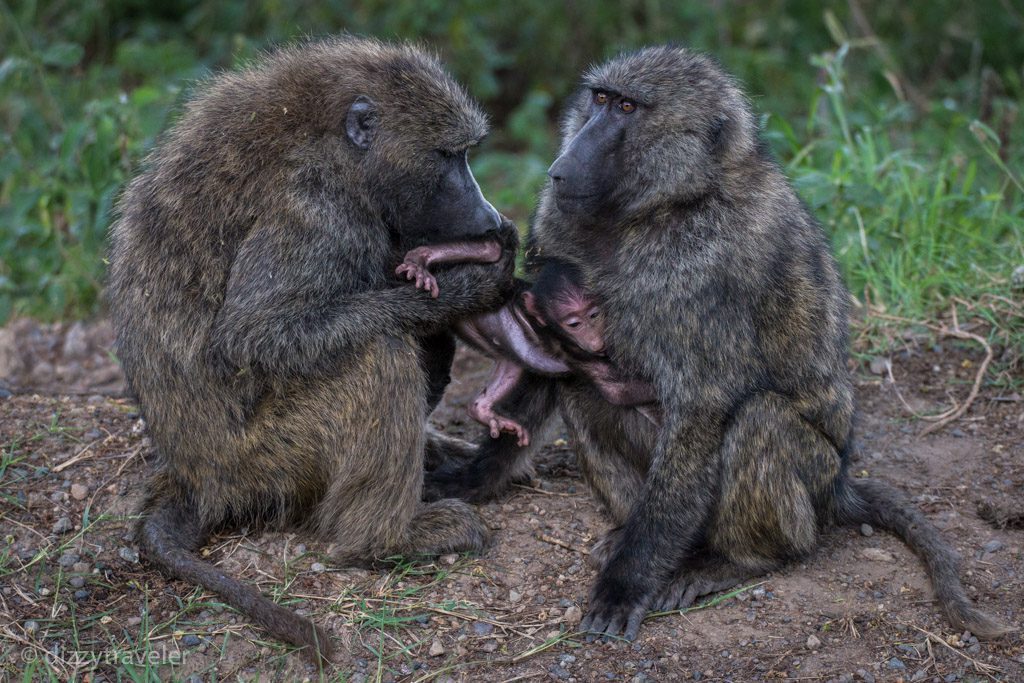 Soon we entered the National Park; we went through the wood surrounded by tall yellow barked acacia trees. It was fascinating to see how a baby is nurtured by the parent with love and care, just like the humans.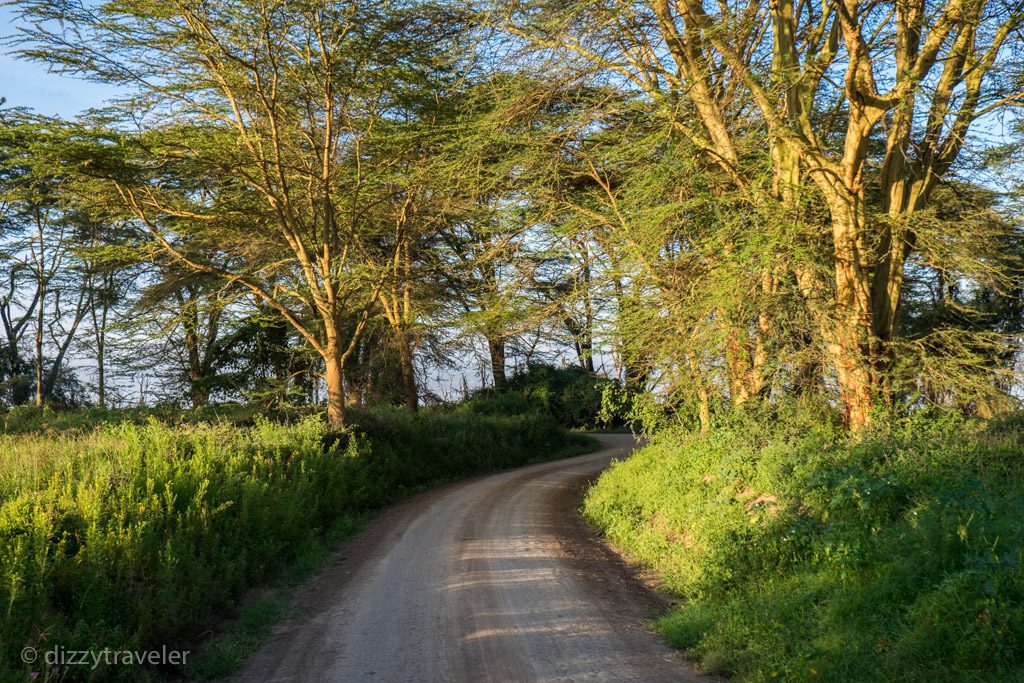 I have noticed a huge wooded area with yellow barked acacia trees struggling to survive in the lake's unfavorable alkaline conditions. But you will definitely have a mesmerizing scene of wild animals grassing right before you with no fear.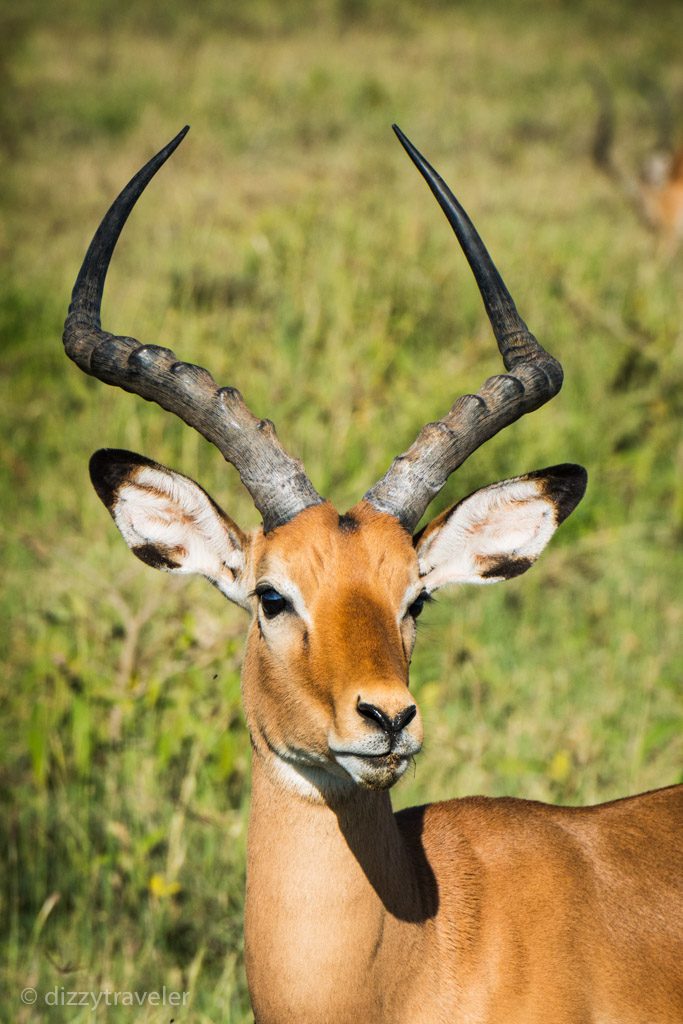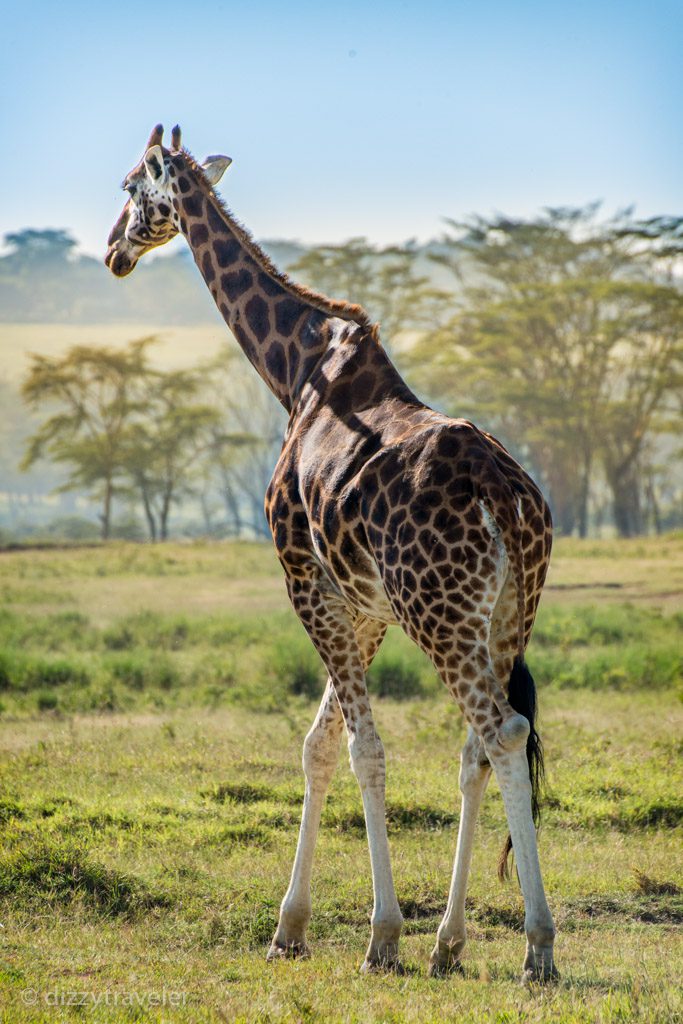 Exploring Deep into the National Park
A far distance from our safari van, we could see quite a few white rhinos; too bad we were not allowed to go off the designated track and take a closer look. We could not get close to those white rhinos because they were close to the lake. But while driving through the park, we spotted many waterbucks close to the water in savanna grasslands. In addition, there was a huge population of zebras, apparently more photogenic than what we saw in Masai Mara National Reserve. Around the water, you will definitely find water bucks; the female is easy to recognize because they don't have any horn.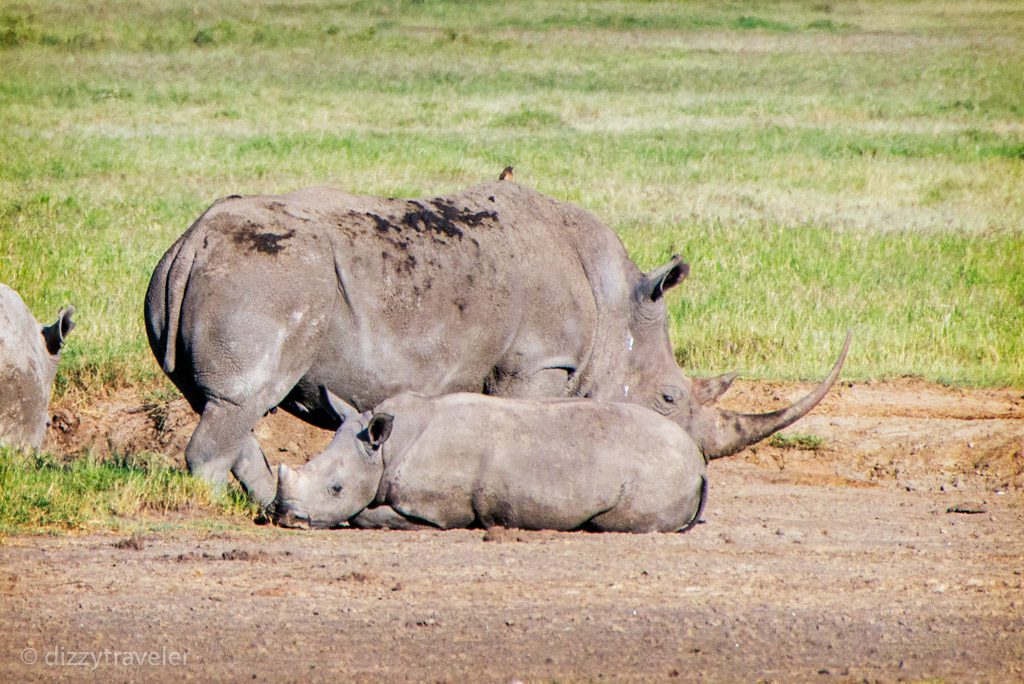 We wanted to head to the southern part of the park to explore Makalia waterfall. After driving miles after miles deep into the park, we finally arrived by a waterfall called Makalia.
Despite not seeing thousands of pink-legged flamingos but still, our journey was an exciting one. First, we enjoyed the safari in Lake Nakuru. Then, at the end of the trip, we started heading toward Amboseli National Park.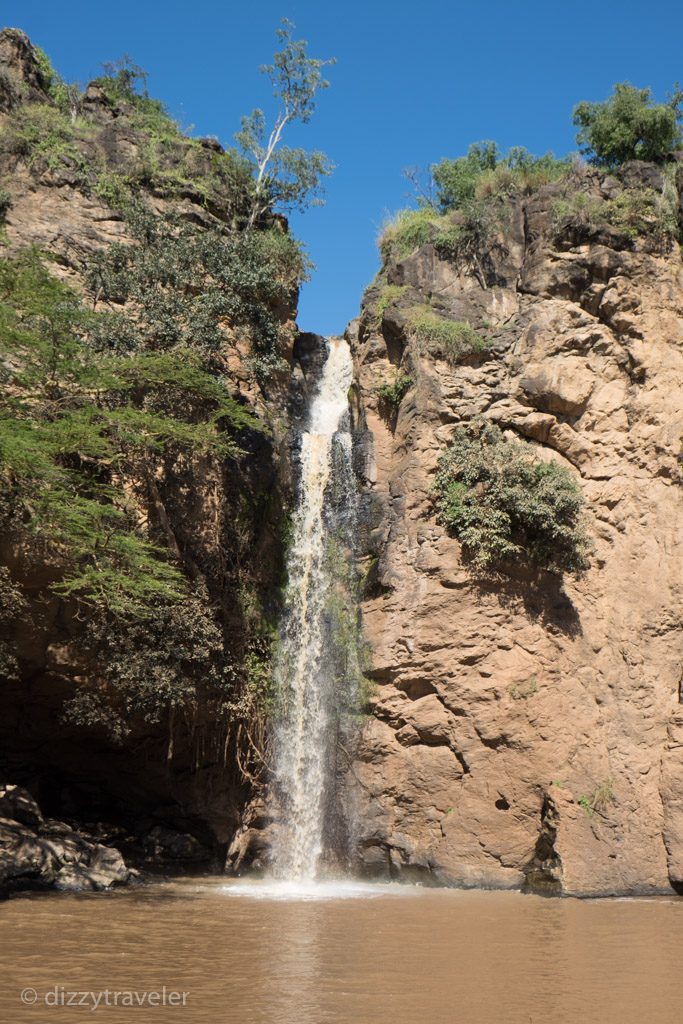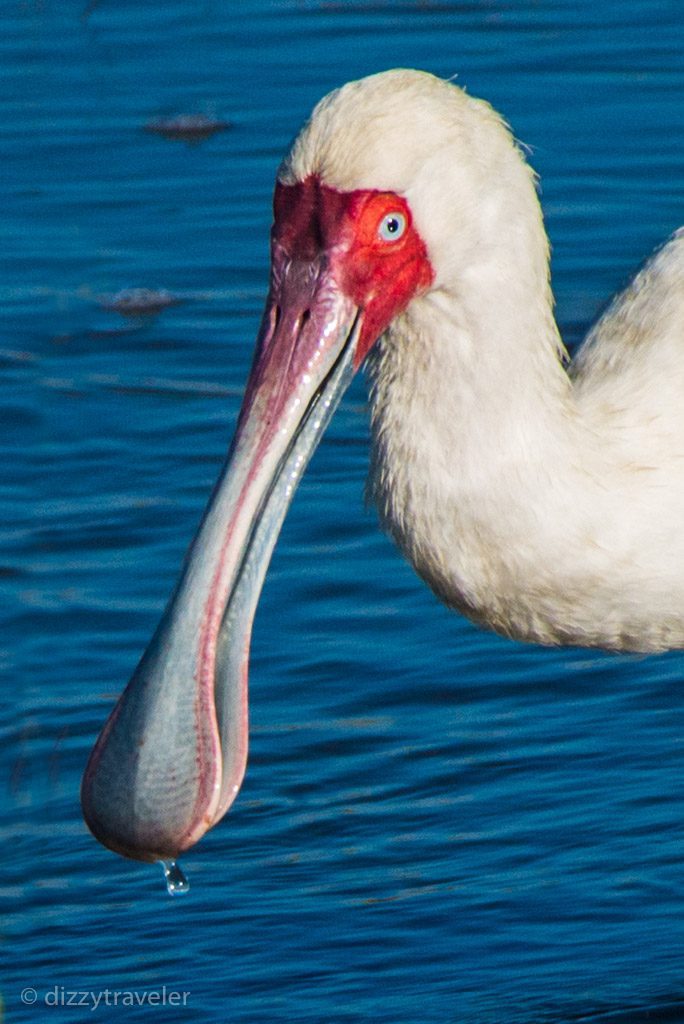 Where to stay in Nakuru, Kenya
Set among lush gardens, Ziwa Bush Lodge features traditional Makuti thatched-roof buildings, a restaurant, and BBQ facilities. It is located just 12 mi from Lake Nakuru National Park. The rooms are all decorated with local hand-crafted cedar furniture and come with mountain views and a balcony. The private bathrooms include a shower.
The restaurant serves a selection of continental dishes and Italian cuisine. Vegetarian food is also available. In addition, guests at Ziwa Bush Lodge can visit the EAM Orphanage on the same property.
The lodge is located 19 mi from Menengai Crater in the Great Rift Valley and 28 mi from Lake Elementaita. Nakuru Airport is a 30-minute drive away.
Featuring a terrace,
Sarova Woodlands Hotel
and Spa is located in Nakuru, 1.8 mi from Westside Mall. The property is around 6.2 mi from Lake Nakuru National Park, 8.1 mi from Egerton Castle, and 6.2 mi from Menengai Crater. Free WiFi and Naivas Supermarket (coffee shop) are 350 feet away. The Nakuru Golf Club is set 2.5 mi from Sarova Woodlands. A buffet breakfast is served every morning at the property. Guests can enjoy a meal at the on-site restaurant, which specializes in African and Indian cuisine.
My Opinion and Last Word
Have you been to Nakuru, Kenya? Any cool tips to share?
I loved being in Nakuru National Park, and want to go back again. I hope my story has motivated you to visit Kenya.
Please leave a comment below! I'd love to hear from you to improve my knowledge. 
Was this travel guide helpful for you?
If you'd like to help me continue making free guides, here is one way you can help:
Share This Guide 

– If you have a friend that would benefit from this guide, share it with them. Or post this guide on Facebook, Twitter or Google+
Your Support would definitely help me making more free guides like this. Thank you in advance!
Affiliate Link – This post in Dizzy Traveler contains affiliate links, which means I receive a referral commission if you purchase after clicking at no additional cost to you. These funds go to maintain the site. Thank you for your support.
Book your Sightseeing Trip
There are a lot of beautiful places to visit and do some exciting sightseeing activities to bring unforgettable memories back home. Please click on our below affiliate link to see your options.