There is absolutely nothing like the pleasures of going up a soaring Sahara desert dune at sunset to see the sundown or to experience the tranquility when strolling for a whole day without seeing another person. An expedition in the desert is more like a subjective experience than a journey to see a new place in the world. As part of our four-day road trips from Marrakech, we crossed the High Atlas Mountains through Tizi n'Tichka Pass to Ouarzazate, then explored Ait-Ben-Haddou, Dades Gorge, Todra Gorge, Ziz valley, and finally to Merzouga. In the Sahara desert, we did our camel ride and adventurous ETV ride through the slopes of the Erg Chebbi dune. 
Best Time To Visit the Sahara Desert
The best time to visit the desert is from December to February since the sun is not as intense as in other months of the year. During this period, the daytime temperatures are comfortable, ranging from 68º F – 80º F ( 20º C – 26º C). Spring is also a terrific season to enjoy the fantastic view of flowers and plants in the desert and around sand dunes.
Our 4 days 3 nights desert trip from Marrakech to Merzouga
Day 1: Marrakech – Ait Ben Haddou – Dades Gorges
This morning's Journey to my dream destination Sahara desert will start from our accommodation Riad Mouna in old Medina, Marrakesh. In case you are wondering what Riad is, it's a traditional Moroccan house with a garden inside and surrounded by beautiful Moroccan architecture with telework. Perfect place to experience the authentic Moroccan lifestyle. Eco Desert Morocco organized our trip, customized precisely based on our area of interest.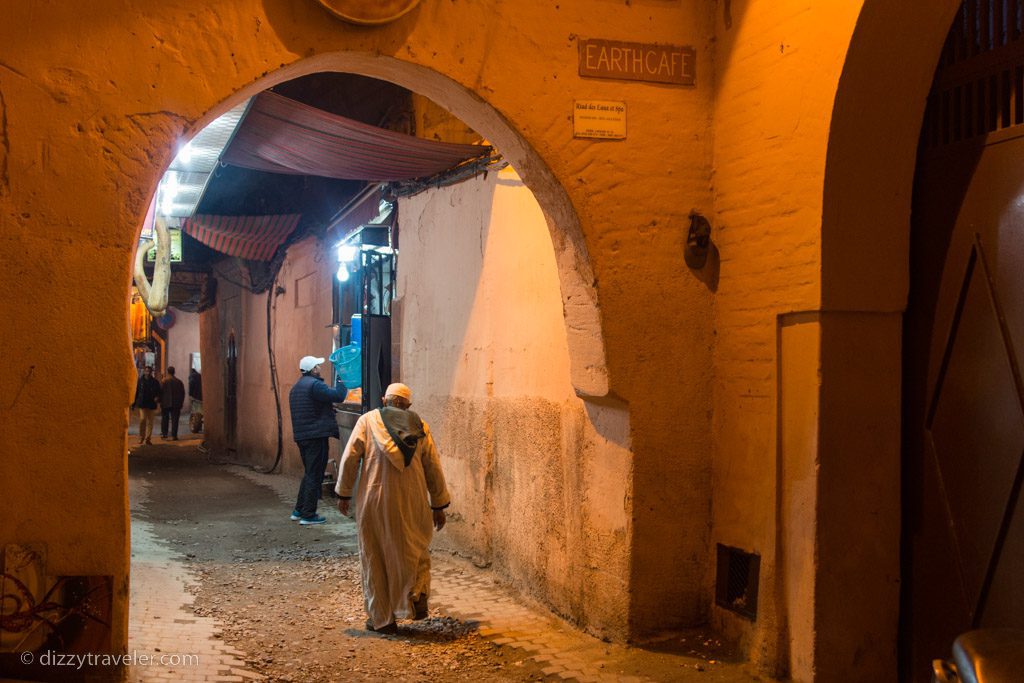 Quick Stop At The Tizi N'Tichka Pass
Tizi N'Tichka is a mountain pass located in the high Atlas mountains, a gateway to the Sahara desert linking the southeast of Marrakesh to the city of Ouarzazate. It took us about two hours to get to the mountain pass from Marrakech.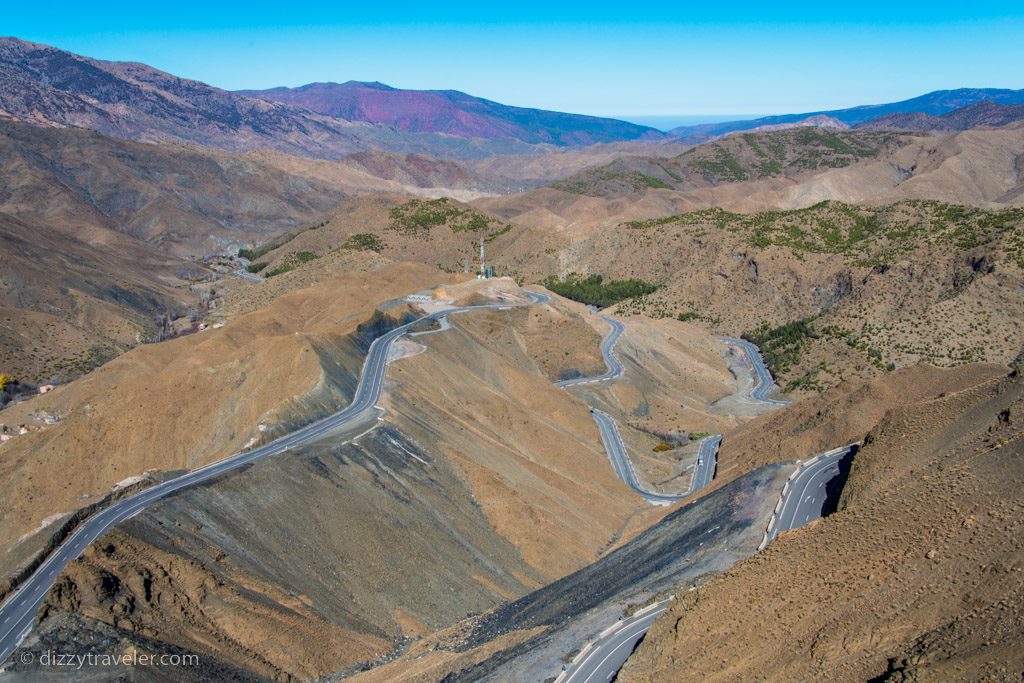 The view from the lookout point is so beautiful, so it's a good idea to have enough time to relax and explore at an elevation of 2,260 meters (7,410 ft) instead of just photo ops.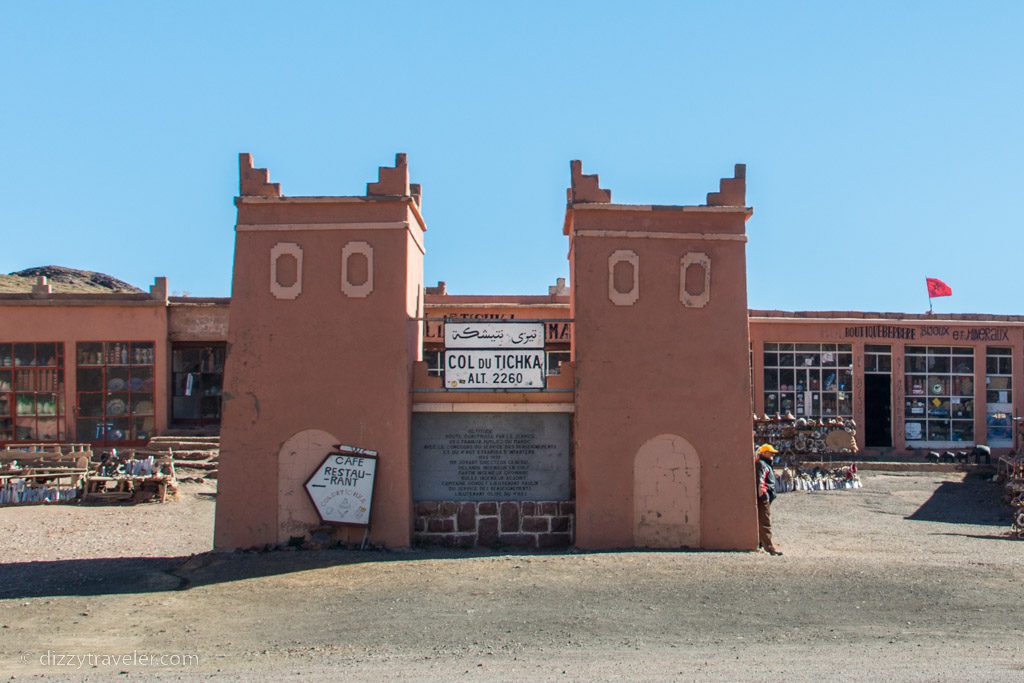 Next stop in Berber village
We visited a village, took some great pictures, had a glass of mint tea, and took it easy to enjoy the beautiful landscape before continuing on the twisted road through the Berber villages toward our final destination.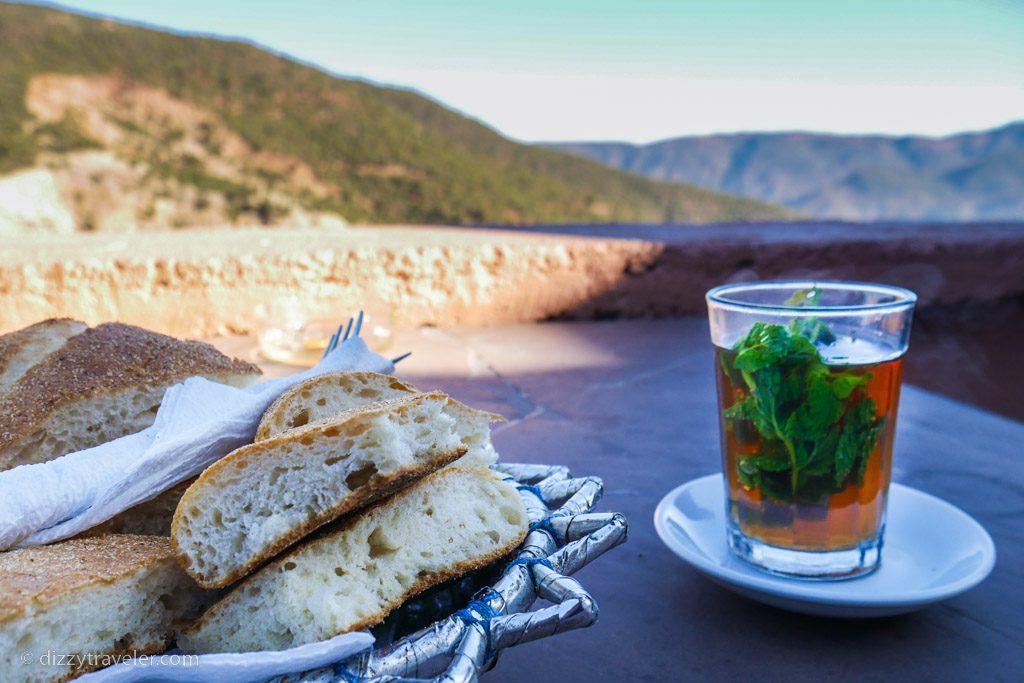 Visit Ksar of Ait-Ben-Haddou
We arrived at Aït Benhaddou, a UNESCO World Heritage Site located in the Qunila Vally of Ouarzazate, around 1 pm. Since it was already lunchtime, we decided to have our lunch before heading to the Ksar right across the street. We had delicious grilled meat with traditional spices and Chicken Tagine with vegetables at a local restaurant.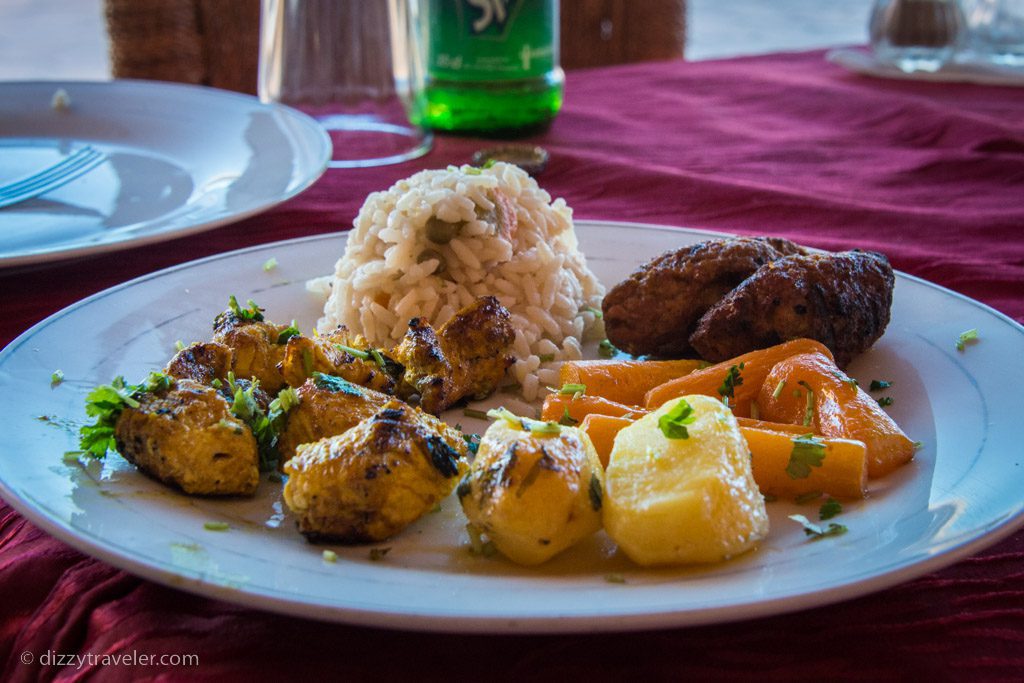 If you are in Morocco, you can't miss one of their popular dishes called Tagine, such as Chicken, lamb, beef, vegetable, and egg tagine. Here we tried steaming hot chicken Tagine.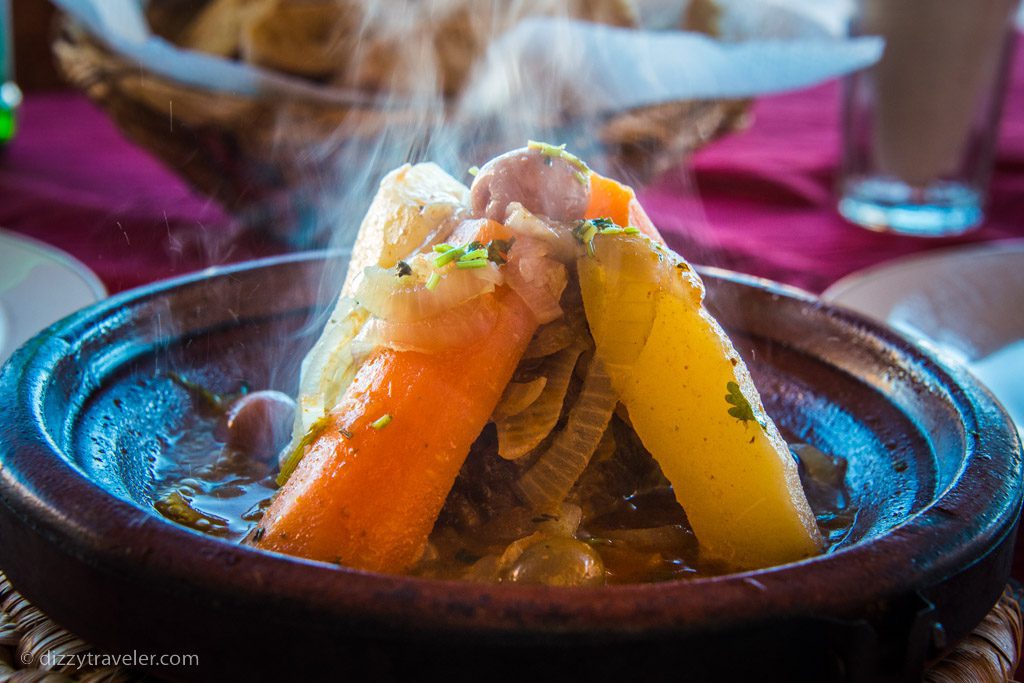 Chicken Tagine with Vegetables cooked with local spices! After lunch, we crossed the Ounila river by jumping the stepping stones to Ait Benhaddou; this Kasbah (a fortified village in English or ksar in Arabic) is one of the largest in Morocco. It was great to see how local leaders used to live in the old days and defend themselves when their city was under attack. Many hit shows and movies were shot here, like Gladiator, Indiana Jones, Games of Thrones, Prince of Persia, King Tut, and many more.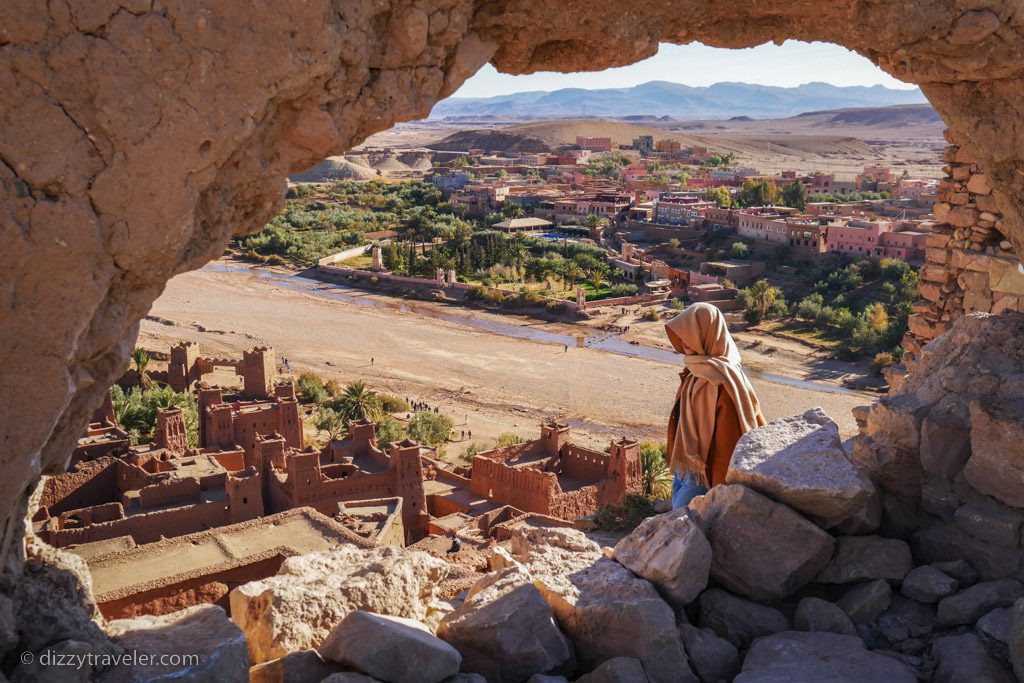 Next Stop Ouarzazate (pronounced war-zazat)
It took us less than an hour to get to Ouarzazate from Ait Benhaddou. Ouarzazate is a famous tourist town for its proximity to Ziz, Draa, and Dades valleys. In addition, the 19th-century Kasbah Taouirirt is not far from the town used as a base to control the caravan route through the region at the time. This small town, with a backdrop of the magnificent mountain landscape and the fascinating Sahara desert, is known as the gateway to the Sahara desert.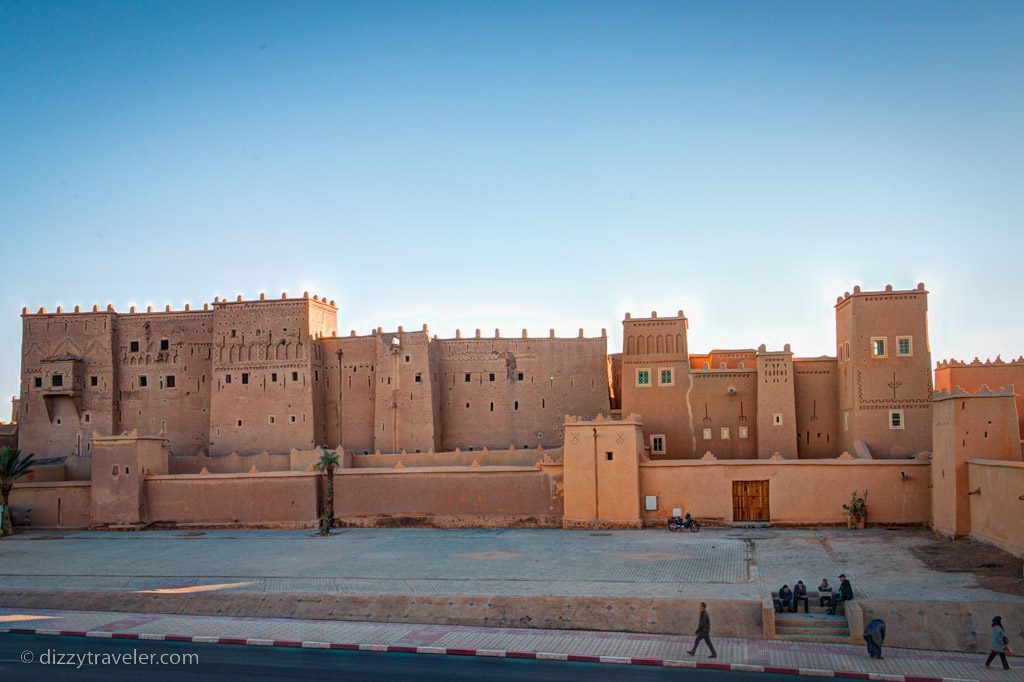 Overnight Stay at Dades Gorge
The driving distance from Ouarzazate to our hotel in Dades Gorge was about 2 hours (82 miles / 132 km). The Dadès Gorges are a series of the rocky canyon carved out by the Dadès River in Morocco. The river begins in the High Atlas chain of the Atlas mountains, flowing some 220 miles (330 km) southwest before meeting the Draa River at the border of the Sahara.
Accommodations in Dades Gorge
Auberge Panorama Dades, Gorges de Dades, 45150 Aït Ben Ali. The hotel location was excellent, with a beautiful view of the rolling mountains and the valley as this was part of our package tour, so breakfast and dinner were included with our stay.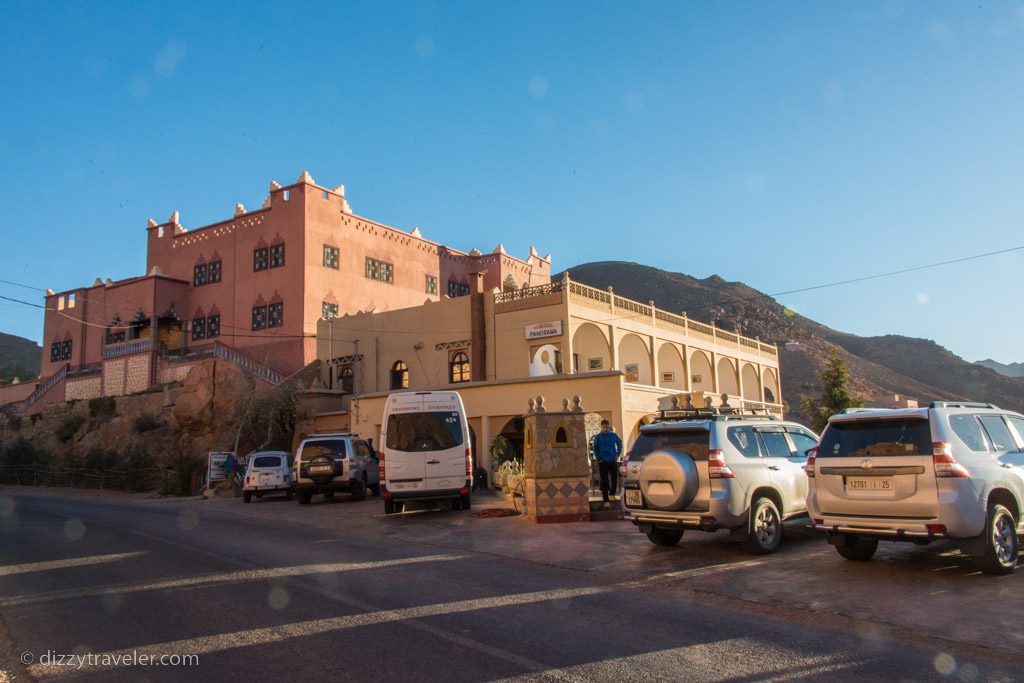 Day 2: From Dades Gorge – Todra Gorge – Merzouga
Today on the 2nd day of our trip, we woke up early, had complimentary breakfast, and were on the road again by 8:00 am.
Driving Through the Dades valley
After breakfast in the hotel, drive back through the valley to see the fantastic rock, which looks like a monkey's hands.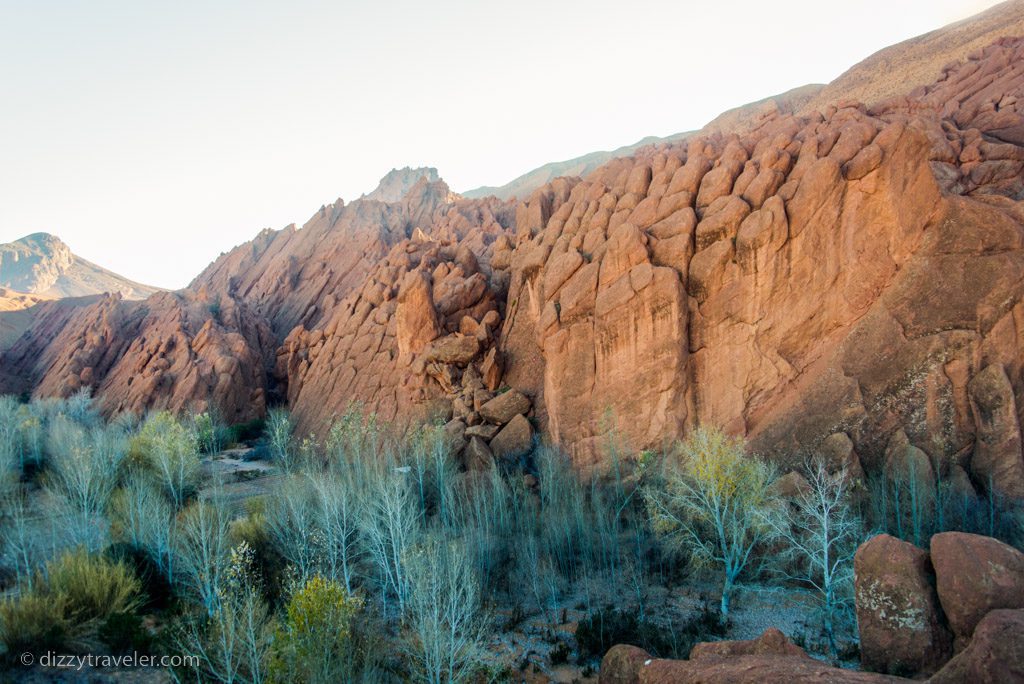 Experience the Amazing view of Dades Gorge
The Dadès Gorges are a series of rugged wadi gorges carved out by the Dadès River in Morocco. The river originates in the High Atlas range of the Atlas mountains, flowing some 350 kilometers (220 mi) southwest before joining the Draa River at the edge of the Sahara.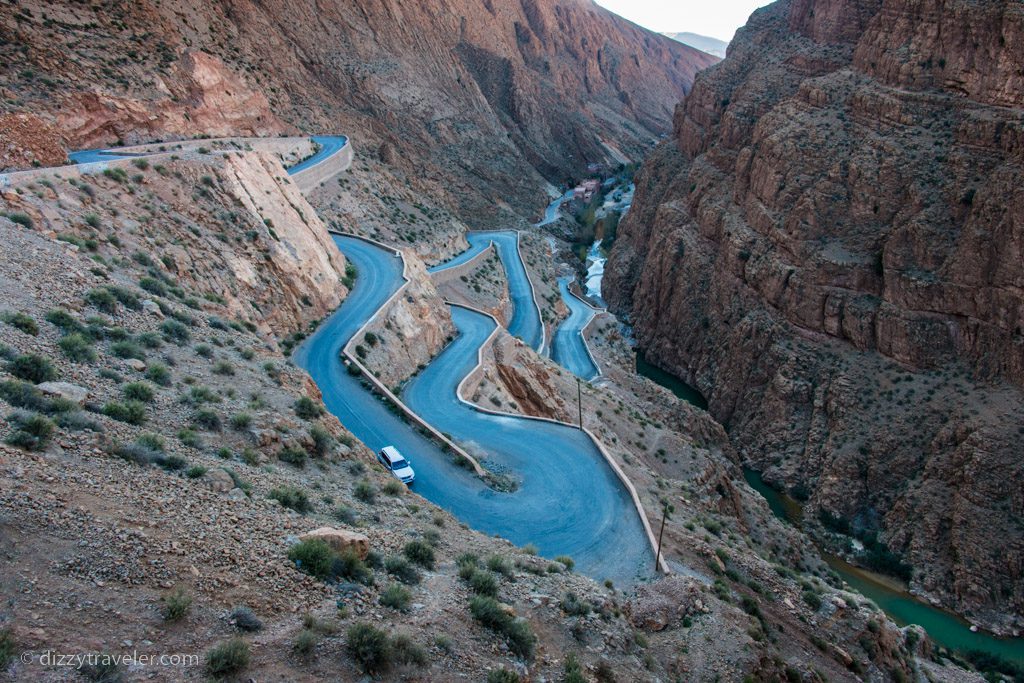 Stop and Enjoy What Ziz Valley Has to Offer
On our way to Todra Gorge, we made a quick stop at the beautiful Ziz valley in the city of Er Rachidia. The picturesque Ziz River, the gorge, and many abandoned kasbahs can be viewed from multiple roadside viewpoints alongside the valley.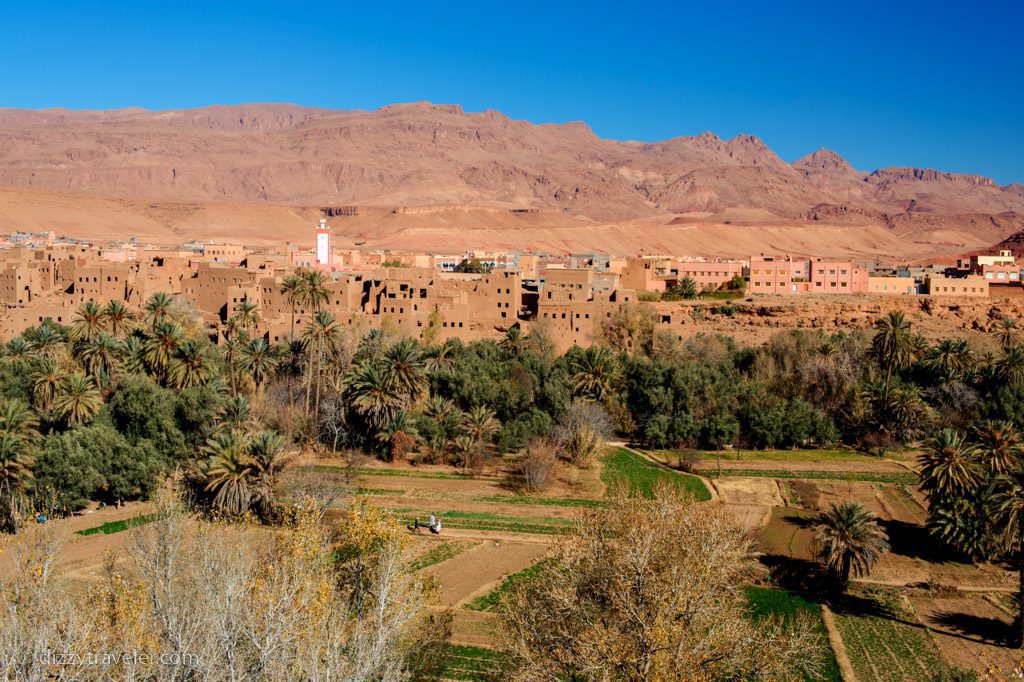 Todra Gorge is Another Beautiful Place To Explore
The Dodra Vally is about 110 miles (120 km) northeast of Ouarzazate. The series of limestone river canyons made it one of the most spectacular canyons in the world. Walking through the canyons along the river's edge with the stunning landscapes of the gorges was unforgettable. I still remember the scene of shepherds of nomadic tribes and Todra high up the mountain's slopes.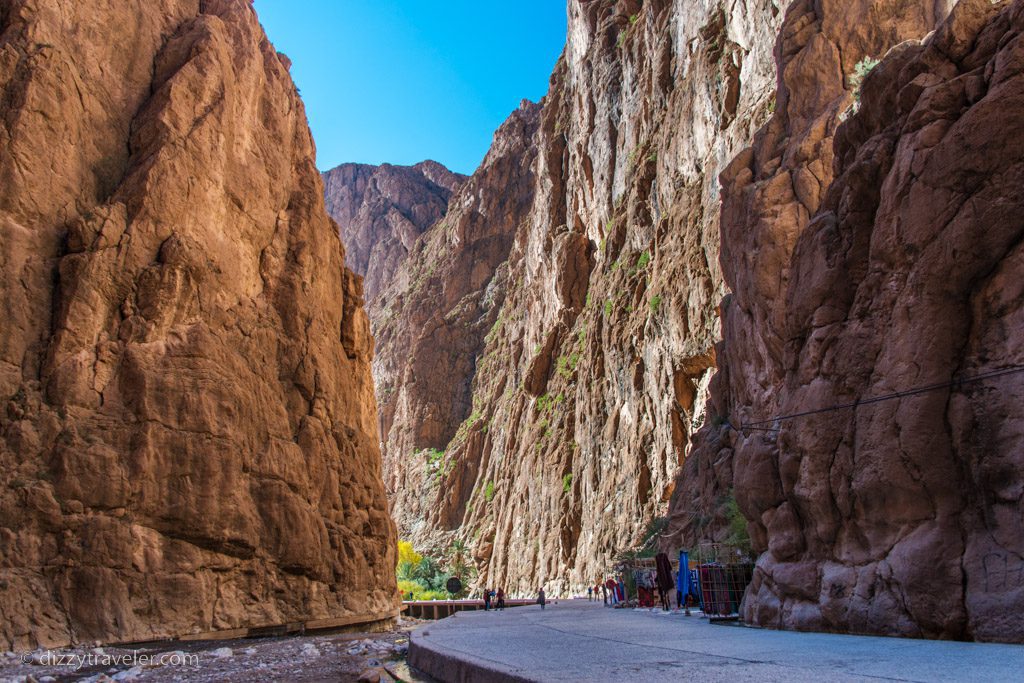 Finally at Merzouga
We arrived at Merzouga at 4 pm; it's a small village at the edge of Erg Chebbi dunes which reaches as high as 150 meters and altogether spans an area of 22 kilometers from north to south and up to 5-10 kilometers from east to west. Only about 40 kilometers southeast of Rissani, about 55 kilometers from Erfoud, and about 20 kilometers from the Algerian border.
Sahara ATV/Moro Quad Adventure in Erg-Chebbi Dunes
We rented a Quad for two hours; not too many tourists as the winter temperatures are cold and only slightly about 10º C during the day. After going up and down through numerous dunes, our guide finally took us to the very top of a dune, where we had the most spectacular view of the area. Not a single person in the area, all we could hear was the sound of the wind and shifting sands; what an experience, totally unforgettable. This exciting adventure is a must-do event if you are in Merzouga.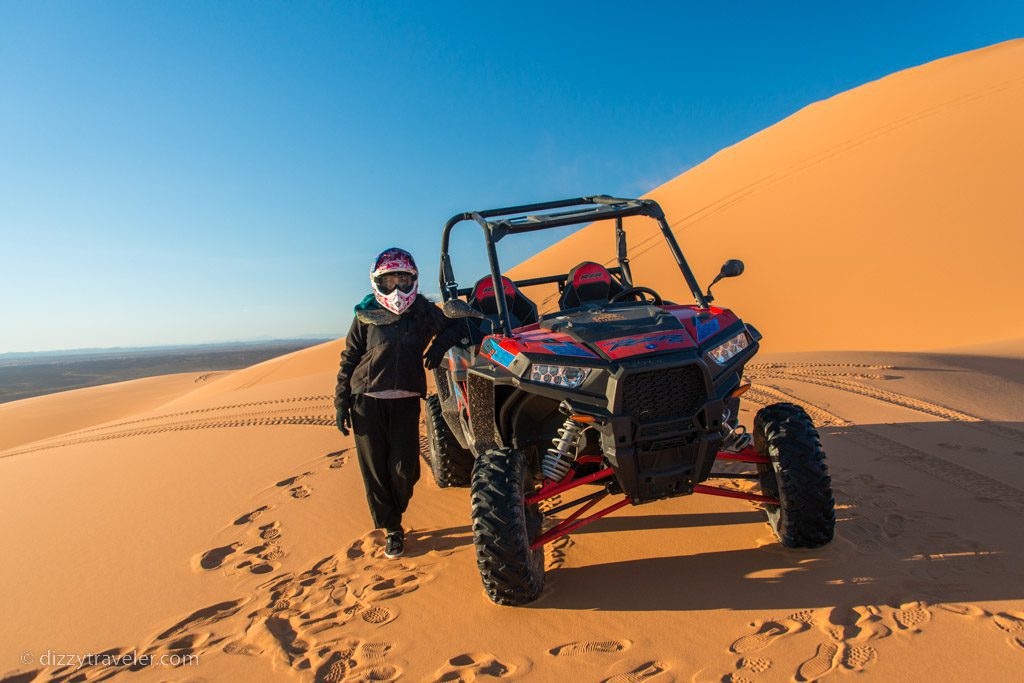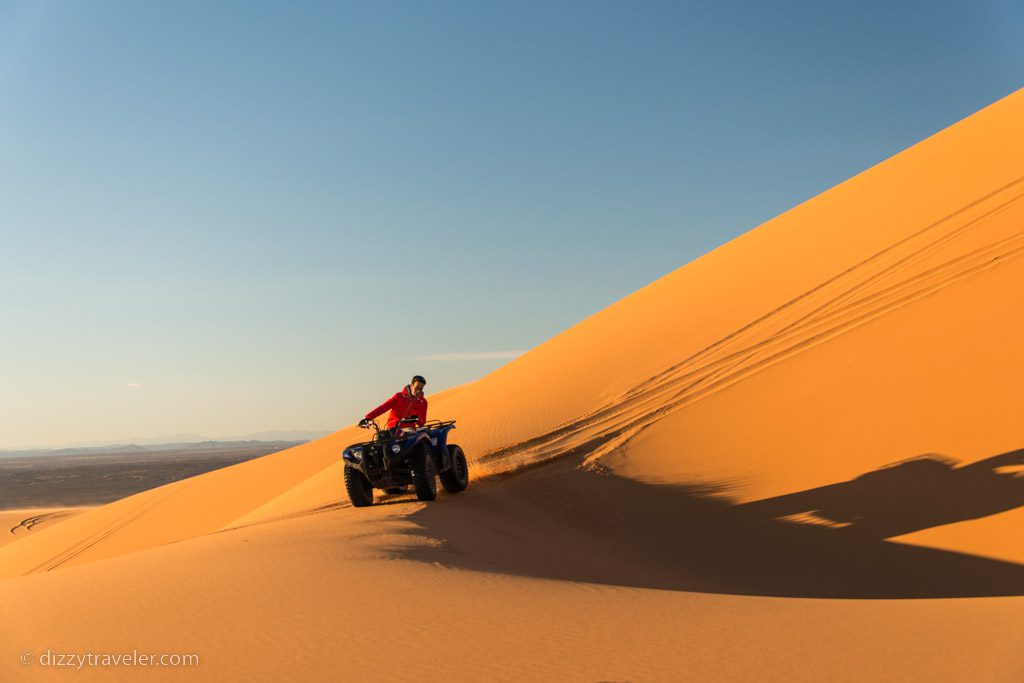 Accommodation Central Merzouga
Nomad Palace, Ctra. Merzouga – Taouz, km,7, 52202 Merzouga, Morocco
Day 3: Exploring Merzouga and the area of Erg Chebbi
Today is the 3rd day of our trip; we plan to visit an oasis in Merzouga, have lunch at Nomads tent, enjoy Gnawa Music at black Berber village, Visit Dayet Srji salt lake, and finally, camel ride to enjoy the sunset.
Explore Erg-Chebbi Area by Visiting Nomad Tent
In the desert, we visited a nomad village and had our wood-fired nomad pizza for lunch and mint tea sitting in a traditional tent.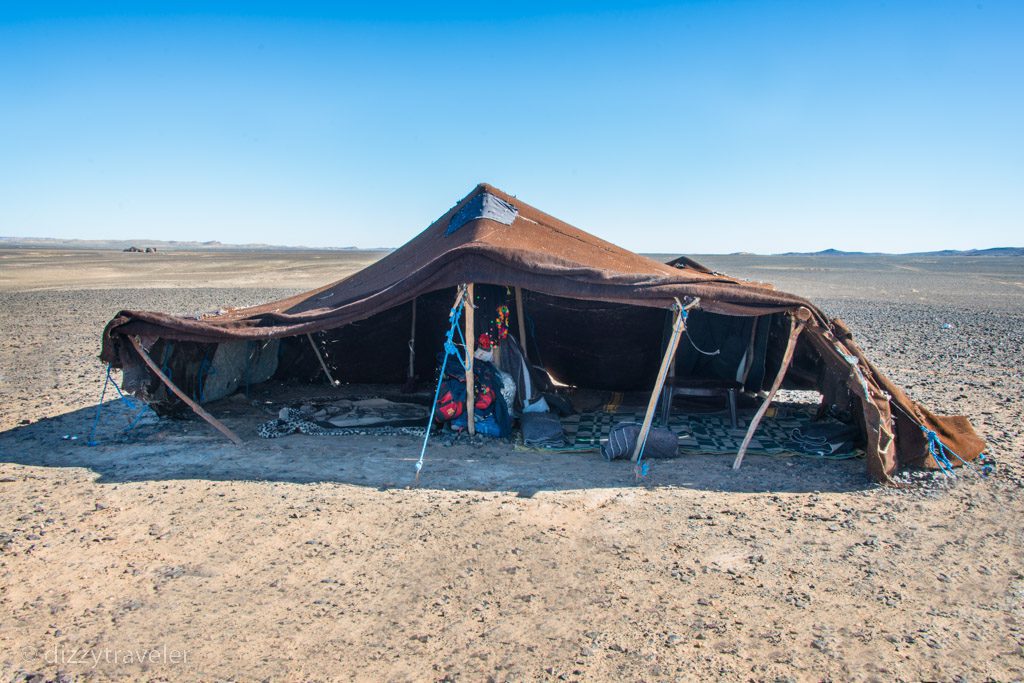 Visit The Village of The Blacks
The Gnaoua tribe and its music have their origins in an area in Sudan. So visiting a village just 7 km from Merzouga was exciting. Many of the black Berber still live there, where we enjoy their traditional dance and music.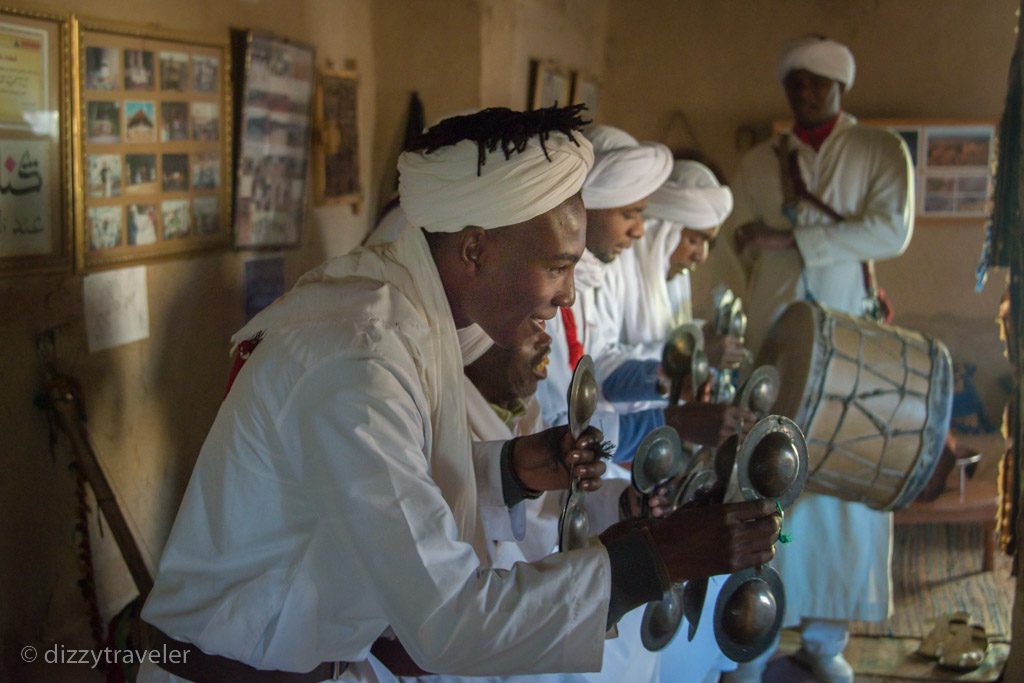 Visit Dayet Srji salt lake, just west of Merzouga.
Dayet Srji salt lake is in Tamzgidat village, close to Merzouga. Even though there is not much rain in that area, the lake still gets enough water from the High Atlas Mountains for local bird populations, including flamingos.
Camel Ride To Watch Sunset in Erg Chebbi
We started our Camel-Trek at 3:30 pm; about two hours into the ride, crossing numerous dunes, we finally arrived at the top of the higher dune. From there, we had a spectacular view of the sunset. After watching the sunset, we continued our camel journey to our desert camp, where we spent our night in a tent.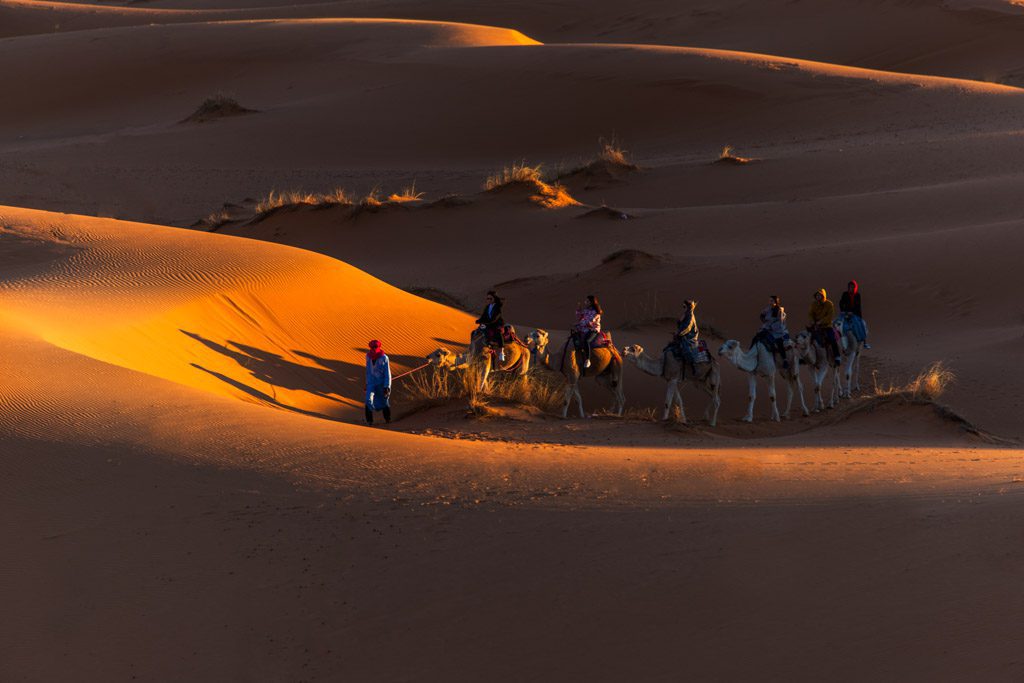 Stay Overnight in The Desert Tent
Sahara Desert Luxury Camp, Merzouga village, 52202 Merzouga, Morocco
Rolling dunes of Erg Chebbi surrounded the desert luxury camp with an excellent view of early sunrise and sunset. Getting to this camp from Merzouga, the nearest town in Sahara, was adventurous. A camel ride of about 2 hours will take you there, which includes climbing to the top of a relatively higher dune for a better view of the sunset in the Sahara desert.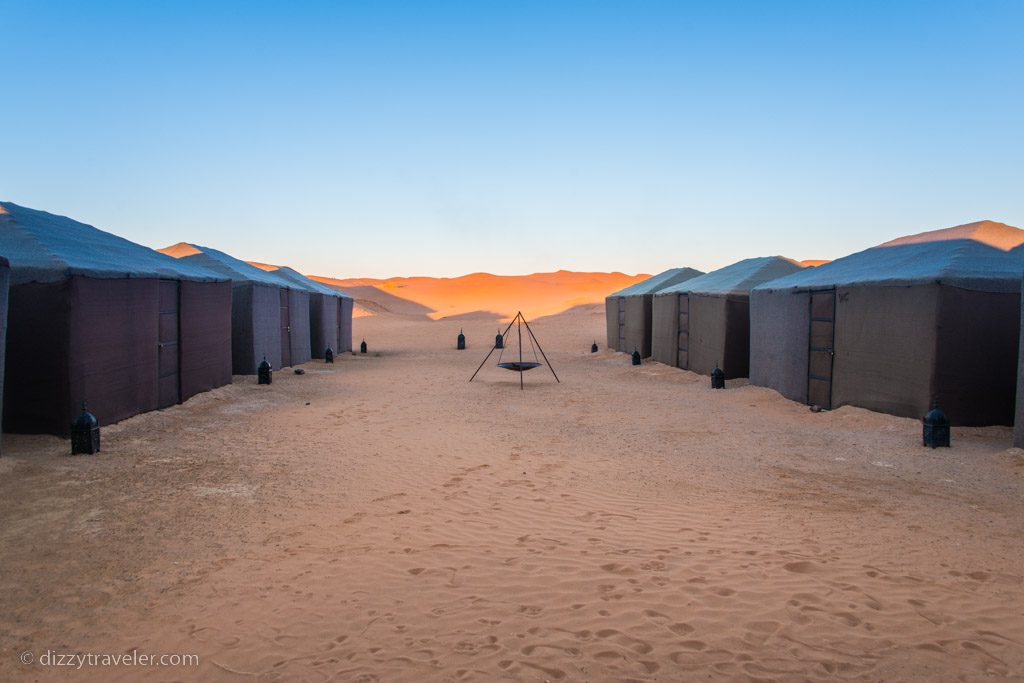 Day 4: Back From Merzouga – Marrakech
Sunrise Camel-Trek – Erg Chebbi Dunes
6:00 am camel man picked us up from our desert tent and brought us to watch one of the most fantastic sunrises of our life. Afterward, camel-trek back to our tent.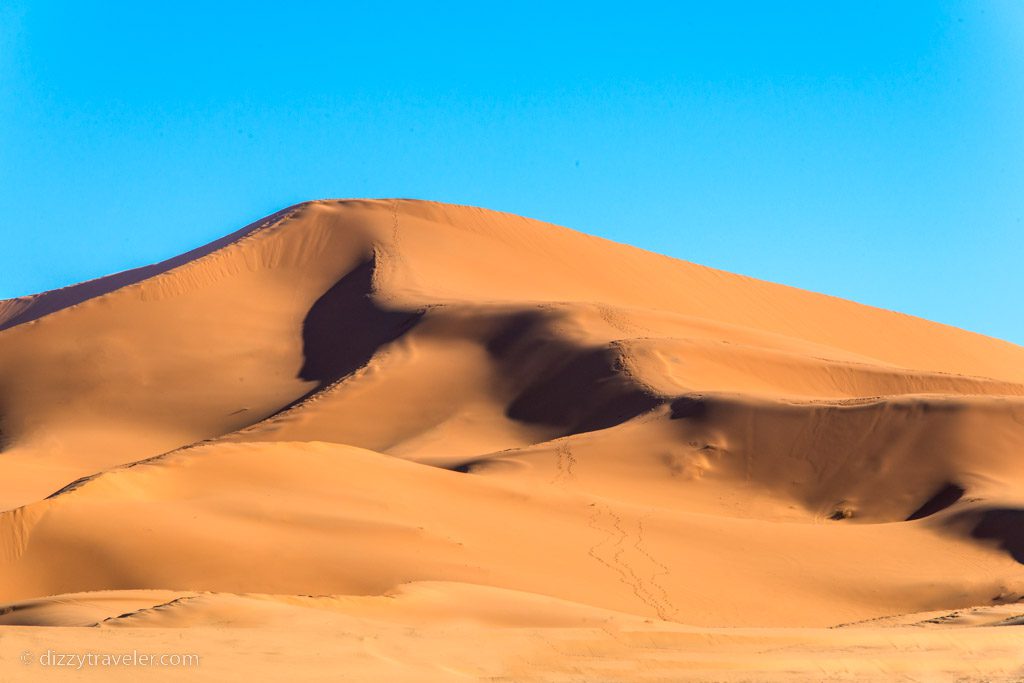 After Breakfast, on Desert Camp Trip Back to Marrakech
After a remarkable stay in a desert tent surrounded by spectacular adventure in the Erg Chebbi dunes, we returned to Marrakech.
A Quick Stop at Traditional Market in Rissani
A small town called Rissani is only 25 miles (42 km) from Merzouga, so we decided to pay a visit to a market known as one of the most favored in the region due to its strategic location and architecture, occupied by or given the volume of trade and craft activities.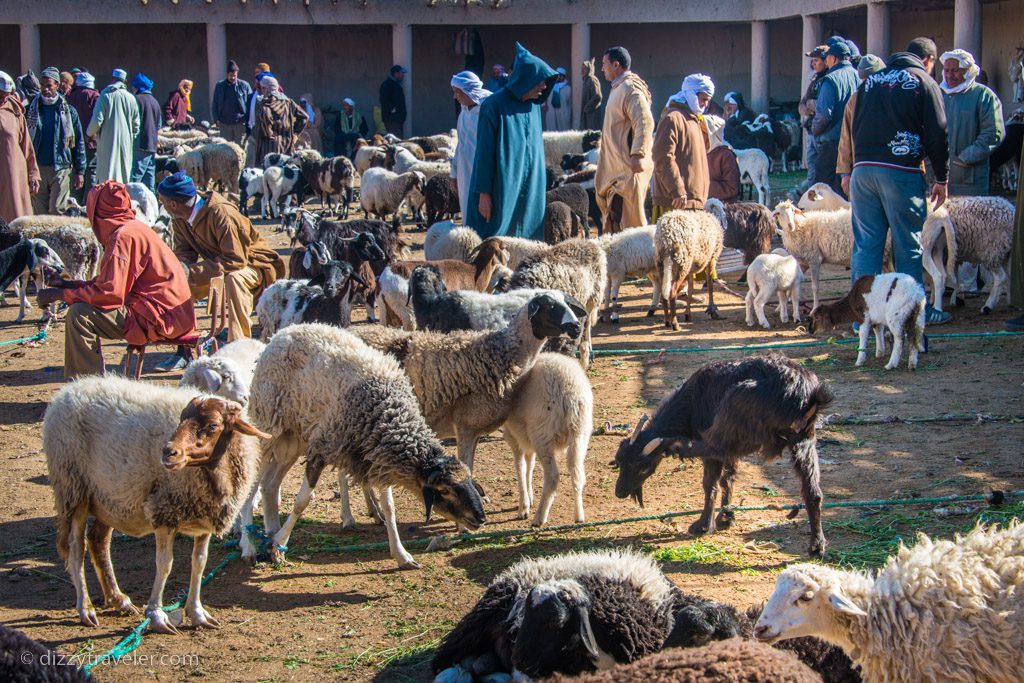 Arrival in Marrakech
Accommodation in Marrakech
Riad Jona, 34 Derb Jdid, Marrakech 40040, Morocco
Riad Jona is conveniently located in the center of the old city. Walking distance to the Jemaa El Fna Square, widely known for its night market, Bahia Palace, and The famous Koutoubia Mosque. It also offers a rooftop terrace, a Turkish steam bath, and an outdoor pool. We liked having our Moroccan dinner at their restaurant. Luggage storage was an added convenience for us to match our itinerary.