When I envision my time in Kenya, Africa, I see the vast rolling savannah of Maasai Mara dominated by endless grassy plains. I see the Great Rift Valley and the wildlife activities surrounding Mara River. During my safari trip, I have gathered so many unforgettable memories that I was able to bring home with me the memories of zebras and wildebeests crossing the dangerous migratory path of the Mara River. The view of cheetahs down in long grasses targeting their prey about to start their game of chase and survival. I have also gathered a great experience during my recent Masai Mara safari, which I will share here.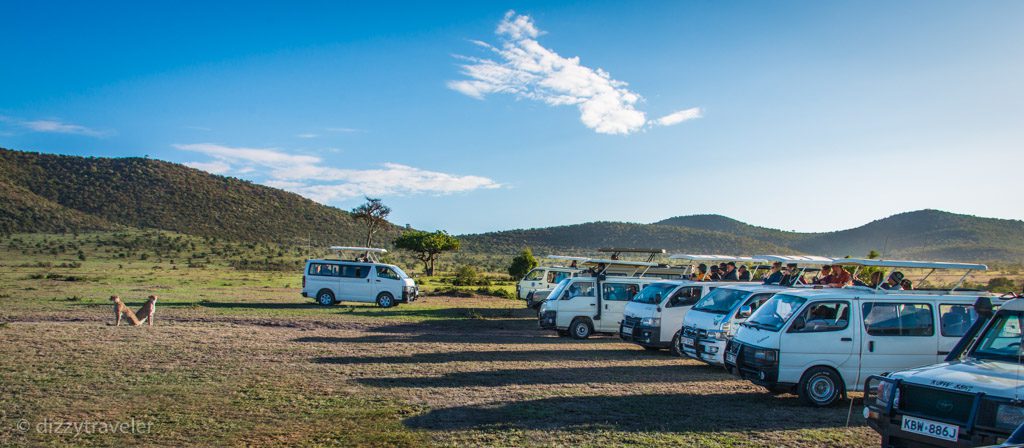 Best Time to Visit Masai Mara
The favorable climate of Masai Mara in southwestern Kenya is ideal for year-round game viewing. The daytime temperatures are comfortable, while the nights are much cooler. Rainfall affects vegetation and water resources. Therefore, resources like these affect wildlife movement and concentration to a great extent. When water and vegetation are scarce, wildlife travel from the deep interior hideouts to more open areas in search of food and gather around the last remaining water sources like Mara River, Sand, and Talek River. These conditions make it the best time for safari game viewing in Masai Mara. During this time, there is greater wildlife visibility in the savannah with the lowest tracking time. Moreover, roads and trails are more favorable to vehicles.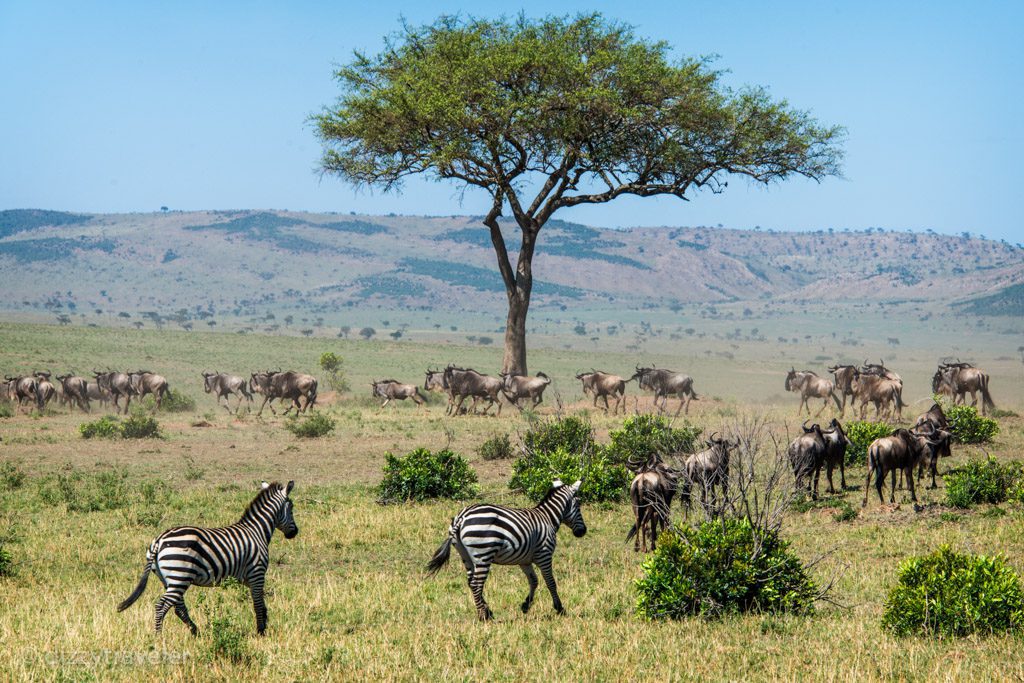 The long cool-dry season from July to October is considered to be the best time of the year to visit Masai Mara for a Safari. Also, insects like mosquitoes are less during the dry season. June to August – The average daytime temperature is 77º F (25º C), and the nighttime lows are around 50º F (10º C). September to May – The average daytime temperature is from 79º F (26º C) to 82º F (28º C), and temperatures drop at night to 55º F (13º C)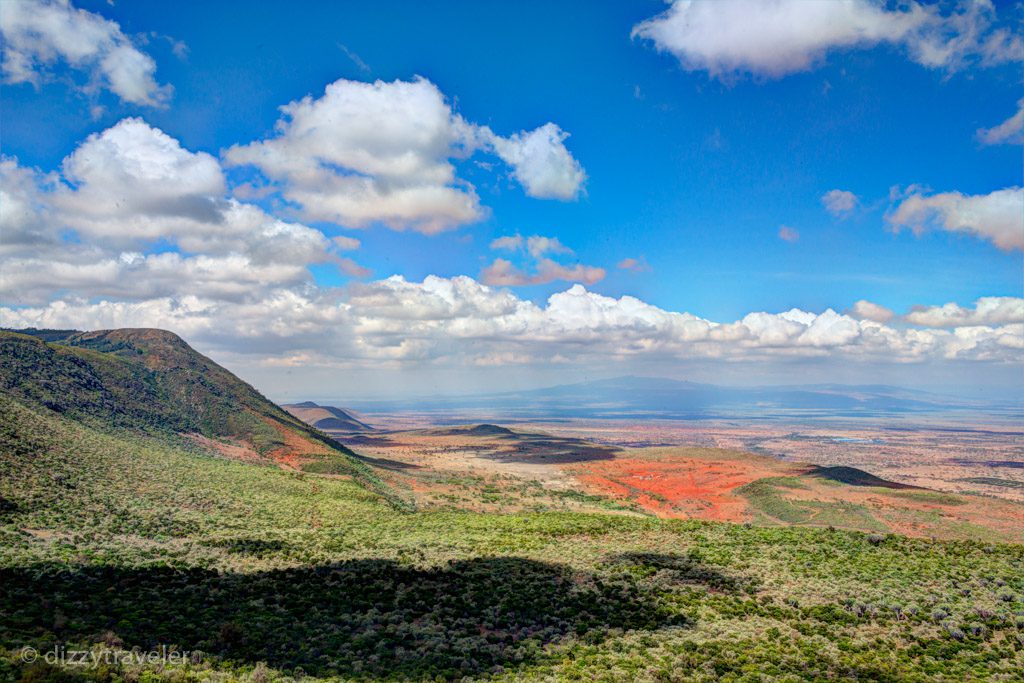 My 3 Days Maasai Mara Safari Itinerary
During my three unforgettable days on my safari trip to Maasai Mara, I gained a once-in-a-lifetime experience. Here is my itinerary in a nutshell:
Day 1: Nairobi to Maasai Mara and Other Activities
AT 7:30 am, my tour guide driver picked me up from my Nairobi hotel and departed for Masai Mara. While driving through the mountains, we stopped at the viewpoint of the Great Rift Valley. Then, we made another stop in Narok town for lunch at the Seasons Hotel. Finally, around late afternoon after about 7 hours of driving, we arrived at Rhino Tourist Tented Camp in Masai Mara, where I stayed two nights.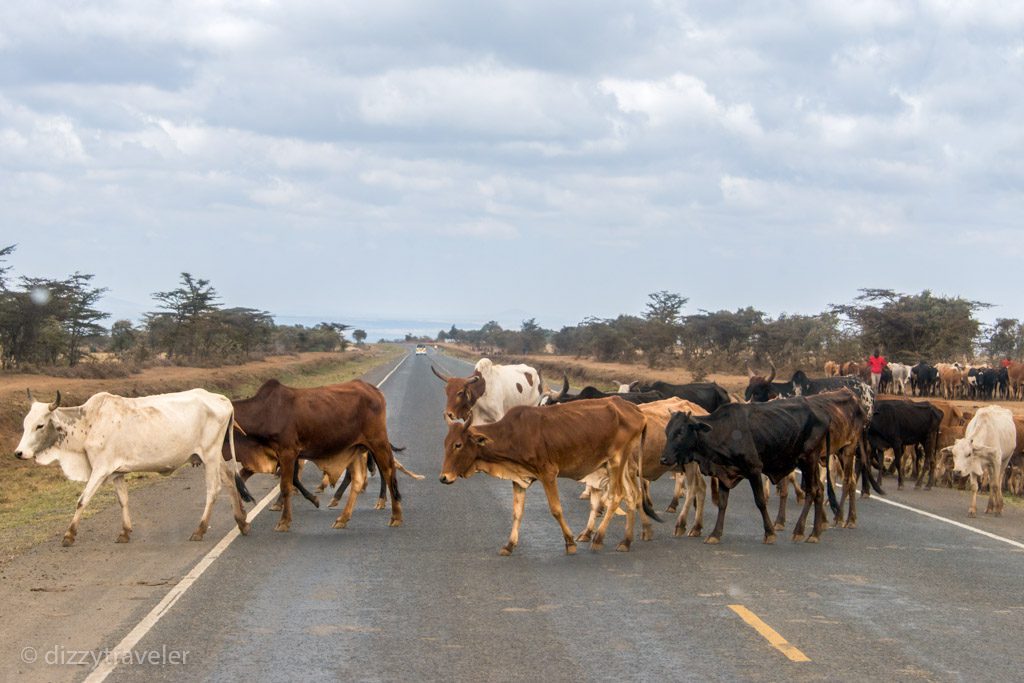 Arrival at Rhino Tourist Camp, Ololaimutia Gate, Maasai Mara
Late afternoon arrival at Rhino Tourist Tented Camp in Maasai Mara, where I stayed two nights. Checked into a tent (numbered 1954). It was budget accommodation, so nothing fancy, just a double bed and a single bed in a tiny tent with a toilet, shower, and a washroom. Breakfast, lunch, and dinner were included with my stay. After an hour of rest, we planned to go for a late afternoon game drive.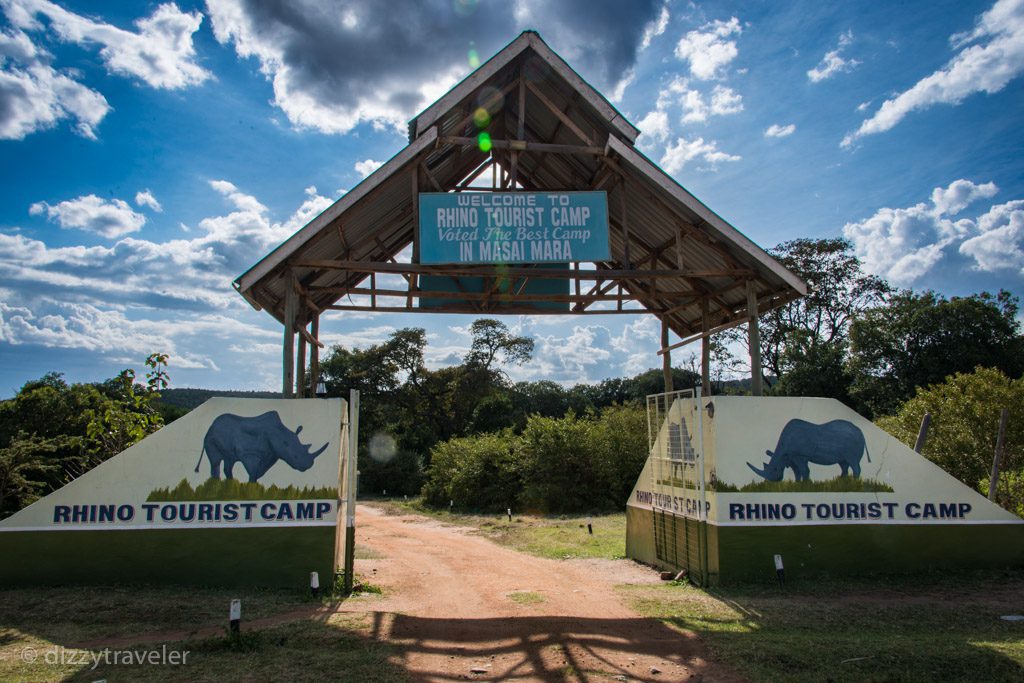 Amazing Late Afternoon Game Drive in Masai Mara
We entered the Masai Mara National Reserve (the entrance fee for foreigners is US$ 80 if your accommodation is outside the park) for an exciting evening game drive. It was an incredible experience.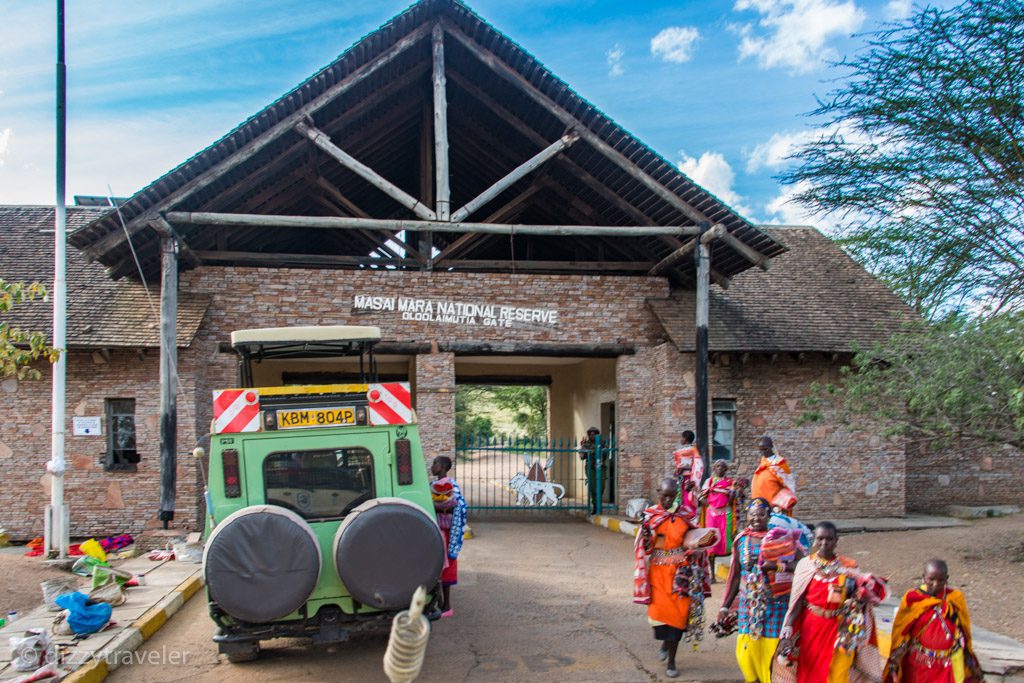 I was amazed by the incredible scenery in the wide-open savannah. There were many safari activities and various wildlife to view, with an extensive range of prey animals which is why it is considered Kenya's best game park. Masai Mars is a buffet for large predators, such as lions, cheetahs, leopards, crocodiles, and other mighty hunters.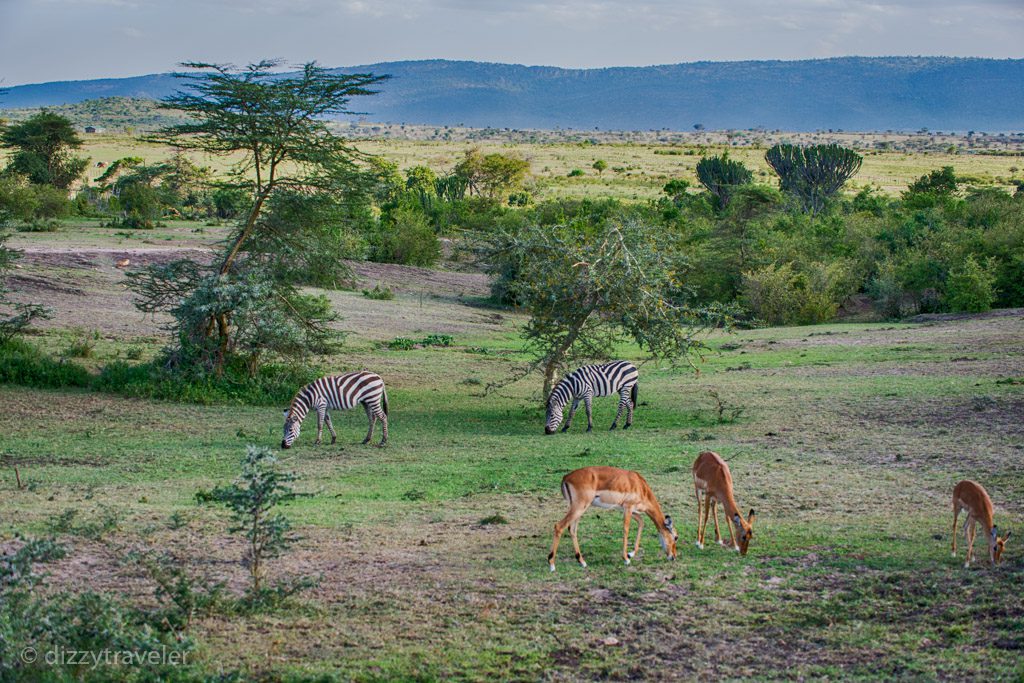 I frequently saw impalas, topis, giraffes, elephants, zebras, buffalos, warthogs, and other grazing herbivores during the safari. We returned to the camp in the evening. Unfortunately, electricity produced by the generator is only available for 3 hours in the morning and 4 hours in the evening. So by 10 pm, I was inside the mosquito net for a good night's sleep.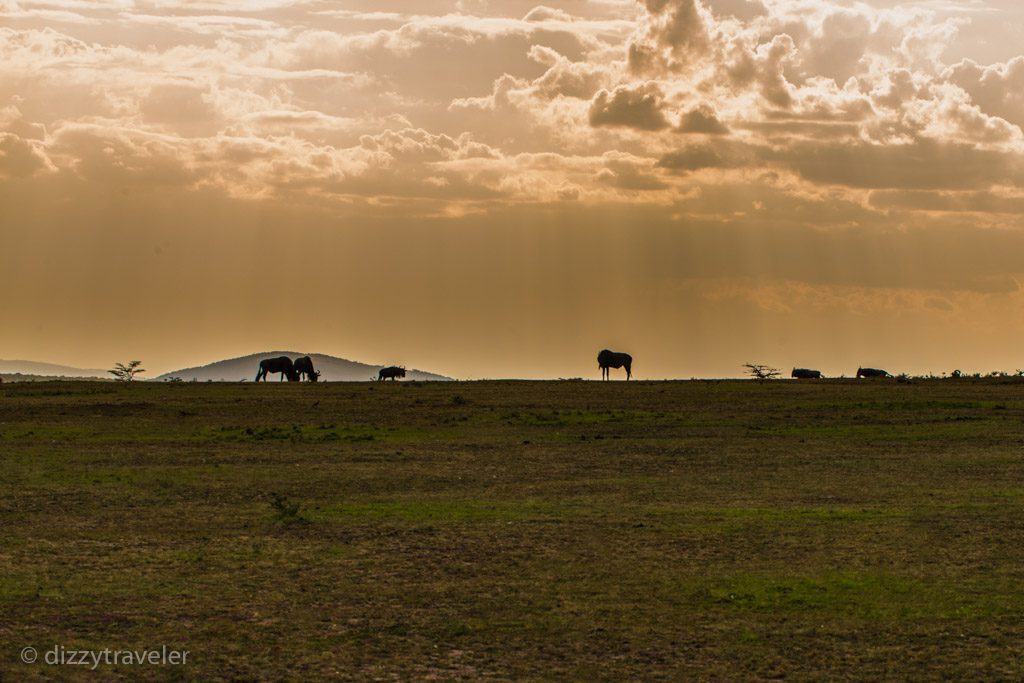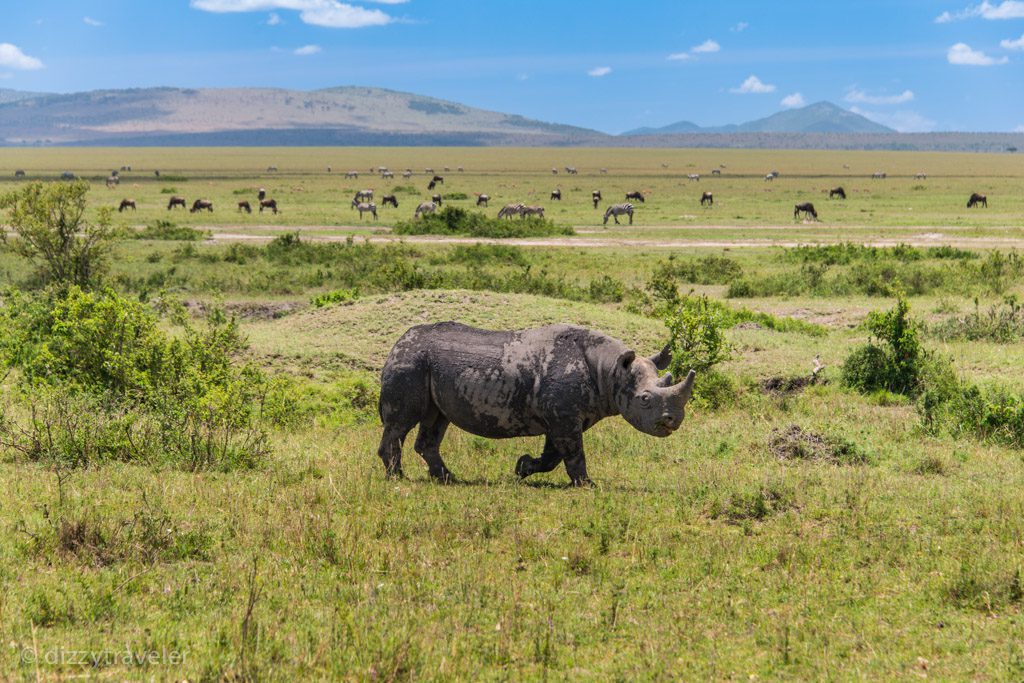 Day 2: Full Day Safari in Maasai Mara National Reserve
Lunch in Maasai Mara
From 08:00 until 18:30, I enjoyed a full-day game drive across the huge grassland and rolling hills. I was lucky to spot wildlife like lion, elephant, cheetah, leopard, buffalo, rhino, zebra, gazelle, and giraffe, plus the hippos and crocodiles in the Mara River.
Our guide found a safer location in the rolling grassland to stop for lunch and distributed a packed lunch provided by individual camps. On our way there we saw many lions and other dangerous animals, and that's why we really had to be very alert during our lunch.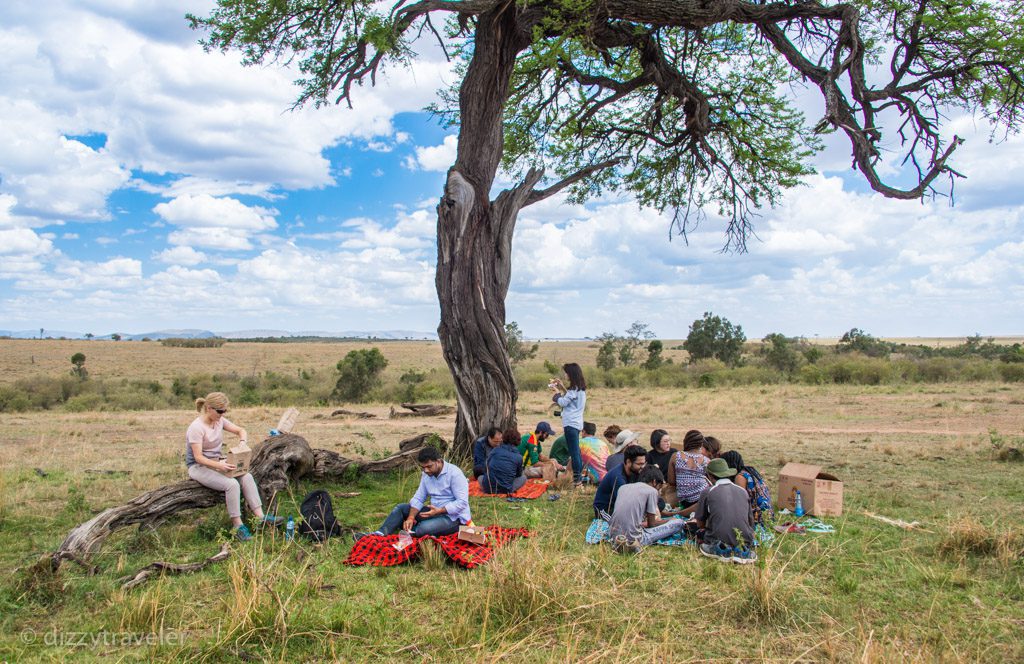 Spotting The Big Five
Highlights of the day were spotting Leopard and Rhino. Among the all big five, Leopard is the most difficult one to spot; even you track down one but can't get a good view unless you are lucky, as, during the day, they rest in thick brush or in trees after their usual hunting activities at night.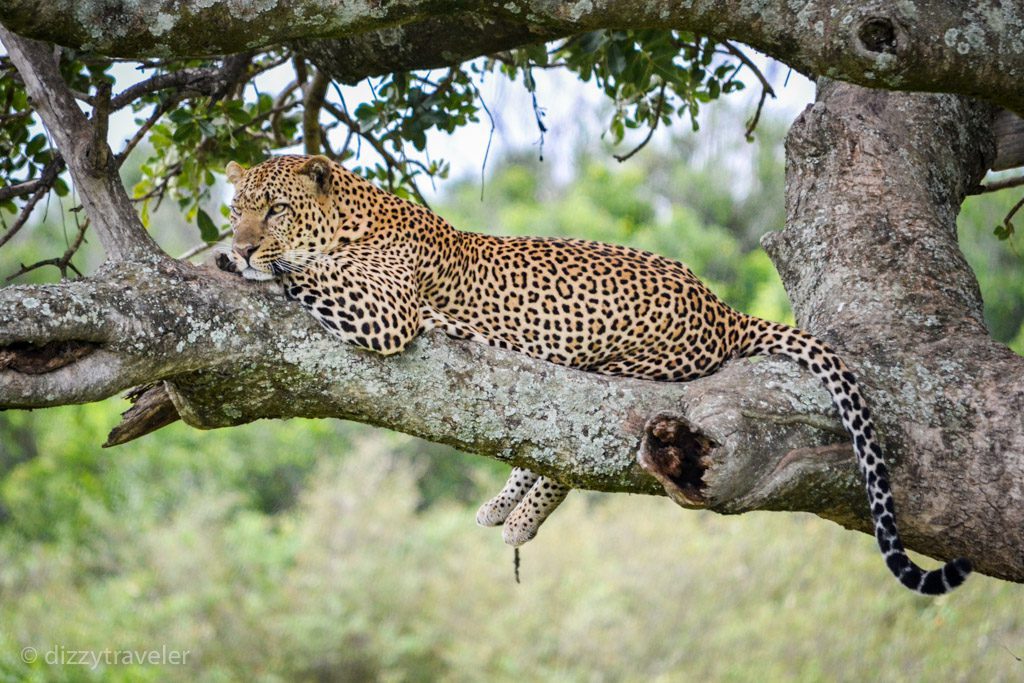 While driving through the grassy plains, our guide listened to the radio broadcast. Then, suddenly, he turned around and started going off-road. He told me someone spotted a Rhino, so he was heading in that direction. I was excited because this would be my first time seeing a Rhino.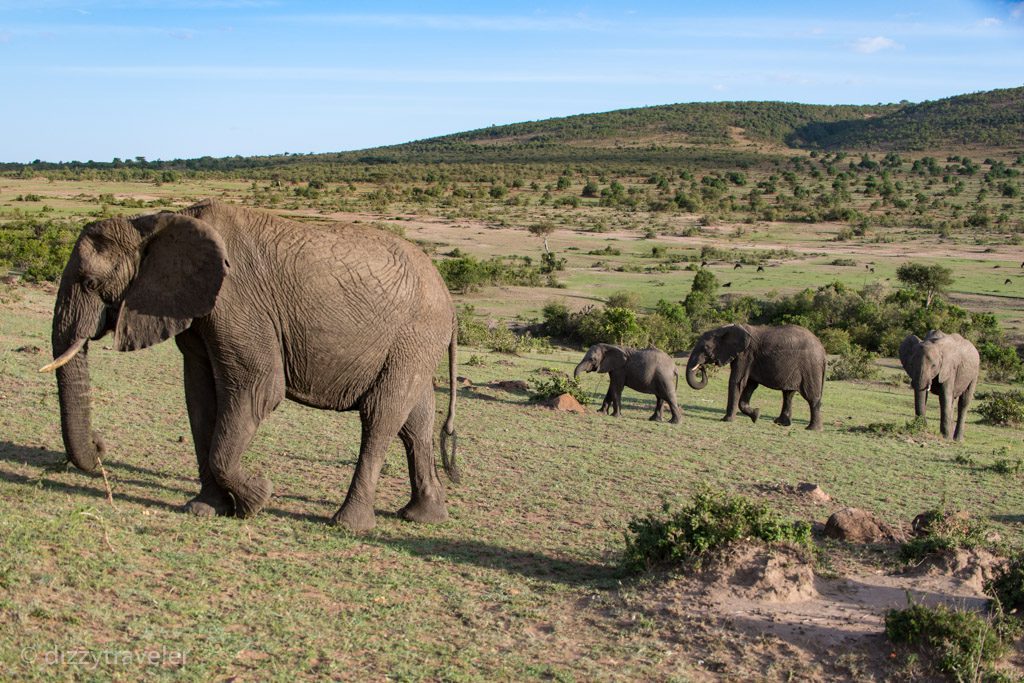 Final Stop – Visiting Masai Village
The Maasai are the ancestral people of the Mara. History remembers them as fierce warriors and tough pastoralists. Today, many lodges around the Mara employ the local Maasai from the communities as their "askari" or security guards. Maasai are well known for their rich cultural heritage. Their deep ties to the wilds of Africa and living around the national parks of Kenya and Tanzania are intertwined with the safari industry. They live all around the Masai Mara reserve, and many lodges arrange cultural visits and sell their crafts in camp.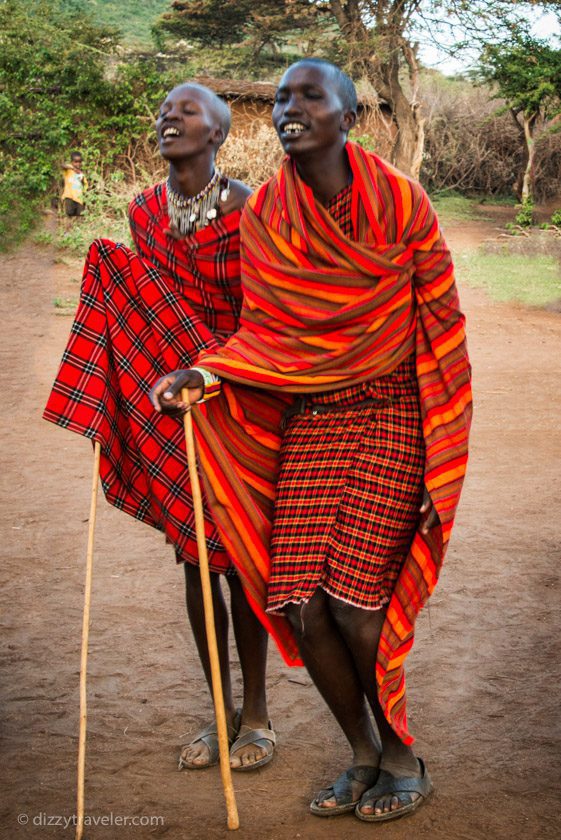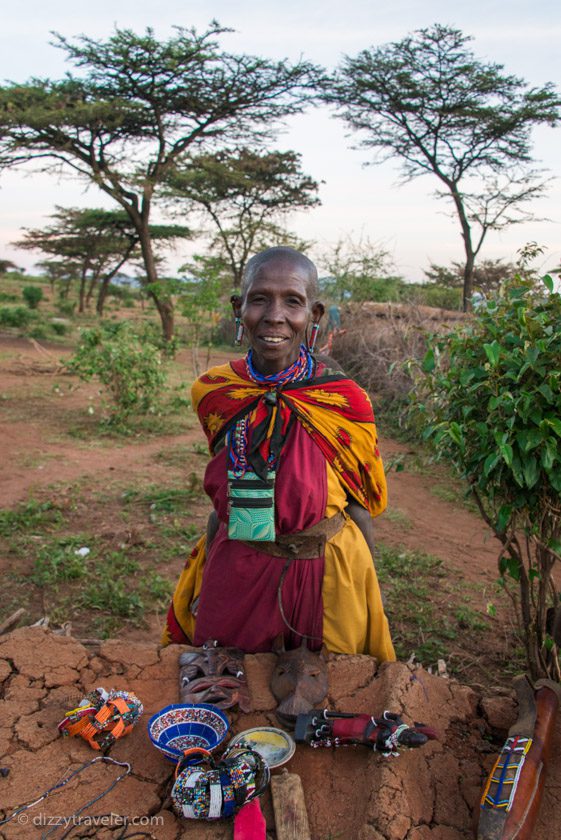 Day 3: Morning Game Drive in Maasai Mara, Then Drive To Nakuru
Another game drive early in the morning between 06:30 to 09:30, then come back to our camp, after breakfast leave for Nakuru National Park.
My Masai Mara Safari Experience
Masai Mara is one of Kenya's and Africa's most prominent tourist sites. This is where visitors will get a chance to witness the famous wild beast migration. Masai Mara National Park has all types of wild animals, including lions, tigers, giraffes, elephants, leopards, zebras, birds, rodents, and many others. Visitors will get a chance to enjoy Game Drives, where they will be taken to wildlife-rich spots and even get near enough to wild animals. Visitors will also enjoy Balloon safaris, a fantastic way to enjoy the entire Masai Mara National Park from a bird's view for approximately an hour. Walking safaris are another great way to explore Masai Mara. You will get a chance to walk through the Park guided by friendly guides and enjoy exploring the ecosystem as you get some exercise.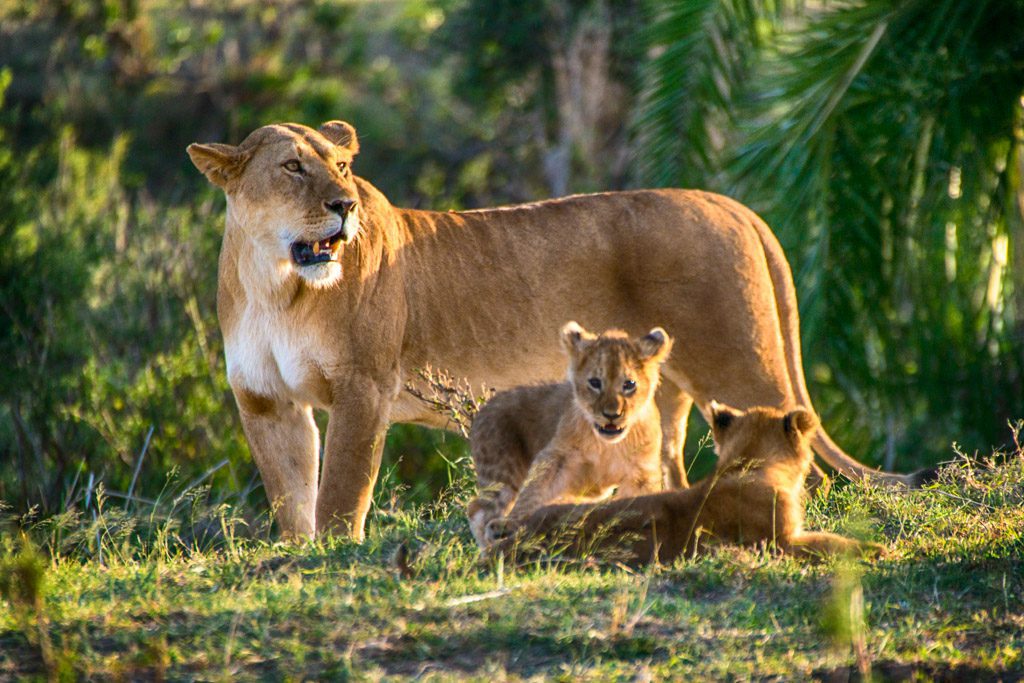 Where to stay in Maasai Mara, Kenya
Neptune Mara Rianta Luxury Camp is located in the north of the Masai Mara National Reserve in the heart of the Mara North Conservancy. This luxury-tented camp overlooks the Mara River and is surrounded by wildlife. Each luxury tent, built on a wooden platform, has a private viewing deck. It includes a sitting area, a writing desk, and a laptop safe box. The private bathroom has a spacious shower and twin basins.
The Acacia Dining Room serves a buffet-style breakfast and lunch, while dinner is à la carte. Al fresco lunches are served around the pool at Neptune Mara and evening barbecues include activities such as Masai dancing.
Rhino Tourist Camp
is located less than half a mile from the Oloolaimutia Gate at the Maasai Mara Game Reserve. It has a bar and a restaurant and is surrounded by lush vegetation. The self-standing rooms and tents at the Rhino Camp have private bathrooms with a shower. Traditional African and international dishes are available at the restaurant. Meals are prepared with fresh organic produce and transported daily to the camp.
If you haven't organized a game drive, then Rhino's staff can help with experienced drivers and a guide. Contact the property for shuttle service from Nairobi or Moi International Airport or transfers from Keekorok Airstrip. 
My Opinion and Last Word
Have you been to Maasai Mara, Kenya? Any cool tips to share?
I loved being in Maasai Mara, and want to go back again. I hope my story has motivated you to visit Kenya.
Please leave a comment below! I'd love to hear from you to improve my knowledge. 
Was this travel guide helpful for you?
If you'd like to help me continue making free guides, here is one way you can help:
Share This Guide 

– If you have a friend that would benefit from this guide, share it with them. Or post this guide on Facebook, Twitter or Google+
Your Support would definitely help me making more free guides like this. Thank you in advance!
Affiliate Link – This post in Dizzy Traveler contains affiliate links, which means I receive a referral commission if you purchase after clicking at no additional cost to you. These funds go to maintain the site. Thank you for your support.
---
Book your Sightseeing Trip
There are a lot of beautiful places to visit and do some exciting sightseeing activities to bring unforgettable memories back home. Please click on our below affiliate link to see your options.