Iguazu Falls are one of the Seven Natural Wonders of the World, and it is definitely one of the must-see destinations in Brazil. Located in a small town called Foz do Iguacu in Brazil, right at the tri-state border of Argentina, Brazil, and Paraguay. Don't get confused if you hear local people saying 'Cataratas do Iguacu' or 'Cataratas del Iguazu' in Spanish. Since the introduction of eVisa, it's been very convenient for US visitors to fly to Foz do Iguaçu International Airport, enjoy the spectacular view of the falls up close, and take a helicopter ride to see the absolutely fabulous view from the air. Plan Your Trip
How To Get There
There are direct flights from Rio de Janeiro, Sao Paulo and from few other cities to Foz do Iguaçu International Airport (IGU). Entrance to the Falls is less than 2 miles from the Airport and there are plenty of hotels within the same distance so early morning flight will get you there for the entire day of fun. My flight landed at 9:30 am so took the hotels shuttle for an early check-in (got lucky), changed and packed appropriate things for the falls and called an uber. I was at the park entrance by 10:30 am.
Iguacu airport (IGU) does not have free WiFi, so you cannot call an Uber. Make sure you have enough cash to pay for the taxi. In addition, most cab drivers do not have change and have trouble breaking a 50 Reis. The average cost to get to a Brazilian hotel was 20 Reis.
Suppose you are arriving at Argentine Cataratas del Iguazu International Airport (IGR) and want to travel to the Brazilian side of the border. In that case, getting a taxi and being on the other side is easy; it takes about 45 minutes. A taxi will cost you not more than 800 pesos, about US$ 28 (1 US# = 28.xx Pesos). Do you need to check the visa requirement for Brazil before you head to the Brazilian Side of Iguazu Falls?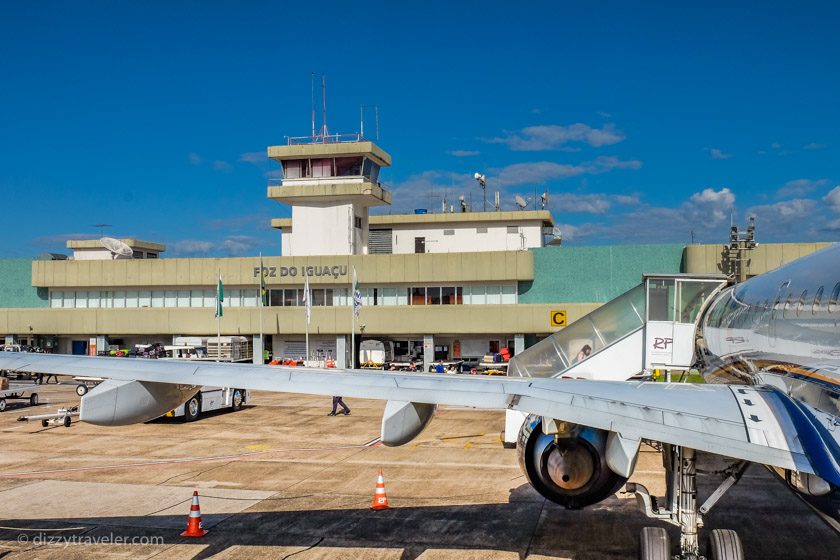 How Long Do You Need To Explore Brazilian Side
The Brazil side of the Iguazu Falls will take at least one full day depending if you are taking the helicopter ride, taking a long walk along the river and gorge where you will find beautiful panoramic views, or taking a boat ride for an up-close view of the falls and kayaking in Poço Preto.
Where To Stay
The falls on both sides of the border are spectacular and can be reached from the closest towns on either side. So regardless of whether you are staying in Puerto Iguazu in Argentina or Foz do Iguacu in Brazil, you should be able to visit both by just crossing the border. In addition, hotels on both sides are reasonably priced; we stayed 1 night at Foz do Iguacu and one night at Puerto Iguazu.
Best Time to Visit
I visited the falls in June when the temperature was more refreshing and less humid, daytime high was in the mid-70s and was dropping to 50º F at night. I needed a light jacket or hoodie for the evening out. The clear blue sky, green forest, vegetation, and active waterfalls made my pictures memorable.
People say the best time to visit the Iguazu Falls is in October when it is not too hot and the weather is perfect. Unfortunately, down there, the weather starts to warm up in November, and in December, it gets scorching. Actually, December to March is summer, the hottest and most humid time of the year. The temperature may rise well above 90º F with humidity regularly above 90%.
Between January and February is the peak season when Brazilians and Argentineans are on holiday, so lodging and other expenses are relatively expensive.
Useful Information
Make sure you rest before the Brazilian side. I walked about 10 miles total in the park itself and took shortcuts to ensure I saw it all. Lots of stairs and slippery surfaces. Bring shoes that have a grip and don't forget a raincoat and waterproof all electronics. You're going into a light running shower, particularly when you get to the devil's throat.
Ensure you get there early; the park bus will take you to all the necessary stops. A boat ride on the Brazilian side is much better if you want an up-close view, so if you have to choose between Brazil and an Argentian side boat ride, then take the Brazilian boat ride. Also, take the helicopter ride for an aerial view, which is only available on the Brazilian side.
Make sure you agree with your taxi driver to pick you up when the park closes at 6 pm or earlier. Any later, and you're airing alone in the dark.
The trails are extremely moist and humid. Wear appropriate clothing but keep in mind that there are many bugs. I wore clothing tight at the ankles and wrists to prevent mosquito bites.
Top Things To Do In
First Thing In the Morning –
Visit Iguaçu National Park
It may get crowded early in the morning at the ticket counter so I would recommend not to waste time in the line instead buy the ticket online even though it will cost you extra 6 reais convenience fee. Actual adult park entry fee is 62.00 reais (1 US$ = 3.91 BRL Brazilian Real). From the visitor center, the free shuttle bus takes you to all the necessary stops, and we went all the way to the 3rd stop called Trilha das Cataratas (trails of the falls) located across the Hotel das Cataratas.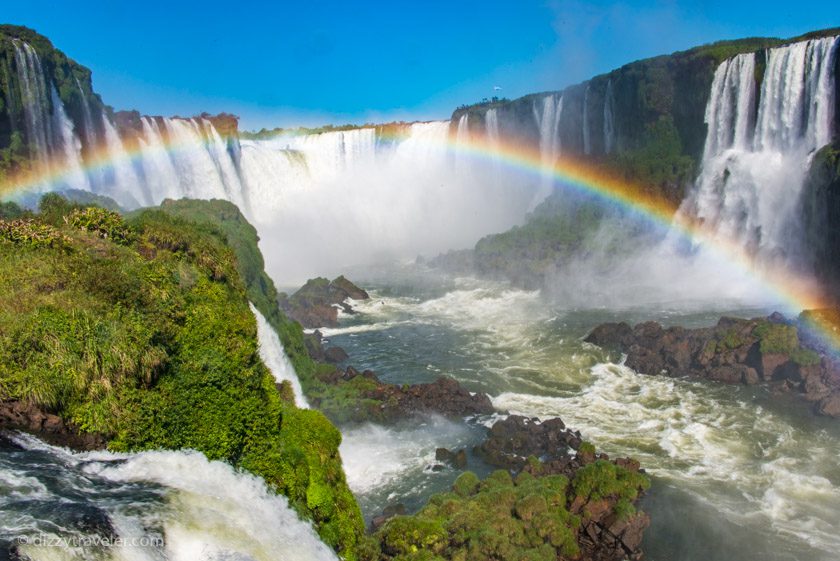 1st. Stop – Trilha das Cataratas (trail of the Falls)
Soon we got off the bus we entered the trails to fantastic panoramic viewing points. The Salto Bernabe Mendez viewpoint is one of the bests, which is named for and dedicated to a park ranger killed by poachers in 1968. You can witness exquisite views of some of the smaller waterfalls from there.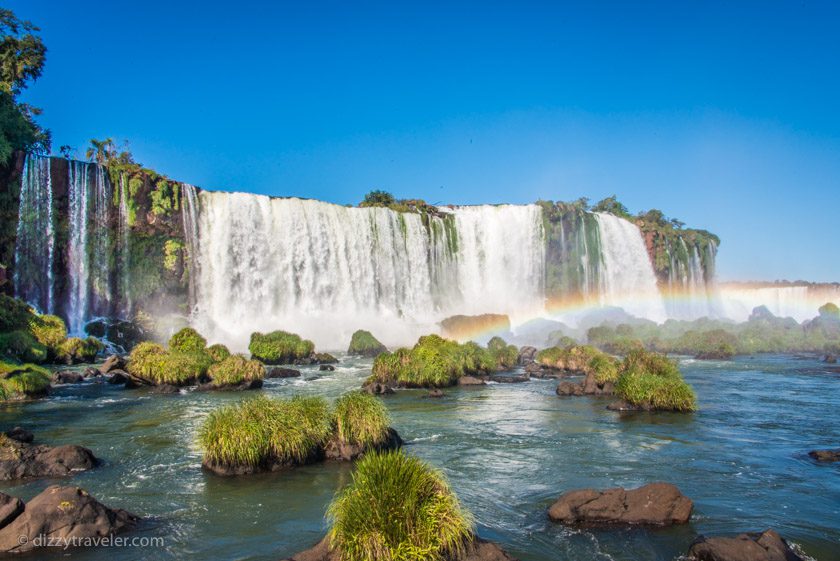 Keep following the trail until you reach the "Devil's Throat access footbridge." These places are truly amazing, so they deserve more than photo ops. Once you are done enjoying the amazing view of Devil's Throat, take the elevator up to the viewpoint of the Naipi area for the best panoramic view of the falls as well as restrooms, photo studio, kiosk, and gift shops. It's a good idea to have your lunch at the station Porto Canoas before you get on to the bus for your next stop Poco Preto Trail. This area is only a few minutes walk from the Naipi area. There are fast food restaurants and a nice restaurant called the Porto Canoas.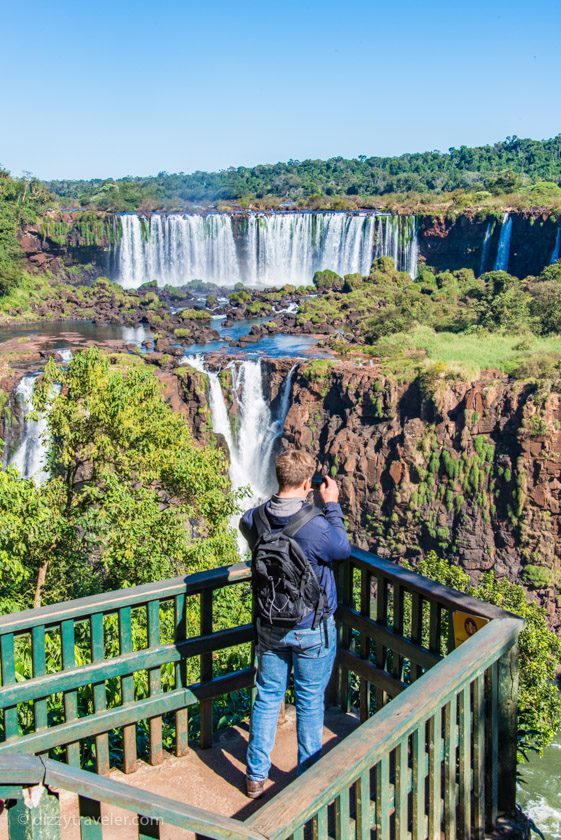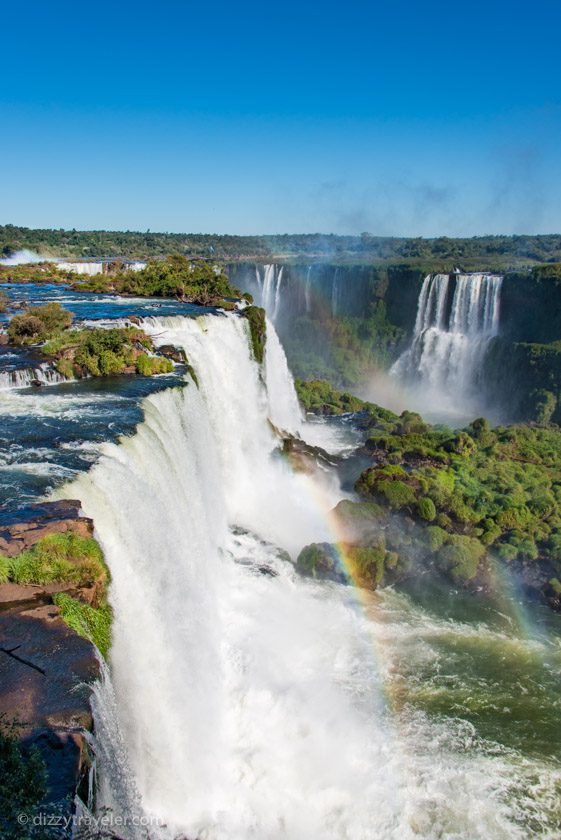 2nd. Stop – Poço Preto trail
Take the bus from Porto Canoas station and get off at Poco Preto trail stop for a 9 km guided hike through the jungle on foot, by bicycle, or by an electric cart. The trail ends at Taquara Island, where you can kayak or take a boat cruise to Porto Canoas. After that, I recommend you take the Bananeiras trails back to Macuco Safari, where you can embark on an exciting boat ride to the falls.
Final Stop – Macuco Safari
Once you get off at the Macuco Safari bus stop or return from Bananeiras trails, the Macuco building is right across the road. But first, you need to buy tickets for the Macuco Safari, which includes an electric cart ride through the jungle, a short walk to a small waterfall, and a boat ride to the mighty Iguazu Falls.
Macuco Safari boat ride will make you totally drenched; that is why I recommend doing this boat ride at the end of your trip to avoid carrying your wet clothes all day long and because the lights will be in our favor for great pictures. Then, you only need to secure your camera in a waterproof case.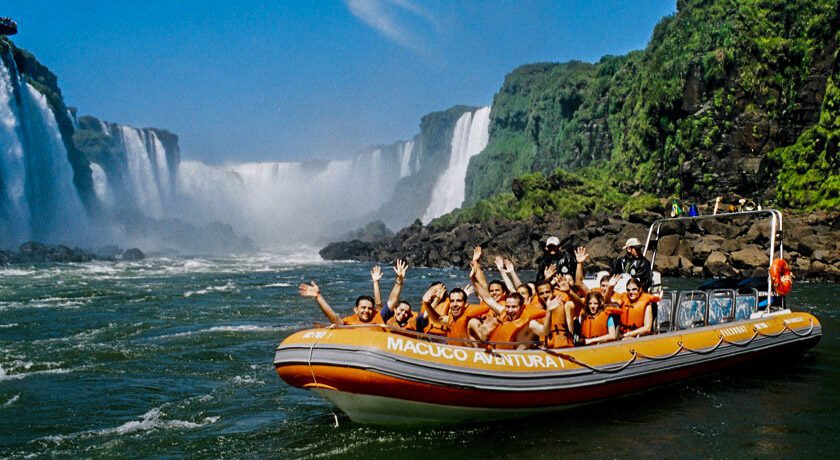 Helicopter Ride Available on Brazilian Side Only
Just before the falls' entrance, you will find the helicopter center, where you can pay 430 reais (US$ 110 approx) for about a 20-minute ride over the falls. The view of the falls and canyon from the air truly is spectacular as long as taking the helicopter tour in the park does not bother you morally doing something against the environment.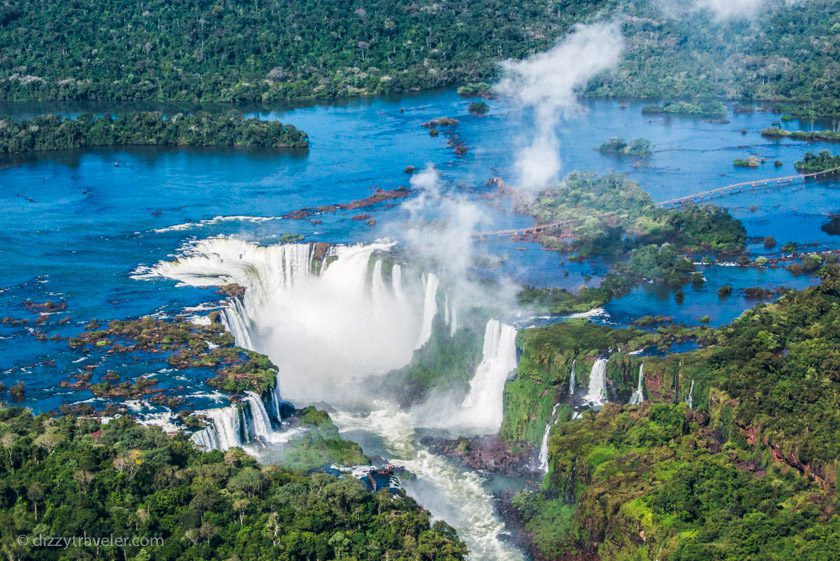 You need to have at least 3 passengers for them to take off; the best view is from the only seat available in the front. I highly recommend it if you are planning to shoot professional pictures.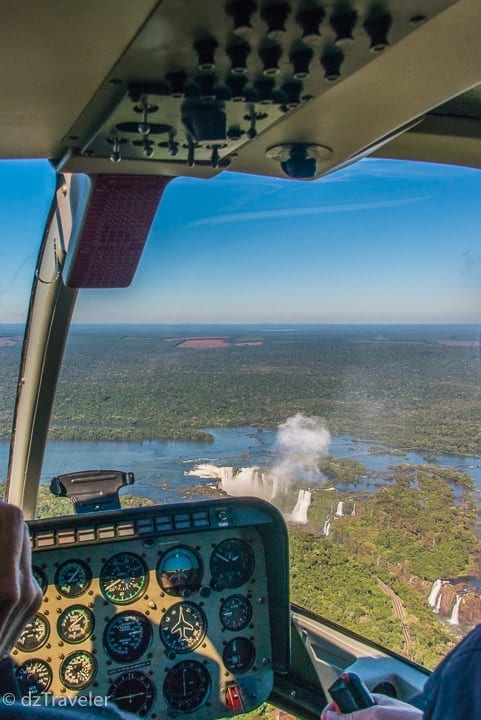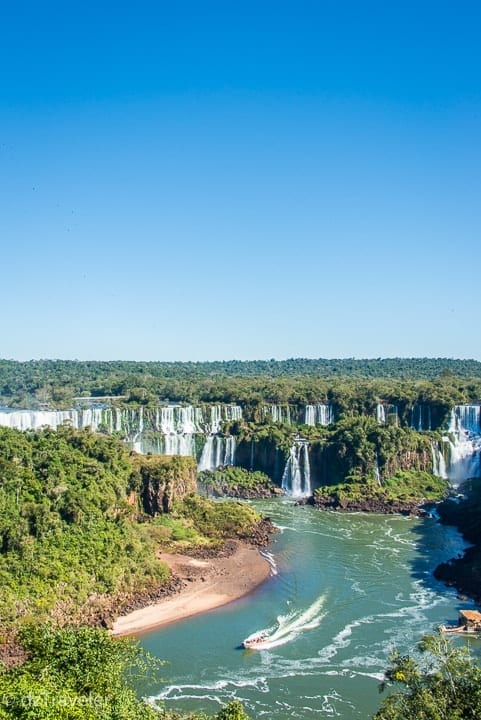 Visit Parque das Aves (Bird Park)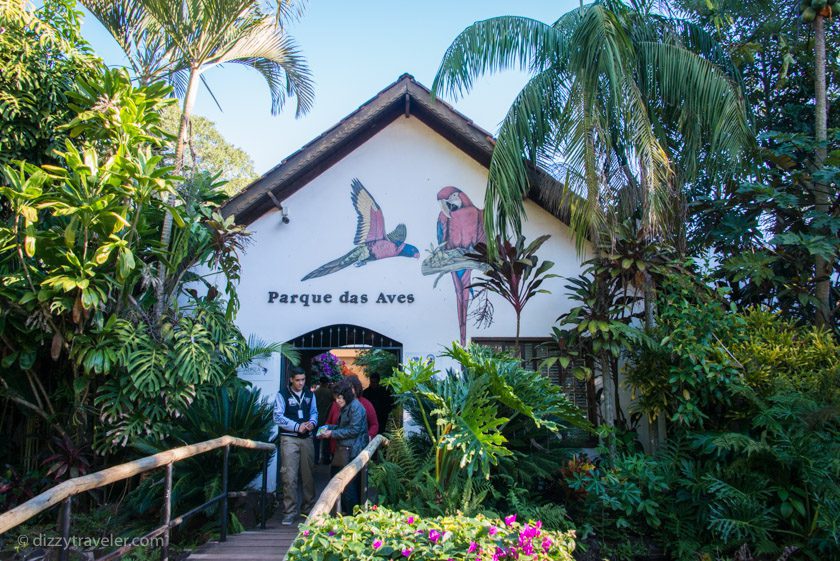 Located right across the entrance to the Iguazu falls the Parque das Aves is an integrated conservation center for Brazilian birds, reptiles, snakes and butterflies and the 2nd most visited attraction in Foz do Iguacu.
A great family trip location must visit if you are traveling with kids. The total tour will take not more than 2 hours. A walk through the narrow walkway surrounded by beautiful native vegetation and seeing several native species of birds in their natural habitat and listen for birds calls is definitely an amazing experience.
Hours of operation are from 8:30 am to 6:00 pm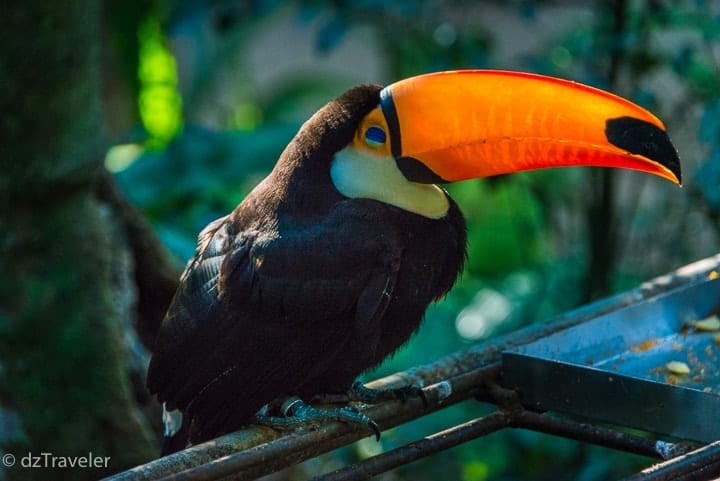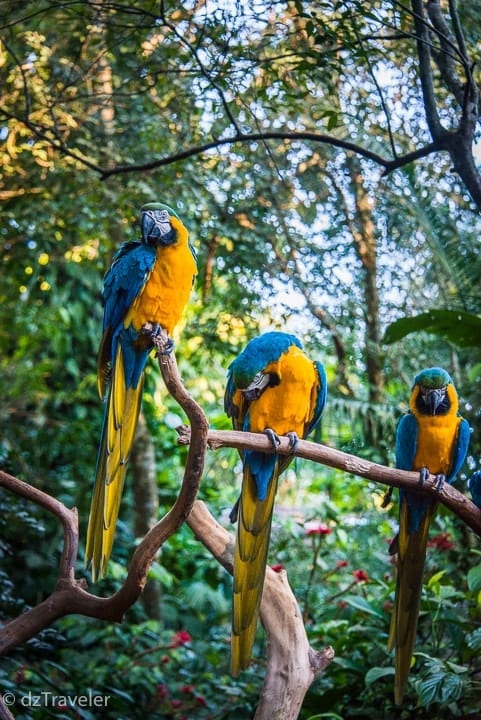 Only If You Have Extra Time
Visit Buddhist Temple
The Buddhist Temple in Foz do Iguaçu is located on the banks of the Parana River; the temple has a spectacular display of Asina and Buddhist statues. It is a perfect place for taking a break from sightseeing activities to sit back and relax.
Enjoy Iporã Show
The Ipora Show is another option to consider to enjoy after a long day of sightseeing activities. The show blends dance, music, and a lot of colors; the show presents 50 artists on stage, including dancers, singers, and musicians. Taking you on a musical journey, they recount the legend of the Iguassu Falls and then "travel" through a number of South American countries until returning to Brazil to demonstrate the culture of the North and Northeast and the canniness of Rio de Janeiro.
Check Out Omar Ibn Al-Khattab Mosque
This beautiful white and blue building is in Foz do Iguacu's city center. This mosque is definitely worth a visit.
Walk on The Bridges of Borders
Walking from one country to another on foot is fascinating; yes, you can fulfill your wish just by crossing the bridge between Brazil and Argentina. So we got off our car and just walked; it was a great feeling.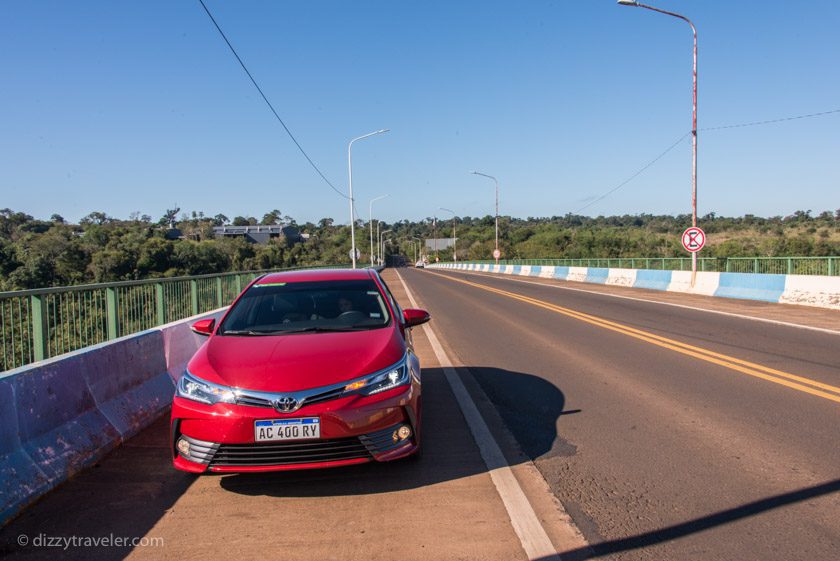 Recommended Hotels
Hotel Colonial Iguacu, Fo do Iguacu, Iguazu Falls, Brazil Aguas Do Iguacu Hotel Centro, Foz do Iguaçu, Iguazu Falls, Brazil San Martin Resort & Spa, Foz Do Iguacu, Brazil San Juan Eco Hotel, Foz Do Iguaçu, Iguazu Falls, Brazil
Grand Crucero Iguazu Hotel, Puerto Iguazu, Argentina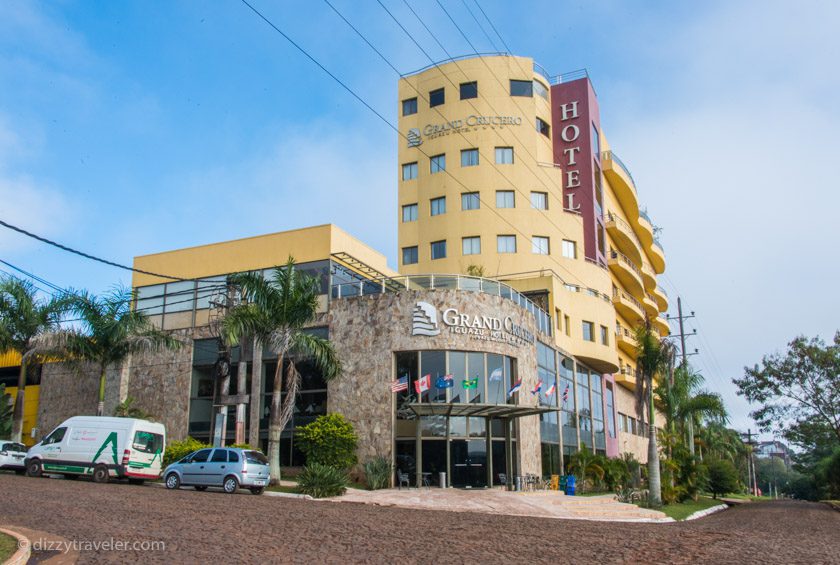 Recommended Restaurants
El Quincho del Tio Querido, Avenida Pres. Juan Domingo Perón 159, Puerto Iguazú, Argentina
Restaurant Tempero da Bahia, Foz do Iguacu, Brazil
After eating meat for a few days, I sought something different. My hotel recommended this place specializes in authentic Bahian cuisine. The restaurant is very colorful and has live music in the evening. The restaurant offers salads and other entries such as seafood dishes, shrimp, crab, lobster, and some meat items too. We loved the food. They were delicious; I definitely, recommend this restaurant for a change.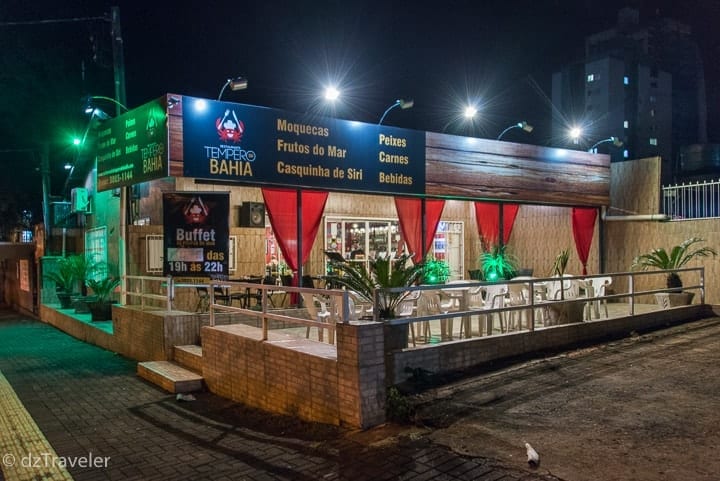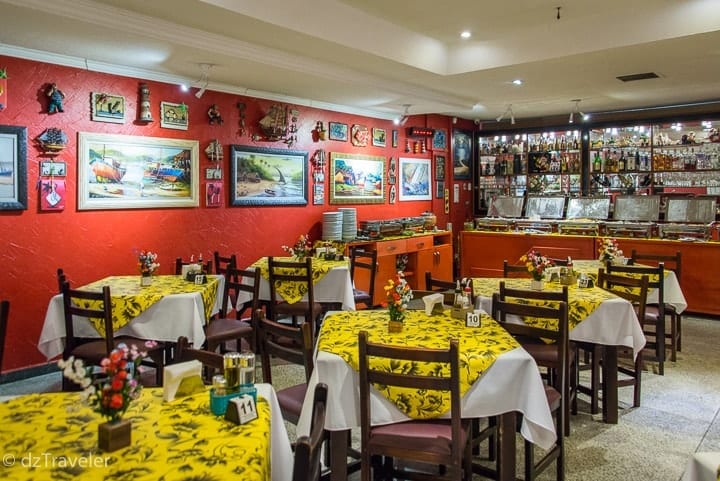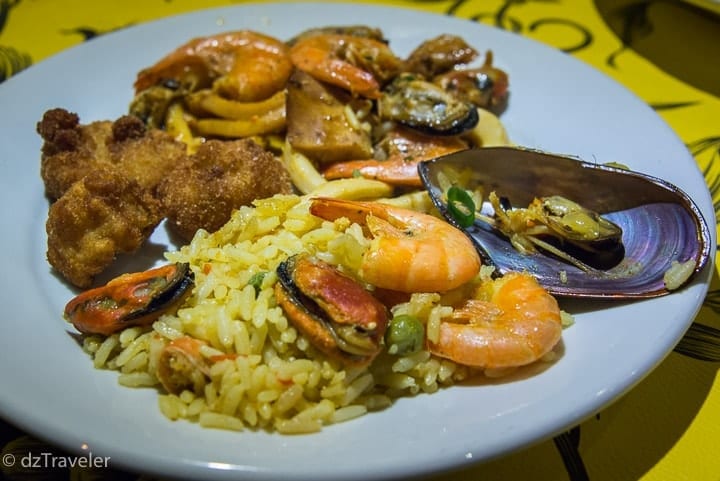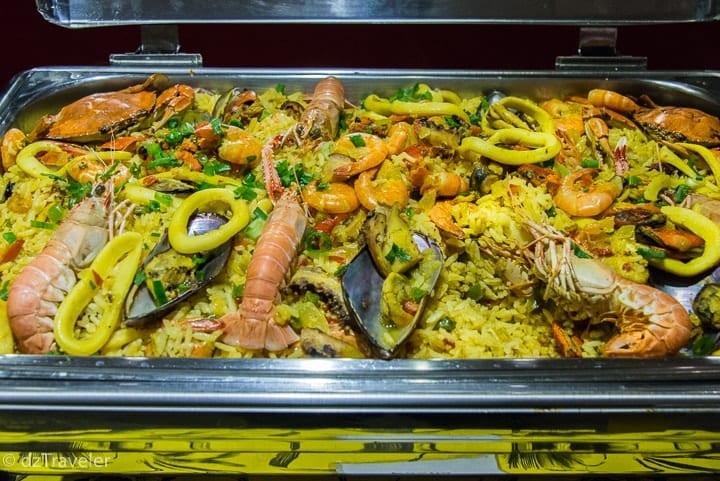 My Opinion and Tips
Have you been to Iguazu Falls? Any additional tips to share?
Please leave a comment below! I'd love to hear from you to improve my knowledge.
Was this travel guide helpful for you?
If you'd like to help me continue making free guides, here is one way you can help:
Share This Guide – If you have a friend that would benefit from this guide, share it with them. Or post this guide on Facebook, Twitter or Google+
Your Support would definitely help me making more free guides like this. Thank you in advance!
Affiliate Link – This post in Dizzy Travelercontains affiliate links, which means I receive a referral commission if you purchase after clicking at no additional cost to you. These funds go to maintain the site. Thank you for your support.
Download the below map from this link and plan your trip according to your time and interest.

Book Your Sightseeing Trip
There are a lot of beautiful places to visit and some exciting sightseeing activities to bring unforgettable memories back home. Please click on our below affiliate link to see your options.