This year, I celebrated my fifty-fourth year on earth with a solo winter adventure to one of the most enchanting glaciers thousands of miles away from home and almost at the opposite side of the pole. I have been to many places, but this trip is epic for me.
The Perito Moreno Glaciers in El Calafate, Santa Cruz, Argentina has long fascinated me due to its radiance, its ethereal-blue color, and its unusual shapes and forms. I've always wondered what it's like to hear and listen to the spectacular cracking sound of glaciers breaking. Sadly, those icebergs are always in danger of extinction due to climate change. Similarly, I am not getting any younger. Therefore, while the glaciers are still intact and my energy level matches my thirst for adventure, I went!
Here are few affiliates link that may help planning a perfect trip while staying within budget
How To Get To El Calafate
There are numbers of ways to get to El Calafate from Buenos Aires. Besides the bus and car, air transport is another option and perhaps the best. I decided to take the 3-hour flight to El Calafate via Aerolineas Airlines from Buenos Aires. Not only that it is of course, faster but cheaper also than long-distance bus travel. Cities, including Bariloche, Mendoza have daily flights to El Calafate
Getting There From The Airport – Take a taxi. Finding one is effortless. You'll see these vehicles as you exit the airport building. Taxis in El Calafate are conventional ones with a big placard that read "TAXI." Fares ranging from 500.00 to 700.00 Pesos (about US$18.00, as of June 2018.) Transitioning and getting around FTE is remarkably stress-free insofar a small airport. With the distance, the central town of El Calafate is about twenty miles span from the airport.
Best Time To Visit El Calafate, Santa Cruz
The best time to visit El Calafate is in January and February, the summer season. But will you go in the winter? What if I tell you I did the atypical and went to El Calafate during winter time on June. Lo and behold, the weather was on my side! Not only that El Calafate's sunrise and sunset looked terrific in the lakes over the glaciers, but the skies were cloudless and the bluest I have ever seen. I was also blessed with a quieter and less touristy environment. I am having the best of my trip until the day I was flying off to Buenos Aires. My flight was held back (and I had to spend another night in El Calafate) due to zero visibility brought on by fog. Be prepared for inclement weather.
Told to prepare for colder days and not a lot of daylight, I was pleasantly surprised that it was not as bitter cold as I expected. Just the same, pack accordingly. I find it quite weird but eight o'clock in the morning in Santa Cruz is like four in the morning back home.
Things To Do In El Calafate in Winter
El Calafate is your hub for Perito Moreno or the glacier parks. Unlike any town close to a major tourist destination that serves just as a gateway El Calafate is totally different. My first glimpse of the Patagonia Andes from the hostel more than debunked that assumption. I was happy with my decision to make El Calafate my base camp and not others. This town is very charming! Though small, its main strip Avenida del Libertador is a long-winding block dotted with all kinds of shops, restaurants, bakeries, hotels, tour companies, and monument parks squares.
Taking a Stroll in the Town
The best way to discover El Calafate is a lazy walk along the Avenida del Libertador peppered with quaint and cute shops. My favorite find is a bakeshop where I tasted the yummiest alfahores, Argentina's "national" snack goodies. For a taste of heavenly delight, temporarily forget that you are a pre-diabetic. Make your day and spoil that sweet-tooth!
Bird Watching and Sunset Viewing
Animal gazing or birding is not my cup of tea, but I walked to this part of the town because it the best spot to watch the spectacular El Calafate sunset. For those bird-lovers, the best place for bird watching is along the shore of Laguna Nimez Nature. Don't forget to bring binoculars for a close-up view of those exotic birds. Although I wasn't lucky to spot those pink flamingos teeming in Patagonia, it still was a real treat to get a clear, broad panoramic view of the Patagonia Andes from this vantage point.
Ice Skating at the Frozen Argentina Lake
El Calafate's position runs parallel along the Argentina Lake, the most massive body of fresh water in this country and third in the world! During winter time, the lake is an ice field. Imagine a vast ice skating rink in front of you where locals show off their skating talent. It is immensely enjoyable watching them. Ice skater yourself? Bring your skating gears and join the community for fun-filled activity!
Learn El Calafate's History from Museo Centro de Interpretacion Historica Calafate
El Calafate is a young town founded only in the early 20's, yet it has undoubtedly a rich history. Thus, a museum is right anywhere you turn – whether it be ice-themed, a toy museum and even a museum for dinosaurs. I learned that El Calafate was the home for wool traders, but it was the founding of the Perito Moreno National Park in 1937 that made it as one of the most visited towns today in Argentina.
Be enchanted by the Glaciers up Close and Personal
Imagine how the glaciers would look when you can see it up close and within hand reach? One way to do that is to book a five-hour boat trip around the sprawling Lago Argentino and will take you up to the creaking faces of three different awe-inspiring glaciers including the famous Upsala Glaciers.
I booked my excursion through the hostel. The driver and the tour guide of Solo Patagonia picked me up at seven in the morning when it was still darkly and drove the icy road for twenty-nine miles (forty-seven km.) Arriving at Punta Bandera harbor, I paid for the 600.00 Pesos (cash only) entrance ticket to the national park (not included in the excursion fee.)
Visit the Perito Moreno Glacier in Los Glaciares National Park
What I like best about the 90-minute coach ride to Perito Moreno Glacier, (a UNESCO World Heritage Site) is the endless breathtaking view of the pale blue Lago Argentino and the majestic Andes coming nearer and closer. In between the 75-mile (120 km) drive, we took a break at a viewpoint for photo ops. Then the most awaited moment is on the boardwalks for a full view of the majestic ice landscape! The experience of watching the glaciers is magical let alone hearing the icebergs breaking in chunks is unlike any other. Totally will stir all your senses!
Remember the entrance fee (AR$600.00, US$21.00) to the park is not inclusive in your excursion. Best to bring your lunch and nibble on empanadas while resting on a bench overlooking the gorgeous ice landscape.
Last but not the least, you may also continue your trip to El Chalten, Torres del Paine or go on to Ushuaia (the town nicknamed "the end of the world.") Have those tour operators in the town center help book your itineraries. I wish I have also participated in the glacier trekking, but this activity is only available during summer time. If you have experienced glacier trekking, please feel free to share any information in the comment box below.
Where To Stay in El Calafate
Owe it to America del Sur Hostel El Calafate low rates, budget travelers have an option for a fantastic accommodation. Rooms are dormitory type, but I booked an entire room for $30.00 a night, which had two double deck beds and private toilet/bathroom. Parallel to the right price, the most beautiful views of the Andes Mountains as the building perched on a hill is also a plus! Conveniently, I booked my day-trips to Perito Moreno and the catamaran cruise to Upsala Glaciers with their help.

Where to Eat
Parrilla Don Pichon – Parrilla Don Pichon – They take pride in their grilled lamb; Cordero Patagonico. According to them, their lambs eat the freshest and healthiest herbs found only in Patagonia. I tried their specialty with pebre. It was delicious and not to mention the serving is very generous. It can feed an entire tribe! Although the restaurant is away from the town, they provide free of charge transportation drop off to your hotel! Cool!
La Tableta – – remains operational to this day as a food service icon in El Calafate since it opened in 1968. This steakhouse is the oldest in town, so if you are looking for a hearty meal and some element of history, be their guest! I tried their Milanesa Napolitana at this restaurant. Highly recommended!
Food To Try
My trip to different countries is incomplete without satisfying my taste buds with the local delicacies. In El Calafate, or in Argentina in general, not only makes meat rule, but the locals are sweet-tooth as well! There is a bakeshop in every five hundred meters along the street. And every block in town is their famous "parilla." Without further ado, here are some of the bests Argentinian soul foods I have tried:
Patagonia Chocolates
Did I hear you say chocolates are chocolates no matter which country had made it? For the sake of food-tripping, indulge me. The process of preparation is what makes the chocolates in El Calafate or Patagonia region unique. The melted chocolate is spread out on a broad surface usually on a slab of marble then scraped together to attain a ridge-like consistency, which will look like a rolled cinnamon bark. I tried the white chocolate, and it was so sweet that I can almost hear my dentist scolding me! But a bite is worth it.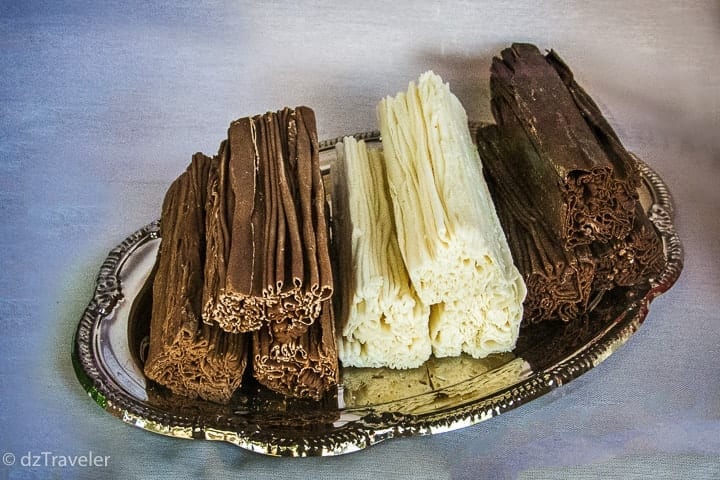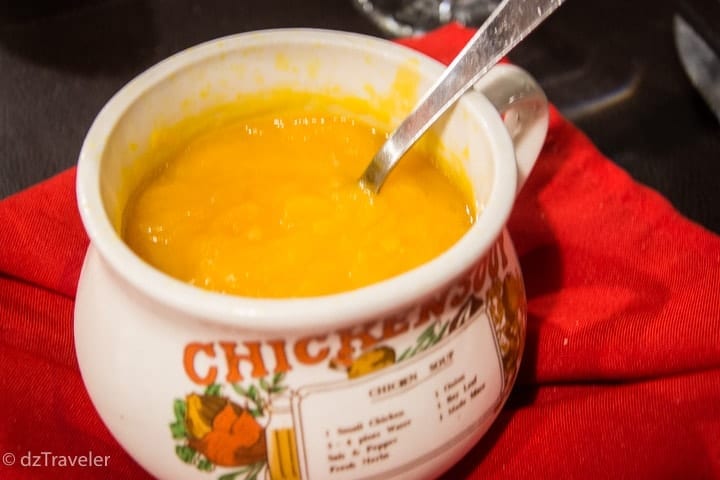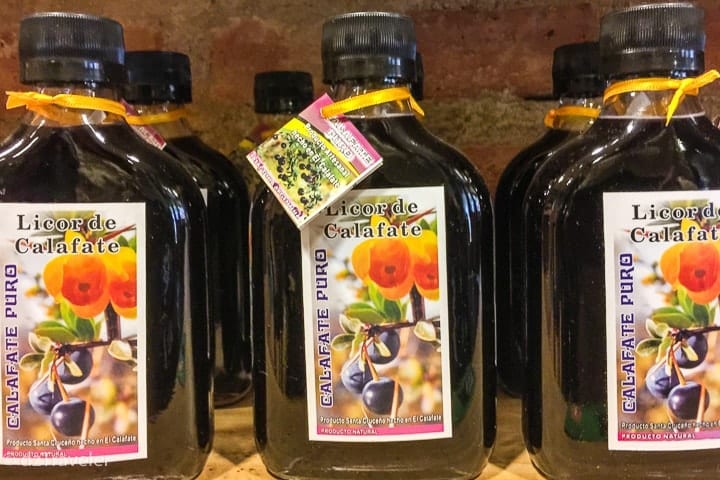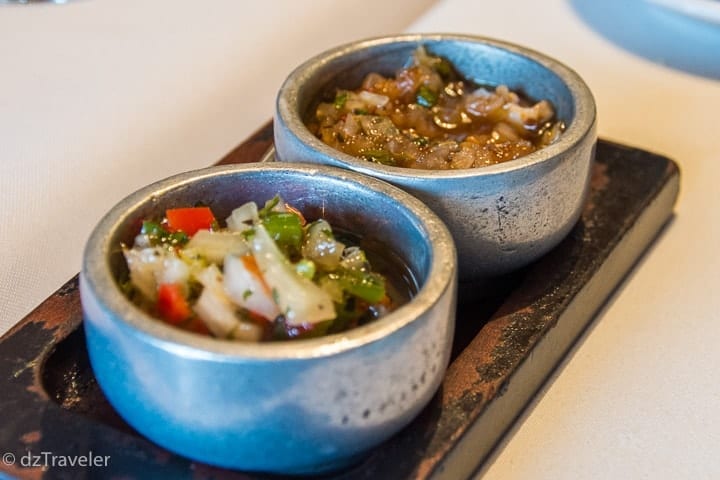 Squash Soup
My trip to a chilly El Calafate is not complete without a delicious and stomach and soul-warming bowl of this Squash Soup. Not only is the soup delicious, it is also comforting and nourishing. By the way, it is all about meat in Argentina. Thus, vegetarians are quickly to be out of place, but this Squash Soup is their best choice and is a sure treat to them.
Milanesa Napolitana
The Milanesa Napolitana won my heart! It is a breaded fried beef steak squeezed with lemon juice. Traditionally served with chimichurri. I had this dish at La Tableta Restaurant.
Patagonia Lamb-to-the-Post
I was alone, but that did not stop me from heading to the nearest roasted lamb restaurant. It was on my must-try list after all.  To give you an idea, the whole slow-roasted lamb that is spread out open and stretched on an iron rack is what "lamb-to-the-post" means. The lamb is roasted vertically on an open wood fire allowing it to cook evenly and until its rich flavor attained by grilling.
The lamb is roasted vertically on an open wood fire. When served, it is usually with pebre, a local condiment like chimichurri – made from a combination of onions, tomatoes, herbs, garlic, hot peppers, olive oil, and red wine. So how was it?  Oh gosh, it is so finger-licking good that I threw the fork and knife in the sink and used my hands instead!  Nah, of course, I didn't do that! How about the experience of eating solo in a fine-dining restaurant? Oh, that will require a separate blog, but I tell you, it isn't that embarrassing at all.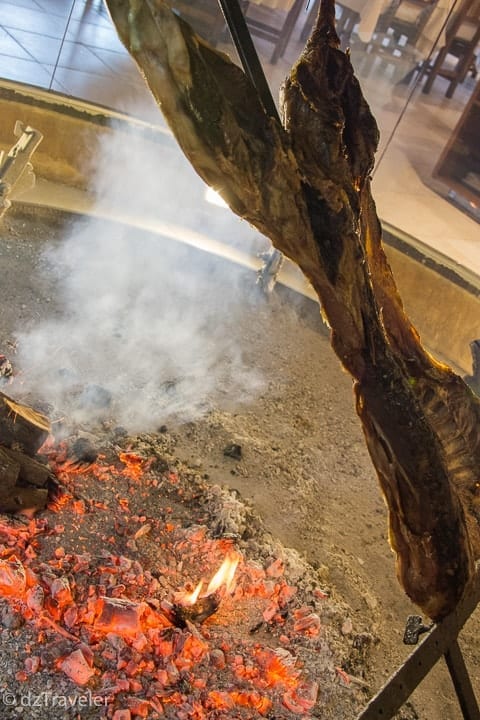 El Calafate Berries
During summer, in this marshland, you will find the thorny Calafate bushes bursting with ripe blue Calafate berries. This plant is how the town's name came. I have the impression that this wild berry is not only an important food source for the wild birds, but also for human beings. Almost all shops in El Calafate offer a delicacy made of Calafate berries from pie, jam, jelly, candies, ice cream to liquor!
Things You Need to Know Before Visiting
Safety
The whole time I was in El Calafate, I never felt like I was treading on dangerous ground. Crime rates are low in this part of the world. A solo female traveler will feel safe here, but avoid walking around alone at night and still keep your valuables in safety. One more thing, I know you will not camp out in the middle of an ice landscape under zero degrees Fahrenheit, but hey if you are visiting in the summer, be warned. Building a fire in campgrounds is illegal. In 2011, a hiker had to pay the penalty for starting a fire which destroyed over 40,000 acres of Torres del Paine National Park! It will take years and years if not forever for forests to recover.
Stray Dogs
The streets of El Calafate filled with dogs was a bit intimidating for me as I have a tiny bit of a phobia of stray dogs! If you share the same fear as mine, let me tell you there are a lot of them. Two dogs followed me, and although I was a little scared at first, but eventually, they became my bodyguards! Some of them are cute and adorable.
Health
Remember to apply sunscreen cream. The sun is harsh down there, and even though the temperature is negative zero, our skin is still vulnerable to sunburn. Bring sunglasses that have full UV protection. Please be also informed that El Calafate is quite far and remote with limited health facilities, so I made sure the travel insurance I bought covers emergency evacuation. Another good idea is to take vitamin C to combat the onset of colds.
Tour Operators
June to August is supposedly the off-peak season in El Calafate. The good news is there is no such thing as an off-season for the tour operators in this town. They don't close in the winter. In fact, all businesses in El Calafate are open and thriving, regardless of seasons. Either book your excursions or day-tour trip through the hotel or via the tour offices located along the main street Avenida del Libertador. Take note that there is only one company that has the license to operate ice trekking. The name of the company is Hielo y Aventura.
Power Plug Adaptors
Bring a power plug adapter and a voltage converter. The power sockets are of type C, and I.

My opinions and tips
They say, nothing ventured, nothing gained. Someday, I will look back at this solo trip with pride not only for the challenges and fears I have overcome but, most of all, with a smile for the beautiful memories I have managed to accumulate. PTL! ~
Have you been to El Calafate, Argentina? Any additional tips to share?
Please leave a comment below! I'd love to hear from you to improve my knowledge.
Was this travel guide helpful for you?
If you'd like to help me continue making free guides, here is one way you can help:
Share This Guide – If you have a friend that would benefit from this guide, share it with them. Or post this guide on Facebook, Twitter or Google+
Your Support would definitely help me making more free guides like this. Thank you in advance!
Affiliate Link – This post in Dizzy Traveler contains affiliate links, which means I receive a referral commission if you purchase after clicking at no additional cost to you. These funds go to maintain the site. Thank you for your support.
Here are a few pictures that will tell the trip stories of Dizzy Traveler.