No doubt the most favored destination of Malaysia is George Town and Penang Island. After George Town was inscribed as a UNESCO World Heritage Site, thousands of tourists flock in every year. The island is also well known for fantastic street foods and beautiful beaches. In addition, George Town is home to landmarks such as colonial Fort Cornwallis, the clan jetty, and the Kapitan Keling Mosque. Penang is also famous for its funicular ascends Penang Hill to the west, with its trails, flower gardens, and panoramic views.
Helpful Information
Arrival at Penang, Malaysia
We took an Air Asia flight From Bangkok and arrived at Penang Airport (PEN) in about 2 hours. Besides Air Asia, other airlines flying to Penang are Malaysia Airlines, Firefly, and Malindo Air. They are affordable if purchased in advance. After reading many blogs on Penang, I decided to stay at Areca Hotel within walking distance of George Town. The hotel is about 18 km from the airport, about 30 minutes by car and 1 hour by bus. Before getting a taxi, I bought a SIM card to access UBER app for booking my ride.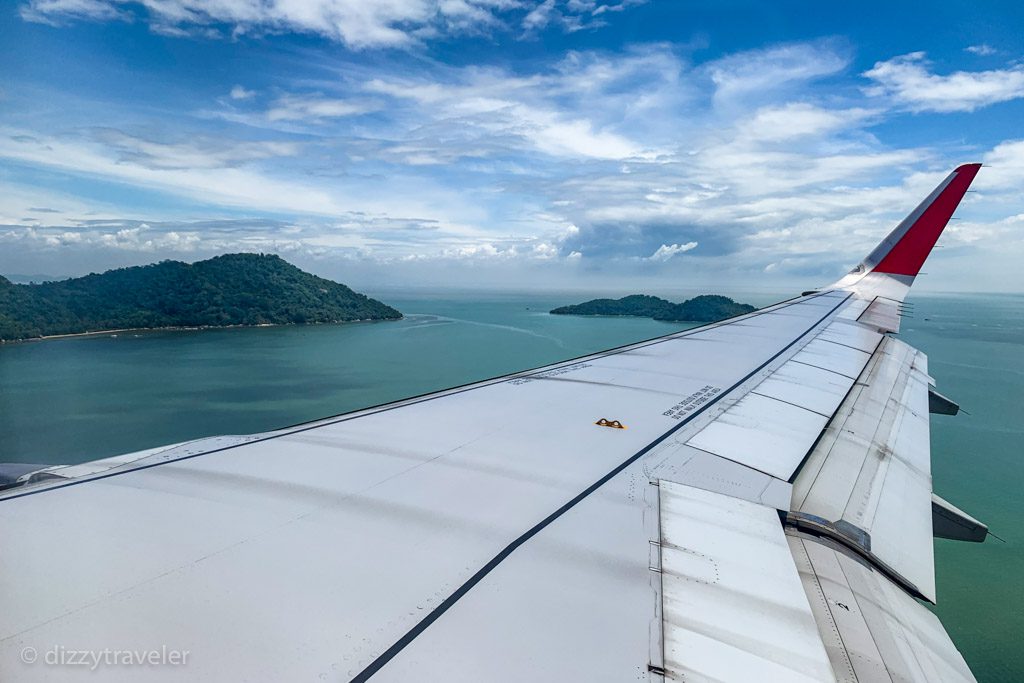 Top Things To Do In Penang
When deciding what to do in Penang, consider what you enjoy most about travel and what interests you most during the holiday. For example, do you like to try local street food, like sightseeing places, historical sites, beaches, communities, interested in learning their culture. No matter what you plan to do, you'll undoubtedly have a great time in Penang. Here are a few things you can consider.
Day Trip to Penang Hill
If you are looking for a day trip, then Penang Hill is one of the top attractions you can consider. Definitely worth a visit, especially for a peaceful change from city life and stay close to nature. The hill is full of spectacular views, lookouts, rainforest, wildlife, flora, fauna, and British colonial-era hill station.
The breathtaking view of George Town is spectacular from about 833 meters (2733 ft) elevation. It's a popular weekend getaway for locals due to the cooler temperature, fresh air, spectacular view, and abundant family activities. Getting to Penang Hill Lower Hill Station is easy by Grab or UBER from George Town. Once you are there, the option is to hike the hill or take the Funicular Railway to the top.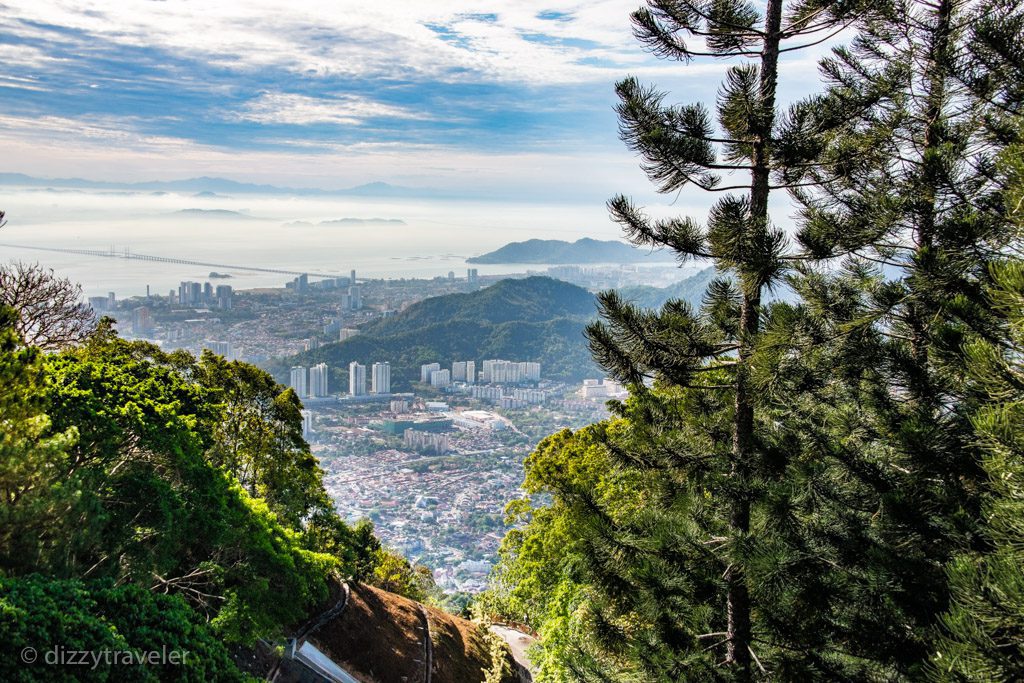 Visit Kek Lok Si Temple in Penang
The historic Kek Lok Si temple is one of Malaysia's most prominent and best temples, located on a hill in the Ayer Itam suburb of George Town. From the top, you can enjoy a spectacular view of Penang along with the magnificent look of Kek Lok Si Buddhist Monastery. I would highly recommend visiting this temple while you are in Penang.
The Dhammikarama Burmese Temple
Dhammikarama Burmese Temple is a Burmese temple in the Pulau Tikus suburb of George Town of Penang in Malaysia. If you want to experience Burmese Buddhists Temples and the culture outside of Myanmar, then it's an ideal place to visit.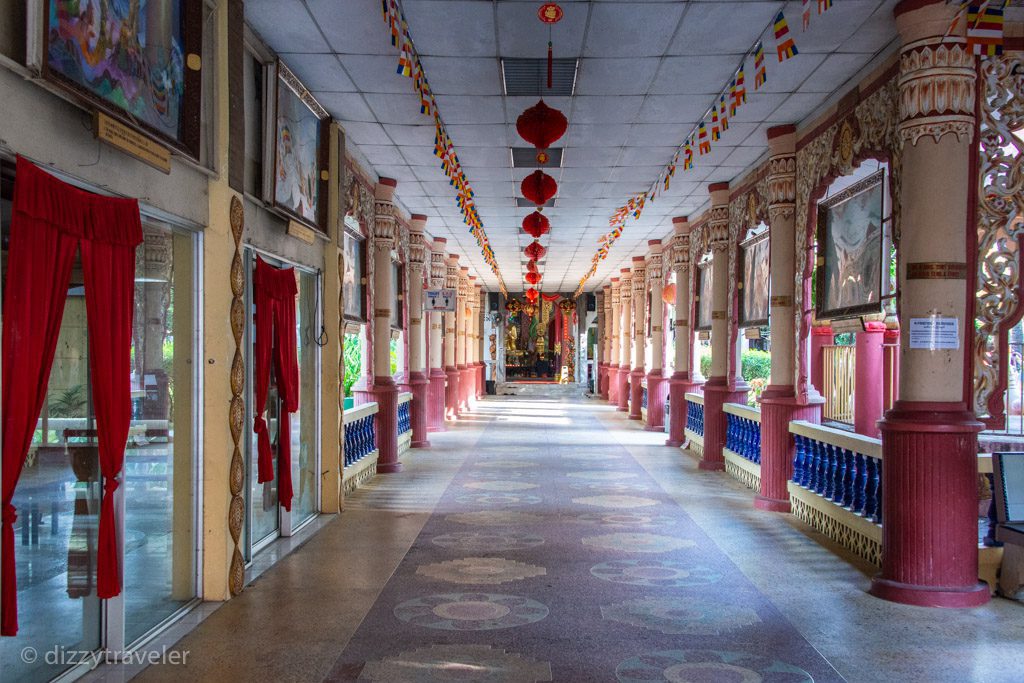 Visit Wat Chayamangkalaram Temple
Wat Chayamangkalaram is a Thai temple located right opposite the Dhammikarama Burmese Temple in the Pulau Tikus suburb of George Town. It is well known for its gold-plated reclining Buddha about 33 meters.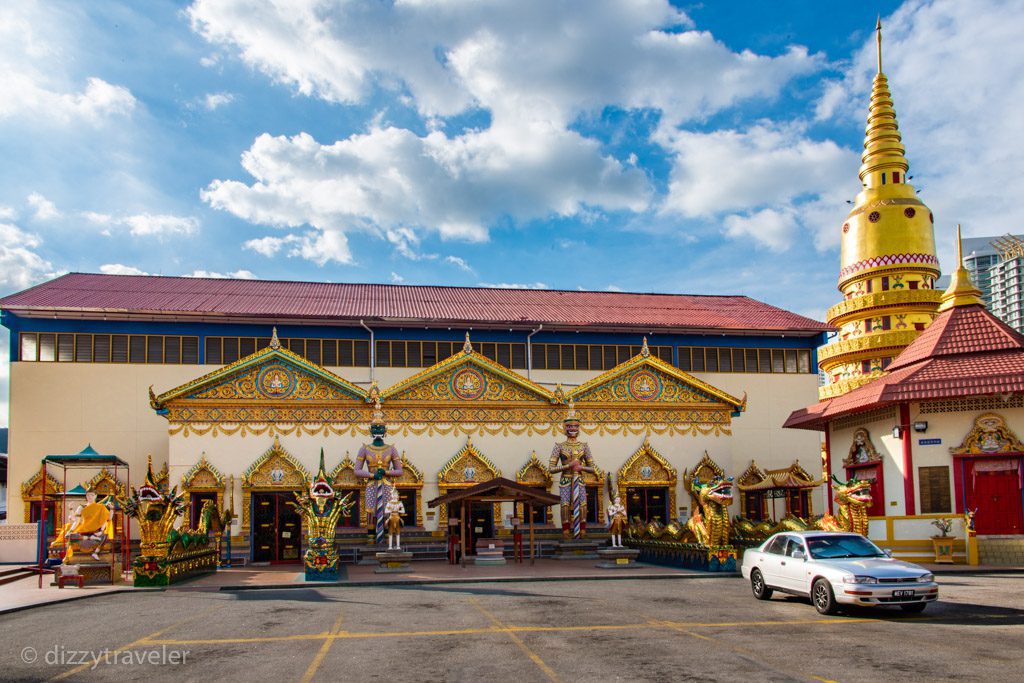 A Quick Stop at Floating Mosque of Tanjung Bungah
From George Town, if you are driving towards Batu Ferringhi Beach, located in the Northwest part of the island, then you can't miss this mosque with a soaring minaret. The Tanjung Bungah Floating Mosque is located on the bay in the Tanjung Bungah area next to the famous Tanjung Bungah Seaside Beaches. The mosque is actually not floating but standing on columns and pillars.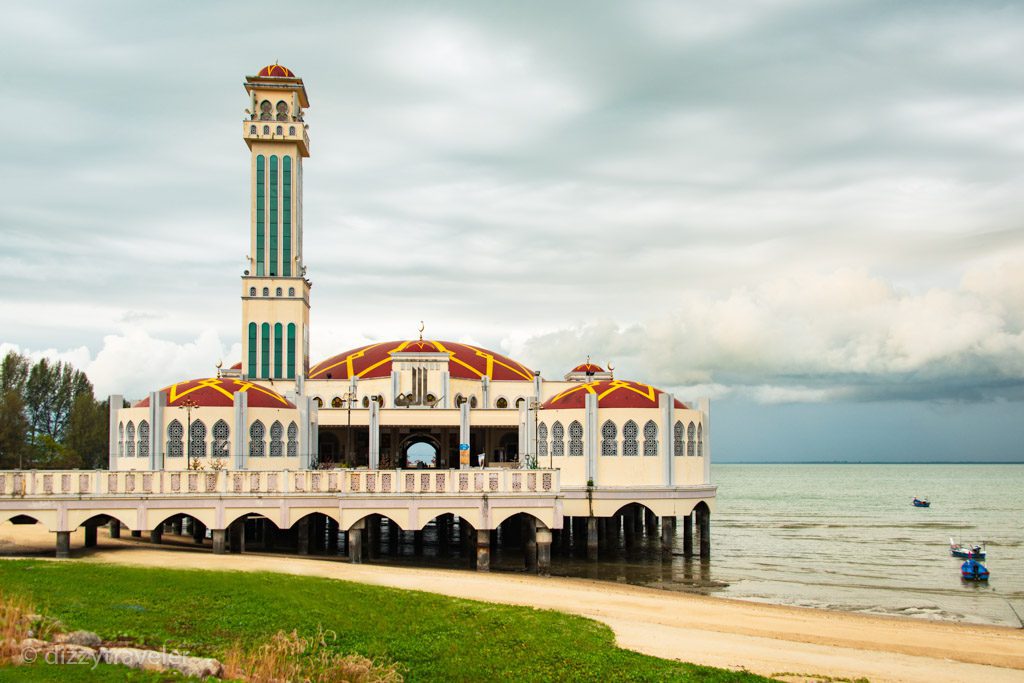 Relax at Tanjung Bungah Seaside Beaches
Tanjung Bungah is a beautiful seaside area between Batu Feringghi to the north and Gurney on the other side. Once a sleepy fishing village hidden among rocky landscapes has grown in popularity to evolve one of Penang's most favored destinations. There are a few beachfront restaurants and hotels, and most importantly, the Floating Mosque and Penang Toy Museum attract many visitors.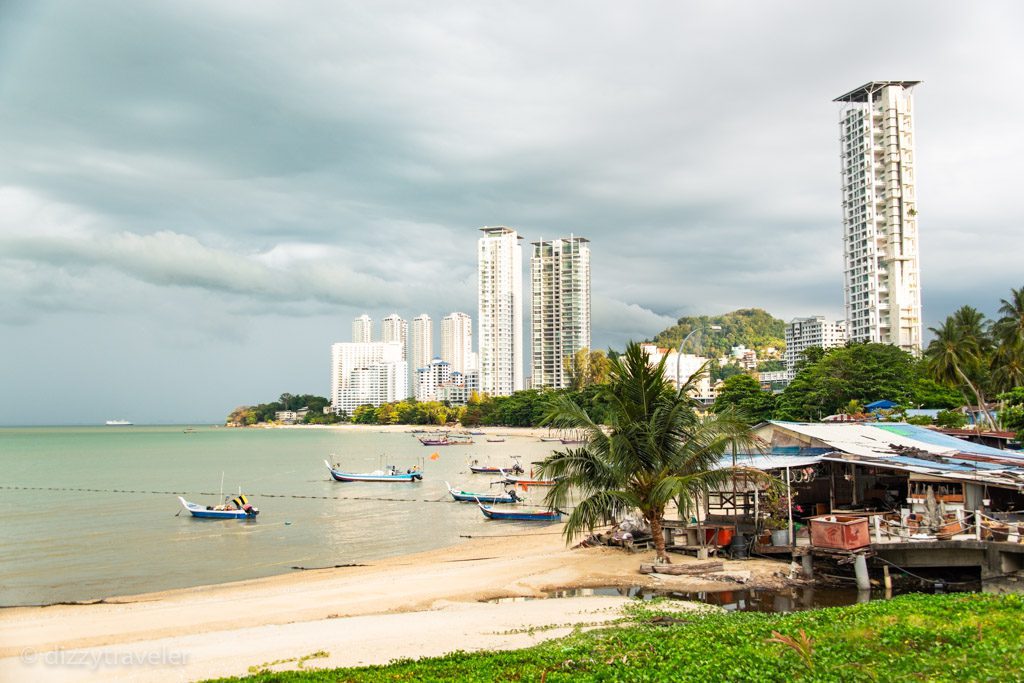 Beautiful Batu Feringghi Beach
Batu Feringghi is one of the best beaches in Penang, about 17 km north of George Town. Getting to the beach was easy by Rapid Penang Bus service, but I took a 30 munites ride by UBER service, the cost that I could afford. The long beaches stretch up to 4 km, and high-rise hotels, including Hard Rock Hotel, beautiful oceanfront resorts, famous night markets, street food, restaurants, water sports, and beach activities, make it a great getaway destination for tourists.
Visit the Hindu Temple Penang Hill
Sri Aruloli Thirumurugan, well known as the Penang Hill Hindu Temple, is one of the fascinating attractions you can't miss once on the top of Penang Hill. Just one to two minutes of walk from the funicular railway. I have seen a few other Hindu temples in Penang; however, this one is the oldest, most gorgeous, and most colorful temple. Highly recommend walking around the attractive temple as it is very photogenic and stopping at one of those lookouts for a panoramic view of Penang Island.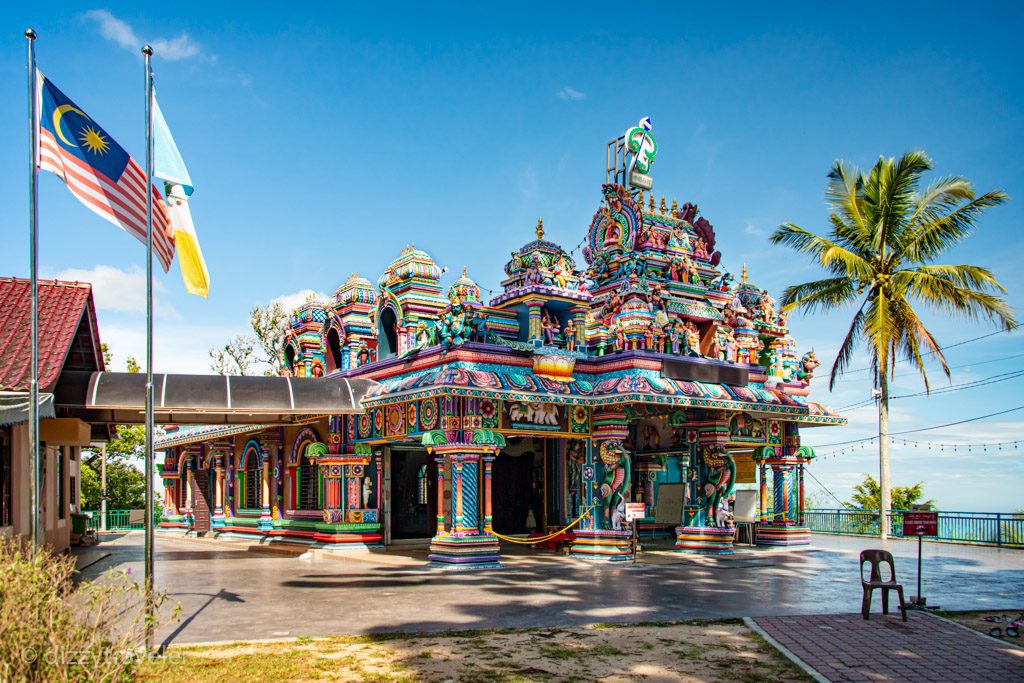 Explore Fort Cornwallis
Fort Cornwallis is the largest standing fort in Malaysia, built by the British East India Company in the late 18th century, located within walking distance from George Town UNESCO World Heritage Site, at the corner of Queen Victoria Memorial Clock Tower. The fort is named after the Governor-General of Bengal, Charles Marquis Cornwallis.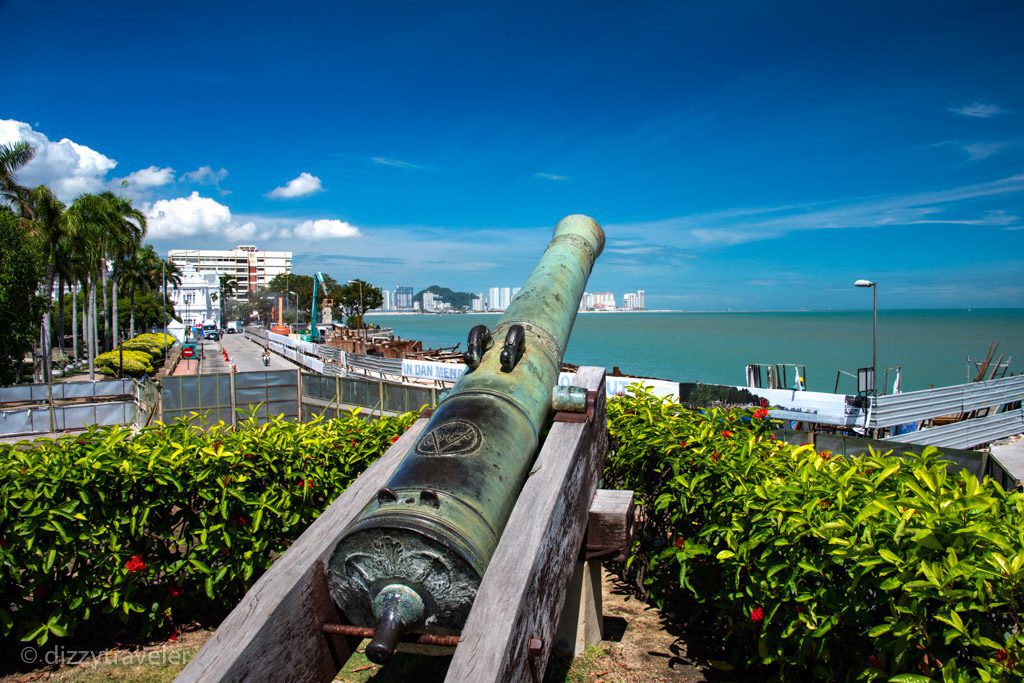 Stop by At Lebuh Aceh Mosque (Acheen St Mosque)
Lebuh Aceh Mosque is a 19th-century mosque built by the Acehnese on Acheen Street, one of the oldest mosques in Penang, dating back to 1808. Some beautiful bungalows surround the area, still living by the descendants of the founder of the mosque.
Visit The Kapitan Keling Mosque
While wandering around George Town, another Mosque you will definitely come across is Kapitan Keling Mosque. It was built in the 19th century by Indian Muslim traders in George Town. Due to its rich heritage and extraordinary architecture, This mosque has become one of the famous sites among tourists, definitely worth checking it out.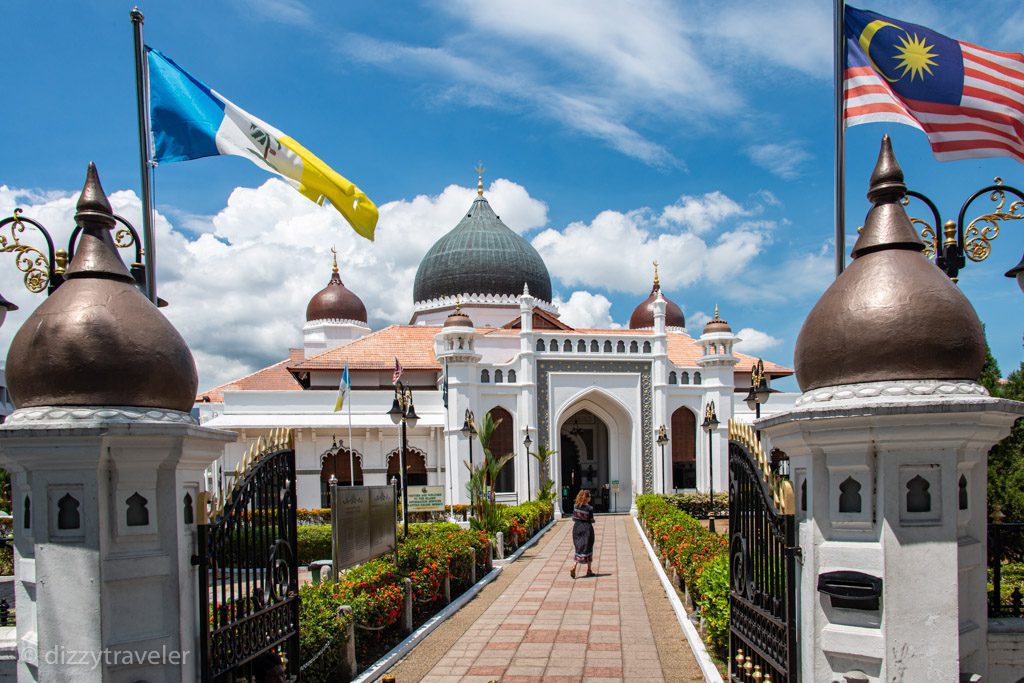 Visit Masjid Negeri – State Mosque of Penang
The Penang State Mosque, also called Masjid Negeri, is a state mosque located at Jalan Masjid Negeri in George Town. On my way to Penang Hill, I stopped there and had the opportunity to explore. The beautifully designed mosque has a large dome that looks like a flower. The worship area is huge at any time it can accommodate up to 5000 people.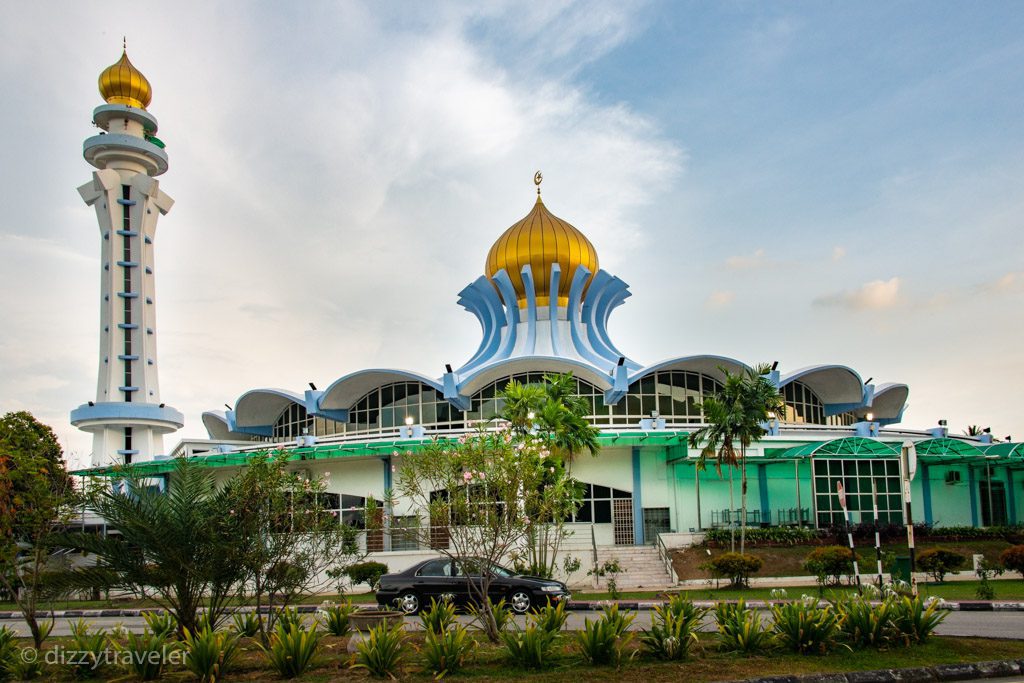 An Evening at Clan Jetties of Penang
A few minutes walk from George Town UNESCO World Heritage Site to the Clan Jetty, known as floating villages. These overwater settlements were built by the Chinese Hokkien immigrants who came to Malaysia in the 19th century. It is interesting to see the descendants of those clans still live there.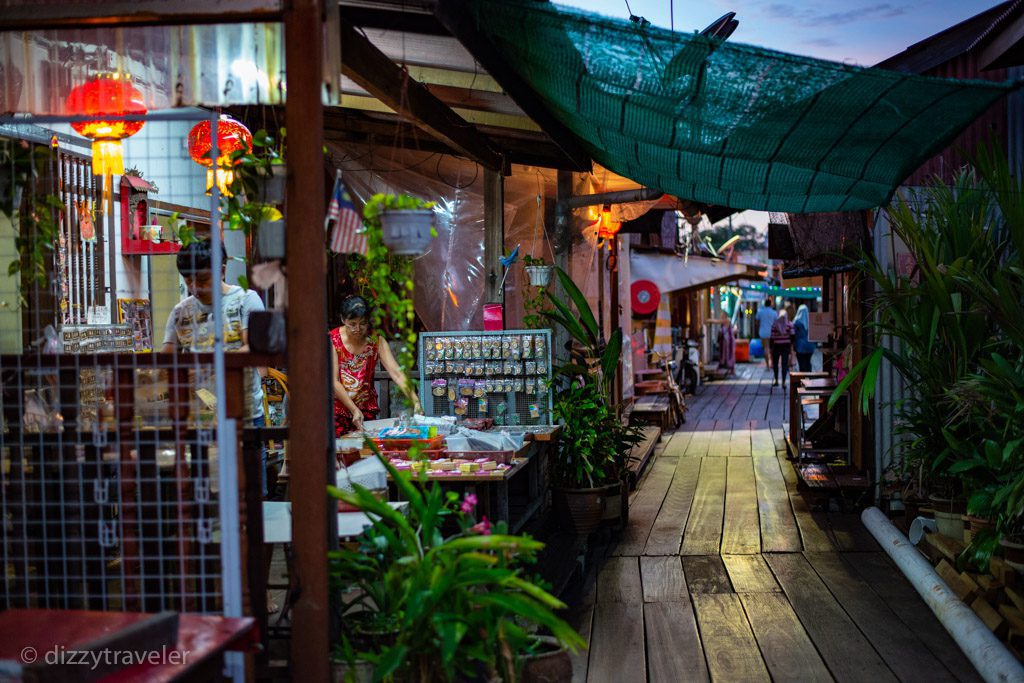 A Few Pictures From My Trip
Where to stay in Penang, Malaysia
Located in the UNESCO World Heritage Site of George Town, Areca Hotel Penang is within walking distance of all major sightseeing sights. I certainly enjoyed staying in this centrally located accommodation in Penang. The famous Clan Jetties of Penang is only 1.3 miles from Areca hotel and about 13 miles from the Penang International Airport. If you are driving your rental car, you need to find parking on the street, as no private parking is available for the guests.
This property is a 1-minute walk from the beach. Located in George Town, a 20-minute walk from Tanjung Bungah Beach, Hompton Hotel by the Beach has accommodations with a restaurant, free private parking, a fitness center, and a bar. Penang International Airport is about 14 miles from the hotel. The hotel has been rated 8.6 and welcoming booking.com guests since 2019.
My Opinion and Last Word
Have you been to Penang, Malaysia? Any cool tips to share?
Over the years I have visited Malaysia multiple times, but during this particular trip, I was flying out of Bangkok to Penang for 4 days then flying to Kuala Lumpur for a few more days. It was a great experience and definitely loved it. Hope my story has given you some idea and motivated you to plan a fall trip. 
Please leave a comment below! I'd love to hear from you to improve my knowledge. 
Was this travel guide helpful for you?
If you'd like to help me continue making free guides, here is one way you can help:
Share This Guide – If you have a friend that would benefit from this guide, share it with them. Or post this guide on Facebook, Twitter or Google+
Your Support would definitely help me make more free guides like this. Thank you in advance!
Affiliate Link – This post in Dizzy Traveler contains affiliate links, which means I receive a referral commission if you purchase after clicking at no additional cost to you. These funds go to maintain the site. Thank you for your support.
Book your Sightseeing Trip
There are a lot of beautiful places to visit and do some exciting sightseeing activities to bring unforgettable memories back home. Please click on our affiliate link to see your options.