If you're staying in Sorrento, Naples, or the Positano area during your trip and have an extra day to spare, then consider a day trip to the beautiful island of Capri. Only 19 miles off the shore of mainland Italy, Capri is home to several cliffside hotels that boast some of the most spectacular views you'll ever witness. The island has so many hidden treasures and adventures that it's worth staying there even longer than a just a day.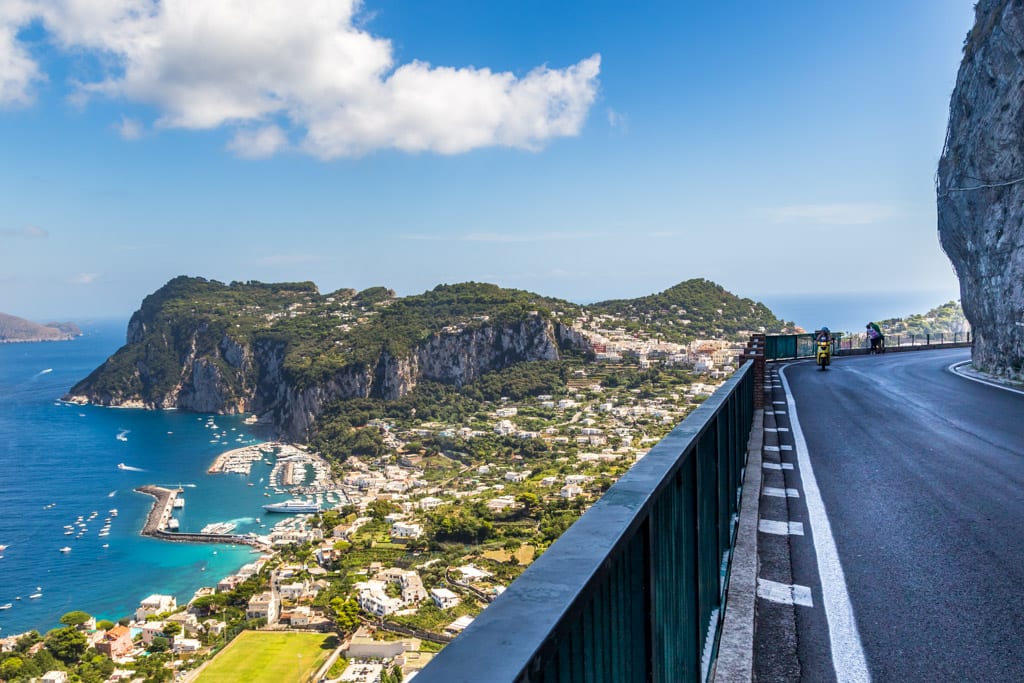 Ferry From Sorrento to Capri
You can buy ferry tickets in advance from Direct Ferries website. Usually it takes about 25 minutes to get from Sorrento to Capri depending on the ferry type. High-speed boats (hydrofoils) take even less time. The cost should be somewhere around US$ 20 – 30 one way.
Once you arrive at Capri's Marina Grande, don't be surprised if you find a flurry of people asking you to book their private boat, taxi, or fabulous dining options. In this case, you can feel a bit overwhelmed getting to the marina. To avoid this, most sightseers take the Funicular, a tram that takes visitors from Marina Grande to Capri Town. Where you will find the shopping center and restaurants with great view. The 4-minute ride up to the town takes you through the famous lemon groves with a spectacular scenic view.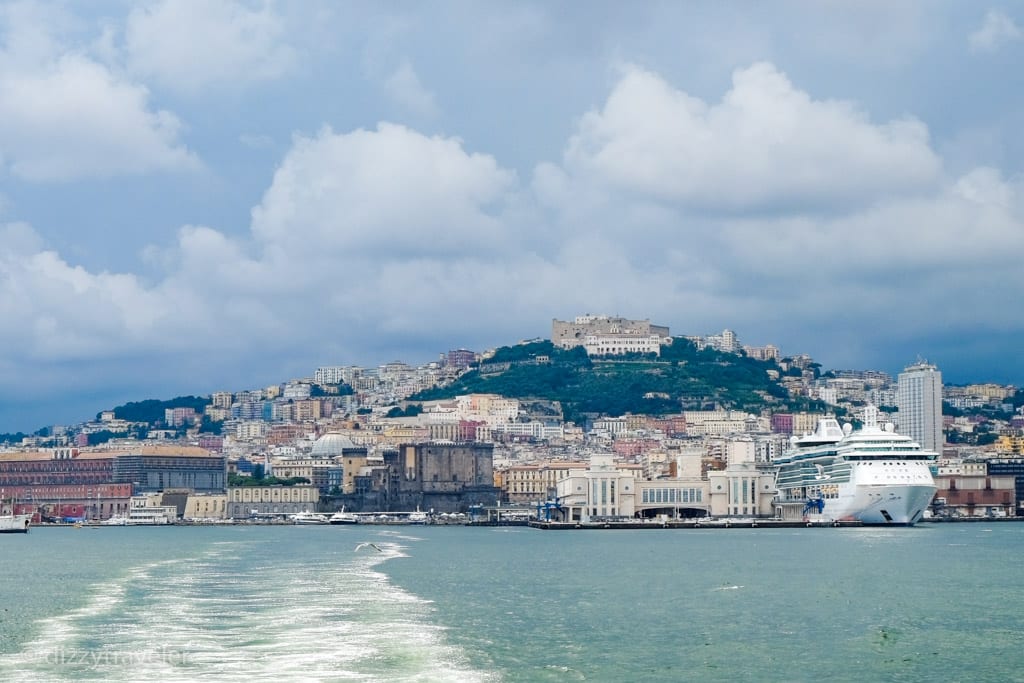 Things to do in Capri
Relaxing Walk to Belvedere Tragara
This is one of the most picturesque locations and best among all other gorgeous panoramic viewpoints on Capri. It is a relaxing walk from Grand Harbour to Belvedere di Tragara with breathtaking views of the Faraglioni rock formations on one side and the beautiful Marina Piccola on the other. There are map signs posted all over Capri en route, so it's near impossible to get lost.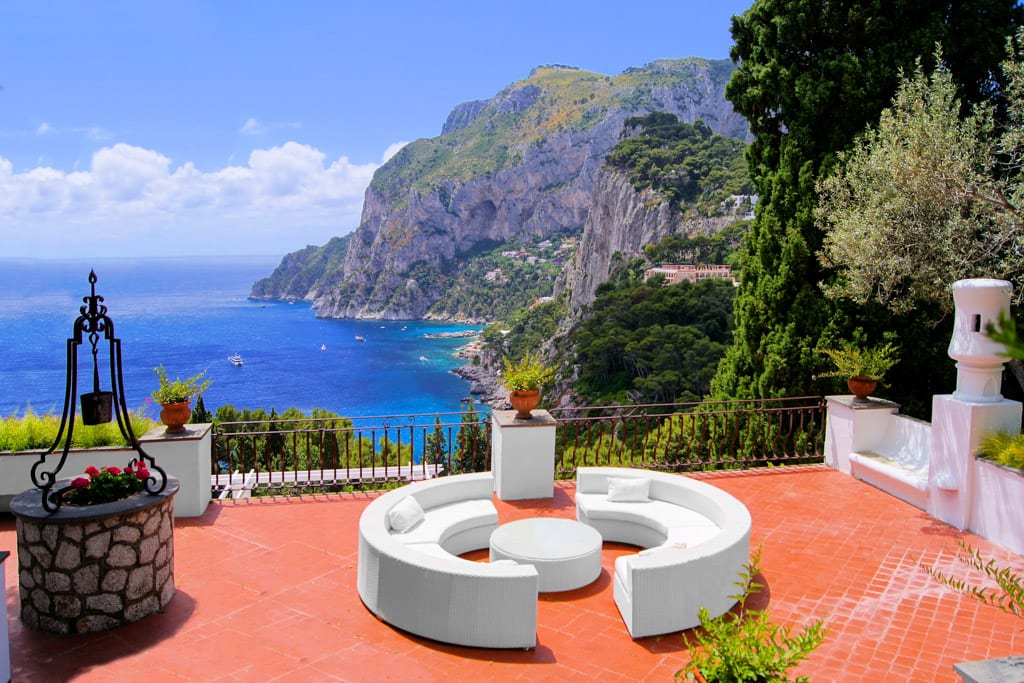 Head to Belvedere di Punta Cannone
Belvedere di Punta Cannone is a hilltop viewpoint with a 19th-century cannon and ocean vistas, reachable by scenic narrow walkways. It is a lesser-known viewpoint and a bit of a further walk from Capri Town, but it is worth visiting to enjoy the island's favorite view. From this viewpoint, you can see the beautiful vista of Faraglioni, Certosa di San Giacomo, and Augustus Gardens. In the other direction, the gorgeous Marina Piccola sits with its beachfront clubs and turquoise waters looking more and more breathtaking with every minute. It's only a 15 minute walk from Piazzetta in Capri town which is nice getaway from the crowded town center.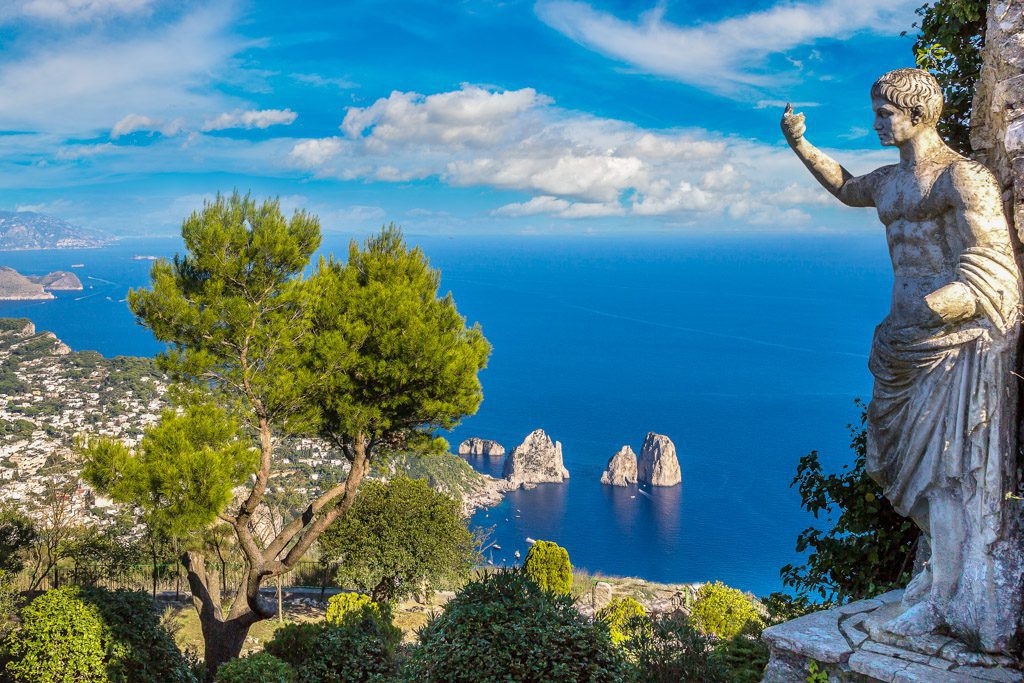 Experience The Monte Solaro Chair Lift
Taking a chair lift from the town center Piazza Vittoria in Anacapri to the highest point of Capri Monte Solaro is the absolute greatest way to enjoy a day on the island. The 13 minutes of ascension to the mountain summit is a wonderful opportunity to enjoy a birds' eye view of the Gulf of Naples with Vesuvius in the background. While at the top, Monte Solaro presents the visitor with all the panoramic beauty of Capri, Faraglioni, and the coastline.
The Monte Solaro chair lift entrance is in Piazza Vittoria, Anacapri, take a bus from Marina Grande to get there. I highly recommend getting the chair lift to the top of Monte Solaro. If you are scared of heights, then you can walk (about an hour one way) up or down instead of taking the lift.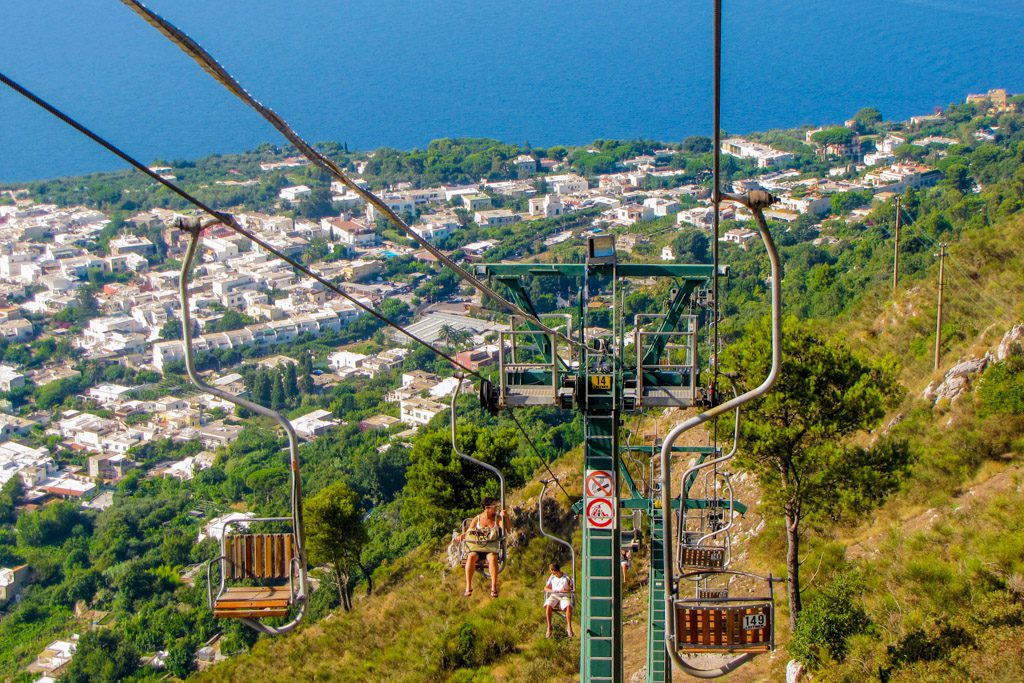 Boat Ride Around Capri Island & Faraglioni
When I think of Capri, one of the first impressions that come to mind is the rock that rises out of the sea a few meters away from Capri's southern coast. That also reminded me of Halong Bay in Vietnam. You can rent a boat from Marina Piccola beach and travel through these three iconic arches for a great experience.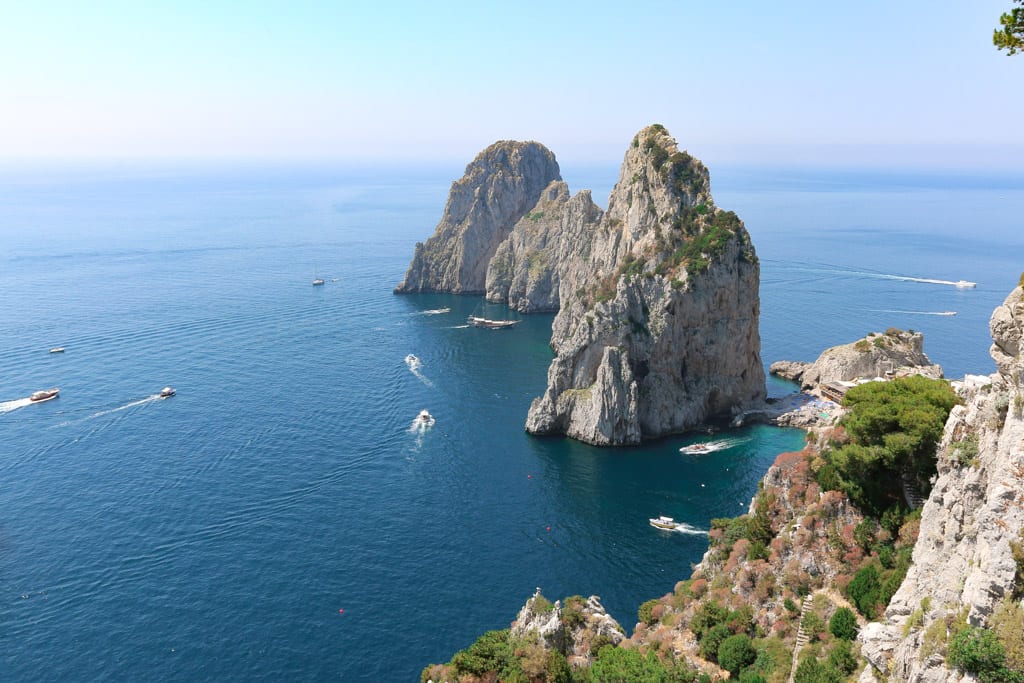 Must Visit Giardini di Augusto
The Gardens of Augustus, initially known as Krupp Gardens, are botanical gardens on the island of Capri. These gardens are lovely, and you will get a stunning view over the Faraglioni Rocks as well. There are plenty of benches to relax and enjoy the tranquil surroundings of this lovely place. From Piazza Umberto (the center), it is a short walk through the narrow lanes that will bring you here.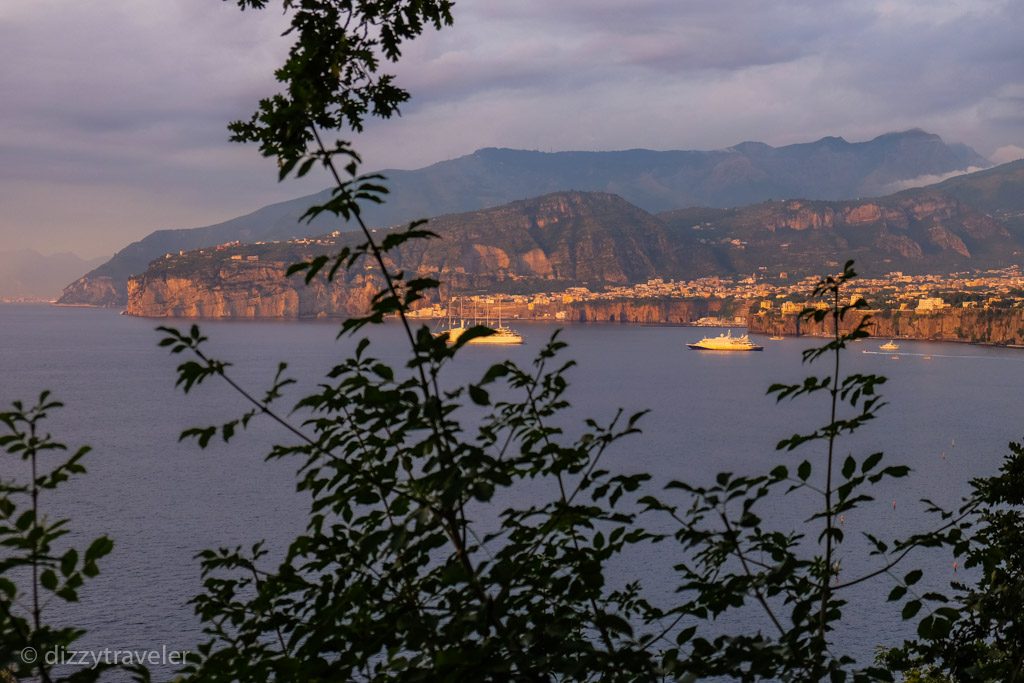 Boat Trip to Blue Grotto
The Blue Grotto, a sea cave, is located in the northern part of Capri Island. It is amazing to see the cave illuminated with such a dazzling and unique color as sunlight passes through an underwater hole and shines through the seawater. It's one of the most attractive sites for tourists. Unfortunately, the cave opening is so small that people must lay down flat in their boat to pass through. That is why it is impossible and dangerous in high waves to enter the Blue Grotto.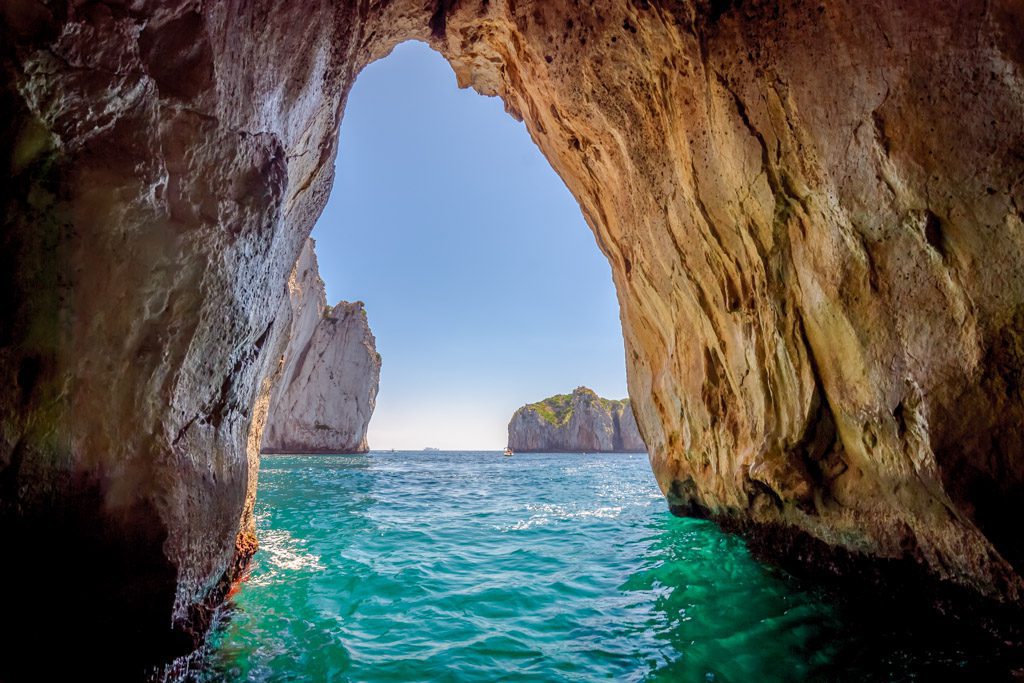 Where to stay in Capri, Italy
Casa Luna Caprese is an 11-minute walk from the beach. Located in Capri, an 11-minute walk from Marina Grande Beach and 0.6 miles from La Fontelina Beach, Casa luna Caprese provides air-conditioned accommodations with a terrace and free WiFi. The property features city views and is a 13-minute walk from Marina Piccola Bay and 0.6 miles from Piazzetta di Capri. There are also rooms with sea view balconies. Popular points of interest near the apartment include Axel Munthe House, I Faraglioni, and Marina Grande. 
This property
is a 10-minute walk from the beach. Set 1,650 feet from I Faraglioni, less than 0.6 mi from Axel Munthe House, and a 3-minute walk from Piazzetta di Capri, Camerelle 33 Capri offers accommodations located in Capri. In addition, the property is 1.7 mi from Marina Grande and 1,950 feet from Via Roma. Castiglione is 0.7 mi from the apartment, while Marina Piccola – Capri is 1.4 mi away.
My Opinion and Last Word
Have you been the beautiful Capri Island in Italy? Any cool tips to share?
I loved being in Capri Italy, and want to go back again. I hope my story has motivated you to visit Italy.
Please leave a comment below! I'd love to hear from you to improve my knowledge. 
Was this travel guide helpful for you?
If you'd like to help me continue making free guides, here is one way you can help:
Share This Guide 

– If you have a friend that would benefit from this guide, share it with them. Or post this guide on Facebook, Twitter or Google+
Your Support would definitely help me making more free guides like this. Thank you in advance!
Affiliate Link – This post in Dizzy Traveler contains affiliate links, which means I receive a referral commission if you purchase after clicking at no additional cost to you. These funds go to maintain the site. Thank you for your support.
Book your Sightseeing Trip
There are a lot of beautiful places to visit for exciting sightseeing activities to bring unforgettable memories back home. Please click on our below affiliate link to see your options.