It was early morning in Nairobi, Kenya, and I was the first hotel guest in the restaurant for breakfast. The weather was crisp and cool but eventually warmer throughout the day. I was extremely excited about the safari of a lifetime and starting Maasai Mara road trip to one of the most famous wildlife reserves in East Africa, the beautiful Maasai Mara home of the big five – Lion, Leopard, Rhino, Elephant, and Buffalo.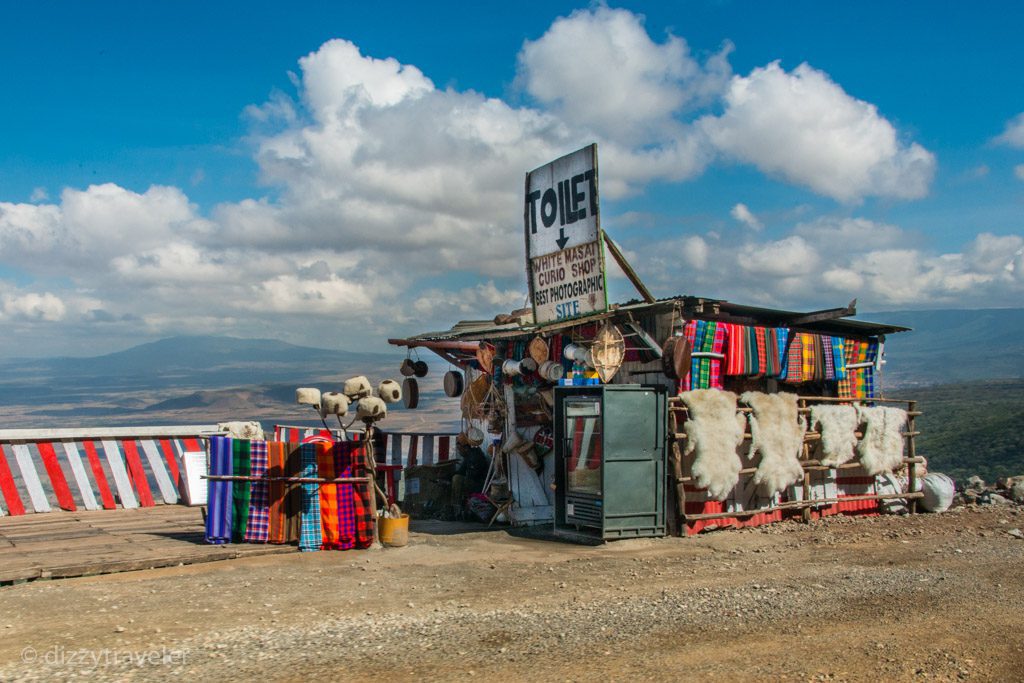 At 7:30 am, my Africa Flash Mc Tours tour guide picked me up from the Nairobi hotel, and we departed for Masai Mara. The distance is about 170 miles (270 km), but it took us approximately 6 hours. The two-lane highway ride was smooth sailing until we reached the last 70 miles, where we experienced extremely bumpy roads. It was bumpy and dusty. Actually, it was so bad, especially due to the road construction, that I was afraid to take my camera out of the bag.
Maasai Mara Road Trip: Nairobi –> Narok –> Maasai Mara
I thought about taking a flight from Nairobi Wilson Air Strip to Maasai Mara, but it was expensive. Since I was traveling under a tight budget. If you can afford to spend extra bucks, then I highly recommend flying to Maasai Mara. Best option is Mara North Conservancy Airstrip or Keekorok Airstrip, depending on the location of your accommodation. Check out the Air Kenya website for the schedule and cost. https://www.airkenya.com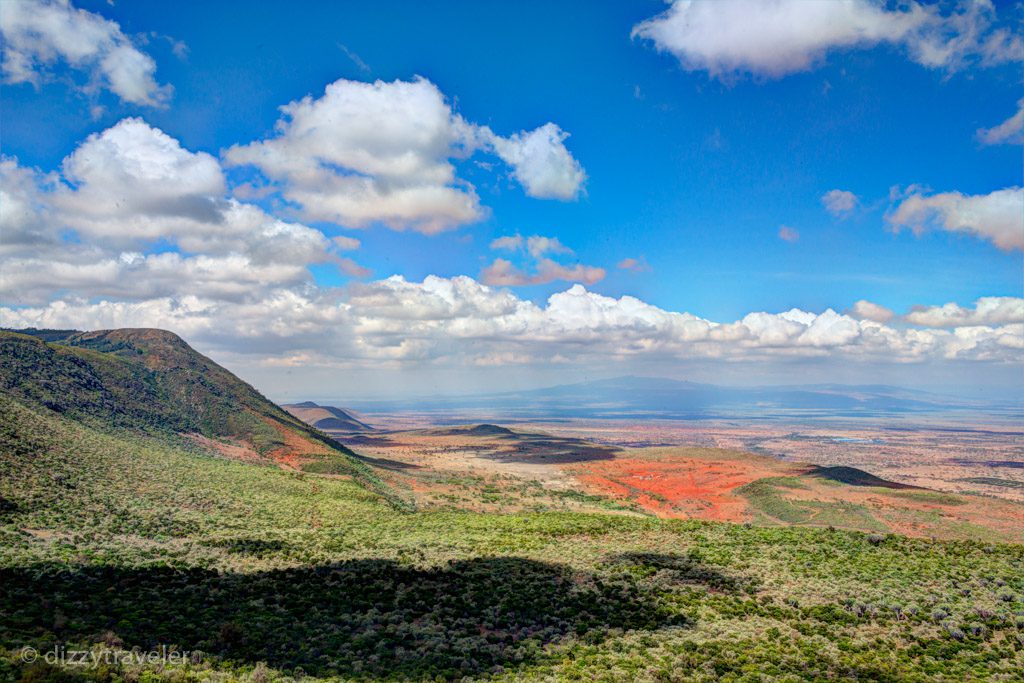 1st Stop at the Great Rift Valley Lookout
After an hour of driving, we finally started seeing the lovely countryside, a unique, pleasurable experience. While driving through the winding roads on the mountaintop, we stopped at the viewpoint of the Great Rift Valley. It is one of the world's natural wonders. You definitely need to make a stop up there not just because of its stunning beauty but also for a great photo opportunity. I saw most of the tourists traveling by road stopping here. There are a few souvenir shops and restaurants worth checking for interesting items and local food or drink.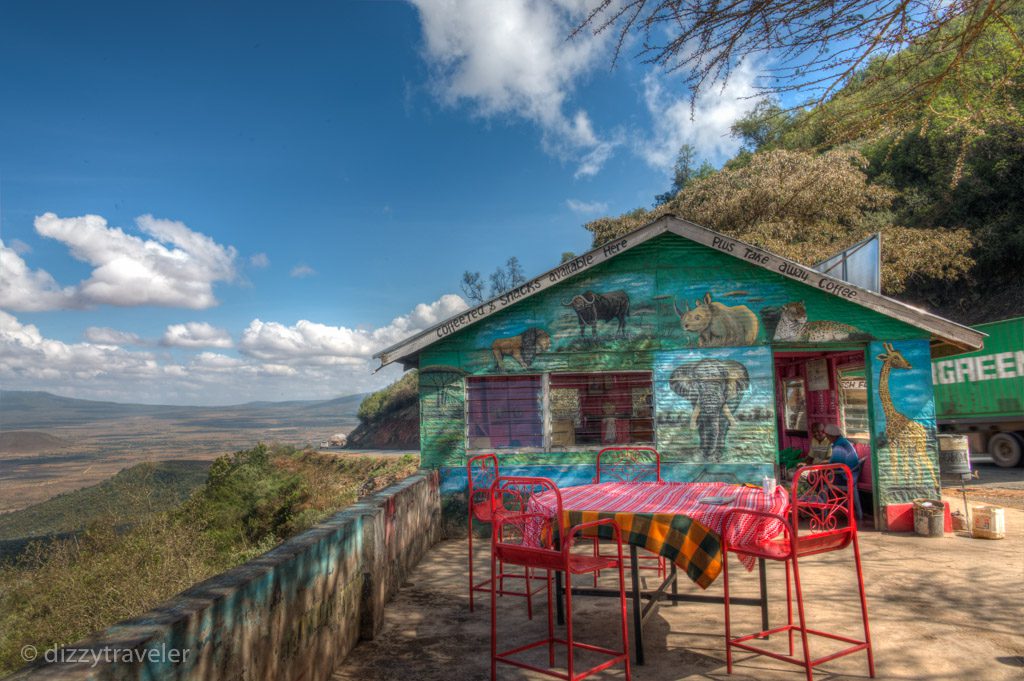 A Quick Stop on the Highway
After a quick 30-minute break, we were back on the road again, heading towards Masai Mara. Again, the October weather was comfortable and perfect for traveling to Kenya. After a quick 30-minute break, we were back on the road again, heading towards Masai Mara. Again, the October weather was comfortable and perfect for traveling to Kenya.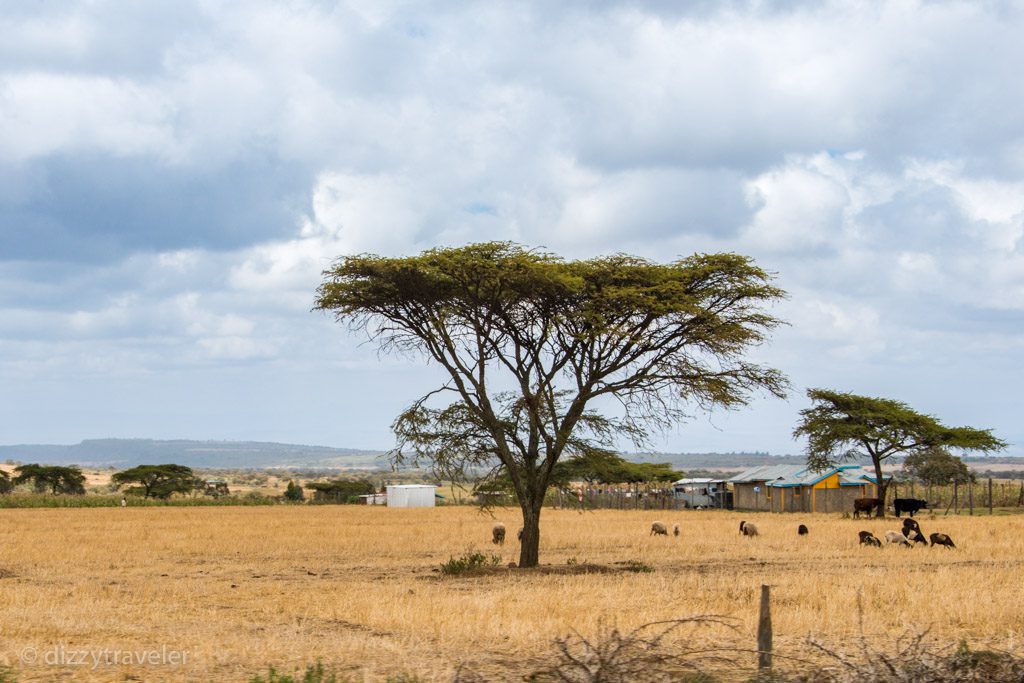 Experience on the Highway
While driving through the valley, I enjoyed watching the native Masai herders lead their cattle to the grazing fields wearing traditional dresses like shukas and beads. I could see animals grazing on both sides of the highway as far as my eyes could reach. From time to time, we saw cows, goats, and sheep around the highway, sometimes occupying or crossing the road, forcing the ongoing traffic to a standstill. However, even monkeys on the road found an ideal place to relax.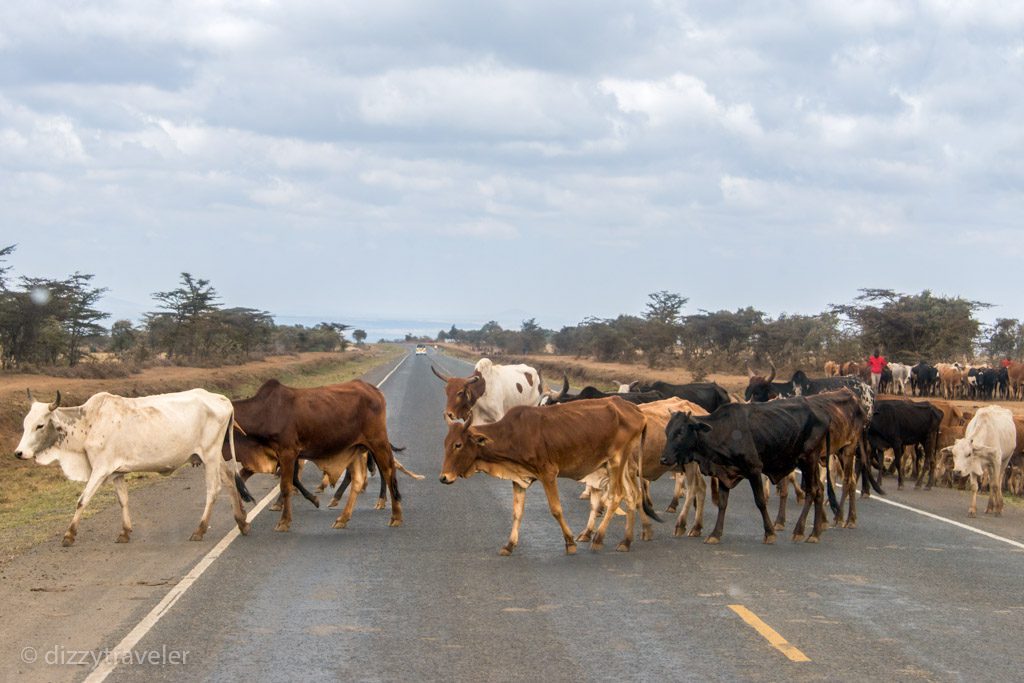 After a while, we were cruising through the bad patches of the thrilling road trip, and there were times we had to roll up the window frequently to protect us from the dust getting inside the 4×4. But, even with the air conditioning not working, it still was not an uncomfortable ride.
Lunch at Seasons Hotel, Karok
At around 1:00 pm, we arrived at the small town of Narok, and our driver stopped at Seasons Hotel for lunch. The hotel's restaurant served buffets and cook-to-order items such as their traditional Nyama Choma – goat meat. I also tried some cabbage with string beans, mashed potatoes, and lamb curry with a bottle of Tusker, along with my longtime wish list item – Nyama Choma.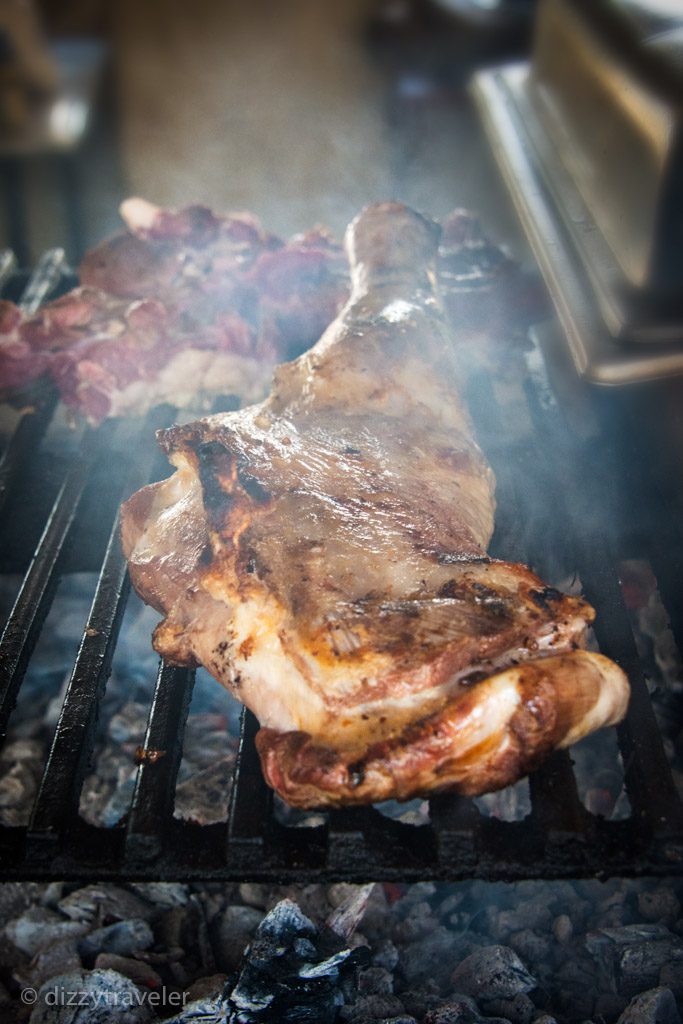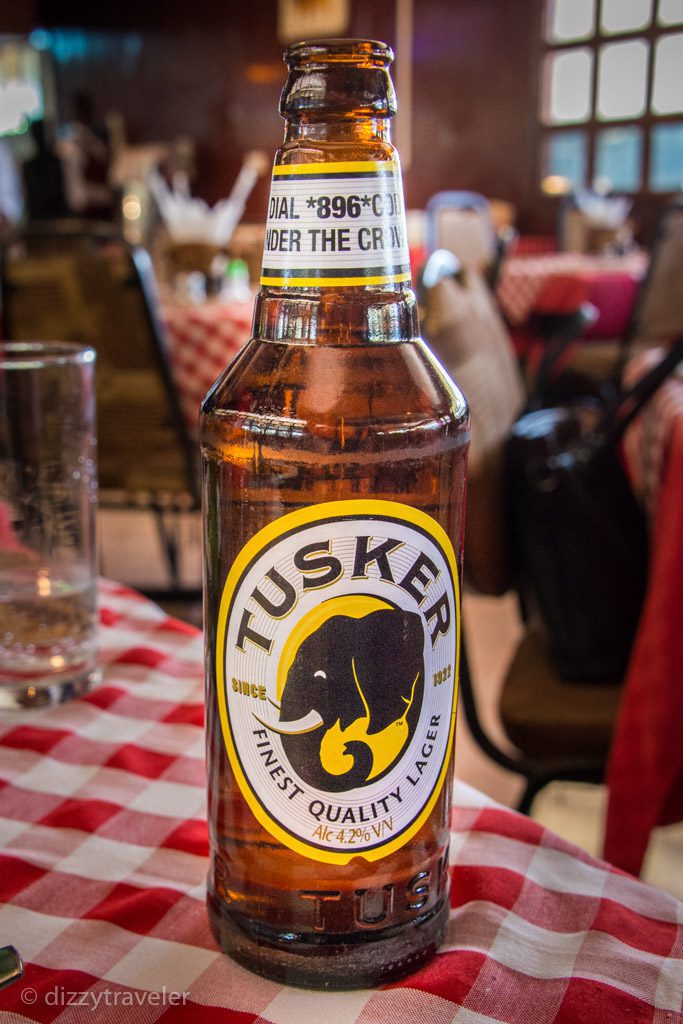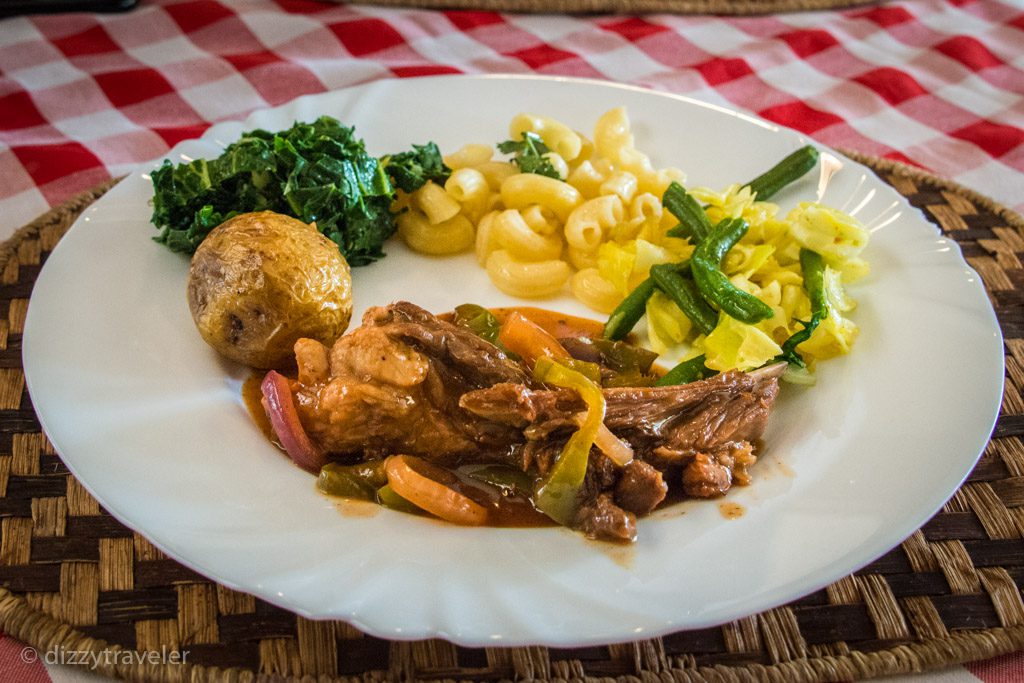 The road from Narok to Masai Mara
After the lunch break, we hit the long road to Masai Mara, and that was the beginning of our exotic, fun ride on the bumpy dirt road. Can you believe I had to use Scarf (Shemagh) to protect me from wind and dust? I even had to cover my luggage, backpack, and camera gears with plastic (55-gallon trash bags).
Interesting Road Side Activities
On the way, we passed through many small towns and saw traditional Masai villages surrounded by tree branches filled with thorns to protect them from wild animals. Finally, after two and half hours of bumps, dust, and pain, we arrived at our destination, the great Masai Mara. Along the highway, I also saw many shops selling produce, mainly red onion, potato, cabbage, and fruits.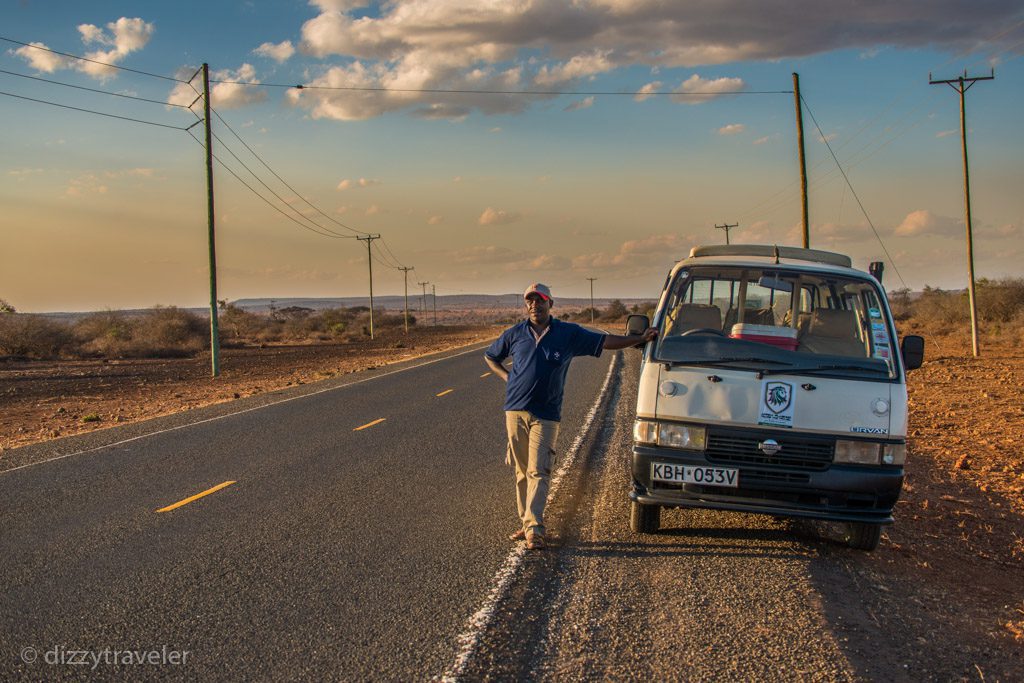 Final Destination Rhino Tourist Camp, Masai Mara
Finally, late afternoon after about 6+ hours of driving, we arrived at Rhino Tourist Camp in Masai Mara, where I stayed two nights. I checked into a tent (numbered 1954). It was budget accommodation, so nothing fancy, just a double bed and a single bed in a tiny tent with a toilet, shower, and a washroom.
Where to stay in Maasai Mara, Kenya
Neptune Mara Rianta Luxury Camp is located in the north of the Masai Mara National Reserve in the heart of the Mara North Conservancy. This luxury-tented camp overlooks the Mara River and is surrounded by wildlife. Each luxury tent, built on a wooden platform, has a private viewing deck. It includes a sitting area, a writing desk, and a laptop safe box. The private bathroom has a spacious shower and twin basins.
The Acacia Dining Room serves a buffet-style breakfast and lunch, while dinner is à la carte. Al fresco lunches are served around the pool at Neptune Mara and evening barbecues include activities such as Masai dancing.
Rhino Tourist Camp
is located less than half a mile from the Oloolaimutia Gate at the Maasai Mara Game Reserve. It has a bar and a restaurant and is surrounded by lush vegetation. The self-standing rooms and tents at the Rhino Camp have private bathrooms with a shower. Traditional African and international dishes are available at the restaurant. Meals are prepared with fresh organic produce and transported daily to the camp.
If you haven't organized a game drive, then Rhino's staff can help with experienced drivers and a guide. Contact the property for shuttle service from Nairobi or Moi International Airport or transfers from Keekorok Airstrip. 
My Opinion and Last Word
Have you been to Maasai Mara, Kenya? Any cool tips to share?
I loved being in Maasai Mara, and want to go back again. I hope my story has motivated you to visit Kenya.
Please leave a comment below! I'd love to hear from you to improve my knowledge. 
Was this travel guide helpful for you?
If you'd like to help me continue making free guides, here is one way you can help:
Share This Guide 

– If you have a friend that would benefit from this guide, share it with them. Or post this guide on Facebook, Twitter or Google+
Your Support would definitely help me making more free guides like this. Thank you in advance!
Affiliate Link – This post in Dizzy Traveler contains affiliate links, which means I receive a referral commission if you purchase after clicking at no additional cost to you. These funds go to maintain the site. Thank you for your support.
Book your Sightseeing Trip
There are a lot of beautiful places to visit and do some exciting sightseeing activities to bring unforgettable memories back home. Please click on our below affiliate link to see your options.