It was October 3rd., early morning weather was crisp and cool in Masai Mara. Another exciting morning of game drive waiting for us at 6:00 am at-least for few hours before we head towards Lake Nakuru. Lake Nakuru is one of the parks in Kenya where you find beautiful tall trees, cool weather, beautiful lake, waterfalls, green vegetation and definitely birds and all kind of wildlife especially white Rhino. Therefore it is one of my favorite parks, furthermore, it's easy to get to and easily digested.
Morning Game Drive in Masai Mara NR
Another exciting game drive in the morning between 06:30 to 09:30. I have already spotted all the big five Lion, Leopard, Elephant, Rhino and Buffalo the day before but eager to see even more especially the lions and leopards. They tend to hide in bushes and up in the trees to avoid midday heat so morning is the best time of the day to find them. When it's cold seems like the best place for cheetahs to be is under the morning sun.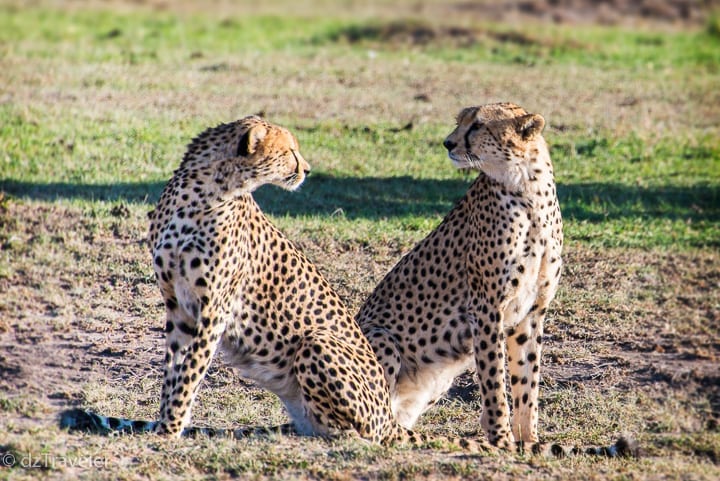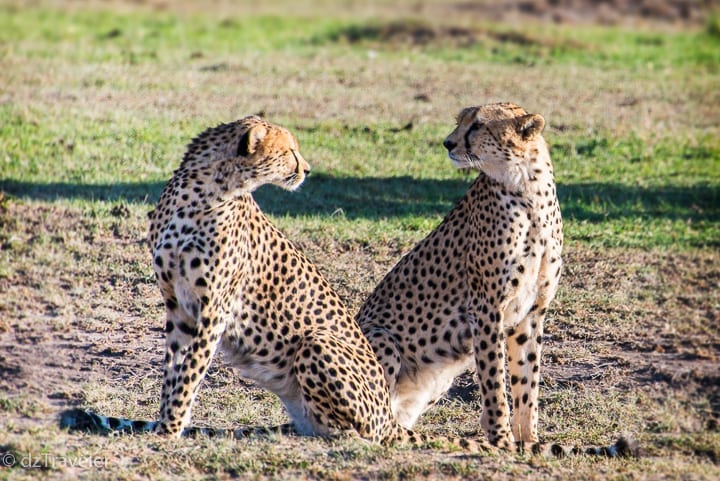 There is no better place to find giraffe than to head towards the area where all the tall trees are and that's what our guide did, due to that was able to spot many of them out there having there early meal of the day.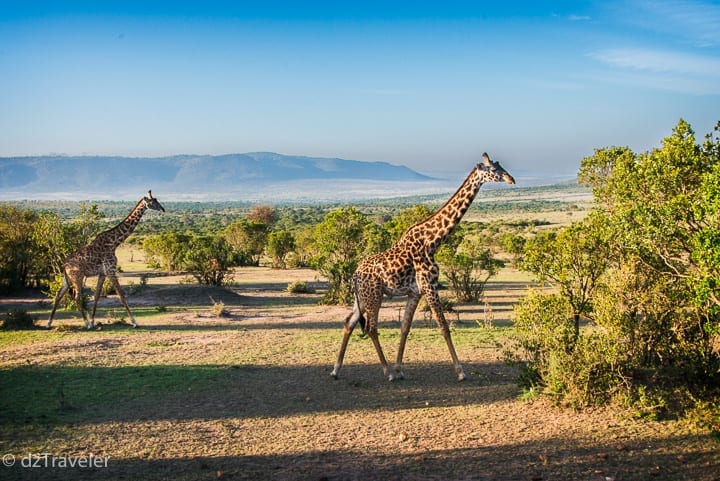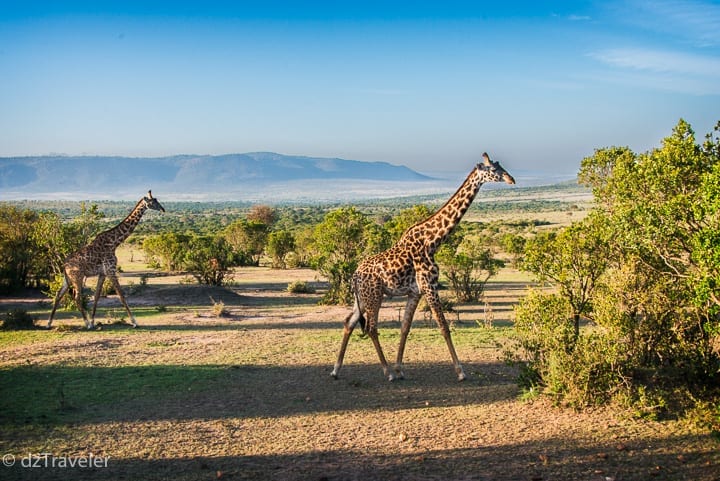 After a couple of hours of the game drive, we came back to our camp, had our breakfast and later left for Nakuru National Park.
Road to Lake Nakuru
The distance is only 150 miles (240 km) from Masai Mara to Lake Nakuru, but it took us approximately 6+ hours to get there. The first 2 and half hours of which is unbelievably dusty and bumpy where I had to roll up the window frequently to protect us from the dust getting inside the 4×4. On the way, we passed through many small towns and saw traditional Masai villages surrounded by tree branches filled with thorns to protect them from wild animals.
1st Stop at Rest Area
Finally after 2 and half hours of bumps, dust, and pain we got on to the decent highway and arrived at our well deserved first stop Olare Gift Shop.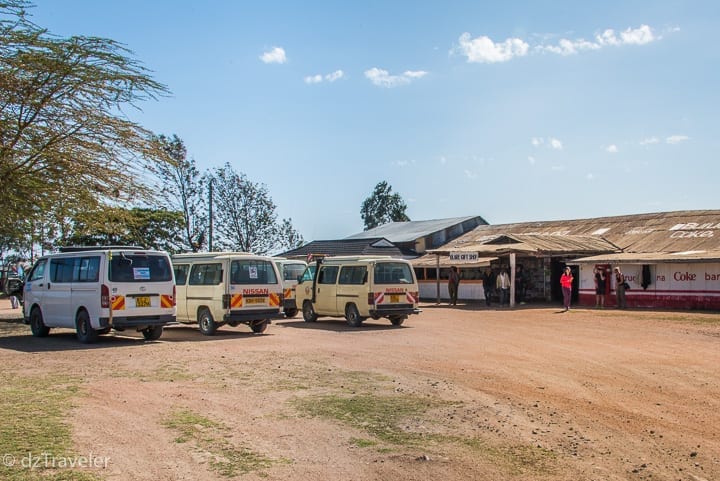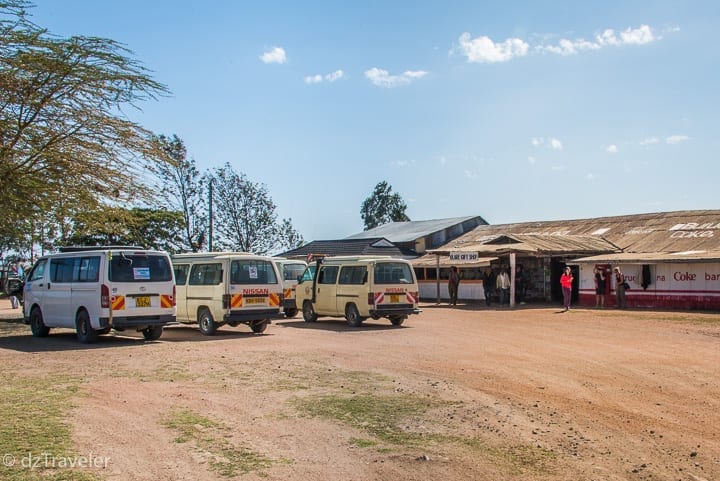 After a quick 30 minute break, we were back on the road again heading towards Lake Nakuru.
2nd Stop at Georges Resort for Lunch
At around 1:00 pm we arrived at a small town, and our driver stopped at Georges Resort for lunch. This restaurant was serving both buffets, as well as, cook to order items such as their traditional Nyama Choma – grilled meat and Mukimo.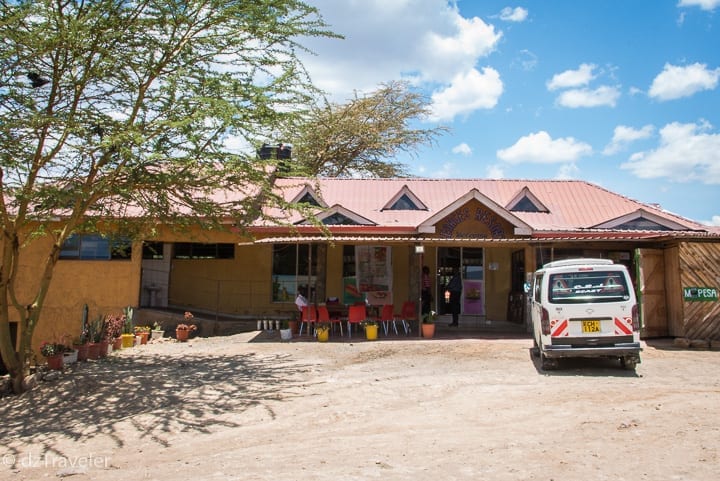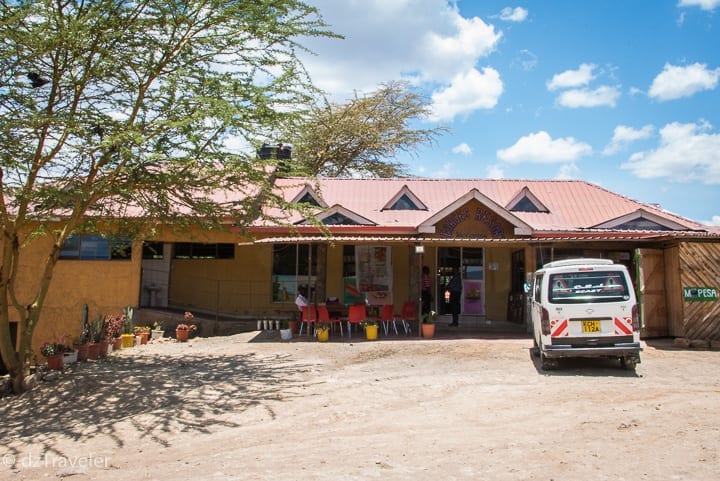 After an exciting game drive and a long bumpy ride I definitely deserved something special lunch from Kenyan traditional menu. Had freshly grilled Lamb called Nyama Choma and Mukimo make with potatoes, fresh spinach, soft maize and chopped spring onions(photo on the left)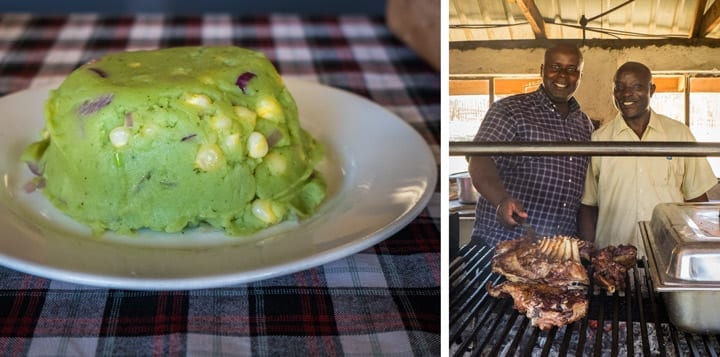 Quick Stop at Lake Naivasha
After 6 hours of driving from Masai Mara, we arrived at the beautiful freshwater Lake Naivasha which is part of the Great Rift Valley. Taking a boat ride on the lake is something you should not miss not just because of its stunning beauty but also for a great photo opportunity.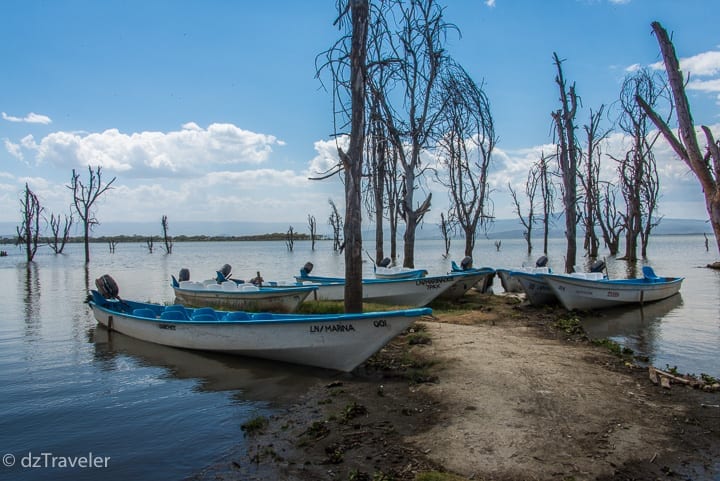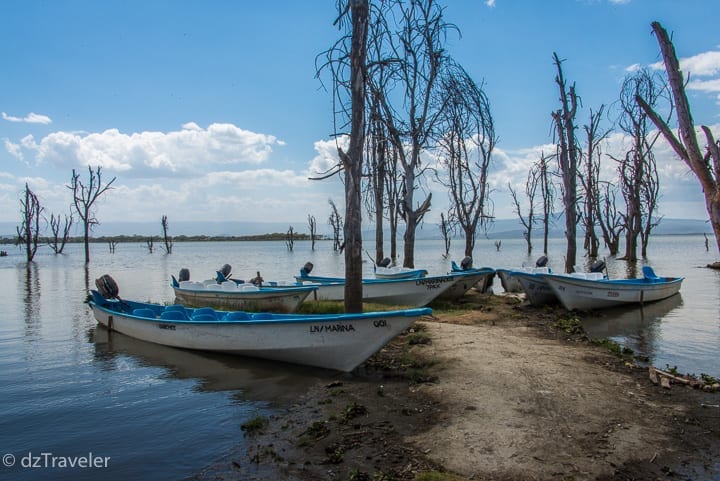 After enjoying the boat ride in Lake Naivasha we were back on the road. While driving through the valley I enjoyed watching the roadside actions like local people wearing their traditional dress engaged in their daily activities and small rural markets we passed by all were so fascinating.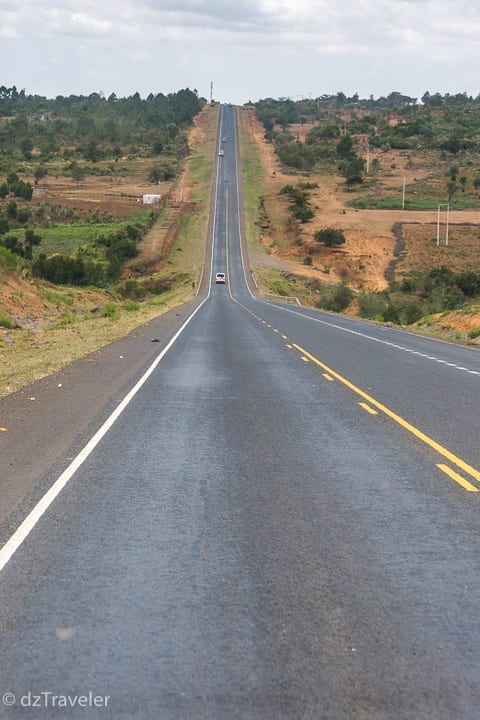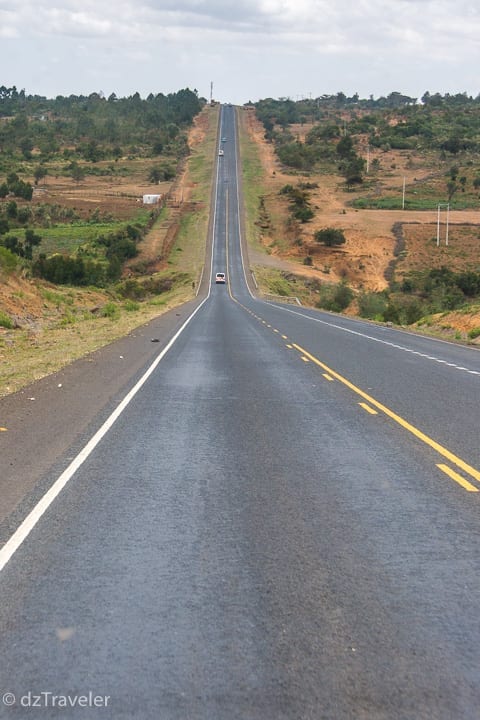 Final Destination Lanet Matfam Resort
Finally at late afternoon after about 6+ hours of driving, we arrived at Lanet Matfam Resort in Nakuru where I stayed one night. Lanet Matfam Resort, Lanet – Ndudori Road, Opposite Nakuru Barracks, Nakuru.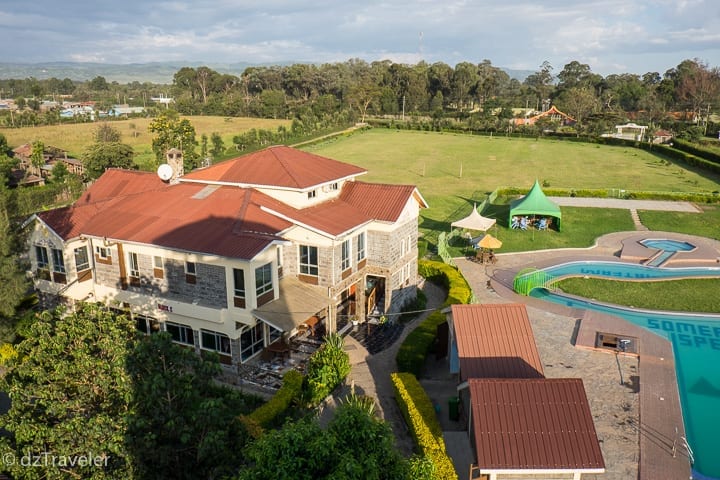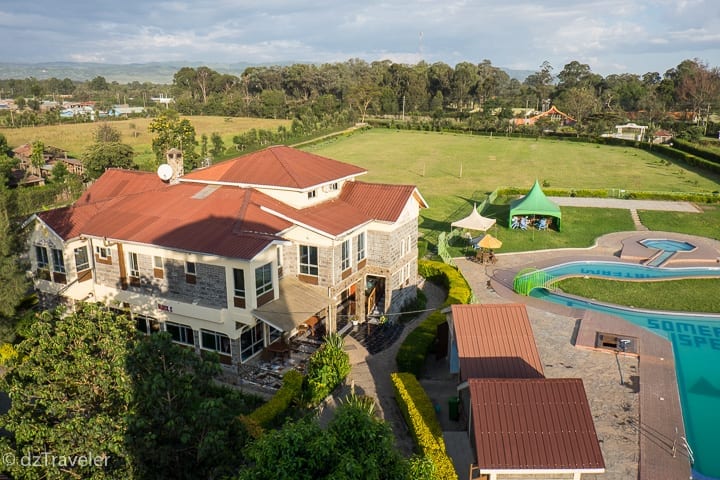 My Opinion and Tips
Have you been to Nakuru, Kenya? Any additional tips to share?
Please leave a comment below! I'd love to hear from you to improve my knowledge.
Was this travel guide helpful for you?
If you'd like to help me continue making free guides, here is one way you can help:
Share This Guide – If you have a friend that would benefit from this guide, share it with them. Or post this guide on Facebook, Twitter or Google+
Most of my post in

Dizzy Traveler Around The World

contains affiliate links. If you make a purchase through these links, I will earn a commission at no extra cost to you. These commissions will help reduce the costs of keeping this site active. Appreciate for reading my post!
Your support would definitely help me making more free guides like this. Thank you in advance!