I love driving particularly a road trip in a foreign country make my trip more enjoyable because it gives me the opportunity to go to places out of the way and I've never been to previously. Freedom to stop anywhere and visit places based on my priority and likings brings additional excitement to the experience.
During my recent trip to Taiwan, I rented a car for a few days and drove around. Actually, the driving experience was great, nothing like what you read on the internet. Roads and highways are well marked, safe and even in much better condition than many developed countries. Thanks to the Apple map, navigation from point A to point B was easy and an International Driving License issued by AAA (in my case) and a State license is all I needed.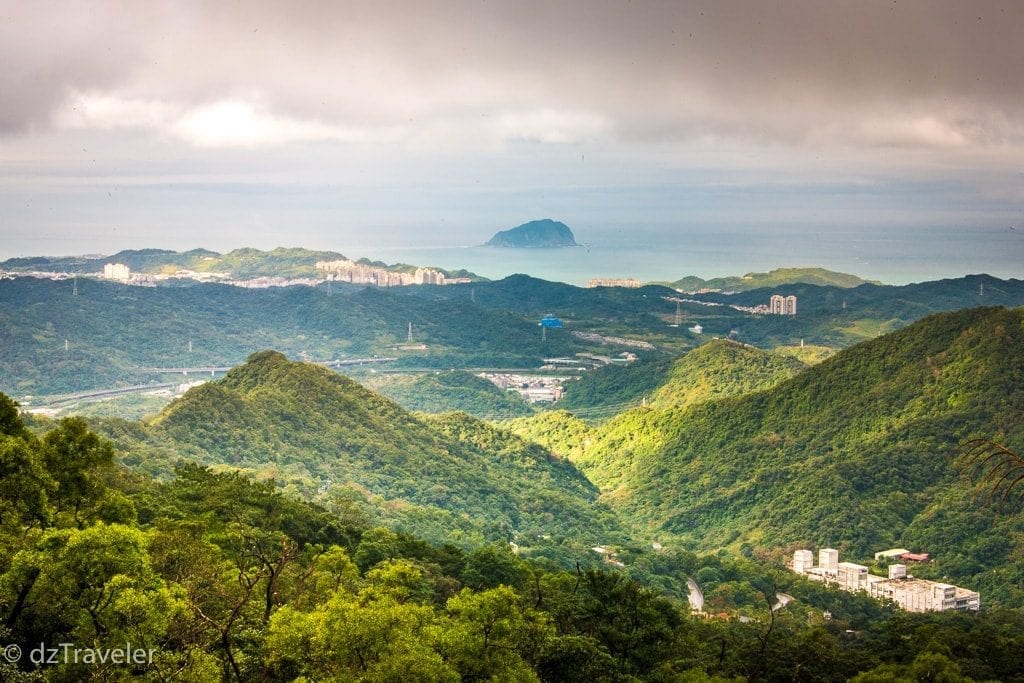 Driving to Scenic Village of Jiufen
About 38 miles (60 km) northeast from Taipei, the mountainside village of Jiufen or Chiufen (Chinese: 九份) is only 2 hours away. Once was the gold mining capital of Taiwan but today it's a famous tourist destination known for its ancient streets, narrow alleys, exotic street foods, authentic tea houses, surrounding mountains, and the picturesque bird's eye view of the Pacific Ocean. A place absolutely worth visiting.
Getting There
I took the winding road # 106 through the mountains passing few historical towns and stopping at few interesting ones instead of taking the highway 1 straight to Jiufen. It was definitely a breathtaking fun ride for me but that may vary depending on individuals liking.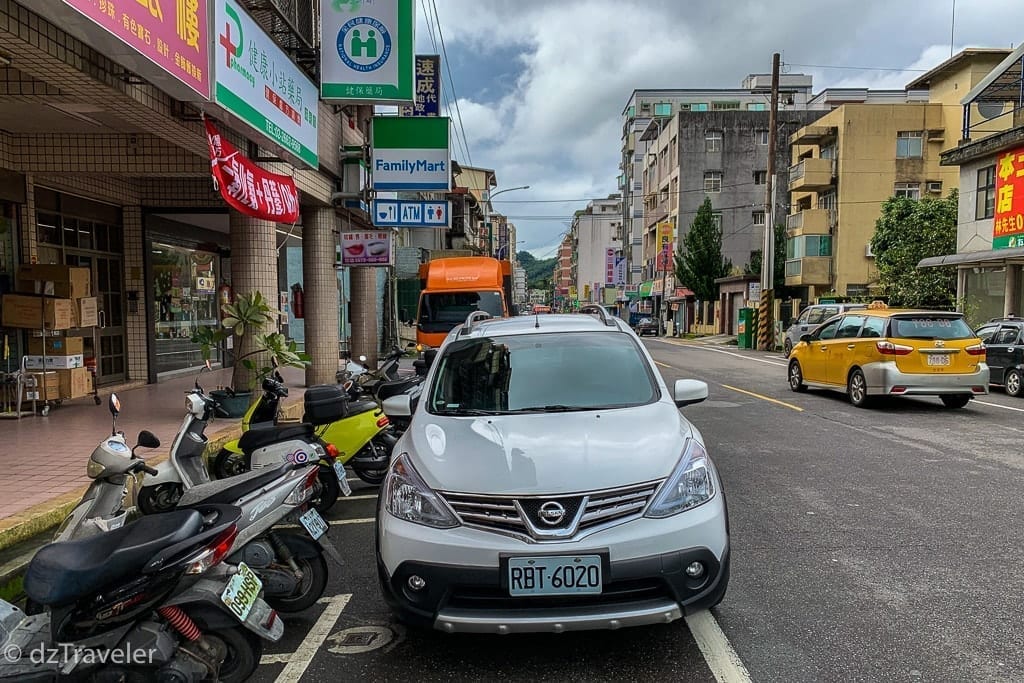 1St. Stop – Pingxi
Even though I felt like exploring every towns and every lookouts on my way but I could not afford to skip Pingxi District. Because a trip to the mountain village of Jiufen is not complete without enjoying the famous Sky Lantern in Pingxi Old Street.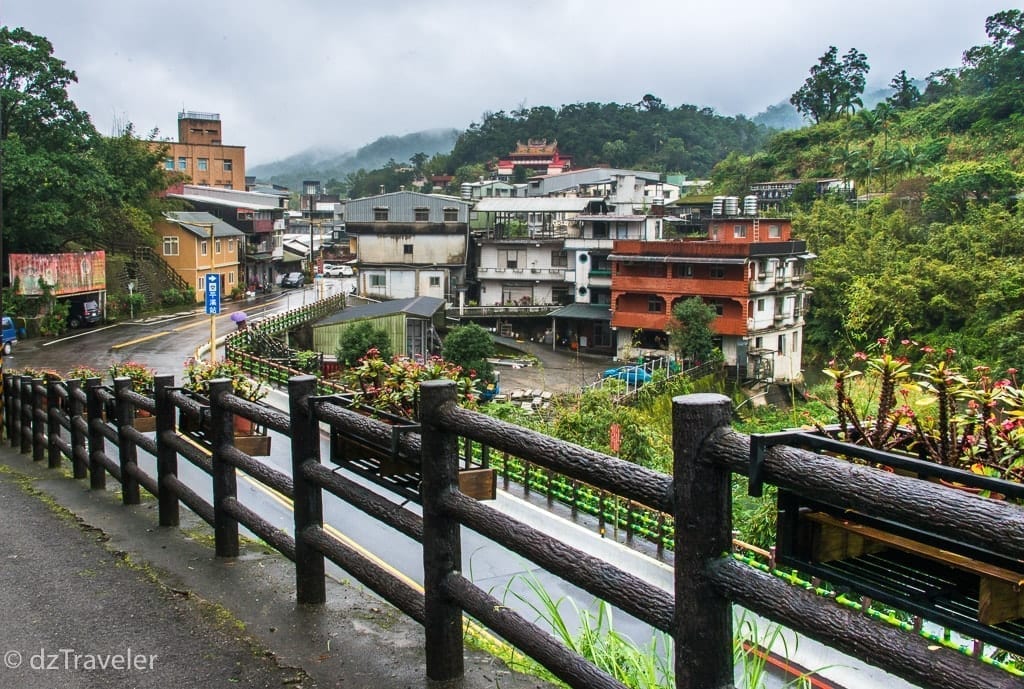 Old Pingxi Street
After about one hour of driving (18 miles/30 km) came to this beautiful little historic town called Pingxi. Surrounded by green mountains was once a mining town, in recent days became world famous for its annual Sky Lantern Festival.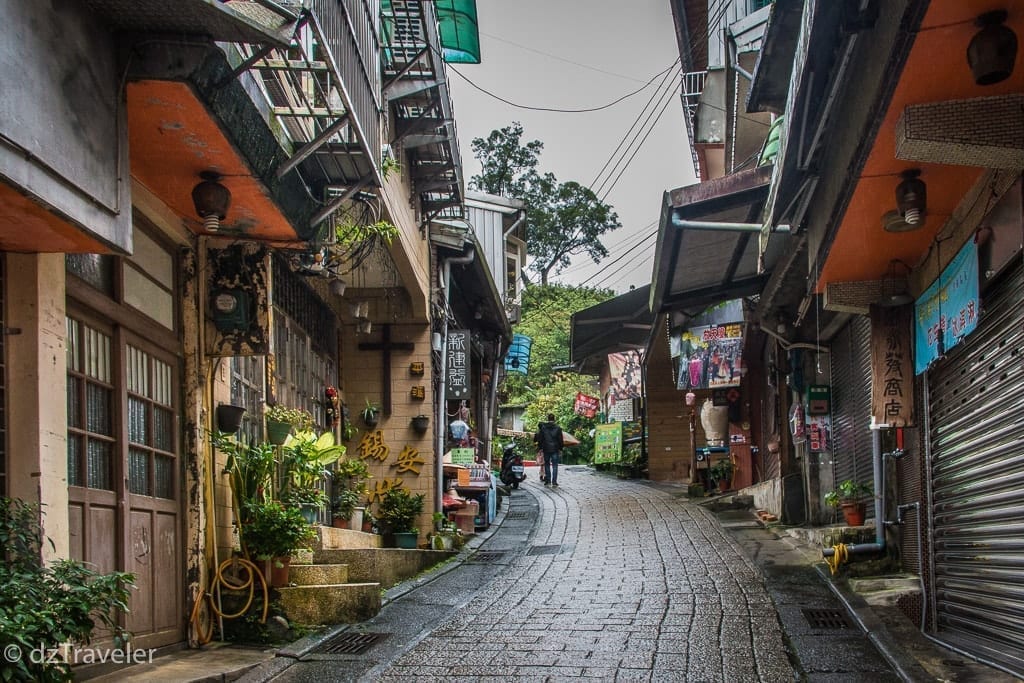 The prominent highlights of Pingxi are not only releasing a sky lantern along with your wishes into the skies but also trying out traditional snacks available on both sides of the old Street. Walking on the famous railway line built in 1921 and watching a train pulling into Pingxi station is also an exotic experience.
Beautiful Pingxi old street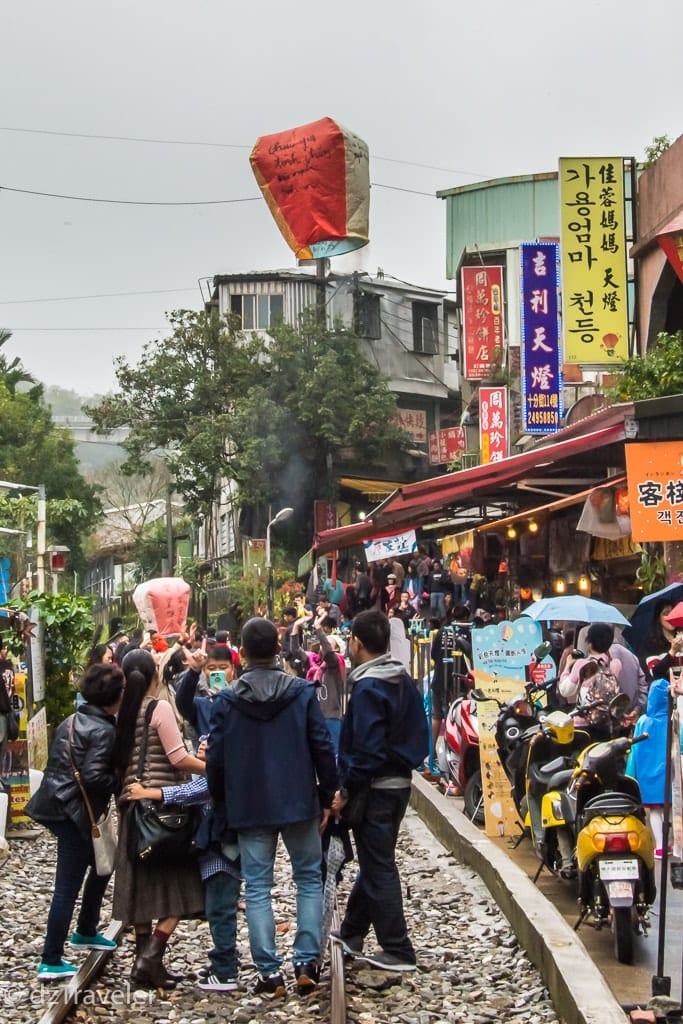 Pingxi Sky Lantern
It is simply enchanting to release your fantasies and wishes into the skies of Pingxi Sky and see the glowing lanterns disappearing in the surrounding mountains.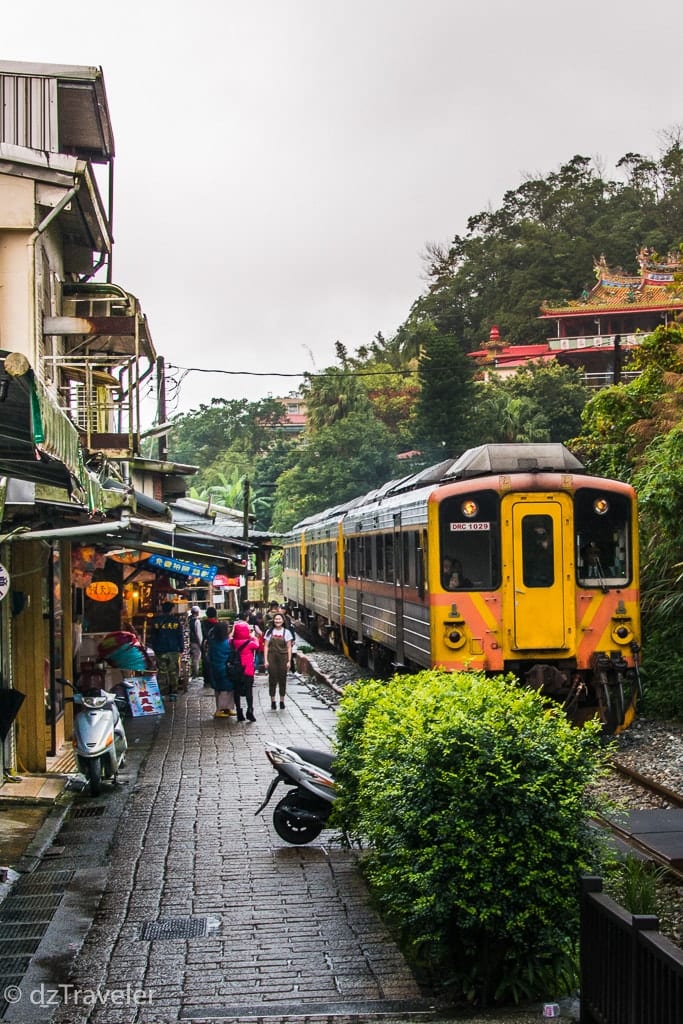 Pingxi Train Station
Even though I was driving but still I waited to watch the scene of this arriving train at Pingxi station. The Train originated from Ruifang station heading to Shifen.
2nd. Stop – Shifen Old Street
My Second stop was at beautiful Shifen along the Keelung River also well known for street food and sky lantern like Pingxi. This is another popular stop on the Pingxi Train Line. About 40 km from Taipei.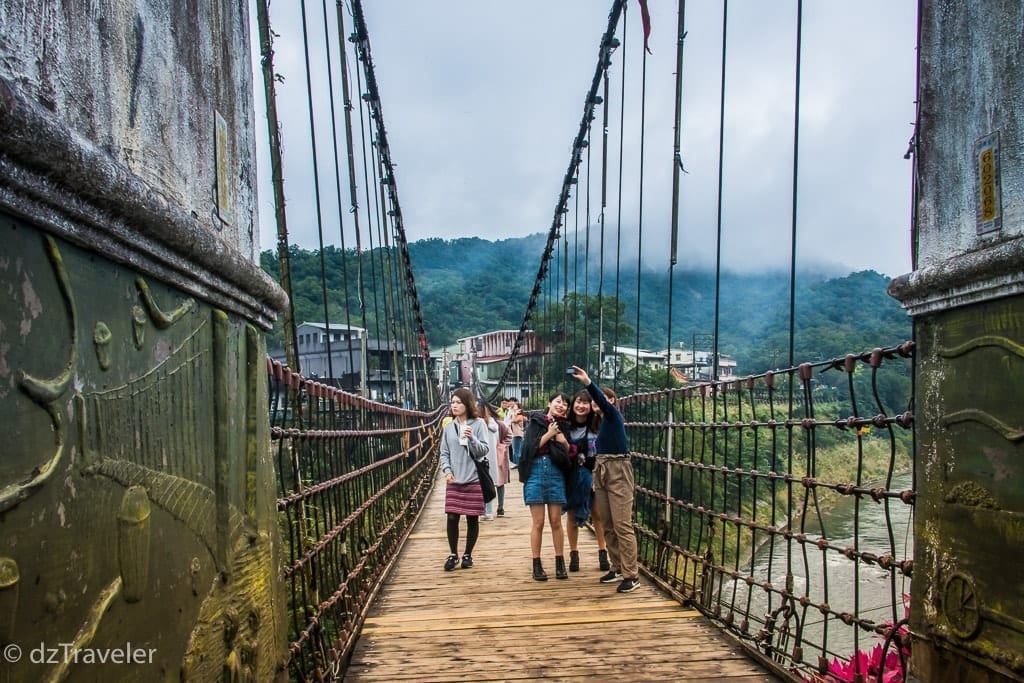 The Jingan suspension bridge located close to Shifen train station connects people from both sides of the Keelung River. A popular place for photo ops. There are many restaurants surrounding the train station the best place to grab some street food or have your lunch there. if you are interested to release sky lantern into the skies then just follow the train tracks towards the town and you will definitely find plenty of action there.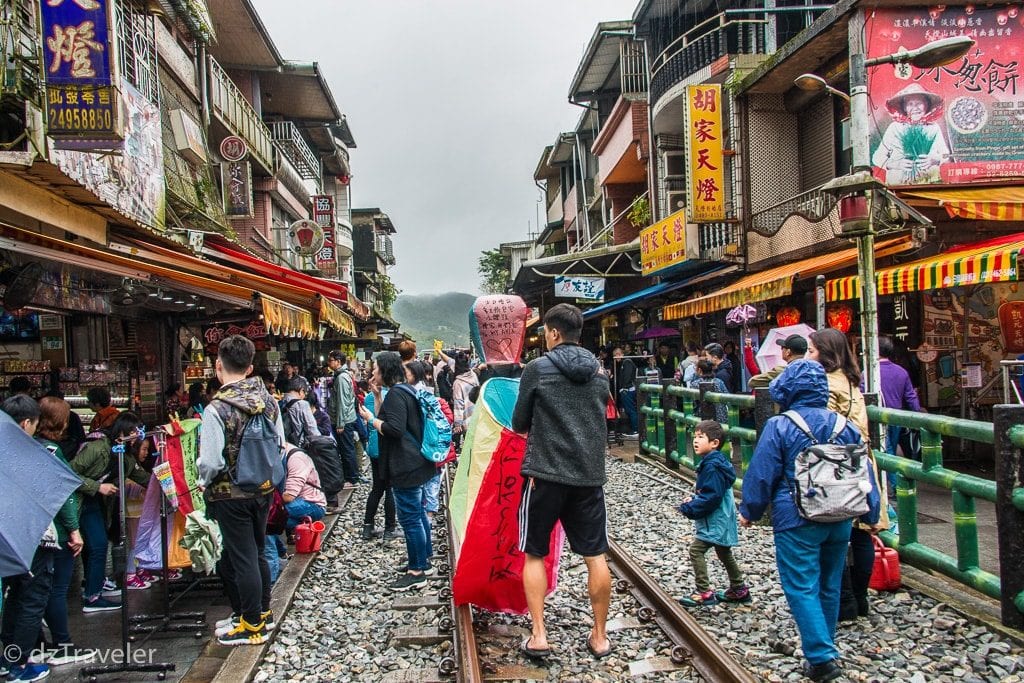 Visiting Shifen Waterfall
Shifen is also well known for Shifen Waterfall. Only about 20 – 25 minutes walk from the Shifen old street to get to Shifen waterfall. The 40m (131ft) wide and 20 M (66 ft) tall Waterfall. The walk itself is scenic along the Keelung River, need to cross over two suspension bridges and one beautiful fall called Guanpu.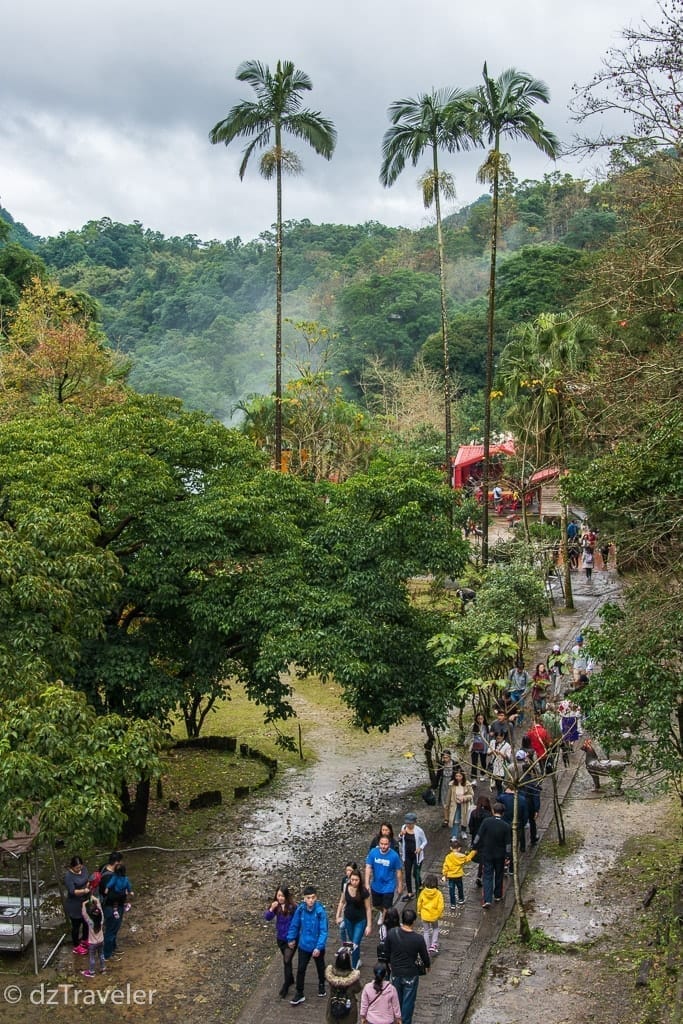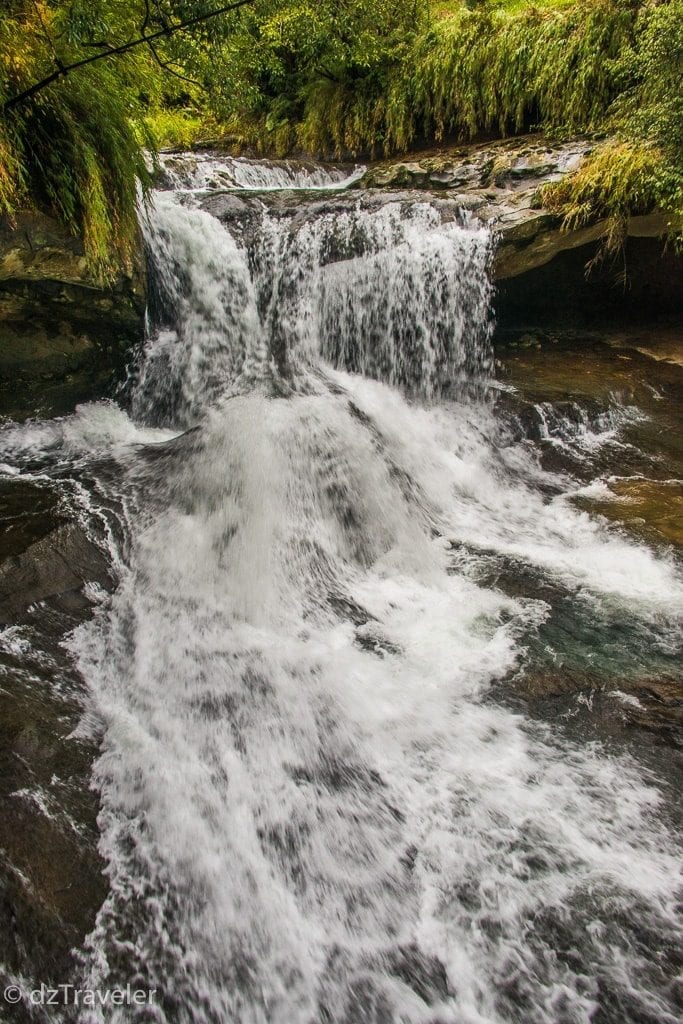 There are plenty of stairs to climb and to boost your energy up you'll get through an area with a few food stalls. Observation decks are usually crowded but from there you will get the best views of the falls. Once done I was back on the road again through the winding roads crossing one hill after another towards Jiufen. only 13 miles (20 km) to cover but It took me about an hour with few stops at different lookouts.
Final Stop – Jiufen Old Street Scene
After arriving at Jiufen, there were plenty of paid parking lots in the lower level along the winding road No. 102. From there had to climb stairs to get to the old street level. Walking through the narrow old street of Jiufen was a great experience. I was overwhelmed by seeing the number of souvenir shops and food stalls on both sides. The alleys were crowded with local and foreign tourists alike. I made frequent stops at different food vendors sometimes to try out mouthwatering local food and sometimes to take photos.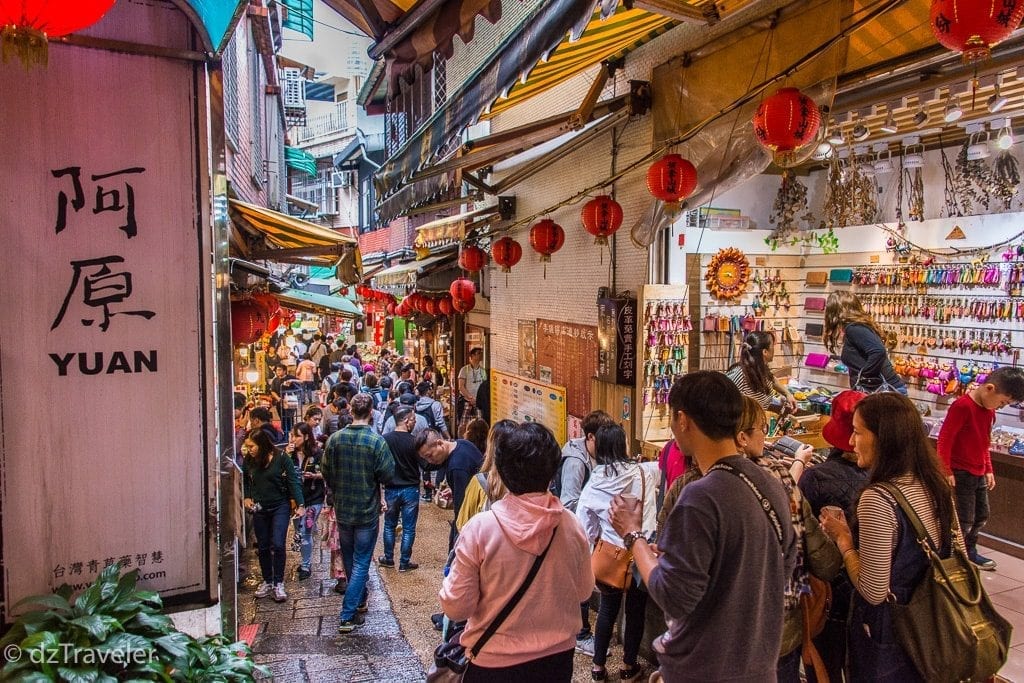 Most tourists visit there as part of a day trip; many also like to experience staying overnight at one of those bed and breakfasts and boutique hotels. Most of the attractions are centered alongside the cobblestone steps of Shuqi road of Shuqi Road and few alleys around that offers a wide variety of souvenir shops, cafes, and restaurants.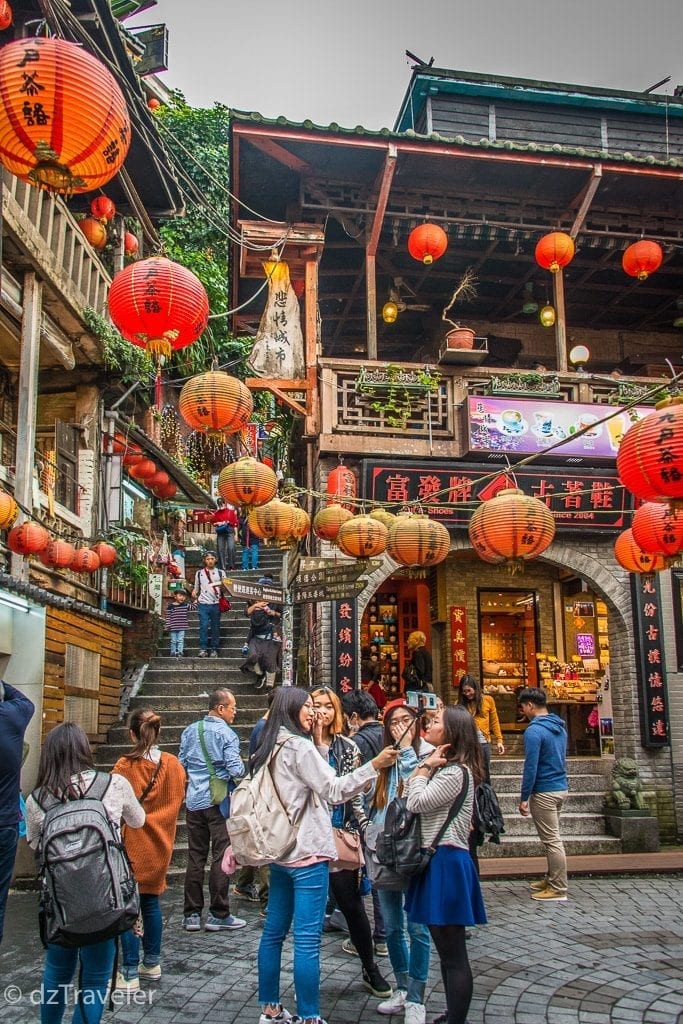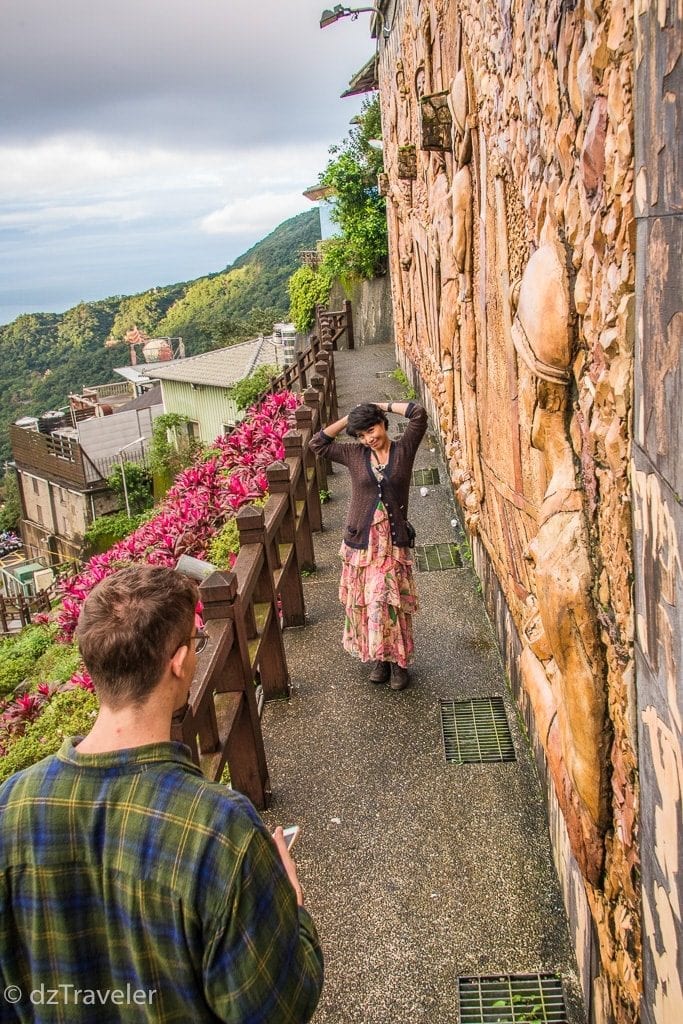 Jiufen Evening Scenery
So make sure to stick around until the nightfall when the weather is nice. The sunset can be pretty exceptional and exciting. In my opinion, there are so much to see an enjoy simply day trip is not enough. But regardless if you are day tripper or staying over definitely need to stick around until the nightfall when the weather is nice. Experience the beautiful view of the surrounding mountains and the bay at sunset. And experience how the night market transforms into an outstanding place of gathering.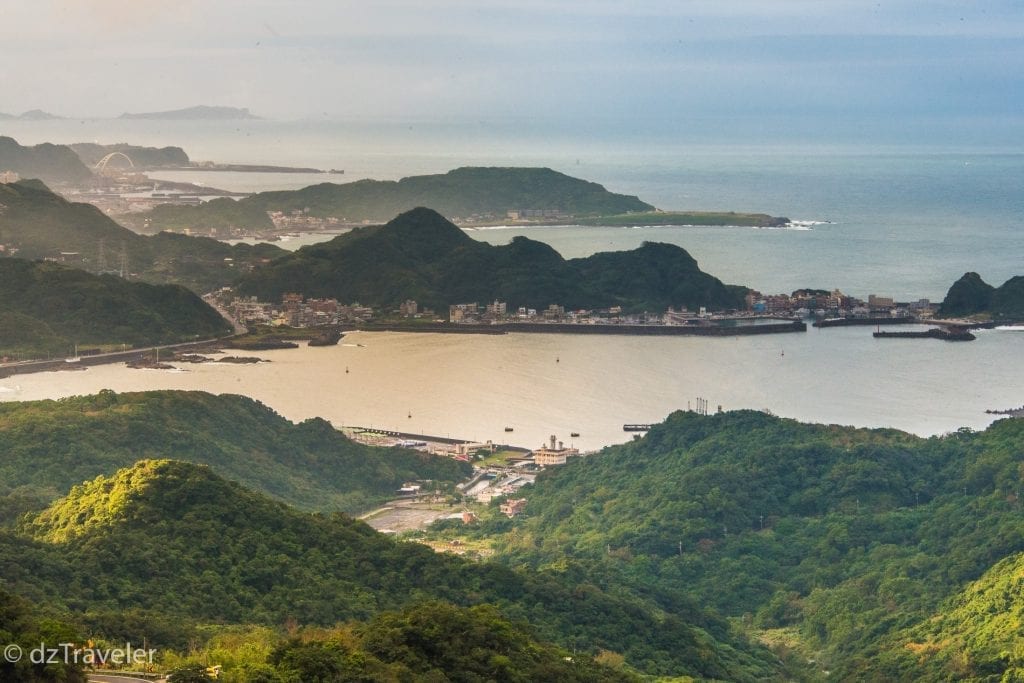 A Quick Side Trip To Golden Waterfall From Jiufen
If you are visiting Jiufen Village then it's short drive north on county highway 34 or if you are visiting Bitoujiiao and Nanya rock area than it is less than a mile south of Highway 2. You can't miss this unique looking waterfall. The water streams cascading over the golden brown rocks, creating a beautiful view. Great place for photographers.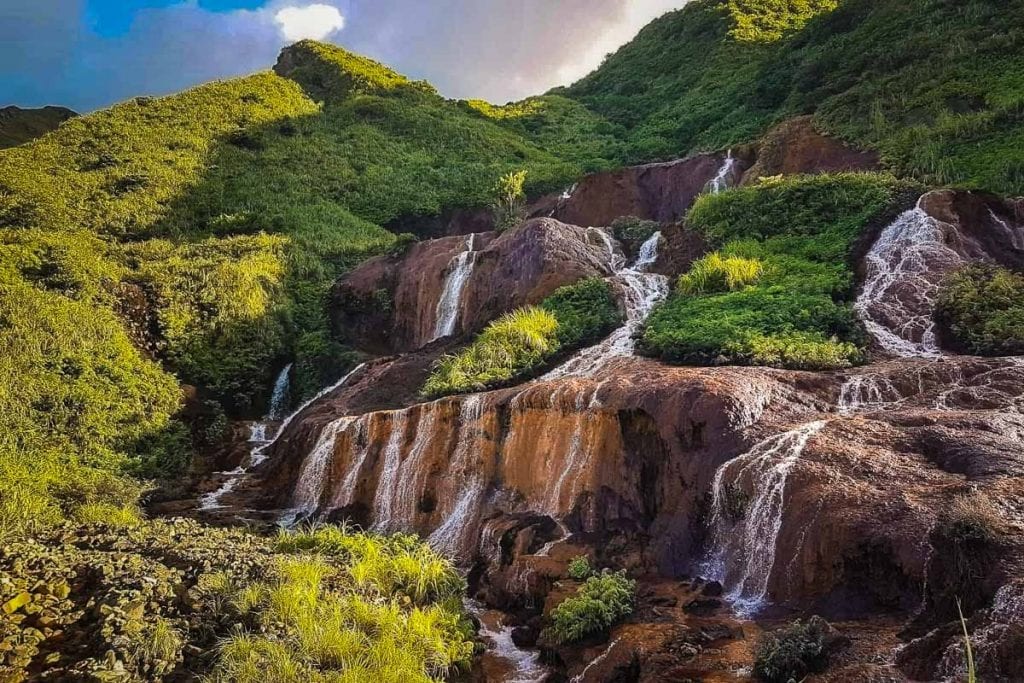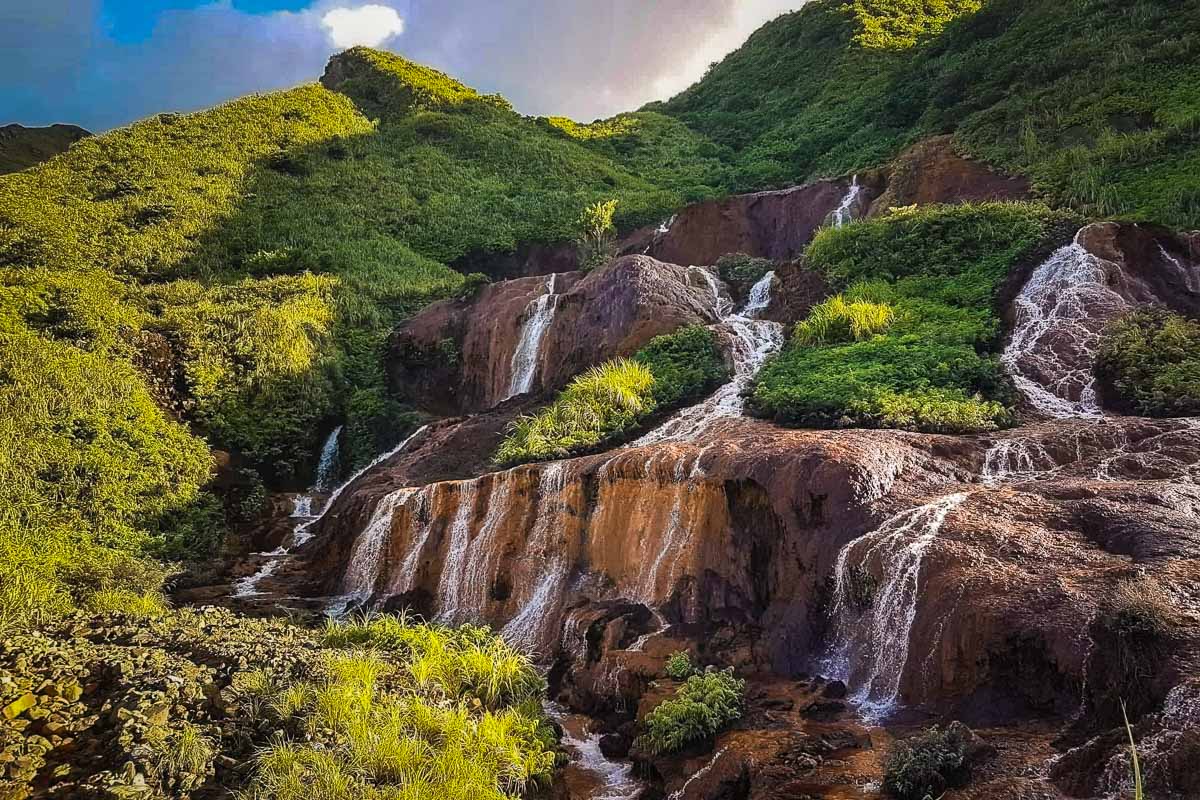 Try Street Food in Jiufen
How To Get There
Alternate to self-driving Rent a Car there are frequent buses (No. 1062) from MRT Zhongxiao Fuxing Station, Taipei to Jiufen. The bus ride will take approximately an hour.
Taking a train is also another option. From Taipei Main Station take the train to Riufang Station. Then take the bus route 827 or 788 to Jiufen Old-street.
Where To Stay in Jiufen
Sunshine B&B, No. 9-12, Qiche Road, Jiufen, Taiwan
Conveniently located and within walking distance from the Jiufen Old Street. Hotel Staffs are very friendly and helpful. Rooms are clean and great breakfast.
Sunny Room, No. 56, Shuqi Road, Juufen, Taiwan
Rooms are clean and air-conditioned with wifi. Beautiful view of the bay from the hotels front porch. Great place for relaxing as long as you are traveling light, as most of the actions and good hotels require quite a bit of climbing.
---
Day Trip from Taipei to Jiufen

If you are not interested in driving then there are always day trips available from Taipei to Jiufen along with few additional sightseeing stops.
My Opinion and Last Word
Have you been to Jiufen? Any cool tips to share?
Please leave a comment below! I'd love to hear from you to improve my knowledge.
Was this travel guide helpful for you?
If you'd like to help me continue making free guides, here is one way you can help:
Share This Guide – If you have a friend that would benefit from this guide, share it with them. Or post this guide on Facebook, Twitter or Google+
Your Support would definitely help me making more free guides like this. Thank you in advance!
Affiliate Link – This post in Dizzy Traveler contains affiliate links, which means I receive a referral commission if you purchase after clicking at no additional cost to you. These funds go to maintain the site. Thank you for your support.