A trip to the ancient city. The former capital of Thailand. An outstanding sightseeing destination for a few days from Bangkok. Clusters of ancient ruins temples. Five of which are on the prime list of UNESCO World Heritage Site. This is Ayutthaya! And here is a detailed three days trip itinerary.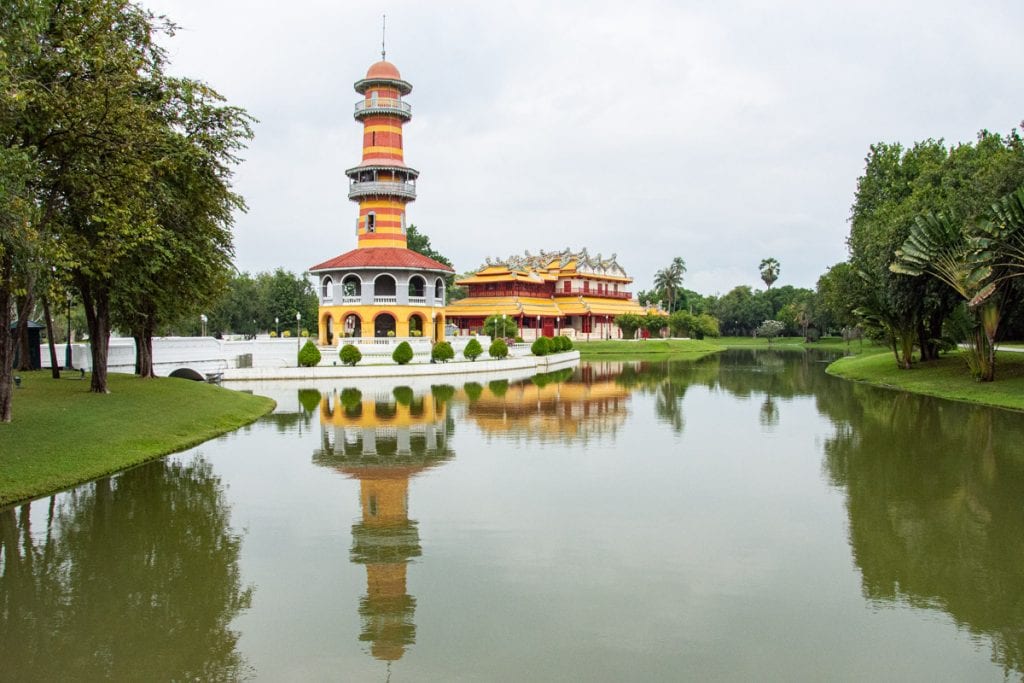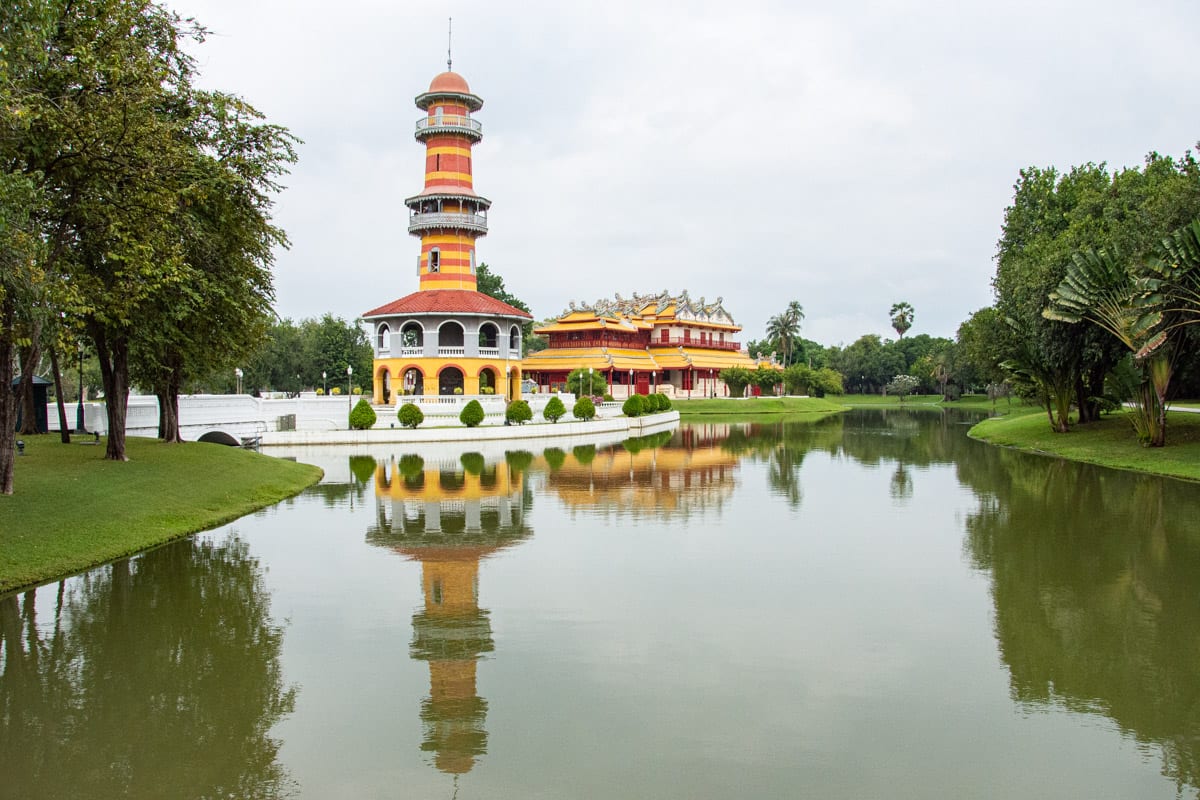 We visited Ayutthaya in November, which was a perfect time, I believe. The monsoon season has just passed, and so the countryside was looking very lush and green. Temperatures will vary but not that humid compared to the peak times of the dry season. We mostly experienced sunny days with a few rain showers in the late evenings. In the early mornings, you can expect cool breezes and fresh air.
By Bus
From Bangkok, you may take the bus from Mo Chit Station. It is the cheapest way to get to Ayutthaya. It will cost around THB50.00 (less than $2.00.) However, if you are only going there for a day-tour and don't have much time to spare, taking the bus might not be the best option. The bus ride alone will take around 1 hour and a half from Mo Chit Station.
Search for transportation options here:
By Min van
At the Victory Monument on the BTS line, some minivans go directly to Ayutthaya. The minivan transport is a good choice because it is faster as it is a direct trip compared to buses where there are frequent stops. Yes, it costs more than the bus for THB100.00 ($3.50), but it is worth it. It saves you time. Not to mention, the Airconditioning will make you more comfortable.
By Train
Thai Railways provides train connections between Bangkok and Ayutthaya. It takes almost one hour and a half to complete the trip from Bangkok to Ayutthaya. It's a slow ride, yes! That's why most people are opting for the bus or minivan instead of the train. Check the ticket costs and schedule here: www.thailandtrains.com
By Taxi
Taxi to Ayutthaya from Bangkok will cost THB1100.00 to 1400.00 (about $33.00 to 47.00) Budget-wise, this may not be your best bet. Because it will take a big chunk out of your budget. However, if your concern is to get to Ayutthaya the fastest way, then taxi it is. Remember this; clarify with the driver if the toll fee is inclusive in the fare. Avoid those nasty surprises from the driver for asking you to pay the toll fee.
By Private Car Transfer
As for us, I pre-booked (online) our transfer to our hotel in Ayutthaya from Suvarnabhumi Airport through GetYourGuide.com. It cost us $50.00 (for two people one way.) A local transportation operator came to meet us at the airport and drove us straight to our hotel in Ayutthaya. I do recommend this option. It is the way to get value for your money, with no stress, and not to mention it is convenient.
Car rental is another option too. From Suvarnabhumi Airport to Ayutthaya, the average price is about $34.00 a day. I spotted several car rentals companies at the airport, such as Hertz, Avis, National Car Rental, etc. Other local companies such as Sawasdee Rent a Car and Bangkok Rent A Car are also at hand. Just remember that in Thailand, people drive on the left side of the road. If you haven't done that before, you will need to adjust and be extra careful.
By Tuk-tuk
Tuk-tuk is the way to go. It is convenient and cheap. Either ask those hotel staff to arrange it for you or negotiate with the driver yourself. As for us, we did the former because we were a bit concern about safety. At least if a hotel crew knew the driver, then we feel more secure. We paid the tuk-tuk driver for THB2000.00 ($66.00) for two and a half days and brought us to as many ruin temples we want. He also drove us to the town of Bang Pa-in, the Summer Royal Palace, the Hollanda Settlement, and the Portuguese Quarters. Also, he brought us to a historic market. As well as led us to some of the off-the-beaten spots of the town — places we would not know nor have visited if not for him.
Rent a Bike
Renting a bicycle is a more modest price than hiring a tuk-tuk and a driver. From THB40.00 to 100.00 ($1.30 and 3.30) rental fee for a day is not a bad idea. This will also allow many impromptu stops for photo ops. If you don't mind traversing on a lot of rough roads or potholes, not to mention inhaling all the dust particles, then you are good to go.
The truth is most of the tourists who flock in Ayutthaya are only "day-trippers" from Bangkok. Perhaps, for them, one day is enough to see the former capital. However, if you want to experience the place in an in-depth way, I suggest, stay for two to three days at least. There is more to do in Ayutthaya than just searching for the ruins. And take it slow. There is no need to hurry. Have fun!
If you can get accommodation within the inner city, do so. You'll maximize your time in exploring because of less commuting. Adding to that, you will save a budget for hiring a tuk-tuk and a driver. However, there is also an advantage of staying outside of the city. That is, you will get to experience the countryside. Sceneries like the long stretch of rice fields are what you will pass by to and from your hotel. All are equally beautiful sights to behold.
Tipping is not compulsory, but if you do, the Thais are very appreciative. Even for a minimal amount. The sweet smile on their faces as they thank you by bowing their heads is priceless.
Things to Do in Ayutthaya in Three Days​
Day 1 - Arrival in Ayutthaya
We arrived at our hotel at four o'clock in the afternoon. The check-in process was fast and efficient. We quickly freshened up and then walked to the resort restaurant. The restaurant's name is Peaberry. I find it intriguing that it is westernized. Why not an Asian name to be more exotic. Anyhow, the foods were fantastic! The chef even went to our table and introduced himself.
After our satisfying dinner, we went for a walk outside the resort premises to orient ourselves in the area. Sure was, we enjoyed seeing the refreshing endless views of rice fields. The gentle breeze in the green meadows is literally a breath of fresh air!
A few hours later, we were back in our room and then called it a night.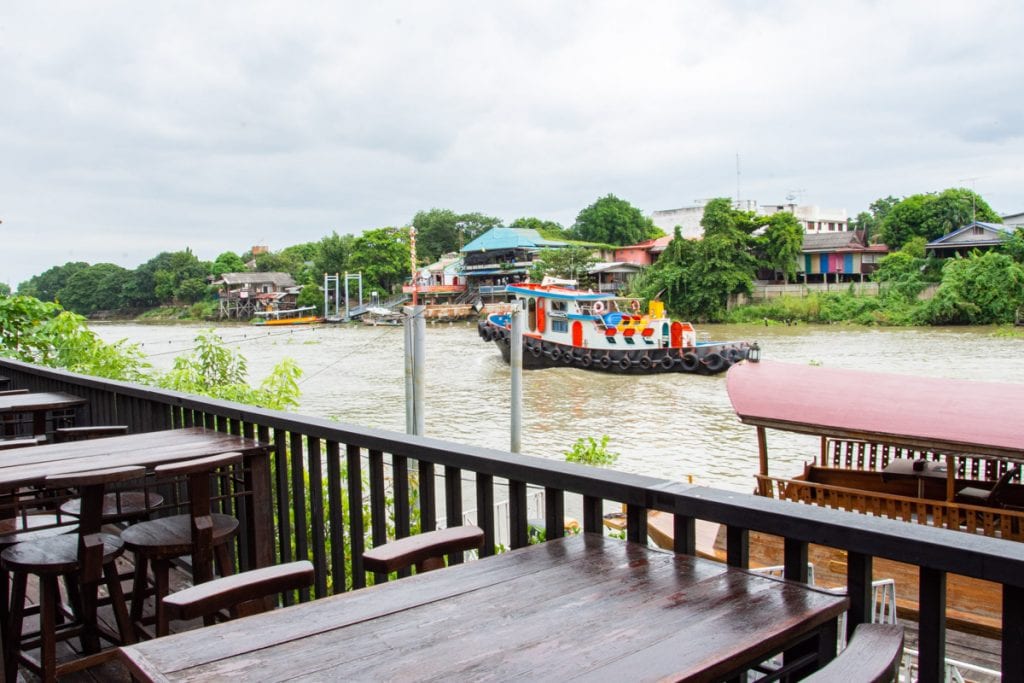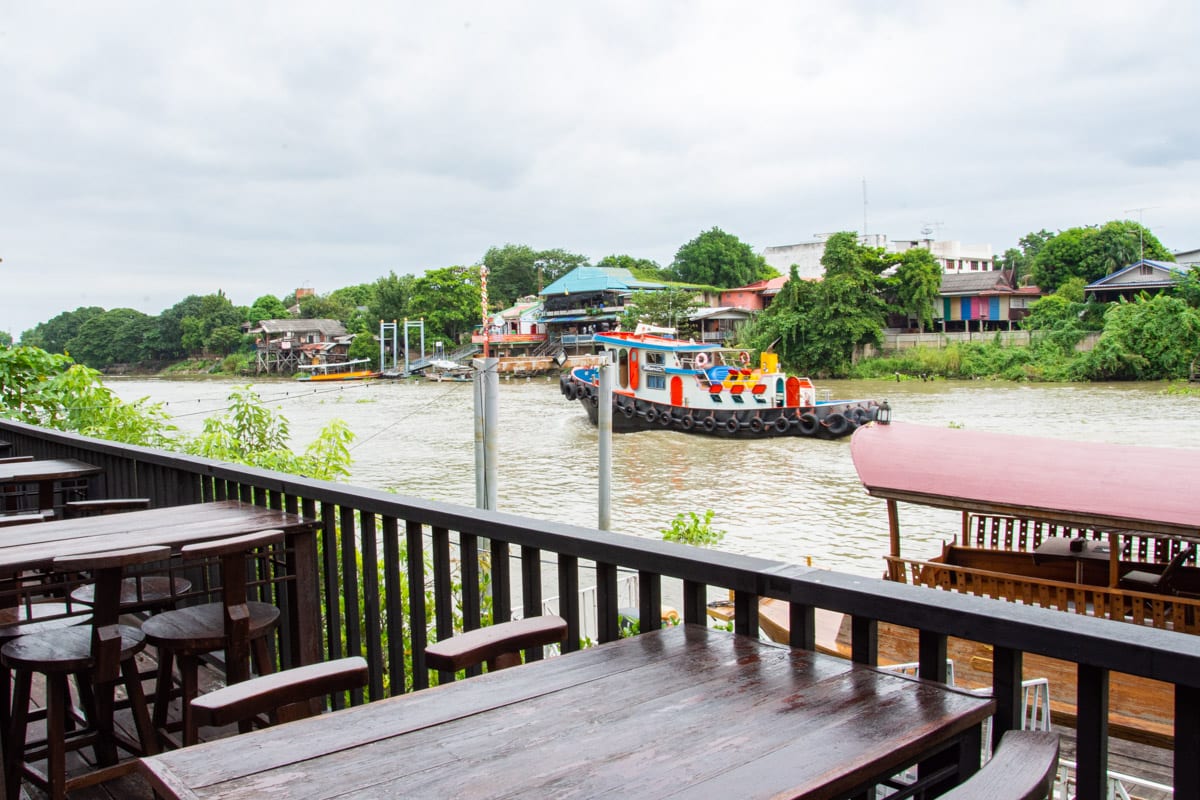 Day 2 - Temple Hopping in Ayutthaya
Ayutthaya is home to more than 400 breathtaking temples! The sense of detail, refinement, and magnificence of each religious site reflects how wealthy this city once was. Since there are hundreds of them, it is not possible to visit all. With that in mind, let me suggest which ones must be on your list.
1St Stop at Wat Yai Chai Mongkol
Our tuk-tuk driver brought us first to Wat Yai Chai Mongkol. Erected in the mid-13th century, this monastery was an abode for high ranking patriarchs. The main bell-shaped Chedi is 60 meters tall, yes, it is high in stature and very much visible in all directions of the city. Hence, one of the significant landmarks of Ayutthaya. Check out the gallery of dozens of rebuild stone buddha statues that hedged the Chedi. Even though the stone buddhas are no longer the original carvings, they still look authentic. Note that this temple is still active. Some monks are still residing here. With that in mind, please be respectful. Opening hours are from 8:00 to 17:00 hours. Entrance ticket per person is THB20.00 (.70 US$)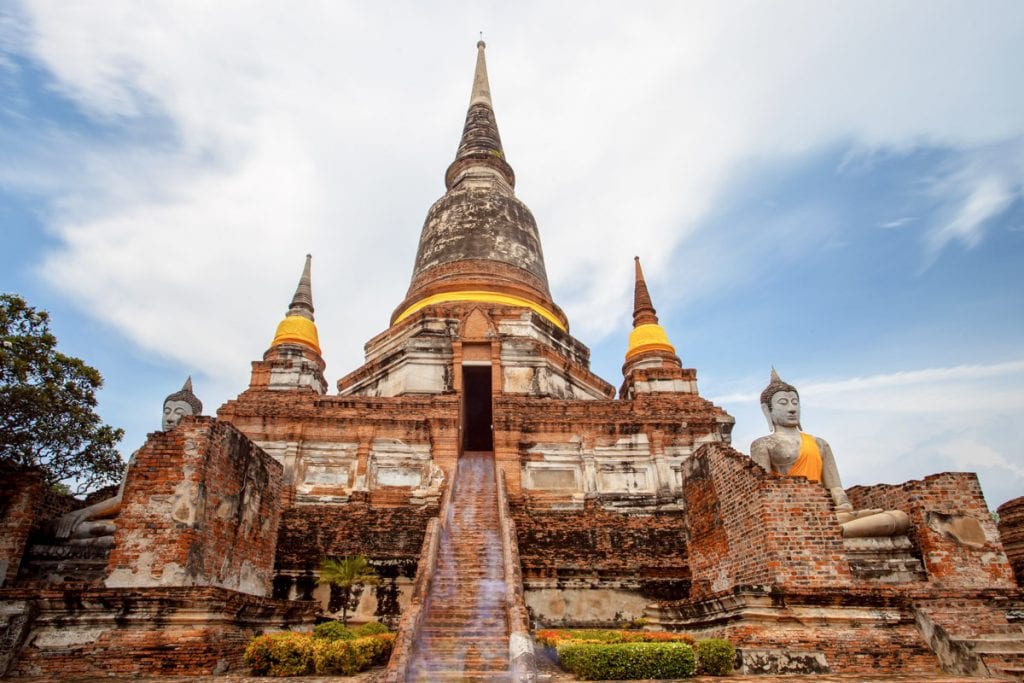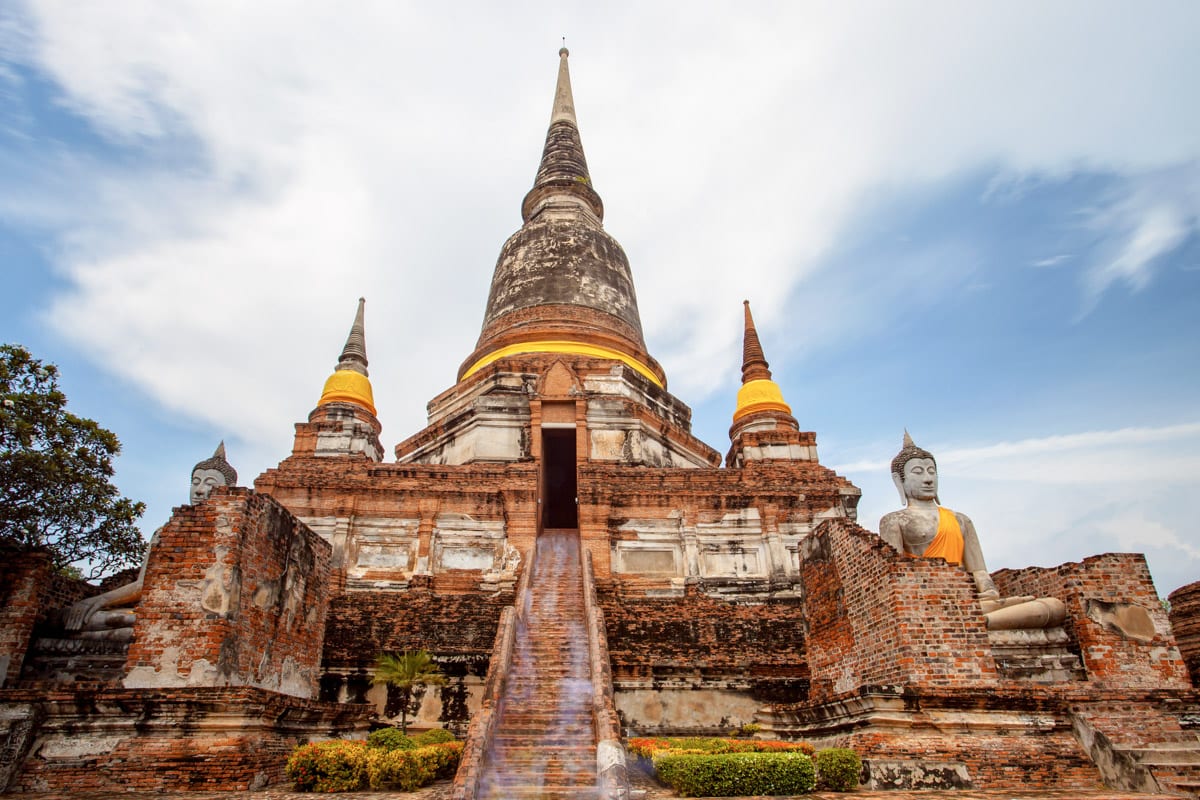 Next Stop Wat Phanan Choeng
From Wat Yai Chai Mongkol, out tuk-tuk driver brought us next to Wat Phanan Choeng. The temple itself looks newly built, but inside is an old Buddha statue molded in the early 14th century. It's a sitting Buddha that measures 19 meters in height. Truly jaw-dropping and impressive! This Buddha image is one of the oldest and has been restored numerous times. It is made of bricks, mortar, and thinly covered with gold. The temple is open daily from 8:00 a.m. to 5:00 p.m. The entrance ticket is THB20.00/person.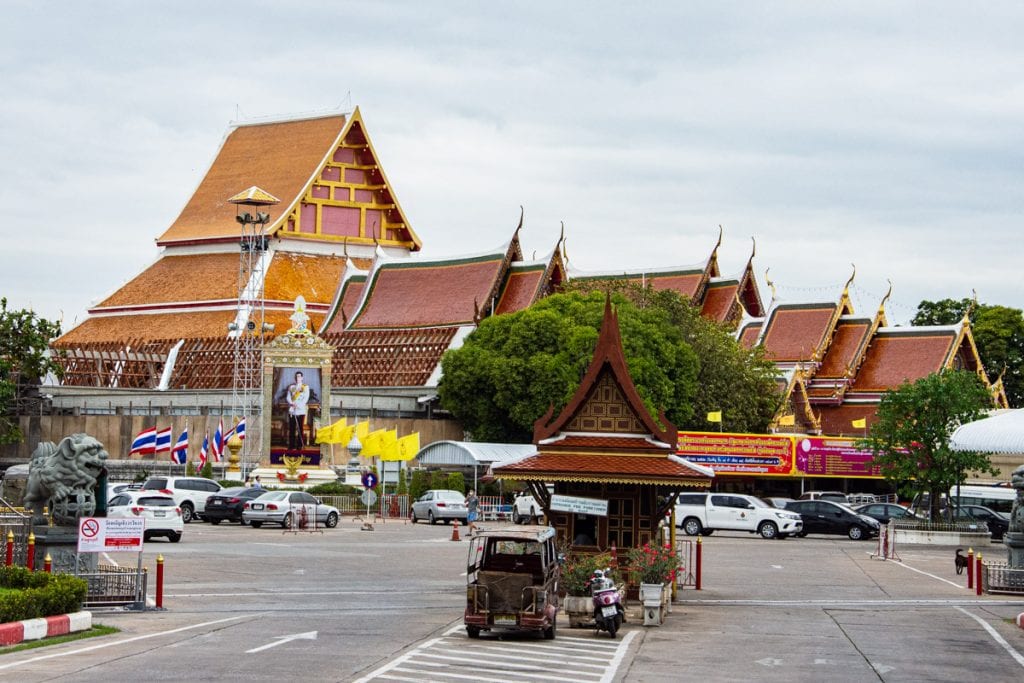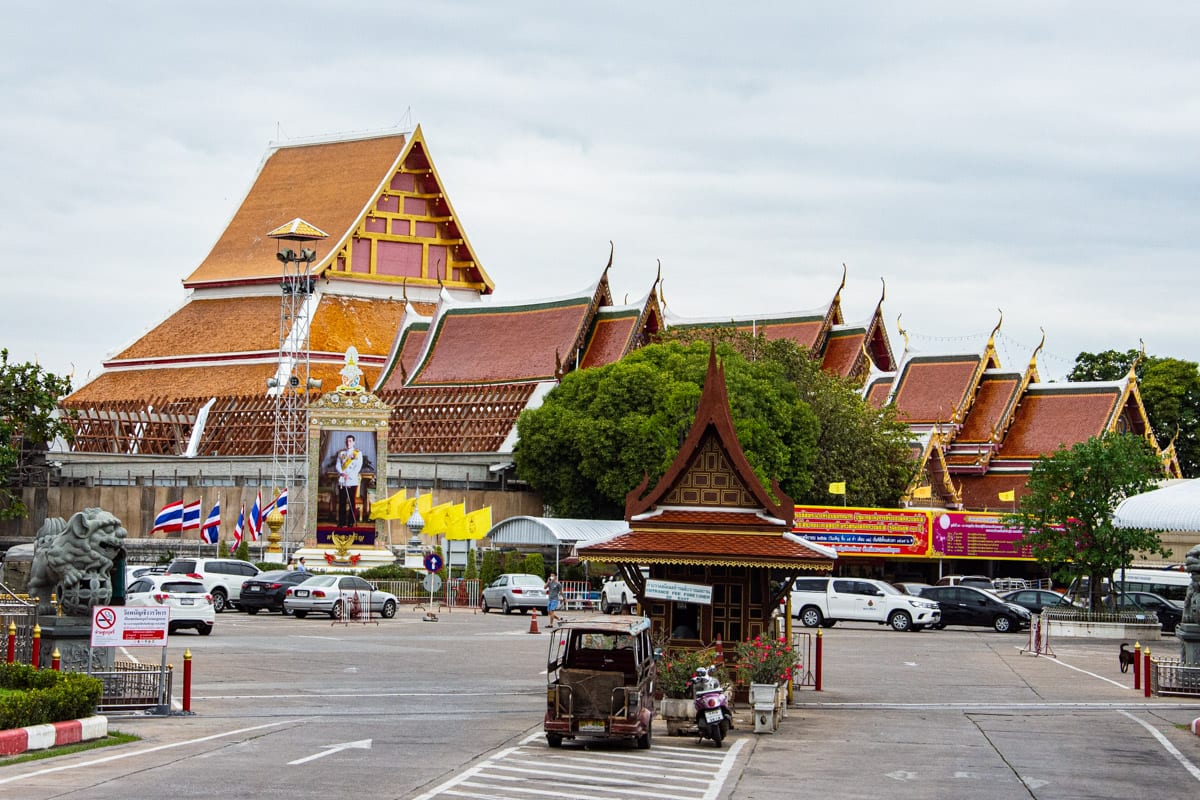 Visit Historic Wat Mahathat
Are you wondering where to find the famous and most photographed face and head of the sandstone Buddha image? Visitors can see that in Wat Mahathat! Everybody wants to take a picture or two next to it. It is after all one of the most recognizable icons of Thailand and one of the UNESCO World Heritage sites in the province! The embedded statue in the trunk of a tree has many stories as to why it is there. But who cares? It is already as fascinating as it is! For those who are dying to see this face, Wat Mahathat should be on their top list. The entrance fee to this site is THB50.00 ($1.70), and it is open daily from 8:00 to 17:00 hours.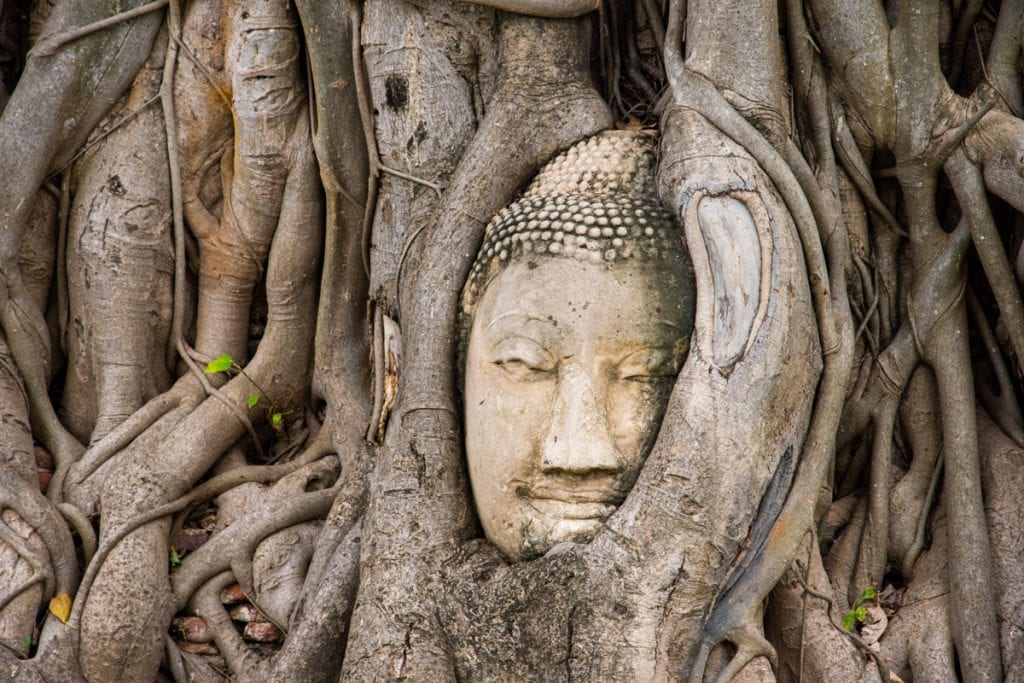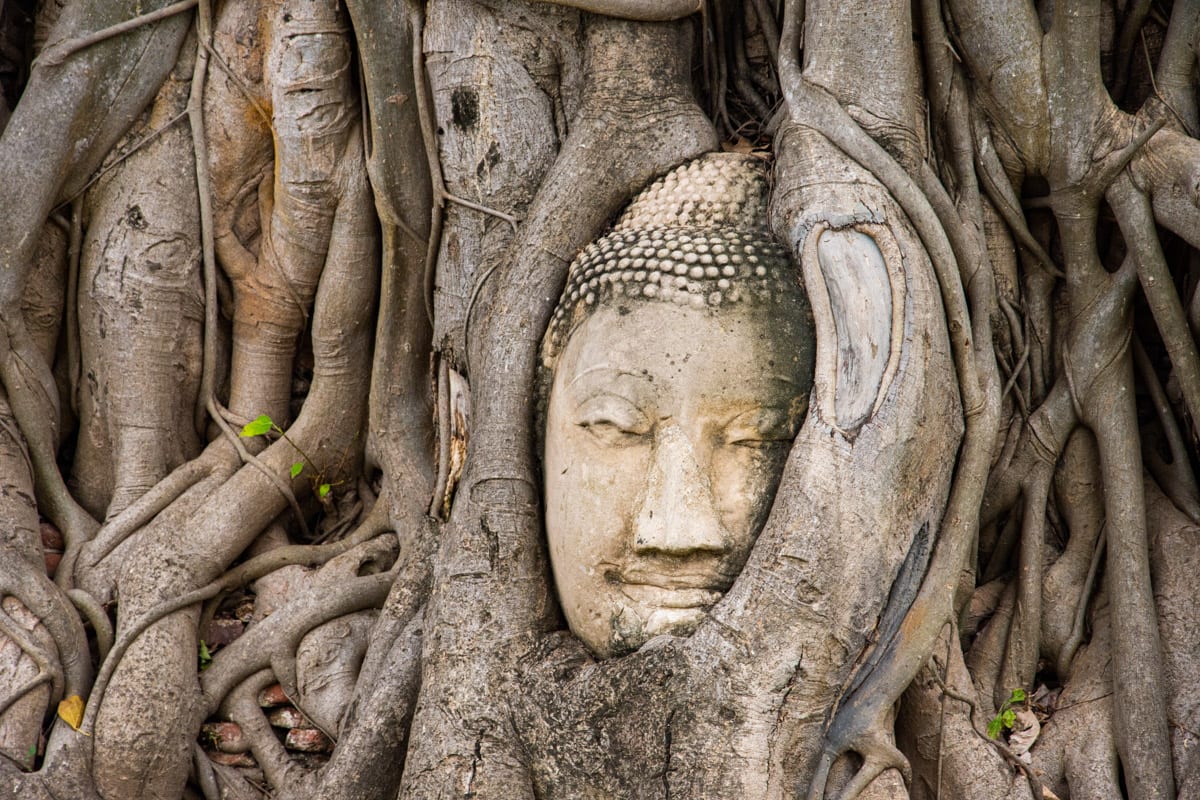 Wat Phra Si Sanphet aka King's Temple
Wat Phra Si Sanphet is the most grandiose temple we have seen in the city. You will be amazed not only by the sheer size of the three stupas but by their quality as well. They are so intact as if time stood still for these structures. This temple was for the Kings' use for meditation and other religious activities. Thus, it explains the palatial size and impressive appearance of this temple. Personally, I enjoy the quietness of the surroundings. You'll only hear tweeting birds while strolling around this site. For UNESCO fans, Wat Phra Sin Sanphet is a UNESCO World Heritage site!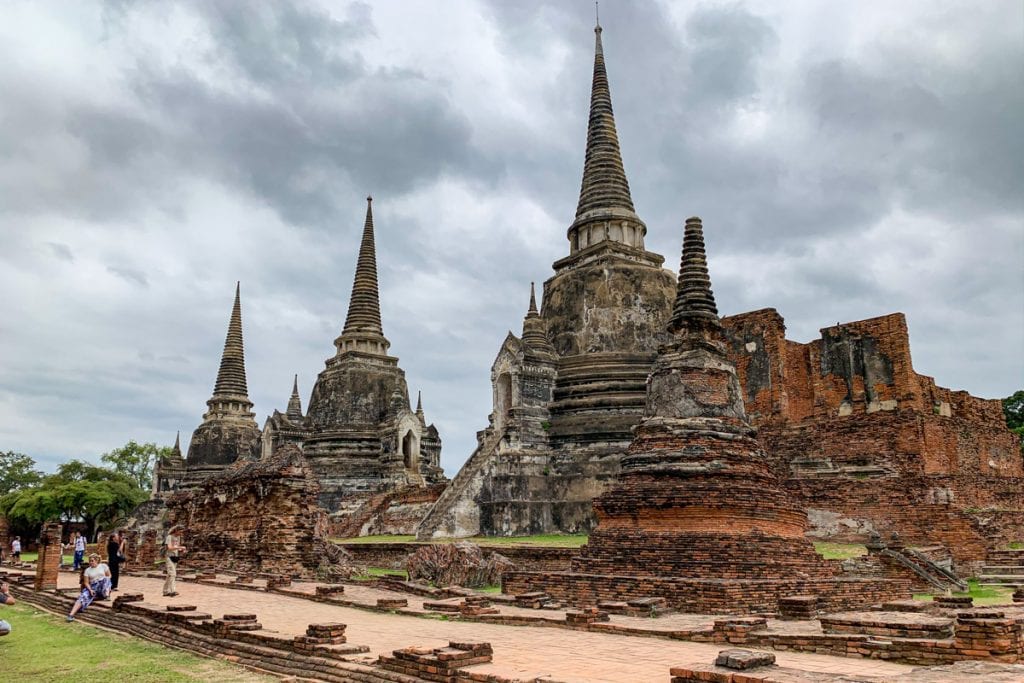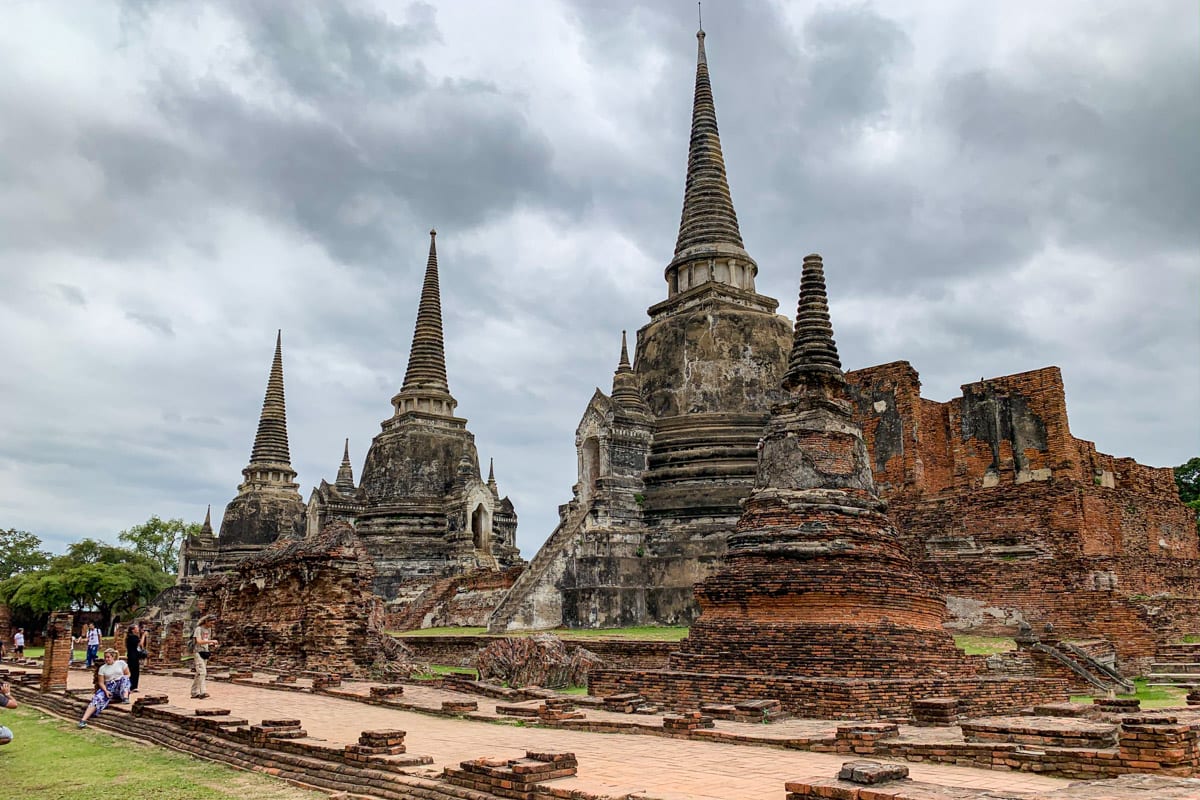 Wat Chaiwatthanaram
If Wat Phra Si Sanphet is the largest of all the temples, then Wat Chaiwatthanaram is the most beautiful! If Wat Chaiwatthanaram is a woman, she is a beauty queen! The eight prangs are so detailed in its design and so pretty, you won't get tired of gazing at it. Its vibrant shades of orange and creamy white are perfect match colors to the ornate spires. Wat Chaiwatthanaram is the most well-restored amongst other temples. The ideal time to go there is in the afternoon when the sun is glimmering the horizon. If possible, take pictures from a park opposite the temple grounds, on the other side of the river! Opening hours are from 08:00 to 17:00. Entrance fee is THB50.00 (US$1.65)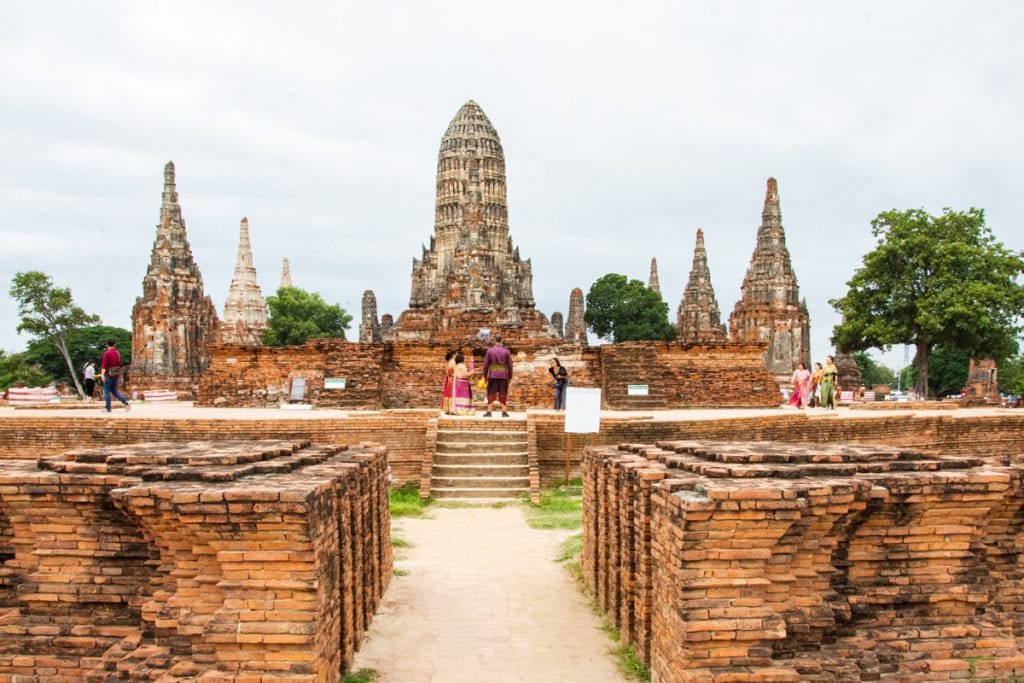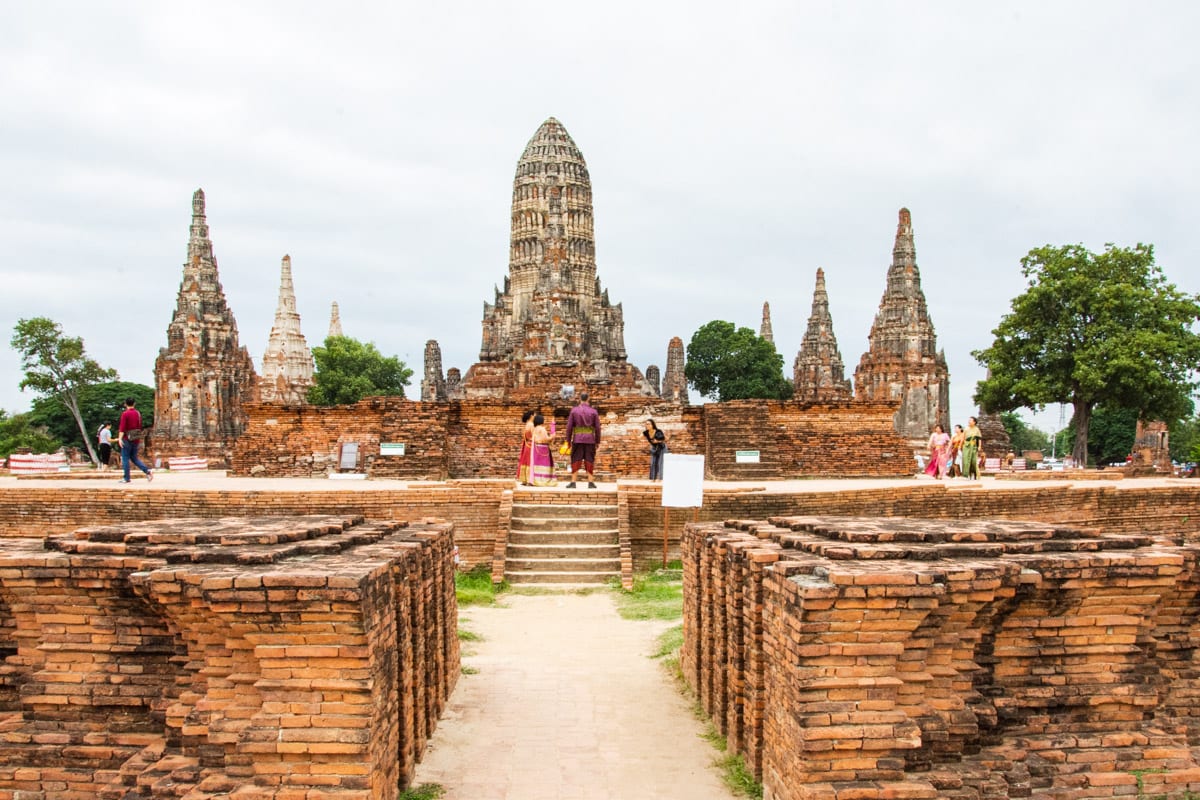 Wat Locaya Sutha
Located off the city are the ruins of Wat Locaya Sutha. Like the other monastery neck of the woods, it is also broad in size. Although, nothing much has left here except three leading objects. First, the giant stupa in the middle of the lawn, second, the large broken walls, and third, the enormous leaning Buddha! If only for the last item, I will still recommend that you visit this temple site. The eye-catching reclining Buddha is made of bricks and mortar. It is yellowish in color and unique from the rest of the buddhas in the same position that I have already seen. When you visit this ruin site, notice the splendid head support of the leaning Buddha, which is a lotus bud.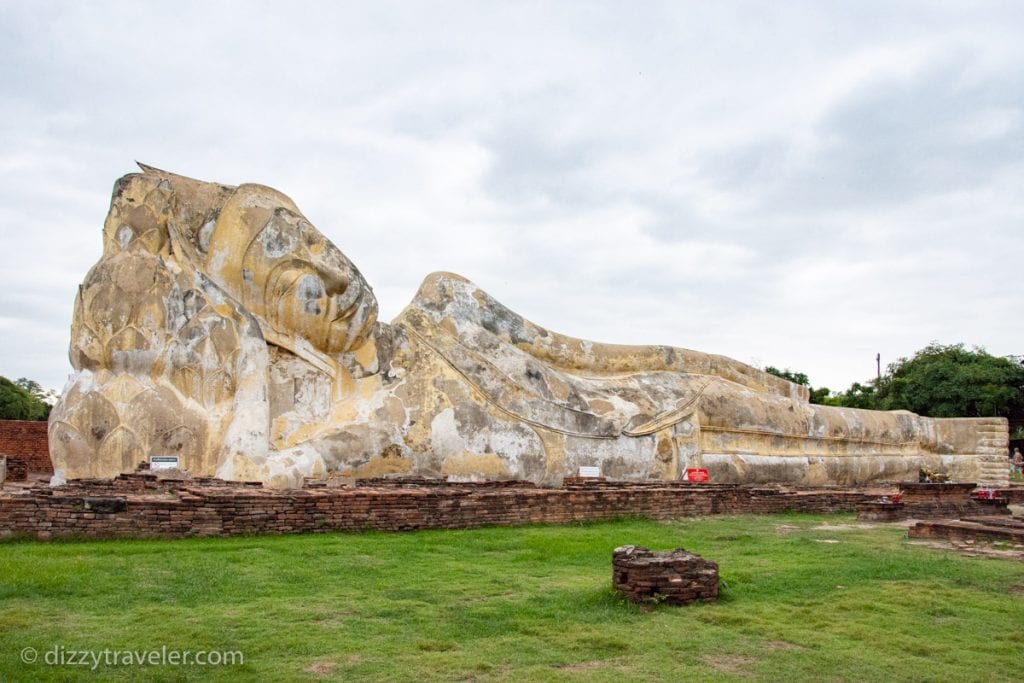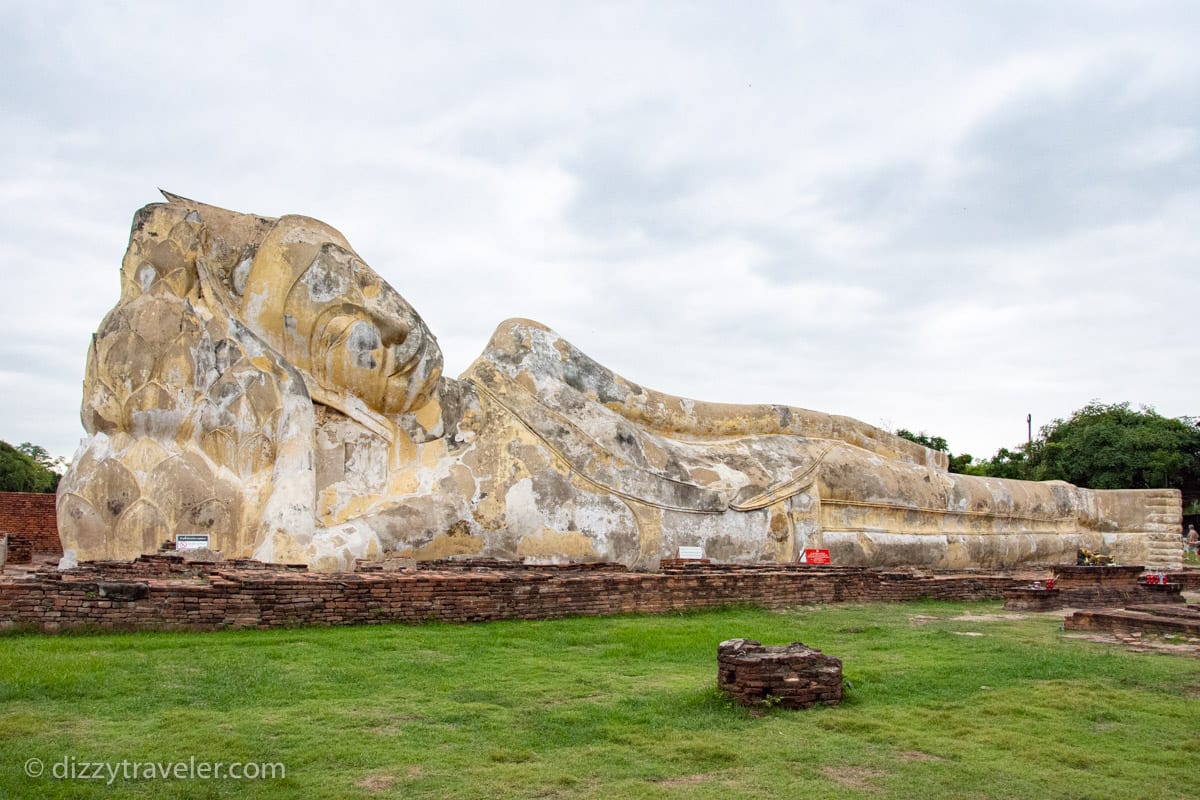 Krugnsri Night Market
Seeking for a cultural experience? Don't just go to any market. Go to the lively Krungsri Night Market! It is the place to sample some traditional Thai foods such as fried noodles, fried rice, fresh-made papaya salad, local beer, and coconut drinks. Indeed, "foodies" will never run out of choices here because there are many food stalls on both sides of the street. This road is long and winding but lined with ancient acacia trees. And native lamps are hanging on tree branches which don't only illuminate the way but also gives a beautiful ambiance. And speaking of ambiance, the view of the canal is so serene. A perfect spot to relax while indulging in the food you choose! Make sure to be in this marketplace only on Fridays, Saturdays, and Sundays from 17:00 to 22:00 hours.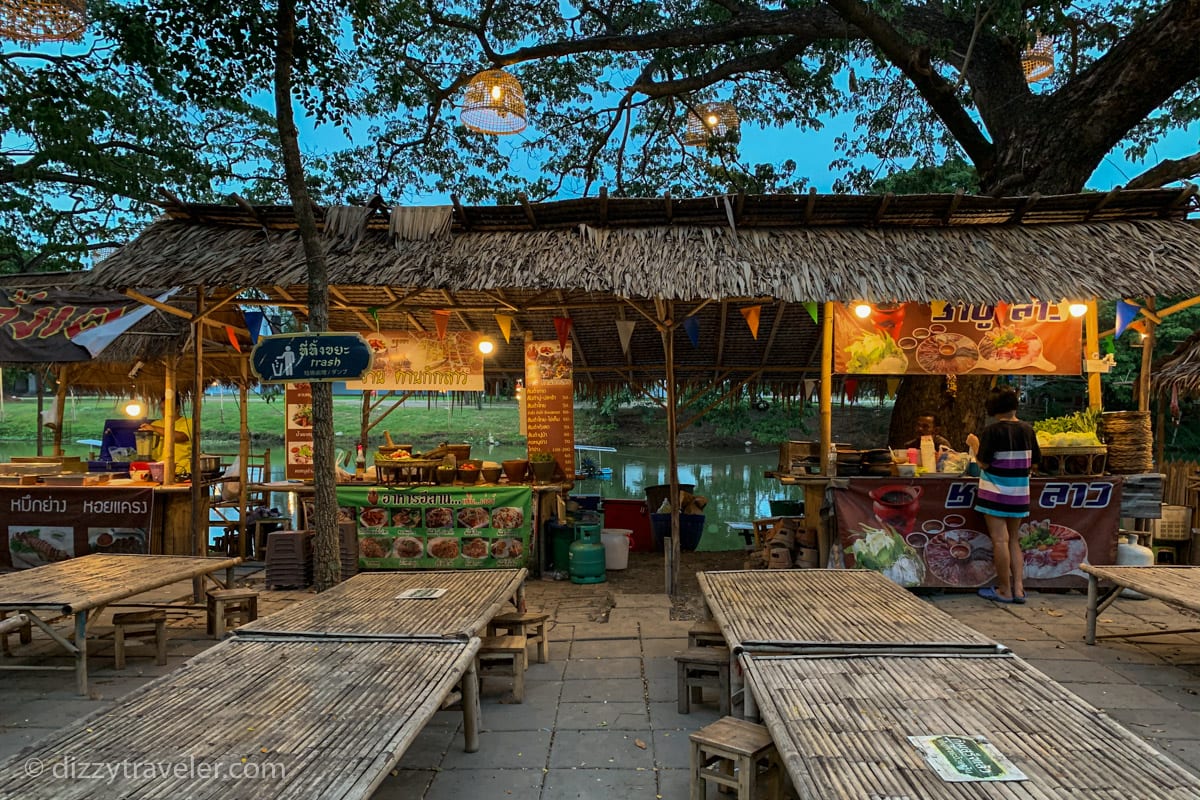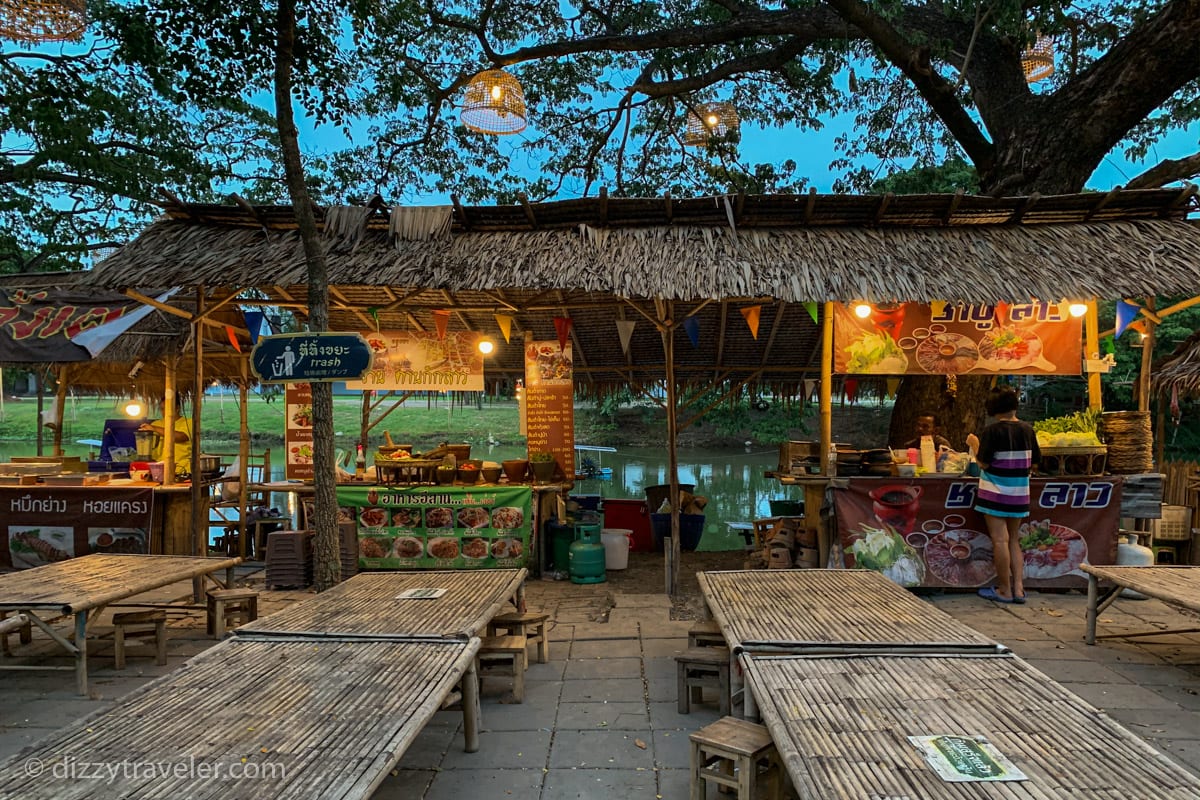 Try Roti Sai Mai
"Ayutthayans," have a sweet tooth! You'll see that in the gazillions of sweets in their markets! And lest you forget, must feast with the local's very own snack —Roti Sai Mai. The crepe is made of flour, and its filling is from caramelized sugar cane then shredded. It is divine! You'll find this snack anywhere from peddlers, market vendors, and grocery shops as well. And it is very cheap also. Sweet!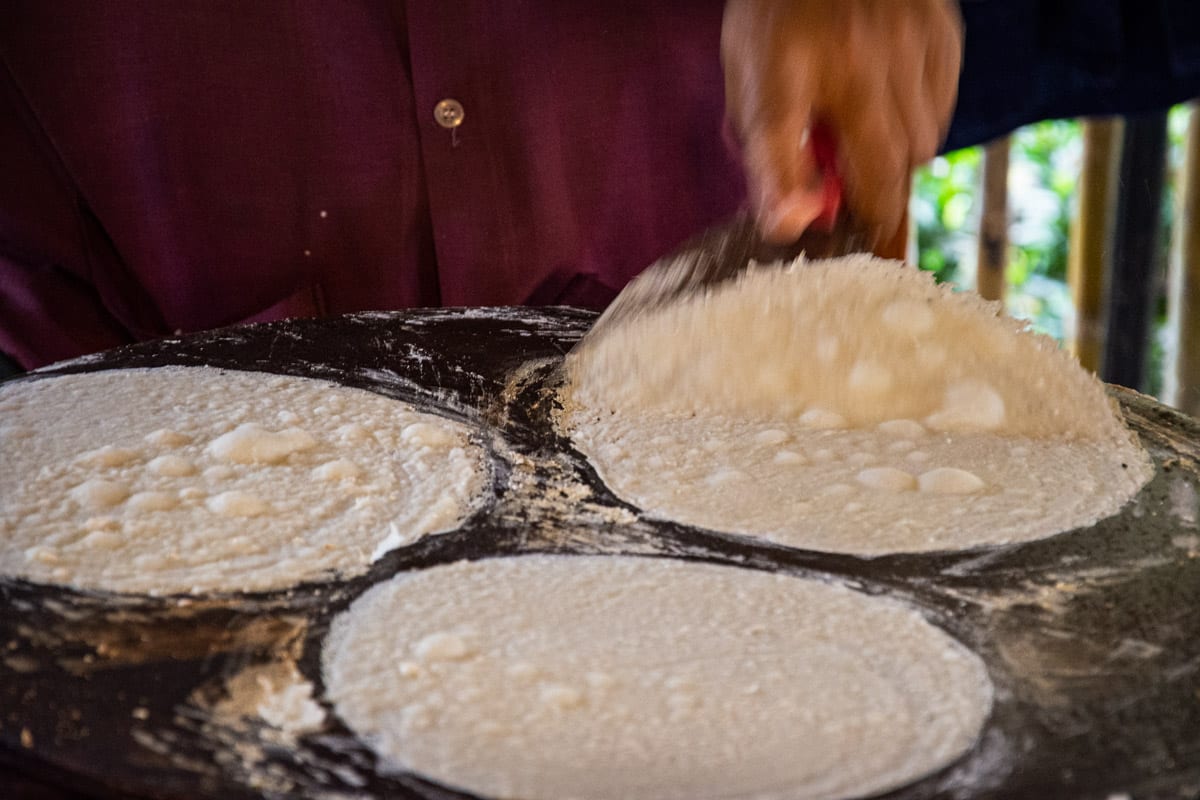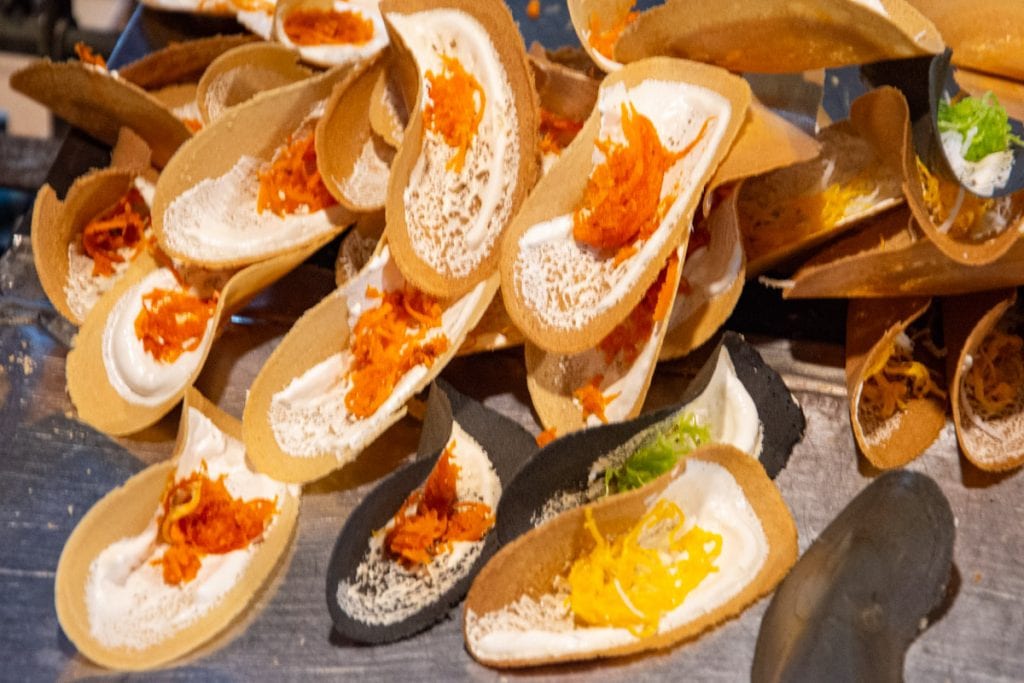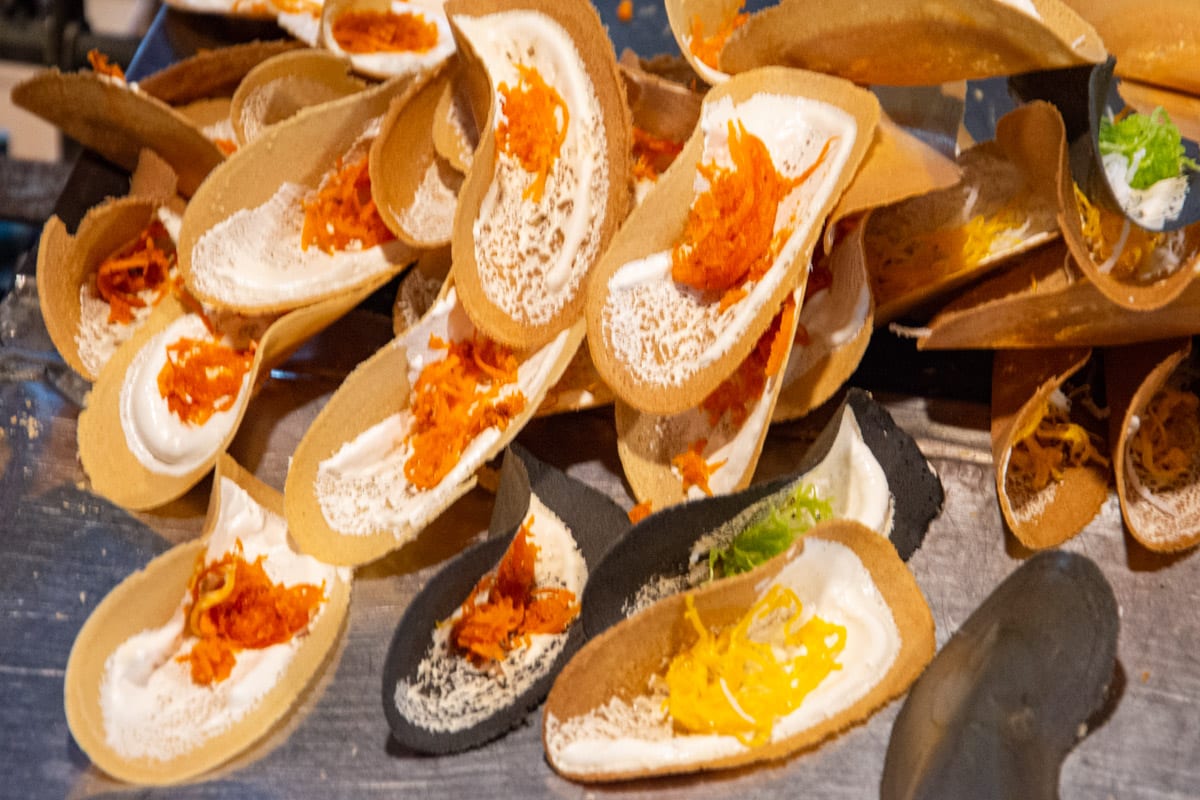 It was the sound of rain that awoke me on our third day. Nevertheless, I got up enthusiastically because we are going to a town called Bang Pa-in. The village of Bang Pa-in is about 21 kilometers away from Ayutthaya. Therefore, a day trip is very much doable by hiring a tuk-tuk. or renting a car.
The Bang Pa-in Summer Royal Palace
Bang Pa-in's main attraction is the famous Summer Royal Palace. Albeit its rich history, the palace's ground is beautiful. Such as the various buildings inspired in multi architectural designs – from Chinese to Thai to European!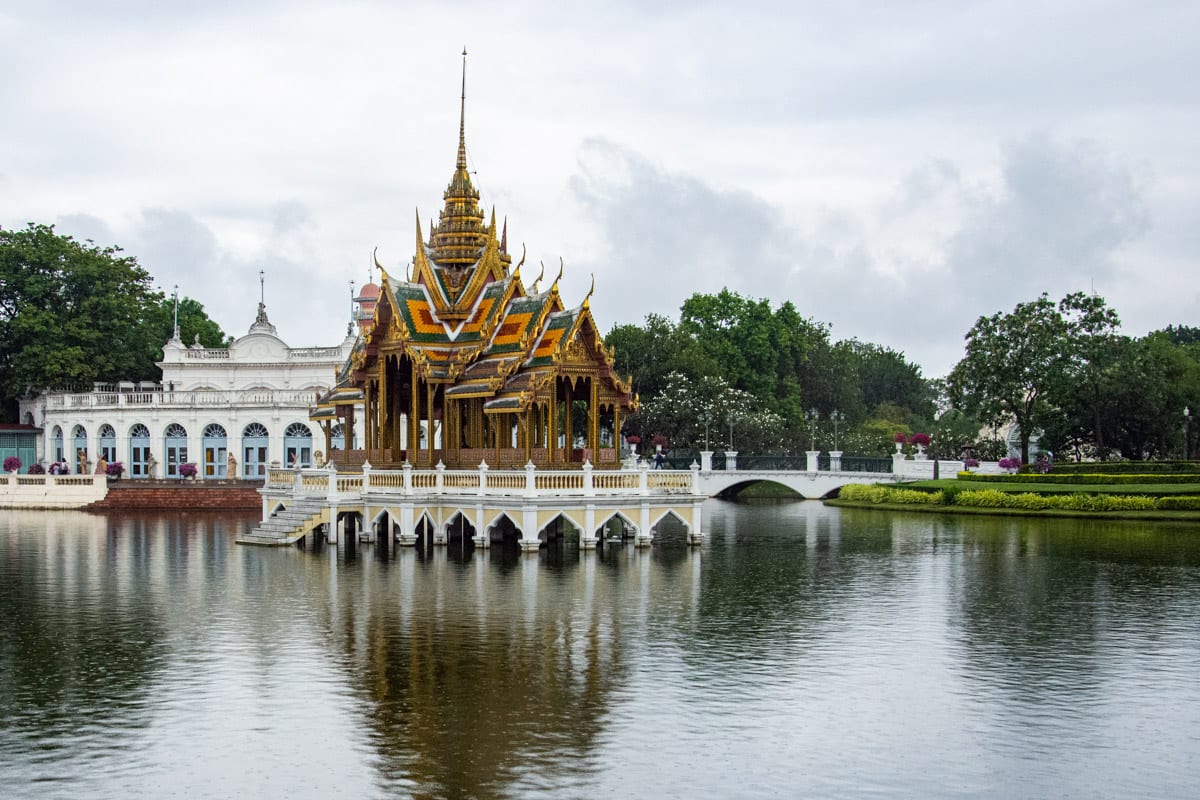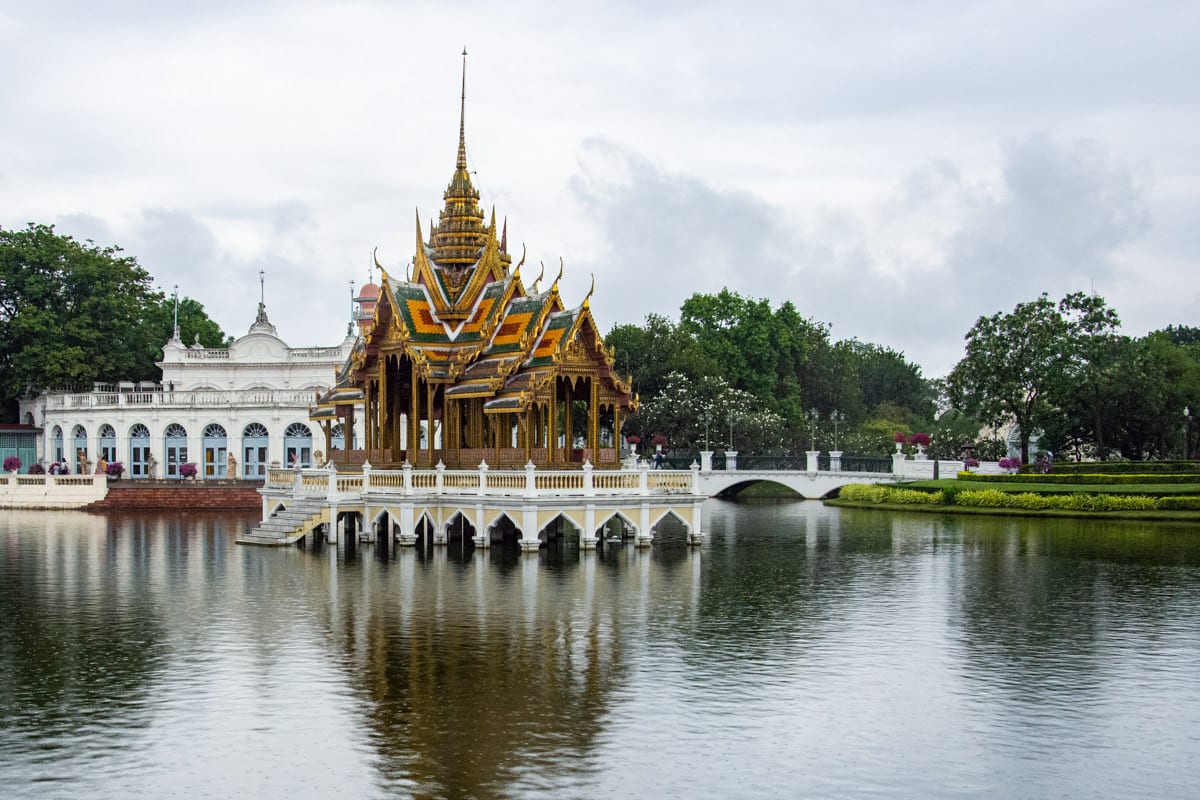 Pay attention to the details of the inlaid mother of pearl in the Chinese Royal Throne. Also, look for the breathtaking dragon sculpture carved from camel bone.
Take a leisure walk. Satisfy your senses with the lush gardens and refreshing views of the river. Be entertained by the whimsical examples of topiary art!
Climb the colorful Sage's Lookout for breathtaking views. Check out the modest mansion of the late Queen Sunanda. There is a delightful little museum inside.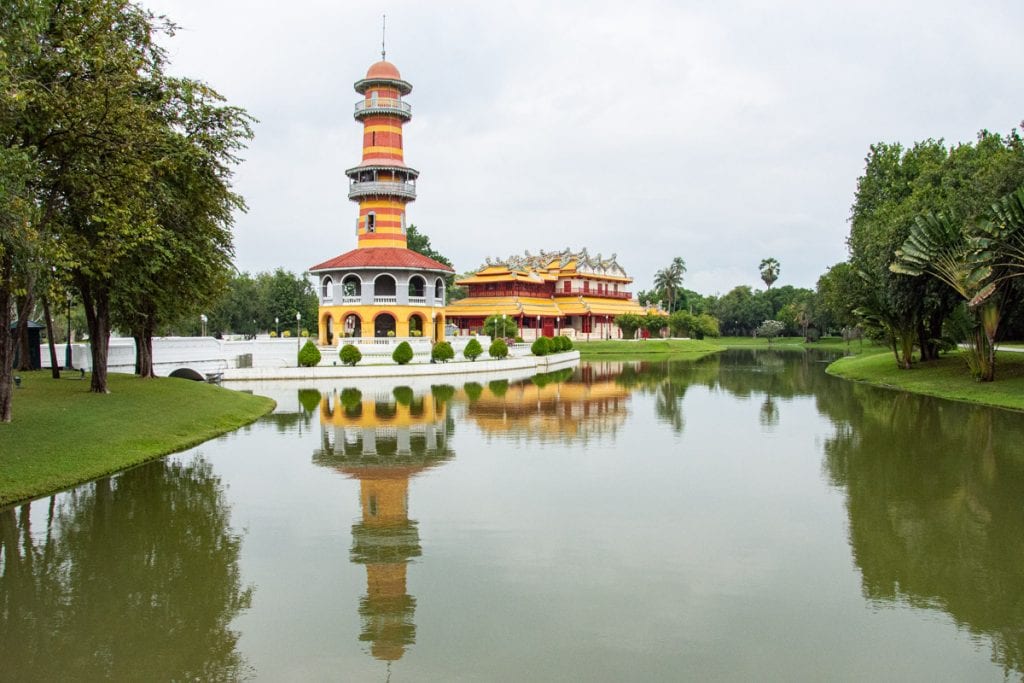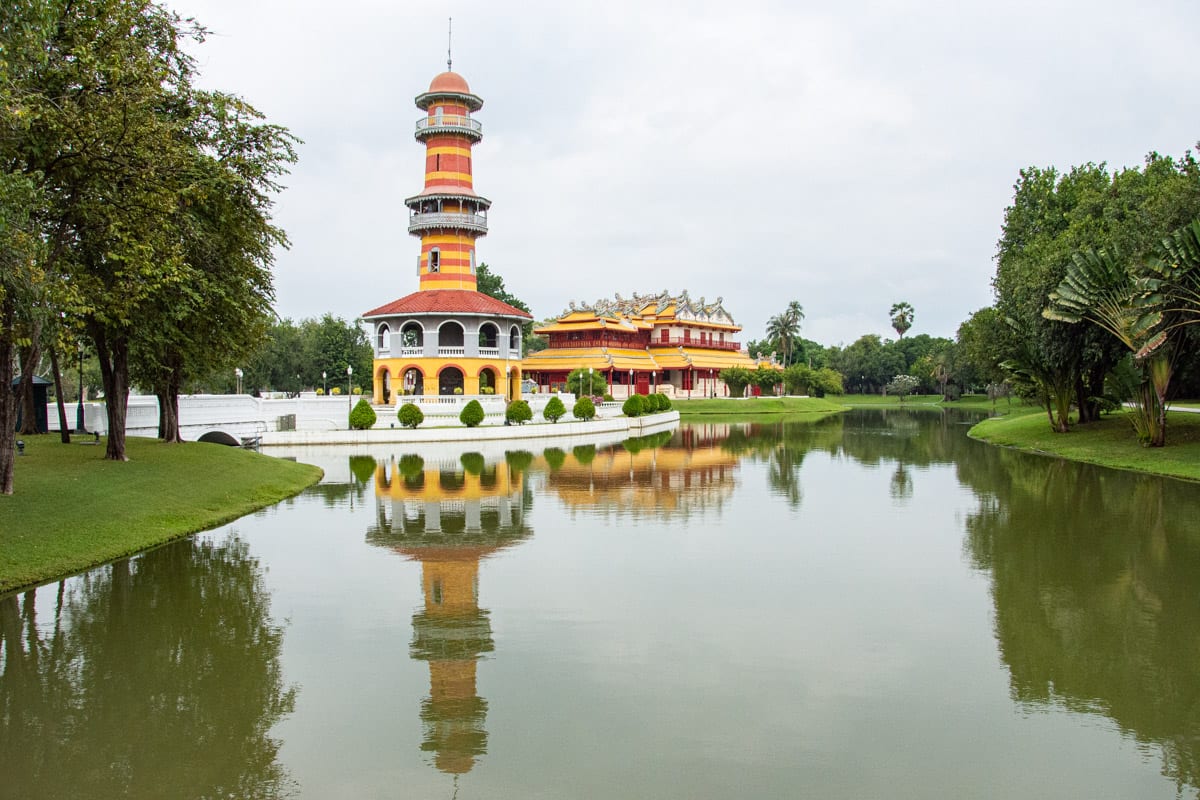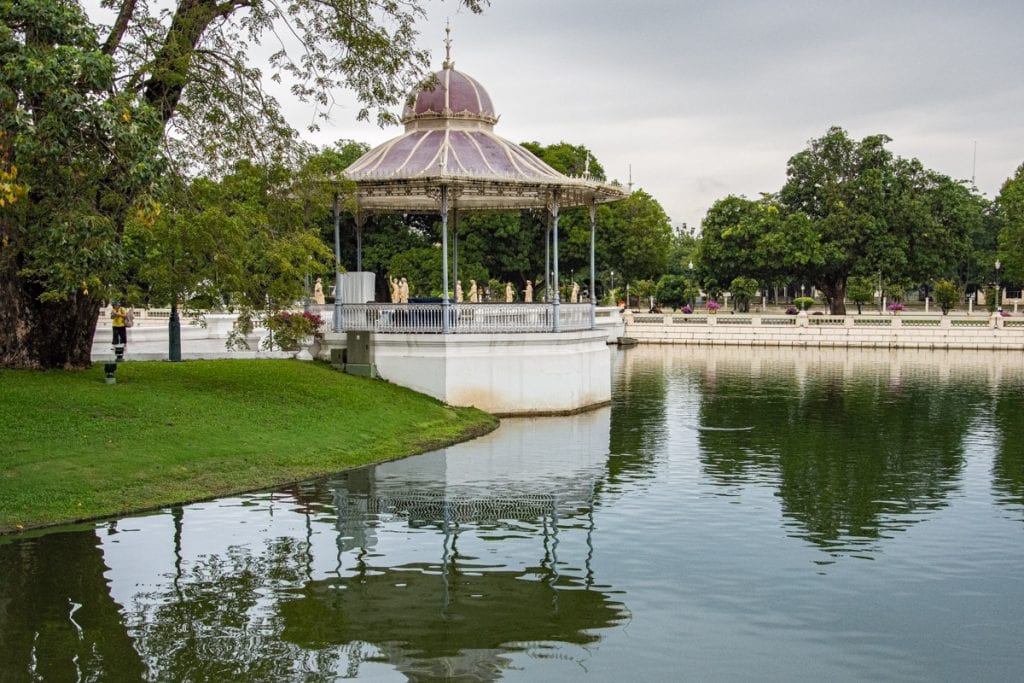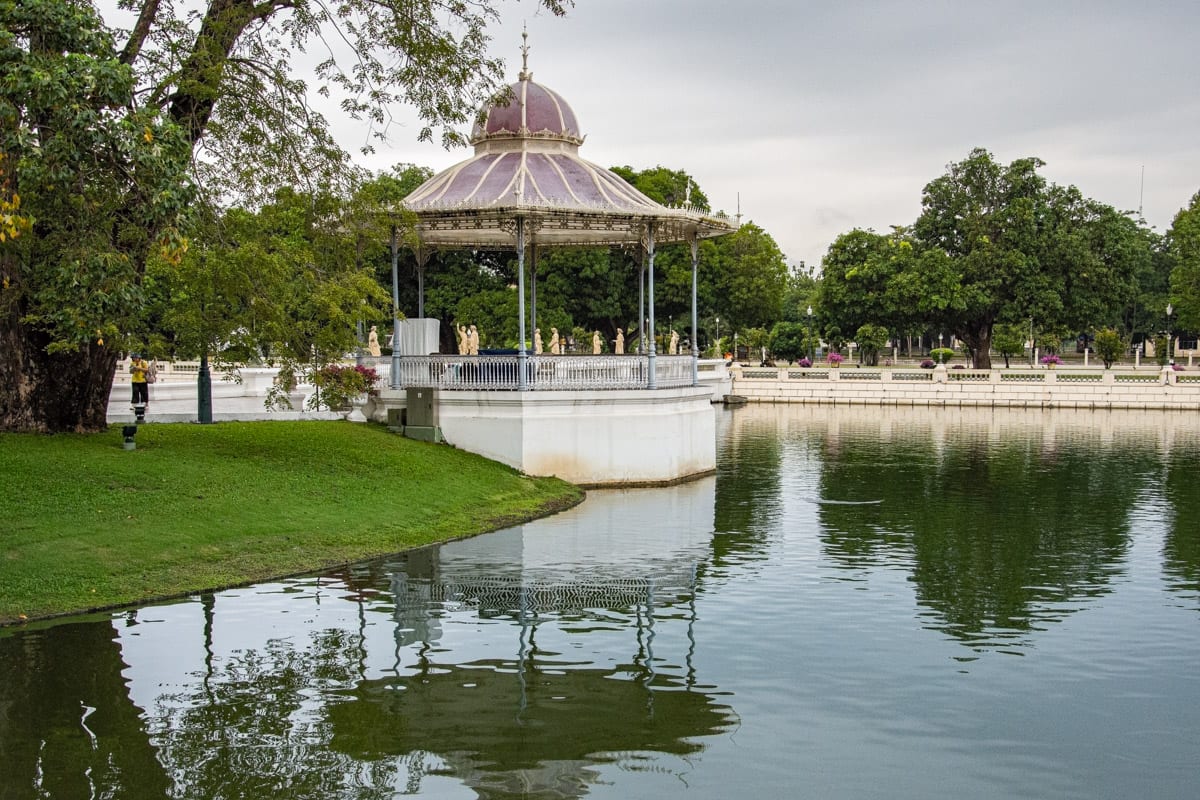 From the Doll's Bridge, admire the astounding Thai-style pavilion Aisawan Thipya in the middle of a pond. This building is very photogenic, and it looks stunning from any vantage point.
On the left-hand side of the pavilion is the Warophat Phiman. You can't miss it. It's a yellow color and a very ornate building. If you still have the time, nose around the museum inside the Assembly Hall. You must take off shoes, though, to go inside.
Besides these buildings, there are more to see. Although, less-known but as beautiful as the others. The entrance fee to Bang Pa-in Summer Royal Palace is THB 100.00 per person.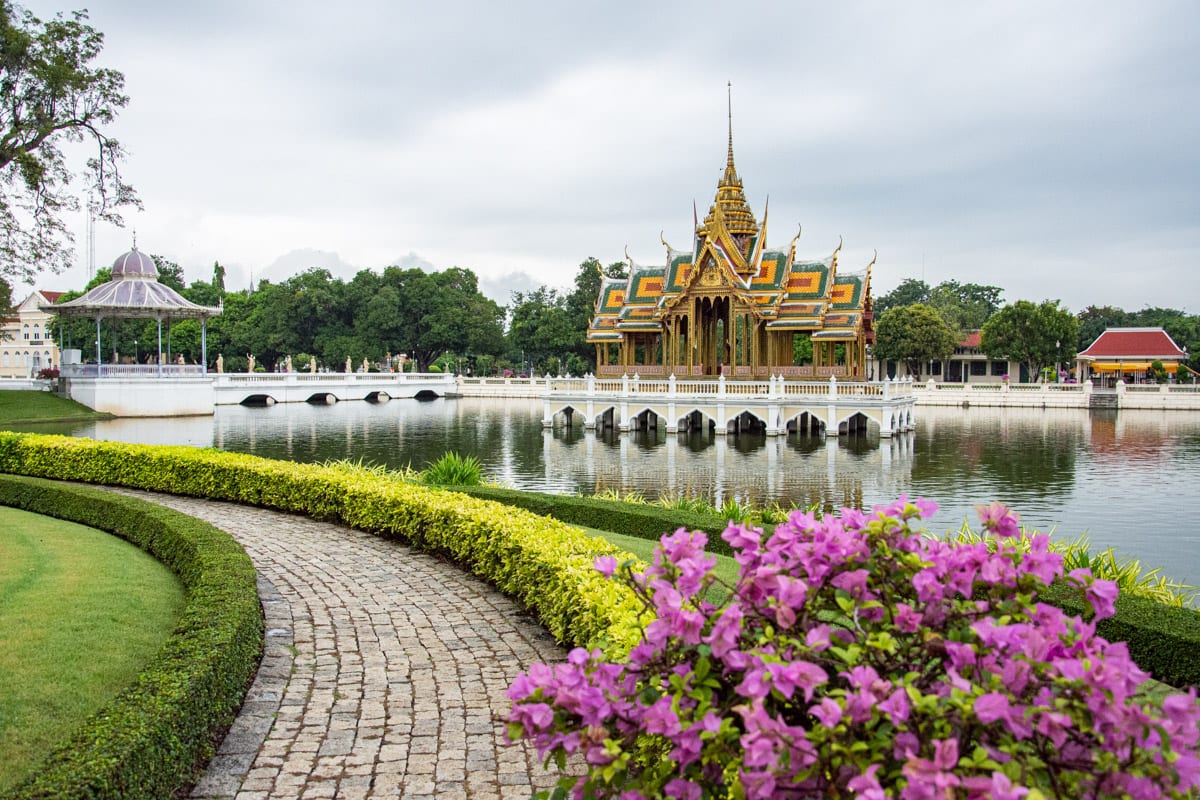 The Wooden Cable Car
Not planned, but our tuk-tuk driver brought us to a spot in the town where a cable car station is. However, it is not just a cable car. These cable cars are made of wood. You will be thrilled to see a wooden cable car. Let alone experience riding it! And by the way, the ride is free, can you believe it?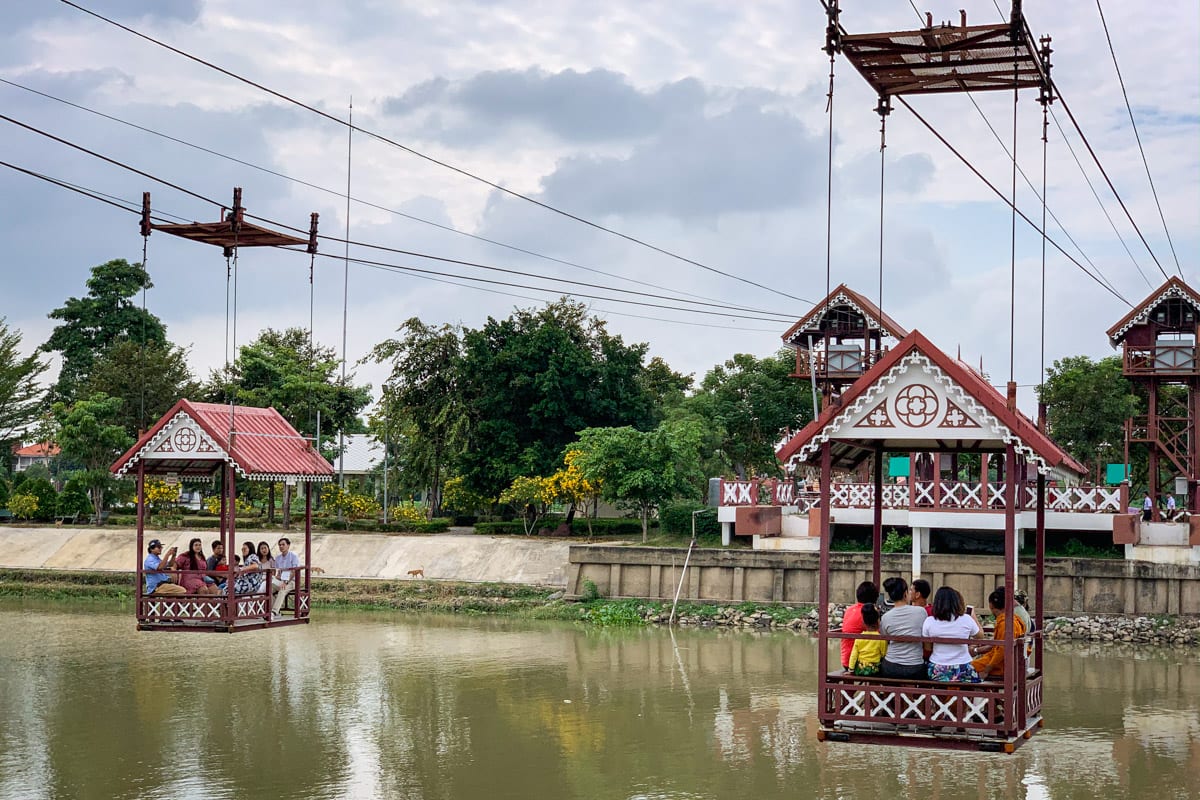 There are guided tours available from Bangkok, they usually combine sightseeing, lunch and a few sightseeing stops on the way. Get Your Guide is the one I recommend.
Talat Kong Khong
This small market was not on our list but turned out a fantastic place to be. Besides food, there are also dry goods for sale such as clay pots, machete, clothing materials, etc. Interestingly, the vendors are wearing a uniform outfit of a magenta color top and a native hat. We had not seen that in other markets.
The food strip is filled with local foods cooked right in front of you and served piping hot! Try the authentic Rice Noodles (Pad Thai) with 12 plump red chilies oozing into the dish, and Thai Boat Noodle Soup (Kuaytiaw Reua.) Talat Kong Khong is 10 km from Bang Pa-in and 13 km from Ayutthaya. Open on Thursdays to Sundays from 9:00 am to 16:00 hours.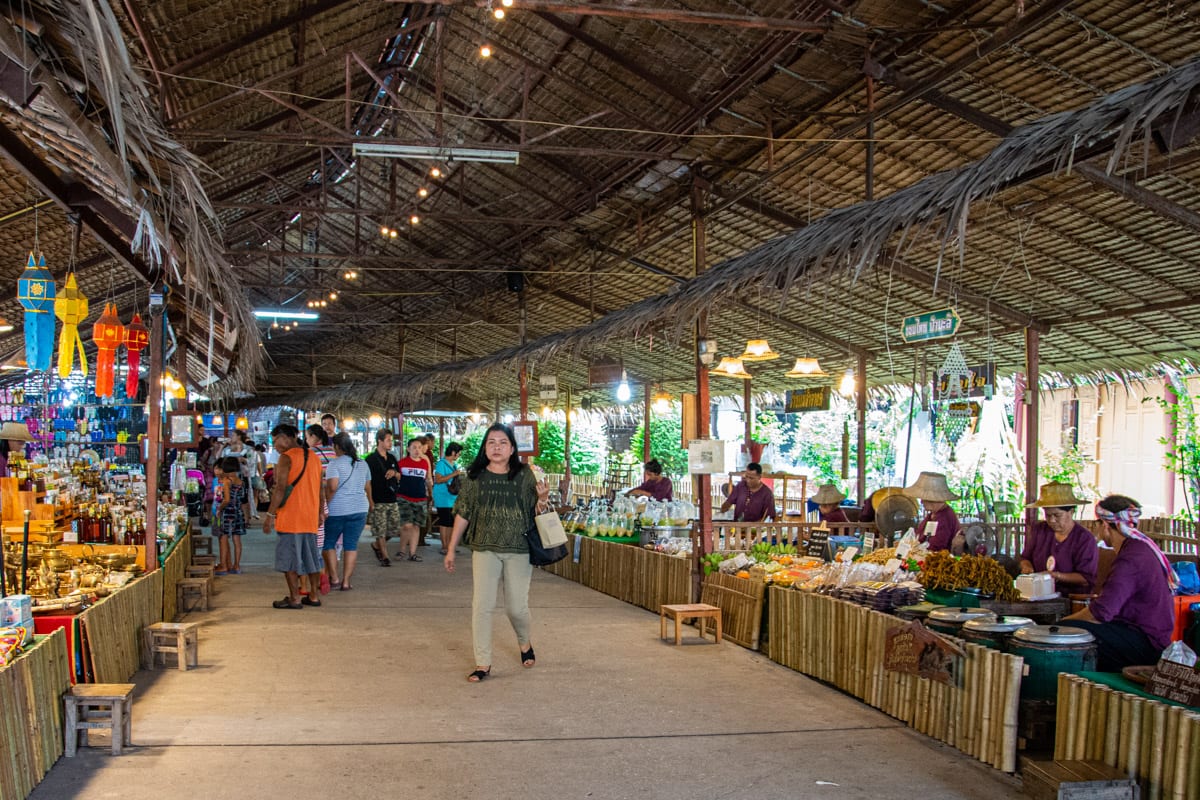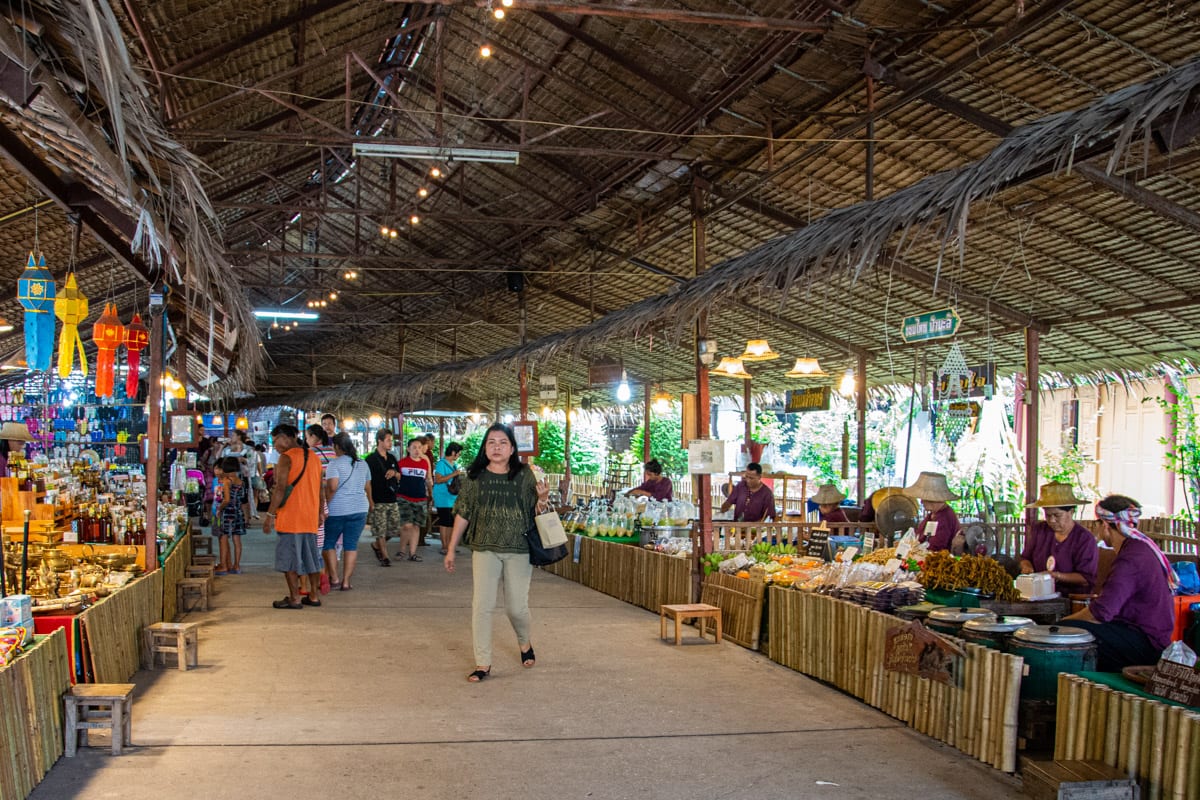 Wat Na Phra Men
This temple has escaped destruction; hence, most of its parts are in their original form. The largest room has beautiful wood carvings on the roof and door panels. Same as the octagonal columns topped with carved wood lotus flower cups. That did not escape my notice! The image of the giant buddha in the sanctuary has a distinct feature. Its outfit! If you want to see a buddha on an imperial costume, visit Wat Na Phra Men.
Interestingly, there is another temple just outside. A very small in size but the roof to a greenish color buddha image with the feet resting on a lily pad. Perhaps made of jade and most likely from the 7th or 8th century. Before stepping out, look closely at the four walls. There are unbroken series of mural paintings, and although unrestored, I think they look splendid.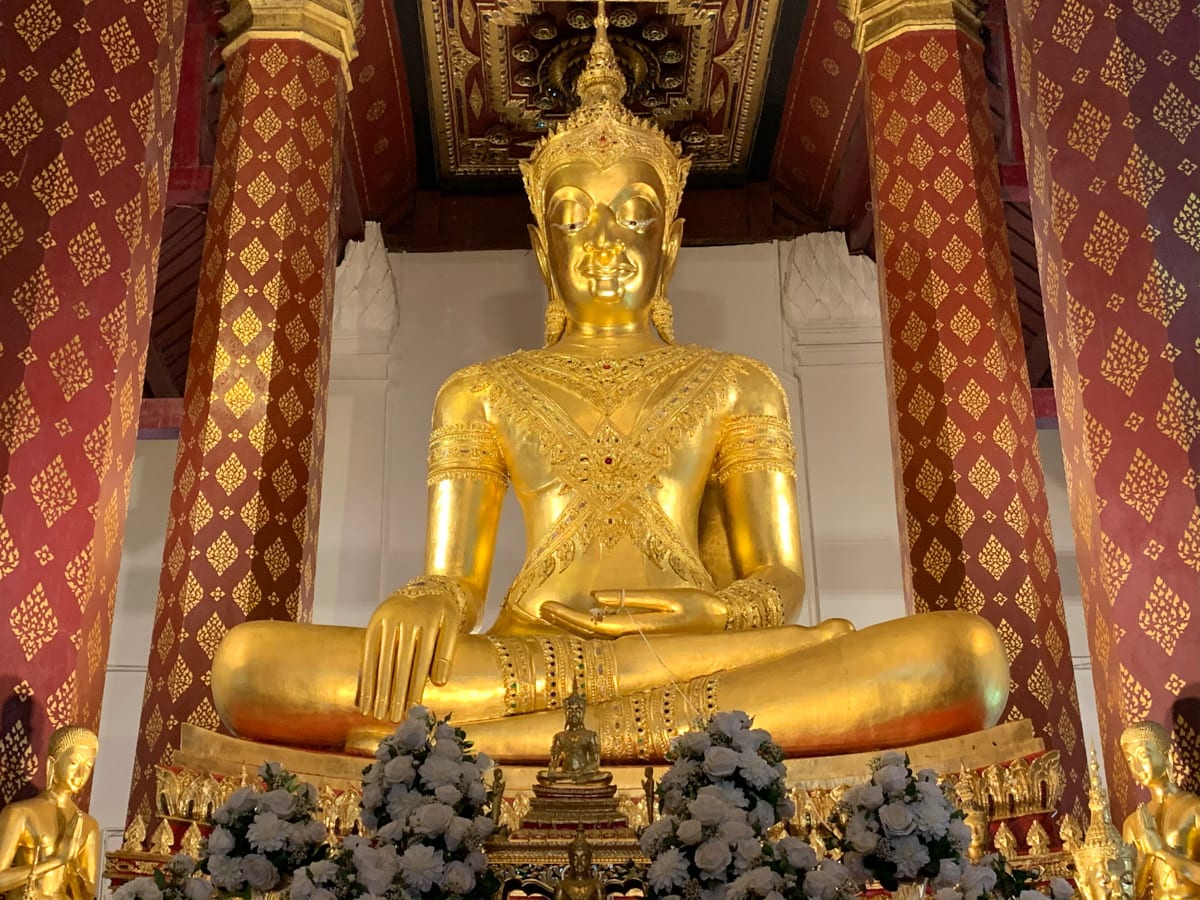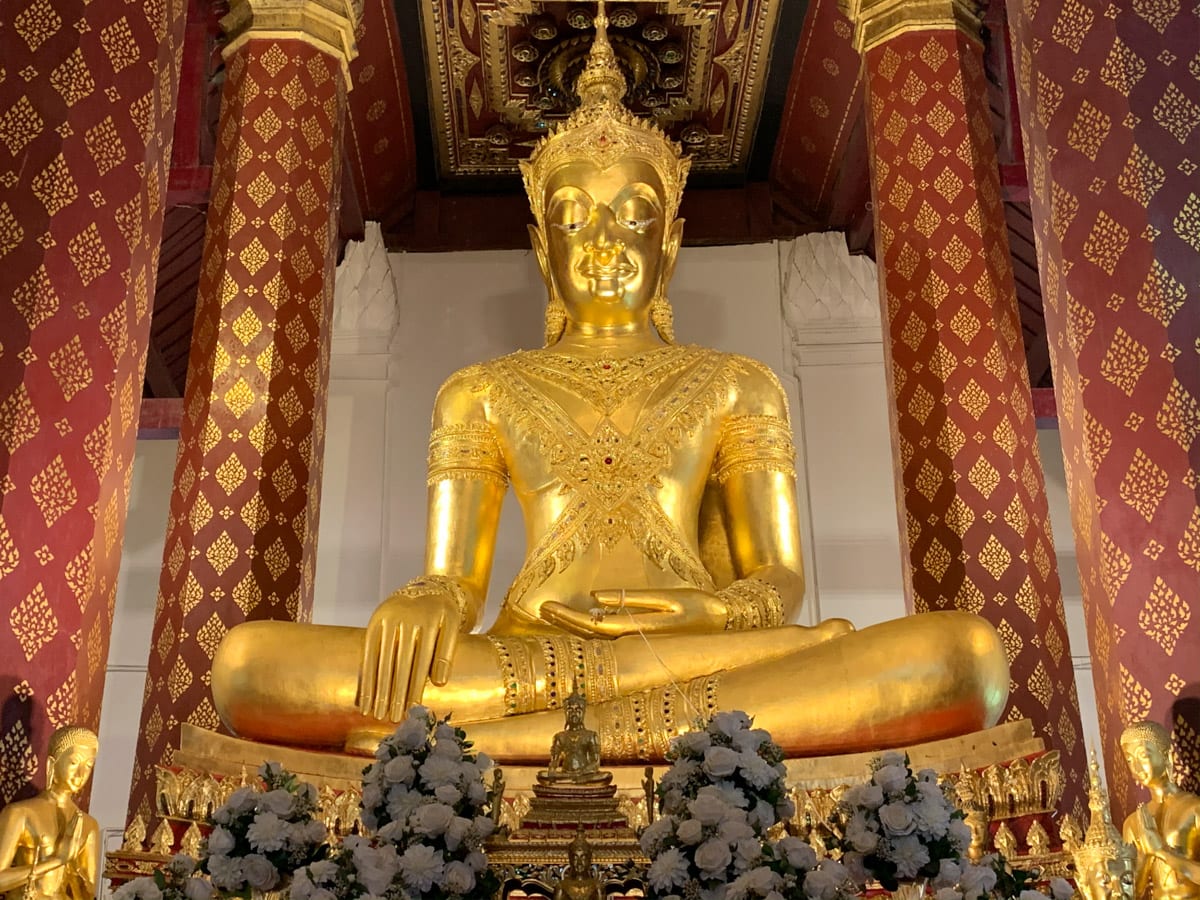 The morning of our last day was still fully packed with activities! Right after breakfast, we, together with our tuk-tuk driver, took off and did not waste time!
The Ayothaya Floating Market
The Ayutthaya floating market is a smaller scale of the Damnoen Saduakin Floating Market. You get to see the vendors selling their goods from boats. There is an entrance fee to get inside the market, but inclusive to that is your boat ride tickets. So, you ride the boat that will bring you to the stalls of food and dry goods. In the middle of the river are few boats selling hot food cooked right at their boats while moving along. It is an exciting experience for me as I have it on my bucket list for a long while.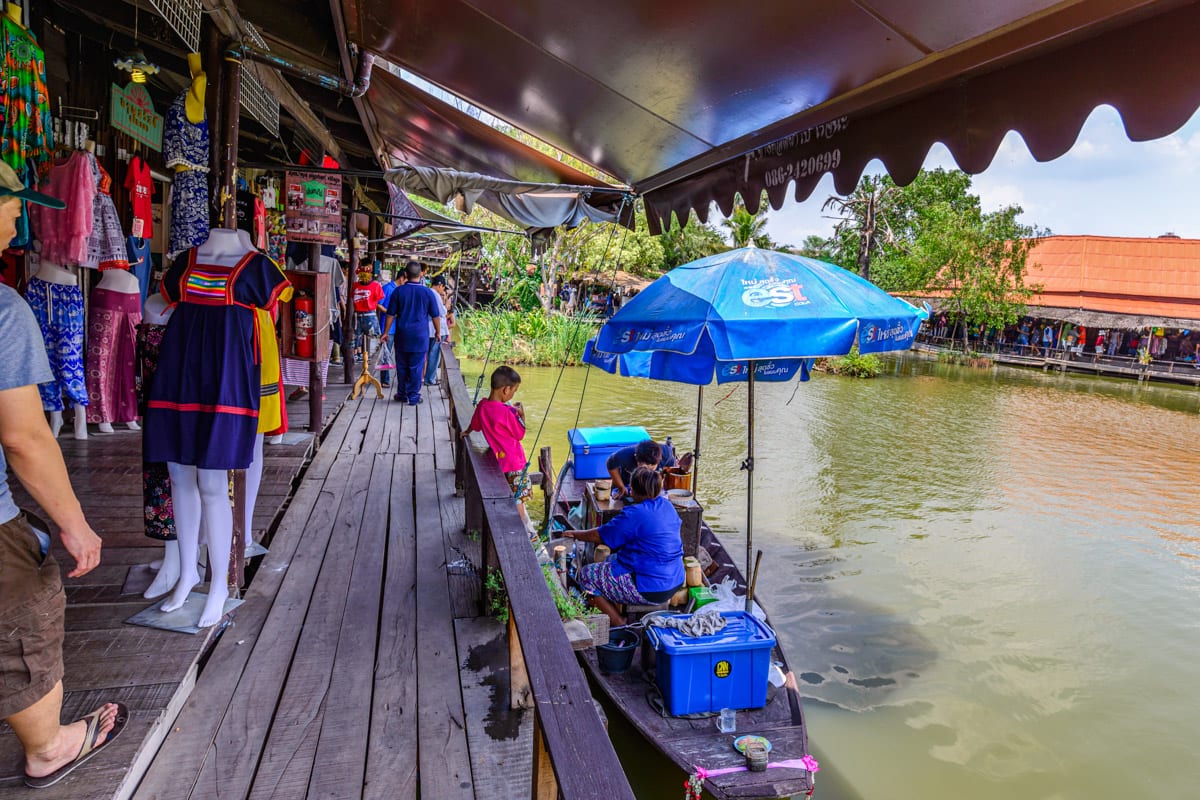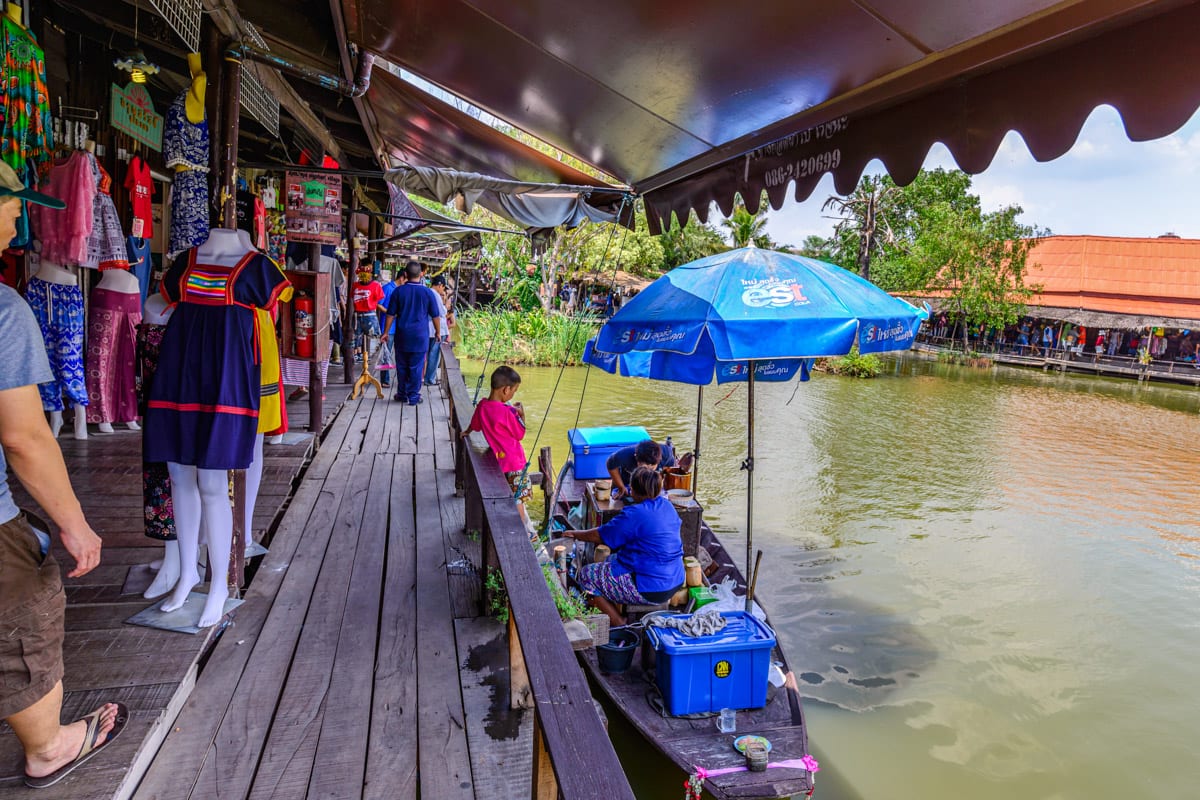 Elephant Ride
Just opposite of the gate to the Ayutthaya Floating Market is a private tour company for an elephant ride. If this is one of your aspirations in life, go make your day! For THB400.00, the Elephant Village will make you enjoy a 15-minute ride. Meanwhile, the navigating elephant will bring you through and around the historic parks. It will be a different perspective to see the ruin temples hopped on the back of an elephant.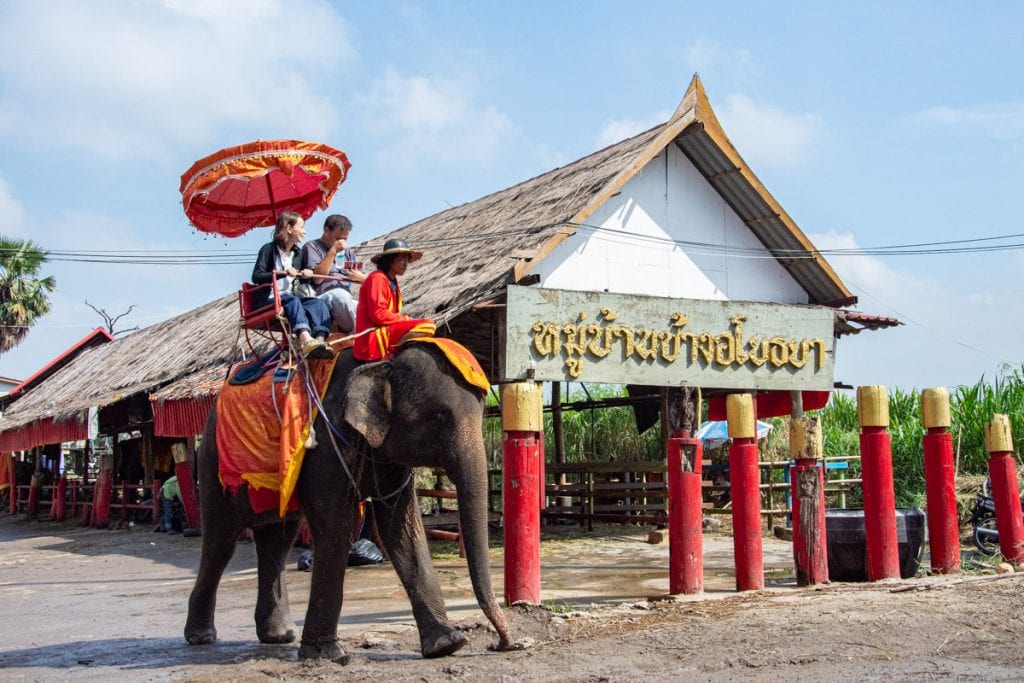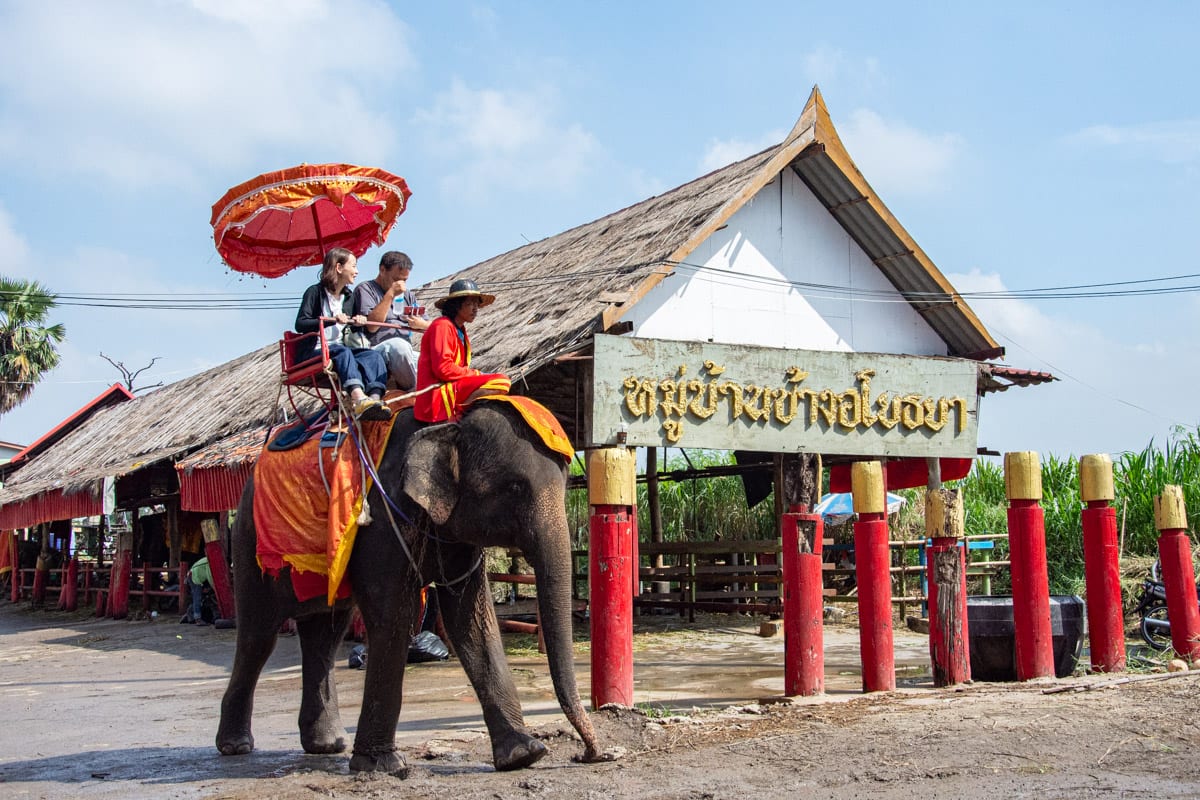 Wat Samana Kottharam
The most prominent characteristic of this temple is the stupa situated behind the leading site. It's bell-shaped with a spiral kind of design on top and a few windows. Very different from the other stupas seen in town. And dating in the 14th century, it's old for still an active temple. Another feature is the remnant of an image of a buddha sitting on the foundation layer of the ordination hall. The walls are gone so, it's like an open-air altar, and you can see the deity even from the roadways.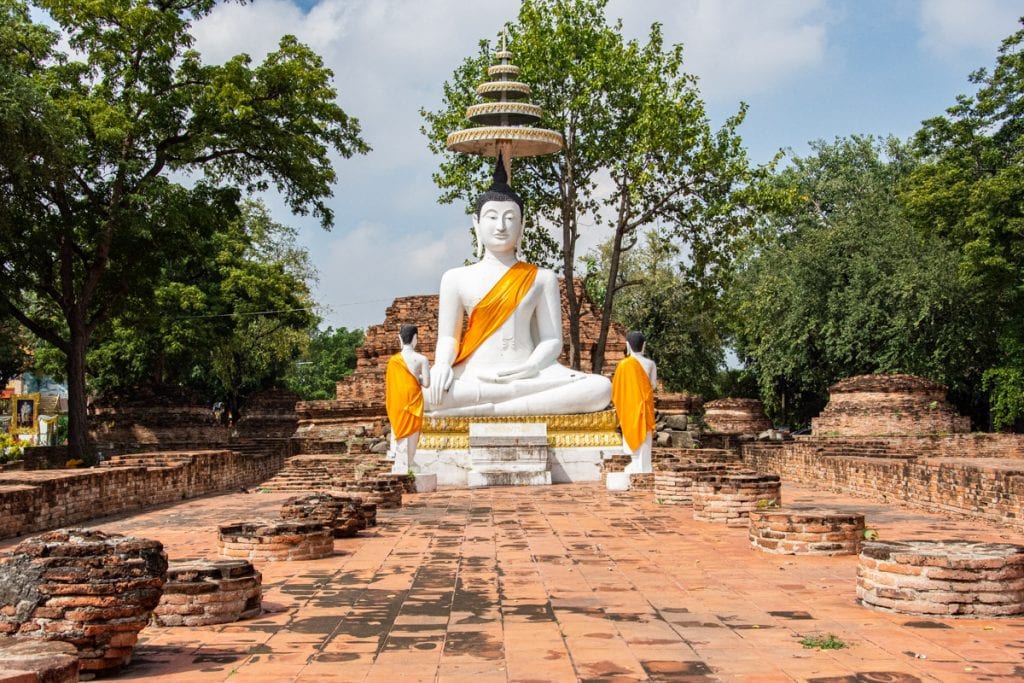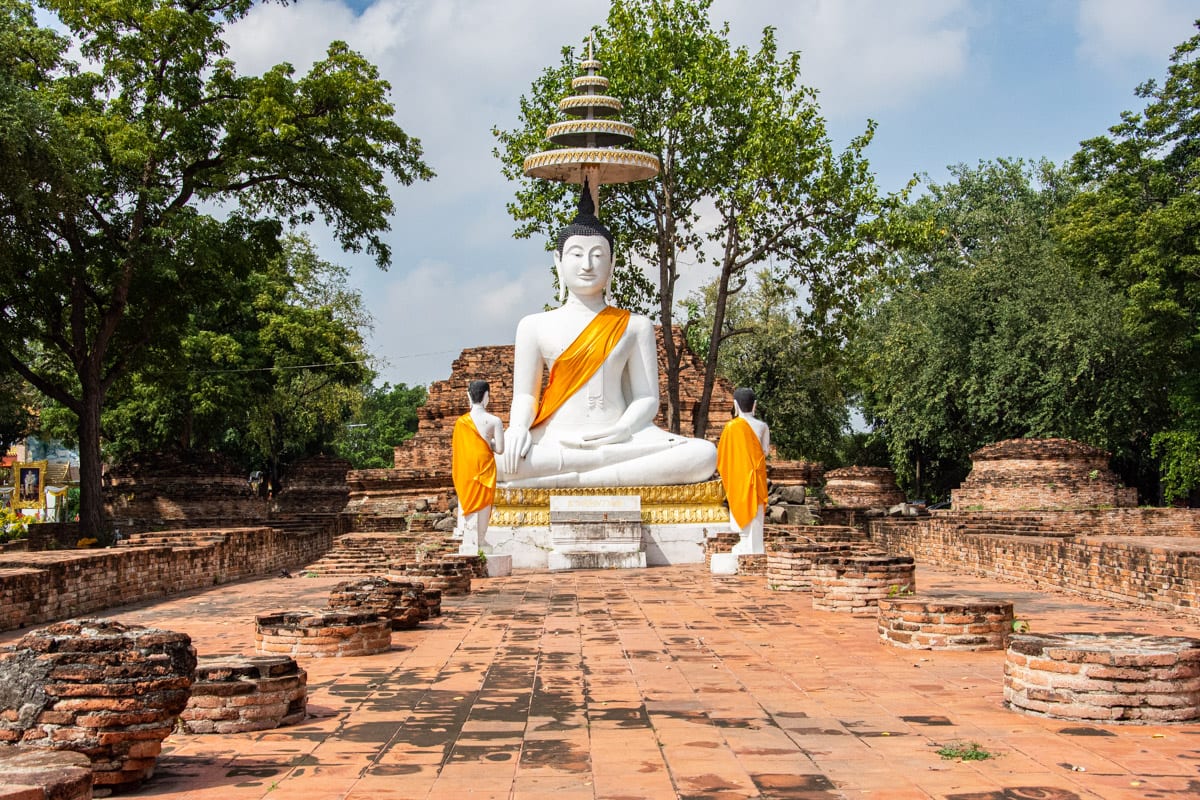 Wat Kudi Dao
A major restored landmark in Ayutthaya but located outside of the city is Wat Kudi Dao. The site is beautiful, but it is not frequented by tourists. Perhaps because it is far from the mainstream of actions that tourists don't know about it. Most of what is left here is still in good shape, though, thus, very impressive!
To me, what is very charming here are the pillars in the ordination colonnade. They are top with a lotus flower design. So pretty! Additionally, there is a square wide open. And the site of an enormous stupa that just crumbled in the ground is a sight to behold. The stupa is in the Sri Lankan style with multiple layers of rings around it. Aside from this monastery's glorious state, what I truly enjoyed here was the quietness of the place! It ushers you to a contemplative mood.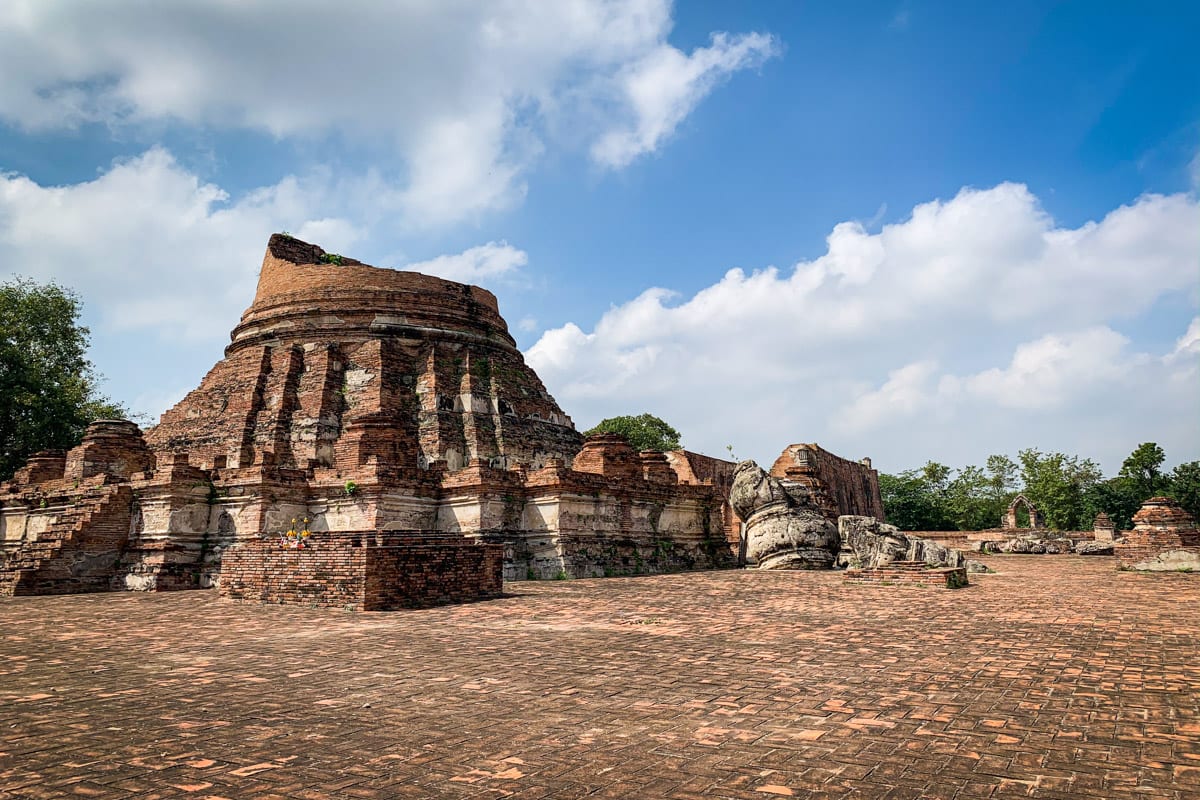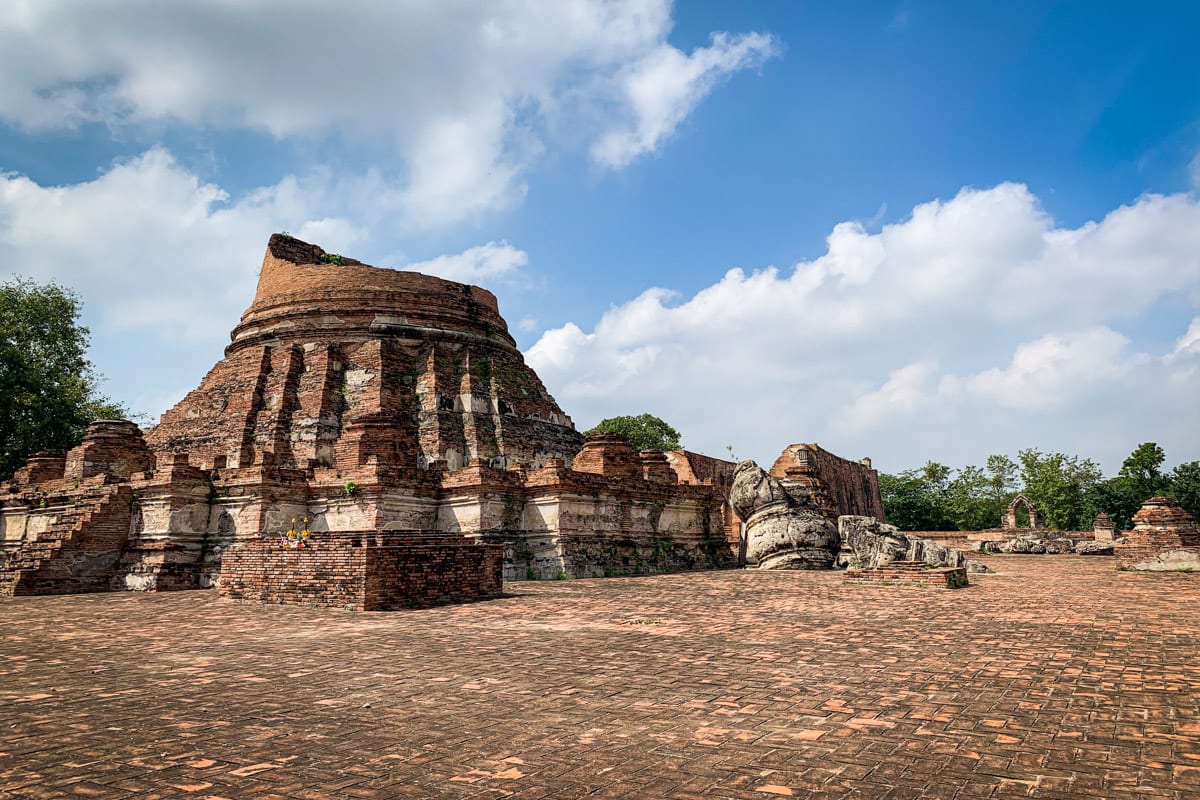 Portuguese Settlement
 The first groups among the westerners who settled there are the Portuguese. They were welcomed by the Kings with open arms. Hence, they built their lives here and never went back home!  Interestingly, there is only one reminder of their once a thriving village. And that is the ruin of a church. What is left is only the floor foundation and nothing else.
There is a museum next to the ruin site. Among the collections are photos and documents showcasing their achievements as a community.  At that time, the Portuguese were a significant influence in the country as a whole on architecture, infrastructures, and trading. 
Do check the mind-boggling skeletons of human beings laid out in the lower level of the building. Archaeologists found these bones in a piece of land by the river near the church.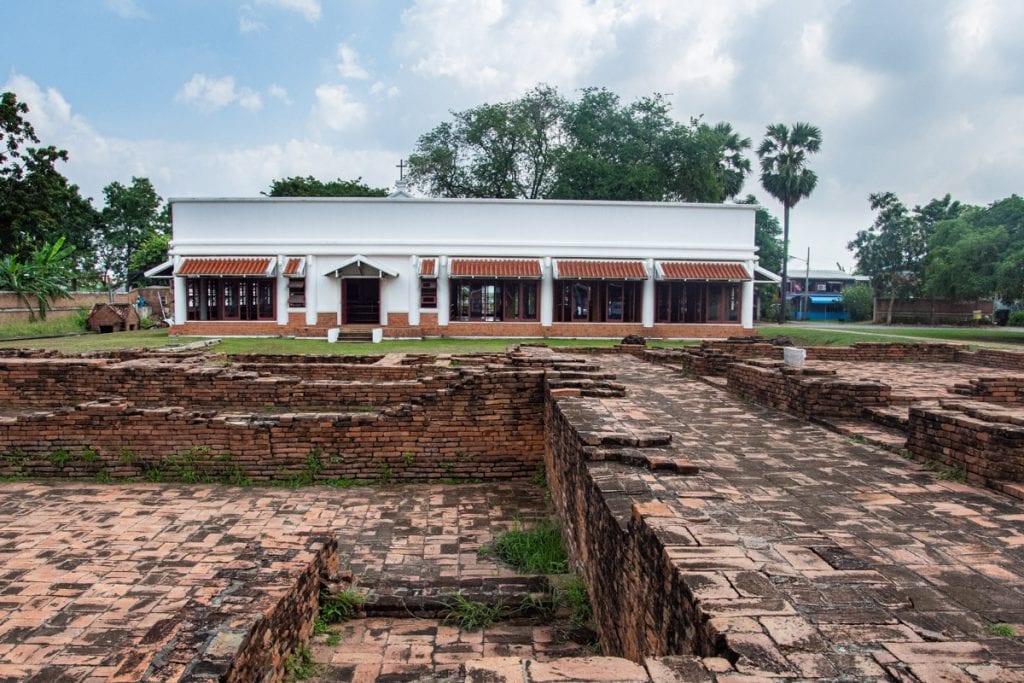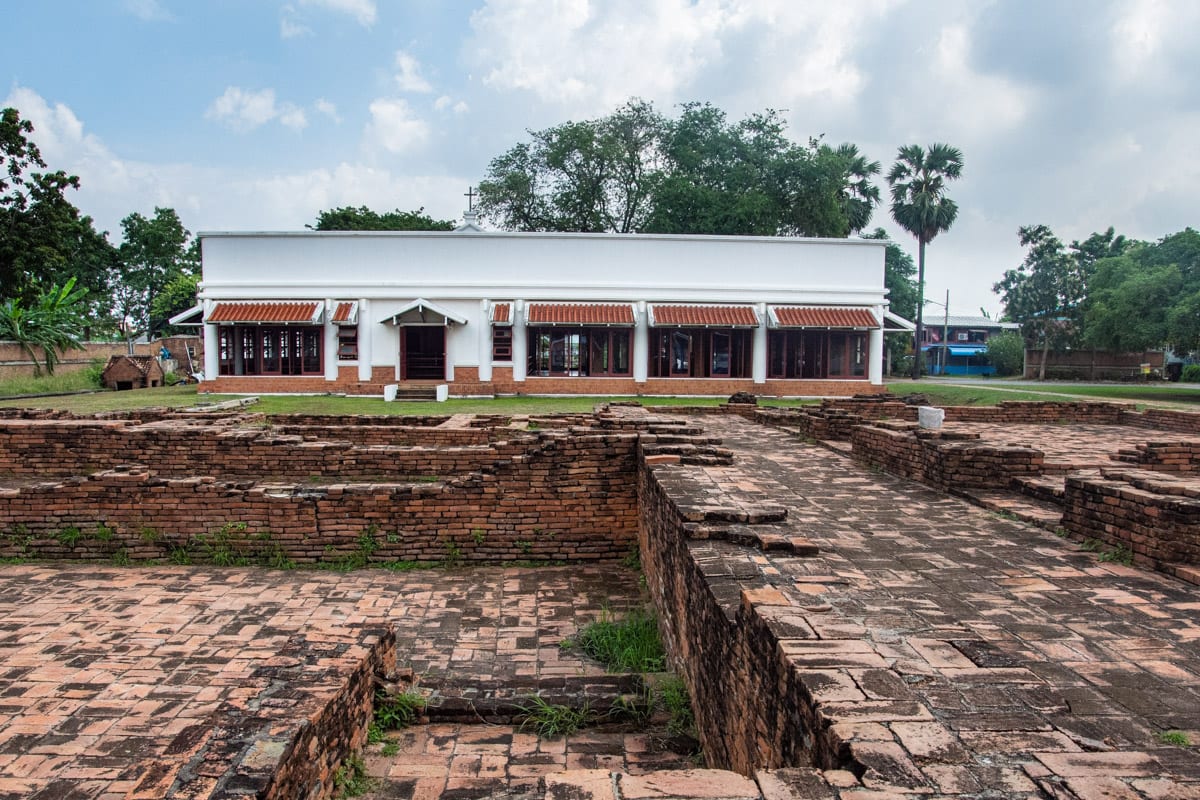 Dutch Settlement
The Dutch came to Ayuthaya as traders. Later, they settled in for good and established shipbuilding businesses. I was not surprised to see a shipyard with a bunch of wooden boats on display.
Except for a few square feet of a foundation for a building and a slab of a brick pedestal, any reminder of their existence is almost to none. Hence, the government of Holland built a two-story building next to the ruins. The museum goes into detail about how the Dutch came and their time spent here in the 17th Century.
The first floor is a coffee shop, which is very lovely. Its walls are colorfully painted. There is a small café that offers some Dutch foods such as waffles and sausages. And the second floor houses a very interactive museum.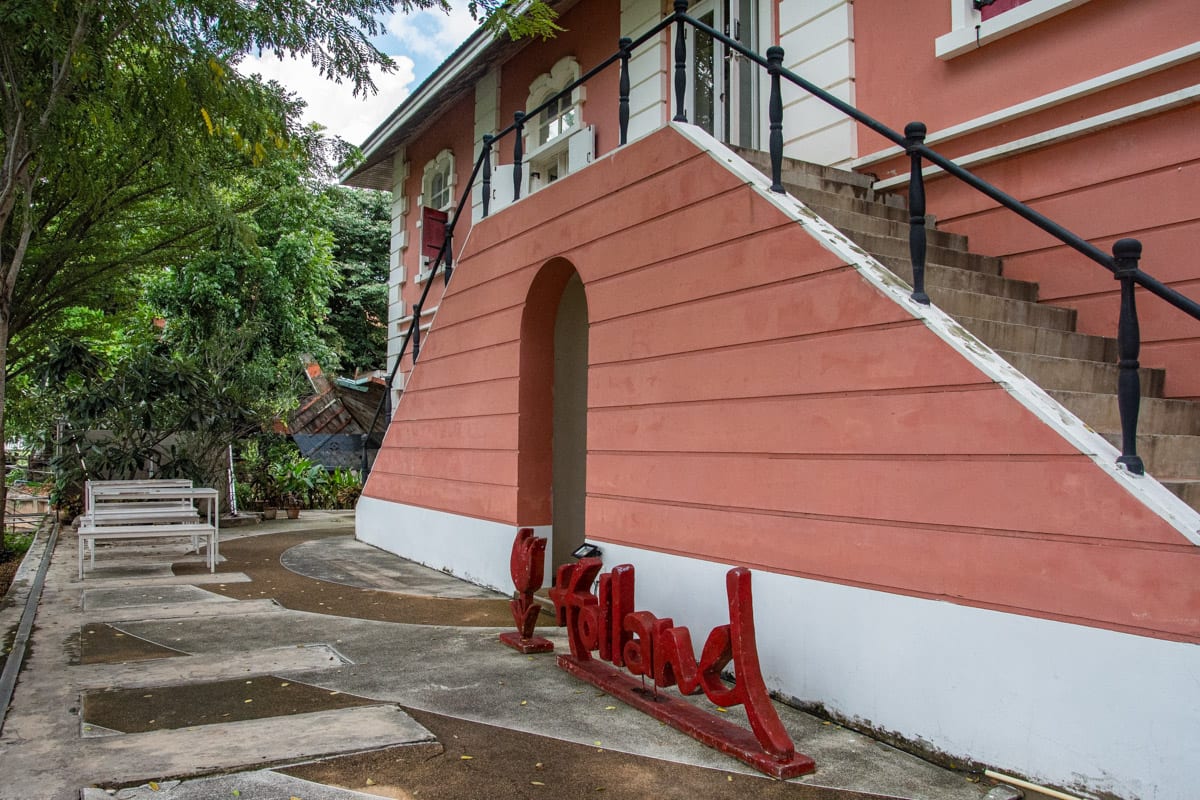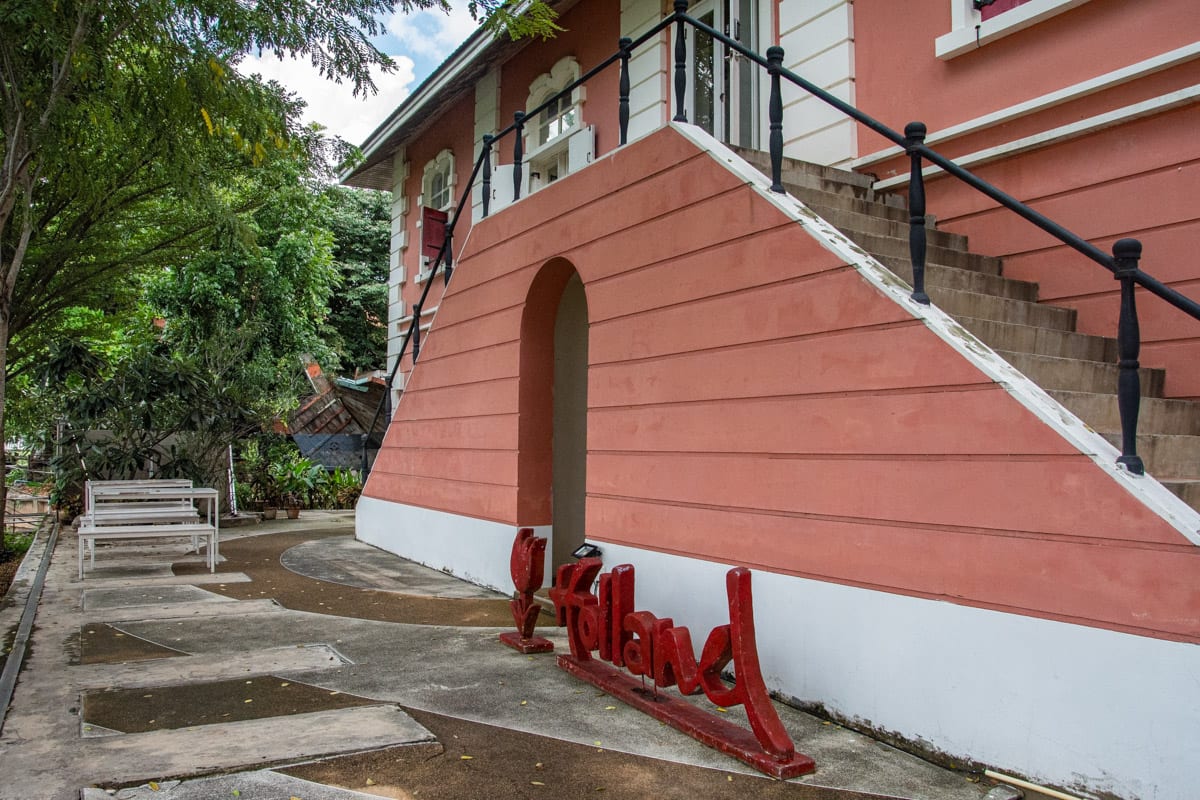 Where Did I Stay In Ayutthaya, Thailand
The "minimalist" style of the room is one of the things we liked in the Casa Cavalli Hotel. It makes the place looks spacious with fewer furniture. Thus, having more elbow room to move around. Also, the rooftop of the building offers a lovely place to hang out after a full day of temple hopping. Guests are welcome to use the infinity pool without extra cost. If you like jogging, the vast yard in the property is perfect for such activities. And as far as the location, it is, however, out of the mainstream activities, since it is away to the town proper. However, if you love the lush countryside, then this is the hotel for you.
Have Local Authentic Thai Food
The Ayutthaya River Boat Restaurant
The Ayutthaya River Boat Restaurant is where we had tasted the grilled giant freshwater prawns. When you are in this town, freshwater prawn is the food to try. The yellow part of the prawn is the tastiest and considered a delicacy. It is buttery; thus, it is called "head butter." And although it costs more than your average lunch, it is worth the price. They also serve Pineapple Fried Rice and Coconut Soup. And of course, you will never go wrong with Coconut Shake, an absolute tropical delight to taste buds!
Peaberry Restaurant
Cavalli Casa Resort's exclusive eating house is "Peaberry." They offer both Thai and International cuisines. We are in Thailand, so, of course, we tried Thai foods. Their Pad Thai is remarkably delish. But their specialty dish is the Fried Fish in Tamarind Sauce
My Opinion and Last Word
Have you been to Ayutthaya, Thailand? Any cool tips to share?
I fell in love with Ayutthaya! I enjoyed every moment of our visit to this city. If you like history and culture, this is your place to be. My aim for writing this article is to inspire you to visit this ancient capital of Thailand. I hope that I had done that for you!
Please leave a comment below! I'd love to hear from you to improve my knowledge. 
Was this travel guide helpful for you?
If you'd like to help me continue making free guides, here is one way you can help:
Share This Guide – If you have a friend that would benefit from this guide, share it with them. Or post this guide on Facebook, Twitter or Google+
Your Support would definitely help me making more free guides like this. Thank you in advance!
Affiliate Link – This post in Dizzy Traveler contains affiliate links, which means I receive a referral commission if you purchase after clicking at no additional cost to you. These funds go to maintain the site. Thank you for your support.
Here is a few affiliate links that may help plan a perfect trip while staying within budget.