As a child growing up in the midst of heightening war between America and Vietnam, I found myself dreaming about visiting Vietnam to know more about their suffering from that unpopular war. On top of that Vietnam's dramatic landscapes, fascinating history, great food, and beautiful beaches played a significant role in positioning itself to the top of my dream destinations.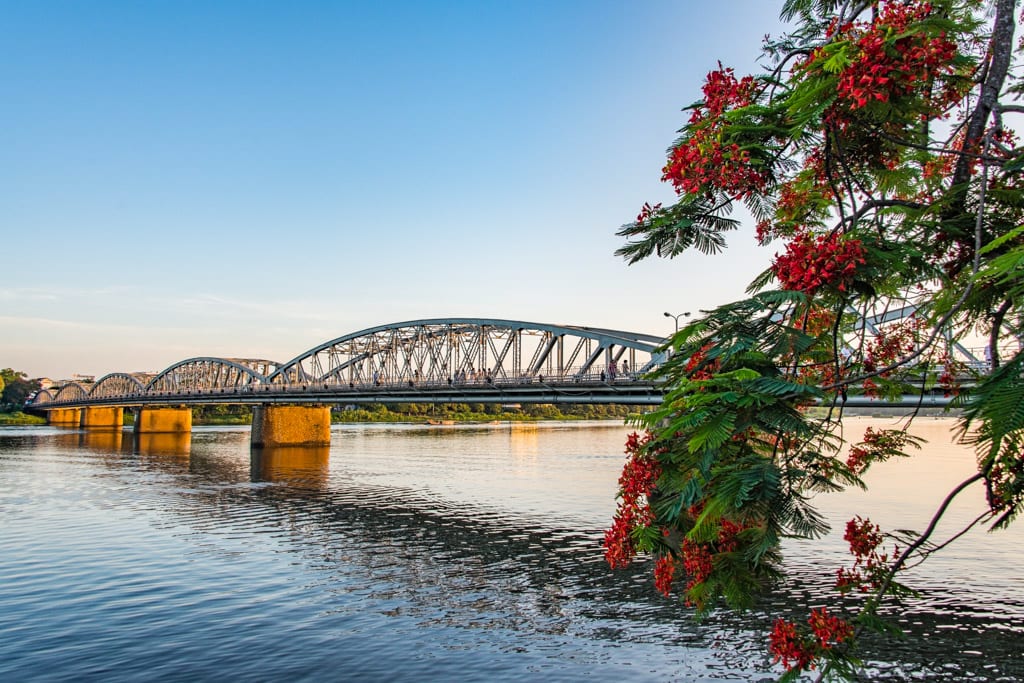 ---
Central Vietnam Trip Itinerary
Day 1 - Arrival in Ho Chi Minh City
Arrival In Ho Chi Minh City
It was early morning at about 01:15 am in Ho Chi Minh City when we touched down at the airport, flying time from Beijing was only 5 hours so I was not so tired. Withdraw a few local currencies from the ATM and took a taxi to my hotel. 
Obviously I woke up late, quickly had my breakfast, and went out sightseeing in the city. In the beginning, I was a little uncomfortable sitting on the back of a motorbike but eventually, I started enjoying it. 
Hotel In HCMC (Saigon)
This is an iconic hotel in Saigon. Rooms and bathrooms were spotless and very spacious with high ceiling, and the beds were very comfortable. Centrally located opposite the Opera house, 5 minutes' walk to the City hall, next to the mall and a few minutes' walk to other attractions.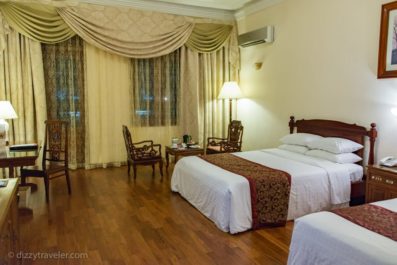 Day 2 - Sightseeing in Ho Chi Minh City (Saigon)
I've visited Ho Chi Minh City a couple of times for the last few years and did not have a chance to write up something about the city. The locals still love to call it Saigon instead of Ho Chi Minh City. This city is famous for its traditional food, especially Pho (authentic noodle soup), spring rolls, and millions of motorbikes.
Things To Do In Ho Chi Minh City (Saigon)
Visit Tomb of Le Van Duyet
My local friend suggested this place, and guess what it was a beautiful place to visit, completely off the tourist map and no busload of tourists what so ever. Instead of a self-guided tour, you could also Book tours, attractions, and activities online.
Le Van Duyet (1764 – 1832) was a Vietnamese general who helped Nguyen Anh – the future Emperor Gia Long – Put down the Tay Son rebellion, unify Vietnam and establish the Nguyen Dynasty. After the Nguyen came to power in 1802, Duyet became a high-ranking mandarin, serving under the first two Nguyen emperors Gia Long and Ming Mang.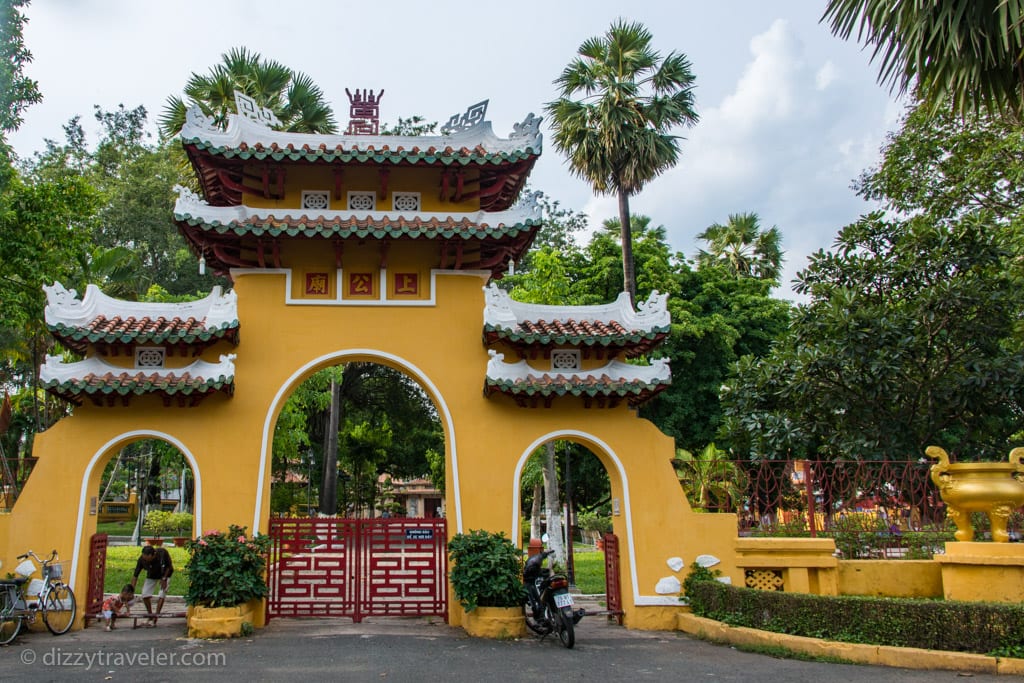 Check Out Jade Emperor Pagoda
The Jade Emperor Pagoda is a Taoist pagoda one of the beautiful and famous pagodas located at 73 Mai Thi Luu Street, District 1, Ho Chi Minh City, Vietnam. It was built by the Chinese community in 1909. This is a pagoda that is on everyone's HCMC must-see list.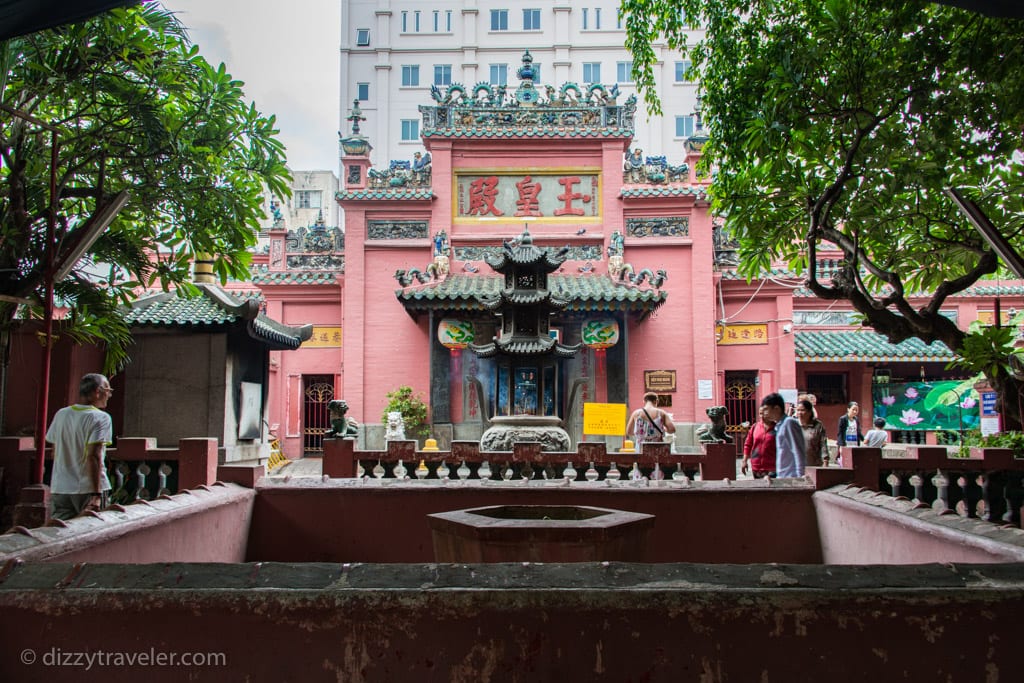 The Ho Chi Minh Square
An open squire in the center of Saigon with a statue of Ho Chi Minh and The People's Committee of Ho Chi Minh City in the background. Upscale mall and a great place to visit.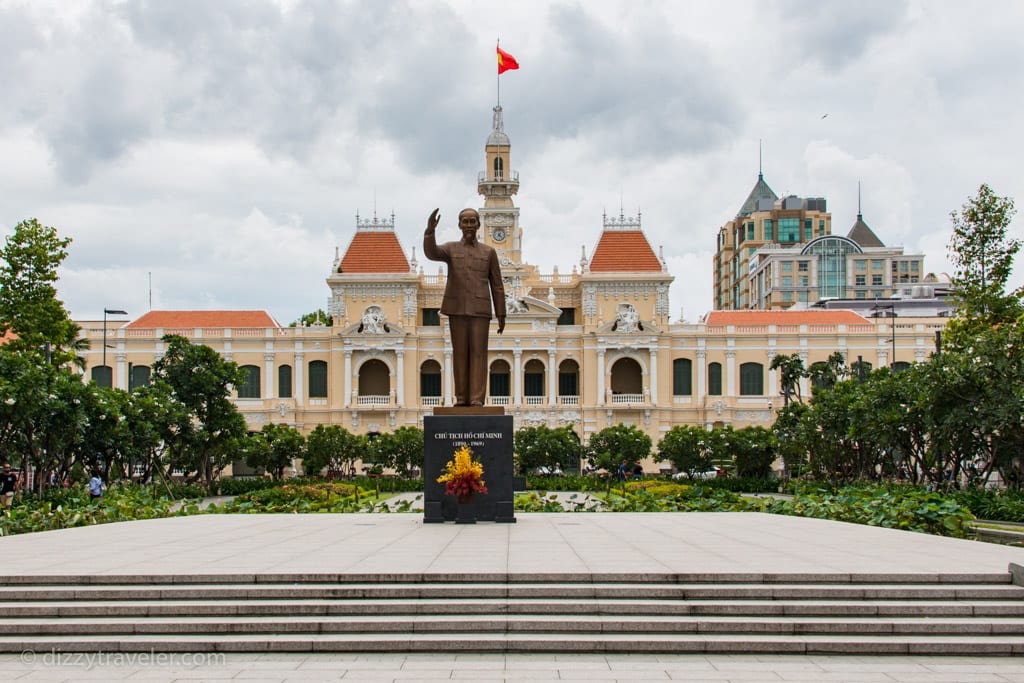 Cho Ba Chieu Market
I like wandering around local markets and walking through the streets of cities to get a feel for the local lifestyle. During my recent Saigon trip, I visited an authentic local market called Cho Ba Chieu in Binh Thanh district. I spent time roaming the alleys of the market and met many locals vendors. The saleswomen in Cho Ba Chieu were by far the friendliest I met. I went through the wet market and observed the art of negotiation and lifestyle of shopping on the wheel (from the motorbike). It was a great experience.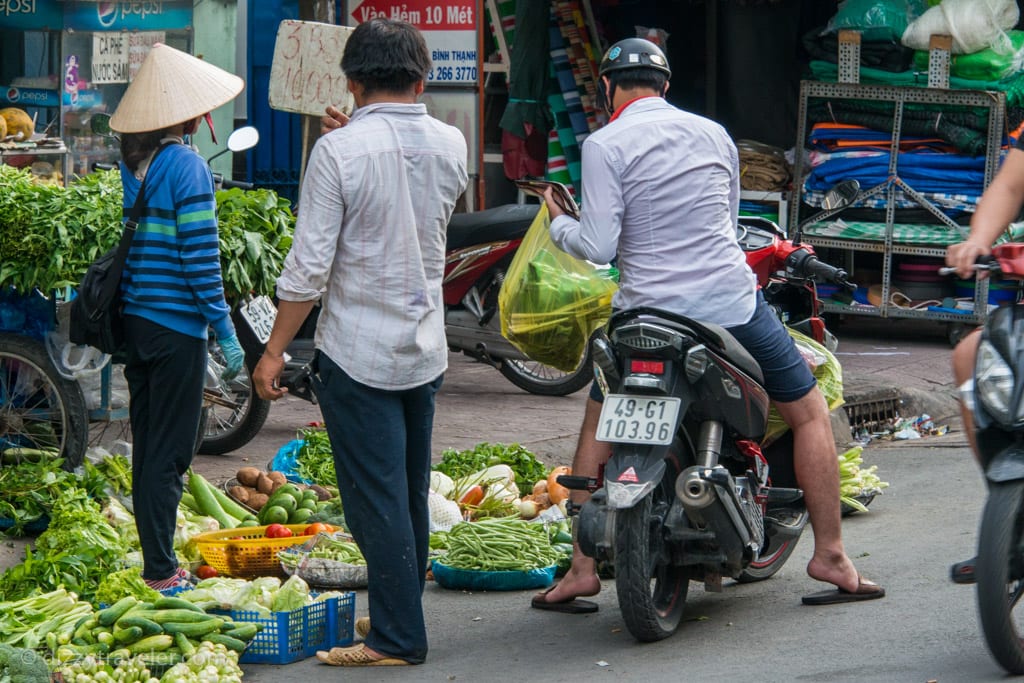 A Walk Along The Saigon River
A late afternoon walk along the Saigon riverfront gives an interesting perspective on the HCMC. Allow an hour or more if you want to stop, have a drink, and shot some nice pictures. My hotel Silverland Jolie was only one block away from the river a great location so heading to the riverfront was a daily routine for me.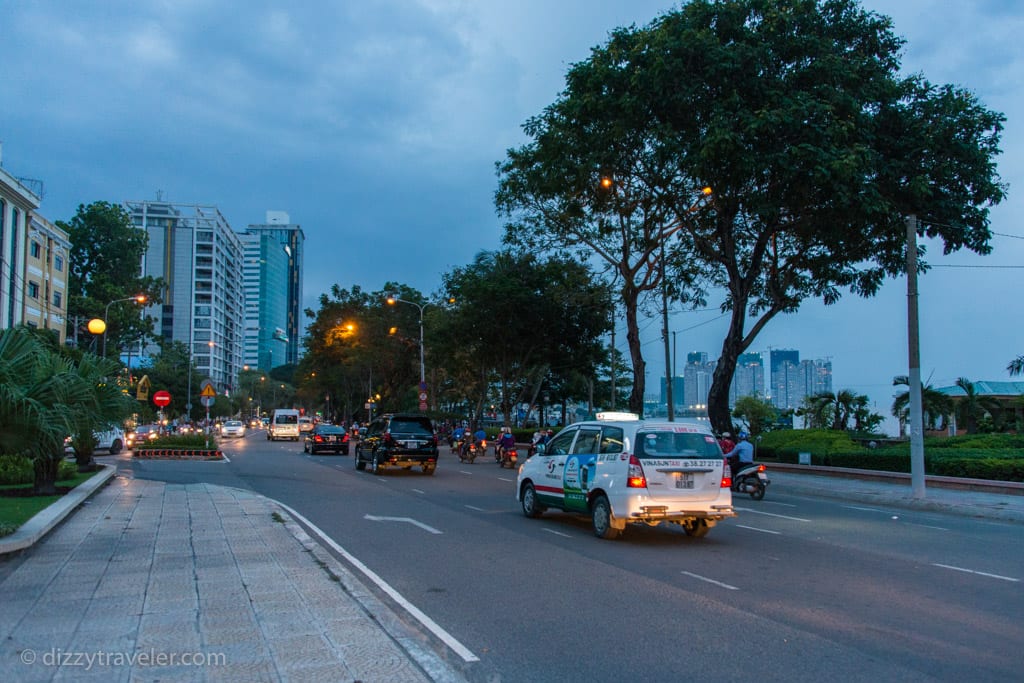 Spend an Evening in District 1
The downtown area in district 1 of Saigon is an exciting place to visit. The Bui Vien street is popular among backpackers. There are lots of bars and restaurants, and this area comes alive after 8 pm. It's great to sit in one of the places, grab a drink, relax and watch Saigon life.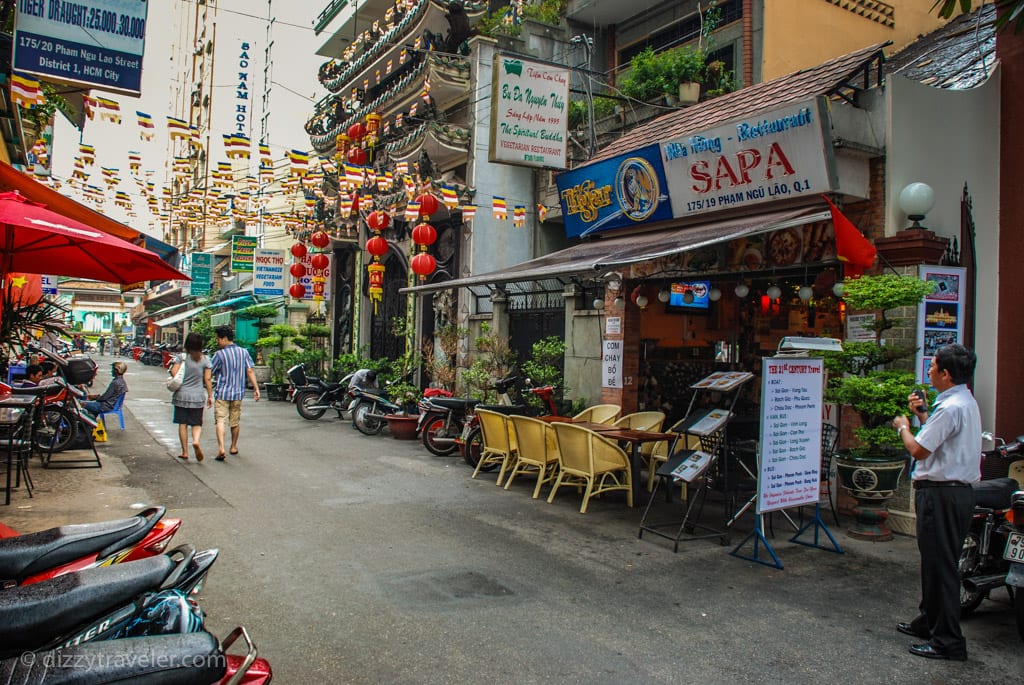 Day 3 - Late Afternoon Flight to Da Nang
Early Morning Sightseeing in HCMC
Saigon Notre-Dame Cathedral
Situated right in the east of Ho Chi Minh City is the most famous landmark as well as the core Cathedral of the city. It is a beautiful building, attracting not only Catholics but also many tourists for its architecture, historical background, and sacred atmosphere. A nice spot to visit on a hot summer day.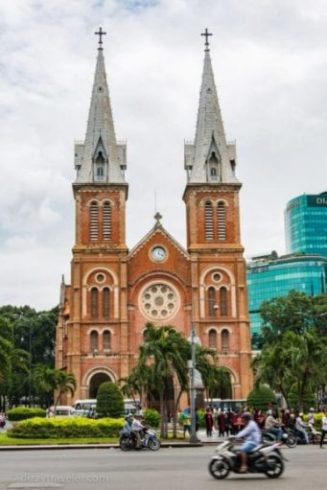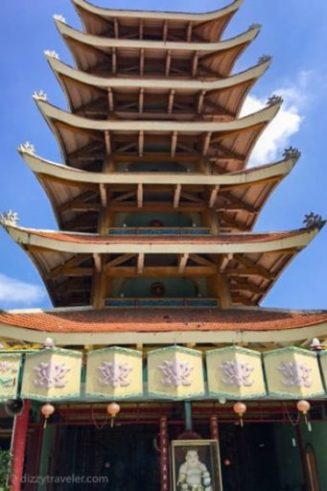 Vietnam Quoc Tu Pagoda
The Viet Nam Quoc Tu Pagoda is located on 3 Thang 2, District 10 of Ho Chi Minh City. The pagoda is seven stories tall very colorful. There are oversized statues of Buddha. It's on the way to the airport and worth a visit for those that enjoy something different and Temples.
Giac Lam Pagoda
Built-in 1744 one of the oldest in Saigon. Grace Lam Pagoda is a fantastically atmospheric place, very peaceful and garden-like grounds. About 3 km from Cholon, it is best reached by taxi or Xe Om (motorbike taxi)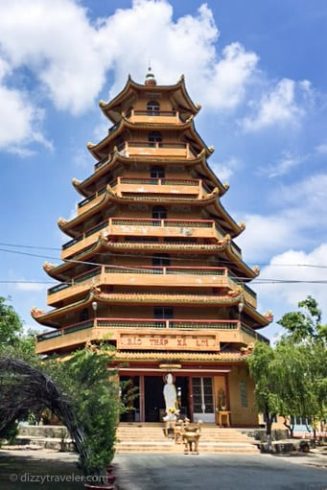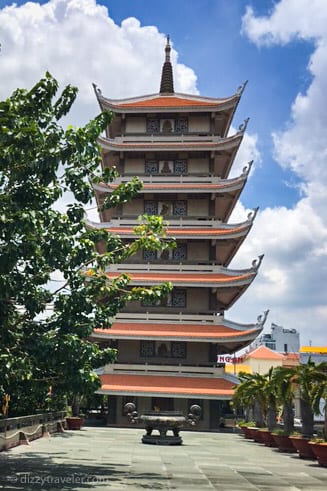 Vinh Nghiem Pagoda
This Pagoda is one of the biggest in Ho Chi Minh city which locates at 339, Nam Ky Khoi Nghia Street, District 3. Lunar Year or 15th of each month is when the pagoda gets busy, when you may observe the traditional activities of Buddhists such as giving away lucky money good buds for the start of the new year. It is easily accessible by taxi or Xe Om.
Late Evening Flight to Da Nang
Took Jetstar flight from HCMC (SGN) to Da Nang (DAD), flying time was about an hour. Transfer to Hotel and Rent a Motor Bike to see the Dragon bridge at night.
Enjoy the show at Dragon Bridge
Dragon Bridge is about 666 meters long, making it the longest bridge in Vietnam. A popular spot amongst photographers, the six-lane bridge crosses the Han River and built in the shape of a golden dragon, which locals believe symbolizes strength, royalty, and good fortune. While it's a beautiful sight at any time of the day, Dragon Bridge is particularly cool during weekends as it is illuminated with colorful LED while it breathes fire and spits out water from its mouth.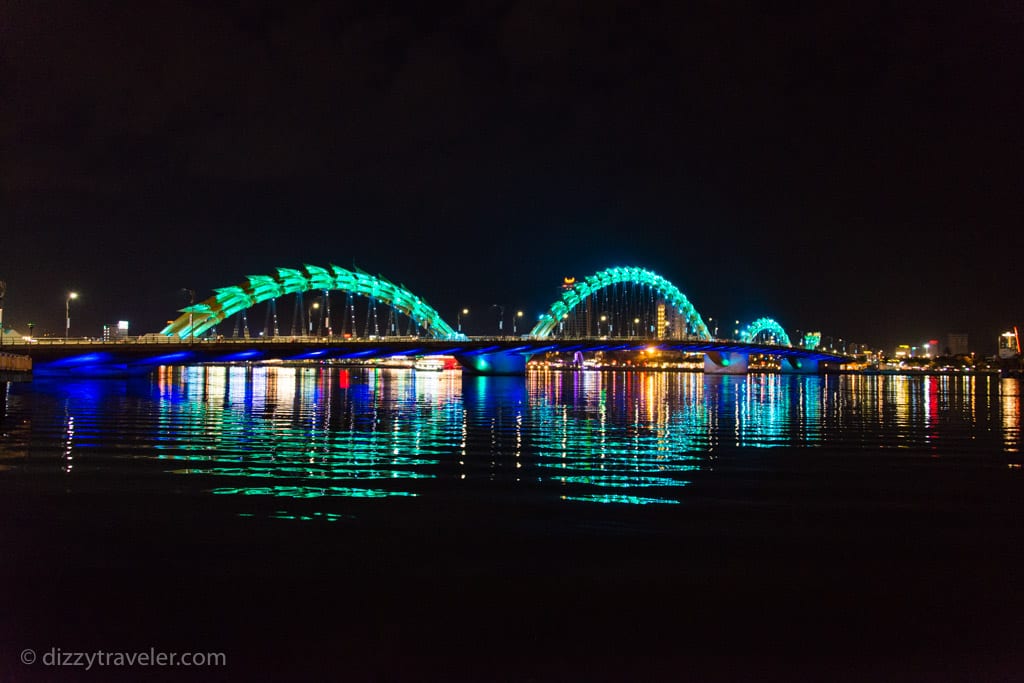 Where Did I Stay in Da Nang
This hotel is on the famous beach called My Khe, just cross the street, and you are right there. There are many restaurants along the beach so, regardless if you are a beach addict or not it's a fabulous place to be. Spending an evening by the beach and having dinner overlooking the gorgeous view of My Khe beach could be an unforgettable moment. Also, only a few minutes walk from another fabulous beach called Non-Nuoc.
Located in Danang, Balcona Hotel Da Nang offers beachfront accommodations a few steps from My Khe Beach and provides facilities like a bar and a terrace. The property features an outdoor pool, indoor pool, fitness center, and restaurant.
Day 4 - Sightseeing in Da Nang
Sightseeing in Da Nang
Visit Son Tra Mountain
Son Tra (Monkey) Mountain is a breath-taking national park in Da Nang that stands 693 meters above sea level. It is a popular escape among locals and travelers looking to escape the heat and the city's heavy traffic. Locally known as the Son Tra Peninsula, the verdant mountain is also surrounded by pristine beaches such as Bai Bac, Bai Nam, Bai But, and Tien Sa Beach.
The winding and inclining roads surrounding the mountain is a popular route for motorcycling, and photographer alike. However, the journey is well worth the try as you can enjoy panoramic views of Hi Van Mountain, Cham Island, Da Nang city, and Son Tra Peninsula from the summit.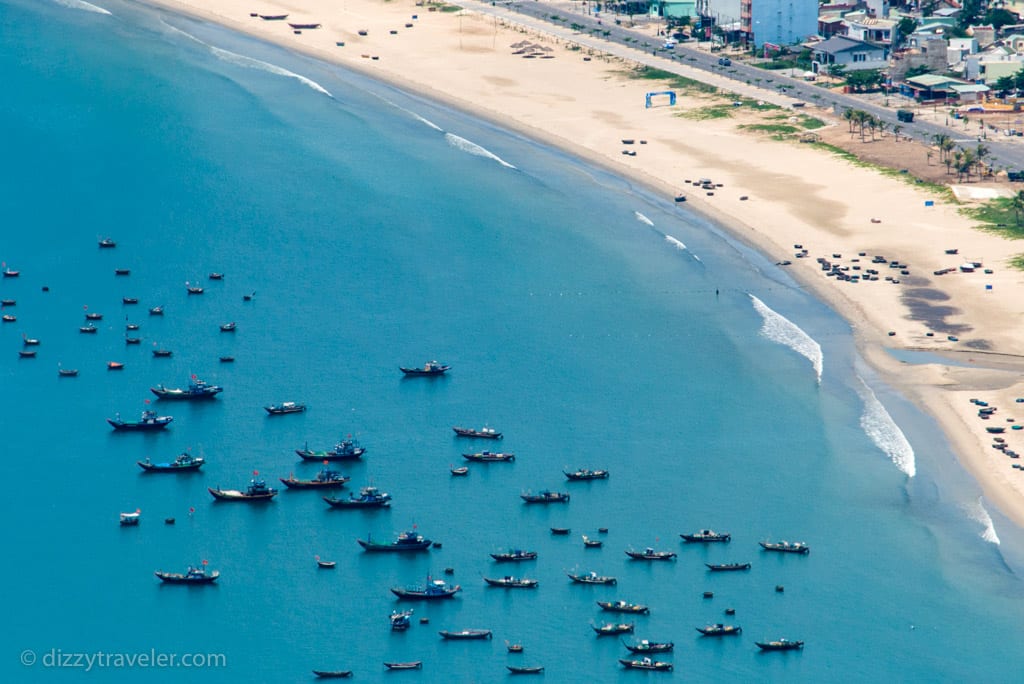 Quick Stop At Linh Ung Pagoda
A prominent attraction in Da Nang is Linh Ung Pagoda, which is also set on Son Tra (Monkey) Mountain. The stunning pagoda was built during the 18th century and housed a 67 meter-tall white statue of the Goddess of Mercy, which is set atop a lotus-shaped platform.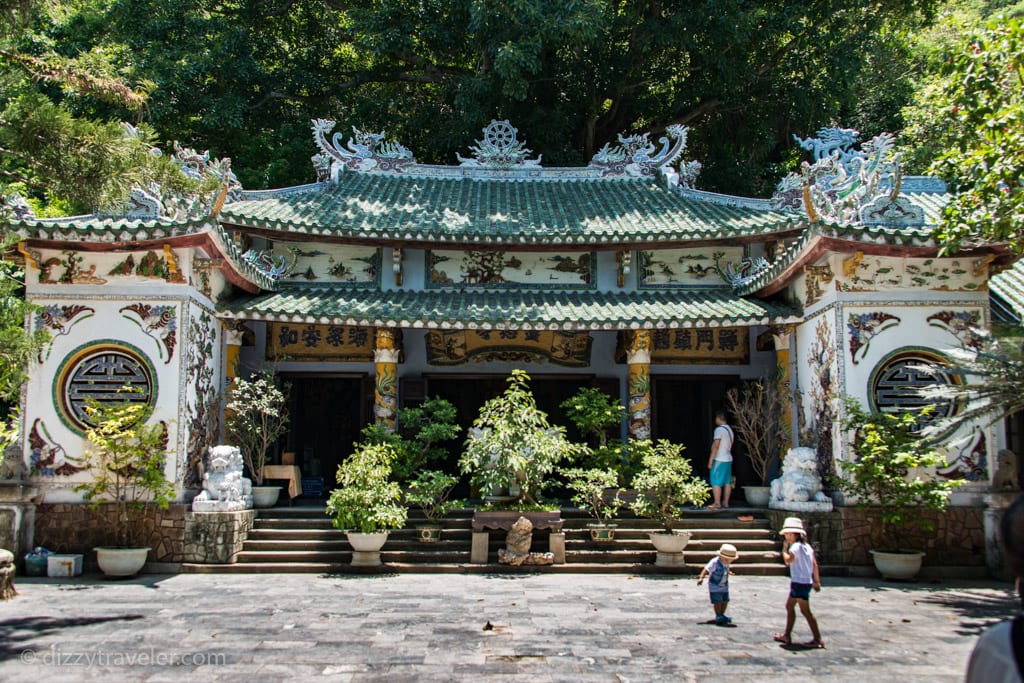 Spend Time At My Khe Beach
My Khe Beach is one o the most beautiful beaches in Vietnam. It stretches out about 20 miles of white sands located about 6 km east of Da Nang. There are several high-end resorts and seafood restaurants in the area, and My Khe Beach is also a popular spot for sunbathing, fishing, snorkeling, jet-skiing, and surfing.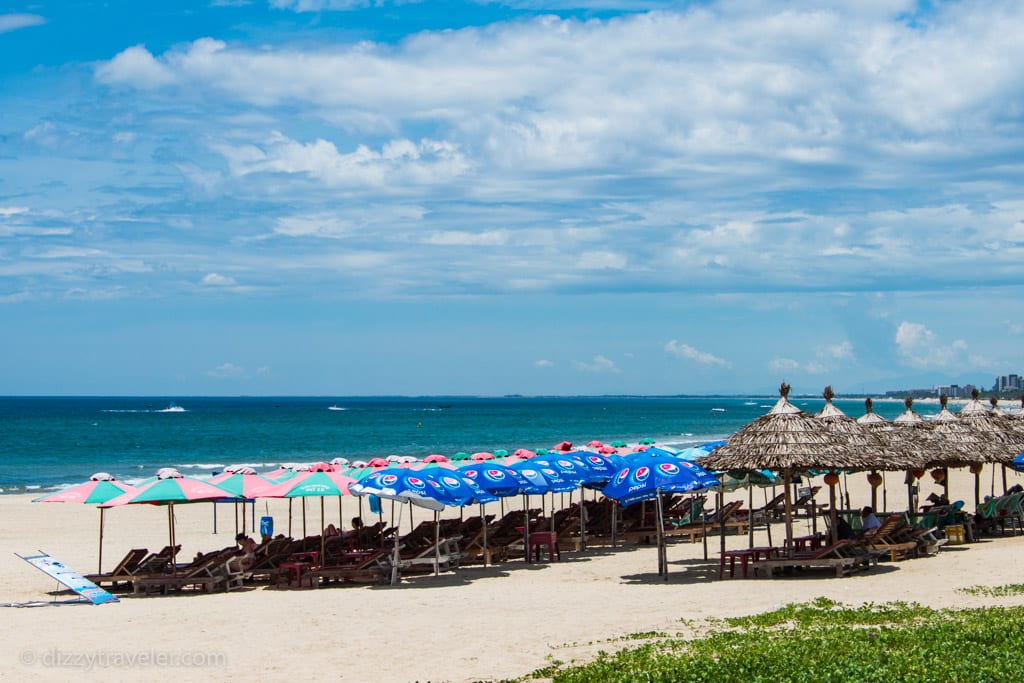 Visit Phap Lam Pagoda
Phap Lam Pagoda is a two-story temple in the heart of bustling Da Nang but inside the complex, a peaceful and scenic atmosphere. Visitors can also enjoy the vegetarian cuisine at local restaurants and food carts surrounding Phap Lam Pagoda. The best time to visit this Buddhist temple is during the annual festivals like Tet and Lunar New Year.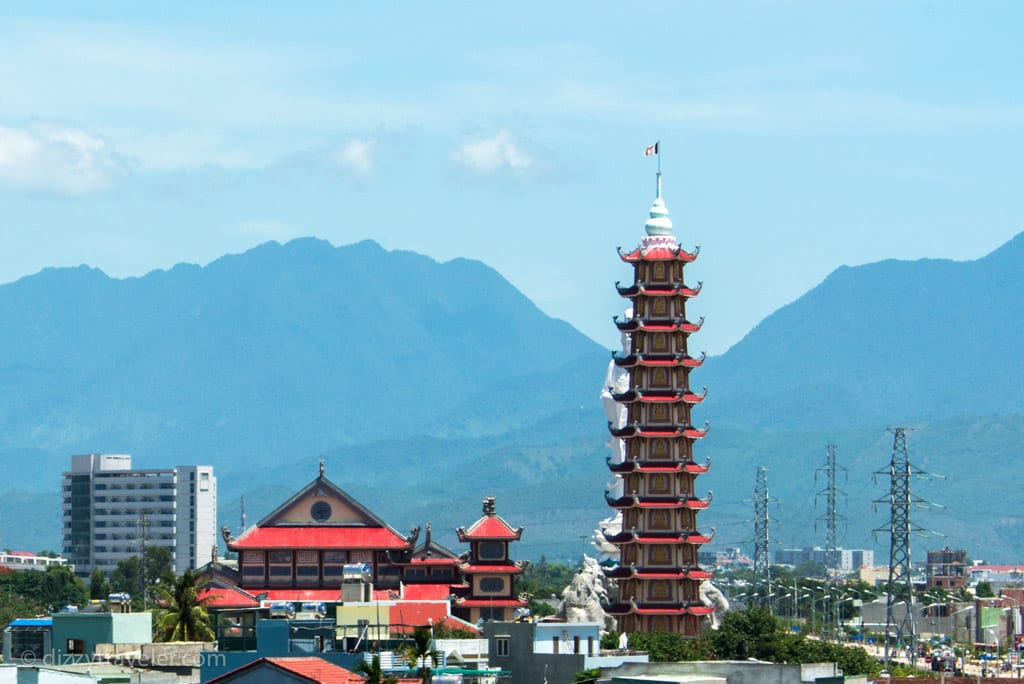 Sunbathing On Non-Nuoc Beach
A 20-minute drive from Da Nang City, Non-Nuoc Beach boasts international acclaim as one of the most beautiful beaches in the world. It is featuring soft white sands, a gentle slope, unpolluted waters, and mild waves. Visitors can do plenty of leisure activities such as sunbathing, jet-skiing, and surfing. This is the best place to try out local seafood dishes.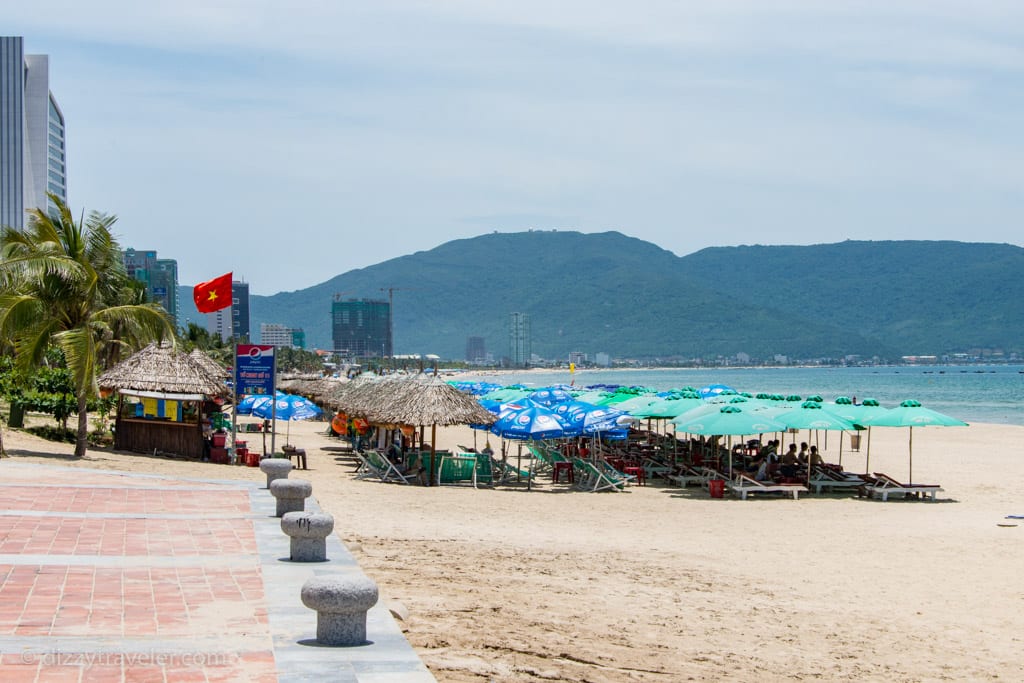 Take Cable Car To Ba Na Hills
Get to the European theme resort perched on top of Ba Na Hills via the Ba Na Cable car which has received four Guinness World Records. One of the world records is for the longest non-stop single-track cable car at 5801 meters in length. Spend a day at the theme park that has underground rides and games spanning four levels underground, catering to both adults and children. Or visit the 27-meters tall Thich Ca Buddha statue at the nearby Linh Ung Pagoda.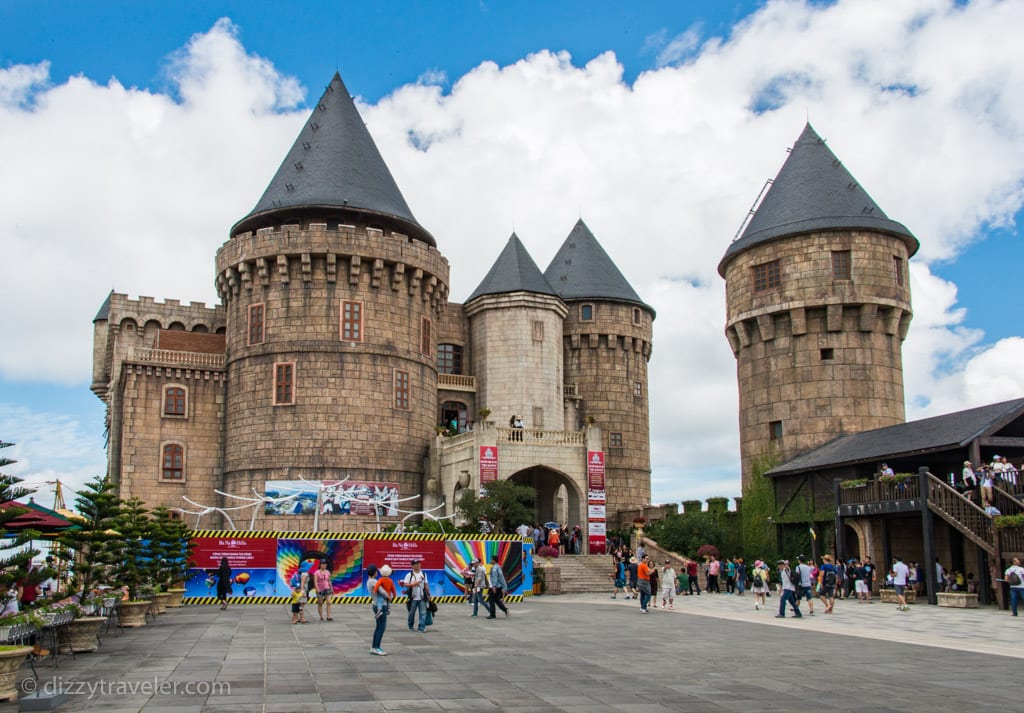 Day 5 - Heading to Hoi An
Heading to Hoi An
If you are not staying in Da Nang then I found it convenient to take a taxi or pre-arranged private taxi from the airport straight to Hoi An. It may cost you about US$ 20 – 30 but that will eliminate all the hassle of finding the bus stop and language barriers. Also if you are traveling in a group then the shared taxi fare is reasonable in my opinion.
On Your Way
Climb Up The Marble Mountains
Marble Mountains are a cluster of five limestone and marble hills within Hoa Hai District, about 9 km south of Da Nang. There are a few peaks that are individually known as Thuy Son (water), Moc Son (wood), Hoa Son (fire), Kim Son (metal), and Tho Son (earth). Here you will find several 17th-century Buddhist temples and pagodas for the locals to pray. Climbing the steps to the top of the Marble Mountains is a challenging task, but once up there, you will be rewarded with spectacular views across Non-Nuoc Beach or My Khe Beach. Alternatively, there's an elevator service (VND 30,000) available for those with physical disabilities.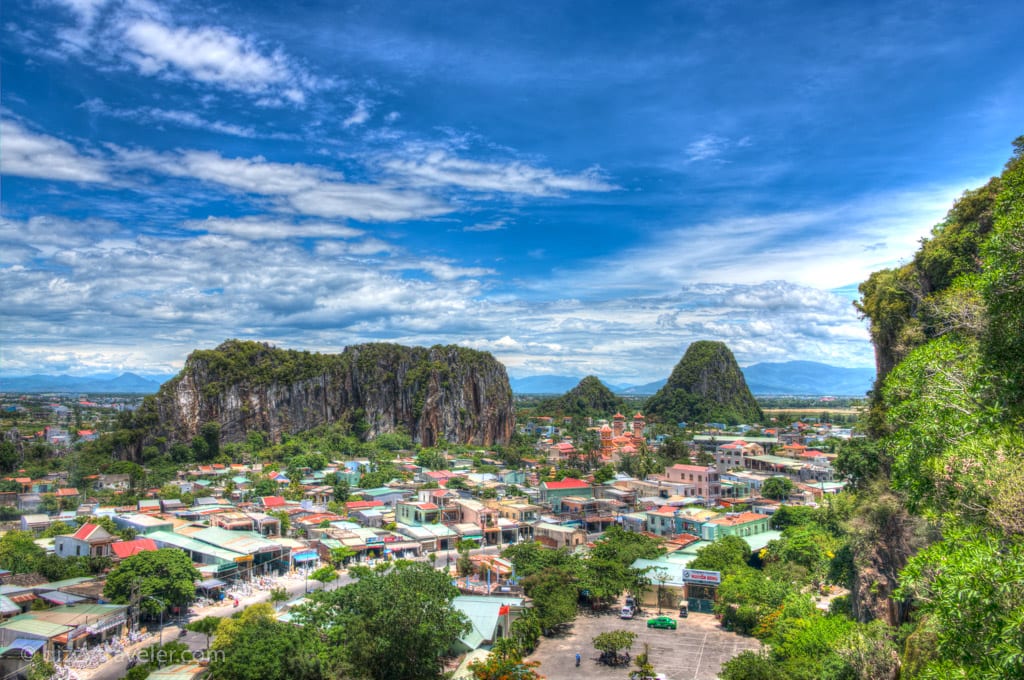 Arrival in Hoi An
From wandering around the town and exploring the countryside — including rice fields, traditional fishing villages, and a beautiful sandy beach — to sporting activities and cooking tours; there's plenty to do in Hoi An to satisfy every member of the family.
Evening Photo Tour in Hoi An
There are a few interesting tours available if you are interested in photography. Morning Sunrise with the Fishermen and afternoon Sunset on the river is most interesting. You will have the opportunity to capture some amazing sceneries, river landscape, portraits of local people for sure.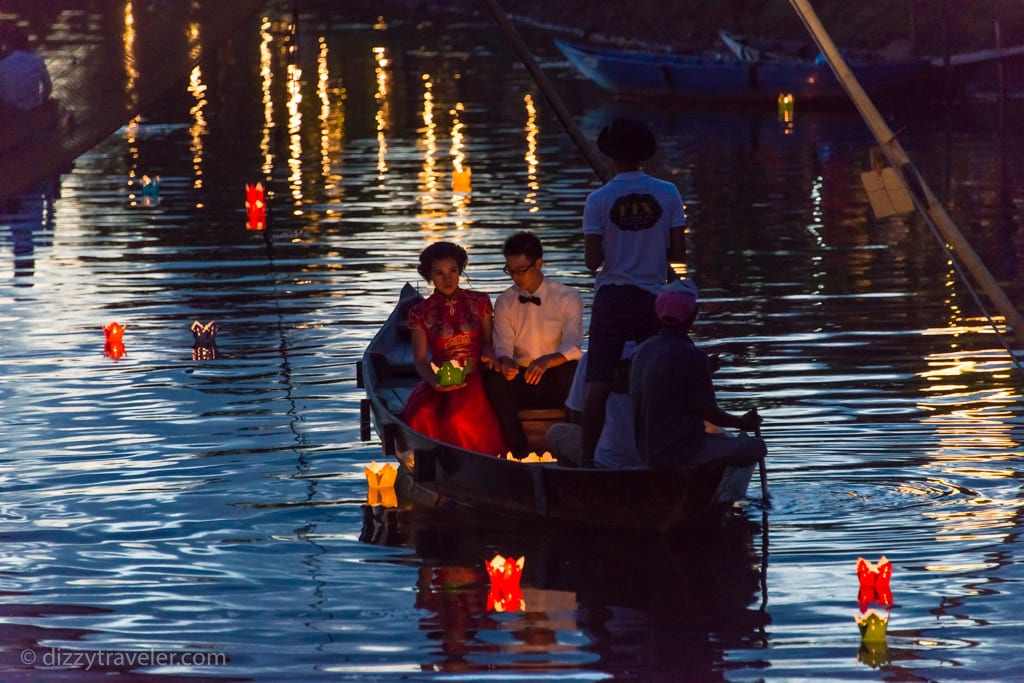 Try Street Food in Night Market
When it comes to open-air eating, pick street food stalls where you can see the food being prepared and cooked. Also, eat where the locals eat!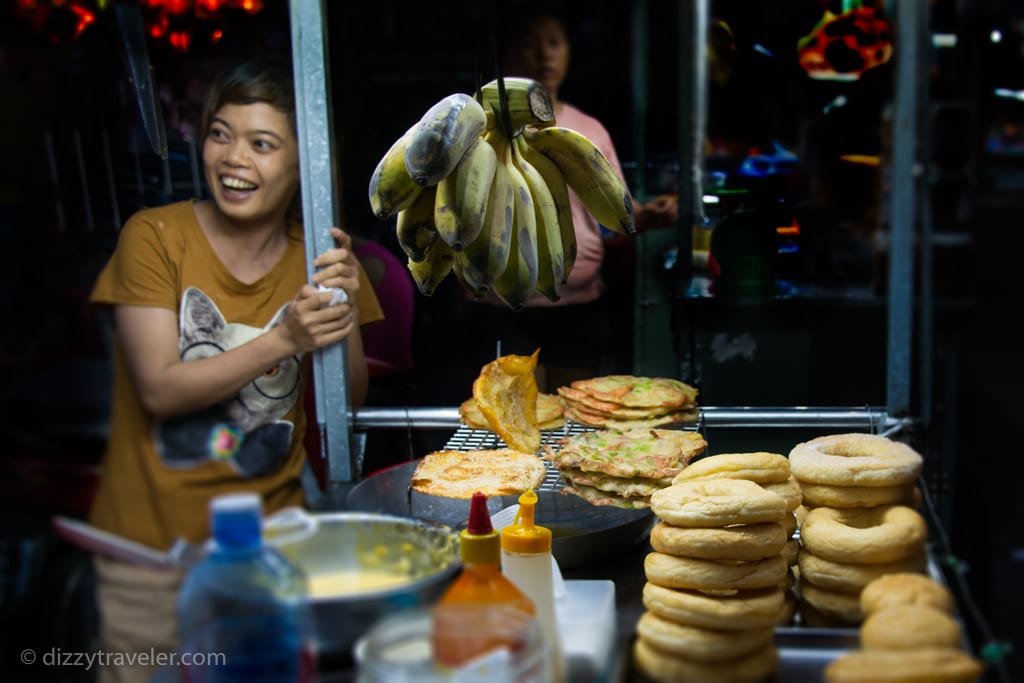 Where Did I Stay in Hoi An
Featuring an indoor pool, Lantana Boutique Hoi An Hotel is just 1,950 feet from Hoi An Ancient Town. Located 5 minutes walk from Japanese Covered Bridge and 0.6 mi from Assembly Hall of the Fujian Chinese Congregation. Danang Airport is approximately 19 mi away.
Places Where Friends Stayed
Hoi An Beach Resort, 01 Cua Dai Street, Cua Dai Beach Hoi An Quang Nam
Nestled between Cua Dai Beach and De Vong River, Hoi An Beach Resort features 2 outdoor pools. Only 45-minute drive from Danang International Airport and 2.5 mi from Hoi An's town center.
Day 6 - Sightseeing in Hoi An
Sightseeing in Hoi An
Early Morning Visit to Hoi An Central Market
By the banks of the Thu Bon River, bustling Hoi An Central Market is certainly worth a look for its authentic slice of Vietnamese life. The best time to visit is in the early morning even though the market is busy throughout the entire day. I was able to experience the negotiation of a fishing auction as the fishermen drop their catch off and the market vendors and locals buyers dive in to get the best fish. Bargaining is one of the art and widely exercised in the wet market.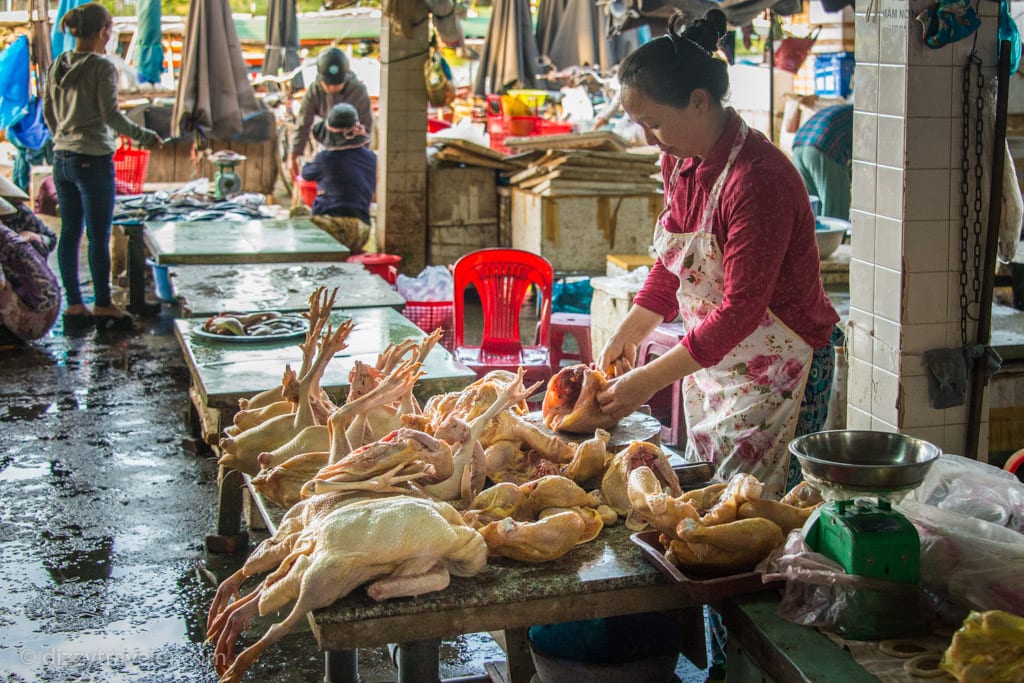 One of the best ways of exploring Hoi An is by bike. Any bicycle Tours will take you off the beaten track and into the heart of traditional Vietnam. With so much to see and experience beyond the main town, getting out into the countryside is a real must-do experience. Visit local businesses and learn about trades like rice making, mat weaving, and furniture engraving. You'll also be treated to some delicious home-cooked food at a local family's home.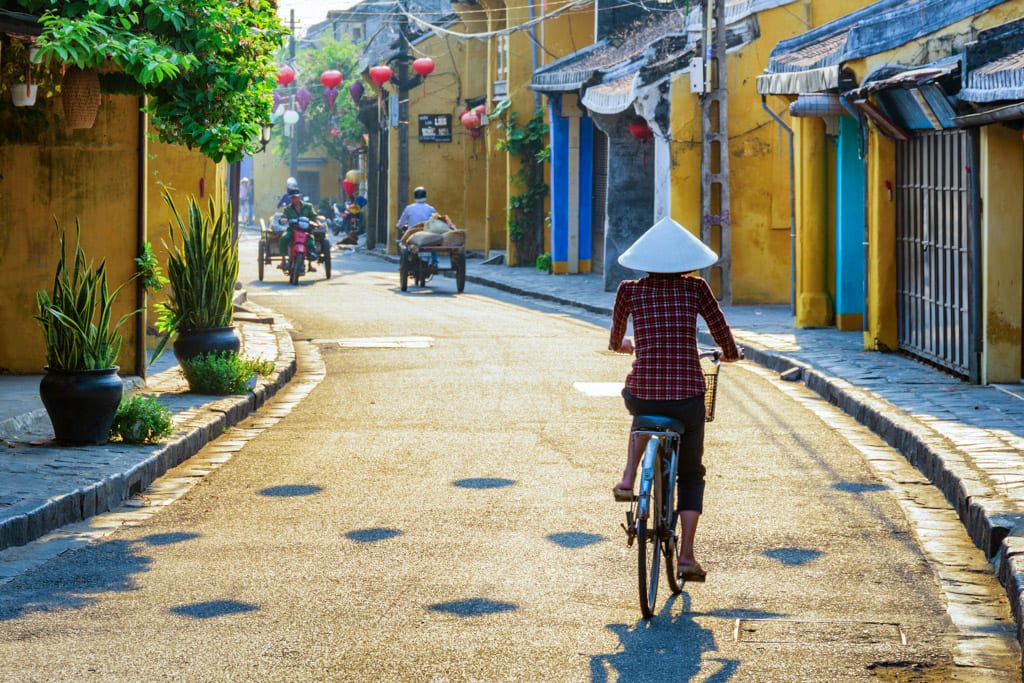 Sunbathing in An-Bang Beach
An-Bang Beach provides a fantastic day out by the sea. It's family-friendly, with clean sand, a gentle slope into the ocean, and numerous places to have lunch and a refreshing drink or two. Less popular than Cua Dai Beach, An Bang is one of the few remaining stretches of beach that remains largely unspoiled by commercial development. Buy a drink or meal at one of the bohemian beachside restaurants here and you'll invariably get a sun lounger and an umbrella for free.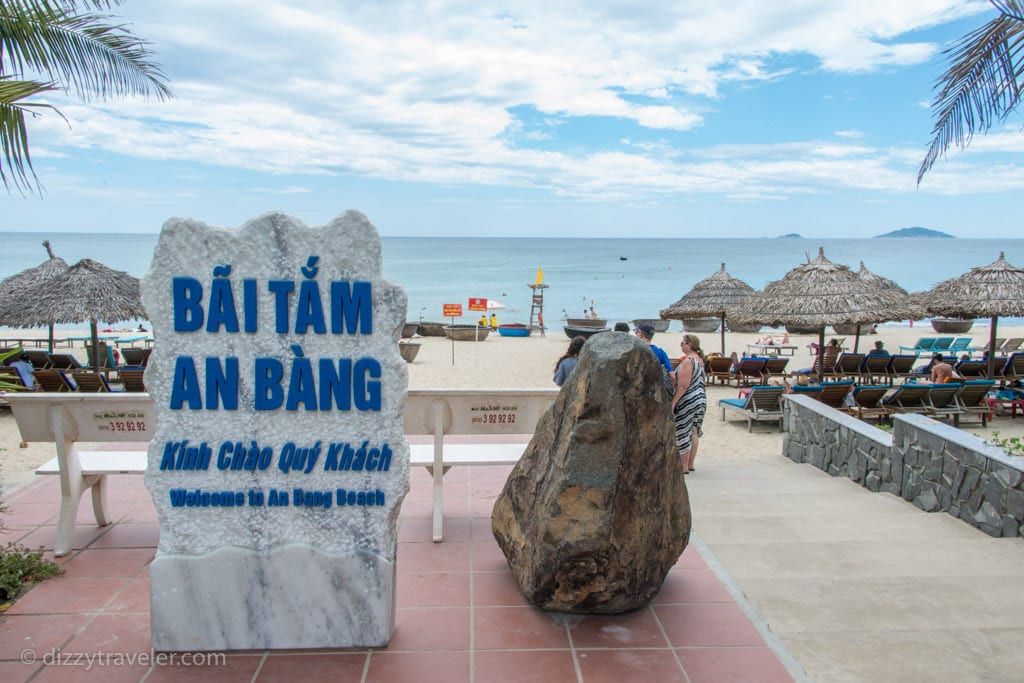 Visit Tan Thanh Beach
Tan Thanh Beach in Hoi-An is quiet and not so crowded – you will definitely have a private beach-like experience. There are a few nice restaurants near the beach which was very convenient. The Lantana Boutique Hotel where I was staying offers a complimentary shuttle service to this beach so it was perfect for us to enjoy the beautiful sunny day on this quiet and clean beach.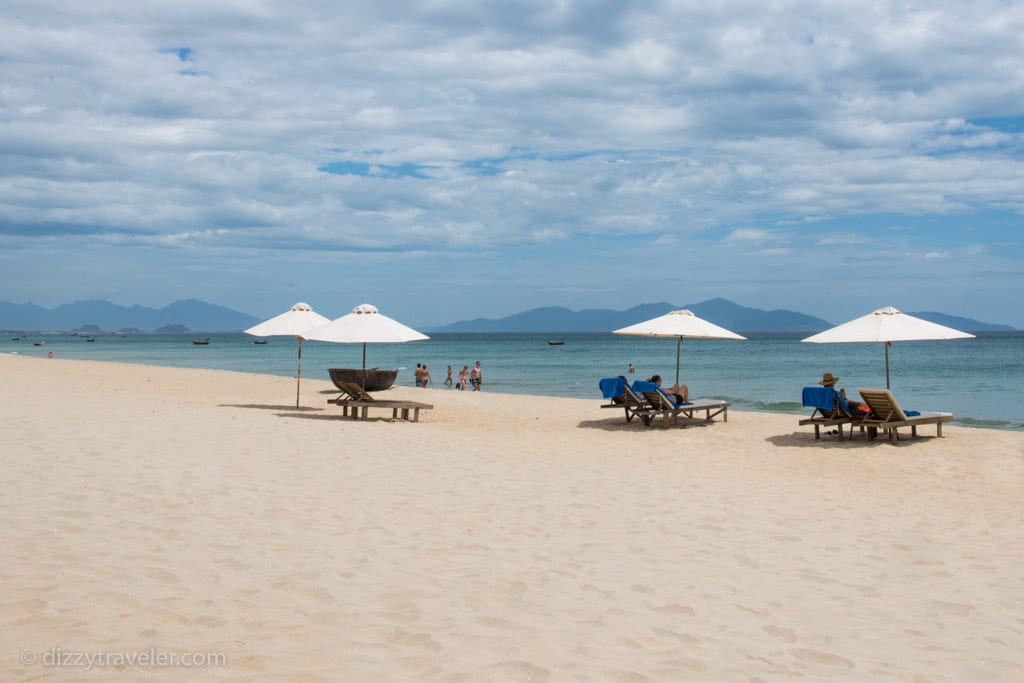 Visit Hoi An Ancient Town
Located on the banks of the Thu Bon River, the Ancient Town is what people tend to conjure up when they think of Hoi An. The UNESCO World Heritage site is a captivating and historic area that's home to some truly remarkable buildings, including temples, old houses and of course, the famous Japanese Covered Bridge. Despite being a well-known tourist spot, the Ancient Town hasn't lost its charm. The architecture and the streets are small and narrow so it's fun to spend hours simply wandering the streets in and out of shops and cafes.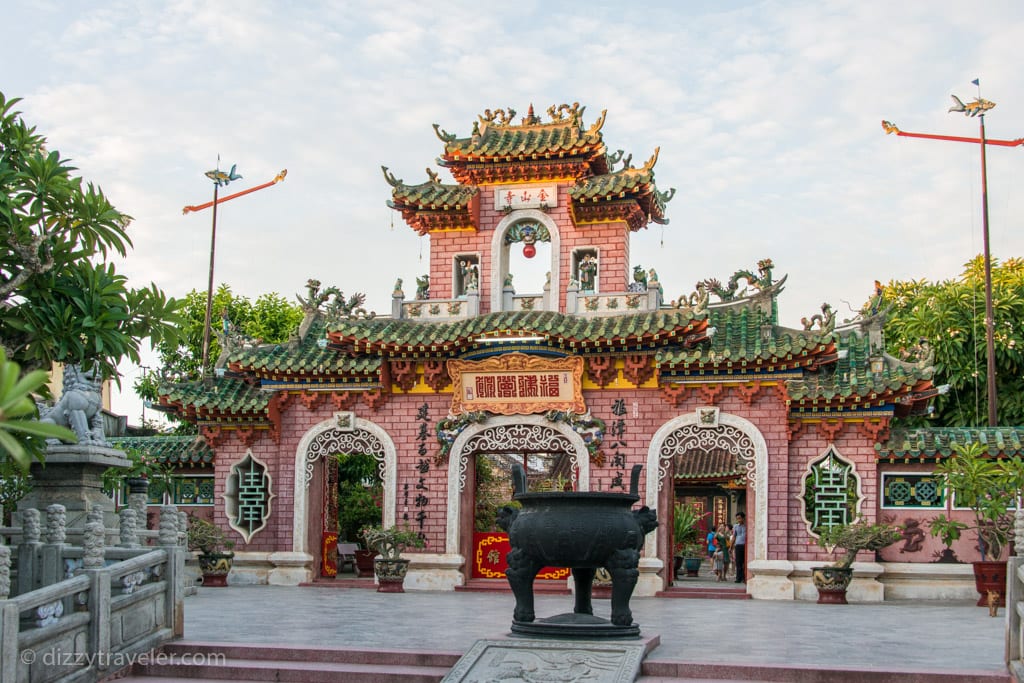 End Your Day With a Dinner Cruise
If you like your evening meal with a view, hop on a Dinner Cruise down the Thu Bon River and enjoy scenes of Hoi An's waterways as you glide along. The cruise offers six set menus and a full bar, plus friendly and attentive waiting staff. The food matches up to the experience and the atmosphere is always fun and friendly.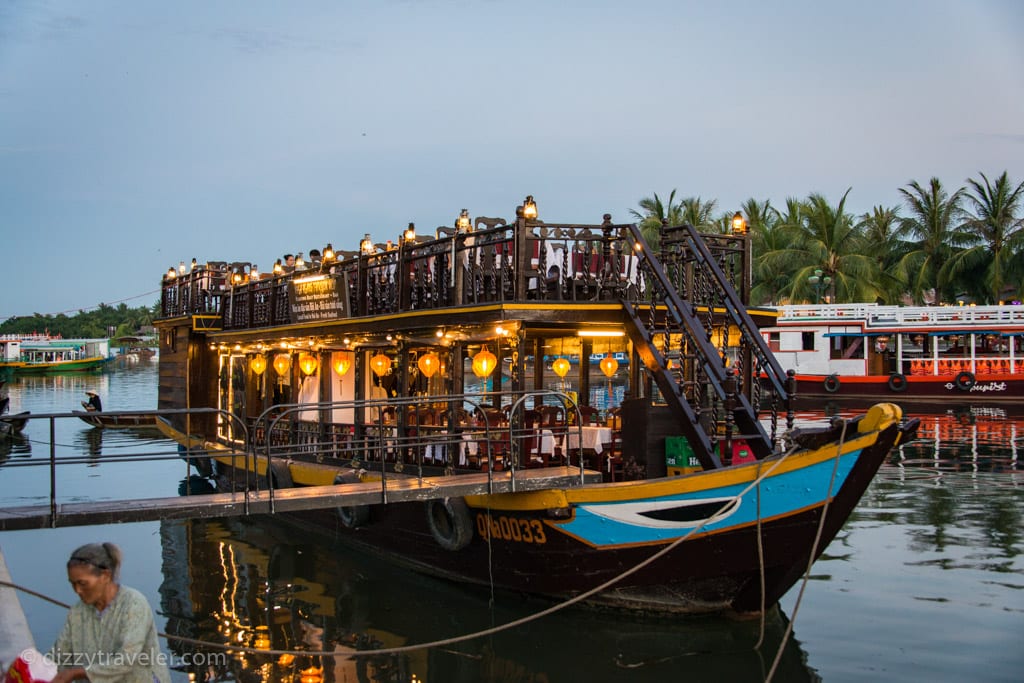 Day 7 - Next Destination - Hue
Early Morning – Heading to Hue
Quick Stop at Hai Van Pass
Hai Van Pass stands at 500m above sea level, making it the highest pass in Vietnam. It's located on the border between Thua Thien-Hue Province and Da Nang City. From there, you can enjoy panoramic views of verdant mountains, Da Nang City, Tien Sa Port, Son Tra Peninsula, and the South China Sea. The pass also hosts a battered French-built fort that was later used as a bunker by South Vietnamese and US armies during the Vietnam War.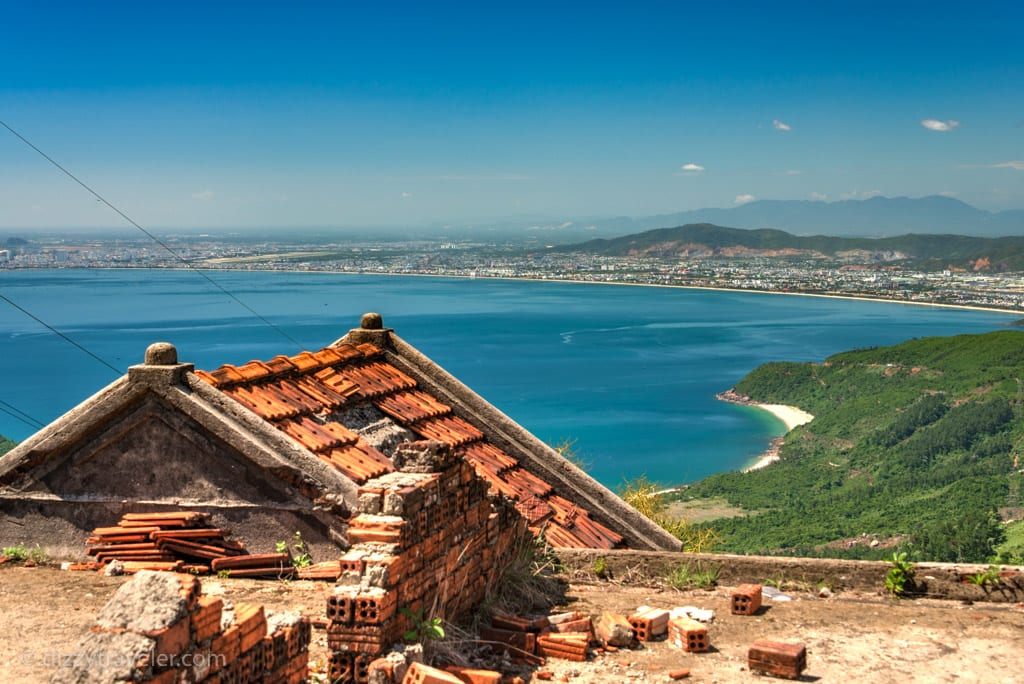 Lunch Stop At Thuan An Beach
It is definitely worth visiting one of the best beaches located about 14 km outside of Hue. The beautiful beach on a long strip of white sand is best for sunbathing, swimming, and enjoying local food and drinks at the beachside restaurants.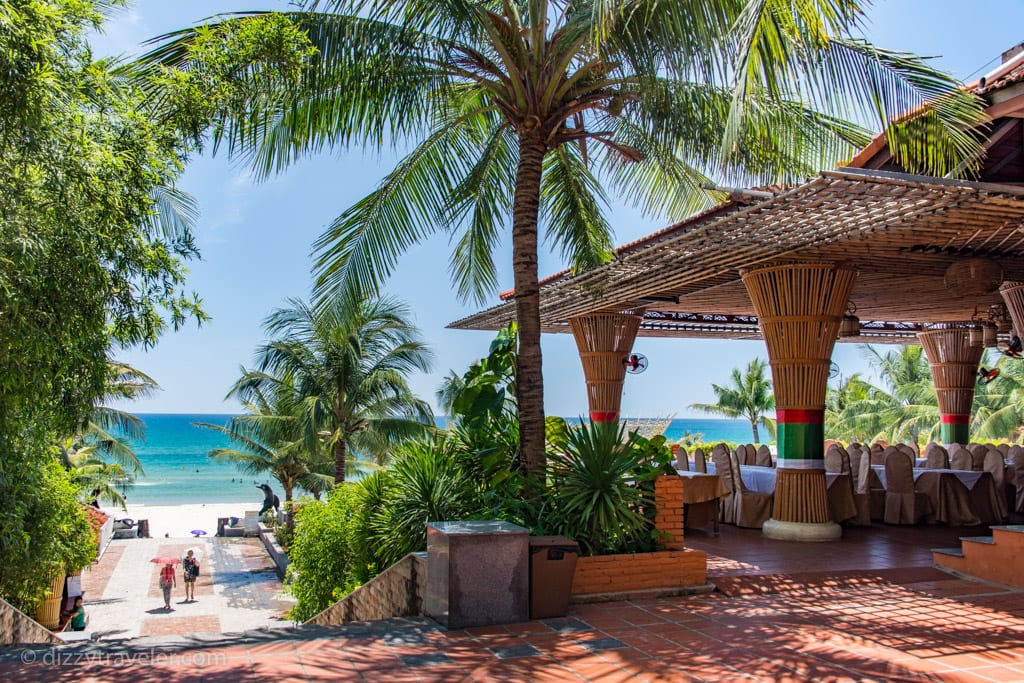 Arrival in Hue
Stroll Along The Perfume River
The waterfront hike along the famous Perfume River is one of the best things to do in Hue. Early morning is perfect for jogging and watching the scenic beauty along the way; whereas, the evening is best to enjoy the sunset, scenic dragon boat ride, renting a paddleboat, or taking a dinner cruise among a wide verity of activities.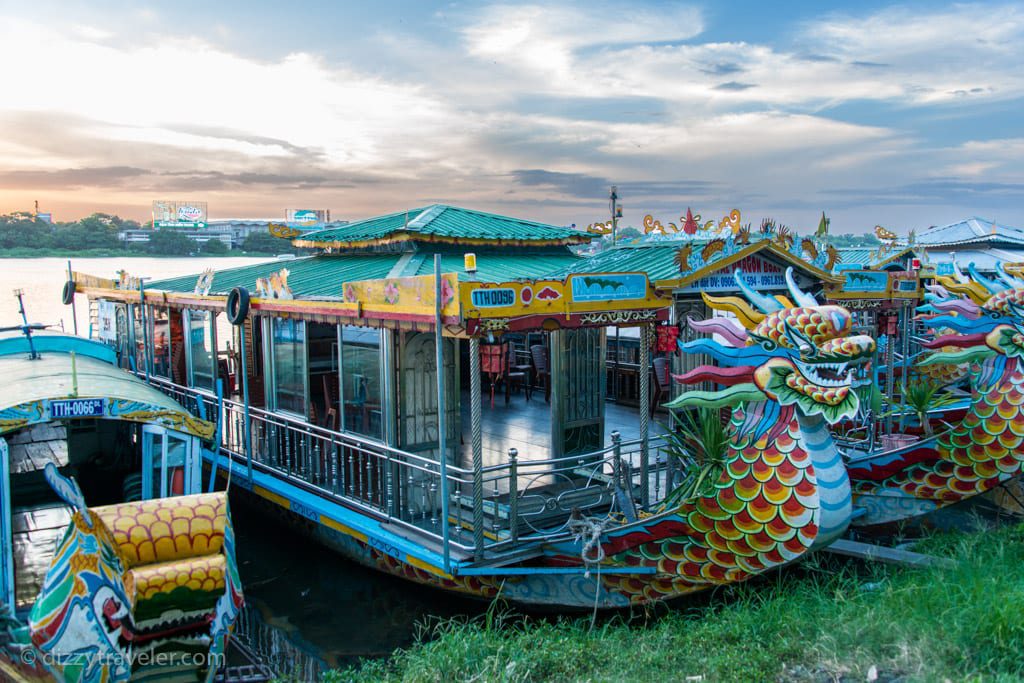 Perfume River Boat Ride
Despite the uncomfortable hot and humid weather the boat trip eventually became an enjoyable one. The view at the dusk especially the rolling mountains in the horizon and the sunset behind the Truing Tien Bridge from the Perfume river was priceless.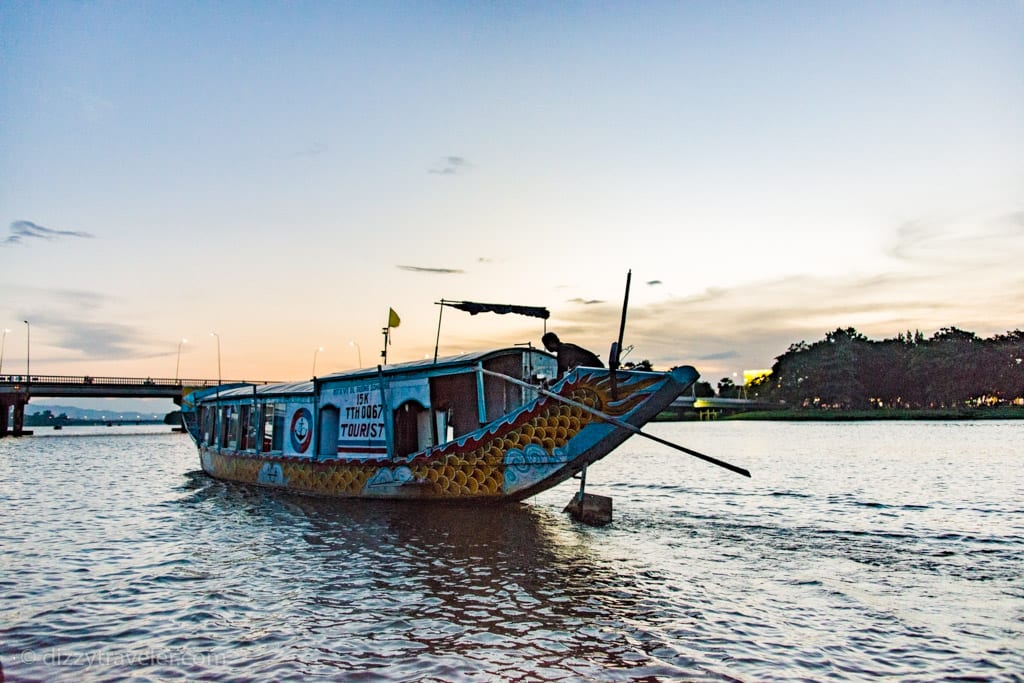 Where Did I Stay
Muong Thanh Holiday Hue Hotel, No. 38, Le Loi Street, Hui
This hotel is right next to the Perfume river and since I was staying on the 8th. floor room with a window and open balcony overlooking the city skyline and the amazing view of the Perfume River and the mountain range so it was as perfect as it could get.

Saigon Morin Hotel, 30 Le Loi Street, Hue
Centrally located in Hue, Saigon Morin Hotel overlooks the Perfume River and the historic Truong Tien Bridge. Featuring French colonial architecture, the hotel has an outdoor swimming pool and three dining options. The property has a garden and provides free public parking at a site nearby.
Day 8 - Sightseeing in Hue
Hue's ancient bridge of Truong Tien
I was thrilled to cross the historic bridge which has become part of the history of Hue city. Over 100 years have gone by, the graceful bridge still reflects on the Perfume River to witness all the ups and downs of history and countless 'scars of time' and becomes a romantic symbol of the ancient capital.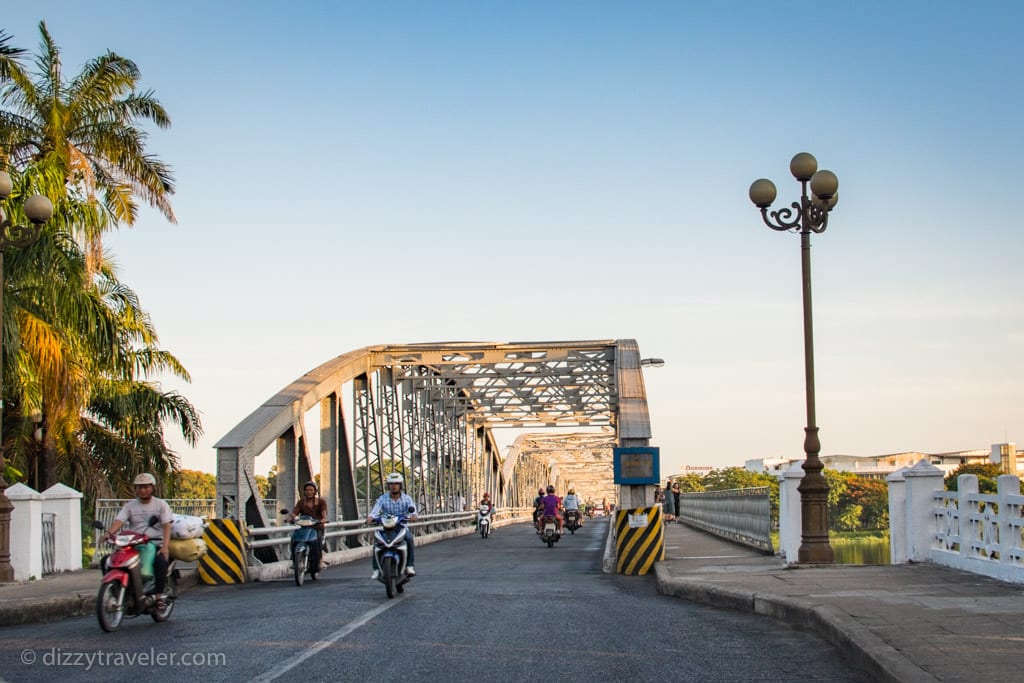 Imperial Citadel
This sprawling complex in Hue was where the Emperors of old would have lived and conducted all their business. There was even a part of the citadel known as "The Forbidden Purple City," which, much like China's Forbidden City, was reserved for only the most important people in Vietnam.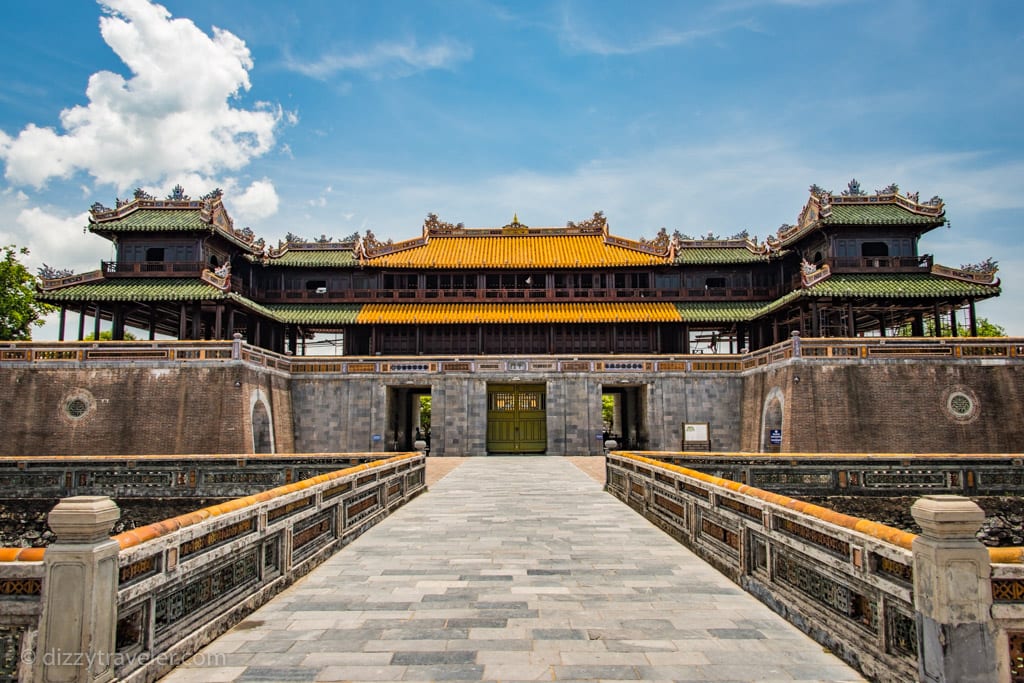 Visit The Tomb of Khai Dinh
Khai Dinh, original name Nguyen Bun Dao was the 12th Emperor of the Nguyen Dynasty in Vietnam, ruling from 1916 to 1925. The Emperor started building his tomb in 1920 and took about 11 years to complete. He died in 1925 before it was finished, so his son, the Emperor of Vietnam Bao Dai, finally completed the tomb in 1931. I highly recommend visiting this tomb.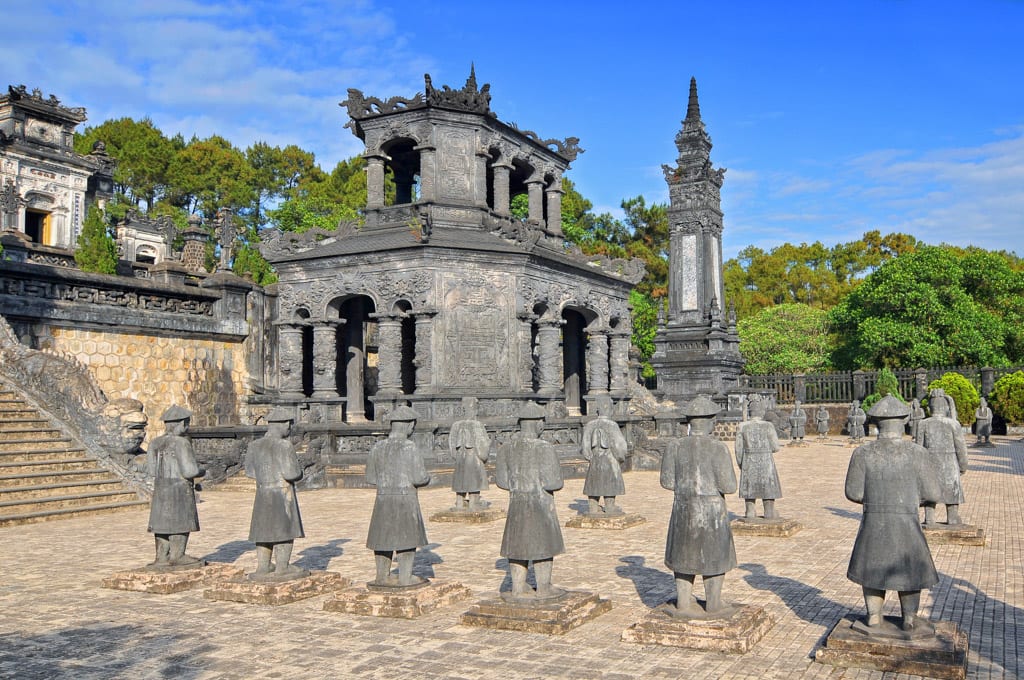 Thien Mu Pagoda
This pagoda was built in 1601 located at Ha Khe hill, on the left bank of the Perfume River, in Huong Long village, 5 km from Hue city. You could have a beautiful view of the Hue city and the perfume river from this place. The pagoda is surrounded by flowers and ornamental plants.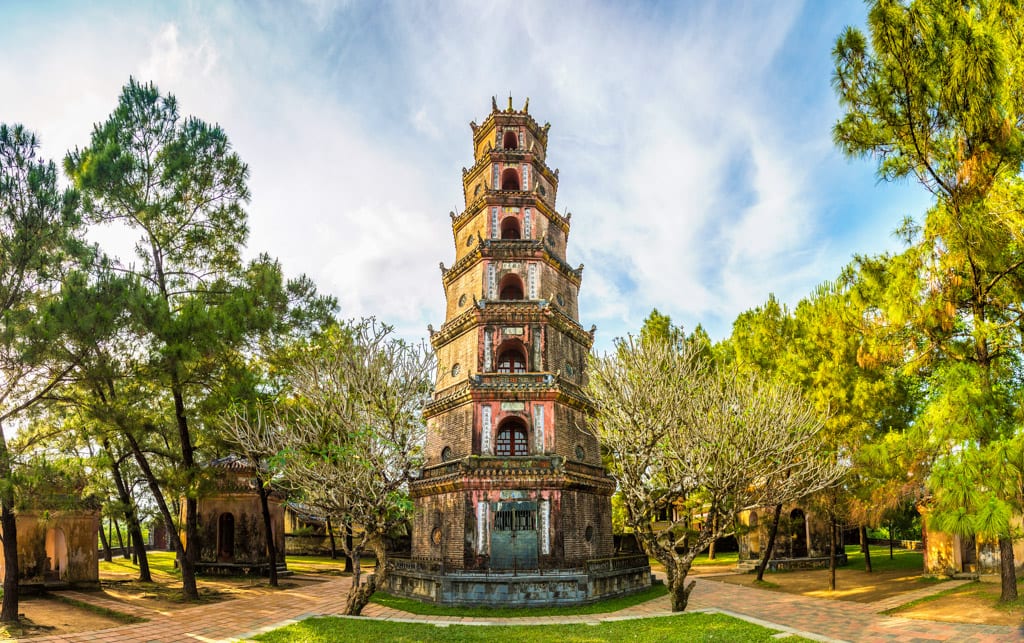 Day 9 - Road Trip to Paradise Cave
Road Trip to Paradise Cave
The Spectacular limestone Paradise cave is located in Phong-Ka Bang National Park, a UNESCO World Heritage Site, 146 miles (236 km) north of Hue. The first kilometer of the 31 km long Thien Duong Cave is accessible to visitors is a must-see destination in Vietnam. The 360 million years old rock formations are the longest and most stunning cave in Phong Nha. If you have the liberty to stay there longer, then there are ample of other exotic activities that will make your long vacation unforgettable.
Quick Stop – The Church Of La Vang
On our way, we stopped at the church of La Vang, located about 58 km from Hue ancient capital, a great stop to visit this Catholic church. Our lady of La Vang is a major pilgrimage center for Catholics in Vietnam worth to pay a visit.
DMZ On The Way
The 17th Parallel is where the Geneva Accords of 1954 partitioned Vietnam into north and south. There are old guard towers on both the south side and a museum on the northern side that bears a lot of memories. We passed the DMZ area crossed the Ben Hai River and Hien Luong bridge that may give you an idea about how life once was for the local people during the hard times of the American War.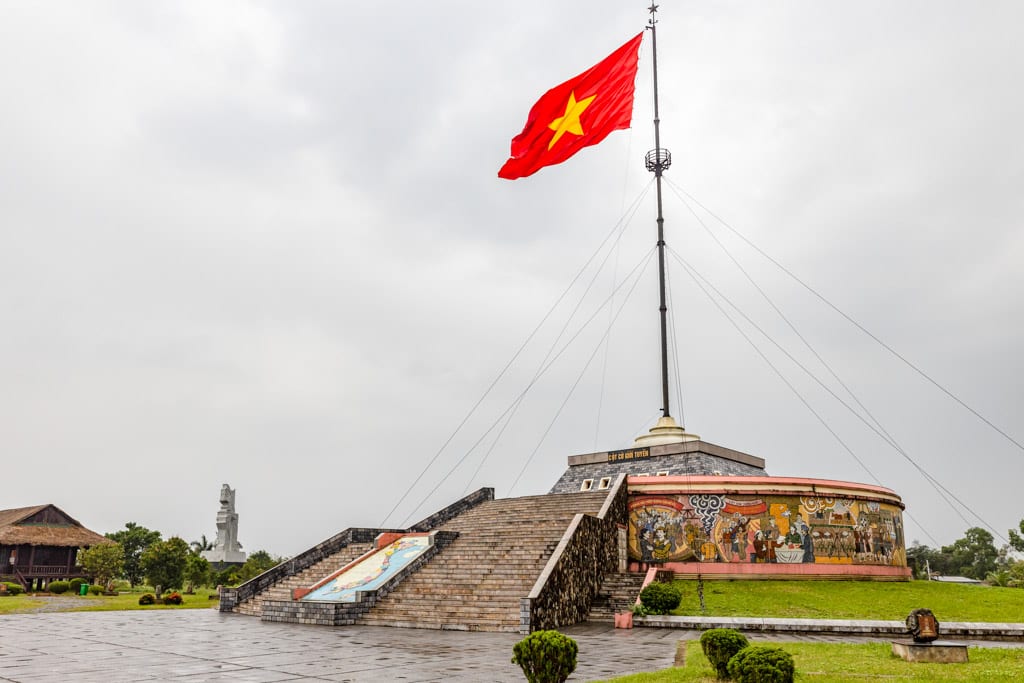 Thien Duong (Paradise) Cave
It is around 30 minutes drive from Son Trach town which can be accessed by motorbike, taxi, bus. Some claim that this is among the most beautiful caves in the world. The entry fee is 250,000 (US$ 12.00), then take an electric golf cart to the base of the stairs. Approx. 500 stairs up to the entrance of the cave, then another 100-200 stairs down inside. Paradise cave is absolutely massive and the wooden pathway will lead you through the cave, I believe it's about 1.1 km long pathway.
One could spend hours here, marveling at the shapes and seeing various things in them, subjectively, much like cloud, star-gazing, or paradise like a waterfall.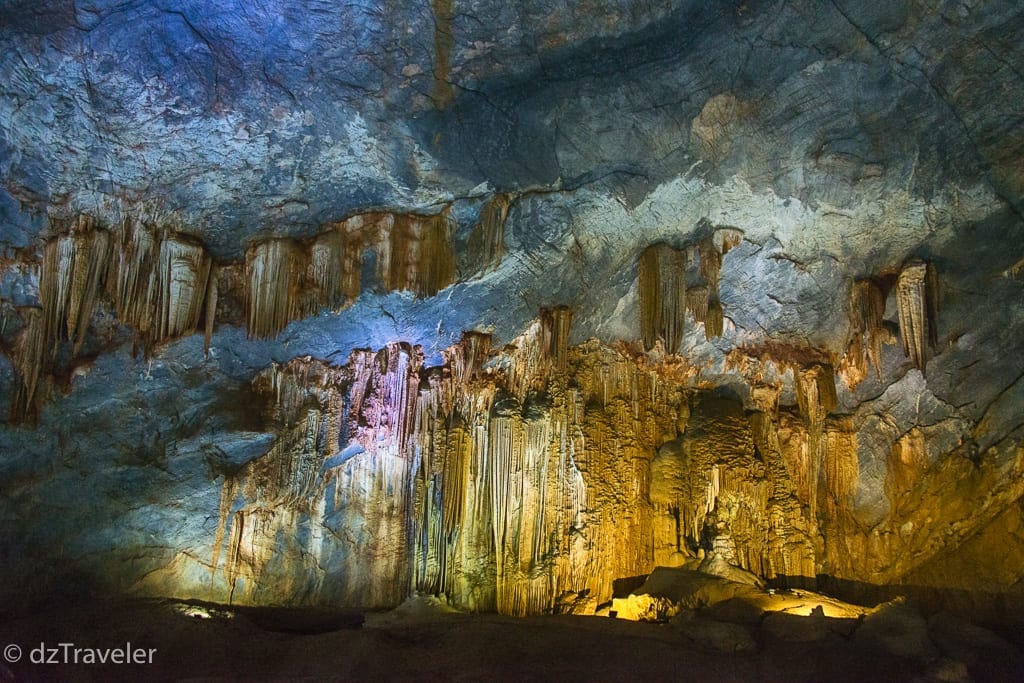 Phong Nha and Tien Son Caves
Phong Nha cave and the Thien Son cave can be visited during the same trip as they are close to each other. These caves are extremely beautiful and very large. Renting a boat is a requirement as there is no other way to get to the caves. It will cost you 350,000 Don't (US$ 17.00) to rent a boat, but it can be shared with other tourists. The boat ride itself is scenic and exciting.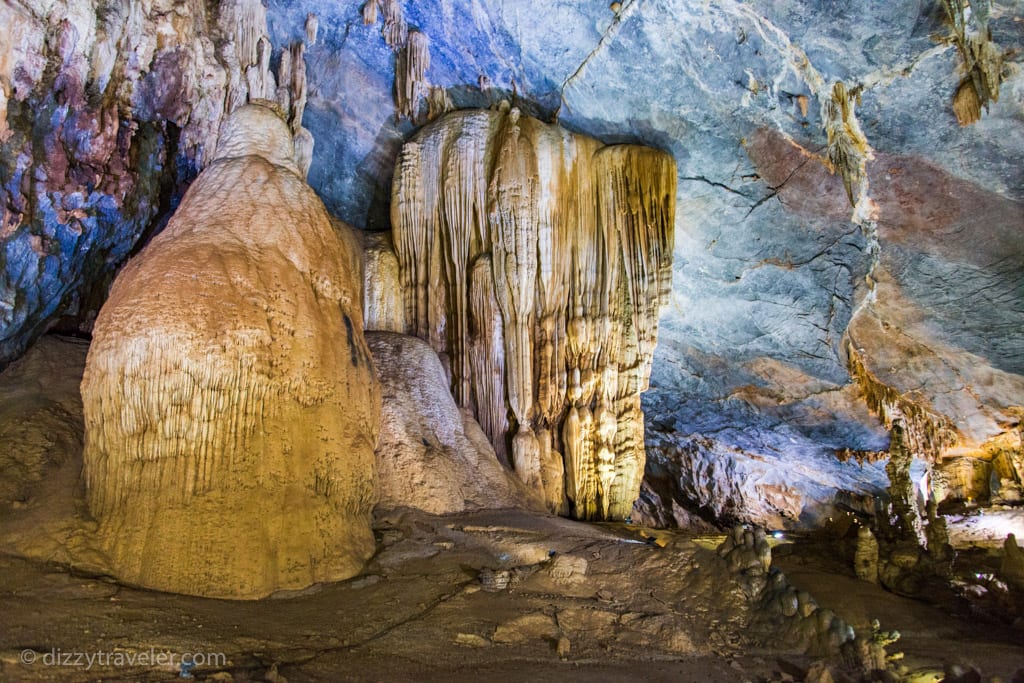 Where Did I Stay In Phong Nha
This hotel on the main street surrounded by many restaurants, hotels, guesthouse, open market, and the main bus station. The beautiful Son river is only a few minutes walk from the hotel.
Note: Hotel is required by the local police to keep hold of your passports during your stay here. They keep them securely locked in a safe, and ask for your understanding in this matter.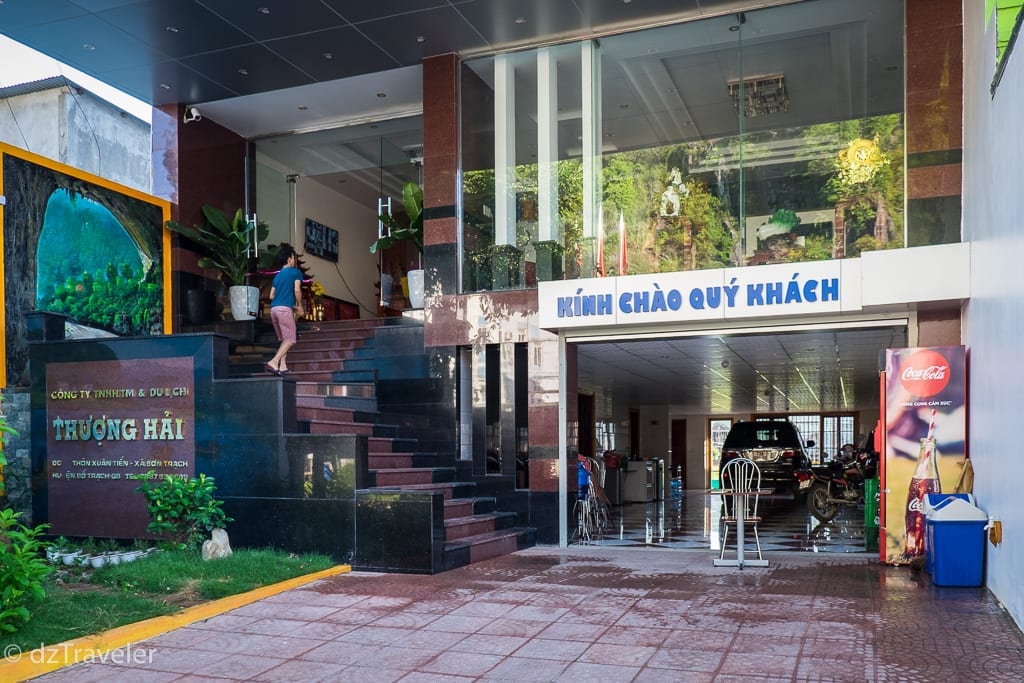 Day 10 - Sightseeing in Phong Nha - Return to Saigon
Visit Local Market
If you are staying in Son Trach, just get up early in the morning and head towards the Son river. The market is by the river and a great way to meet locals and traditional lifestyles. I saw wild chickens and ducks that are not caged. Early morning but still trading was in full swing one of the attractions in the wet market was to see a different kind of fresh catch right from the Son river.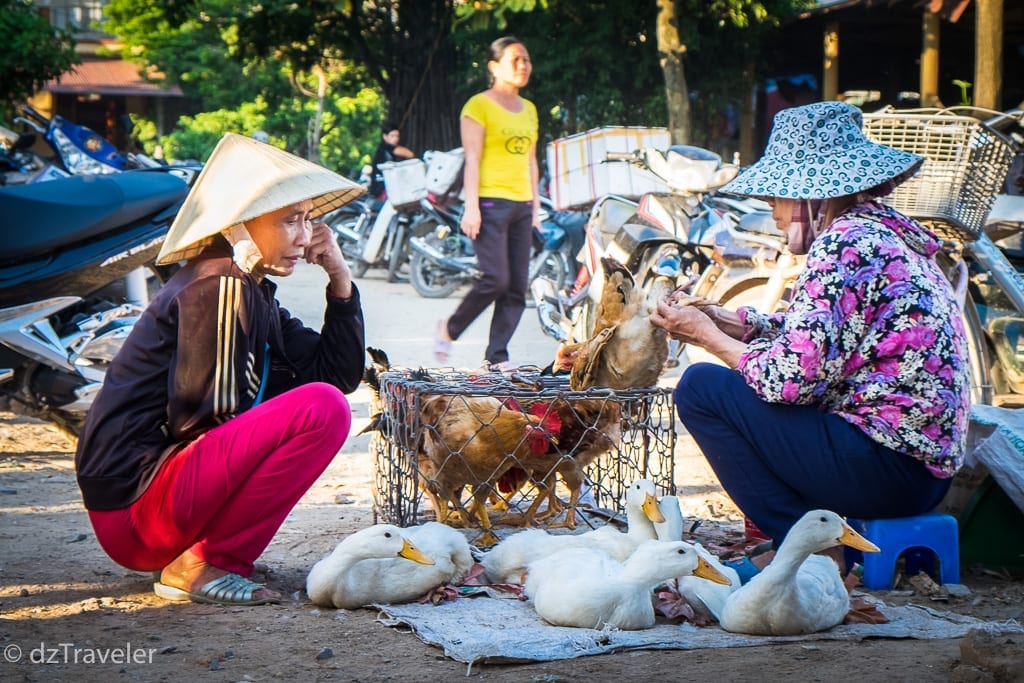 Nuoc Mooc Spring Eco-Trail
Can be accessed by motorbike or by taxi 12 km southwest of Son Trach on the same road to the Thien Duong (Paradise) cave. The ticket is 80,000 dong (US$ 4.00). A beautiful hike takes you along the spring, on stone paths and bamboo bridges inside Phong Nha-Ke Bang National Park. You will pass the orchid garden, where it eventually meets with the Chay river. It is a safe and relatively easy walk through the Park where visitors are encouraged to relax and swim in its pristine clear waters with an additional fee.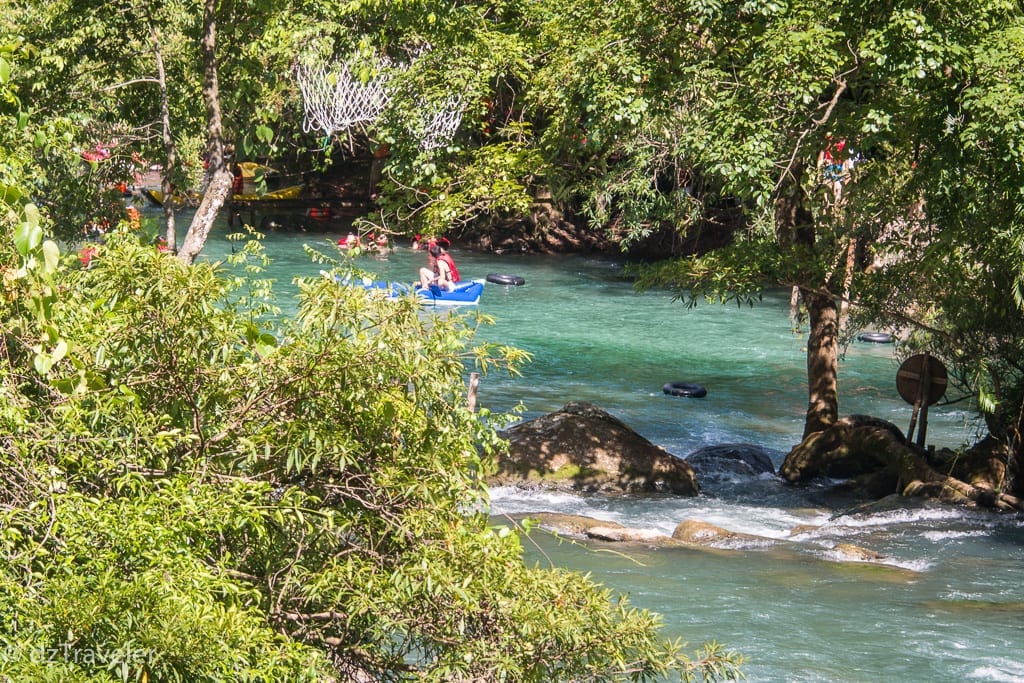 Dark Cave (Hang Toi)
A real adventure cave, that you explore with headlamps and still without large tourist groups to spoil the experience. You can explore this spectacular cave with a tour group or independently, and after kayaking across the river, enjoy swimming through the cave with your headtorch leading the way, then explore a narrow passageway that leads to a mud pool. One of the attractions is having a mud fight in the mud baths deep in the cave and then washing clean with a swim in the lake inside the cave.
The entry fee is 150,000 dong ( US$ 7.00). It can be accessed by boat from Phong Nha – Ke Bang Tourism center by dragon boat for 350,000 dongs/boat (max 14 people can share the cost). By motorbike, it's on the same road towards Paradise cave.
Flight From Dong Hoi Airport to HCMC (Saigon)
Domestic flights are cheap in Vietnam if purchased few days in advance. VietJetAir and JetStar stand out among many other airlines.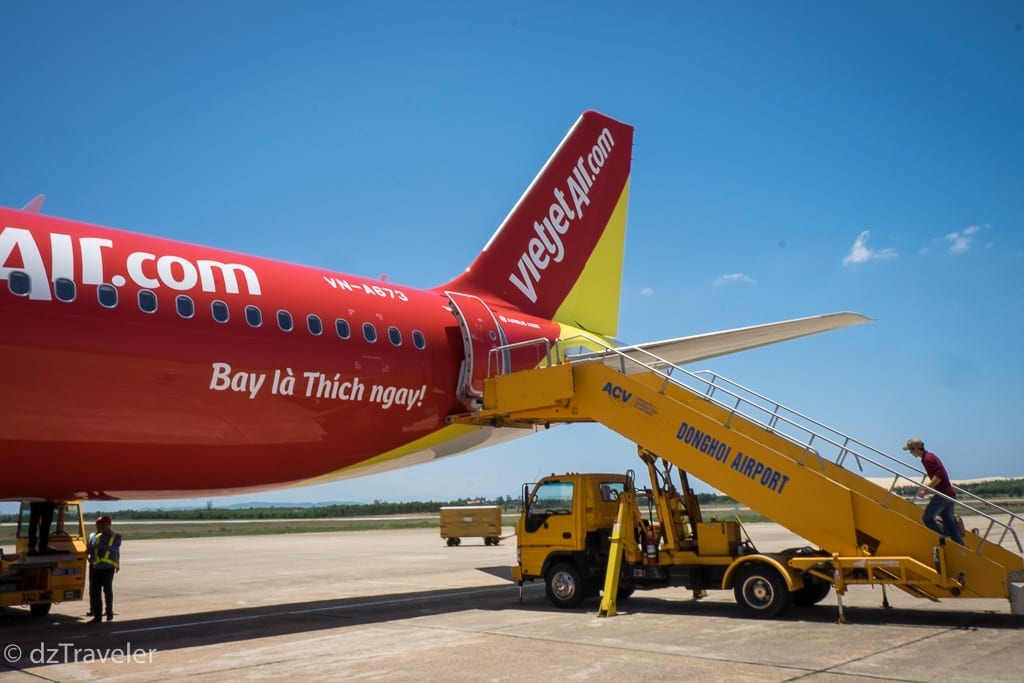 Where I Am Staying In Ho Chi Minh City
This hotel is centrally located in Dist 1, only one block away from the Saigon River. I was on the 5th. floor with a great view of the river. Rooms were exceptionally clean so were the bathrooms. Rooftop pool was excellent, great view from the top as well. The staff was lovely and helpful in arranging taxis and breakfast to go. Breakfast was included and a variety of delicious items to choose from including local traditional food.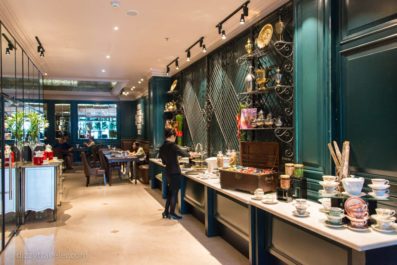 Day 11 - Day Trip To Mekong Delta
Day Trip To Mekong Delta
A day trip to Mekong Delta was the perfect way to start my southern Vietnam adventure and experience the countryside. That is where the great river splits into trails of canals, waterways, and leading through islands, one of the beautiful places to visit while in Vietnam. Besides its rich culture and natural beauty, I enjoyed visiting floating markets, local cuisines, and locally produced delicious tropical fruits.
Boat Trip Through The Canals
Our boat was cruising through the winding canals between lines of coconut trees, palm trees, mangrove forests had to duck once in a while to avoid hit by the tree branches. I was trying to enjoy the moment knowing that not all parts of the tour would be as interesting as it is. I hate to waste time going to outlet centers for coconut candies, wine, or tea, but what can I do its part of the package and don't blame them as they also need to make some extra bucks.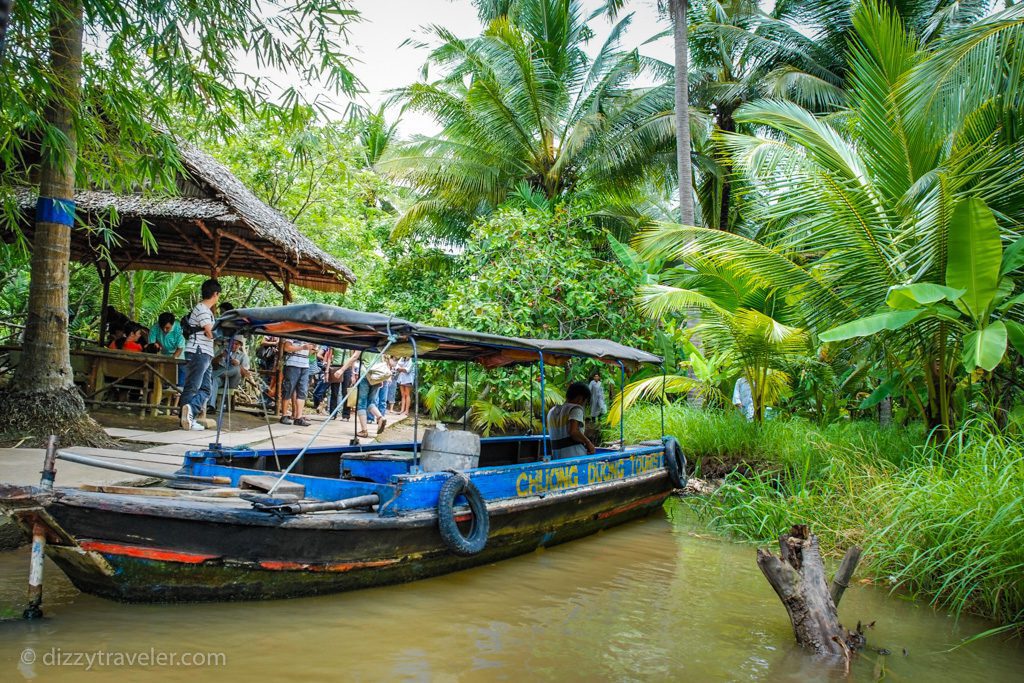 Canoe Ride Through Canals
Another interesting part was when we went for a canoe ride through beautiful waterways narrow canals and experienced the same Mekong I saw and read in my 7th-grade classroom. I also enjoyed the Vietnamese music show and having a variety of colorful local fruits.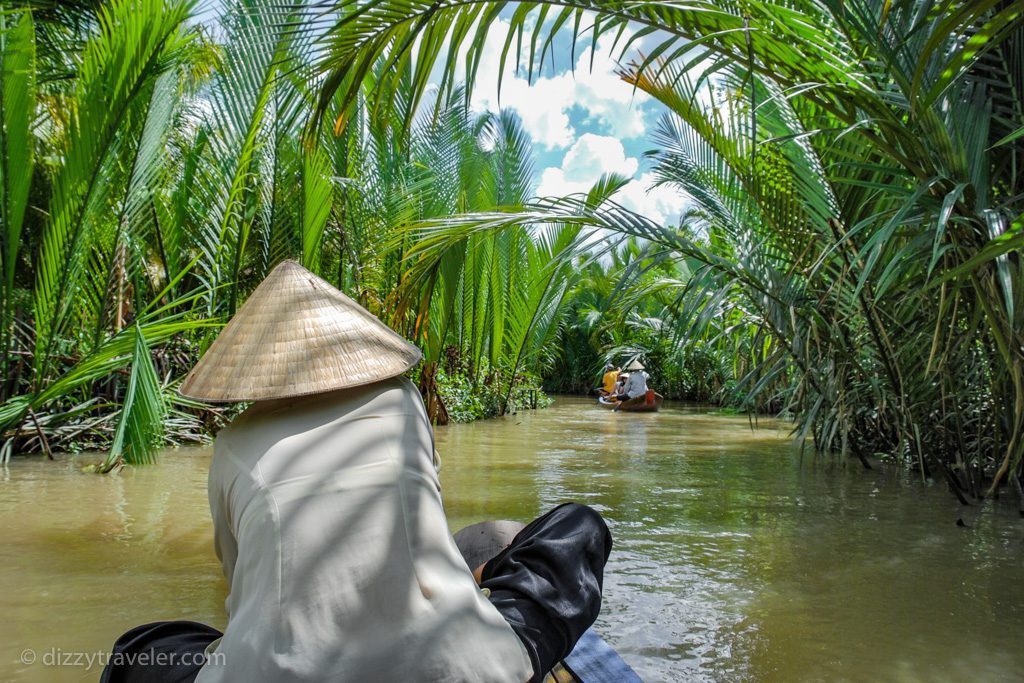 Returning to HCMC (Saigon)
Day 12 - Return Back To USA
Early Morning Ride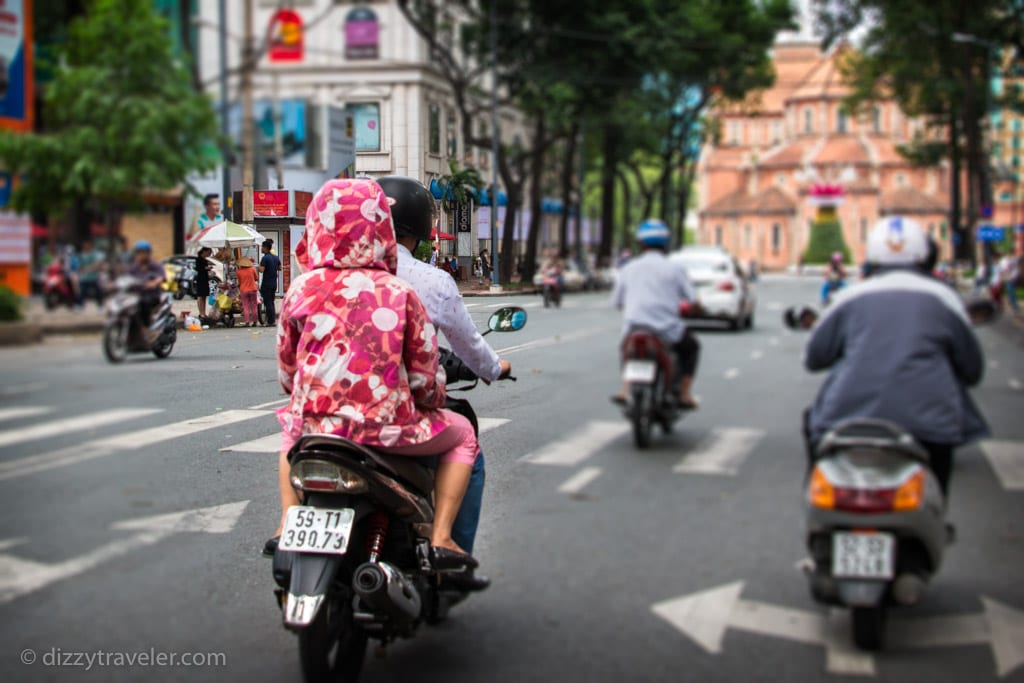 Flight Back To USA
After a fantastic 11 days trip in the Central Vietnam it's time for me to return back home.
Food I Have Tried In Vietnam
Vietnam is often considered as food heaven of Asia for it's best authentic regional food. If you are looking for a delicious royal Vietnamese food or great authentic street food and can't make up your mind, make sure to check out.
Hue Pancake One of the famous street food in Hue Vietnam.
Delicious Nem Lui – Grilled chopped meat – popular Hue street food.
When we talk about food in Hoi An or Hue, it would be a crime not to acknowledge Bun Bo Hue.
Local Beer Huda, Saigon, Hoi An that I have tried in central Vietnam.
Banh Xeo is one of the most favorite local specialties in Da Nang.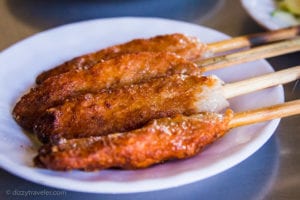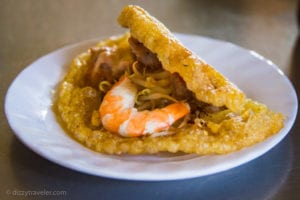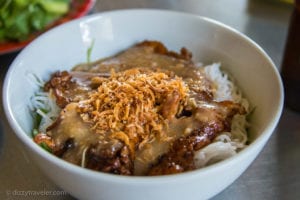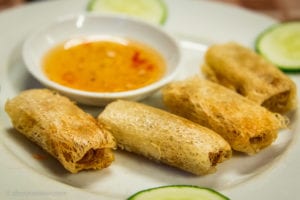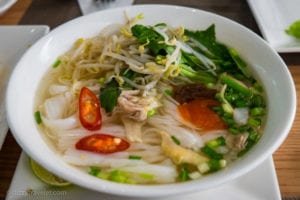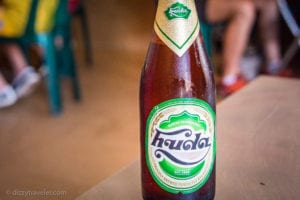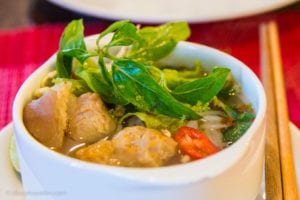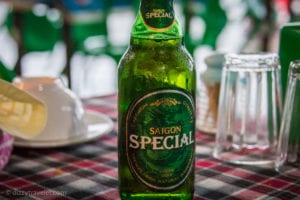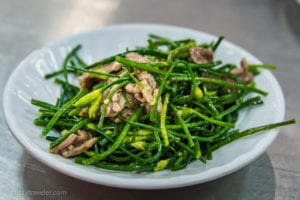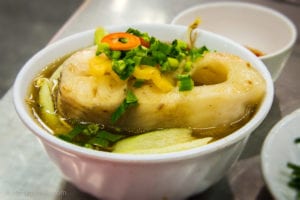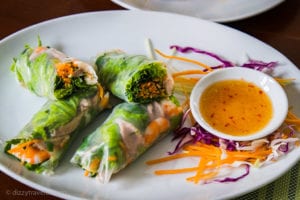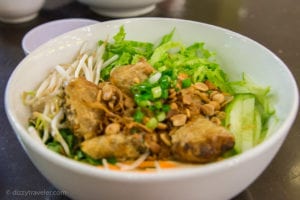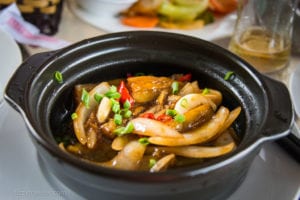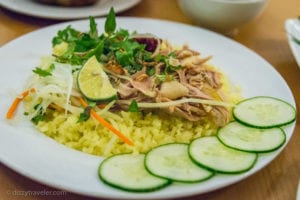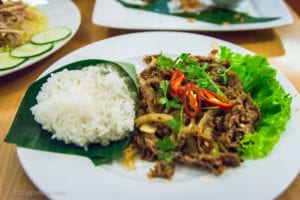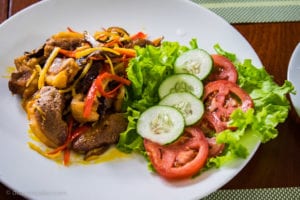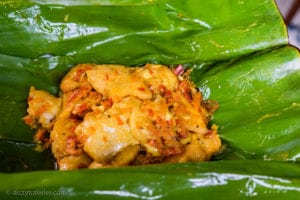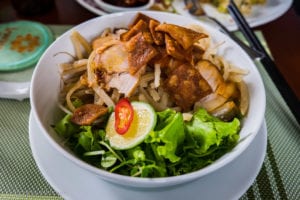 Helpful Information
The best time to visit Ho Chi Minh City is between December and March when temperatures vary between 24- 26°C (75 – 78°F). During this time weather becomes very mild and beautiful with moderate temperature, less rain, and warm sunshine. Perfect for the beach when the sun is out all day, waters are calm, and lifeguards readily available from 05:00 to 20:00 daily. This area only has two main seasons; rainy and dry seasons instead of four seasons like in Northern Vietnam.
Many avoid visiting Ho Chi Minh City between September – January when it rains continuously may occur typhoon and flood may also disrupt your planned trip.
December – March daily average temperature is between 24 – 26 degree Celsius ( 75 – 78 deg F)
June – August The highest temperate may hit 38 degrees Celsius ( 100 deg F) during the day.
Tan Son Nhat International Airport (SGN) is the largest airport in Vietnam. It is only about 4 miles (7 km) north of District 1 (city center). I found it most convenient to fly to HCMC from Da Nang, Hanoi, Bangkok, Hong Kong Singapore, Kuala Lumpur, Beijing, Siem Reap, and many other major cities. 
In addition to flying to HCMC Airport, there are several other ways to get to Ho Chi Minh City.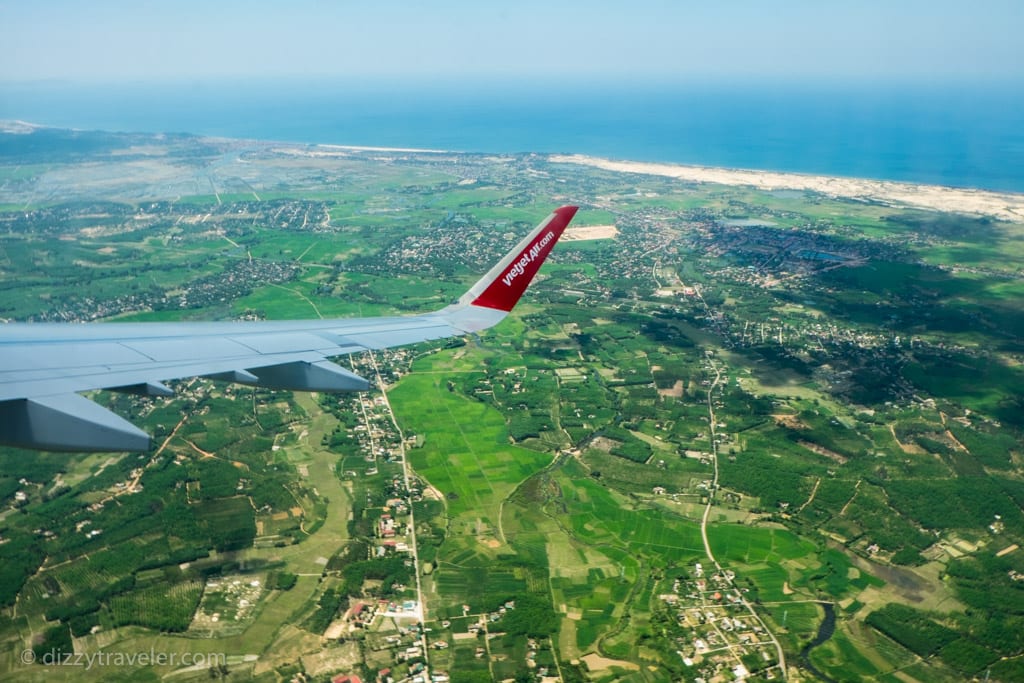 By Train
Saigon railway station is located in district 3; Ho Chi Minh City is about 2 miles (3.4 km) from District 1. Train in Vietnam is a great way to travel between cities, and it is popular among tourists. You can check here for train tickets.
Ho Chi Minh City (HCMC)
 by Bus
Ho Chi Minh City is well connected to most of the major cities in Vietnam by a widely traveled bus service. Bus from HCMC to Da Nang takes about 20 hours, you can check here for bus tickets. 
By Bus from Phnom Penh to Saigon
One of the most common ways to travel between these two countries is by bus. In fact, many companies offer direct bus service between Phnom Penh and Ho Chi Minh City for as low as $10. the newly-renovated road and the service are both pretty fast and affordable.
The driving distance between the two cities Phnom Penh and Ho Chi Minh City is only 150 km. Usually, a bus ride takes about 6 hours, including crossing the Moc Bai – Bavet Border. So, considering all the excitement of crossing the international border and the opportunity of seeing the countryside, I planned this trip during my Cambodia visit.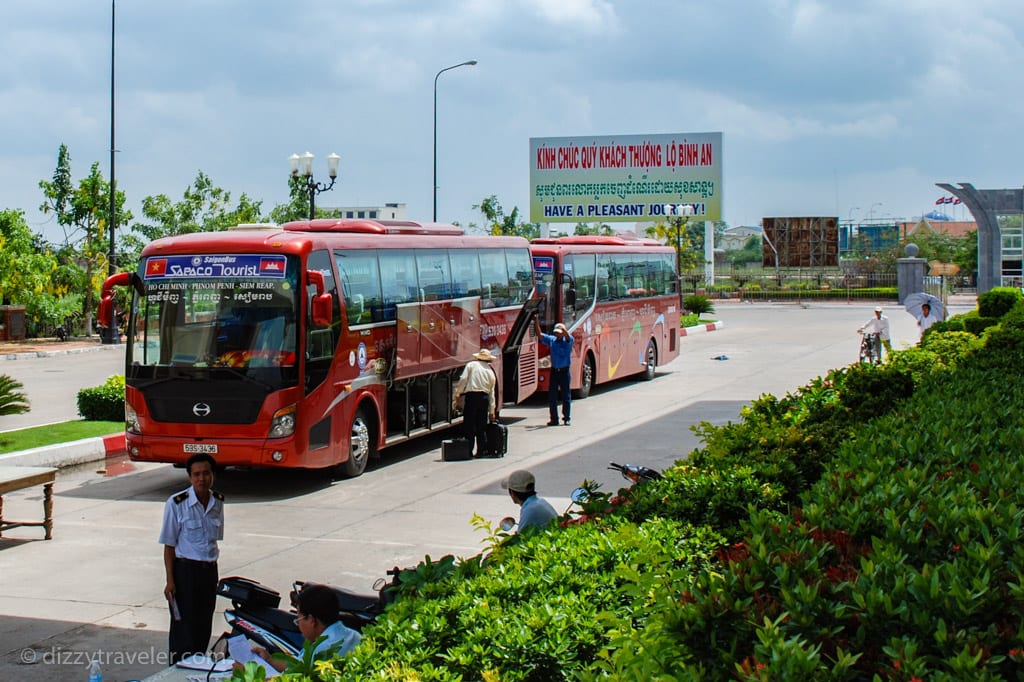 xe om (pronounced, "say ohm")
Considering safety and convenience, most tourists on their trip to Vietnam often choose a private car with an English-speaking driver, but of course, it comes with a price tag that can be unnecessary, especially if you are traveling solo. For solo travelers, "xe om" is a good option that refers to "motorcycle-taxi," which is the primary means of transportation in Vietnam, and it is the cheaper and more interesting way for tourists to get around.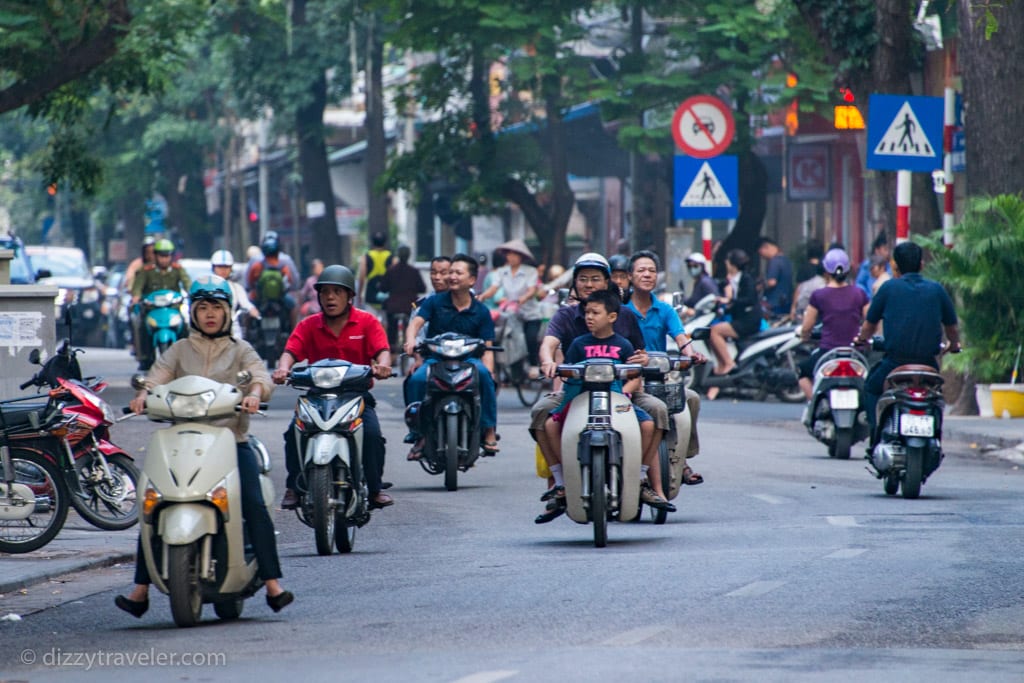 Metered Taxi
Taxi is the easiest and convenient way to get around in Ho Chi Minh City, and they are available all over the city. I would recommend using taxi companies such as Vinasun and Mai Linh Taxi to avoid taxi scams in Saigon.
From The Airport
Tan Son Nhat International Airport (SGN) is the largest airport in Vietnam. It is only about 4 mi (7 km) north of District 1 (city center).
There are plenty of meter taxis and ATMs outside the arrivals hall. You can also find money exchange and booths selling SIM cards there. Since many hotels offer airport transfers for an additional fee or sometimes free when you book a room, so be sure to check with them.
By Bus: There are a couple of bus routes that can take you to the city center. The entire ride will be between 30 to 45 minutes. Check out the airport ground transportation desk. You can consider bus 109 or 49
By Taxi: A taxi ride from the airport to the city center takes about 30 minutes. The service is reliable and good, and also very reasonably priced.
Uber/Grab: Uber or Grab service is available; all you need is an internet connection to use their app.

Cyclo
The cyclo (three-wheeled cycle) diminishing in Saigon over the years. Most foreign travelers try cyclo to out of curiosity and for a unique experience. They are most available nearby popular tourist attractions, restaurants, and bars.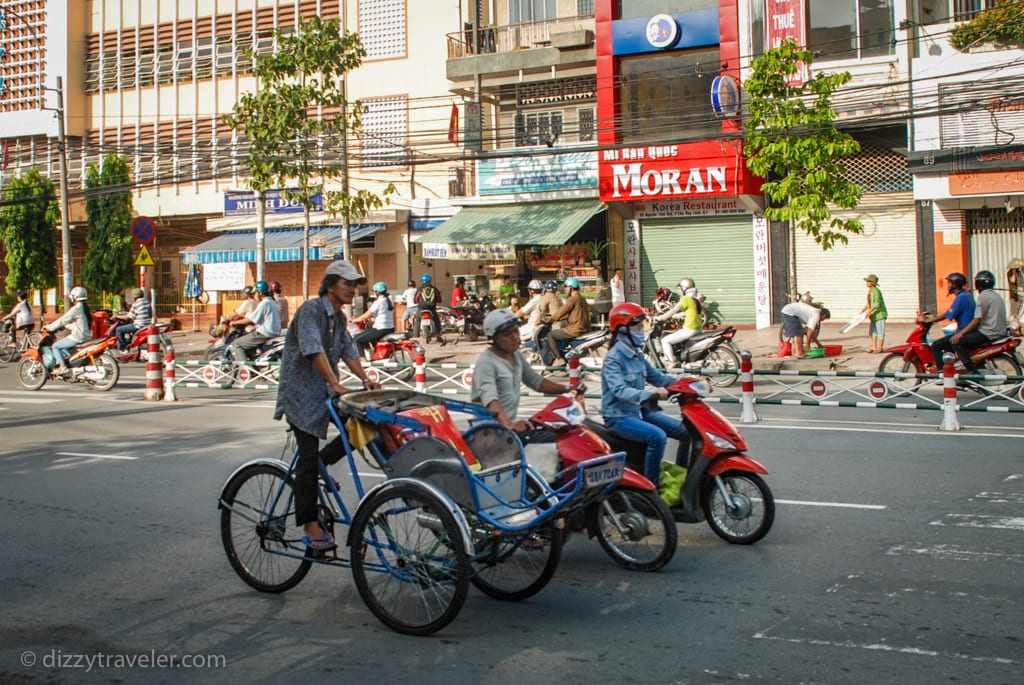 Visa Requirement for Vietnam
Vietnam visa on arrival is the most common way to get business or tourist visas through the internet. Many private online companies offer eVisa approval service, fill up an online application, pay the processing fee, and receive the approval via email. It takes about two days for regular processing.
When you arrive at your destination airport in Vietnam, show the Approval Letter and photos at the Immigration office for visa stamp. Total cost is US$ 16.00 for online service fee and visa stamped on arrival fee of US$ 25.00 (single entry)
Visa from Phnom Penh
Once I applied for a Vietnam visa at the Phnom Penh embassy and got my single entry visa the next day. Visa fee was US$ 40.00, and for multiple entries, the fee was US$50.00. Whereas during my earlier trip I had to pay US$100.00 when I applied for visa in New York City Vietnamese consulate
Processing time is usually one working day, and the three-month multiple-entry visa takes longer. They offer same-day processing for an additional $10.00.
Here are few affiliates link that may help planning a perfect trip while staying within budget
My Opinion and Tips
Have you been to Vietnam? Any additional tips to share?
Please leave a comment below! I'd love to hear from you to improve my knowledge.
Was this travel guide helpful for you?
If you'd like to help me continue making free guides, here is one way you can help:
Share This Guide – If you have a friend that would benefit from this guide, share it with them. Or post this guide on Facebook, Twitter or Google+
Your help would definitely help me making more free guides like this. Thank you in advance!
Affiliate Link – This post in Dizzy Traveler contains affiliate links, which means I receive a referral commission if you purchase after clicking at no additional cost to you. These funds go to maintain the site. Thank you for your support.