I always tend to get attracted to road trips especially a wild and adventures one in a country like India. That's what happened to us when we decided to visit Jodhpur from Udaipur via the historical Kumbhalgarh fort with few additional stops on the way.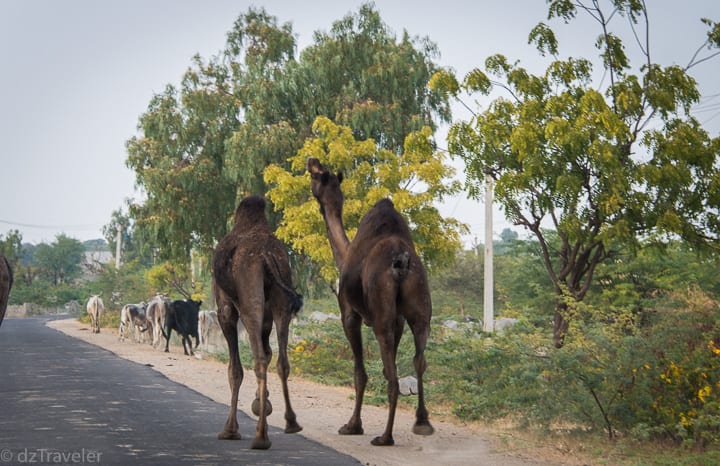 We hired a private car obviously it comes with a driver, can you believe we paid only 3500 rupees (US$ 52.00) for the entire trip, from our Udaipur Hotel to Krishna Prakash Heritage Haveli in Jodhpur which was about 205 miles (328 km) with two stops on our way, one at UNESCO World Heritage site Kumbhalgarh Fort and another one was at Ranakpur Jain Temple. The air-conditioned car was comfortable and the driver was very friendly, could speak good English. Since he makes frequent trips with tourist on the same route so, he knows all possible places of interest. It took us little longer than usual since we made frequent stops.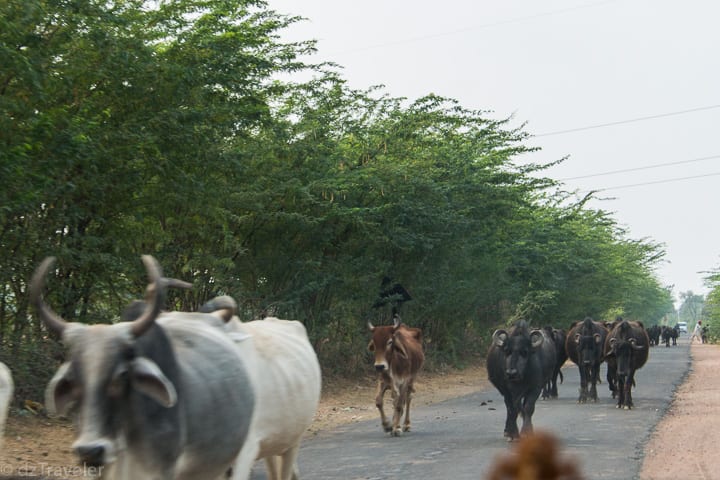 Road Trip itself was very interesting. We passed through some beautiful countryside, small villages, and towns on our way up into the Aravali mountain range. The landscape looked very dry almost desert like but the temperature was not that hot in the month of January. Looking at our camera gear Mr. Tara our driver exactly knew what our interest was, so he made a couple at great picturesque places for the photoshoot. Without him, we would have missed such beautiful places that we didn't even know exists.
Finally, after about 2.5 hours of driving and covering only 65 miles (103 km) of the zigzag roadway, we able to make it to the UNESCO World Heritage Site The Kumbhalgarh Fort right before 12 noon.
Summary of Our Road Trip
Jaiwana Haveli, Udaipur to Kumbhalgarh Fort 65 miles, took us about 2.5 hours
Kumbhalgarh Fort to Ranakpur Jain Temple 31 miles (50 km), took us about an hour
Ranakpur Jain Temple to Jodhpur, Krishna Prakash Haveli, 108 miles (172 km) took us about 3.5 hours
Do you know the Rajasthani people are the native inhabitants of Rajasthan ("the land of kings" ) and called Rajputs!
First Stop Kumbhalgarh Fort
Kumbhalgarh Fort is a Mewar fortress in Rajsamand district of Rajasthan and located within a day trip distance of 102 km from Udaipur. It is a UNESCO World Heritage Site and definitely worth visiting. The Fort was built by Rana Kumbha in the 15th Century and it is also the birthplace of Maharana Pratap. Kumbhalgarh located 102 km from Udaipur.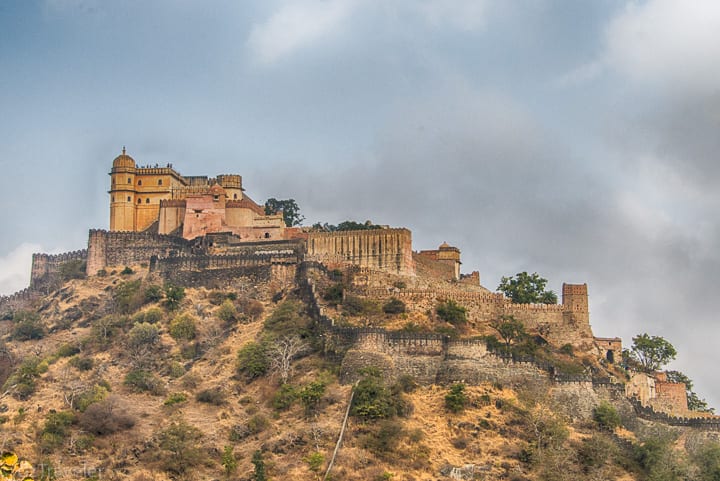 This area is without a doubt one of the hotter regions of India, so the best season to visit it would be monsoon or winter. We were there early January (winter), it was Sunny but the temperature was mild and comfortable to climb stiff slope up to the top of the hill. But make no mistake it was not an easy task. Though surrounded by barren rocky mountains, the breeze is strong and cool, but I could imagine how hot it could get in summer.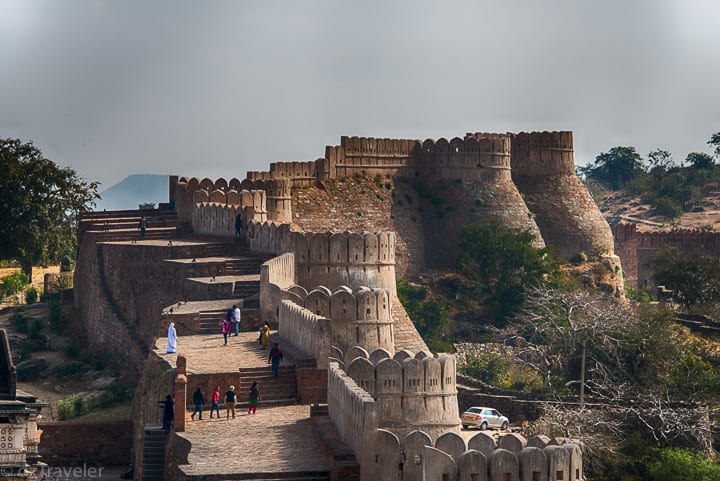 The Kumbhalgarh Fort is a marvel in itself because it has the second largest wall in the world after the Great Wall of China. It is 36 Kms long and has more than 300 temples located in its vicinity.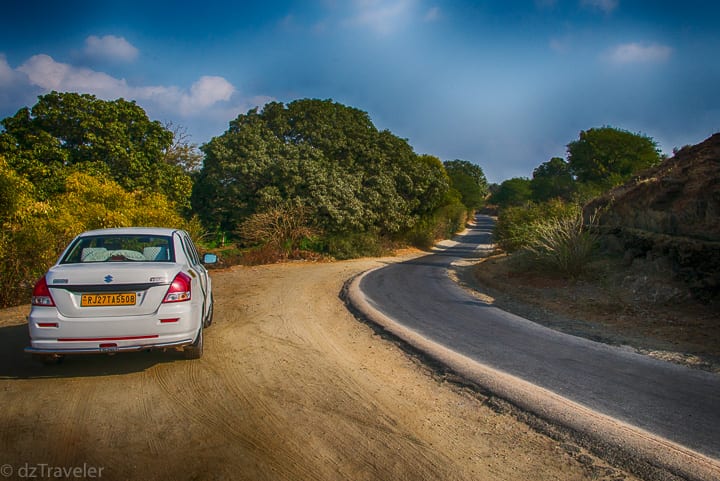 We saw few hotels and resorts in the area, like us if you are not planning to stay overnight then all you need is about 2-3 hours max to see the majority of the fort and you can hire a guide to walk you through the history behind all the attractions inside. There is a Hindu temple inside and as usual many monkeys around the rooftop. The Panoramic view from the top of the fort was picture perfect. I met people there who were doing a day trip from Udaipur or Jodhpur and few like us making a stopover trip on their between Udaipur to Jodhpur or vice-versa.
Lunch at Amari Valley Restaurant
It was 1 pm, traveling from Kumbhalgarh Fort to Ranakpur Jain Temple. We were hungry like a hippo due to the stiff climb to the top of the fort. Our driver recommended a roadside restaurant called Amari Valley Restaurant surrounded by a spectacular view of a lush green valley and farmland along a beautiful stream.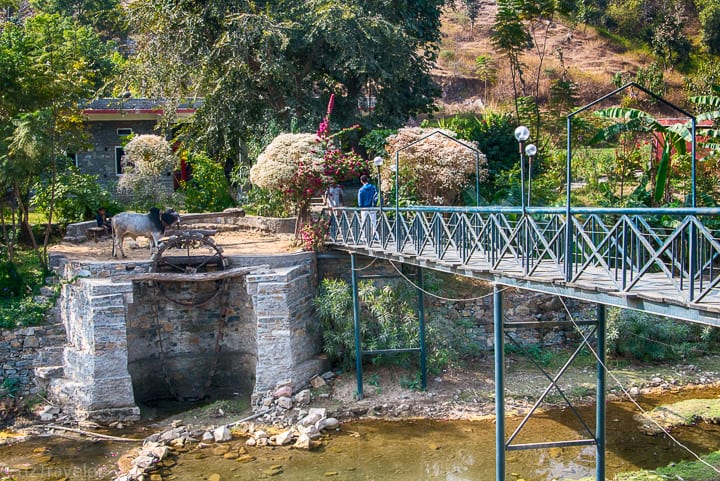 We had to approach the restaurant by walking over a stream via a walking bridge and past a waterwheel used to irrigate the gardens and farmland of the restaurant. The owner told us most of the vegetables served are from their backyard or from the farmland next to the restaurant.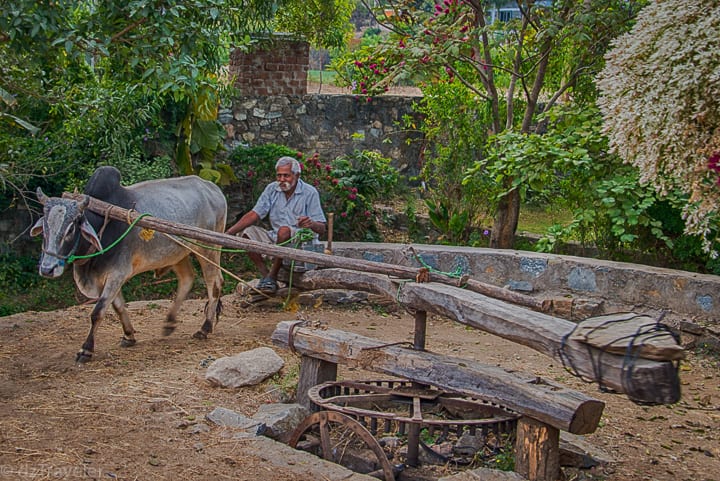 Despite their rural location, the restaurant was very clean with a good atmosphere, great food, and services. While we were waiting for our food in an open but shaded dining space we could enjoy the surrounding picturesque view. Out of curiosity we also tried the lunch buffet as they were very reasonably priced and the food looked so delicious. The chicken curry was very tasty, I would bet those were wild chicken from one of those which I saw roaming around the restaurant. Nothing to lose, just give it a try if you passing by on this way.
Next Stop Ranakpur Jain Temple
After lunch, we started heading towards Ranakpur Jain Temple not so far away distance wise but we had to drive through up and downhill narrow winding roads crossing from one mountain to the other. That slowed us down so it took about an hour to get to the temple which was only 31 miles (about 50 km) from Kumbhalgarh Fort.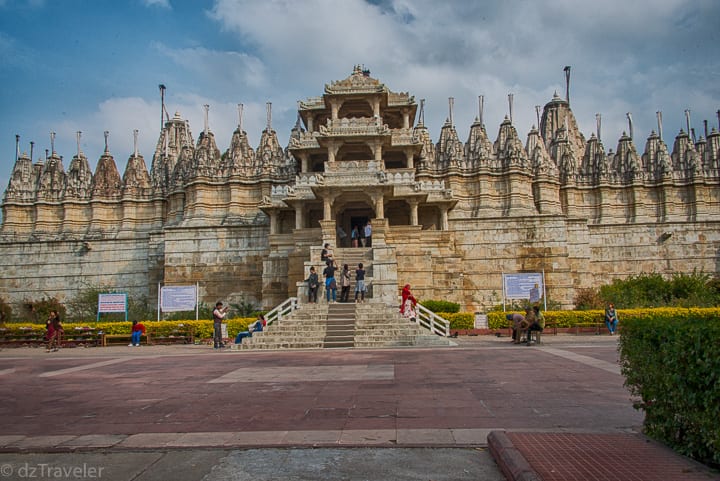 This whole temple is constructed of light-colored marble and comprises a basement covering an area of 48000 sq feet. There were many domes, halls, and pillars with craft.
Ranakpur Jain Temple is counted among the five important pilgrimage sites of the Jains and devoted to the Jain Deity Lord Adinathji, the first 'Tirthankara' of the Jains. According to legends, this historic temple was built by Mewar Ruler Rana Khumba and a Jain businessman named Seth Dharna Sah in the 15th century. The temple complex is located in an isolated valley on the western side of the Aravalli mountain Range. The architecture of the Jain Temples of Ranakpur is really admirable.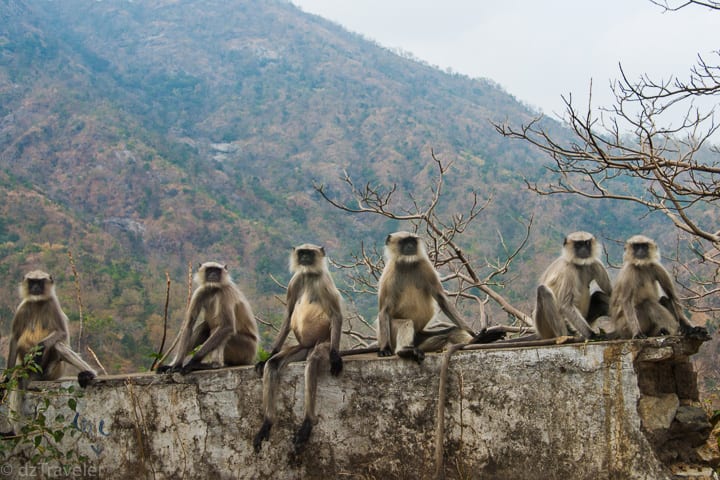 My Opinion and Tips

Have You Taken a Road Trip in Rajasthan? Any tips to share?
Please leave a comment below! I'd love to hear from you to improve my knowledge.
Was this travel guide helpful for you?
If you'd like to help me continue making free guides, here is one way you can help:
Share This Guide – If you have a friend that would benefit from this guide, share it with them. Or post this guide on Facebook, Twitter or Google+
Your help would definitely help me making more free guides like this. Thank you in advance!

My Pictures That Will Tell My Travel Stories