Getting to know Udaipur
Udaipur – A dream city in the middle of the lakes
Udaipur is a picturesque city with many lakes nestled among the Aravalli hills, the prominent ones among which are Fateh Sagar Lake and Lake Pichola. The city is also known as the Venice of India. Many tourists every year visit this city from around the world to enjoy the beauty and culture it offers to its visitors. Most of the famous attractions such as the City Palace, the luxurious hotels such as Taj Lake Palace, Oberoi Udaivilas, Jag Mandir Palace etc. are all located on or around Lake Pichola.
Best Time to Visit Udaipur
Since Udaipur is part of the desert land of the State of Rajasthan, therefore be ready to experience harsh summers, when temperatures rise up to 114º F (45º C). However, nights are still cooler than days due to desert effect.
The best time to visit Udaipur is between the months of September and March. However, depending on what you want to do in Udaipur:
November to February – These months constitute the winter season in Udaipur. The maximum temperature during this time does not go beyond 86º F (30º C) and the minimum hovers around 53º F (12º C). The slight breeze in the air offers tourists a perfect climate for sightseeing.
March to June – These months constitute the summer season in Udaipur and summers quite extreme. While days are hot with the maximum temperature ranging between 104º – 113º F (45º – 40º C), evenings are relatively pleasant.
July to October – These months constitute the monsoon season in Udaipur. Even rainfall is significantly less but the surrounding mountains turn lush green and very scenic. During this offseason budget, travelers can take advantage of good hotel and travel deals.
How to Get There
By Air
This was my first trip to Udaipur from Kolkata by Air India. Just landed at Maharana Pratap Airport in Udaipur, found it a very small airport but well managed. Many domestic airlines connect the city to all the major cities of India including Jaipur, Mumbai, Delhi, Mumbai, and Kolkata. Daily air services are available for Delhi and Mumbai.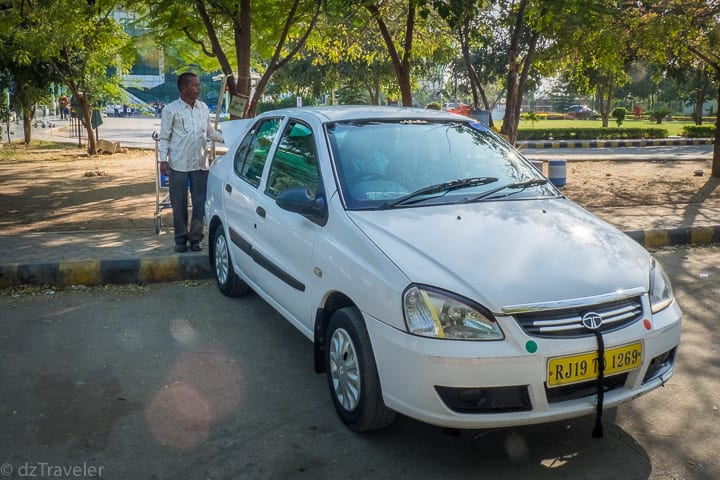 After we arrived and got our bag, we found currency exchange booths inside also when we went out to the arrival hall saw few ATMs.
Getting a ride from the airport to the city was easy. From Maharana Pratap Airport (UDR) located near Dabok to our hotel was about 28 Miles (45 km), and pre-paid AC Taxi cost us 800 rupees (US$ 12.00). Paid up front and got a taxi voucher from the booth outside the terminal and the agent directed us to our designated driver. It took us about an hour to get to our hotel.
By Train
Udaipur Railway Station is located not so far from the city center and is well connected with all the other cities of Rajasthan as well as India. From Udaipur, there are frequent trains run between Udaipur connecting Jaipur, Mumbai, and Delhi. Reserved a taxi ride from the hotel desk to railway station cost 400 rupees (US$ 6.00) for a 5 miles (8 km) ride.
By Road
Udaipur is well connected by road to major cities in India. It is great to enjoy exciting road trips to and from Udaipur. I have taken a road trip by private taxi from Udaipur to Jodhpur and had a great experience of a lifetime. There are also bus services (regular/deluxe) connecting Udaipur with nearby cities including Delhi, Jaipur, Chittorgarh, Indore, Kota, Ajmer, Ahmedabad and Mt. Abu.
Getting Around in Udaipur
Moving around the city is not a problem at all as there is a variety of transportation to choose from. You won't find yellow taxis but what you will find are average to luxurious private taxi/cab. I have hired both tuk-tuk and private taxi on a 12 hours basis for sightseeing purposes or for day trips and found it very safe, convenient and cost-effective.
One of the friendliest and tourist-friendly drivers was Mr. Tara Tel: +91 9772889556. I would definitely recommend him for your Udaipur trip and especially for those who are a travel photographer.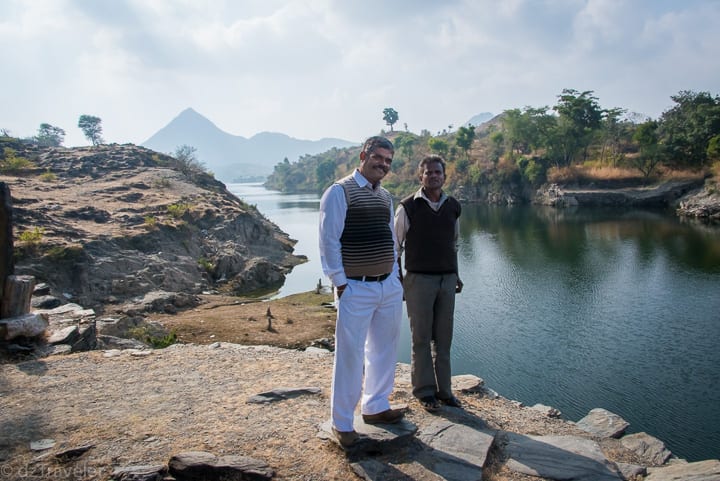 The locals usually depend on Tongas and Auto-rickshaws (Three-wheelers/tuk-tuk) to move around the city. Auto Rickshaws are easily available throughout the city. You have to bargain with the auto-rickshaw driver and set the fair in advance. Unmetered taxis are also available in the city, but the same obstacle of bargaining which was kind of difficult for a first timer like me.
Udaipur is a small city and not crowded with vehicles, so one can get around the city on a bicycle. You can hire bicycles that are available all over the city.
Interested to hire a Tuk Tuk for your sightseeing then Mr. Imran is your best bet. He is friendly, knows all the tourist spots in town and speaks English. It should not cost you more than 1500 rupees/day. His Cell +91 9829479030, email: imran4201@yahoo.com. Note that he will definitely try his best to convince you for few shopping runs if you are not interested just tell him not to waste your time.
Places To See In And Around Udaipur
There are many monuments and palaces to be explored in the city of Udaipur. The ones that are not to be missed are the City Palace, Jag Mandir Palace, and Bagore-Ki Haveli. These are some of the most popular monuments in Udaipur. Don't forget to take a boat ride and enjoy the sunset and the beautiful view of Lake Palace hotel and it's architectural mastery.
Lake Pichola
Pichola Lake is one of the most beautiful and picturesque lakes of Rajasthan with dimensions of 3 miles long 2 miles in wide and has a depth of 30 feet. Located in the heart of the city, Pichola Lake is one of the largest lakes in Udaipur. The beautiful lake was built In 1362, by Pichhu Banjara during the ruling period of Maharana Lakha.
The lake looks beautiful with its scenic surroundings, with the perfect backdrop of lush green hills. Pichola Lake is enveloped by towering Palaces like the City Palace, temples, bathing ghats and elevated hills on all its sides. The mesmerizing beauty of Lake Pichola makes it worth visiting during your visit to Udaipur.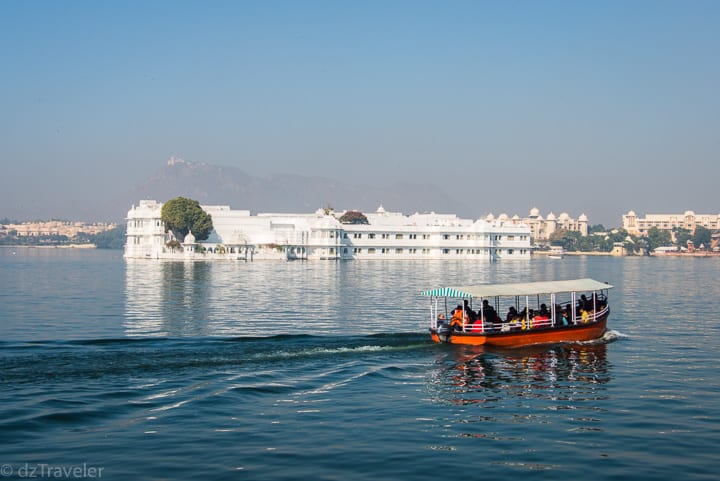 Fateh Sagar Lake
It is an artificial lake named after Maharana Fateh Singh of Udaipur and Mewar, constructed north-west of Udaipur, to the north of Lake Pichola in the 1680s.
Fateh Sagar Lake is the second artificial lake of Udaipur, the first being Jaisamand lake. Located in the north of Lake Pichola, Fateh Sagar Lake lies just beside the entrance to Moti Magri Hill. It's about 2.4 km long and 1.6 km wide and deep to the extent of 11.5 meters.
It is beautiful during the sunset, makes it the most attractive place Udaipur to visit.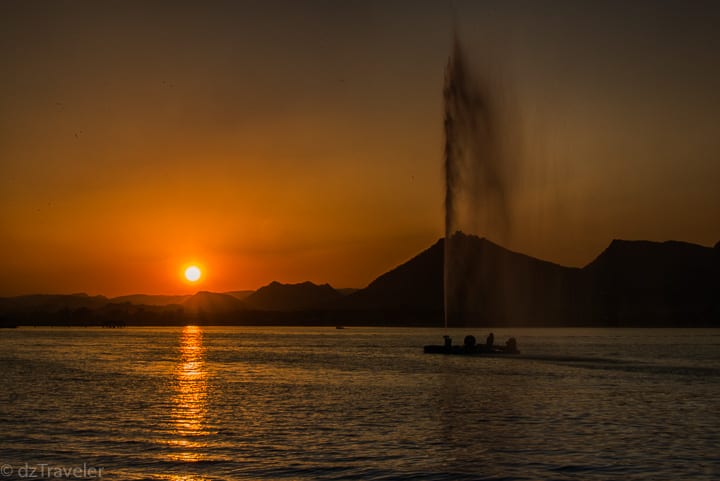 The Monsoon Palace
During our short trip to Udaipur, we did not what to rush through all the spots just to mark them as seen. Our guide Mr. Imran suggested us to visit The Monsoon Palace, also known as the Sajjan Garh Palace on top of a hill. You can't miss it because it was visible from all the parts of Udaipur.
It is said that originally this Palace was built to get a glimpse of Maharana Sajjan Singh's hometown Chittorgarh. Also, the panoramic view of Udaipur was outstanding from the palace. It's only 5 km away from Udaipur at an elevation of 2268 ft.
I definitely recommend visiting this 19th. century built palace if you are in Udaipur and looking for something interesting.
City Palace Udaipur
Udaipur City Palace is one of the architectural wonders of Rajasthan, located on the banks of Lake Pichola. It is the most-visited tourist attraction of Udaipur and often distinguished as the largest palace complex in Rajasthan. Initially, Maharana Udai Singh built this superb wonder, but the present form of the Palace is the result of subsequent additions by his successors.
The Palace has various towers, arches and domes and consists of several places that together from the wonderful City Place. The main part of the palace is now designated as a museum displaying historical artifacts. You can't afford to miss visiting this place.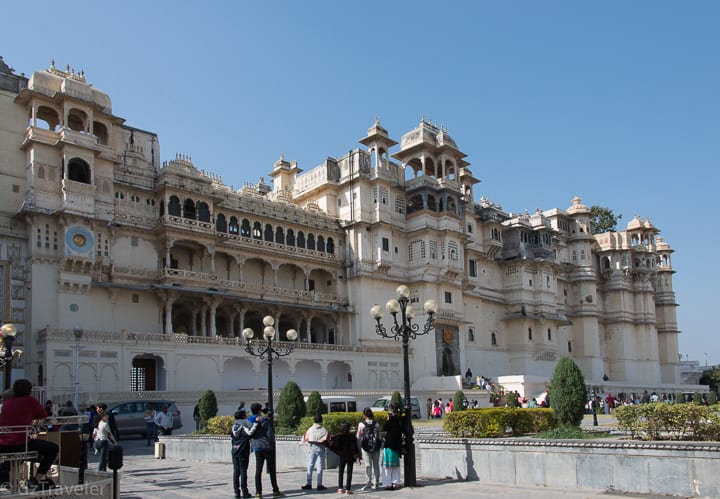 Jagdish Temple
If you are visiting The City Palace then you can't miss it, as it is located in the same complex. This Temple is one of the most famous temples of Udaipur and one of the most visited in the region. If you are staying in the old town like Lal Ghat area then you are only a few minutes walk away. Jagdish temple was built in 1651 by the Maharana Jagat Singh who ruled the Udaipur during the 1628 – 1653.
The Lake Palace
Now a hotel ((Taj Lake Palace), The Lake Palace was originally called Jag Niwas Palace and served as a summer palace. Built between 1743 and 1746 on the island near Jagmandir Palace in Lake Pichola.
Taj Lake Palace is one of the most luxurious hotels in India, which often features among the top 10 hotels of the world. You must have seen this magnificent hotel from the James Bond movie 'Octopussy'. I wanted to stay there at least for a night for the experience, but could not afford it, extremely expensive. I heard from friends that it will worth every penny you pay.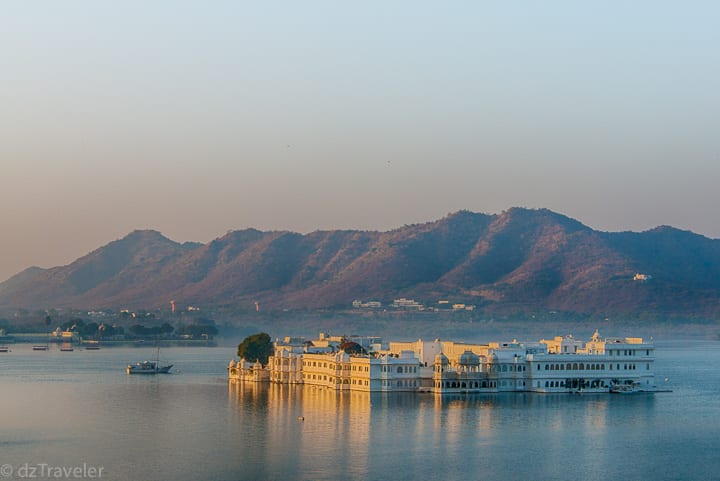 Jag Mandir
A visit to Udaipur is incomplete without taking a boat ride to the Jag Mandir Palace, built on an island in the Lake Pichola. It is also called the "Lake Garden Palace". The boat is the only way to reach this palace.
This hour-long journey gives you splendid views of the City Palace complex, the picturesque ghats, Sajjangarh and Bagore ki Haveli. Built in marble and yellow sandstone, the towering structure displays marvelous architecture.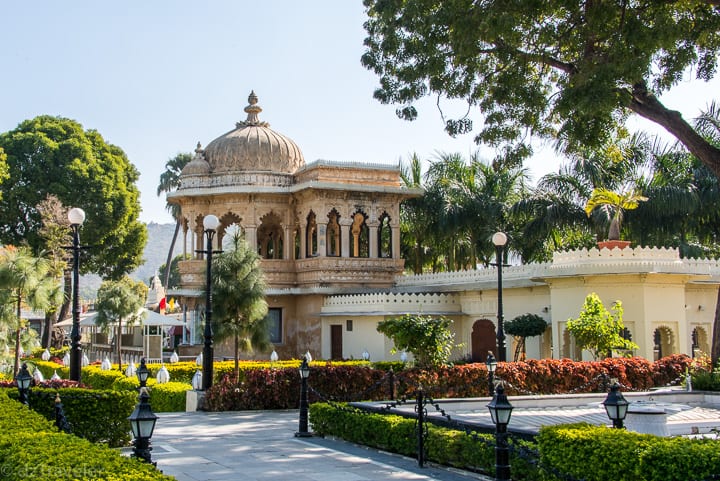 The construction of Jag Mandir Palace began in 1551 and was completed around 1652. The royal family used the palace as its summer resort and for hosting parties. Interestingly, Prince Khurram – later Emperor Shah Jahan – was given shelter here when he rebelled against his father Emperor Jahangir.
Moti Magri
Mewar dynasty has seen a number of great Rajput heroes, the most well-known of which is Maharana Pratap, the warrior who brought immense glory to Mewar. Maharana Pratap is a highly revered figure in Rajasthan, and Udaipur pays tribute to the valiant king through the Maharana Pratap memorial atop Moti Magri or pearl hill situated by the banks of Fateh Sagar Lake. The memorial shows Maharana Pratap atop his loyal horse Chetak, and even with the many great architectural marvels of Udaipur, Moti Magri manages to stand out.
Bagore-Ki-Haveli in old town Udaipur
Bagore-ki-Haveli is an 18th-century haveli, located right on the waterfront of Lake Pichola at Gangori Ghat.
The haveli has 138 rooms, as well as numerous corridors, balconies, courtyards, and terraces. The most interesting is to visit the haveli in the evening to watch the colorful Rajasthani folk dance and music. Dharohar Dance is between 7:00 pm to 8:00 pm
Cost: Bagore-ki-Haveli Rs 30; Dharohar Dance Rs 100, camera Rs 50
Address: Gangaur Ghat, Udaipur, Rajasthan, India
Where did I stay in Udaipur
Chunda Palace, 1 Haridas Ji Ki Magri, Main Road, Udaipur, Rajasthan
Our stay at Chunda Palace Hotel was excellent, the heritage style hotel was designed to portray the elegance and charm of the Mewar dynasty, it truly gave us a royal stay. The palace took 16 years to get the beautiful architecture and the royalty which fascinated us.
During the high season, you need to make booking months ahead of your trip otherwise you risk of getting a sold out situation.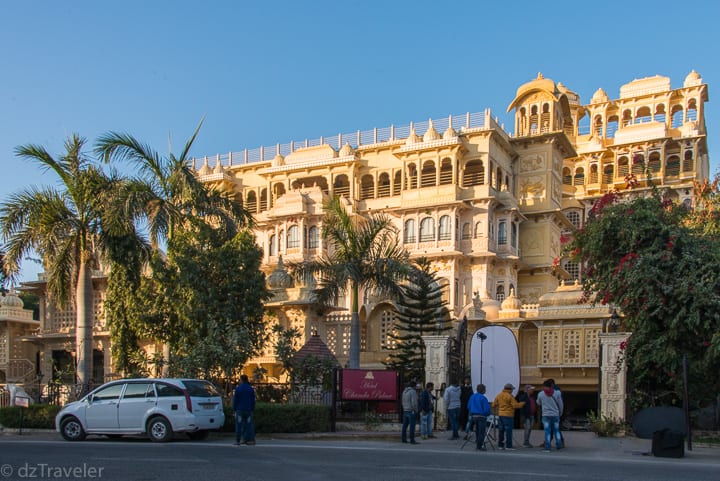 Jaiwana Haveli, 14, Lalghat, Udaipur, Rajasthan
Jaiwana Haveli was once the private residence of the Thakur of Jaiwana, one of the jagirdars of Maharanas of Mewar. Located in the historic city of Udaipur, the hotel has an unbeatable location. The hotel staff was very friendly and courteous the brothers who run the place personally paid attention to our sightseeing interest by providing us with guidance and not hesitating to answer any questions.
My Favorite Local Food
Next, at the hotel, there were so many traditional seafood restaurants. I was happy to try a few of them. It was so delicious and cheap. Here are some of the items I tried there.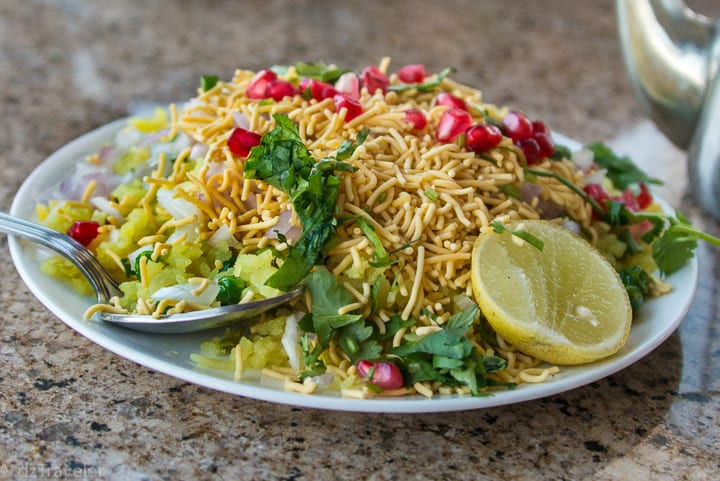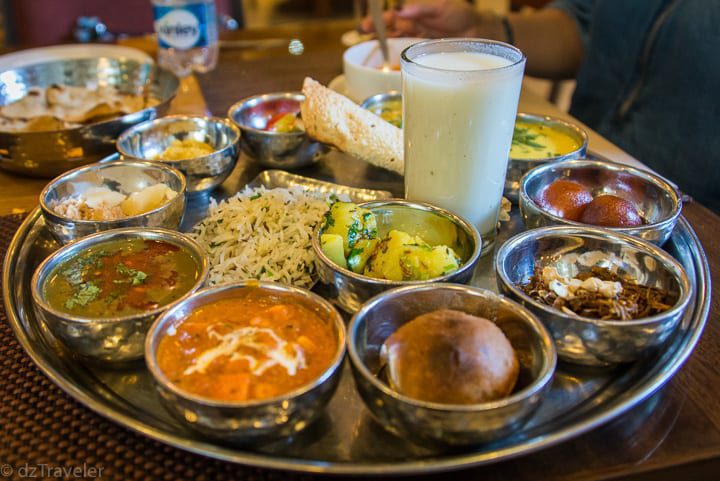 My Opinion and Tips
Have you been to Udaipur? Any additional tips to share?
Please leave a comment below! I'd love to hear from you to improve my knowledge.
Was this travel guide helpful for you?
If you'd like to help me continue making free guides, here is one way you can help:
Share This Guide – If you have a friend that would benefit from this guide, share it with them. Or post this guide on Facebook, Twitter or Google+
Your help would definitely help me making more free guides like this. Thank you in advance!

My Pictures That Will Tell My Travel Stories