Getting to know
Kolkata formerly known as Calcutta is the capital of West Bengal State. It was India's capital under the British from 1773-1911. Well known for its grand colonial architecture, art galleries, and cultural festivals. It is one of my favorite major cities due to its variety of street food, historical attractions, incredible religious temples, mosques, and shopping.
Best Time to Visit
October-February – Starting in autumn the weather is pleasant and is a great time to visit West Bengal. Apart from the weather, this is also the time for festivals. This mega city comes alive during Durga Puja as the city is decorated, street foods and Goddess Durga all over. This is followed by Laxmi Puja and Kali Puja.
December and January – The coolest months and weather becomes very pleasant making it the best time to plan a holiday even though you would need warm clothes for this time, especially during the night.
How to Get There
I have made several trips to India and Kolkata was one of my entry points. Traveled by road from Dhaka Bangladesh also by Air. The Airport is much more organized and well managed than many other airports in India. After you arrive and get your bag, you can find currency exchange booths inside or you can go out to the arrival hall and find ATMs.
From Netaji Subhash Chandra Bose International Airport (CCU)
The easiest way to get to Kolkata city center, Esplanade, or to the famous Sudder Street is by taking a pre-paid yellow taxi. You will find the taxi stand right outside across the street from the arrival hall. Before you get out, don't forget to pay upfront, get a get taxi voucher from the booth inside, then go outside to the taxi booth, otherwise you need to go back in and get one, as the taxi won't take you without it. I paid only 310 Rupees (INR) to my hotel in Sudder Street.
From Howrah Railroad Station
I have traveled in and out of Howrah Railway station to destinations like Delhi, Hyderabad, Siliguri, and others. The station just other sides of the famous Hooghly river, not far from Sudder street a taxi ride will cost you about 70 rupees. You may find yourself lost once you are inside the station, so I recommend to arrive there way before your departure time. Locals are helpful and happy to assist you so no worries.
Getting Around in Kolkata
Yellow Taxi
You must experience the Historical Ambassador Yellow in Kolkata, they are everywhere and affordable. All you need to do is a flag down one, negotiate the price and hop in. They do have meters, but it did not see anyone willing to use them. By the way, I did not care much as it was really affordable, as long as you know the ballpark of the fair price then just negotiate, you can't lose much.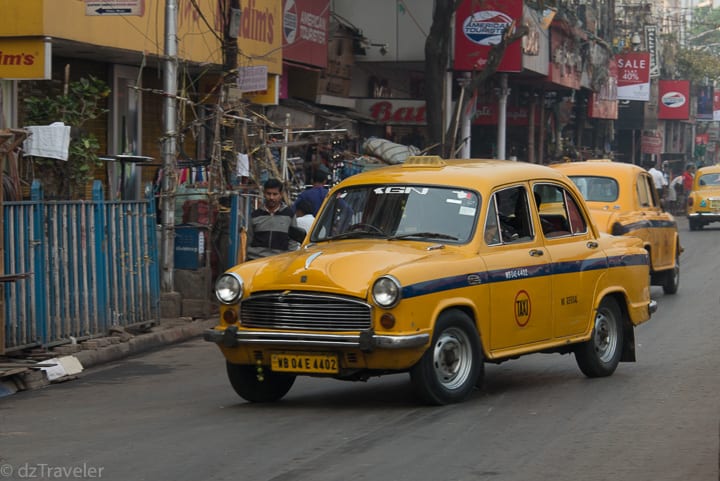 Auto Rickshaw
A small three-wheeler same like Tuk tuk it can be found in most of the areas in Kolkata. All you need to do is negotiate a fair price prior to the ride, in some of the cases, it's the only hard part for me especially when I don't even know the fair price.
Traditional Rickshaw
Kolkata is one of the major cities in the world that still has traditional rickshaws pulled by humans. Many of these rickshaws are around the New Market and Sudder Street targeting the tourists, It's good to have a short ride just for the hack of it and for a lifetime experience.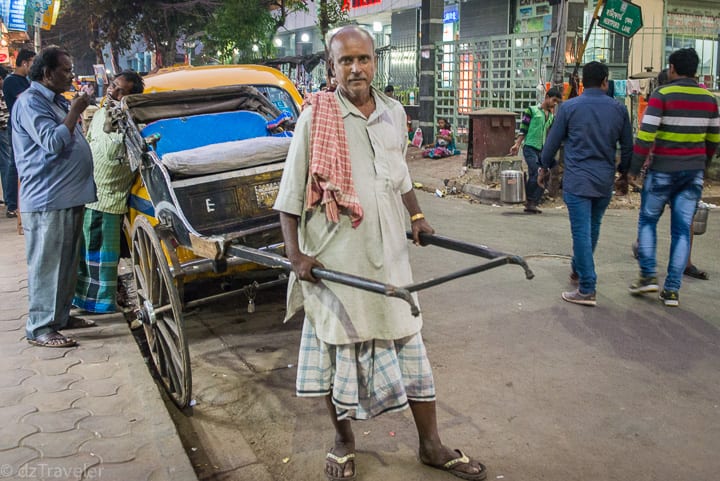 Kolkata Metro
In terms of cost, I think it is one of the cheapest metros in the world. I did not use much though but it is still one of the most popular modes of transportation among the locals. It's super clean despite the huge crowd using this during the work days.
Private Taxi
I rented a private taxi from the hotel travel desk, cost me 1500 Rupees for 8 hours. Considering the places I was visiting around the city for the day was definitely a good deal.
Top Things To Do In Kolkata
Victoria Memorial
Located at the southern end of the famous Kolkata Maidan, the majestic Victoria Memorial is one of the most stands out iconic landmark of Kolkata. This 64 acres of lawns and gardens, was opened to the public in December 1921 which was dedicated to Queen Victoria The memorial (which is now a museum), was built using a combination of English and Mughal design.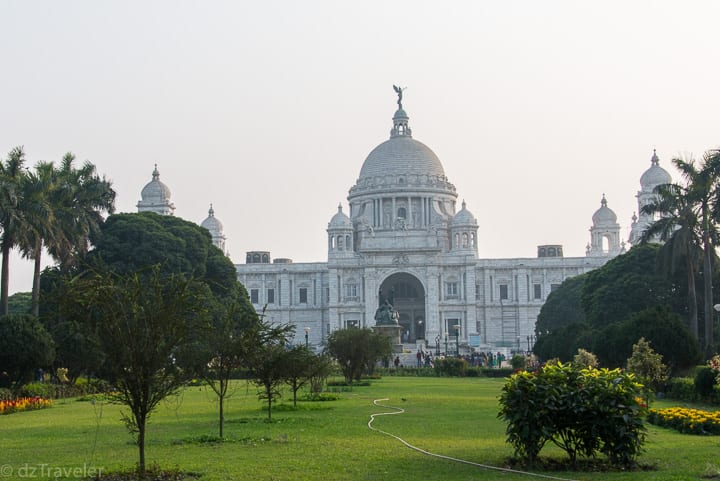 Howrah Bridge
Howrah Bridge (Rabindra Setu) is an iconic landmark of the city of Kolkata. On River Hooghly, the bridge plays the role of the gateway to Kolkata, as it connects the city to the Howrah Station, the most important railway station of Kolkata. It took around 7 long years to build the Howrah Bridge. The bridge is famously called Rabindra Setu. It worth a visit and see for yourself.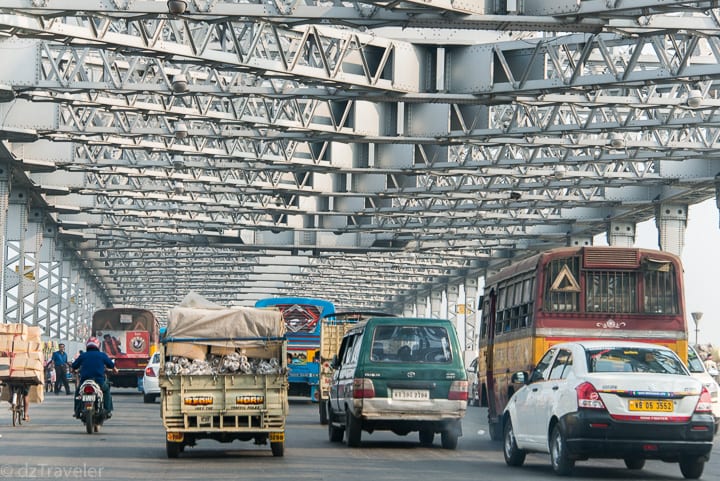 Dakshineswar Kali Temple
Dakshineswar temple is one of the most revered, sacred temples in Kolkata, dedicated to goddess Kali. it is one of the largest temples near Kolkata and it is also an architectural treasure. The temple was built in conventional Nava-Ratna style. This temple boasts a towering height of more than 100 feet. The 12-spired temple with its massive courtyard is flanked by 12 other small temples, devoted to Lord Shiva. it is located alongside the Vivekananda Bridge over Hooghly river and only 20 km north from the central part of Kolkata and definitely worth a visit.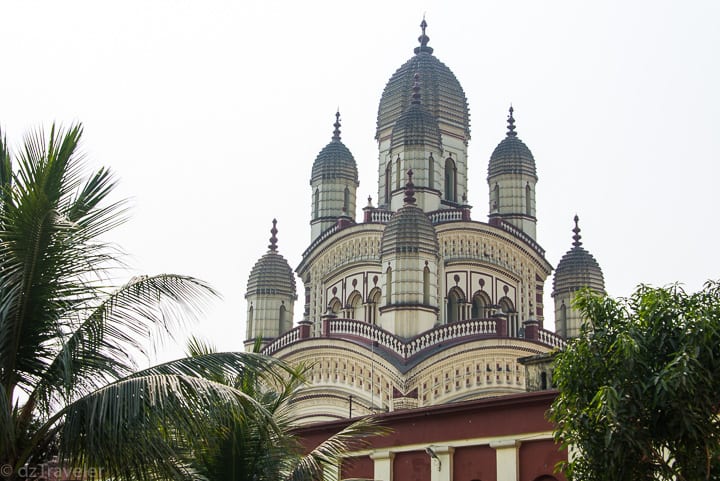 Kalighat Kali Temple
The Kalighat temple one of the oldest and most important Hindu temples, dedicated to Kali goddess, hidden on the banks of the Adi Ganga River in the southern part of the city of Kolkata. It is located in the place called Kalighat in Kolkata, near Bhowanipur. Kalighat is highly revered as one of the 52 Shaktipeeths, a highly sacred religious place in Kolkata. According to legends, the city of Calcutta was named after Kalighat.
Though it's chaotic and crowded, the temple is worth a visit. Be aware of the scams that are pretty common around this temple.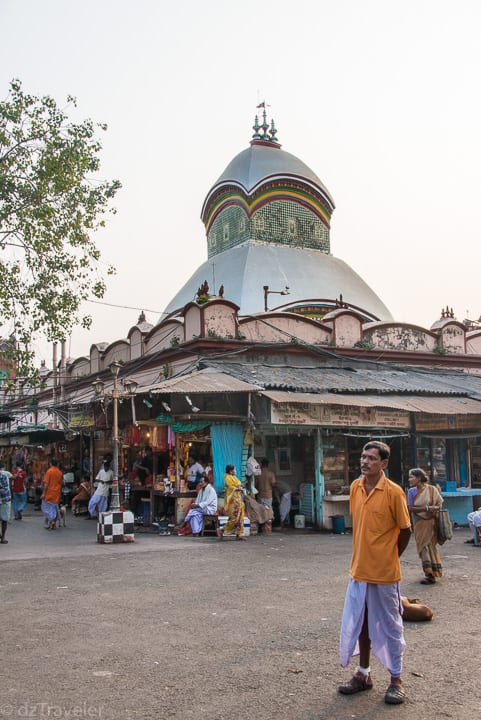 Birla Mandir, Ballygunge, Kolkata
The magnificent Birla Mandir of Kolkata is an exemplary work of art. It is one of the finest architectural beauties of the city. The indigenous craftsmanship of the temple is the hallmark of its grandeur. The main temple houses statues of deities Krishna and Radha. It is located at Ballygunge in Kolkata, not a bad idea to pay a visit.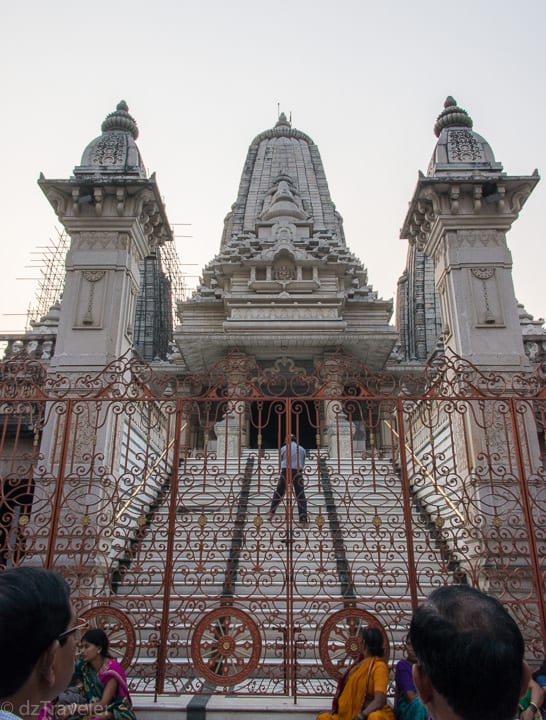 Eden Gardens
The Gardens came into being when the Governor General; Lord Auckland desired to create a circus and a garden. A pleasure ground with an oblong tank in the center was laid out on this site generally resorted to for riding an recreation. The Eden Gardens and the stadium adjacent to it is the largest cricket ground in Kolkata and is the largest stadium in Asia. It is situated in the heart of Kolkata near Maidan.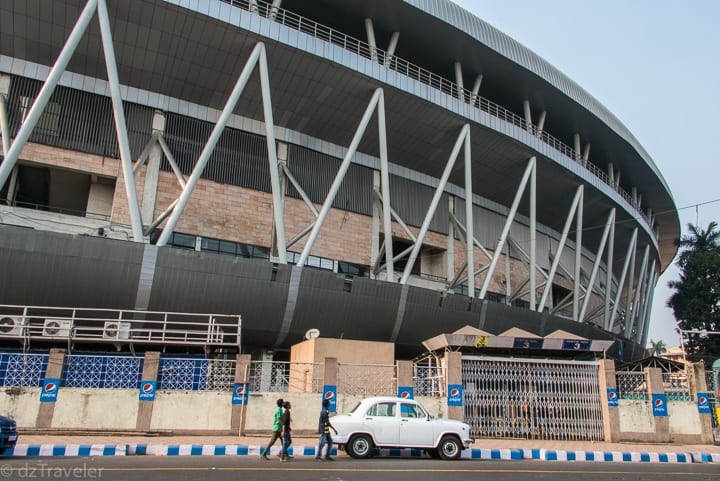 Bara Bazar, Kolkata
Burrabazar (also spelled Bara Bazar) is a neighborhood in central Kolkata which expanded from a yarn and textile market into the commercial nucleus of Kolkata and the largest wholesale markets in India. it's so chaotic and authentic in nature that you got to see for yourself to understand.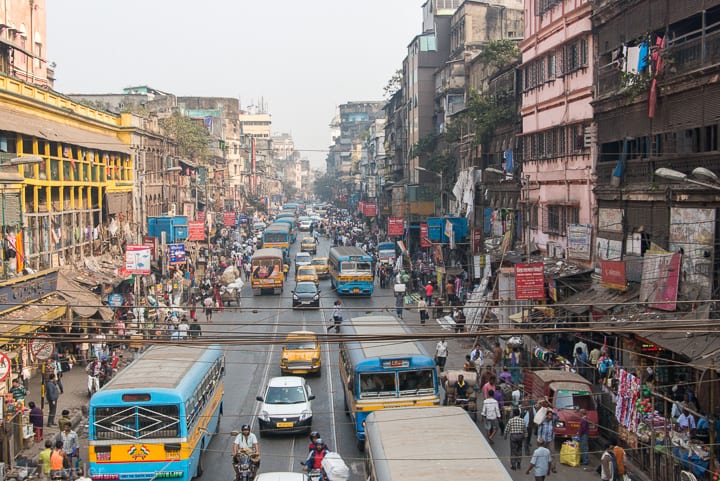 Marble Palace
Marble Palace is a grand mansion, built in 1835 by a French architect for Raja Rajendra Mullick, an affluent Bengali merchant and art connoisseur. He built this grand palace with a passion for preserving the exquisite works of art. The mansion is famous for its sparkling white marble walls and floors, from which it has derived its present name. The palace also has an exquisite collection of Western sculpture and Victorian furniture. There is a private zoo, which was the first zoo in India, unveiled by Raja Rajendra Mullick.
The majestic Marble Palace is located in the northern part of Kolkata at Muktaram Babu Street.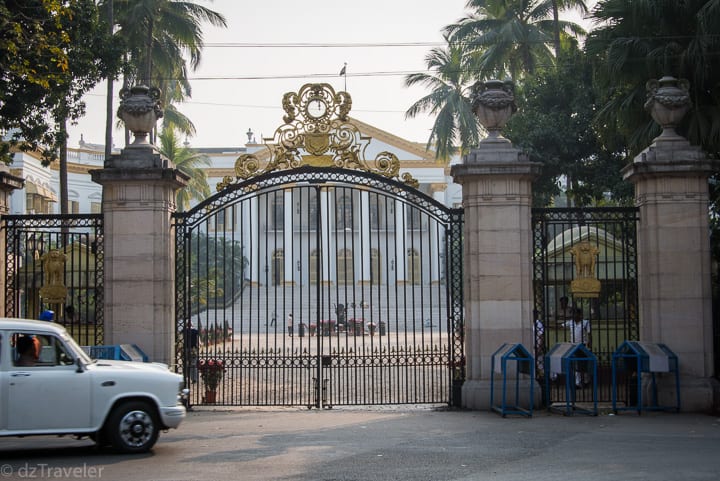 Kolkata High Court
The Kolkata High Court is the oldest High Court in India. Beautiful architectural masterpiece deserves a visit. The High Court building's design is based on the Cloth Hall, Ypres, in Belgium.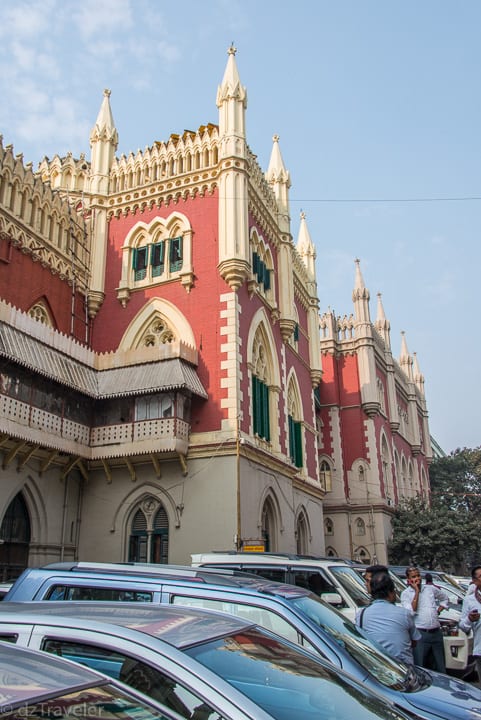 Nakhoda Masjid
Nakhoda Mosque is known as the largest mosque in the city of Kolkata. The mosque has become one of the prime tourist attractions, owing to its sheer size and magnificence. Around 10,000 devotees can perform their prayer, or 'Namaaz' in this splendid mosque together.
Nakhoda Mosque is located in the central part of the city. It nestles in the Jacquaria Street, close to the junction of Chitpur Road and Mahatma Gandhi Road.
Shaheed Minar
The 48 meters high Shaheed Minar, popularly called the "Monument" is a prominent landmark of Kolkata. You need to climb 218 steps to reach the top of the monument from where you can enjoy a bird's eye view of the city. The architecture of Shaheed Minar shows a brilliant blend of Egyptian, Syrian and Turkish style of designing.
New Market (Sir Stuart Hogg Market)
A heritage site in its own right, its sprawling maze of stalls offer almost everything imaginable. Amid the bustling chaos of shoppers and vendors, you will find an incredible array of goods ranging from fashionable apparel, electronic gadgets, and confection to shoes, saris, exotic flower arrangements and rare cheeses.
It was built by the British in 1874 and started off as the Sir Stuart Hogg Market, named in honor of the then Commissioner. It's still often referred to as Hogg's Market.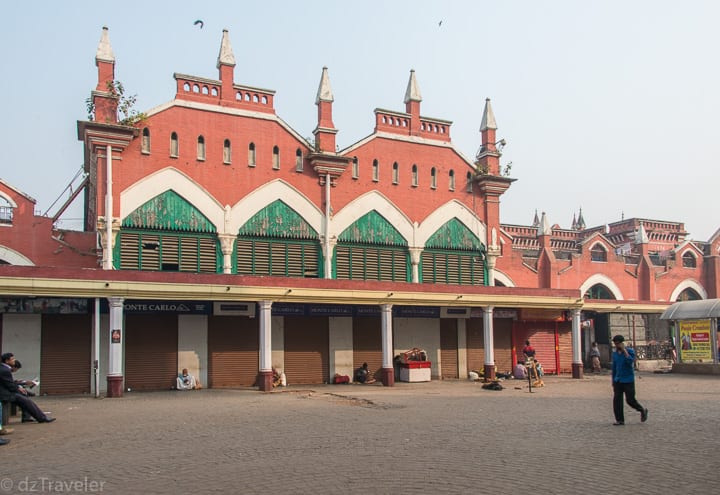 Mother Teresa Home
If you are staying around Sudder street (backpackers area) then don't see any reason not to visit Mother Teresa home where she lived, prayed, and guided her religious family of sisters spread across the world. Next, to her tomb, you can visit a small museum where her worn sandals, dinner bowl, bed, tables etc are on display.
Where did I stay in Kolkata
Lytton Hotel, 14-14/1 Sudder Street, Kolkata, India
When in Kolkata I always prefer to stay in Sudder street where all the action is. This area is well known for backpackers and easy to find plenty of accommodation fits all budget range from about 350 – 200 Rupees per night.
Lytton Hotel is conveniently located right between Sudder street and the New Market definitely enjoyed our comfortable stay there. It was great to hang out at Sunset Bar or enjoy a variety of cuisines at the famous Gaylord Restaurant and Dynasty Restaurant. Clean room, delicious breakfast, and friendly staff made a difference during our stay at the hotel.
Click here to see many more hotels.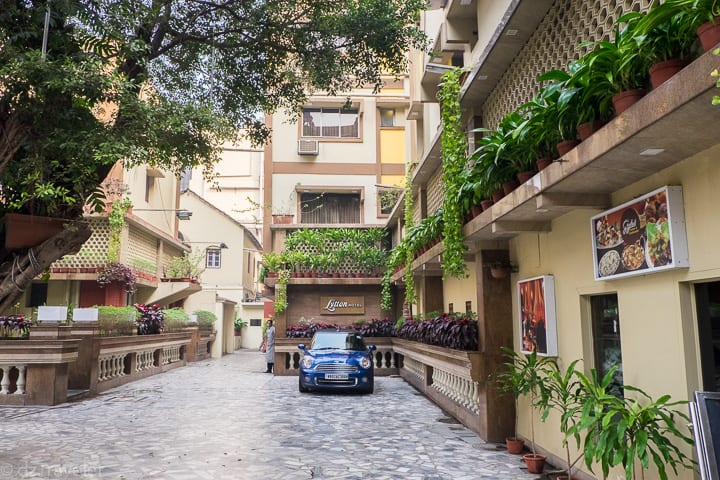 My Favorite Local Bengali Food & Drinks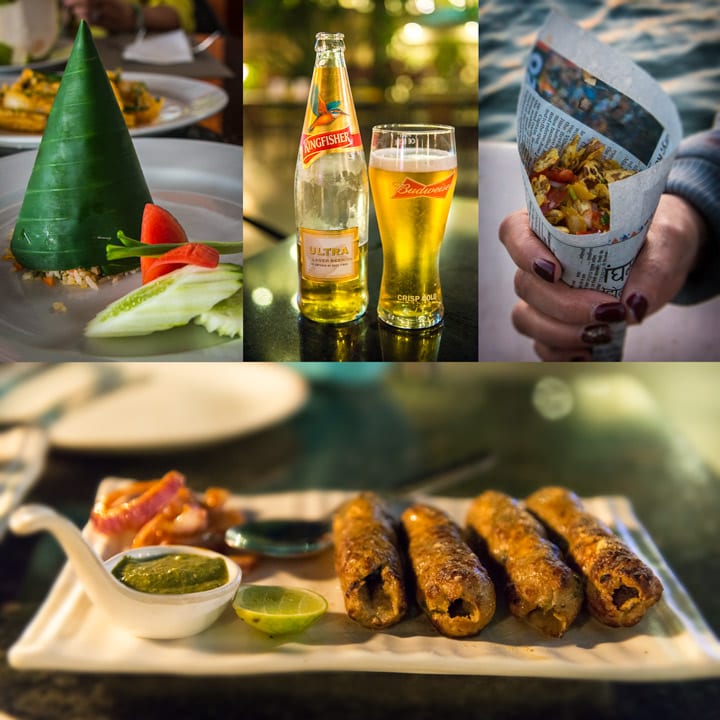 Next to the hotel and around the New Market area, there were so many delicious local Bengali restaurants to choose from, also plenty of tempting street food that brings the area cheerful. I was happy to try a few of them. It was so delicious and cheap. Here are some of the items I tried there.
Jhal Muri. Jhal Muri is one of the most famous and omnipresent Bengali street snacks represented in Kolkata. Panu Puri (Puchka), one of my favorite. Bhel Puri, Veg Chow Mien, Paw Bhaji, Ghugni Chaat etc.
My Opinion and Tips
Have you been to Kolkata? Any additional tips to share?
Please leave a comment below! I'd love to hear from you to improve my knowledge.
Was this travel guide helpful for you?
If you'd like to help me continue making free guides, here is one way you can help:
Share This Guide – If you have a friend that would benefit from this guide, share it with them. Or post this guide on Facebook, Twitter or Google+
Your help would definitely help me making more free guides like this. Thank you in advance!

My Pictures That Will Tell My Travel Stories