One of the main attractions while visiting Zermatt is to explore Matterhorn Glacier Paradise. In fact, that was my top priority to ride a mountain lift to the highest elevation cable car station in Europe (12,740 ft / 3,883 m). The gondolas are open year-long, but during the bad weather, you may need to stay inside the glacier Paradise complex once you are up there.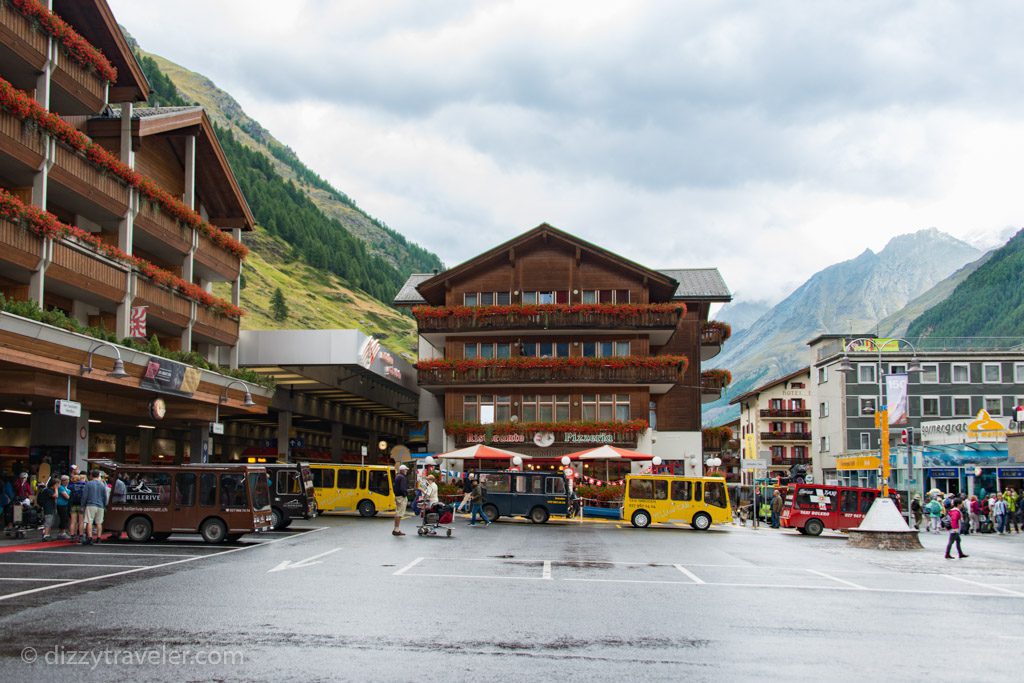 Even though it was early June, I saw it was cold in Zermatt and snowing off and on. The lifts to Klein Matterhorn begin from the southern end of town, about ten minutes walk from the hotel I was staying at and about fifteen minutes walk from the Zermatt train station.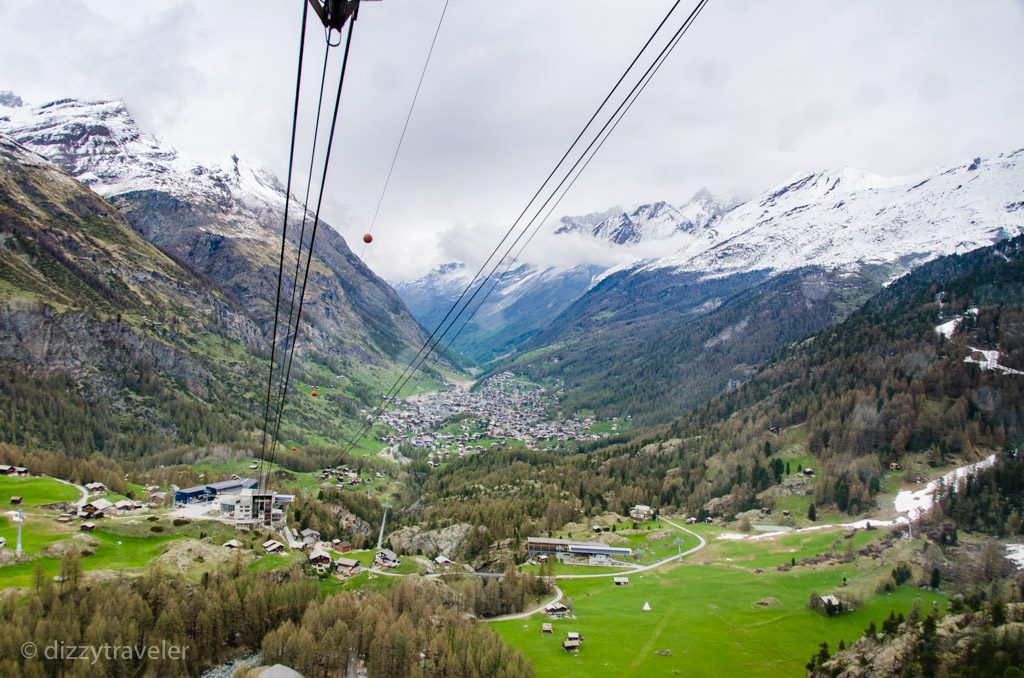 The journey to Matterhorn Glacier Paradise is in three stages and takes approximately 50 minutes each way. At the Zermatt Valley Station ticket counter, they asked me twice if I really wanted to go all the way up to the top as it was snowing up there kind of snowstorm and bitter cold and gusty wind. I did not hesitate to say yes despite the bad weather or even the costly SHF 99.00 lift ticket; anyway, who wants to miss a once-in-a-lifetime experience.
Alternate Way to Matterhorn Glacier Paradise
The trip to Matterhorn Glacier Paradise (Klein Matterhorn) starts from Zermatt Valley Station at an altitude of 5,380 ft (1,640 m) by taking a gondola to the first station Furi at an elevation of 6,125 ft (1,867 m).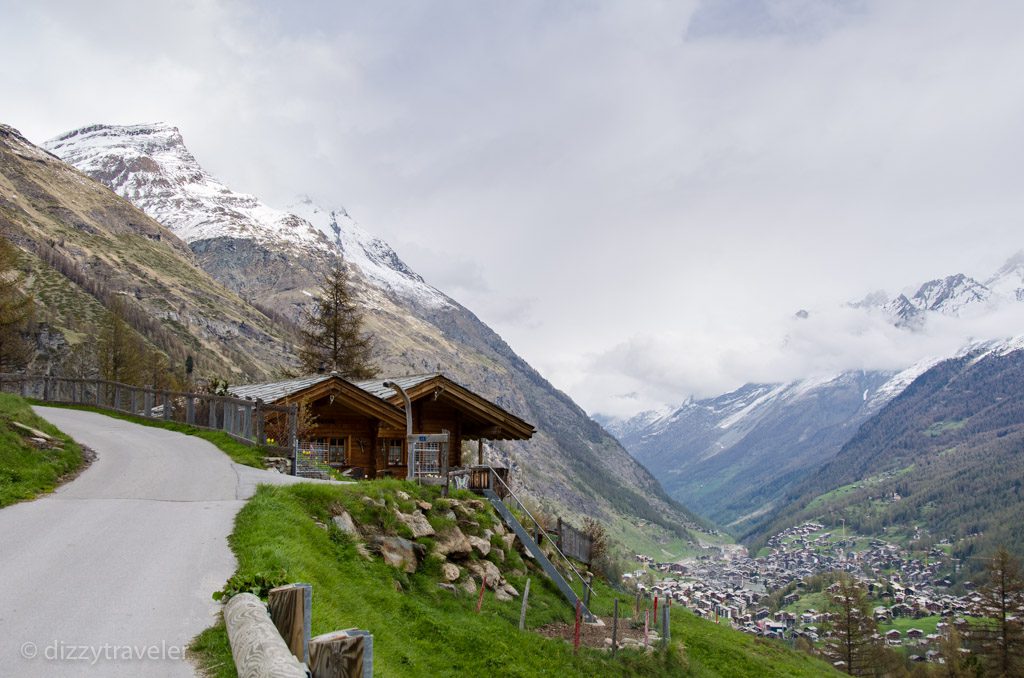 From Zermett Gondola Lift Station to Furi
From Zermatt, the ride to our first stop was about 5 minutes. Furi offers tons of summer activities for families, and attractions include a glacier garden, barbecue areas, a suspension footbridge, and restaurants. Since I was excited about going up, I did not spend much time at this village or staging area. Instead, I planned to have a drink in one of those cool-looking restaurants on my way back and do a hike to the suspension bridge.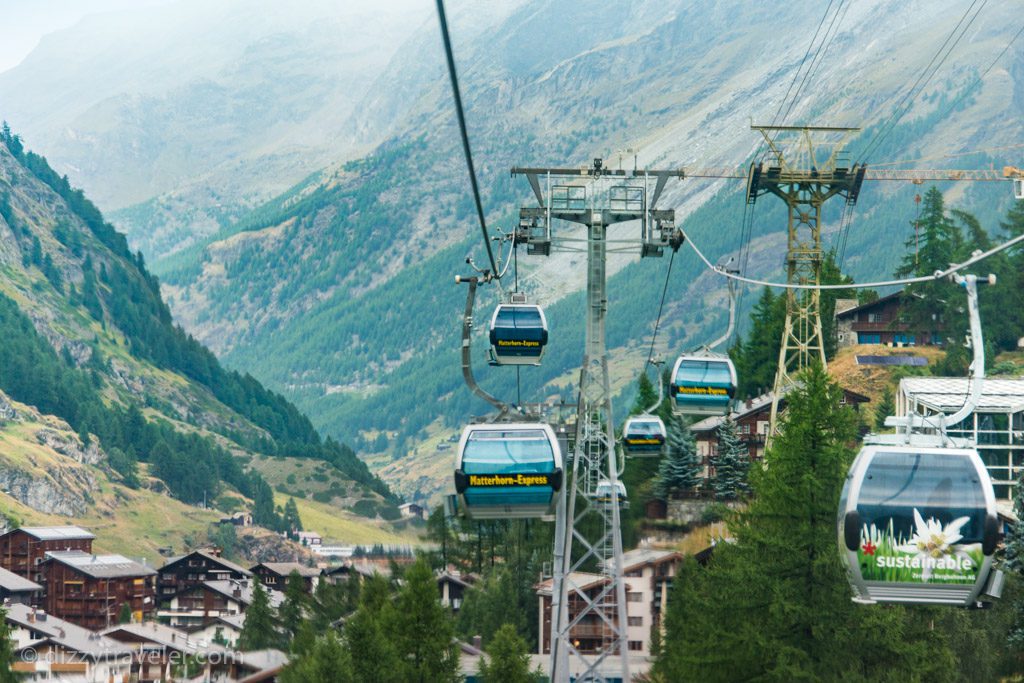 Next Furi to Trockener Steg Mountain Station
So switched over to another lift going up to Trockener Steg (9,642 ft / 2,939 m above the sea level). From Furi, the cable car towards Trockener Steg is bigger to accommodate ski and other winter sports equipment as it is a major hub for skiers and snowboarders.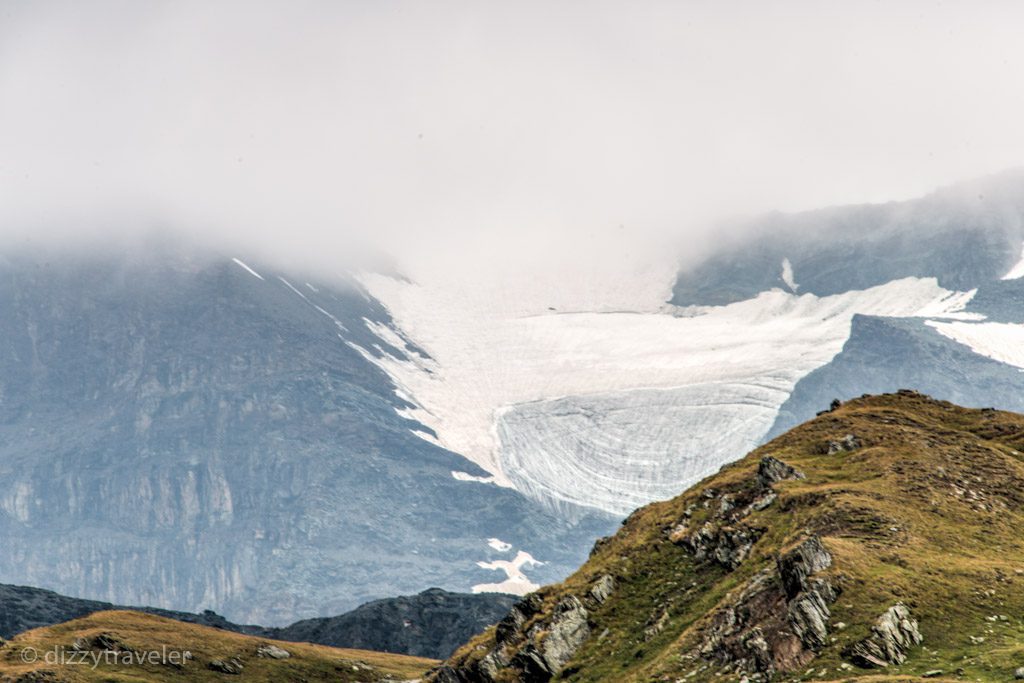 As the cable car keeps ascending, you will notice the disappearance of vegetation and only flying over the rocky, rough high-alpine landscape. Trockener Steg is a popular vantage point where visitors from day-trippers to snowsports lovers and mountaineers pass by all year long. In summer, the ski area shrinks a little, but options for skiers are endless in winter.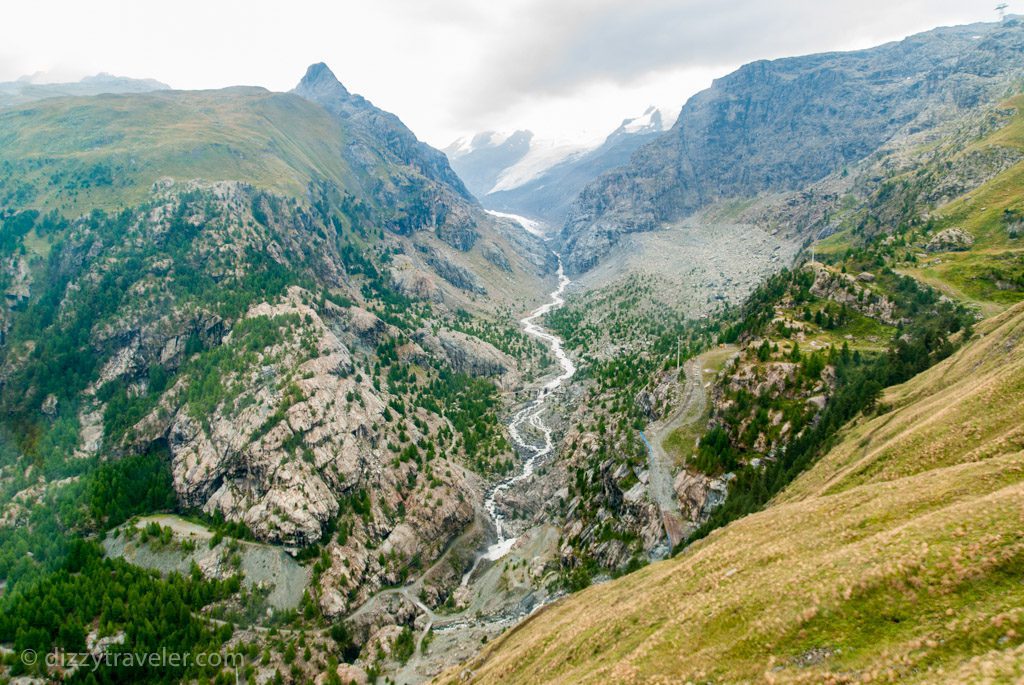 We took a short hike during our summer trip and enjoyed it a lot. In Trockener Steg, hiking is widespread, and Matterhorn Trail and Matterhorn Glacier Trail are the most popular.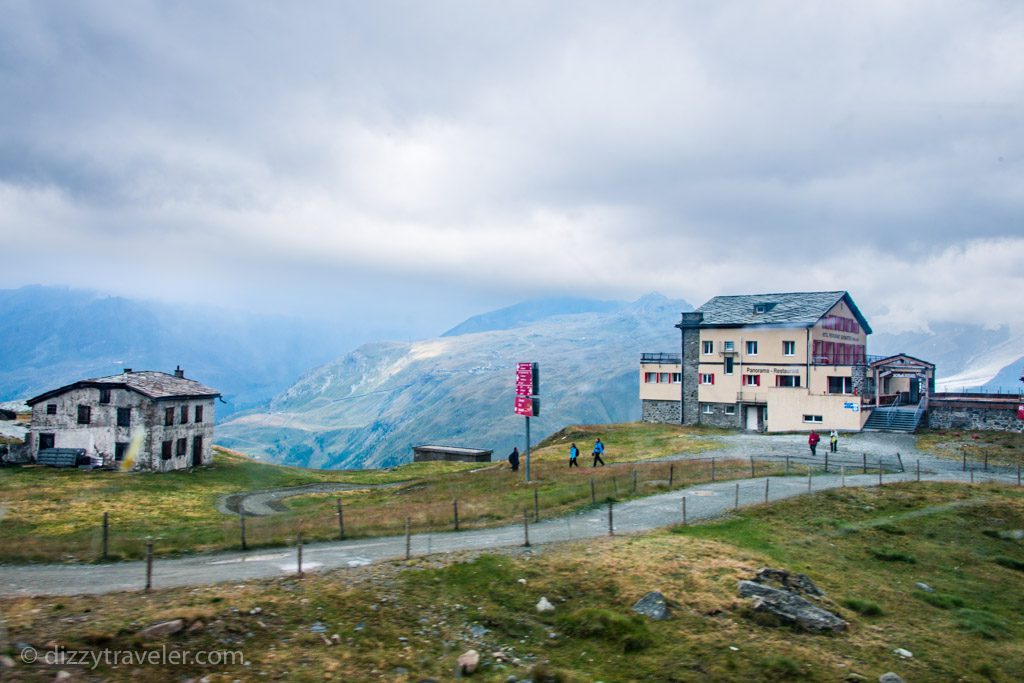 You can even take a refreshment break at Trockener Steg. There are restaurants called Ice where you can recharge and enjoy the magical view of the Matterhorn from the big sun terrace. During my early Spring trip, I could not go to the deck as it was closed and covered with piles of snow, but I grabbed some food from the buffet pizzeria shop and enjoyed the moment.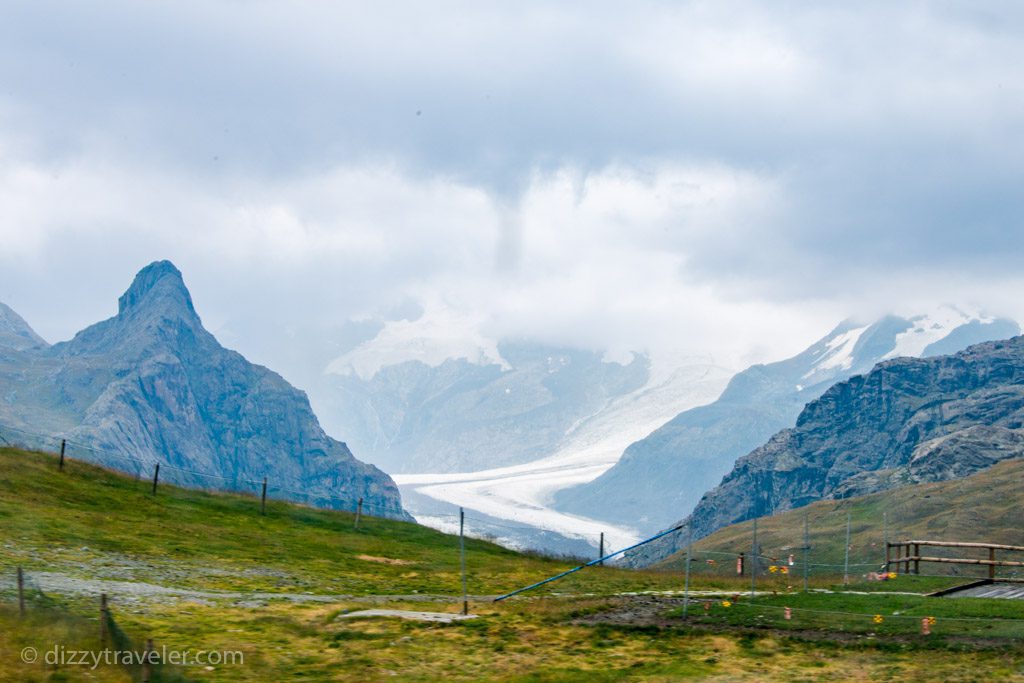 From Trockener Steg to Matterhorn Glacier Paradise
From Trockener Steg, take another cable car that will bring you up to the final section, Matterhorn Glacier Paradise (Klein Matterhorn), at 12,740 ft (3,883 m). As we ascended, it kept on getting quite cold. The lifts were not heated, and the glass of the cable cars had a bit scratched by skis. Before reaching our final destination, the cable car soared a thousand feet above vast glaciers and took us to the middle of an endless ice world.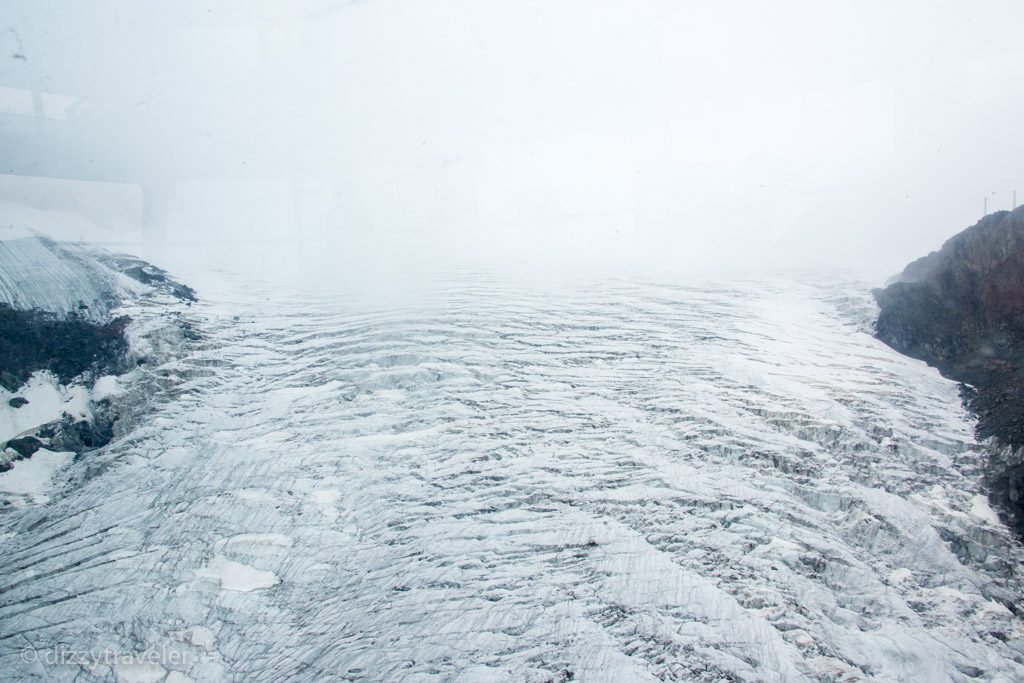 Once you reach the complex at the top, you need to go through a tunnel and see ice sculptures and get to different attractions. For example, you take the elevator to reach the observation deck, then go up a few stairs. From the deck, the views of the surrounding mountains are breathtaking. You will also find movies, snow tubing in the summer, and a restaurant at the complex.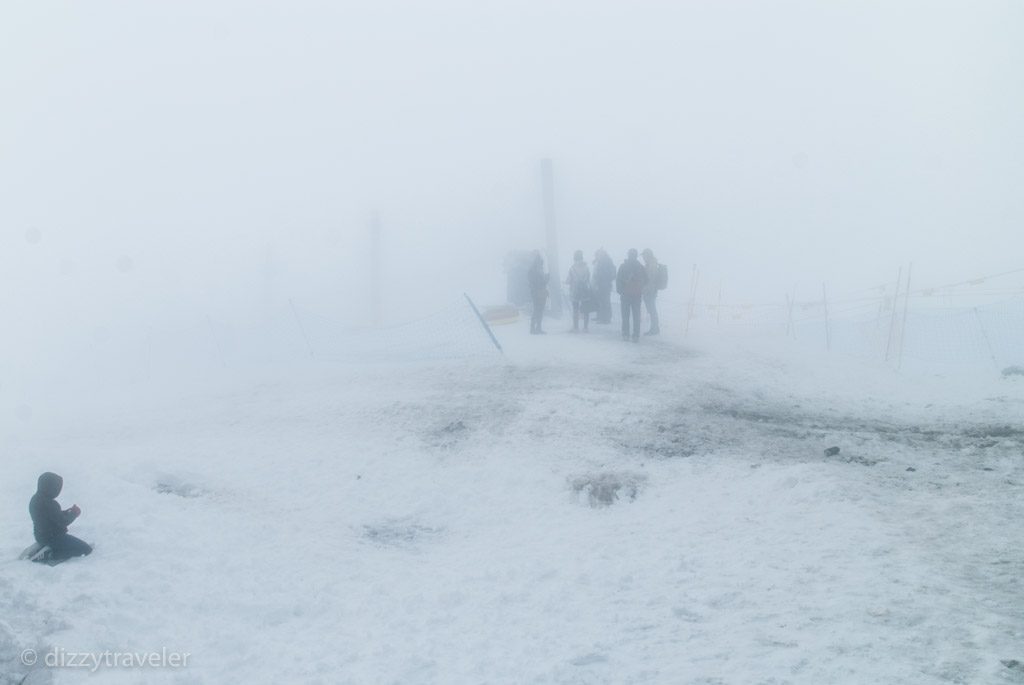 I started feeling light-headed, shortness of breath, and weird as soon as I stepped out of the lift. The altitude of 12,740 ft ( 3,883 ft) ft really makes a lot of difference. Views from the Klein Matterhorn summit suppose to be excellent, but as it was snowing and the visibility was almost nonexistent, so did not have a chance to experience any of it. I stepped out in the open, but I could not go anywhere due to colossal snow pilled up and blocking the way, so I went back to the restaurant for a coffee.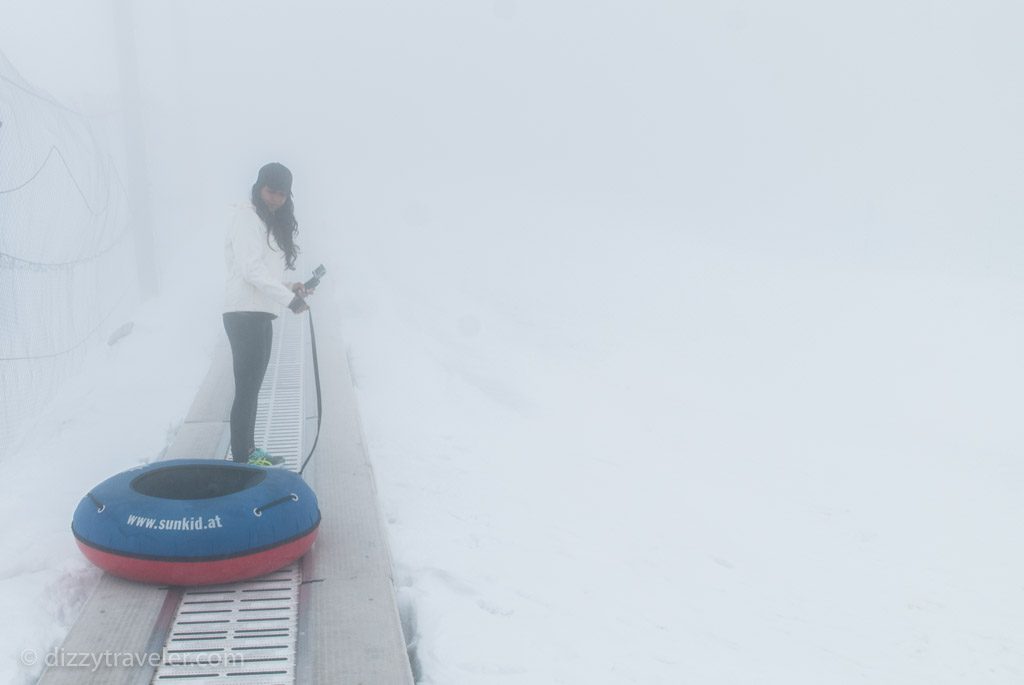 Alternative route via Schwarzsee
Instead of taking the direct cable car from Furi to Trockener steg, many visitors take the gondola from Furi to Schwarzsee. Especially in summer, it is beautiful. The image of mountains reflecting on a little lake at the base of Matterhorn will pay off your extra effort. From Schwarzsee, you take another gondola that takes you up to Trockener steg.
One the Way Back Final Stop in Furi
On my way back stopped at Furi. It was a beautiful small village with few restaurants and excellent trails for hiking. I spent a few hours hiking and finding some photo opportunities. Then started my final descent to Zermatt. It takes about 50 mins to go up all the way to Klein Matterhorn and about the same coming down if you are not stopping anywhere in between. It was a remarkable trip for me, and I promised to go back again when things were little green up there.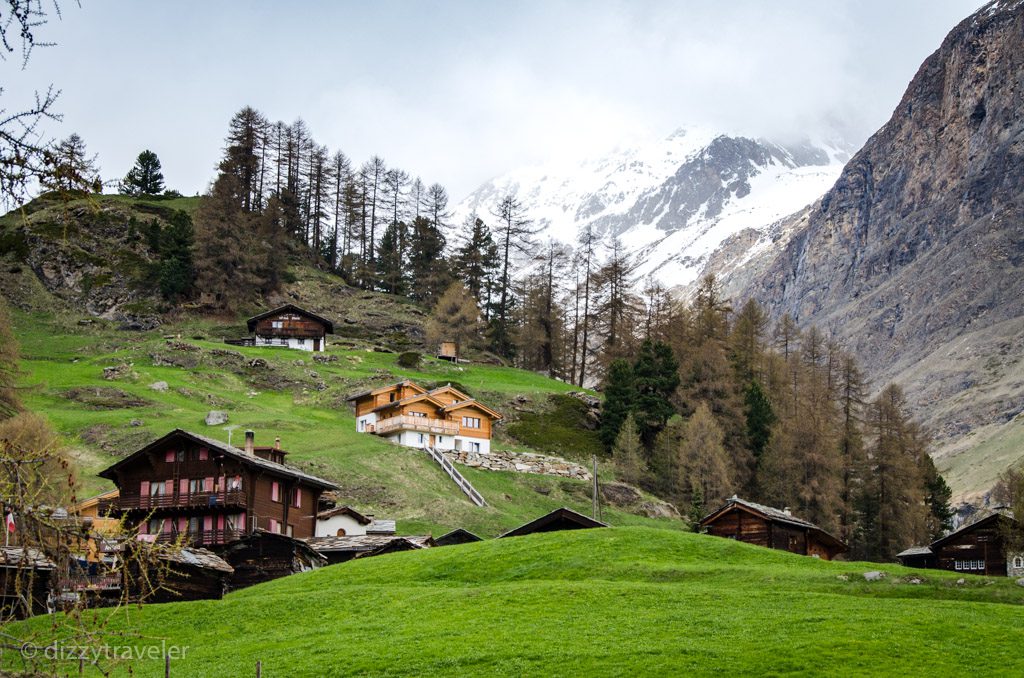 Where to stay in Zermatt, Switzerland
I stayed at Romantik Hotel Julen for three nights and absolutely liked my relaxing stay there. The charming hospitality and relaxed ambiance have turned the hotel into a modern legend. The breakfast was excellent especially loved their wide selection of cheese and bread. The 4-star superior Hotel, whose traditions go back almost 70 years, offers exclusive country-style rooms in old pine, many of which afford views of the Matterhorn.
You'll have no problem planning out your days and transportation needs with front desk services, including luggage storage and safety deposit boxes. In addition, in-room conveniences such as room service and daily housekeeping will make staying in a great choice.
Get all that Zermatt offers and all of its nearby adventures with a stay at Hotel Simi. This convenient location is minutes from the city center and provides quick and easy access to many local points of interest. In addition, the hotel's taxi and shuttle services make it easy to plan your day trips, sightseeing, and more around Zermatt. Finally, they have luggage storage and a safety deposit box service for your convenience. I would recommend this hotel definitely a great place to stay with a budget.
My Opinion and Last Word
Have you been to Zermatt, Switzerland? Any cool tips to share?
I loved being in Zermatt Switzerland, and want to go back again. I hope my story has motivated you to visit Italy.
Please leave a comment below! I'd love to hear from you to improve my knowledge. 
Was this travel guide helpful for you?
If you'd like to help me continue making free guides, here is one way you can help:
Share This Guide 

– If you have a friend that would benefit from this guide, share it with them. Or post this guide on Facebook, Twitter or Google+
Your Support would definitely help me making more free guides like this. Thank you in advance!
Affiliate Link – This post in Dizzy Traveler contains affiliate links, which means I receive a referral commission if you purchase after clicking at no additional cost to you. These funds go to maintain the site. Thank you for your support.
---
Book your Sightseeing Trip
There are a lot of beautiful places to visit and do some exciting sightseeing activities to bring unforgettable memories back home. Please click on our below affiliate link to see your options.