Koh Chang is a relatively big island in the Gulf of Thailand close to the border with Cambodia. I found it a very relaxing place. If you just want to do nothing but to relax on any of its beautiful sandy beaches and hang out in the beachside bars, then Koh Chang would definitely be the right place for you.
It's easy to get there from Bangkok as it's only 215 miles (350 km) southeast of Bangkok city. Based on my experience, I found that the road trip is the cheapest and comfortable way to visit the island. There are big buses out of Ekamai bus station as well as from Bangkok Suvarnabhumi Airport.
Bangkok to Koh Chang By Bus
On our way to Koh Chang, we have taken Suvarnabhumi Burapa Bus line 392 40 seater VIP bus connection from the main international airport in Bangkok to the Koh Chang Hotel. I think it's the most comfortable way for affordable travel between Bangkok and Koh Chang.
The first bus departed at 7:50 am in morning. We bought our tickets from the ticket booth next to exit 8 on the ground floor at Suvarnabhumi airport. Ticket price is set at 600 baht / person / one way or 900 baht / person / round trip (1 US$ = 35.40 Baht).
Pros: Comfortable ride, enough legroom, express service to the Koh Chang Ferry Terminal, and once on the Island, you will be transported to a minibus and dropped off at your hotel, which is part of the same ticket. So, you save Ferry ticket 80 Baht plus the taxi ride between 100 -200 Baht from Koh Chang Ferry Terminal to your hotel (cost varies based on the location of your hotel).
Cons: Big bus won't go on the ferry, so you need to get off close to the ferry terminal bus stop, get your luggage and get on to a transporter van to the pier (about a few minutes ride), then carry your luggage to the ferry and once at the Koh Chang side of the pier do the same and get on to the minibus to be dropped of at your hotel.
Tips: Not a bad idea to call in advance and make a reservation for a guaranteed seat. They do speak little English, so call and be on the safe side. Tel: 089-1133490, 083-7942122, 081-6605926
To buy a bus ticket at the airport, just follow the sign for Taxi and Bus (ground Transportation) from the arrival hall and go all the way to the ground floor. Right next to exit 8 you will find a small booth.
Alternative Option for Buses:
There are also frequent direct buses depart from Ekamai – Bangkok's eastern bus terminal or Morchit – the northern terminal. It takes about 4 to 6 hours to get down to Koh Chang Centerpoint ferry terminal. Expect to pay about 275 – 300 Baht for the trip.
99 Express (089-752-5732)
Ekamai to Ferries – 06.30am, 07.45 am, 09.45 am
Ferries to Ekamai – 12.30 pm, 02.00 pm, 04.00 pm
(service also stops at Suvarnabhumi Airport)

Tanakawee (02-391-2331)
Ekamai to Ferry (Ao Tammachat)

Return Trip from Koh Chang to Bangkok by Private Car
On our way back from the Island we rented a private car despite the fact it cost us 3500 Baht ( US$ 100) but still, I consider that was a wise decision. First for an alternative experience and secondly considering the comfort and all inclusive door to door service. I think this is the best option if you are not a solo traveler. No need to carry your luggage to the ferry and have freedom of stopping at any rest area and the comfort of being behind a friendly and safe driver was unbeatable. Resort travel desk quoted us 6000 baht to Bangkok whereas outside agent like Mr. Nate's rate was 3500 baht.
Therefore we used Mr. Nate Private Car services from Koh Chang to Bangkok Hotel and highly recommend him for his excellent and reliable service. Mobile: +66 (0)802251149, Email: arkaness_anuvech@hotmail.com
Why By Air Was Not An Option:
Trat Airport is the closest one from Koh Chang, only 10 miles (17 km) to Koh Chang main ferry terminal. Airfare to Trat Airport could be a little since Bangkok Airways own that airport. Moreover, commuting to Bangkok airport from the city is a hassle. Second early check-in formalities, third 1 hour flight time, and finally hassle of getting transport to the ferry terminal from Trat airport and arranging the trip from the ferry terminal to the hotel was kind of too much for us.
Departure from Suvarnabhumi Airport
Our bus was scheduled to depart at 7:50 but got delayed due to one passenger realizing at the last moment that he had an urgent need to go. All the empty seats are already filled except one. By 8 am, we are on motorway 7 heading south. Seating in the bus was comfortable; plenty of legroom and reclining seats were relaxing. The airport to Koh Chang Ferry Terminal is about 186 miles (300 km), but due to the road conditions, it will take about 4.5 – 5 hours.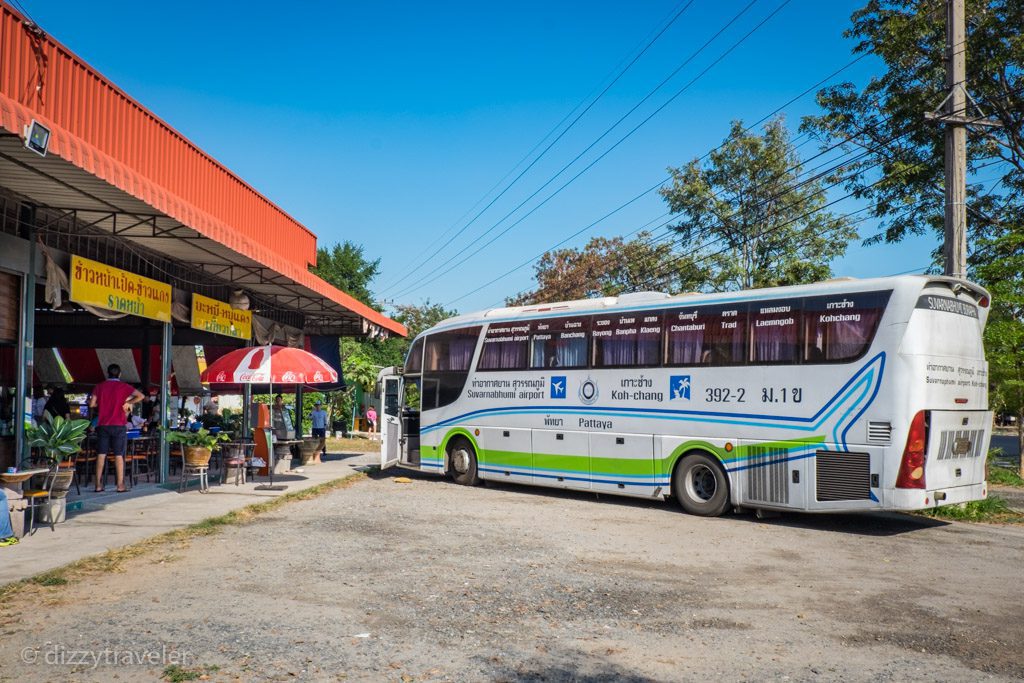 First Stop on Route 334
After 90 minutes of driving, our first stop was to a roadside restaurant for breakfast. They have nice toilet facilities and cook to The view from both sides of the road was beautiful in the month of December, a little dry but picturesque landscape.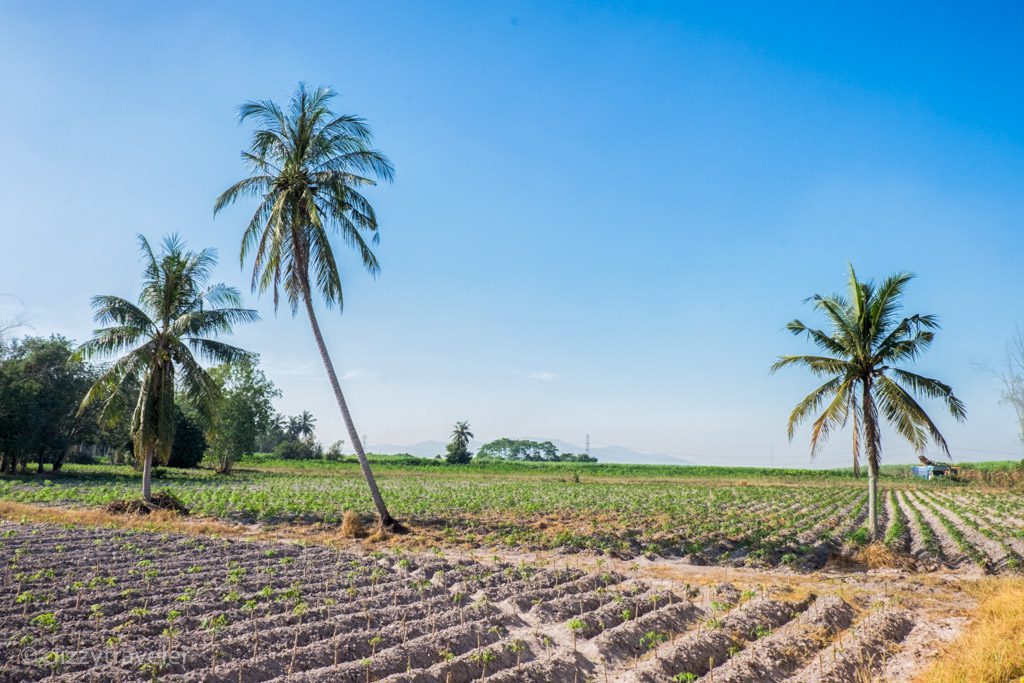 Arrival – Final bus Stop
After 5 hours on the road at about 1:00 pm, we arrived at our final stop. We had to collect our luggage and then line up to get our sticker from the operator. That will indicate that we already paid for the ferry ticket as well as after getting off from the ferry on the island, which minibus we will be taking to be dropped off at our hotel. Other minibus covers a different area on the island.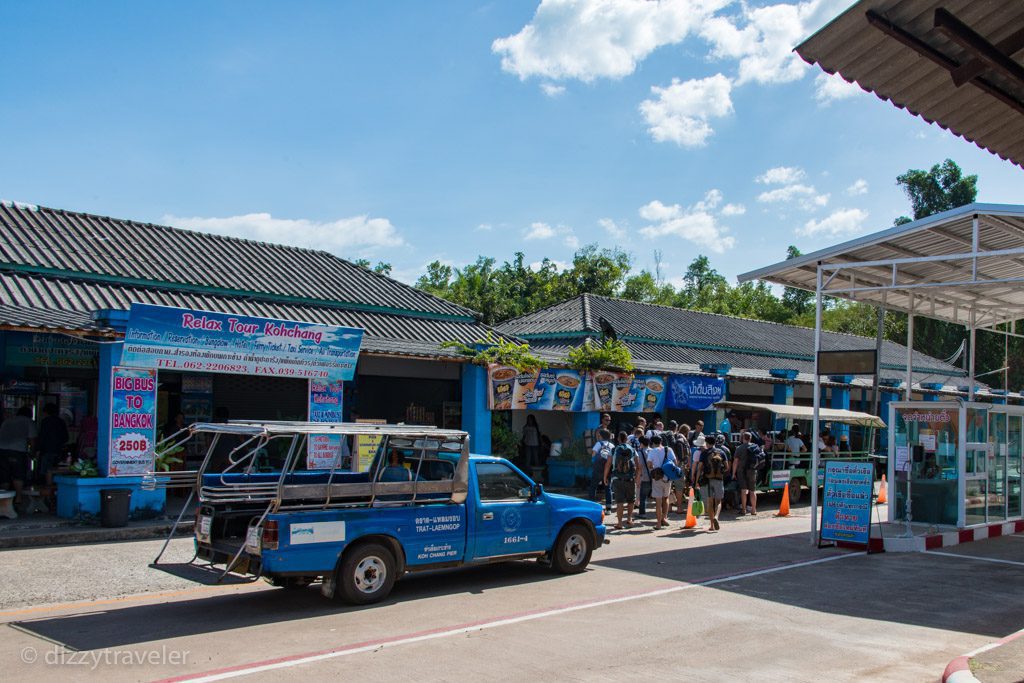 Heading Towards The Pier
Once all the passengers got their stickers, we were transported to the pier, which was a few minutes drive from here.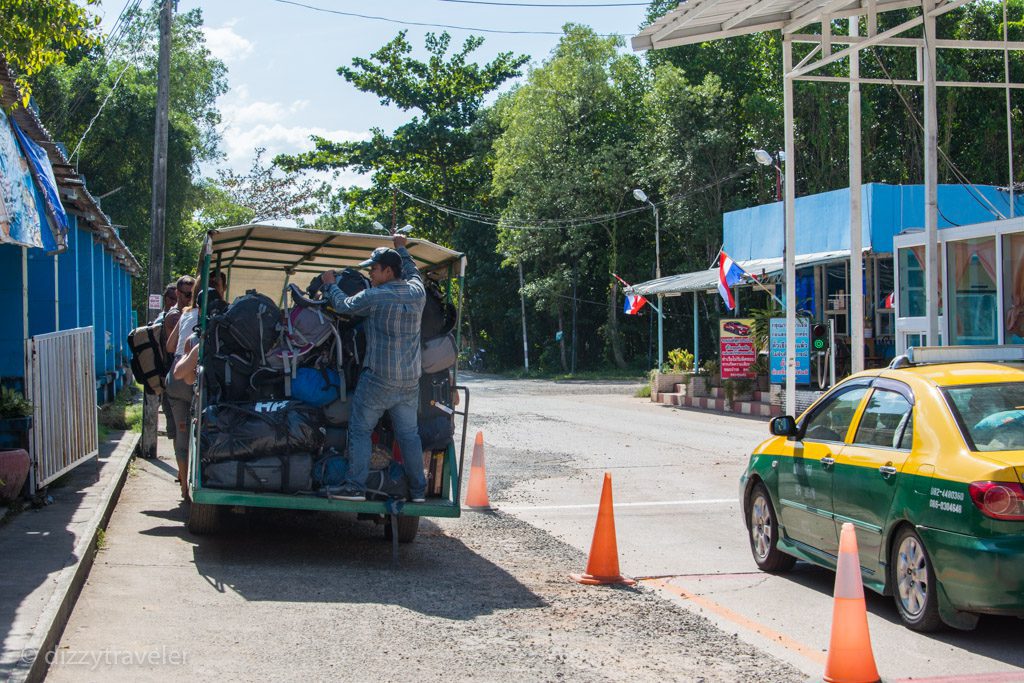 Centerpoint Ferry to Koh Chang
The ferry was already waiting for us at the pier, so we grabbed our own luggage and got on board.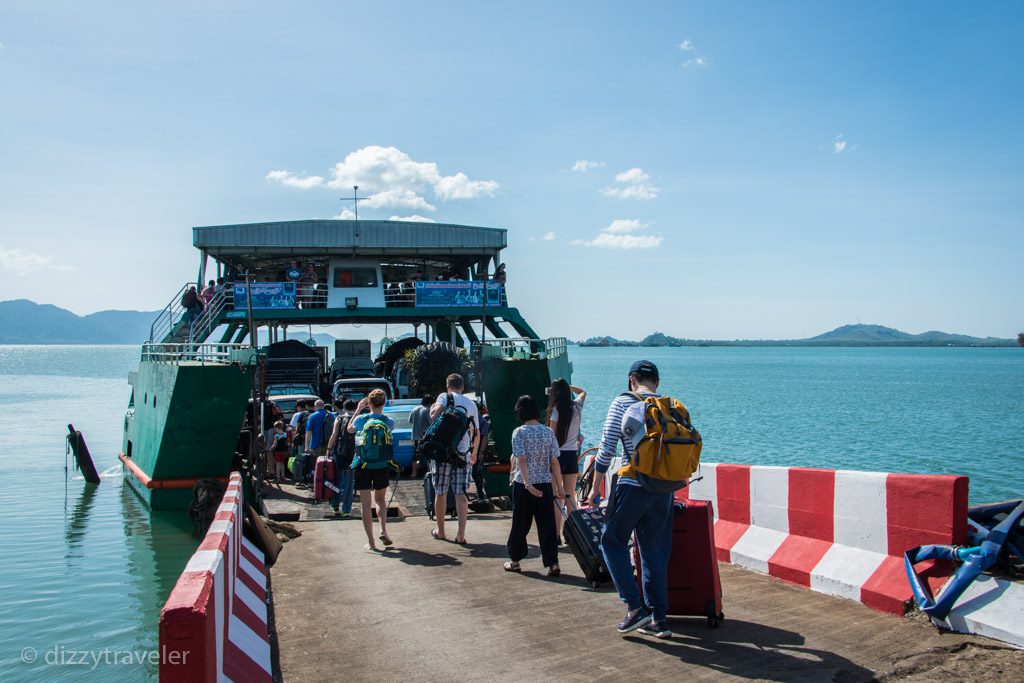 Inside The Ferry
All the passengers climbed upstairs to be seated. There was a food stall selling snacks and drinks, and people could smoke on board but only in the designed smoking area.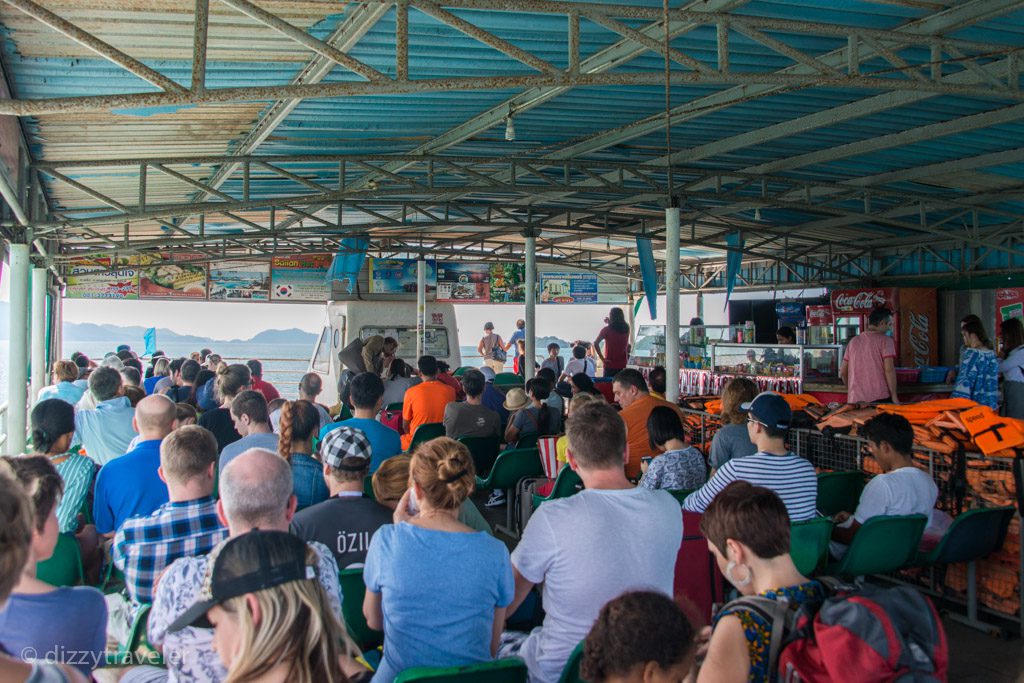 View From the Ferry
The 45 minutes ferry journey was comfortable and kept us occupied while enjoying the view around us.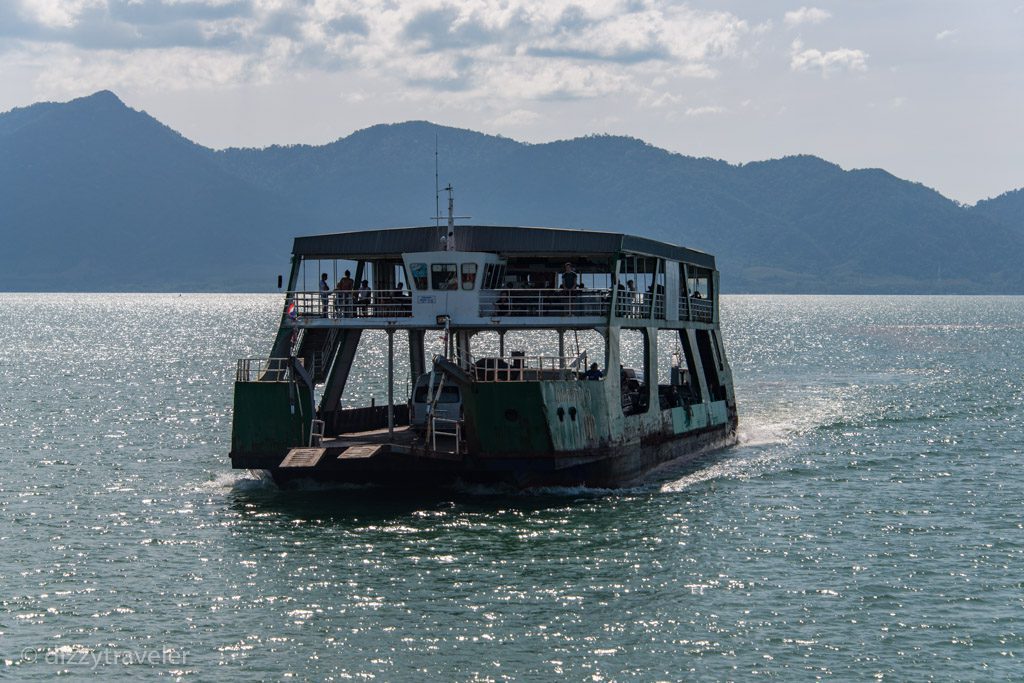 Arrival at Koh Chang Centerpoint Ferry Terminal
Little after 2 pm we arrived at Koh Chang terminal.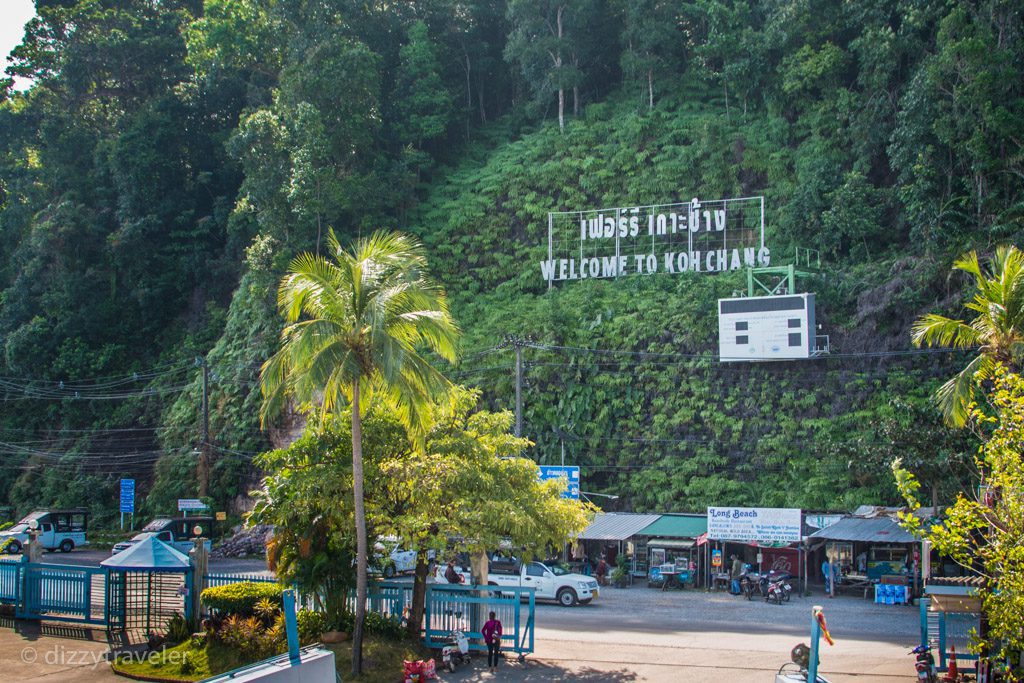 Our Ride Waiting at The Terminal
Our ride was already waiting for us; many minivans were lined up to take all the 40 passengers to their respective hotels.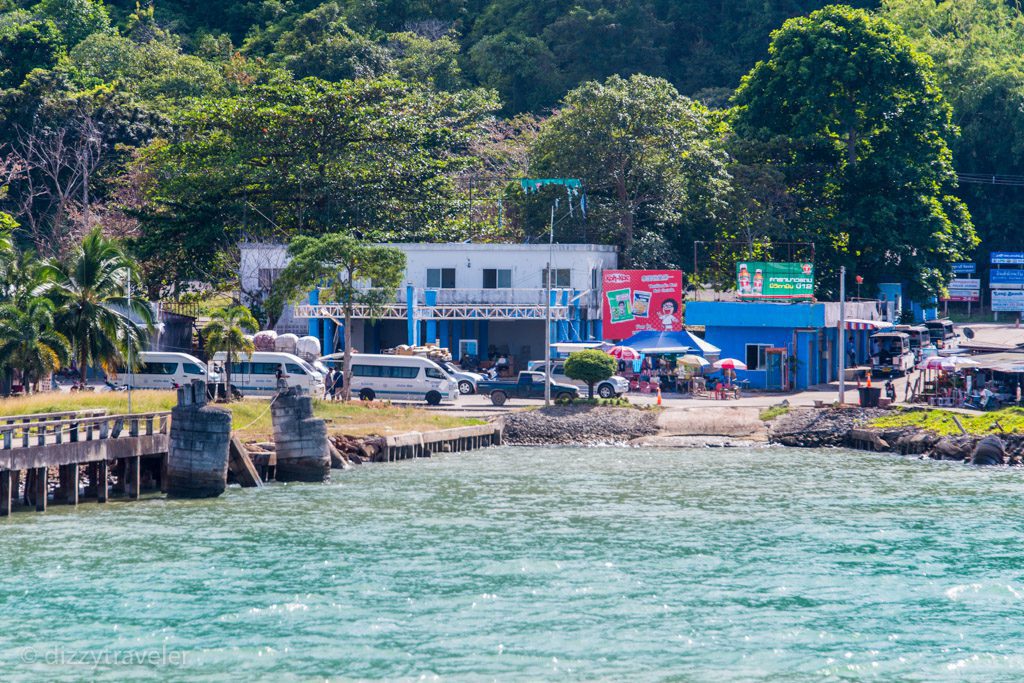 I saw independent travelers were hopping onto one of those white taxis (three taxis lined up in the left corner of the below picture). A shared taxi ride is cheap, should be between 50 – 200 baht depending on your destination.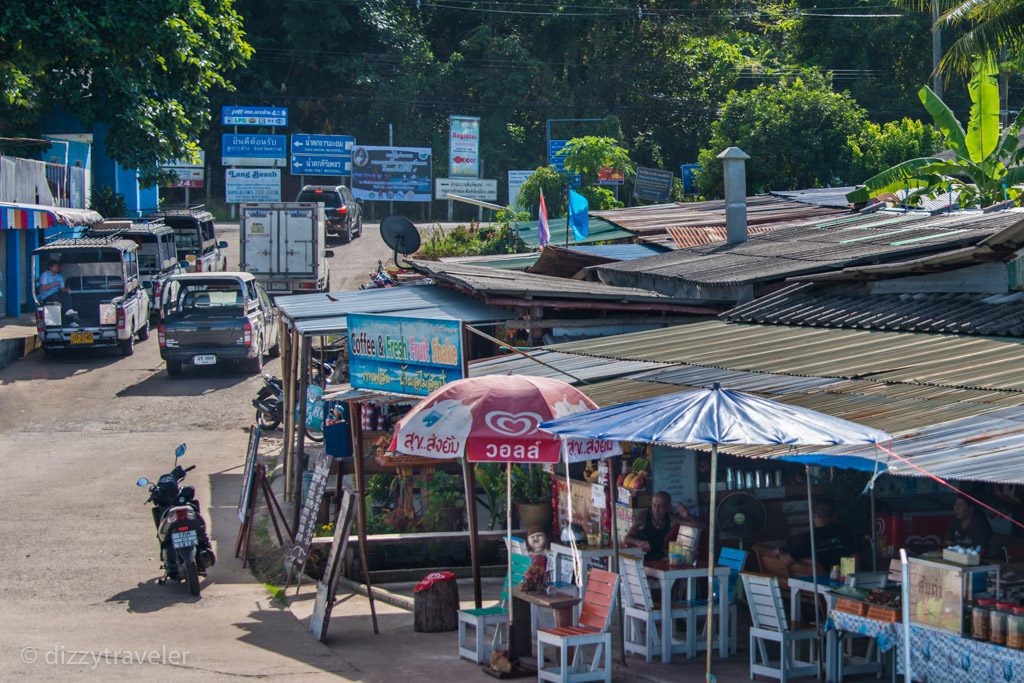 Departure from Koh Chang
Right before 9:00 am, our car pulled over at the reception area. The late-model car looked clean, well maintained, and the friendly driver greeted us with broken English. After that, we were heading straight to the Centerpoint ferry terminal.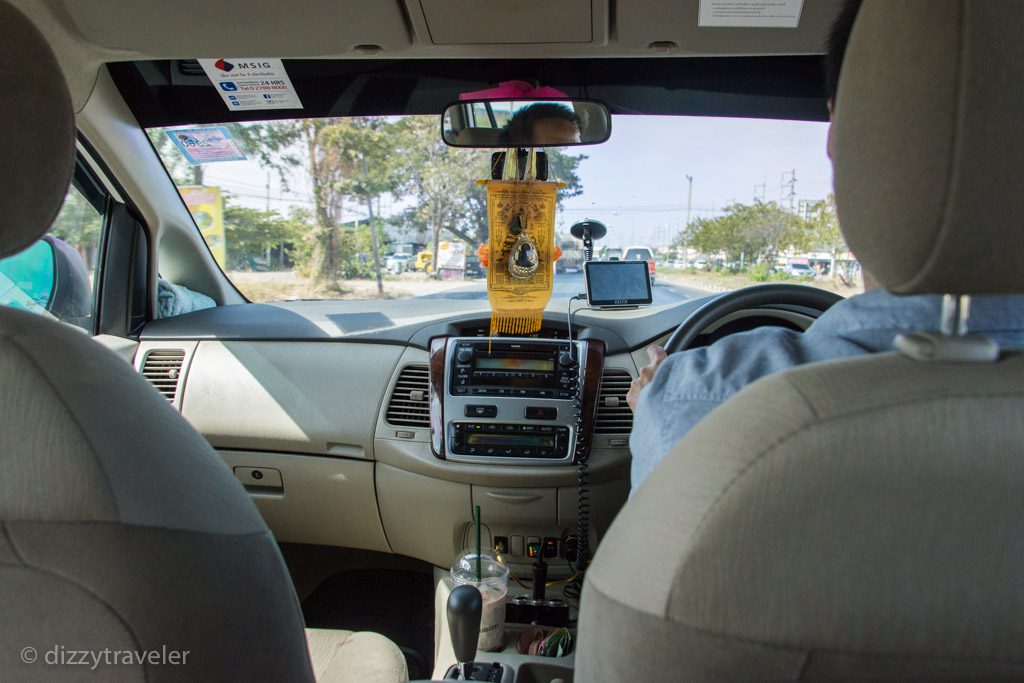 Waiting at the Centerpoint Ferry Terminal – Koh Chang
In about 30 minutes, we arrived at the Centerpoint Ferry Terminal, got in the queue, and our driver bought the ticket (120 Baht/car). Again, we were early; there were about 25 minutes of waiting before seeing our ferry approaching the pier.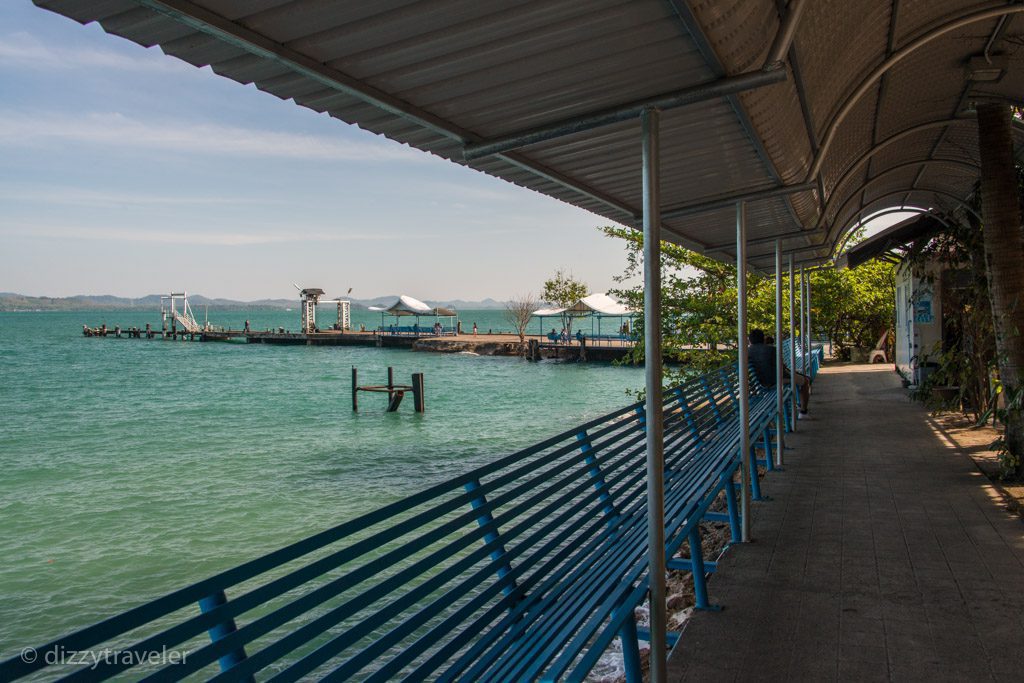 The arrival of our Ferry
The Centerpoint ferry to the mainland is approaching the pier a little before 10 am.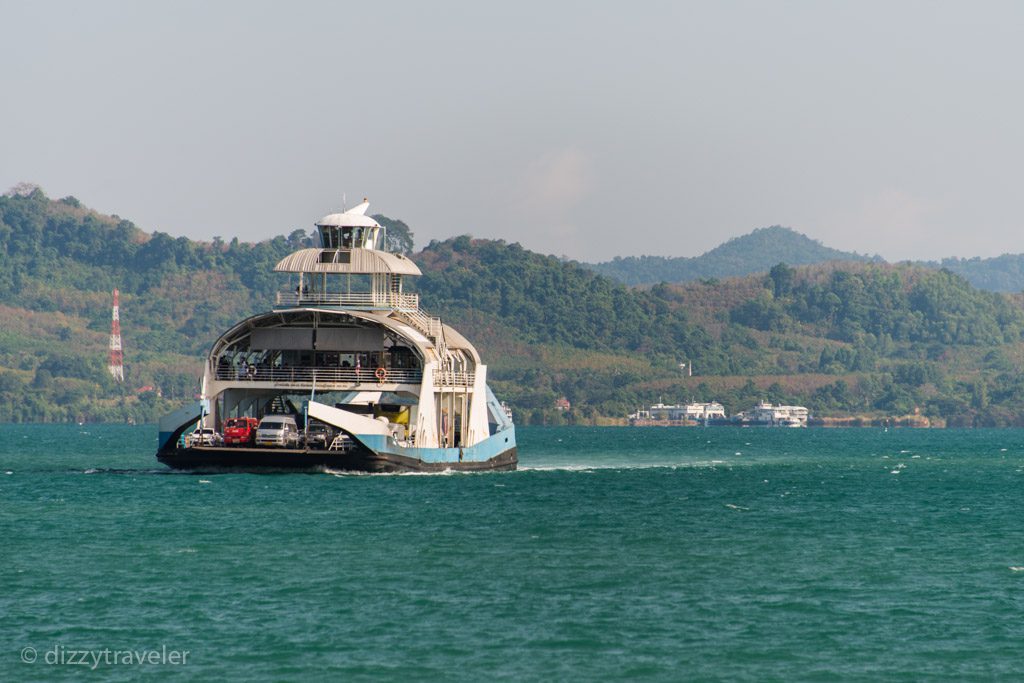 Arriving Ferry Terminal in Mainland, Trat
The ferry journey going back to the mainland from Koh Chang was very comfortable due to the early morning breeze. We arrived at the terminal in about 45 minutes. The good thing is that we did not have to carry any luggage with us; all were left in the car's trunk.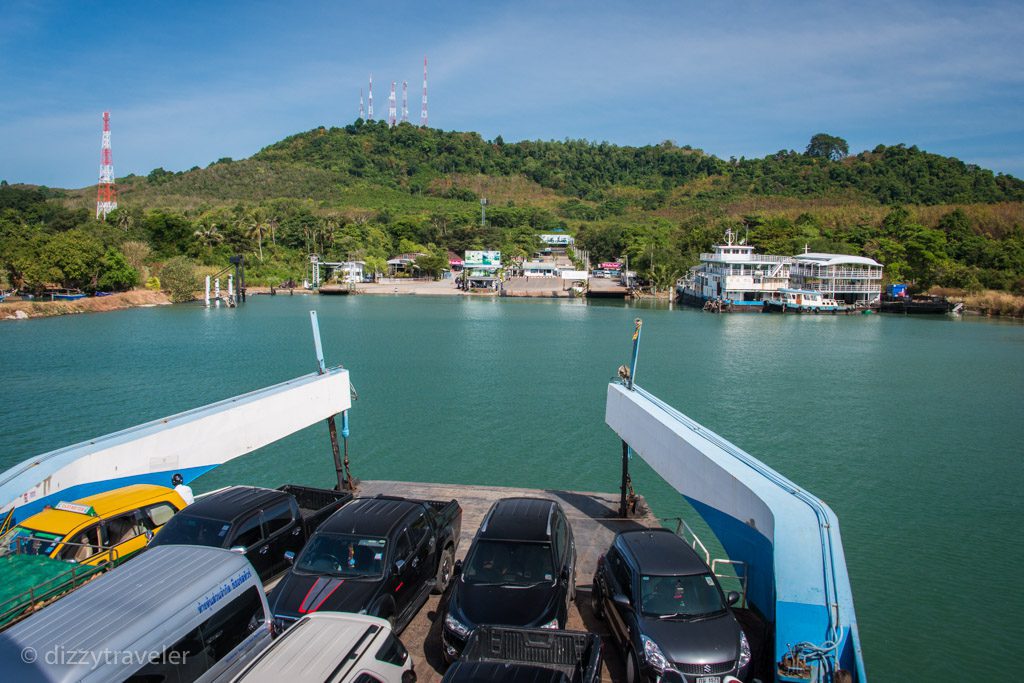 Final Stop Before Bangkok
For lunch, we made a stop at one of the rest areas. But, no worries, as we made it close to Bangkok in good time, hopefully, by 3 pm, we will be in Bangkok.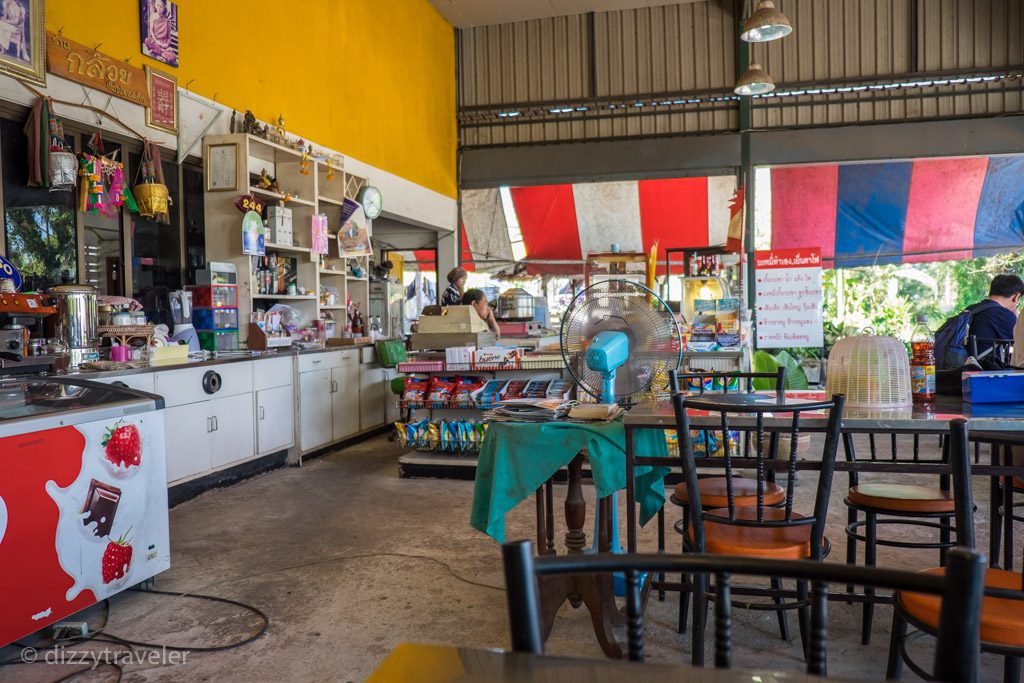 Street Food at Rest Area
We tried a few street foods one of them was very delicious looked like a pancake too.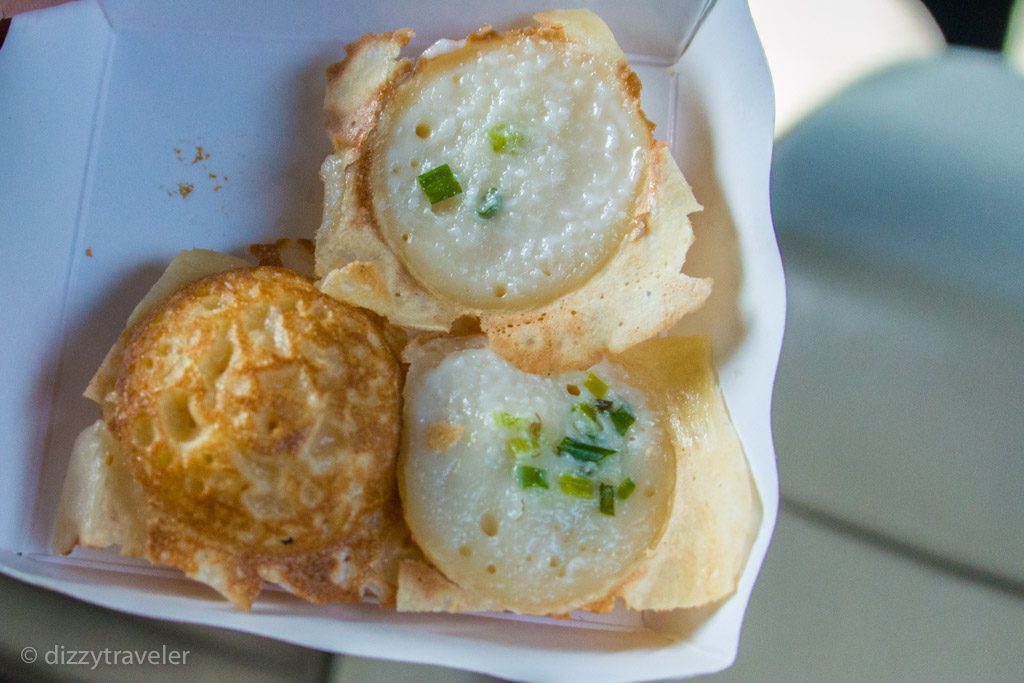 Here are few affiliates link that may help planning a perfect trip while staying within budget
---