Mekong river reminds me of my 7th-grade Geography teacher, who somehow influenced me at the early stage of my life to realize my passion for traveling. Since then, I fall in love with discovering exciting places like Vietnam and still keep going. Here I am after 30 years since the first lesson on the mighty Mekong River. I am going to see Asia's longest river, where it meets the ocean after a long journey through six different countries.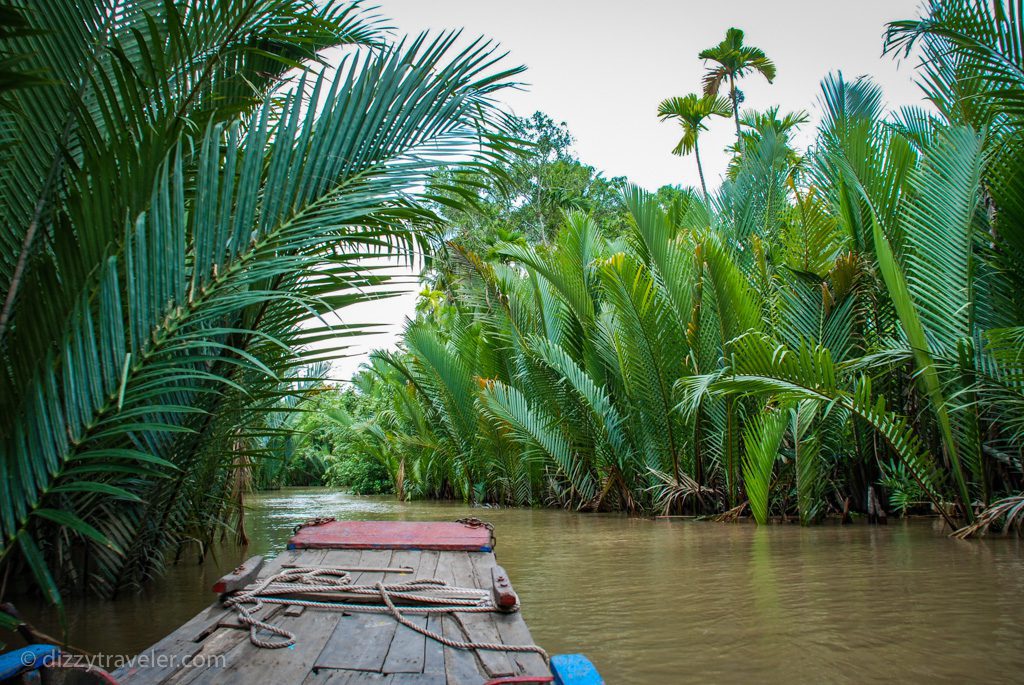 A day trip to Mekong Delta was the perfect way to start my southern Vietnam adventure and experience the countryside. That is where the great river splits into trails of canals, waterways, and leading through islands, one of the beautiful places to visit while in Vietnam. Besides its rich culture and natural beauty, I enjoyed visiting floating markets, local cuisines, and locally produced delicious tropical fruits.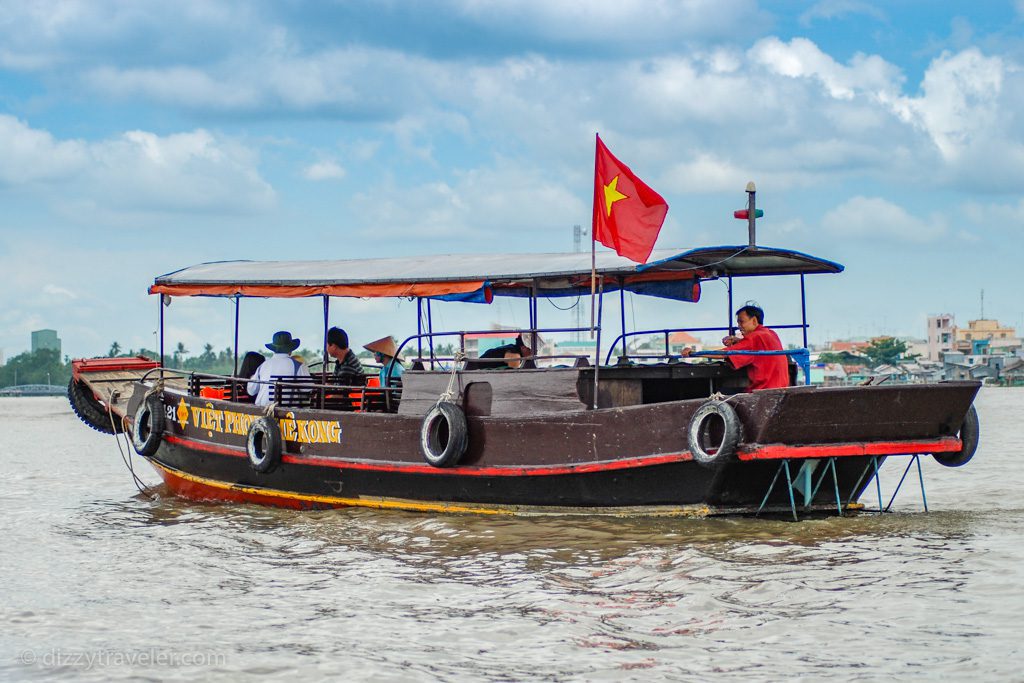 How to Get There
By Bus from Ho Chi Minh City (Saigon) to Can Tho (Mekong Delta)
This is the most popular way to get to Mekong Delta. Futa (Phuong Trang) Bus Line is one of the well-known bus operators that is highly recommended. My Tho is only 72 km about 2 hours drive from Ho Chi Minh City (Saigon) that makes it one of the most popular destinations for day-trippers. My Tho is also the traditional gateway to the Mekong Delta region.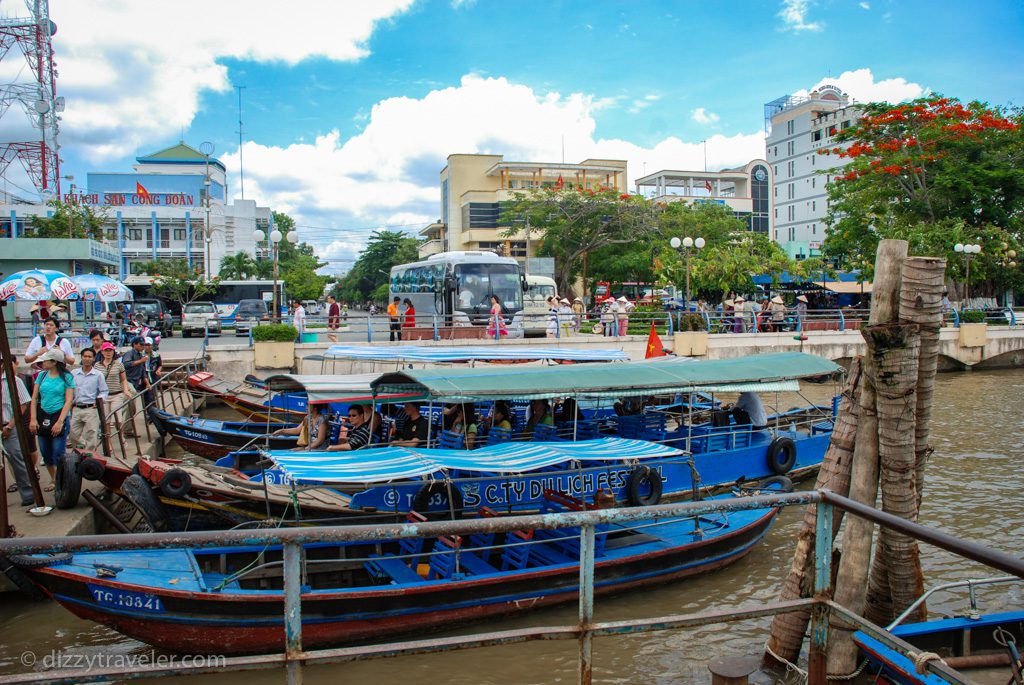 Trip Activities in Mekong Delta
The tour bus was pretty full of mostly foreign tourists. After dealing with the city traffic jam, our bus finally saw some daylight and started cruising with decent speed. In about 2 hours, we arrived at the My Tho Pier, then transferred to a motorboat and headed towards the delta.
Boat Trip Through The Canals
Our boat was cruising through the winding canals between lines of coconut trees, palm trees, mangrove forests had to duck once in a while to avoid hit by the tree branches. I was trying to enjoy the moment knowing that not all parts of the tour would be as interesting as it is. I hate to waste time going to outlet centers for coconut candies, wine, or tea, but what can I do its part of the package and don't blame them as they also need to make some extra bucks.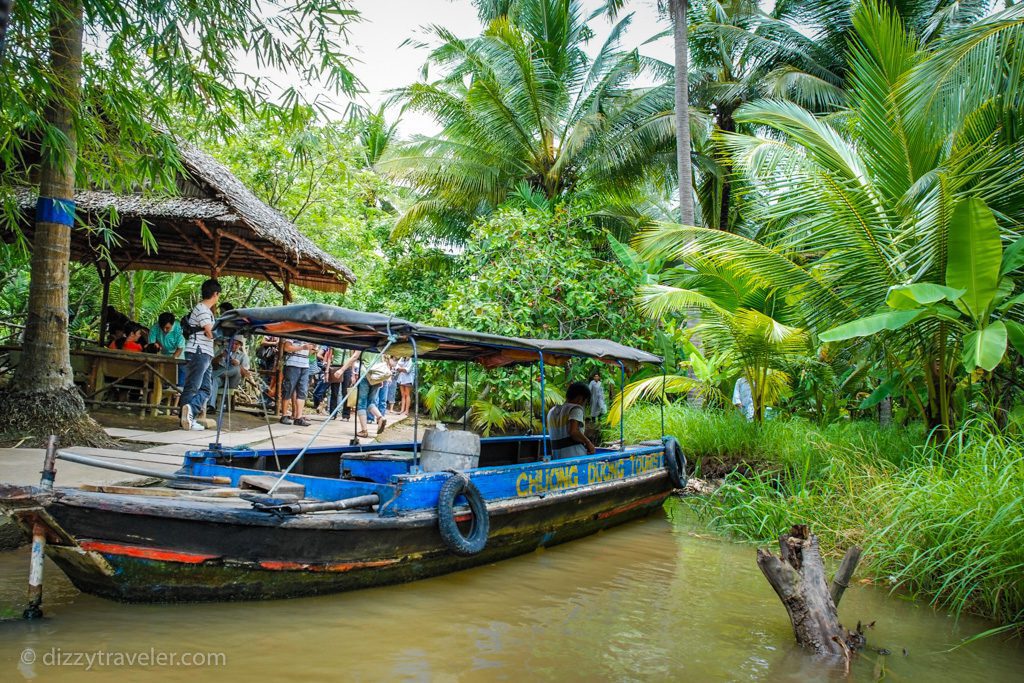 We were Dropped off to an island and had to walk a while until we reach the location where we will have our lunch. The set menu was not so impressive, but there was an option for a special order to cook, such as wild chicken, fish out of the pond, etc. But I skipped all those fun parts instead explored the island for better experiences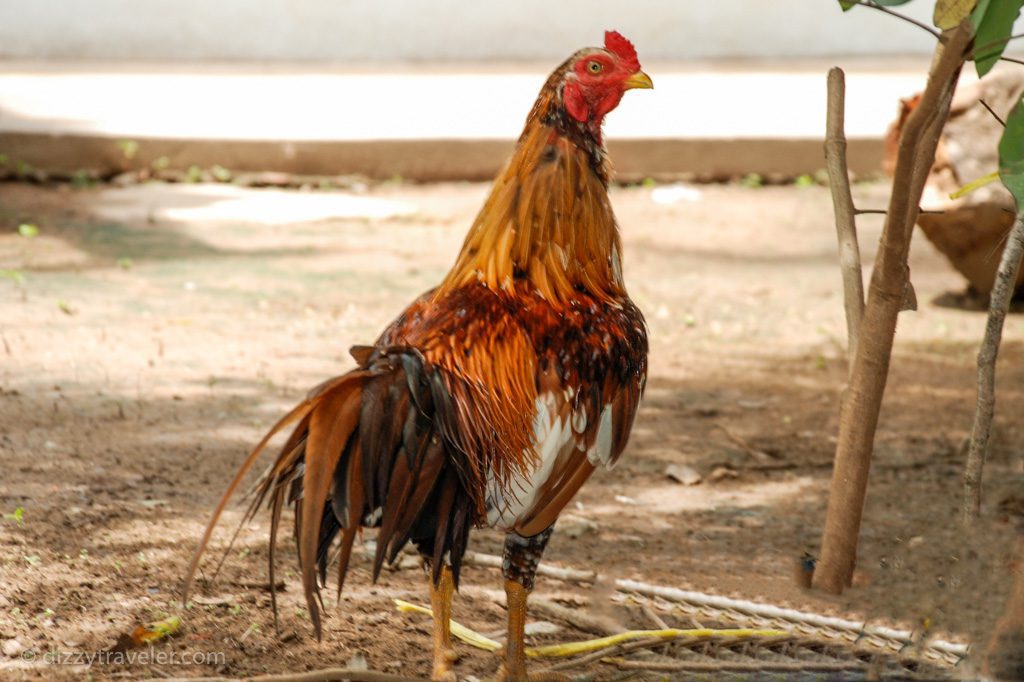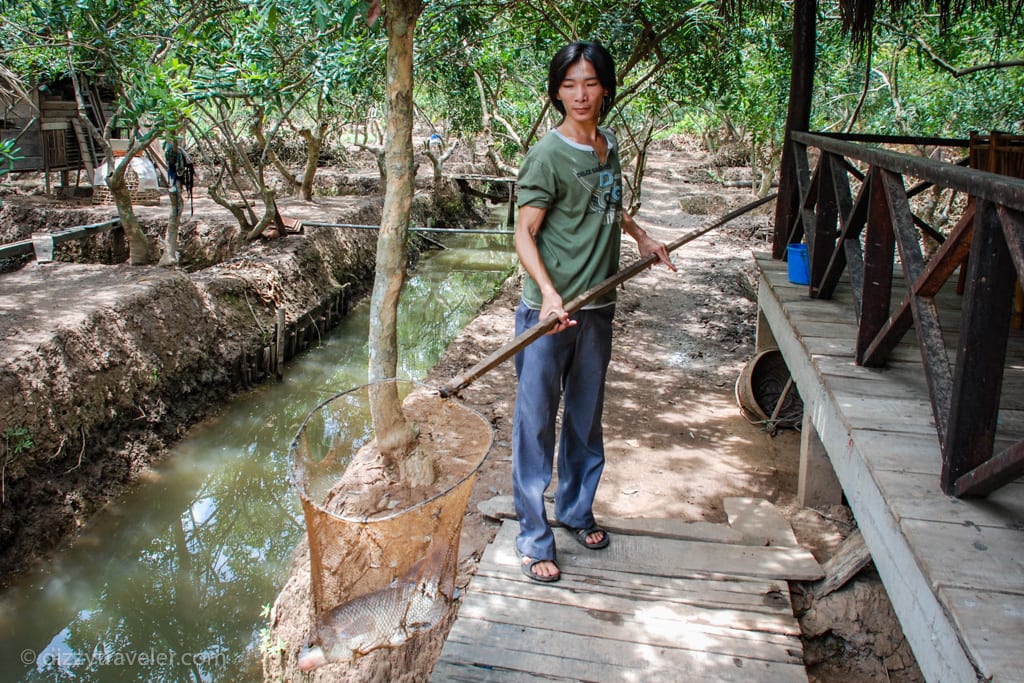 Another interesting part was when we went for a canoe ride through beautiful waterways narrow canals and experienced the same Mekong I saw and read in my 7th-grade classroom. I also enjoyed the Vietnamese music show and having a variety of colorful local fruits.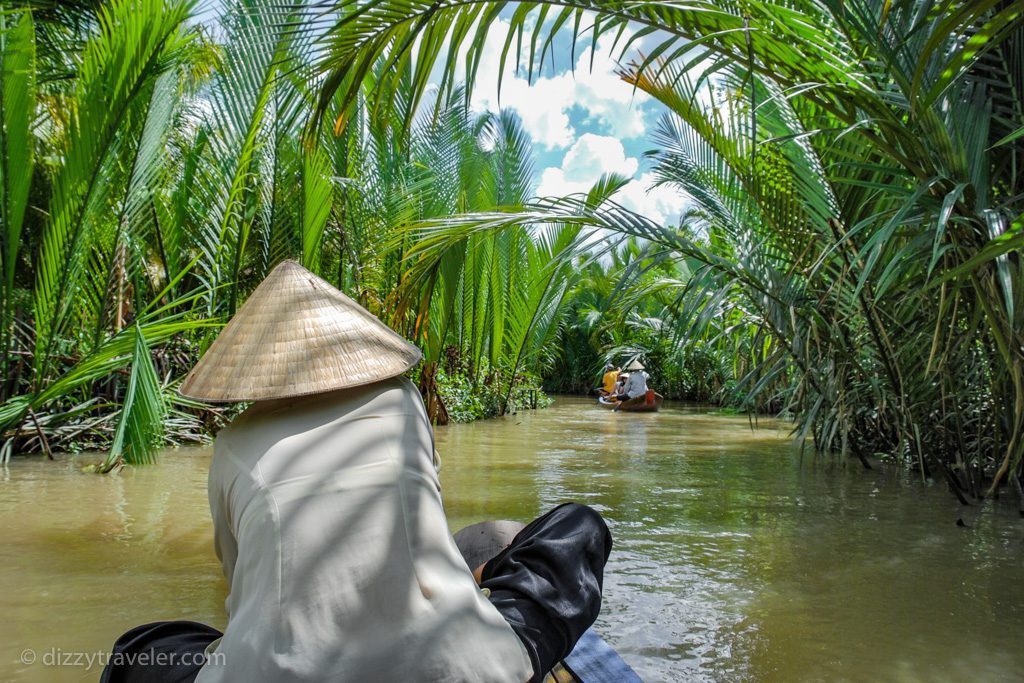 Day trips such as this are definitely going to feel 'touristy', but when you think about the peaceful narrow canals, coconut trees, beautiful green Nipa palm trees, Canoeing through the mangrove forest, colorful boat, moos flowing over water will undoubtedly fall in love with this area.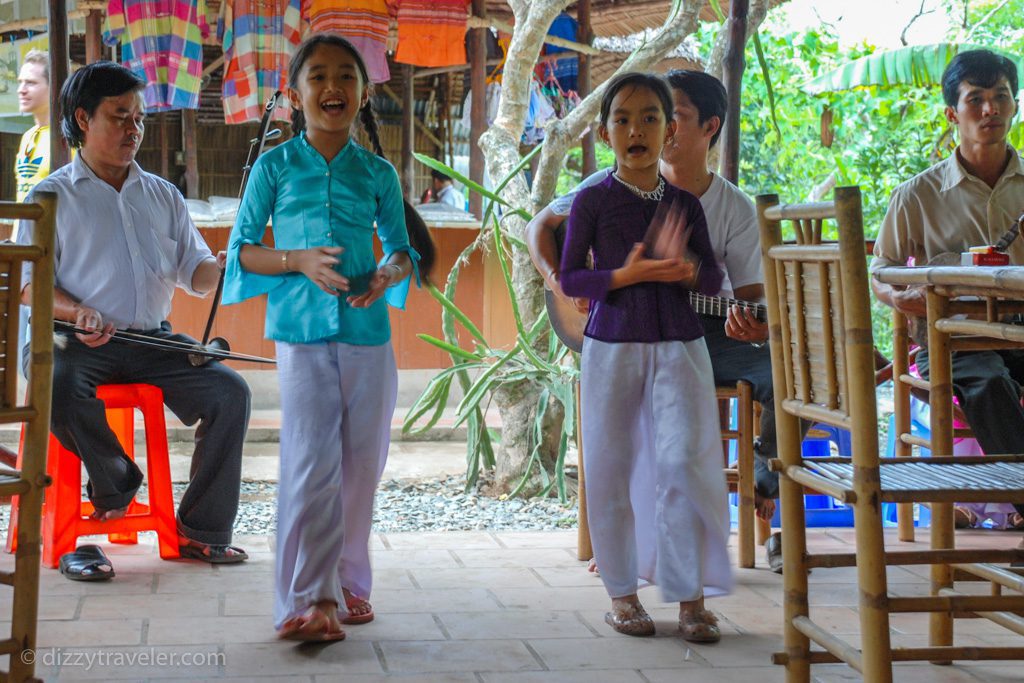 If you are heading to Vietnam and considering going to Mekong Delta, I would highly recommend an organized guided trip or plan self-guided tour is for those who have plenty of time with no restriction.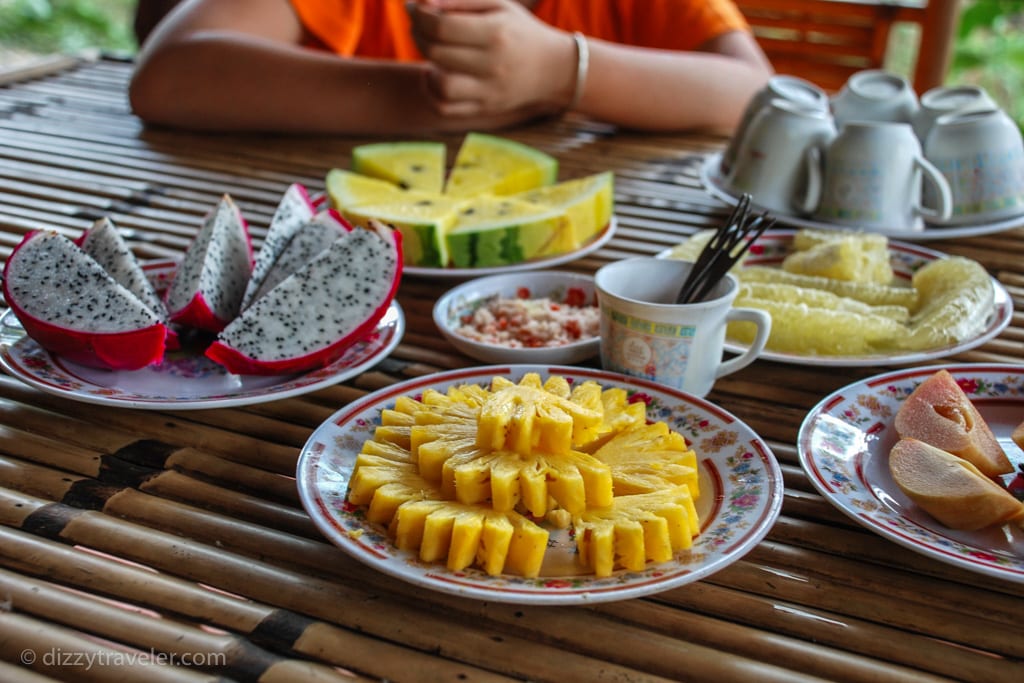 If you are heading to Vietnam and considering going to Mekong Delta, I would highly recommend an organized guided trip or plan self-guided tour is for those who have plenty of time with no restriction.
Best Time To Visit Mekong Delta
The dry season is definitely a good time to visit the Mekong Delta area, which is usually between October – December, and April – May. However, the rains should not prevent you from visiting this area. In contrast, rain may bring you unusually experience of your lifetime.
Where To Stay In Can Tho
This homestay is located in a great location in Can Tho. People love to stay here to discover village life, fishing, and other exciting activities.
Bamboo Eco Village is located about 3.1 miles from Cai Rang Floating Market by a beautiful canal. It is a great place to stay on your Mekong delta trip.
My Opinion and Tips
Have you been to Mekong Delta? Any additional tips to share?
Please leave a comment below! I'd love to hear from you to improve my knowledge.
Was this travel guide helpful for you?
If you'd like to help me continue making free guides, here is one way you can help:
Share This Guide – If you have a friend that would benefit from this guide, share it with them. Or post this guide on Facebook, Twitter or Google+
Your help would definitely help me making more free guides like this. Thank you in advance!