Getting to know Jodhpur
Jodhpur is the second largest city in the state of Rajasthan, India. It is also called the Sun City as the sun shines year round, almost every day of the year.
Others see it as the Gateway to the nearby Thar Desert, while many think of it as the Blue City on account of the many blue houses that characterize its historic tradition. You'll have to decide which of these suits best for you – or perhaps you'll even come up with one of your own.
Best Time to Visit Jodhpur
Since Jodhpur is part of the desert land of the State of Rajasthan, therefore be ready to experience harsh summers, when temperatures rise up to 114º F (45º C). However, nights are still cooler than days due to desert effect.
The best time to visit Jodhpur is between the months of September and March. However, depending on what you want to do, here's a monthly breakup of Jodhpur's climatic conditions so that you can plan when to go:
November to February – These months constitute the winter season in Jodhpur. The maximum temperature during this time does not go beyond 86º F (30º C)and the minimum hovers around 53º F (12º C). The slight breeze in the air offers tourists a perfect climate for sightseeing and exploring the city.
March to June – These months constitute the summer season in Jodhpur and summers quite extreme. While days are hot with the maximum temperature ranging between 104º – 113º F (45º – 40º C), evenings are relatively pleasant.
July to October – These months constitute the monsoon season in Jodhpur. Although the city receives less amount of rainfall the surrounding mountain range turns lush green and scenic. This also happens to be the offseason in Jodhpur and an apt time for budget travelers to visit the city as they can get good hotel and travel deals during this time.
Jodhpur: How You Need to Know
Getting There By Air:
There is no direct international flight to Jodhpur Airport (JDH) you need to make a transfer from Delhi or Mumbai. The airport is about 5 km from the city center. Take a taxi or auto-rickshaw from the airport to your hotel. Cost should be between 300-500 Rupees. Air India and Jet Airways operate daily flights to Jodhpur from Delhi and Mumbai.
By Road:
Jodhpur is well connected to other cities in India. There are buses to/from Delhi, Jaipur, Jaisalmer, Udaipur, Bikaner, etc. The bus is the cheapest way to travel.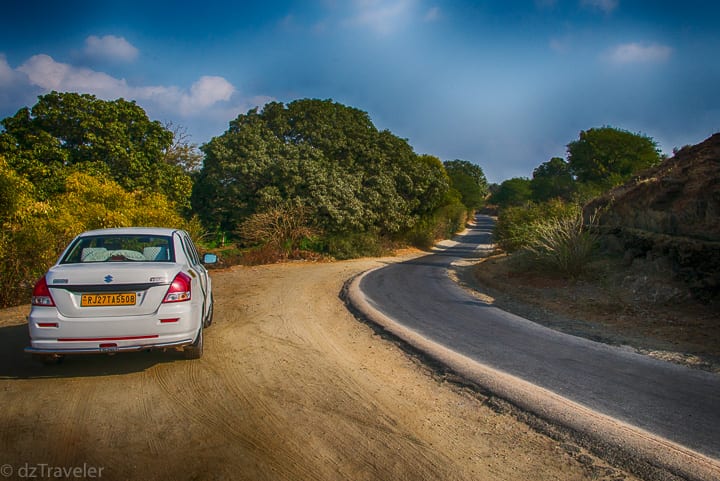 Private cars are always an option – allowing you to create your own schedule/itinerary. These can be hired at your hotel or at agencies around town. I'd definitely suggest a car between Jodhpur and Jaisalmer also between Udaipur and Jodhpur because of it's scenic way as well as having the opportunity to experience the small town lifestyle. We paid 4000 Rupees from Udaipur to Jodhpur with two stops at Kumbhalgarh Fort and then to Ranakpur Jain Temple. I definitely think it's cheap and convenient.
By Train:
The railway system is connected to most of the Indian cities. Jodhpur's main railway station is very centrally located, about 2.5 miles from the Clock Tower not more than 15 minutes of walk.
The popular Mandor Express leaves Delhi at 8:45 PM and arrived in Jodhpur at 8 AM the next morning. The daily train from Jodhpur to Mumbai Suryanagari express departs from Jodhpur at 18:45 hours and from Bandra Terminus (Mumbai) at 13:30 hours and takes 17 hours.
Things to do in Jodhpur – Rajasthan
Tour The Mehrangarh Fort
Mehrangarh Fort dominates the city and is the largest fort in all Rajasthan. The magnificent fort forms a picturesque backdrop to the city, rising 400 feet above old Jodhpur. The fort built by Rao Jodha in 1459, can be approached through a steep and winding road. 'Mehr' in Rajasthani means the Sun. Mehrangarh means the 'Citadel of the Sun'.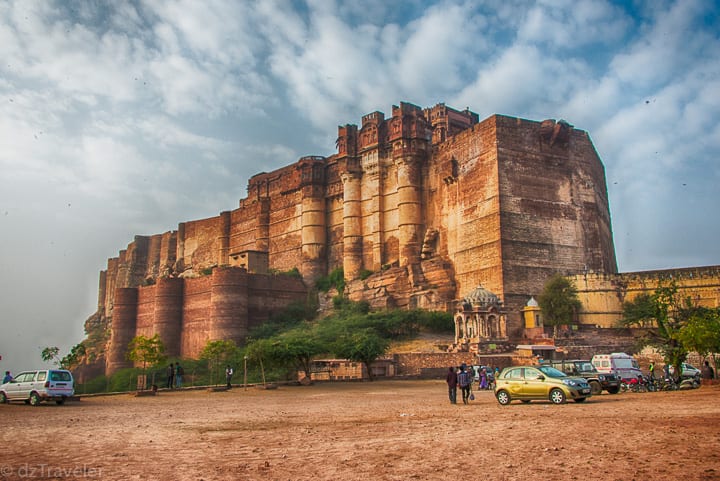 From the huge fort, we were able to witness the amazing panoramic view of the blue city of Jodhpur. The blue houses have a history. That part of the old city is called Brahmpuri. It was a tradition for Brahmins to paint their houses blue to set themselves apart from the rest of the population. Over the years, others followed suit, making the entire old city look blue
The fort houses the Maharaja's palace, several temples like Chamunda Mataji Temple tucked away in the back, the Moti Mahal and Sheesh Mahal or Hall of Mirrors is particularly impressive as is the museum housed within the fort.
Visit Picturesque Jaswant Thada
Jaswant Thada with a picturesque location next to a little lake, 1 km downhill from Mehrangarh fort easily walkable distance. The Royal cenotaphs are the beautifully carved marble memorial to Maharaja Jaswant Singh built in the 19th century. The marble is extremely thin and when the sun rays fall on the monument, it is aglow with a golden light.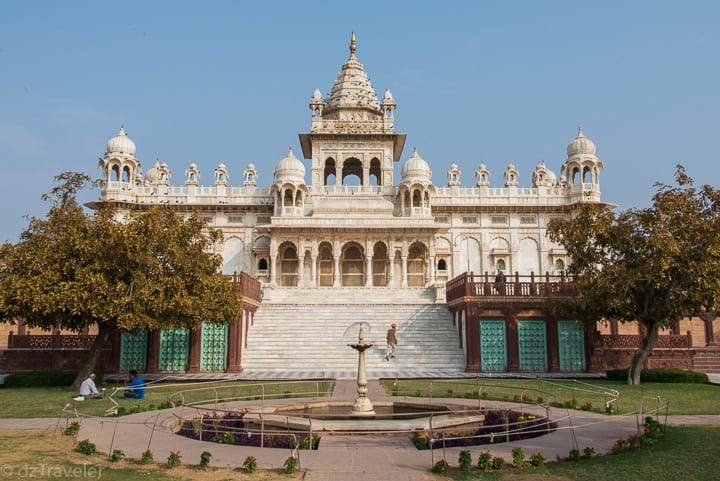 Wondering Around Clock Tower & Sardar Market
The clock tower is a popular landmark in the old city and a great place to start exploring the city. It was built by Maharaja Sardar Singh from whom the market takes its name. The vibrant Sardar Market is close to the tower, and narrow alleys lead from here to a bazaar selling vegetables, spices, Indian sweets, textiles, silver, and handicrafts. It is a great place to meet locals and experience the traditional local hospitality; it's quite common for shop owners to invite you in for a cup of chai.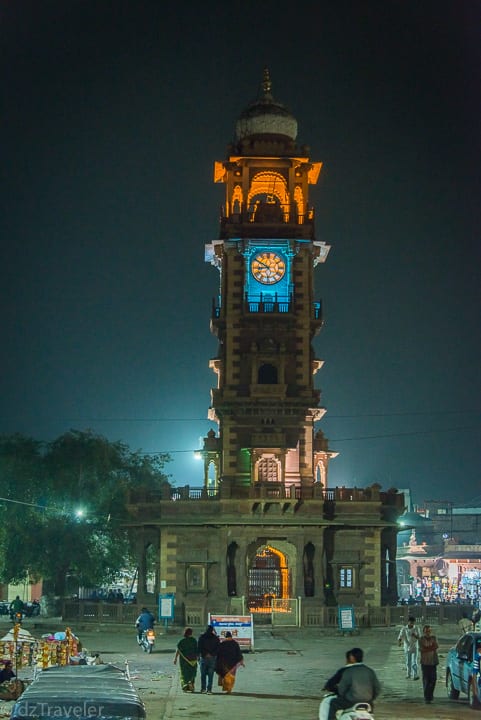 Tour The Umaid Bhawan Palace
Umaid Bhawan Palace is one of the world's largest private residences. A part of the palace is managed by Taj Hotels. Named after Maharaja Umaid Singh, grandfather of the present owner Gaj Singh of the palace, this edifice has 347 rooms and serves as the principal residence of the erstwhile Jodhpur royal family. A part of the palace also houses a museum. Thousands of visitors visit this palace every day.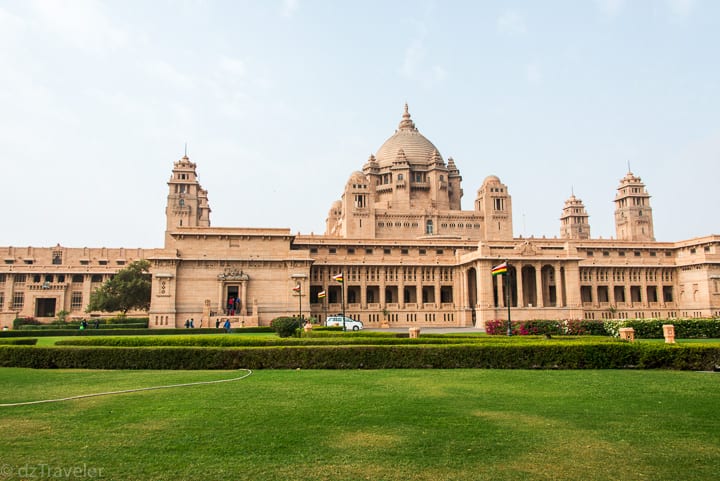 Visit Mandore Garden
Located about 5 miles north of Jodhpur. It was the previous capital of Maharajas of Marwar. Later it was abandoned for security concerns with respect to the Mehrangarh Fort. The Mandore garden, with its charming collection of temples and memorials, and its high rock terraces, is another major attraction that worth visiting. The gardens house the Chhatris (canopy) of many rulers of Jodhpur state. Prominent among them is the chhatri of Maharaja Ajit Singh, built in 1793.
Ravan temple is another attraction at Mandore. It is believed to be the native place of Ravan's wife Mandodari. Ravan is treated as the son in law among some local Brahmins.
Temples Worth Visiting
Kunj Bihari Temple
Kunj Bihari Mandir is located near the Ghanta Ghar market, it is artistically and architectural beautiful temple in Jodhpur
The temple is devoted to Shri Kunj Bihari or Lord Krishna. A statue of Meera Bai, the greatest devotee of Lord Krishna rests at the entrance of the temple.
Achal Nath Temple
Achal Nath Temple in Jodhpur is a famous Shiva temple constructed in 1531 by Nanak Devi, the queen of Rao Ganga. There is a large water reservoir called Bawari in the temple, which was made near the Shivlinga. It is known as Ganga Bawari.
Ganesh Temple, Ratanada.
Ganesh Temple is located at a distance of 5 km from the city of Jodhpur in Ramananda. This 150-year-old Ganesh Temple was built where the statue had been found. A large number of devotees visit this temple to offer their prayers to the God. The temple houses this statue of Lord Ganesh which is 8 feet high and 5 feet wide. Devotees visit this temple in huge numbers to offer prayers to the elephant god Ganesh.
How To Get Around in Jodhpur
Once you reach Jodhpur, it's easy to hire a rickshaw to get from place to place. When you find a good driver, hire him for the duration of your stay for sightseeing in and around the city, or per day basis.
My Favorite Local Rajasthani Food
Close to our Haveli, there were many rooftop traditional Rajasthani restaurants. I was happy to try a few of them and they were so delicious and cheap. Among the food I tried Idly, Dosa and the bottomless Thali was unbelievably good, something you have to try.
It worth to try Indique Restaurant, this candlelit rooftop restaurant at the Pal Haveli hotel is the perfect place for an unforgettable dinner, with excellent views of the clock tower, the fort and Umaid Bhawan. We enjoyed their delicious traditional tandoori, biryanis and spicy curries, but the Rajasthani mutton curry was outstanding of course after having few bottles of Kingfisher. The top right corner picture is from our great experience at this restaurant.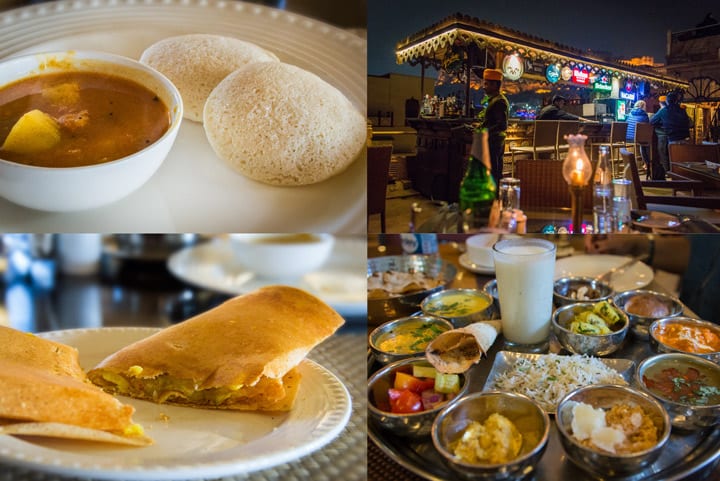 Where did I stay in Jodhpur
Krishna Prakash Heritage Haveli, Nayabas, Killikana – Jodhpur
I loved the location, walking distance to the Sardar market and the famous clock tower with an old town feel. It's by the foot of magnificent Mehrangarh Fort the Krishna Prakash Heritage Haveli is an authentic heritage haveli, I could see the fort from my balcony or during dinner at the rooftop restaurant. I would definitely recommend this place for a comfortable stay during your Jodhpur trip.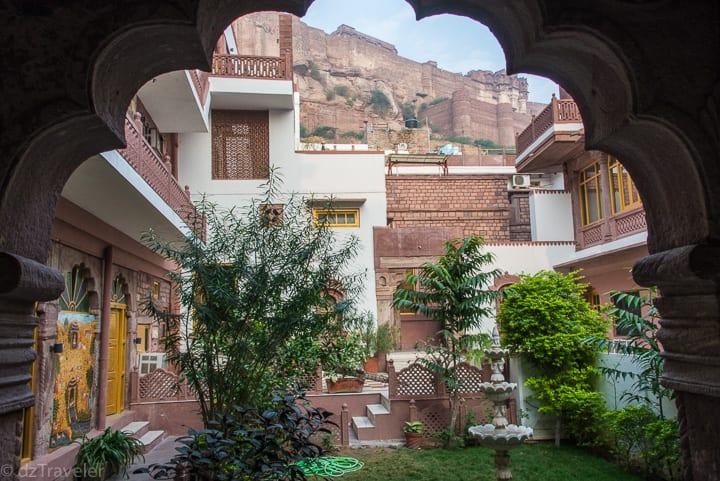 Pal Haveli Hotel, Heritage Hotel in Jodhpur
This 18th. century Haveli surrounded by high walls was built by the Thakur of nearby Pal and the home of Pal family for three generations. The Haveli is located in the heart of jodhpur's ancient walled city, under the gaze of the magnificent Meherangarh Fort. Next, to the Clock Tower a great place to stay during your Jodhpur trip.
My Opinion and Tips
Have you been to Jodhpur? Any additional tips to share?
Please leave a comment below! I'd love to hear from you to improve my knowledge.
Was this travel guide helpful for you?
If you'd like to help me continue making free guides, here is one way you can help:
Share This Guide – If you have a friend that would benefit from this guide, share it with them. Or post this guide on Facebook, Twitter or Google+
Your help would definitely help me making more free guides like this. Thank you in advance!

My Pictures That Will Tell My Travel Stories, comment if you like: